If you're reading this article, there's a good chance you're looking for some Carnival Sunrise cruise tips. Since first plans were announced to transform the Carnival Triumph into a "new" ship, we've spent a lot of time studying, writing about and sailing on the Carnival Sunrise.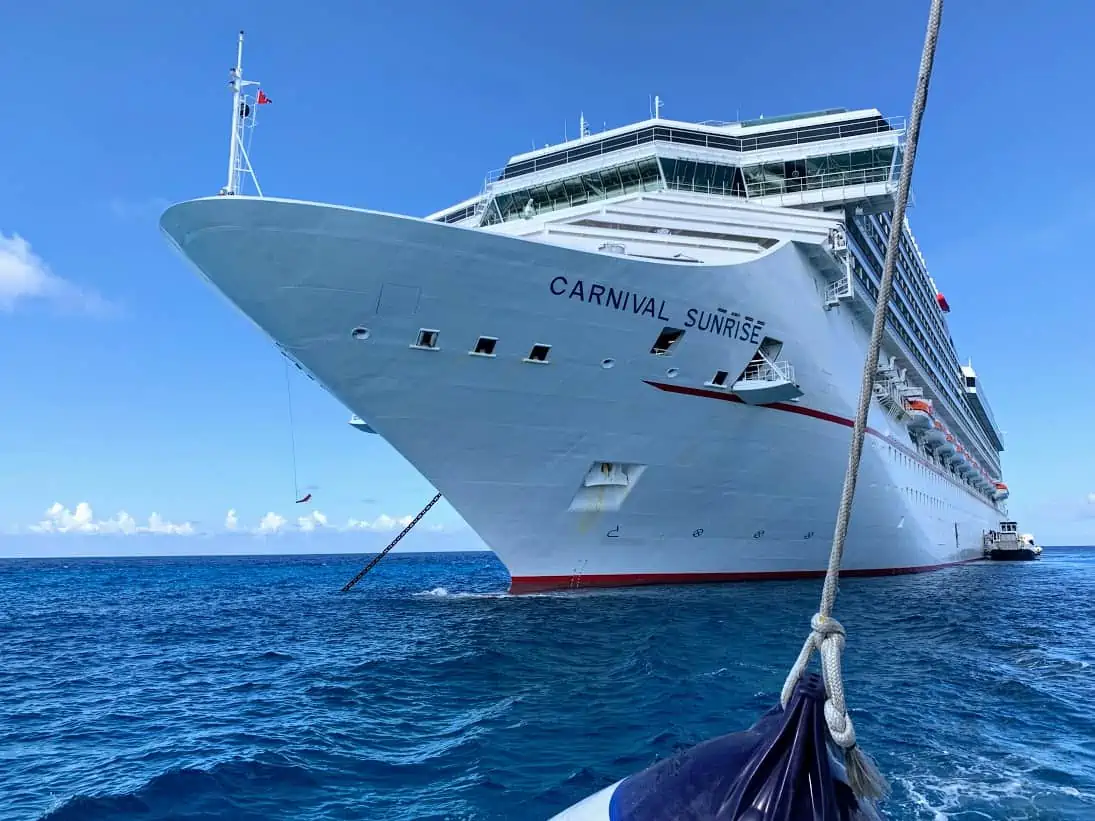 Whether this is your very first cruise or you sail often, you're sure to find some useful advice here.
31 Tips for Sailing Carnival Sunrise
Some of the following suggestions are Sunrise-specific, while others are a bit more general.
1. The New Rooms Sell Out Quickly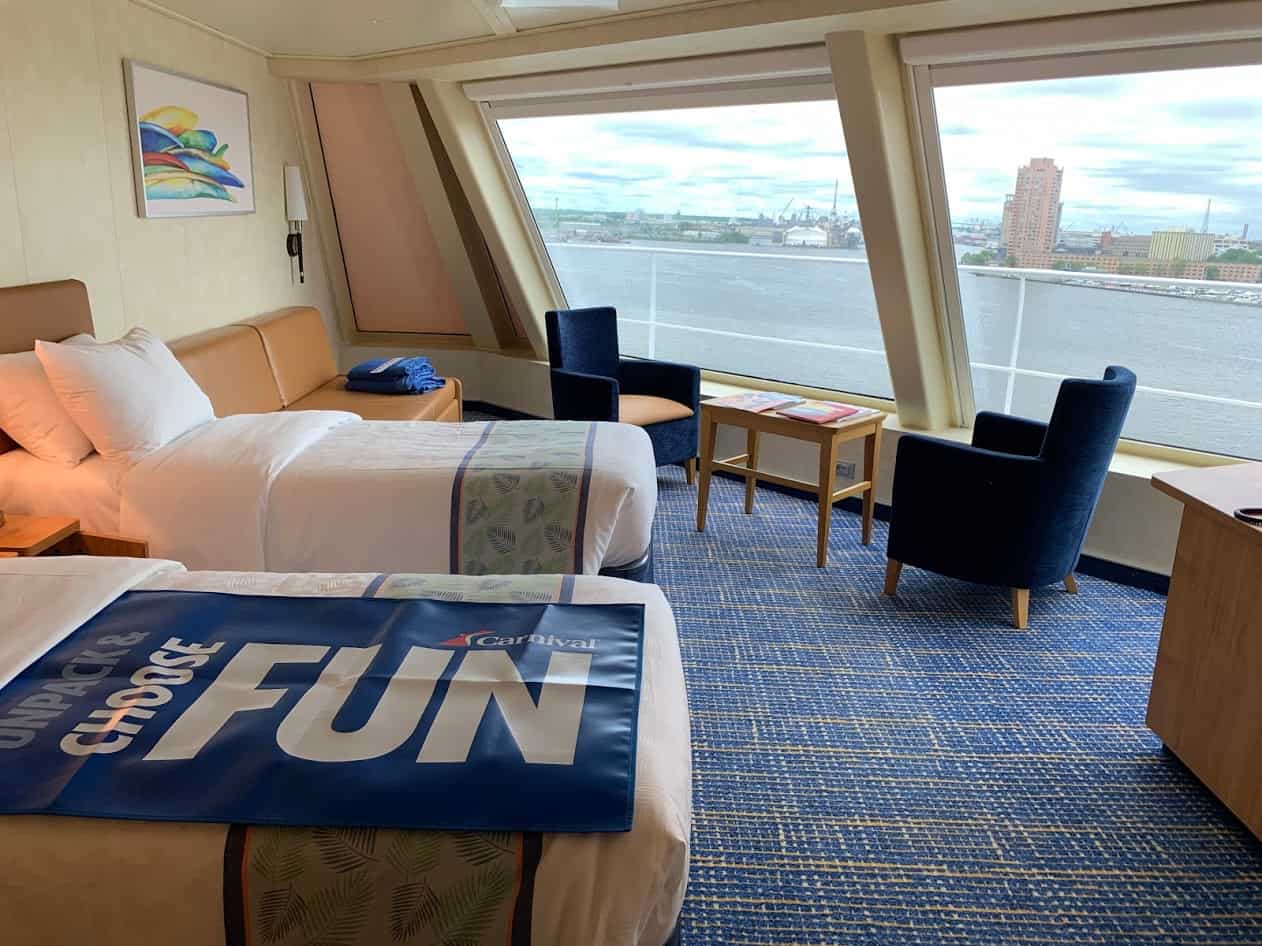 During the refurbishment, Sunrise got several new staterooms that are really popular and, as a result, will often sell out very quickly. Topping that list is the two gorgeous new Captain Suites, which are the largest on the ship and offer killer views.
But other popular categories include the scenic ocean view rooms and aft-facing balconies. If you want to snag one of these, plan ahead.
2. Embark Later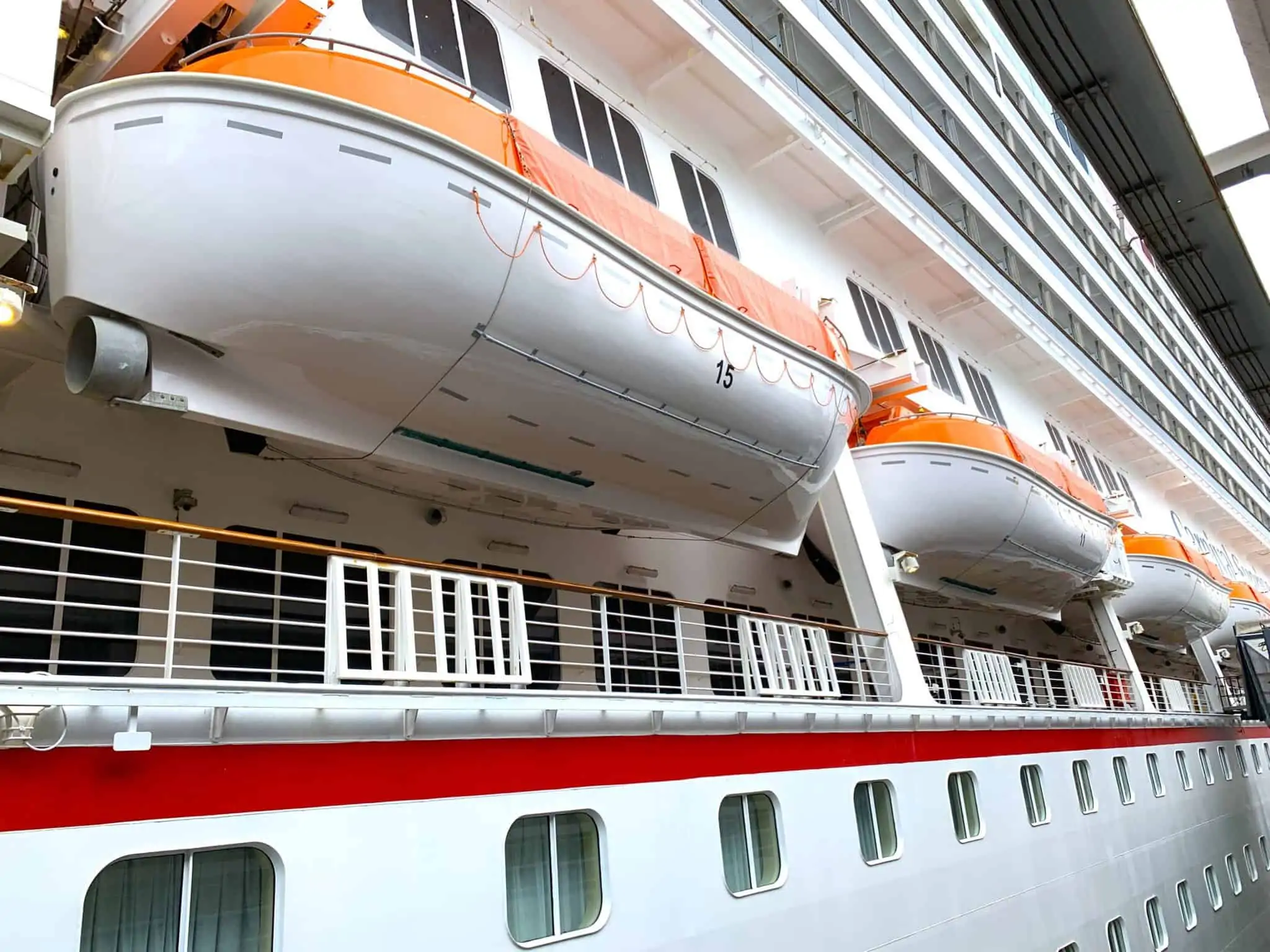 This next piece of advice is applicable to just about every ship in every fleet of every cruise line. Everybody's excited to start their vacation, and most people want to get on the ship as soon as possible. But here's the thing: That can make the first couple of hours of the embarkation process kind of a nightmare.
RECOMMENDED: Cruise Ship Luggage Tags
Trying to get an elevator takes forever, and people start getting frustrated. Who wants to start their vacation that way? If you don't have any particular reason that you have to board right away, hold off a while. By 1:30 p.m. or so, assuming embarkation starts at a normal time, you can walk on board and not have to deal with any of that stress.
3. Bypass The Atrium Bar For That First Drink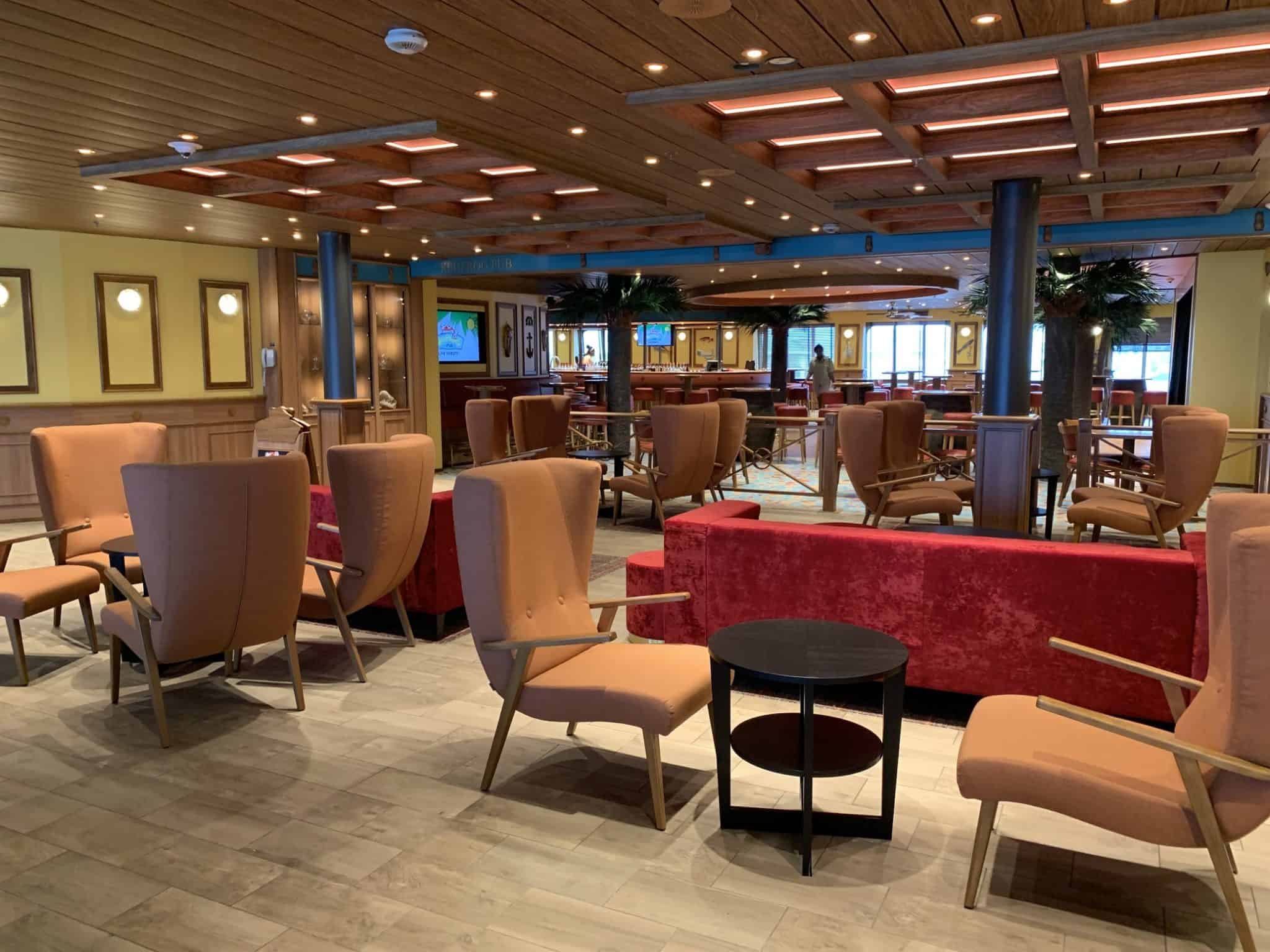 Once you board Sunrise, the first thing you'll see is the beautiful new atrium… and the bar, where people will be having a very good time. But it will also be a little bit crowded. You're going to have a whole week to enjoy the atrium and all the things that take place there. So if you want to avoid the crowd and grab that first drink, head somewhere else. Our recommendation? The RedFrog Pub.
4. Hit The Beer Stand By Pig & Anchor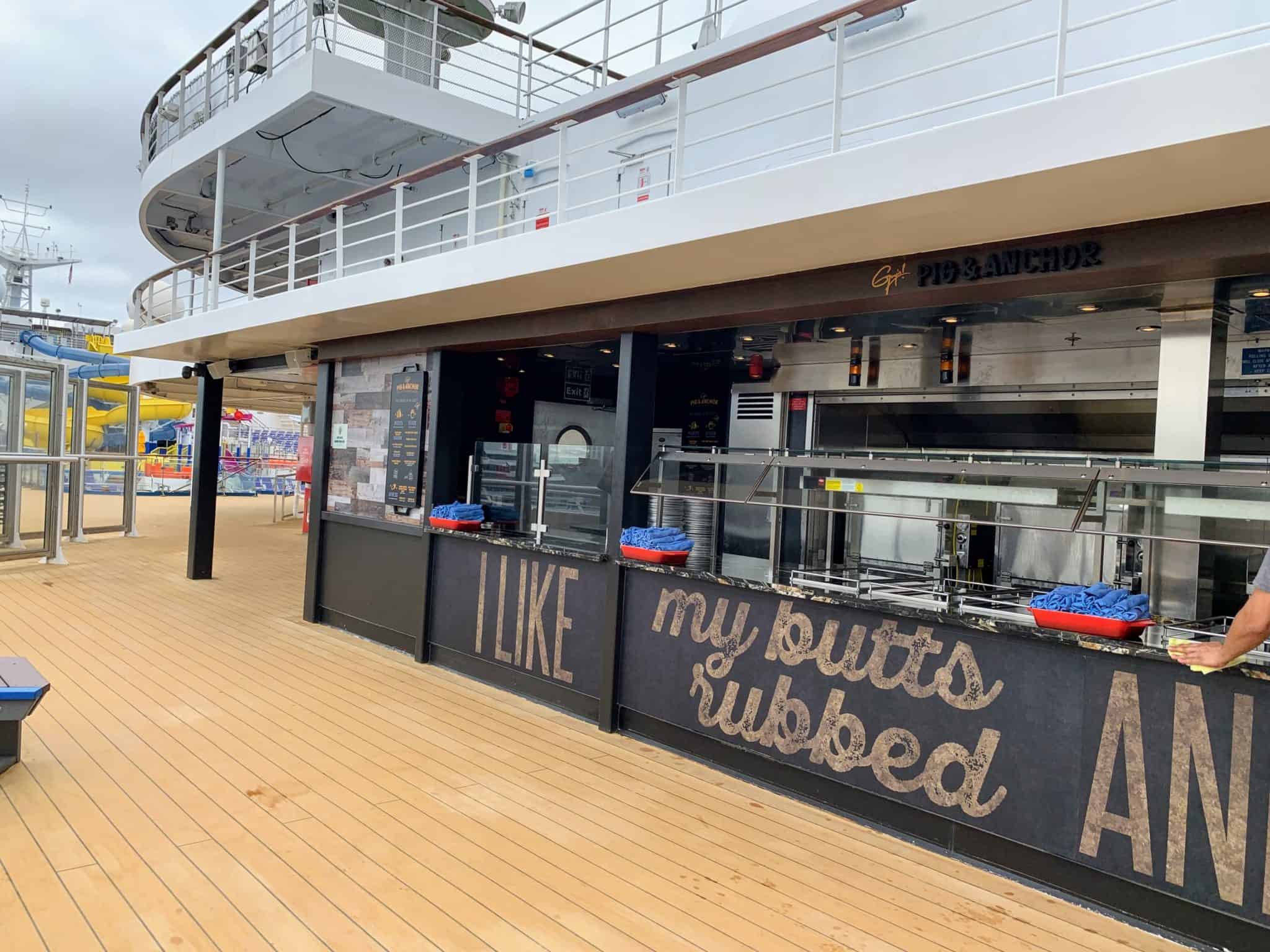 While we're talking about drinks, here's another tip for you: If you're chilling out by the pool and the bars are busy, go up to deck 10 by Guy's Pig & Anchor Smokehouse and check out the beer stand there. Sure, they only serve beer but if that's what you're looking for, this is a great option.
5. Remember The Glass Elevators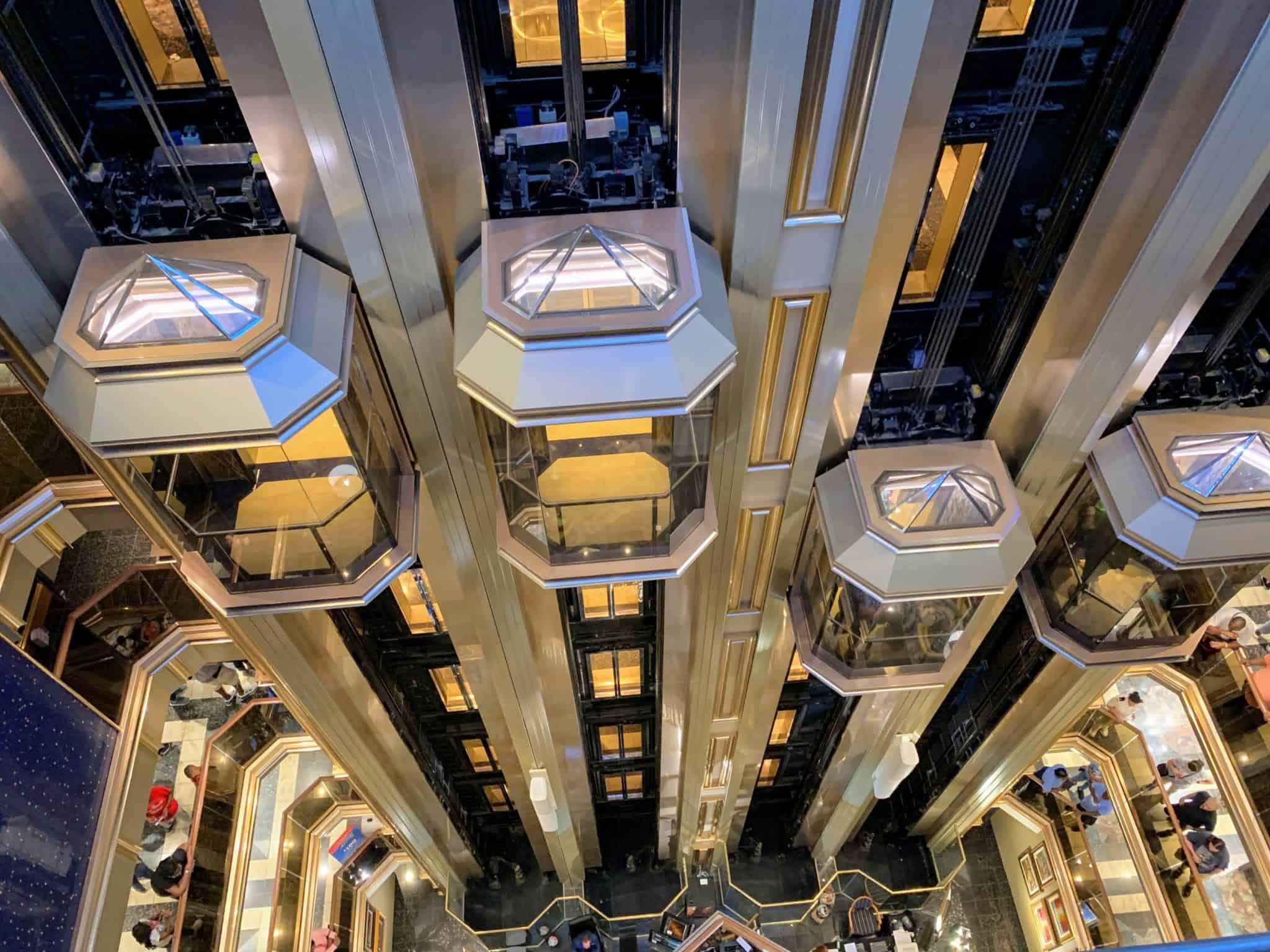 We noticed something odd happening on embarkation day, when people are still getting to know the ship. Many guests on decks 4 and 5 would summon one of the main elevators, which were often crowded with others heading to their rooms. But most ignored the four glass elevators which were virtually empty.
READ MORE: 39 Carnival Cruise Tips
For some reason, it seems as if a lot of people only think to grab the glass elevators from the atrium.
6. Book The Thermal Suite Before Cruise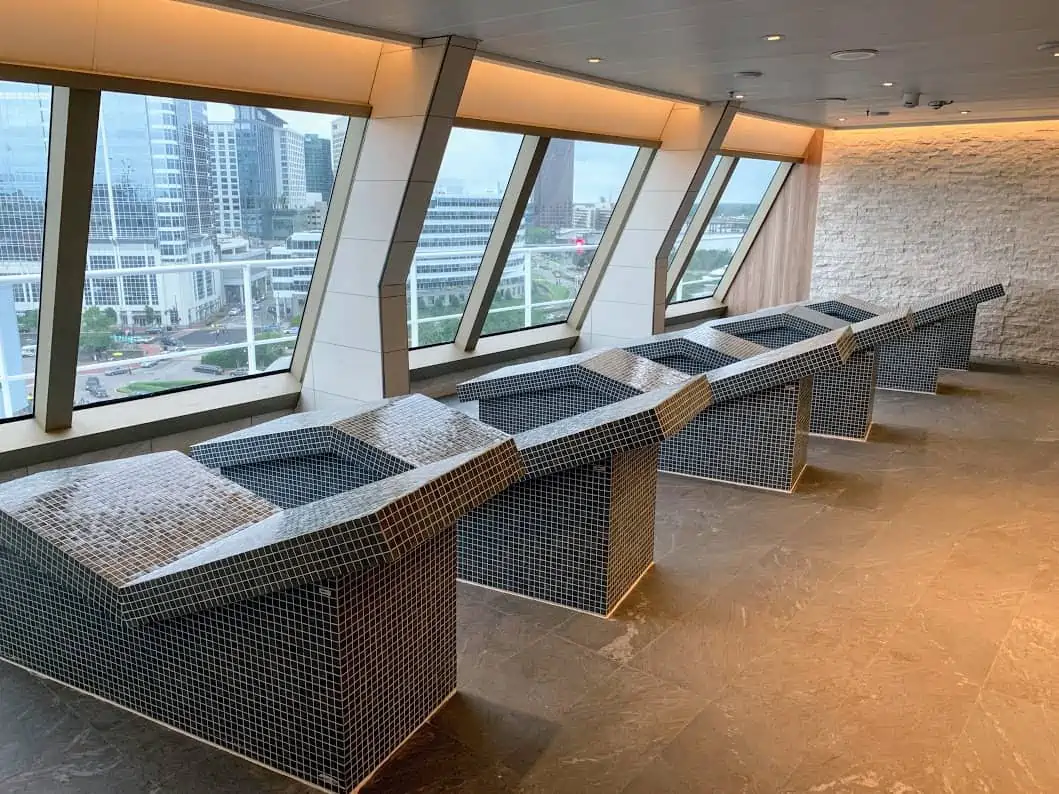 The thermal suite on Carnival Sunrise is very well appointed… but it's also not terribly big. If having access to this feature is important to you, book it as soon as possible or risk being shut out. (Guests who are staying in Cloud 9 Spa staterooms have automatic access and won't have to worry about this.)
7. The Buffet Can Get Crowded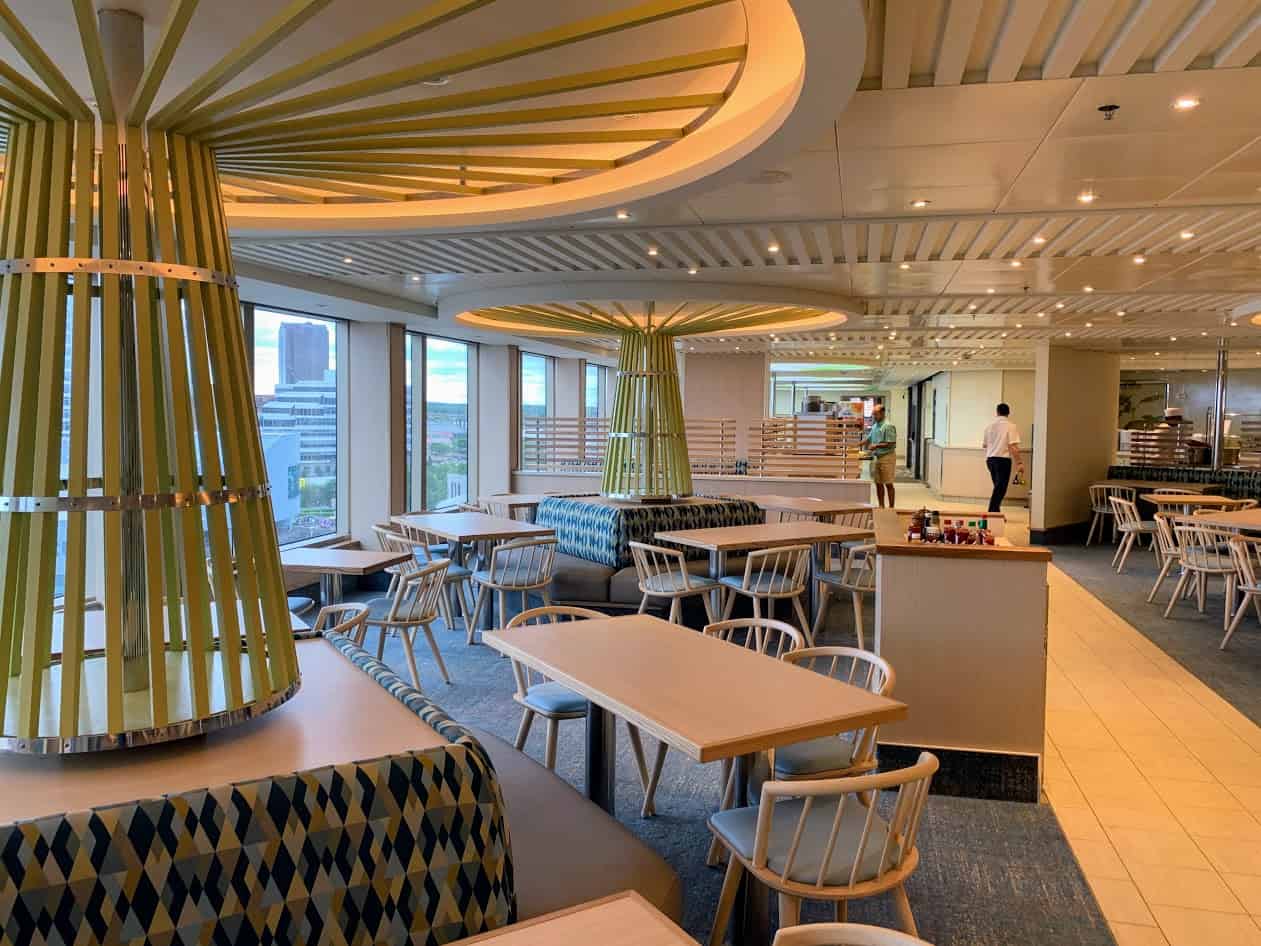 This particular tip is sort of a two-pointer. First, we highly suggest avoiding the buffet on embarkation day because… well, everyone on the planet (or at least on the ship) tends to head there. Seek out one of the other venues that day, and you'll have a more enjoyable first meal. (Our personal recommendation for embarkation day lunch? Read No. 8!)
Second, keep in mind that during the week, the buffet is going to be crowded during peak hours in general, and on sea days in particular. But if you simply avoid heading here during that rush-hour window, you'll be fine.
8. Hit Deck 10 For Lunch On Embarkation Day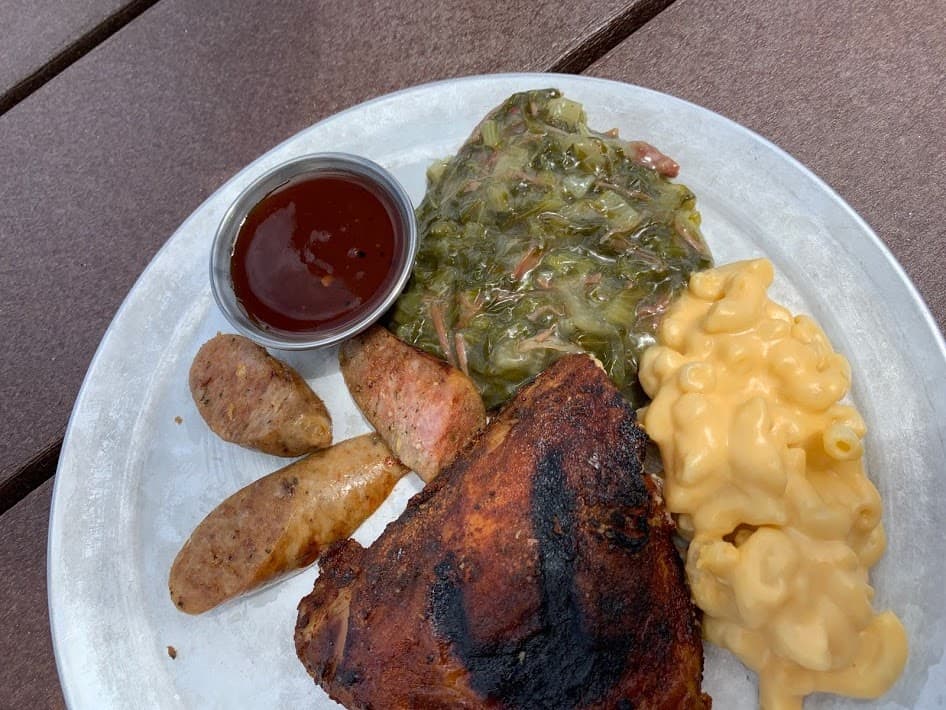 While everybody else is hitting the buffet or one of the eateries around the pool, head up to deck 10. There, you'll find Guy's Pig & Anchor Smokehouse as well as the Captain's Pasta Bar (which is the complimentary daytime offering at Cucina del Capitano, which becomes a for-fee restaurant at dinner time).
A day or two into the cruise, these spots will be packed. But on embarkation day, as people are getting to know the ship (and parents are trying to feed their kids in the easiest way possible, which means the buffet), these venues will be far less crowded.
9. Try The New Asian Venue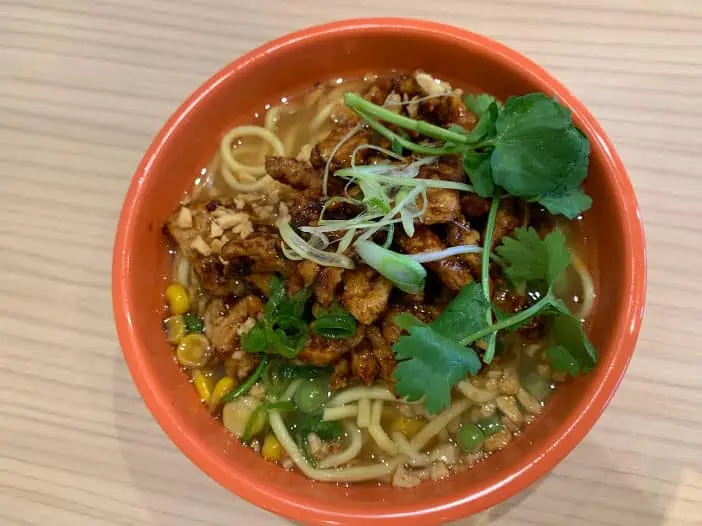 Lucky Bowl is a first-for-Carnival venue located inside of the Lido Marketplace. This great new complimentary spot offers four different menus that rotation throughout your cruise, each offering three bowls to choose from. Nearby there's a toppings area where you can throw some extra garlic, onions, sesame seeds or spicy sriracha sauce into your bowl.
10. Research Your Food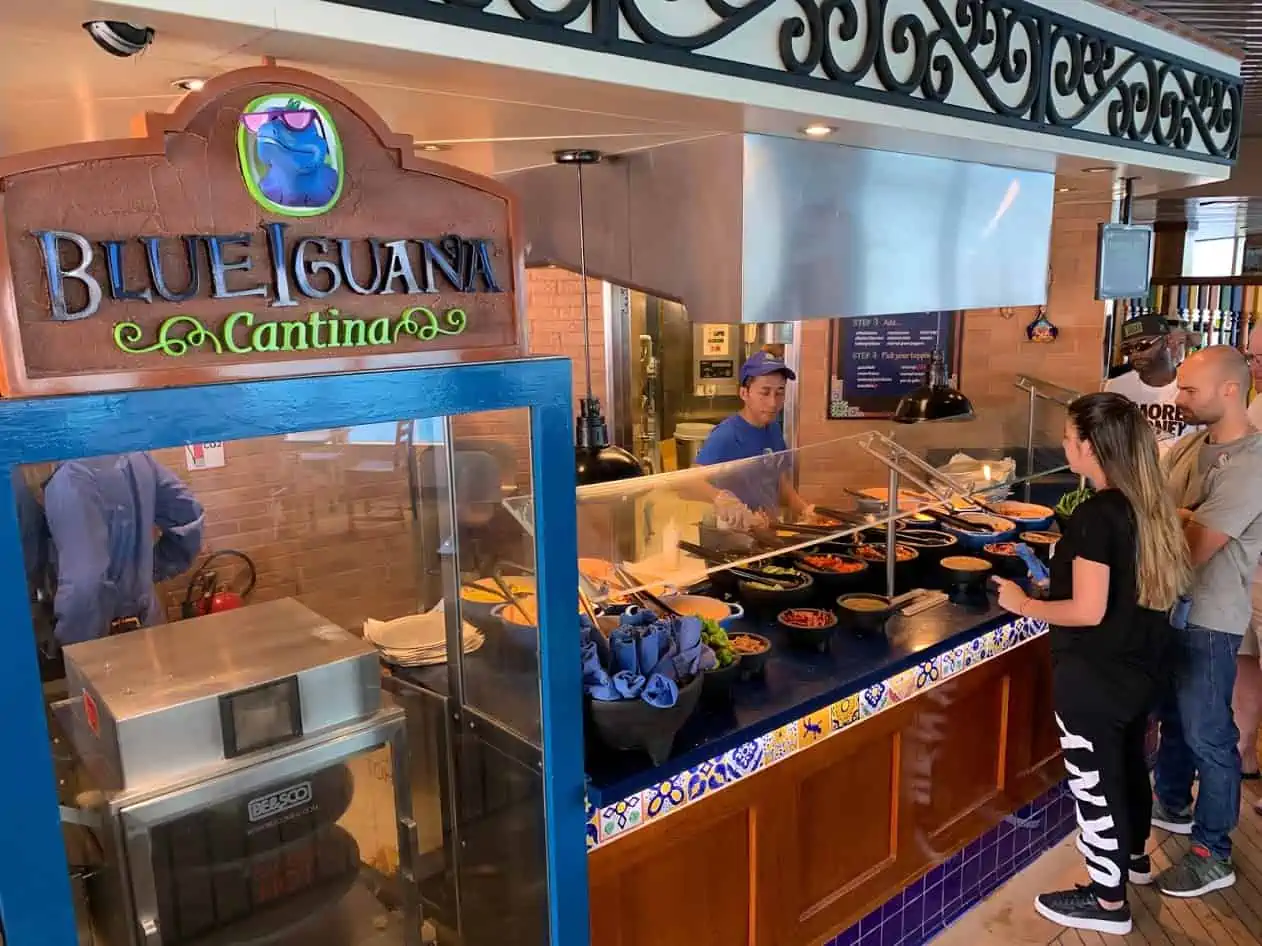 Sure, you could bop around the ship and just grab food when you want at whatever venue happens to be open. But if you've got your mind (or your stomach) set on something in particular, keep the Fun Times (or the Carnival Hub app) nearby at all times. Because hours definitely vary, meaning that Bonsai Sushi may be open for lunch one day, but not another.
READ MORE: Guy's Burger Joint Review
Guy's Burger Joint is typically open from noon to 6 p.m., while BlueIguana Cantina is only open until 2:30. And on embarkation day, BlueIguana is only open until the lifeboat drill. You'll never go hungry — pizza is available 24/7 — but you may not always be able to satisfy a particular craving.
11. Reserve the Steakhouse ASAP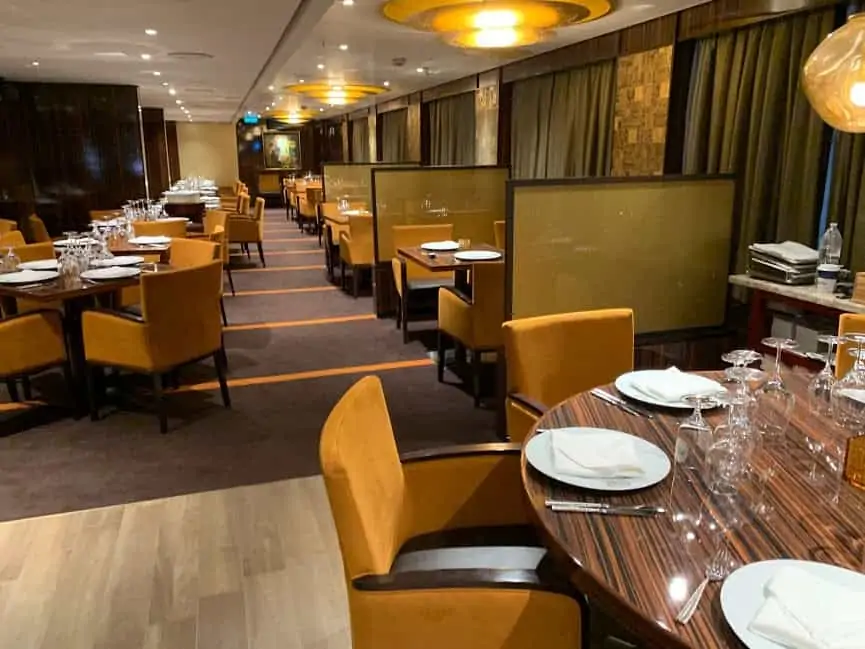 If you want to enjoy a meal at Fahrenheit 555 Steakhouse, make a reservation as soon as you get on the ship. This is a new addition to Sunrise, which is awesome… but it's not a huge space. That's great as far as creating a more intimate atmosphere that really makes Sunrise's Steakhouse feel even more special, but it also means you really need to book this one in advance. Odds of being able to just walk up and snag a table are pretty slim.
12. Be Smart About Your Time Dining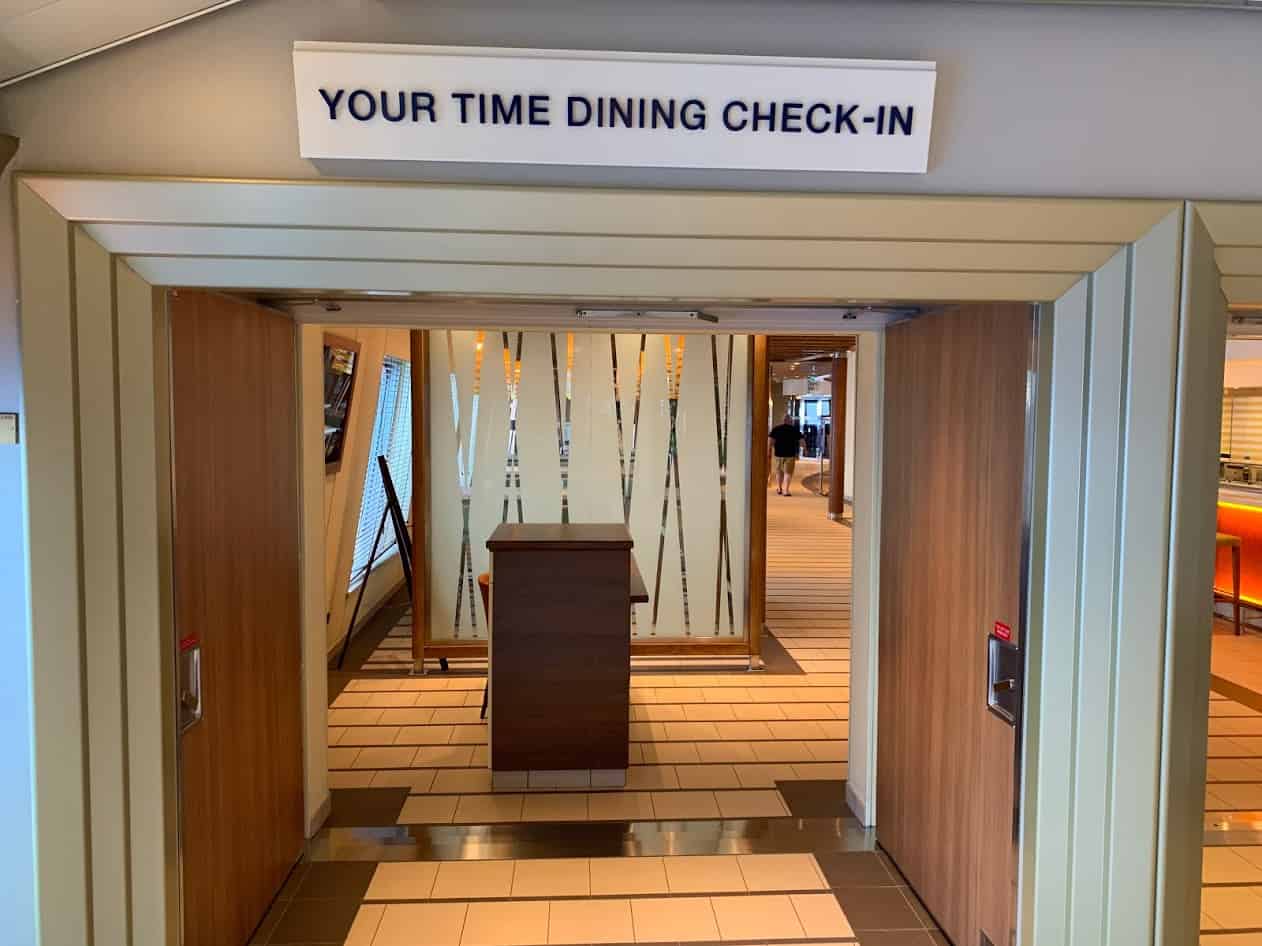 Over the past few years, Your Time Dining has become crazy popular… which means that during peak dining times, you might have to wait a while for your table assignment. On our sailing, the time to avoid was between 6:30 and 8:30. p.m.
Outside of that window, it was pretty easy to get a table almost the moment you walked up to the podium.
READ MORE: 31 Carnival Cruise Main Dining Room Tips
13. Chill Out in Java Blue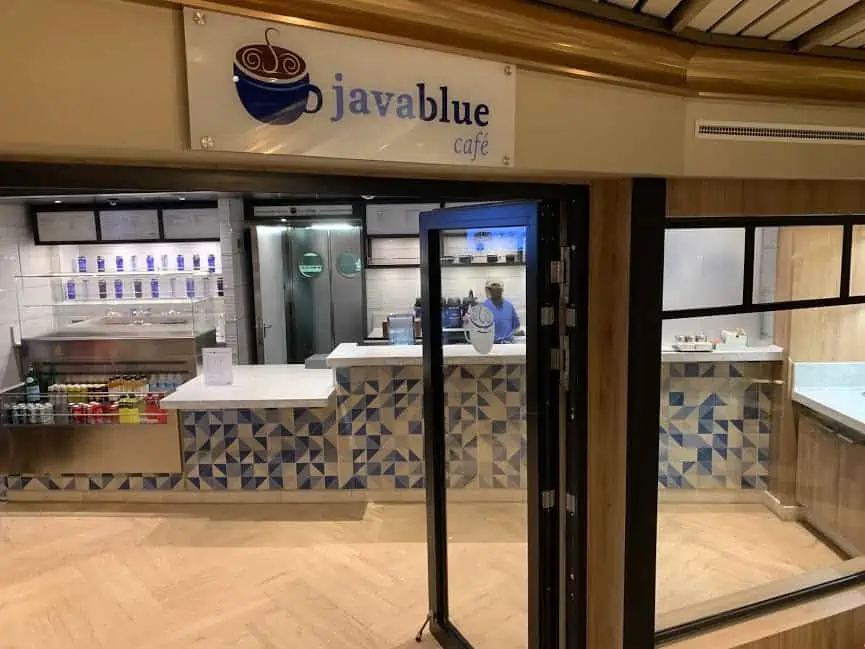 What was once the library on the Carnival Triumph is now the Java Blue Cafe on Carnival Sunrise. As opposed to the grab-and-go spot that Java Blue is on other Carnival ships, this one is a full-blown coffee shop.  Not only can you get your morning coffee here, but they also have espresso, milkshakes, energy drinks and various tasty treats… including some pretty incredible doughnuts and cupcakes. While the food is for-fee, remember that most of the drinks here are covered by your CHEERS! package.
14. Know What's Free When on the Room Service Menu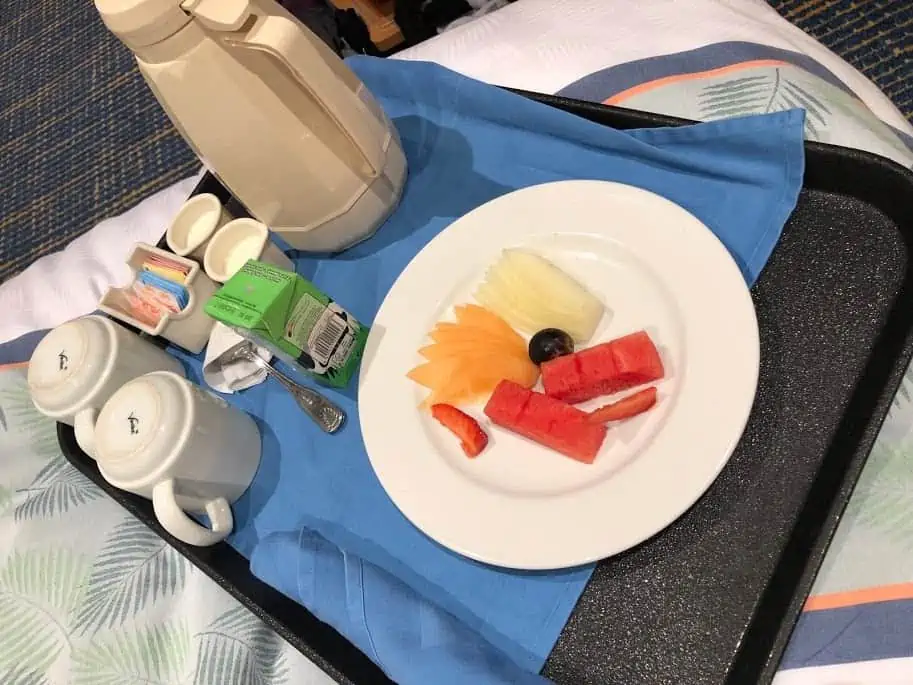 During the day time, there are items on the room service menu that are complimentary. If you want to avoid the mad lunch rush — or just wanna have a lazy day — why not place an order? This is an especially nice option on a rainy day, or if you want to sit on your balcony and take in the view while munching.
READ MORE: Carnival Reverses Room Service Change
Buyer beware: some items, like the chicken wings and pizza, do cost extra. And any order placed after 10 p.m. will come with a charge no matter what.
15. Get To Serenity Early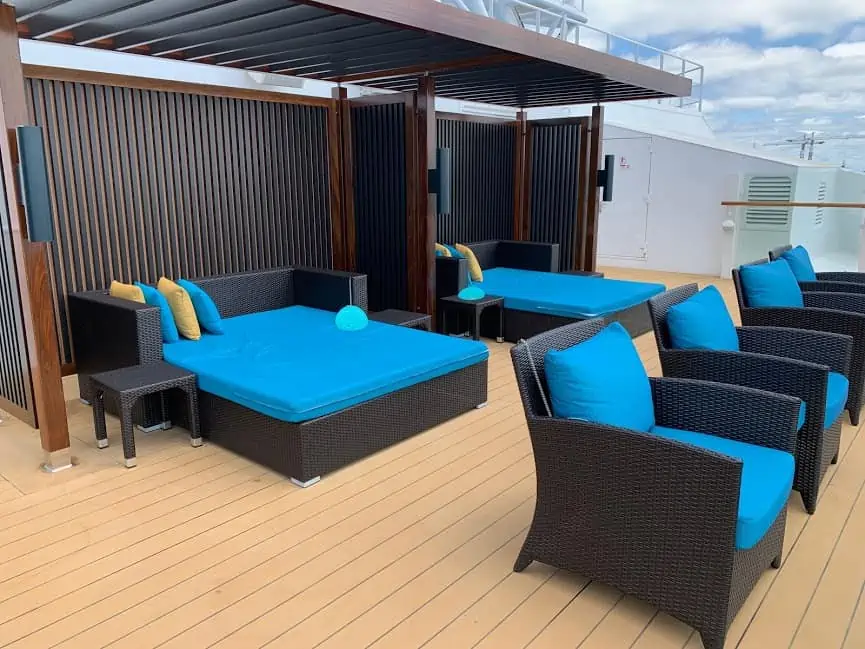 The adults-only Serenity area was expanded during the refurbishment, and they did a really great job of making this a great place to hang out. As a result, this is prime real estate for sun worshippers who don't want to be around the more boisterous main pool area.
If you want one of the daybeds or clamshells, head up early in the day. But never fear… even if you don't get one of these highly-coveted spots, there's plenty of loungers to be found.
16. The Serenity Deck Bar Is Truly Serene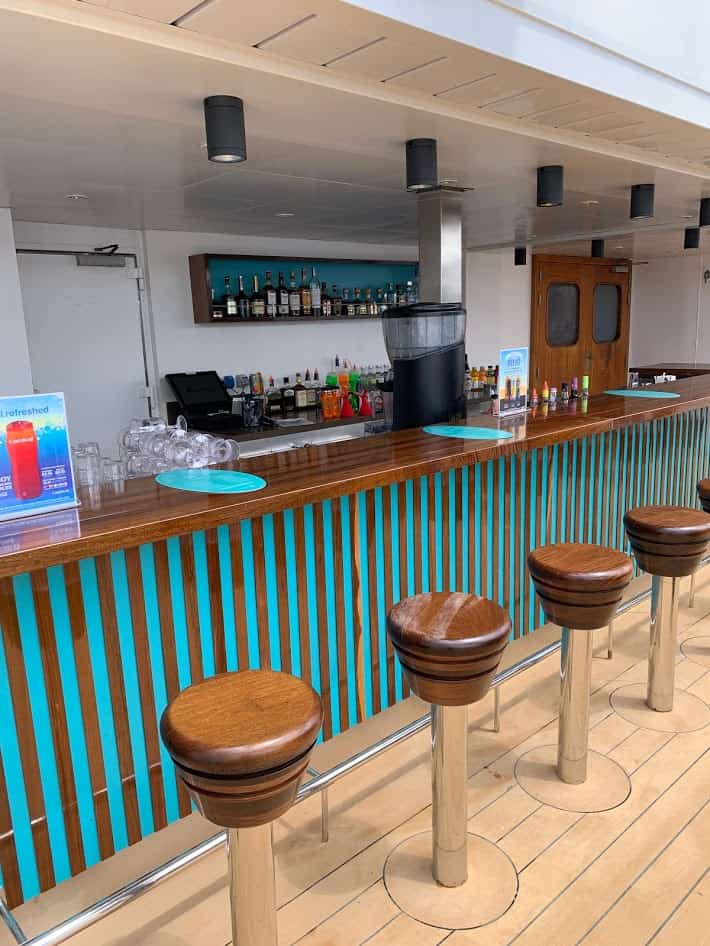 Our go-to cocktail spot on Sunrise was the Serenity Bar because it didn't matter what time I got up there, it was never too crowded (with the exception of embarkation day). The hot spots on the sea days are the RedFrog Rum Bar and BlueIguana Tequila Bar, which makes sense given that both are near the pool.
The nice thing about Serenity is that the drink servers consistently make the rounds to see if you need anything, but aren't doing so in a pushy way.
17. Drink Servers Are Your Friends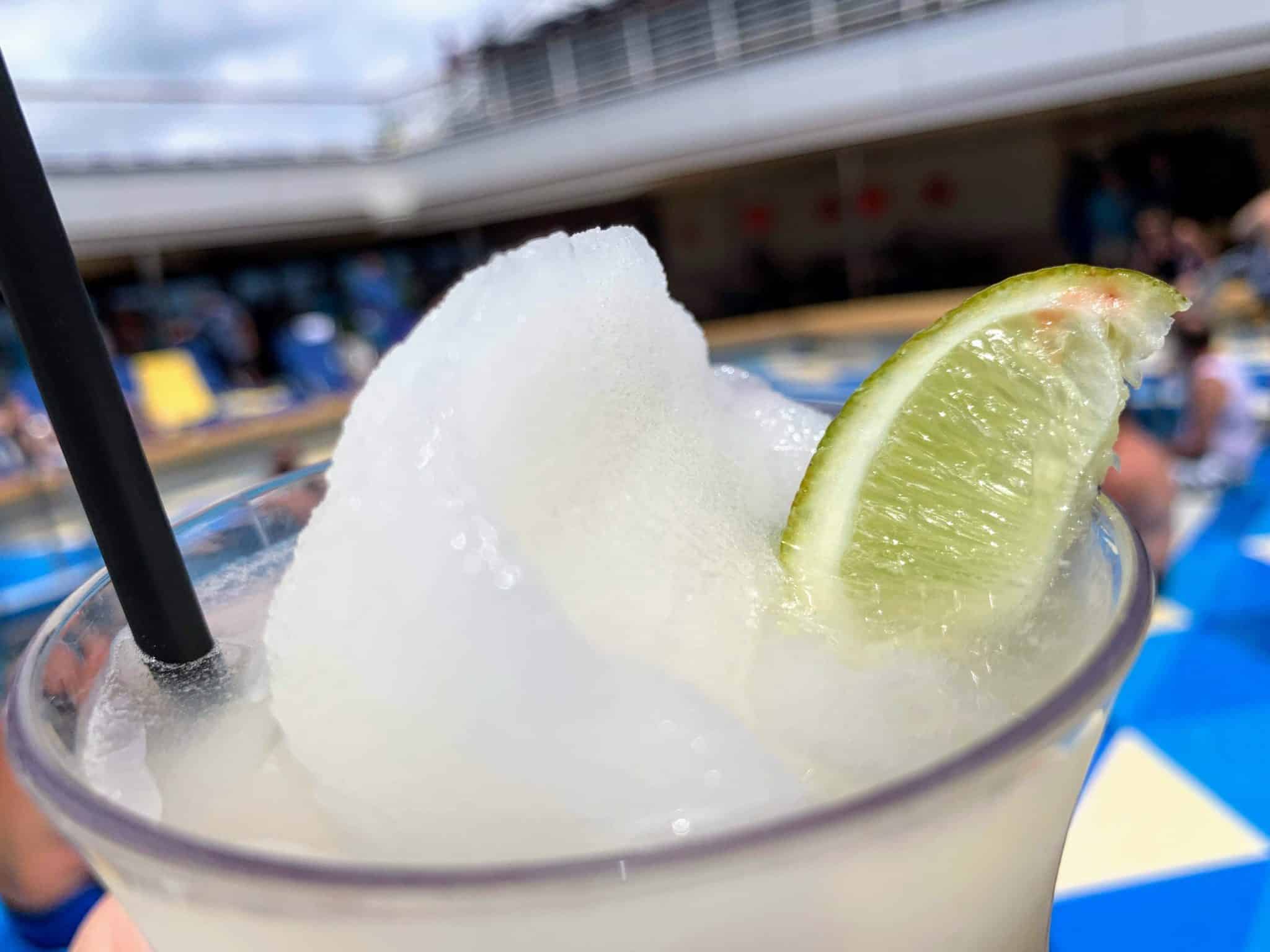 If you find yourself at an atrium party or in the theater and wanting to grab a drink without dealing with the lines at the bar, approach a server and ask them to place the order for you. They'll happily take your order so you don't have to give up your seat. Just make sure to tip them in return!
18. The Theater Steps Are Steep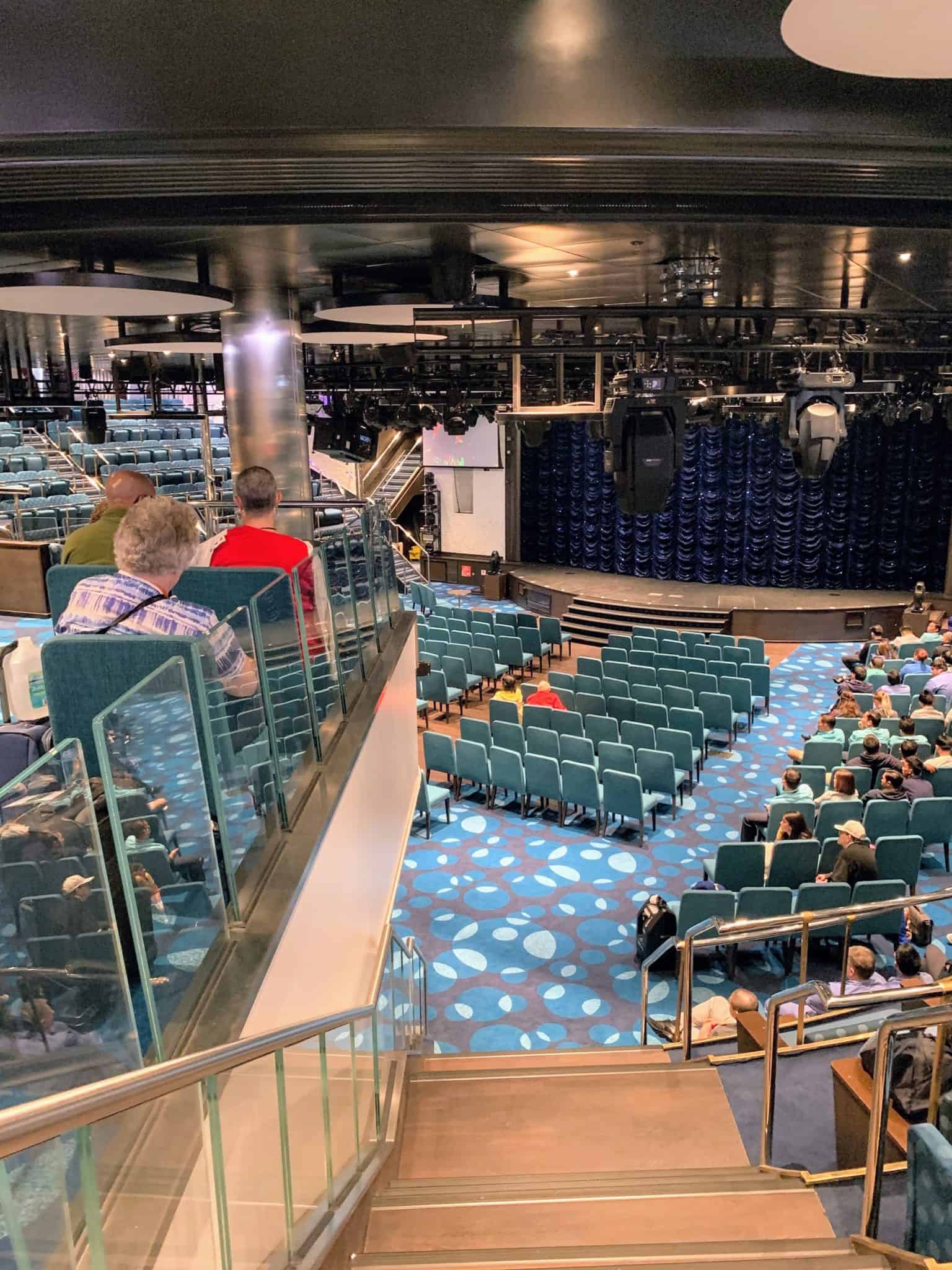 If you're trying to make your way between the two levels of the Liquid Lounge (aka the main show theater), watch your step! The stairs are particularly steep and can really catch you off guard, especially if you're trying to navigate them in the dark, such as when the show is in progress.
19. Catch the Electric Violins in the Atrium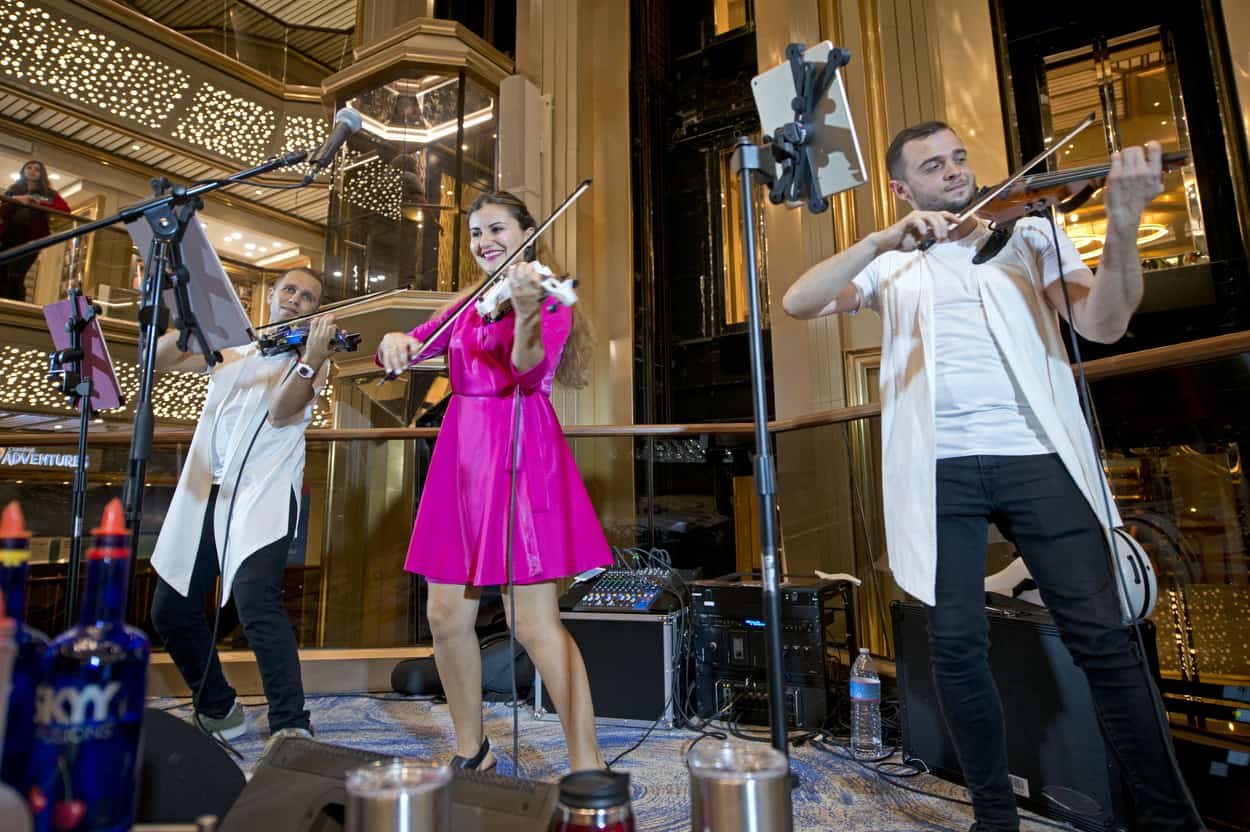 Check the Fun Times to find out when the trio of violinists will be playing in the atrium. Generally speaking, they do four sets each night right around the dinner hours. Their unique performance, combining modern music with classical instruments, provides the perfect background for a pre- or post-dinner cocktail.
20. Get to the Comedy Club Early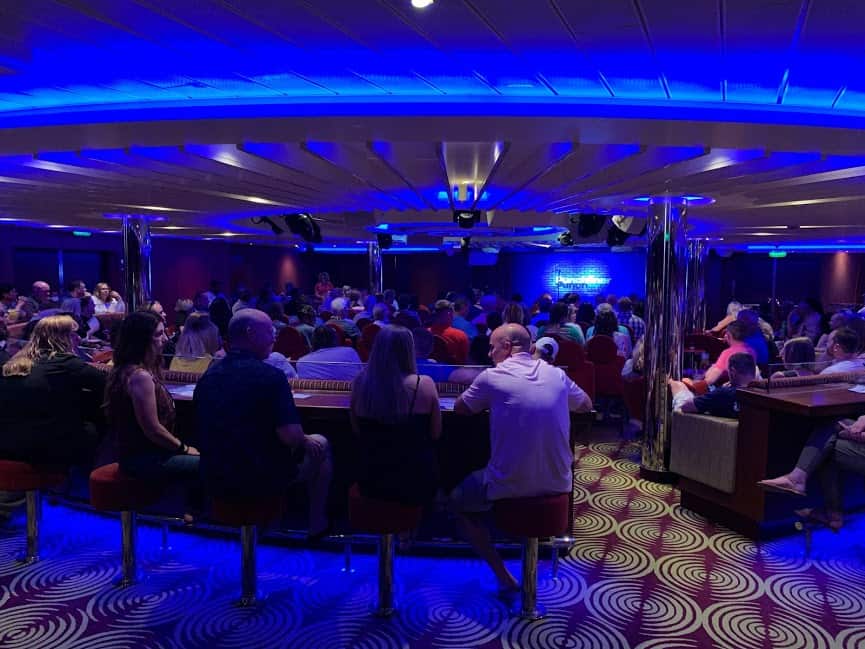 The Limelight Lounge has a nice design and a little more seating then can be found on Sunrise's sister ship, the Carnival Sunshine, but it's still a good idea to get there early or you may find yourself sitting along the back wall.
You can still see from back there, and they did a nice job putting booth space and chairs there, but who doesn't want to be closer to the action?
21. Consider the CHEERS! Package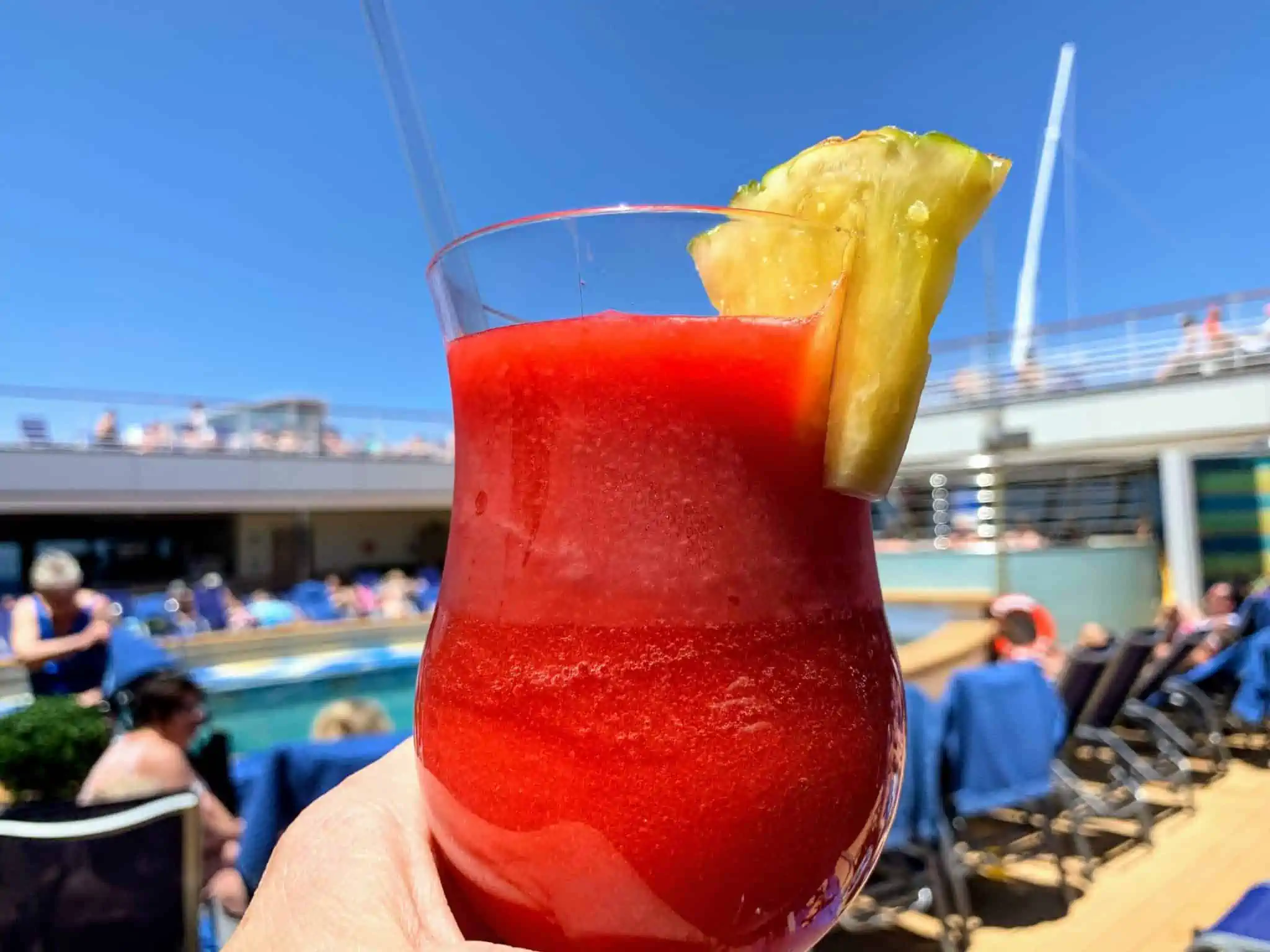 With the newly added venues on Carnival Sunrise, it's worth doing the math to see if the CHEERS! beverage package is right for you. Keep in mind that while the package only covers 15 alcoholic drinks, it also covers a bottomless supply of many other beverages.
READ MORE: Pros and Cons of Carnival's CHEERS! Beverage Package
The current price is $51.95 per person, per day, plus an 18% gratuity. To lock in that rate you'll need to purchase the package before your cruise.
22. Take a Chance at the Alchemy Bar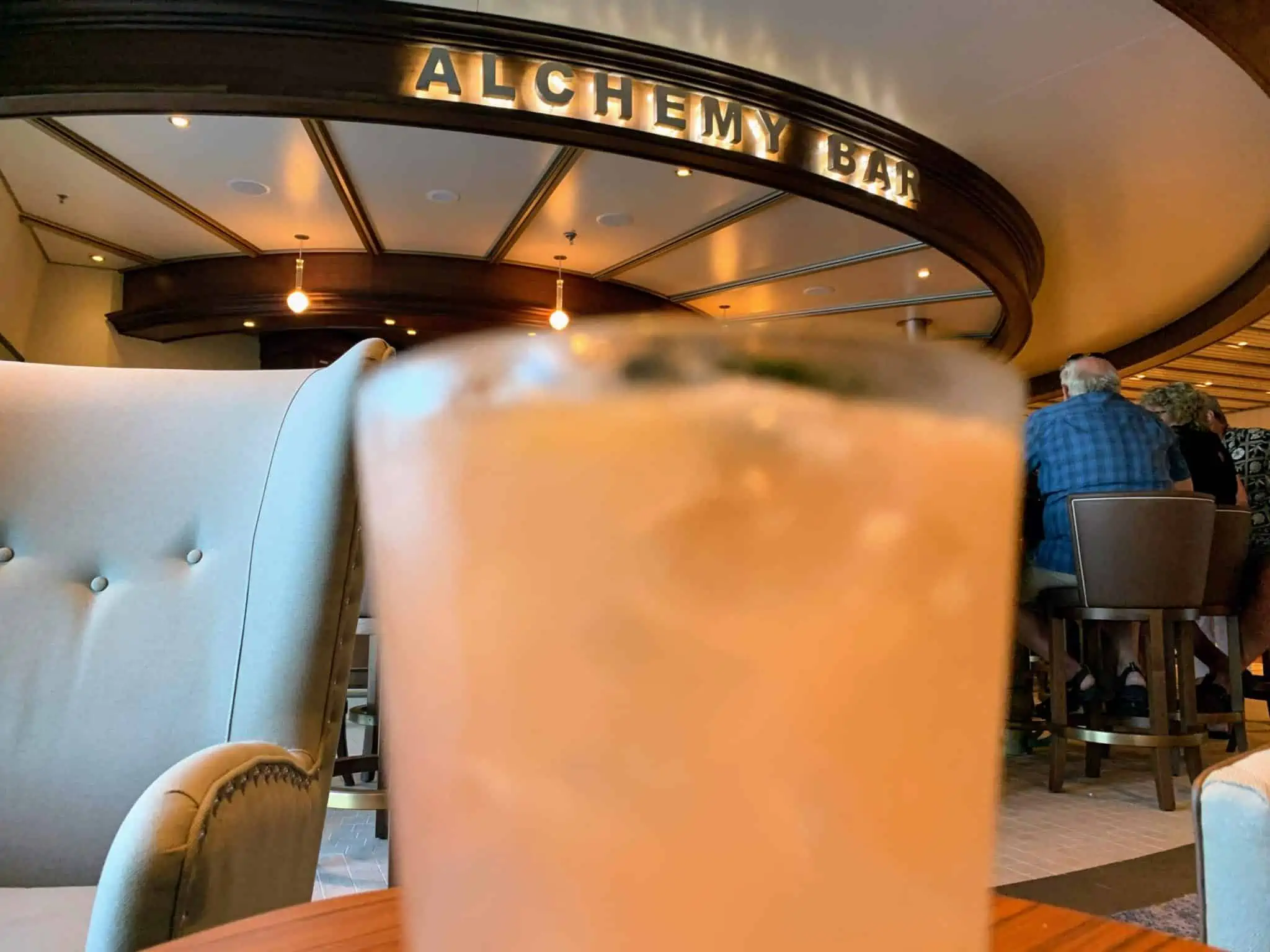 Sure, this cocktail bar has a great selection of drinks. But what's really fun is letting the bartender whip up something completely original for you. Give the mixologist a flavor, or maybe ask that the drink be built around a certain liquor, and then let the master mixologist do their thing.
23. Try The Ropes Course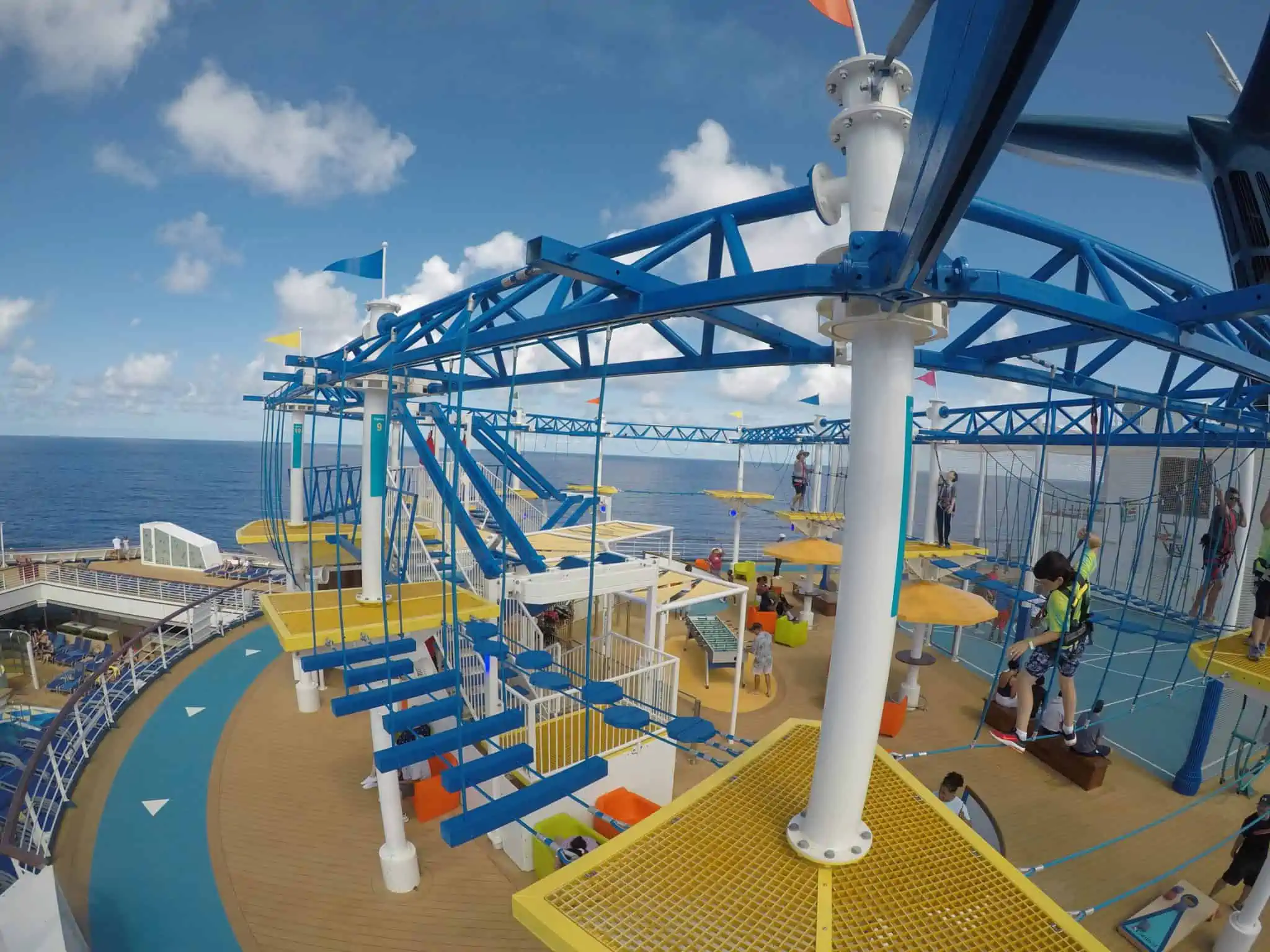 One of the top-deck additions during the refurbishment was a ropes course that offers that is definitely not for those afraid of heights, given how high you are above the ocean.  A crowd favorite on the course is the planks that go over the side of the ship.
They don't allow you to take cell phones on the course, so either have someone on the ground to snap your picture when you get to the plank or have a GoPro strapped to yourself.
Given how much they get for photos, I'm surprised they haven't set up a way to automatically take a pic of guests at the end of the plank.
24. Ride The New Waterslides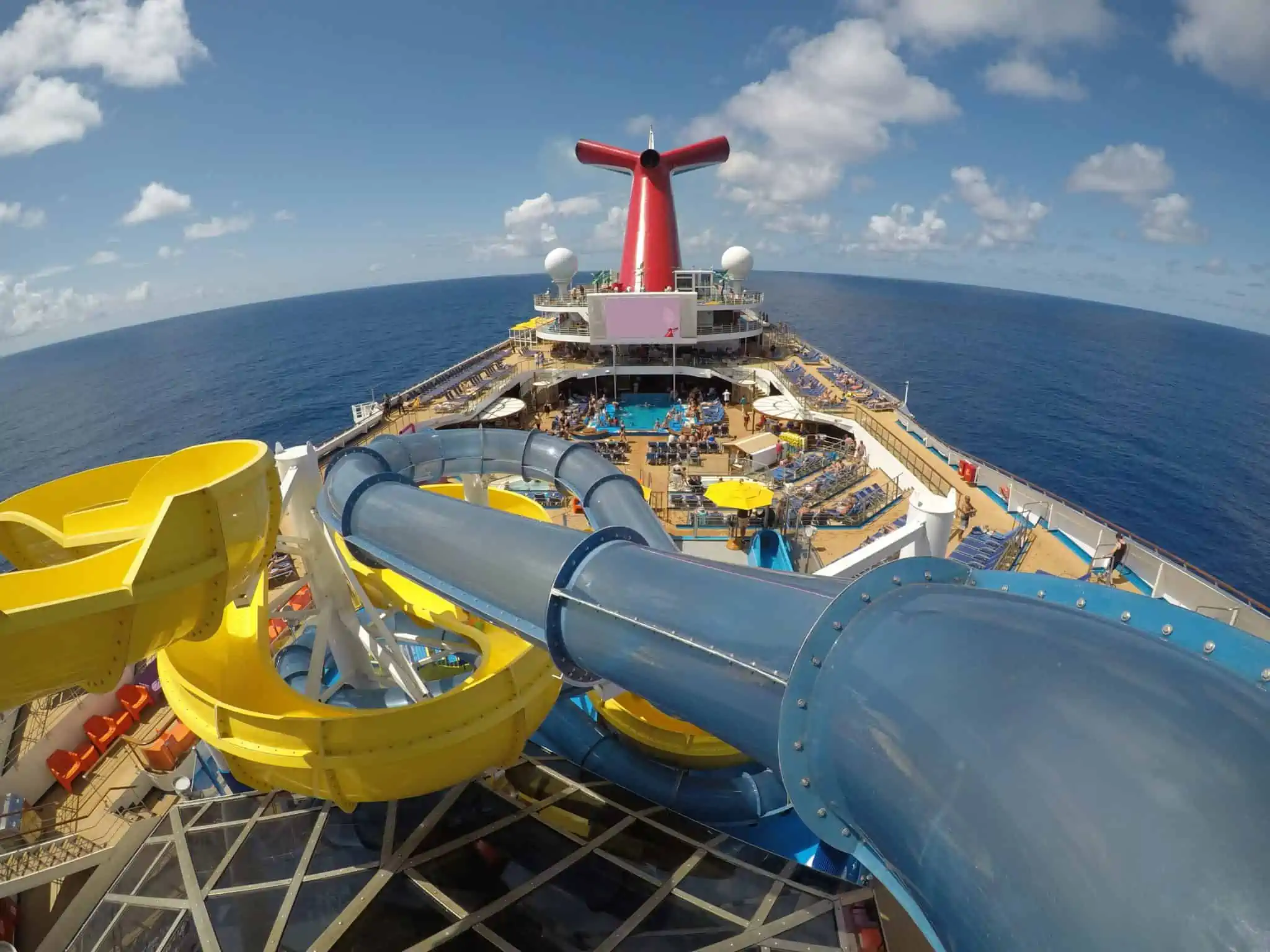 The two waterslides they added during the refurbishment are worth giving a try, and the line usually isn't too long. The entrance is up on deck 14, so you have to climb to the top but the twists and turns of the slide make it all worthwhile.
The slides are only open for select hours (check the Fun Times) and there is a slide attendant there monitoring the flow of traffic.
Pro tip: the covered slide is a lot faster if you use the hand bars to push yourself off of at the very top.
25. Chillax On Deck 5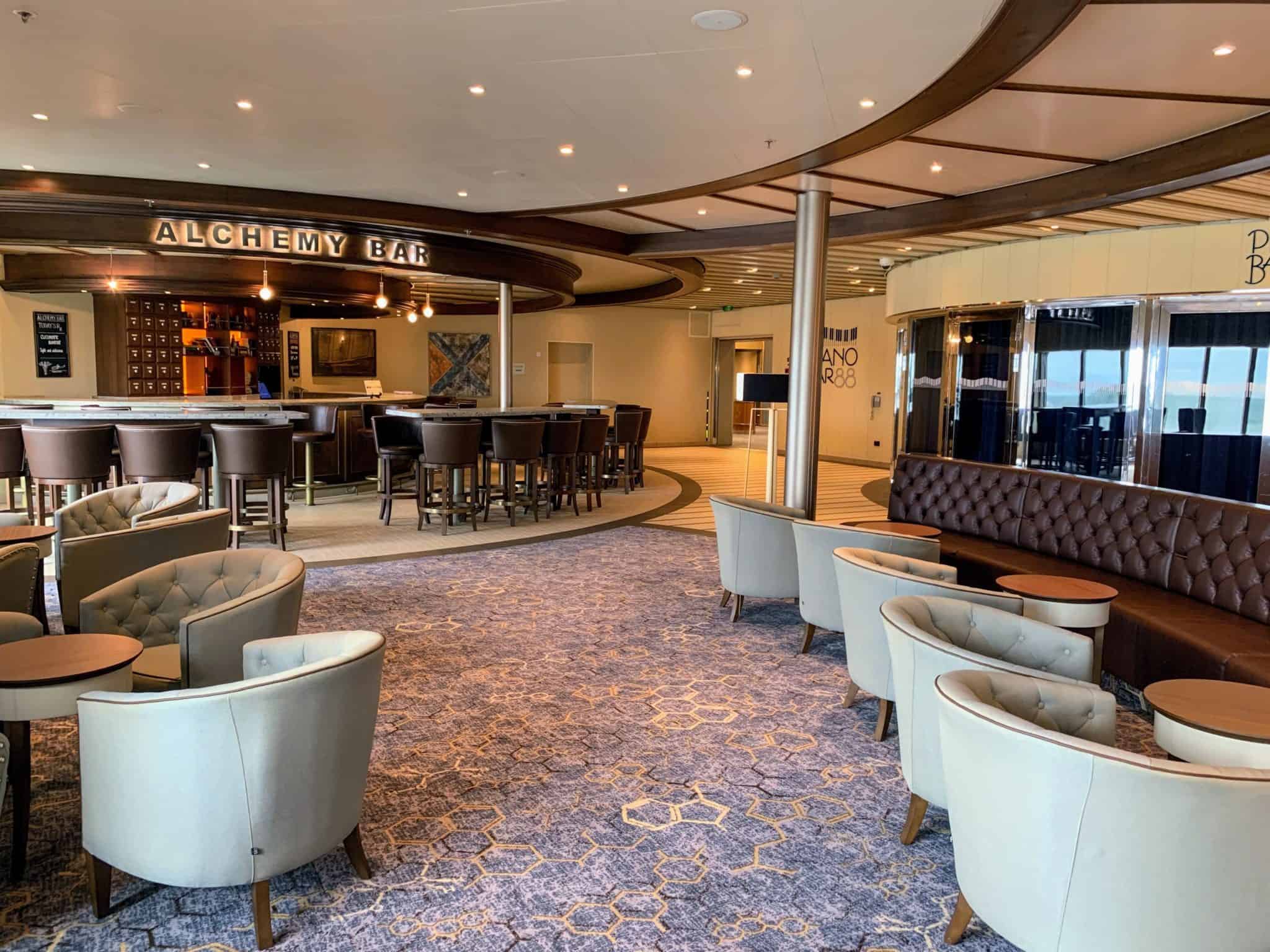 Looking for a place to read or (if you must) get a little work done during the day? There's a large space with lots of comfy seating options between the RedFrog Pub and the Alchemy Bar. There is no Ocean Plaza on Carnival Sunrise, but space sort of serves the same purpose.
26. Book Half Moon Cay Clamshells Early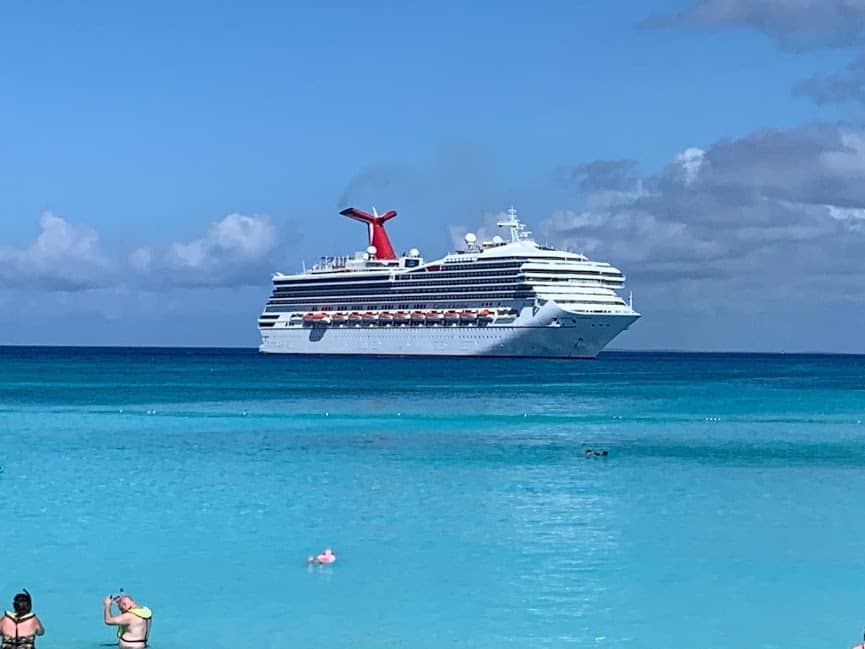 A majority of Sunrise's Caribbean sailings will include stops at Half Moon Cay. While this island is blanketed with white sand and turquoise water, it also gets hot… like, really hot! If you want to avoid the sun by renting one of the covered loungers known as a clamshell, book it early, because they will sell out.
On our last sailing, we waited until we got to the island to rent a clamshell… and snagged the very last one. Everyone behind us in line was out of luck. On our sailing, the cost to rent one for the day was $29.95.
27. Bring Proper Shoes (for your itinerary)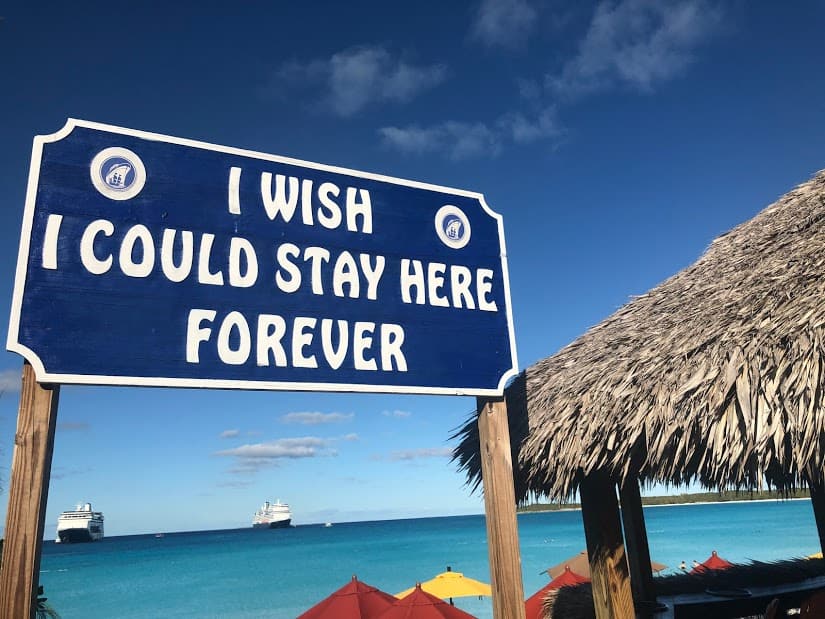 Most people spend time considering what to wear on formal night, but many forget to take into consideration the shoes they'll need for various activities during the week. Guys think, "I've got a pair of sneakers… what else could I need?"
Well, you might want to consider water shoes for the beach if you want to avoid stepping on hard shells or sea life. And when heading to the pool deck, it's a good idea to have flip flops for when the surface gets hot.
28. Leave the Surge Protector at Home
I couldn't believe how many surge protectors were confiscated at the security line on our sailing. Yes, you can bring an extension cord. Yes, you can bring a basic power strip. But surge protectors can short circuit a marine electrical system, so — shocker — they're not allowed.
Regular cruisers often purchase and pack a European power converter, which will give them an extra plug in the stateroom. And packing a European power converter will give you three plugs instead of the standard two. Carnival Sunrise also has two USB plugs by the bed for charging your devices overnight.
This is the European power converter that I use.
29. Shower at the Locker Room in the Spa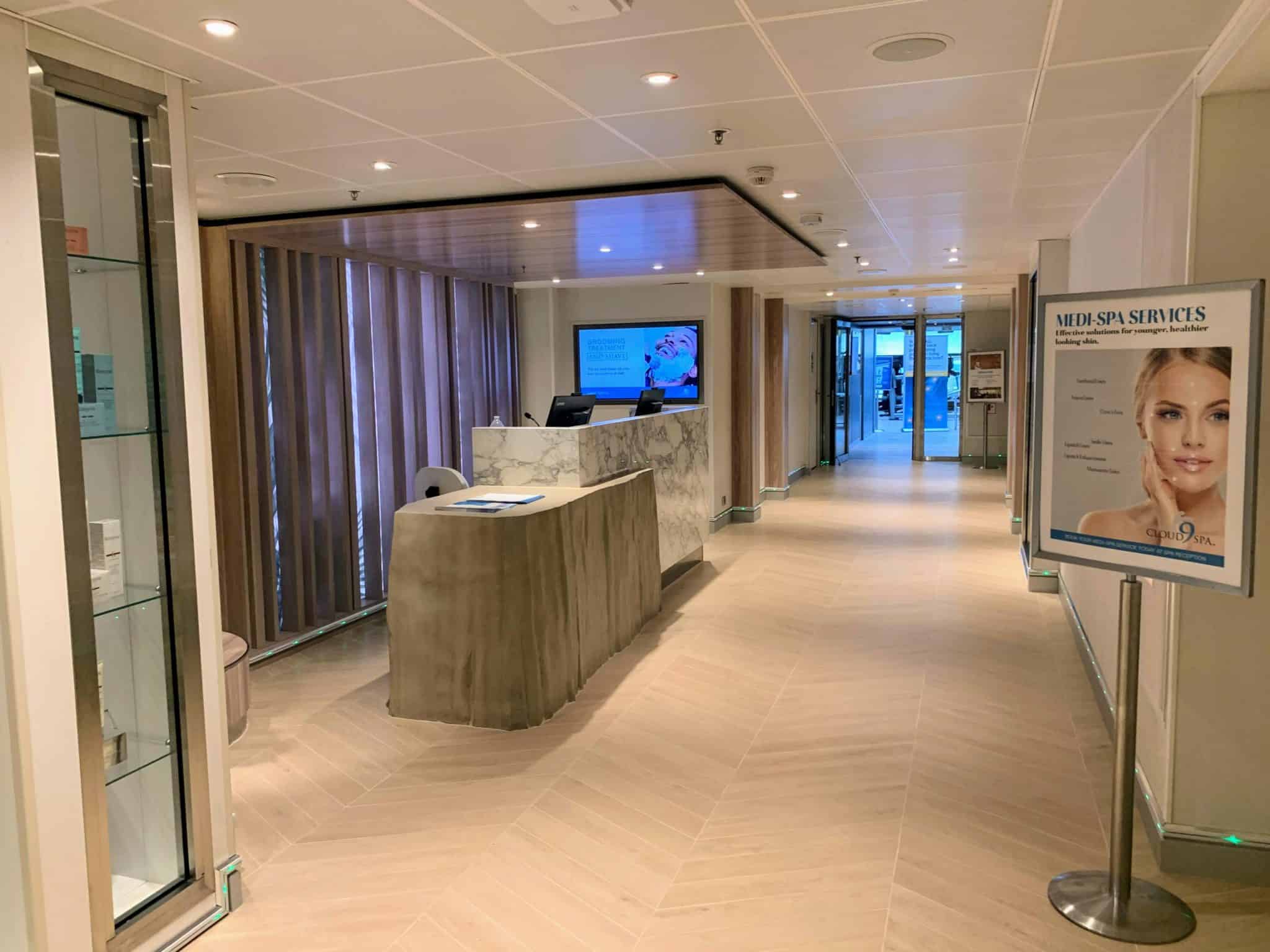 Like a lot of the other Carnival ships, the showers on Carnival Sunrise are very nice and have plenty of space in them. This makes for a great spot to shower, especially if you're on a time crunch and more than one of you is in the stateroom needing to get ready to head out. Heck, score yourself extra points by going to the fitness center and working up a sweat before hitting the shower.
30. Get Your Debarkation Luggage Tags Early
The morning before debarkation, they will put out the luggage tags for those guests planning to leave their luggage out for collection. A lot of people want to be the first ones off the ship, so if you're one of them, make sure you find out where they put the rack for the luggage tags.
On our sailing, it was just outside of the casino by the Your Time Dining check-in. The lower numbers go really quickly, and next thing you know there are only zones 20 and higher left
31. Debark First or Last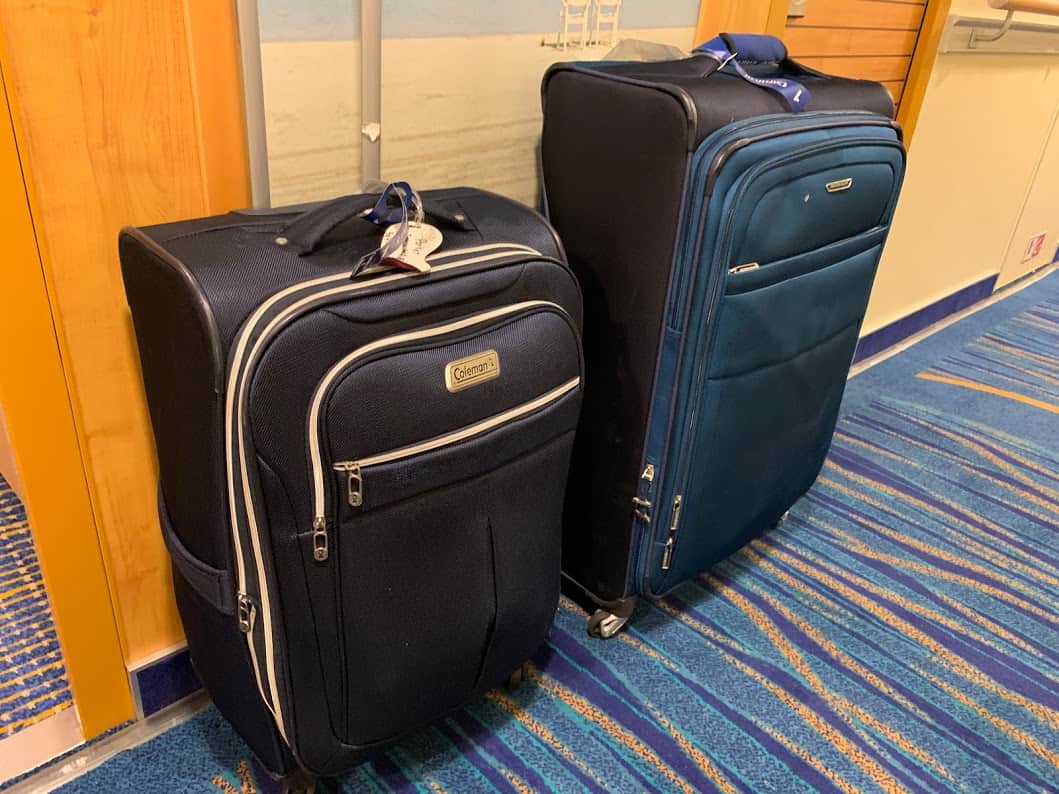 When it comes to getting off the ship, be one of the first ones off, or wait to be one of the last ones. Either way, you have to vacate your stateroom by 8:30 so the crew can get your room ready for the next guests. The cruise director used the term early bird disembarkation special, where if you had your luggage and wanted to get off the ship, you could come down to the lobby with no lines or wait. Once the early bird is stopped, you have to wait to be called. Self-assist will be called first and then zone numbers one through 25. Late debarkation is a perfect time to explore the ship.
Do you have any Carnival Sunrise tips? Lets us know!
Carnival Sunrise Tour (2019)