Today was our final full day aboard Carnival Celebration, and I realized yesterday that I hadn't gotten up for a single sunrise the entire time.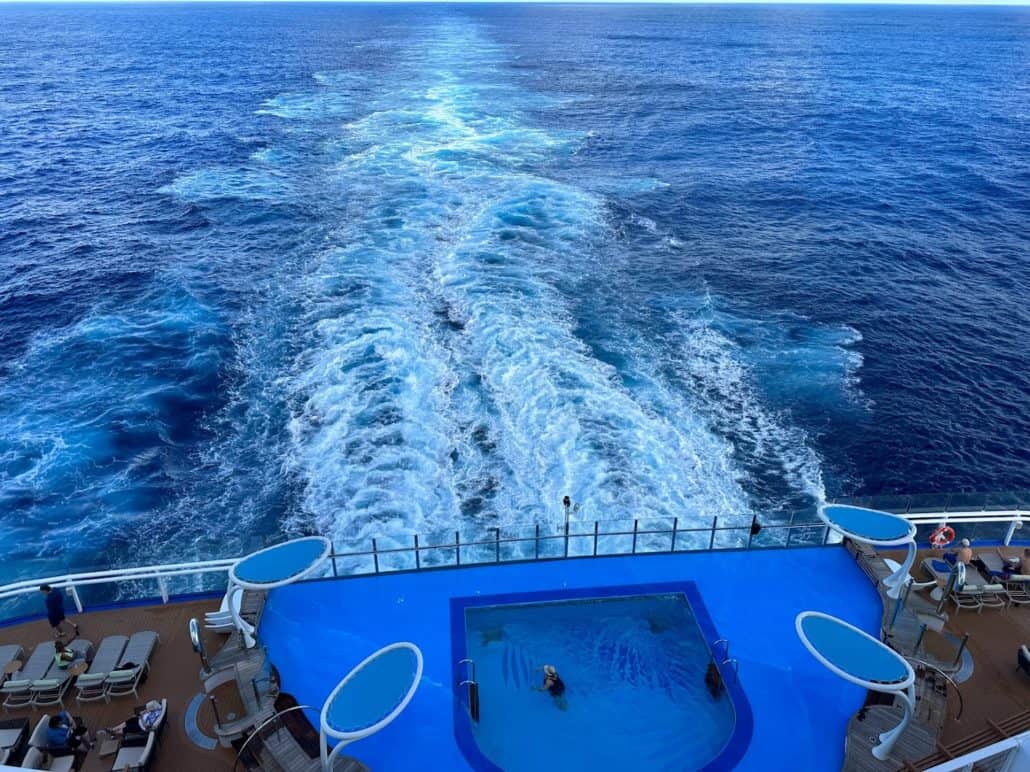 Most of my cruises so far have been in balcony cabins, so it's been easier just to wake up and walk two steps out the door to see what the weather's like/see the sunrise.
On this cruise, we were in an interior, though, so it takes more effort on the part of getting up and dressed to go outside and see what's going on.
Once we got outside, it was apparent that my efforts were in vain because it was so cloudy we couldn't see the sunrise at all. I hung around for a bit just enjoying the ocean breeze before heading back to the cabin.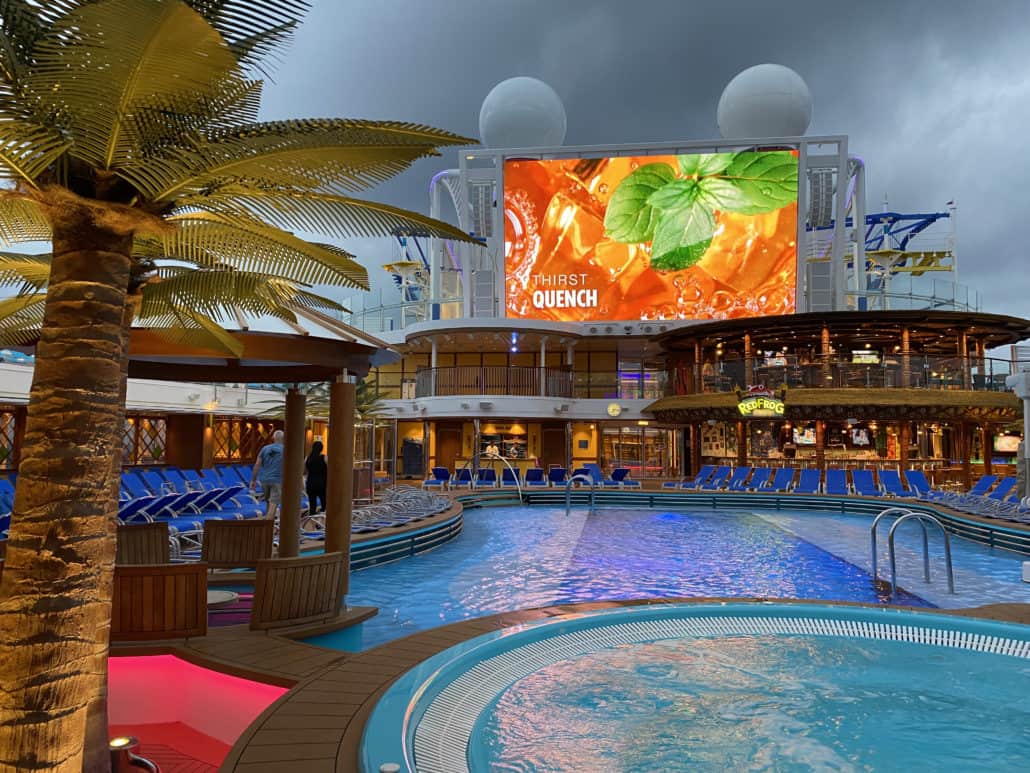 I needed to get in one more sea day brunch before the sailing was over, so we headed to the dining room soon after sea day brunch opened.
Normally I wouldn't be quite as much a creature of habit to order the same thing during sea day brunch again, but the mac and cheese was so good last time that I couldn't force myself not to get it again. I also got some sliced ham to cut up into it. My dad got the Voyage Burger which he really enjoyed.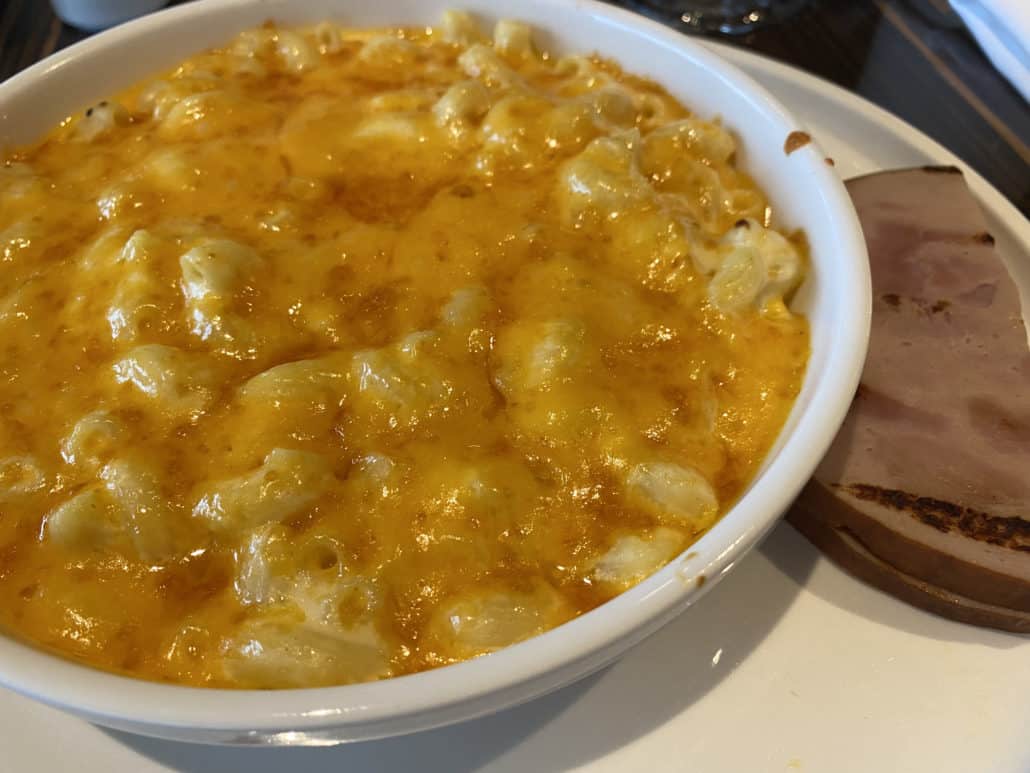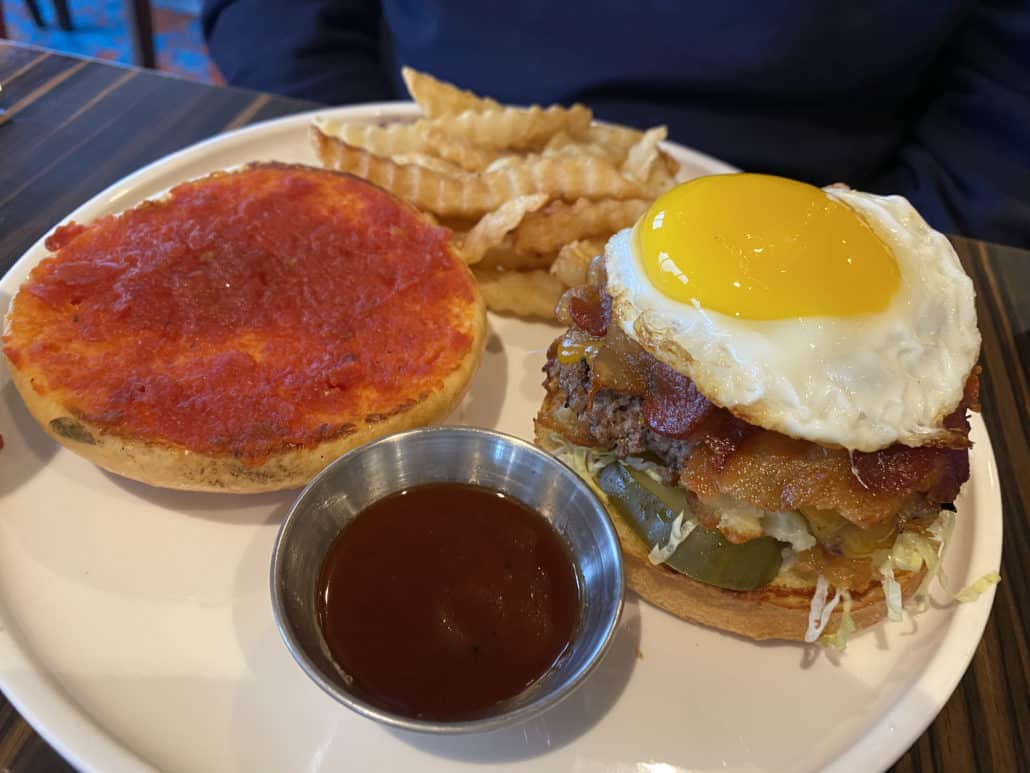 Dessert was the seven layer chocolate cake, which I had on another Carnival cruise this past October. I was marveling at the fact that they take the time to make a cake with seven layers — I just don't enjoy baking enough to want to subject myself to that.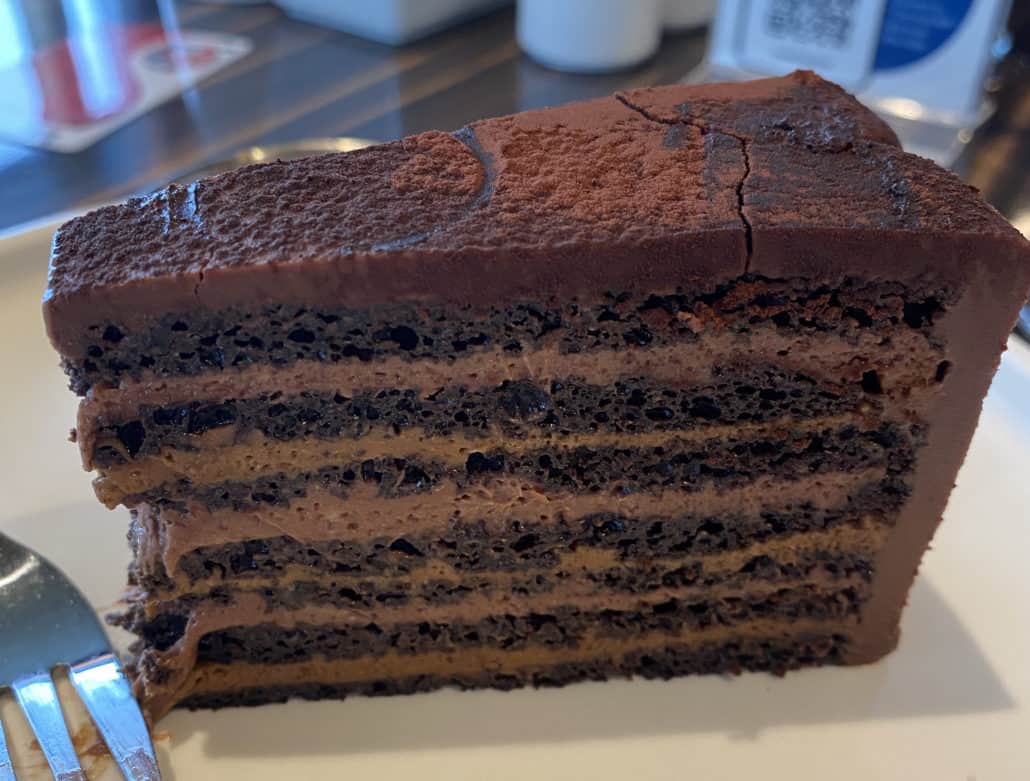 A bit after brunch, I was walking through the Celebration Central atrium and spotted our cruise director, Lee, talking with someone.
He's followed Cruise Radio for a while, and I wanted to make sure I found time to introduce myself and say hi.
He was so genuine and personable and happy to say hi. It makes me extra happy to hear from people that are fans of our work and the website. It's extra special when it's coming from one of a cruise line's top cruise directors!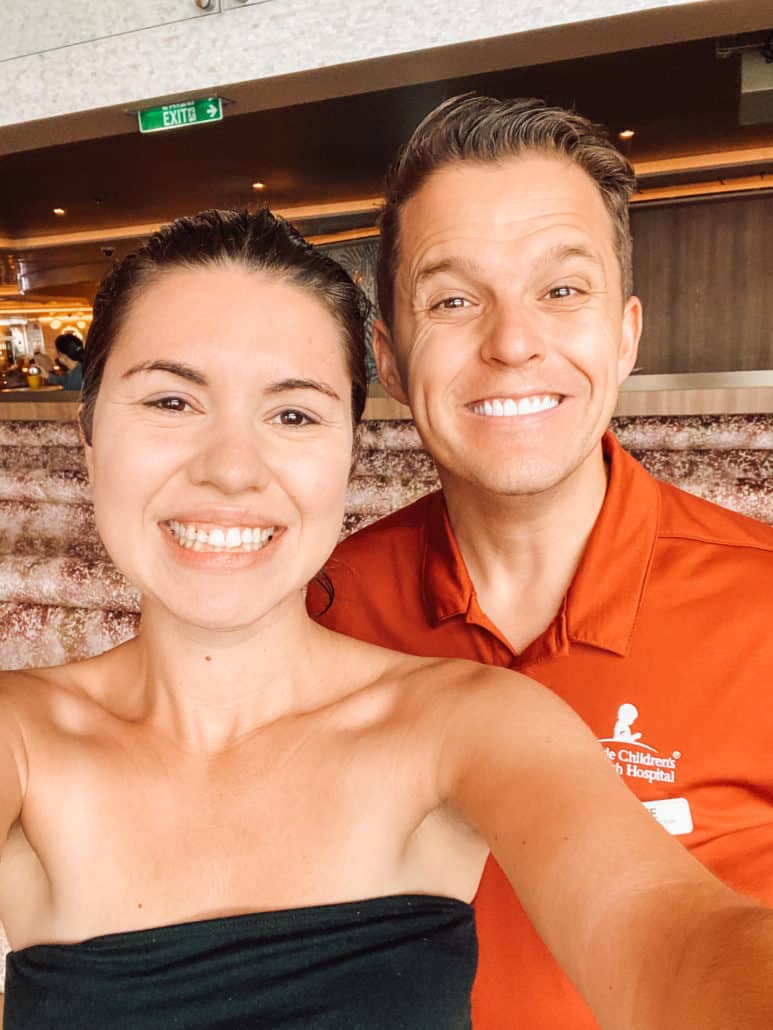 After that, I wandered around the ship for a while, taking videos, and then met up with my dad on the lido deck near Street Eats.
We tried some kind of bao bun-type thing with pork inside it. It was okay but way too sweet for my taste. The pad thai I had the other day was much better!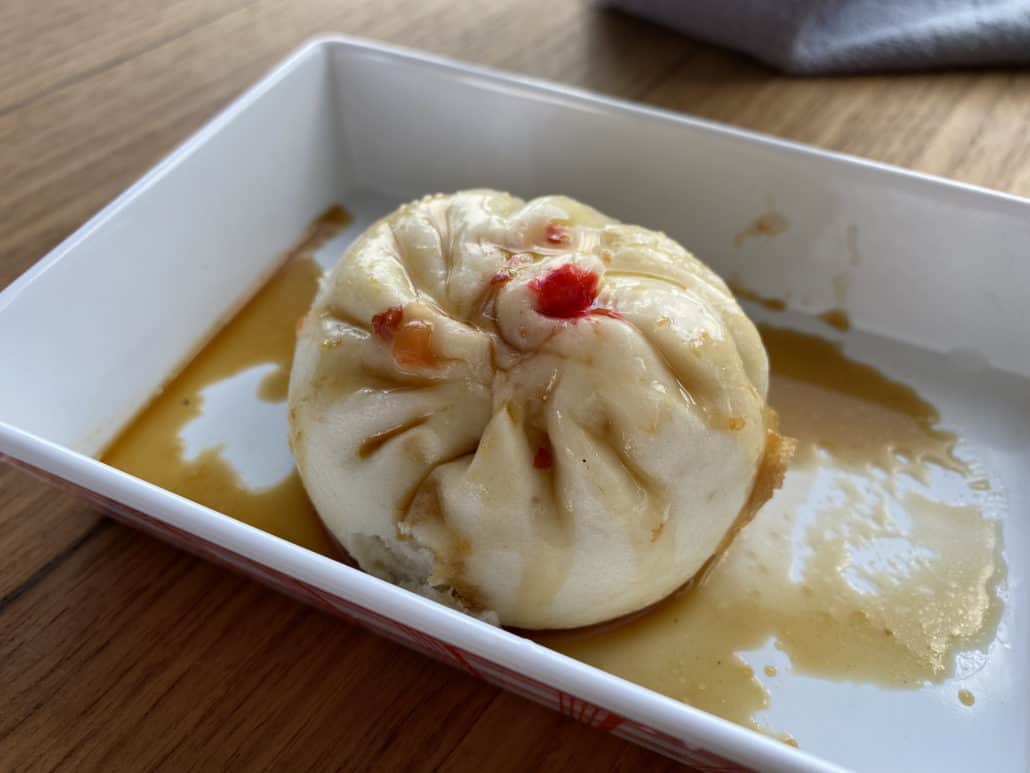 This afternoon, Lee did a Q&A at the Center Stage in the atrium. Pretty much any question was on the table, ranging from his romantic life to what it's like to be a cruise director working on a ship for long stretches of time and what his favorite cruise ports are.
I love Q&A's like this because it gives you a bit of an inside scoop on what it's like to have such a unique job.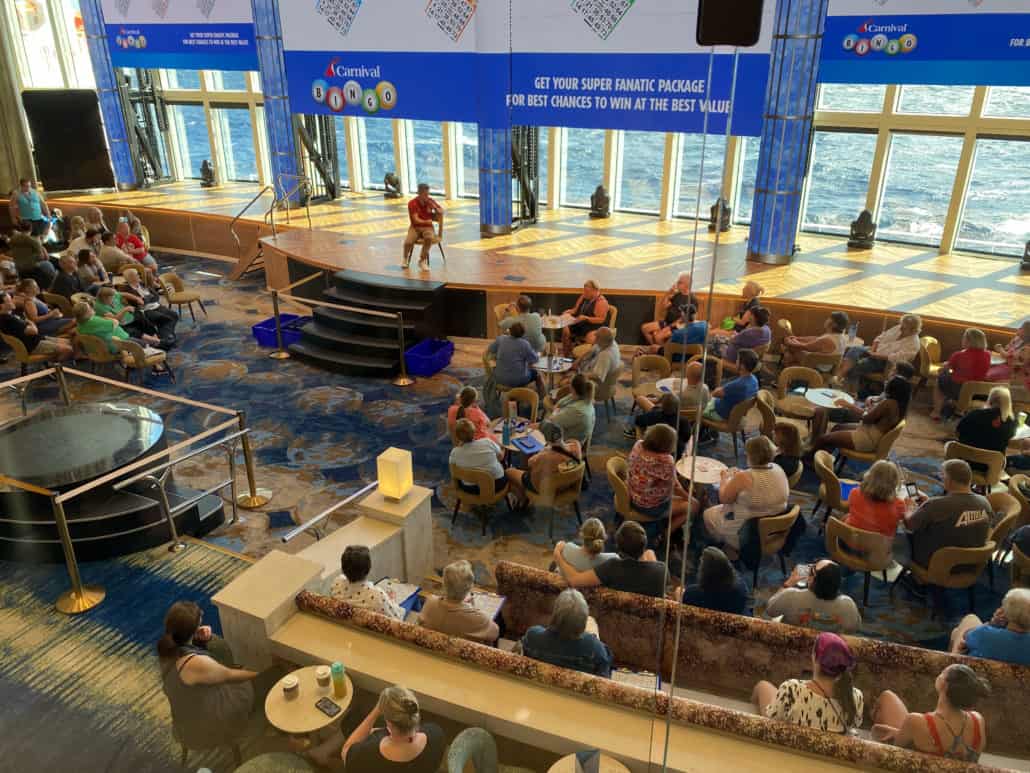 Pizza was the next order of business, as I hadn't had any pizza yet this cruise and wanted to see what it was like from Miami Slice on Carnival Celebration.
I was pleasantly surprised! Carnival pizza isn't usually my favorite, but the pepperoni slice I got was thin crust, chewy, and had good flavor. If I was sailing the ship for another week, I'd make a point to have some pizza more often.
As I seem to have an affinity for sitting by the aft Tides Pool, I found myself there again this afternoon with a Big Chicken tender and fries in hand. It's such a great area to sit in the sun; the only downside is it's pretty much always crowded when the weather is nice.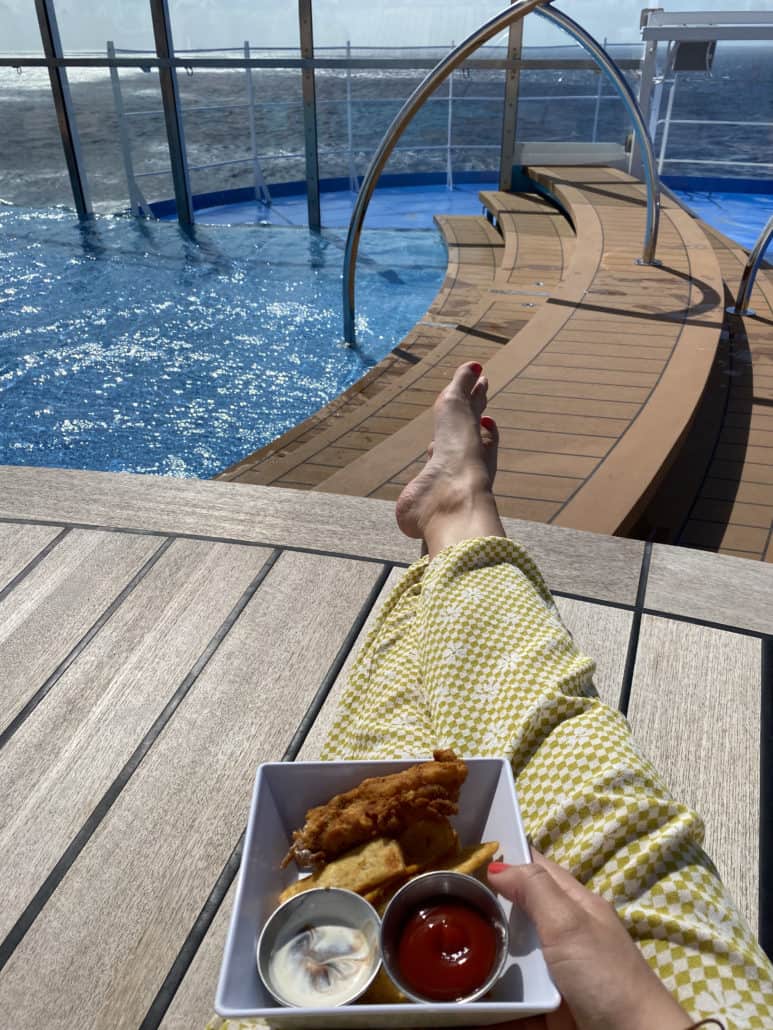 All throughout this cruise, I have seen on the daily schedule a short 15-minute "show" in the Gateway zone. I knew that it involved the beautiful LED "windows" that line the space and I wanted to make sure I went to one, so today was the day!
The show reminded me a lot of a high-tech and immersive queue at Disney World. There were sound effects, lighting effects, visuals on the "window screens," and it even involved the train station-esque split-flap board above the Latitudes Bar.
The storyline was a journey through the past, present, and future, featuring dinosaurs, the ocean, unicorns(?), pirates, and a Carnival spaceship. This show is done multiple times throughout the cruise and I highly recommend squeezing it in at some point — it was so cool.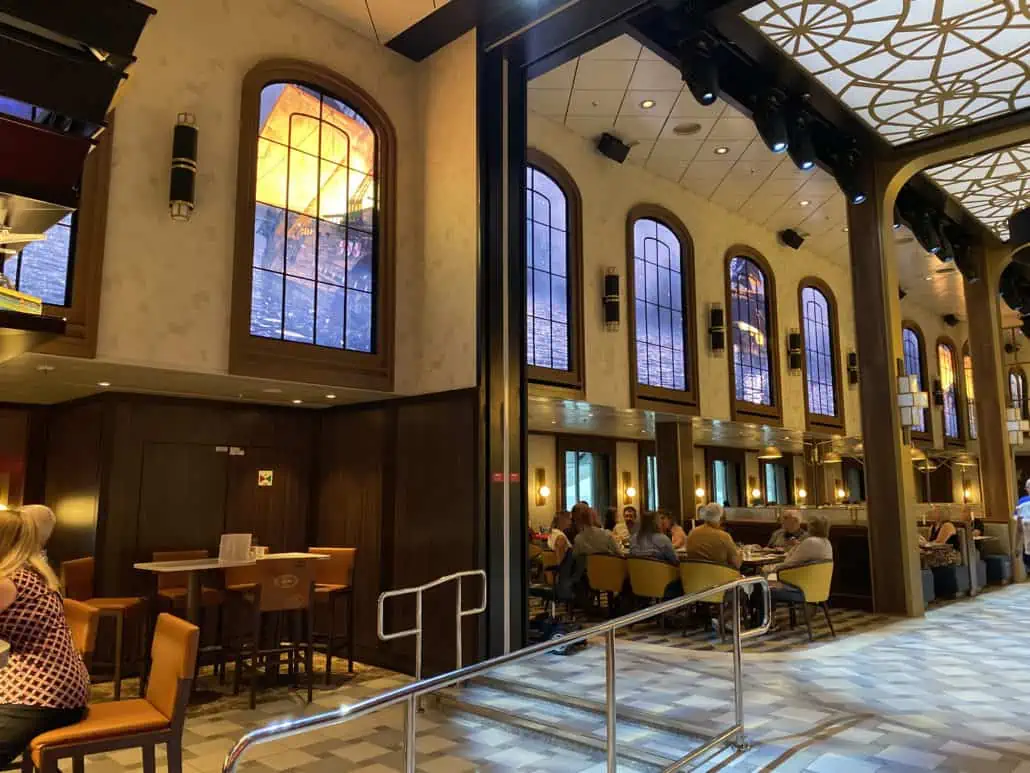 The final night of the cruise called for the main dining room for dinner, as we'd only eaten there for dinner one other night this cruise, and we'd already hit up all the specialty venues we wanted to try.
I got the chilled peach soup as my appetizer (I LOVE all of the cold fruit soups on cruises!), and my dad and I both got fried chicken with mashed potatoes as our entrée.
It was perfectly crispy and so yummy. As this was the last night of the cruise, the waitstaff sang Carnival's signature farewell song and did a mini song and dance show in the dining room — I love little cruising traditions like these.
After heading to my cabin to pack a bit, I ventured back out to hit up one of the best bars at sea: Alchemy Bar. As I was browsing the menu trying to figure out what I wanted (I LOVE cucumber sunrise but was thinking of trying something new), I heard the mixologist telling the guest next to me about what he called a "chocolatey old fashioned" and thought to myself, hey, I want to try that too!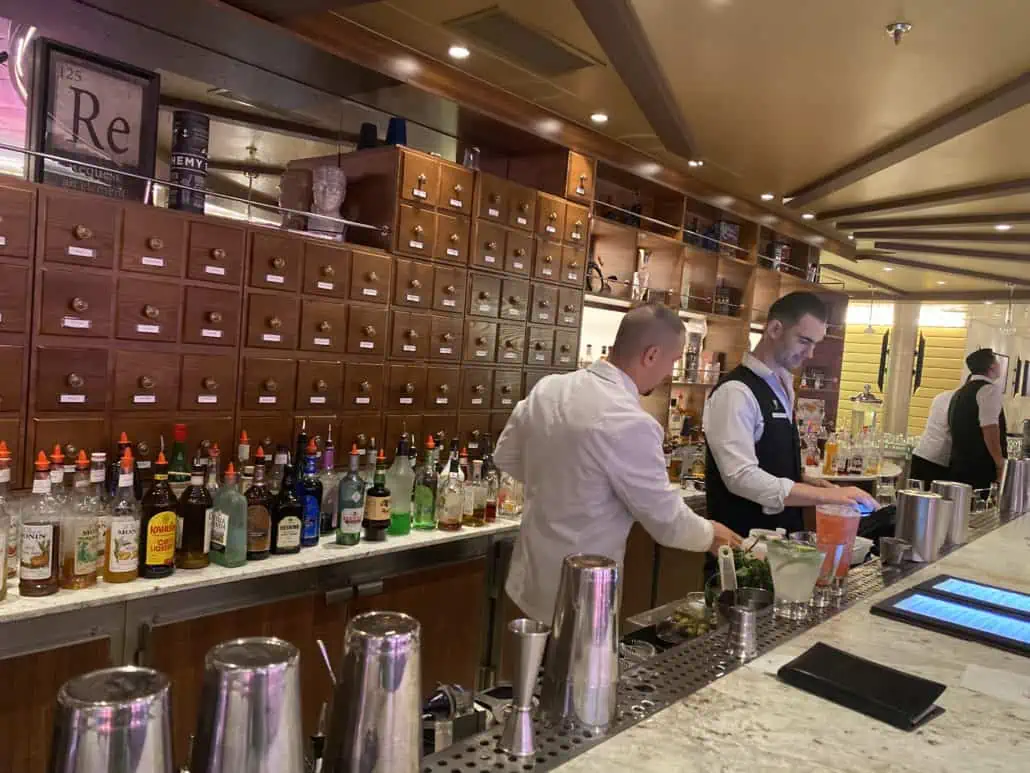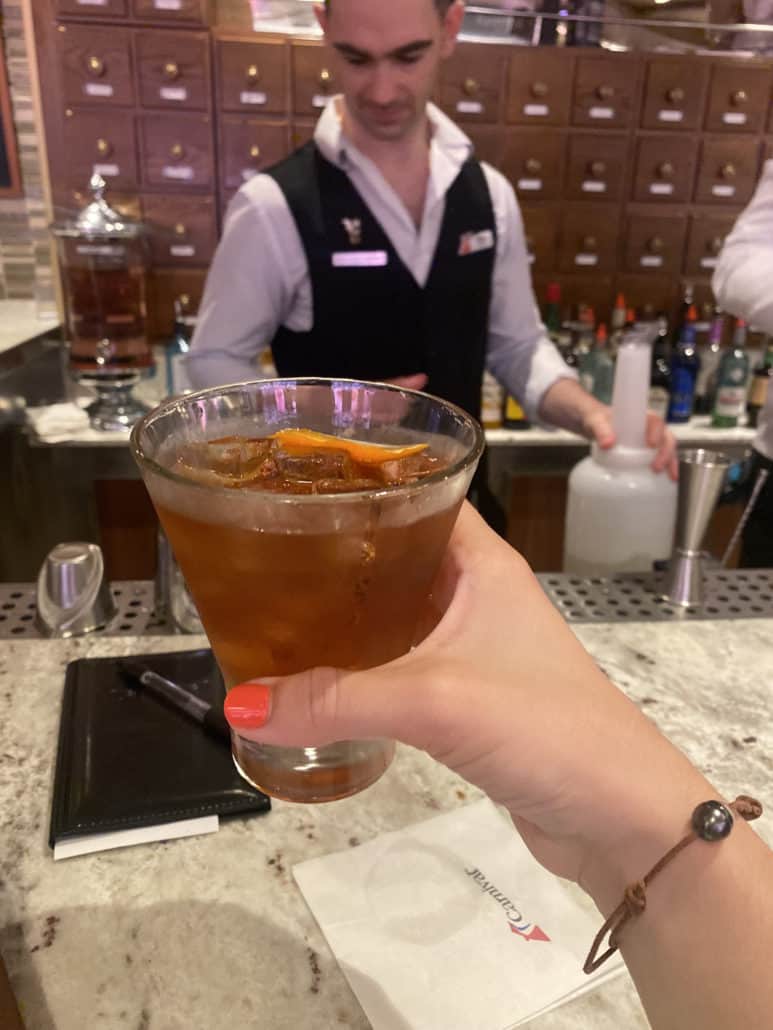 So a chocolatey old fashioned I got. It wasn't as chocolatey as I was expecting, but it was smooth and the bourbon tasted good.
I took my old fashioned and headed to my last event of the cruise — karaoke. Before you get too excited, I didn't sing, I was just there to observe. It was fun but not as lively or exciting as I had hoped. I hung around for a bit and then called it a night.
Well, that concludes my trip reports on this seven-night Carnival Celebration cruise! Overall I love this ship, I love the new Gateway zone and how there's lots of the cruise line's history sprinkled throughout the vessel.
I love the huge variety and quality of the dining options, including an unprecedented amount of complimentary ones. I also found the service to be excellent almost across the board. This was a really special cruise, and I'd definitely recommend Carnival Celebration.
Catch up on my other Carnival Celebration trip reports: