Today was the first of two final sea days aboard Carnival Celebration before the ship arrives back in Miami on Sunday.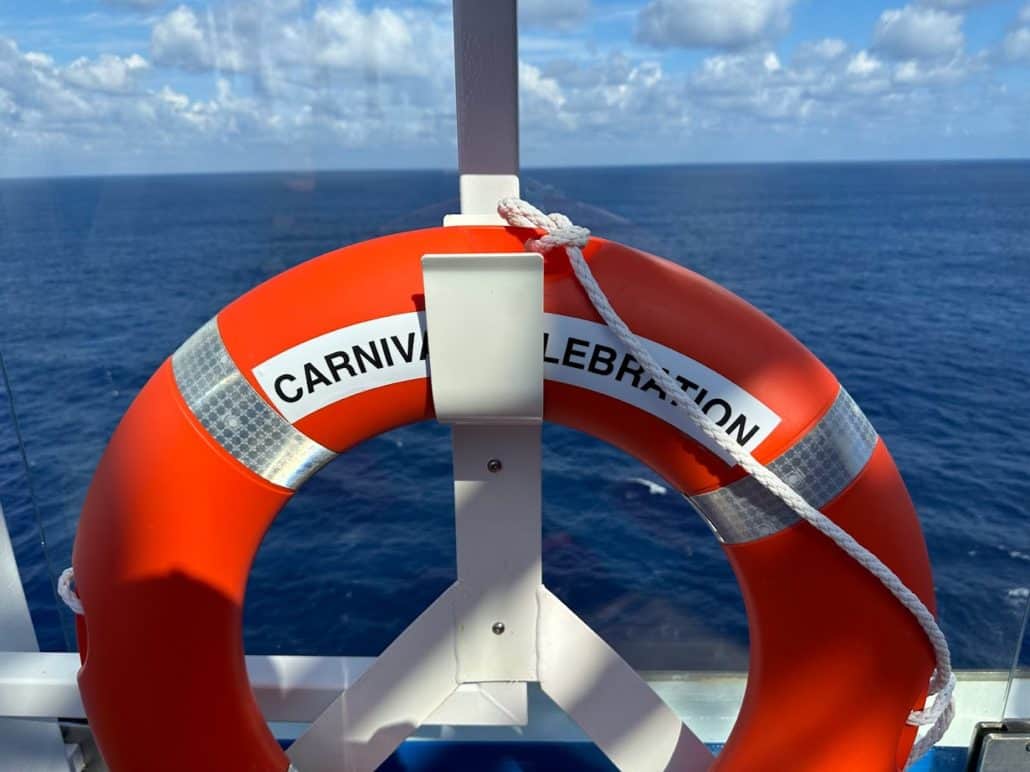 I absolutely love visiting ports during cruises, of course, but there's something so stress-free about knowing you have a couple of days at sea to wrap up a sailing.
Last Sea Day on Carnival Celebration
It gives you the chance to do things on the ship you've meant to do but haven't yet, and eat things you haven't gotten a chance to grab yet. Plus, it means you have ample time to pack without having to rush straight from a port day.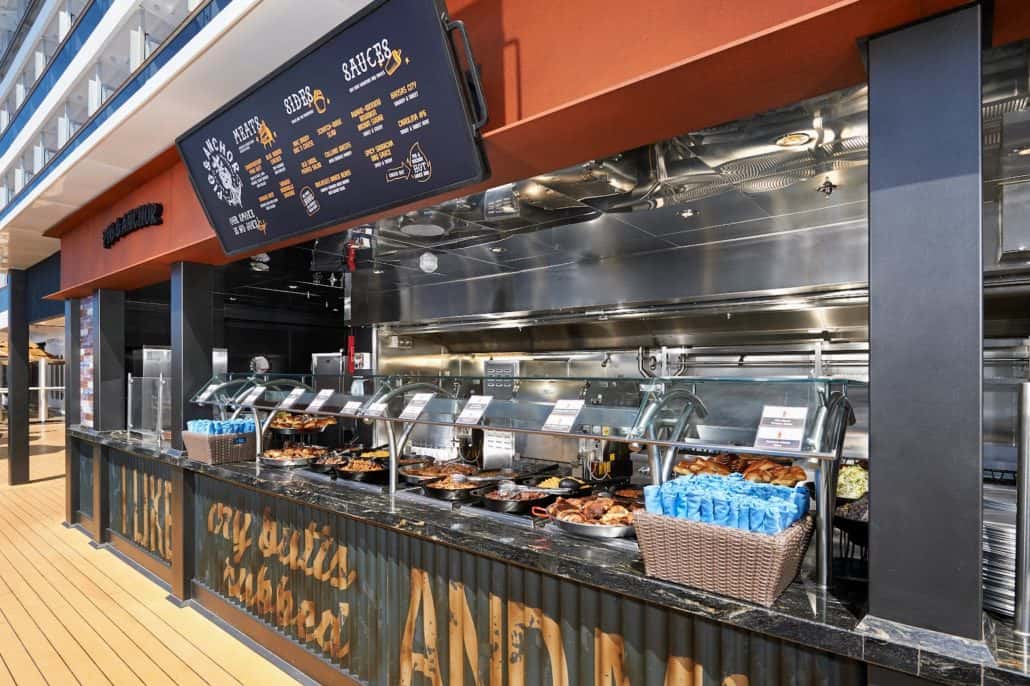 We started off the morning with a visit to Emeril's Bistro 1397, which is a venue Carnival created brand-new for sister-ship Mardi Gras in partnership with celebrity chef Emeril Lagasse.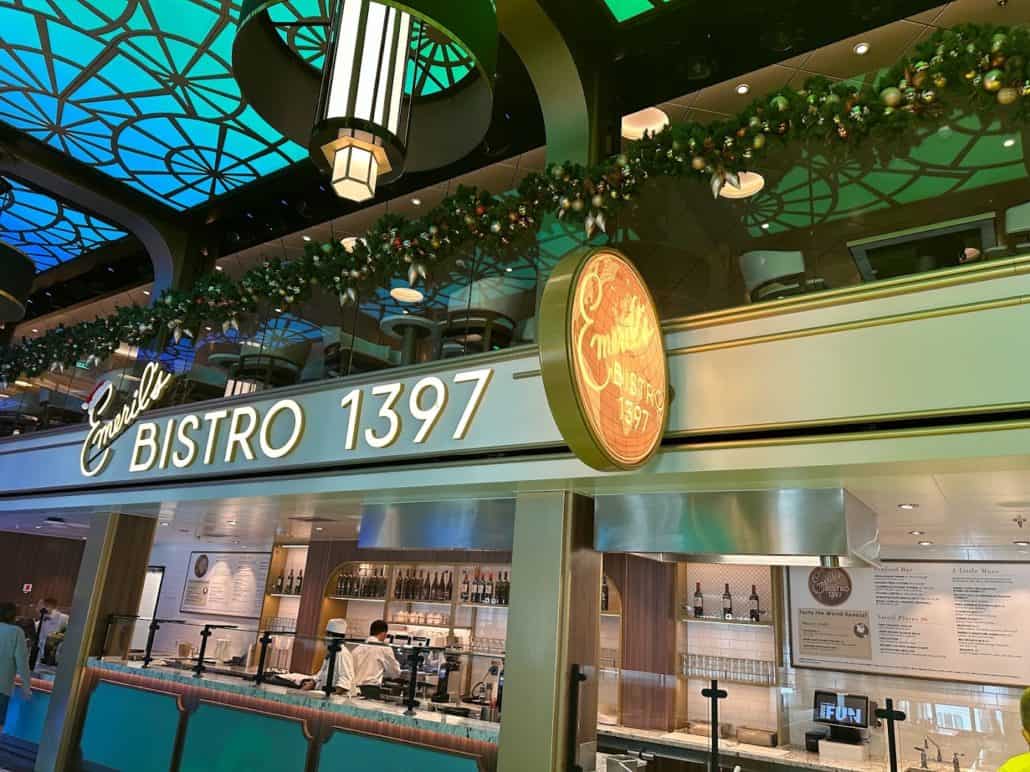 It features Creole and New Orleans cuisine, and is open for all three meals of the day. I'd been craving some beignets before the cruise even began and knew I had to stop at Emeril's for some at some point during my time on board. They did not disappoint — they were warm and fluffy and just what I was hoping for!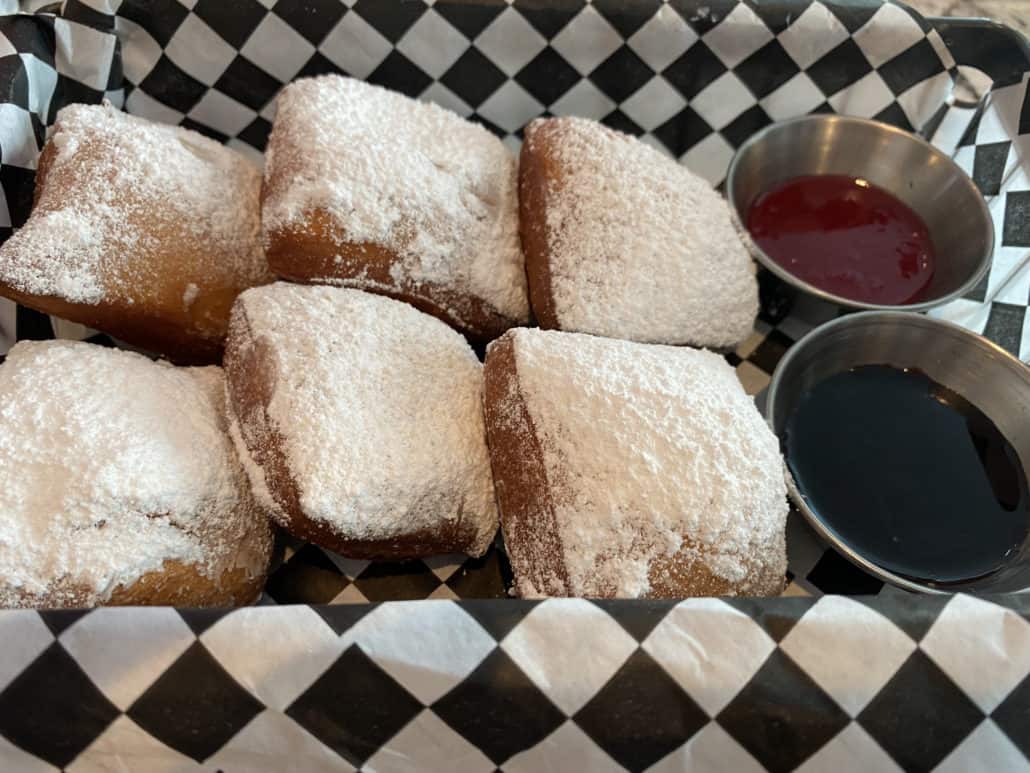 I also ordered the croissant breakfast sandwich, which came with an omelet inside it, plus a cheese spread, greens, and shaved ham. Delish!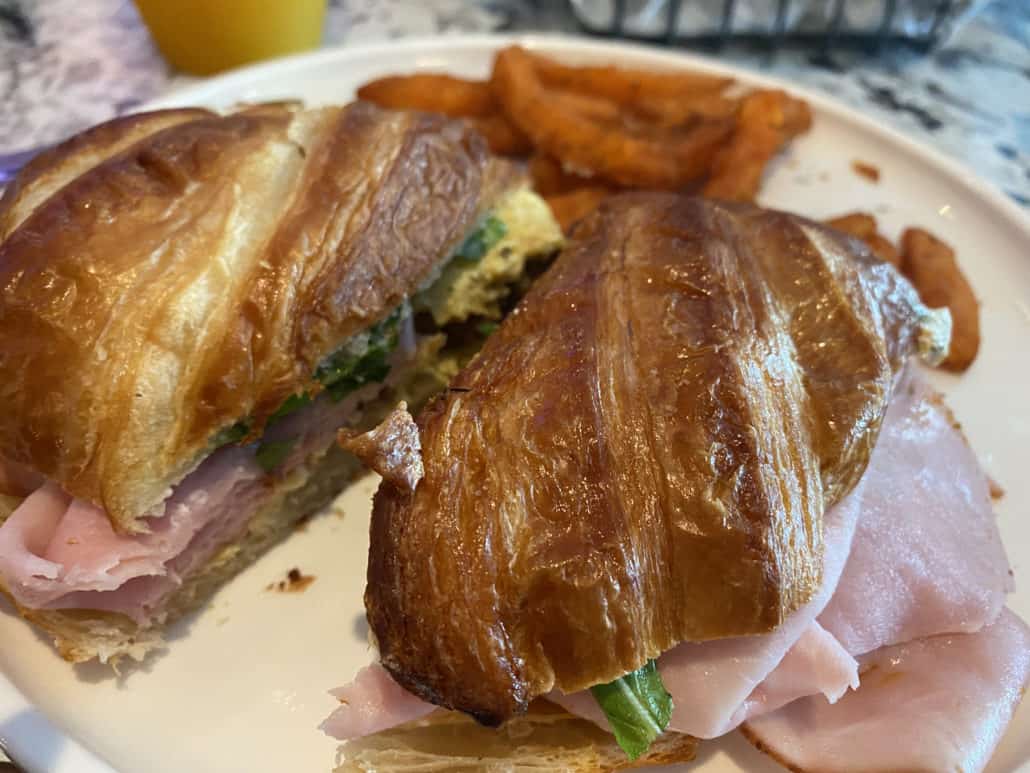 After Emeril's, we headed to the theater for one of the best parts of a Carnival cruise — the Military Appreciation Gathering. During this special event, active service members, veterans, military families, and other people who serve their country and the public are recognized for their work and sacrifice.
Our cruise director, Lee, did an amazing job hosting the gathering, and it was (and always is!) one of the most heart-touching events of a voyage with Carnival.
The event is heavily attended by those who are/were in the military, but everyone is welcome and it's an honor to be able to go, recognize them, and hear some of their stories.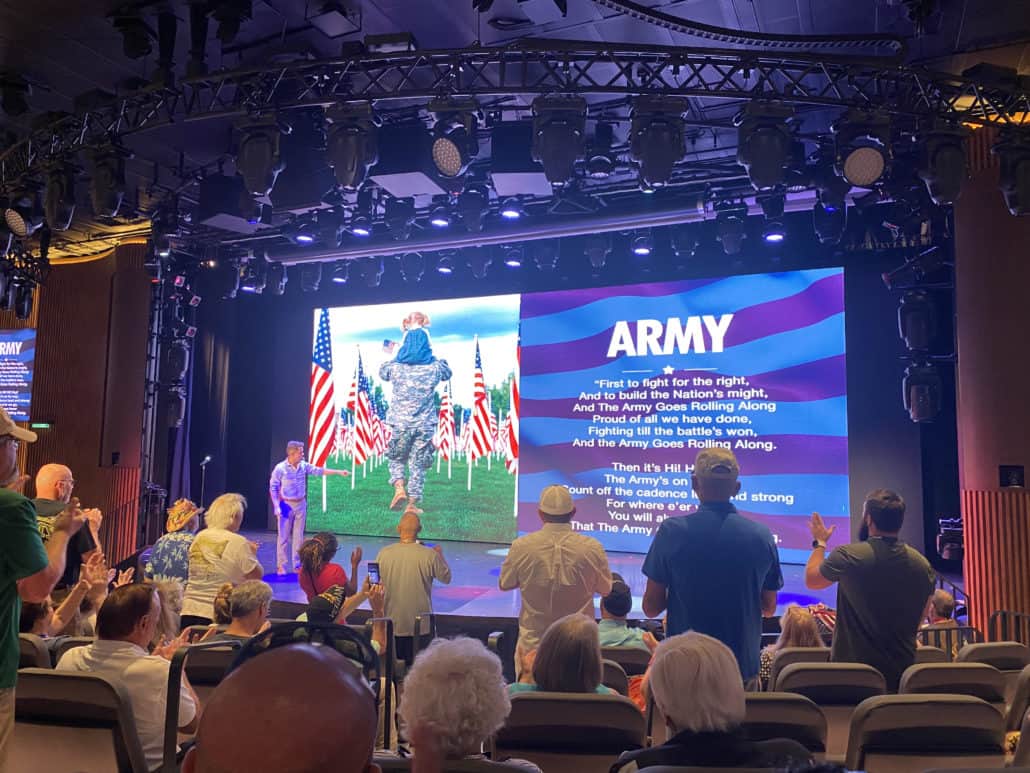 Following the gathering, I headed to deck 8 to find a comfy chair outside and do some work. It was cloudy today so the sun was playing peek-a-boo, but the air was warm and the breeze felt good.
A bit later, we headed just across to the other side of the deck to grab some of the ship's quick-service barbecue at Guy's Pig & Anchor Bar-B-Que. The indoor barbecue restaurant is open every night, but the outdoor barbecue outpost is only open for lunch on sea days.
I got pulled pork, potato salad, baked beans, and mac and cheese. It's hard to go wrong with barbecue here — it's quick, easy, and delicious with multiple barbecue sauces to choose from.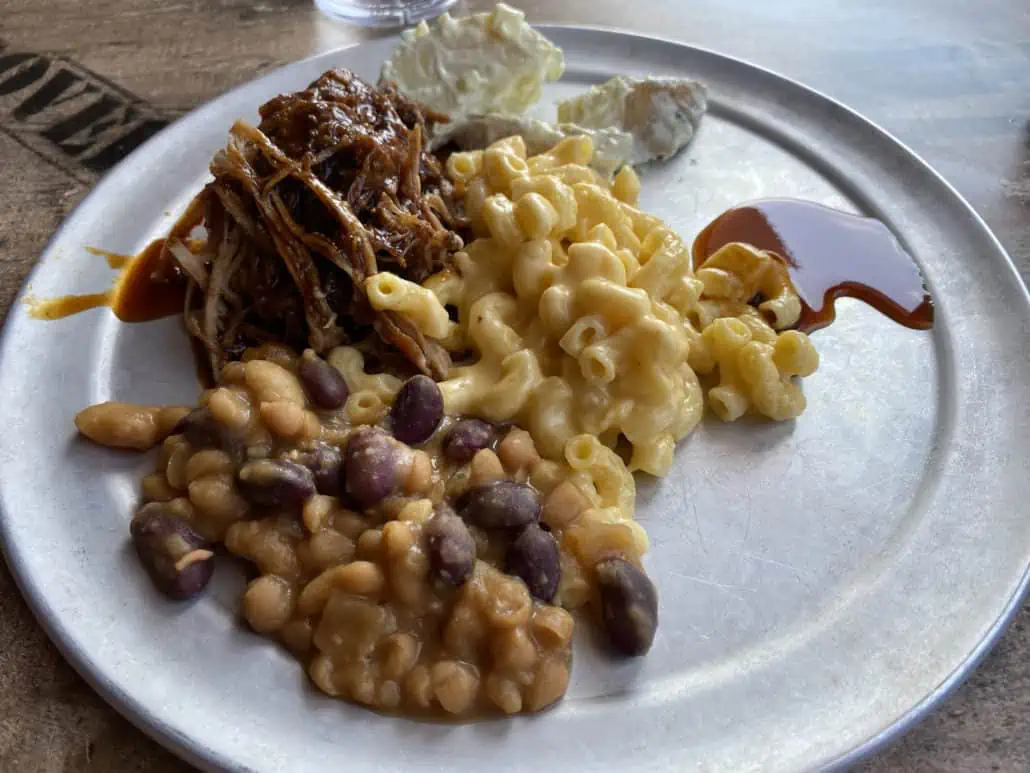 What they don't have at the outdoor barbecue, however, is dessert. I was in the mood for another sweet treat in addition to my brown sugar barbecue sauce, so I headed up to the buffet to see what was on offer. I found chocolate cookies and passionfruit cake which satisfied my afternoon sweet tooth!
I intended to lay in the sun or hang out a bit in the Tides Pool, which is aft on deck 16 outside the buffet, but by that point the sun was behind the clouds more than it was shining so I sat on the edge of the pool for a bit and then decided it was time to put my regular clothes back on.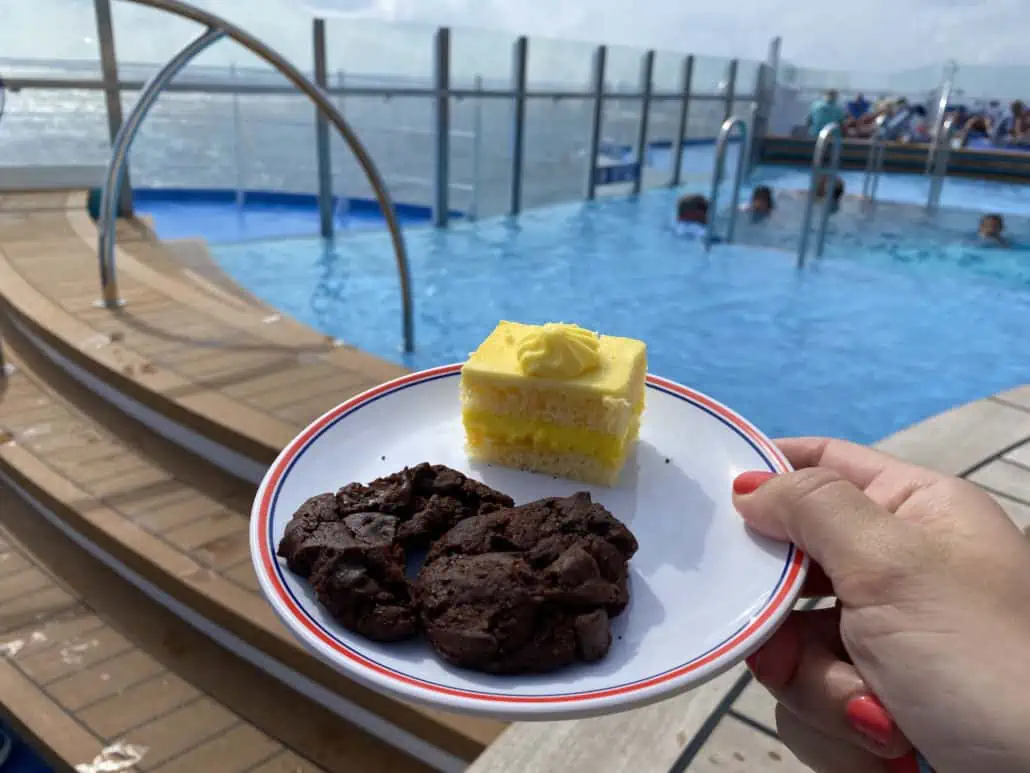 In the late afternoon, my dad and I went to another family-friendly show at the comedy club by comedian Valarie Storm. She's got a lot of funny quips, and we enjoyed her show, but I'd say I liked the comedian we saw before better.
For dinner, we decided that tonight was a good night to have some Italian. On Carnival Celebration and Mardi Gras, Carnival's Italian restaurant Cucina Del Capitano is included in the price of the cruise.
For many avid Carnival cruisers, this comes as a nice surprise because it's a flat-fee specialty venue aboard the other ships.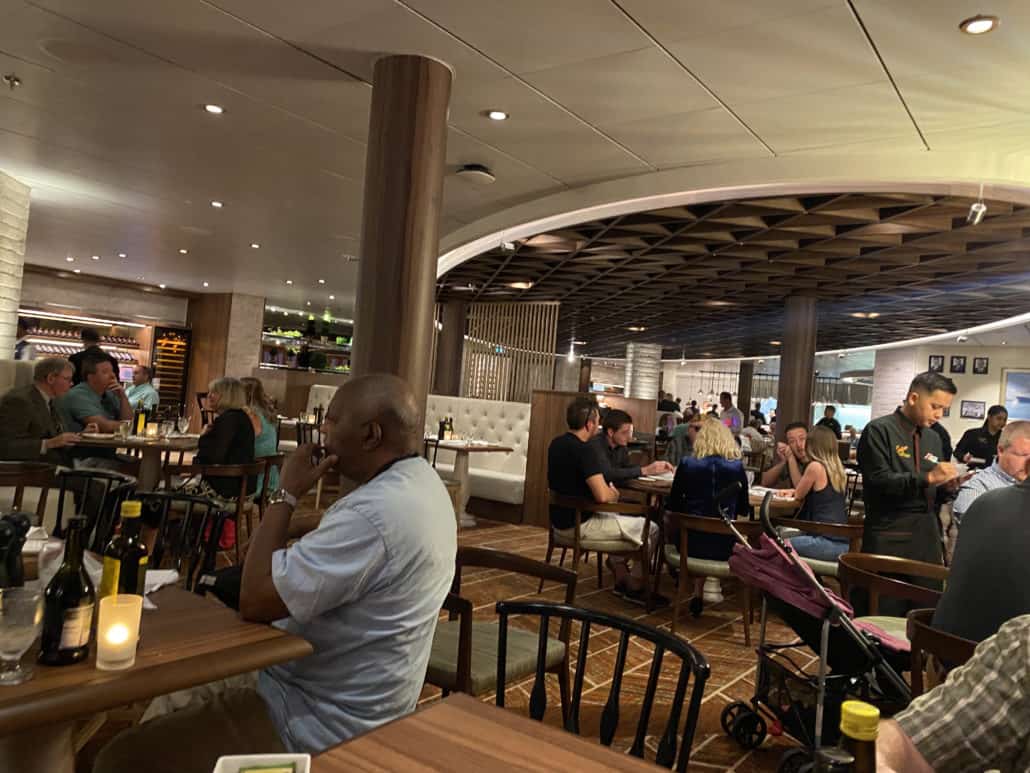 I haven't kept a close eye on menu changes for Cucina Del Capitano over the last several years so I may have just missed it, but I was a little surprised at how few pasta dishes there were on the menu.
I know that Italy is in the Mediterranean, so it is logical that the menu would include fish dishes and other types of Mediterranean flavors, but I've been a pasta fanatic my whole life, and that's basically the sole reason I go to Italian restaurants.
The menu did include pasta dishes like bolognese ragu, linguine vongole, and Carnival's popular spaghetti carbonara. For some reason, I was really in the mood for simple spaghetti and meatballs, so I actually ordered that off the kids' menu. My dad got spaghetti carbonara.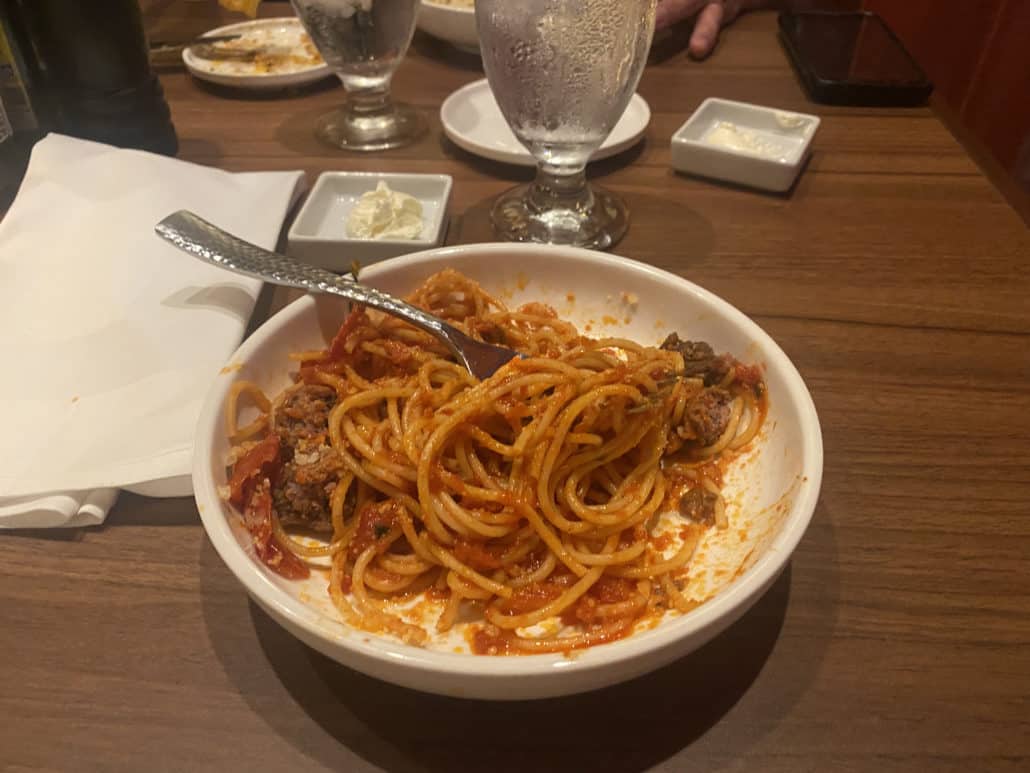 For dessert, we actually ordered off Carnival's "& More" menu, which is a small section at the bottom of specialty restaurant menus that includes classic dishes that don't change.
We got Carnival's famous warm chocolate melting cake, which I hadn't had yet this cruise. It was delicious as always, but very rich so if you're full I'd suggest maybe sharing! Overall we had a great meal at Cucina.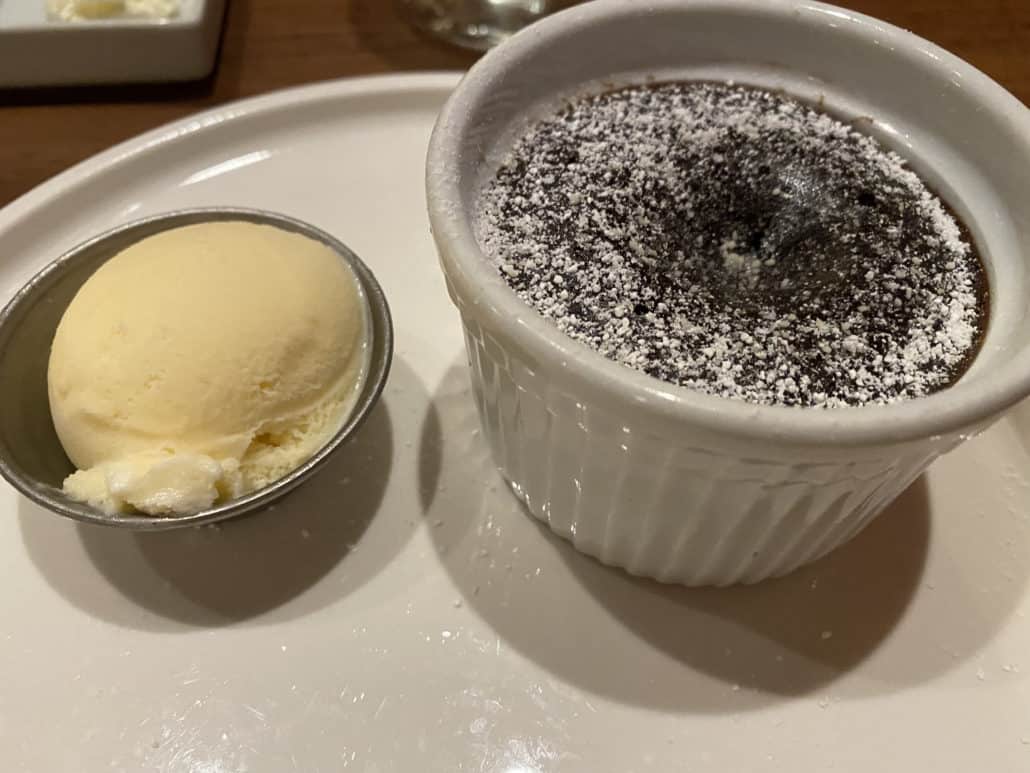 I had such a nice evening hanging out in Serenity yesterday, so I decided to go up there again for a little bit tonight. I will say, even though the energy of a lot of passengers is fun and very much adds to all the dynamics of a cruise, there's something so wonderful about finding quiet spots (especially at night) just to enjoy the beautiful spaces on the ship.
Sitting up in Serenity these past two nights reminds me of my cruise aboard Viking Sky in 2018. Even these years later, I still distinctly remember writing some of my trip reports from the near-deserted main pool deck in a lounger by the window as the world rolled by. Was I technically doing work? Sure. But whether I was or not, those moments were so peaceful and made me feel extra grateful that cruise is my career and that I get to have moments like that at sea.
As a quick note about Serenity, it can be a pretty windy spot on the ship while at sea, especially at night. Last night I sat in one of the circular daybeds for a while and it was a little bit calmer because those beds have the protection at the back. Just keep that in mind if you plan to go up!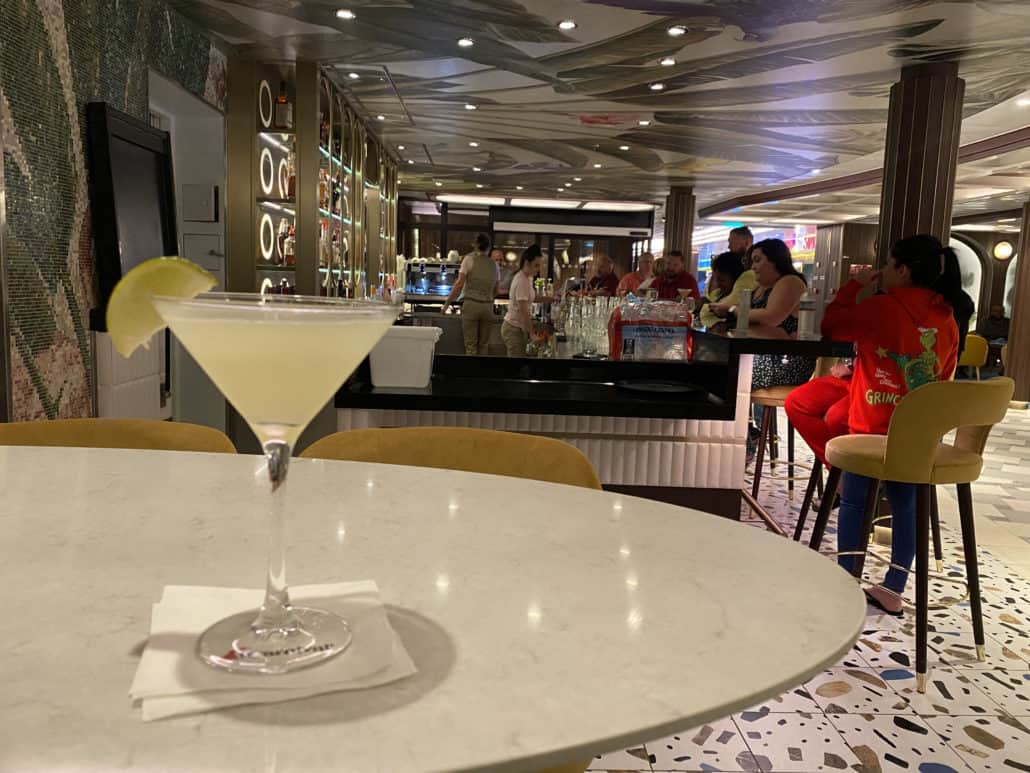 Before I headed back to my cabin tonight, I remembered that I wanted to try a cocktail at Carnival Celebration's Miami-themed bar, Bar 820. I headed down to order a delicious drink called Key Lime Pie, which is perfect for me because I love pretty much anything citrus.
Carnival actually shared the recipe for this last summer, so if you want to make it yourself, here are the ingredients: 1 oz Fresh Lime Juice, 1 oz Monin Key Lime Pie Syrup, .5 oz Madagascar Vanilla Syrup, 2 oz Bacardi Superior, and a Lime Wheel Garnish.
Tomorrow is our final sea day and full day aboard the ship, so I'll check back in with you for my last trip report soon!
Read my other Carnival Celebration trip reports: