When I got back from nearly two weeks aboard Carnival Horizon, a friend casually remarked, "Man, you must have gotten bored eating the same basic thing day after day!" I considered breaking out my phone and subjecting him to pictures of the amazing meals I ate, but instead was inspired to simply write about all the dining options available on this modern megaship.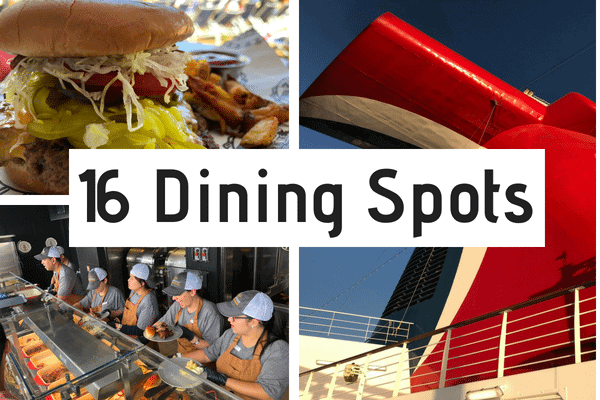 Thinking of booking on Horizon? Consider this look at 16 different dining venues aboard the ship a little something to whet your appetite. You'll also find our reviews to Carnival Horizon dining spots. If you missed our bar post, you can catch the 15 drinking spots on Horizon here. 
1. Main Dining Room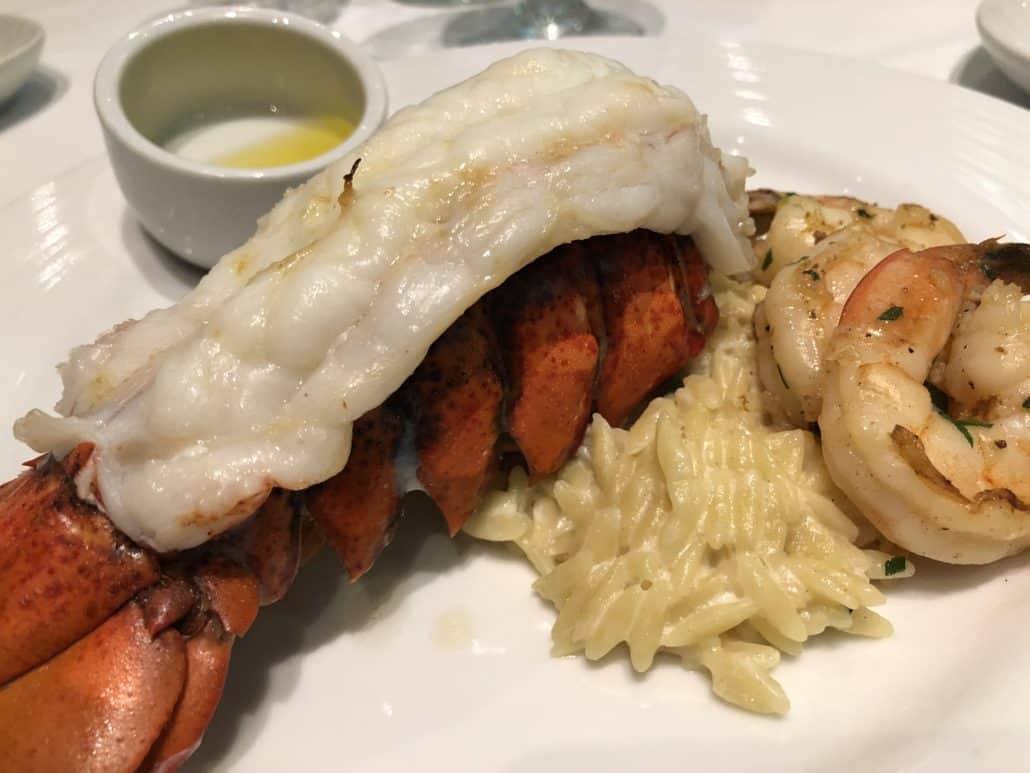 If you had no other choice but to eat every meal in the main dining room, you'd still have a whole lot of options available to you. And chances are good you'll stop in here at least occasionally, especially since it doesn't only serve dinner. The MDR also serves up the awesome Sea Day Brunch, a great Port Day Express Breakfast, and the Dr. Seuss Green Eggs and Ham Breakfast (which comes with a $5 per person charge). Yes, service can sometimes be spotty, but generally speaking, the food is spot-on.

The Chef's Table (I did not go to) is located in the kitchen between the two main dining rooms.
Read More: 31 Tips for the Main Dining Room
OUR FAVORITE: Escargot, Lobster, and Chocolate Melting Cake
2. Bonsai Teppanyaki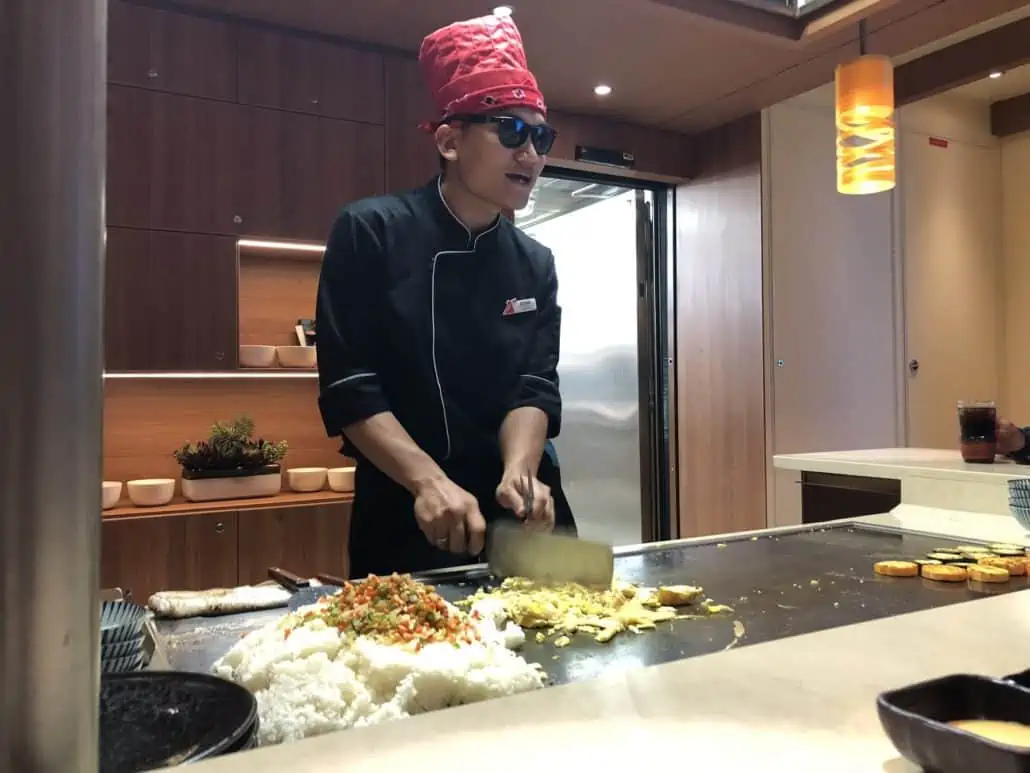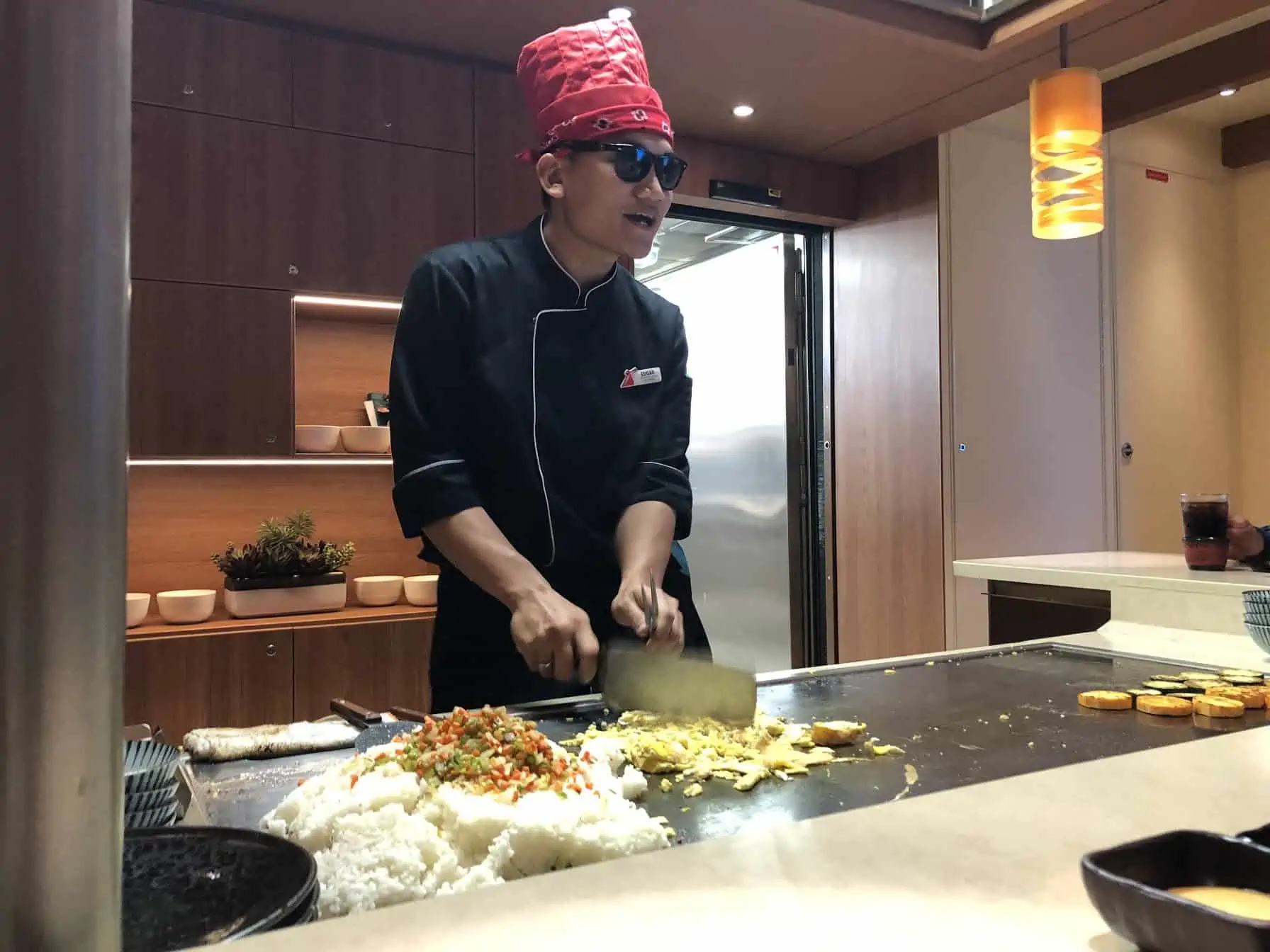 Looking for dinner and a show? This is the place to be. Bonsai Teppanyaki combines both, with chefs cooking Japanese-style dishes of filet mignon or teriyaki salmon right at your table while telling a variety of jokes and doing tricks that should come with a "Kids, Don't Try This At Home!" warning. Book this one early, as it's really popular and seating is extremely limited. If you can't get a reservation before you sail, keep checking the Hub app after you board as guests may cancel during the voyage. Costs vary depending on the dish you get, with most meals (including sides and dessert) running between $25 and $30.

Read More: Bonsai Teppanyaki Review
OUR FAVORITE: Fried rice and the Steak and Shrimp (with lots of shrimp sauce).
3. Bonsai Sushi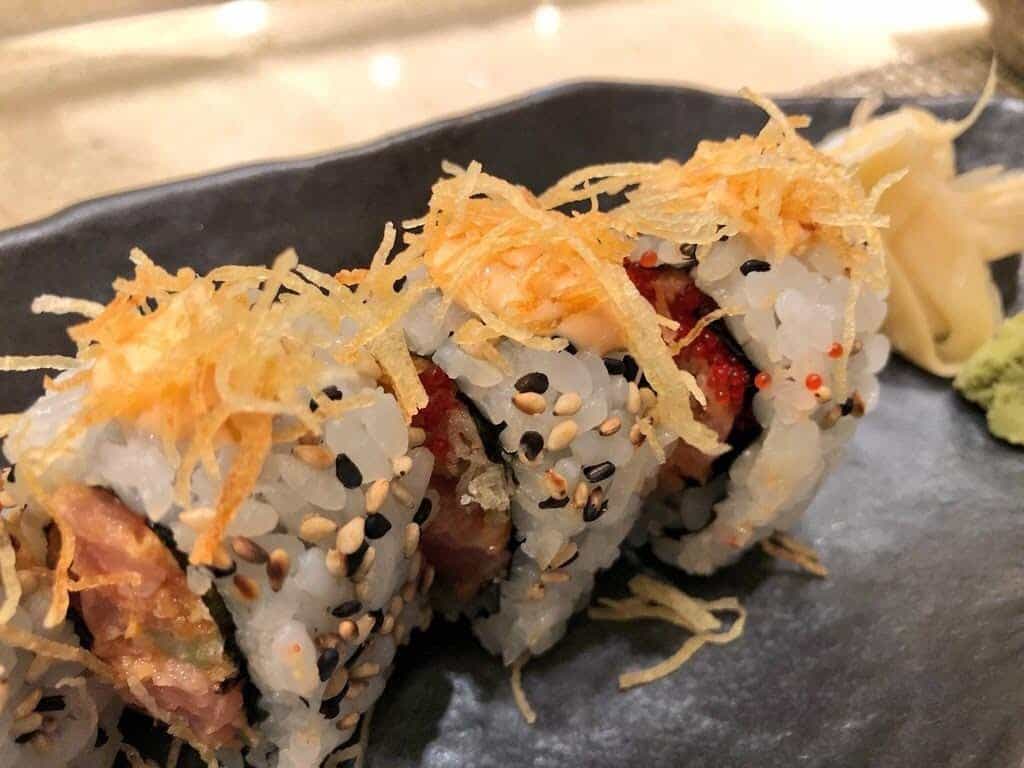 One of the best things about this place (aside from the awesome sushi) is the variety of seating options, including a really beautiful outdoor area with killer views of the very waters from which your meal came. Dining solo? This is a great spot, as you can sit at the bar and watch the chef's prepare not only your order but that of other guests. With an a la carte menu, Bonsai Sushi serves a variety of sushi, sashimi, rolls and more, all very reasonably priced.

Read More: Bonsai Sushi Review
OUR FAVORITE: Bang Bang Bonsai Sushi Roll
4. Fahrenheit 555 Steakhouse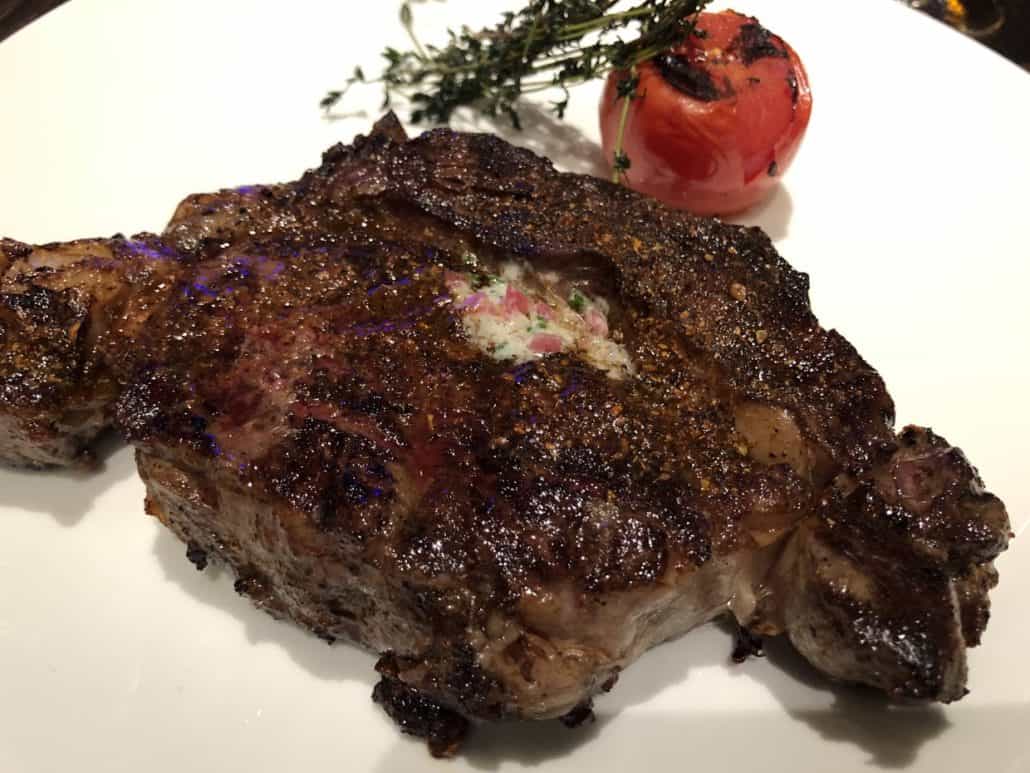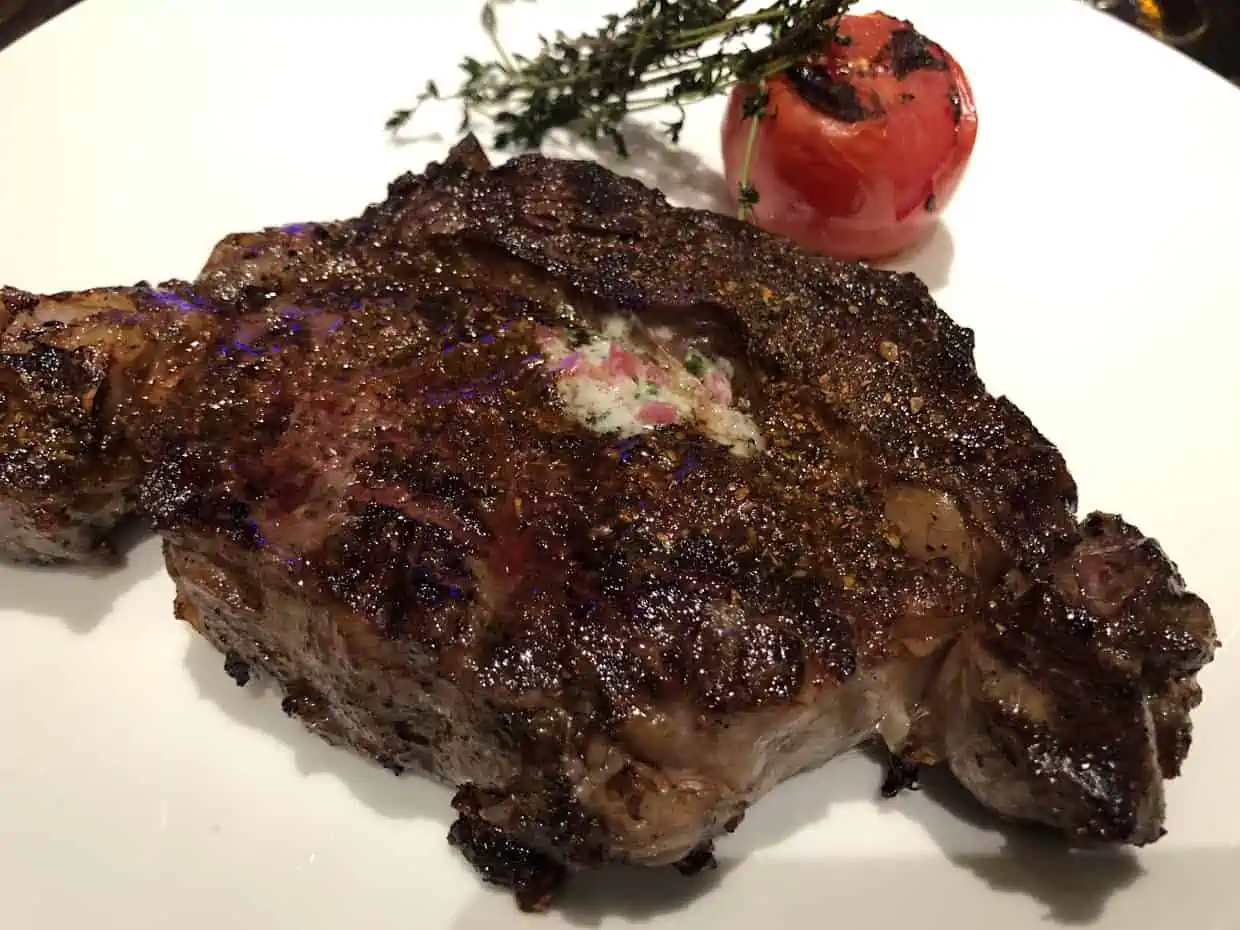 Three guesses what the specialty is here… and the first two don't count. The steakhouse is a great place to head if you've got something special to celebrate or are just feeling like something a little bit fancier. Here, you'll find great service, an elegant ambiance, and a memorable multi-course meal at a price hard to beat on land: a flat fee of $35 for adults and $10 for kids. They have recently revamped their menu to add several new offerings. And if you want to end the night in an unforgettable way, make sure to order the "Art At The Table" dessert. Trust us.

Read More: 7 Reasons to Dine in Carnival's Steakhouse
OUR FAVORITE: The 18 oz. Grilled Prime Cowboy Cut
5. Guy's Pig & Anchor Bar-B-Que Smokehouse|Brewhouse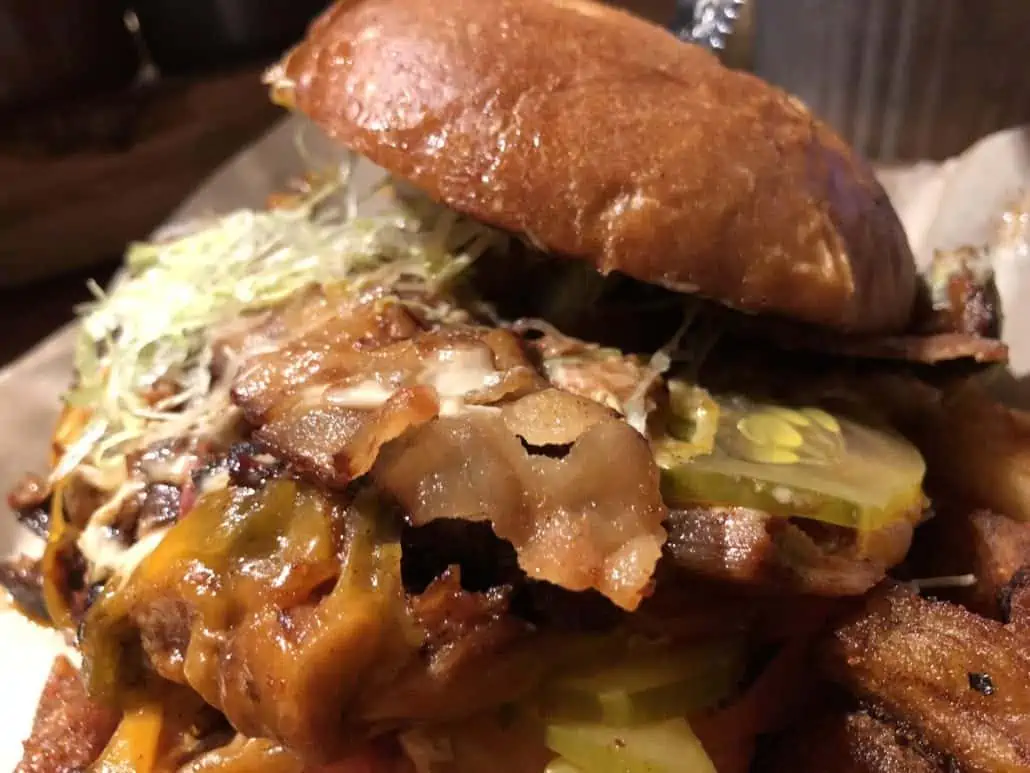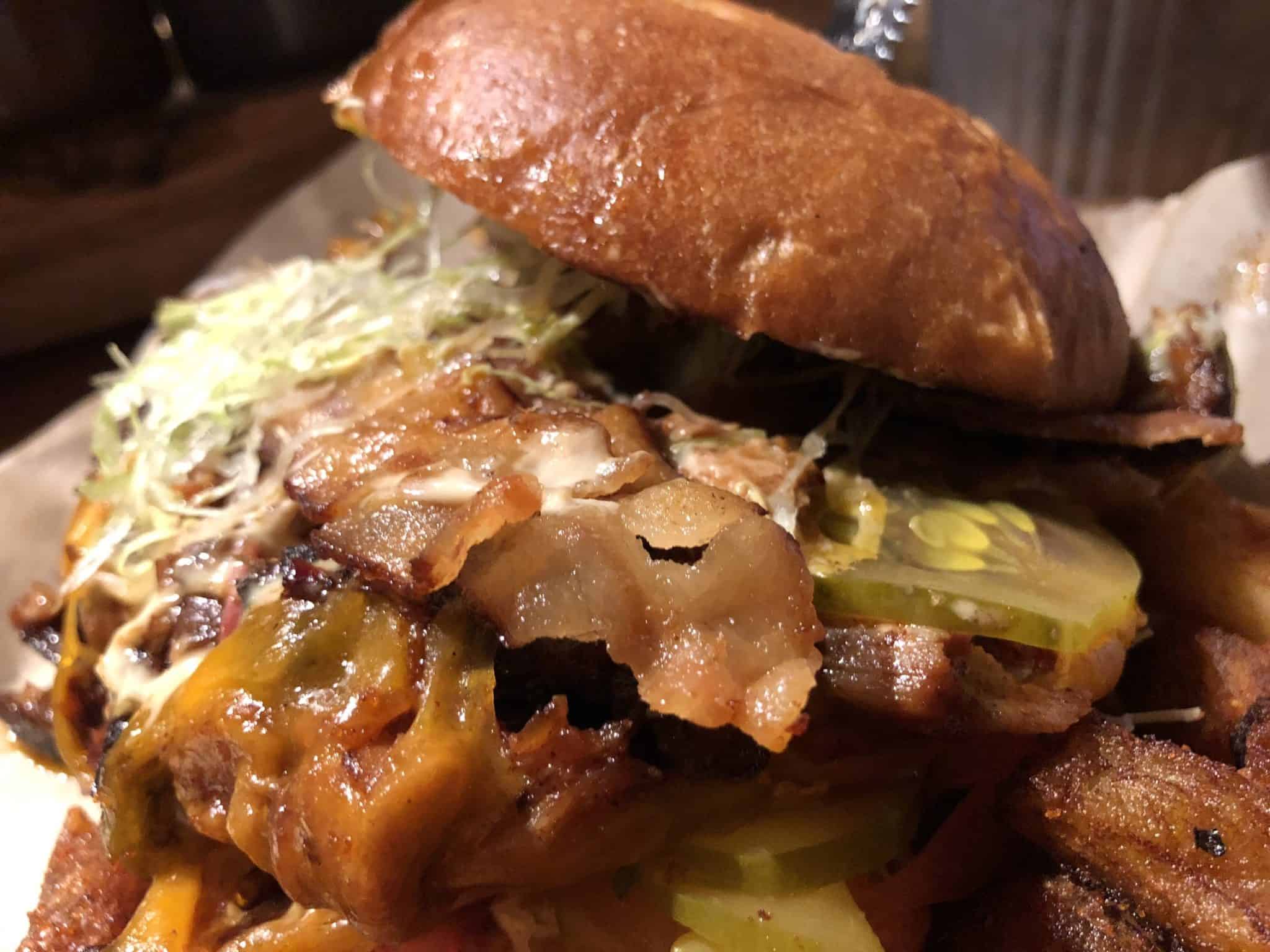 I won't lie: I ate here more than a few times during my sailing on Carnival Horizon. Not because I ran out of other options, but rather because I loved everything about this place. But we're not here to talk about the killer drinks or the live music, we're here to talk food. At lunchtime, the Pig & Anchor serves some of their most popular meats and side dishes for free, and after dark it becomes an a la carte venue. Obviously, they serve up all kinds of barbecue (including a great smoked brisket), all cooked with Guy Fieri's signature rubs and spices. But they also have a slew of mouth-watering appetizers. Trash Can Nachos? Yes, please. And an order of wings, some Dragon Chili fries… well, you get the idea.
Read More: Guy's Pig and Anchor Review
OUR FAVORITE: Pig & Anchor Melt with fries
6. Ocean Plaza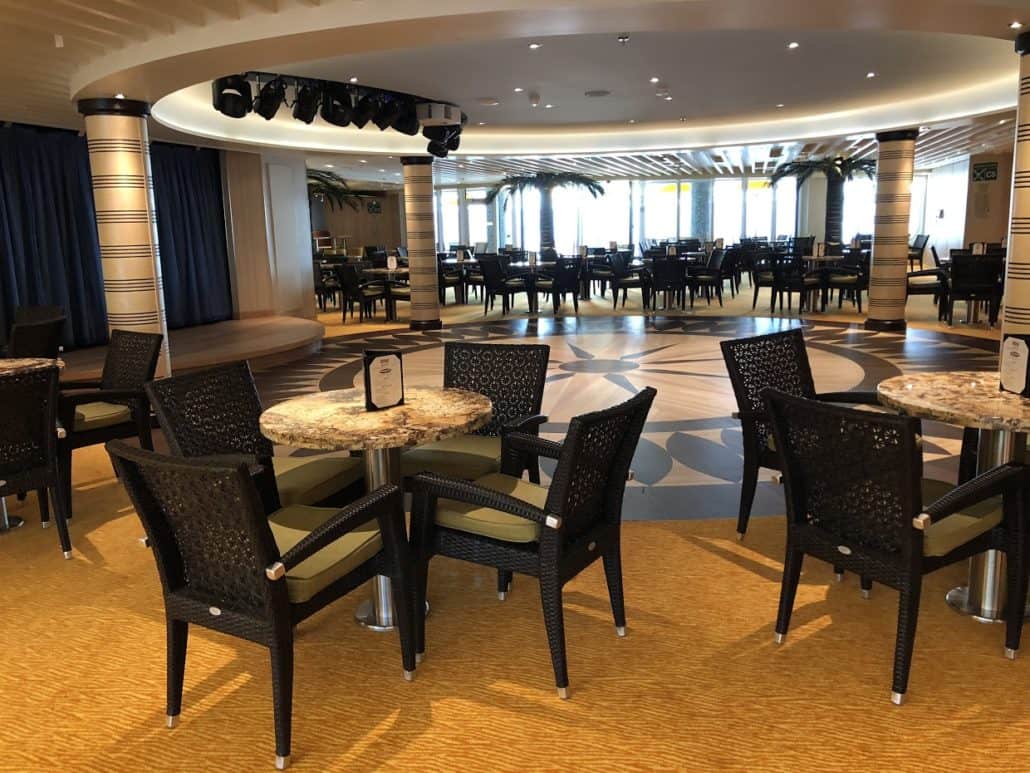 I'll admit, I miss the Taste Bar that once was offered here. But if you're looking to avoid the lido deck crowds and grab breakfast or lunch somewhere with a slower pace, you'll find a nice selection of options here. Check the Fun Times to see exactly when food is available, and consider taking your plate outside to enjoy the view.
OUR FAVORITE: The piles of bacon
7. Seafood Shack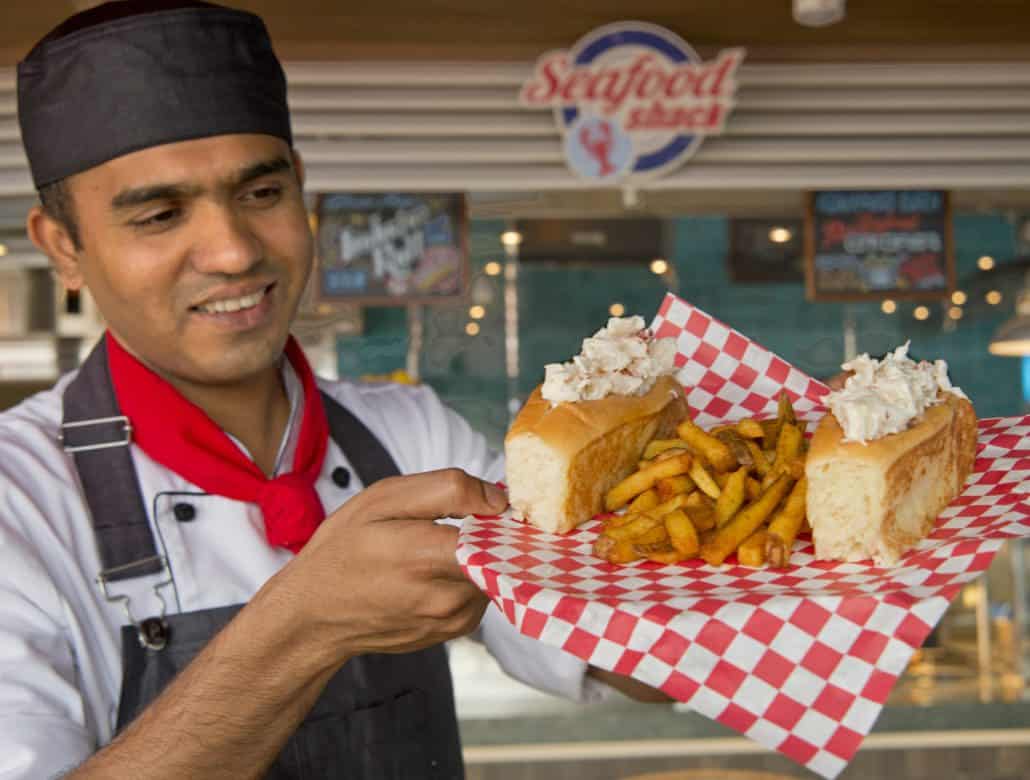 This a la carte venue is a relatively new addition to the Carnival line-up, and it's a welcome one. Who doesn't think of seafood when they're near the ocean? The menu features exactly what you'd not only expect, but want it to include: lobster rolls, fish and chips, chowders, and market-priced snow crab and raw oysters. Located on deck 10 just steps away from the Tides Pool, this is a fun place to head when you want to stare at the ship's wake while lunching.

Read More: Seafood Shack Review
OUR FAVORITE: Lobster Rolls and Clam Chowder
8. Pizzeria del Capitano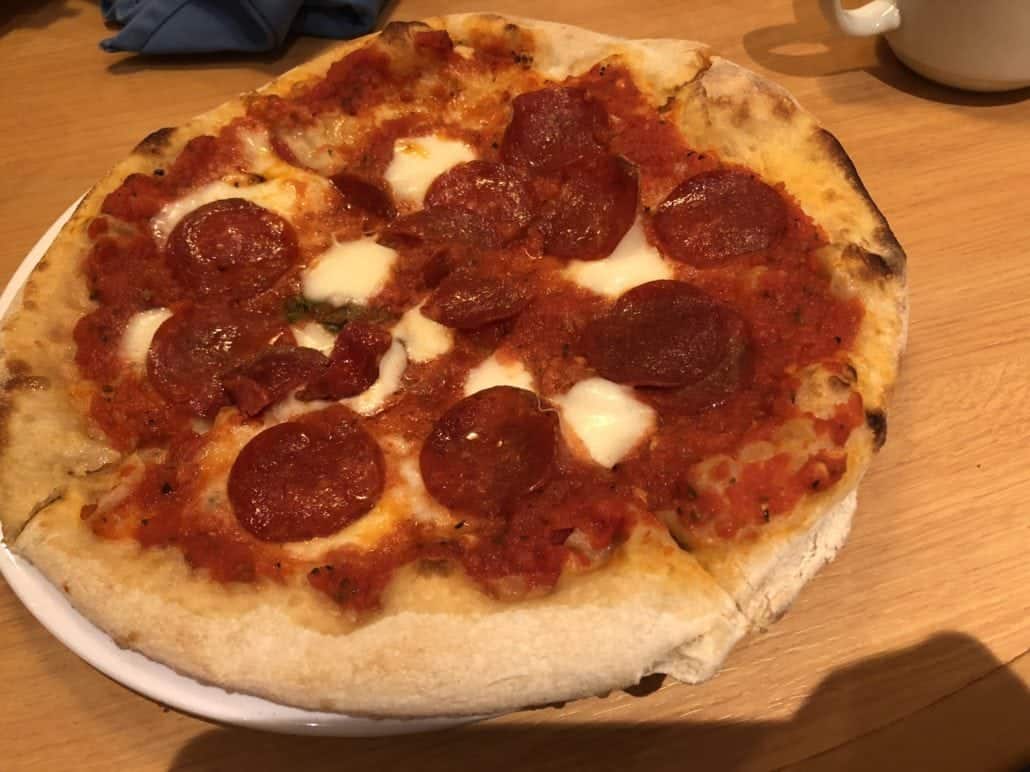 We've said it before, but it bears repeating: You will never, ever go hungry on this ship. And one of the reasons is that day or night, you can grab a fresh made pizza pie. So popular is this spot — located, like the Seafood Shack, by the Tides pool — that if you head there for a late-night munchie, chances are good you'll have to stand in line for a bit. But they're able to crank out the pies surprisingly fast, and they are definitely worth the wait.
OUR FAVORITE: Pepperoni Pizza after the bars close
9. Lido Marketplace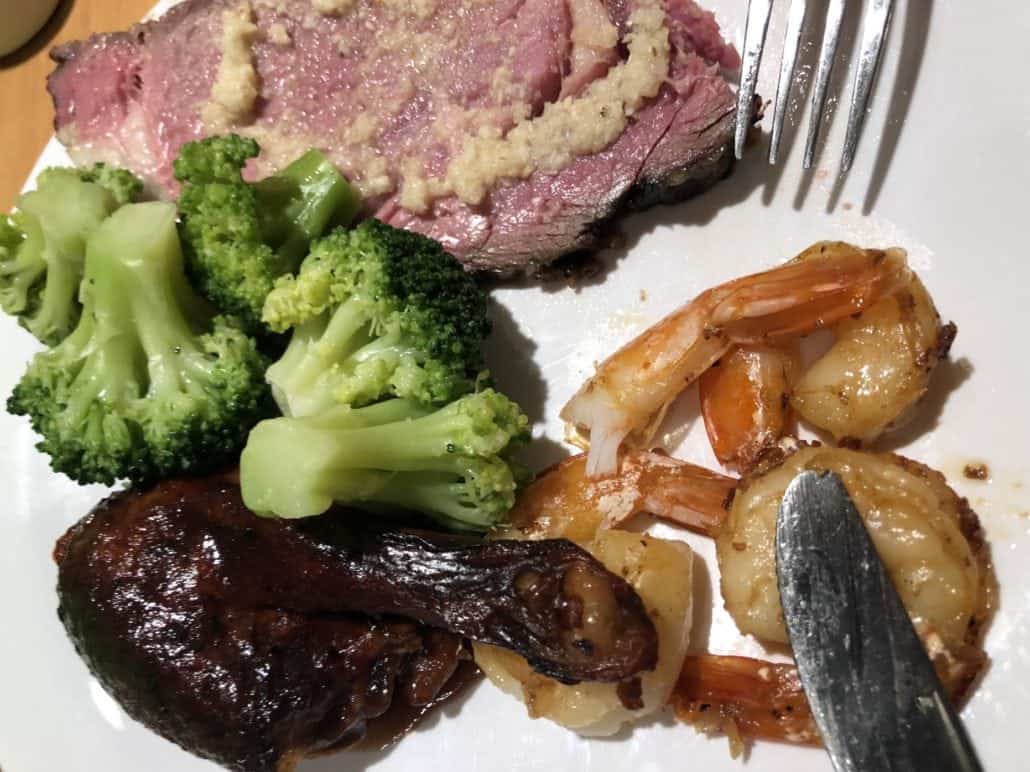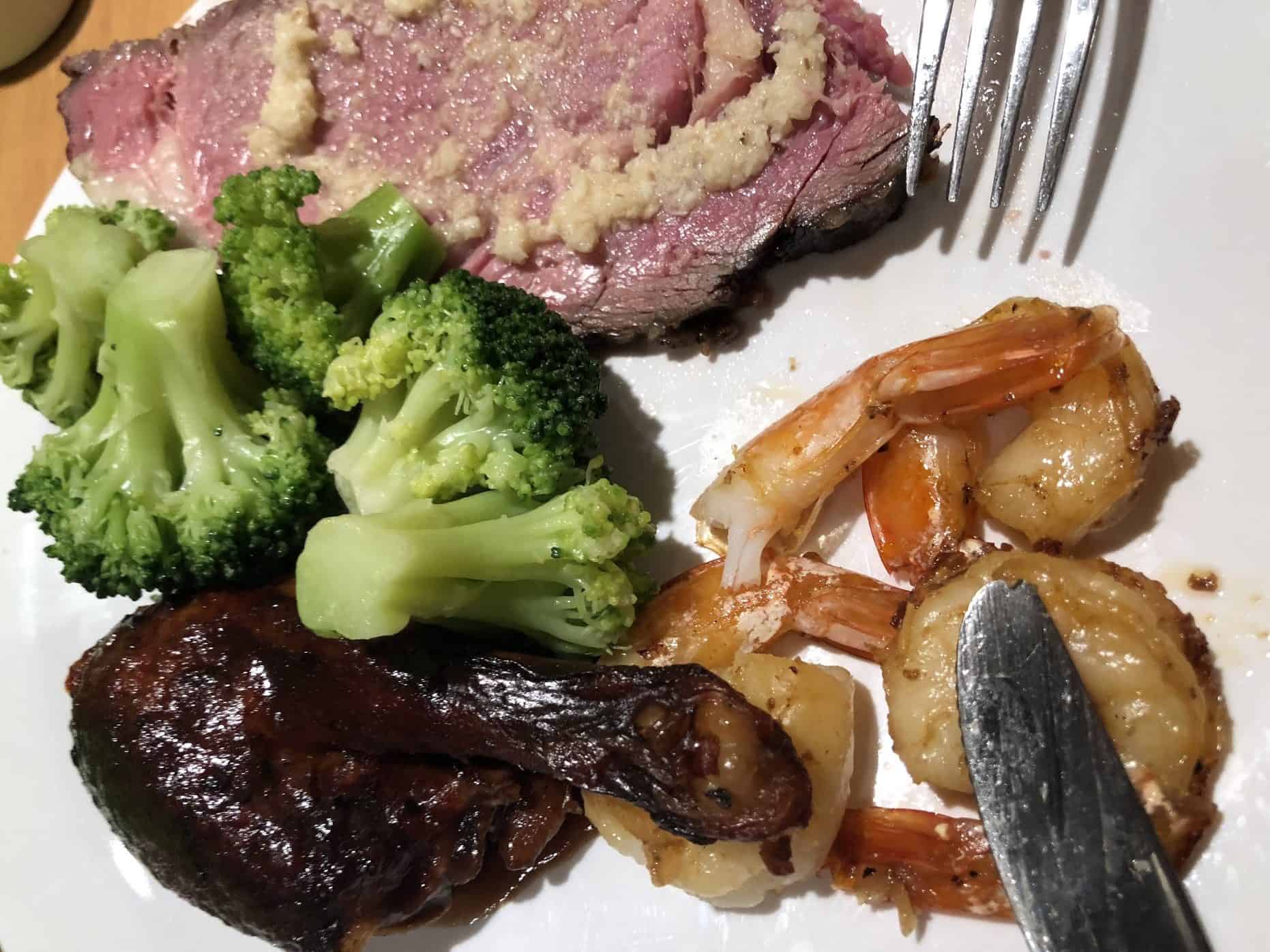 Hey, it wouldn't be a cruise ship if there wasn't a buffet, right? If you can't decide what you want, why not head to the Lido Marketplace and have a little bit of everything? And we do mean everything. Want to go healthy? Stick to the salads… and go light on the dressing. Want something heartier? Head for the carving station. Desserts? Too many to mention. And here's one you won't find on every ship: a cotton candy machine spinning sugar like it's going out of style. If you can't find something to eat here — whether for breakfast, lunch or dinner — there might be something seriously wrong with you.
Read More: Free Eats on Carnival Horizon
OUR FAVORITE: Prime Rib and cotton candy
10. Deli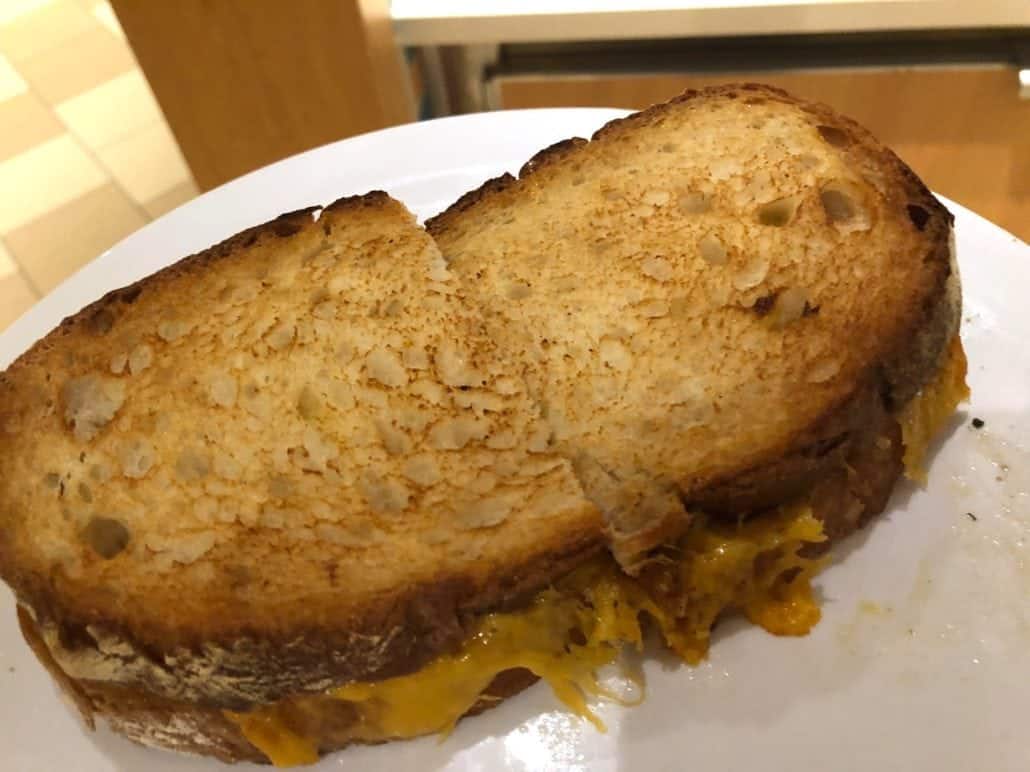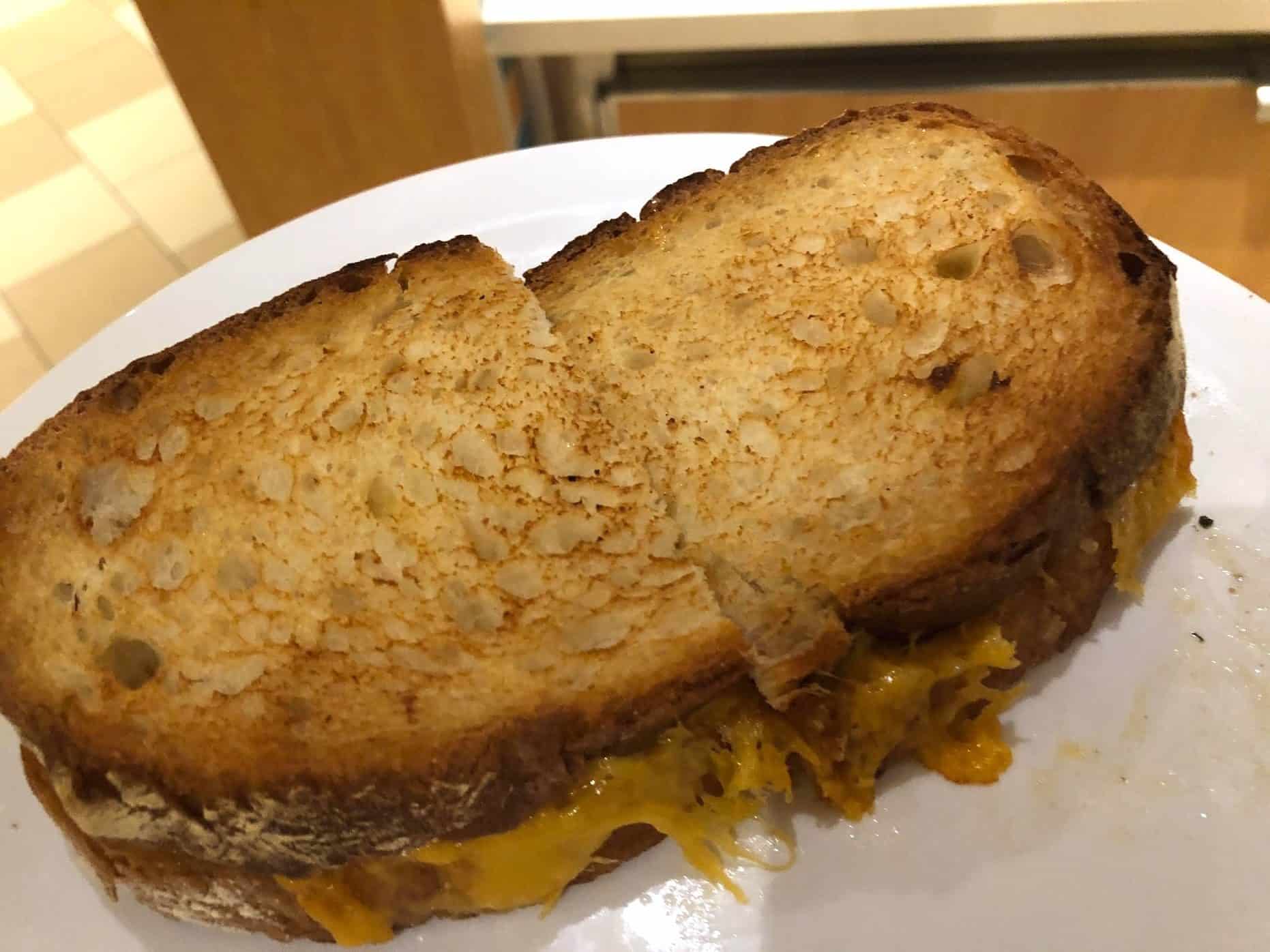 Located in the heart of the Lido Marketplace, the deli serves up both cold and hot sandwiches such as turkey wraps, pastrami on rye, and a grilled reuben that your grandma would be proud to say she made. The line can get pretty long during peak lunch and dinner hours, so time your visit accordingly.

OUR FAVORITE: Grilled Ham and Cheese
11. Guy's Burger Joint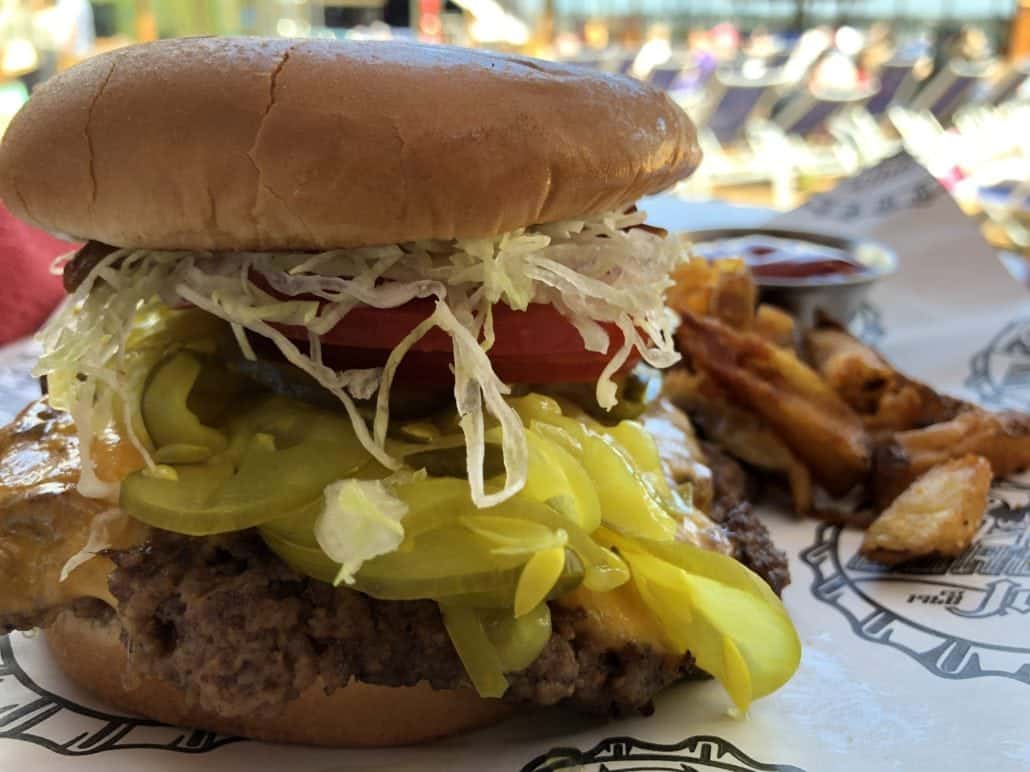 Ah, Guy Fieri. Is there no culinary feat you can't do? It's almost impossible to hit the pool deck and not be tempted by the burgers served up here… not to mention the fries. During the naming ceremony for Horizon, Carnival's Brand Ambassador John Heald blamed Fieri for the fact that "I now have X's in the back of everything I'm wearing," and we understood completely. Sure, it seems somewhat counterintuitive to chow down on burgers and fries while steaming toward a destination where you'll be stripping down for the beach, but hey… you only live once, right?

Read More: Guy's Burger Joint Review
OUR FAVORITE: The Pig Patty (topped with a disc of bacon, seriously!)
12. BlueIguana Cantina

Another popular poolside option, BlueIguana serves breakfast and lunch burritos and soft-shell tacos. As tempting as room service may be on lazy mornings, it's definitely worth getting out of bed (or, even better, sending someone on your behalf) for a breakfast burrito and the accompanying hash browns. Oh, and don't forget about the self-serve salsa bar, a perfect opportunity to get creative with flavor combinations.
Read More: Blue Iguana Cantina Review
OUR FAVORITE: Grilled Chicken Burrito with Watermelon Salsa
13. Cucina del Capitano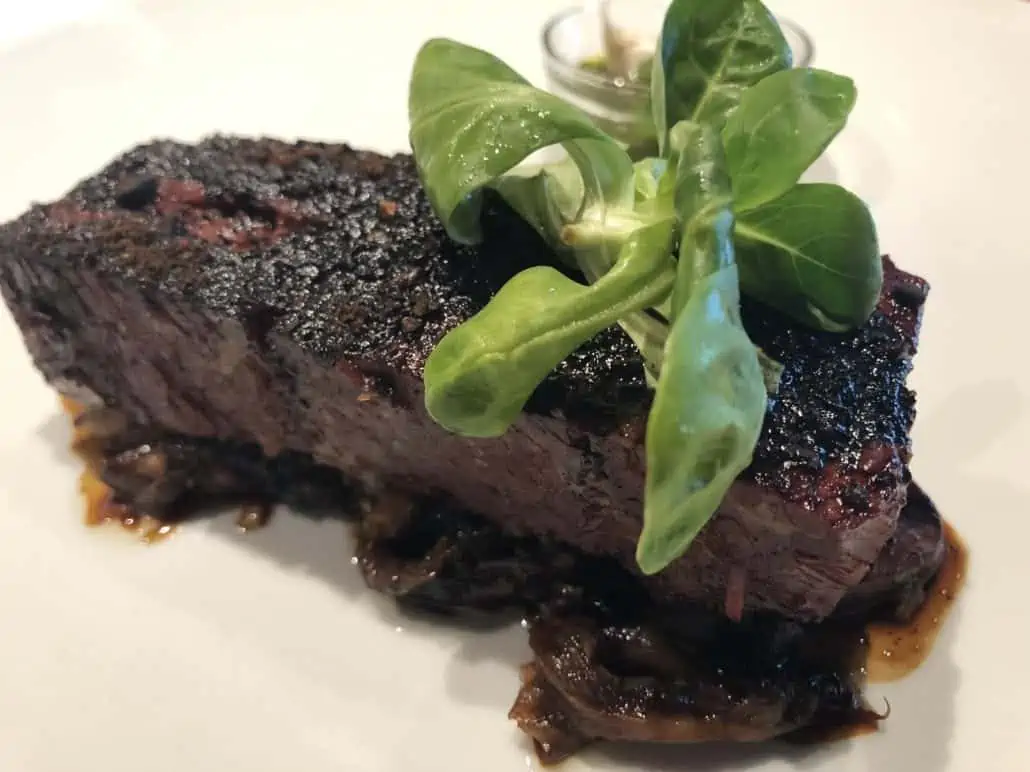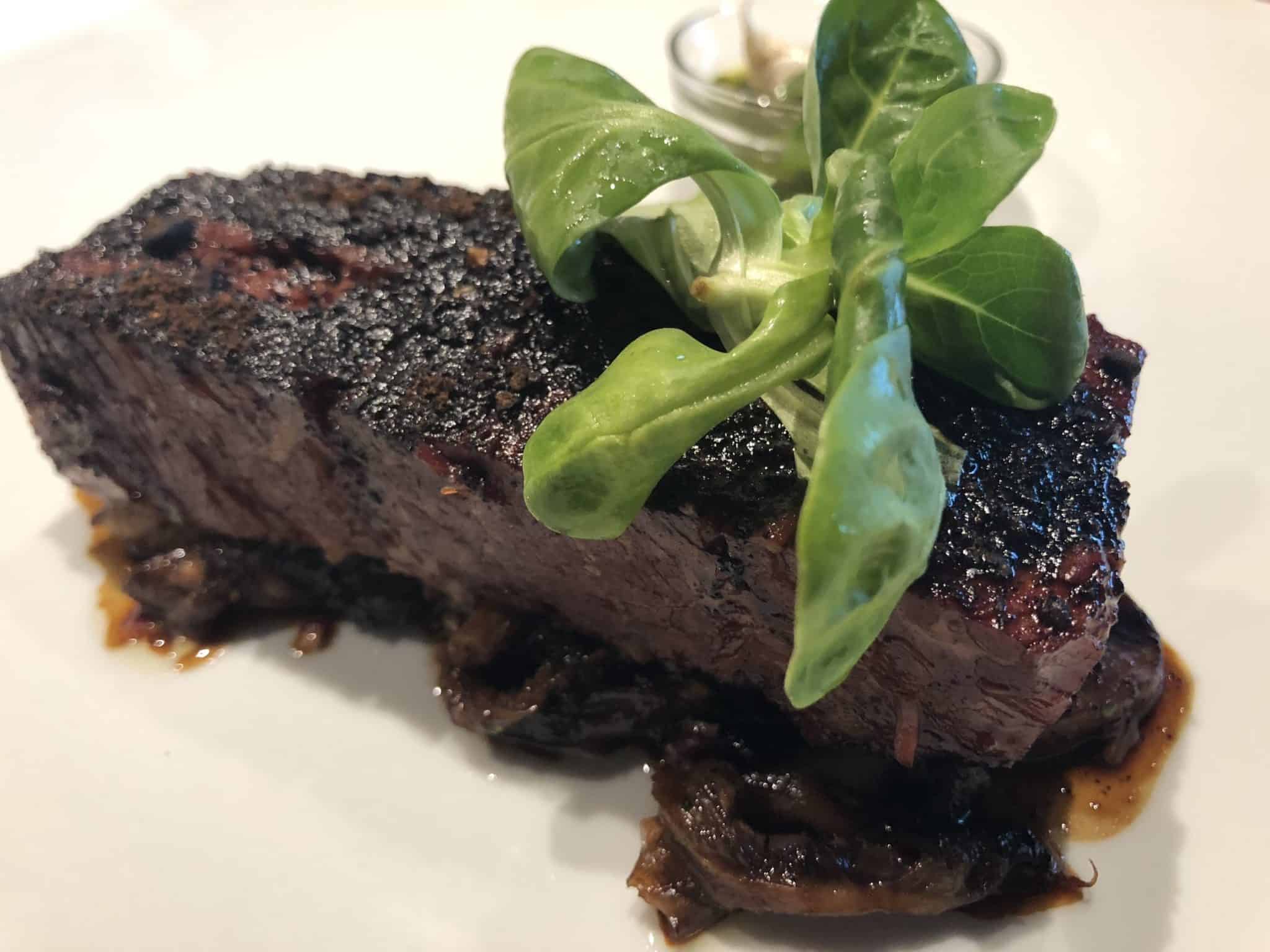 The first time we ate here, we found out what family-style means: Apparently, it's Italian for "a lot of food." You'll find a limited lunch menu here for free, but you can't go wrong with the $15 per person dinner menu. From spaghetti carbonara to chicken parm, the food here is as well prepared as it is copious. If there's one thing that surprised us, it was that the recently-revamped menu no longer offers two Italian staples, cannoli and tiramisu. Then again, chances are good you won't actually have room for dessert.

Read More: Review of Cucina del Capitano
OUR FAVORITE: Beef Short Rib
14. JiJi Asian Kitchen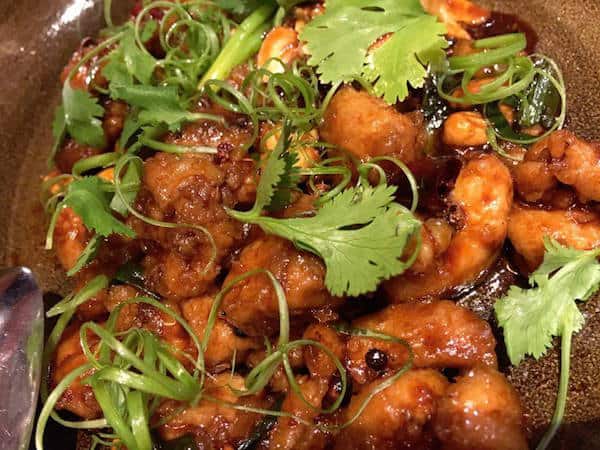 You may be thinking, "Big deal, I can get Chinese food at home." Not like this you can't, and not in so gorgeous an atmosphere. Although the menu is relatively limited, the flavors are big and bold and the cost, $15 per person, is a steal. Bring a friend, because this is the kind of place where you want to order several things and share, and the servings are big enough to do exactly that.

Read More: JiJi Asian Kitchen Review
OUR FAVORITE: Kung Pao Chicken
15. Fresh Creations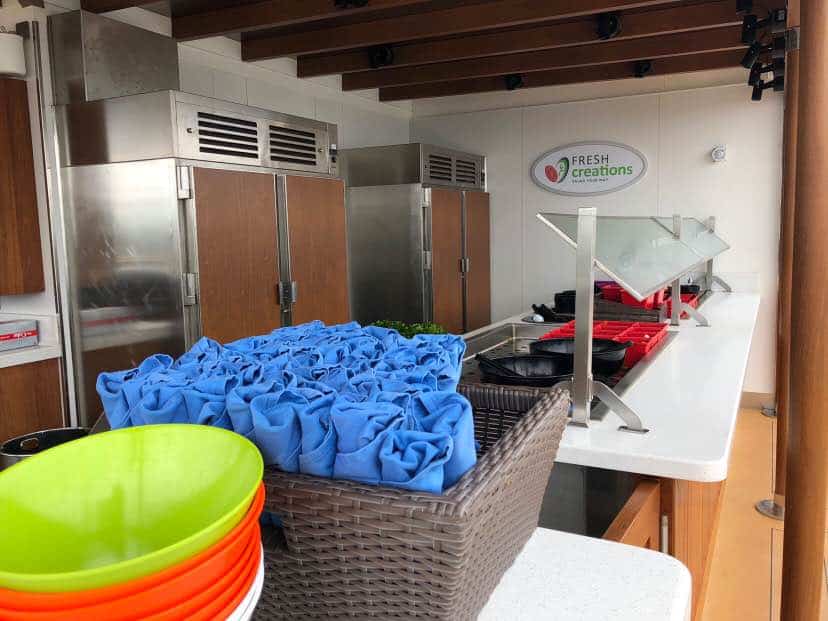 One of our favorite places on the ship is the adults-only Serenity deck. And the only thing better than a completely kid-free zone is the ability to stay within its bubble and still grab something to eat. While it's only open on sea days, Fresh Creations is exactly what you need when you need it. After all, on sea days, the Serenity deck can get crowded. You don't want to lose your spot to go grab lunch, and you don't want to be a chair hog by "saving" your seat with a towel while you're gone. One of the amazing salads whipped up here solves all your problems. Or at least staves off your hunger until dinnertime.
OUR FAVORITE: Romaine Calm
16. Cherry on Top
What better way to end this tour than with one of our all-time favorite treats? Carnival Horizon is one of only two Carnival ships on which can you purchase ice cream sandwiches. And these aren't some pre-packaged frozen concoction, but rather a make-your-own sandwich deal where you choose a cookie flavor, pick your ice cream and then have it rolled in candy. Want to make sure you have something to crave your need for sugar later? This store also sells a wider variety of sweets than could be dreamed up by Willy Wonka.

OUR FAVORITE: M&M cookie ice cream sandwich with cake batter ice cream.
Read our comprehensive Carnival Horizon 2018 review here.
16 Carnival Horizon Dining Spots

What is your favorite place to eat on Carnival Horizon? Let us know!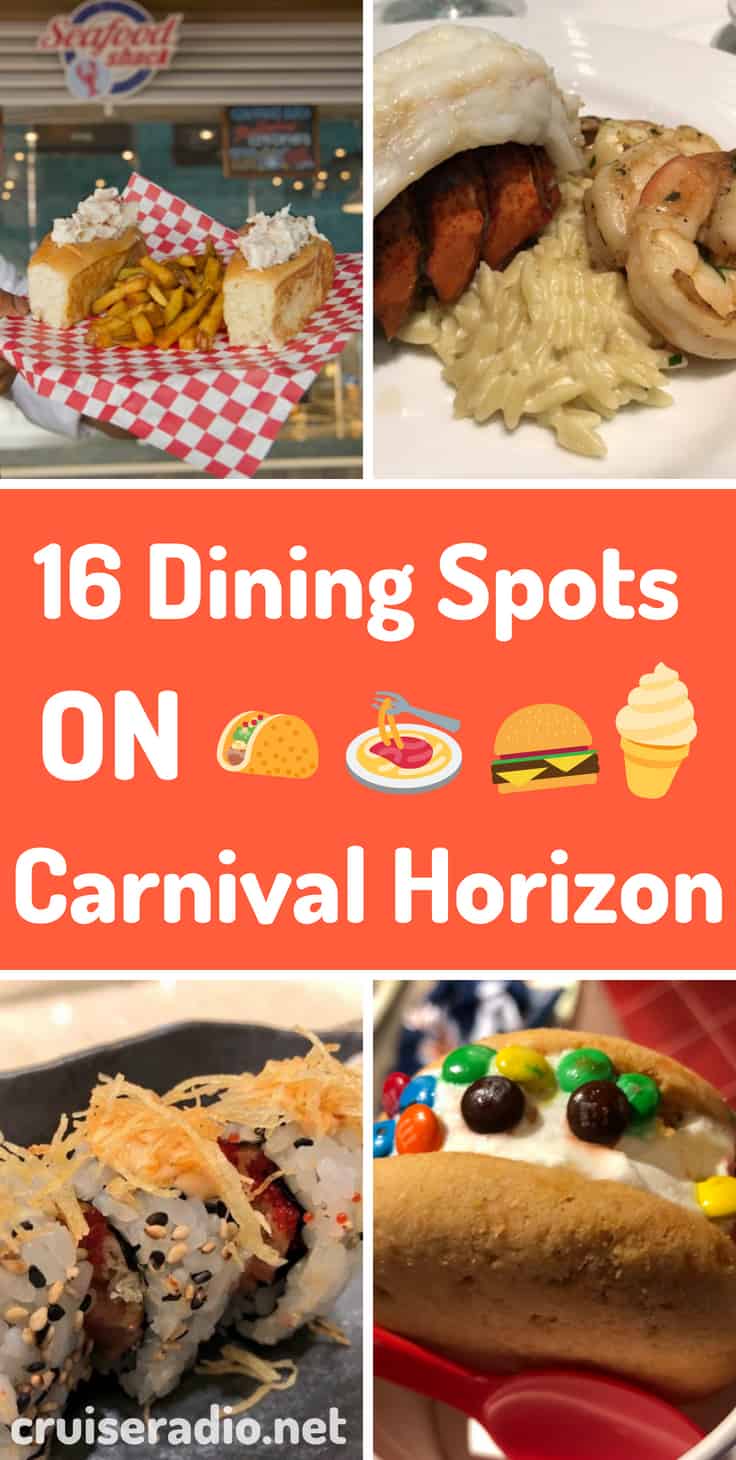 Contributor: Heather Baxter