The Bahamas has finally opened the newly renovated $300 million Nassau Cruise Port. Following three years of construction, what's being called "phase one" of the area's redevelopment was officially opened to guests on May 27, 2023.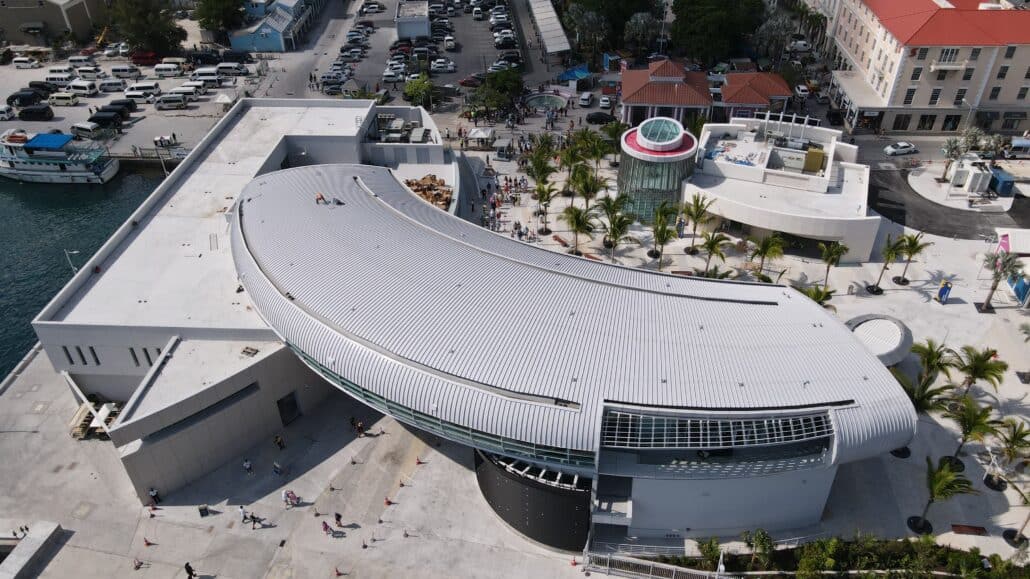 With a berth that can accommodate up to six cruise ships simultaneously, the port boasts a long list of attractions. In addition to a brand-new terminal building, guests can enjoy its entertainment and event spaces. The amphitheater, for example, can accommodate up to 3,500 people. There are also local boutiques, restaurants, cafes, and an exhibit of living corals.
Why New Nassau Cruise Port Is A Big Deal
Other highlights include the Junkanoo Museum, an immersive exhibit that shares the country's heritage through cultural celebrations and vibrant artwork. To further showcase and support local businesses, the port has 40 retail spaces occupied by local brands such as Bamboo Shack and Bahama Hand Prints.
According to Bahamas Prime Minister Philip Davis, the new venue fully supports the government's vision of promoting the local culture. "The port will become a cultural and entertainment hub that celebrates our UNESCO-recognized heritage and crafts. This is a place where our traditions, customs, and artistic expressions come alive, inviting visitors to immerse themselves in the true essence of The Bahamas," Davis shared in an article published by the Caribbean Journal.
Of course, one of the major reasons the port was renovated was in an effort to convince more cruise ship passengers to disembark the ship. Over the past several years, many travelers complained that Nassau offered little in the way of culture or entertainment, with the nearby Atlantis Paradise Island resort being the biggest draw.
Number of Cruise Ship Passengers Reach New High
Historically, the Bahamas has been one of the most visited islands. Based on numbers from the Nassau Cruise Port (NCP), the island country received more than 3.2 million passengers from cruise ships in 2022. And by the end of 2023, the island nation hopes to welcome over four million passengers with help from the new Nassau Cruise Port.
These projections certainly seem attainable, given recent trends in travel. "In 2019, which was the busiest year for us to date, we had 3.85 million visitors," reports Mike Maura, Nassau's port director. "For 2024, we already have 4.5 million confirmations."