Today was Disney Fantasy's second day at Disney Cruise Line's private island, Castaway Cay. And like yesterday, I was awakened by the unmistakable shimmy of a ship maneuvering into place at the dock.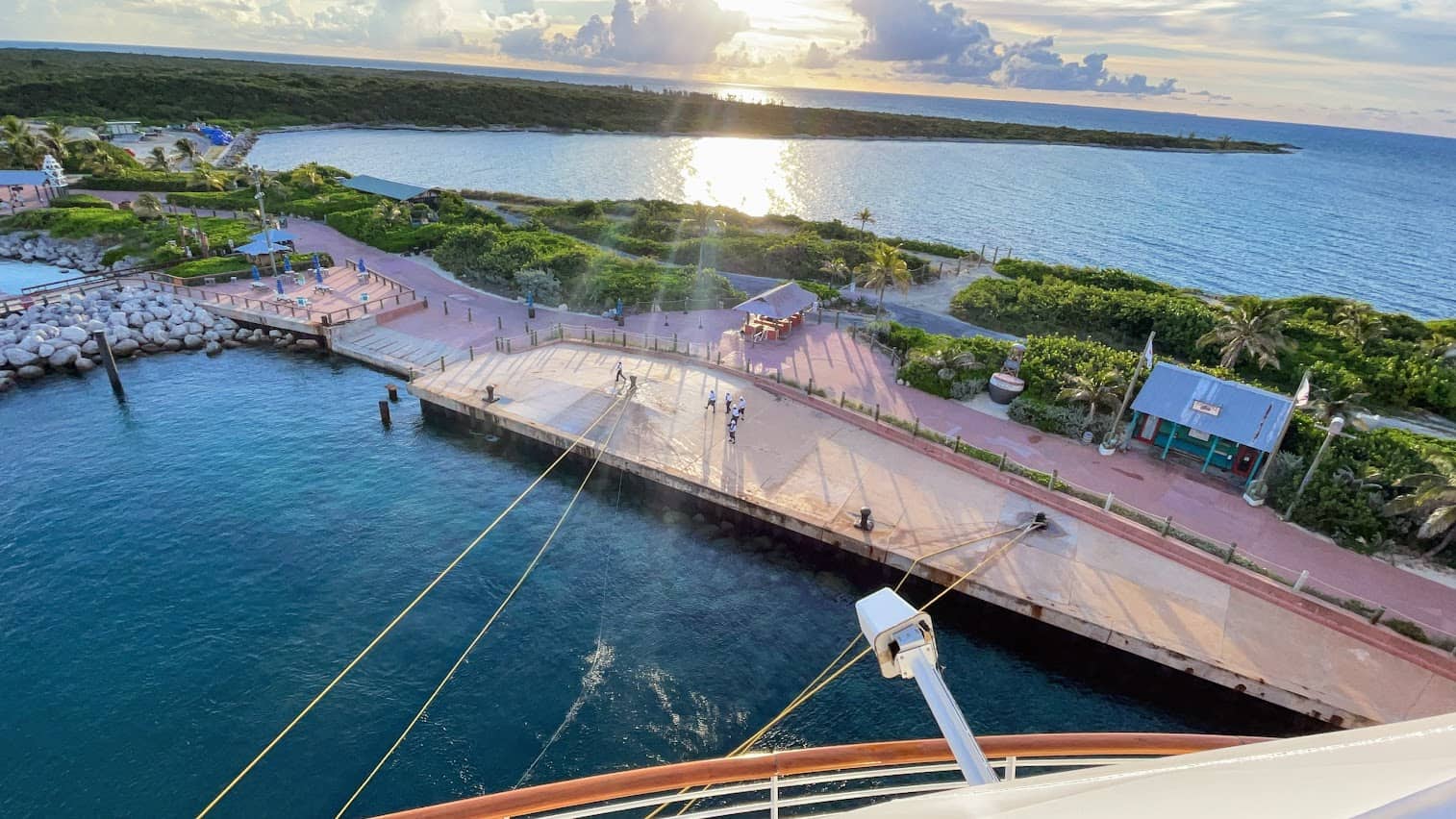 Most staterooms on the ship would never feel those vibrations, but those on the back — and remember, I'm in an aft-facing stateroom overlooking the wake — do! It was one of those mornings where you look outside and can tell it's going to be a beautiful day.
Yesterday we got the lay of the land by taking the tram all the way down to Serenity Bay and then renting bikes, so today we hung around the Family Beach for most of the day. One of the things I was really looking forward to was snorkeling along the underwater trail in the lagoon. But first? Breakfast!
Three words that've come to mind over and over during this sailing are "attention to detail." This is something that Disney as a whole is known for, and I've certainly experienced it in the parks, so I shouldn't have been surprised that the same elevated standards would apply on the company's cruise ships. For example, when I ordered a cappuccino this morning, guess who was staring back at me from the foam? Mickey!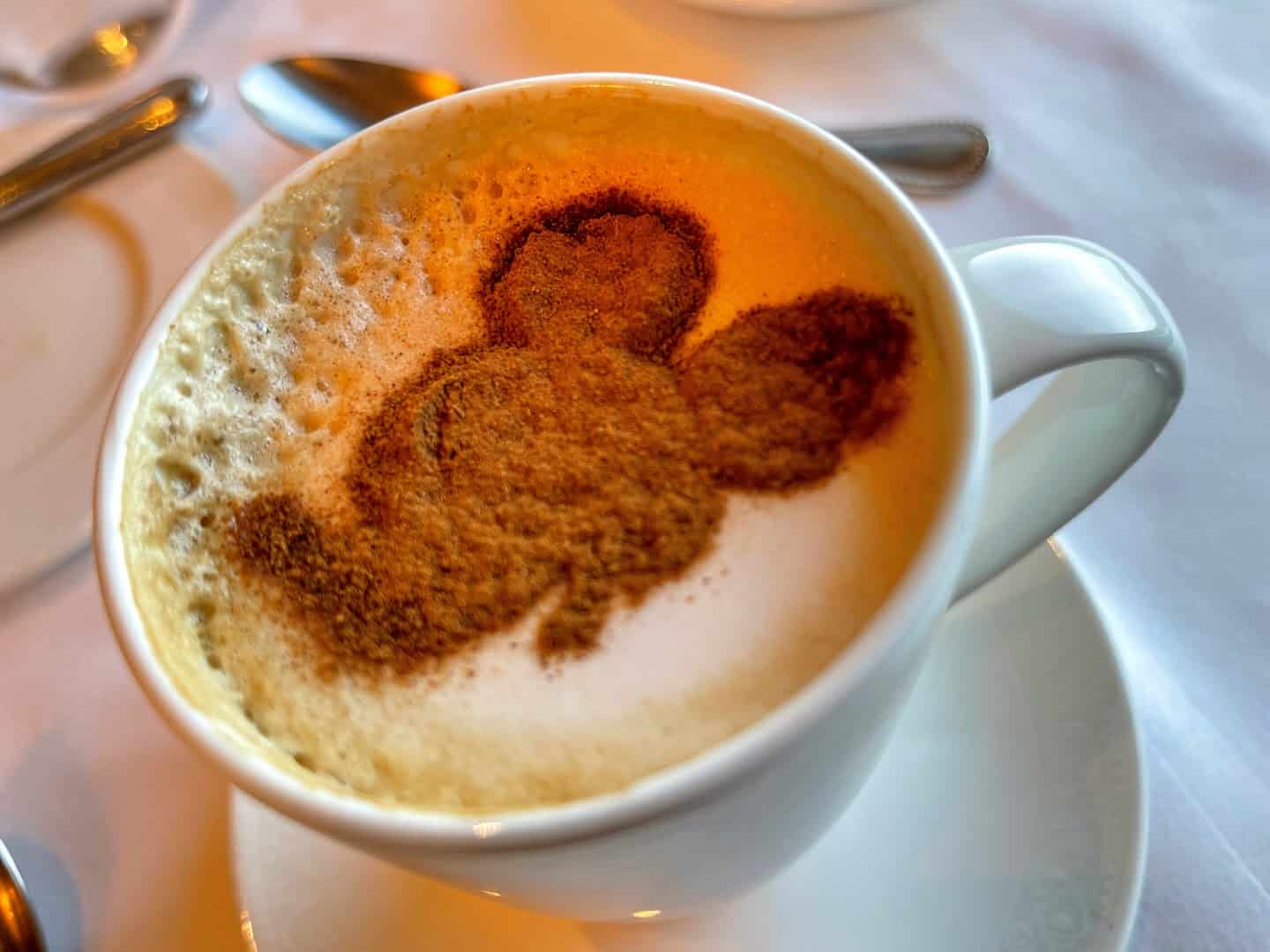 A little tip for coffee drinkers: Disney has a punchcard allowing you a free specialty coffee after you've purchased six. Given that this was only a four-night cruise, I didn't consume enough to get that free coffee, but it's a nice perk for people on longer sailings (or who drink more caffeine than I typically do).
Once we docked, most people took advantage of the fact that it was a perfect beach day by getting off the ship as quickly as possible. But we noticed that the AquaDuck water coaster was opening at 9 a.m. and decided to take advantage of the nearly-empty ship by trying the attraction out before going ashore.
You reach the AquaDuck by a set of stairs and, once at the top, a cast member is there to tell you when to board the two-person raft. I asked if I was allowed to take my GoPro, and they said it was fine as long as I was using a head strap to keep it in place. I was stoked to hear this, because the POV footage is very cool. Plus, I was so busy having fun on the coaster that I didn't necessarily pay attention to the surroundings, so it was awesome being able to watch it back later.
Once you sit in the AquaDuck raft, a conveyor belt moves you into position and then, well, gravity takes it from there! Part of me wondered if I would feel claustrophobic, what with the majority of the ride being enclosed. But there were just enough openings in the tunnels that I wound up being fine. It also helps that the tube is clear, so it doesn't feel as closed-in as you might expect it to otherwise.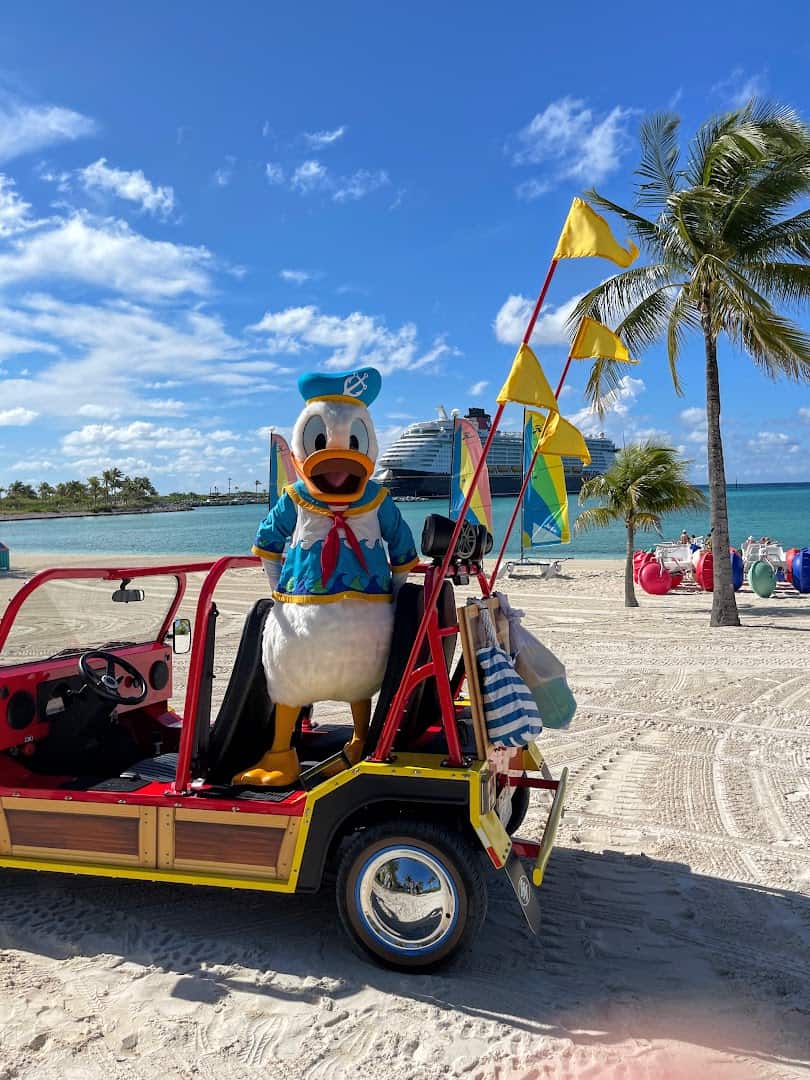 After riding twice, we disembarked for our day at Castaway Cay. When we got to the beach, there were a couple different characters you could pose with. Chip and Dale were up first, and then Daisy and Donald were along the beach in their jeep. Since we were outside, we didn't have to wear a mask when posing with the characters. But we weren't able to put our arms around them or anything like that, either.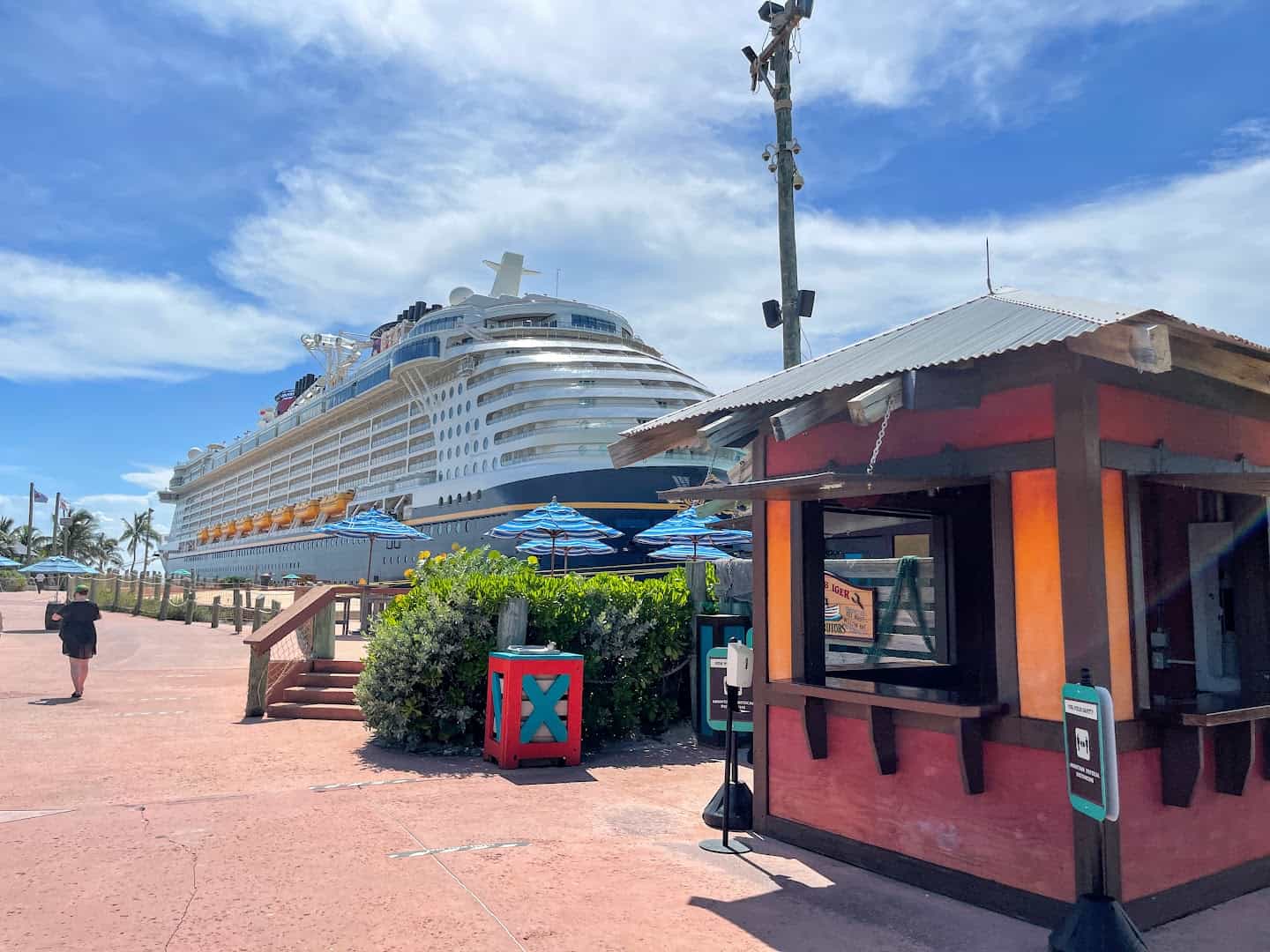 The setup was similar to how it had been with Jack and Sally (from The Nightmare Before Christmas) on the ship last night. The jeep was perfectly positioned for selfies or to have someone else snap the picture. If you didn't know that everything was socially distanced, you could almost mistake the beach pics for ones taken during "normal" times.
After taking photos, we hit the water slides at Pelican Plunge, which is sort of a giant floating barge you swim out to. Once there, you'll find two different slides — one enclosed, one open — to ride down. Interestingly, despite this being on the Family Beach side, this isn't really a great attraction for small children. The water's pretty deep and you have to swim out to Pelican Plunge… even with a life jacket, little kids would probably struggle to get out there and back.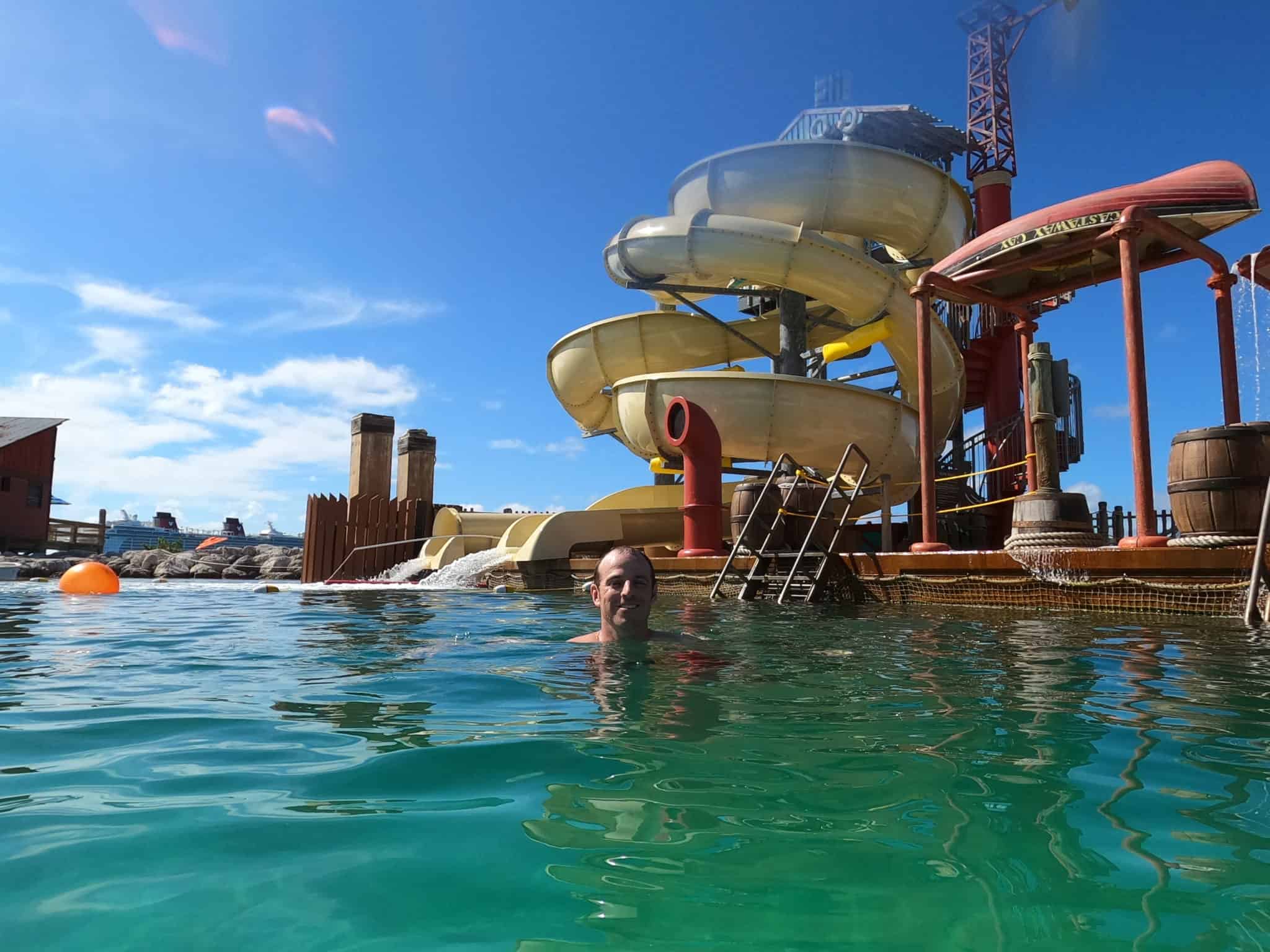 Next, we went to the snorkel shack to rent a mask, fins, and a snorkel. The cost was around $33 per guest for the day. They took our room number and last name when we rented it. We were also given a life jacket which Disney requires in the 22-acre lagoon.
Make sure you eat your Wheaties before strapping on your mask because if you intend to hit all the landmarks, you are going to have a lot of swimming to do!
There are sunken "treasures," which are marked by buoys, all around the lagoon. You'll find ship anchors, statues of characters, the ride vehicle from 20,000 Leagues Under the Sea, and lots of fish and coral. Keep in mind that coral is a living organism and you don't ever want to touch it for a number of reasons. For one thing, f you run into fire coral, it'll light you up with a nasty rash. But more important, simply touching some forms of coral can actually cause it serious damage.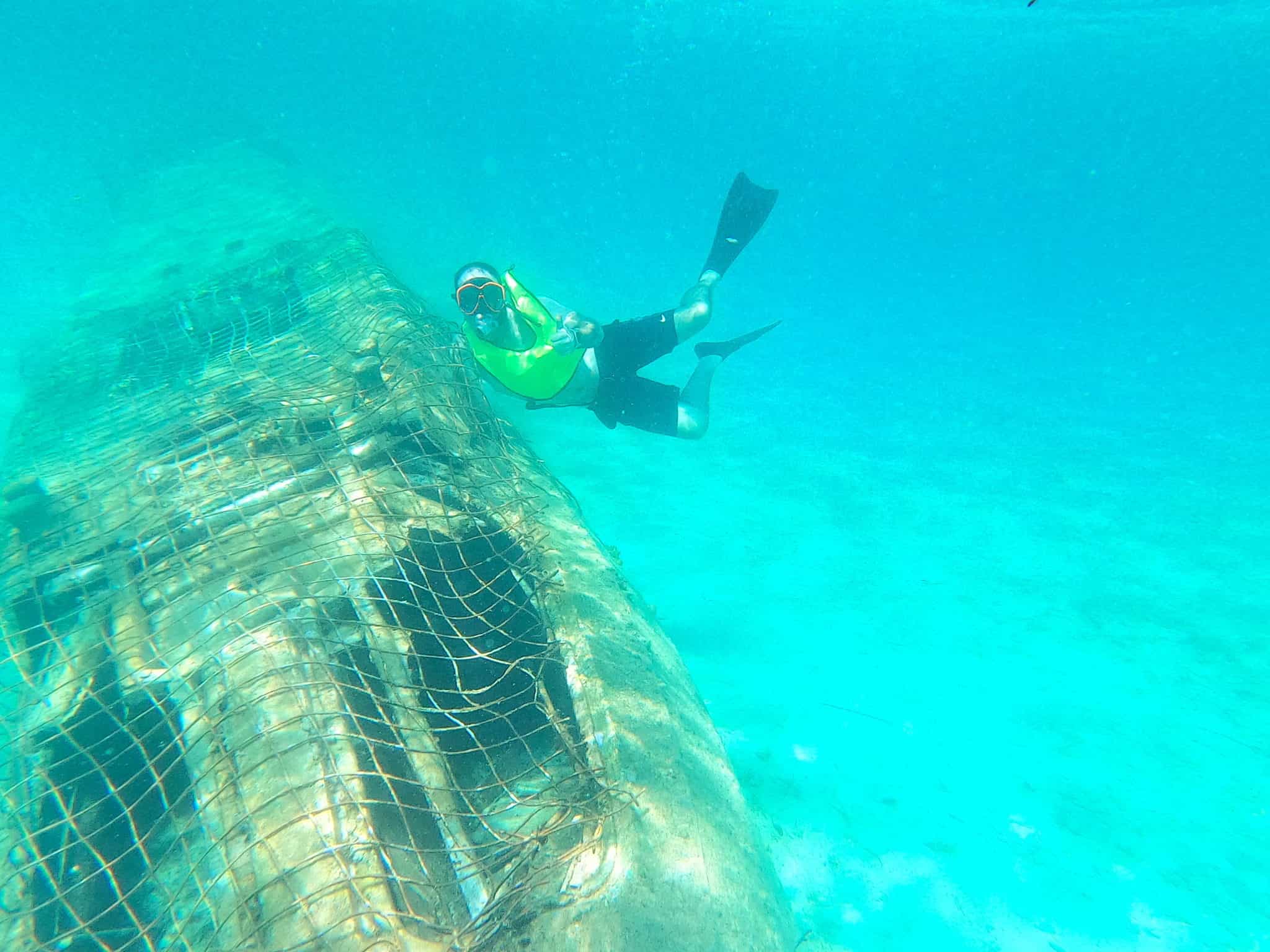 It took us about an hour to do eight underwater sites, after which we swam ashore to grab a tram to Serenity Bay, the adults-only area. Since the weather wasn't great yesterday, I wanted to explore these beaches under better conditions.
After a steak lunch, we went to the adults-only beach and hung out for about an hour. This is more of a place to just relax in the water and chill out as opposed to the more activity-oriented things going on at the Family Beach. You can walk a couple hundred feet from the shore and the water will never be deeper than your waist; most of it was knee-level.
We ordered a drink while sitting in the ocean and the waiter placed our order by asking our room number. This is one of the ways Disney has reduced touch-points, both on the island and on board. Also, if you're making a purchase from one of the shops on the ship, they have a card reader behind plastic so all you have to do is tap your card on the glass and it reads it via RFID, the same way you access your stateroom.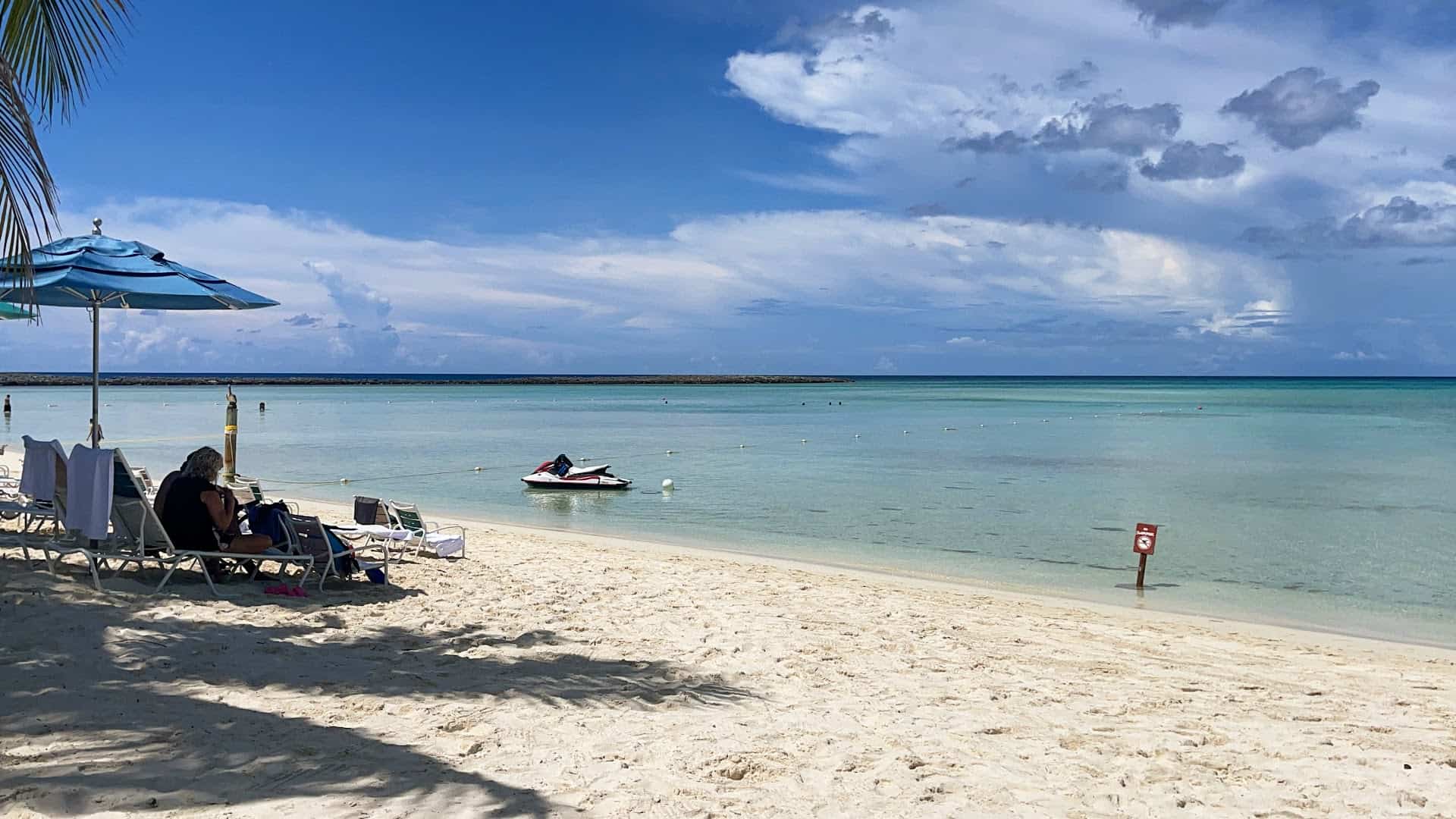 Having spent about as much time as we could under the Bahamian sun, we took the tram back to the Pelican Point Tram Stop to do a little bit of shopping. They have exclusive Castaway Cay merch on the island, so I bought a water bottle before slowly making my way back to the ship.
Despite being on the island for two days, we still weren't able to see everything. Castaway Cay is just that big. You'll find adult and family cabanas, a stingray adventure, the Castaway Cay post office (where you can send a letter with an official Castaway Cay postmark), and more covered dining areas.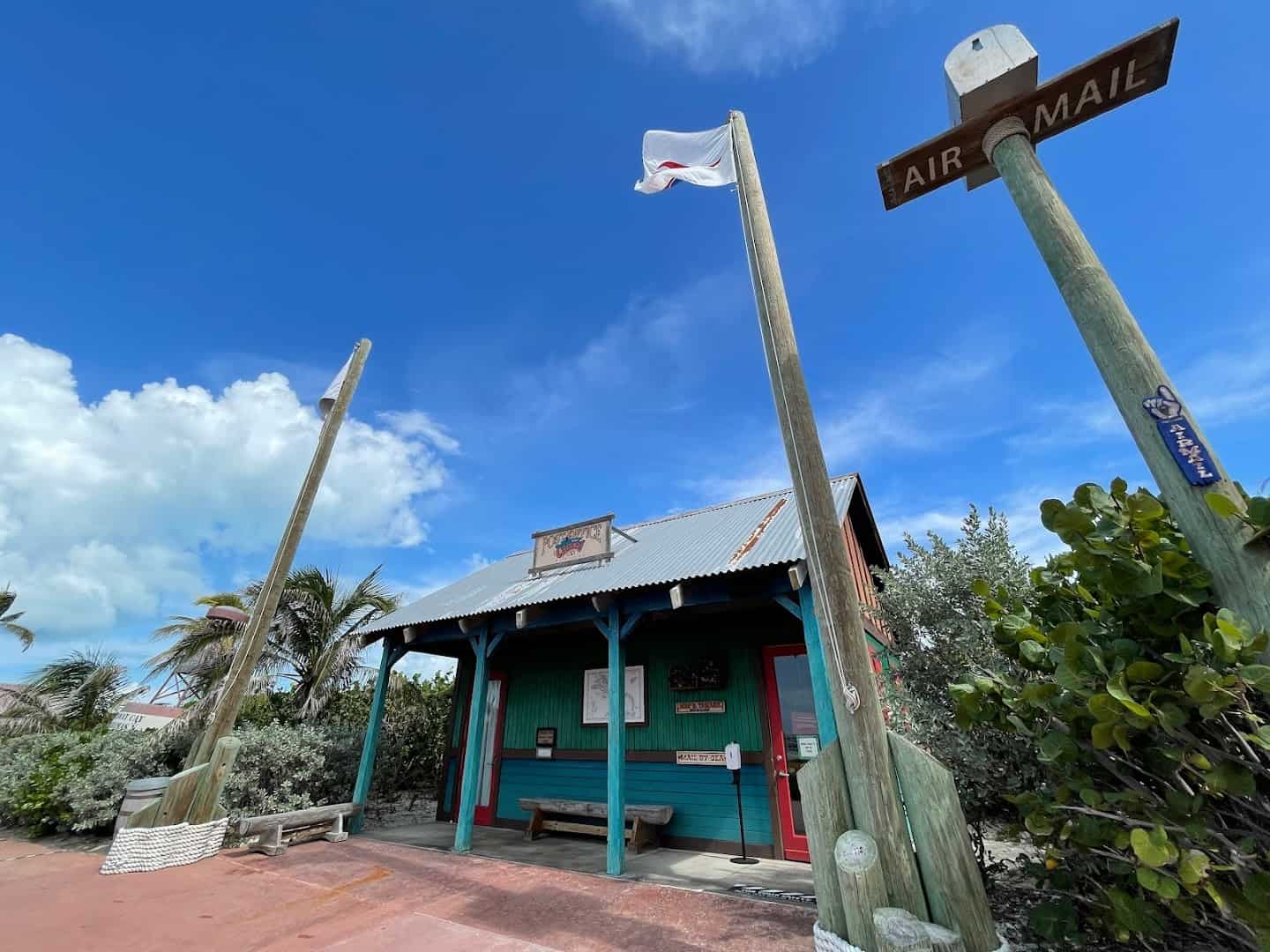 As we were boarding the ship, we heard that the captain would play all eight horns during sail away, so we headed straight to the top deck by the funnel. Sure enough, just before we started sailing away, the horns began playing some of the most recognizable Disney hits of all time.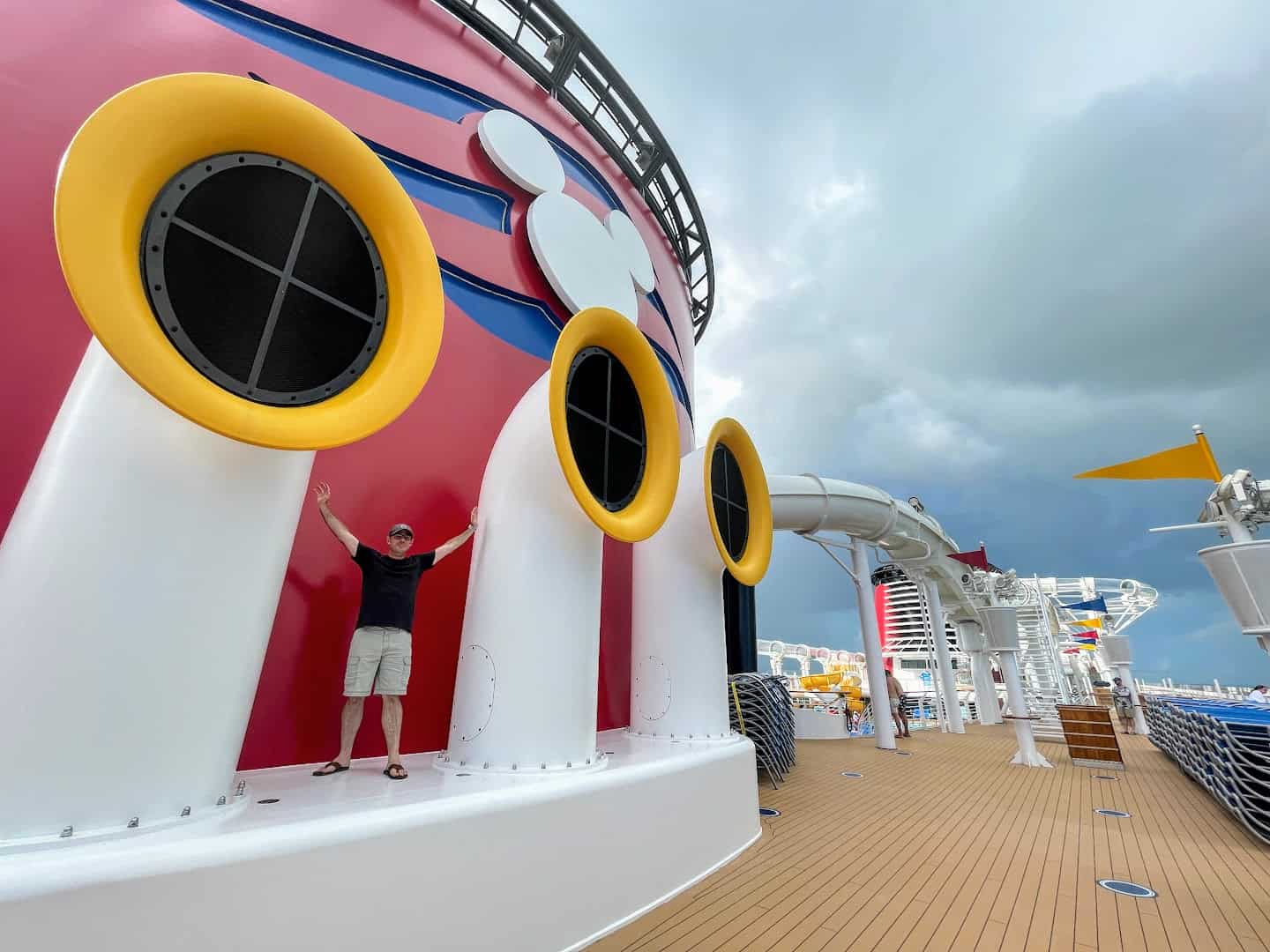 We heard When You Wish Upon A Star, followed by Be Our Guest, Do You Want to Build a Snowman, It's a Small World, Imperial March (from Star Wars), Yo Ho (A Pirate's Life For Me), A Dream is a Wish Your Heart Makes, and Hi-Diddle-Dee-Dee (from Pinocchio).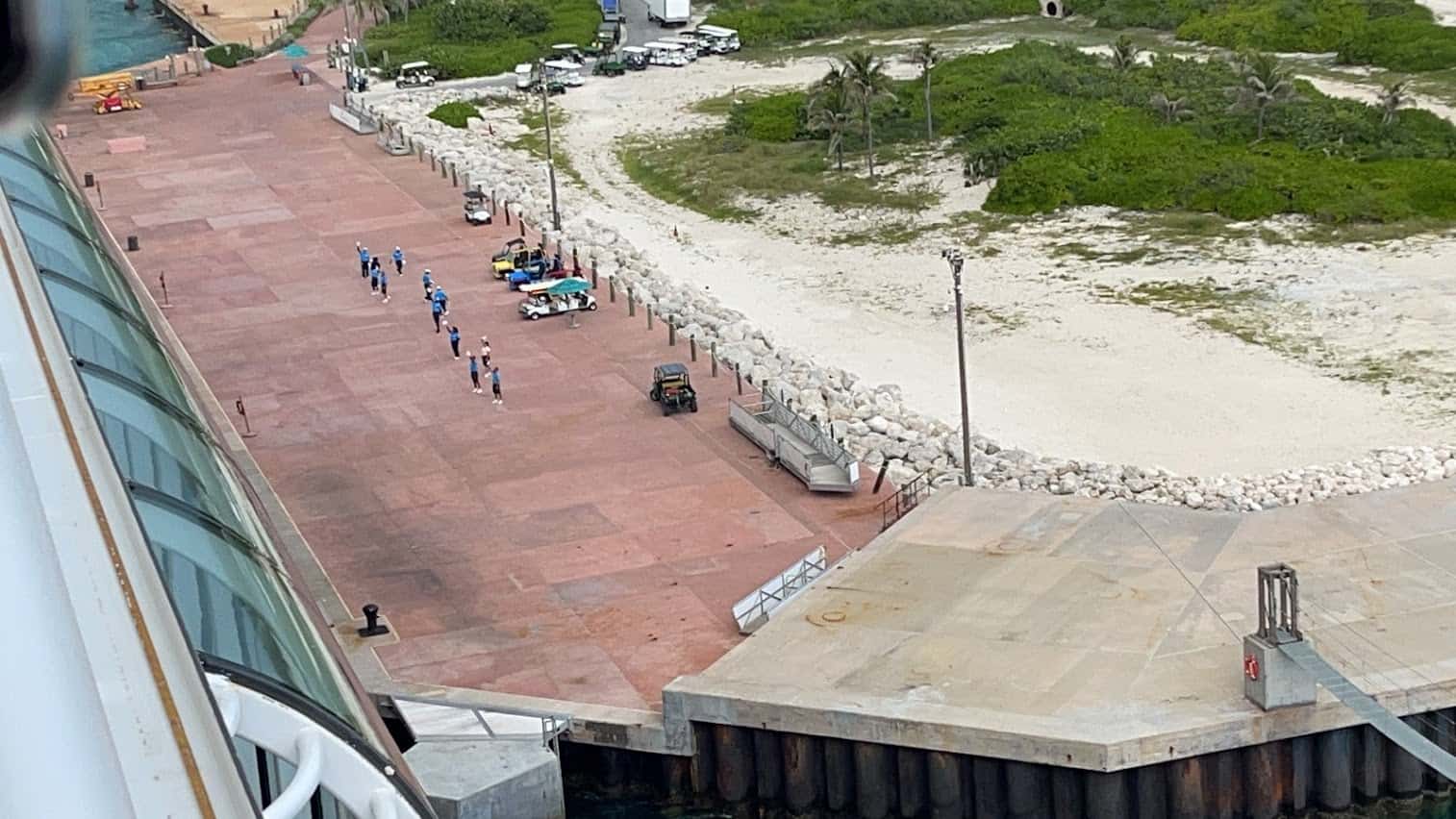 Another cute touch? As we sailed away, the cast members who reside on Castaway Cay or commute to the island lined the pier and waved goodbye while wearing big, white Mickey hands.
The final show being held in the Walt Disney Theater tonight was called Believe. I'll admit, after reading the description of the show ("a workaholic father reconnects with his daughter through a little Disney magic"), I was skeptical.
Great as the other performances had been, I suspected this one would not be my thing. Well, turns out I was wrong because as the show went on, I got completely caught up in both the story and the musical numbers. I think I sat through more shows on this four-day sailing than on any other sailing — including ones twice as long — before.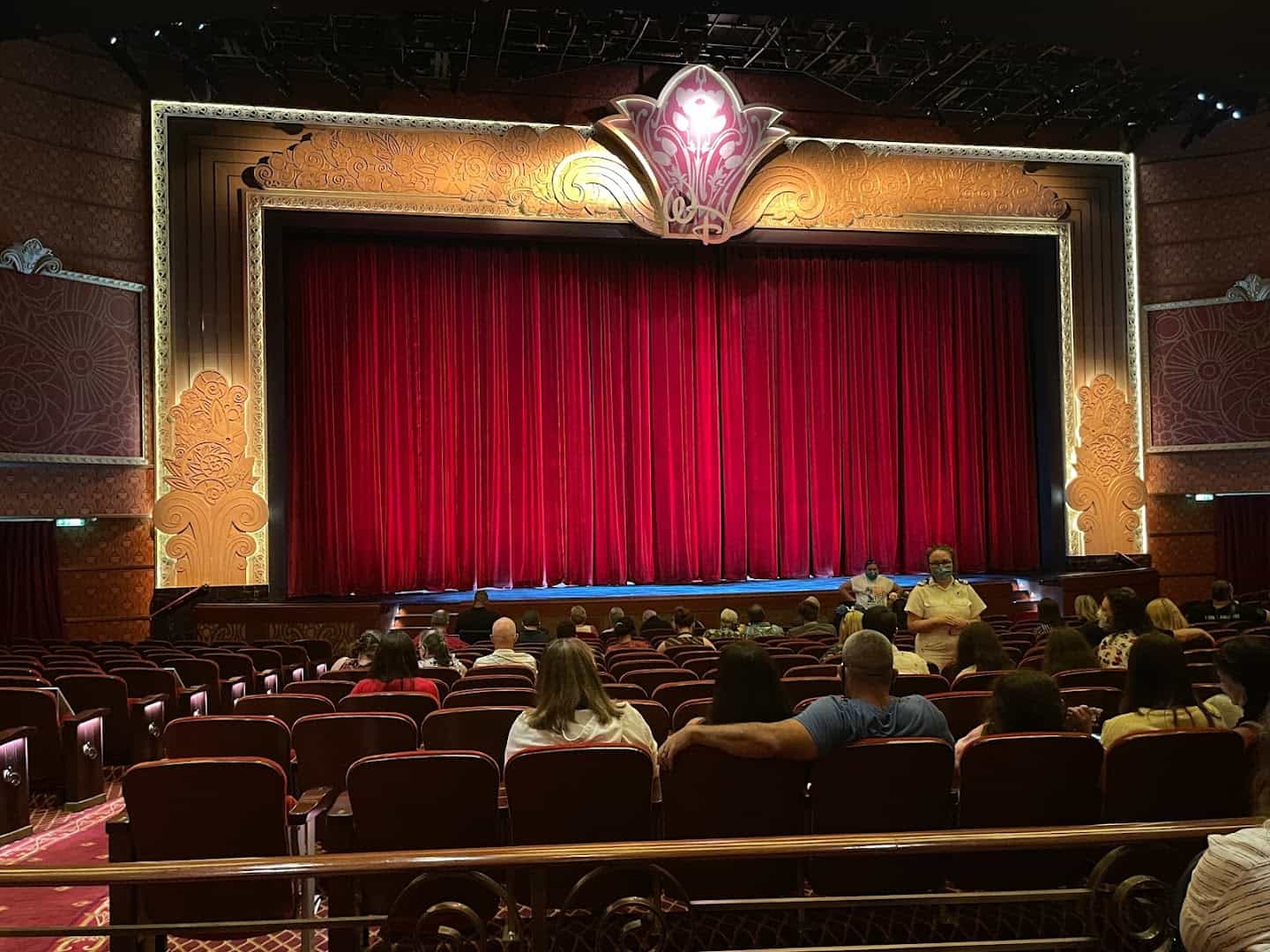 Our final dinner was held in Animator's Palate, the last restaurant in our rotation through the ship's three dining rooms. As the title implies, this space is dedicated to the art of Disney animation, and there are drawings and sketches from famous Disney movies around the room.
The bread and garlic butter served was the best ever — so good that they brought our table not one, but two baskets. Fun touch: The butter knife is shaped like an artist's brush. Very cool! I had an excellent tuna tartar over sliced cucumbers, butternut squash soup, and ginger teriyaki-crusted beef tenderloin with carrots.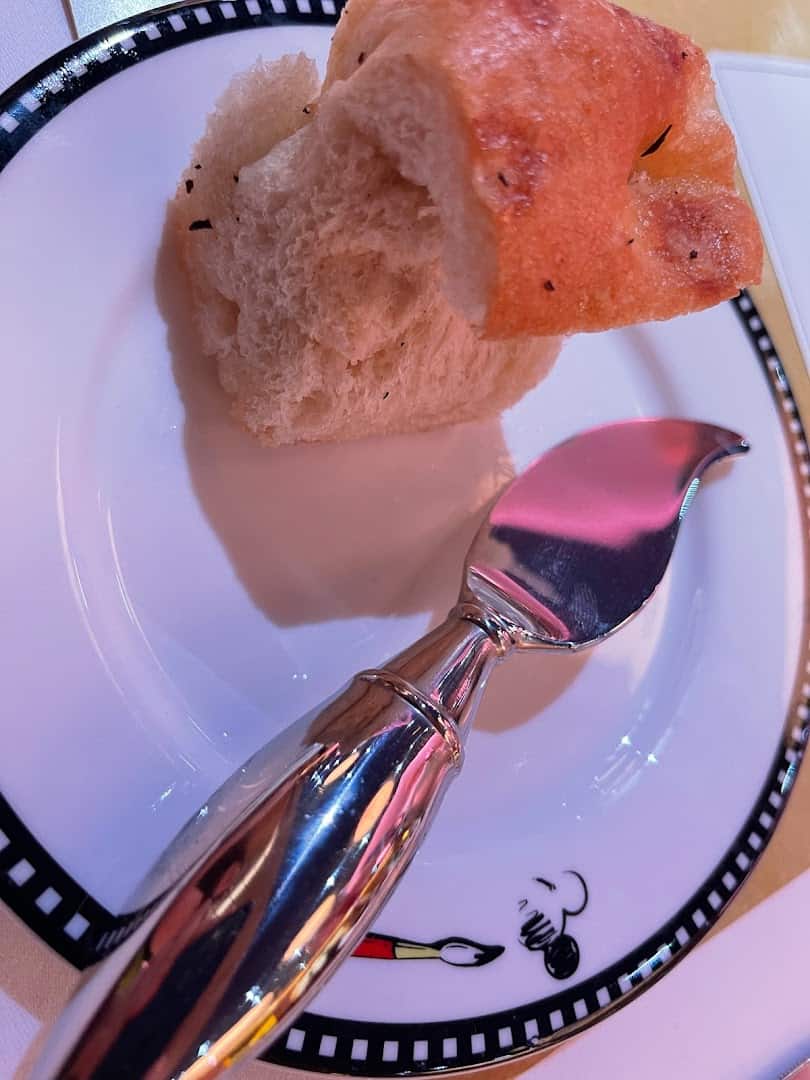 Tonight's cappuccino had a Star Wars Rebel Alliance symbol on the top. It's amazing how they do these, and I assume it's done by a machine somehow, but it's fantastic either way.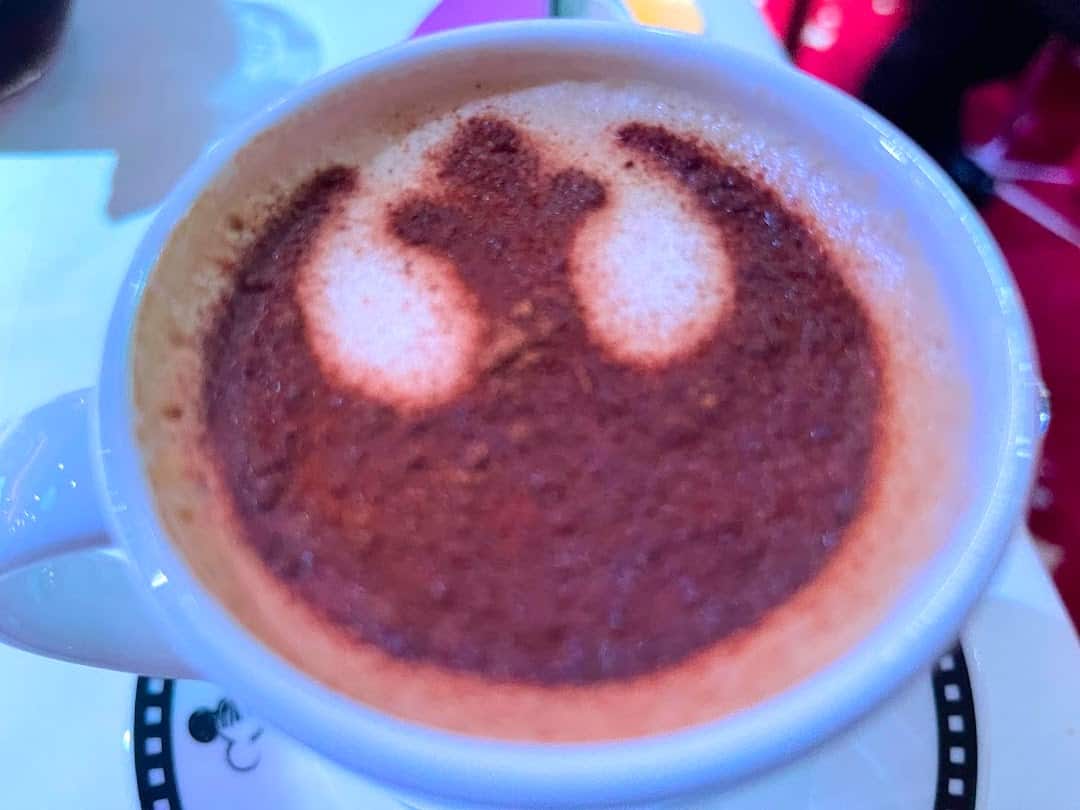 Throughout dinner, Crush, the turtle from Finding Nemo, makes his way around the entire room, showing up on screens next to each table to have a straight-up conversation with you. I assumed at first that he was speaking some pre-recorded snippets of dialogue… until I asked if we could take a picture of him and he started striking poses.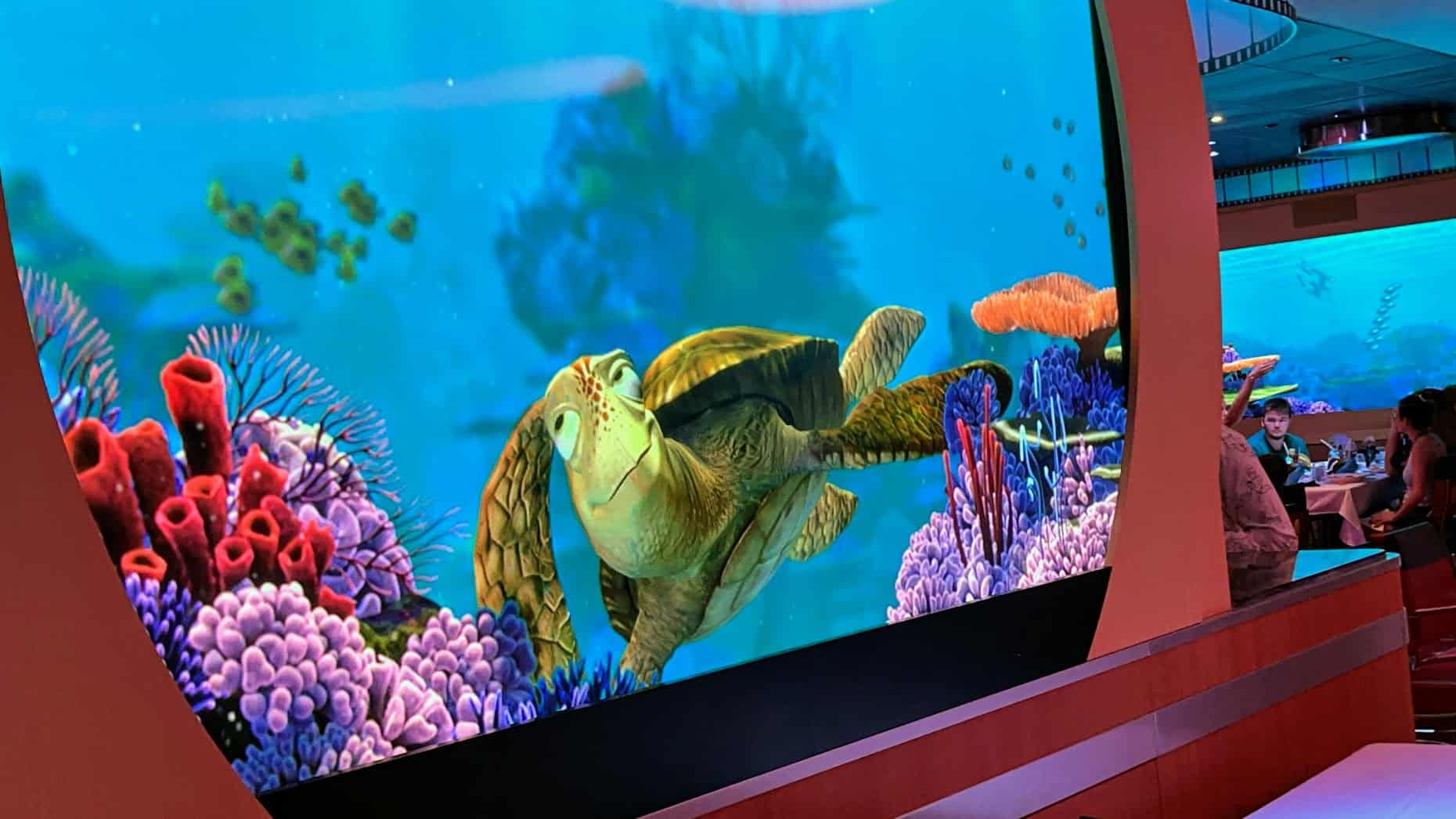 The table behind us was from New Jersey, and Crush asked them about the temperature of the water on the Jersey shore. The technology in play here is mind-blowing, and it was fun to watch kids' whole faces light up when they got to talk to him. Okay, kids and some adults, too. After saying goodbye to our servers, I learned that this wasn't goodbye. Tomorrow morning if we choose to eat in the dining room, they will also be our servers. So we get to see them one more time!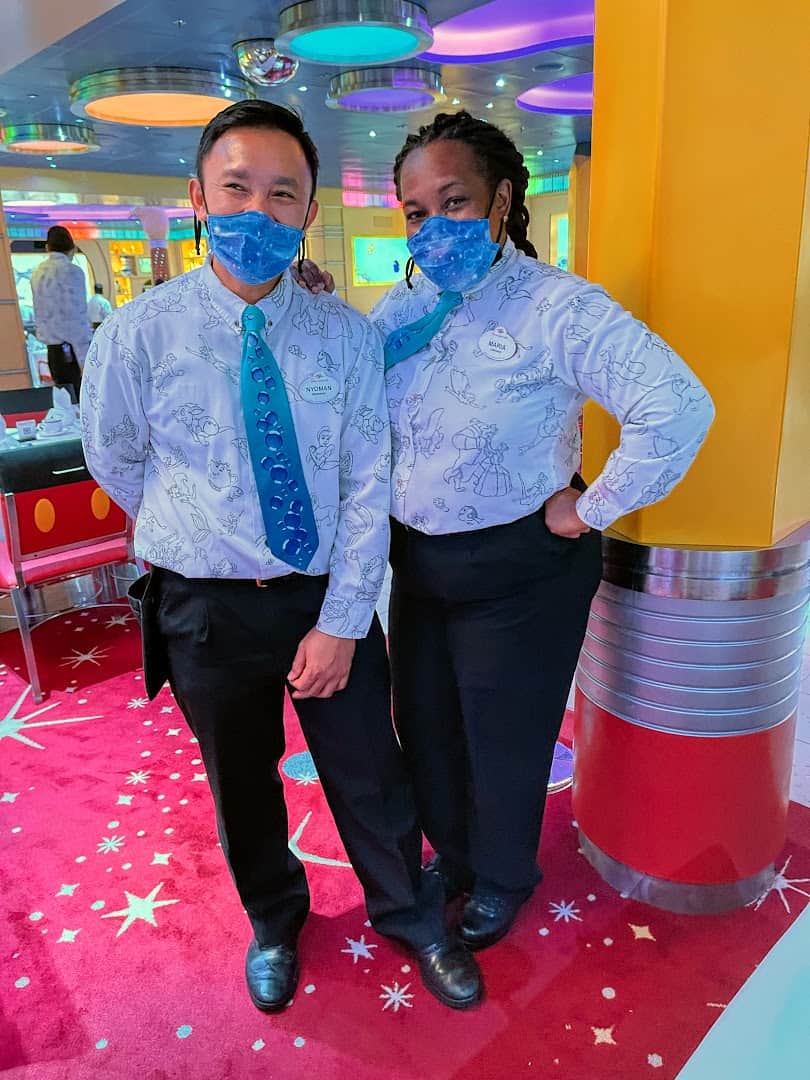 On the way out, the characters were taking photos in the atrium, each at a different spot. On the one hand, it was sort of like a lovely parting gift and a chance to take some pictures. But some of the placements were awkward, as you could only barely see the characters, let alone try and get a picture of them.
More than anything, it left me — and I have to assume others — hoping that things will go back to normal soon. It would have been nice to have all the characters gathered together for a group photo at the foot of the stairs.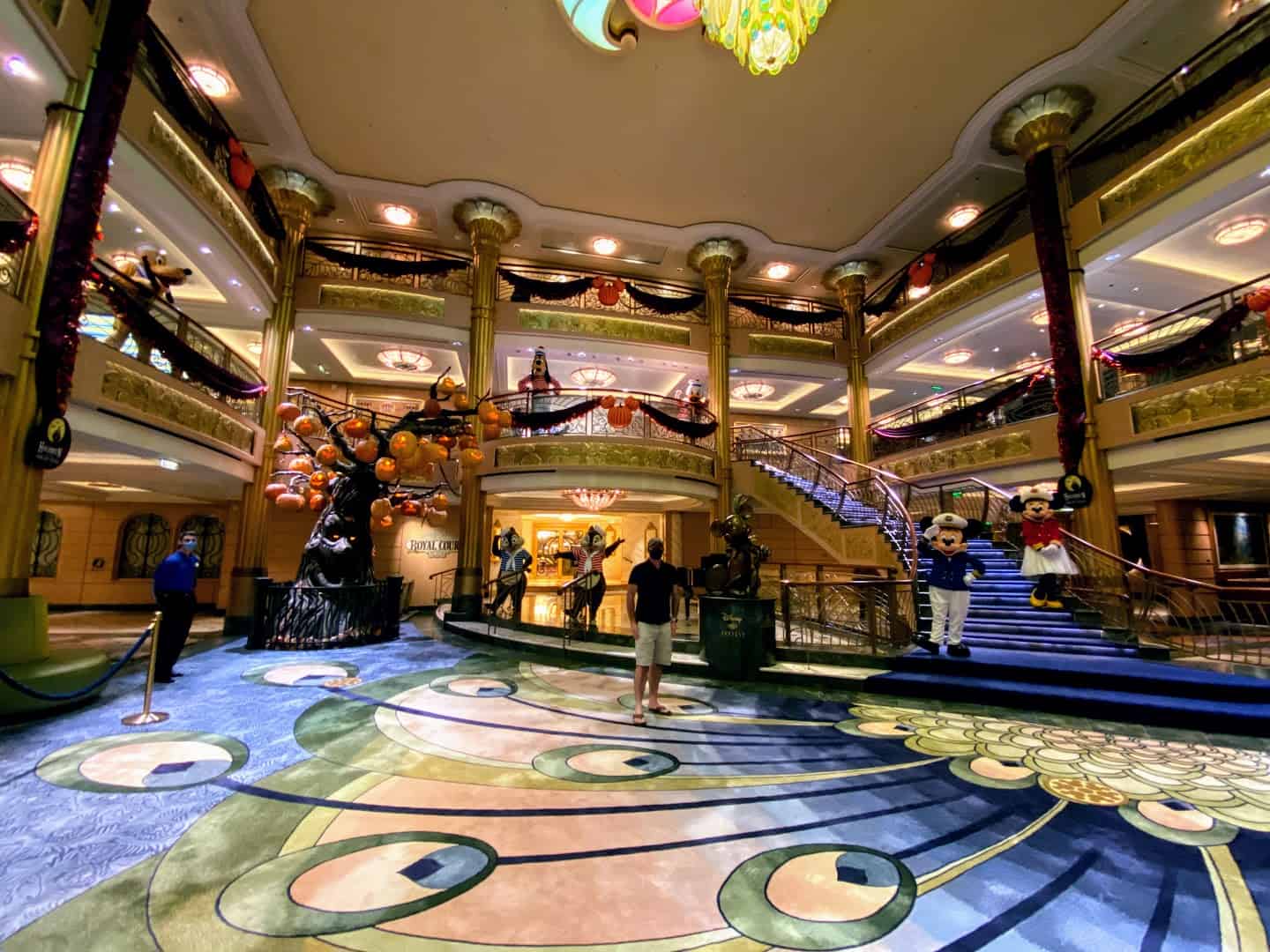 Since I missed the opportunity to put my luggage outside the cabin, it's off to pack and get some sleep. We are scheduled to arrive into Port Canaveral at 5 am, and be alongside the dock ready to disembark at seven. I'm imagining disembarkation will be a breeze with the ship at 25 percent capacity.
Stay tuned for disembarkation and my final thoughts of Disney Fantasy.
Catch up on my other Disney Fantasy trip reports:
Pin it!