Editor's Note: If you haven't yet, check out my first trip report in this series, where I explain the process for preparing to cruise, why I finally decided to book a Disney cruise, and what my expectations were going into it. You can find that here.
Since this was my first time sailing on Disney Cruise Line, I could barely sleep the night before. Not only was it my first, but also a themed Halloween on the High Seas sailing.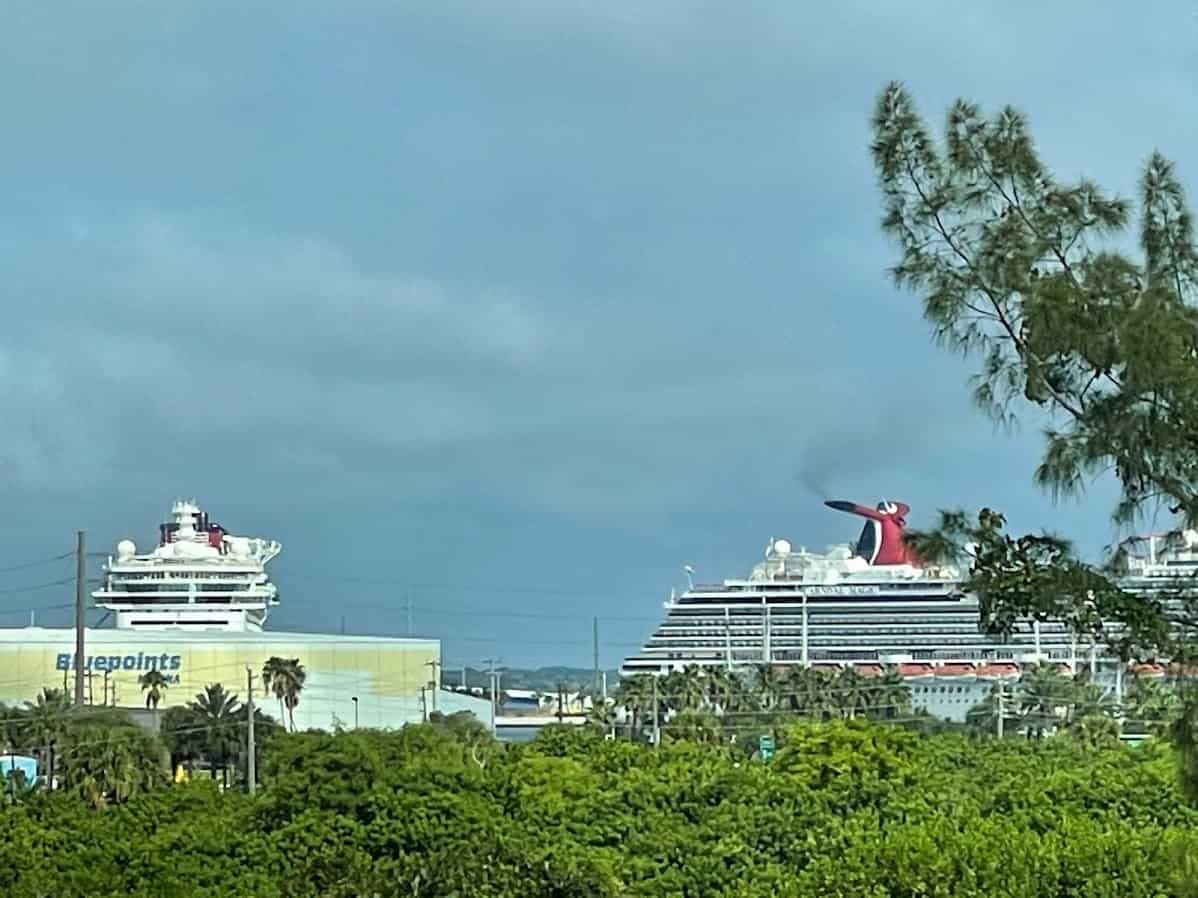 I did a pre-cruise hotel stay at the Hampton Inn at Port Canaveral, then headed to the pier the next day for a 12:45 p.m. check-in window.
The way they handled things at the pier was both controlled and organized. It started with dropping the luggage off with a porter. After the porter took the bags, he put a green slip on my window saying that I was within my designated time frame, then waved me through to the parking garage.
(Note: Disney usually sends luggage tags in the mail but because my cruise was booked so close to sailing, they would not have made it in time.)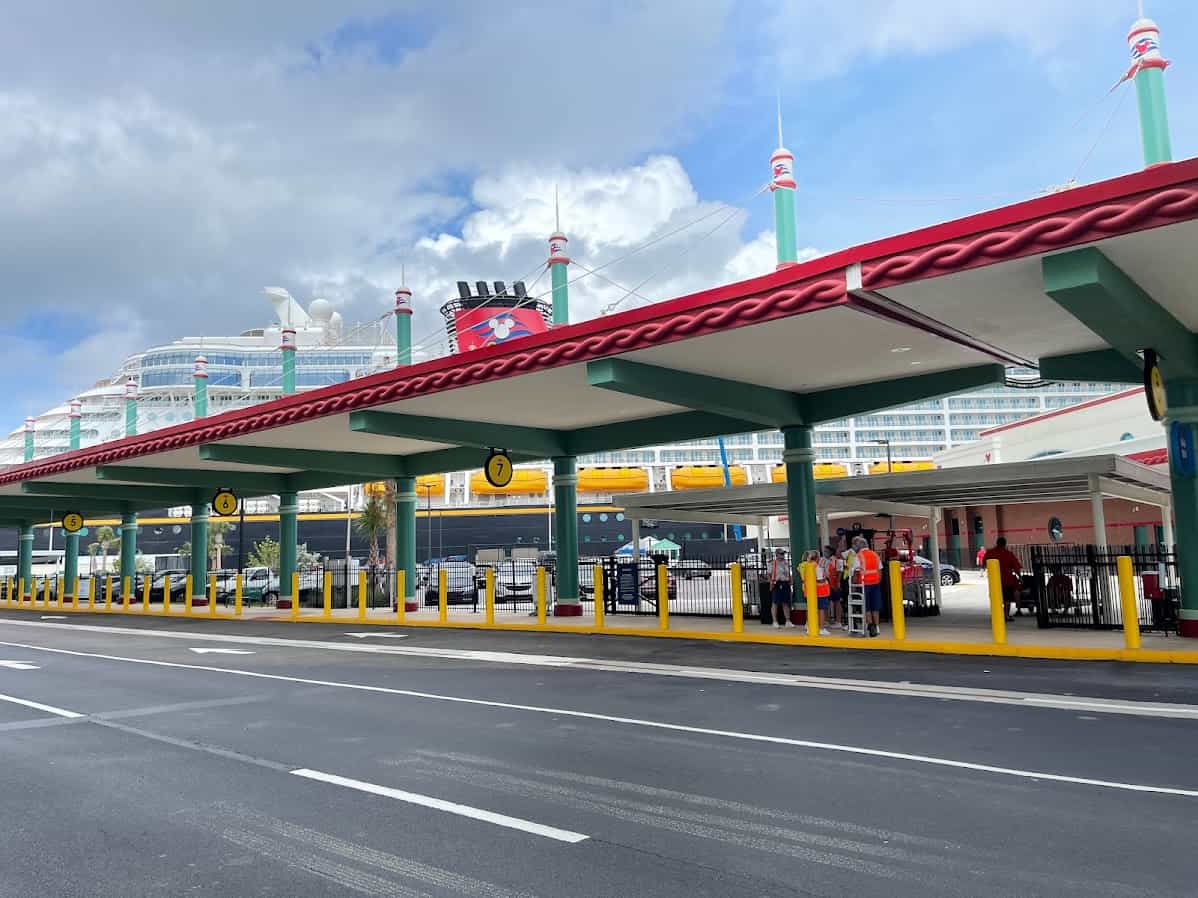 Guests who are flying in can use Disney's transfer service, but given that I only live two hours from the port, it makes more sense for me to drive. The port charges $17 per day for parking — including the day you arrive and the day you leave — so for the four-night cruise, the cost was $85.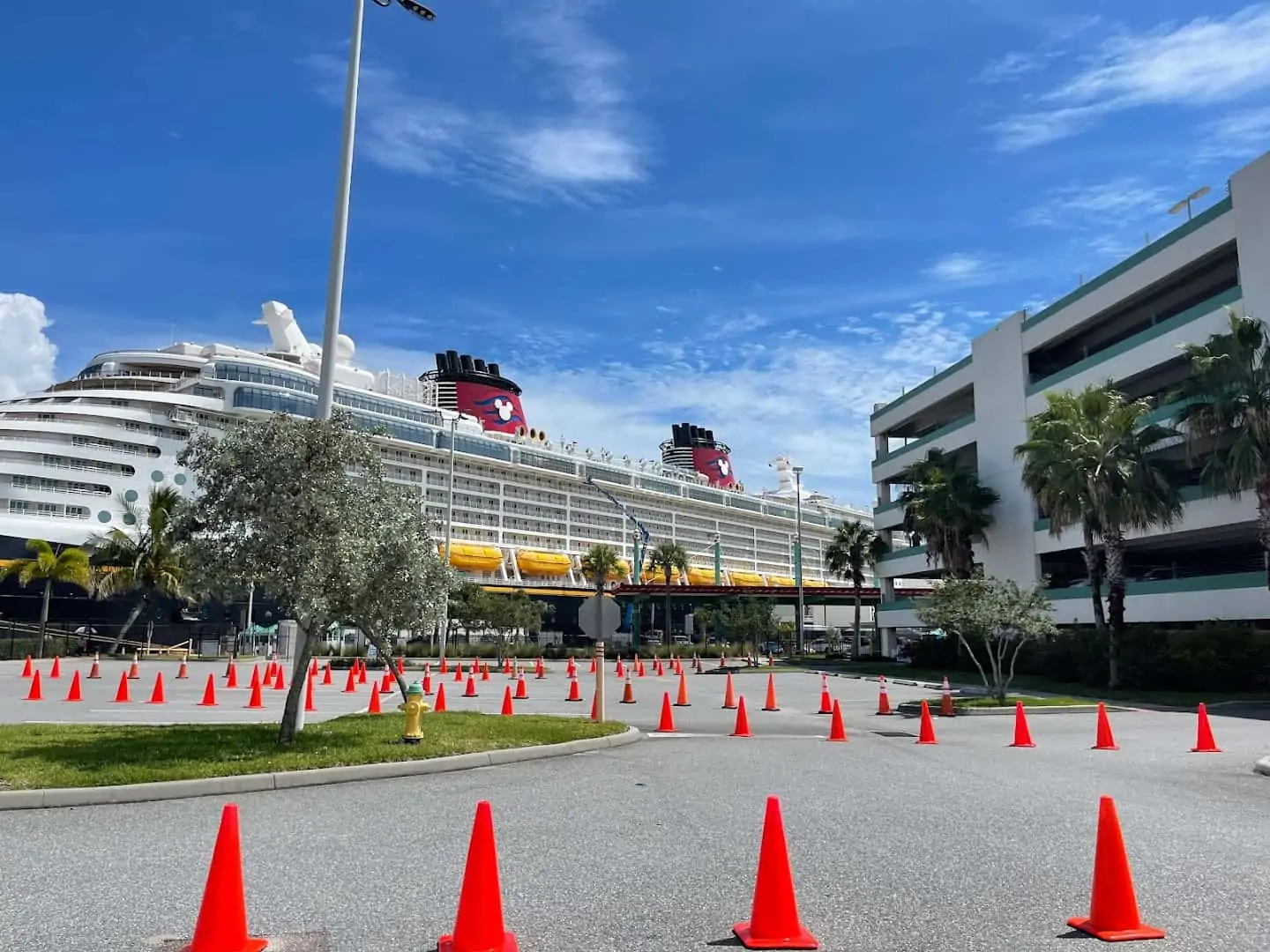 After paying, it was off to get tested. As I mentioned in my pre-cruise report, there were several things — including uploading a copy of your proof of vaccination and filling out a questionnaire — that needed to be done in advance. You then print out the QR code from the Safe Passage website and you're all set… at least as far as the pre-cruise requirements.
At the terminal, someone from the embarkation team first scanned the barcode on my boarding pass and then handed over a bag that included the testing kit and indicated where I should park.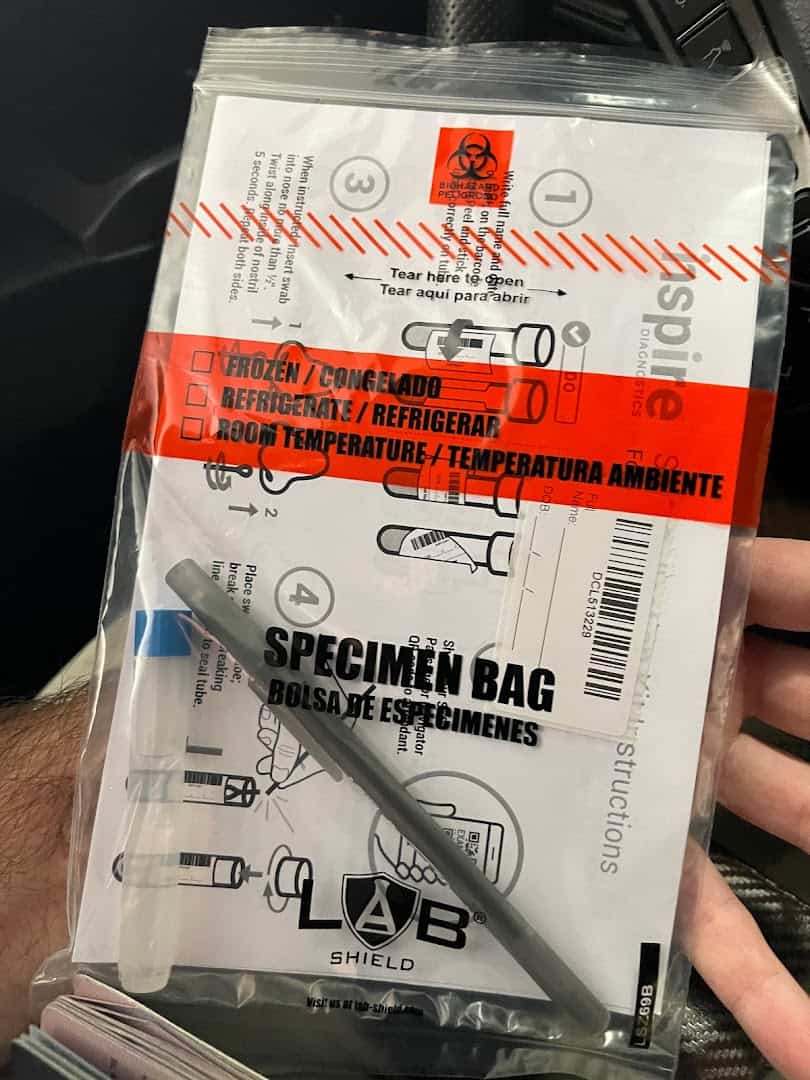 Once parked, a representative pulled up to my truck and had me put my name and date on a barcode sticker which went on the test tube into which the sample would go.
If you have ever done a drive-through test, this is the same exact process (except this time, you'll get not only a hopefully negative result, but also permission to board a cruise ship!). After swabbing both my nostrils and placing the swab into the vial, I dropped the specimen into the bag and waited.
It took about an hour — during which I was constantly refreshing the app! — to get my results from the Safe Passage website but eventually I saw those four magic words: STATUS: CLEAR TO SAIL. From there it was time for embarkation!
After a cast member (as Disney calls their employees) scanned the Safe Passage QR code, I was allowed to go through security. As mentioned, this was my first time with Disney, both inside the terminal and on a ship, so it was cool to see the check-in process, and how it may (or may not) differ from other cruise lines.
Once we walked into the terminal, we did a document check with a cast member who scanned our passports through the plexiglass shield and sent us to the security checkpoint.
It was a pretty flawless process with a quick stop at security (where I was questioned about my recording gear) and then up the escalator. I could have gone straight to the gangway, but instead, I stopped at the embarkation desk to see if by chance I might be able to pay for an upgrade.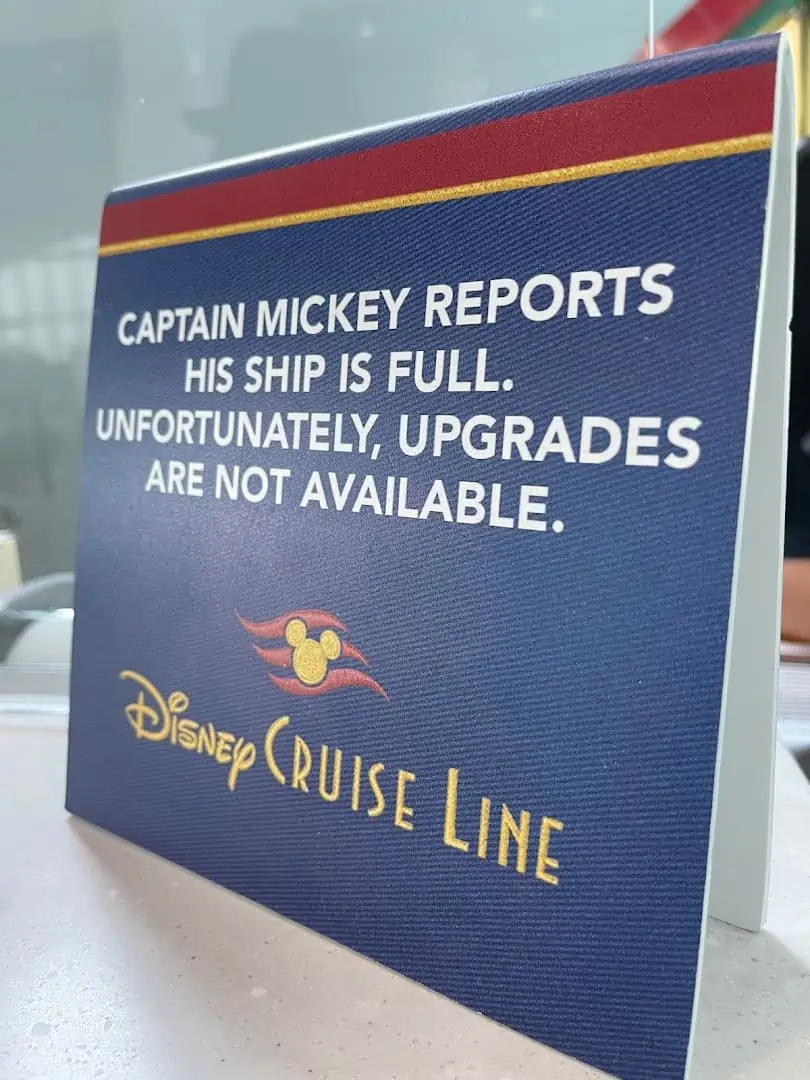 A sign said there were none available, but I asked anyway, and discovered that I could trade my oceanview stateroom on deck 8 for an a stateroom on deck 8 with a wraparound balcony overlooking the aft of the ship for only $192.
Yes, you read that correctly, $192. Not as a per-person rate (which would have cost me 1.5 or 2x that), but total. I couldn't say "yes" quickly enough.
READ MORE: Disney Cruise Line Details Spa & Bars on Disney Wish
From there it was straight through the Mickey ear tunnel and onto the ship. Disney is all about the small touches, and one of those is that when you board the ship, they announce your party's last name as if you're guests at a royal ball. Then, as you enter the atrium, cast members cheer your arrival from above as Mickey and Minnie, perfectly posed on the grand staircase which anchors the space, offer up a welcoming wave.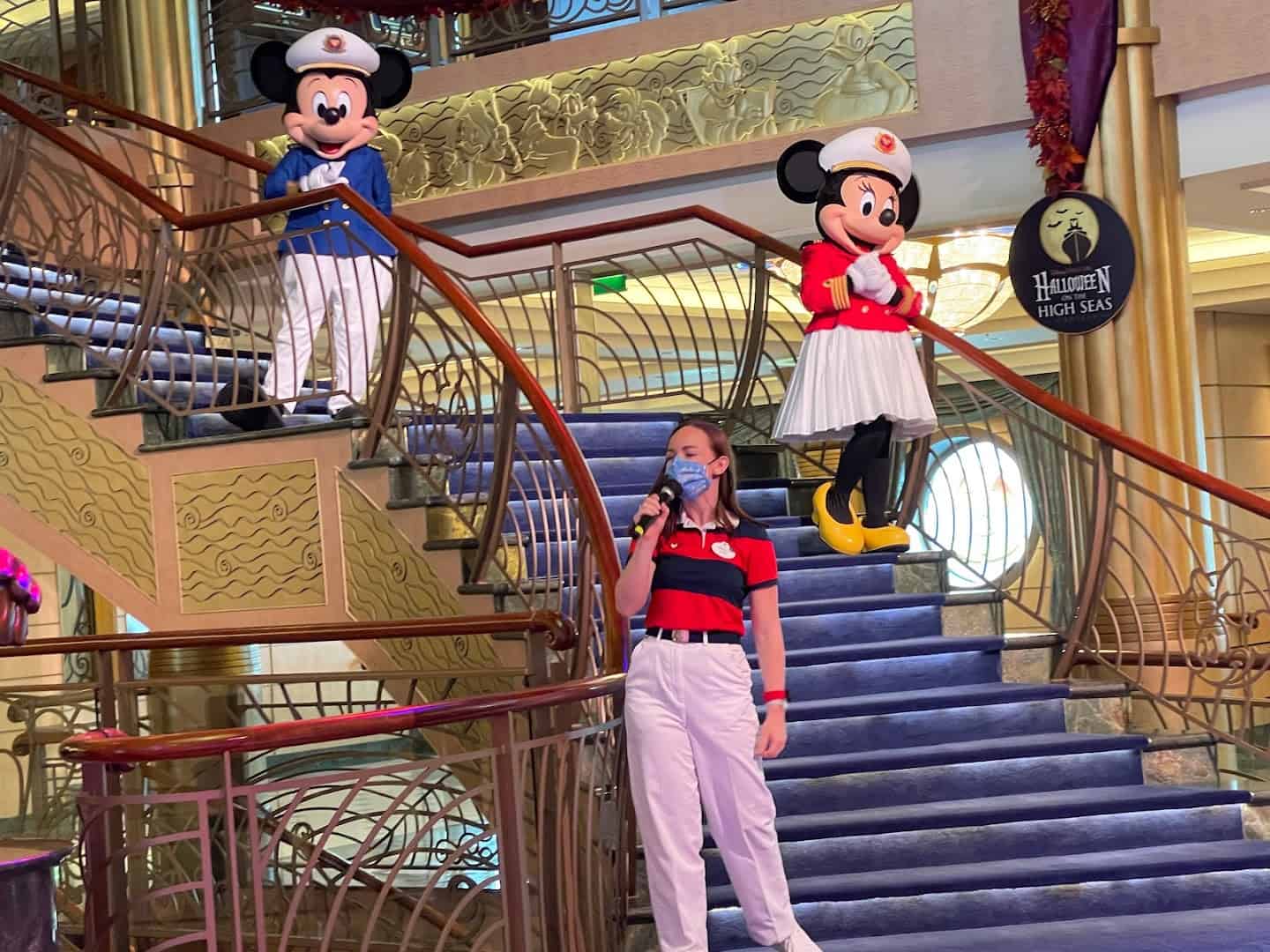 Normally when you embark a cruise ship, you're dumped right into the atrium bar, which makes sense given that alcohol is a huge generator of onboard revenue. Not surprisingly, Disney is a little bit different.
The Bon Voyage Bar is tucked off in a corner on the starboard side but given the massive scope of the three-story atrium, it's one of those bars you sort of have to know about or you'd look right past it.
Excited to see the stateroom I'd upgraded to, I went straight there to check it out. Because I was one of the last people to board and no one was going to be using it, the cabin they assigned me was an ADA balcony. The room was just over 200 square feet but it was the balcony that blew me away. It seemed to go on for days!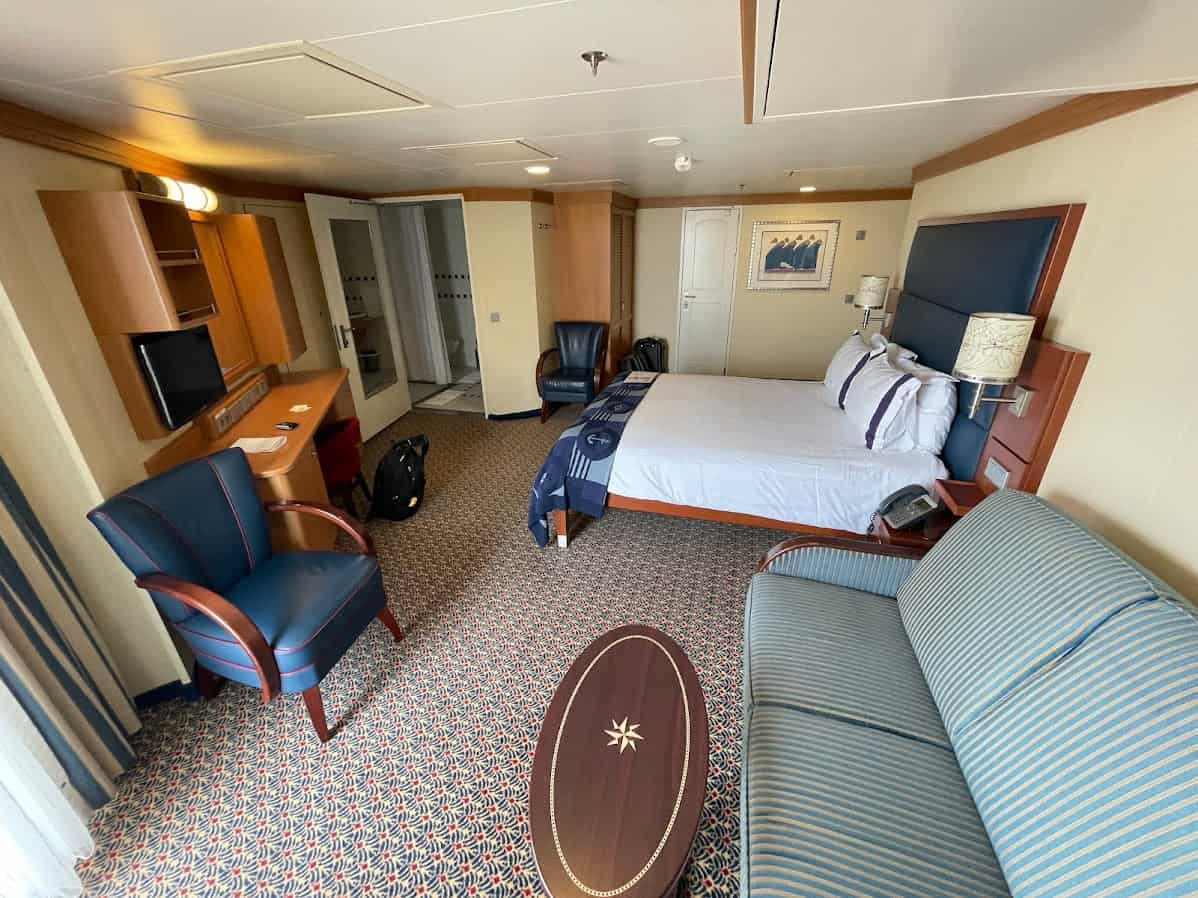 Next up was lunch, and I was excited about this, too, because I'd been told that the buffets on Disney ships are known for their seafood… something I happen to have a little bit of an obsession with. Sure enough, when I got to Cabanas on deck 12, there was a very nice selection of your typical cruise buffet fare — salads, meats, etc. — but there was also what I was looking for: seafood!
My first meal onboard — which it would turn out was the only time I ate lunch on the ship during this voyage — was a big success. The first thing I spotted was the stone crab claws and boiled shrimp. Since Disney serves you at the buffet, I asked the cast member to fill one bowl up with stone crab claws and the other one up with cocktail shrimp, along with a few servings of cocktail sauce.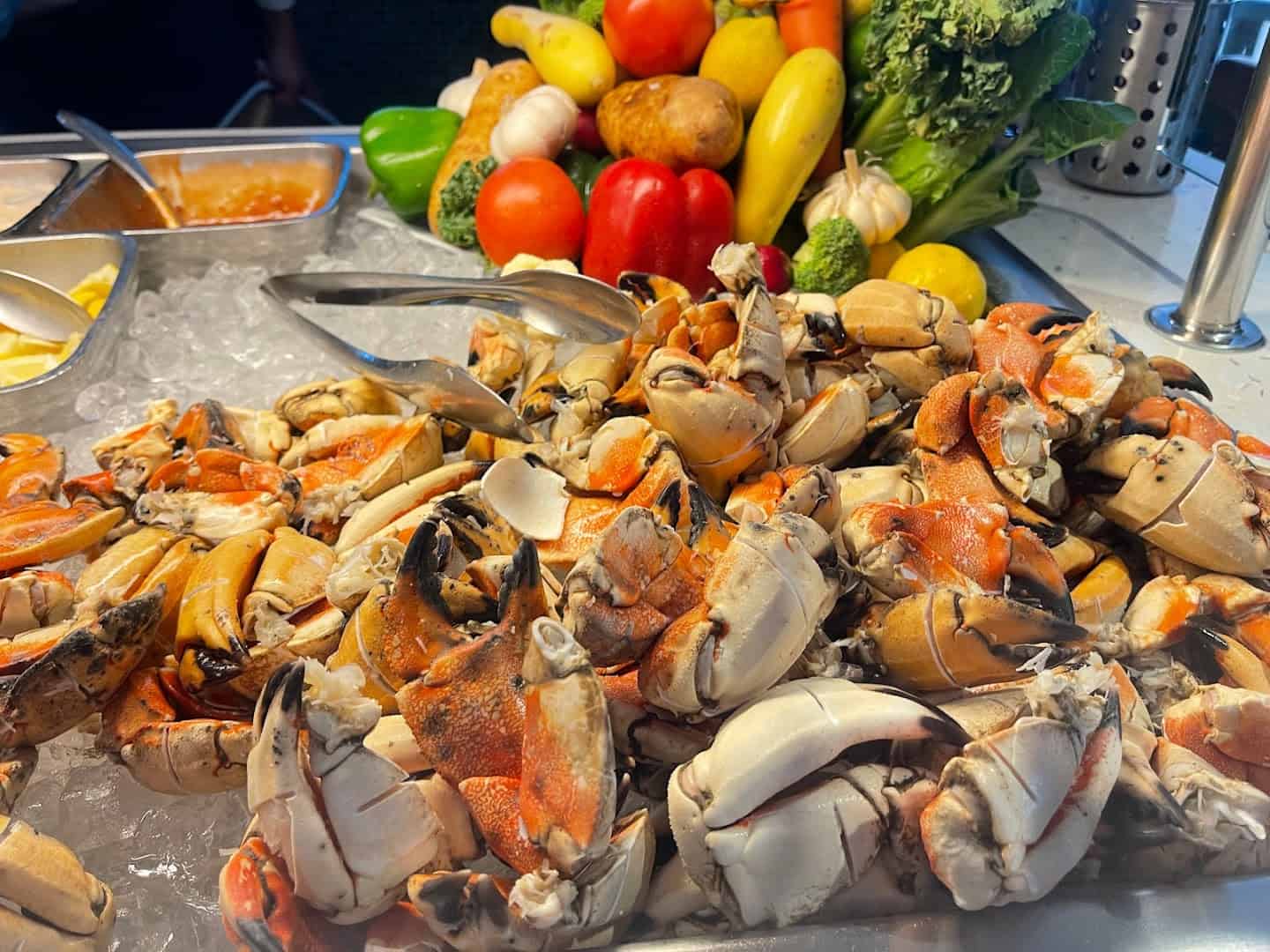 After 15 minutes, those were demolished, and I was heading back for a second bowl of each. By the time they were getting ready to close Cabanas, I was stuffed!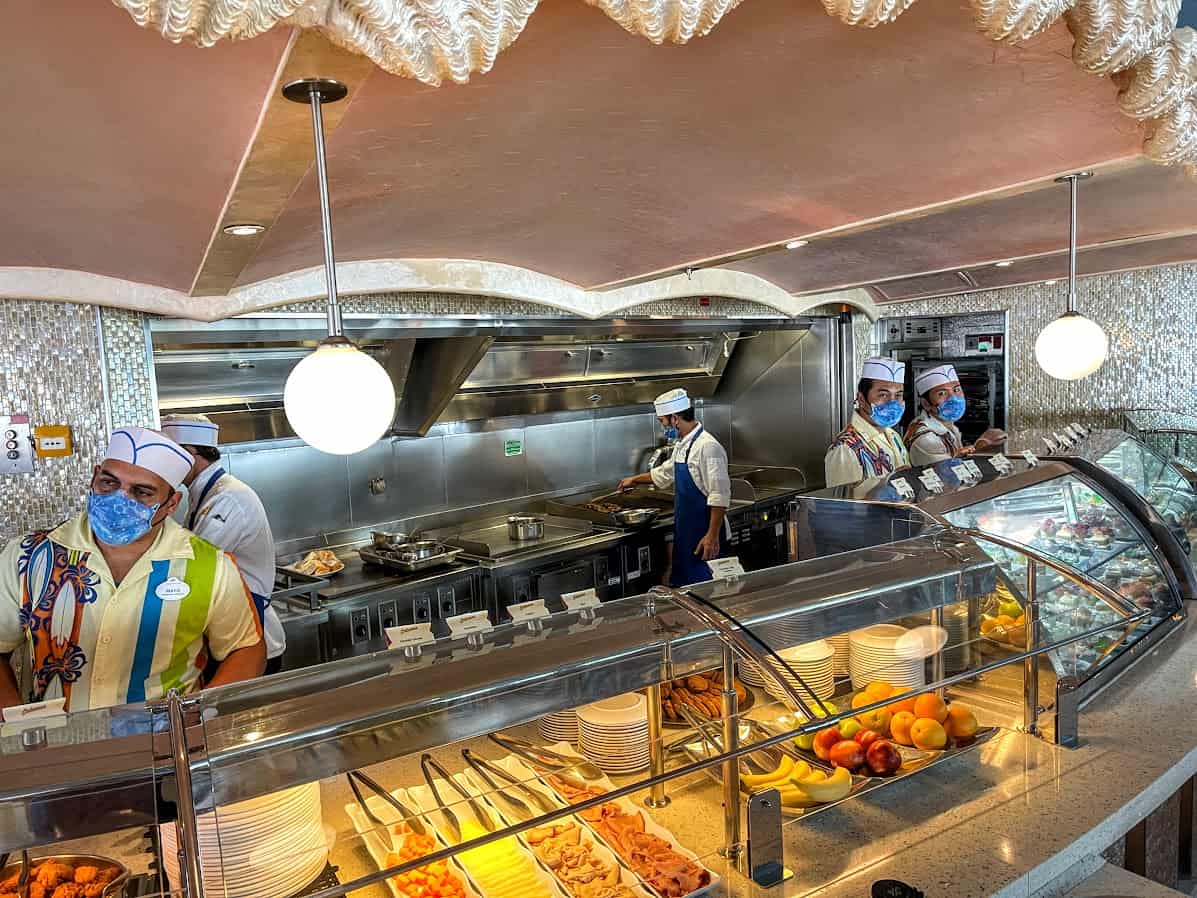 Cabanas is themed after Finding Nemo, with a beautiful mosaic mural from the movie that was ironically just across from the shrimp and crab legs station. Remember the seagulls from that movie, who were constantly chanting "Mine, mine, mine?"
Well, you'll find them here, perched on railings and looking down from other locations. It's a simple, fun touch… and exactly the kind of thing that separates Disney from every other cruise line.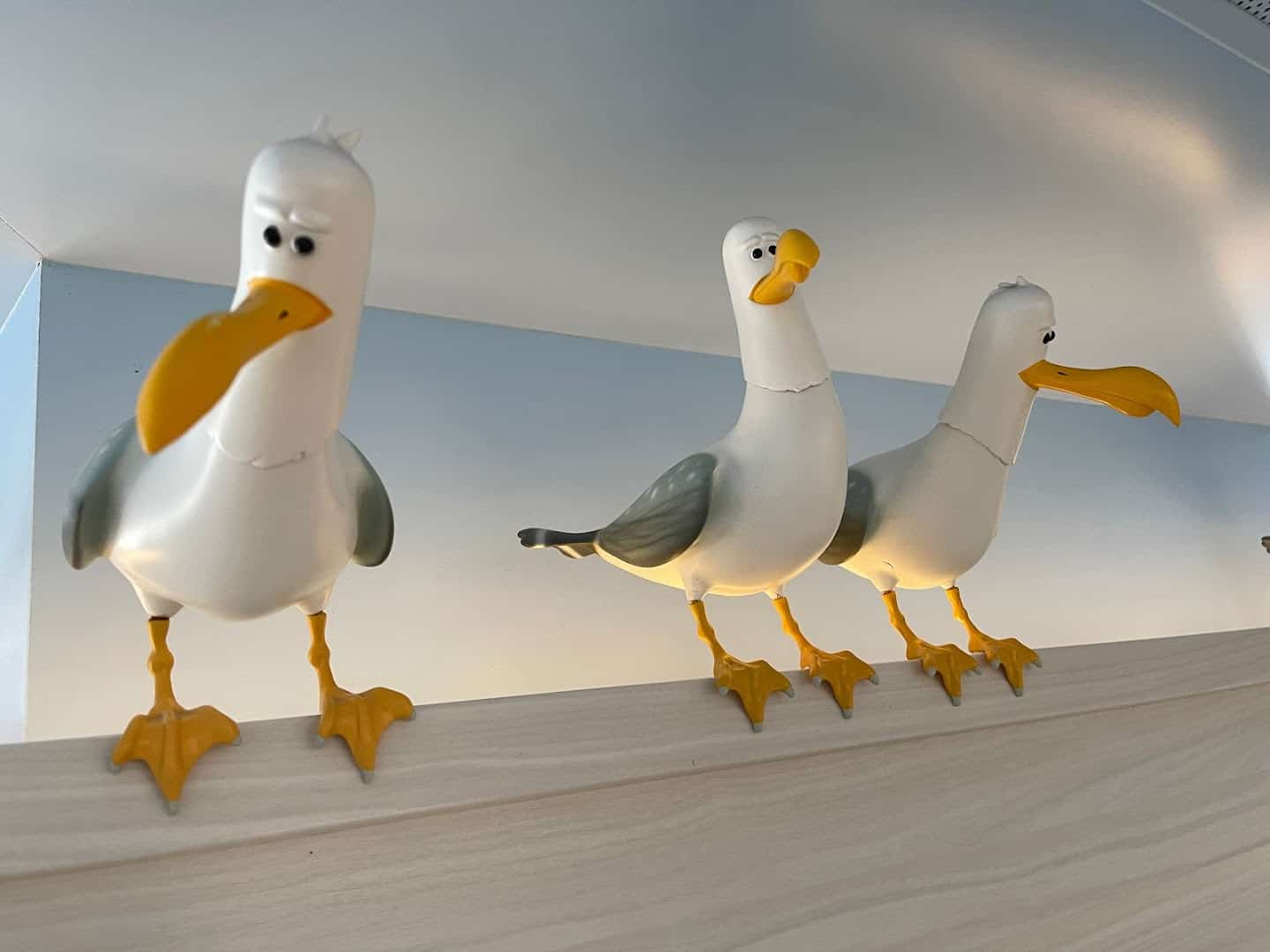 Obviously, Disney Cruise Line — like the parks — caters to families. But that doesn't mean you won't find plenty of adult indulgences if you know where to look. Fortunately, I did and headed to the adults-only area called Europa. The venues here are themed around bars you'd find in different cities around the world, including The Tube (a London-style nightclub), O'Gill's (an Irish pub) and where I were destined to have my first drink, the Parisian-inspired Oh-La-La Lounge.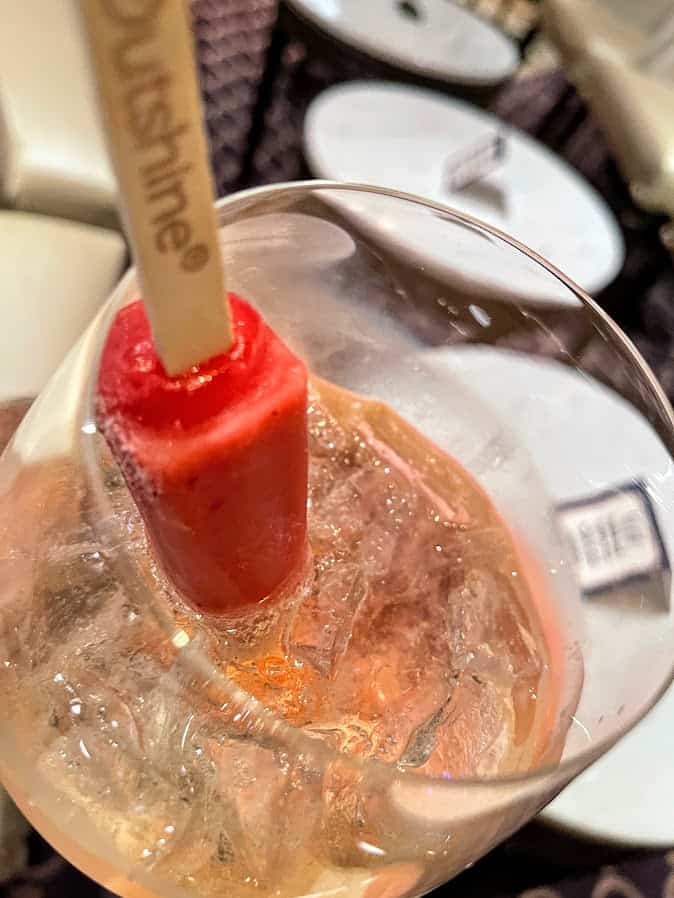 In true Disney style, one of the items on the menu combined the best of adulthood and childhood: The Icy Pop is a glass of Moet champagne with a flavored popsicle stuck upside down in it. It's worth noting here that Disney Cruise Line does not offer a drink package, so you really have to keep an eye on your spending.
Given that you look at menus on your phone by scanning QR codes, you're not necessarily looking at the prices every time you order, so those charges on your room key can add up. The Icy Pop, for example, was $15.75, making it one of the pricier cocktails I tried.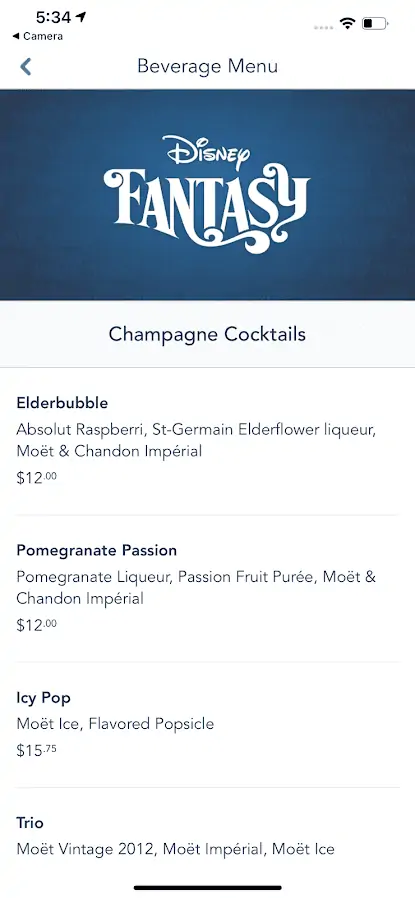 READ MORE: The Pros and Cons of Future Cruise Credits
Sailaway was at 6:45 p.m., which was nice because it gave everyone time to unpack and get settled in before finding a spot from which to watch as we left the port. There was no sail away party on this cruise because Disney is currently trying to prevent large gatherings as much as they possibly can. Obviously, it's impossible to prevent them all, but they were cut back a little bit.
Since my friends and I had a late dinner seating, we caught the early show in the Walt Disney Theater, which tonight was Aladdin. Having never seen the movie, the only thing I knew going in was that there was a genie who lived in a lamp. Regular readers know I'm not much for shows, but this one totally blew me away.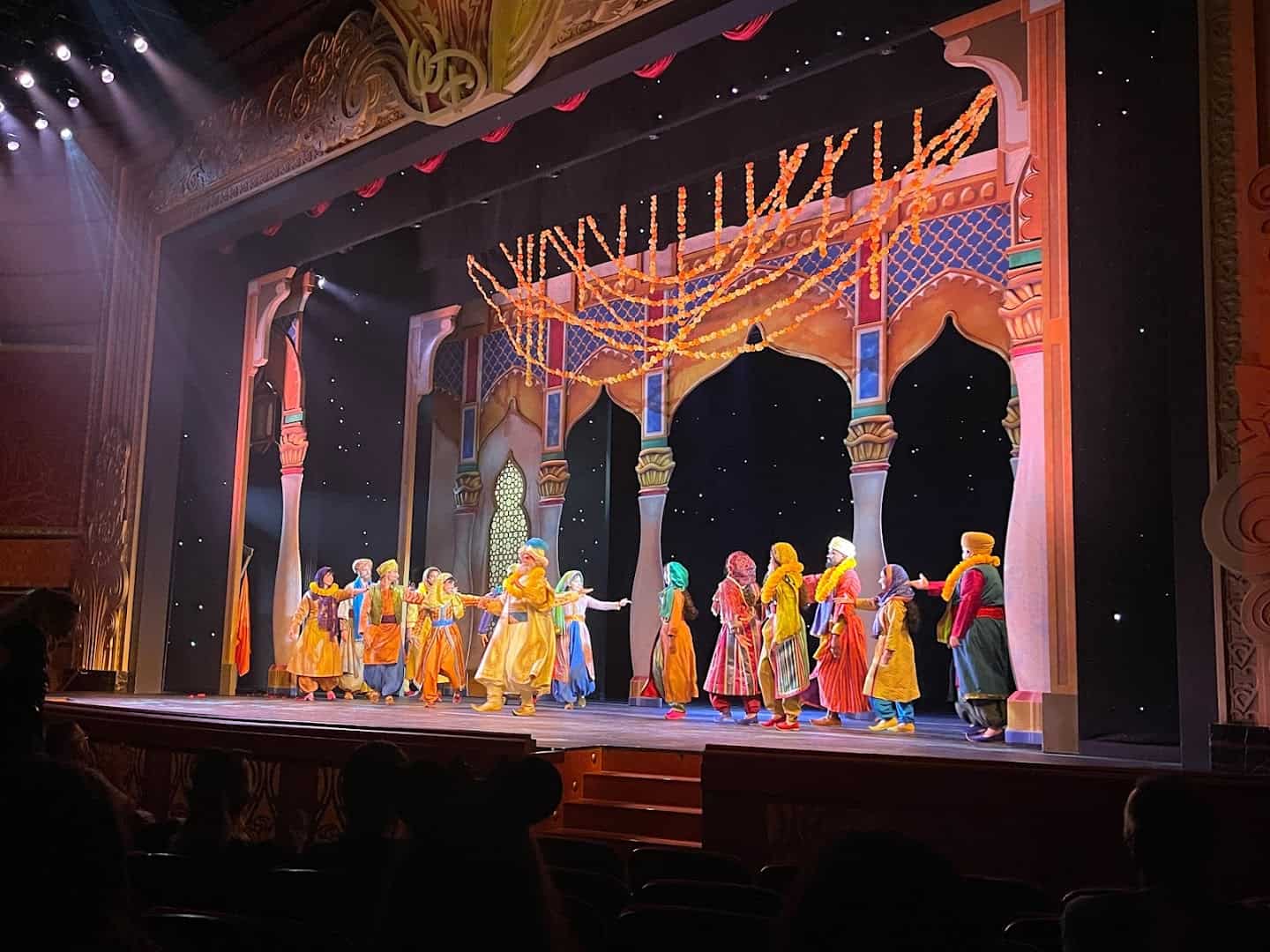 I guess this shouldn't be a big surprise given that I'm a big Disney fan and putting on shows like this is one of the things they do best, but everything about Aladdin just worked, from the special effects to the comedic timing of the genie. I can't remember the last time I sat through an entire show, but you couldn't have dragged me away from this one.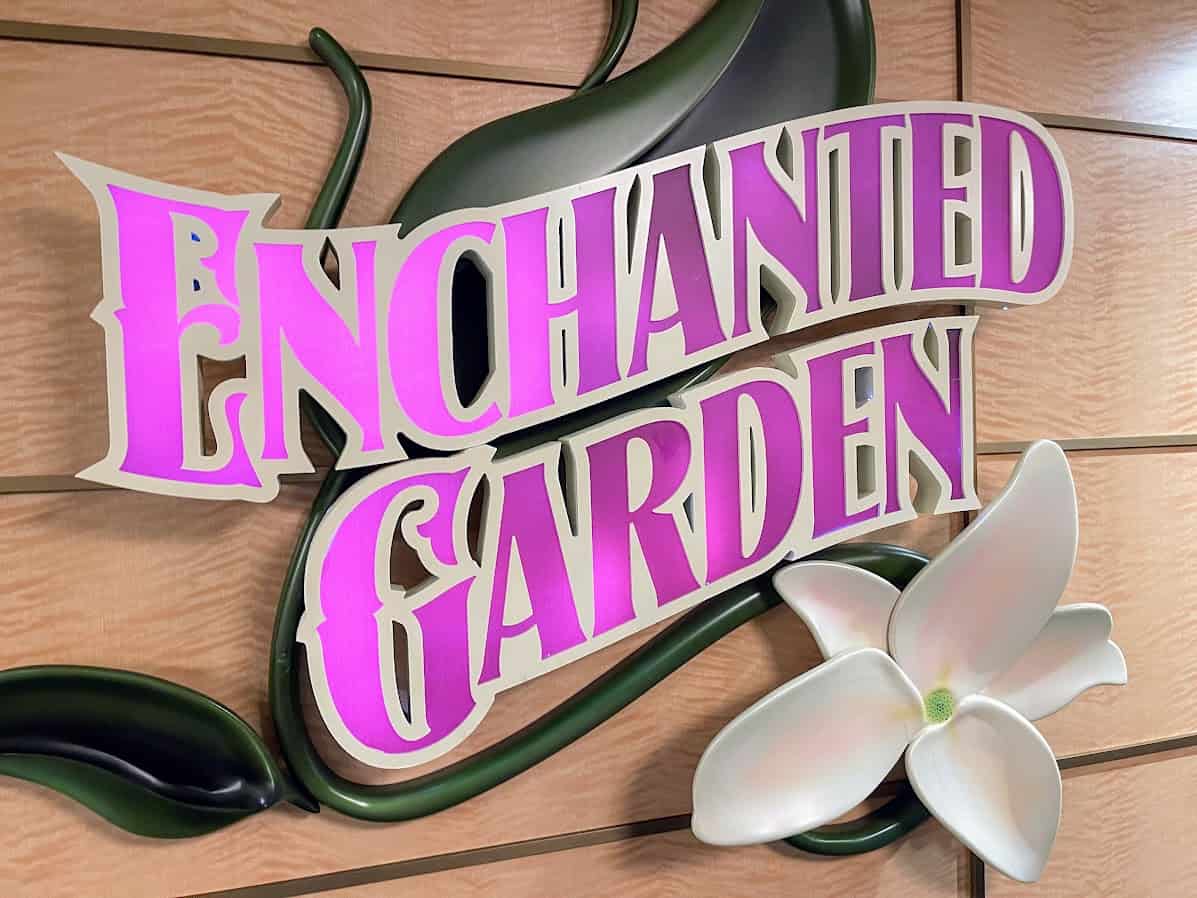 Disney Cruise Line has a unique rotational dining system, which means that you are assigned a different dining room each night and your waitstaff comes with you from place to place. Our group had the second seating, which put us in the dining room around 8:25 pm.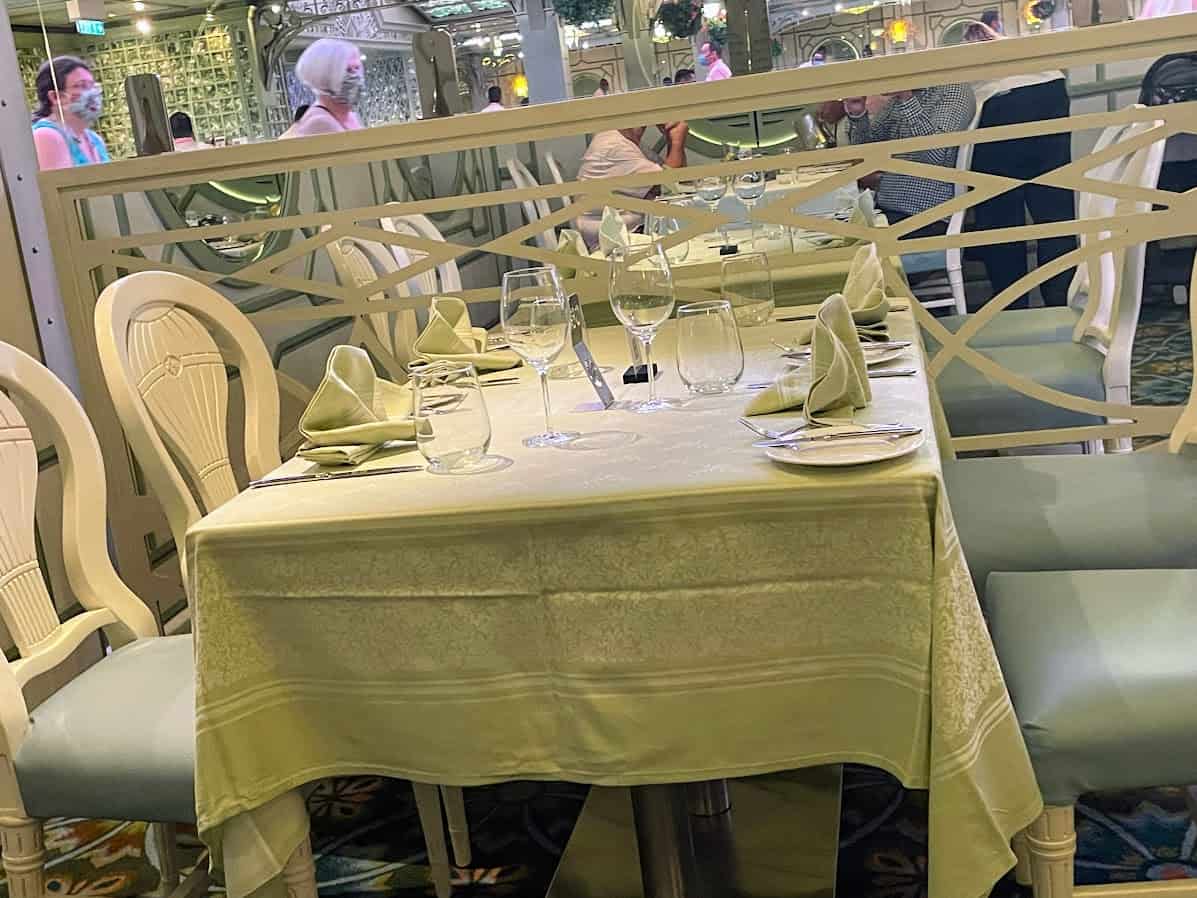 The three main dining rooms on Disney Fantasy are Animator's Palate, Enchanted Garden, and Royal Court, and each is a completely unique experience. We ate in each dining room during our trip, so I'll be able to share with you what each was like.
Tonight's dinner was in the Enchanted Garden. This immersive experience finds you dining in a French garden which slowly transforms from day to night while you're eating. It's an incredible, sometimes subtle shift taking place all around you, including lighting fixtures that are designed to look like flowers that start to open and then slowly close as "night" descends.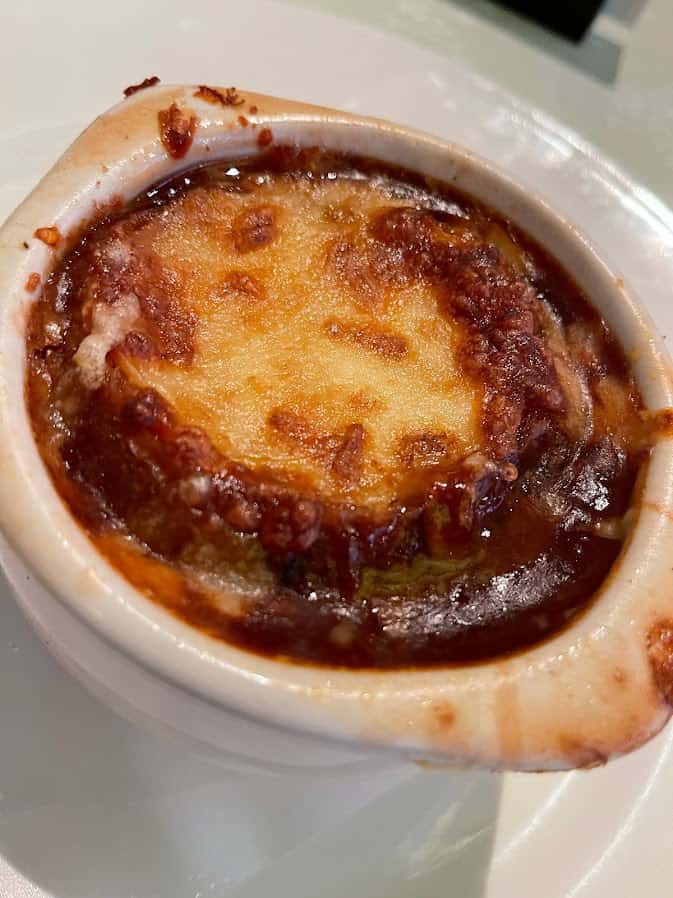 Food-wise, I went with the tuna tartar, French onion soup, and sea bass. As with everything else Disney does, dining is an unforgettable experience, with beautiful plating and presentation. For dessert, I topped things off with a Mickey ice cream bar because why not?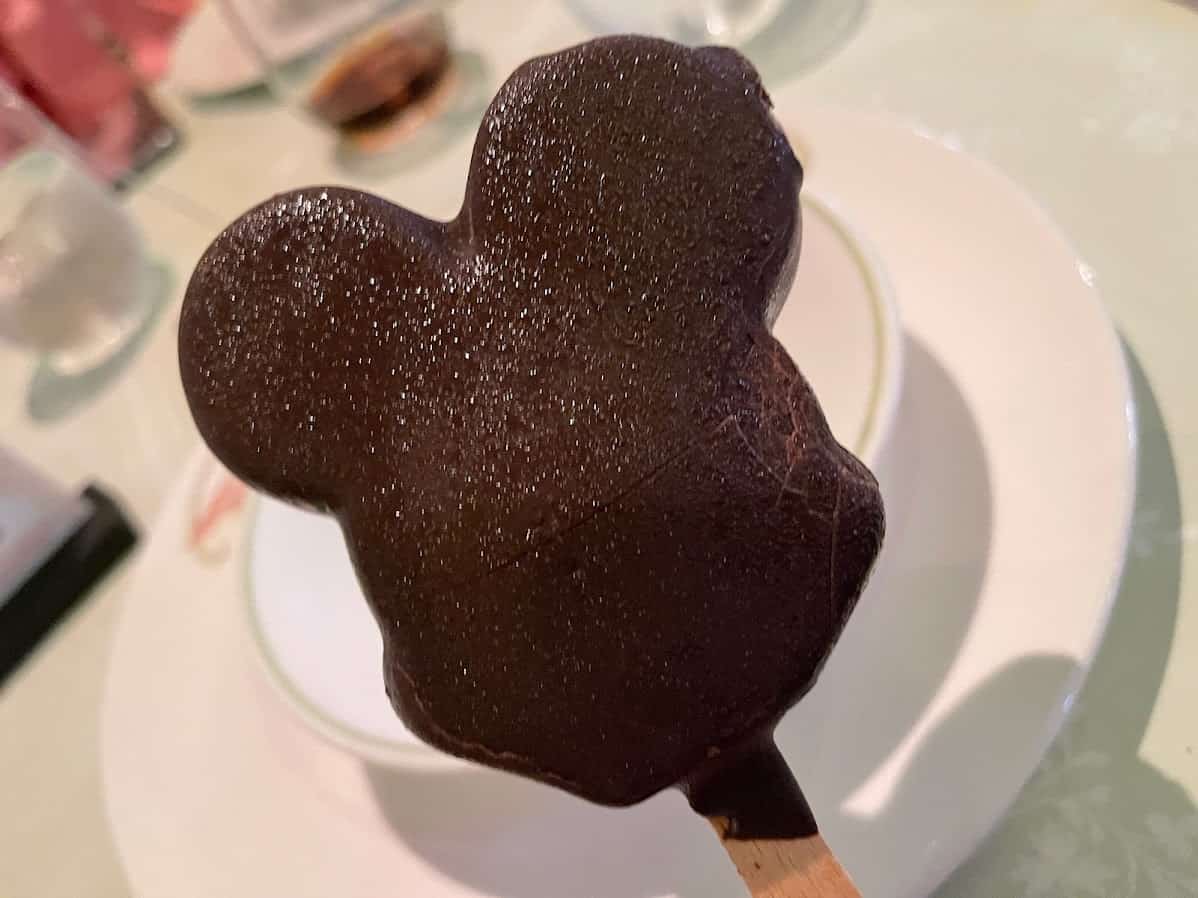 Whether at a Disney resort or on a Disney ship, it wouldn't be a meal without a visit from some of your favorite characters, so Mickey, Minnie, Donald, and Goofy put in an appearance.
Because of the times we're living in, they aren't able to take photos with guests, but they took over the center of the dining room to do a dance and then walked by each of the tables to greet diners.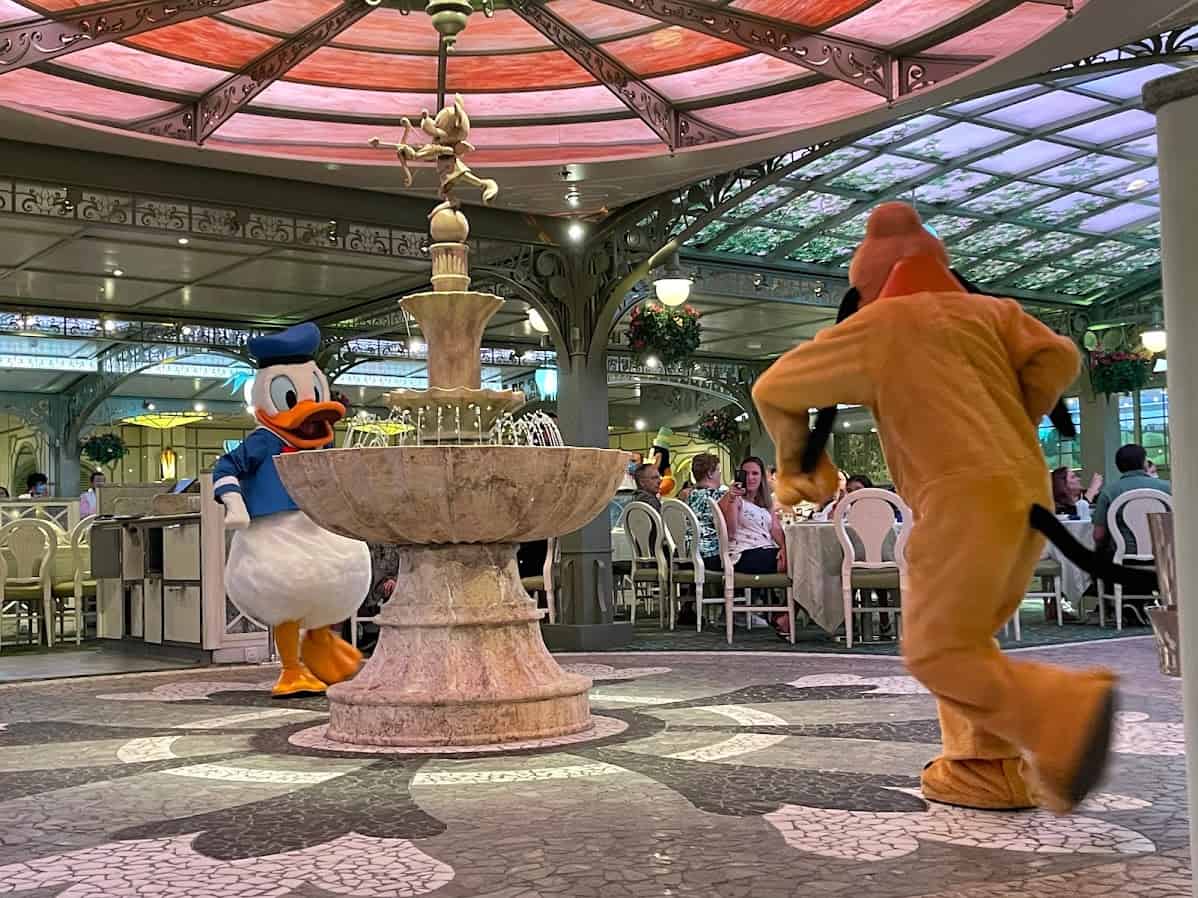 Our dining team consisted of Mavis, Maria, and Nyoman all of whom were amazing, so we were glad they'd be following us to the other restaurants as our trip went on. In fact, they were so great — and clearly thrilled to have guests back on board — that we decided to stop trying to snag a hard-t0-get reservation at one of the two specialty restaurants onboard.
We found out that after dinner, Chip and Dale would be in the atrium taking photos with guests. Given the social distancing requirements, I couldn't figure out how on earth this was going to work… but I should have trusted that Disney would find a way: The characters were posed on the staircase in such a way that you could either take a selfie with them behind you, or you could go up a few stairs and stand behind them.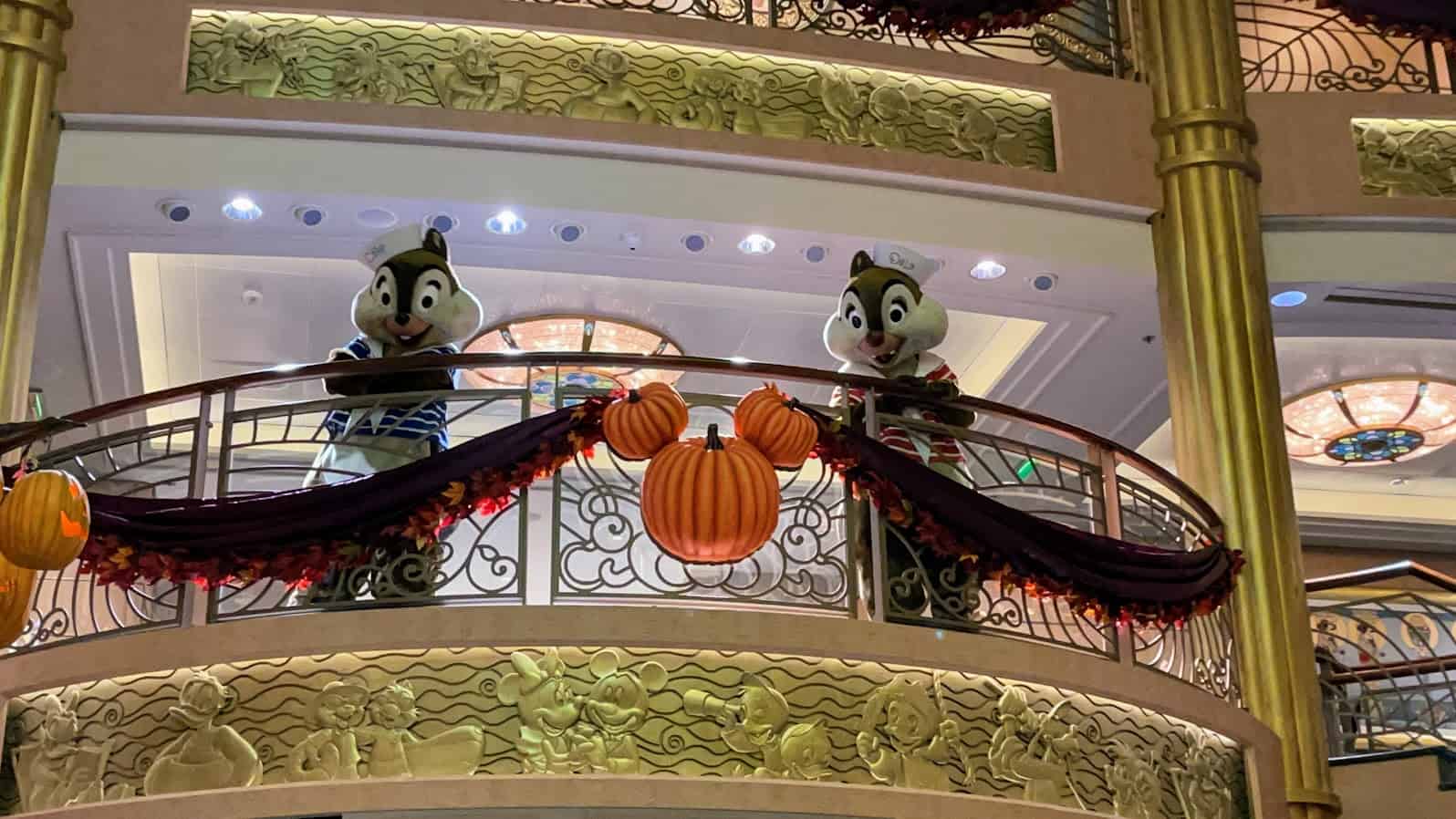 Big kudos to Disney for figuring out ways in which to have the characters interact with guests, because obviously, that's a huge part of the Disney experience. Given that the ship was sailing at limited capacity, it was pretty easy to get access to them without waiting in long lines. (Plus, unlike in the Disney parks, you weren't waiting in the blazing sun!)
After wandering the ship a bit more, it was back to my stateroom to crash out. The stateroom attendant, Onin, was great and had Dove chocolate waiting for me on the pillow of the turned-down bed.
Tomorrow is a sea day and I don't have much planned aside from exploring the ship. I've been trying to get reservations for brunch at Palo ($40 per guest and only available for those 18 and older) for the past couple weeks and am currently on the waiting list. We'll see if that pans out!
Until then.
READ NEXT: 8 Tips For Preparing to Cruise in 2021
Pin it!