My first sea day on board a Disney Cruise Line ship began with a gorgeous sunrise. I woke up long enough to soak it in and then realized that while the sun was up, I wasn't quite ready to be, so I went back to sleep for a few more hours.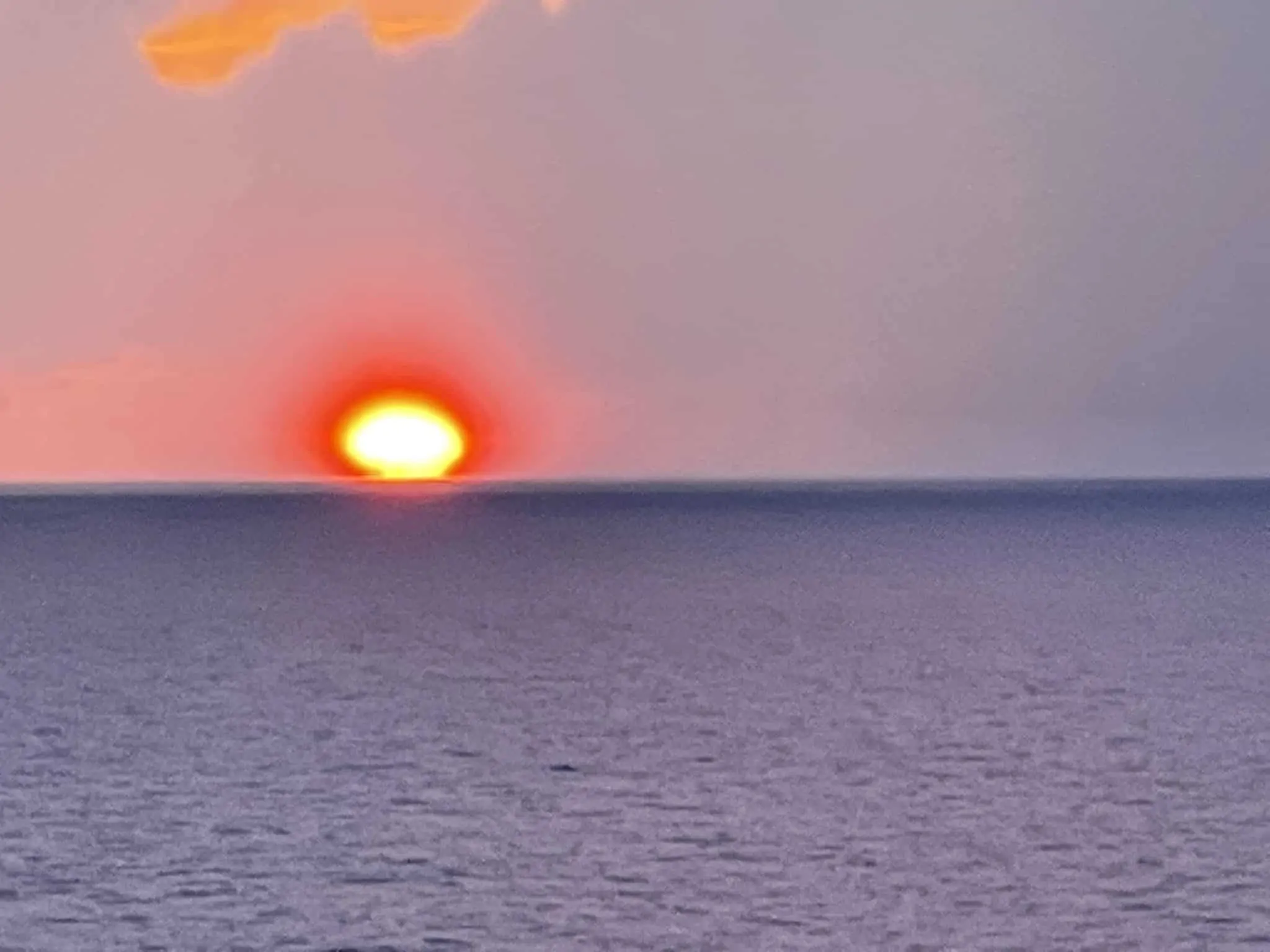 And why not? I had absolutely nothing planned for the day except rest and relaxation. I was also going to check out a few character interactions. It's not really right to call them "meet-and-greets" given that thanks to social distancing requirements, you never really get close enough to the characters to "meet" them the way you would have in pre-COVID days, especially onboard the ship.
There are several situations on Castaway Cay where you're able to get closer without wearing a mask, but we'll discuss those tomorrow…
First on my to-do list was a photo op with C-3PO from Star Wars. Sure, the event was taking place in the kid's club, but adults were welcome to attend.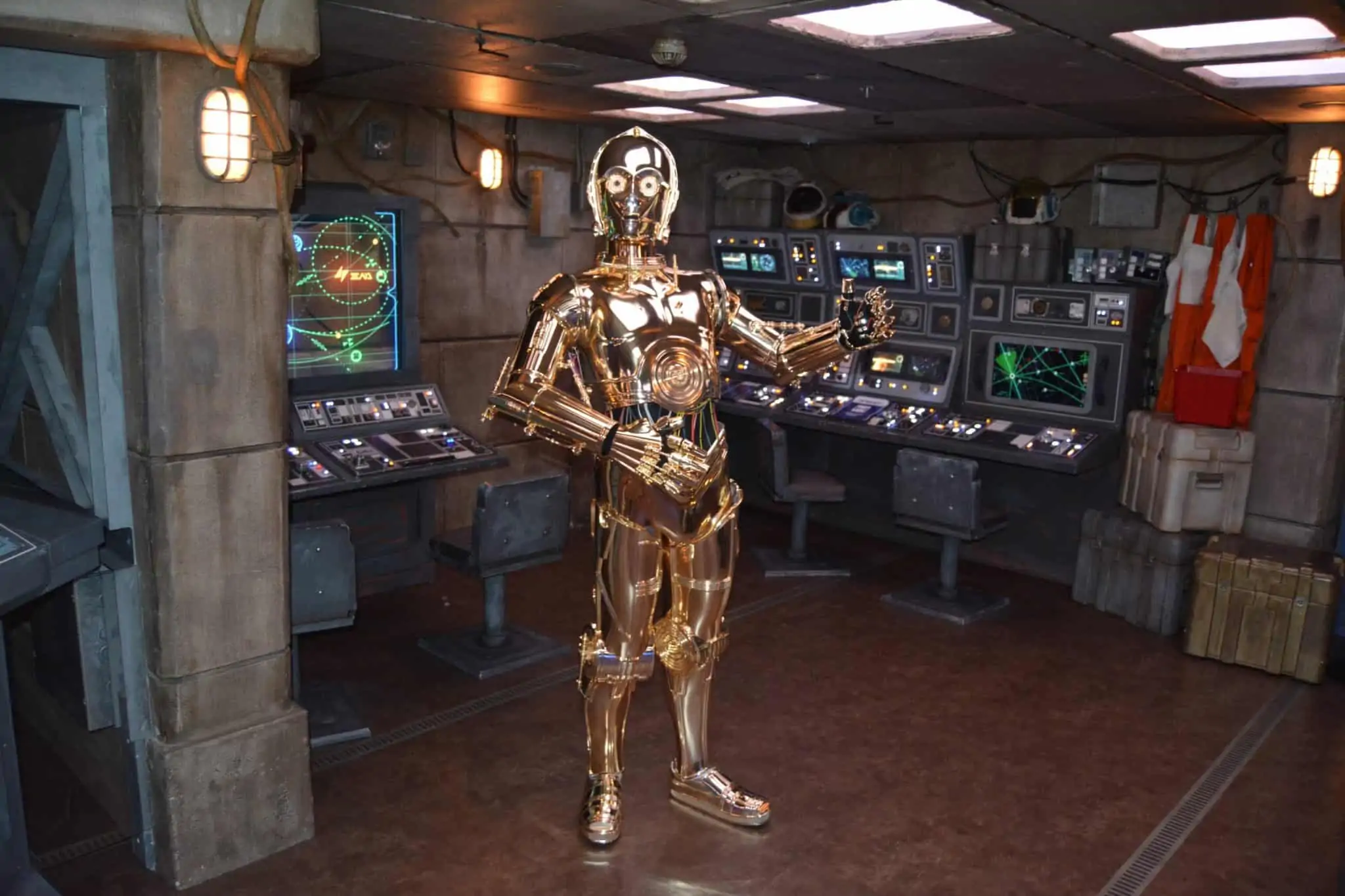 And when it comes to stuff like this, don't we all sort of become kids again?
There was something very cool about hearing C-3PO speak to us in that voice that every Star Wars fan immediately recognizes.
They were serving breakfast in the Cabanas buffet up on deck 12, so I headed up and grabbed an obligatory Mickey Waffle. I'm really not much of a breakfast person, but I figured since the cruise was so pricey, it wouldn't pay to skip a meal. I didn't eat much, though, because you can't work out on a full stomach and cruise or not, I needed to hit the gym.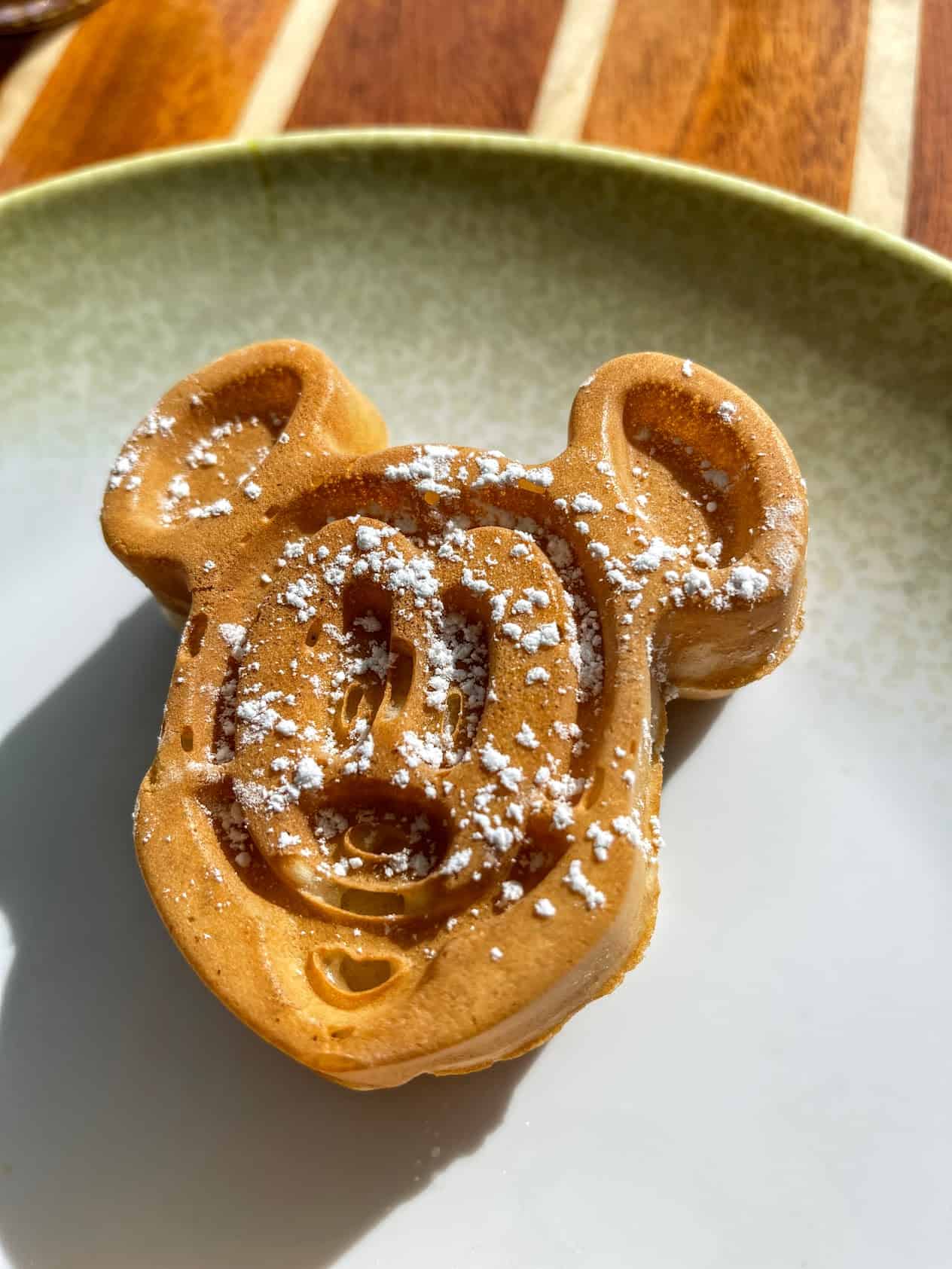 There were plenty of breakfast selections in Cabanas and, as with other ships on which the buffet is located toward the back of the ship, there were places outside allowing you to eat while taking in the killer views. Being from Florida and living in the heat and humidity year-round, I opted to dine inside. It's worth mentioning there is also a pretty nice-sized bar in the back of Cabanas.
I really didn't know what to expect of the gym because under the current health and safety restrictions, things vary from ship to ship. On some, you have to make an appointment so they can control the capacity within the workout space. I hadn't seen anything indicating that would be the case here, and I needed to get three miles under my belt, so I headed up.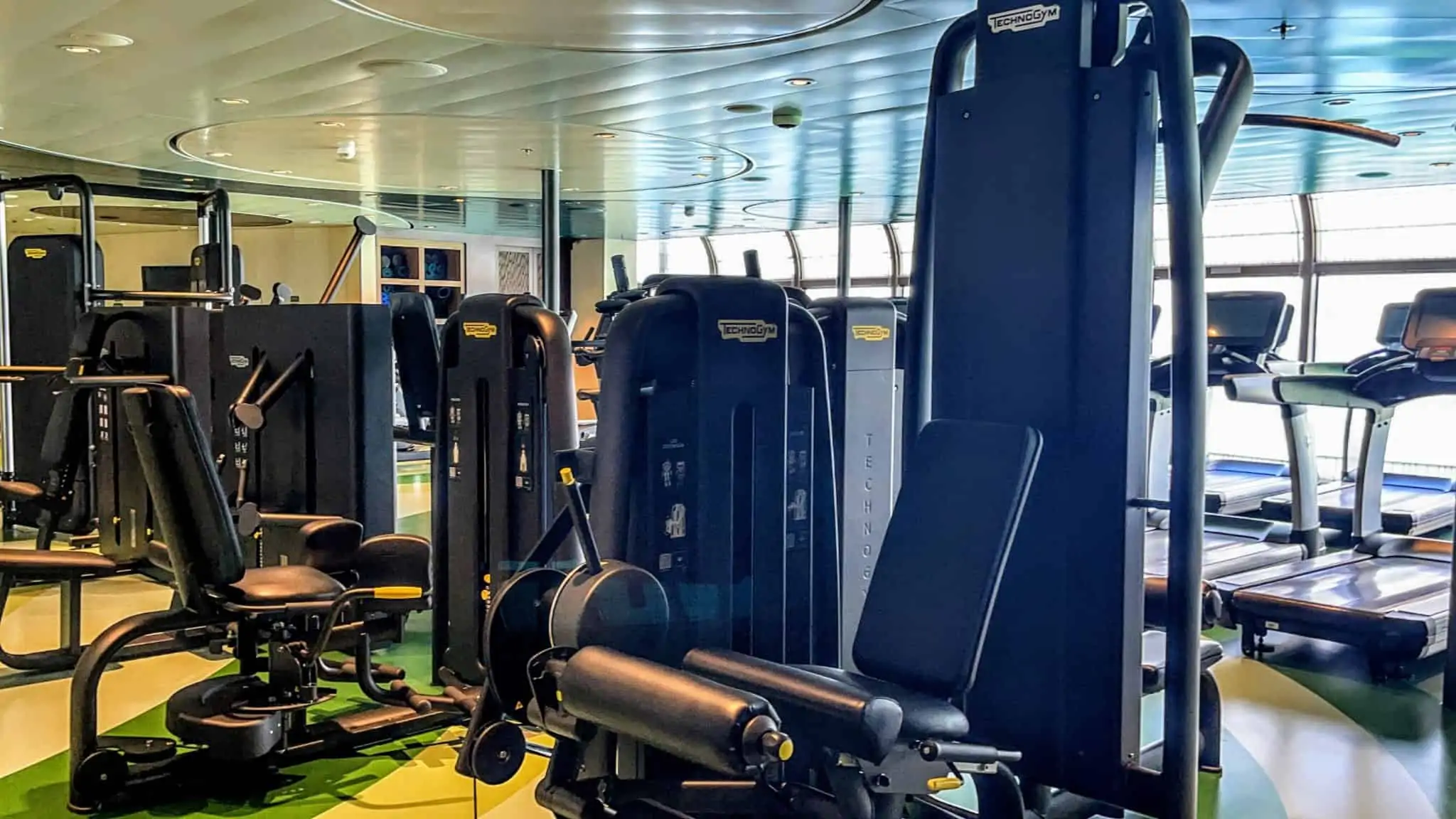 As it turned out, we didn't need reservations, we simply had to sign in with the attendant. It was a little unclear what the masking policy was while working out, but since the gym was busy and everyone there kept theirs on, I did the same. This is my fifth sailing since the start-up and the first where I had to wear a mask while working out. If this is part of the new normal, I'll probably stick to running on the deck in the open air, as I find it difficult to pace my breathing while wearing a mask.
READ MORE: 8 Ways To Involve Your Kids In Planning Your Family Cruise
After the gym, I went out on deck to check out the adults-only area known as Satellite Falls. Located at the top of the ship, the main attraction here is a cool splash area which is actually situated under one of the ship's telecommunication domes. Two decks down is another adults-only area, the Quiet Cove pool as well as the Cove Cafe, where you can grab drinks.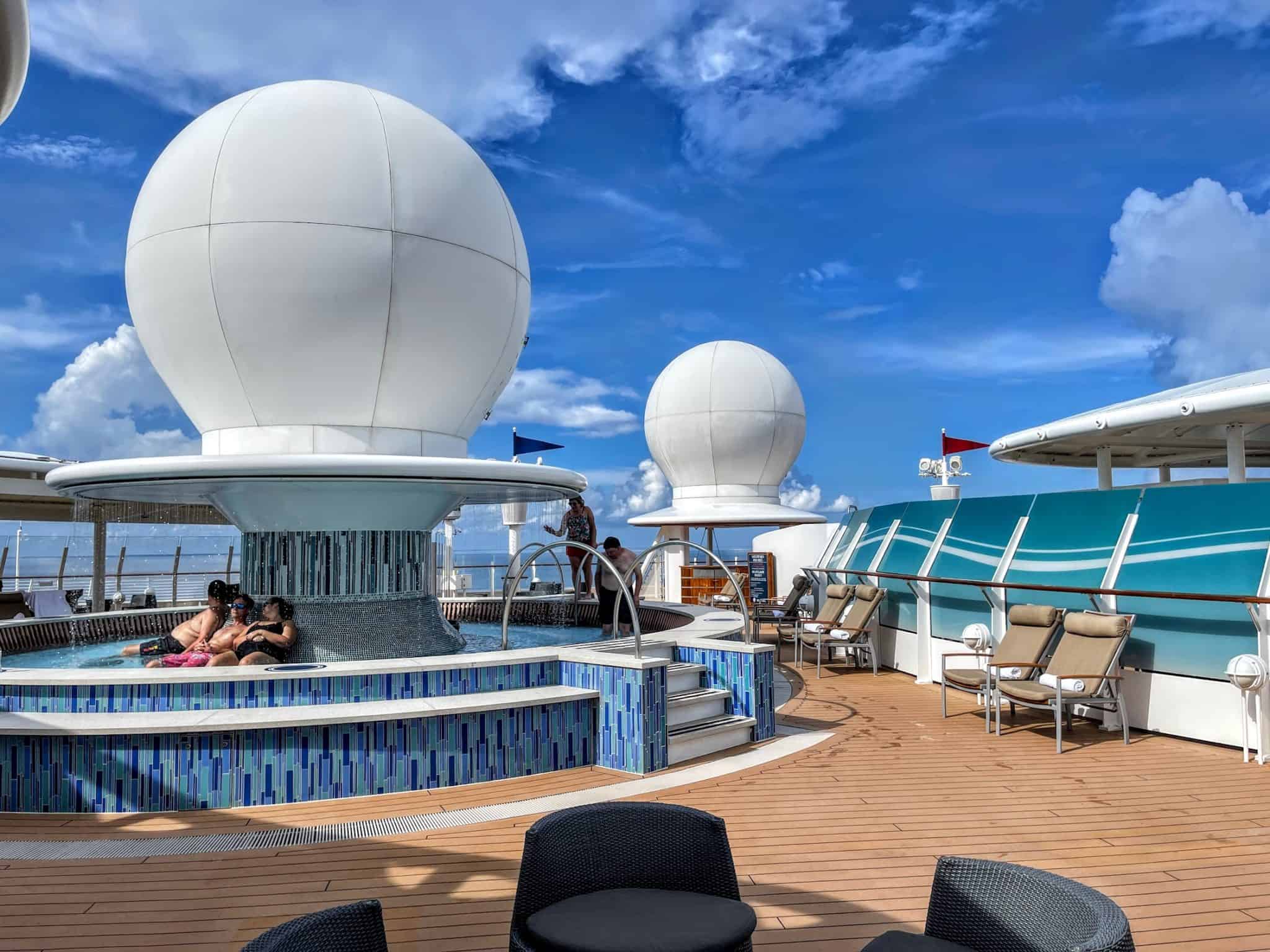 I mentioned yesterday that unlike most mainstream ships, Disney's fleet doesn't offer a wide variety of specialty restaurants. They do, however, feature two —  Palo (Italian) and Remy (French) — which are only available for the 18-and-over crowd, making them a nice way for mom and dad to have a night away from the kids.
Both are really tough reservations to get, however, so if this is something you want to do, make sure to book it as soon in advance of the cruise as possible.
While walking along the top deck on my way to lunch, I could see a cluster of Carnival Cruise Line ships. More on that in a moment.
My friends and I had lunch in the Royal Court dining room and it was a nice, three-course meal. I went with soup, calamari, and meatloaf… followed by another Mickey ice cream bar.
Those puppies go for $6 a pop in the parks, and as I said earlier, I'm trying to get as much bang for my vacation buck as possible on this trip.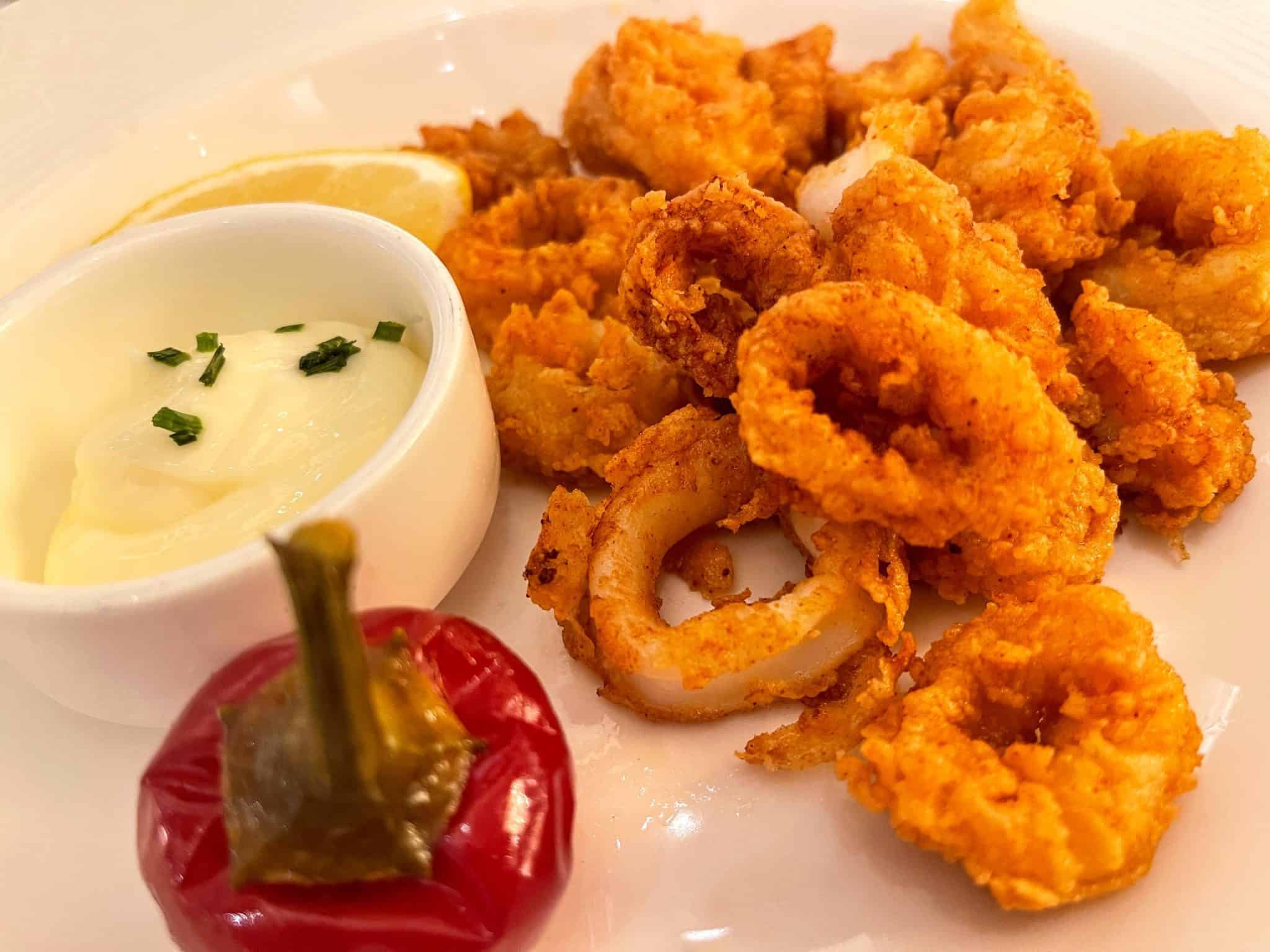 Remember I mentioned those Carnival ships we'd spotted in the distance on our way to lunch? Well, by the time we'd finished eating, they were close enough that I could actually read the names on the sides with the naked eye.
Turned out the ships we spotted were Carnival Conquest, Carnival Valor, and Carnival Elation, all hanging out awaiting their turn to resume sailing. Valor recently received the new blue hull that's being rolled out across the Carnival fleet. There's still something very eerie about seeing ships sitting, anchored at sea without guests.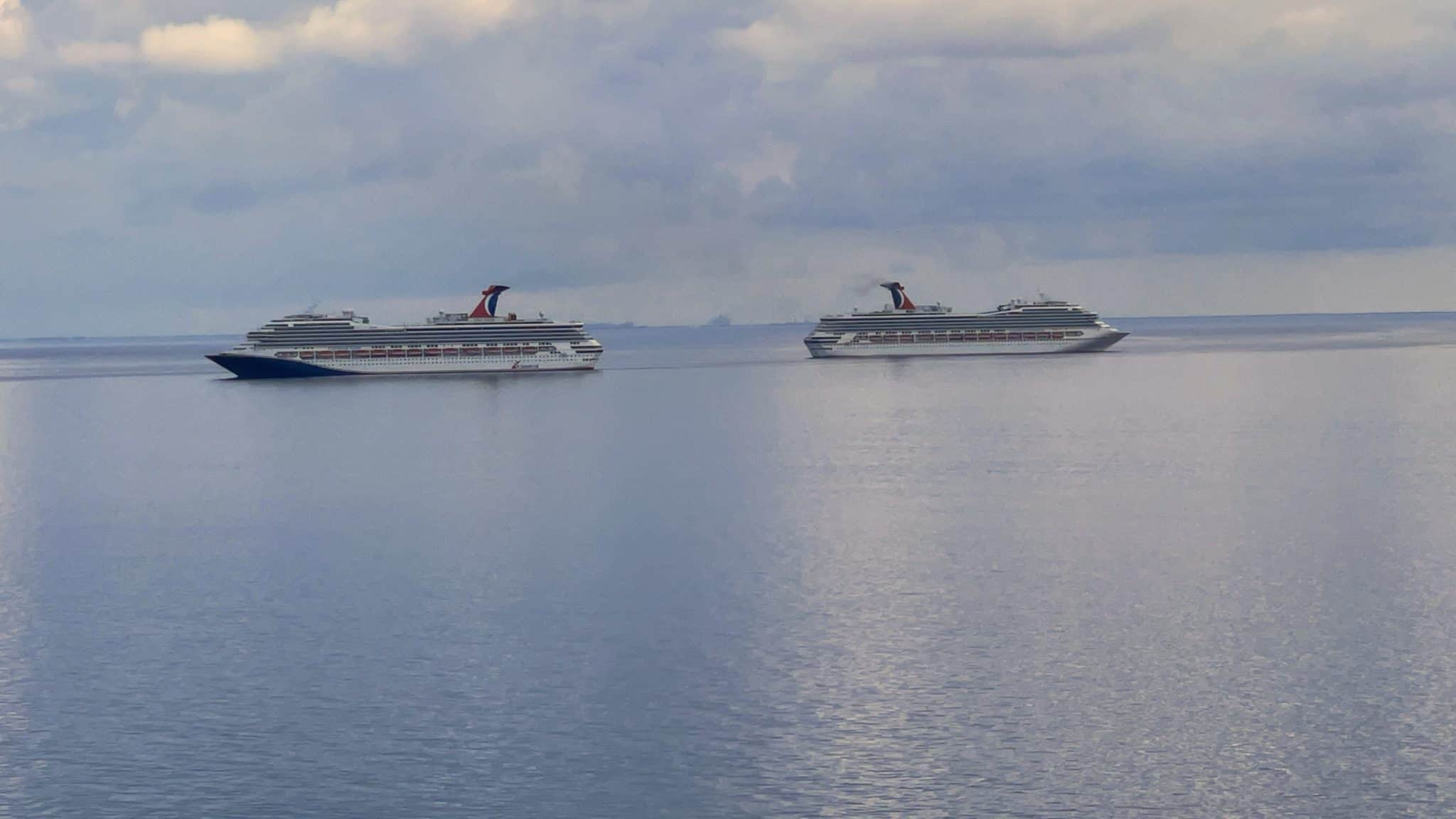 Just like at the Disney theme parks, there are fun little details all around the ship that many people will never even notice. They're sort of like Easter eggs, especially for Disney fans. For example, Pepe The King Prawn from The Muppets actually has a stateroom (stateroom 5148 1/2) aboard Fantasy. We finally found it while wandering the ship.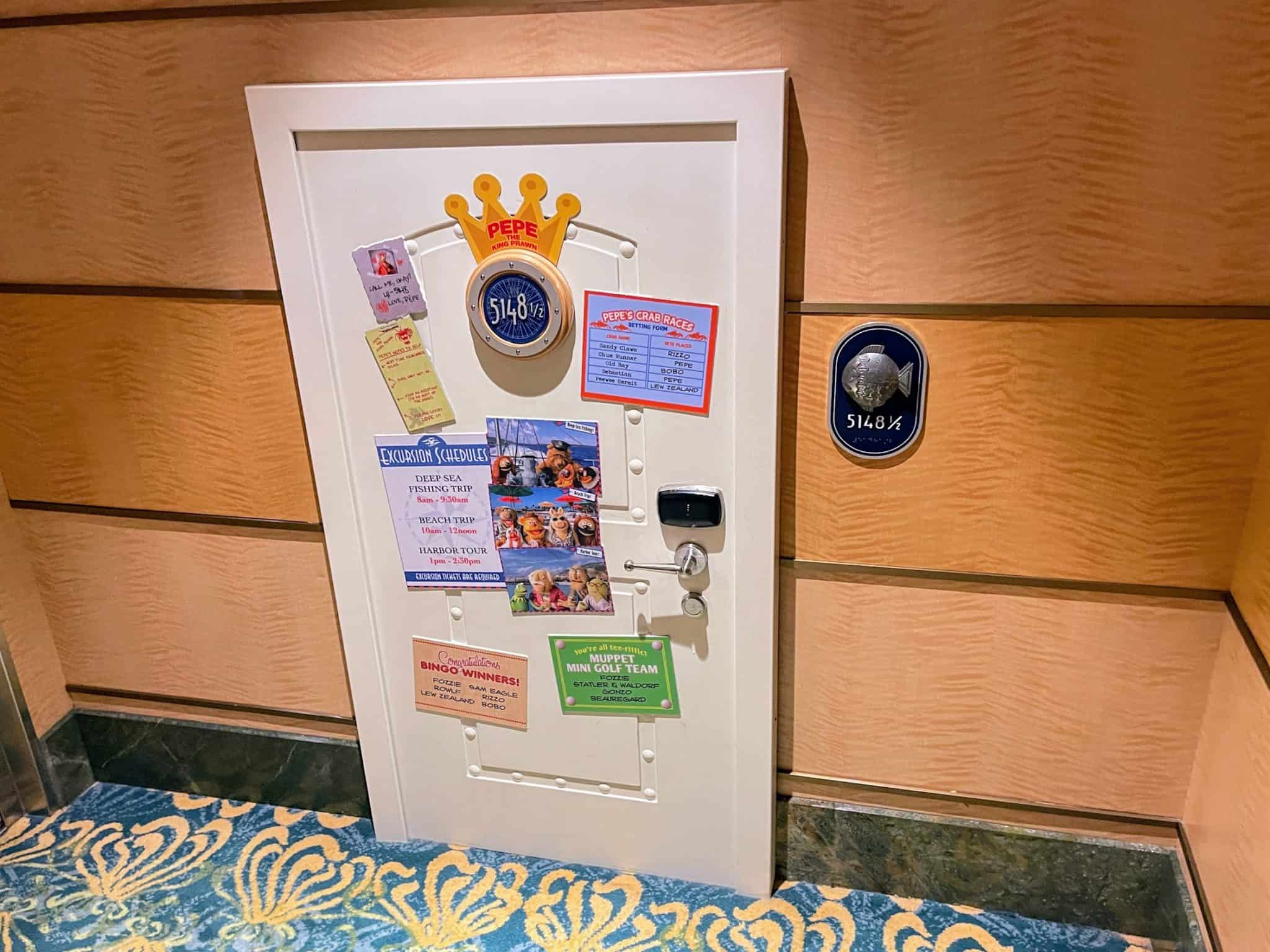 In true shrimp style, it was a tiny room, and you had to squat down to really absorb the details. In true Disney style, the door contains hidden jokes and Pepe even has his own phone number so that you can call and leave him a message.
When doing so, you'll find that Pepe has a different outgoing message (and a new joke) each day. This detail that many would probably overlook was a great trip down Memory Lane for me, because my cousins and I used to get the biggest kick out of that little guy's sense of humor.
Note: Pepe's door is actually part of the Midship Detective Agency interactive game, which takes you all over the ship to search for clues.
READ MORE: 8 Tips For Preparing to Cruise in 2021
Since we were assigned the second seating for dinner, our show time was always at 5:45 p.m. Tonight's presentation was Frozen and again, they outdid themselves with the production and special effects. I've only seen a handful of shows on Broadway, and these shows easily compare.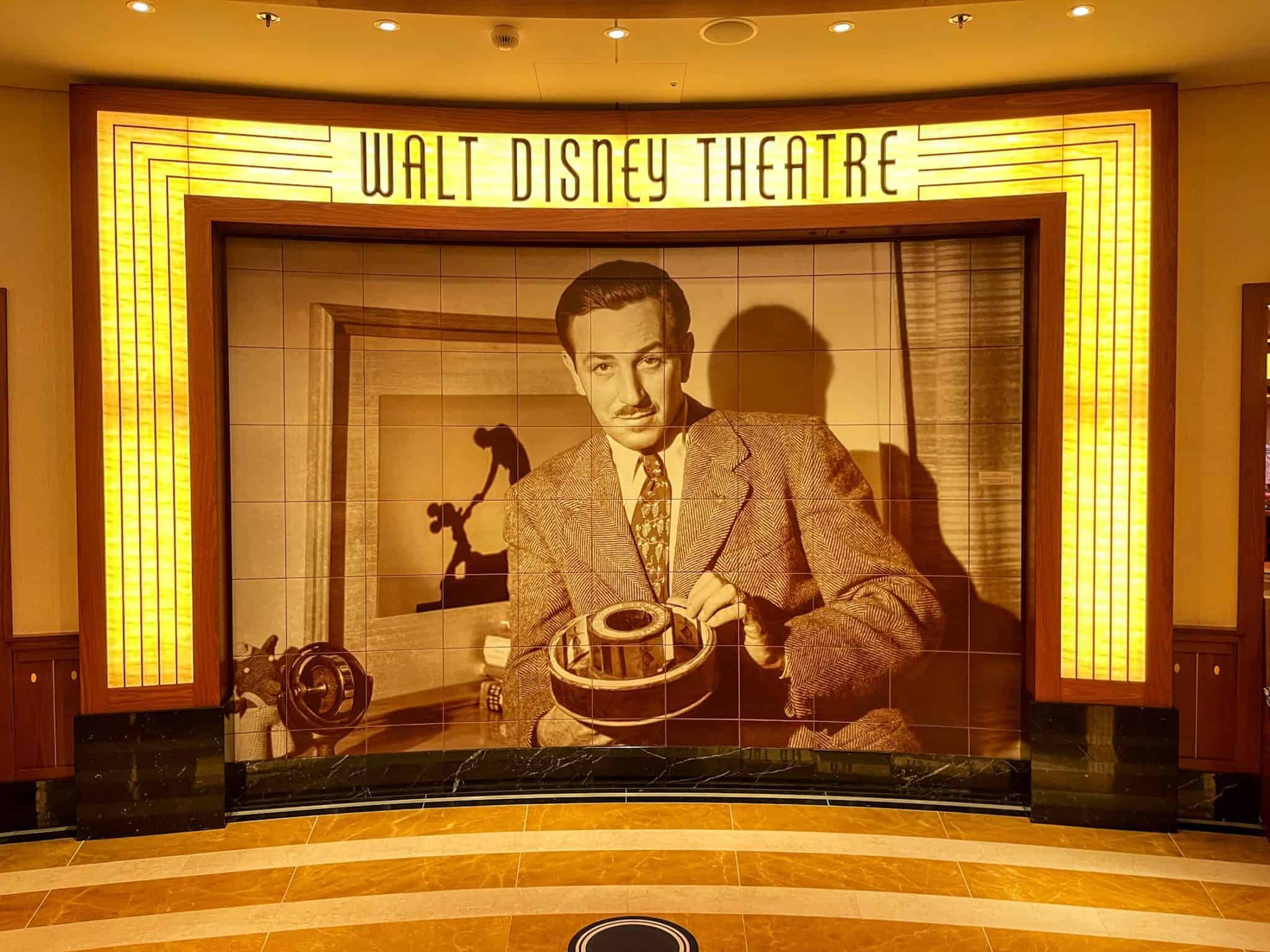 Everything was spot on from the characterizations, casting, vocals, and staging. Both shows I've seen so far resonated with the inner kid in me and proved way more entertaining than I could have imagined. I have over 100 cruises under my belt, and these shows are, hands down, the best I've seen at sea.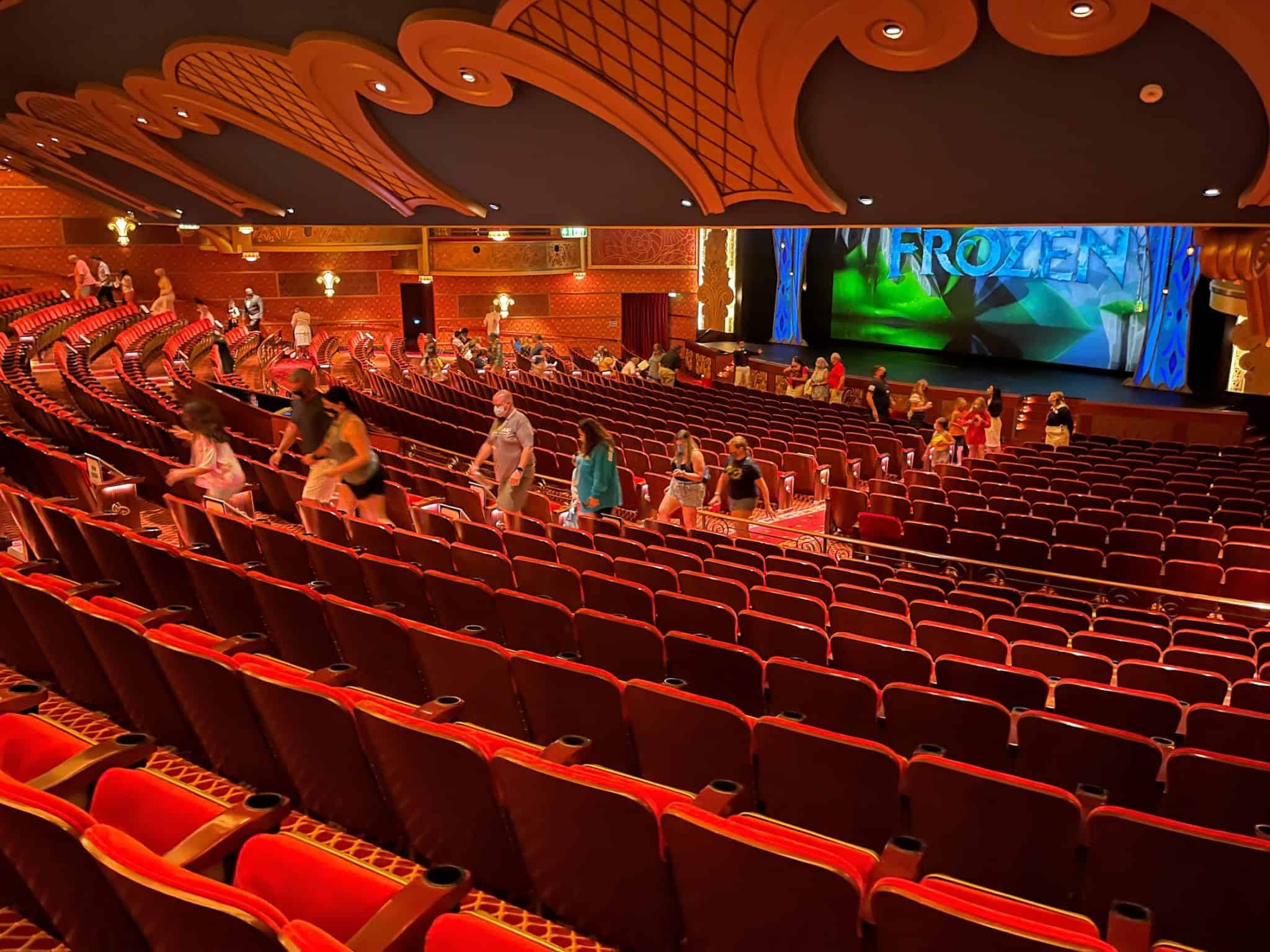 Tonight's dinner was held in the Royal Court. This was where I'd had lunch earlier in the day and — because there are three dining rooms and we were on a four-night sailing — a venue I'd wind up having dinner in twice. As the name implies, this dining room is themed around the Disney princesses and features beautiful murals all around the room.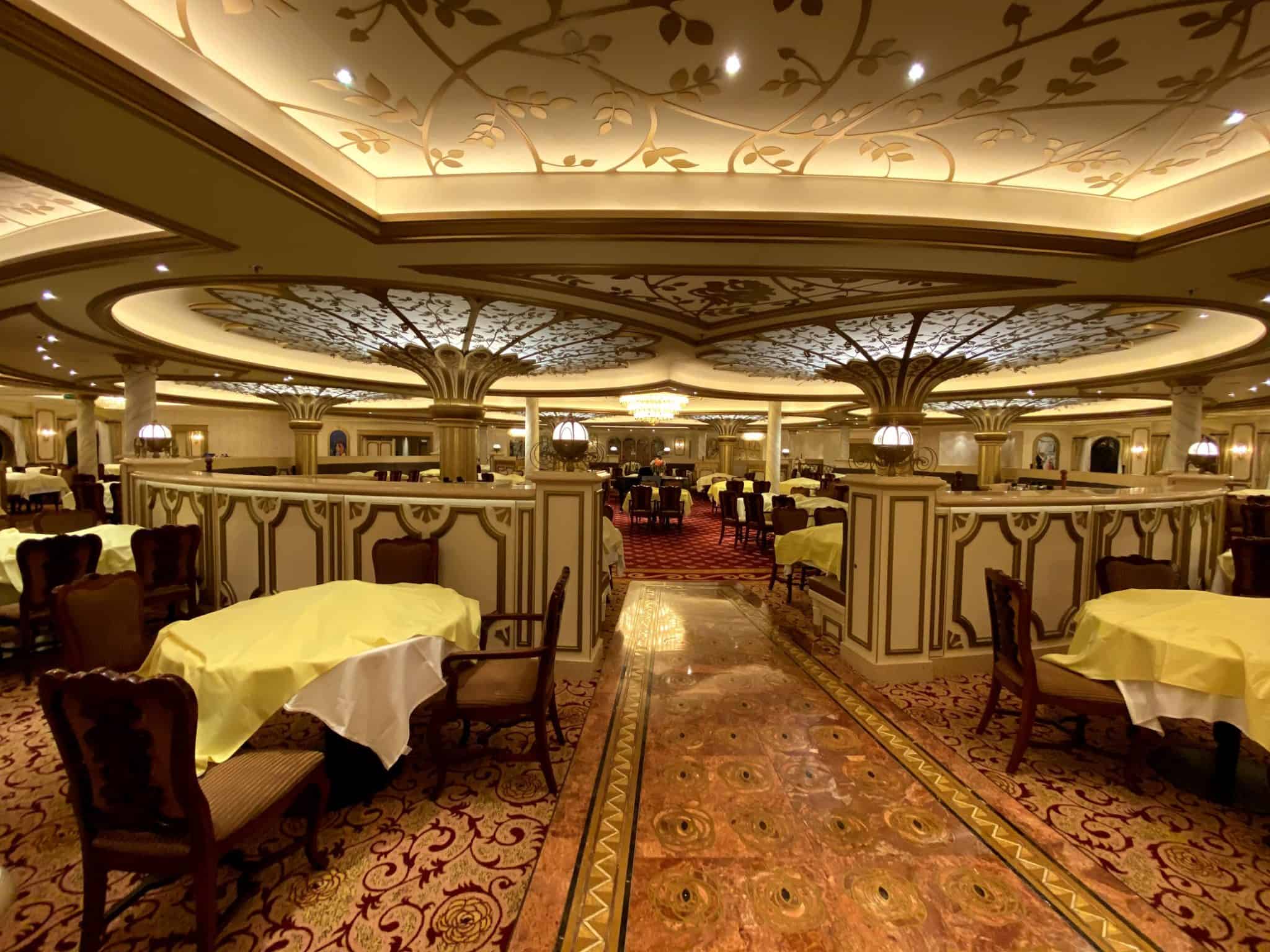 During our meal, several of the Disney princesses wandered through the space,  waving at and greeting guests from a safe distance. I'll admit… I didn't know who half of them were. A lot of them were lost on me, but I definitely recognized Ariel from The Little Mermaid. The cast member bringing her to life had the character's gestures down pat. As for the menu, it had sort of a French slant so I went with some of my favorites: escargot, French onion soup (again), and beef tenderloin.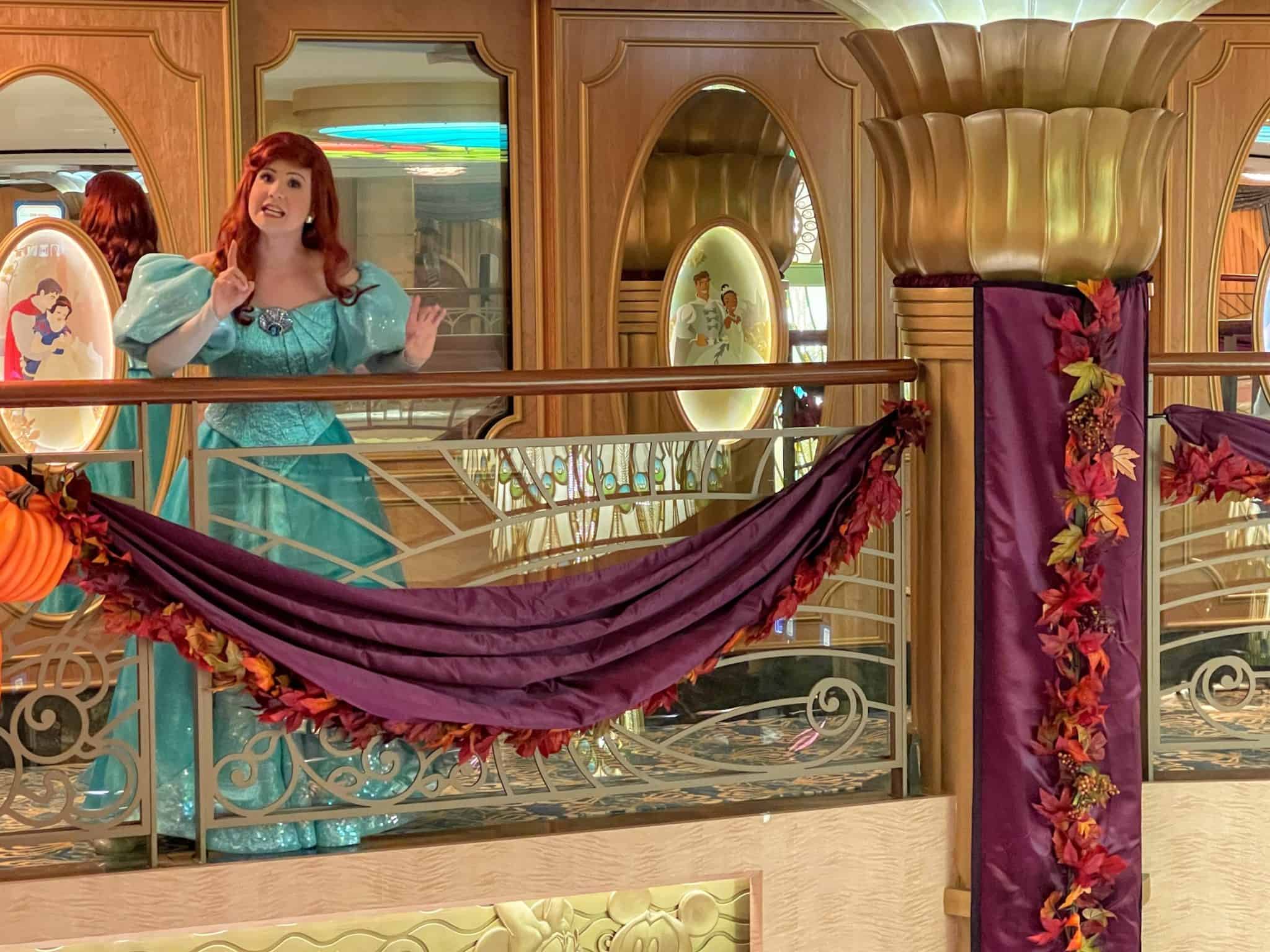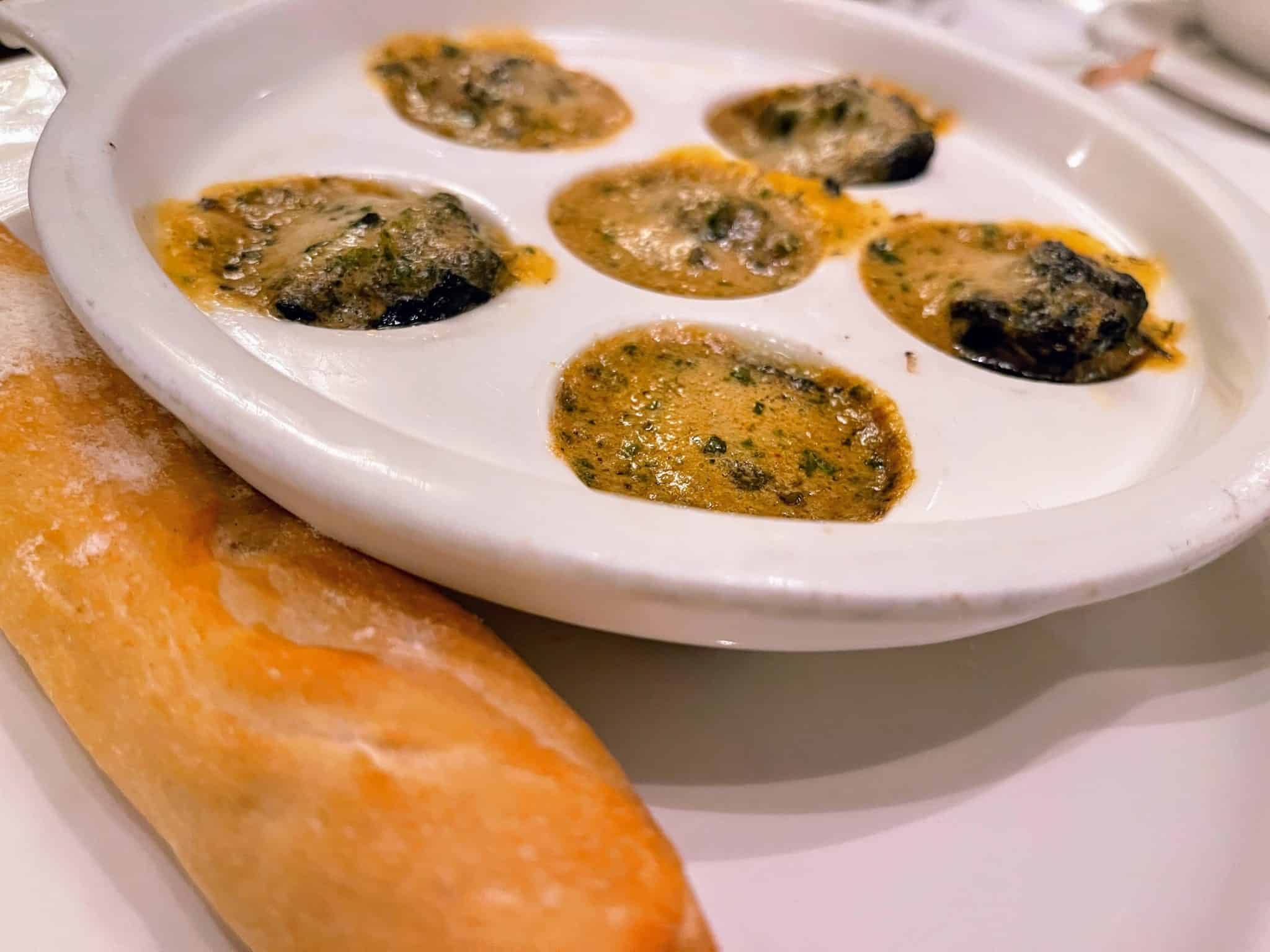 After dinner, there were more character experiences being held in the ship's atrium, including Chip and Dale, Goofy, Donald, and Ariel.
Because this was a Halloween on the High Seas sailing, there were a lot of seasonally themed events around the ship, including a pumpkin tree in the ship's atrium.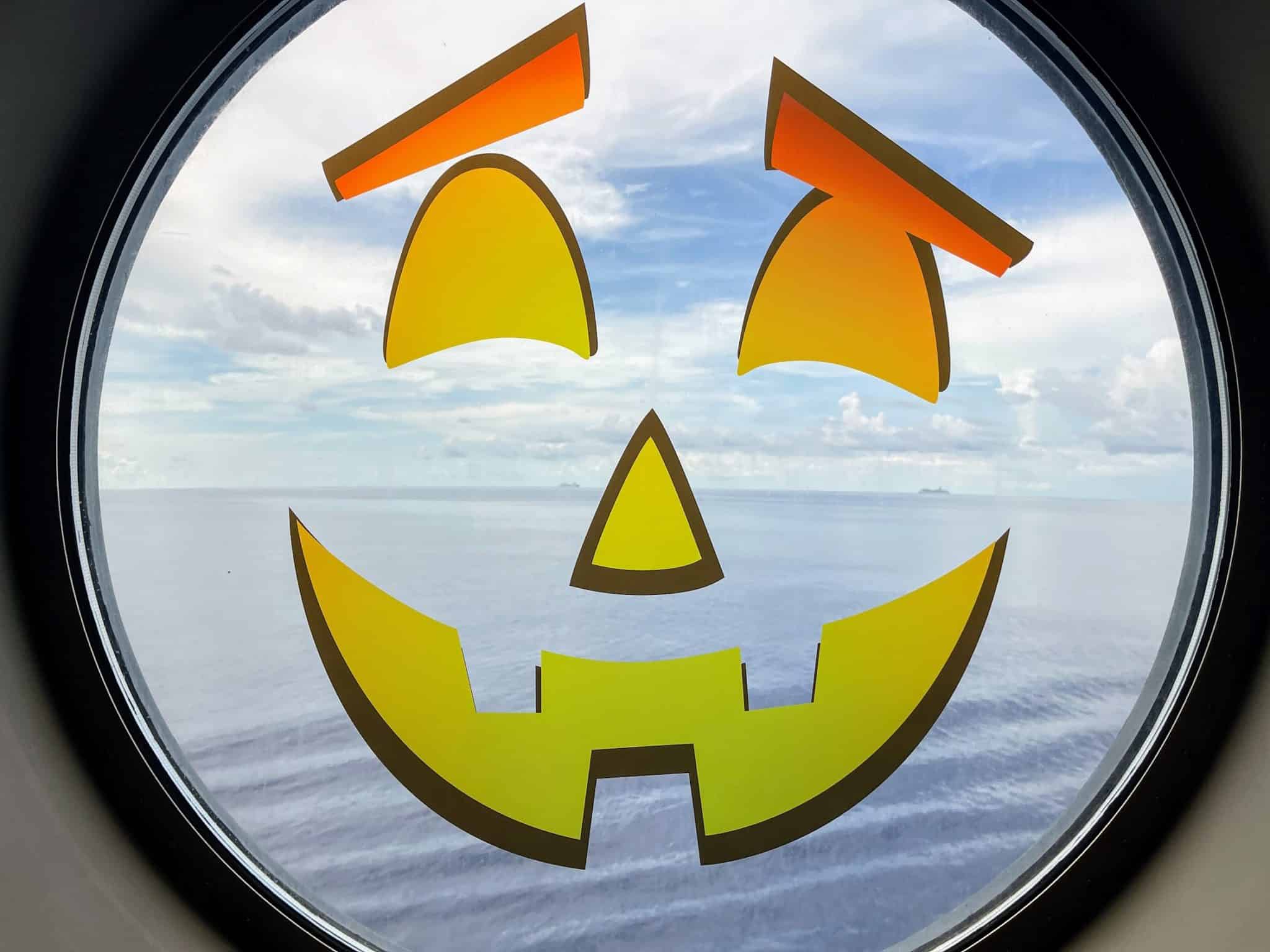 Typically at the beginning of a Halloween sailing, this unique decoration starts small and, as the voyage continues, grows to become practically the focal point of the atrium, with nightly gatherings at its base to hear spooky stories.
This year, I assume in an effort to avoid big gatherings, the tree instead was fully grown and decorated when we boarded. Despite not getting to see the tree "grow," it was still a pretty impressive sight.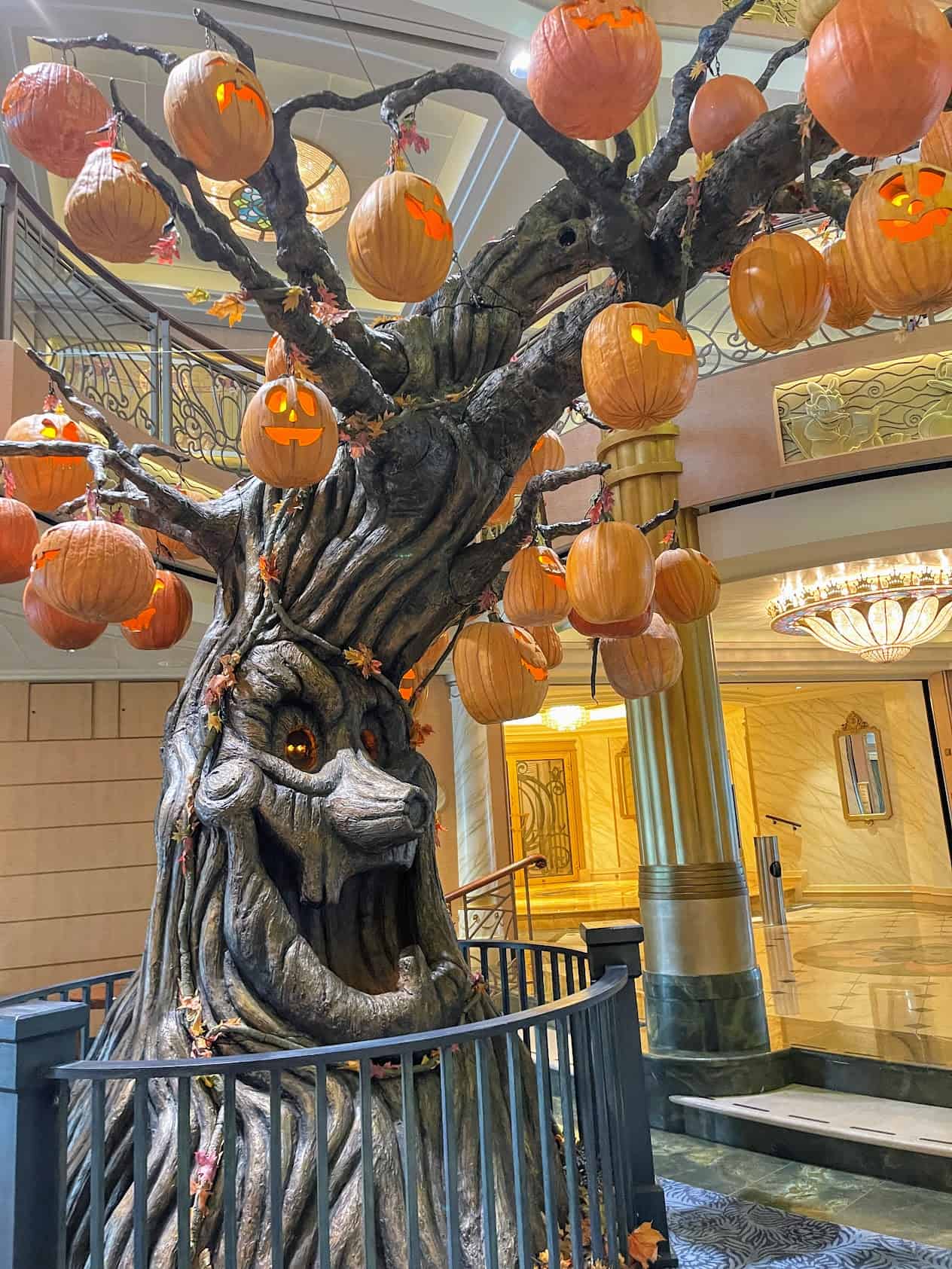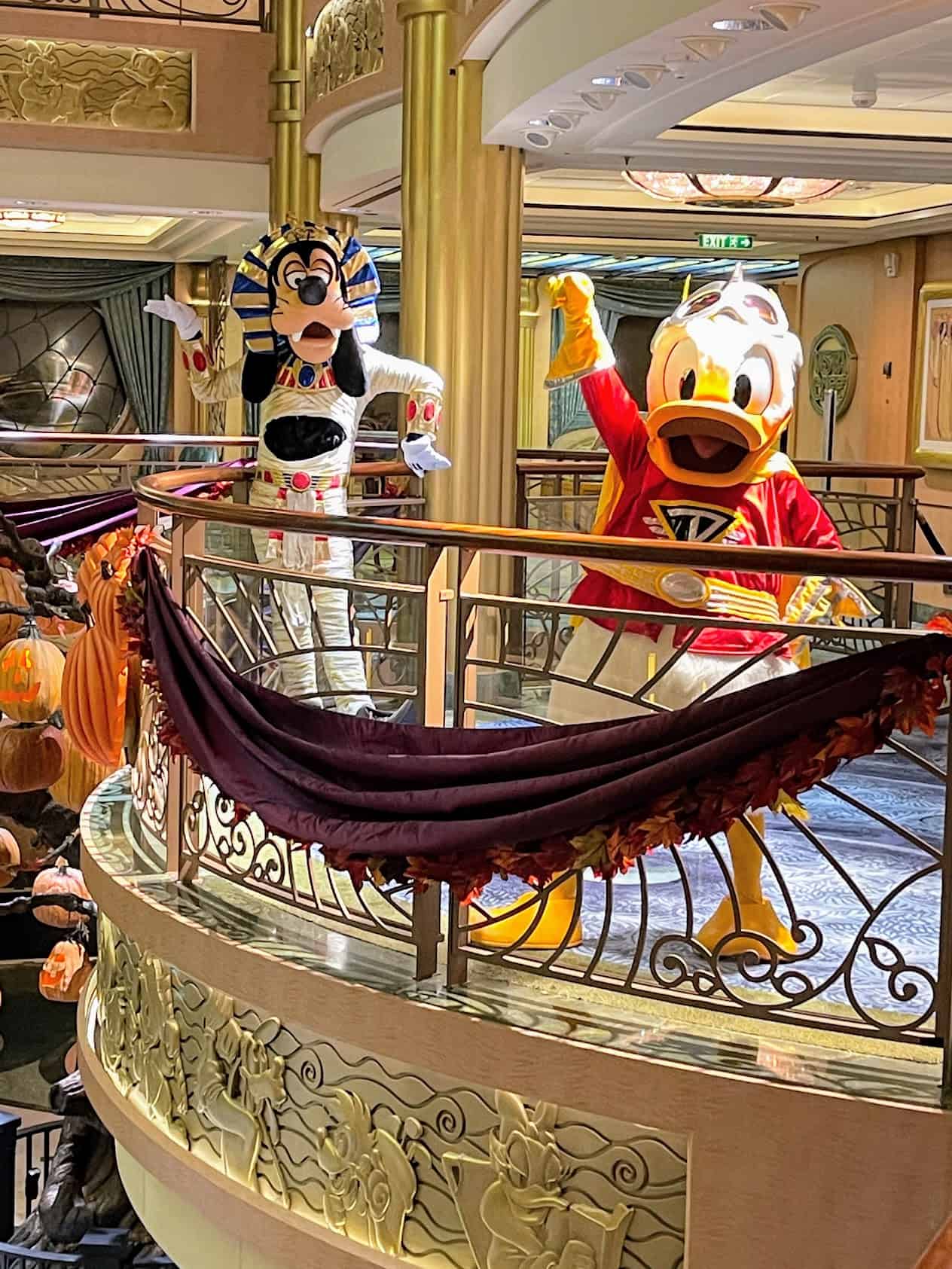 On the way back to the cabin I noticed there's an area called the D Lounge which hosts family shows and daily events. It was basically a nightclub in which they played the kind of upbeat, family-friendly music you used to hear on Radio Disney.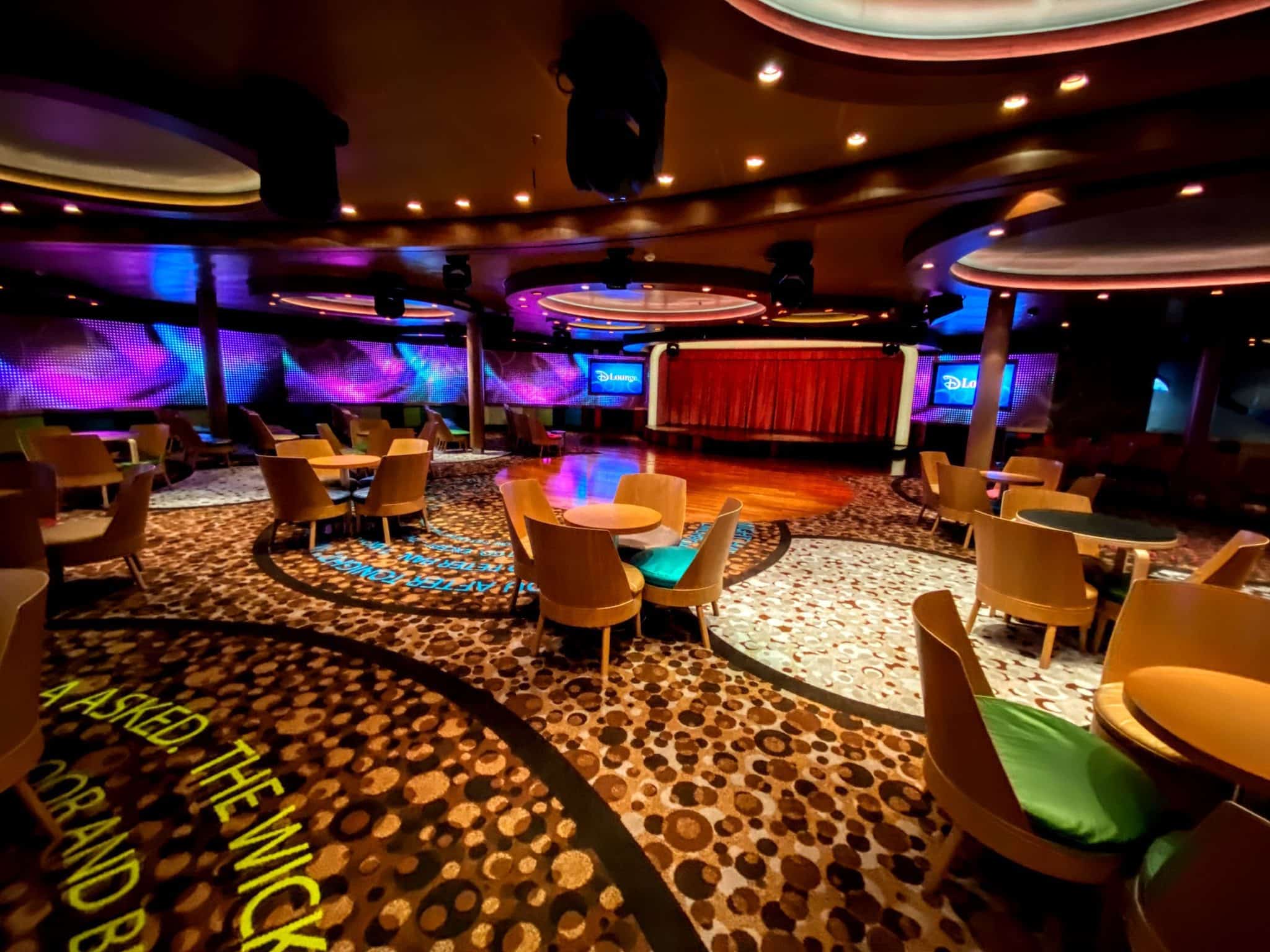 During our sailing, they also used this space to hold game shows like "Sarge Says," "Inside Out," and "Generation Quest," as well as Bingo and karaoke. In other words, all the activities you'd expect to find on a cruise, but Disnified and appropriate for all ages.
As you'd probably expect, many of the events included "surprise" visits from Disney characters.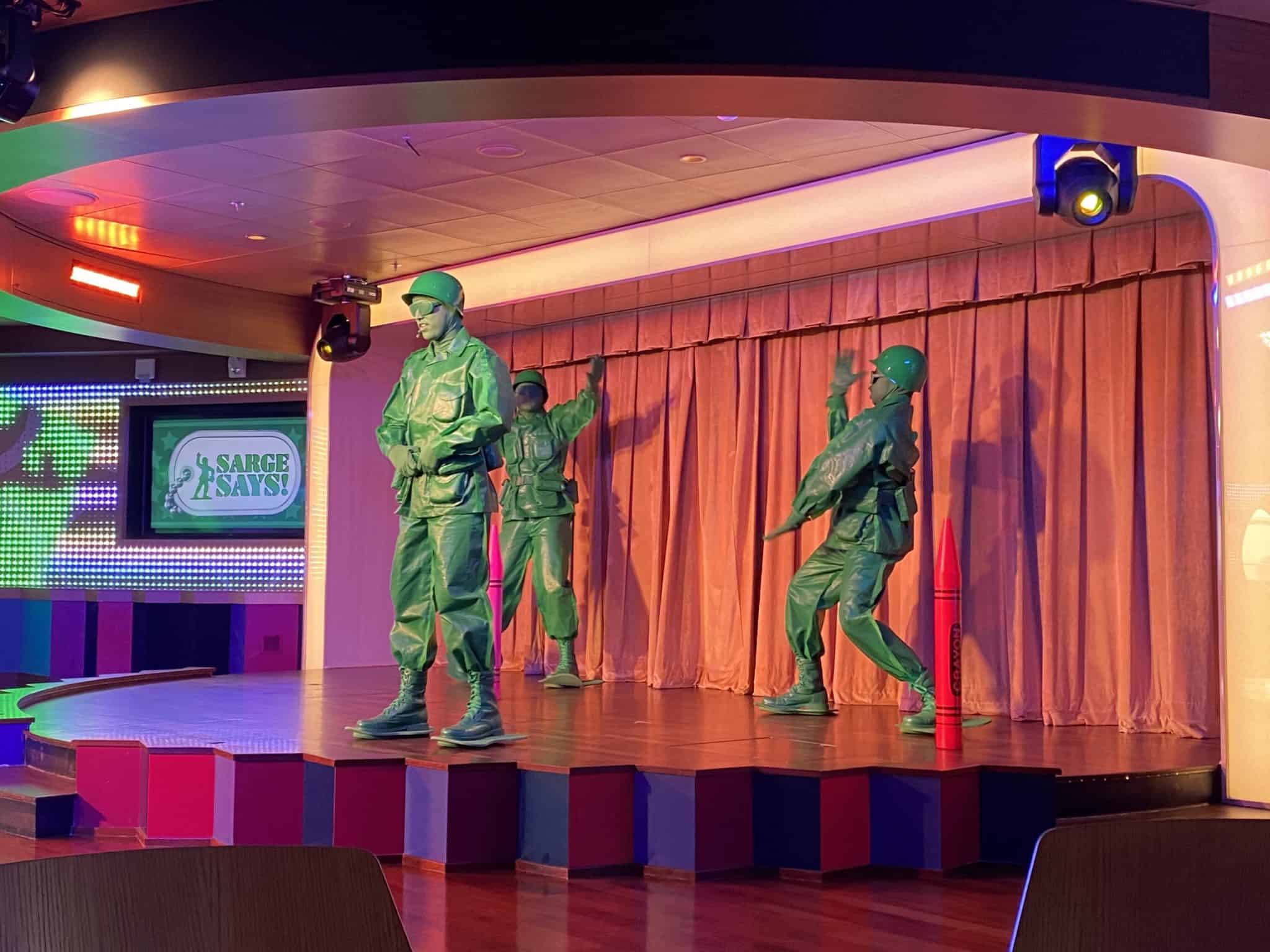 Somehow, this sea day — on which I planned to explore the entire ship — slipped by without me getting to half the things I intended to. There's so much more still to check out. I haven't had a chance to ride the AquaDuck (water rollercoaster), visit the ice cream shop, or visit the shops offering Disney Cruise Line gear that can only be found on the ships.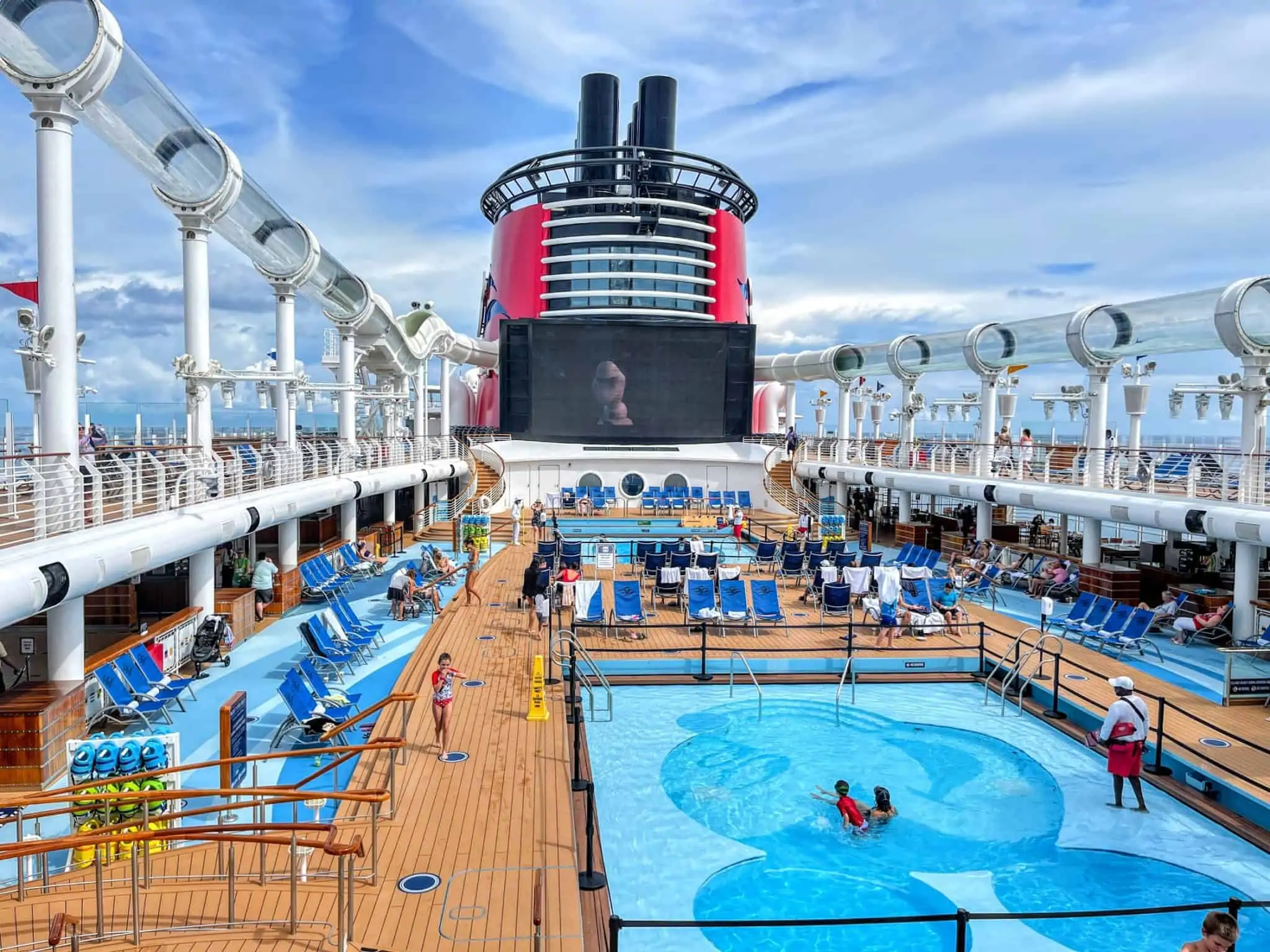 Tomorrow is the first of two days at Castaway Cay. Having never been before, this will complete the Bahamas circuit of cruise line private islands for me.
For now, it's off to bed.
Catch up on my other Disney Fantasy trip reports:
Pin it!