This morning I woke to the sound of the stern thrusters backing the Disney Fantasy into Castaway Cay. When I say I awoke, I mean I was shaken out of a deep sleep. That is one thing about booking an aft balcony cabin, you feel the thrusters and when the ship goes in reverse.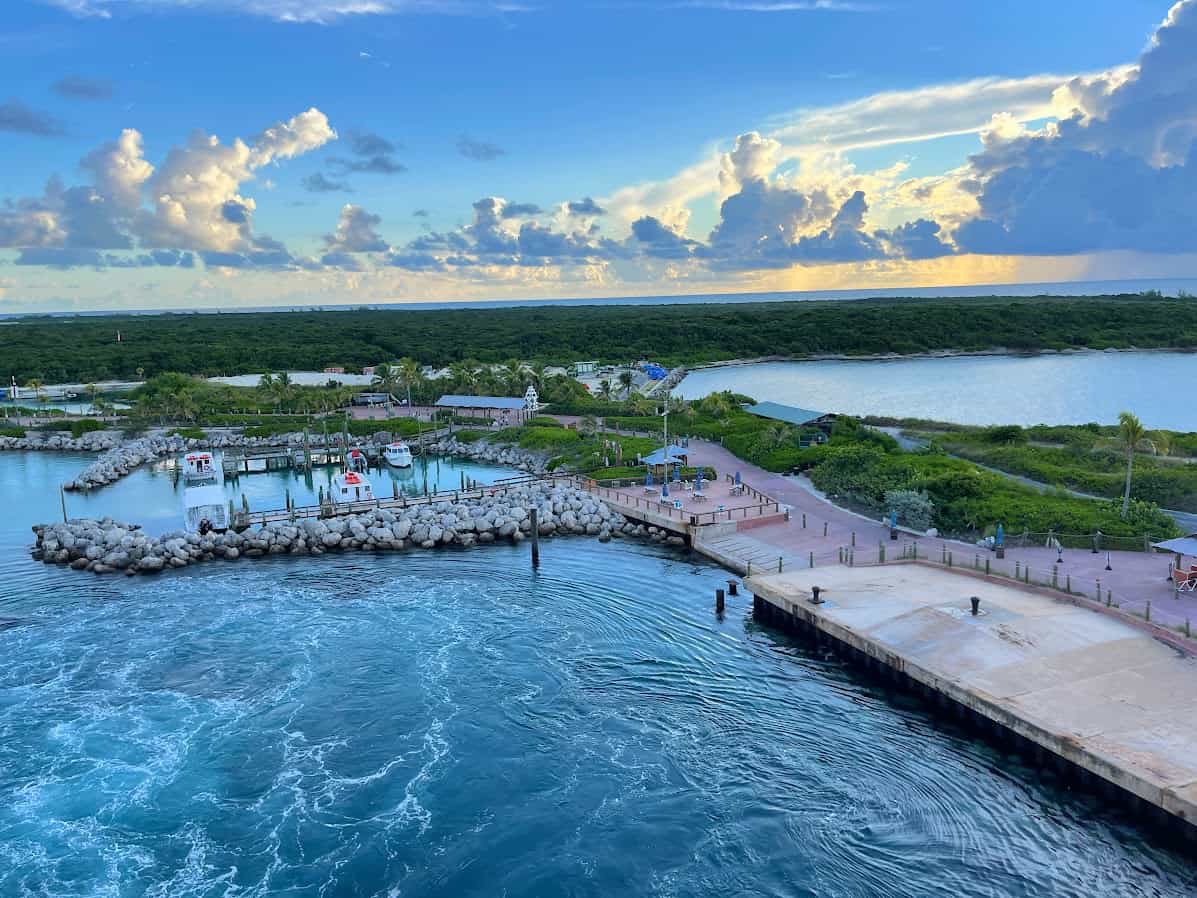 With Disney working hard to encourage social distancing and prevent people from gathering in large groups whenever possible, disembarkation onto Castaway Cay was done a little differently than in the past. As with other lines, Disney has found creative ways to use technology in general and their app in particular to manage situations like this.
To disembark, you entered a virtual queue via the Disney app and were then assigned a zone. The virtual line started forming around 7:30, and actual disembarkation began an hour later. Given that the ship was sailing at just over 25 percent capacity, disembarkation was a breeze.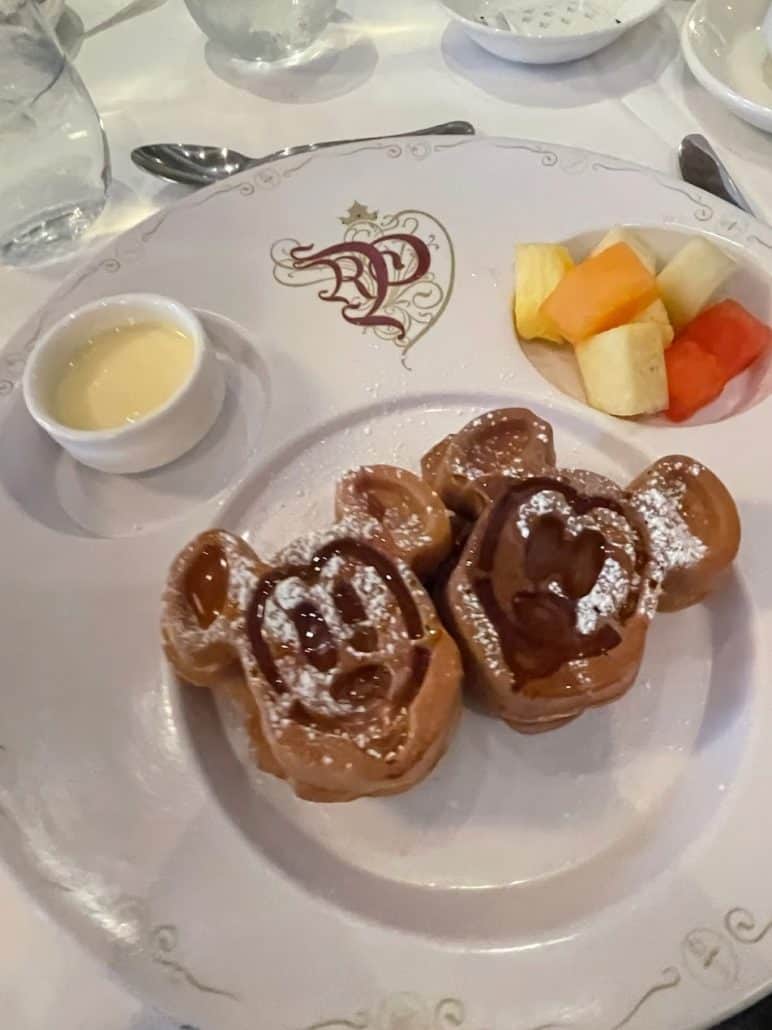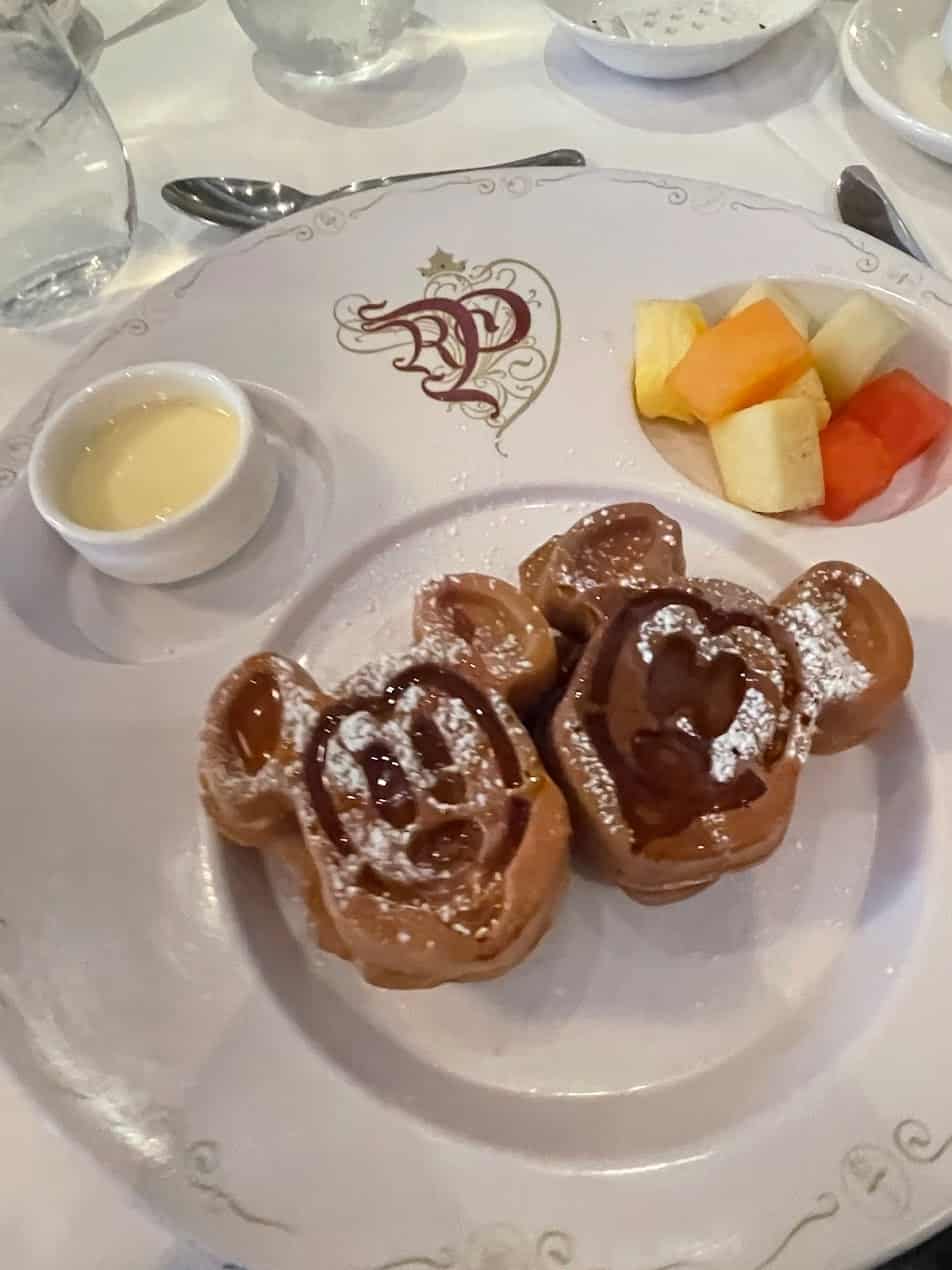 Once again, we grabbed breakfast in the Royal Court, where I went with Mickey waffles with a side of smoked salmon. Given the quality of the food we've had so far, I was surprised that breakfast in the main dining room was just okay, with the waffles ice cold. In fairness, we got there just before the venue was scheduled to close, so we probably got the bottom of the barrel.
On the plus side, the salmon was spot-on. And it's probably good I left room, because I was already thinking about the steak at Serenity Bay, the adults-only area on Castaway Cay.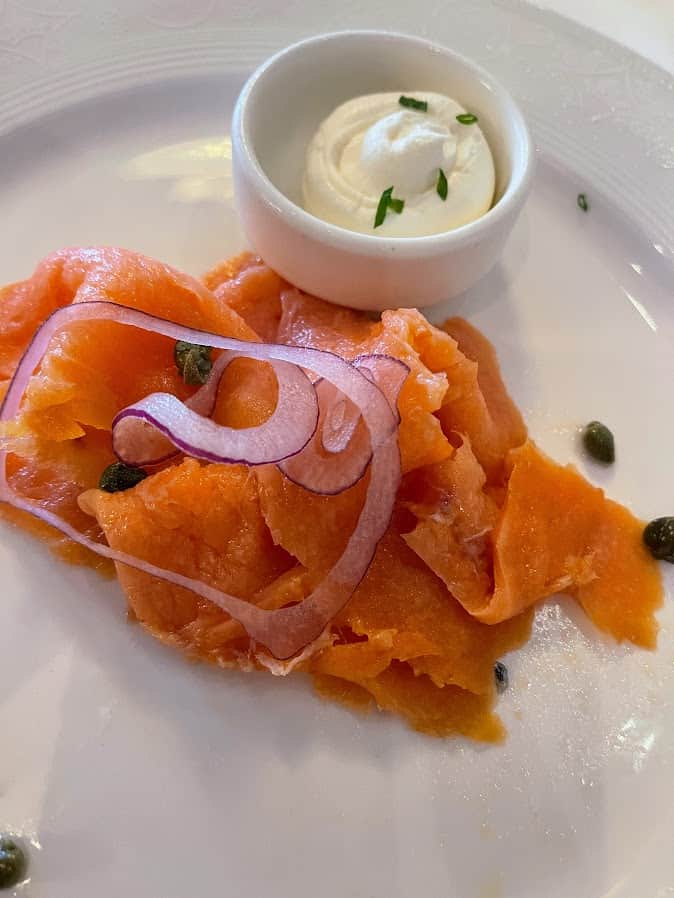 After heading back upstairs and applying tons of sunscreen, I headed ashore. Thankfully masks were not required on the island unless you were interacting with cast members or standing in the food lines.
A fun fact about Castaway: The airport, formerly Gorda airstrip, was used for bootlegging and smuggling in the 1970s and early 80s. Disney purchased a 99-year lease on Gorda Cay in the late 90s and has since invested millions in building it out and dredging an inlet to dock its ships there.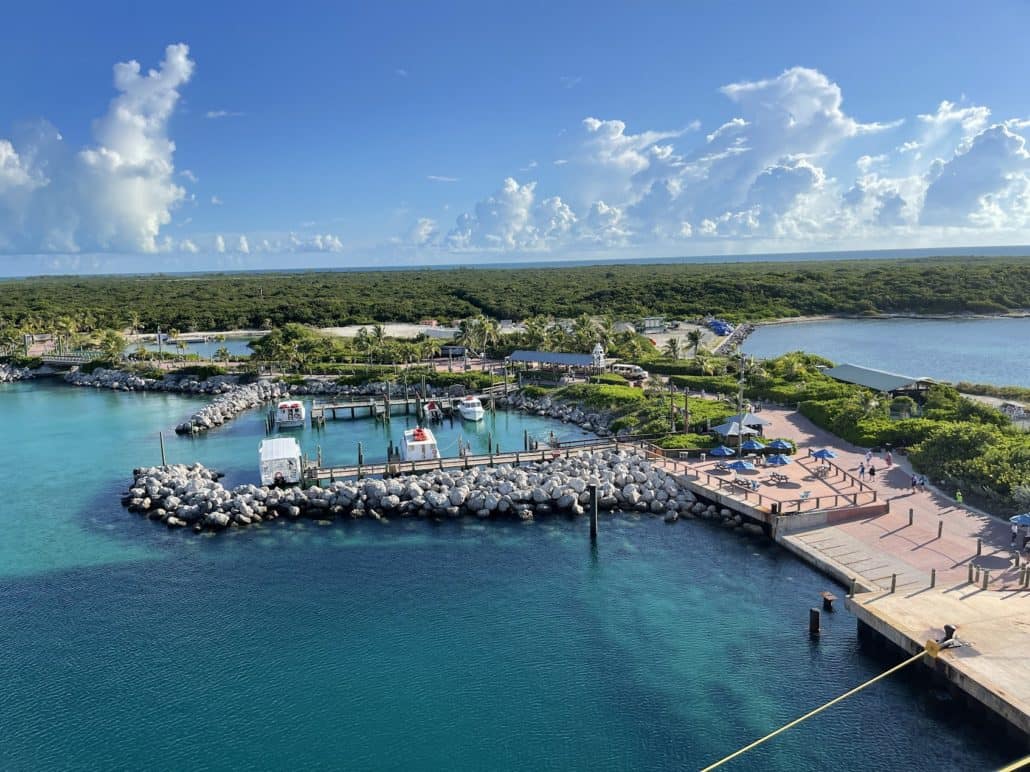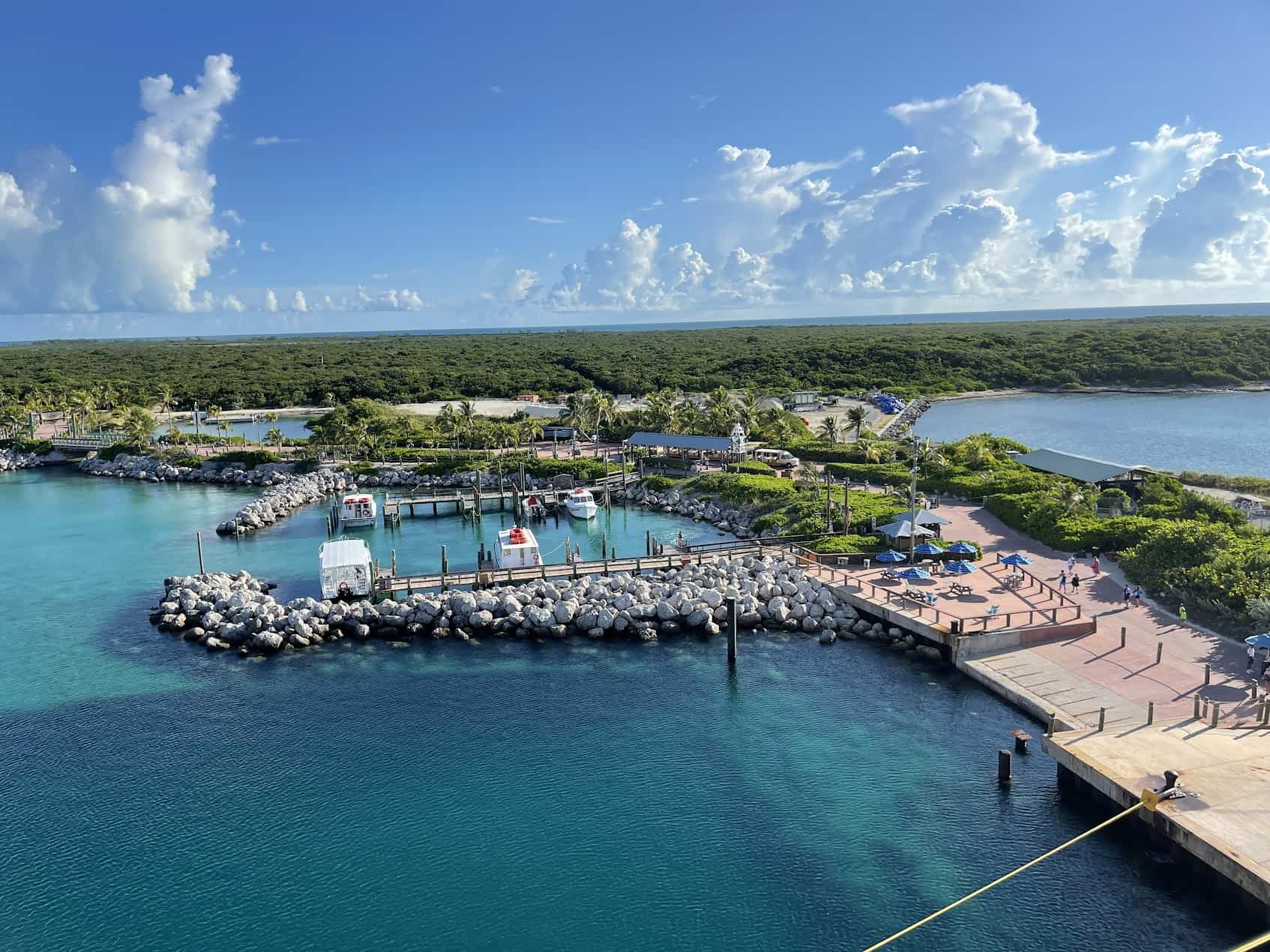 Like Royal Caribbean's Perfect Day at CocoCay, Castaway Cay also has a pier, meaning you can just walk off the ship as opposed to having to deal with the whole tendering process. From on board the ship, you could actually see the entire lay of the island. Despite it not being an unmanageable size, the Bahamian heat makes the tram system which criss-crosses the island very much welcomed.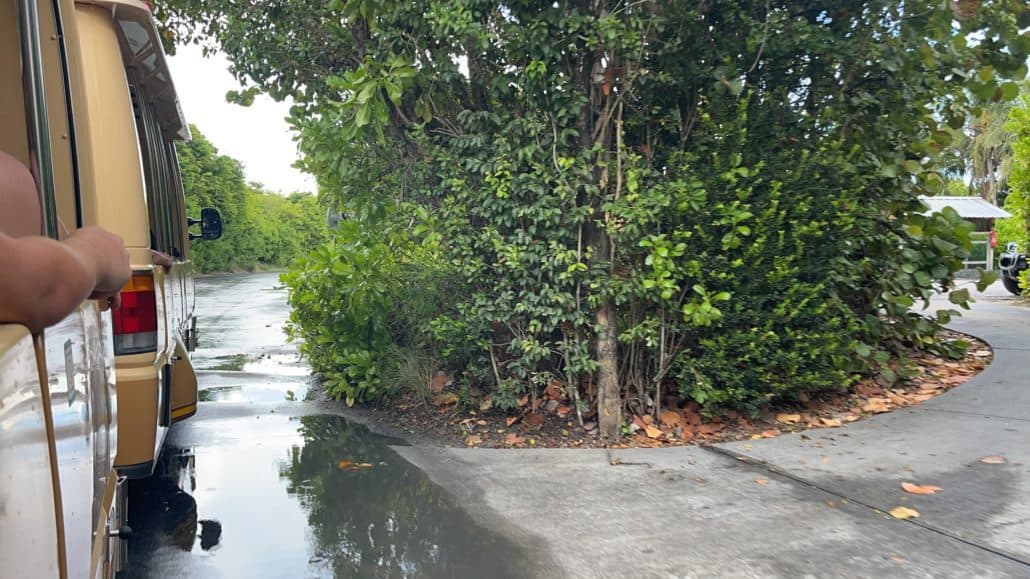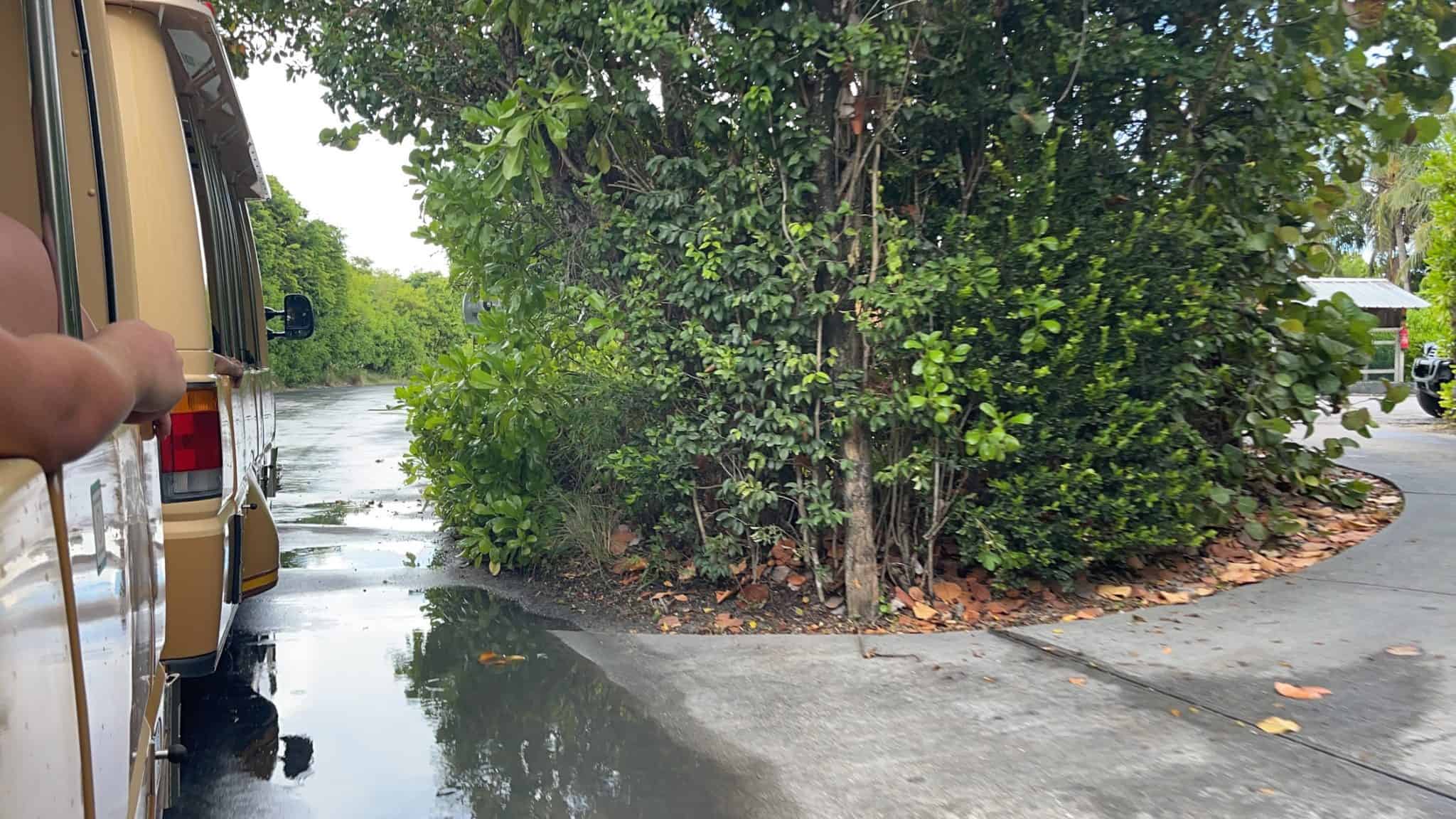 Our first stop was a transfer point to Serenity Bay, this is the adults-only area with dining, a shallow lagoon-type spot along the beach, and bike trails.
The trip to Serenity Bay was sort of funny in that first, we took a tram to the Family Beach stop that was loaded with kids and their parents. There, we switched to a second tram which was child-free. Each of the rides were less than five minutes.
READ MORE: How Much Does It Cost for Kids to Go on a Cruise?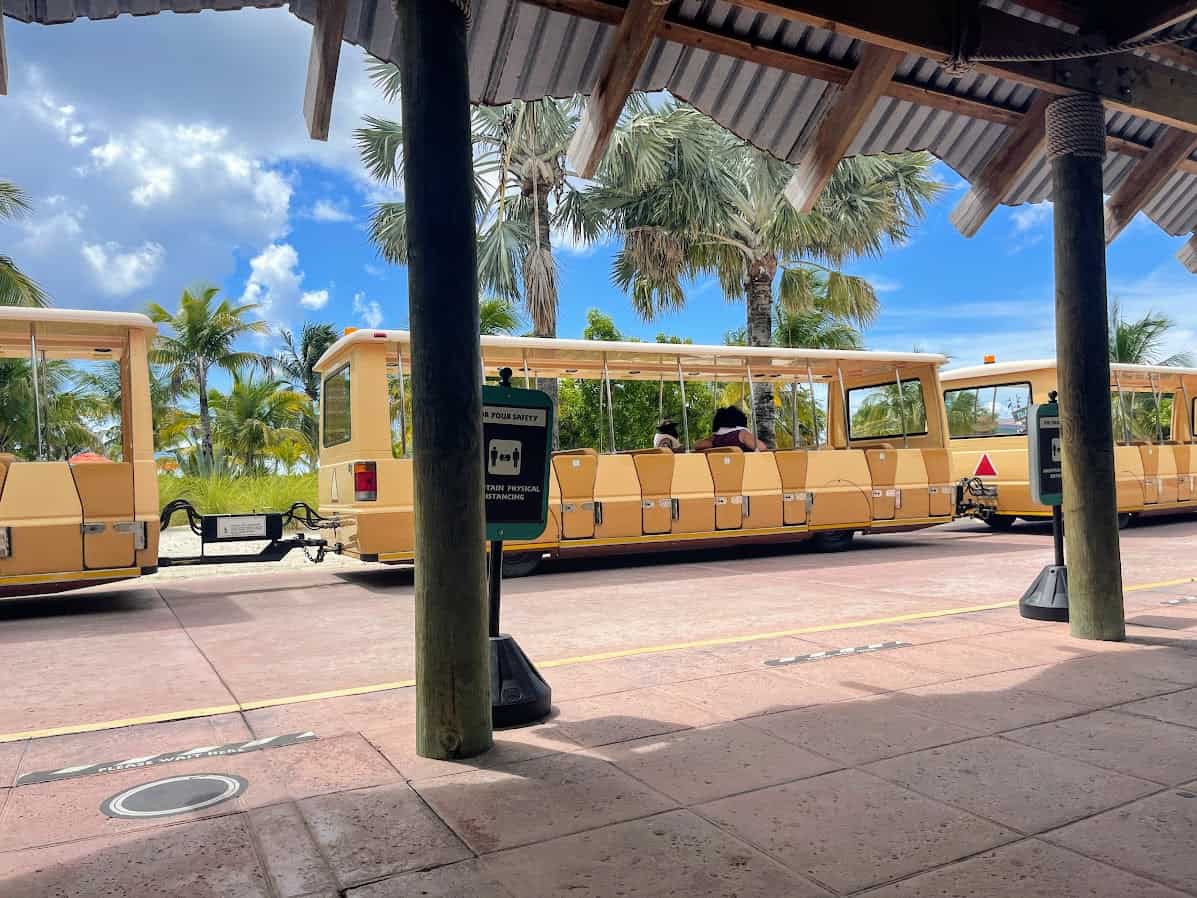 One thing to note: Because the trams carry large numbers of people, Disney requires that guests wear masks while on transportation. There are also attendants who wipe down the handrails after every ride, which is a nice touch.
For lunch, we got in line for the grill where they served steaks, fish, ribs, and chicken. The steak was cooked to perfection and a nice touch. Let's face it: You don't get steak on most cruise private islands. As I've said before, you're paying a premium price for a Disney cruise, but you also get a lot of perks that help justify the expense.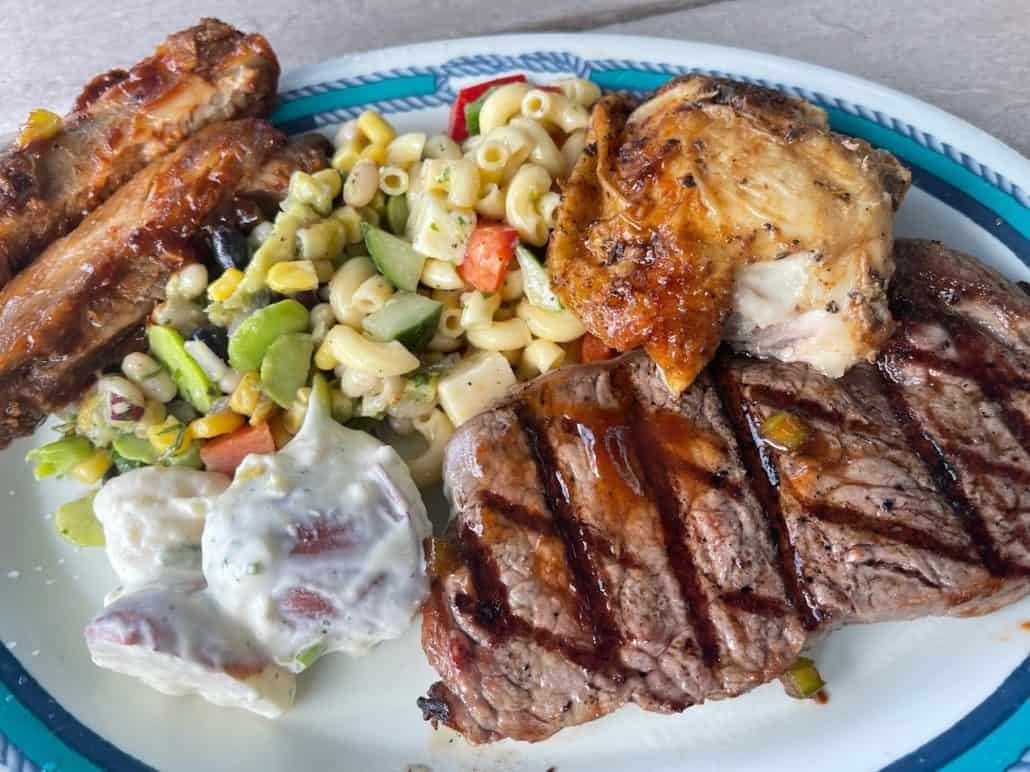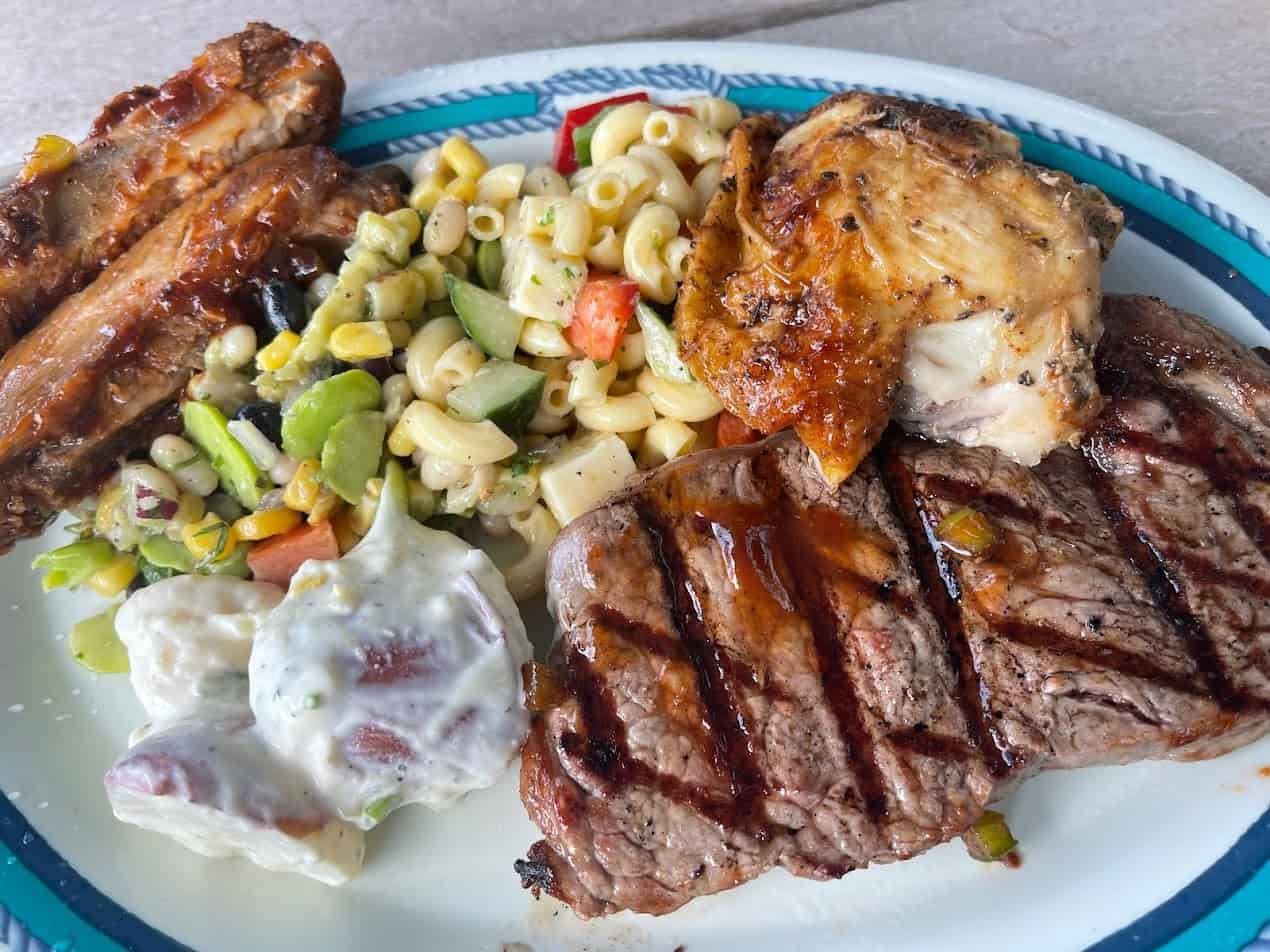 When it comes to food service, Castaway operates with the same health and safety protocols in place that you see on board. Cast members serve you as you make your way through the line, and then hand you the plate at the end. They also served you at the ice cream and drink stations.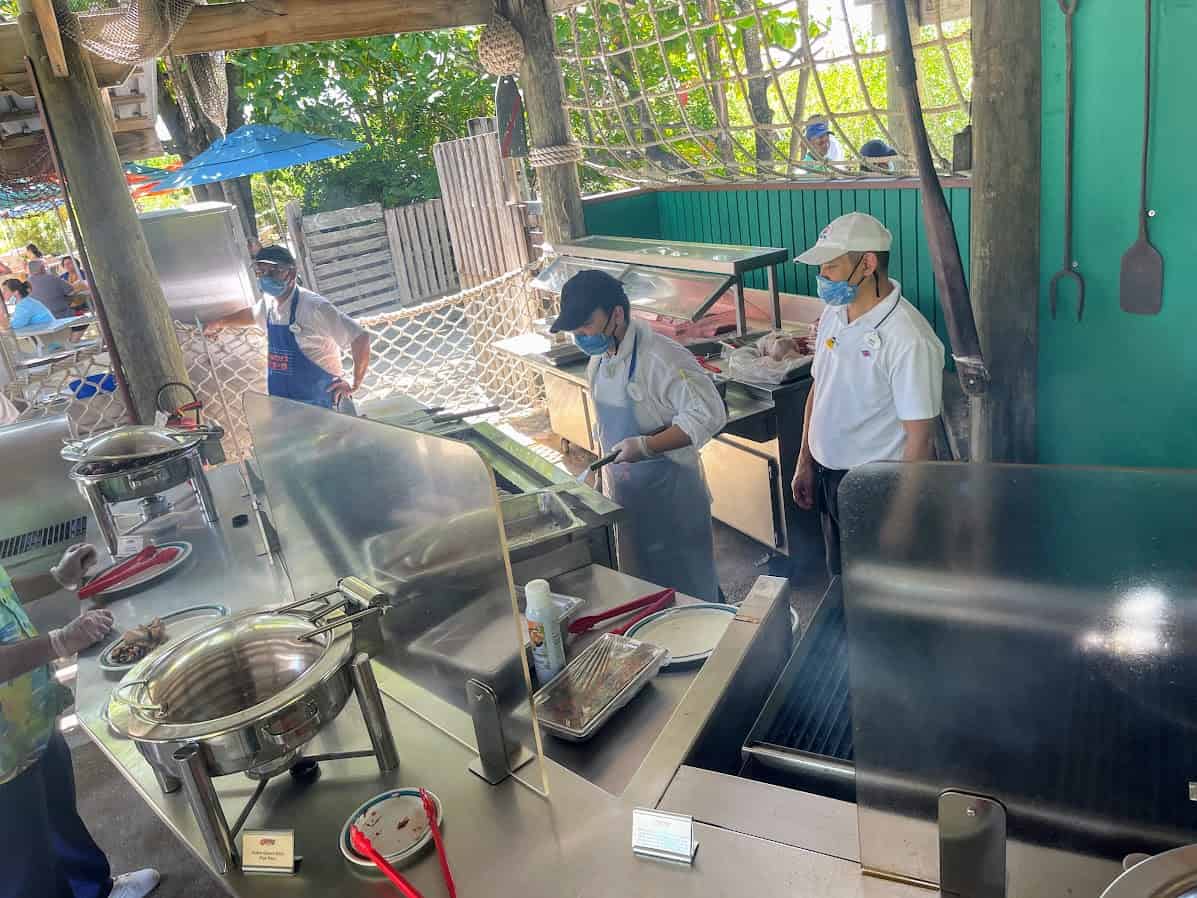 To burn off our lunch calories, we rented bikes and made our way around the island to check out some of the nature trails. There are some really nice spots you could ride to and best of all, it was all paved.
There was also this really cool observation tower that we climbed to get a perfect view of both the ship and the section of the island that's a nature preserve. It was pretty far away from the beaches, which made it feel almost as if you had the island to yourself. Very peaceful.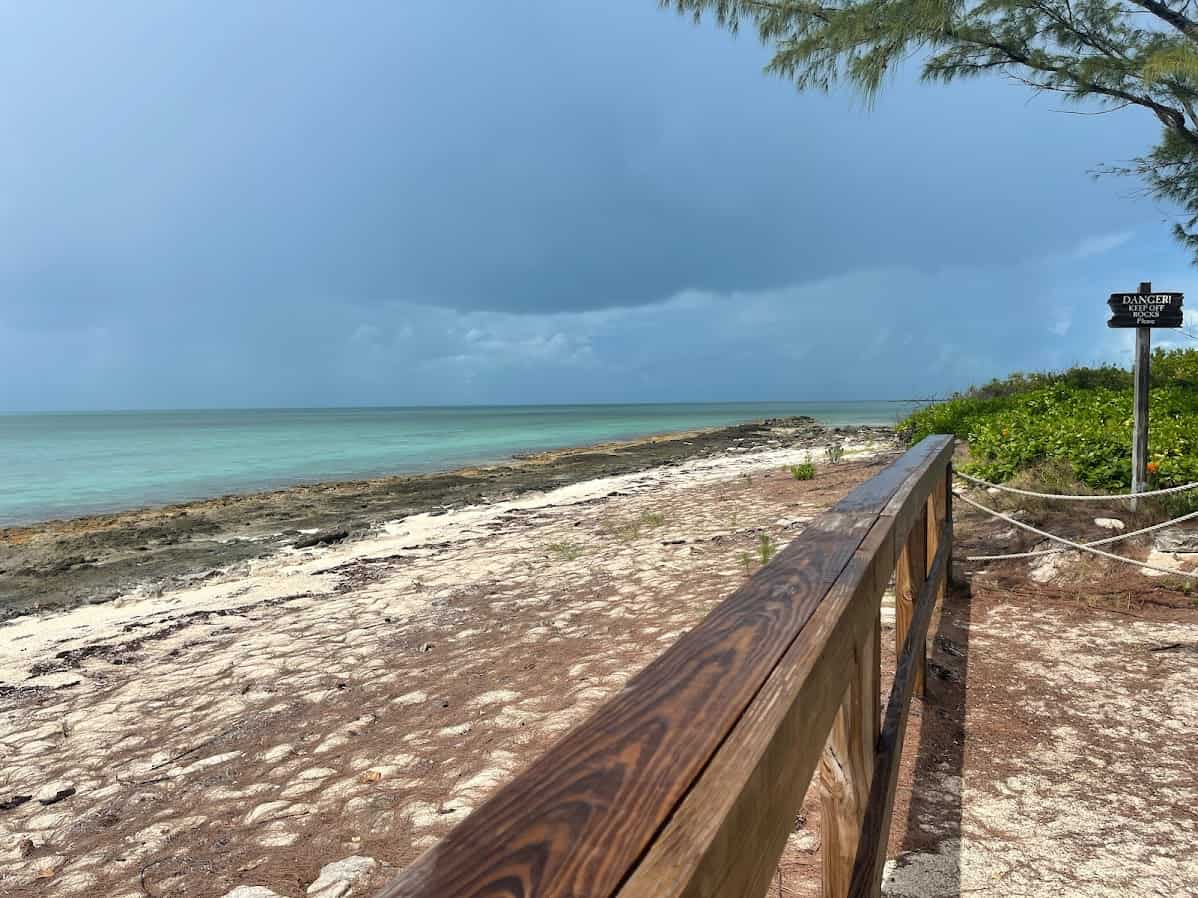 The cost of the bike rentals was $13 each, and although we only used them for about an hour, we could have kept them all day.  One thing I really liked was the fact that you could rent the bikes at one location and drop them off somewhere else. For example, we picked up ours at Serenity Bay, but dropped them off at the family beach. Also, if you happen to be visiting the island on consecutive days and rent a bike both days, you get a little bit of a discount on day two.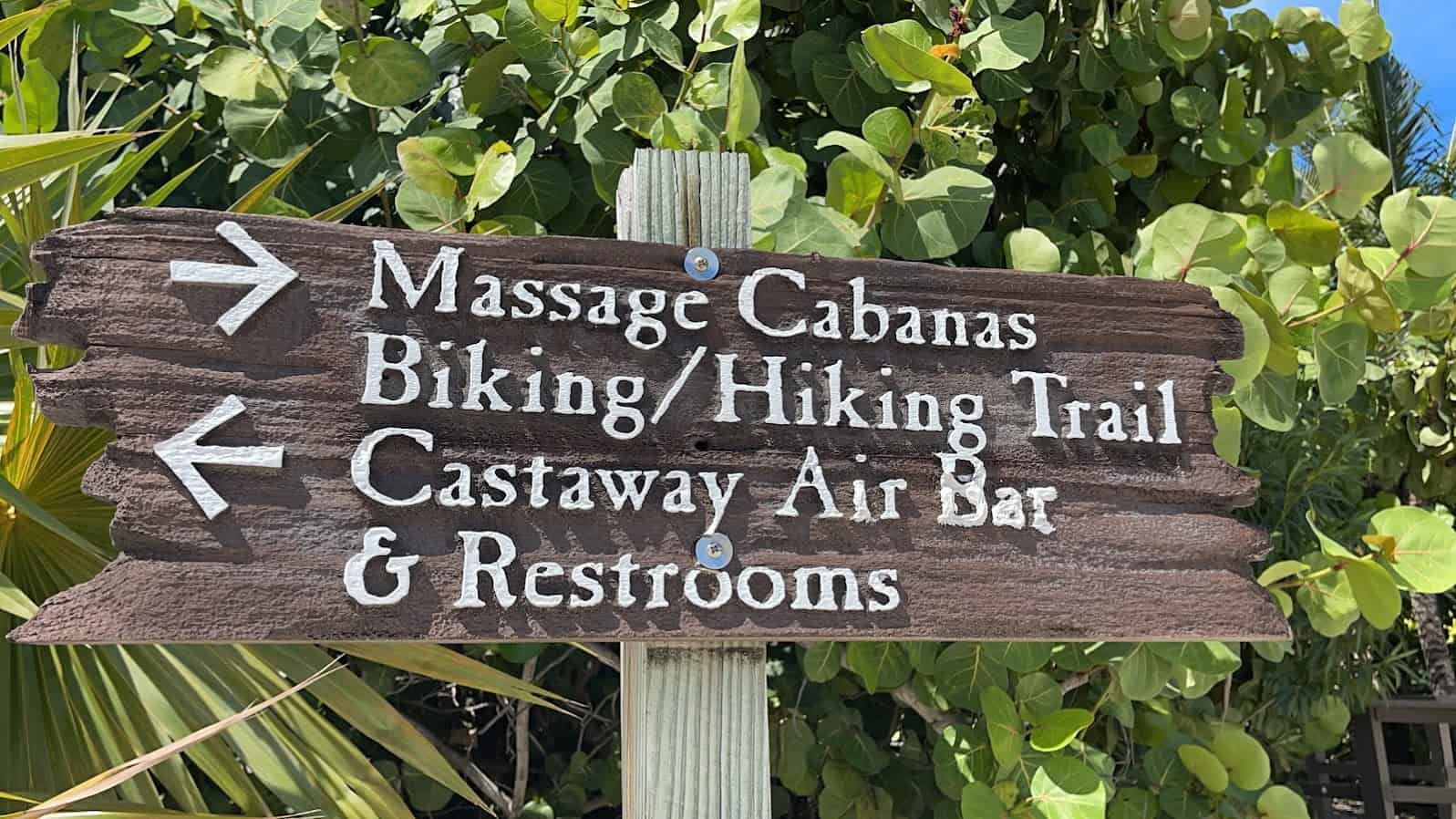 There is a smoothie-type venue called Summertime Freeze selling non-alcohol drinks that are inspired by the movie Frozen, so I ordered one of those to cool down after biking a couple of miles.
The menu had creative drink names like Let It Go, Olaf's Flurry Freeze, Frozen Heat, and Sven's Carrot Delight. You could get the drink served in a character mug from Frozen (for an extra charge, of course) or opt for a regular plastic cup, which is what I did.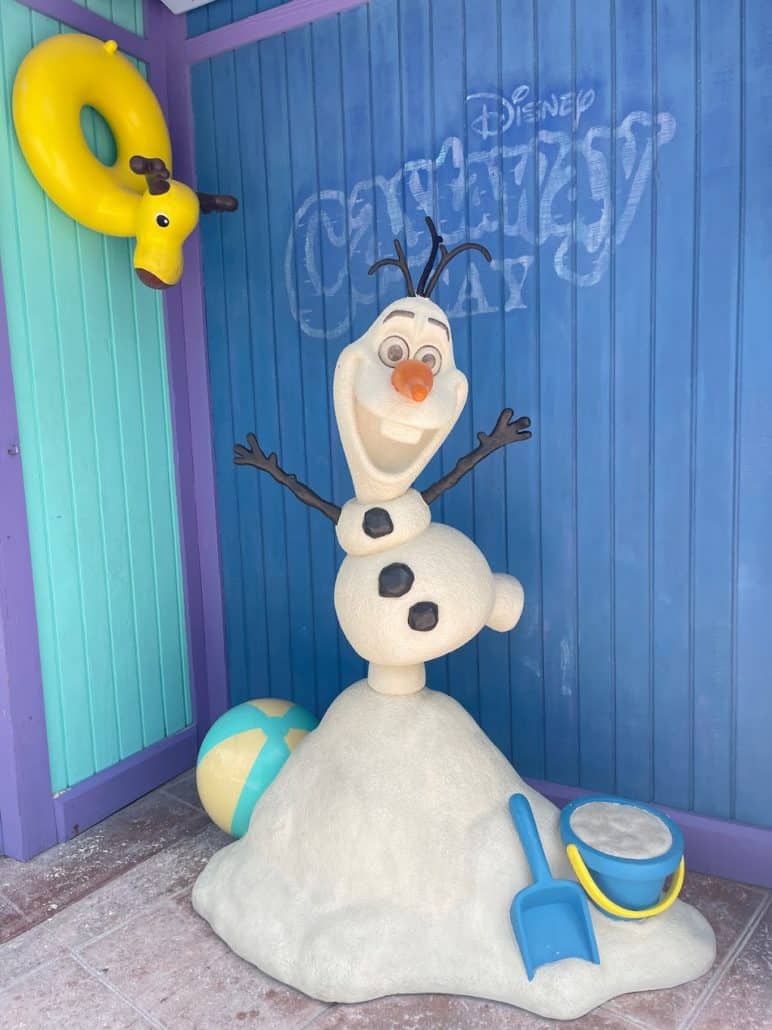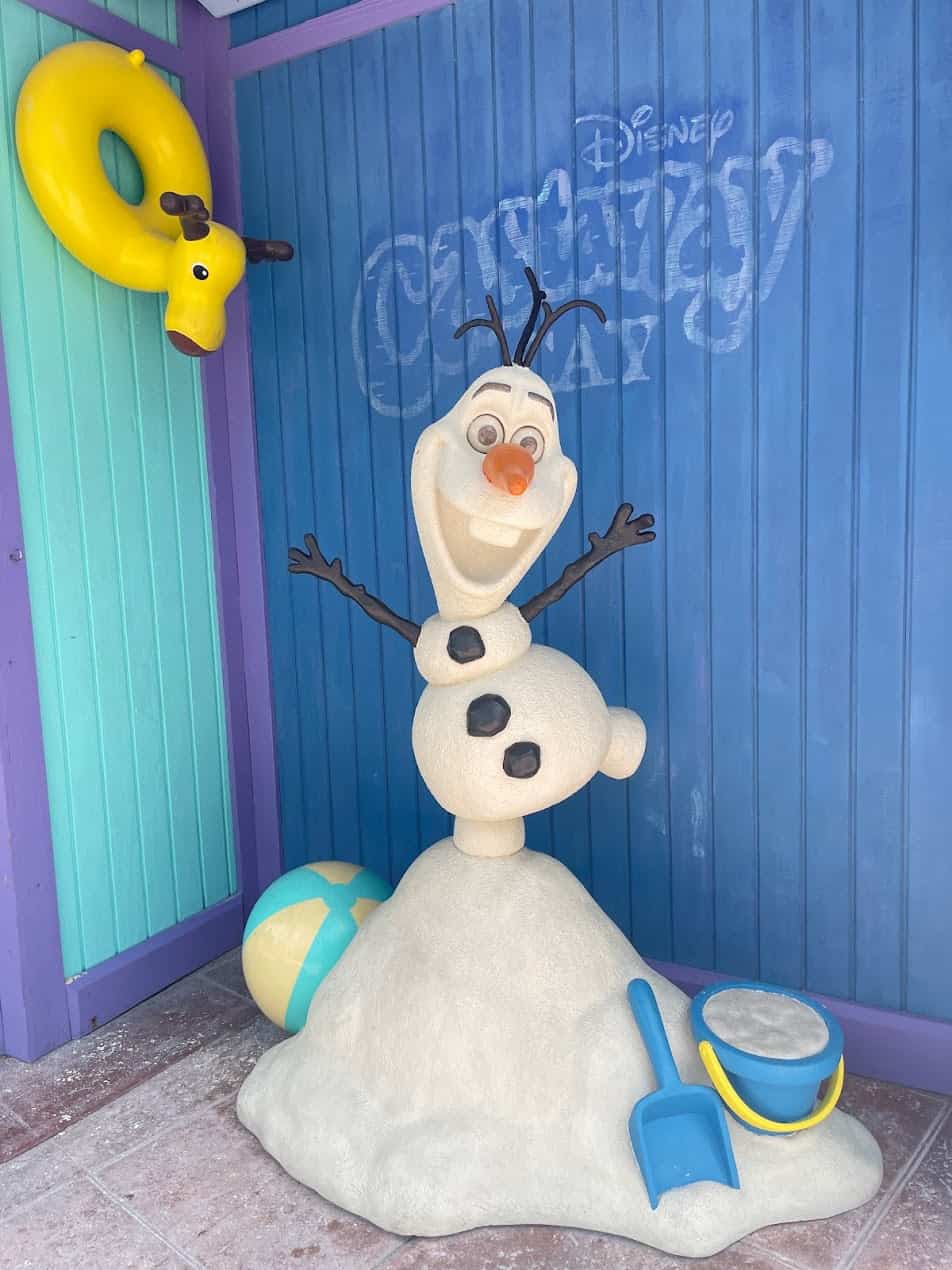 One little bit of irony we only figured out after the fact: A slew of adults headed to Serenity Bay so that they could escape the kids who'd be on the family beach. But there were only 200 guests under the age of 18 on our sailing, so the family beach actually wound up being less crowded.
But hey, they had steaks at Serenity Bay, so it was bound to be popular over there no matter what.
Before making our way back to the ship, we stopped to grab a drink at the Heads Up Bar. There happens to be a perfect picture spot nearby, offering great views of the ship and the beautiful blue waters.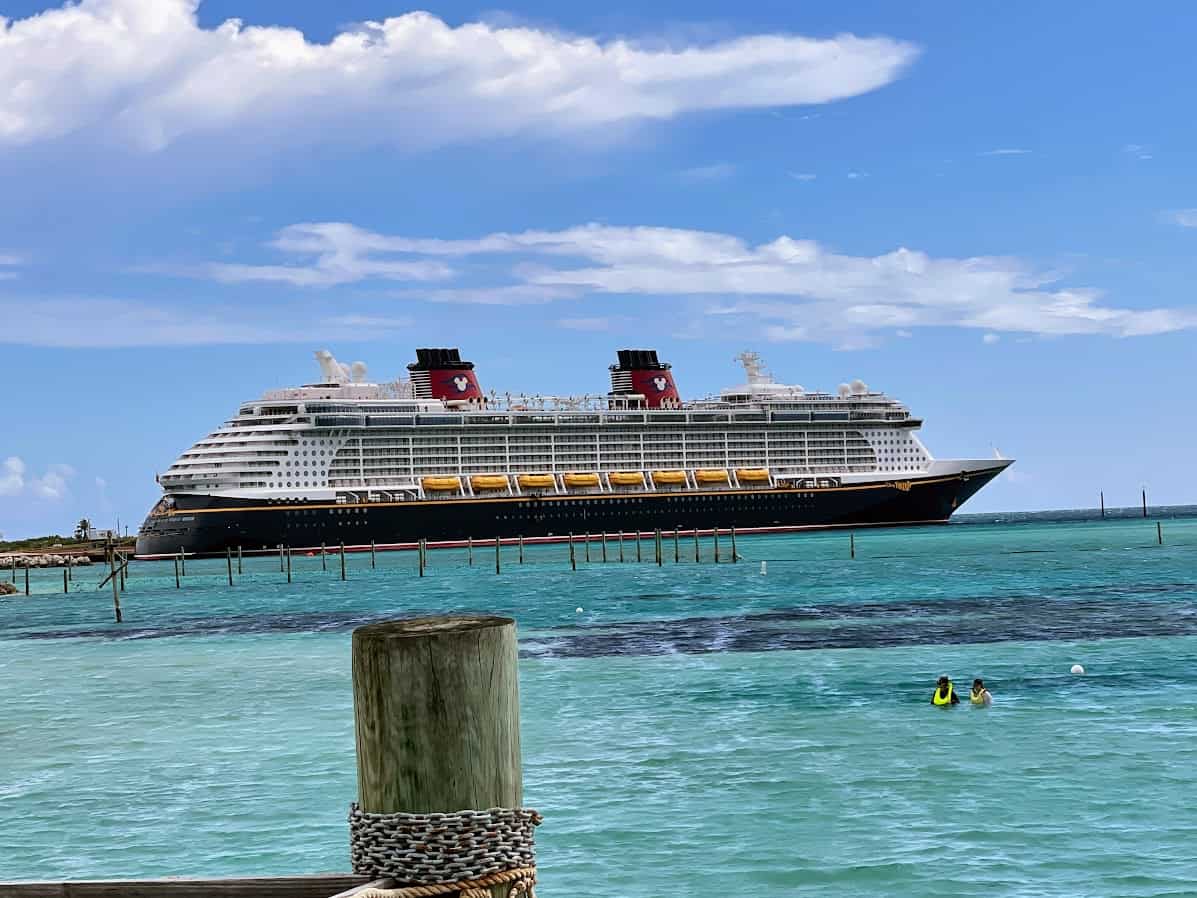 We didn't spend much time on the beach today. Knowing we'd have a second day on Castaway Cay, we instead mostly explored, figuring we'd hit the beach and rent snorkel gear to check out the underwater statues in the lagoon tomorrow.
Back onboard the ship, it was a double-header as the Halloween on the High Seas festivities coincided with the always-popular Pirate Night.  Mickey's Mascarade Ball was being held out on the main deck, with people decked out in costumes.
I'd come prepared with my Chewbacca outfit… what I wasn't really prepared for was just how hot I'd be in that get-up. I think I lasted all of an hour. But I tried to hang in as long as I could, because there were all these kids in their cute Star Wars costumes waving at me.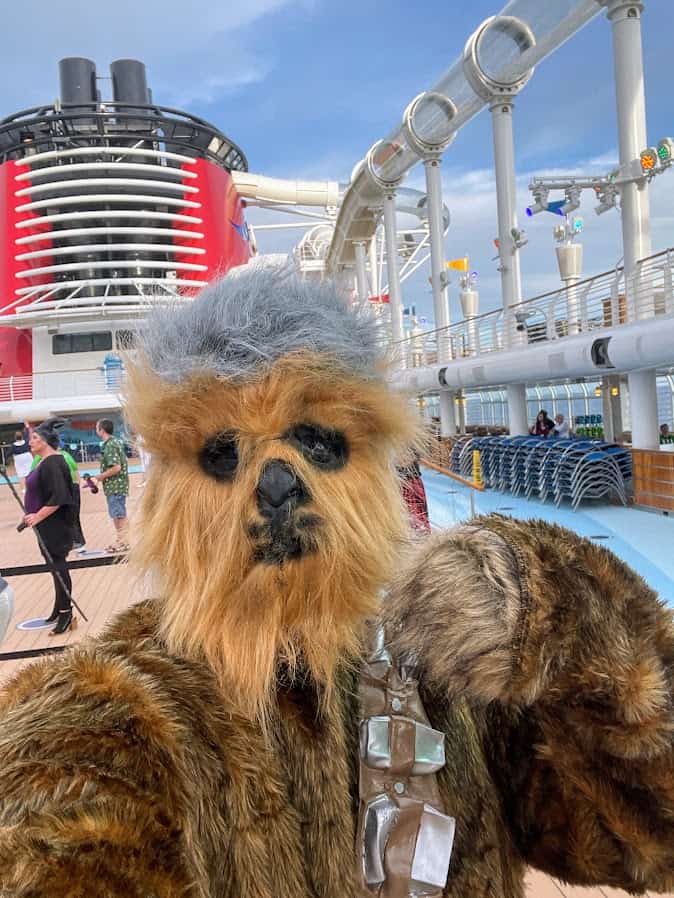 I'll tell you what, though: Wearing 10 pounds of fur and a mask gave me a new appreciation for what the cast members who do this every day — whether on the beach or in one of the Disney parks — go through every day.
During the event, all the characters came out on the stage and had a dance party. Even outdoors, Disney made sure everyone was socially distanced by making each party stand on a blue dot, this would carry over to the fire work show a few hours later.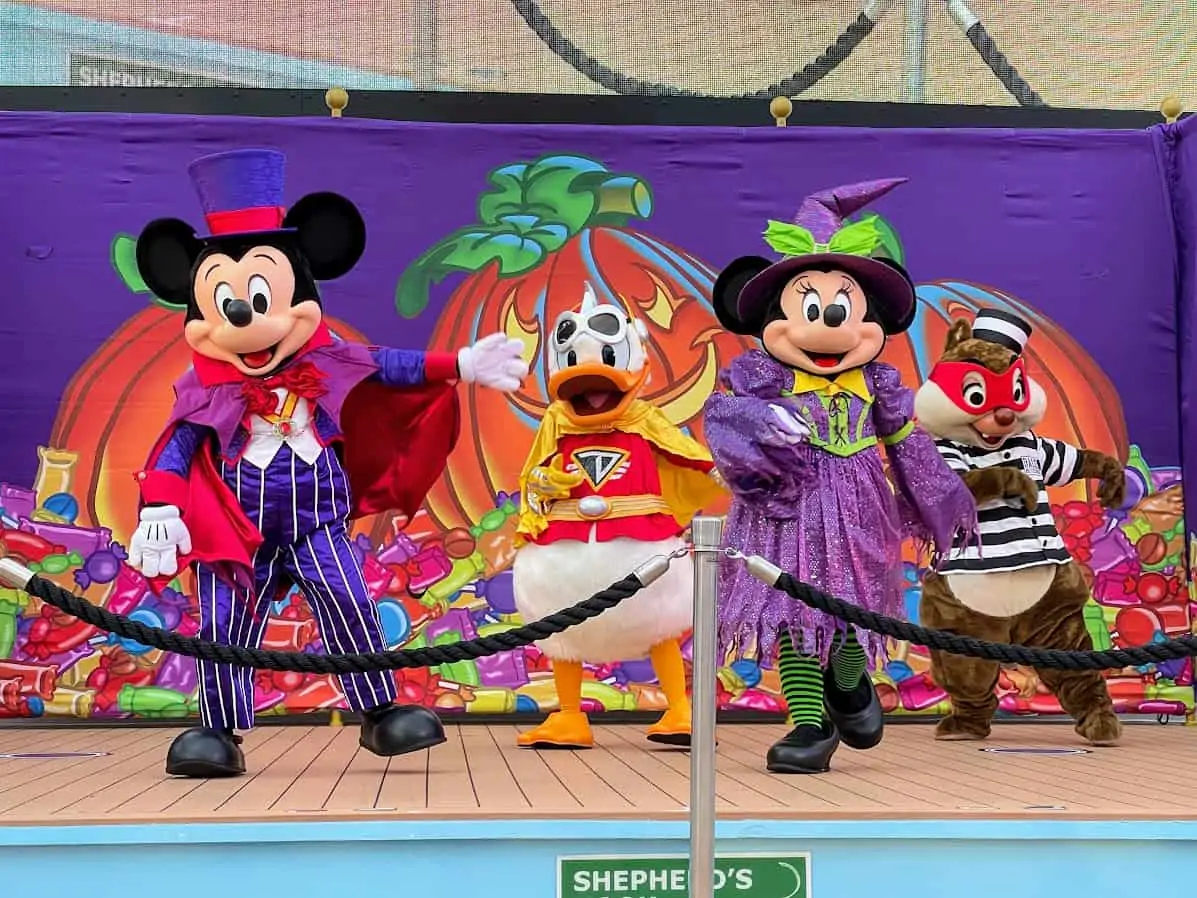 Because of the deck parties — which culminated with a fireworks show — there was no show in the Walt Disney Theater tonight. I'll admit (and this is going to shock people who know how much I usually dislike shows), I was kinda disappointed! That's how good these ones have been.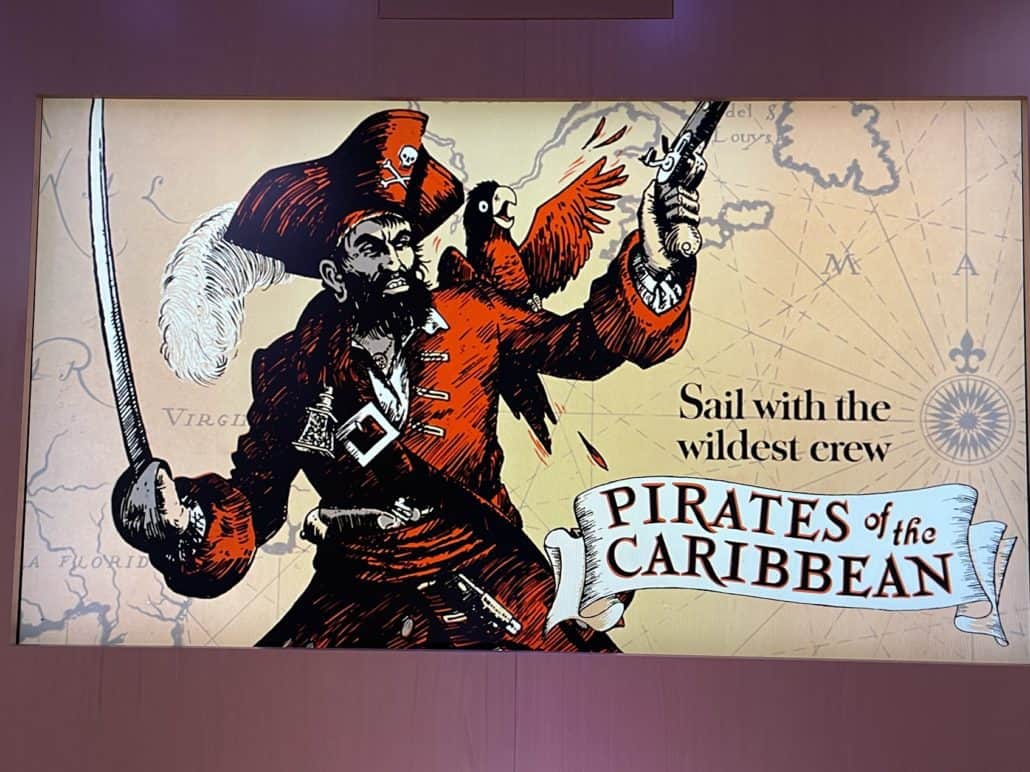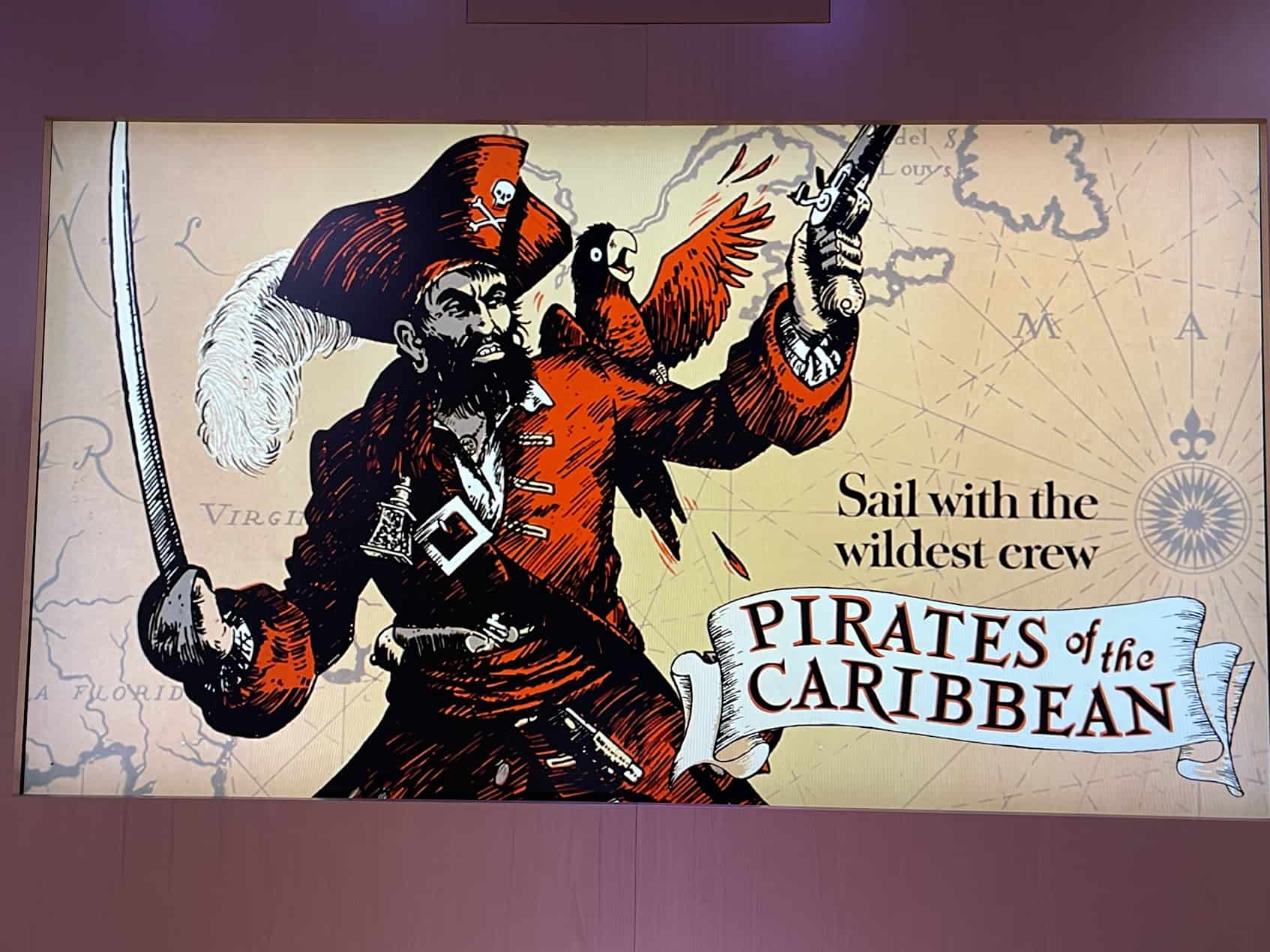 Dinner was served in the Royal Court again (same as last night) but tonight's was a pirate-themed menu. I went with the crab cake and beef this time (shocking, right?).
Unlike last night, when princesses were wandering through the Royal Court dining room, we instead were invaded by around two dozen pirates. It was a fun way to end a night of themed entertainment, and I'm told it's even cooler when you get to interact with them without all the current protocols in place.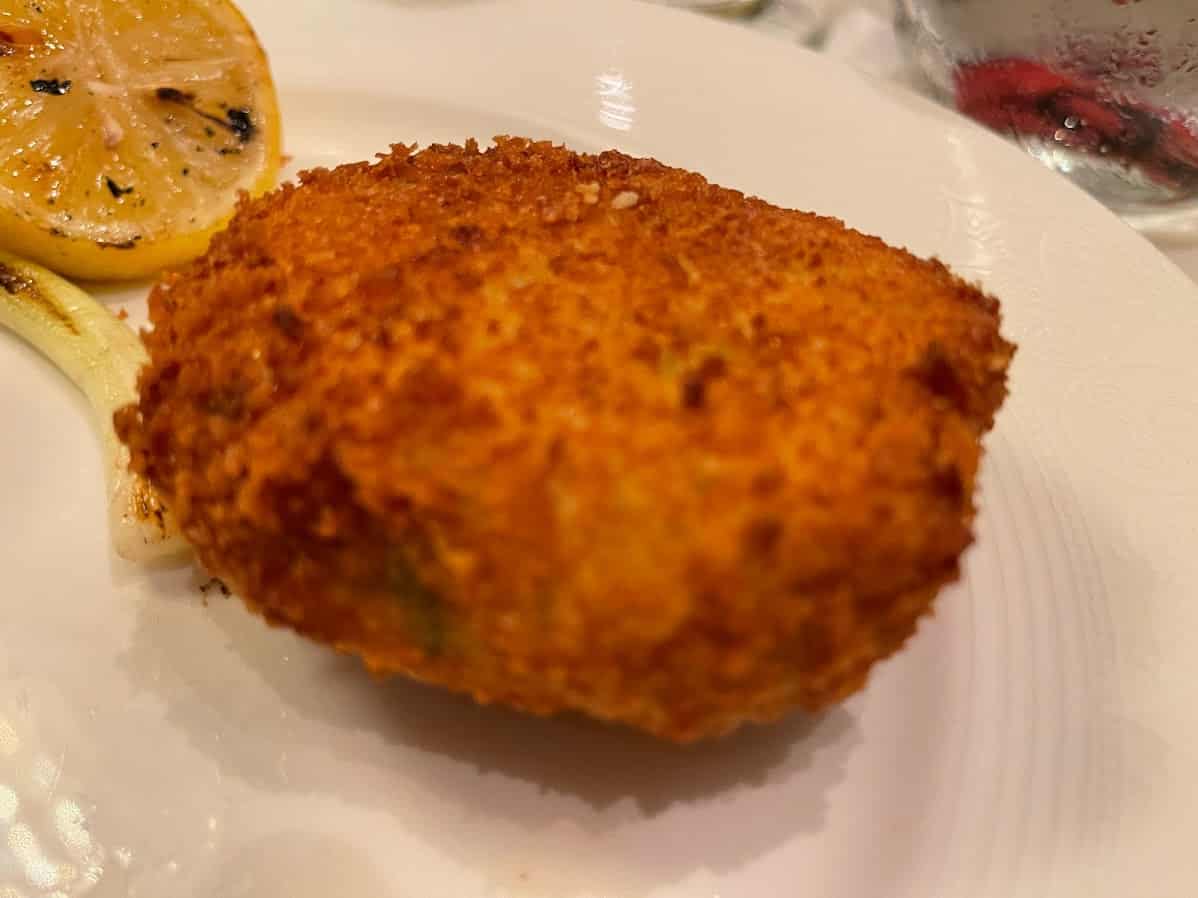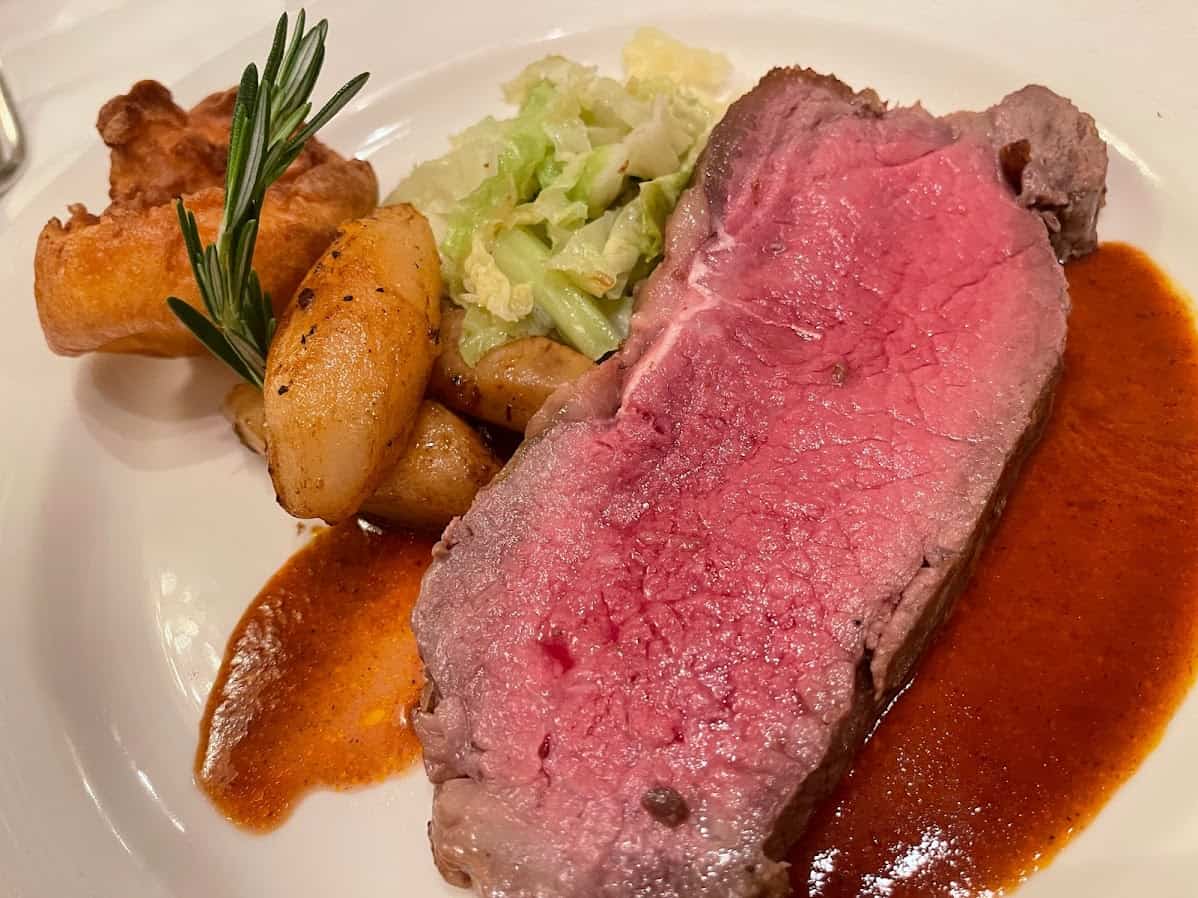 I've never experienced fireworks on a cruise ship, so tonight was a first. At exactly 10:30 pm, the lights went down and the fireworks started off the stern of the ship.
There's something pretty incredible about being on a ship in the middle of the ocean with fireworks blasting and music playing… it's yet another one of those moments Disney orchestrates so well, with all of the elements coming together to bring out your inner child.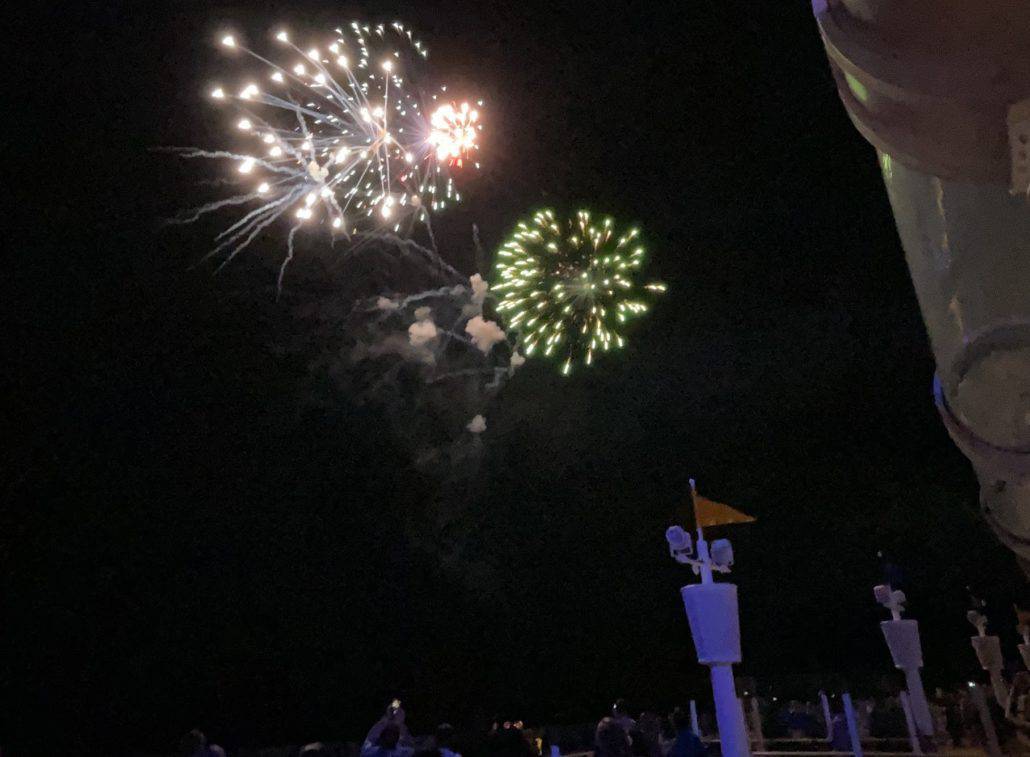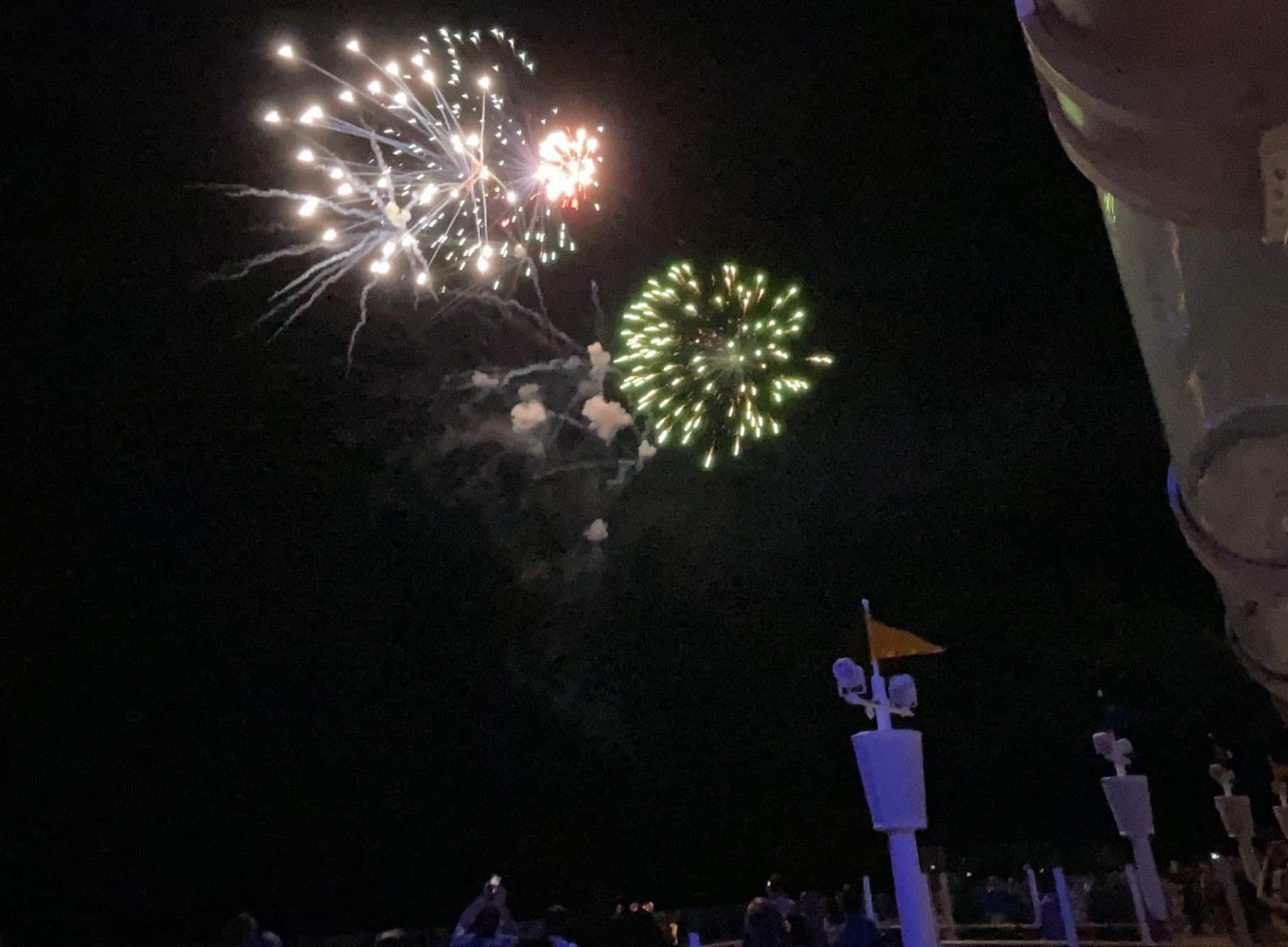 Jack and Sally from The Nightmare Before Christmas came out to do a meet-and-greet with the audience before the movie was screened. The characters interacted with each guest and it was crazy how real they both sounded and looked.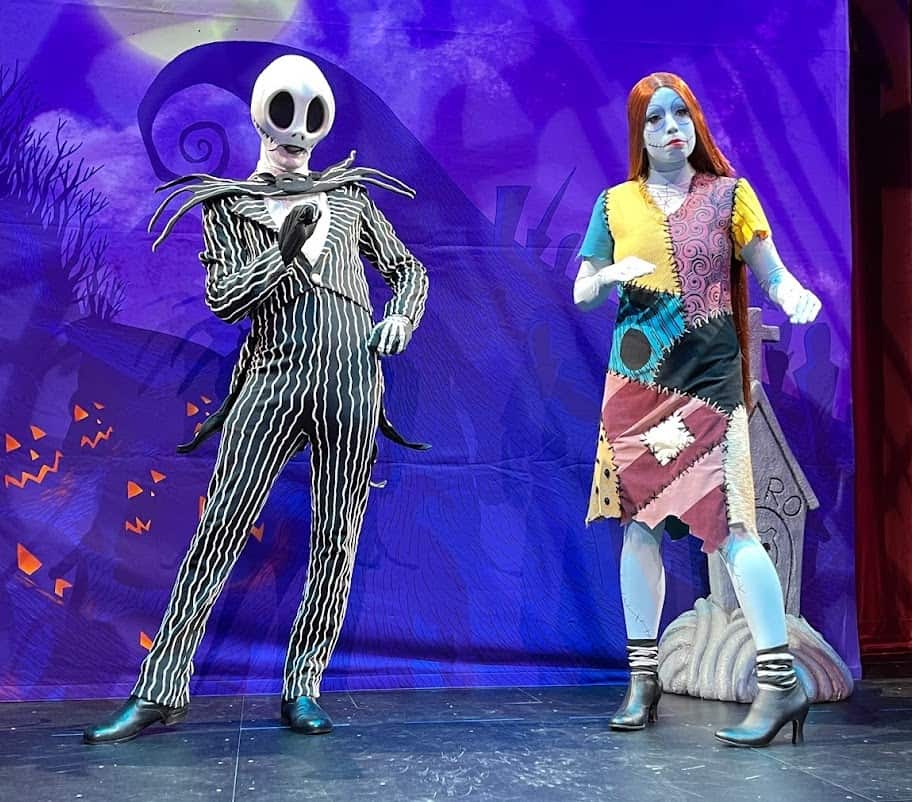 We talked yesterday about different ways Disney's gotten creative in order to let guests take pictures with characters despite not being able to stand too close.
In this case, Jack and Sally remained on stage and guests were able to pose on the floor in front of them. Sure, it's not quite the same, but it definitely works. There wasn't an official photographer on hand for this event, so you had to have someone take the photo for you. Also, masks had to remain on during the character experience because there wasn't an official photographer there.
Tomorrow, we return to Castaway Cay, and this time, we're hitting the beach.
Until then…
Catch up on my other Disney Fantasy trip reports:
Pin it!