It's only appropriate that Carnival, which bills its fleet as the "Fun Ships", also has its own private "fun island" — Half Moon Cay. Half Moon Cay (technically Little San Salvador Island) was purchased by Holland America Line in 1996, and for some time was exclusively used by that brand. Shortly after development, Carnival Cruise Line started calling there and the secret was out… Half Moon Cay became one of the most popular ports of call for the lines.
Where Is Half Moon Cay Located?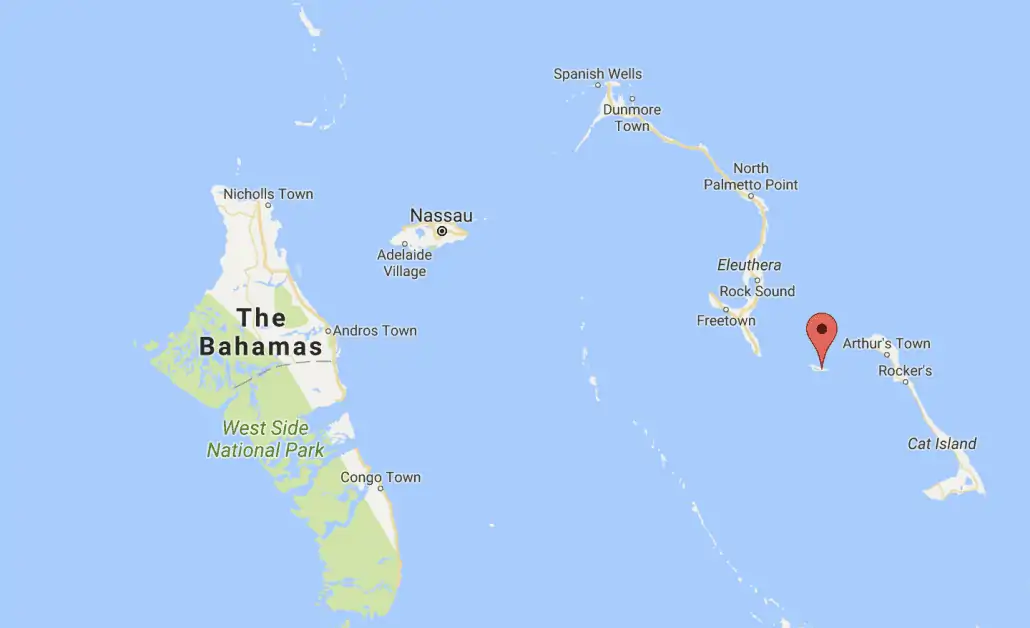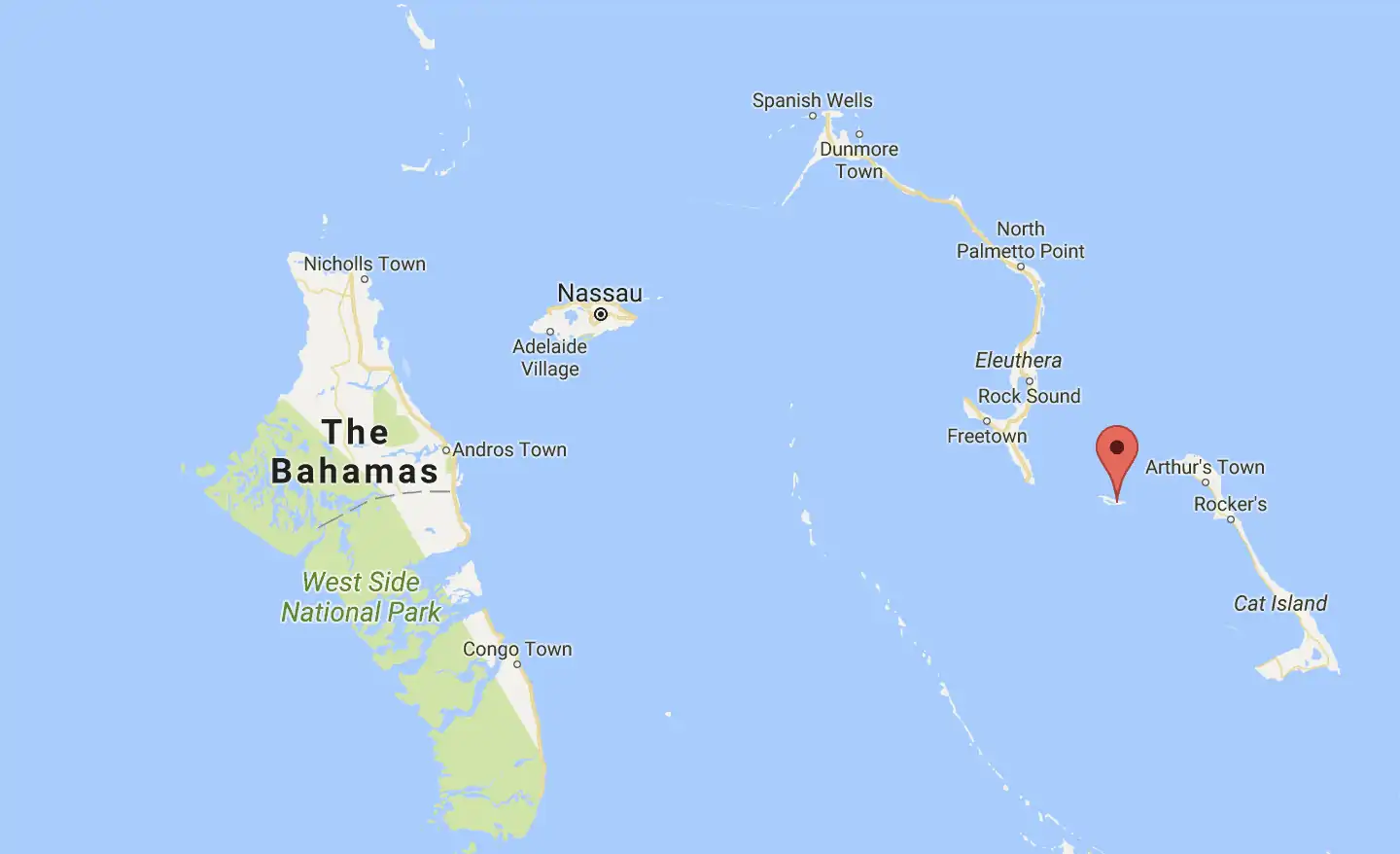 Located about 100 miles southeast of Nassau, the island sprawls out over 2,400 acres, although only about 50 of those have actually been developed for guest and crew usage. Although many cruisers assume all of the private islands owned by the various cruise lines are located near one another, this isn't actually true. While Norwegian's Great Stirrup Cay is right across the water from Royal Caribbean's Coco Cay (you can actually see one from the other) Half Moon Cay is pretty far from either of them (or Disney's Castaway Cay, for that matter).
Getting to Half Moon Cay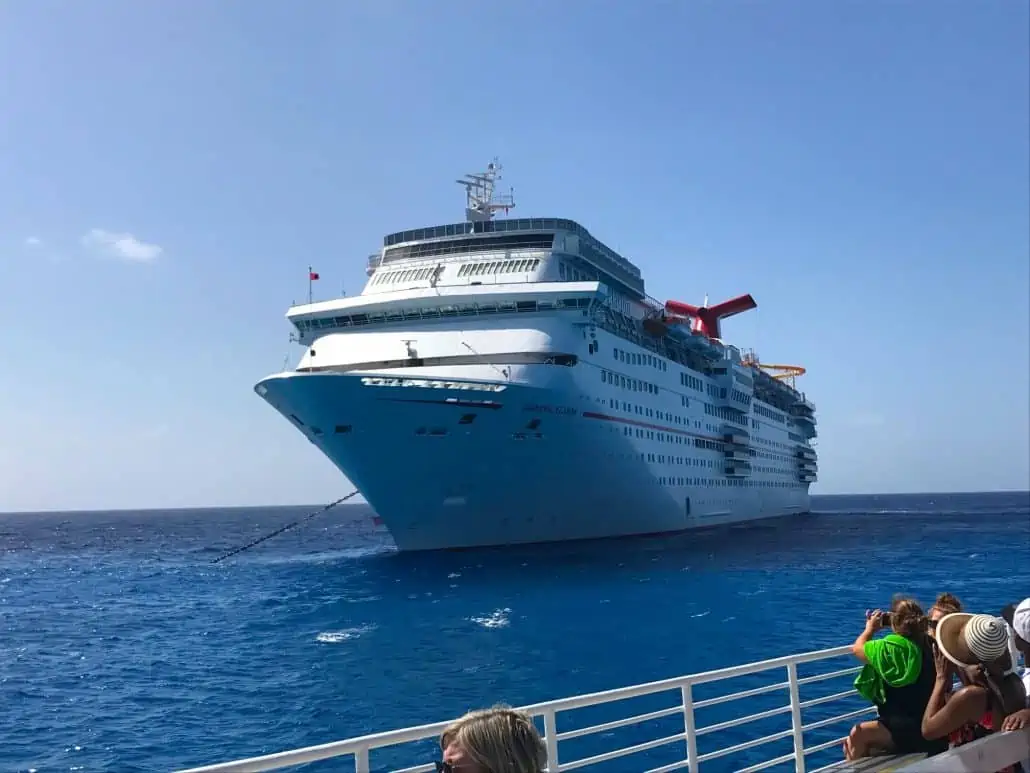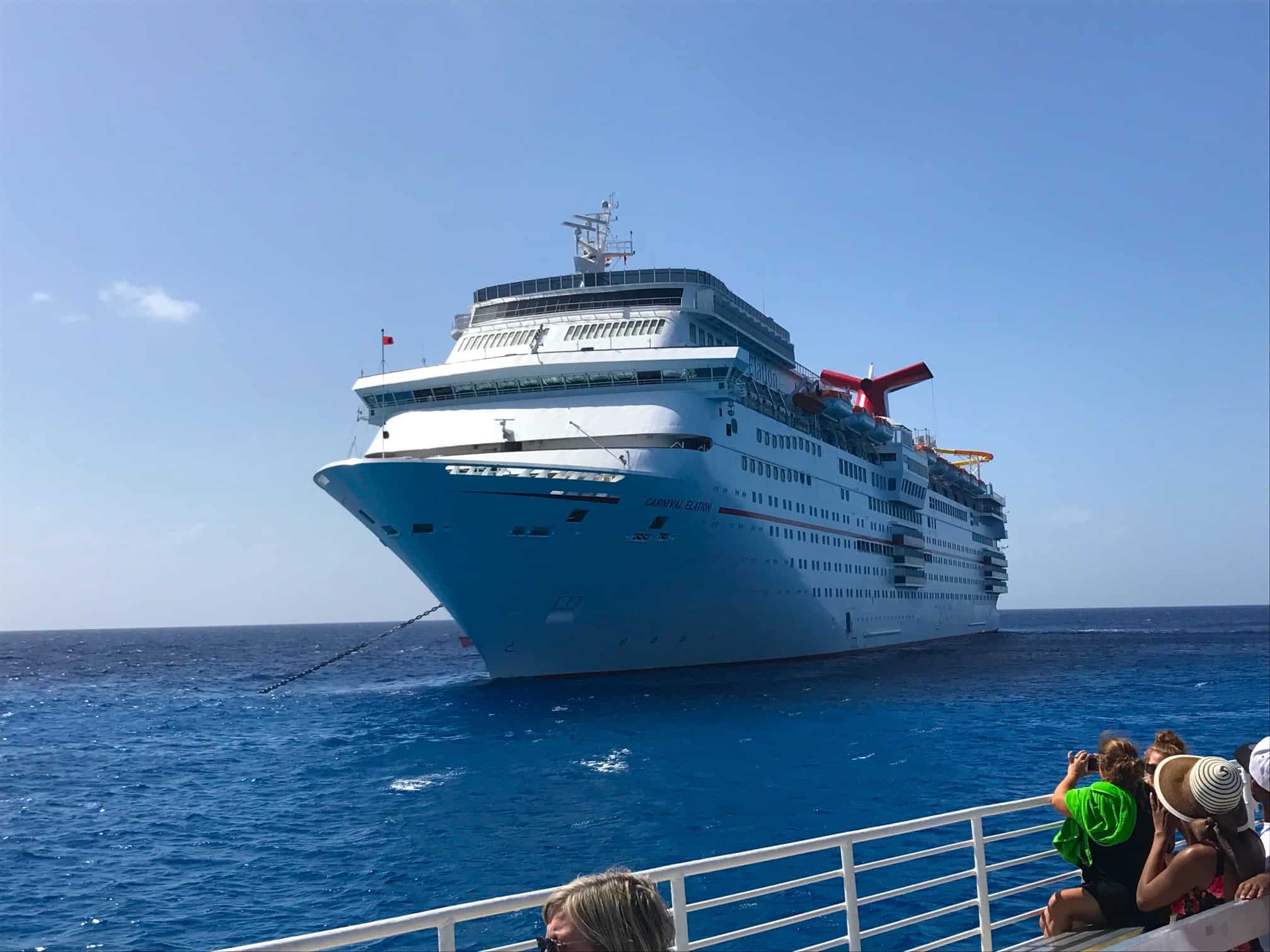 Because of the shallow water surrounding the island (and the accompanying reef system), there is no pier at Half Moon Cay, which means the boat anchors offshore and visitors arrive via tender boats. It's about a 15 minute trip from the ship to the dock, and it's a great opportunity to get fantastic shots of the ship you're sailing on from out in the middle of the ocean. (If there's a downside to tendering, it's that rough seas often mean ships have to skip the trip to paradise because transferring passengers from the big ship to the smaller vessel is simply too dangerous.)  The tender boats are two levels and hold around 150 guests.
TIP: Make sure to bring a towel when leaving the ship.
When the boats arrive at the island, there's usually a mad-dash as passengers scramble to get off. But trust us: The beach isn't going anywhere. Let the masses make their way off the ship while you relax and take in the view, then saunter off and prepare to enjoy your day in paradise.
First Impressions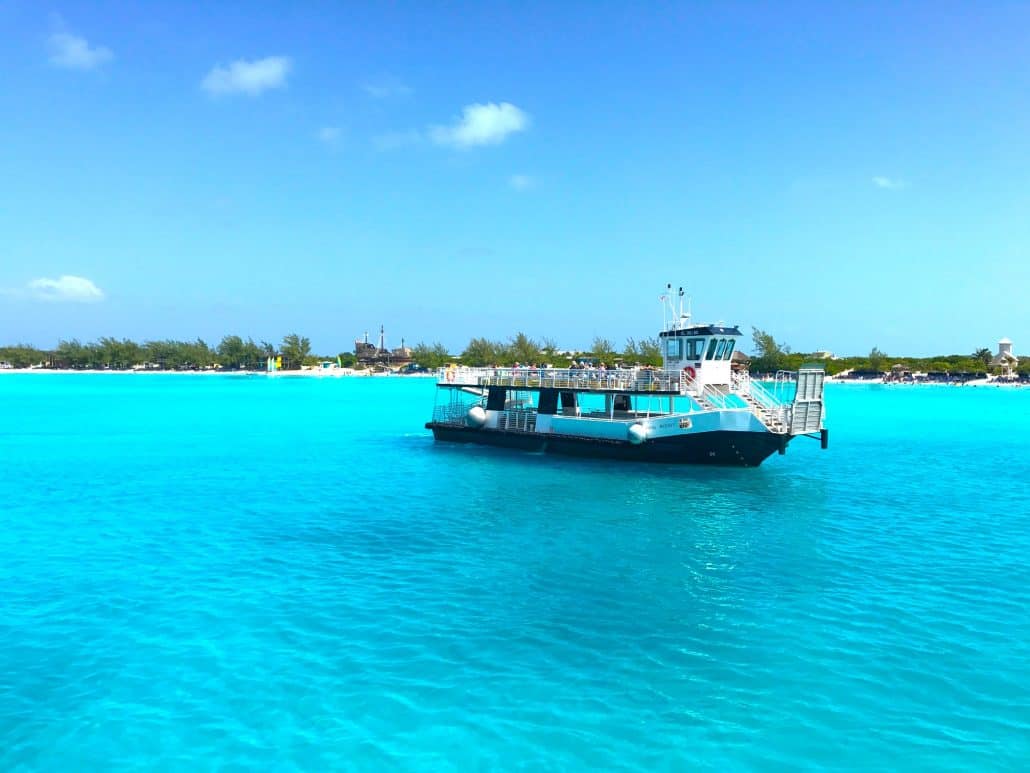 The only decision you have to make when you arrive on the island is on which direction you want to wander. Walk off the tender and turn left, it will take you to the main attraction: a gorgeous beach right out of a postcard. Want to shop or maybe rent a locker in which to store things while you explore? Walk straight ahead to the main square, where you will also find restrooms and a changing area.
Read More: 15 Tips for Half Moon Cay
The Beach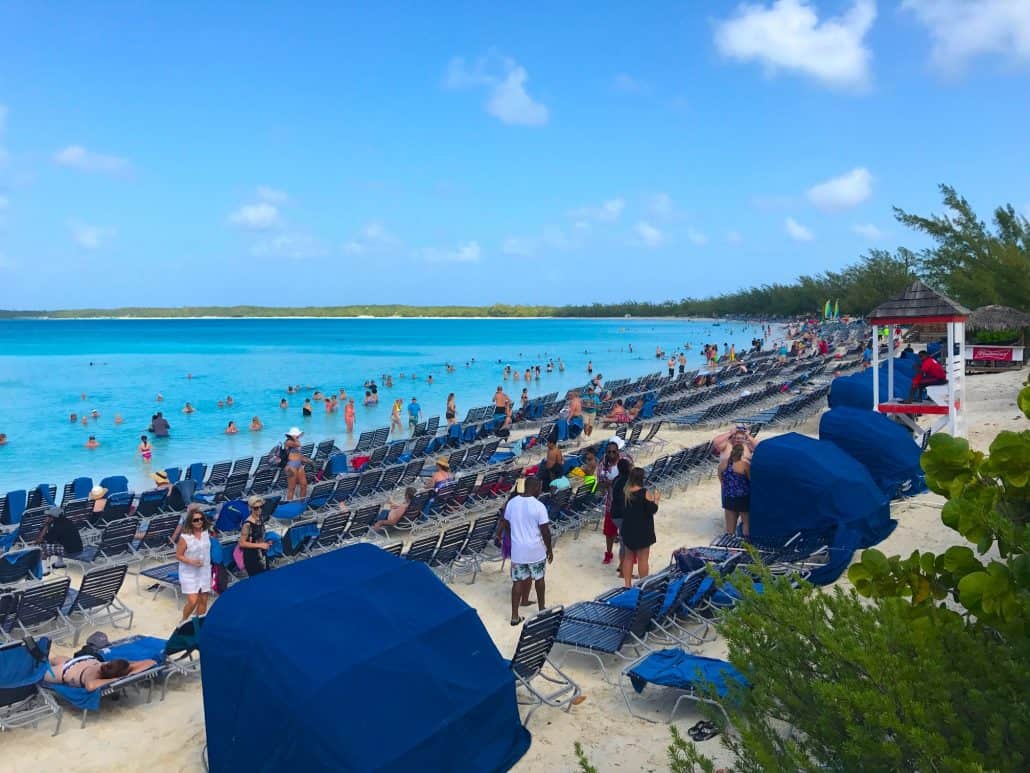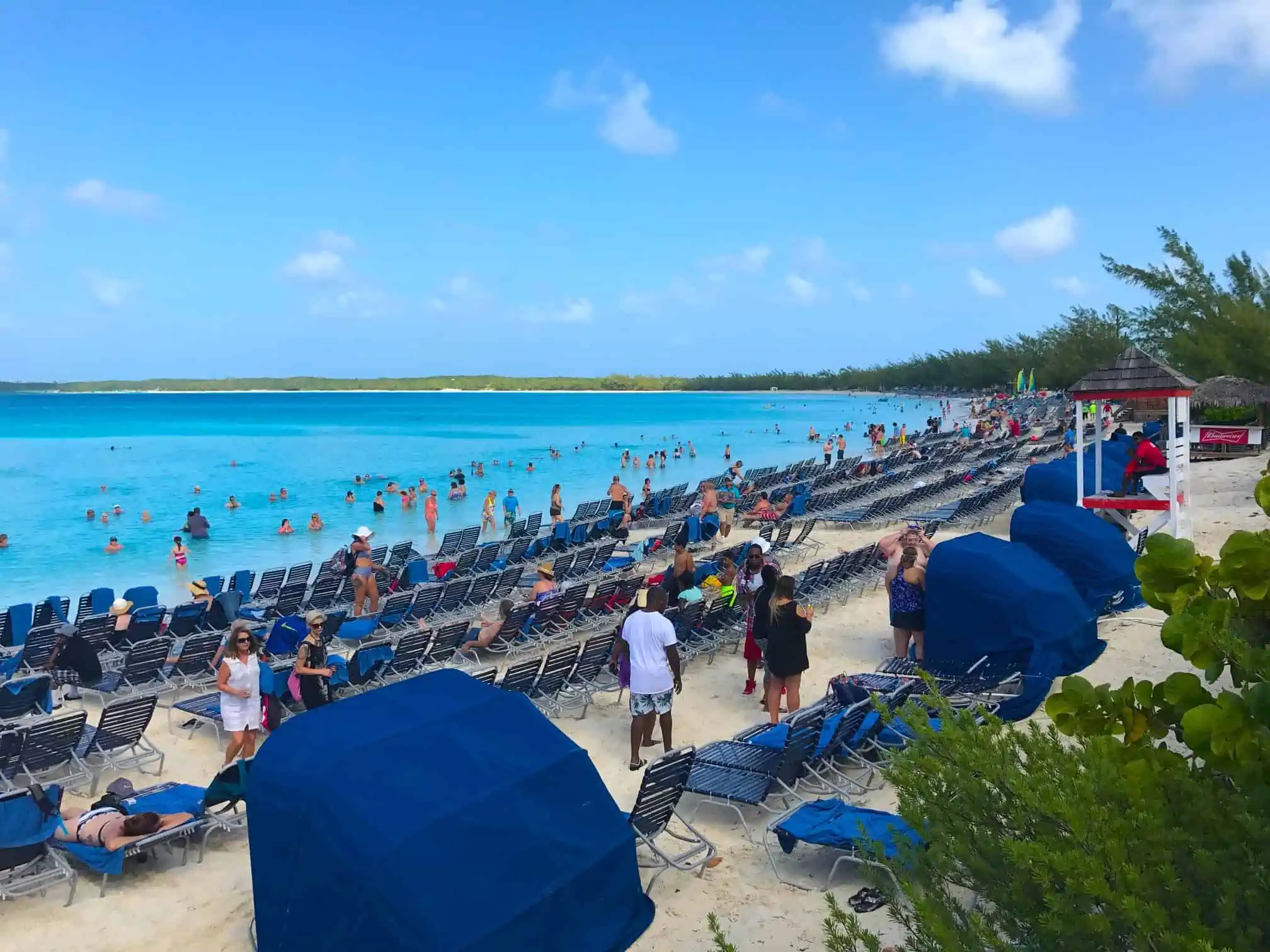 The horseshoe-shaped beach is hands-down one of my favorite spots in the Caribbean. The sand is soft as powder and glistens in the sun as the cerulean blue waters lap gently at the shoreline. You know how people say something is "pretty as a postcard?" I'm 99 percent sure the first person to ever utter that phrase was standing on this beach.
There is no shortage of beach chairs, which makes us think that those folks who are jostling to get off the tender as quickly as possible either have never been to Half Moon Cay before and don't realize this fact… or are determined to grab a chair in the first row.
While some people spend the entire day here and have to practically be dragged back to the ship kicking and screaming, many find that — especially on really hot days — a few hours gives them all the beach time they need (and more than enough sun). This is not the place to go without your sunscreen!
A cold drink is never far away, thanks to a small army of waiters carrying trays of fruity concoctions and buckets of beer. Drinks are the same price as they are on the ship and offer the basic beers, mixed drinks, and frozen drinks. But, it's important to note that, unlike the drink packages offered by both Royal Caribbean and Norwegian, Carnival's Cheers package does not extend to the private island.
Additional Rentals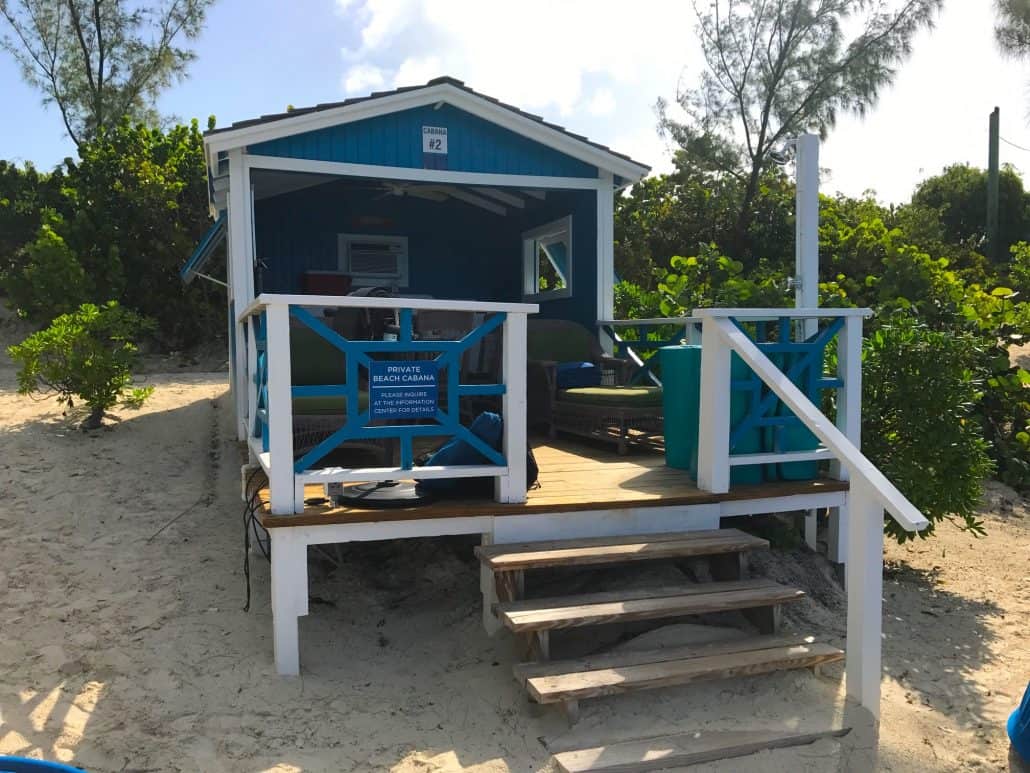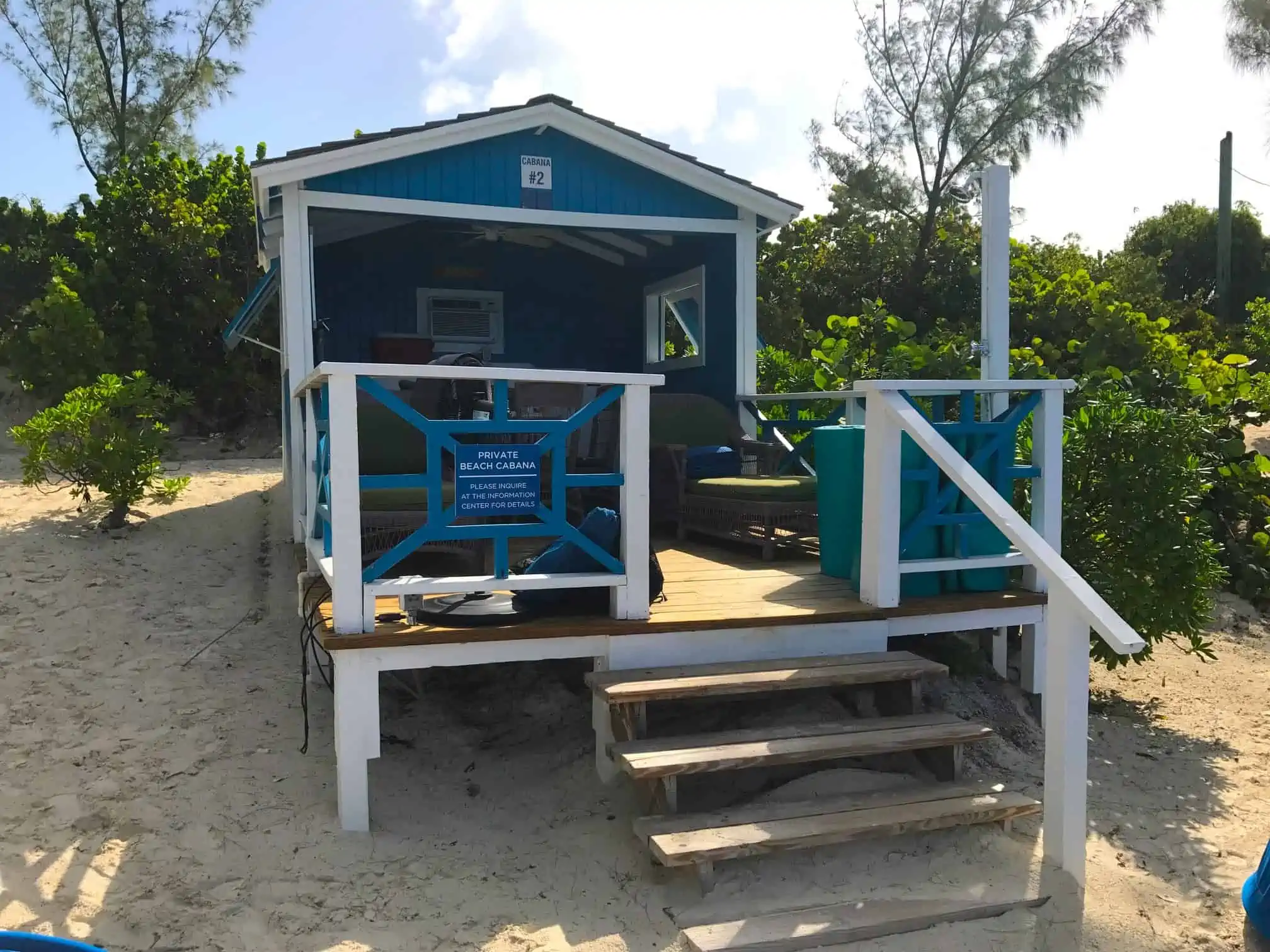 Now you could easily come to Half Moon Cay and not spend a penny (although you'd probably get awfully thirsty!). If, however,  you want to make your day really special for your crew, you can rent a cabana for around $279 (prices can vary per sailing). These bad boys are outfitted with a refrigerator, ceiling fan, air conditioner, table, and chairs inside, as well as lounge chairs if you want to sun yourself, and a misting shower on the private terrace. You will be provided with snacks and an assortment of soft drinks and bottled water as part of the rental. But the best thing about these cabanas is that, by providing you with all these comforts, they allow you to extend your time on the island when all those folks baking in the sun beat a hasty retreat.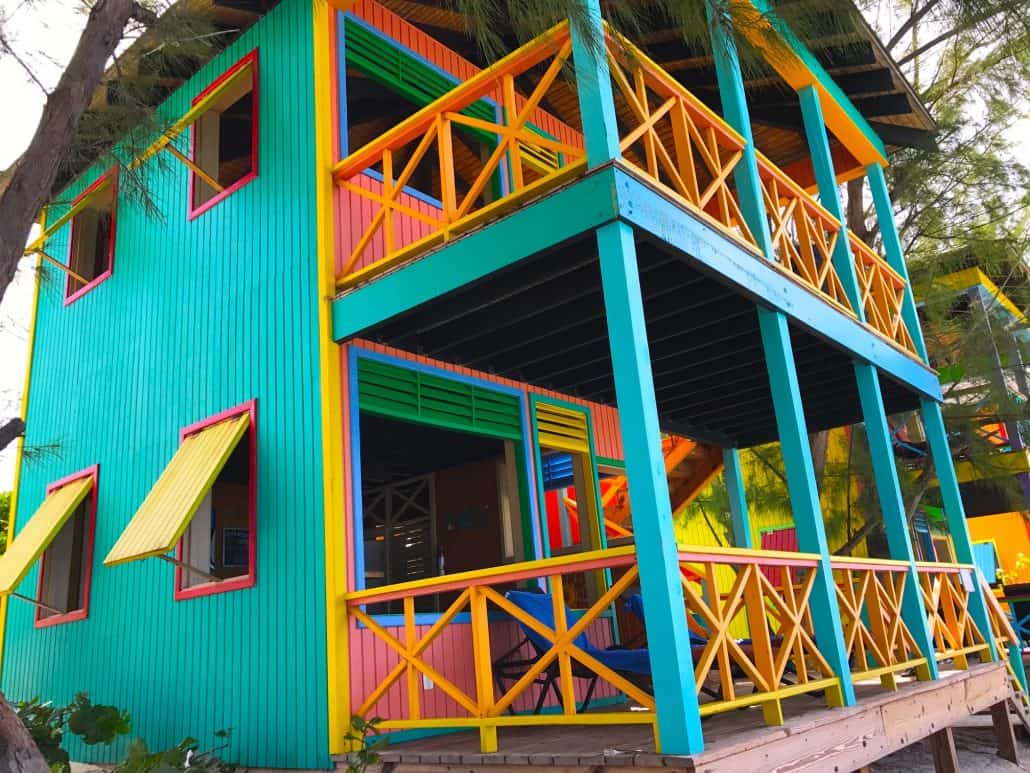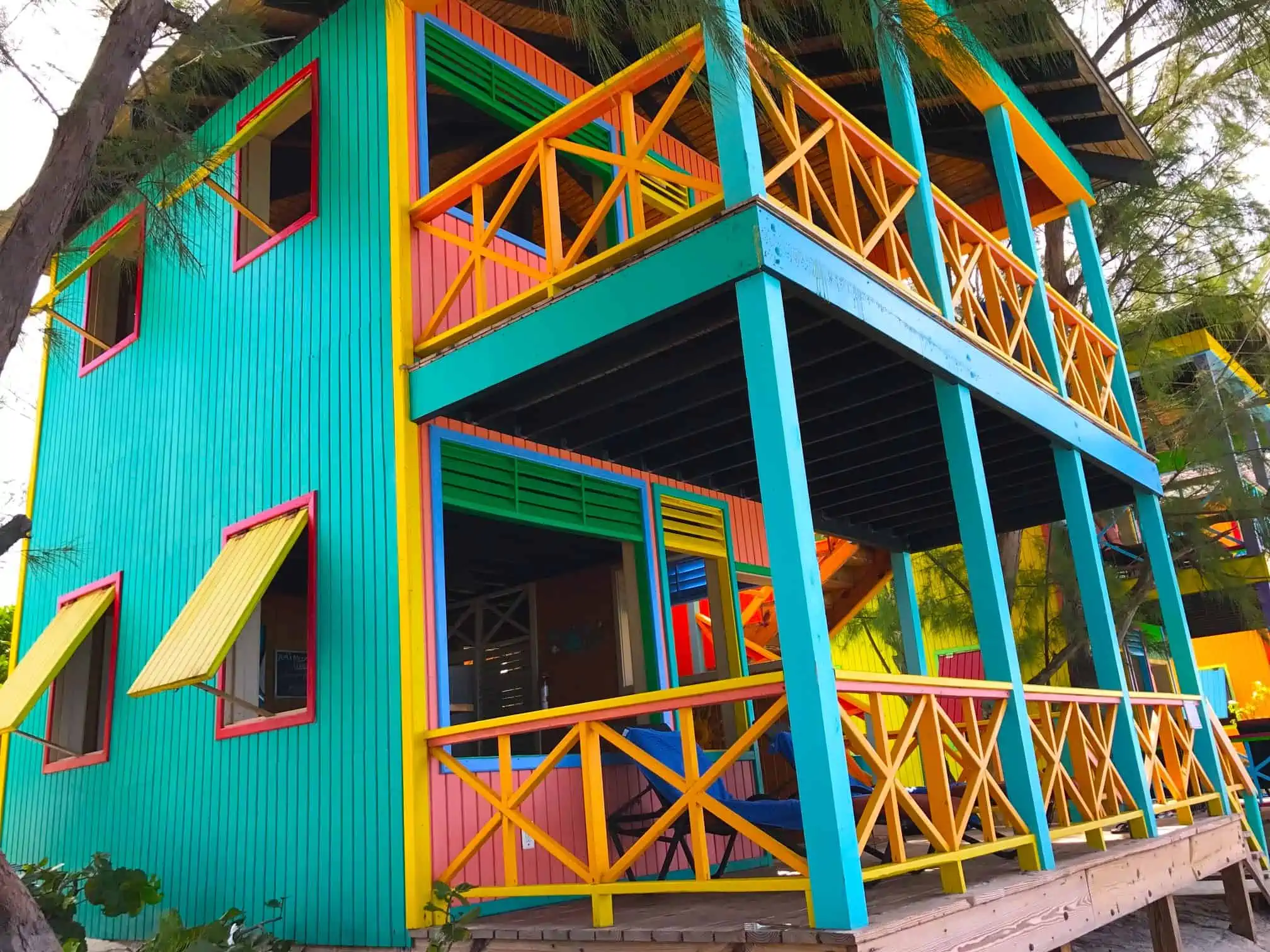 Want to really impress your friends? Rent one of the two-story beach villas that go for around $499. The villas include all of the amenities offered by the regular cabanas, plus a second floor which features chaise loungers in addition to a dining room table and chairs. Two of the villas are wheelchair accessible throughout the first floor and restroom area. You'll also get floating mats and snorkel gear.
Lunch at Half Moon Cay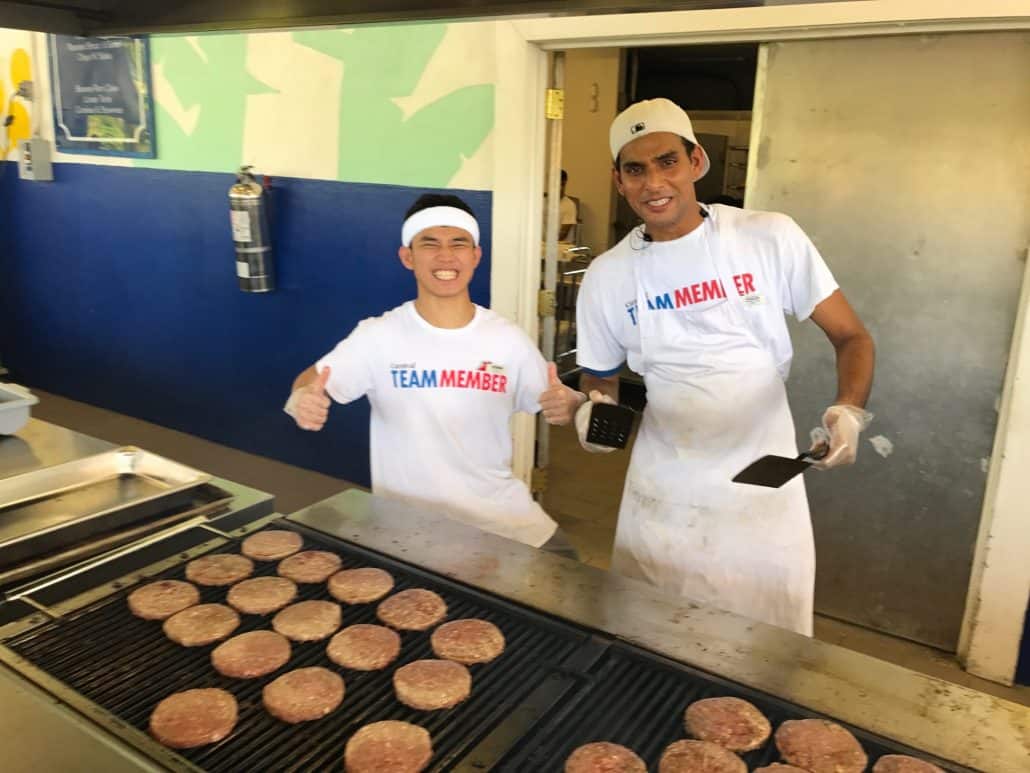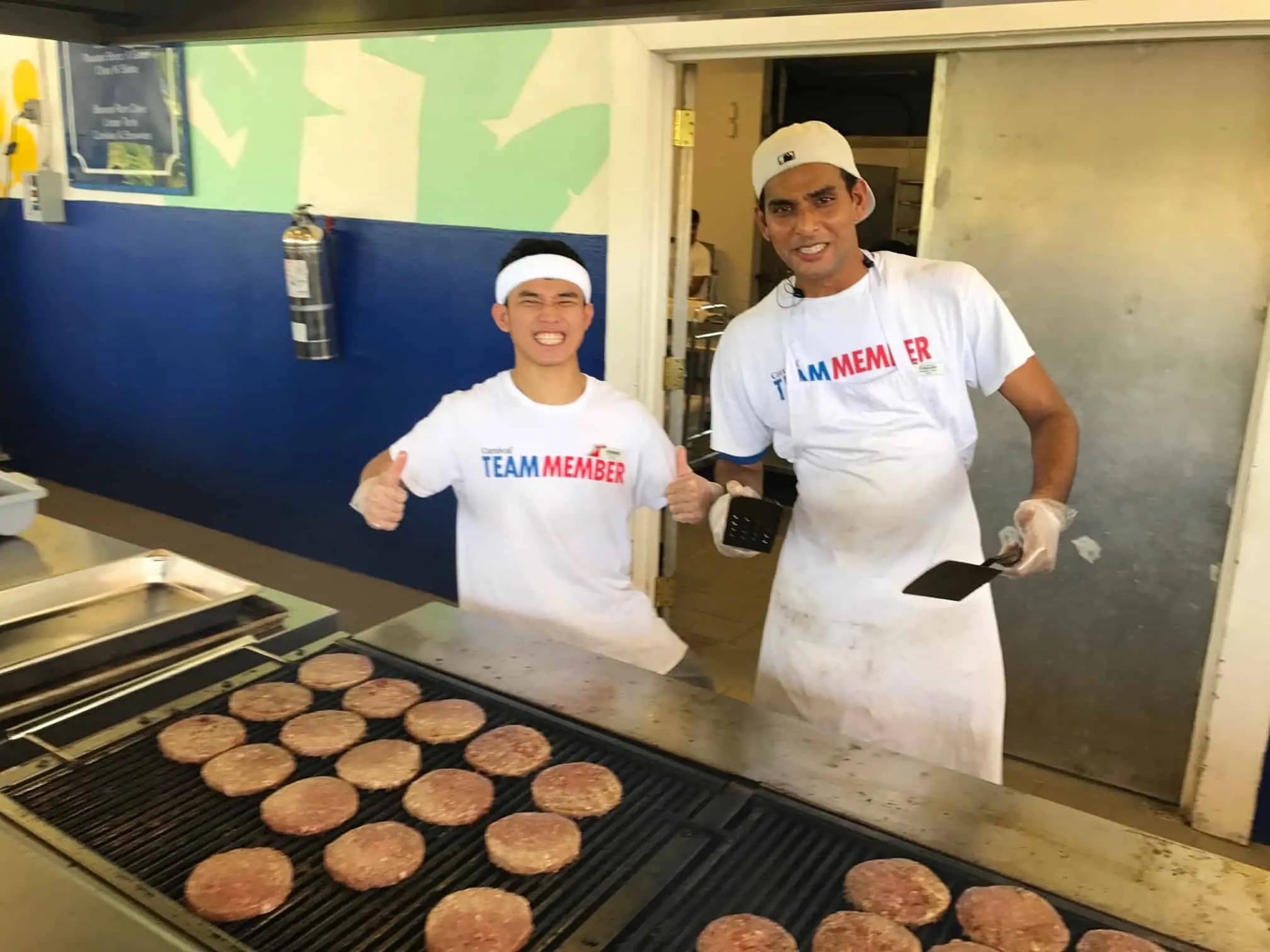 The beach style BBQ at Half Moon Cay is pretty typical of what you'll find on comparable islands run by the other lines, and the food is decent. Most of it is actually prepared on the ship and brought over to the island on supply boats. They have a jerk chicken option, burgers, hot dogs, and the sides and toppings you'd expect. You're not going to write home about it, but you also won't go back to the ship hungry.
TIP: Lunch is generally served from 11:30 a.m. to 1:30 p.m., and there's not much wiggle room there. Try lining up at 1:35, and you're probably going to find yourself out of luck! 
Menu:
Entree
Hamburger
Cheeseburger
Garden Burger
Hot Dogs
Jerked Chicken
Cous Cous with Roasted Zucchini
Titi Shrimp and Beans with Tapenade
Sides
German Potato Salad
Coleslaw
Medley of Mixed Greens
Roasted Yellow Squash
Chips n' Salsa
Roasted Broccoli Salad
Desserts
Banana Rum Cake
Linzer Torte
Cookies
Brownies
Drink-wise, they serve lemonade, unsweetened tea, and water in little plastic cups. Or you can swing by the bar, which is (not surprisingly) conveniently located right next to the food pavilion!
Excursions Offered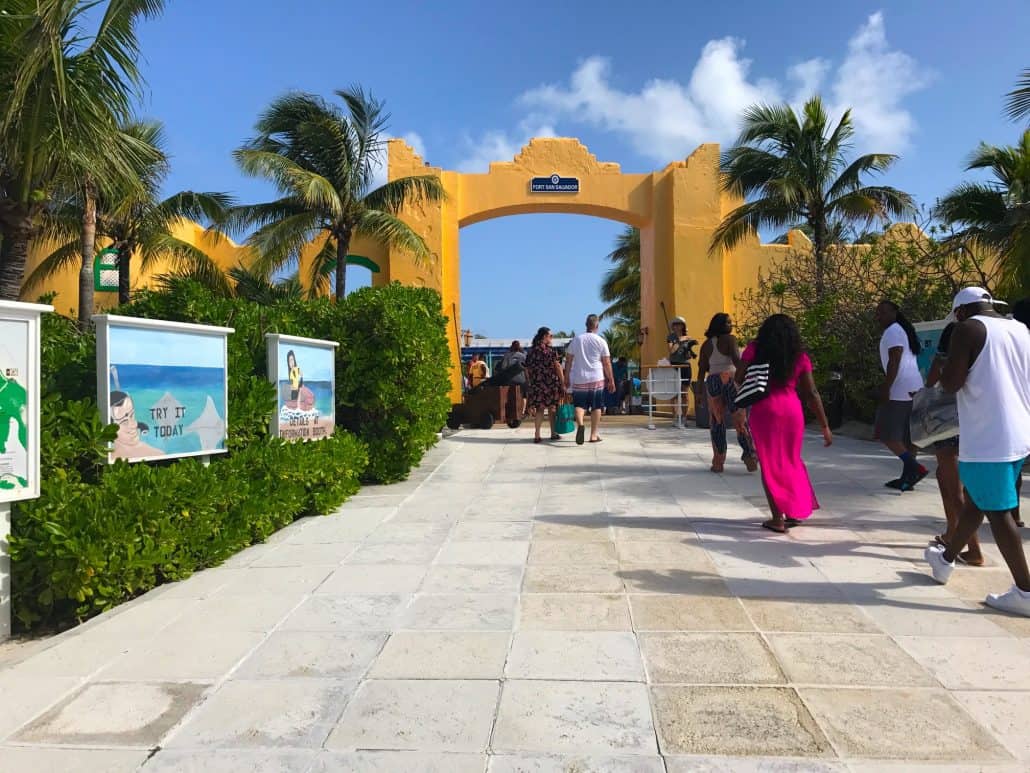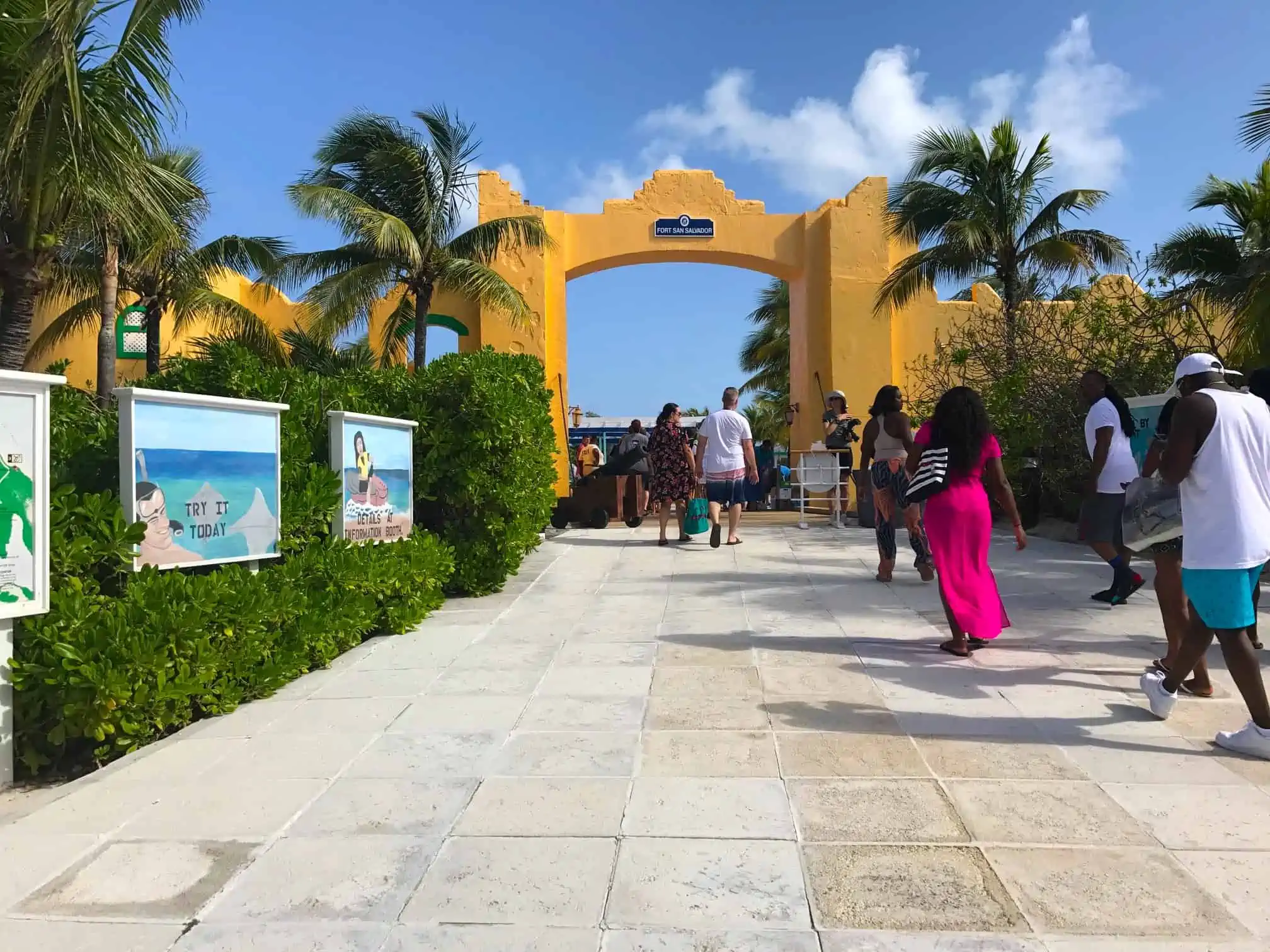 Since Carnival owns the island, if you want to do a shore excursion, you'll need to go through the cruise line. All the excursions are under $100 per person, with the priciest being the chance to go horseback riding along the shoreline for $99 per person. (That's right this is your chance to pretend you are a contestant on The Bachelorette!) Some of the more popular excursions include jet ski rentals, an eco-tour, bike riding, and the tram tour. You can also do nothing more strenuous than raising your hand to signal a waiter that you're ready for another drink.
 What's Not To Miss?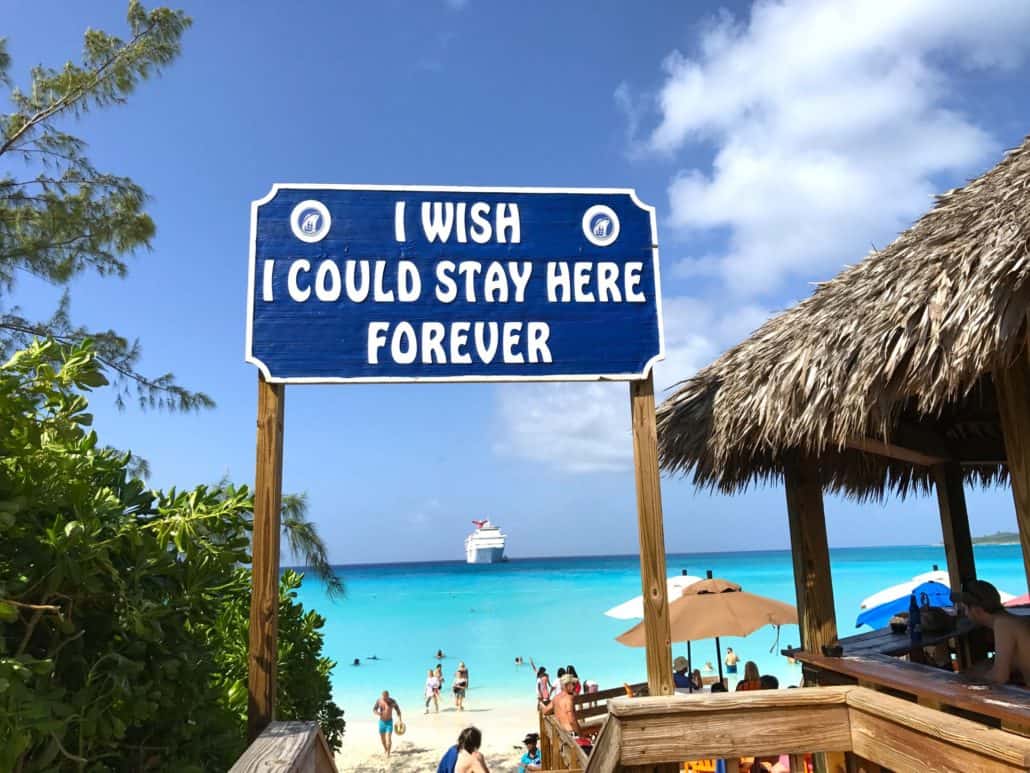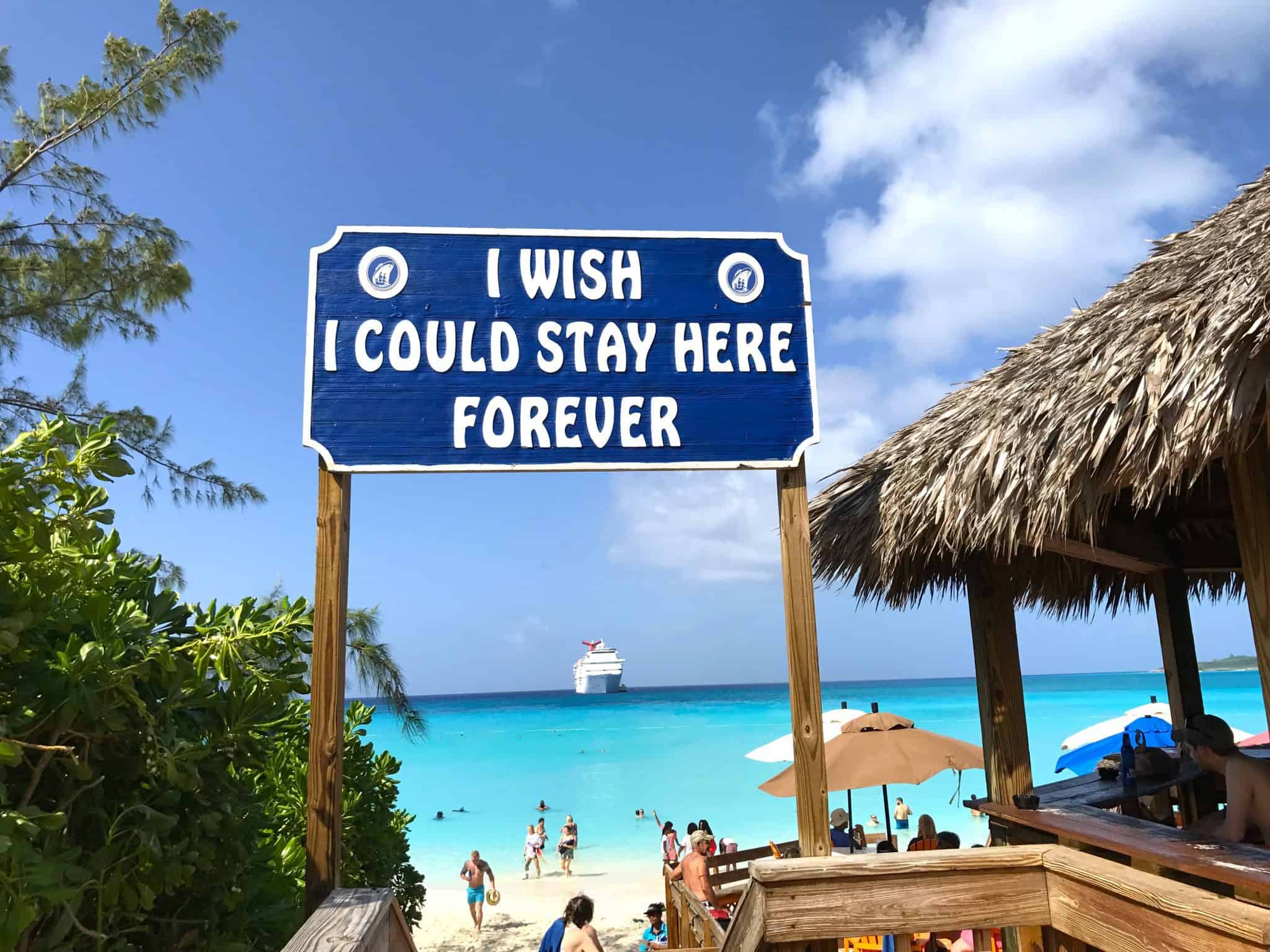 Don't miss the chance to have your picture taken in front of what is, without doubt, one of the most popular signs in the Caribbean (seen directly above).
Grab a drink at the pirate ship… and make sure to head upstairs and take in the view!
Walk along the horseshoe-shaped beach. Keep walking… remember, it's not like you can get lost. It's an island so eventually you're going to loop back around!
Have you ever been to Half Moon Cay? Do you like it? 
Video of Half Moon Cay 2019