If your cruise calls at Half Moon Cay, Bahamas, there are dozens of things to do. And the best part about this port stop is that you can spend as little or as much as you'd like because the food and basic drinks are included in the price of your cruise.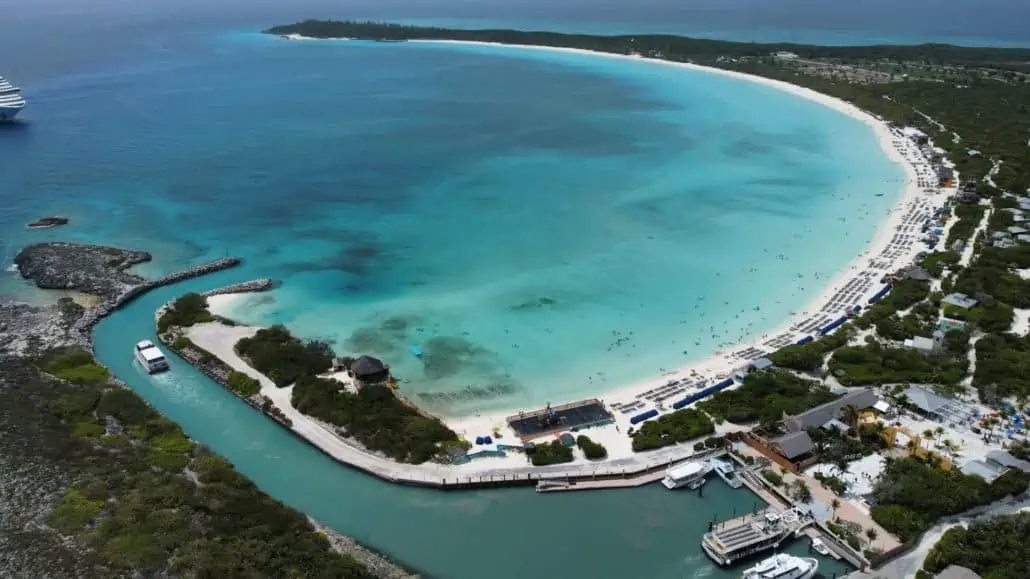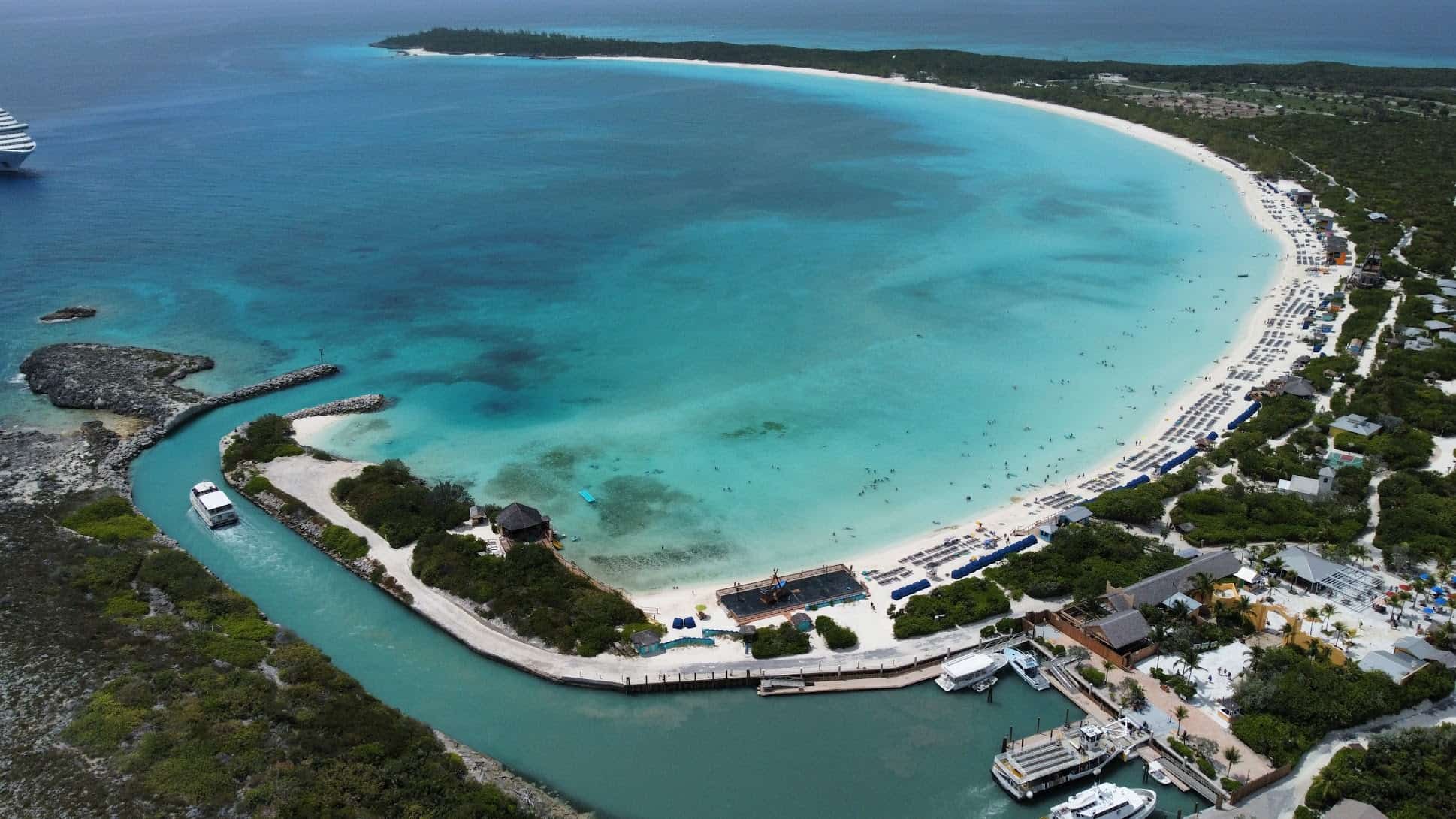 Where is Half Moon Cay Located? 
Located 100 miles southeast of Nassau, Bahamas sits Carnival Corporation's private island Half Moon Cay, Bahamas, or better known by the locals as Little San Salvador Island.
Cruise passengers can easily find an activity to help pass the time in paradise with over two miles of white sand beaches, horseback riding, and eco-adventures. 
Both Carnival Cruise Line and Holland America Line use the island, however, you will not find both brands there at the same time.
However, it is common to have more than one cruise ship docked at the island from the same cruise line. For instance, two Holland America ships may use the island at one time but may have different arrival and departure times.
If you cruise ship calls to Half Moon Cay, here are 26 excursions at the beautiful paradise. 
1. Lounge on the Beach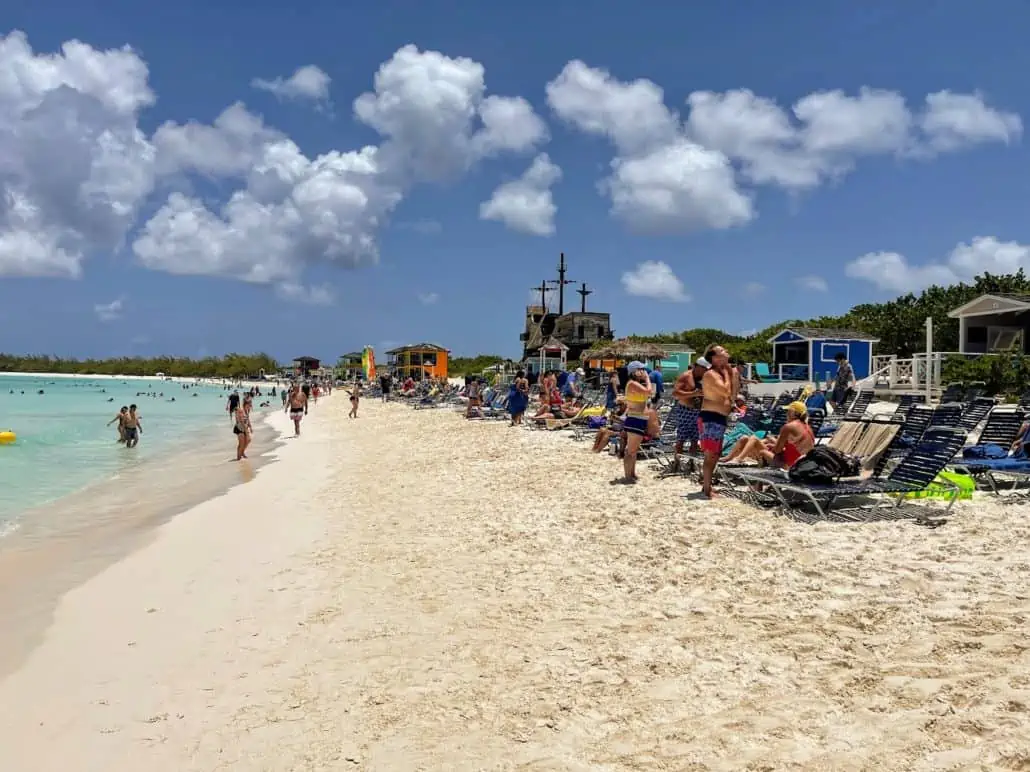 The white-sand beach is the perfect setting for a day spent sunbathing on the beach. There are beach chairs available free of charge, but if you want to take cover from the sun, you'll have to fork over a few dollars. You can rent an umbrella on the beach at the dive shack and use your cruise card to pay for the rental.
There are also servers that roam the beach throughout the day to ensure you stay hydrated. The bummer part is that the drink package does not work if you stop here with Carnival Cruise Line.
On Holland America, the line offers a drink package for around $20 per day that is available on the island. It's not, however, included in the ship's drink package.
PRO TIP: If you plan on staying on the beach for a while, consider getting an iced-down bucket of beer.
2. Go Snorkeling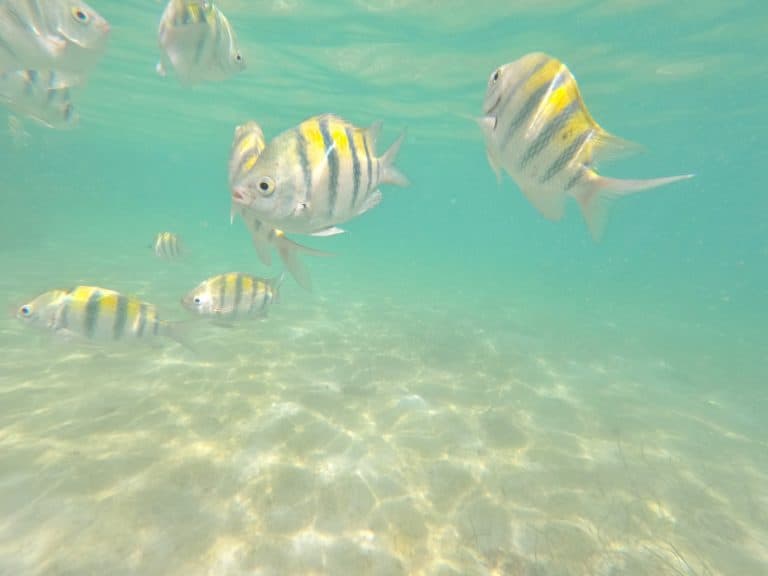 When people think of warm, sunny islands in the Bahamas, snorkeling is one of the first activities that probably pops into mind.
Just as you'd expect, the water at Half Moon Cay is perfect for enjoying an afternoon of swimming around and spotting various sea life. You can either rent snorkel gear from the hut off the beach or bring your own.
There are fish all around Half Moon Cay, but if you want to see the best place for viewing them, walk down to the kiddie splash zone and head out until you're parallel with the private oasis hut (on your left side). 
3. Saddle Up With Horseback Riding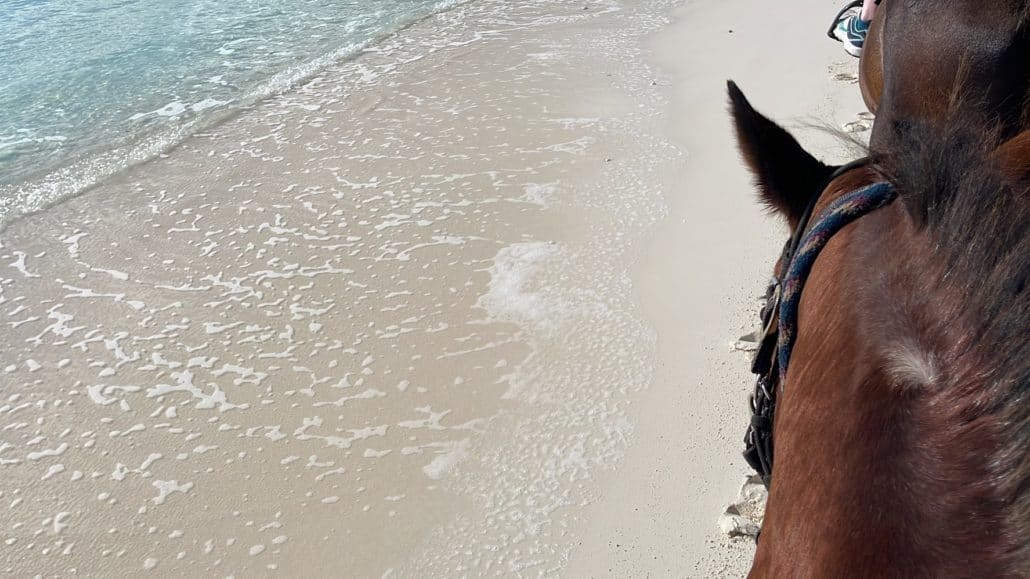 Horseback riding is another popular activity on Half Moon Cay. The tour is led by a professional and offers the island's best views. You and your horse will ride to the highest point of the island before heading back to the barn.
After swapping saddles on the horse, you'll enjoy a refreshing ride in the temperate Bahamian water. Because there are multiple horseback riding sessions throughout the day, there will be plenty of opportunities for swimming and exploring the island before or after your ride.
RELATED: Going Horseback Riding at Half Moon Cay
This excursion is dependent on the weather and may be canceled last minute because of rough seas. The horses can only go so far into the water during inclement weather. The cruise line will offer you a discounted rate or a refund if that happens.
4. Take the Obligatory Photo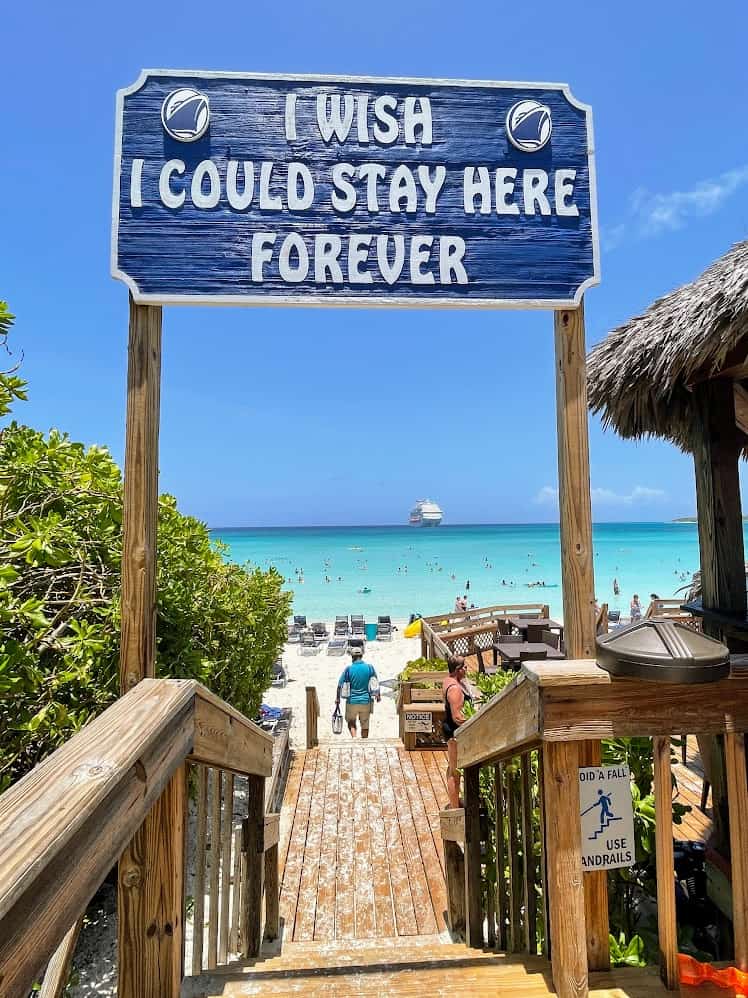 The signature photo on Half Moon Cay is located at the I Wish I Could Stay Here Forever bar. Here, there is a sign with the same saying and it's the perfect backdrop while the ship is in port. This area gets really popular, so you'll want to get the photo sooner rather than later.
Pro Tip: Because of the sun's position, the best time to take the photograph is in the afternoon. In the morning the sun is rising behind the ship and it can really wash out your picture.
5. Rent a Clamshell
If you're wanting to enjoy the beach but also want some respite from the sun, consider renting a clamshell sunshade. They cost $30, and include two lounge chairs. The clamshells sell out quickly because they are the most affordable shelter from the sun on the beach. 
6. Relax in a Cabana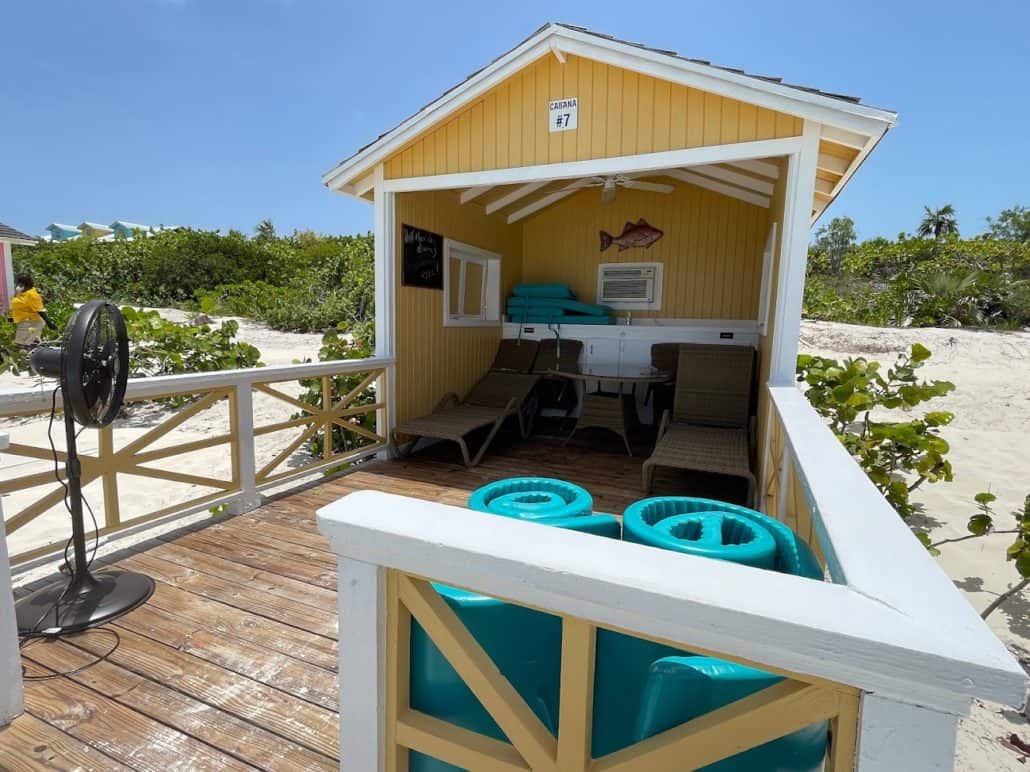 Half Moon Cay's cabanas are colorful little buildings on the beach that you can rent for the day. They include snacks, water and soda, a table and loungers, a refrigerator, an air conditioner, a misting outdoor shower, and the use of floating mats and snorkeling gear.
Cabanas can accommodate 4 people at the base price, but up to 6 can be accommodated for an extra fee per additional person. Half Moon Cay has 15 cabanas in total.
7. Chill in a Beach Villa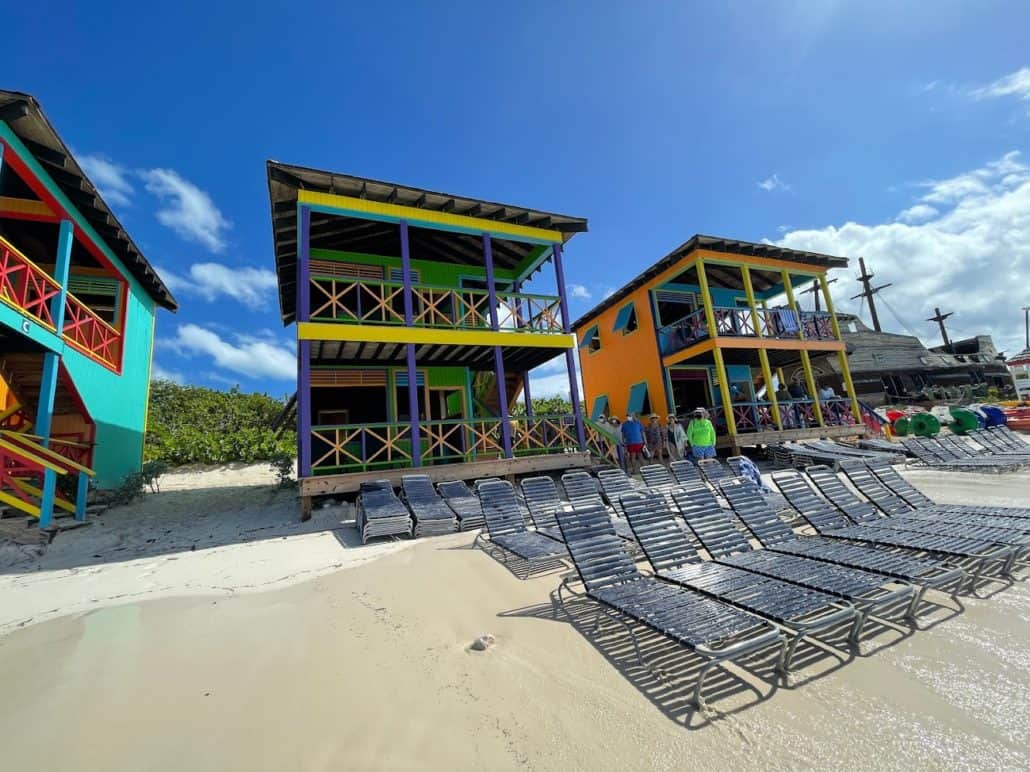 If you want to up the ante from a cabana, a great way to spend the day on Half Moon Cay is to rent a two-story villa. First introduced about 10 years ago, this is next to the best way to spend your day on the island. The villa comes equipped with an enclosed hot tub, snorkel gear, a fully functioning bathroom, a ceiling fan, a table upstairs with snacks, and a fridge. 
The perks here depend on the cruise line, as Holland America Line offers more amenities in the villa package than Carnival Cruise Line does. 
READ MORE: Our Villa at Half Moon Cay
8. The Private Oasis at Half Moon Cay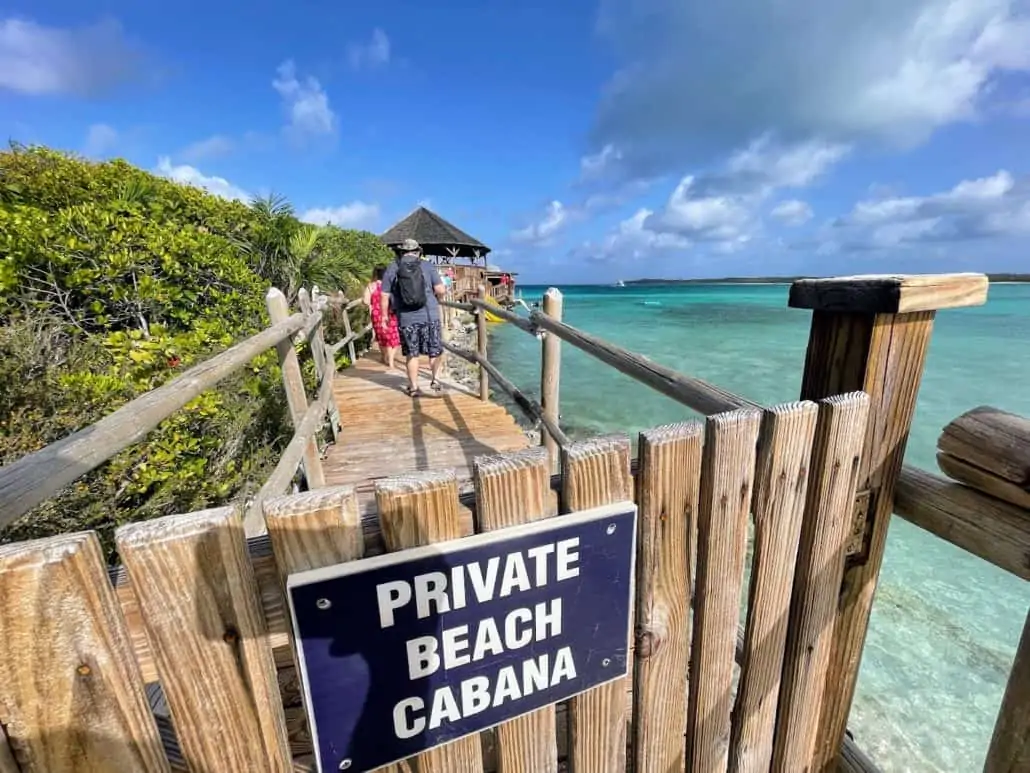 If you're standing on the beach at Half Moon Cay and looking out over the water you'll notice a big octagon building on your left — that is the Private Oasis.
This is a place that you and lots of your closest friends can rent and be catered to all day. It includes your own bar, a dedicated chef to cook your lunch, a lifeguard, two bathrooms and showers, loungers, day beds, and a giant hot tub. Best of all, when you're out there no one can bother you because there is a gate to get on the dock. And if you do not belong, an attendant will ask you to leave. 
This is the ultimate way to relax on the island, and by far the priciest — but if you have 12 people, the cost is easily offset. You can have up to 24 people in the oasis for an additional cost.
RELATED: A Day at the Private Oasis
9. Settle into a Kayak
One of the best ways to enjoy the ocean, catch some rays, and get some exercise is by kayaking. Sure, it's not an uncommon pastime, but it's not every day that you get to kayak around an island in the Bahamas, either. Plus, you'll be able to work off some of those cruise calories as you paddle through Bone Fish Lagoon.
10. Board a Glass-Bottom Boat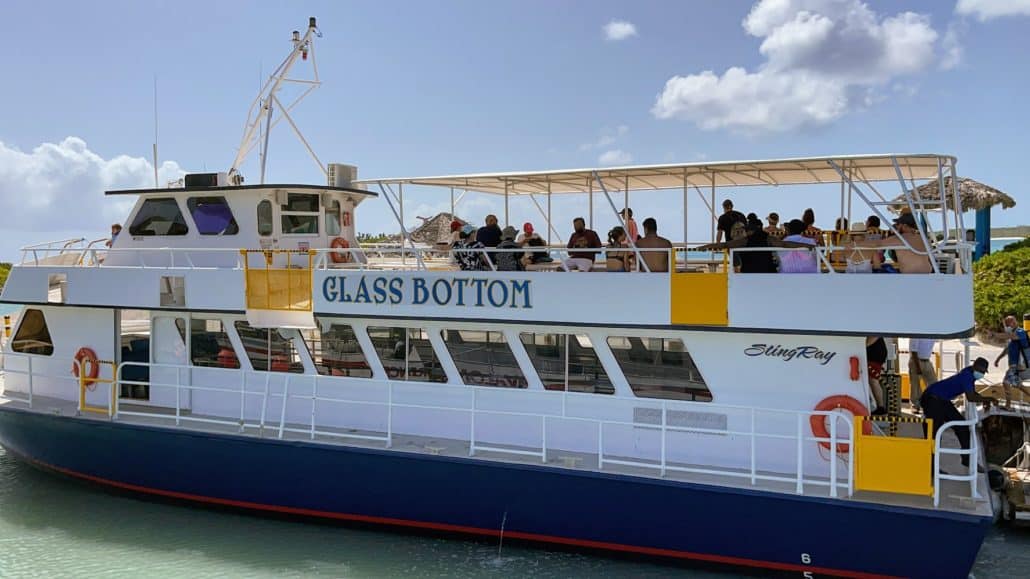 If snorkeling isn't your thing, this is a great alternative that allows you to see the beautiful sea life without getting wet. Here you can enjoy a glass-bottom vessel and see marine life such as stingrays, nurse sharks, lemon sharks, bonefish, conch, and sea urchins that are raised there. Living reefs are also plentiful there. The guide will share information on Bahamian history, culture, flora, and fauna during the tour.
11. Play basketball 
Most people who visit Half Moon Cay probably never even realize that it has a basketball court. But indeed, it does. If you've got an urge to shoot some hoops while you're on the island, rest assured in knowing that you can.
12. Visit the Bacardi Pirate ship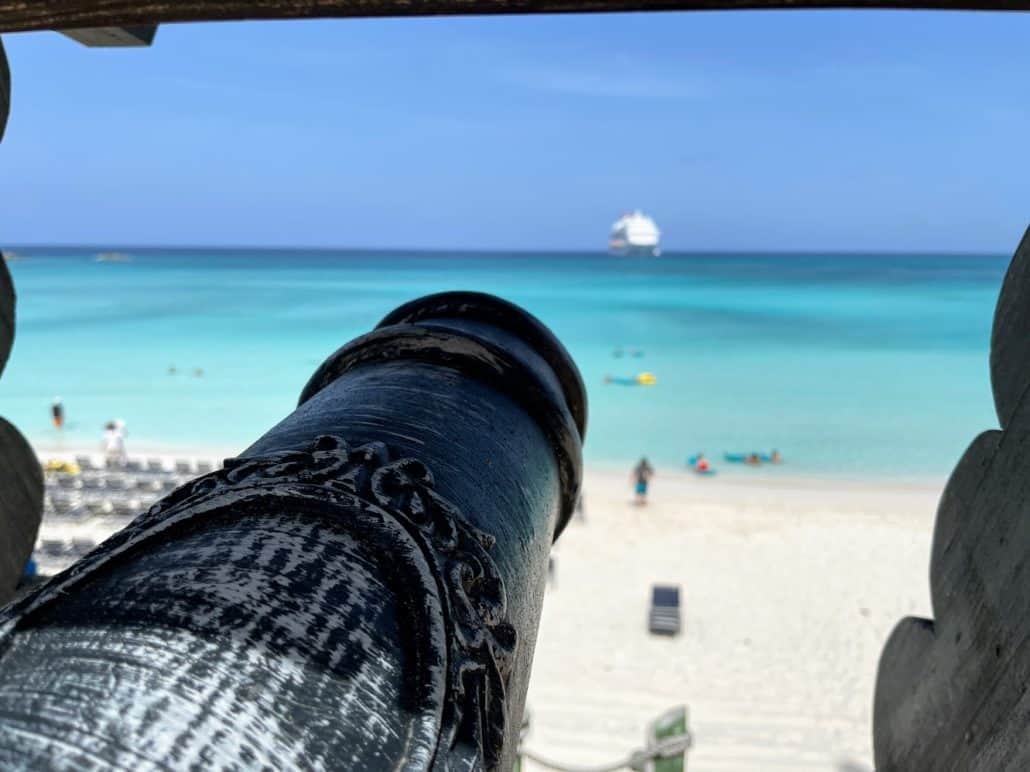 You first spot this iconic figure when the ship anchors off the coast. The Captain Morgan's Bar, better known as just "the pirate ship," is a must-visit when spending a day on the island. Even if you don't get a drink, just check out the space — and be sure to head up to the top deck for great views down the beach. This is also where the DJ is set up on the island playing beach tunes. 
PRO TIP: If you find yourself getting a little too much sun, you can head into the pirate ship to escape the rays for a little while.
13. Take a Jet Ski Ride
If you have the need for speed, you can book the aqua trax watercraft adventure and check out the island through a guided tour. You need a valid driver's license and must be 16 years or older.
This excursion depends on the weather because if the water is too rough or there are thunderstorms in the area, the adventure could be canceled. In the case of a cancellation, you would receive a full refund.
14. Go Shopping
You can get souvenirs and beachwear from the Straw Market. Keep in mind that the market is not affiliated with the cruise ship, so the vendors accept cash. Most of what you'll find here are items that are exclusive to the Bahamas region like handmade jewelry, woven straw hats, shot glasses, t-shirts, and handbags.
TRIP REPORT: Double Dip at Half Moon Cay
Pro Tip: If you have to buy sunscreen on the island or ship, be prepared to pay triple the amount that you would back home. You are paying for the convenience of having sunscreen accessible to you.
15. Have a BBQ Lunch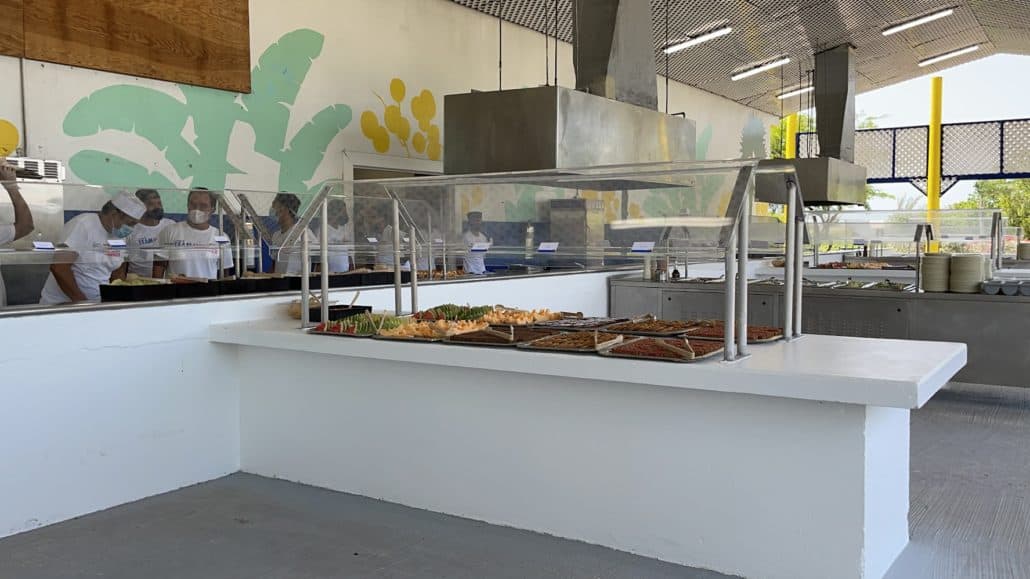 The island has a beach barbecue with your typical hot dogs and hamburgers, but also thrown in the mix are ribs and jerk chicken. Plus there are plenty of side dishes like fresh fruit, corn, salads, coleslaw, desserts, and a drink station. The buffet usually is typically open from 11 am to 2 pm.
Even though the beach can get toasty, there are close to a dozen pavilions to provide shade so you can eat your meal without having to worry about a sunburn.
Pro Tip: You can always go back to the ship to eat lunch if you don't find something you like on the buffet.
RELATED: Half Moon Cay BBQ Menu
16. Eat at the Lobster Shack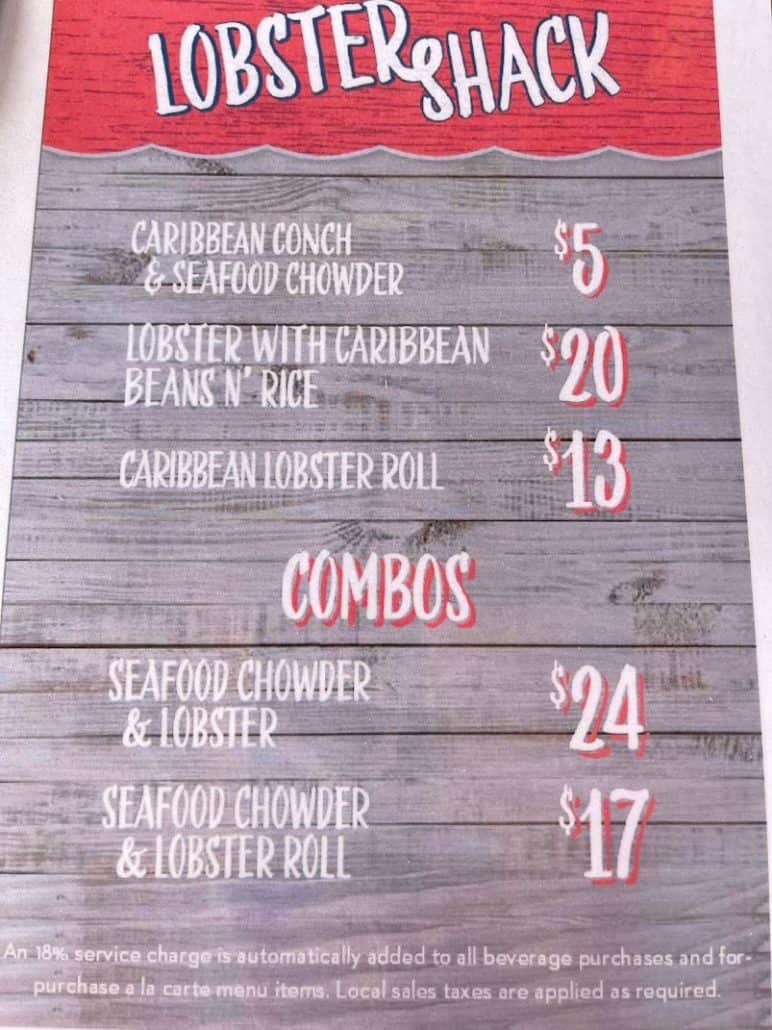 Located near the "I Wish I Could Stay Here Forever" bar, the Lobster Shack serves up fresh grilled lobster and Caribbean coconut beans n' rice, served with a rum-jerk butter glaze and pineapple and Caribbean Sofrito salsas ($20).
Other Lobster Shack Half Moon Cay menu items include Caribbean Conch & Seafood Chowder ($5), Caribbean Lobster Roll ($13), Seafood Chowder and Lobster ($24), and Seafood Chowder & Lobster Roll ($17).
RELATED: How to Maximize Your Day at Half Moon Cay
Pro Tip: To avoid a menu item selling out, it's best to tell a waiter onboard what you'd like to order before getting to the island.
17. Go Bird Watching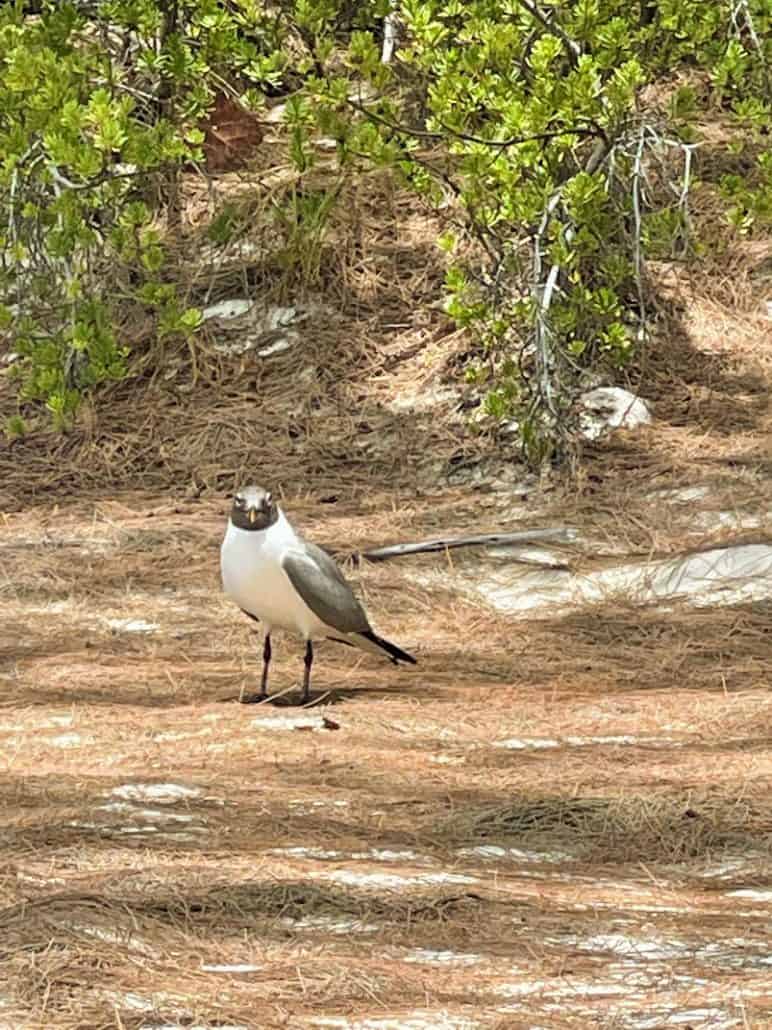 Birdwatching is another great way to spend a day on the island. The Bahamas is home to 47 different types of birds, and Half Moon Cay is no exception. During your stay, you can observe the species that call the island home.
There is a map of the island when you arrive; scope it out and decide where you'd like to go birdwatching. There are nature trails throughout the island that are easily accessible.
PRO TIP: If you hit the trails, bring a bottle of water to stay hydrated. The Bahamian sun along with it reflecting on the sand can get pretty toasty.
18. Splash with Your Kids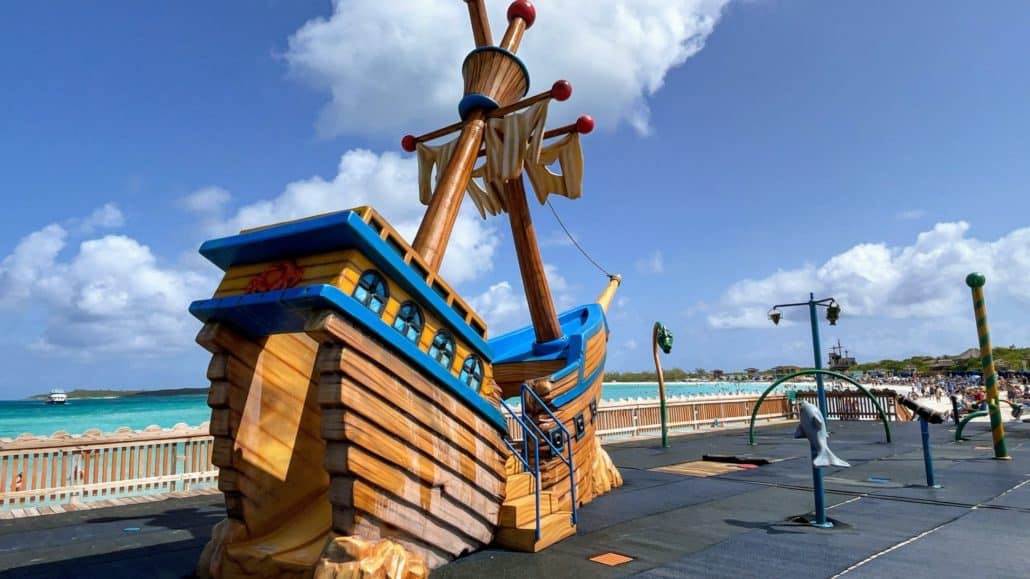 The island has a splash pad and playground for the little ones. This is accessible at the very first part of the beach and has little slides and water toys to play with while on the island. Along with a giant pirate ship (for kids), there are dump buckets, water cannons, and nautical-themed water shoots.
19. Rent a Catamaran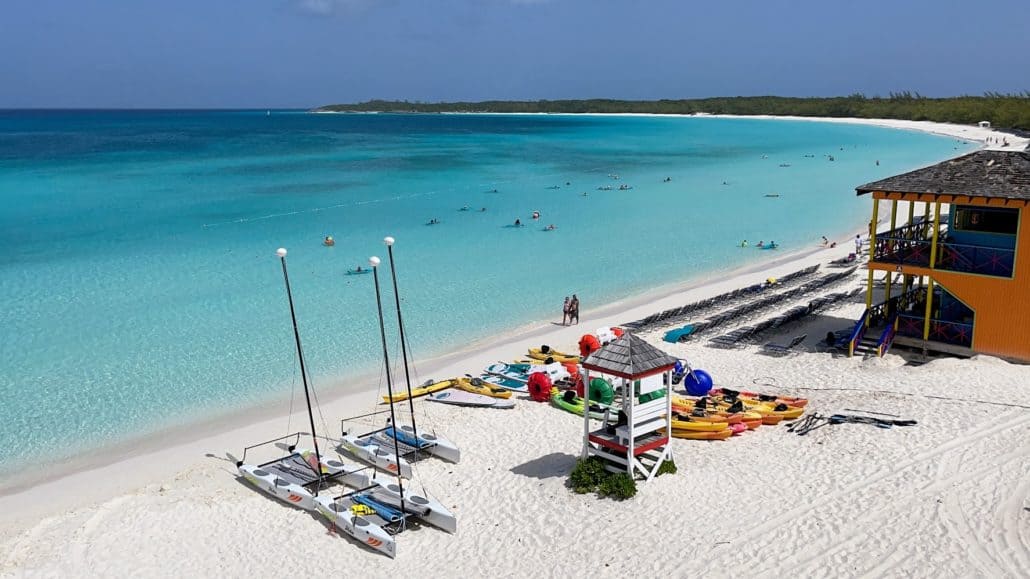 If you know how to operate a sailboat or have prior sailing experience, a fun activity option on Half Moon Cay is to rent a little Hobie Catamaran Sail Boat. All of the sailboats have a capacity of four each, and rentals are available on a per-hour basis.
20. Take an Island Bike Tour
Set out on a guided bicycle tour, which takes participants from the sports rental center along Half Moon Beach to Bone Fish Lagoon.
Guides lead you to historical locations on the island and tell visitors about the island's history from its early inhabitants all the way to the present day. They'll also point out different flora and fauna along the way.
21. Swim in Stingray Cove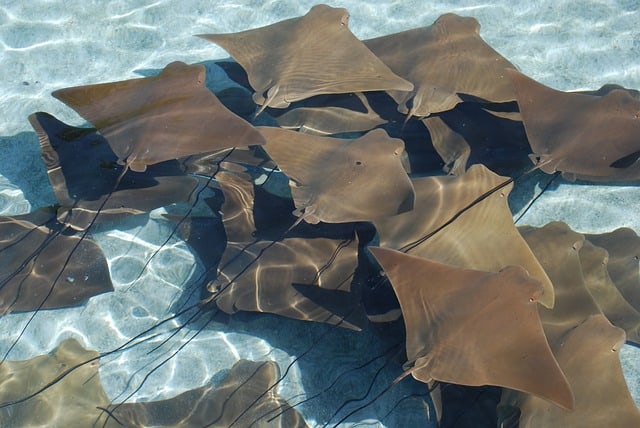 Who doesn't love a stingray adventure? At Stingray Cove, visitors will learn about the behaviors, habitats, feeding, and breeding of the southern stingrays that call Half Moon Cay home. Guests don snorkeling gear and wade into the water with a guide to touch the rays' wings and have the opportunity to feed them.
22. Go Deep Sea Fishing
Board a 28-foot fishing vessel and head miles offshore into the open waters for your chance to catch some of the most popular fish in the Bahamas, including wahoo, grouper, snapper, barracuda, and mahi-mahi. This is strictly for sport fishing and it's catch-and-release, so you won't be frying these fish up after catching them, but you'll be able to test your skills (hopefully!) reeling in a big one.
23. Eco Lagoon Cruise
If you aren't up to kayaking through Bone Fish Lagoon, you can board a guided boat that'll give you a complete rundown of the history, wildlife, and natural wonders around Half Moon Cay, dating all the way back to the early adventurers. A glass-bottom boat is also used allowing guests to see exactly what's underneath in the lagoon.
24. Parasailing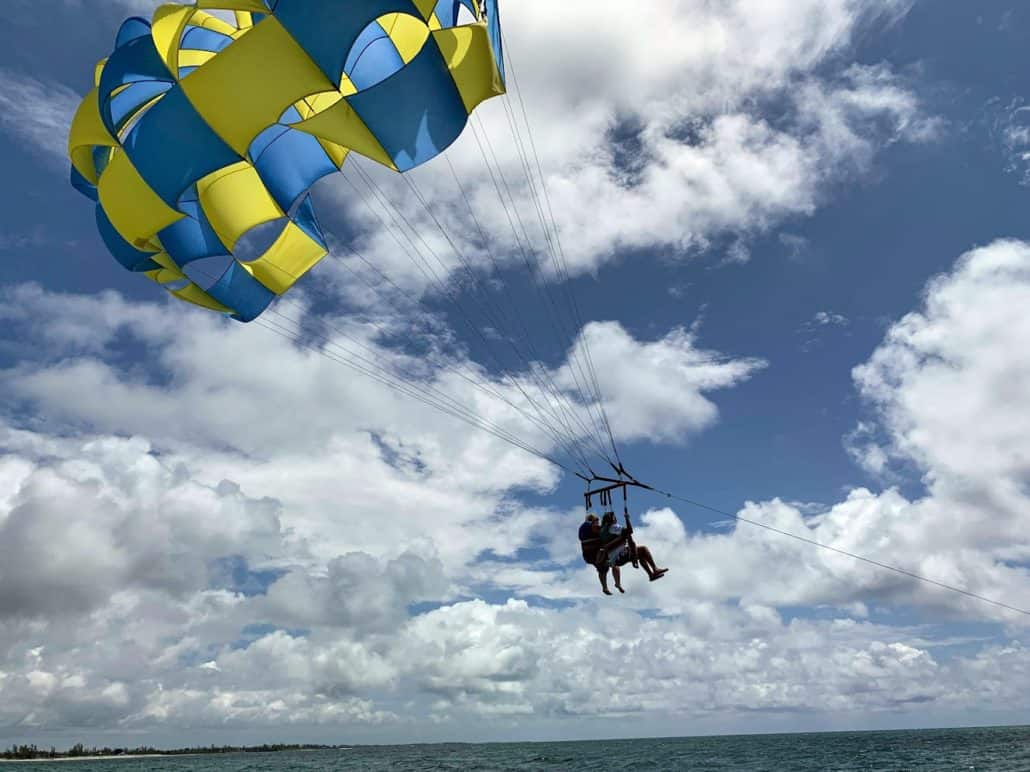 This one is strictly for the adventurous at heart because you'll soar up to 450′ above the island (higher than the cruise ship!) and get spectacular views. This isn't for the faint of heart because you get some serious air on this one. If you plan on taking your camera or phone up to snap photos, make sure you have it secured in a waterproof pouch or a strap around your neck.
PRO TIP: Ask one of your fellow cruisers to take photos of you while you're in the air — it'll make great action shots to show your friends and family.
25. Go Paddleboarding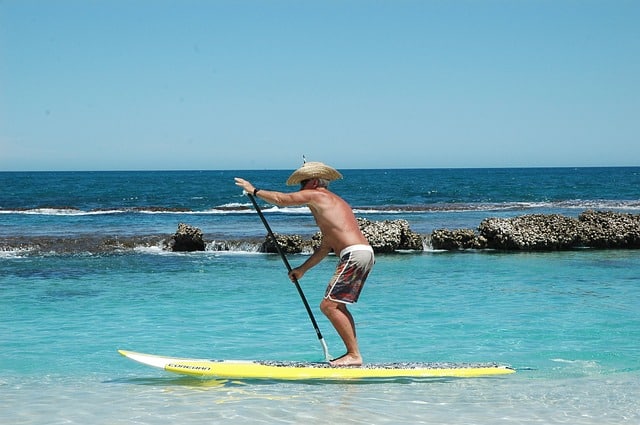 Stand-up paddleboarding through crystalline Bahamian waters always sounds like a good idea to us! Half Moon Cay offers per-hour rentals of paddleboards and paddles, which you can find at the island rental hut.
26. Rent a Water Bike
You've heard of walking on water, but how about biking on water? You can rent a water bike and pedal on top of the water. Think giant big wheels. These can be rented by the hour (you'll probably be exhausted after that) and must be kept in the boundary area. It would be cool to try and pedal back to Florida, albeit tiring.
Final Thoughts
It doesn't matter your taste, there are shore excursions available for both the land and sea lover. Keep in mind that these excursions and activities could vary by the cruise line you're sailing. It's best to check the cruise line's website for detailed information on the excursion and to see if they have any limitations.
READ NEXT: Half Moon Cay by Drone
Watch: A Tour of Half Moon Cay [VIDEO]
Pin it!