Last year I took my first Alaskan cruise. At first I thought an Alaska cruise seemed basic – I pick my port, we see glaciers, and go home. Boy was I wrong! There are a few factors you need to take into consideration when planning and booking an Alaskan cruise. It's not as simple as booking, say, a Caribbean cruise. This requires a lot more research because a hefty investment is at stake.
How to Choose an Alaskan Cruise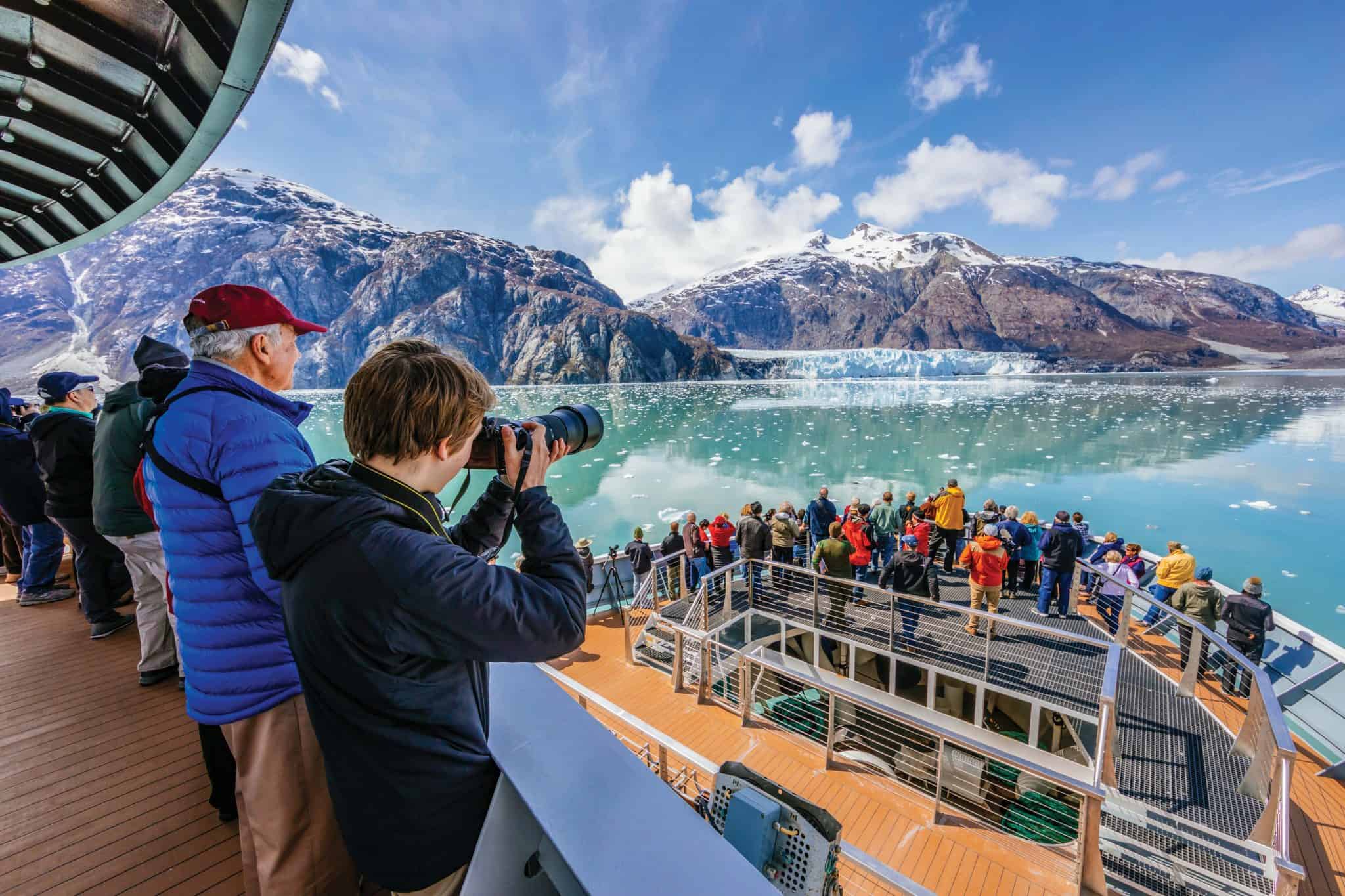 1. Plan the cruise as a family.
A trip to Alaska shouldn't be planned by just one person, it should involve the whole family. Take into consideration the age of your kids, it could be a great way to see Alaska in real life and not just in a textbook. Each family member will know their limitation and it will help you decide if mom would be better shopping in downtown Sitka, while dad and the kids go whale watching.
2. What itinerary do you want?
This is one that requires the most thought and it depends on what you want to see. If you want to see bears and go inland, you'll want to take a northbound or southbound cruise from Vancouver or Seward. If you want to see glaciers calving you may like Glacier Bay. For a scenic and affordable cruising, consider a trip that ventures through Tracy Arm Fjord in Southeast Alaska.
3. Pick an embarkation port.
For a lot of people, the embarkation port comes into play with the budget. It's generally cheaper to fly into Seattle than Vancouver.
As an example, I looked at airfare from Orlando, Florida to both Seattle and Vancouver this June. To Vancouver it was $575 and Seattle was $375. You do have options for getting to either port.
4. Research Activities.
One thing Alaska offers is activities for everyone. If you want to whale watch, eat crab legs, see bears, take a float plane, or hike a glacier – it's available. You will want to research your shore excursions in every possible port you visit. Researching the excursions will help you get a feel for what you want to do and the physical endurance needed.
Alaska is not an itinerary where you can just wake up, walk off the ship, and say you want to hike a glacier. There are certain requirements and limited available space for a lot of excursions. So research what you want to do. Otherwise, you'll just be stuck at a bar in Juneau drinking all the beers on tap. Trust me, I've done it.
5. Port Times
Check each itinerary and what times you'll be in each port. Some ships spend longer times in Juneau while others are in Ketchikan for only a few hours. The itineraries, matched with what activities you'll want to do, can make or break your sailing.
If you want to hike a glacier in a national forest, chances are you'll want to spend the most time as possible in port. As an example, this summer Carnival Miracle is in Juneau from 7 am – 3 pm while Royal Caribbean is in port from 11 am – 8 pm.
6. Pick the Right Ship.
No one can pick this one for you but yourself. There are a handful of cruise lines that sail to Alaska and it's a matter of preference. If you are all about the Freestyle experience and dining, you may consider Norwegian Cruise Line. If you have a young family or a large group, Disney, Royal Caribbean, or Carnival may not be a bad choice.
Princess and Holland America skew for a multigenerational and older demographic. If you want to get in a skiff and be right next to the whales you should consider Un-Cruise Adventures. One thing Alaska is plentiful in are options.
As you can see, when it comes to Alaska, there are a variety of cruise lines and choices. This is just the tip of the iceberg (pardon the pun), but it'll put you in the right direction.
Other Alaska Cruise Tips
A couple of other helpful tips that I learned from my trip to Alaska is to buy an Alaska guide book from your local book store, it will help you out in the planning stages.
Use online resources like CruiseCritic and CruisingExcursions.com to see what there is to do in each port.
Most importantly, book trip insurance. Paying a few extra dollars is well worth the investment of not ruining the vacation of a lifetime.
A trip to Alaska should be on everyone's bucket list – and most importantly – planning it should be just as fun!