We recently had the opportunity to have dinner at Cucina del Capitano (Captain's Kitchen), an Italian restaurant onboard select Carnival Cruise Line ships. I was very excited because anyone that knows me, knows pasta is basically one of my core food groups.
We're going to give you a full review here of what we thought of the specialty restaurant on the ship we sailed, Carnival Vista.
Cucina del Capitano can be found on:
Carnival Magic
Carnival Breeze
Carnival Sunshine
Carnival Vista
Carnival Horizon
Carnival Sunrise
Carnival Panorama
Carnival Radiance
Mardi Gras
Atmosphere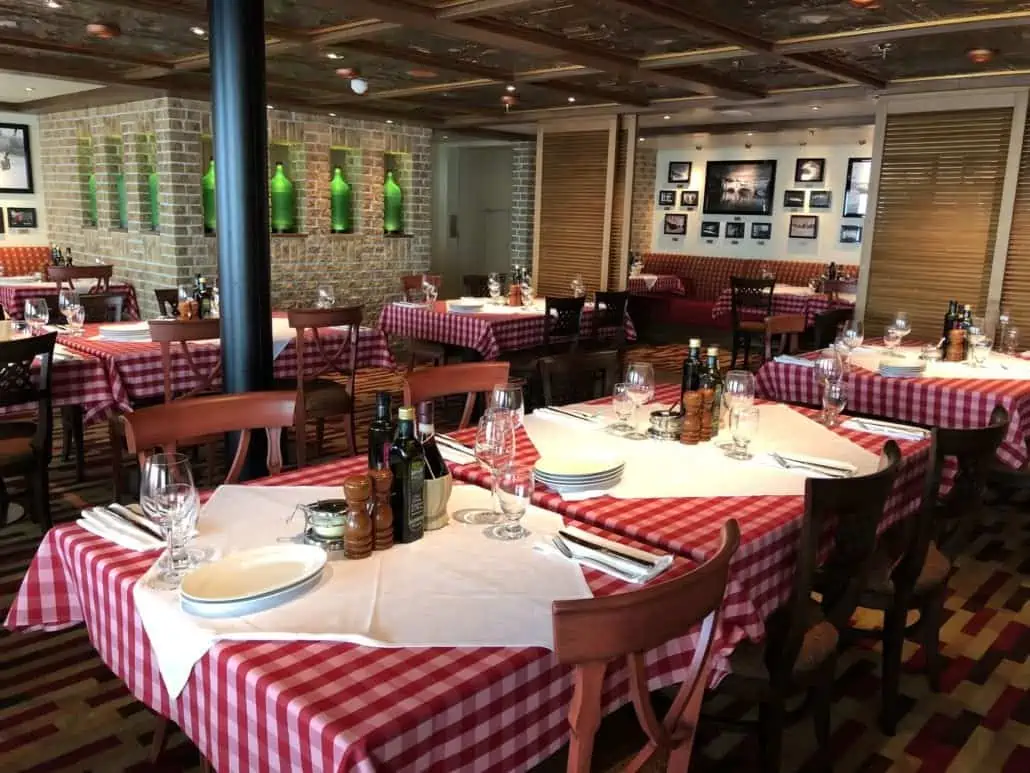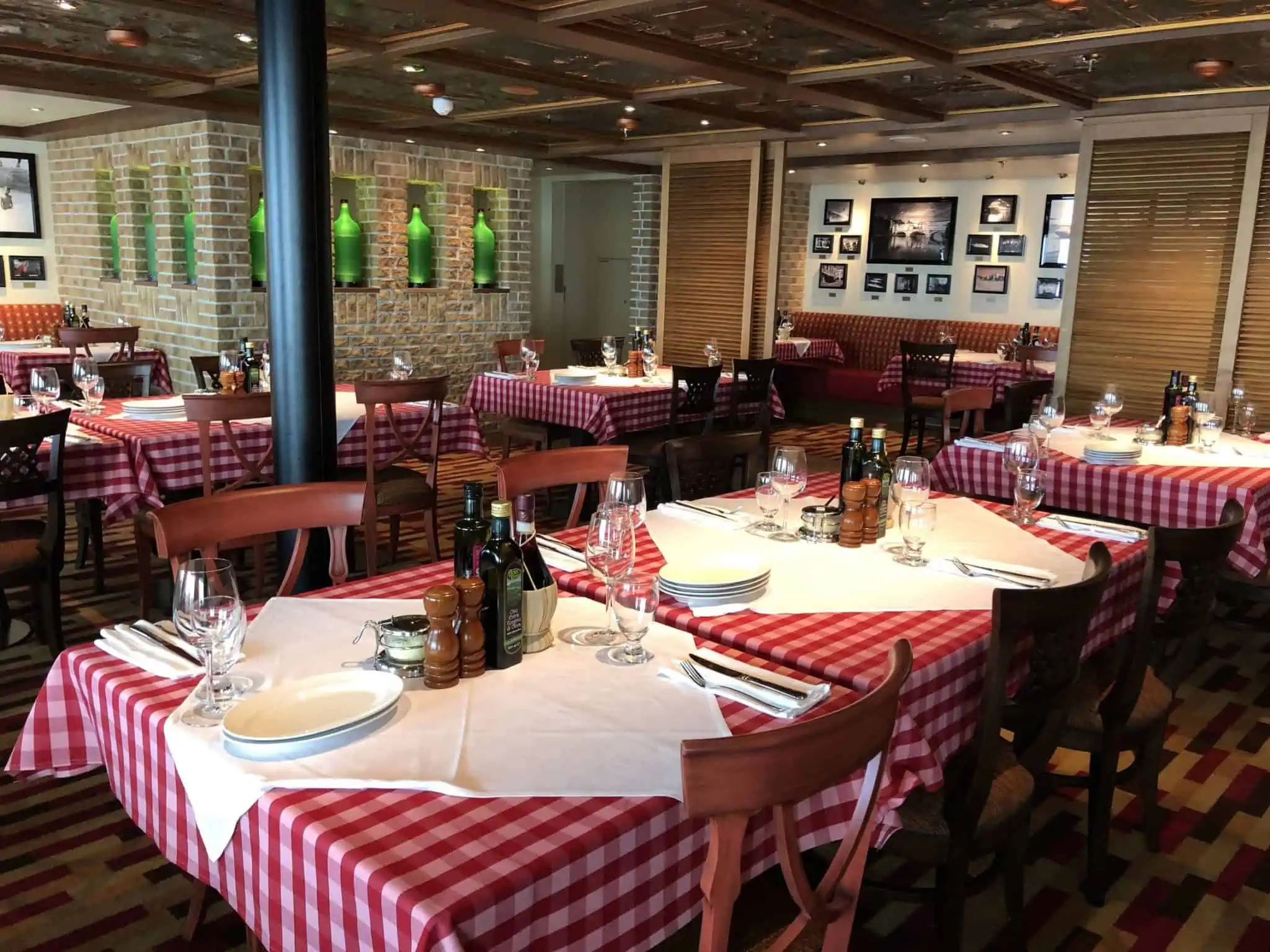 When we arrived for our reservation, the dining room was almost empty but got progressively more full as our meal went on. It's a charming Italian-inspired atmosphere that feels very welcoming and homey.
There are photos all over the walls from the childhoods of some of Carnival's Italian captains, which gives it a very personal feel. I mean it's supposed to be the kitchen of the captain, right? They did a great job with the design here.
The Food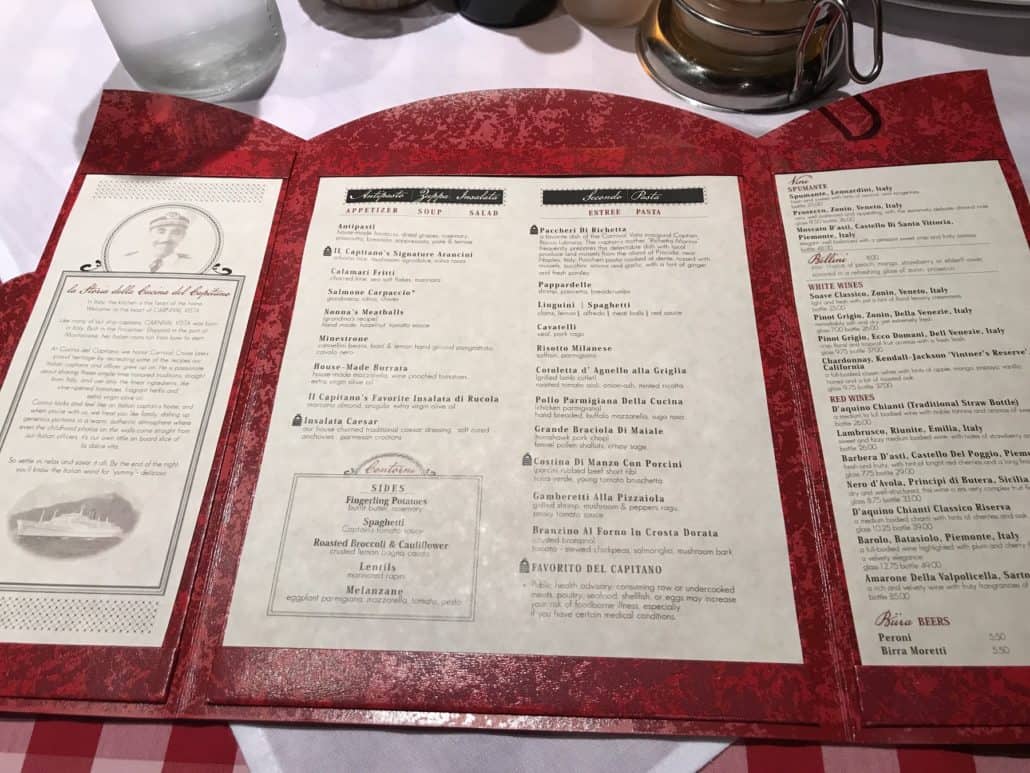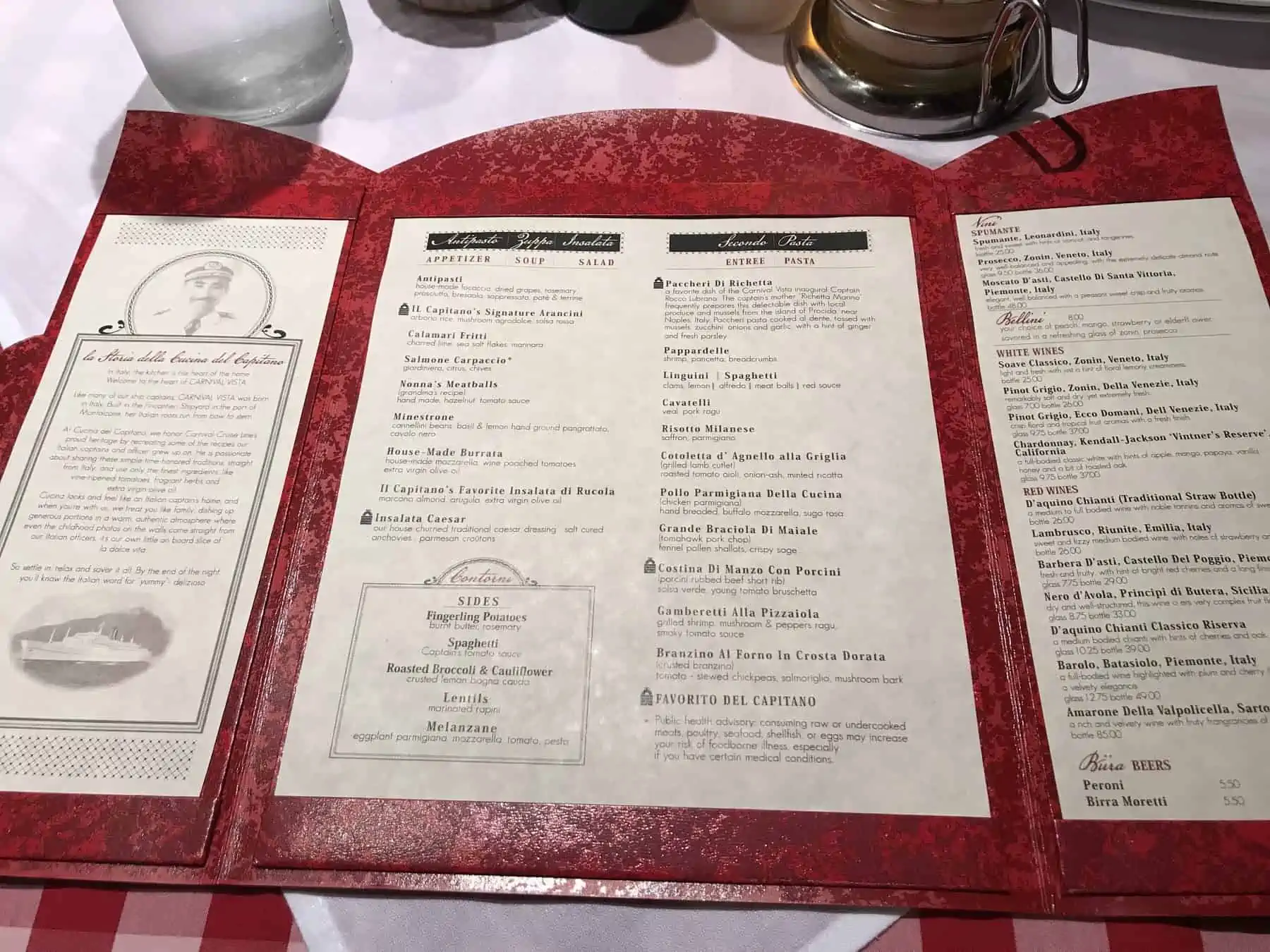 The charge is $18 per person (price updated in 2022), which to me is very reasonable for the massive amount of food that you receive. I'm not kidding, I can't really remember a time when I was more full than when I walked (almost rolled) out of Cucina del Capitano. And that was with taking our desserts to go because we couldn't eat any more right then. But let's back up and talk about how it works and why you receive so much food.
The meal starts out with bread, olive oil, and spices which is typical in an Italian restaurant. Each person then chooses two appetizers, and they are large and meant to be shared. This means that the more people at your table, the more choices you will have (but I was already getting full just on those!) We got calamari, antipasti, soup, and nonna's meatballs. I'd say they were very good, but nothing you'd need to write home about.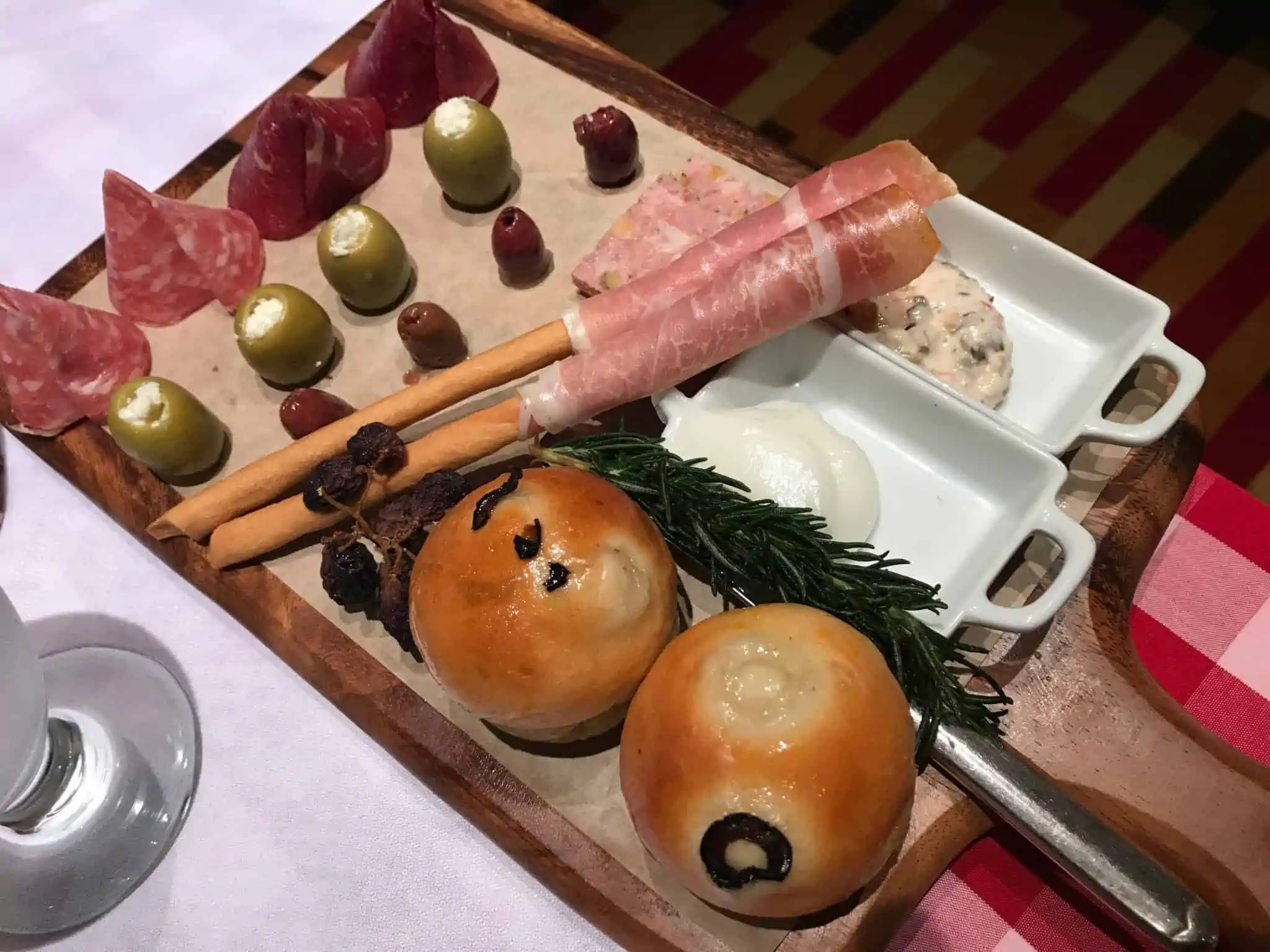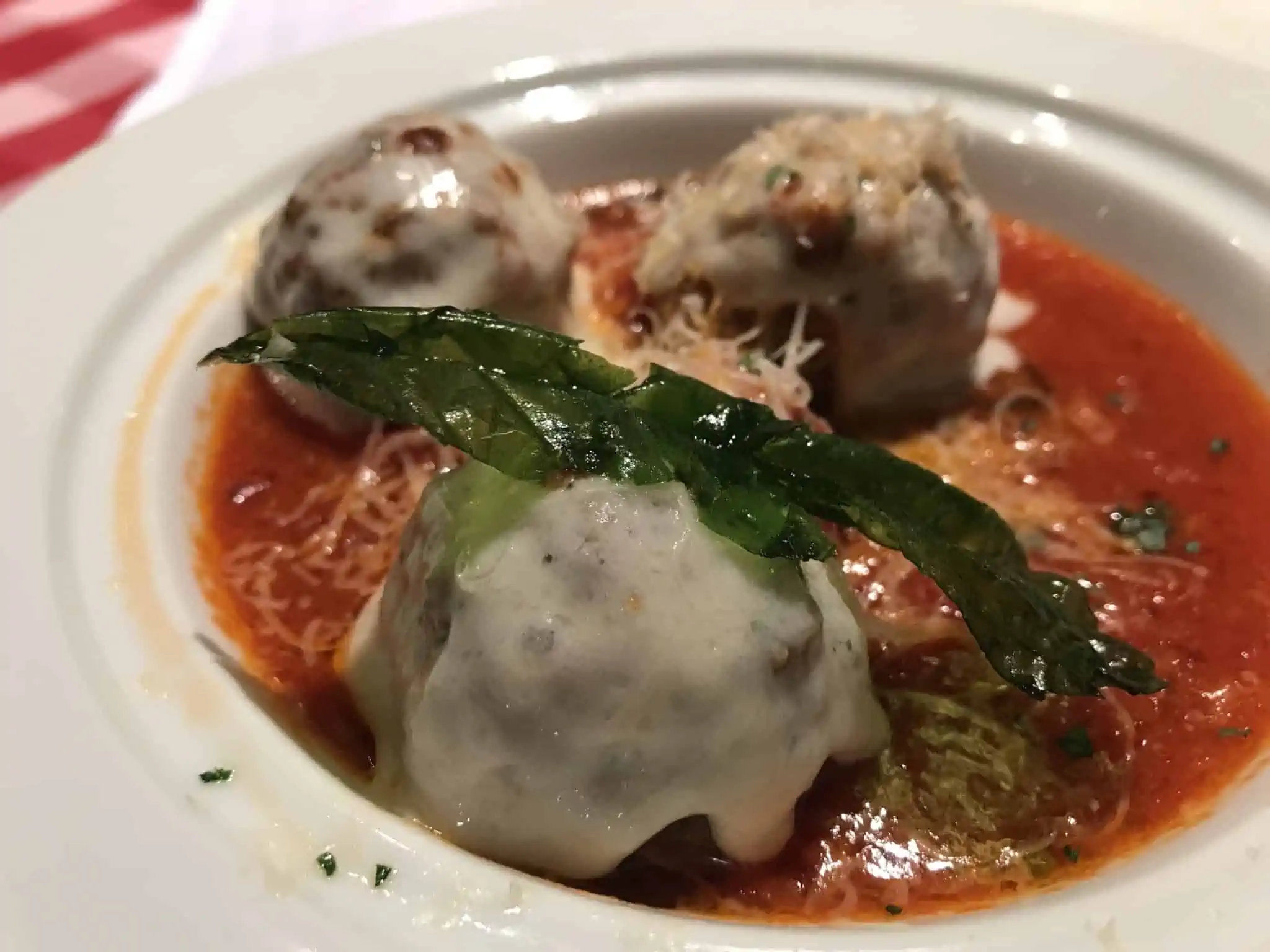 Main Course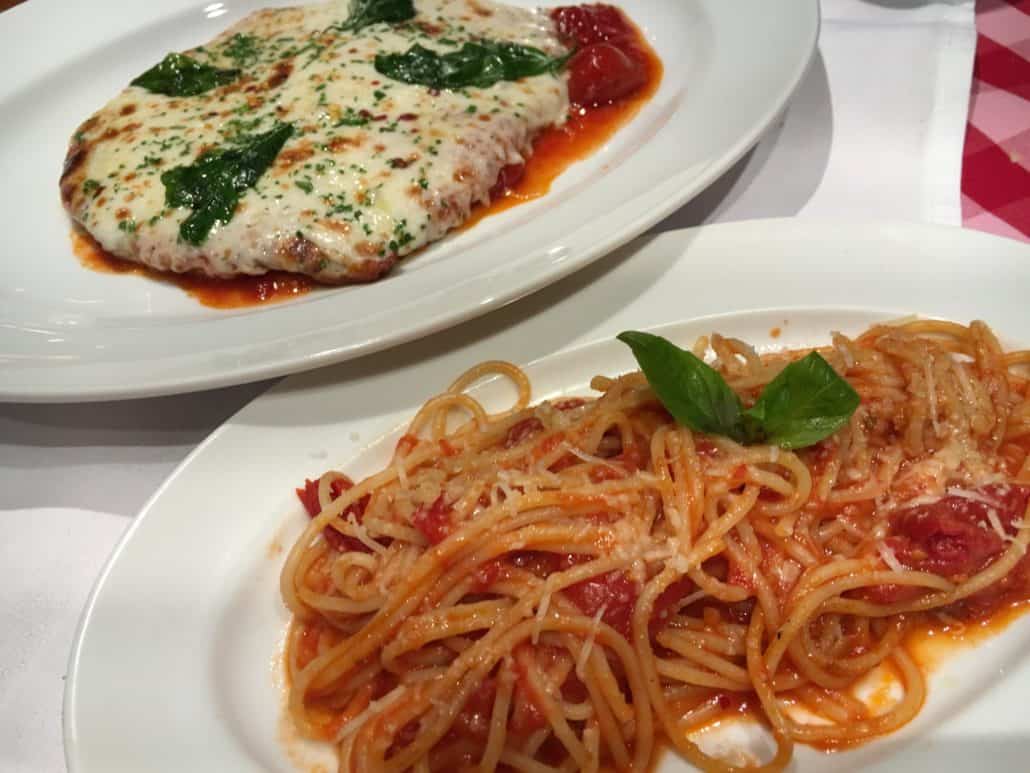 Next, you each choose your entree and a side. I inquired about chicken alfredo (What can I say, I'm a creature of habit!) and they couldn't quite do that, but our server found a way. She went the extra mile to work it out and I thought that was great service. She was able to do chicken parmesan with alfredo sauce instead of marinara, and spaghetti on the side for the pasta part.
I certainly did not expect a "build your own meal" and honestly would have been fine choosing something else, but it was a great sign that she was willing to do that. It was a good dish; just ended up being a little unusual because it was a huge piece of breaded chicken and just a bit of pasta!
We were literally stuffed to the brim by this point, so we opted to order desserts and have them wrap them up so we could take the plates back to the mini-fridge in our cabin. I was disappointed that with the restaurant's menu change JUST before our cruise, they had gotten rid of both cannoli and tiramisu. I live for cannoli whenever I can get my hands on one! I hope they will bring them both back to the menu sooner rather than later.
Overall Thoughts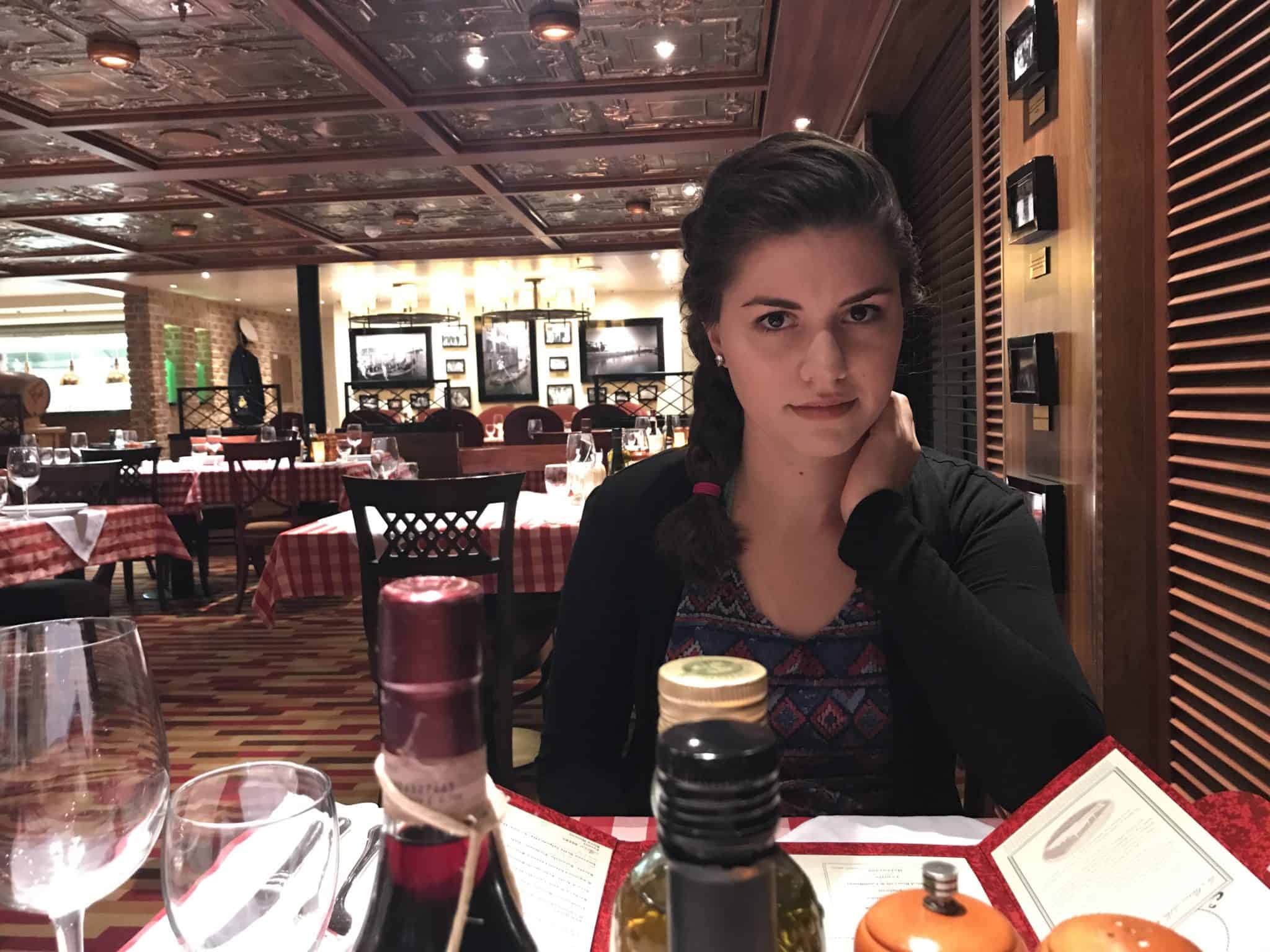 As far as the value, it really can't be beaten if you're thinking of visiting a specialty restaurant during your cruise. The only thing that makes me hesitate is actually because of the sheer amount of food that you'll be eating. I don't eat as much as some people and I know that, but even big eaters will feel full after a meal here.
We ate to the point where we were uncomfortably full, but satisfied with the yummy food we'd eaten! It's not the best I've ever had, but if you love Italian food I'd say it's worth trying at least once – you can decide if you want to handle that much food again!
What I love about Cucina del Capitano is that it is a complimentary pasta bar at lunchtime. You basically build your own pasta bowl by checking off your preferences on a sheet, and they bring your creation to your table. In my personal opinion, most of the time that would be enough for me because I get my saucy pasta fix, but it's in an amount I can handle.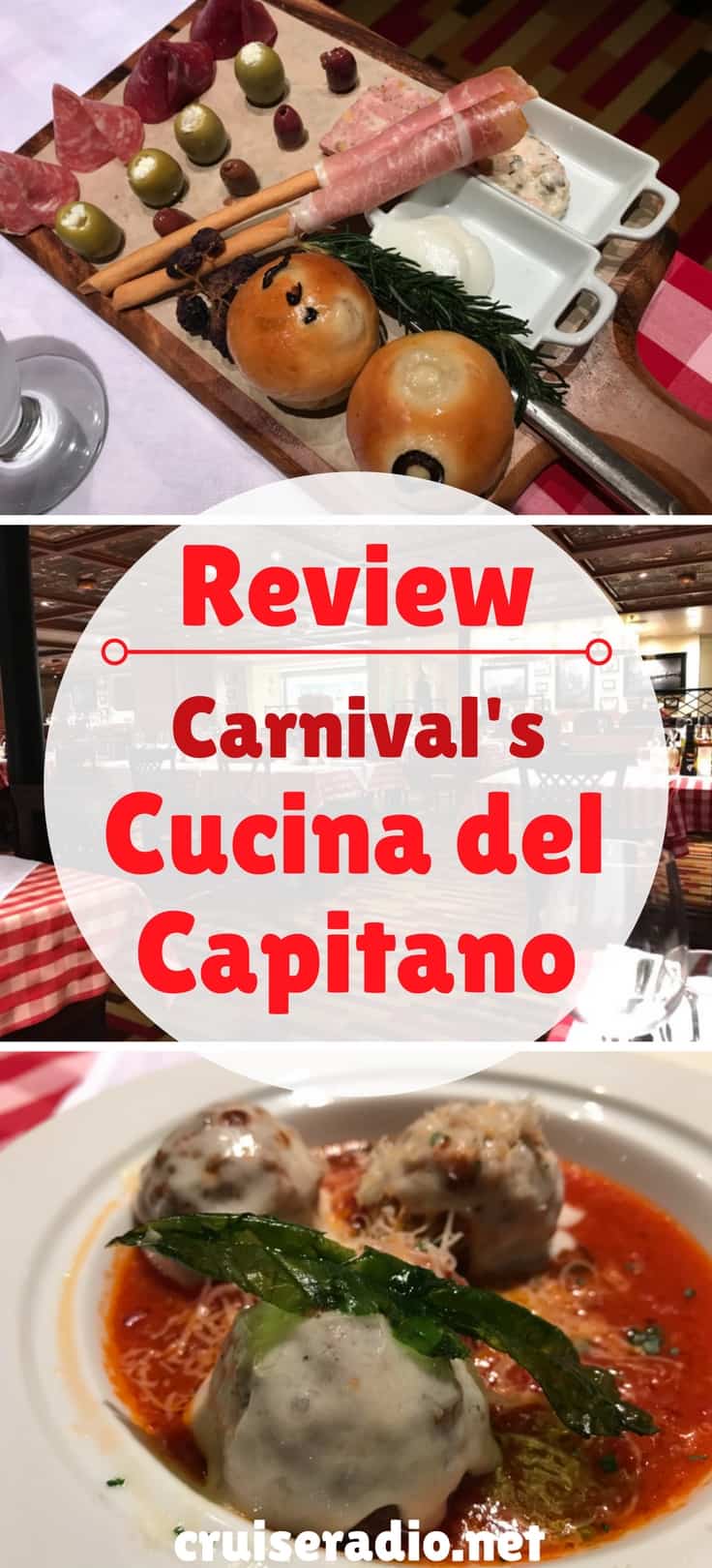 SaveSave
SaveSave