Sometimes when it comes to dining on a cruise ship, the biggest challenge can be figuring out what everybody in your party is in the mood for.
Main dining room menus do their best to offer a little something for everyone, but specialty restaurants — whether complimentary or at an additional charge — tend to be more specialized.
But Chibang!, one of several new venues on Carnival Cruise Line's Mardi Gras, shakes things up a bit by offering two distinct styles of food — Chinese and Mexican — on one menu. Best of all? At least for the time being, this great little spot is included in your cruise fare.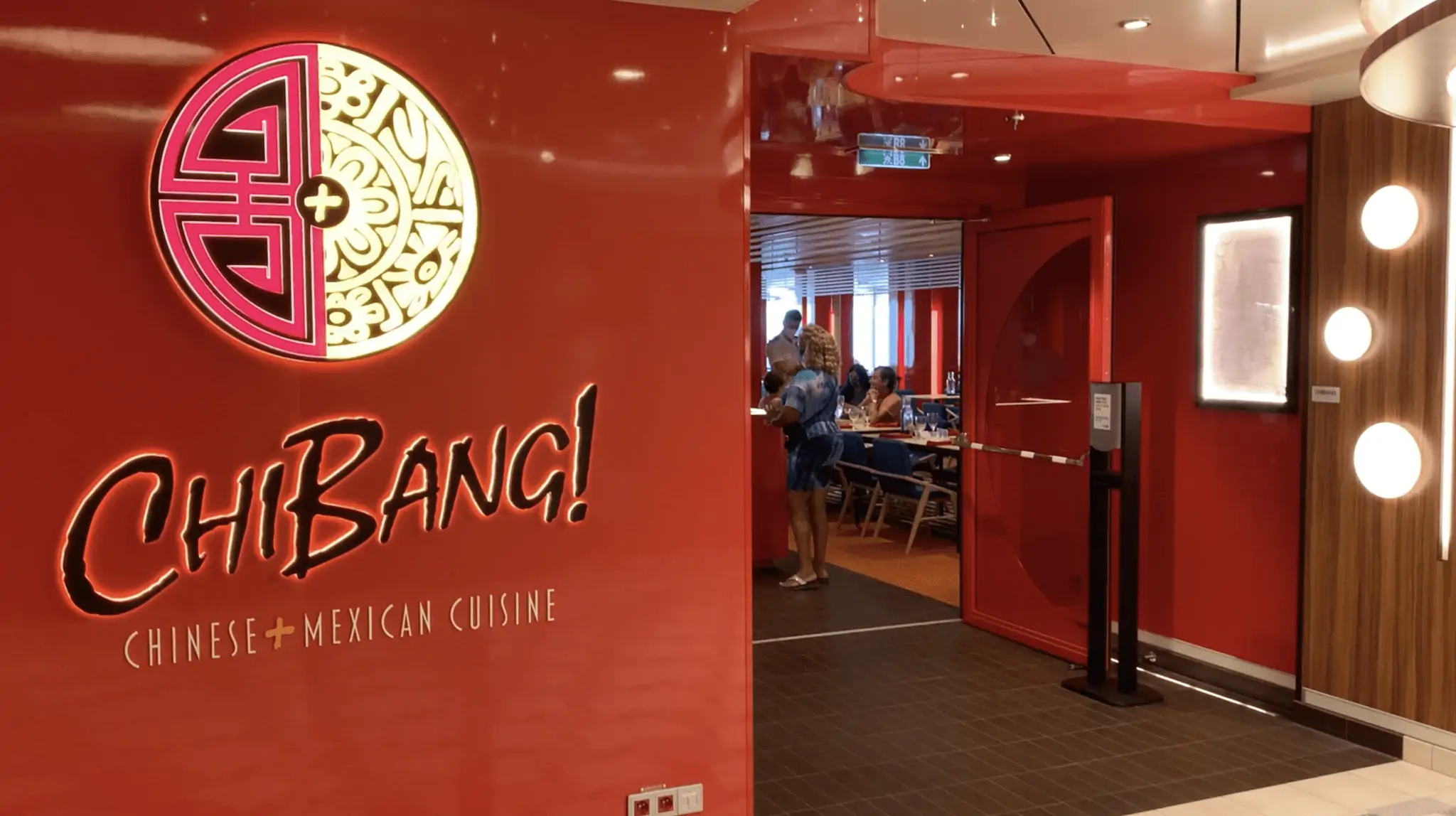 Chibang was open for lunch on sea days and dinner every night for our cruise. We wanted to try both the lunch and dinner menus, so we visited Chibang twice. 
Lunch
Chibang offers a sit-down lunch at which you place your order by indicating on a paper menu what you'd like to order.
There are two menus — one with the Chinese selections, the other offering Mexican — which are in some ways very similar to one another.
There are standard noodle or burrito bowls, or you can opt to "Make Your Own" by selecting the protein, noodles, vegetables and sauce you'd like and indicating if you'd like it stir-fried or in a broth. Each menu also offers a dessert.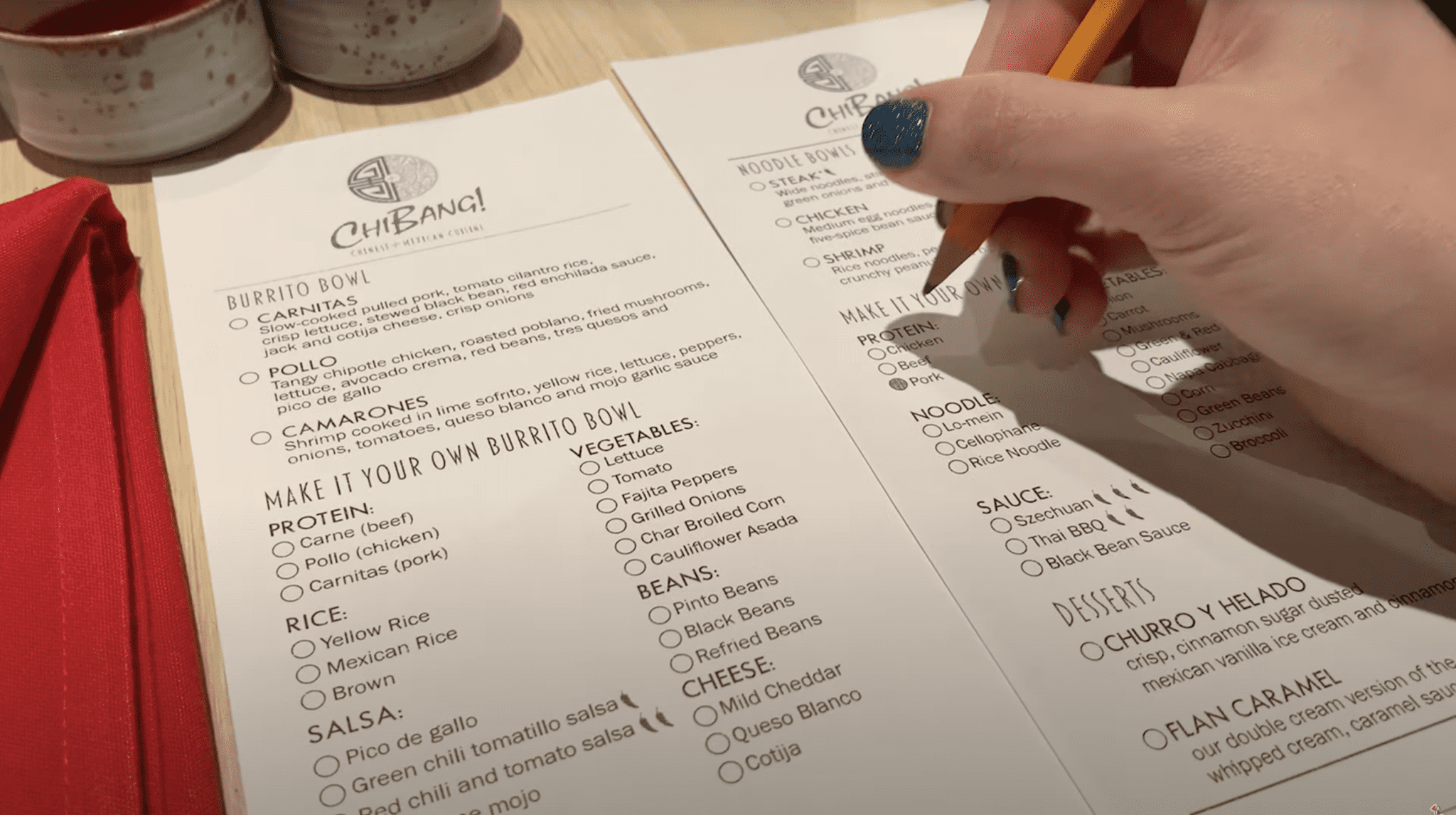 Good thing I skipped breakfast, because I wanted to try both the Chinese and Mexican "Make Your Own" options as well as the desserts. 
LUNCH MENU: Chibang Chinese & Mexican Restaurant on Mardi Gras
The burrito bowl and noodle bowl were each good, but I liked the noodle bowl better. Next time I'm on Mardi Gras, I do want to try my Chinese bowl made in broth instead of stir-fried, as I didn't get to try that this time.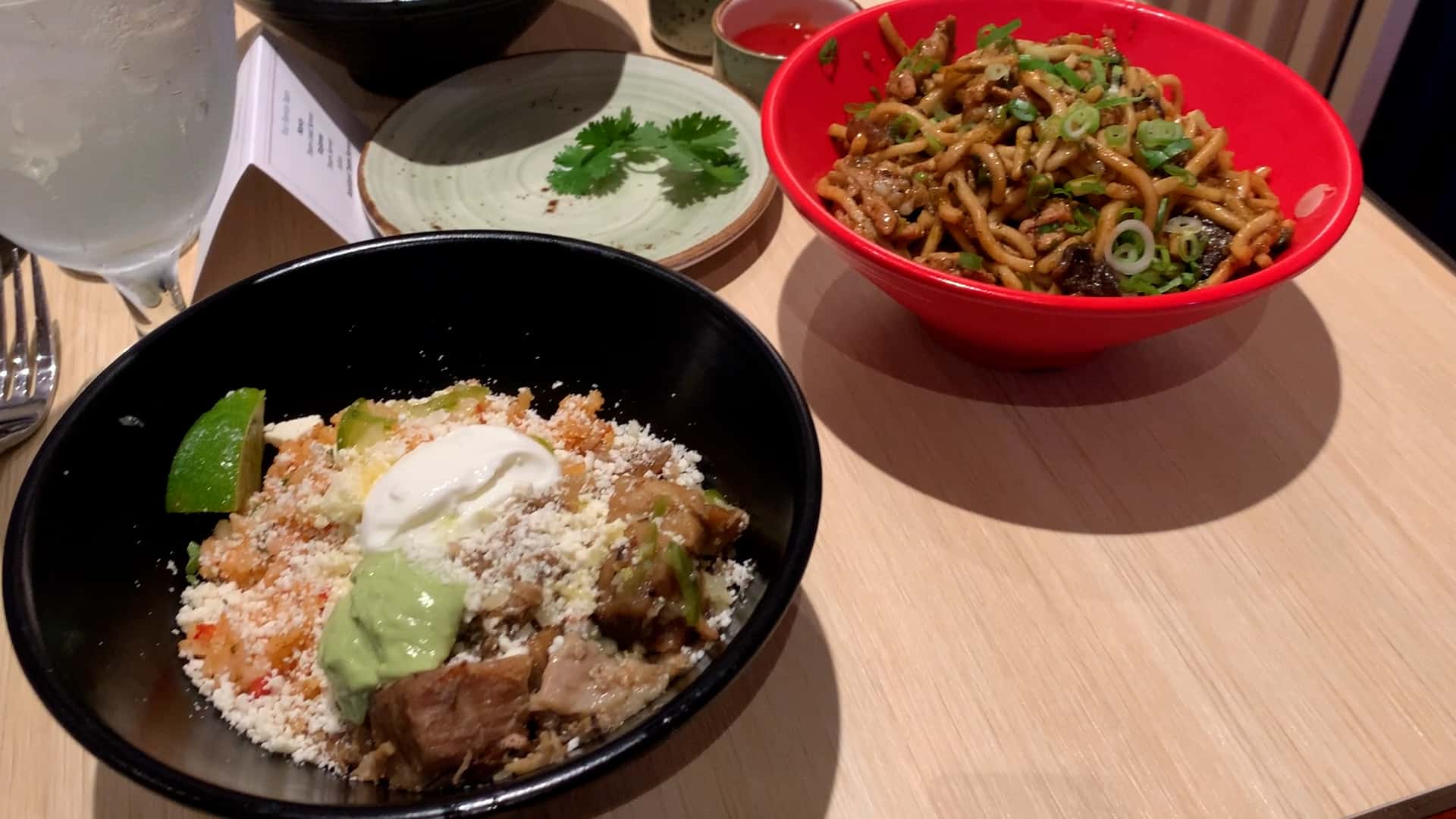 Dessert wise, the Churro Y Helado was not very exciting. It was fine, but the churro wasn't fresh so it wasn't as delicious as it could have been.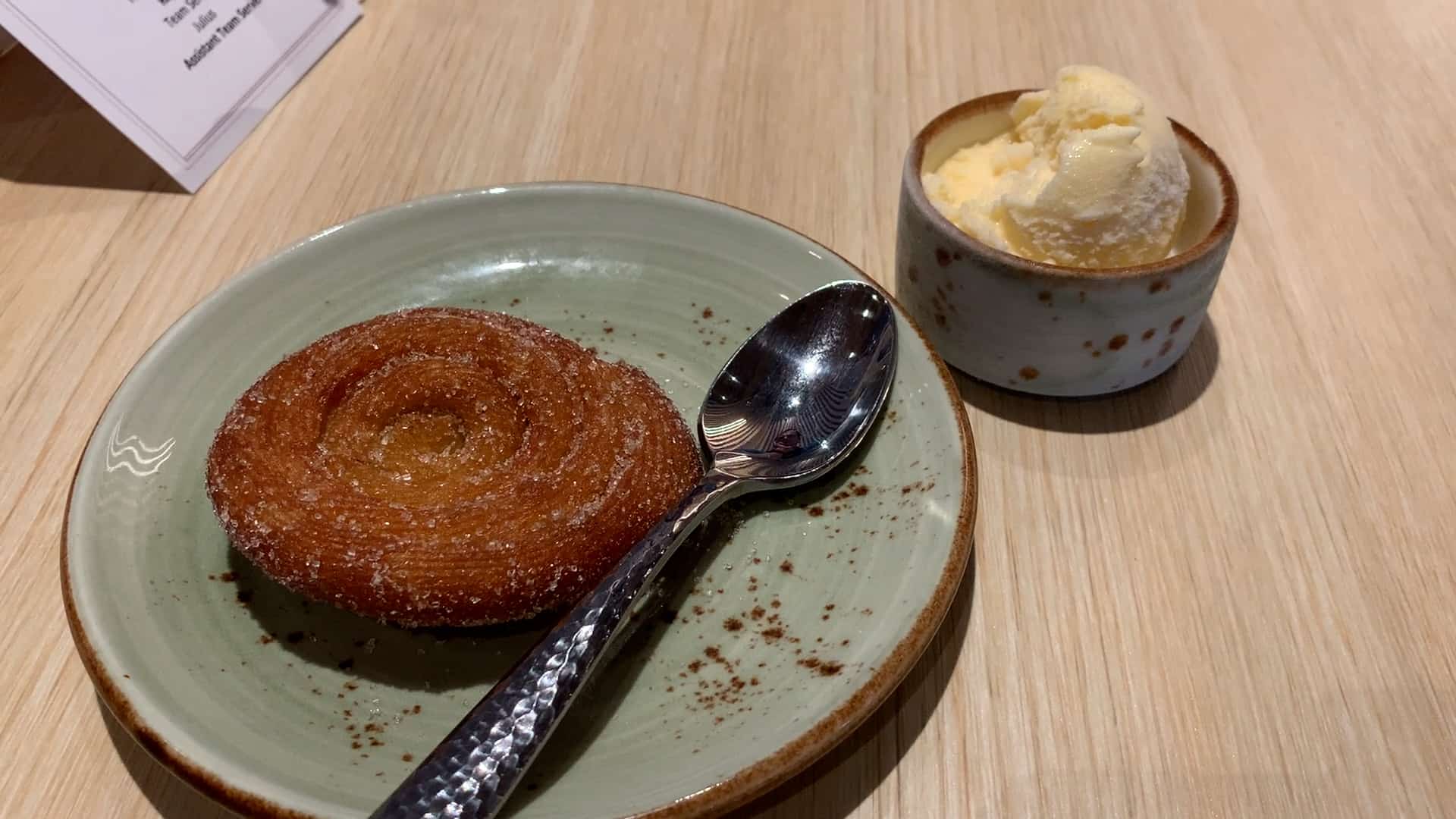 The other dessert, Flan Caramel, wasn't anything particularly special but was decent as far as flans go. Between the two, I'd recommend the flan.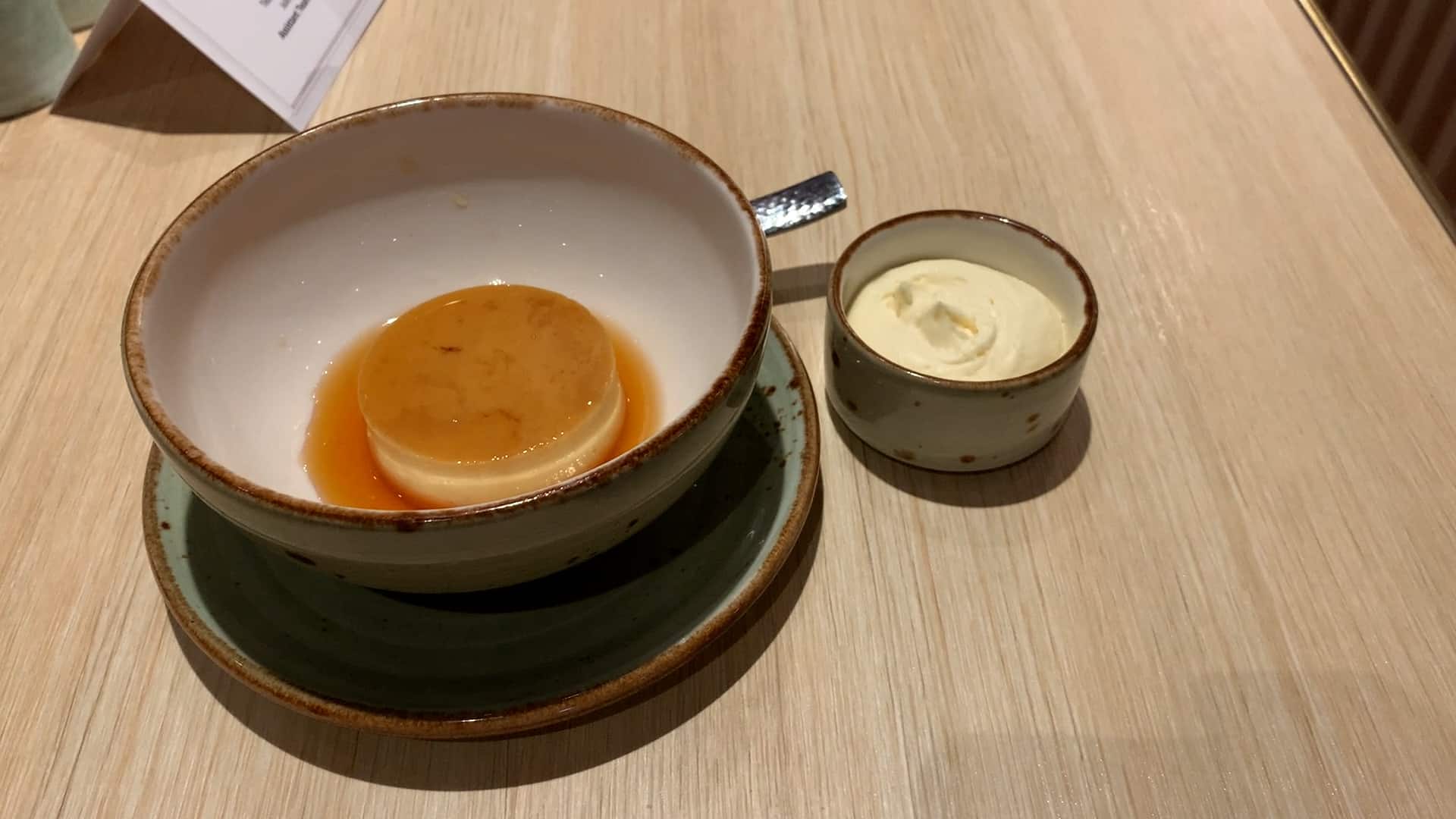 Dinner
Dinner at Chibang was a traditional sit-down restaurant experience. The menu, as everywhere else on the ship, was pulled up on my phone via QR code, which made ordering from this restaurant a little bit awkward as I wanted appetizers, mains and all the desserts from both the Mexican and Chinese menus which are laid out separately.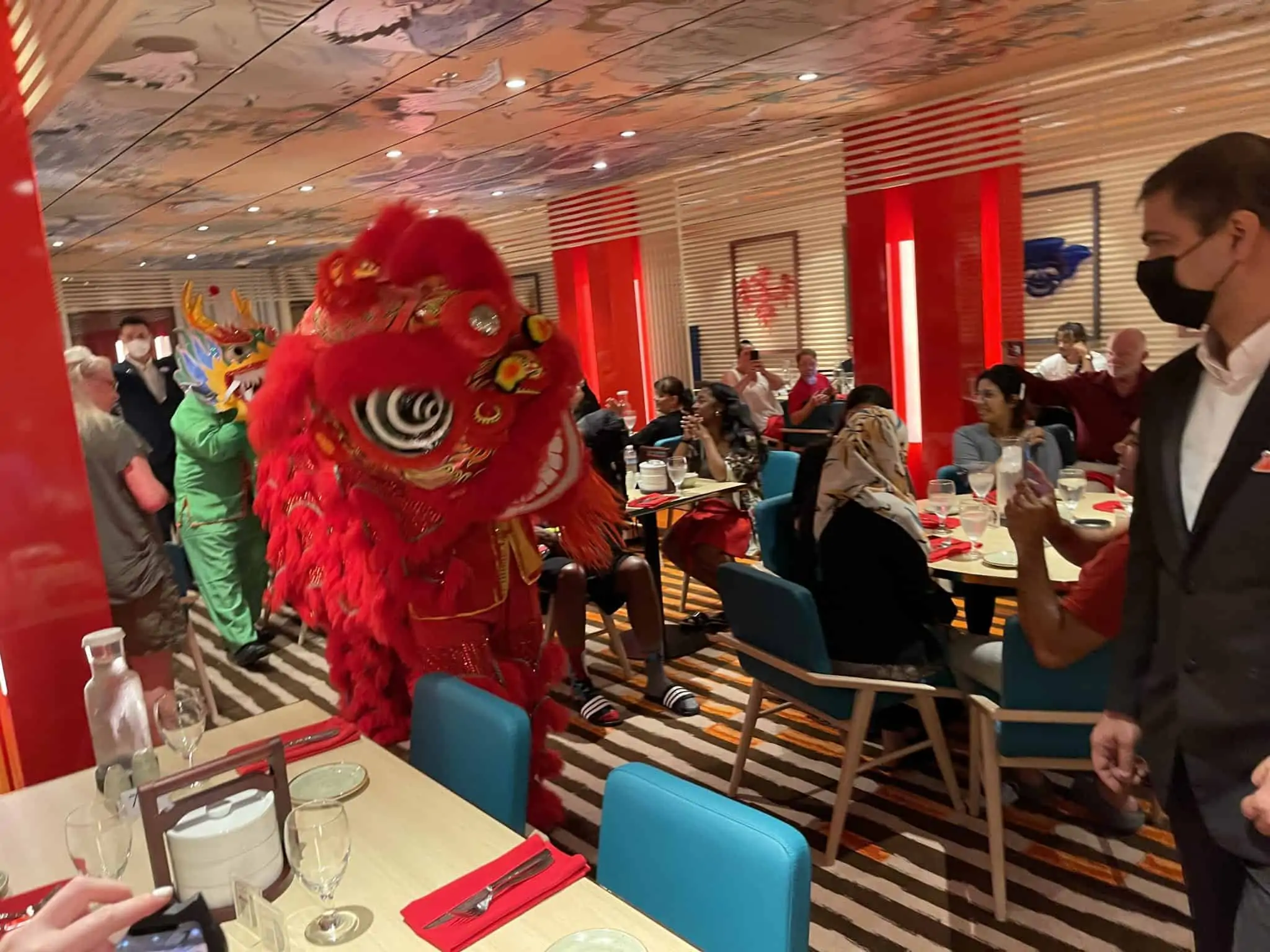 DINNER MENU: Chibang Chinese & Mexican Restaurant on Mardi Gras
We tried a pretty wide range of dishes from the dinner menus, and the quality definitely ran the gamut. The "mehs" were the Simple Greens Salad, Queso Fundido, Tacos de Carnitas and Chocolate C-Bang dessert (more on that in a moment).
The "goods" were the Slow-Braised Pork Belly, Singapore Chili Shrimp, Camarones (shrimp) Diablo and Crema Catalana.
The "greats" were the Mapo Tofu (get it with the noodles), Pescado Frito and Coconut Tres Leches. And yes, we did actually eat everything!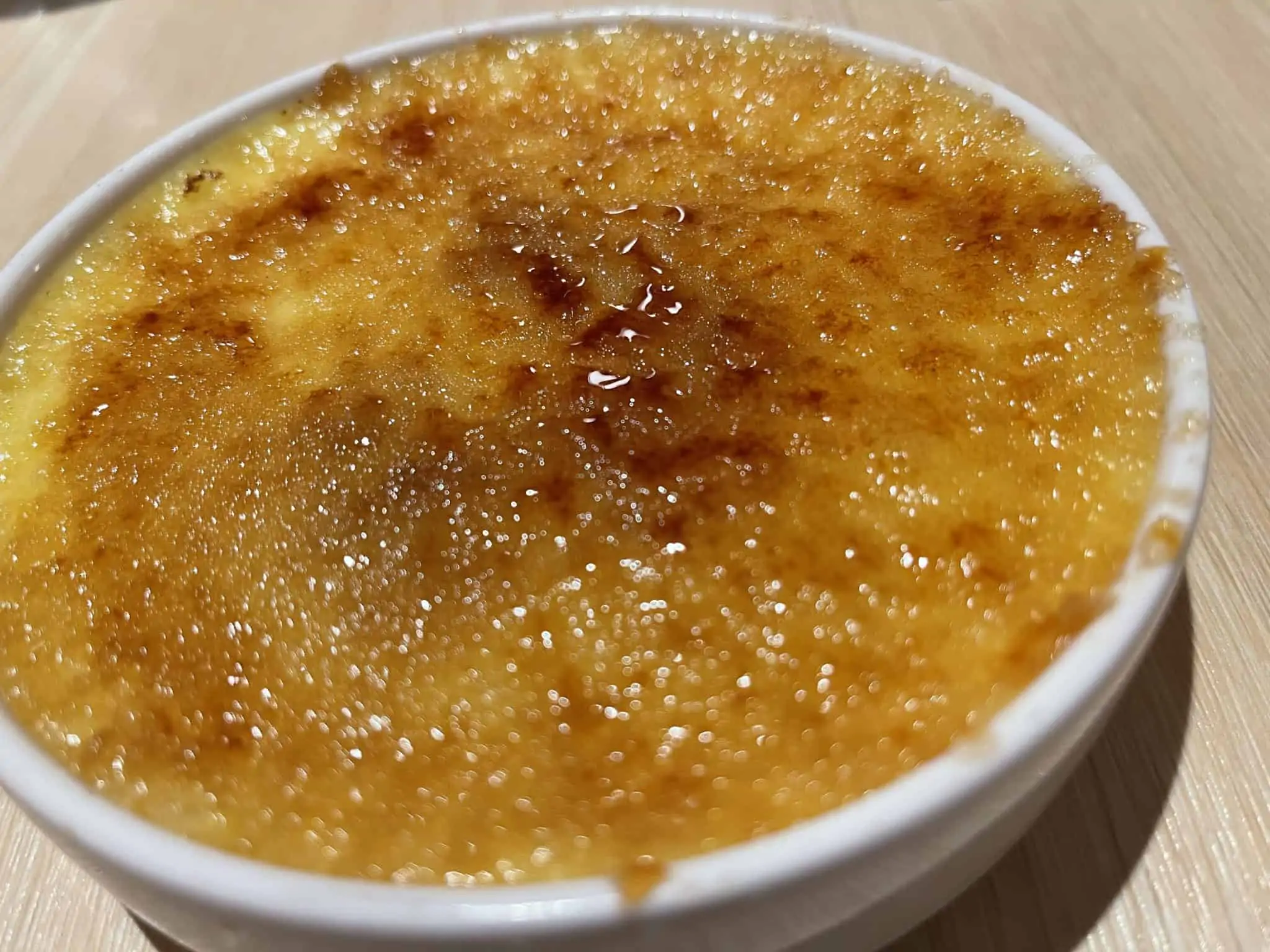 Remember I mentioned the Chocolage C-Bang dessert?
This was a very big disappointment for me as I really like chocolate and, whether we got a serving that had been overcooked or left sitting out for too long, this was dry and boring and definitely not worth the calories.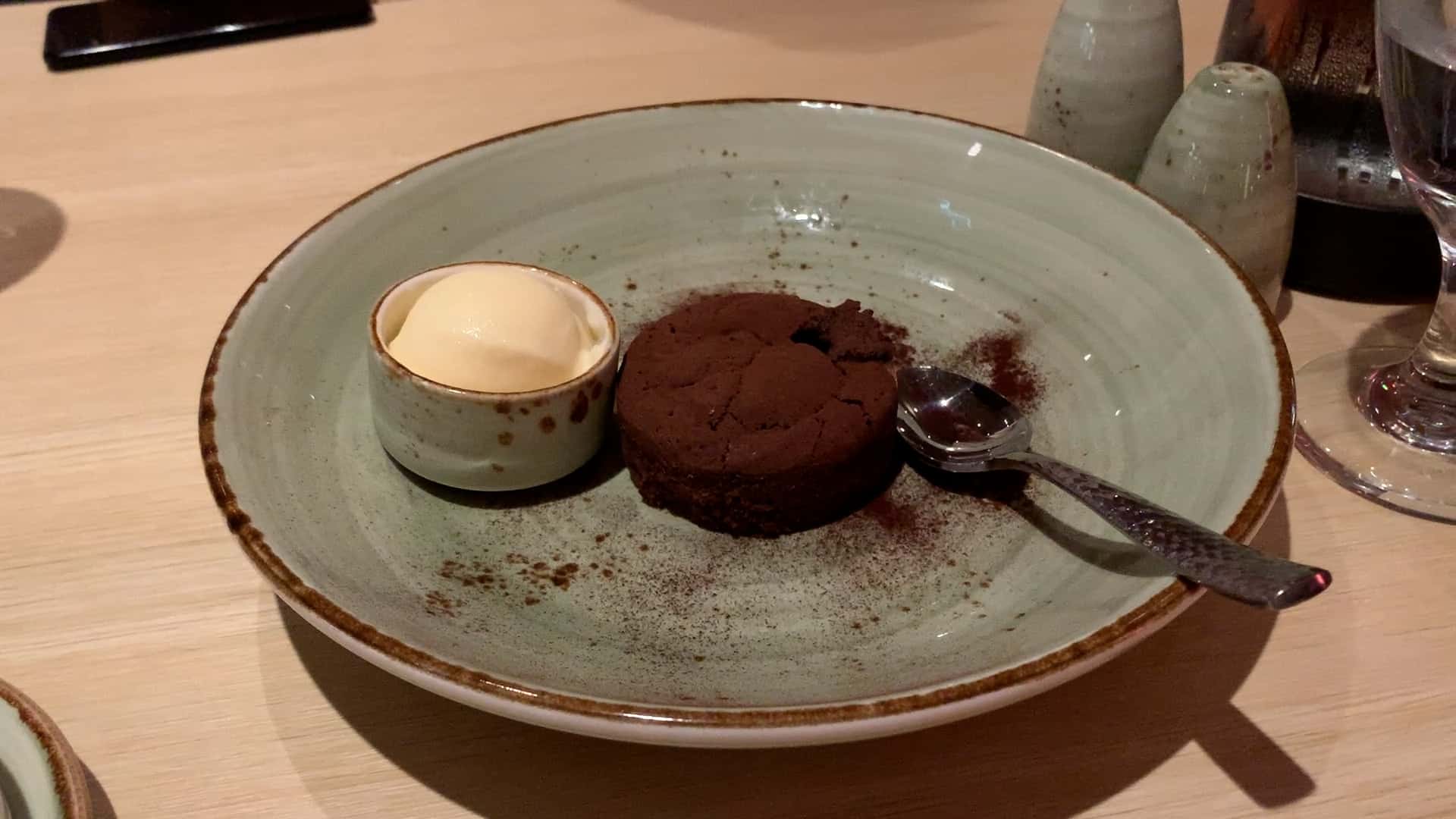 Among the "goods" it's worth noting that the Crema Catalana is pretty much a flavored creme brûlée.
If you're a fan of creme brûlée, you're going to like this dessert. Otherwise, I'd probably skip it. Also, although one shrimp had the word "chili" in its name and the other "diablo" neither was especially spicy, which was something of a disappointment.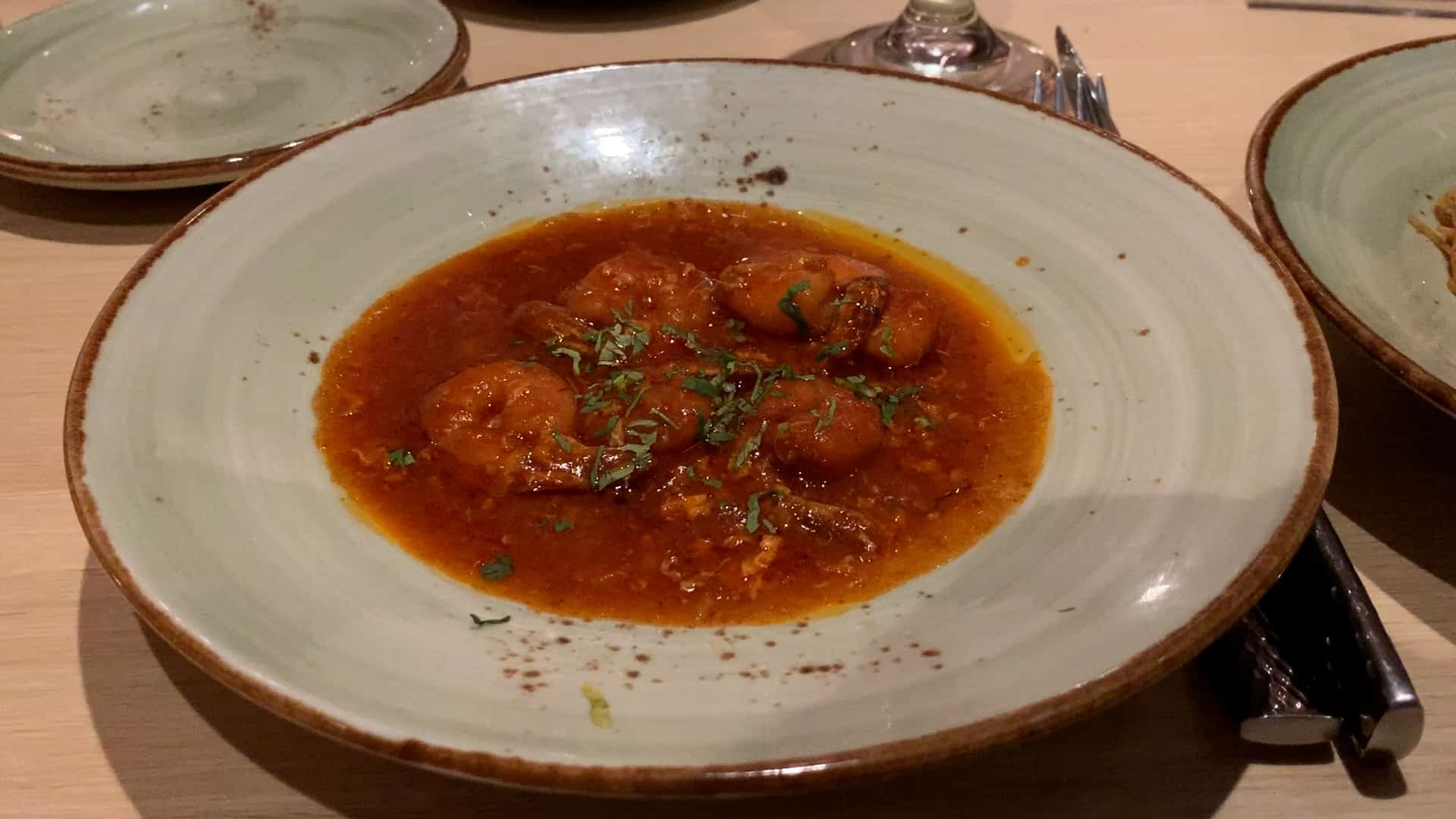 Now for the "greats…"
The Pescado Frito was excellent. It was perfectly crispy with a nice level of spiciness, the fish tender and perfectly prepared.
We actually considered going back to have it again on another night, but there were so many food options onboard that we never were able to circle back to Chibang!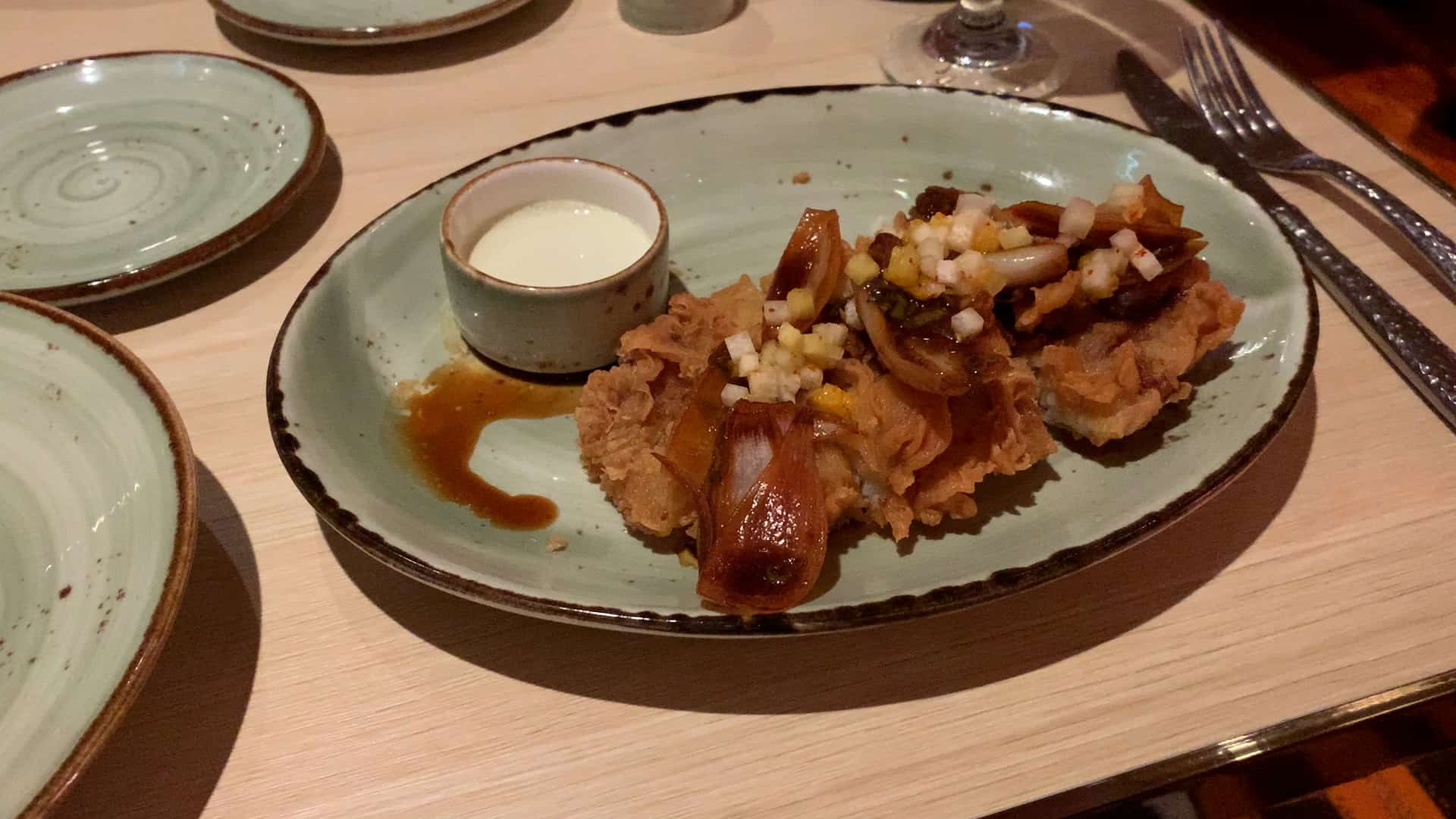 The Mapo Tofu was also really good — better than we expected, truth be told, especially seeing that the dish (which is usually pretty spicy) was listed on the menu as "mildly spicy."
Consider this a bit of a warning where this dish is concerned: If you're ordering it looking for "mildly" spicy, consider either picking something else or at the very least ordering a "back-up" entree should this prove too hot to handle.
Also, while Mapo tofu is usually "flavored" with pork, this version was vegetarian. While I like it with pork, this was really delicious.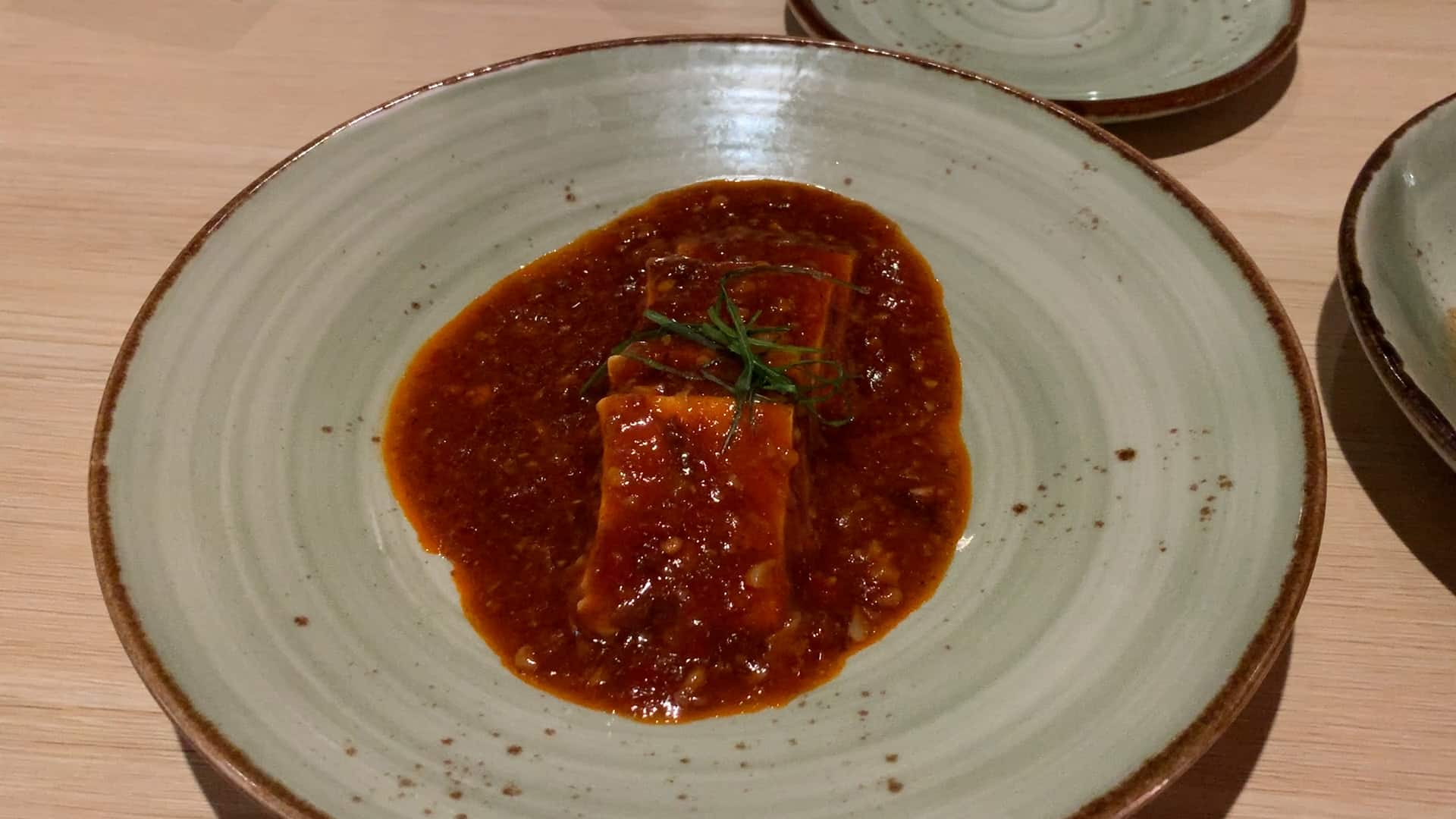 Perhaps the most surprising thing on the menu was the Coconut Tres Leches cake. We honestly expected it to be our least favorite dessert and only ordered it in order to compare all three.
REVIEW: Big Chicken on Carnival's Mardi Gras
Yet this actually turned out to be not only the best dessert but one of our favorite things on the entire menu. Another reason it caught us by surprise is that neither of us is overly fond of coconut, and yet the flavoring here was light and not at all overwhelming or cloying.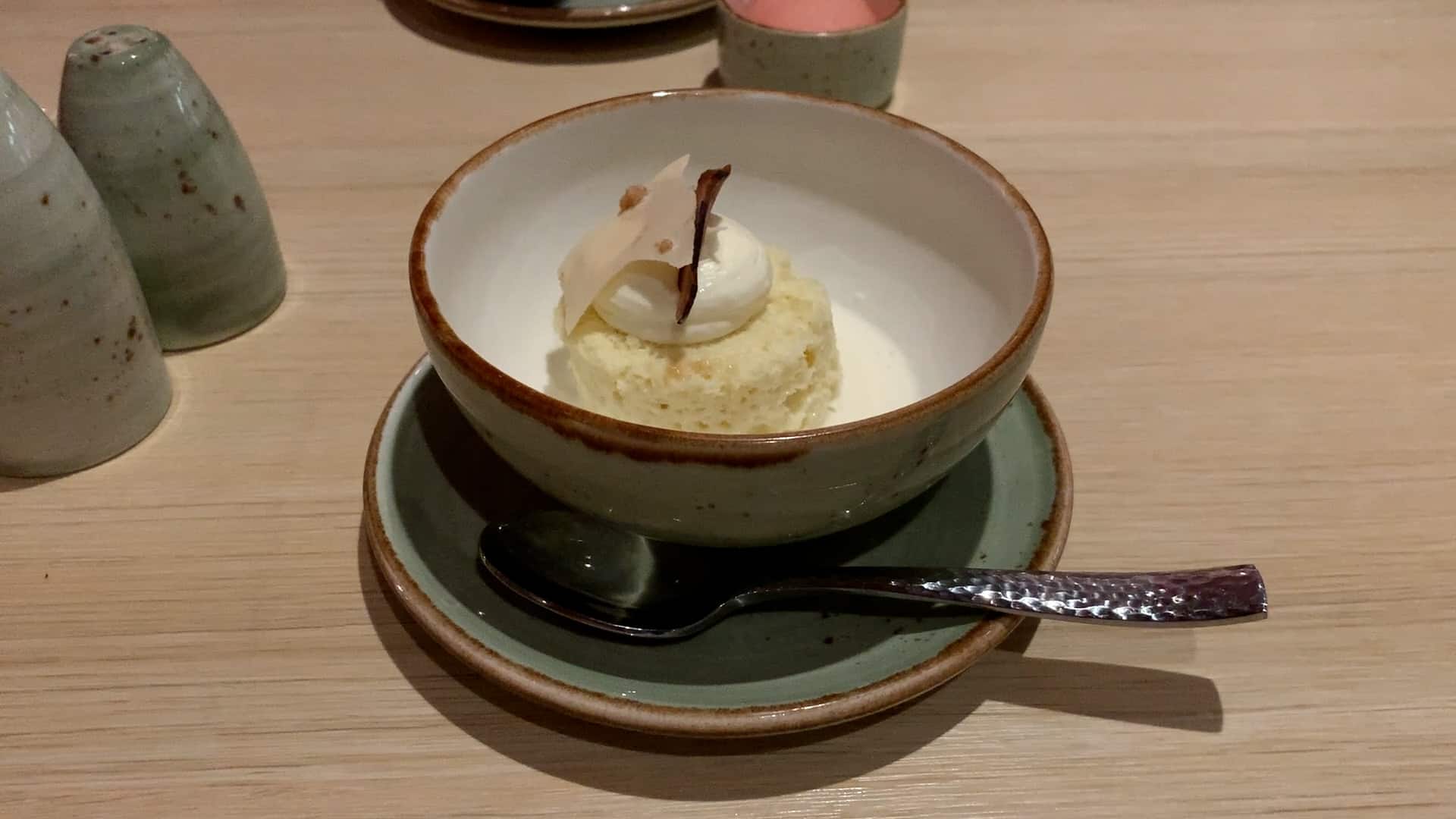 Drinks
As with most of the venues on Mardi Gras, there were several cocktails which went along with the theme — or should I say themes — of the restaurant. Having not purchased the Cheers! package, we took a pass on the cocktails, but you can check out the drinks — including their ingredients and prices — below.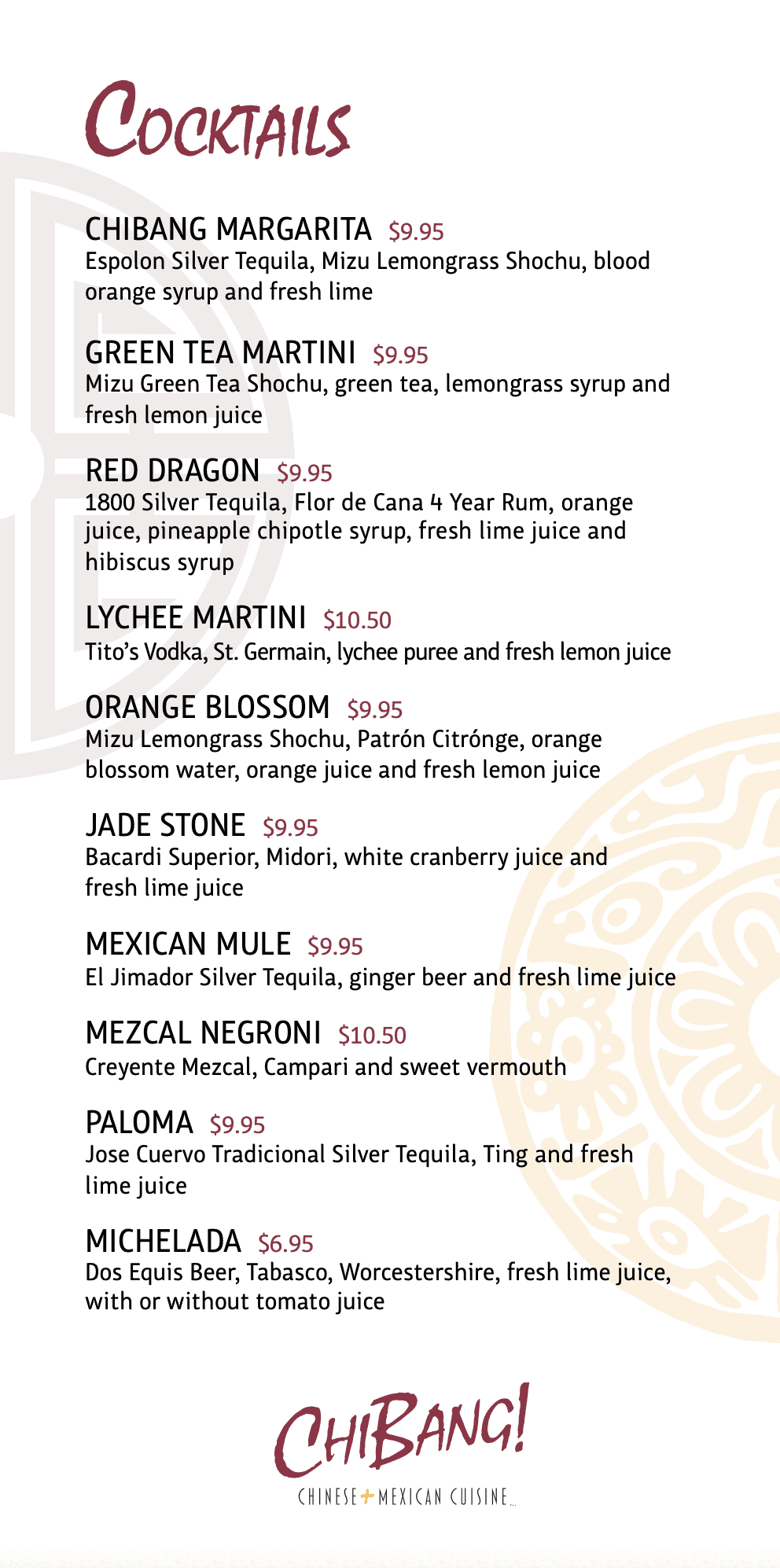 Everything Else You Need To Know
Ever since Mardi Gras was introduced, Chibang — which one might easily expect to be a for-fee restaurant — is included in the price of the cruise fare.
Of course, while that is still true as of the time of this writing, that's not to say it can't or won't change at some point down the line.
I hope, however, that it doesn't as it's nice to have such a unique venue as a complimentary dining option.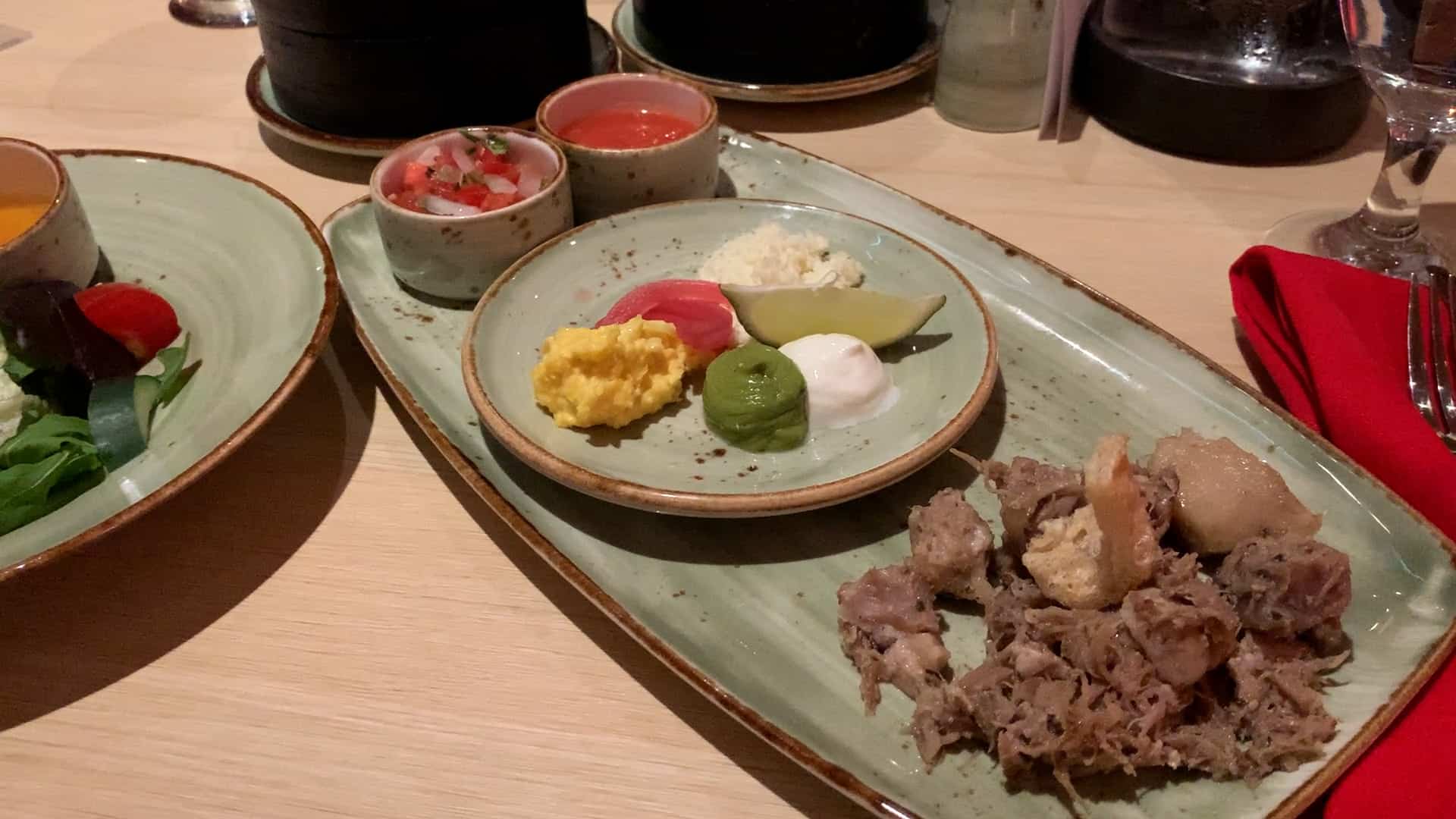 It's also worth noting that, as is true of Cucina del Capitano on this particular ship, Chibang offers both for-fee Steakhouse Selections and a small selection of main dining room standards (here listed under "& More") which are available free of charge.
Between the Chinese, Mexican and standard menus, if a guest can't find something to eat here, they may not actually be hungry.
Will I eat there again?
I will definitely go back to try some other items and get the ones that we really liked again. The menu is pretty huge, so it will be nice to go back and try some of the dishes we weren't able to get to on our first visits.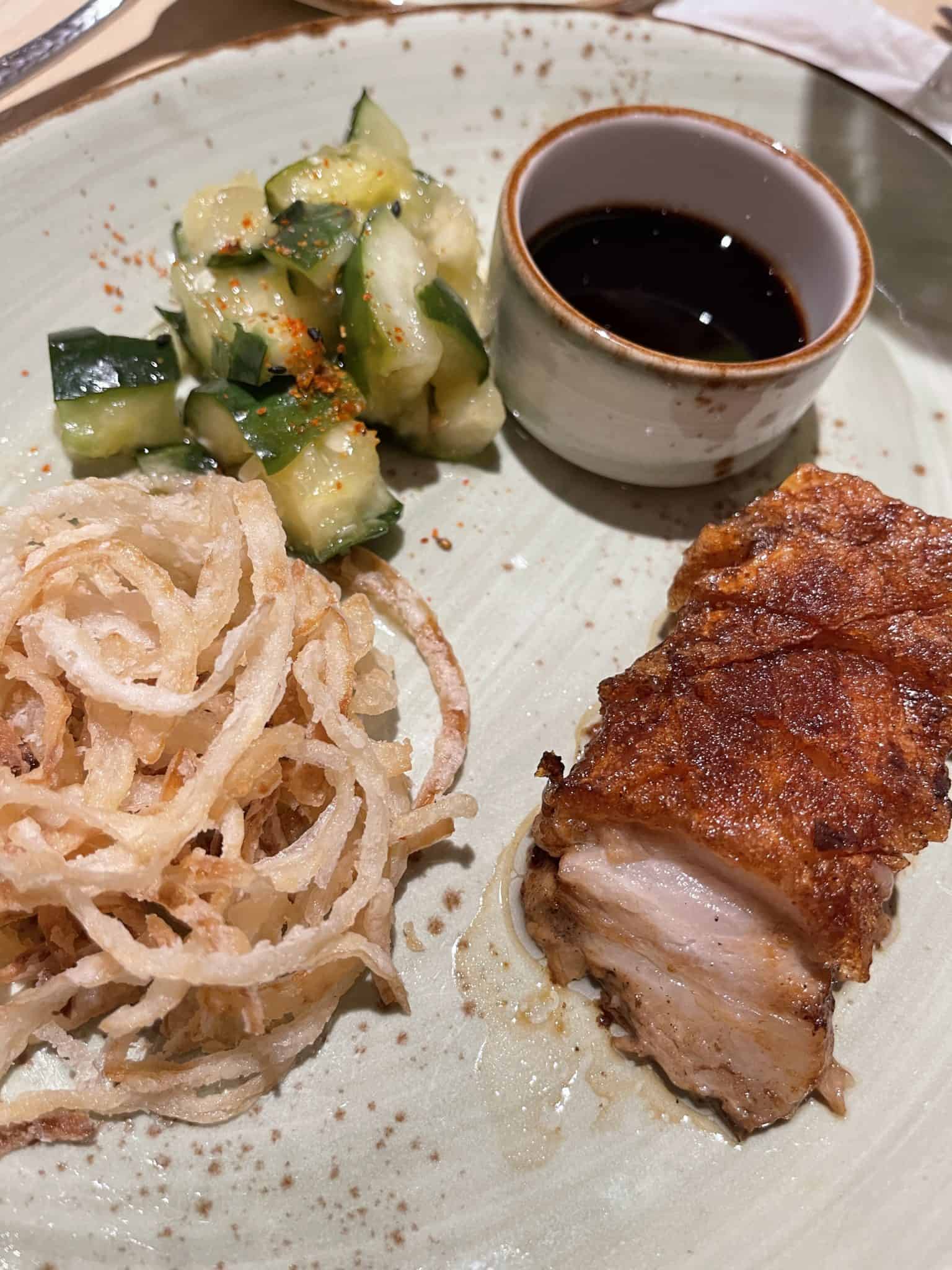 READ NEXT: Review: Riding BOLT, the First Roller Coaster on a Cruise Ship
Pin it!