This morning I woke up at a crazy hour so I could walk around the ship shooting video of the various venues while they were empty, because all the sane people were still sleeping.  I started on deck three and made my way up until I wound up at the Lido Marketplace before calling it quits. As cruisers, we're used to the hustle-and-bustle of a ship, but walking around the Carnival Magic at so ungodly an hour made me realize how quiet a ship can be. Wandering around the empty hallways and restaurants was cool and a little spooky, as if I was exploring a ghost ship.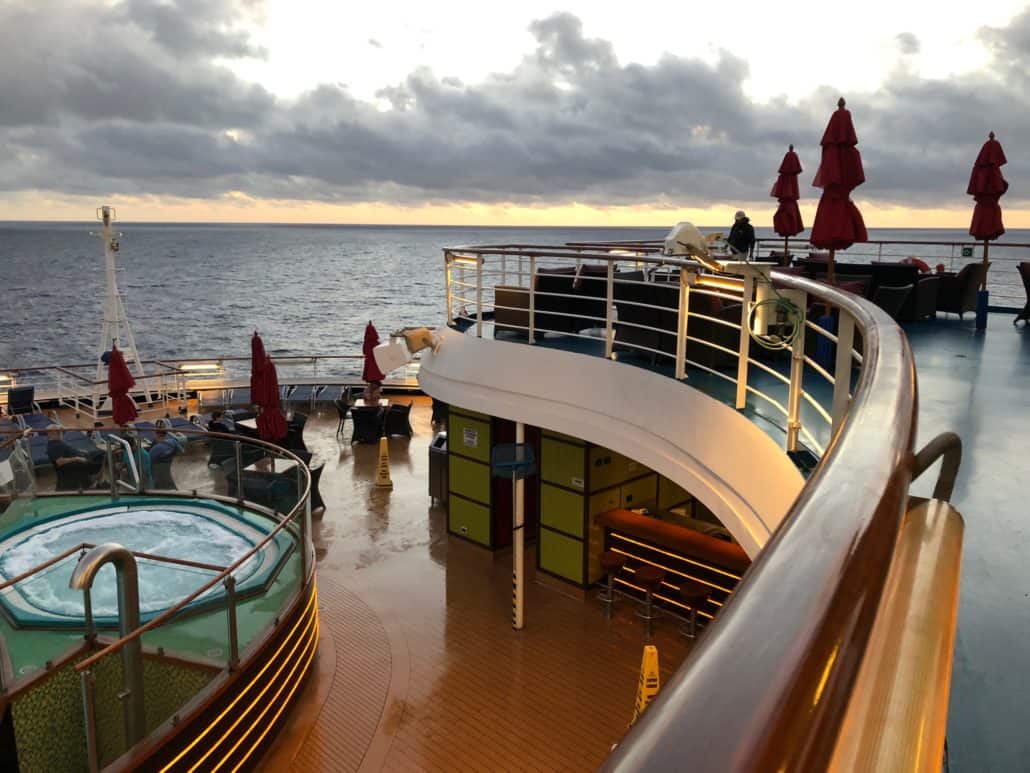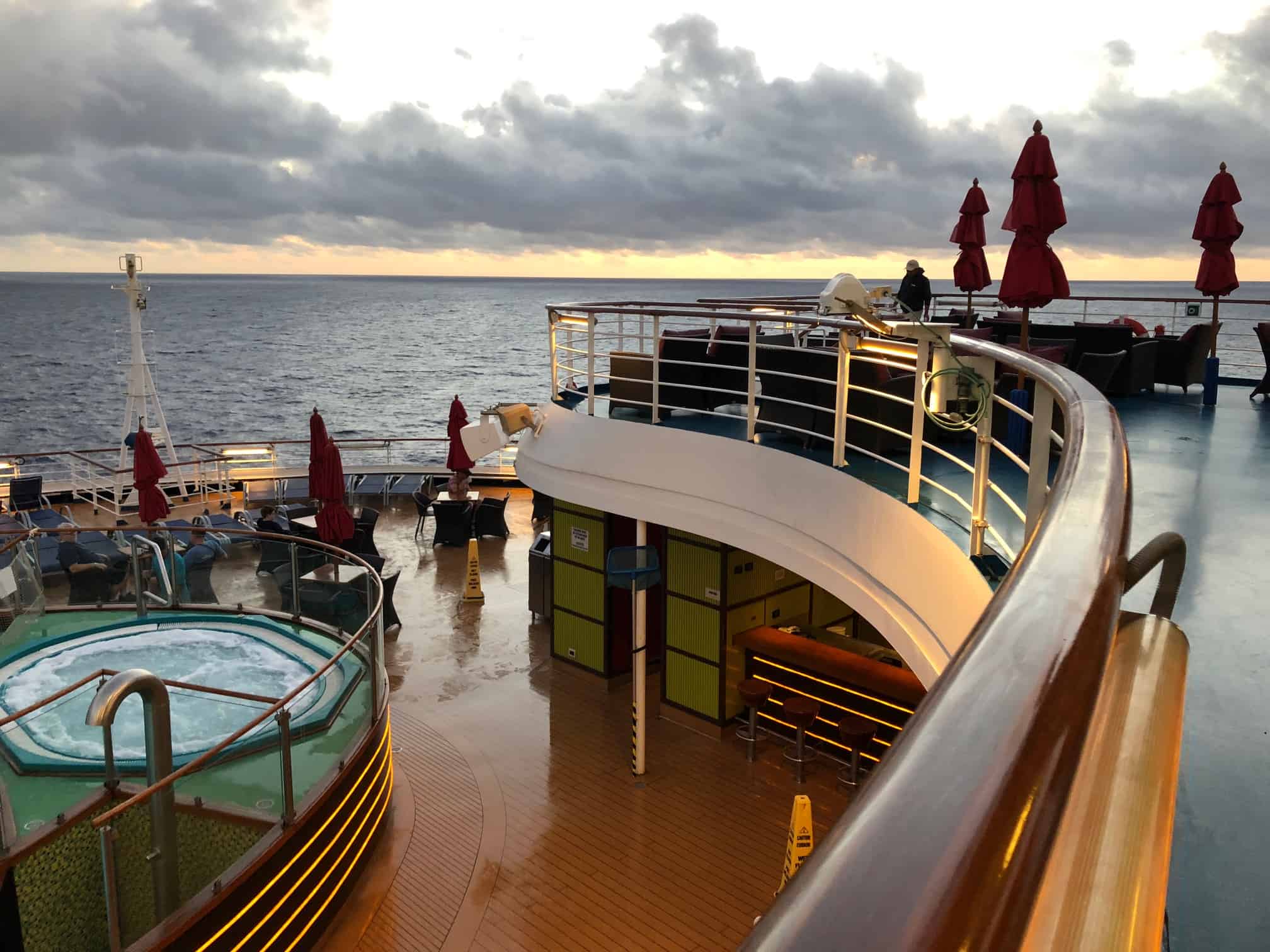 After I finished my video walkabout, I went to watch the sunrise from the aft end of the ship. There's something about standing there watching the sun come up with just the sound of the ship going through the waves that gets to me every time. For all of the great meals to be had and shows to be seen, there's nothing to really remind me of why I enjoy cruising like these quiet moments.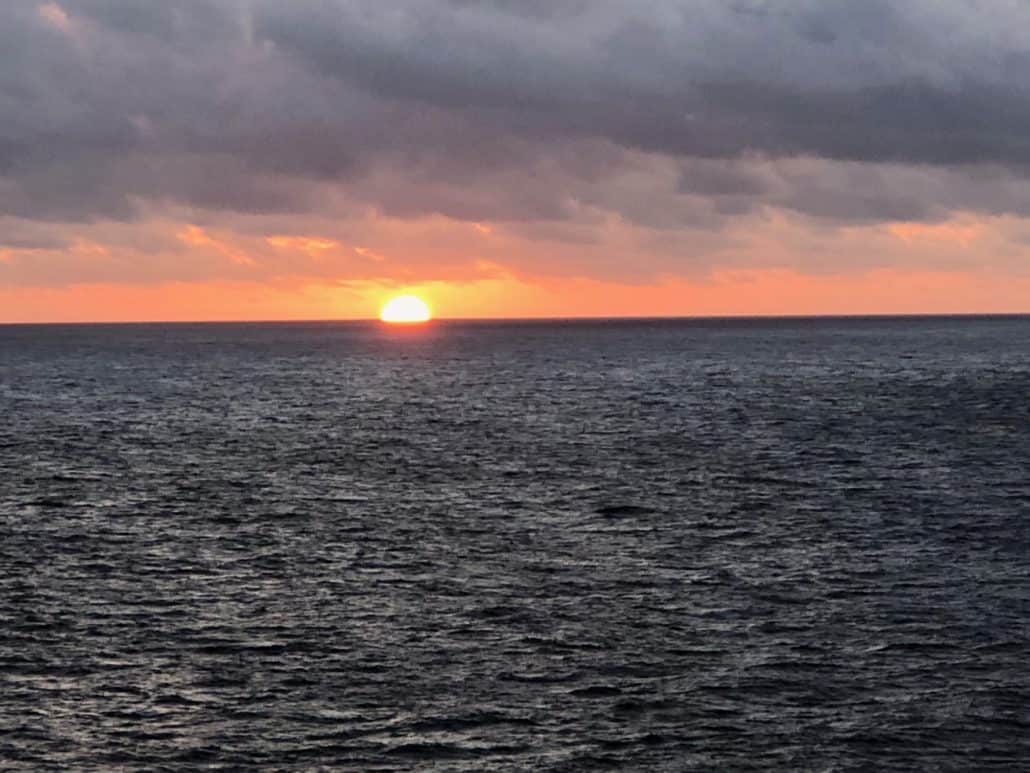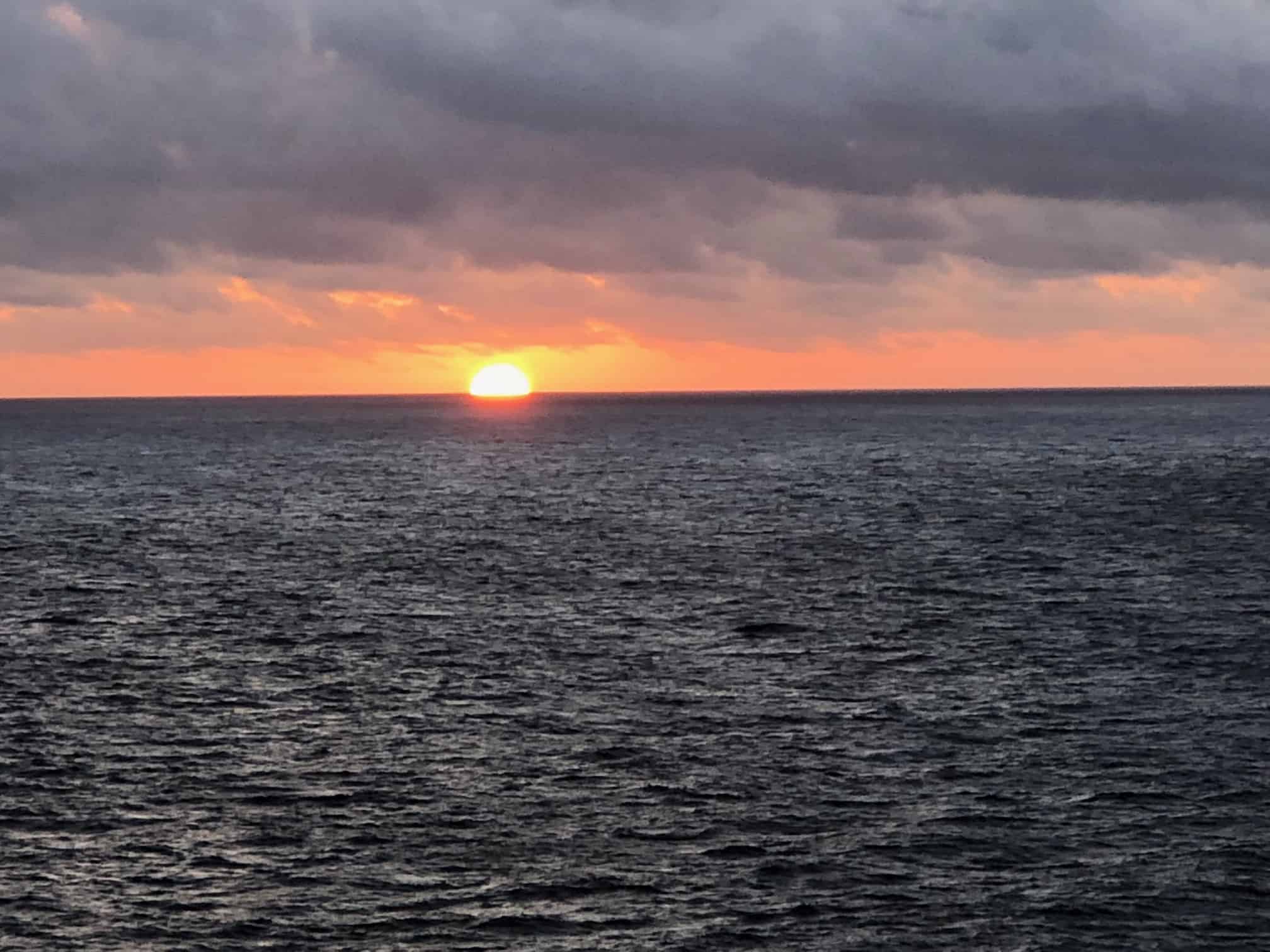 Since I had a lunch at 11 a.m., I wound up going to my favorite non-main dining room breakfast place, Ocean Plaza. I say it every cruise but it's worth repeating: If you're sailing on a Dream-class ship (Breeze, Dream, or Magic), Carnival Vista, or Carnival Sunshine, Ocean Plaza is the place to go for a nice breakfast away from the madness of the buffet. I noticed on this sailing that the selection was a little bit more of a continental-style breakfast – cheese, meats, grits, rolls, and a juice bar – than it has been in the past. But it was the perfect place for me to pick up something that would tide me over, as I knew this was going to be a big eating day.
First Up: Q&A with Carnival Executives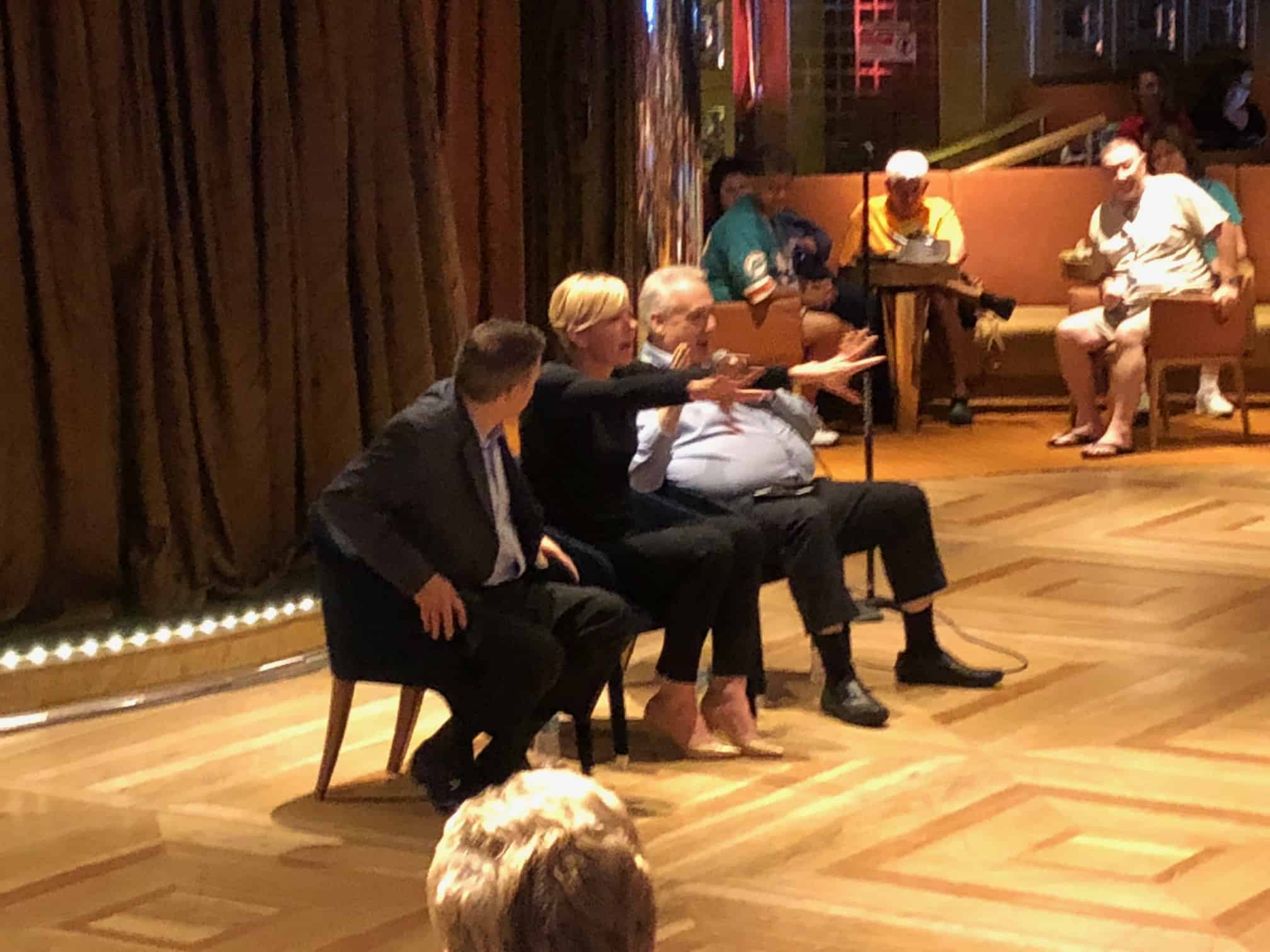 As I mentioned yesterday, this is Carnival's annual blogger's cruise, with John Heald being one of the featured attractions. But two other Carnival execs are also on board:  Richard Morse, VP of Guest Operations and Sarah Beth Reno, VP of Entertainment. This was a great opportunity for them to not only answer questions from the 650 bloggers on board, but to get their feedback on what's working and what's not as they move forward with future ships. They offered up a lot of details about the upcoming Carnival Horizon, Carnival Panorama, and even the new XL ship, which is going to be designed to handle 6,500 passengers. That's right… 6,500!
One topic that came up a few times was requests to make the ships more compliant with ADA standards, and Morse said that the company was slowly working to upgrade the ships in this regard and will continue to do so moving forward.
The entire Q&A sessions was great, because this was a group of people with some strong opinions who weren't shy about expressing them. None of the questions were dodged, although a few may have been tap-danced around.
Interview with John Heald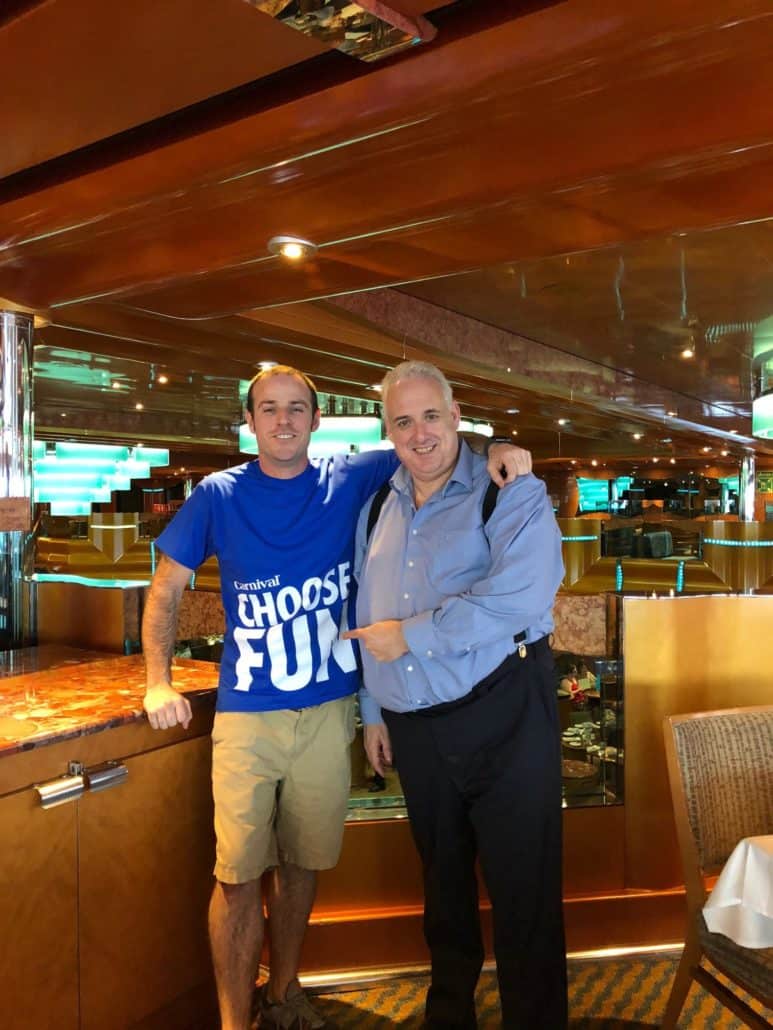 Immediately following the Q&A session, I had a one-on-one sit-down slated with Brand Ambassador John Heald. We chatted for a good 20 minutes or so, during which I got to ask him a lot of questions about the ships currently being built or planned. This being a rare opportunity to address the elephant in the room, I asked Heald what Carnival is doing in response to the rash of failing marks several ships had received during the USPH inspections. We discussed some of the new concepts in development, and if there was any truth to the rumors about upcoming changes to the loyalty program.
While you're going to have to listen to the interview to hear the whole conversation, I will give you this spoiler: Some new loyalty program ideas are being toyed with, but there's no word on when they might be rolled out.
I also got to ask him some of the questions Cruise Radio readers and listeners submitted via Facebook and Twitter, so that is coming soon!
One thing I won't be sharing with you is the awesome Choose Fun shirt – a tie-in with their recently rolled-out marketing campaign – that he presented to me. Sorry, that's all mine.
Diamond Member Lunch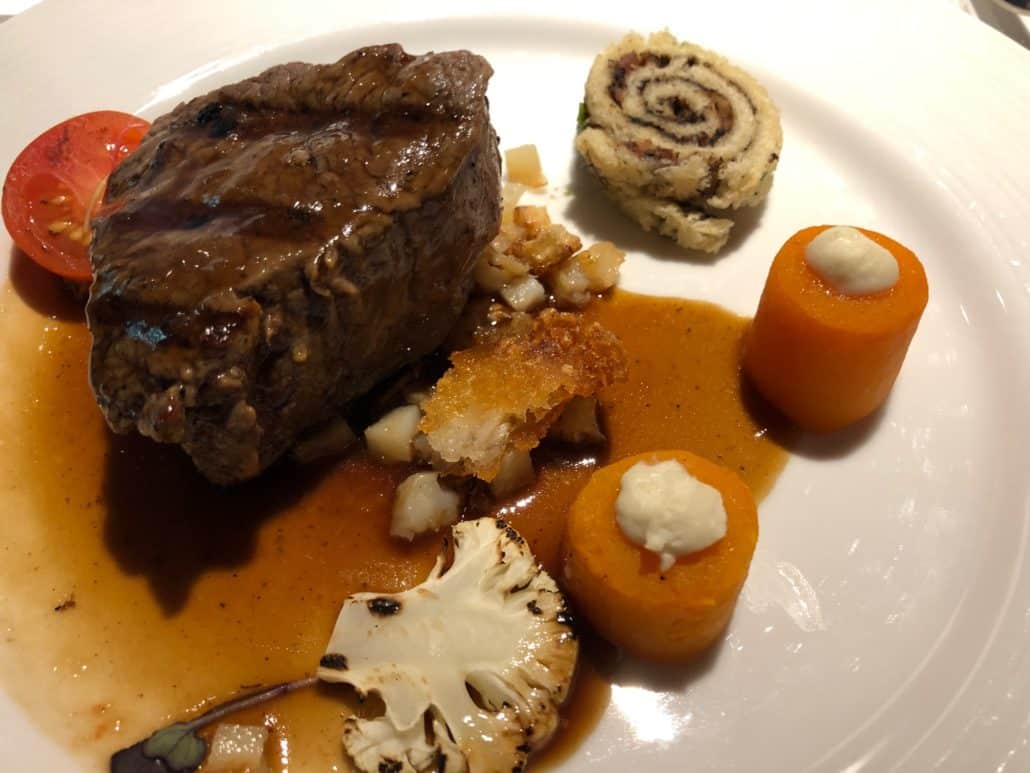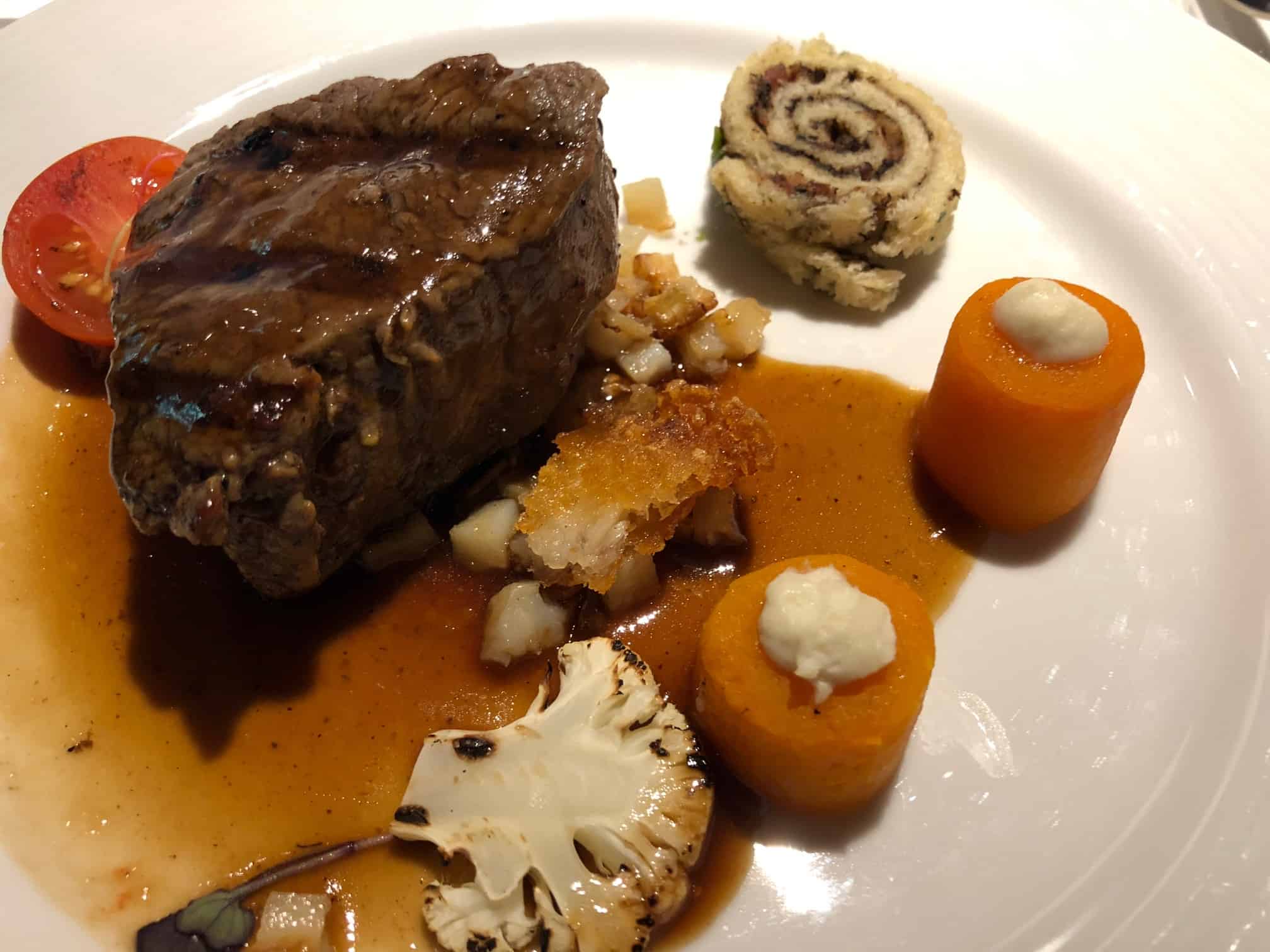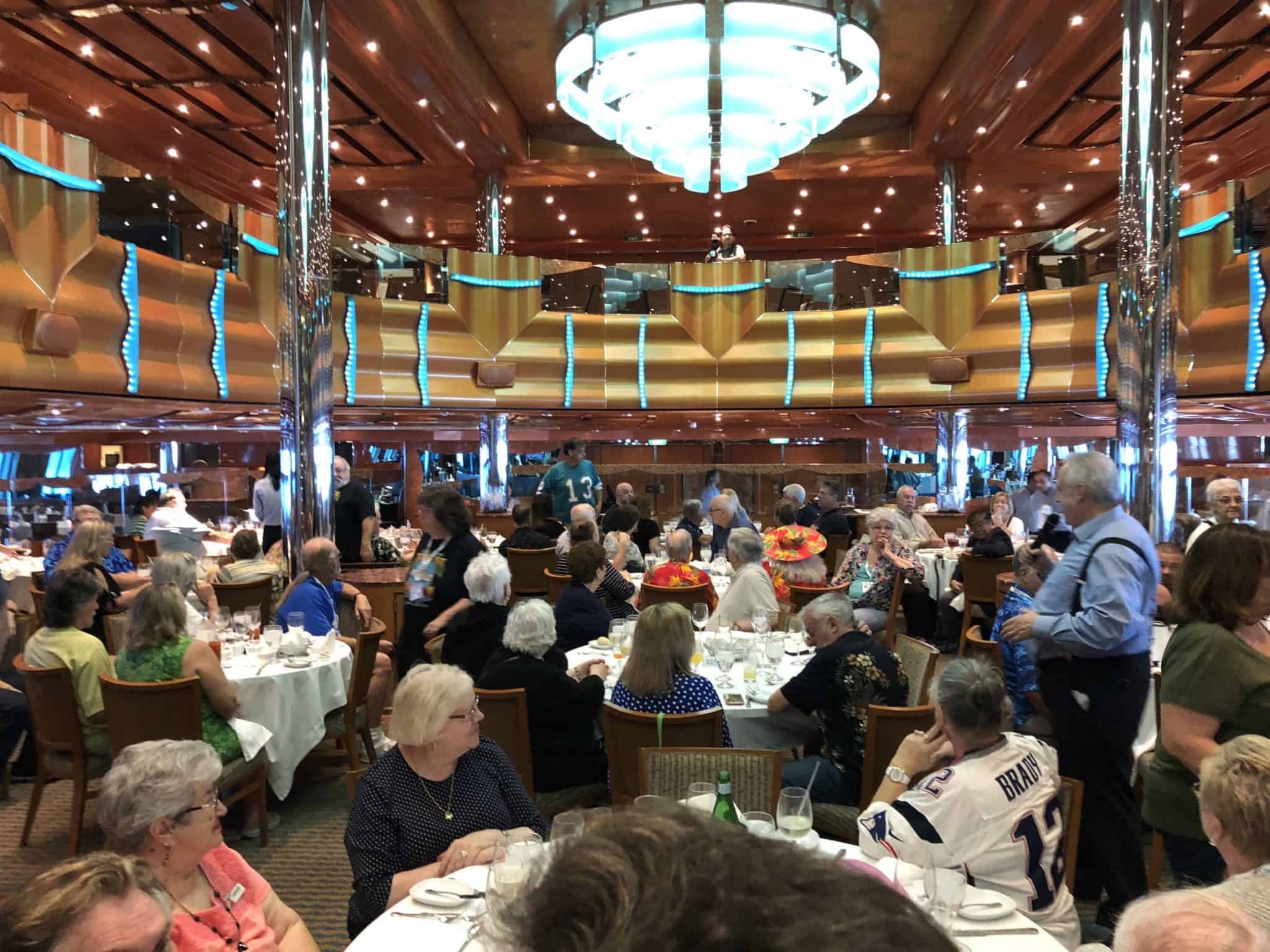 If you have Diamond status on Carnival, one of the perks is that you get to attend a luncheon that's usually held on the first sea day. The captain swung by to give a nice welcome speech to everyone in attendance and then took a group photo with us. There were drinks, an amazing crab salad appetizer, and a filet entree. There was a chocolate dessert of some sort, but I wasn't able to stick around to try it.
I should probably mention that while I've sailed with Carnival quite a bit, I'm not a Diamond level guest. But John invited me to attend and that was the kind of offer I wasn't about to pass up.
Peace and Quiet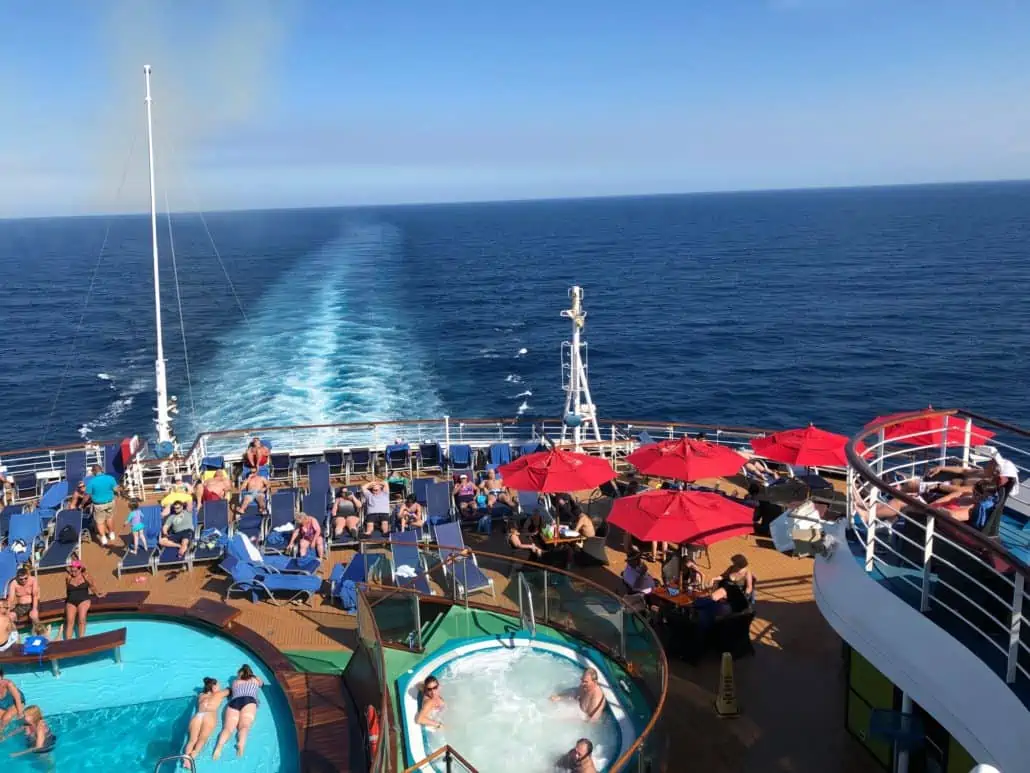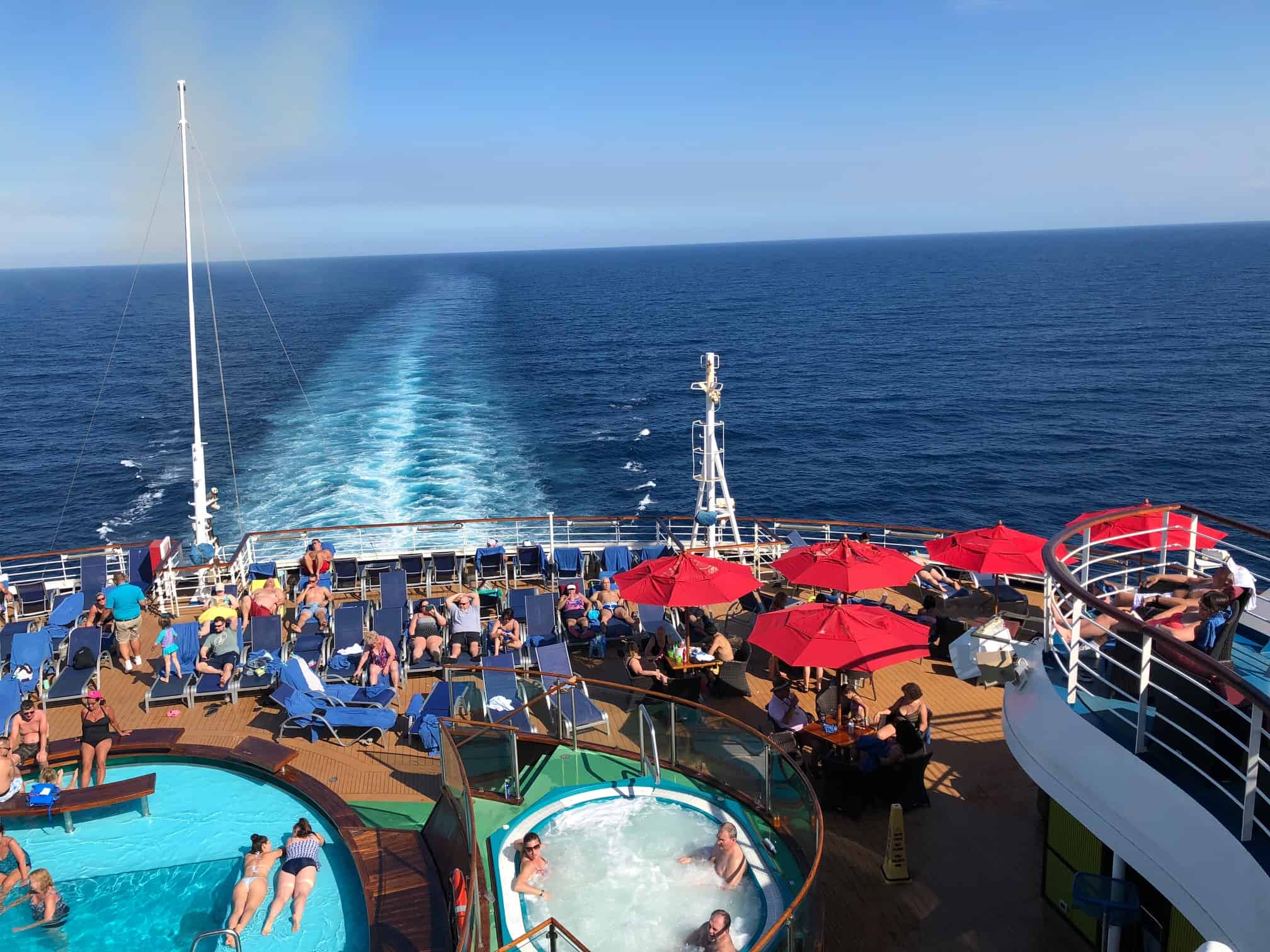 Since today was a Fun Day at Sea, I wanted to wander around a bit. As regular listeners of the show know, one of the things I'm always interested in is how a ship handles sea days from a crowd-flow perspective. It's easy to enjoy everything a ship has to offer when it is in port and a lot of people are off exploring, but the true test is how crowded things feel when you're at sea and everyone is enjoying the pool, the restaurants, and the various events put on by the cruise director and their staff.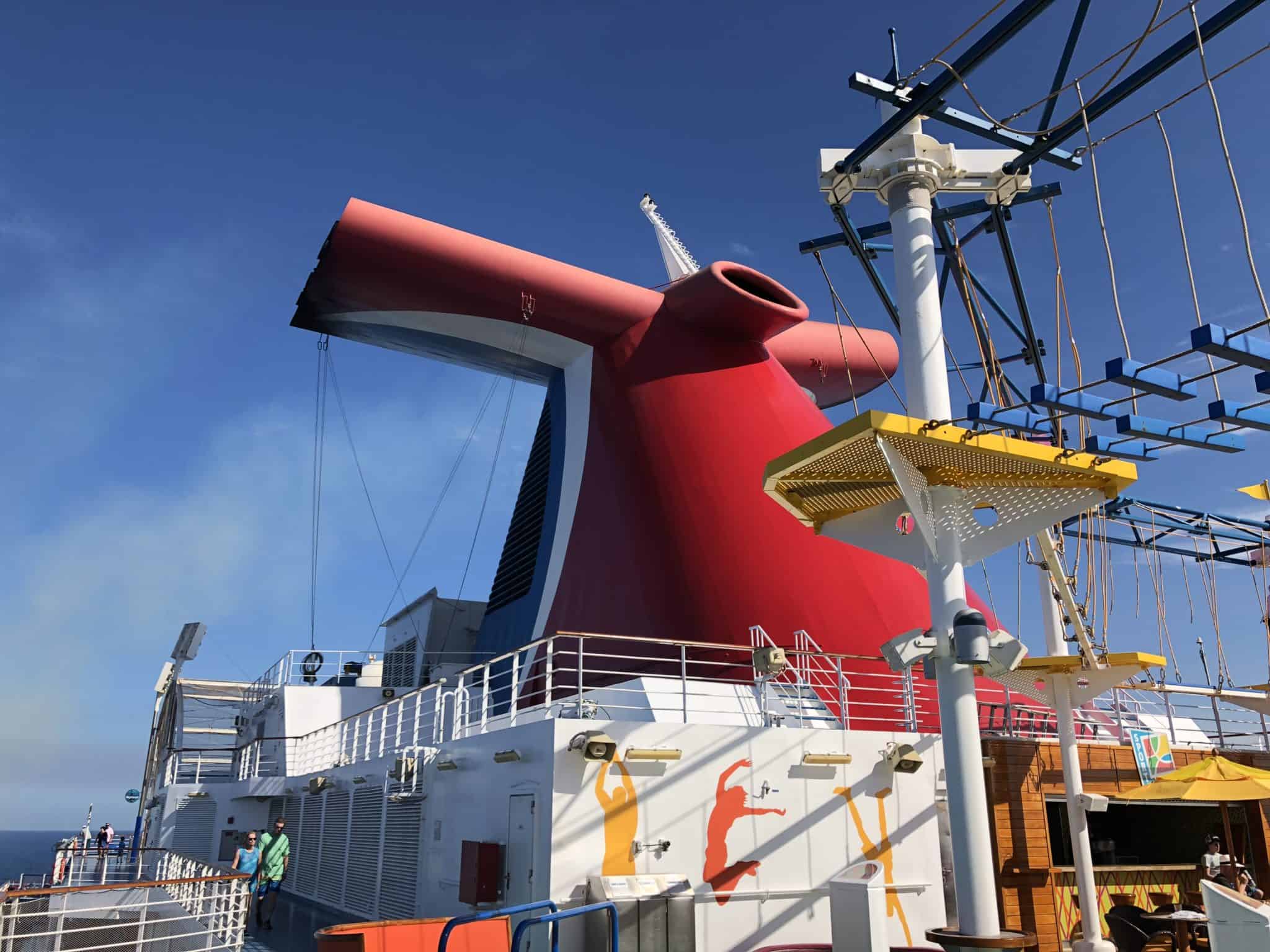 I'm happy to say that Carnival Magic delivered! The food venues weren't packed, and there were plenty of chairs around the pool.  Remember, these Dream-class ships have three levels of deck space around the pool, so there is a lot of seating available. Even the aft pool and hot tubs – where a whole lot of people enjoy hanging out on sea days – didn't feel crowded. You know what else I really dig about this ship? The hot tubs on the promenade decks that extend over the side of the ship a little bit. I wish Carnival Vista had the same design. Truth be told, even finding a hot tub can be a challenge on that ship.
I'm not really a lay-in-the-sun person, so after walking the track for a little while, I went back down to my cabin to enjoy a couple hours of reading time on my balcony. I've never fallen asleep on a balcony, but I can certainly see how people do. It is so peaceful and quiet, and the view can't be beat.
Dinner is Served!
Remember how I said this was going to be a big eating day? Well, at dinner, I wound up going with two entrees – ribs and swordfish. I also ordered a side of the bacon mac-and-cheese, which is pretty much what the word "amazing" was invented to describe.
I mentioned yesterday that the dining service was pretty slow on our first night. With a third server added to our team, things went smoother tonight. Although I noticed that our main assigned server had several of the large round tables as well as a couple of booths. If he'd had maybe one less table to deal with, I suspect he'd have a better opportunity to give everyone the level of attention you want during a cruise dining experience. This is especially true during the early dinner service – which we had – when you have to turn-and-burn those tables in order to accommodate the next round of hungry guests. (I don't really get why people who have late dining start lining up outside the door at 7:45 when the doors don't even open until 8:15. It causes a lot of congestion and sort of seems like a waste of time, too. Why not go have a pre-dinner drink instead of standing there? With assigned seating, it's not like you're going to get a better table if you're the first one through the door!)
Super Bowl at Sea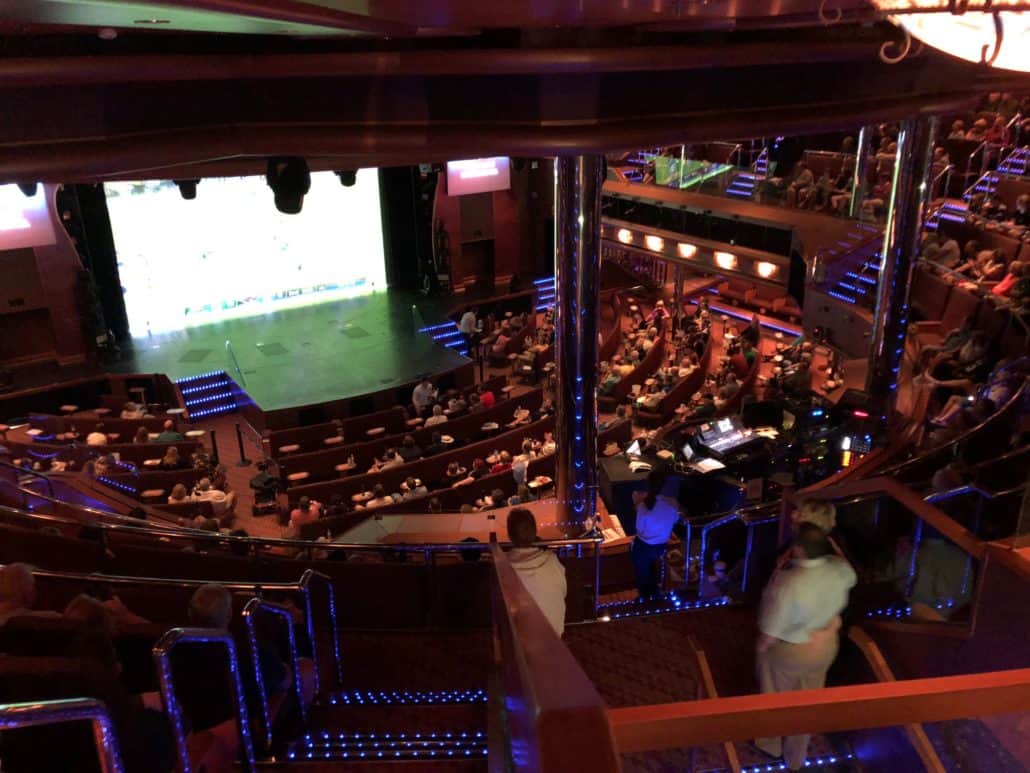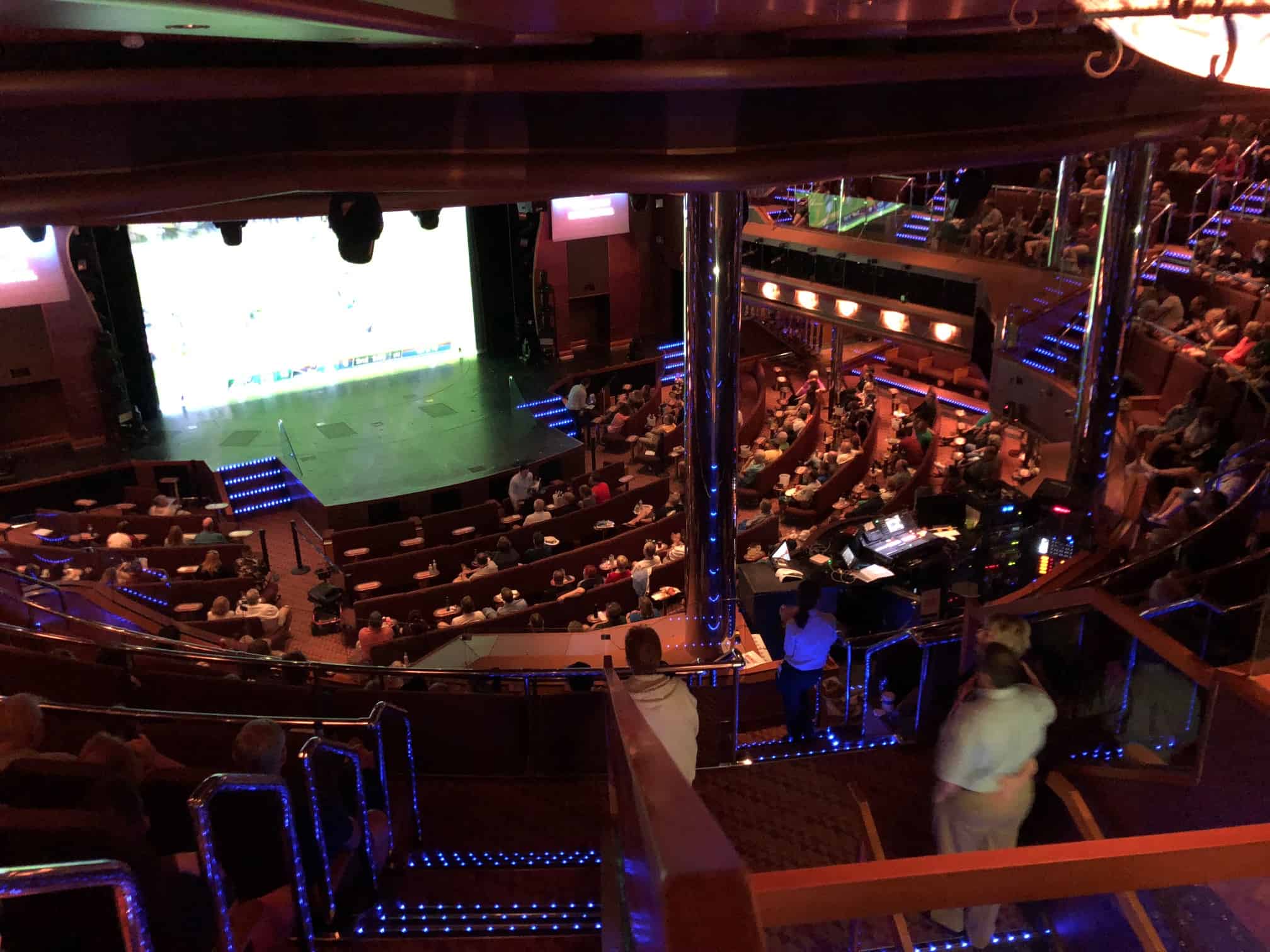 I fully confess that I scarfed down my meal and took off as soon as possible so that I could dash over to the show lounge to catch the Super Bowl. Talk about a divided house! There were just about the same number of Eagles fans on board as there were people cheering on the Patriots. (Although I suspect a lot of those Eagles fans weren't necessarily big fans of the team, so much as they were rooting against the Patriots and would have happily supported any team playing against them.)
They were showing the game in numerous venues, including the casino's sports bar (which was too smoky for me), in the main show theater, and outside on the lido deck. While some sporting events aren't able to be shown on ships for various reasons, it seems like the Super Bowl is one game they pretty much know they have to show or face a riot. (Another Cruise Radio staffer was on Norwegian Gem on Super Bowl Sunday and said that, like on this ship, the big game was pretty much inescapable. Although he pointed out that those who weren't interested in the game found it easy to get into even the most popular restaurants without a reservation!)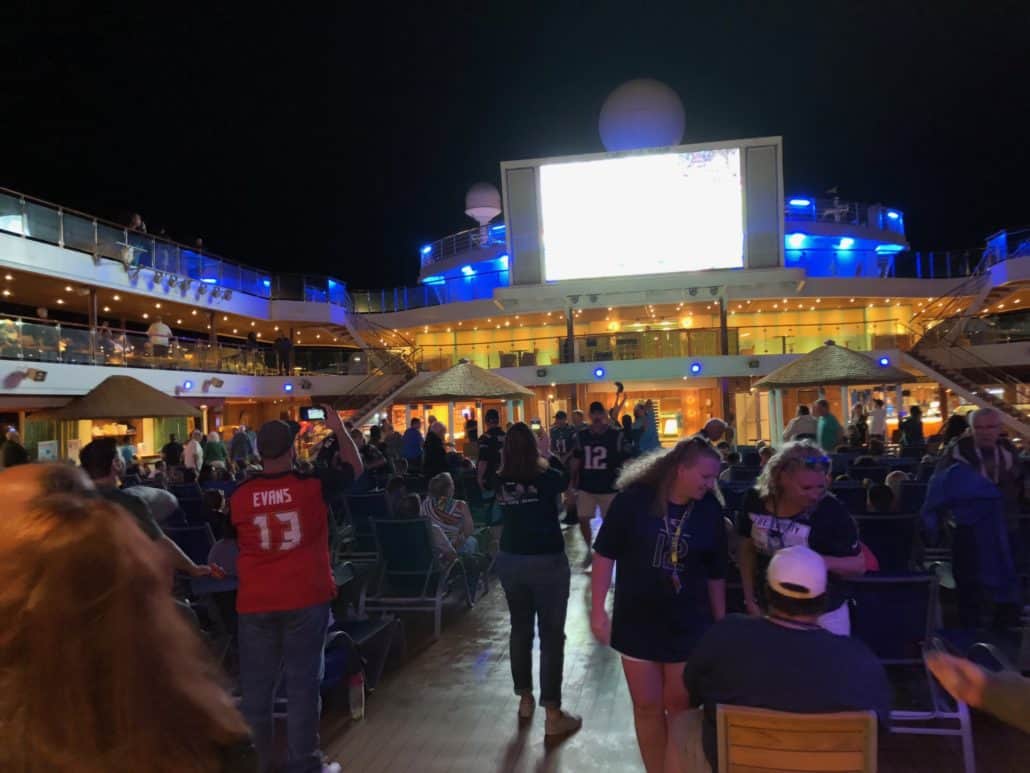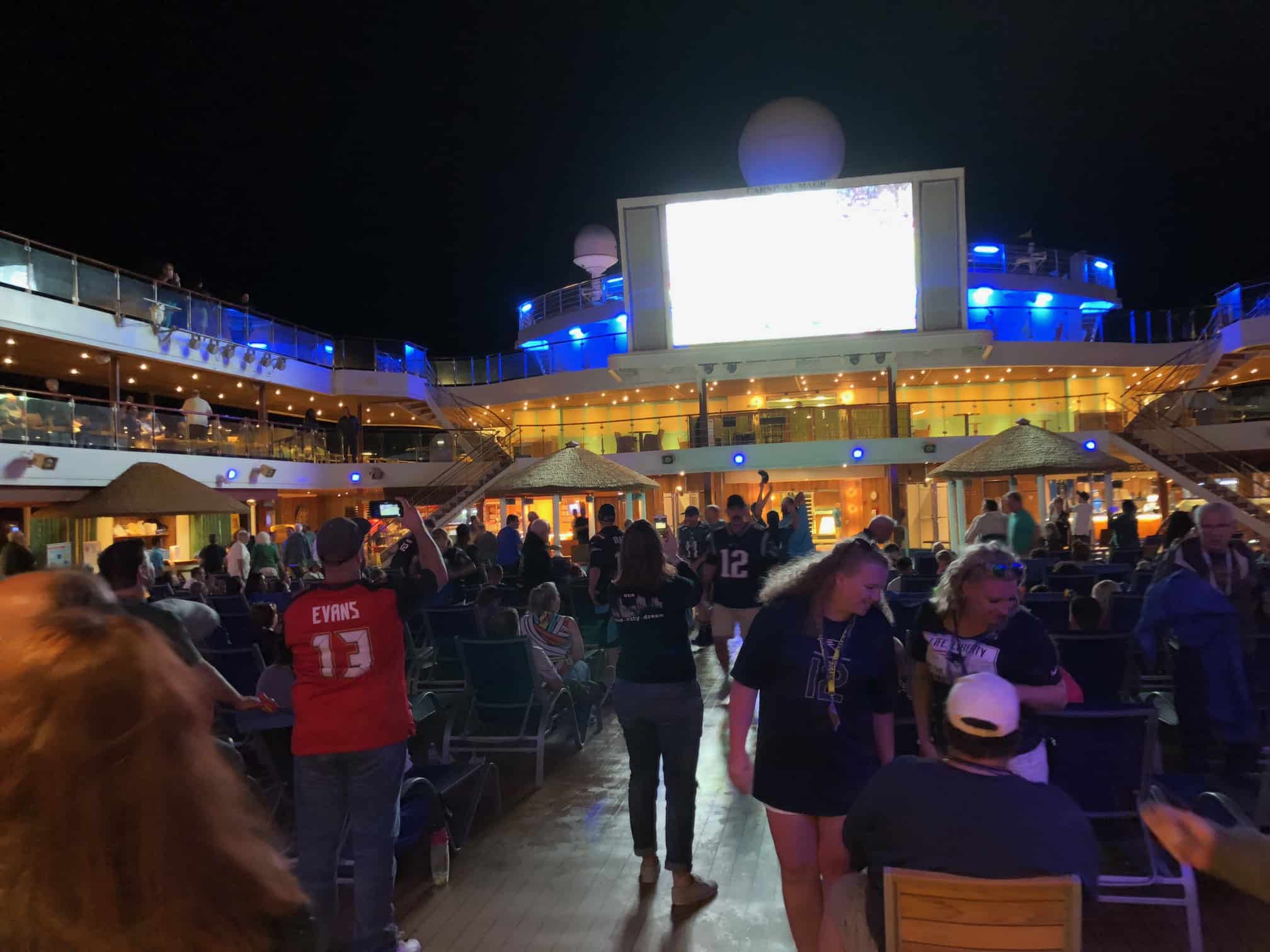 Even eating as quickly as I could without being rude, the game was still in the second quarter by the time I got to the theater. I stayed there until there were about two minutes left in the game, then headed to the Lido Deck, which I knew was where all the party people would be. I now get why Philadelphia had to grease the light poles in their city, because when the Eagles won, people went nuts. It was kind of cool to see, let alone be a part of.
Tomorrow morning we are docking in Cozumel, and I'm going to Nachi Cocom for the day. Of course, I forgot my sunscreen. The Fun Shops onboard sell it for $15 for one bottle or two for $25. Much better than buying it in Mexico where it runs $20 per bottle. No thank you.
A Reader E-mailed Me to Ask: Does Carnival Magic now require a ticket for admission to the Punchliner Comedy Club?
Although I can see how that might be a good idea, given how popular the shows are, it's not happening on this sailing. I will say the early shows are a lot easier to get into than the late shows, so if you want to make sure you get in, it's worth considering trying to hit the earlier show.
A Facebook Follower Asked: Does Carnival Magic still issue the sign-and-sail cards at the pier?  
As of the time I'm writing this, they still have cards issued at the pier. That said, there were rumblings at the pier that in the next few weeks, they would be switching over to the system whereby your sign-and-sail cards will be waiting for you in the mailbox outside your cabin. If it works here as well as it has in Miami, it will make embarkation that much faster.
If I can answer any questions about Carnival Magic for you while I'm on board, please let me know. Email me at [email protected] or leave me a message on Facebook. It gives me something to do!
Until tomorrow…
Goodnight.
Catch Day 1 of my Carnival Magic Cruise here.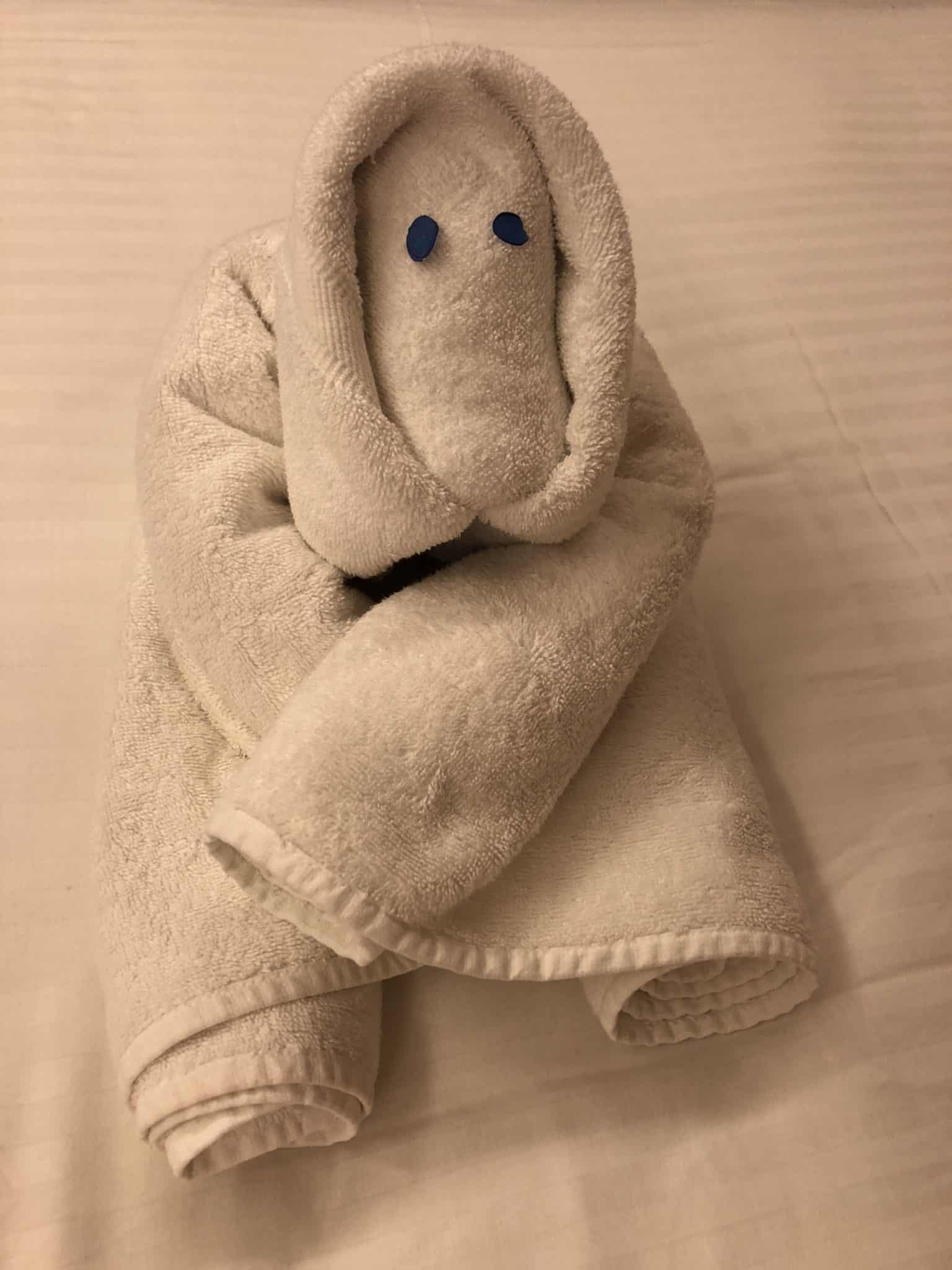 SaveSave
SaveSave
SaveSave