If you're anything like me, you use your luggage space to the absolute fullest and often fly to your travel destinations without checking a bag.
When taking a cruise, being intentional about what you pack becomes more important because you'll be at sea for part of the trip and won't have access to stores to buy anything you may need that you didn't bring (and purchasing essentials in the onboard shops is expensive!).
To help you make the most of every square inch of the luggage space you have — whether you're flying and checking a bag or not — check out these four tips.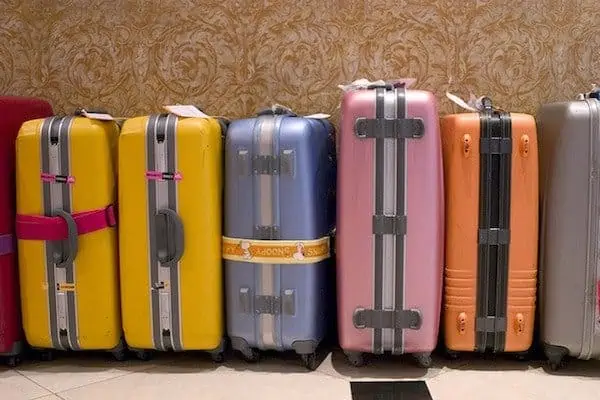 How to Save Luggage Space
1. Stuff Your Shoes
If you're hard-pressed for space in your suitcase, this is one of the easiest things you can do — fill your shoes! If you're bringing sneakers or just about any other type of closed-toed footwear, stuff them with your socks or any other small clothing items that you won't be worried about if they get wrinkled. Not only does this save the space where those socks would have been, but it can also help preserve the shape of your shoe if you're (inevitably) going to be packing them very tightly into your suitcase.
You can also use this tactic for other things you're packing that have a concave shape (such as bras) or hollow interiors.
2. Use a Backpack as Your Carry-On
Everyone has their carry-on luggage preference, but at least for a cruise, let me suggest yours be a backpack.
Admittedly, it can take some difficulty to find that unicorn backpack that seems to almost endlessly be able to fit anything you stuff inside it, but it is so worth it to go on the hunt.
Shop around for a comfortable backpack made of durable materials that you can see yourself walking through the airport — and the cruise terminal — and down the street — in, and take careful note of the types of pockets you want it to have.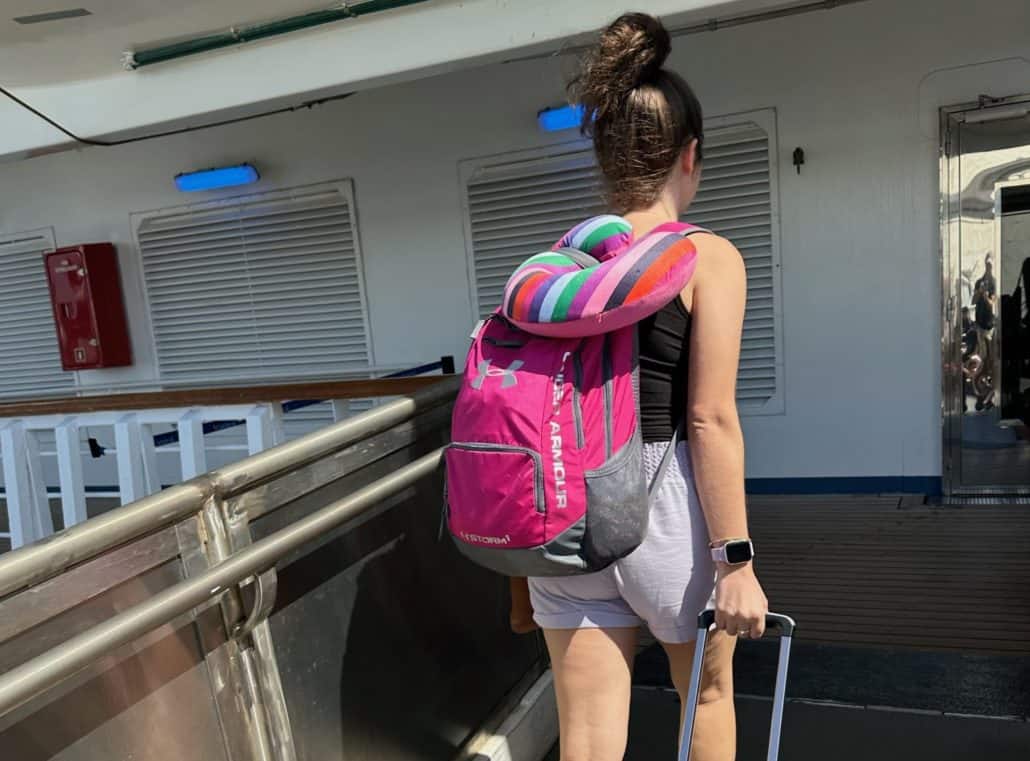 In my experience, most airlines will not bother checking to see if your backpack fits within its technical under-the-seat personal item dimensions, so you can stuff any regular backpack just about as full as you want. The exception that I've experienced is Allegiant at certain airports, and I've also heard that Frontier is a bit more strict about dimensions as well.
I try to pack my backpack for a cruise as though I may not see my suitcase appear at my cabin door until well after dinner on the first night of the cruise.
That's why I recommend including a set of simple clothes (shorts, t-shirt, underwear), a swimsuit (so you can jump in the pool ASAP without waiting for your suitcase to arrive), a pair of sandals, and your main toiletries. I also always pack my important electronics in my backpack because it's best to keep them with you whenever possible.
After those things, my backpack generally serves as a catch-all for odds and ends such as a water bottle, snacks for the plane, hair elastics, hand sanitizer, and lip balm. If you usually carry much less with you for your under-the-seat personal item, you'd be amazed at all that you can fit in the right backpack.
MORE: Flying to Your Cruise? Here Are 13 Tips For Traveling With Children.
3. Plan Outfits Ahead & Use Pieces Multiple Ways
This may surprise you, but it was only in the last few years that I really started planning entire outfits before packing for my trips vs. just throwing in a bunch of tops and bottoms and making outfits when the day came. Not only does pre-planning outfits mean you are not bringing (much) extra in terms of clothes, but it also takes the guesswork out of figuring out which top to pair with which shorts during the trip.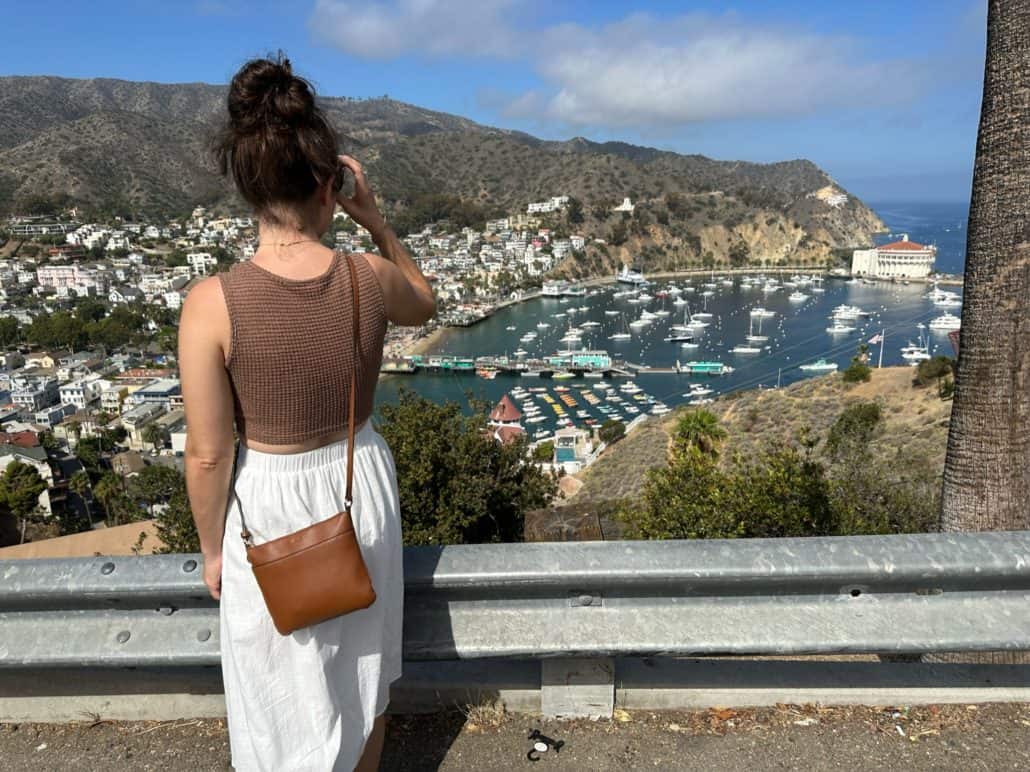 When you're pulling pieces out of your closet to consider bringing, look at different combinations you can make with the same piece. For example, say you have a cream-colored knit tank top. You can pair that with both your denim shorts as well as your brown linen pants. Now you've created two outfits with just three core pieces.
Continue to do this, and you'll have plenty of outfits to choose from for the voyage with fewer pieces of clothing. Just remember to keep in mind which activities you'll be doing while wearing them — if you're going on an ATV tour in port on a 90-degree day you probably aren't going to want to wear any of those dusty, sweaty clothes again the following day!
As a side note to rewearing clothes and saving space, if you do need to wash them, you always have the option of utilizing the ship's laundry service.
In a pinch, you can also wash clothes in your cabin sink. Furthermore, some cruise ships have laundry rooms that guests can use, and some lines' higher loyalty program tiers include a limited amount of laundry service during the sailing.
4. Roll Your Clothes
Rolling your clothes is my top tip for helping save luggage space. It means that you can stick rolled clothes down in between the metal rods in the bottom of your suitcase, and also really fill in any nooks and crannies of space once you've packed things in your suitcase like your shoes. Rolling vs. folding also helps keep wrinkles at bay, so it's especially wise to roll things you know wrinkle easily.
On most of my trips, I also use packing cubes to help keep different categories of clothing together, such as all my shirts in one cube and shorts in another. You can also use the cubes to keep entire outfits together so you can pull your day's outfit out in one swoop. I just roll my clothes tightly and line and stack them in my cubes.
READ NEXT: Cruise Packing List: 10 Things You'll Be Glad You Threw in Your Suitcase
Pin it!