Cruise lines often report that their most expensive and spacious accommodations are the first to be booked. A newbuild 'condo ship' says it is experiencing similar demand.
Storylines is currently building the 741 ft. long, 450-crew member, 55,000 gross ton MV Narrative, with plans to take its live-aboard owners on a leisurely path through the world's oceans, circumnavigating the globe over a period of about 3.5 years. The ship will spend three to five days in major ports, offering plenty of time to explore.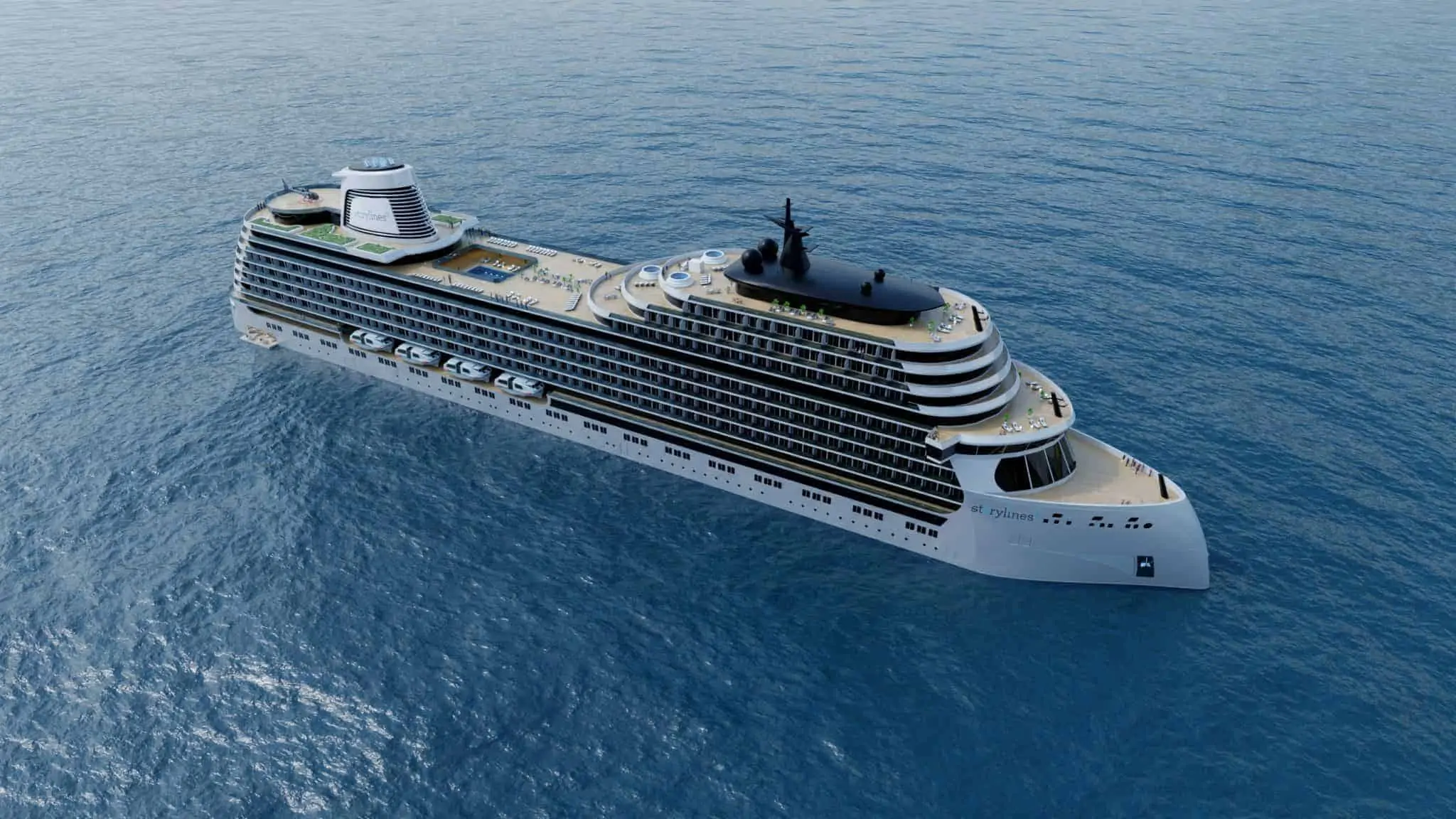 Storylines entered the private residence cruise line market with a primary focus on more affordable entry-level options, selling studio and one-bedroom homes at sea starting at $350,000 for a 237 sq. ft. space.
Balcony 'condo-cabins' start about $500,000 and offer 337 sq. ft. of living and outdoor space.
There were more extensive options from the outset, including two-story penthouse residences at 1,529 sq. ft. and an eye-watering $8 million price tag. But Storylines reports many consumer requests for intermediate two- and three-bedroom options.
MORE: Carnival Cruisers Are Spending More Money — Here's Why and On What
In response, the U.S.-based start-up company has reconfigured smaller residences to create 84 larger "upscale homes at sea" ranging from 909-1417 sq. ft, with prices starting from $2,455,000.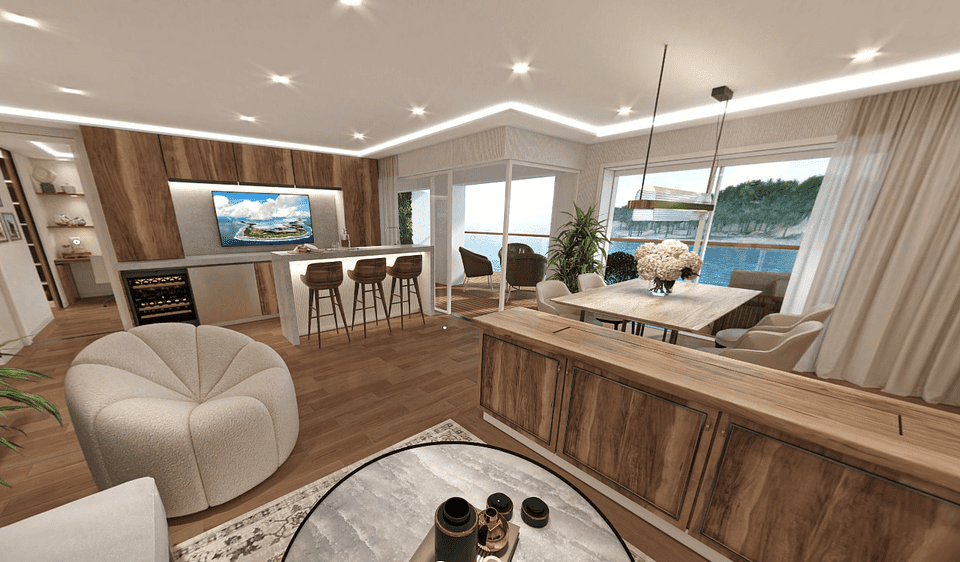 The Storylines business model sees passenger-owners paying upfront to lease accommodations for 12-60 years. The 'condo-cabins' can be resold during the lease period if the resident wishes, or they can be rented out to provide income. Initially, there were 627 residential units for sale – that number is smaller after the reconfiguration.
"We have seen a very strong demand for bigger residences around 1000 sq. ft. and up from savvy business professionals everywhere, so a rework of the residences and some more public space to accommodate was a logical move," said Alister Punton, Storylines Co-CEO.
As with condos on land, there are monthly fees to maintain the ship, its facilities, and amenities. But Storylines fees, starting at $2,365 per person, per month, include much more: all meals; wine, beer, and select spirits; gratuities; high-speed WiFi; laundry pick-up, wash, and fold; onboard activities and entertainment; visits to an onboard physician; yoga and fitness classes; and full use of gym facilities.
"You've got all the normal things you expect to find on a ship of this size, but we've done a very big twist on all of this to suit this long-term live-aboard lifestyle," says Punton in a video promoting the concept.  
"From the 20-plus eating locations throughout the ship, catering to all types of cuisines and changing regularly depending on where the ship is, there's also 45 resident lounges, work spaces, libraries, and kitchens throughout the ship so you can cook food for your friends and family."
Other MV Narrative onboard amenities include a movie theater, a 10,000+-book library, a microbrewery, and a hydroponic 'garden farm' that will produce herbs, greens, and other foodstuffs. There will be a spa and fitness center, juice bar, and salon. At the aft of the ship will be a marina area with kayaks, scuba gear, and sailboats.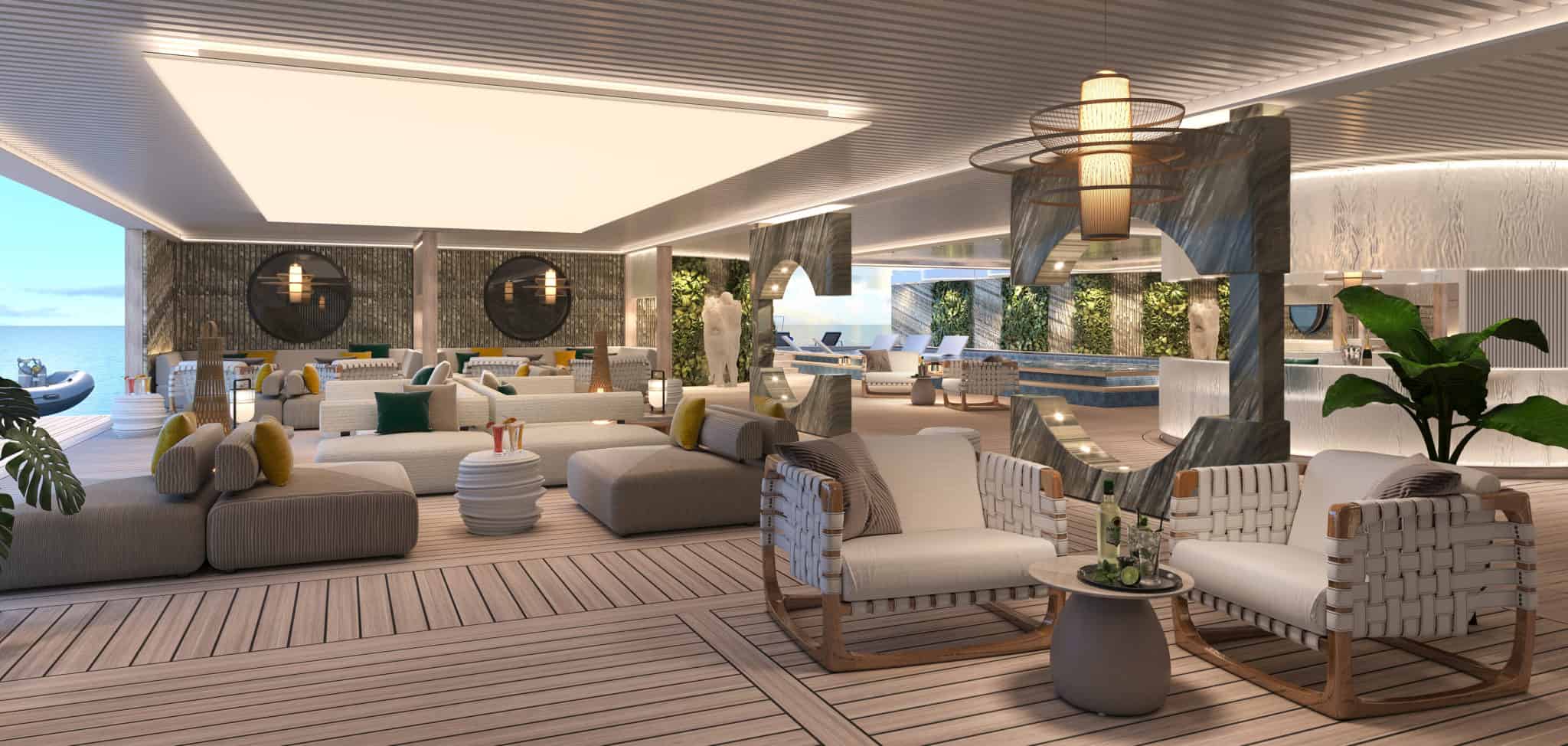 The new condo-cabin options include:
Imagine, a 909 square feet one-bedroom, two-bathroom floor plan with waterfront home office to accommodate professional business executives.
Inspire, a 1,064 square feet two-bedroom, two-bathroom home with oceanfront bedroom and bar with access to the balcony.
Envision, an 1,185 square feet two-bedroom, two-bathroom home featuring an extra deep 368 square feet oceanfront balcony for additional indoor/outdoor living space and central island bar area.
Wonder, a 1,273 square feet two-bedroom, two-bathroom residence with double sized balcony, featuring a built-in outdoor bar and open plan living area with a large central bar overlooking the ocean.
Encore, a 1,417 square feet three-bedroom, two-bath home large enough to accommodate families, with a sprawling open floor plan for entertaining.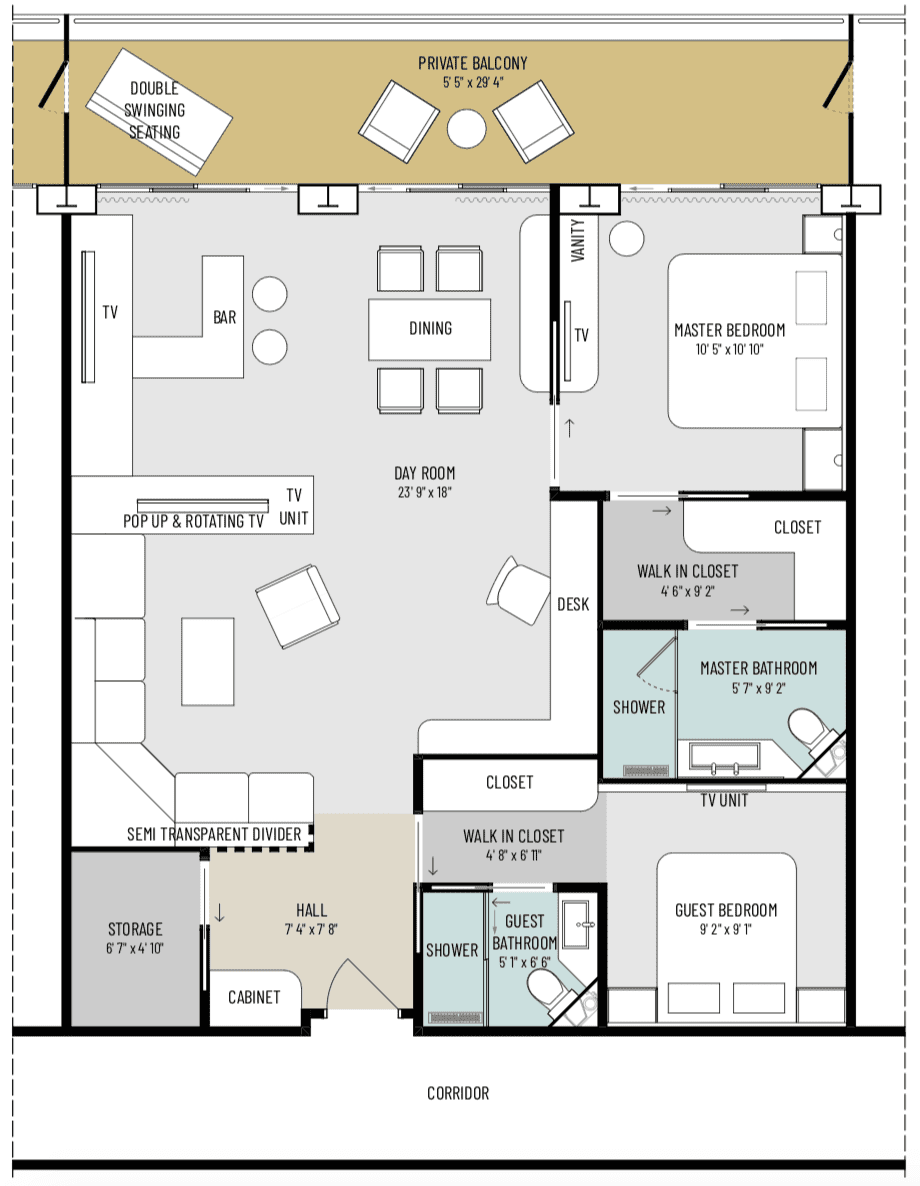 READ NEXT: Emerald Cruises Announces Second Upcoming Superyacht