While the vast majority of people who take a cruise wind up loving it so much that they book another, it's easy to understand why some people wonder if it's really right for them. That's why we often find ourselves recommending a short trip to the Bahamas as the perfect "starter cruise" option. It's easy to find three or four-day Bahamas cruise out of Florida, meaning a minimal commitment of both time and money.
These shorter voyages are also great for people who, whether first-timers or regulars, want to spend a little time on the ocean, but can't get away for more than a long weekend.
Here are the lines that offer Bahamas cruises:
Carnival Cruise Line
Carnival offers sailings to the Bahamas out of Port Canaveral, Miami, Port Everglades, and Jacksonville. Ranging from three to five nights in length, they typically visit some combination of Nassau, Freeport, and the line's private island Half Moon Cay. One thing to factor into a decision regarding which line to book: Carnival carries over 700,000 kids per year. If you're looking for a family trip, they've got you covered. But if you're looking for an escape from tots, you might consider another line.
Disney Cruise Line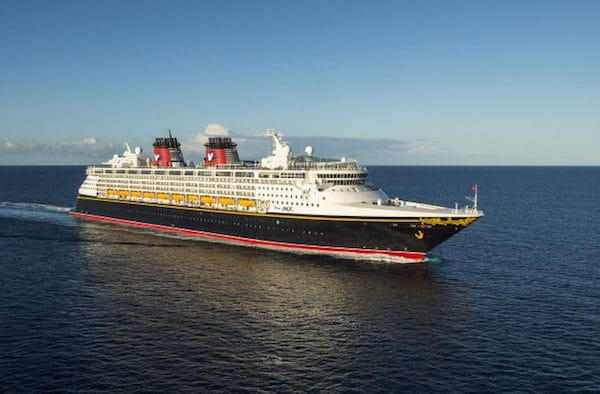 Disney visits the Bahamas with three and four-night sailings out of Port Canaveral on the Disney Dream. Unlike Carnival and Norwegian, Disney does not visit Freeport during their voyages, but instead their very popular private island, Castaway Cay. Disney's private island is more accommodating to guests with mobility issues because the cruise line built a pier there. Disney cruises are typically more expensive than some of their competitors, but they also offer experiences you won't find elsewhere. One thing you won't find on a Disney cruise is a casino, so if that's important to you, book another line!
Norwegian Cruise Line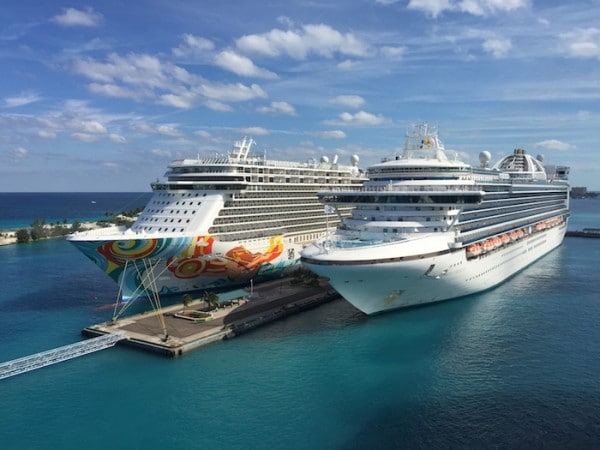 Norwegian Cruise Line does three and four-night cruises out of Miami aboard the Norwegian Sky. As this is one of the company's older vessels — and thus doesn't offer the bells and whistles found on newer ships in the fleet — it is able to offer these shorter voyages at a lower price point. Like Carnival, Norwegian's Bahamas cruises stop at Nassau, Freeport, and their private island, Great Stirrup Cay. One thing we really like about this particular option: The price of all sailings on the Norwegian Sky includes the beverage package, meaning anyone 21 and over get drinks for free.
Royal Caribbean
Royal Caribbean sails Bahamas cruises from Miami, Fort Lauderdale, and Port Canaveral – also using their older vessels. Their four-night voyages out of Miami actually swing by Key West before heading to Nassau and their private island, CocoCay. A little tip for first-timers? While on CocoCay, make sure to order a Coco Loco! You can't get the drink — sort of a rum-infused mango slushie — anywhere else, including on the ship!
Bahamas Paradise Cruise Line

Think of this as the "Buyer Beware" option, in that we've heard mixed reviews about the cruise, but also that for the bargain-basement price, it's not a terrible option for the adventurous. The ship used for their sailings is actually a former member of the Carnival fleet, but any similarity pretty much ends there. First-time cruisers going this route should definitely know it does not represent the same experience as can be found on the mainstream lines. One unique aspect to their cruises, however, is that you can buy an "open-ended" ticket. In other words, if upon arriving in the Bahamas you decide to stay a couple days, you can arrange return transport at a later date, assuming there is a room available on the date you'd like to return to Florida.
Things to know:
They tend to be cheaper than cruises to other destinations.
If you book during hurricane season, you can get a four-night sailing for next to nothing. We've seen them go for as low as $129 per person!
The cruise lines use their oldest ships to do these short (but profitable) runs.
There tend to be a lot of families, especially on the three-night weekend sailings.
Disney is the only cruise line with a pier at their private island. The rest of the cruise lines anchor and use tender boats to take you from ship to shore.
Articles on Bahamas Cruises: