Having gone to bed a little last night, this morning I slept in until it was time to go to Sea Day Brunch. The first brunch of the cruise I stuck to the basics because the service was so fast that I actually felt pressured to order.
By this morning, I'd had three days to study the brunch menu so I knew exactly what was going to be ordered.
The Final Brunch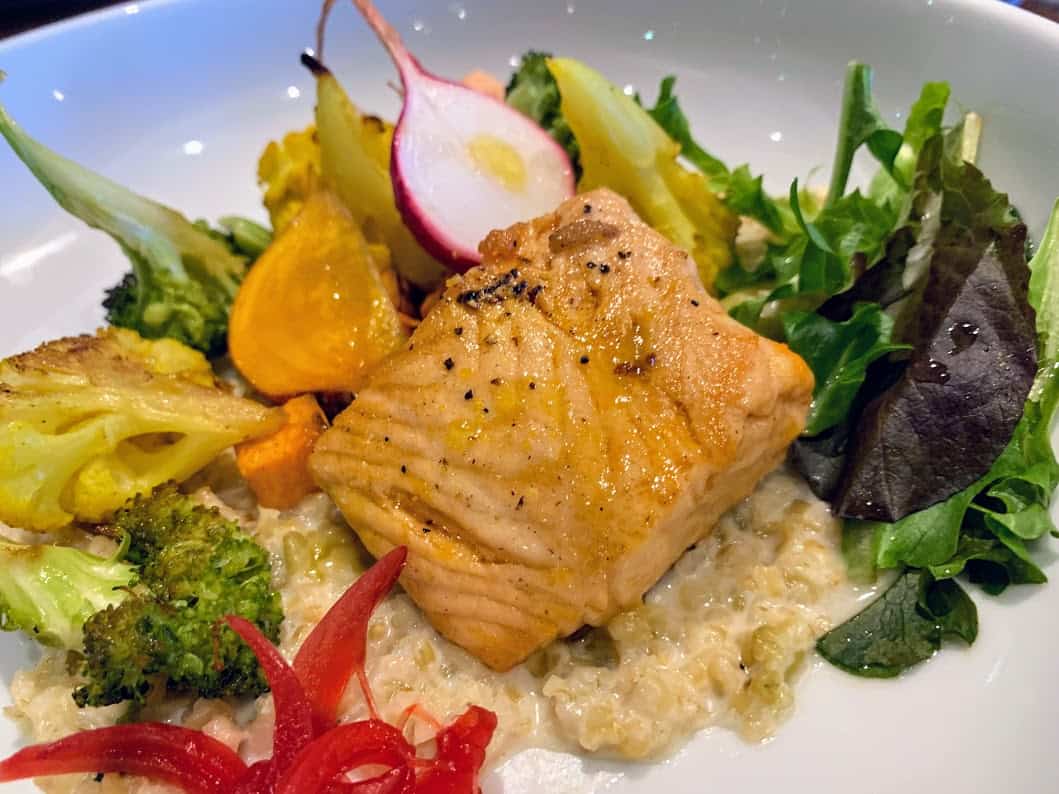 We were there pretty much as soon as the doors opened, so we were seated quickly and the service was spot on. Being a creature of habit, I got the fresh-pressed juice again. Someone left me a comment asking what exactly was in the juice. It's pressed apples, kale, spinach and parsley. Trust me… it tastes better than it sounds.
Speaking of taste, let's talk food. First up was the salmon superfood salad, which was a little too vinegar-based for my liking. Then onto the chicken and biscuits. This was actually really good.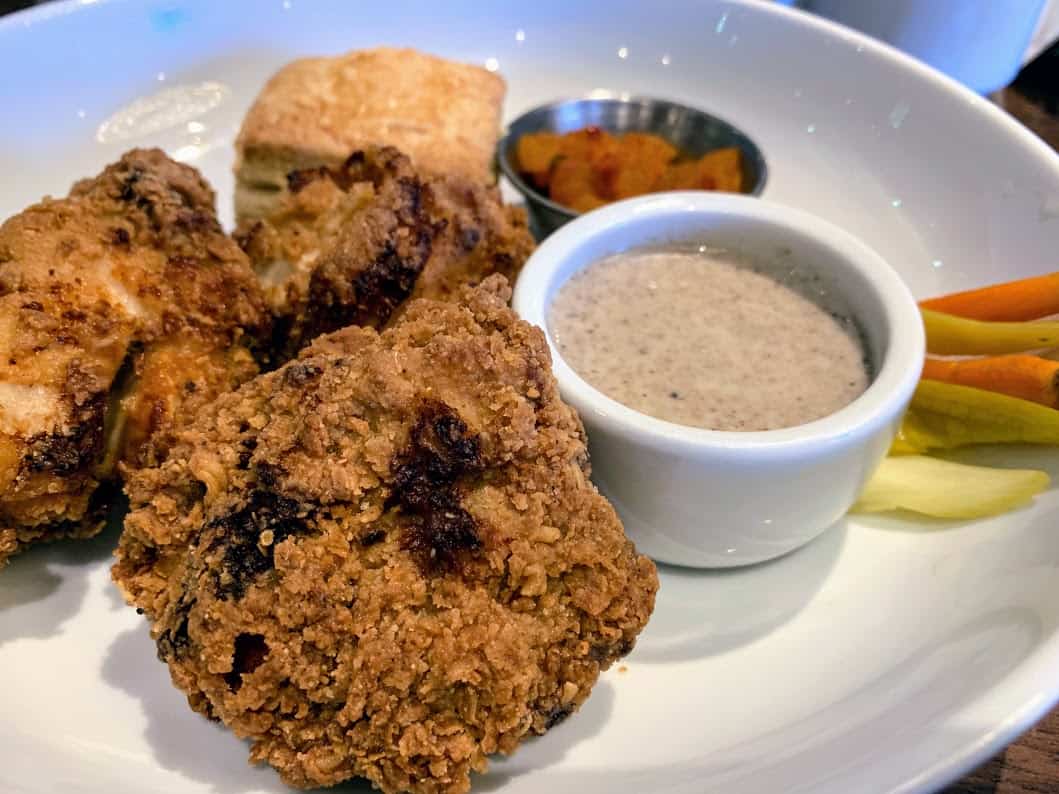 The fried chicken was spot on and nicely seasoned. Because I had the CHEERS! package and only one more day left to use it, I decided today I was going to get the absolute most out of it… and that started with a cappuccino at brunch. Finally, I got the chia seed pudding and, for good measure, a slice of banana cream pie.
Walking The Ship

The only thing on my agenda today was sitting down to do an interview with the cruise director later on this afternoon. With the rest of the day wide open, and my time on the ship coming to an end,  I decided to spent some time doing a final walk around the ship. I started at deck 1 and, walking front-to-back, deck-by-deck, eventually made my way up to Serenity.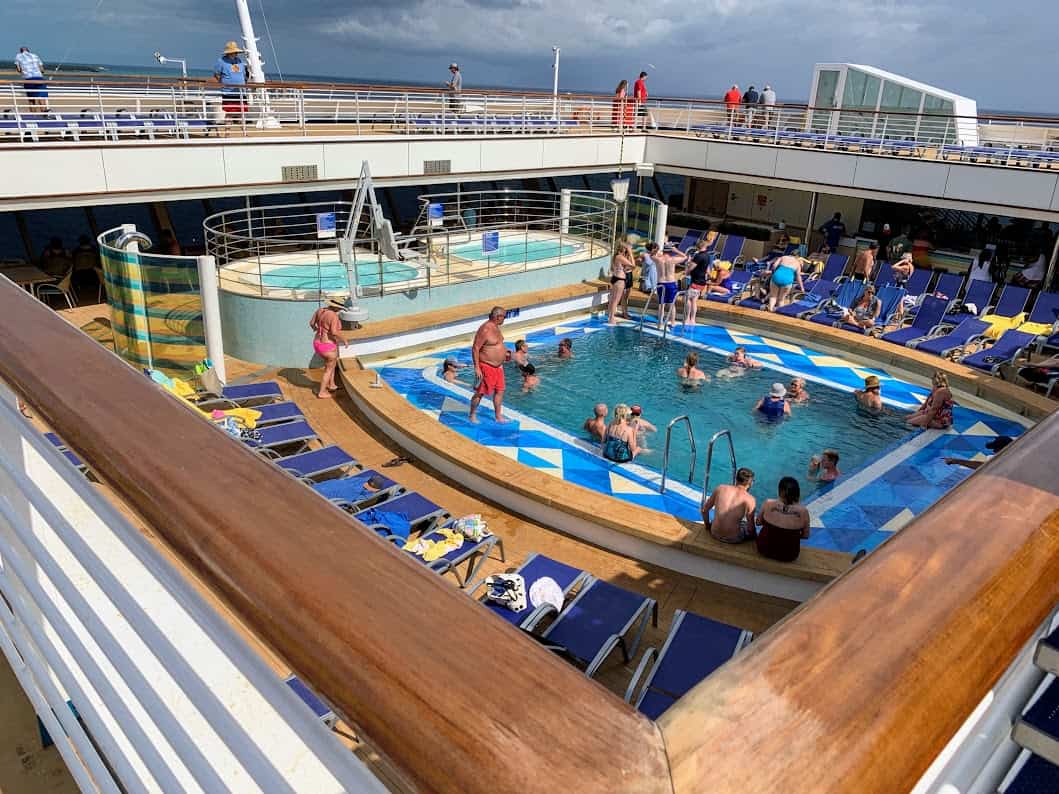 When this ship was the Carnival Triumph, I'd done the same thing on the last sea day. We'd been writing for a while about the various changes made during the refurb, but there's nothing like seeing it all up-close and personal. And on this walk, instead of focusing on what was different — which I'd done earlier in the week — I this time found myself noting what remained the same.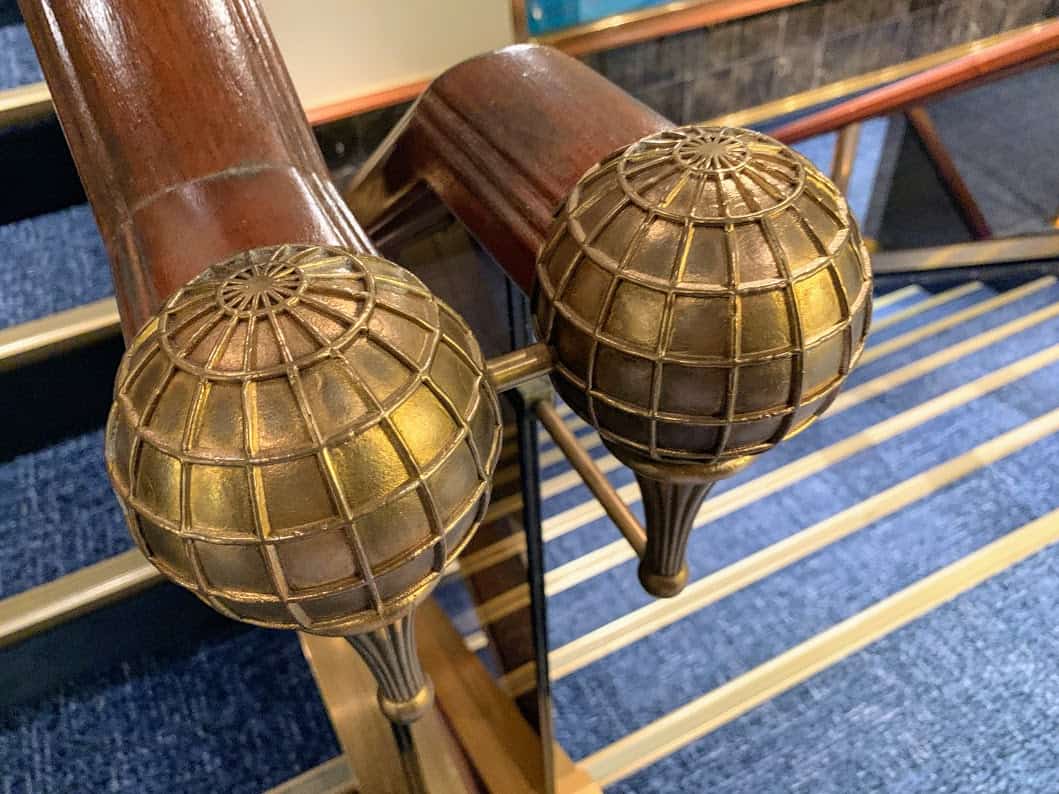 The globes hanging in the promenade, some of the staircase art, the knots on the staircases… the ship might be sailing under a new name and have all kinds of fantastic new features, but if you look closely, you'll still find remnants of what went before. It's like an Easter egg for people who've sailed Sunrise in her previous incarnation and know what to look for, which is pretty cool in my book.
Love and Marriage Show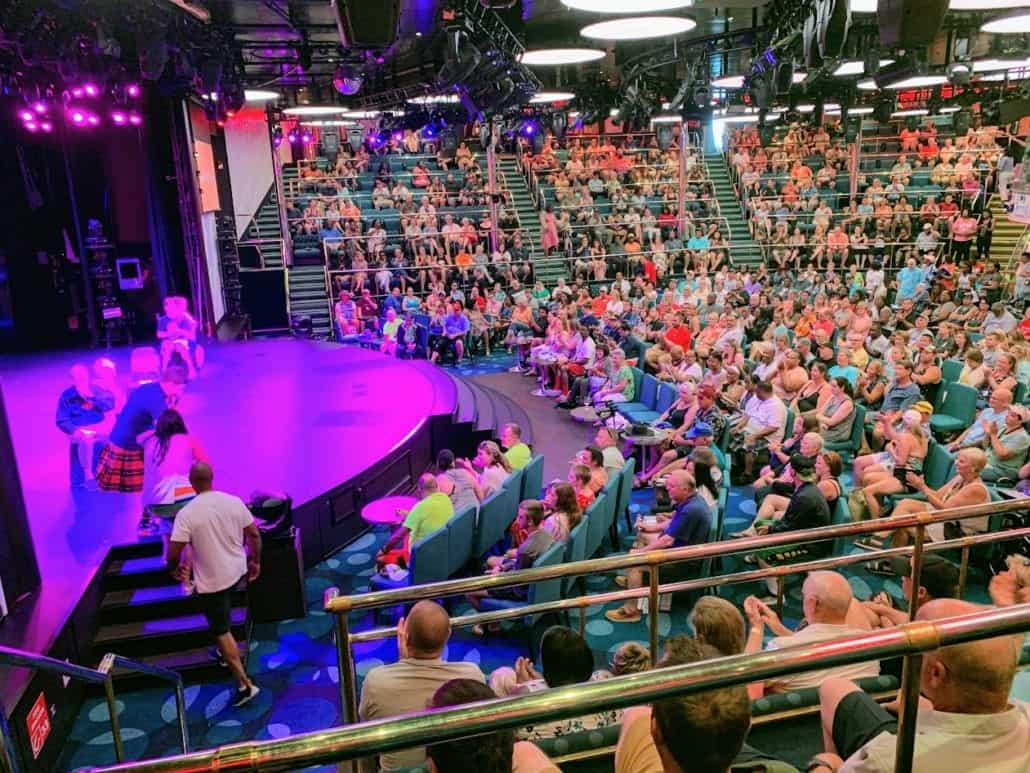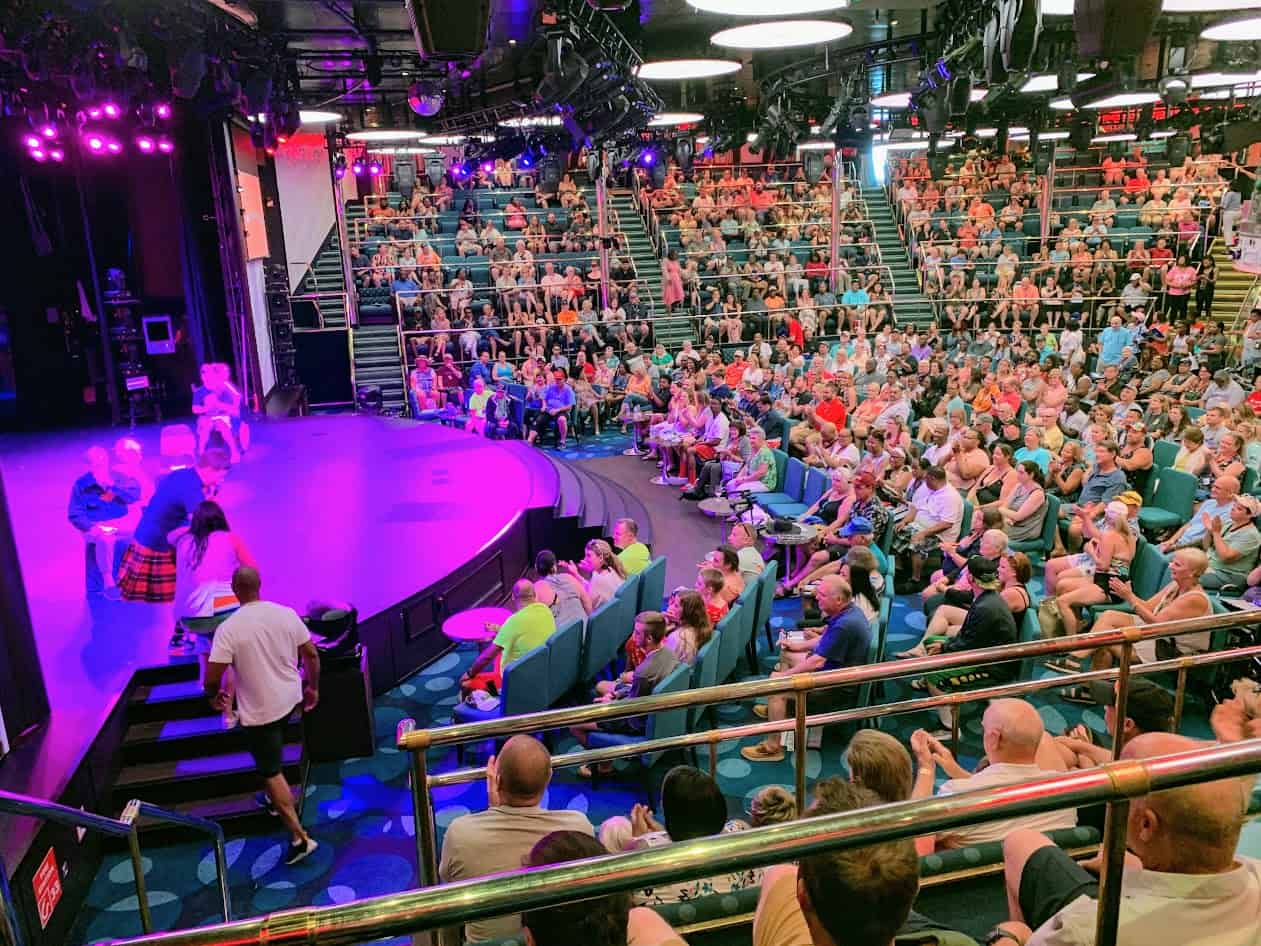 When I arrived at Serenity, I sat and had a drink while taking in the view. Is there anything better than just sitting and staring out at the ocean on a sea day?
Eventually, I left to attend the Love & Marriage game. Yes, it's played on nearly every ship across every cruise line, in one form or another. And yes, there are maybe 15 questions in the standard rotation. But what makes it a blast every single time is the people. Whether it's the wife who shares to much or the husband who is mortified by what she's said, this is a guaranteed good time.
READ MORE: Carnival Sunrise Trip Report – Freeport, Bahamas
The oldest couple on stage today had been married 65 years, which is pretty mind-blowing in and of itself, and they had great senses of humor. Heck, maybe that's the secret to staying together that long!
Since the show was held in the Liquid Lounge, that gave me another chance to sit somewhere different and check for obstructed views.  This time we sat on the very side of the stage, on deck 5. As you can see from the photo above, the view wasn't that bad.
Java Blue Cafe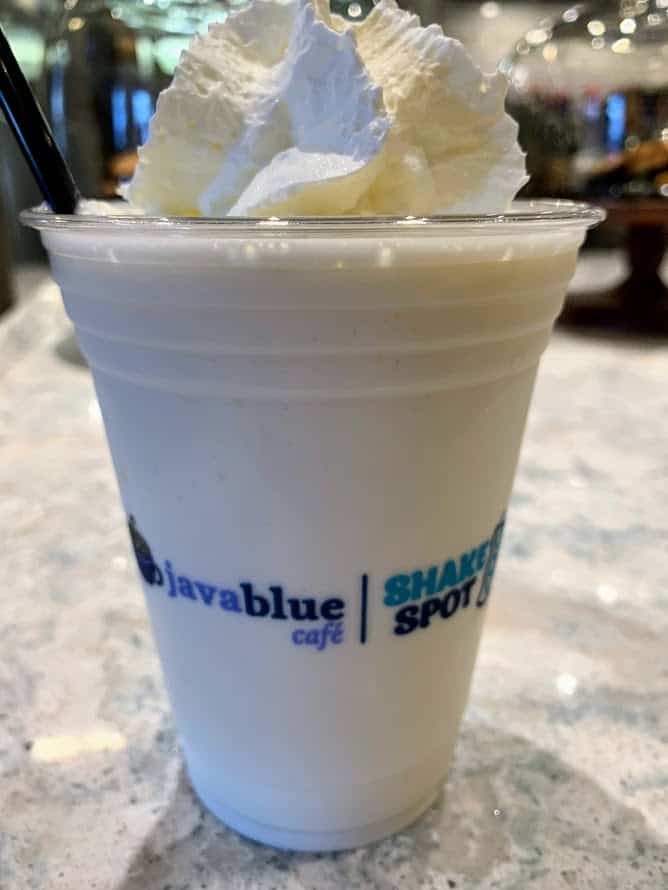 On deck 4, just before the entrance to the Radiance Dining Room, you'll come across the Java Blue Cafe. This is basically the place to hit for coffee throughout the cruise. And while Carnival has had Java Blue venues on many of their ships before, this was the first time they opened one as an actual coffee shop as opposed to just a grab-and-go place.
If you have the CHEERS! beverage package, you can get all the coffees and milkshakes you want… which can be dangerous on a couple of levels. For one thing, you can easily consume way too much caffeine. And if you start slurping down milkshakes, you're throwing back around 600 calories… and that's just for a plain vanilla shake.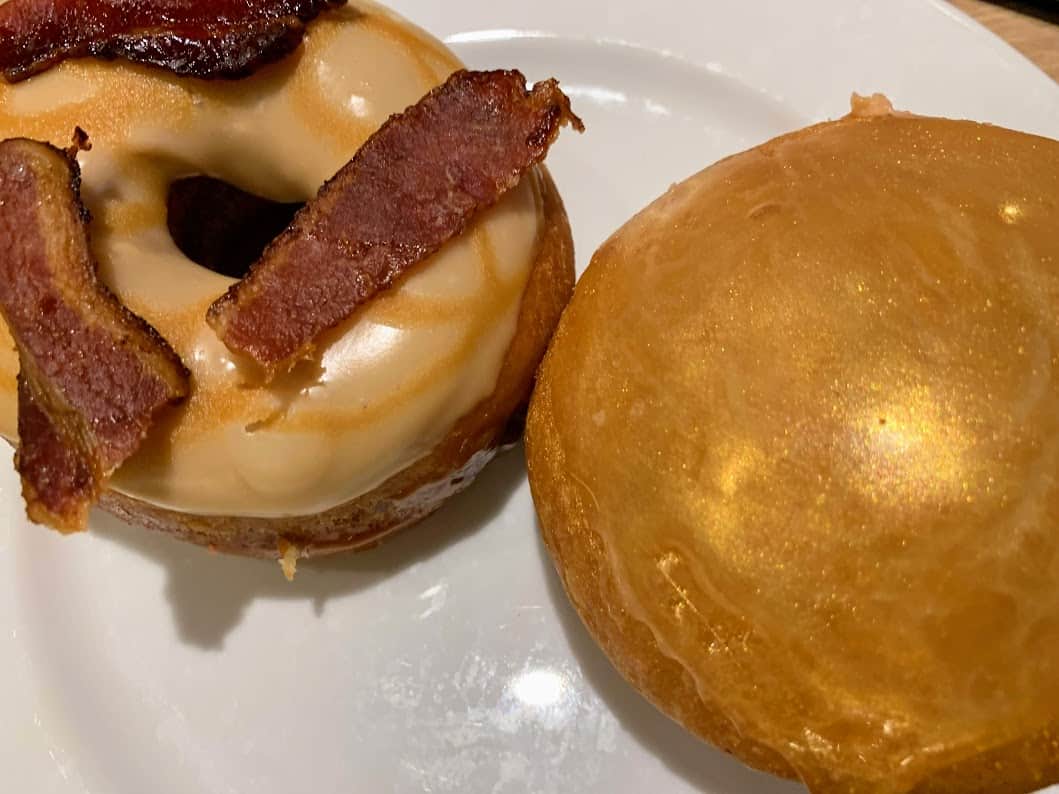 All week long I'd been stalking the doughnuts and cupcakes in the coffee shop. According to my Apple Watch, I'd walked over 150,000 steps, so I felt as if I'd at last earned a doughnut (or two) to see if they lived up to the hype.
I went with a bacon caramel doughnut (maple glazed with sea salt caramel in the middle, then topped with bacon) and a vanilla doughnut (custard filled with cracked caramel glaze. Both were winners, but if I had to choose? Vanilla all the way.
Internet Package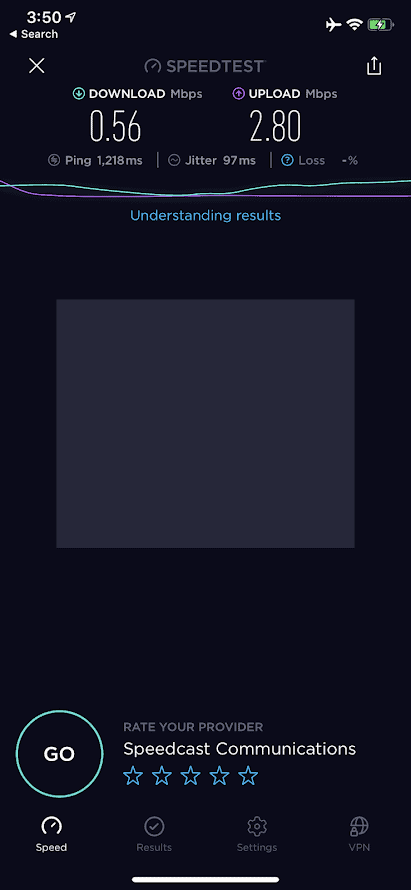 I've gotten messages from a lot of people asking about the internet on this sailing. They make a very big deal about the fact that the premium package allows you to stream Netflix (assuming, of course, you have a subscription to the service). Earlier in the cruise, I tested the ability to watch Netflix and while it worked, it had to buffer every few minutes.
I also watched a few videos on YouTube (and by the way, if you haven't yet, you should subscribe to our YouTube channel, which you'll find here), and that seemed to go a little better.
VIDEO: Review of Carnival Sunrise (2019)
If you're thinking you're going to have uninterrupted streaming, you'll be disappointed. However, if you're just trying to get online to check Facebook or upload to Instagram, you'll be fine with the social package.
If you order the premium package and aren't pleased with the performance, go tell guest relations and see if they can do anything for you. If they don't get feedback — good or bad — about the premium package and whether it's proving to be worthwhile, they can't make adjustments.
Welcome Back Party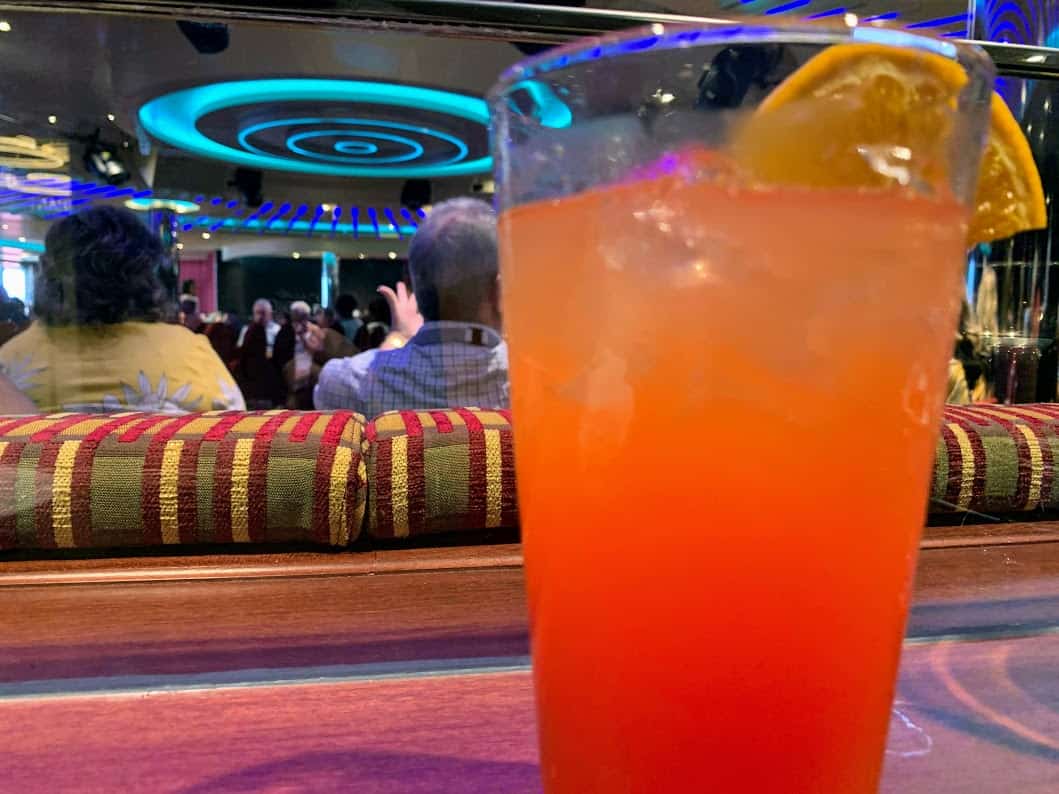 Today was the party for Diamond and Platinum VIFP members, which is basically a chance to drink as much as you'd like for an hour, on them. These parties crack me up, because people act like they've never seen food before and will straight up ask servers for the whole tray.
There was a nice introduction of all the ship's officers, followed by some music and conversation. Because I had the CHEERS! package, the alcohol had no appeal to me. But overall, it's a nice event that gets people together and acknowledges the loyalty of past guests.
The Last Supper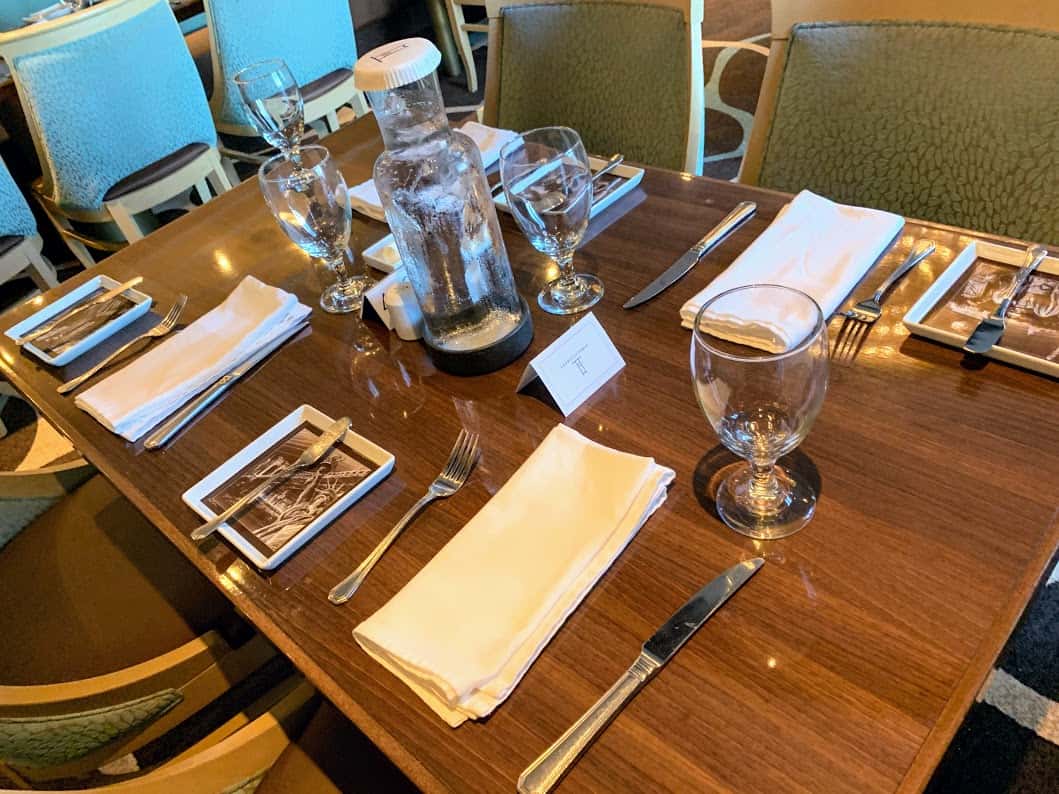 At this point, I feel like I'm repeating myself about the main dining room experiences, so I'll just say that we ordered and ate every appetizer on the menu. This was my first time having the alligator fritters and they were really good. The sweet dipping sauce they serve with them was excellent!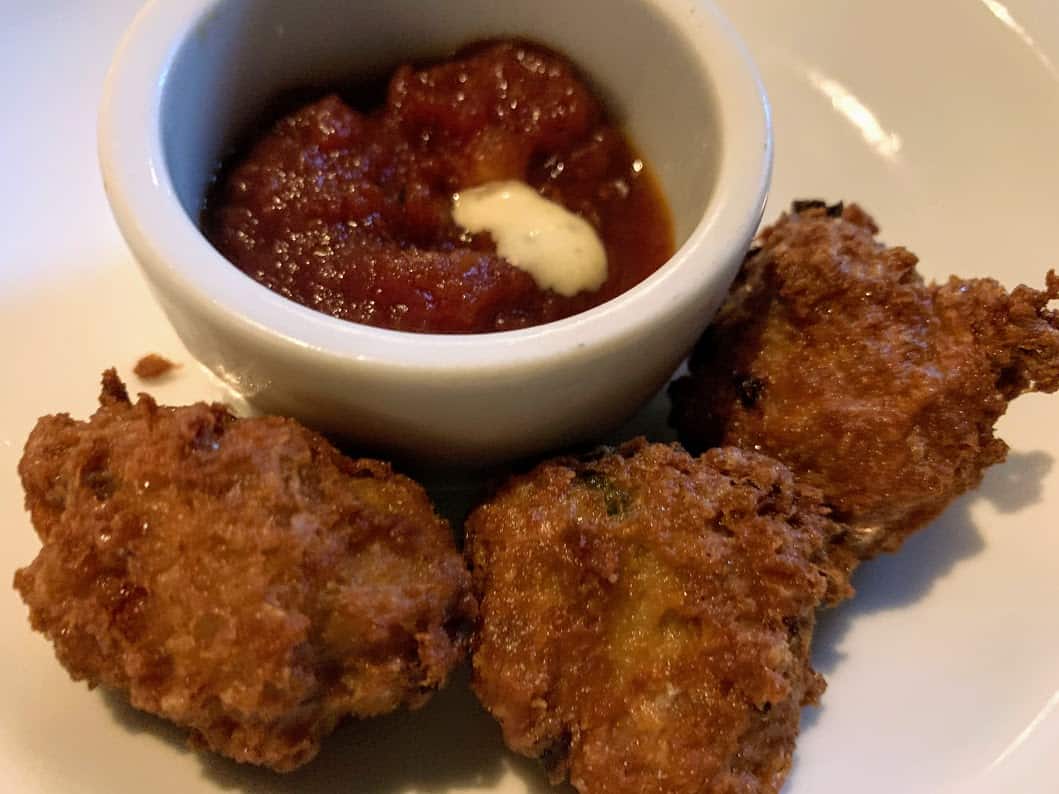 For dinner, I went with something I've never seen before, cornmeal crusted chicken breast with black beans and broccoli. All three of the nights that we ate in the main dining room, we requested the same servers (despite having Your Time Dining).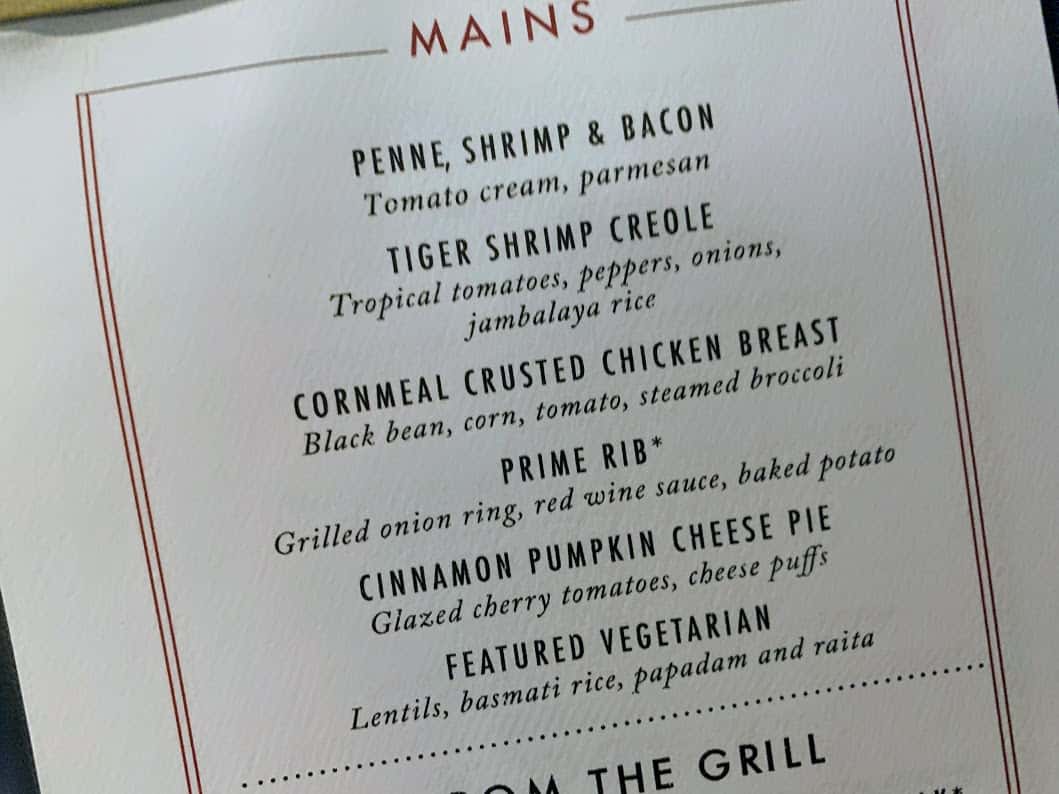 I really like getting to know the servers over the course of a cruise, and by the end of the week, I'm sad to say farewell to them. I mean, on the one hand, I have to go home and start serving myself, but you also really do develop a bond very quickly.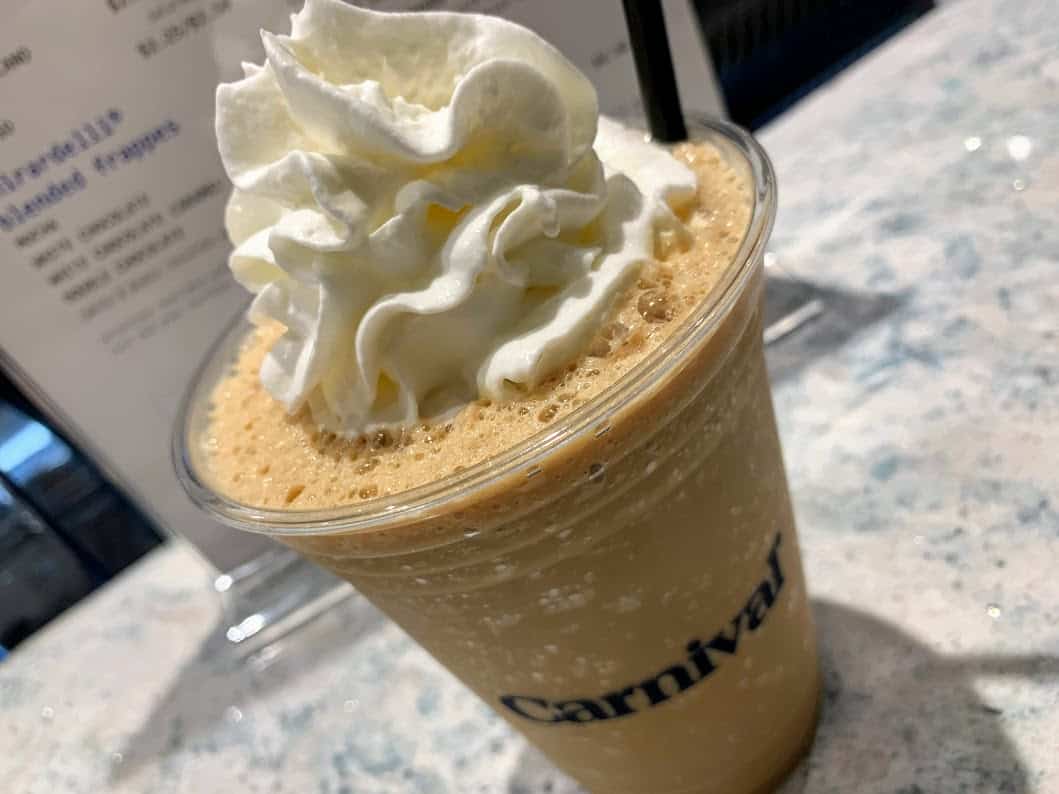 On the way back to the room to pack, I stopped by the Java Blue Cafe for a white chocolate shake. A few minutes later, I went to the bar to try a mudslide. I've never ordered one on a cruise and someone who walked by me said, "if you like that, you'll love the mudslide at the atrium bar." Who was I to argue… especially since I still had a few drinks left on my CHEERS! package!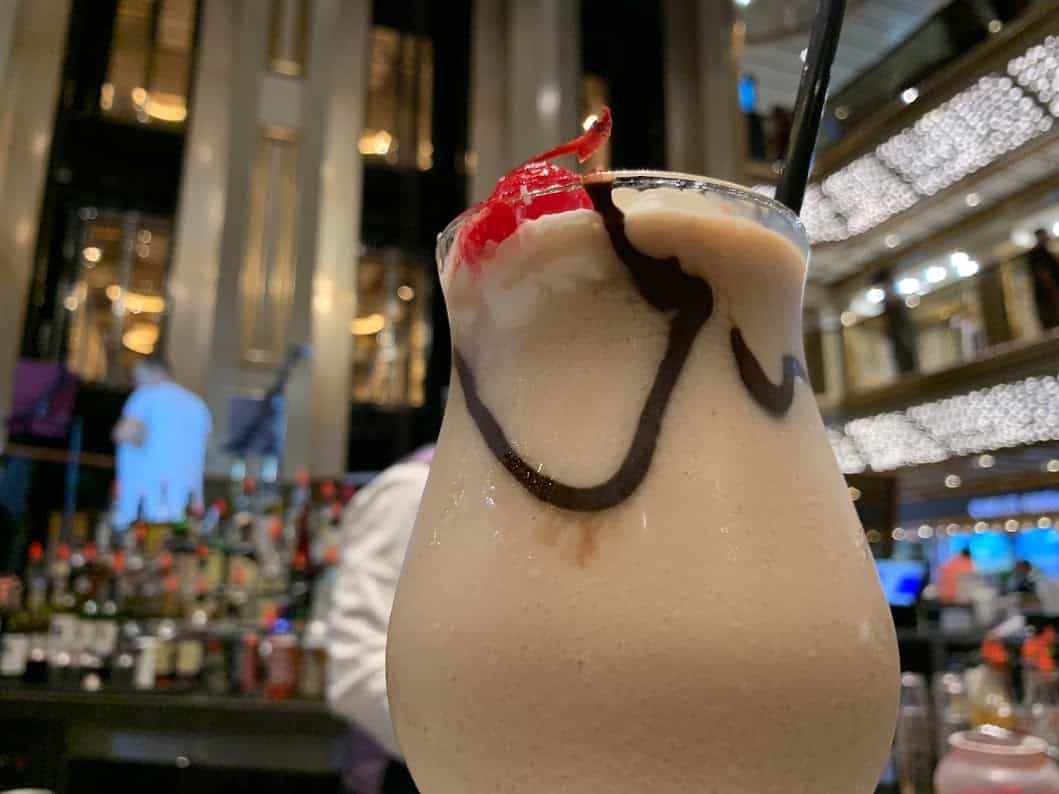 Packing can be so overwhelming, if only because I travel with so much gear. Video equipment, computer equipment, audio equipment… it takes a lot of stuff to keep the site going! So it took me about an hour to pack, after which I did something that I haven't done in years: I put my suitcase outside the stateroom door to be taken away by the luggage fairies.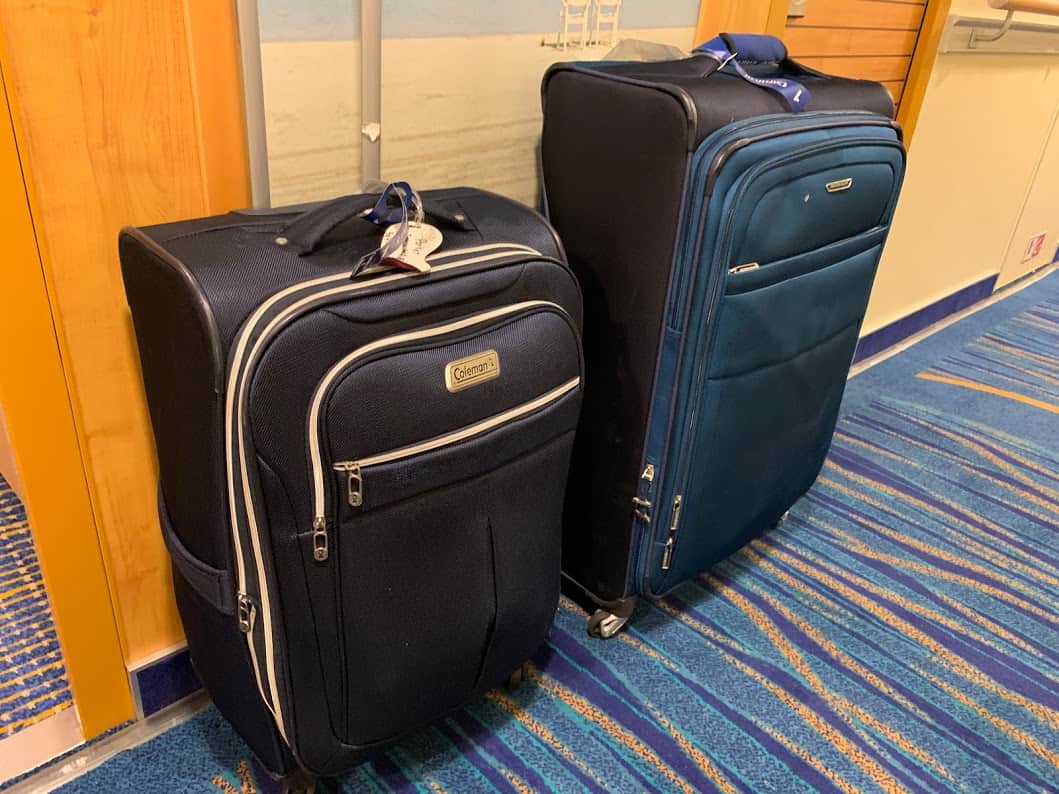 Usually, I'm one of the first people off the ship, so I just do self-disembarkation and carry my own luggage. But this time, my flight wasn't until 3 p.m. and, being in no hurry to get to the airport, I planned to stay on the ship as long as I possibly could. After all, I had some ducks I wanted to hide…
Tomorrow: Final Thoughts
Catch up on our daily trip reports below:
Day 6: Sea day
Day 7: Norfolk