Private islands tend to be very popular with cruise passengers, and Half Moon Cay is no exception. I know several people who couldn't care less where else the ship stops as long as it is going to be visiting Half Moon Cay.
While I won't go that far, I will admit it's a destination I love. So the fact that we were going to do two days in a row here was definitely a major plus in my book.
I was, as usual, up early, making my rounds and checking out the sights. There are definitely chair hogs on board this week, but I was actually up early enough today that I beat them. Or maybe they were still in bed, resting up so they could race down the beach and get the best possible chair once they reached Half Moon Cay. That definitely wouldn't be a concern for me, and you'll see why later.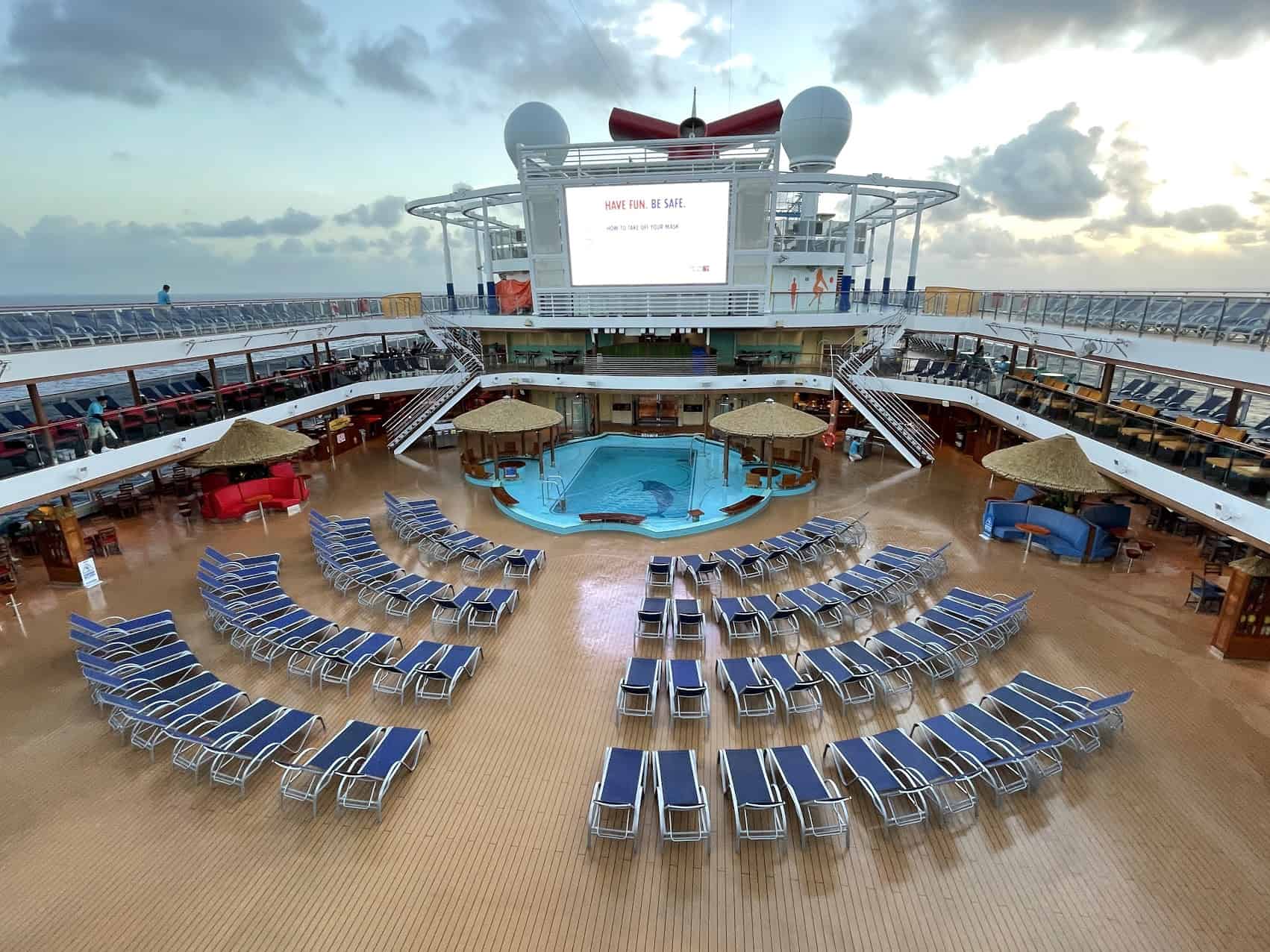 Just soak in this view. Does life get better than this?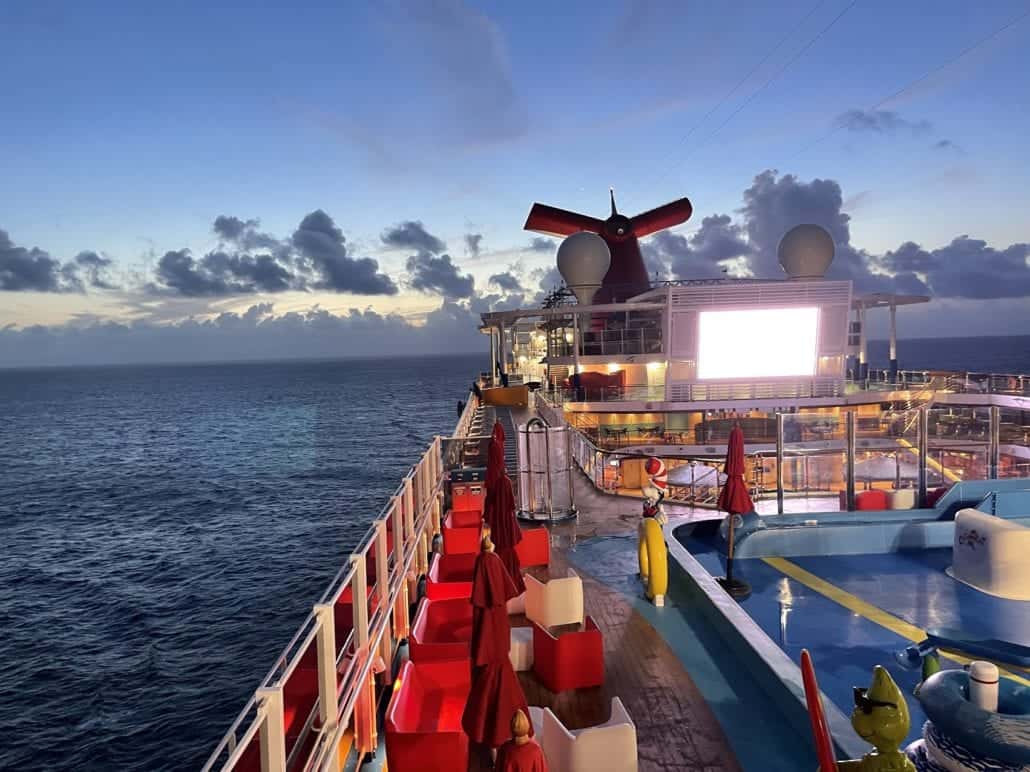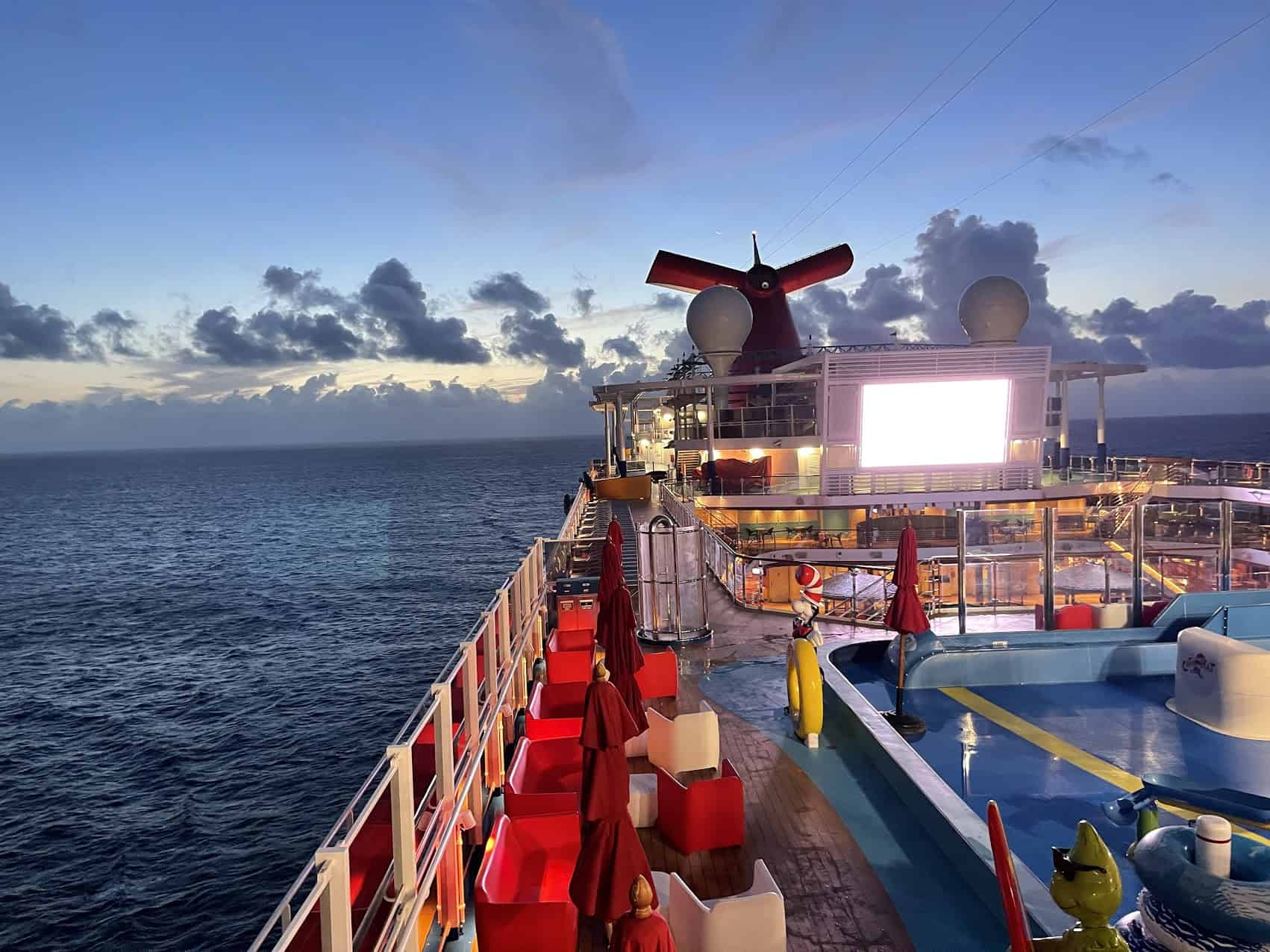 By the time the sun was coming up, I was feeling hungry. One of my favorite places to grab breakfast — and one that it seems a lot of people aren't even aware serves breakfast — is the BlueIguana Cantina.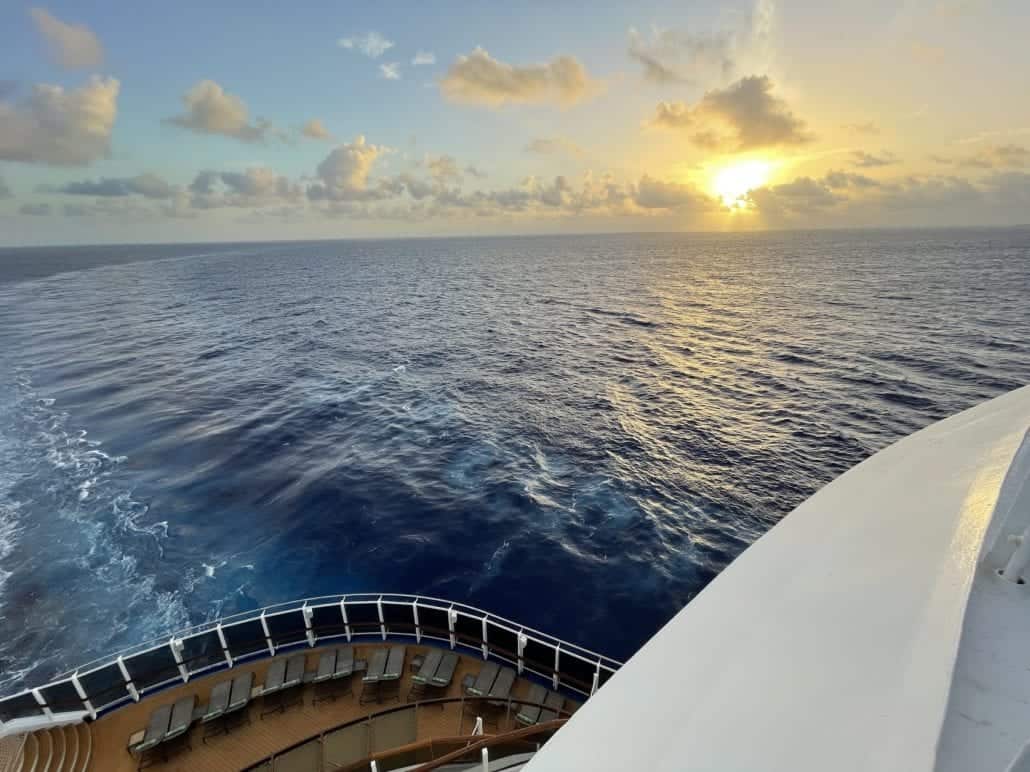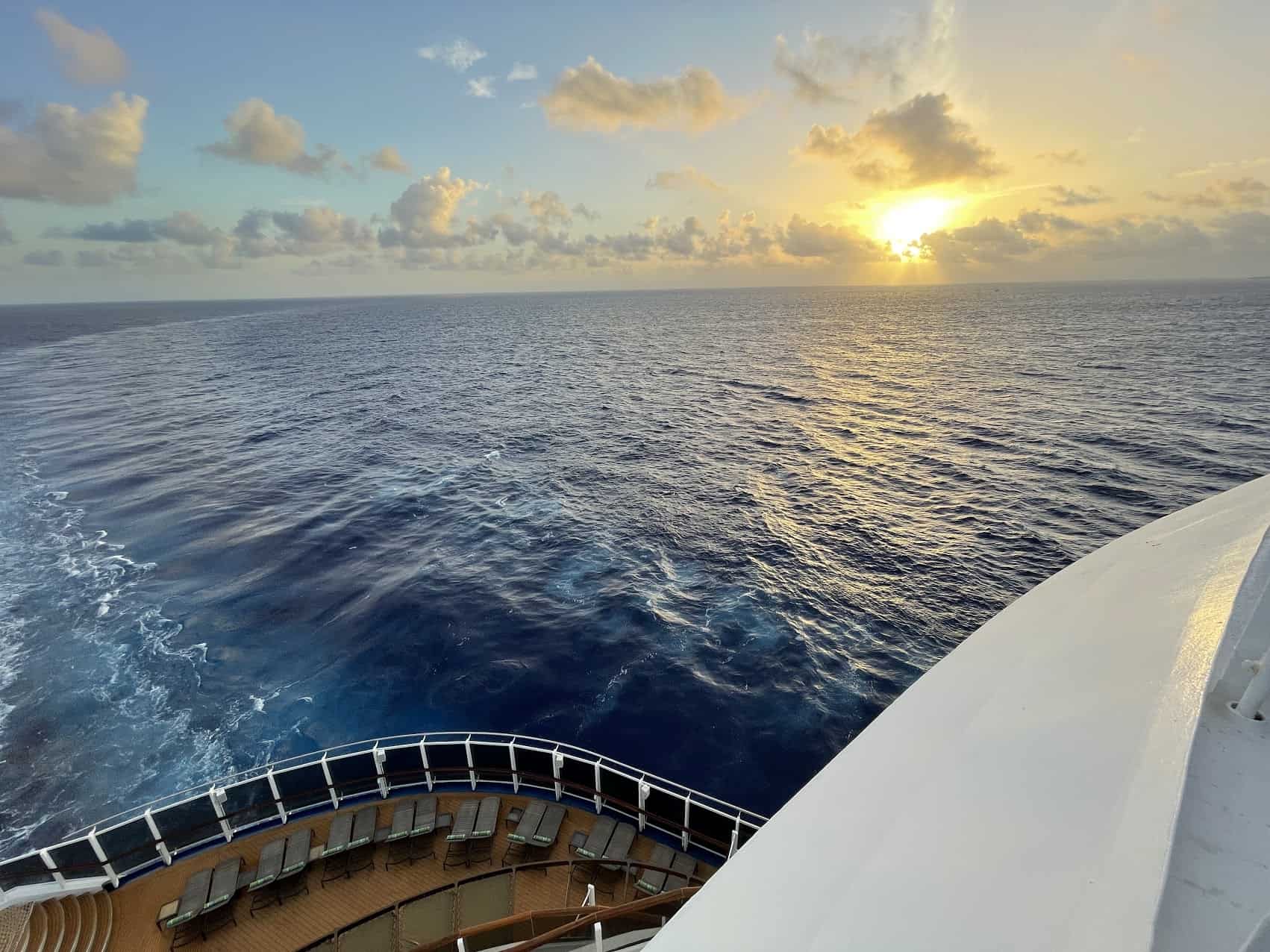 While BlueIguana is a very popular lunch spot, especially thanks to its poolside location, most people don't really think of things like burritos for breakfast. Big mistake, because with the fresh ingredients and nearly non-existent lines, this is a total winner.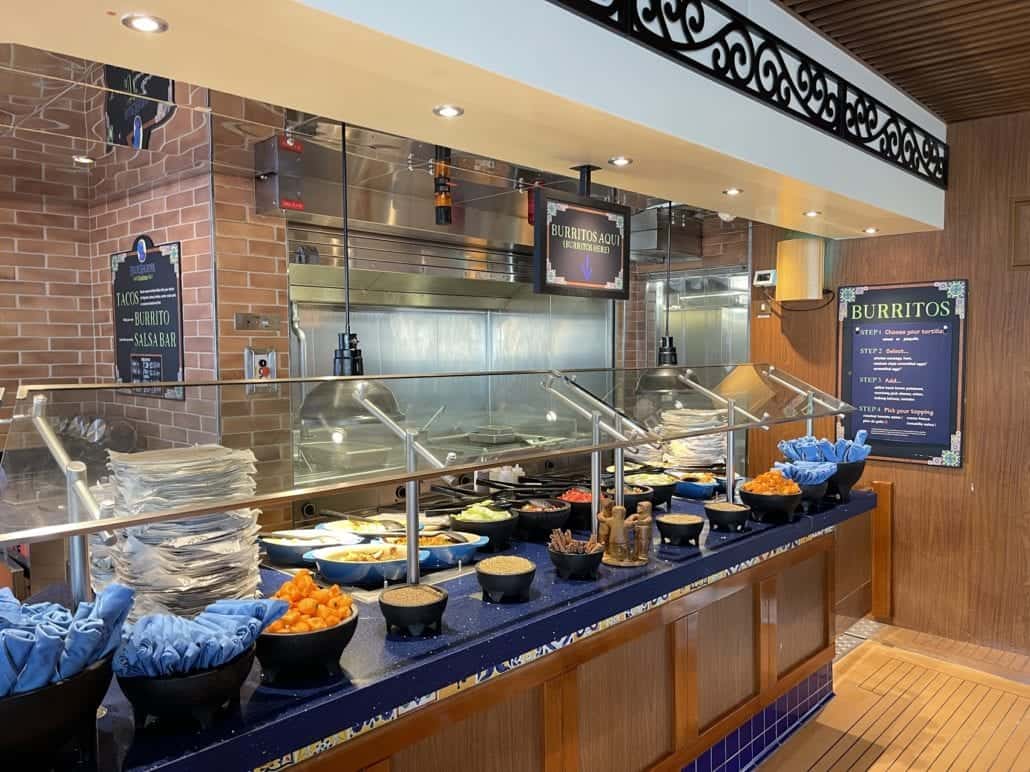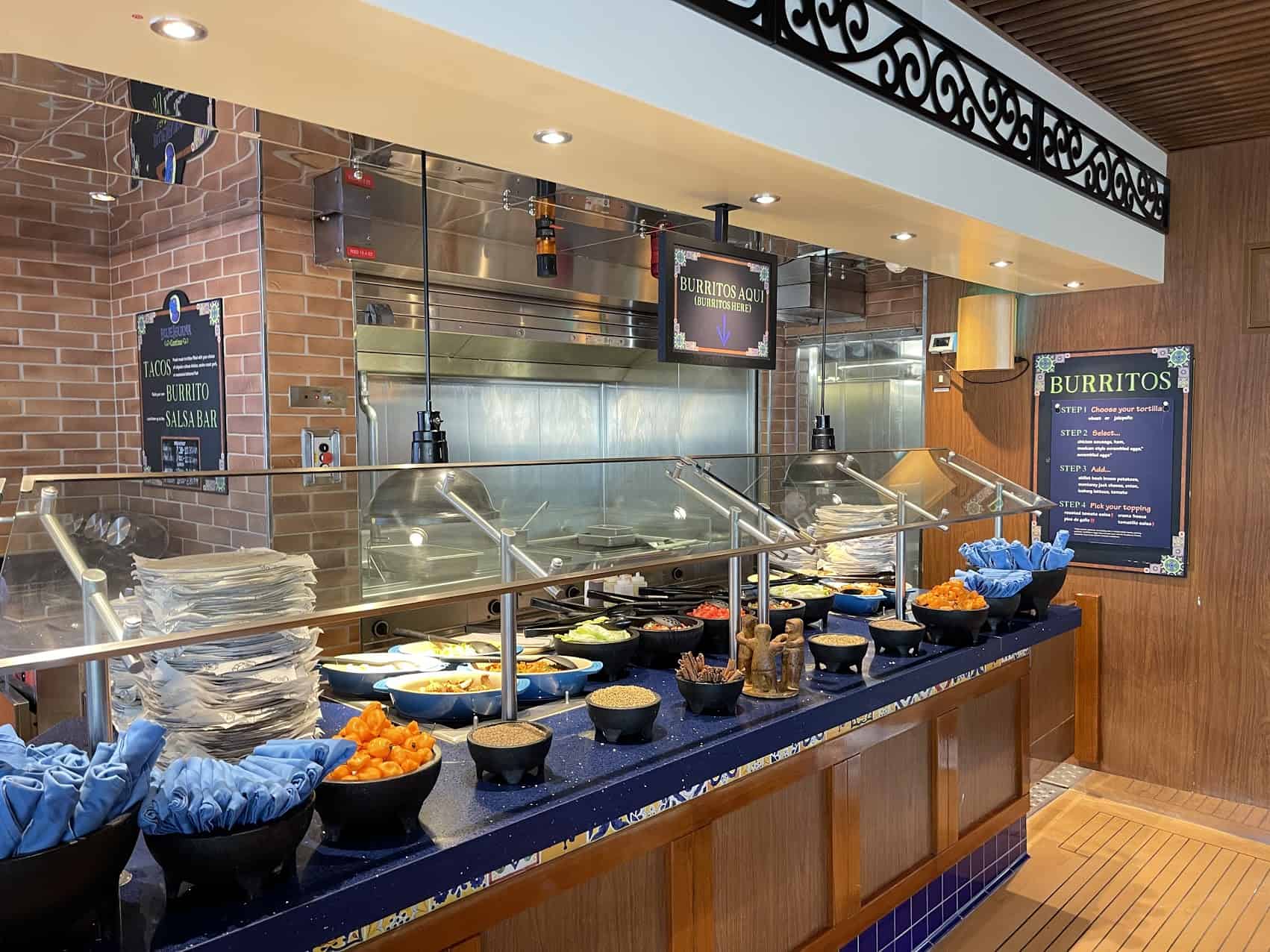 It's always best to check the HUB app to find out what days and times BlueIguana Cantina is open. Breakfast-wise, they specialize in three things: apreas (think corn pancakes with melted cheese inside), huevos rancheros, and burritos.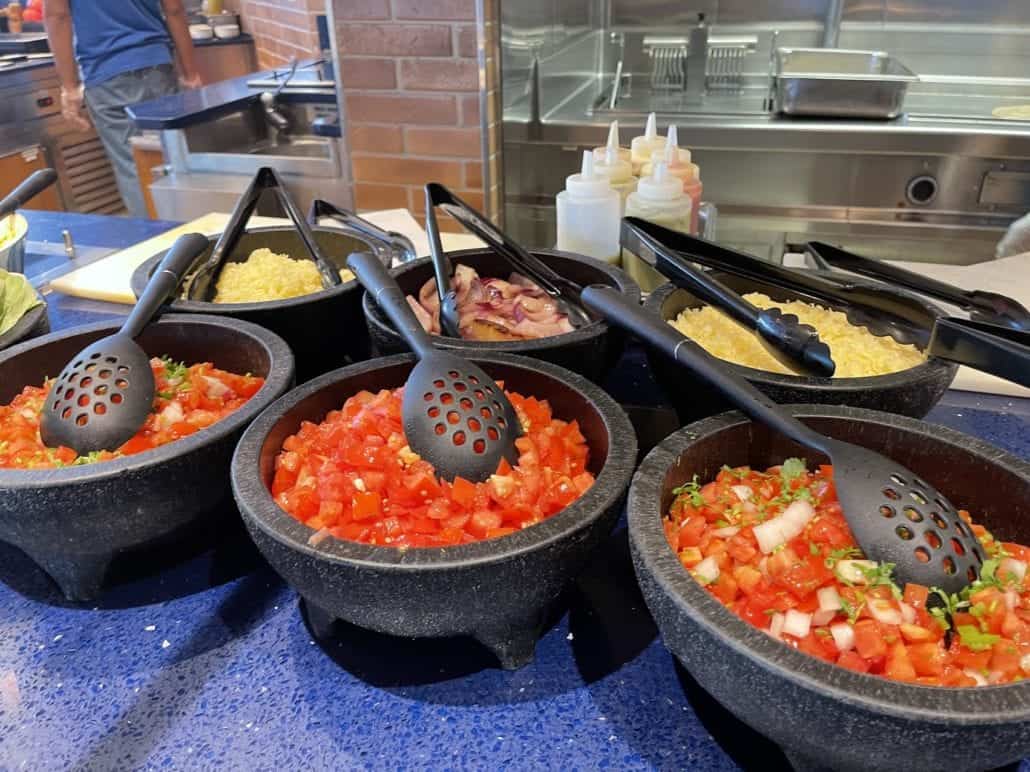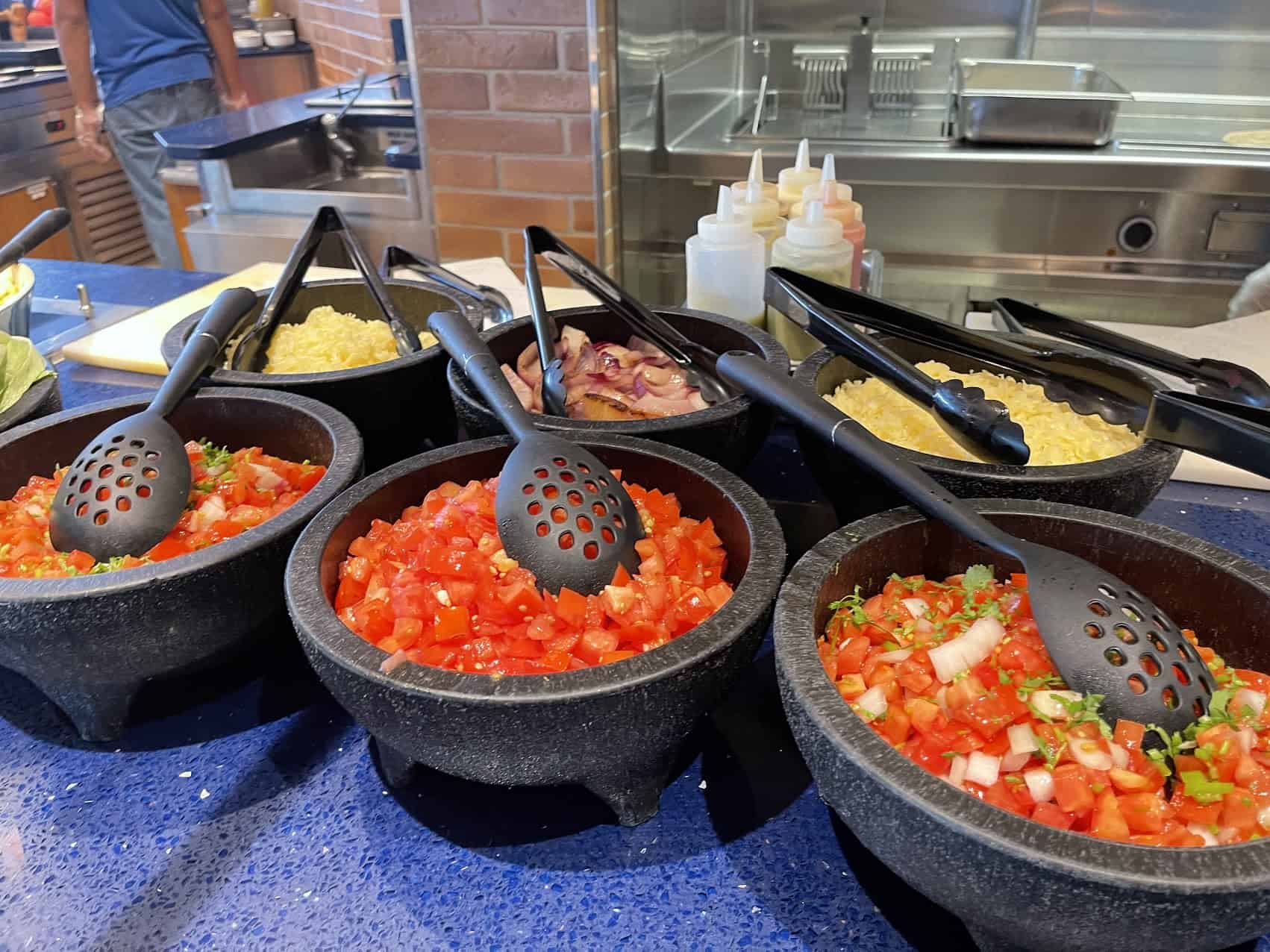 I went with a breakfast burrito, then hit the salsa and toppings bar to finish it off.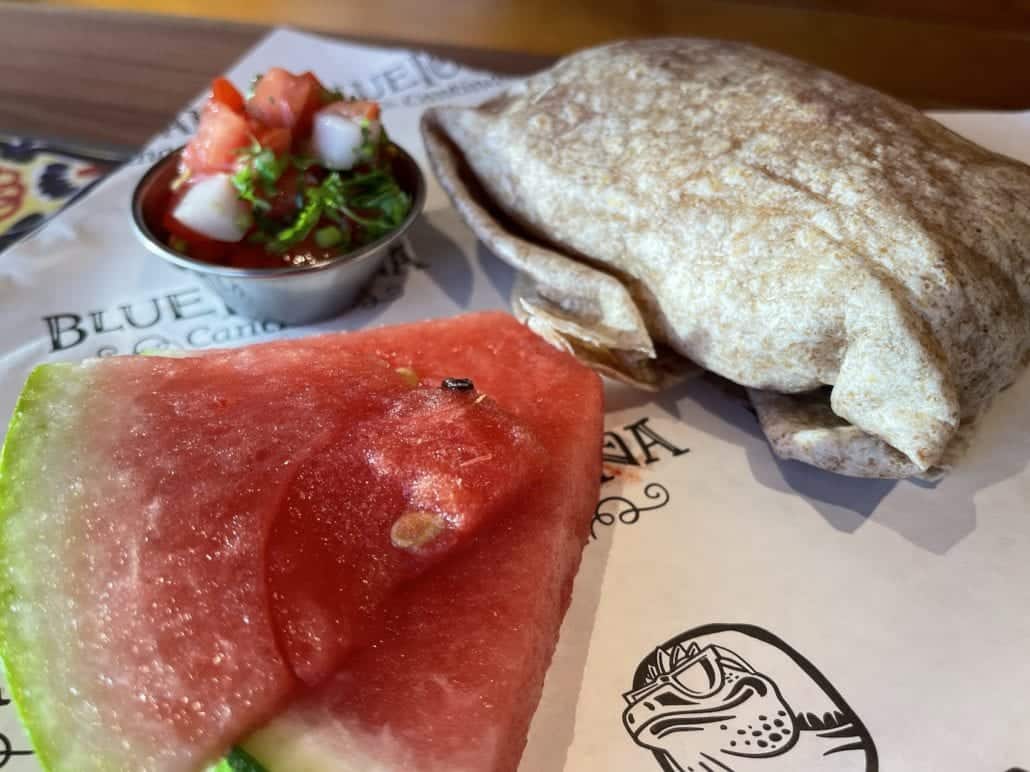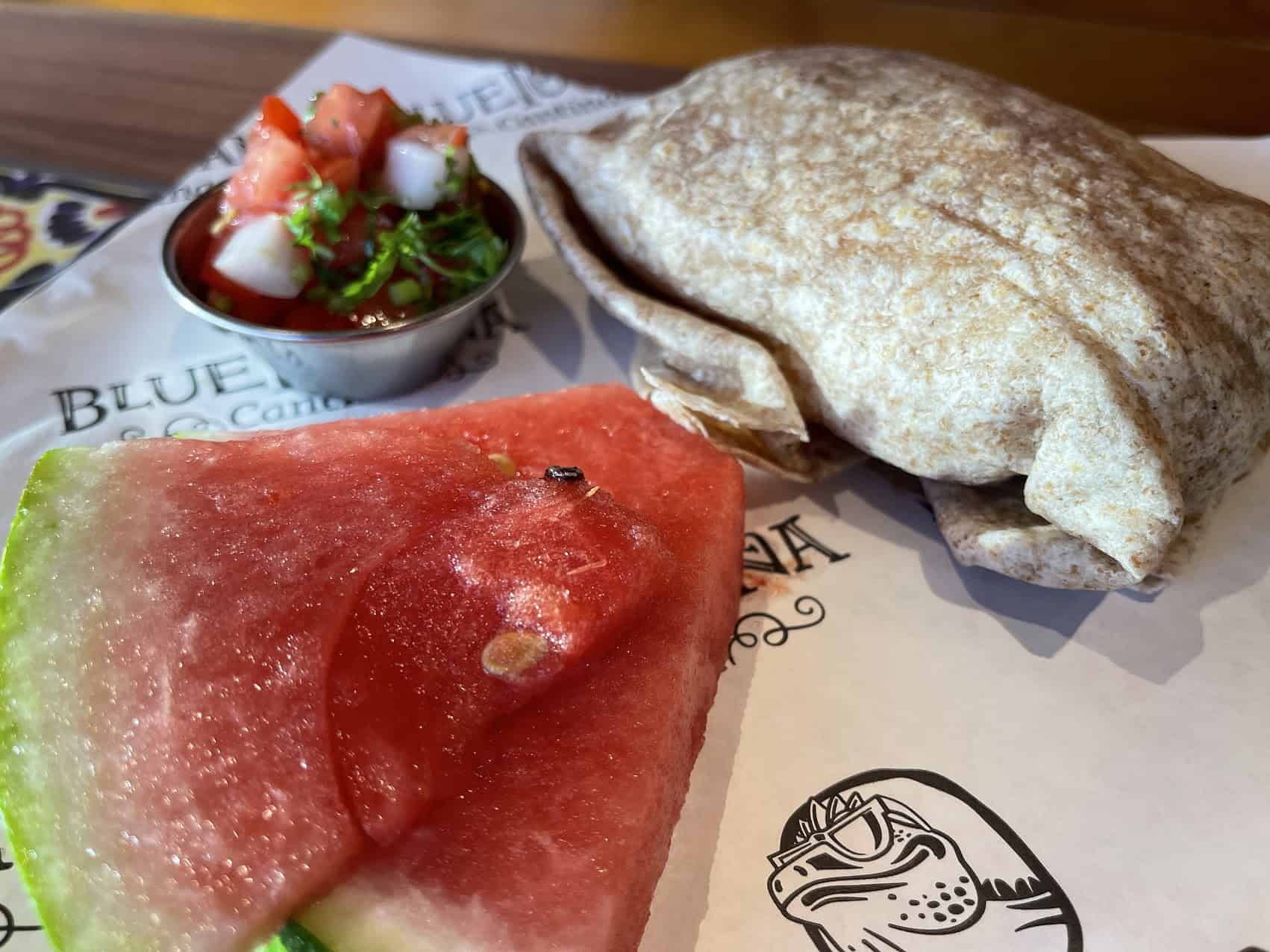 After breakfast, it was time to head to Half Moon Cay. In order to get to the island, you have to take a water shuttle, which is why occasionally, when the winds are high, visits to Half Moon have to be aborted.
People often get upset when that happens, but all you have to do is picture the relatively small tender boat being struck by the far larger cruise ship to imagine the damage that would ensue. Cruise lines are always going to put the safety of their passengers first, even if that means some of them are going to head straight to guest services to complain.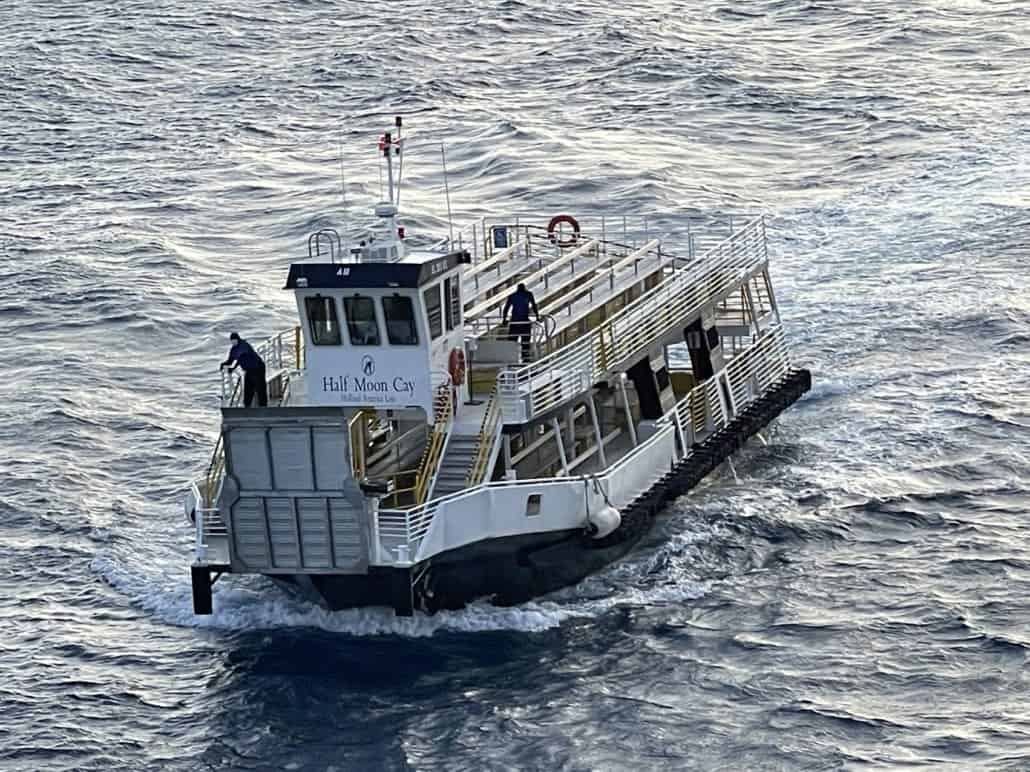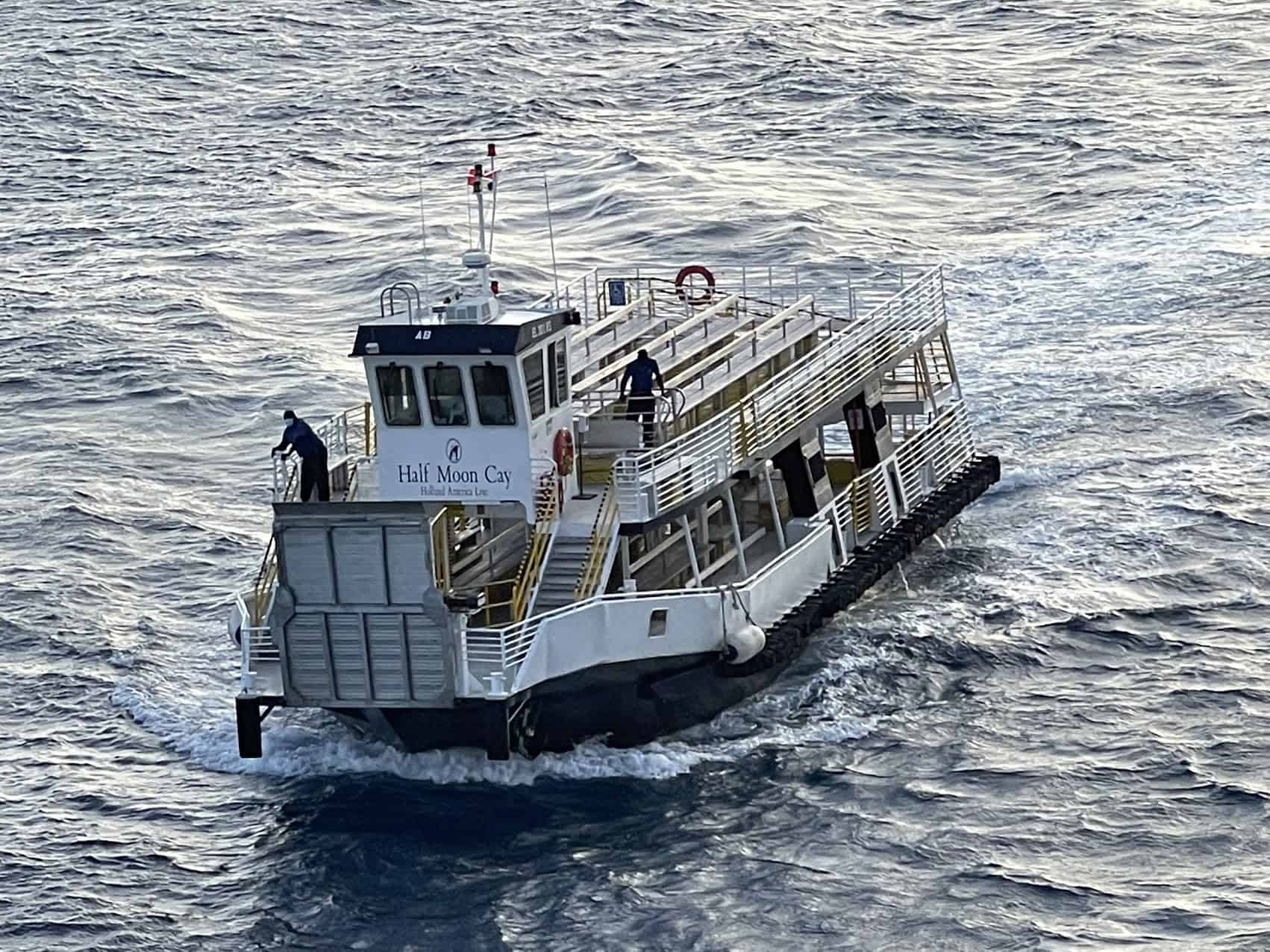 Both going to and returning from Half Moon Cay everyone was required to wear masks. There were also some social distancing markers in the security area once you arrived, but that was pretty much it.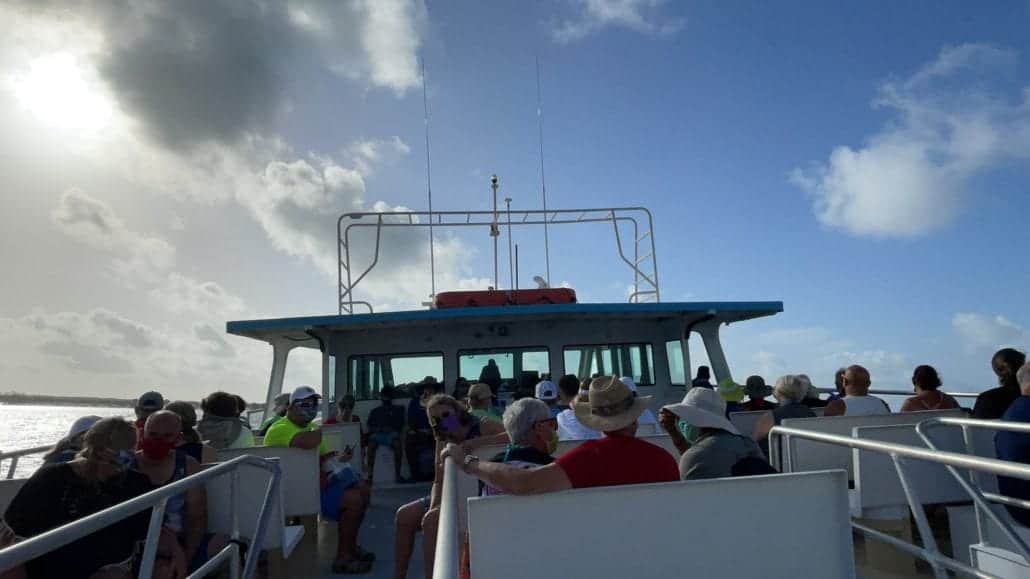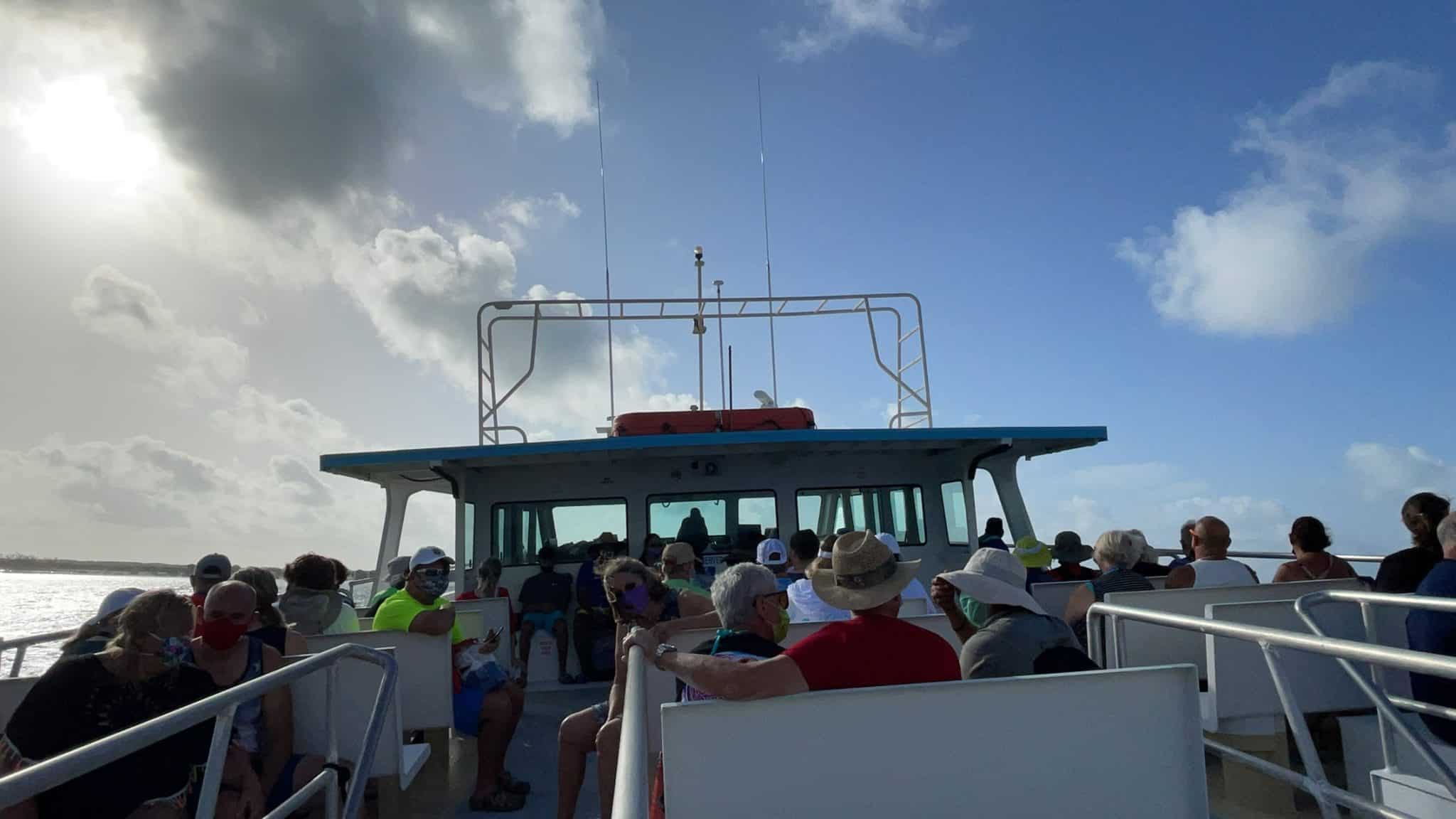 Because it's basically an unwritten rule that every passenger on a tender must take at least one (1) photograph of the ship as they pull away, I followed suit. And okay, I may have taken about 20 pictures, but I'm only going to subject you to one.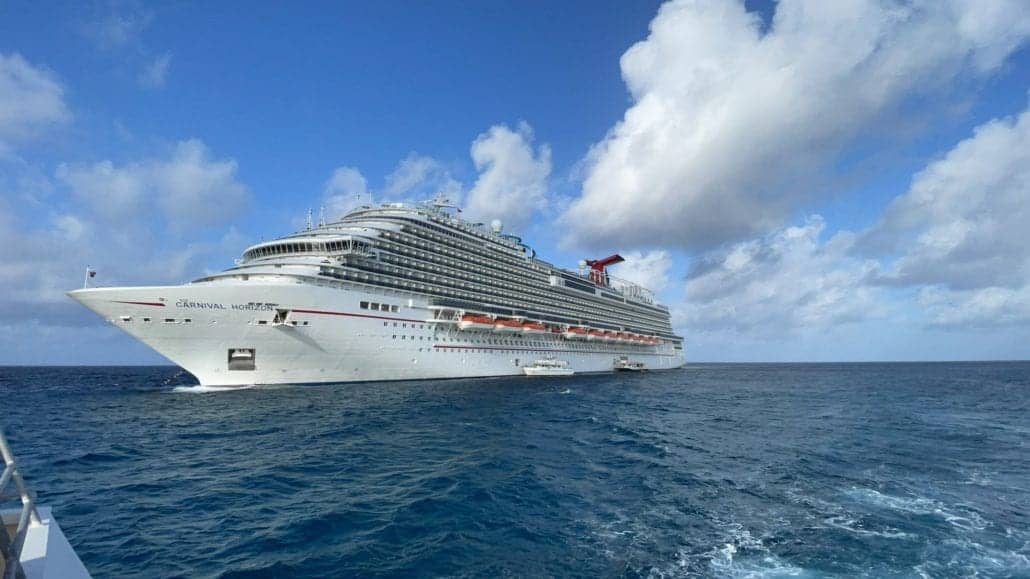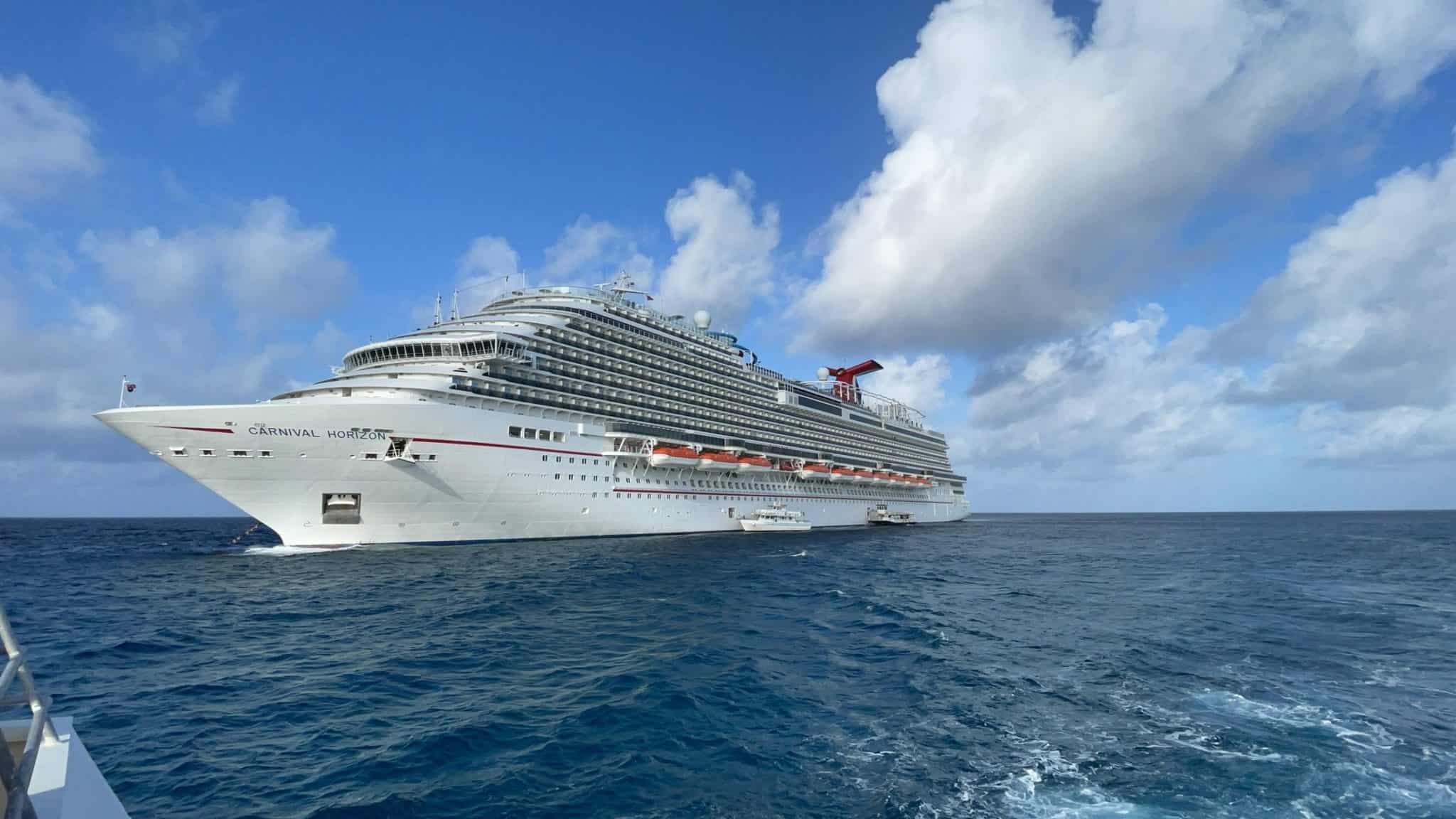 It's easy to see why people rave about Half Moon Cay. It's picturesque in every sense of the word, especially when the weather is cooperating, which it seems to do most of the time, thankfully.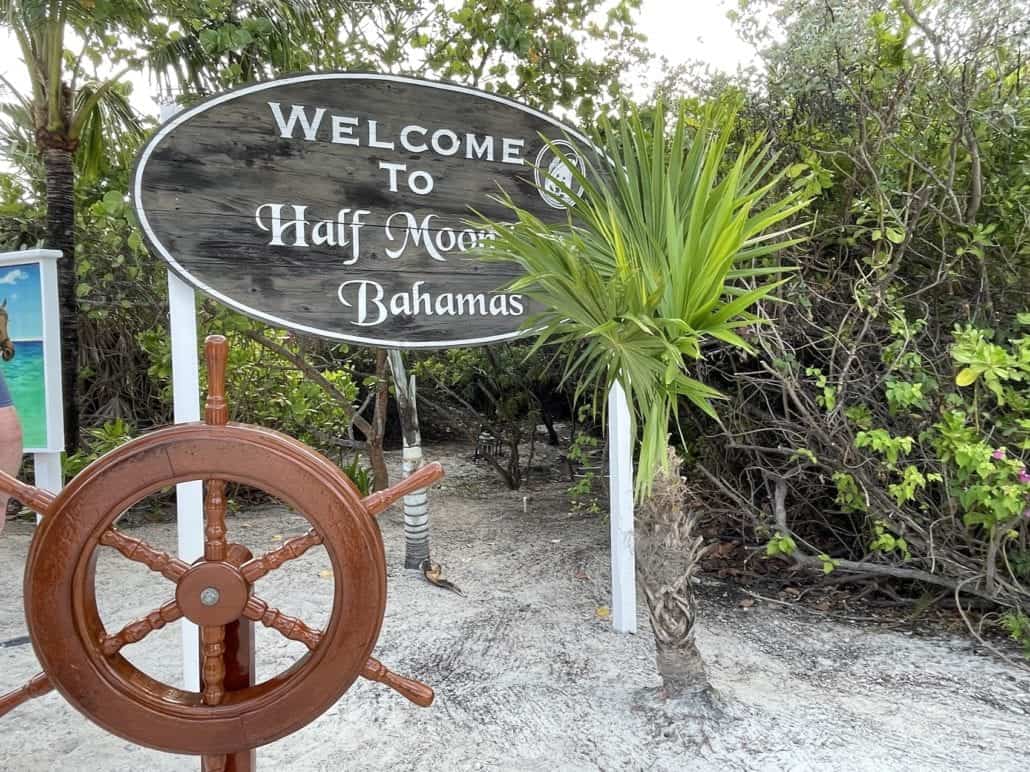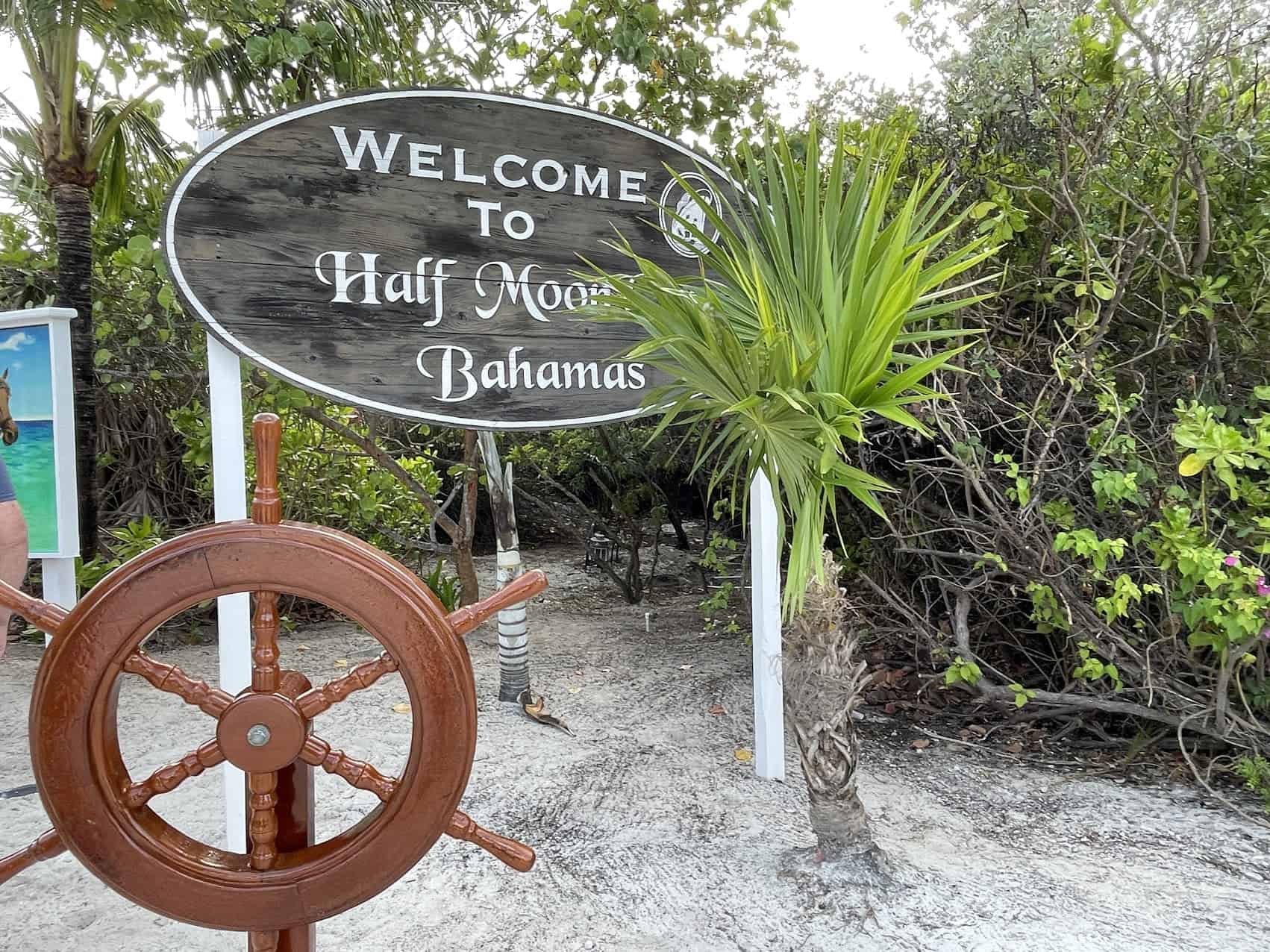 I've been to Half Moon Cay more times than I can count, but today was going to be special. Remember earlier in the week I mentioned that my travel agent was not only on board but had arranged several special treats for clients who were also traveling this week?
Well, today was another of those "special treats," and it's something most visitors to Half Moon Cay never get to experience.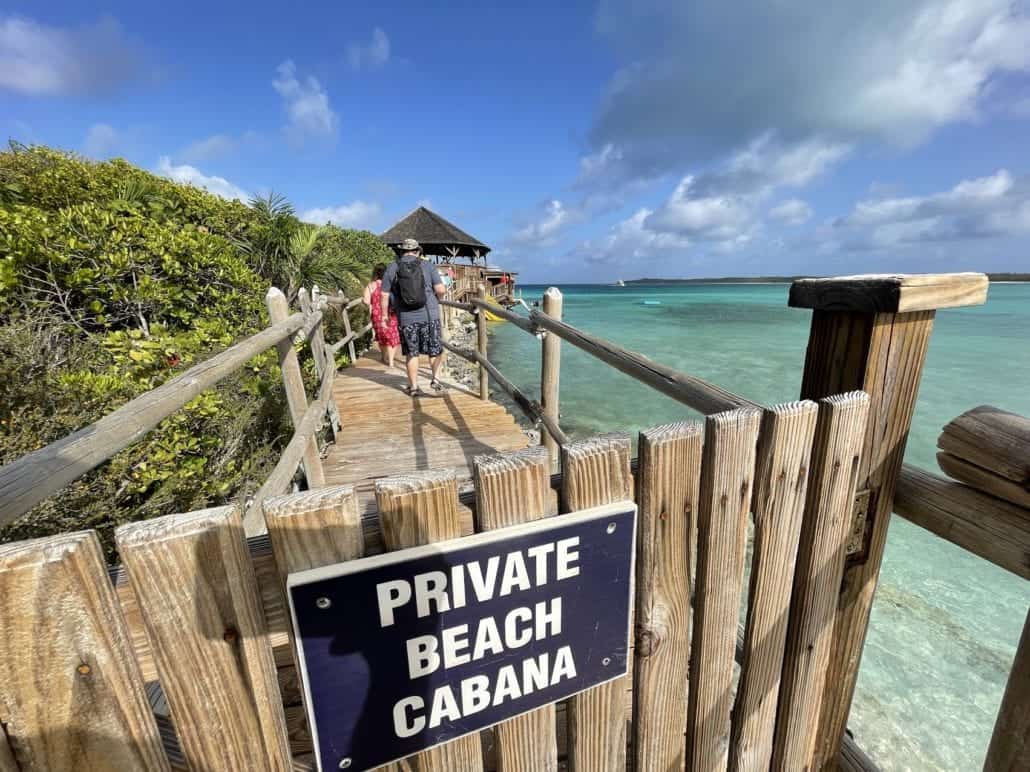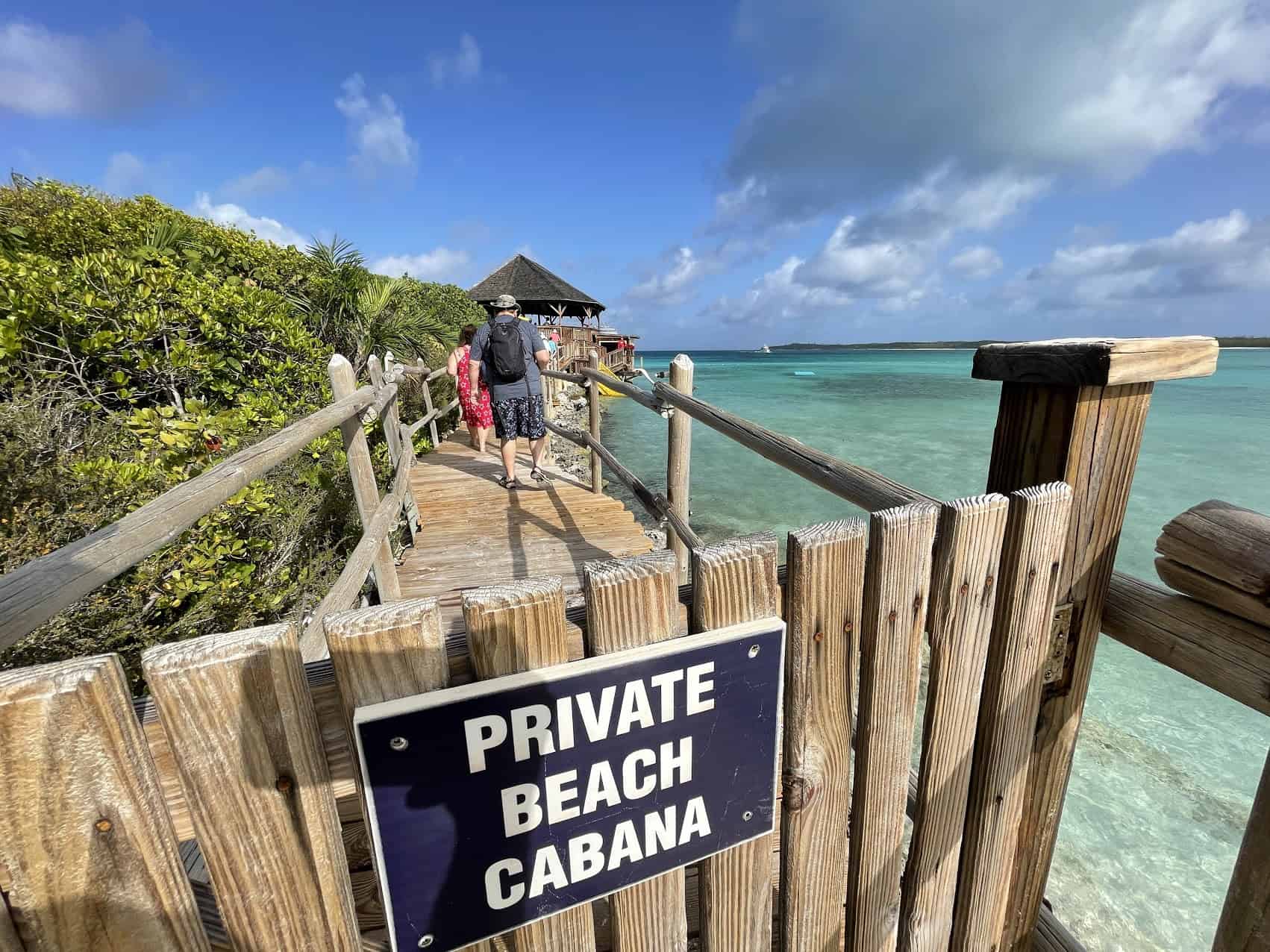 A bit removed from the main beach you'll find not just a regular cabana, but the Private Oasis Grand Cabana. From the moment you pass through this gate, you realize that you're in for something special. But it's almost hard to imagine just how special until you actually enter the cabana.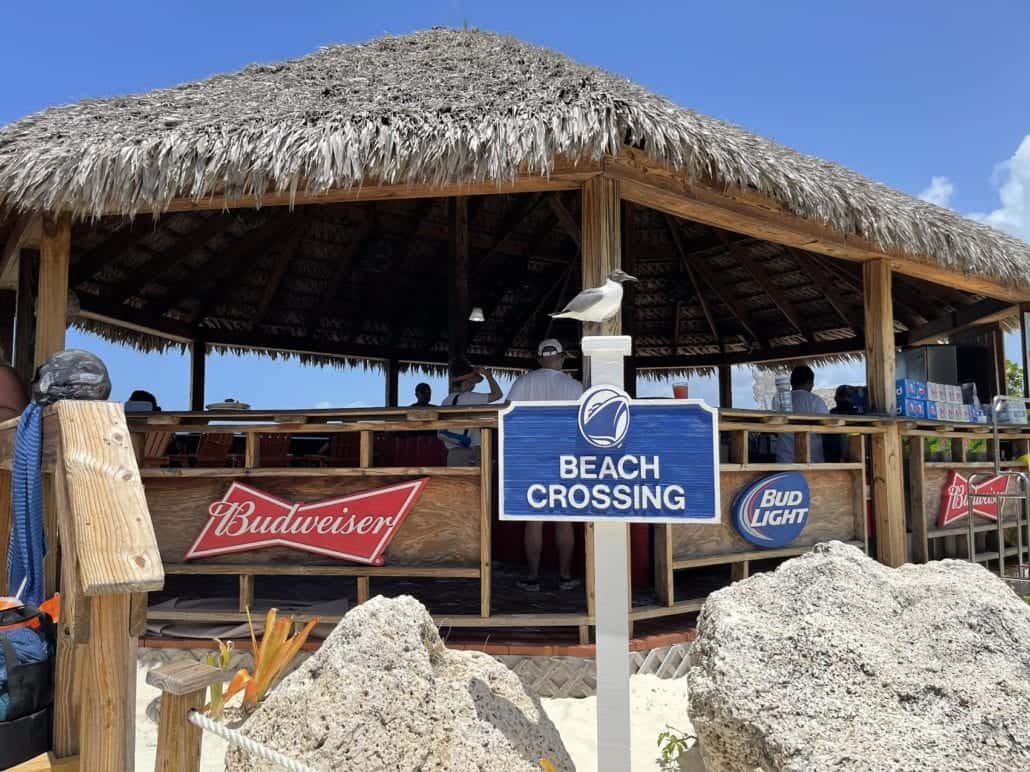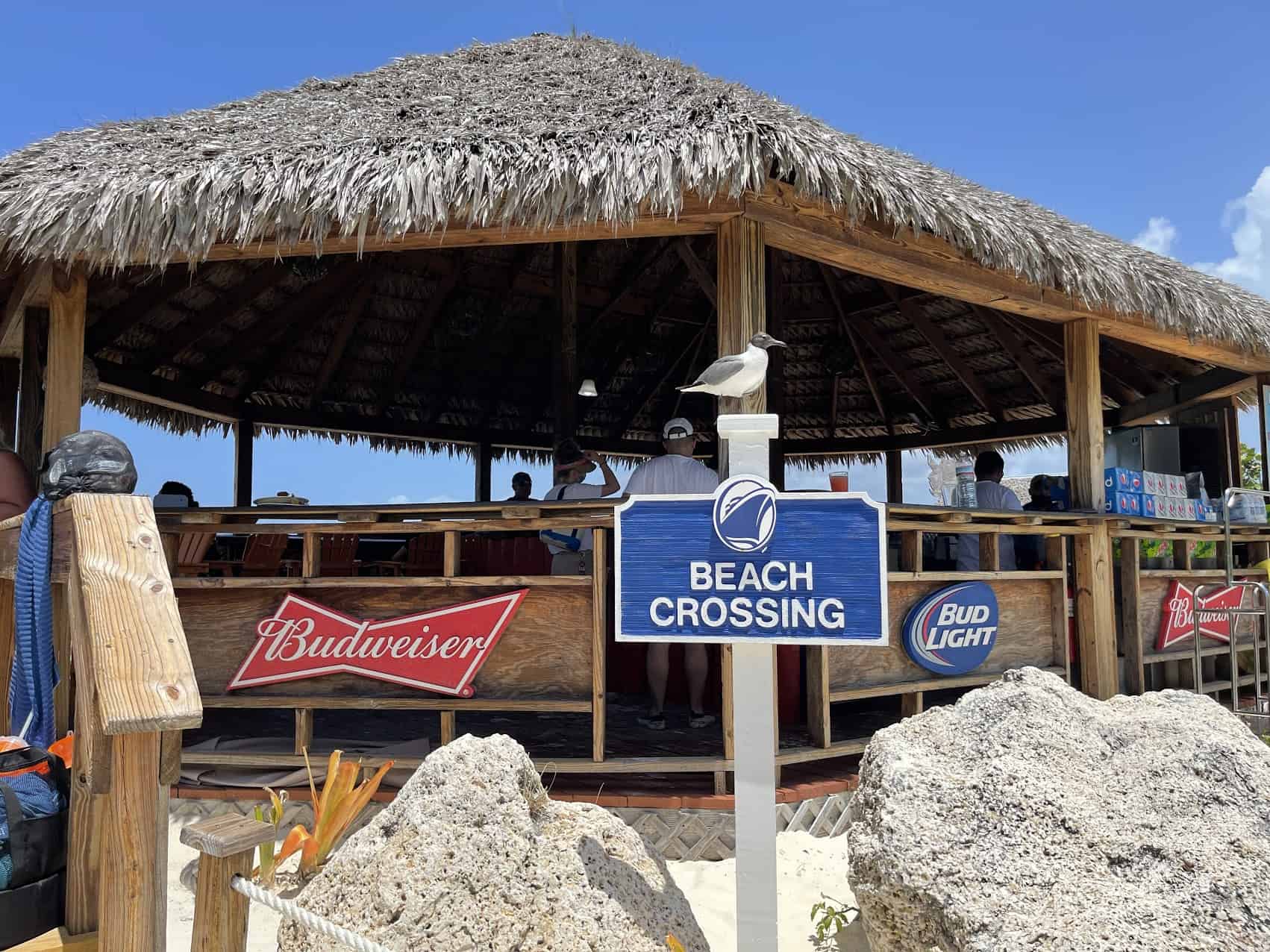 Not only is the main cabana area spacious and filled with all kinds of comfy seating areas as well as a table (which, when we arrived, was covered with snacks).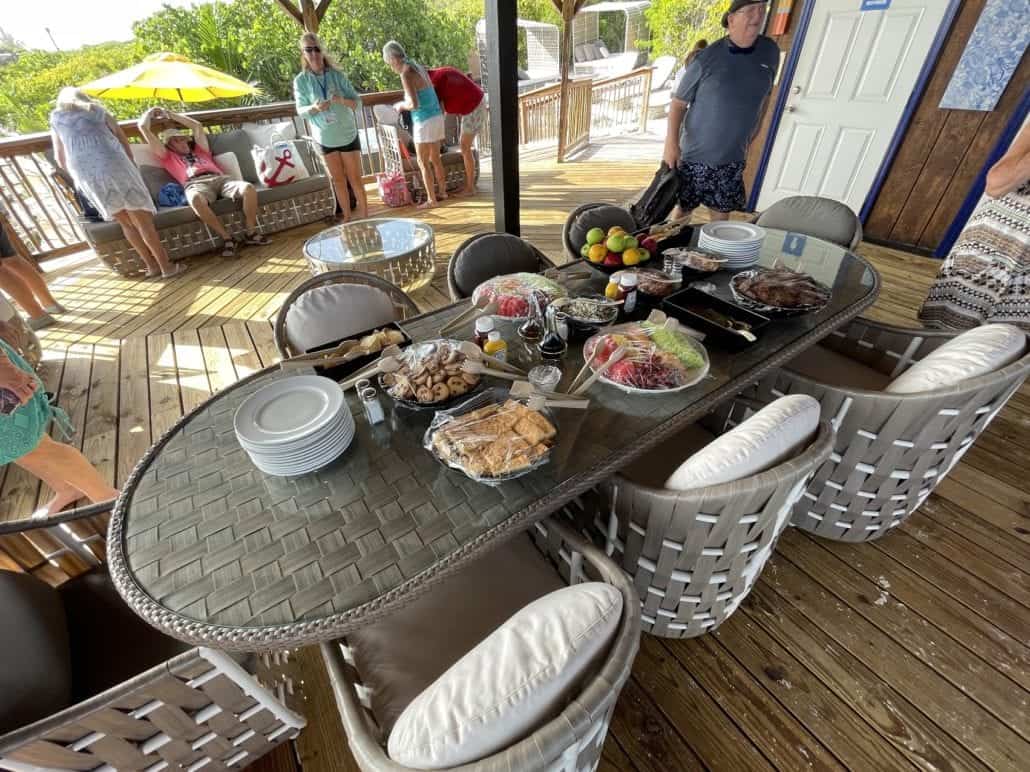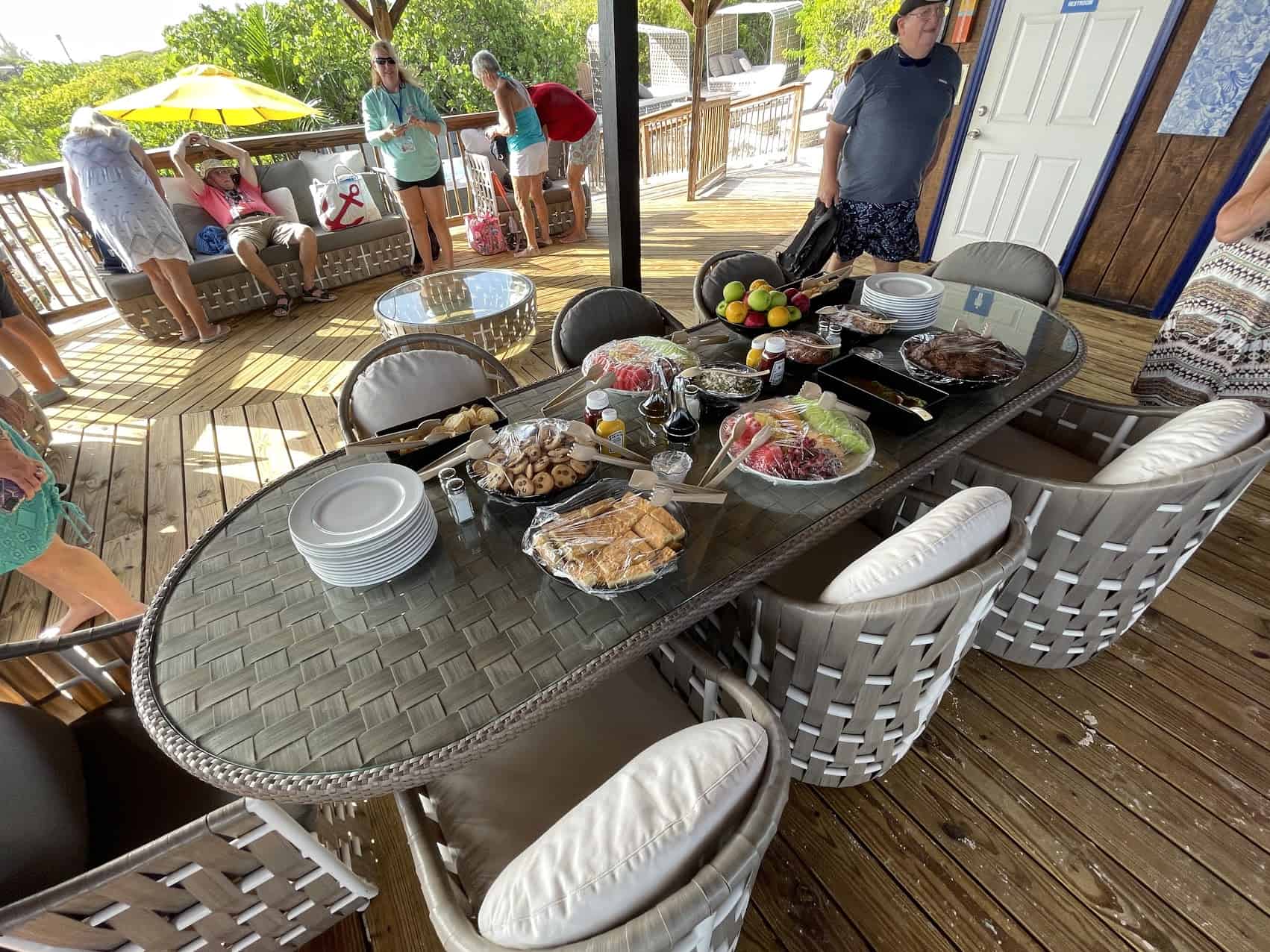 But it also includes such ridiculously high-end amenities as your own private hot tub.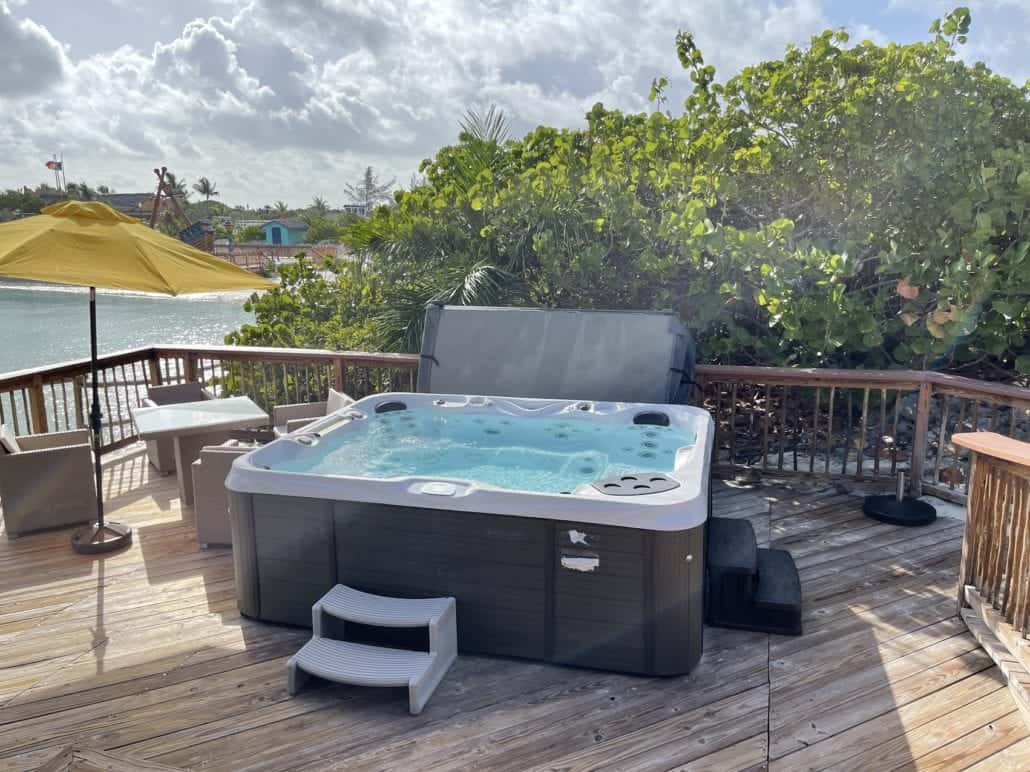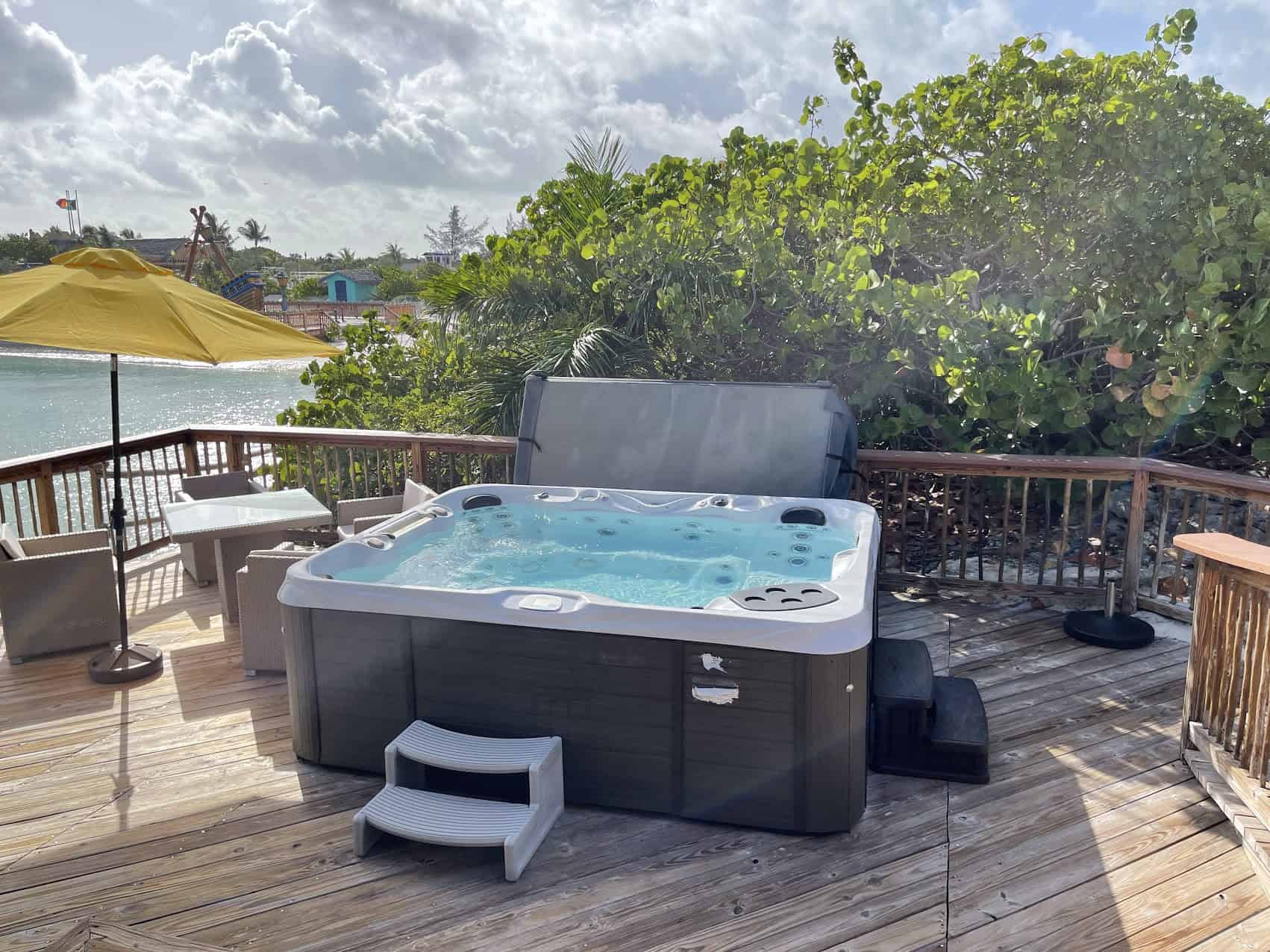 Along with this cool area were loungers and daybeds, a wet bar, and so much more.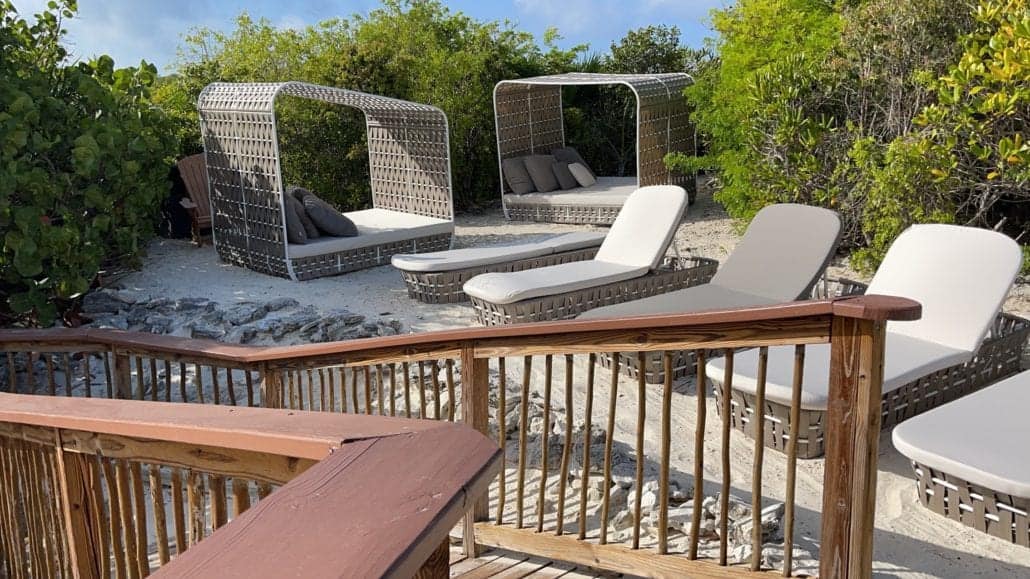 Oh, and when you get hungry? Forget wandering over to the buffet where the masses are feeding themselves, because you're treated to a special meal prepared and served right there by your own chef. We had filets, grilled Mahi, fish tacos, burgers, and hot dogs — all made fresh and served to us right there at the cabana.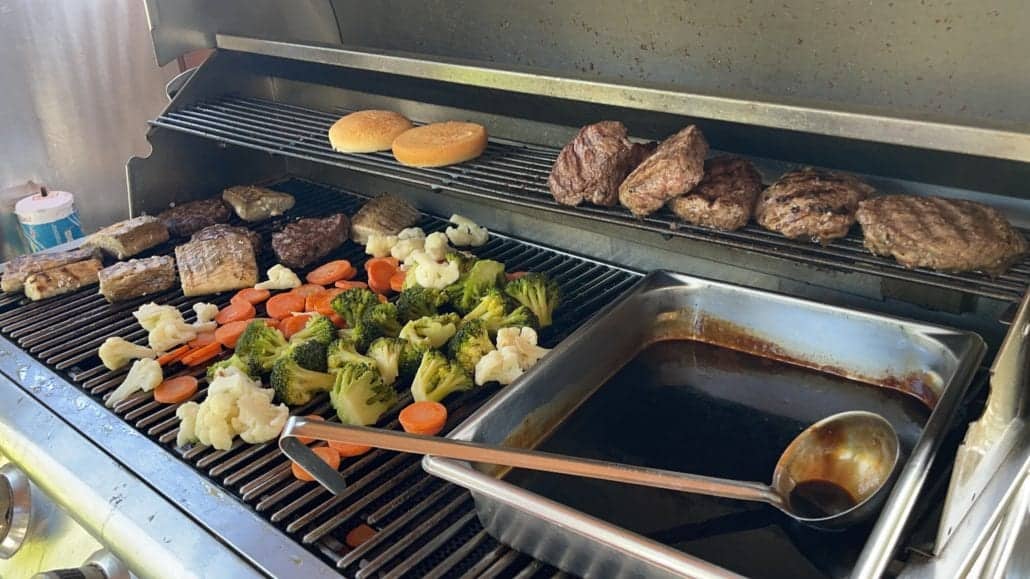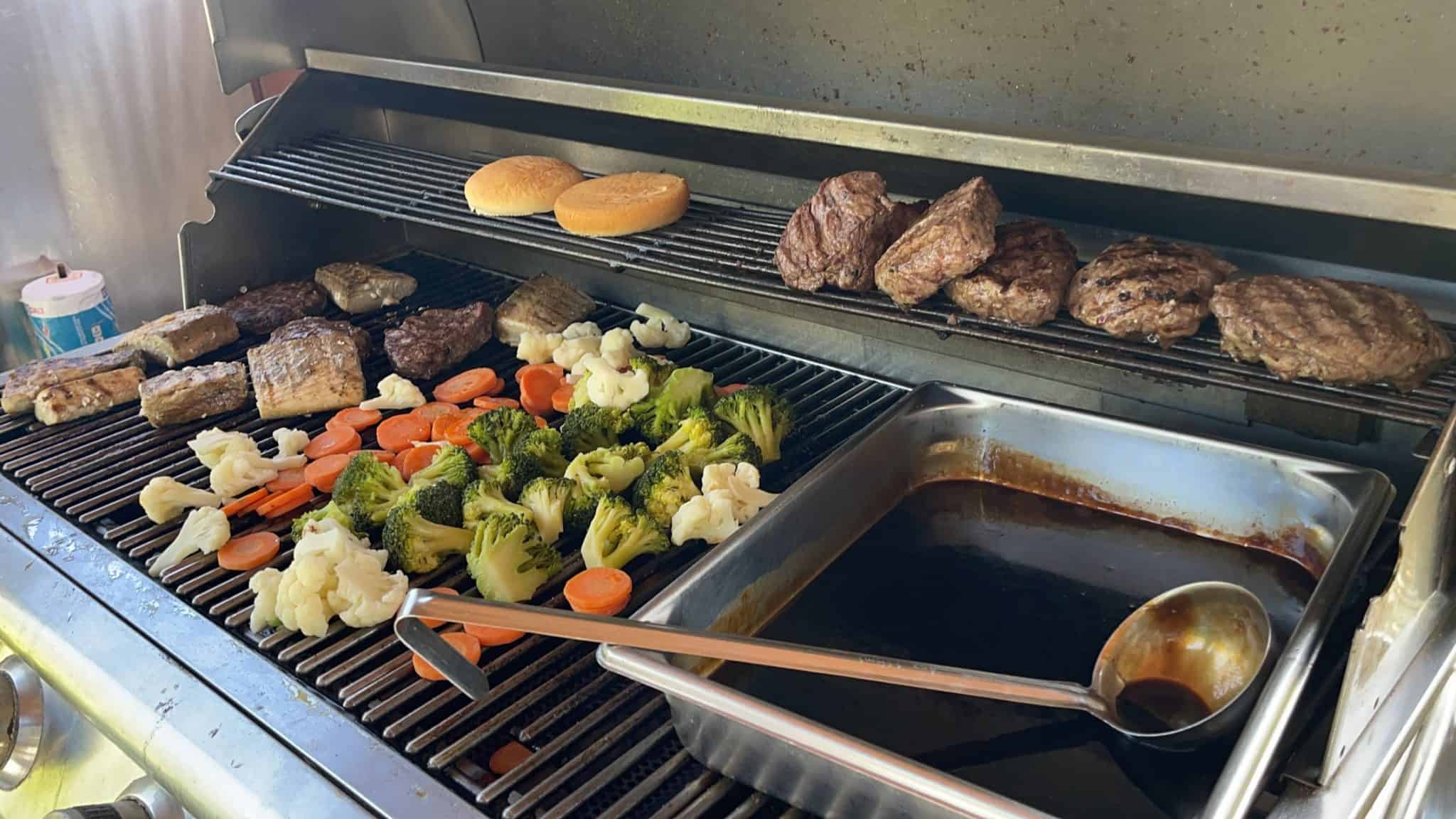 Like I said, I've been to Half Moon Cay in the past, but this took things to a ridiculous level of comfort. Because this particular cabana is removed from the main beach, it's quieter, there are far fewer people in the surrounding waters, and the entire experience is kind of hard to believe.
I did wander away for a while, just to check out the rest of the area. After all, it's not really a visit if you don't go to the pirate ship bar. And yes, despite having our own cook and all that amazing food, I did swing by the buffet just to see if there was anything there I might want to nosh on.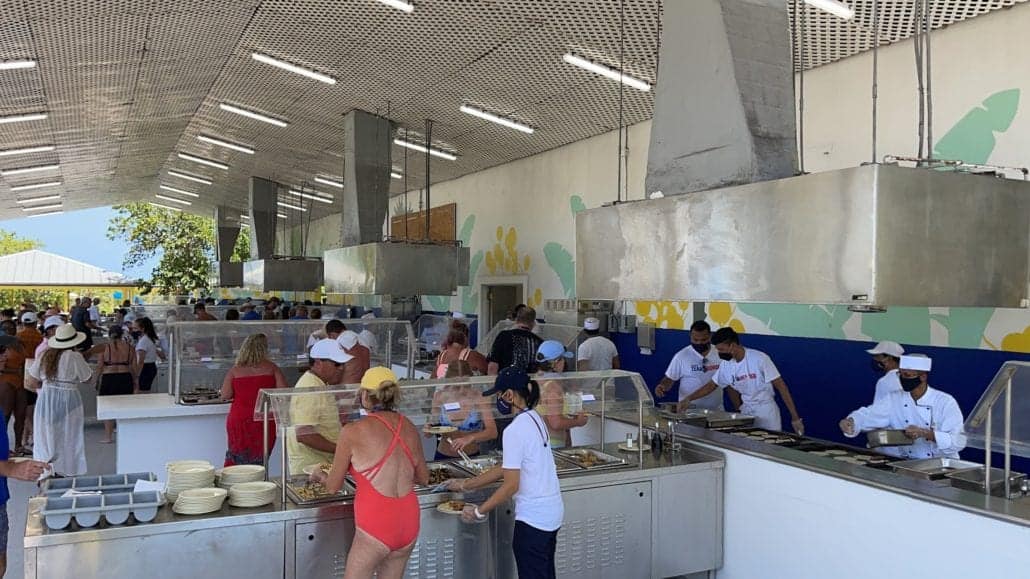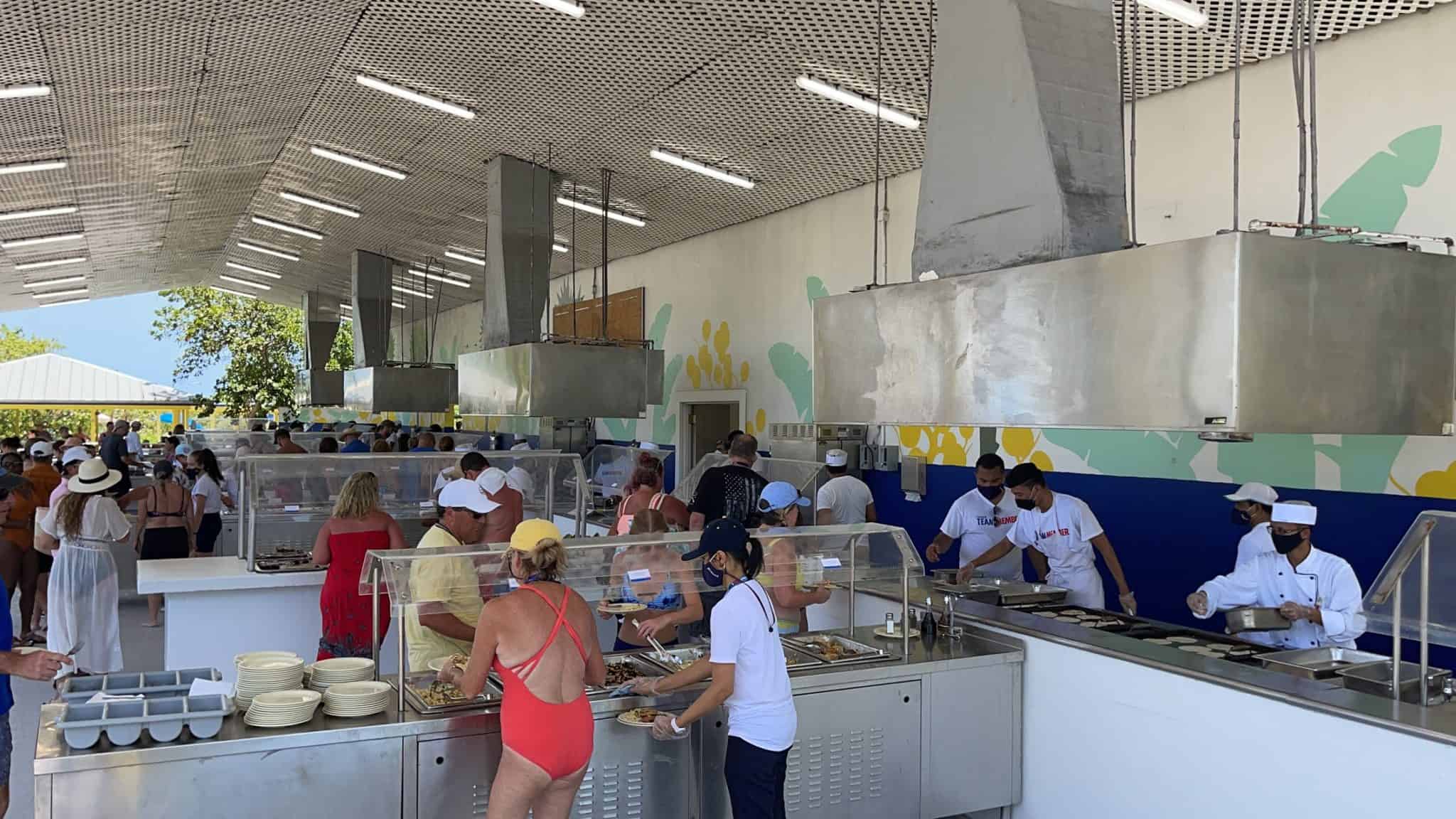 I guess it's not really surprising, given the small number of children on this sailing, that the children's play area was a virtual ghost town.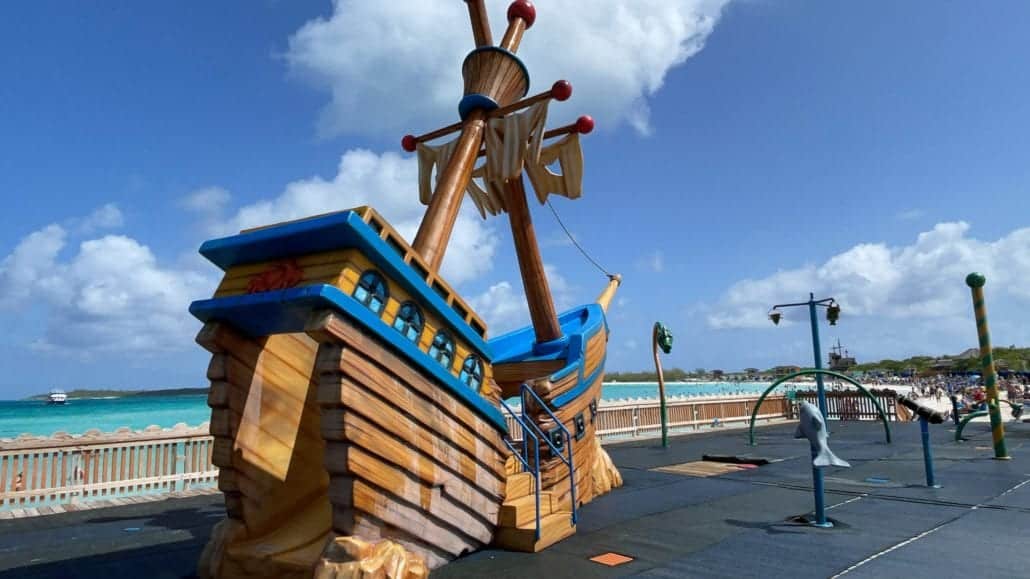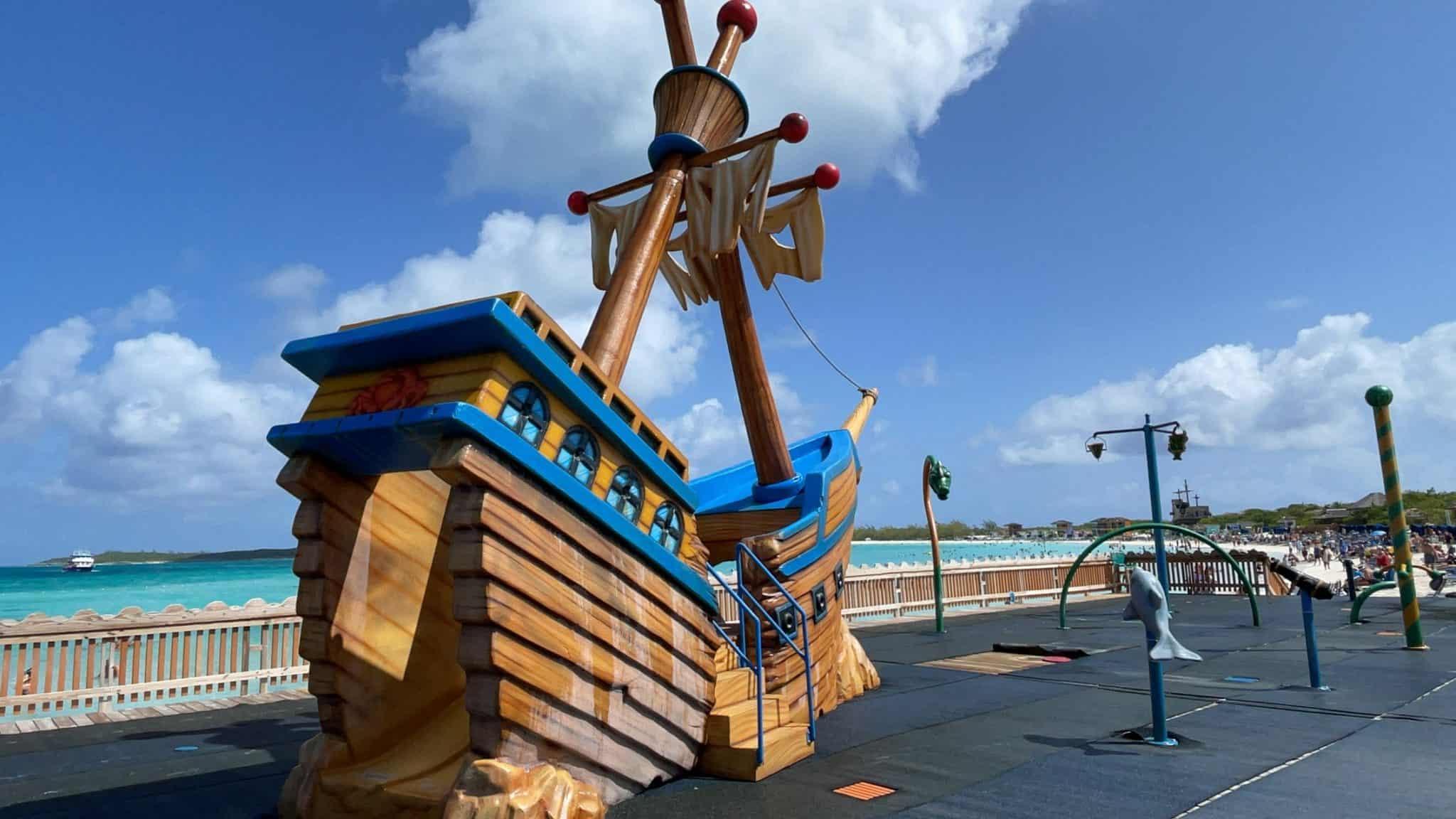 All day long, you could see the tenders running back and forth between Half Moon Cay and the ship. But it's not an exaggeration to say that I was on the first tender over to the island…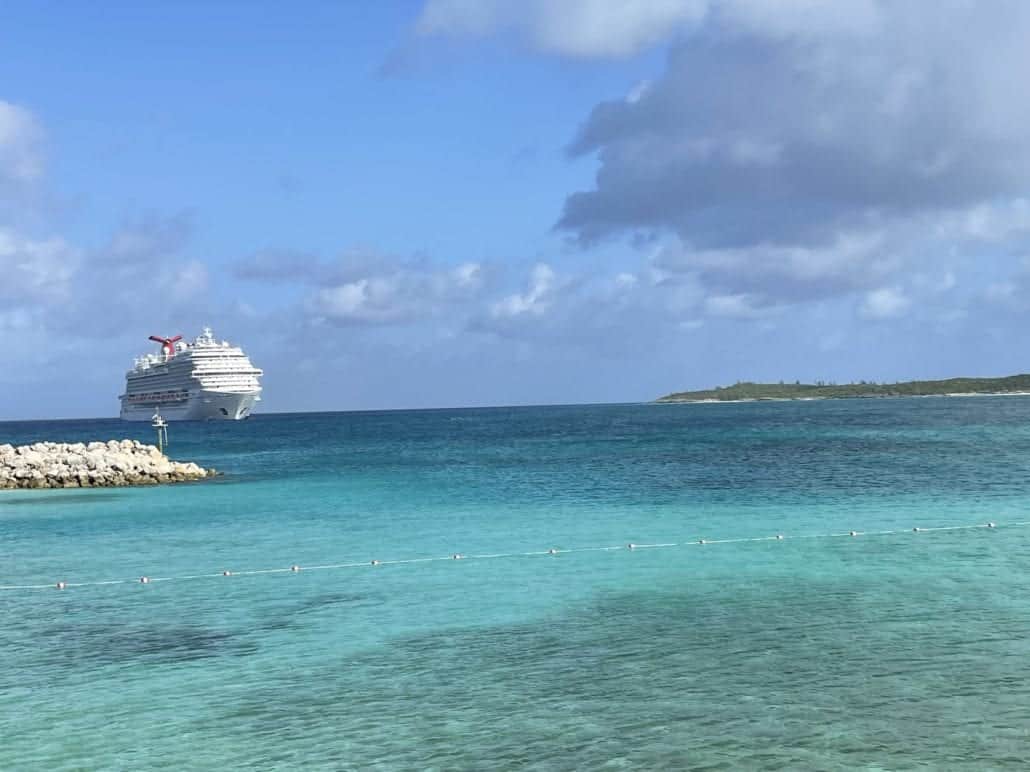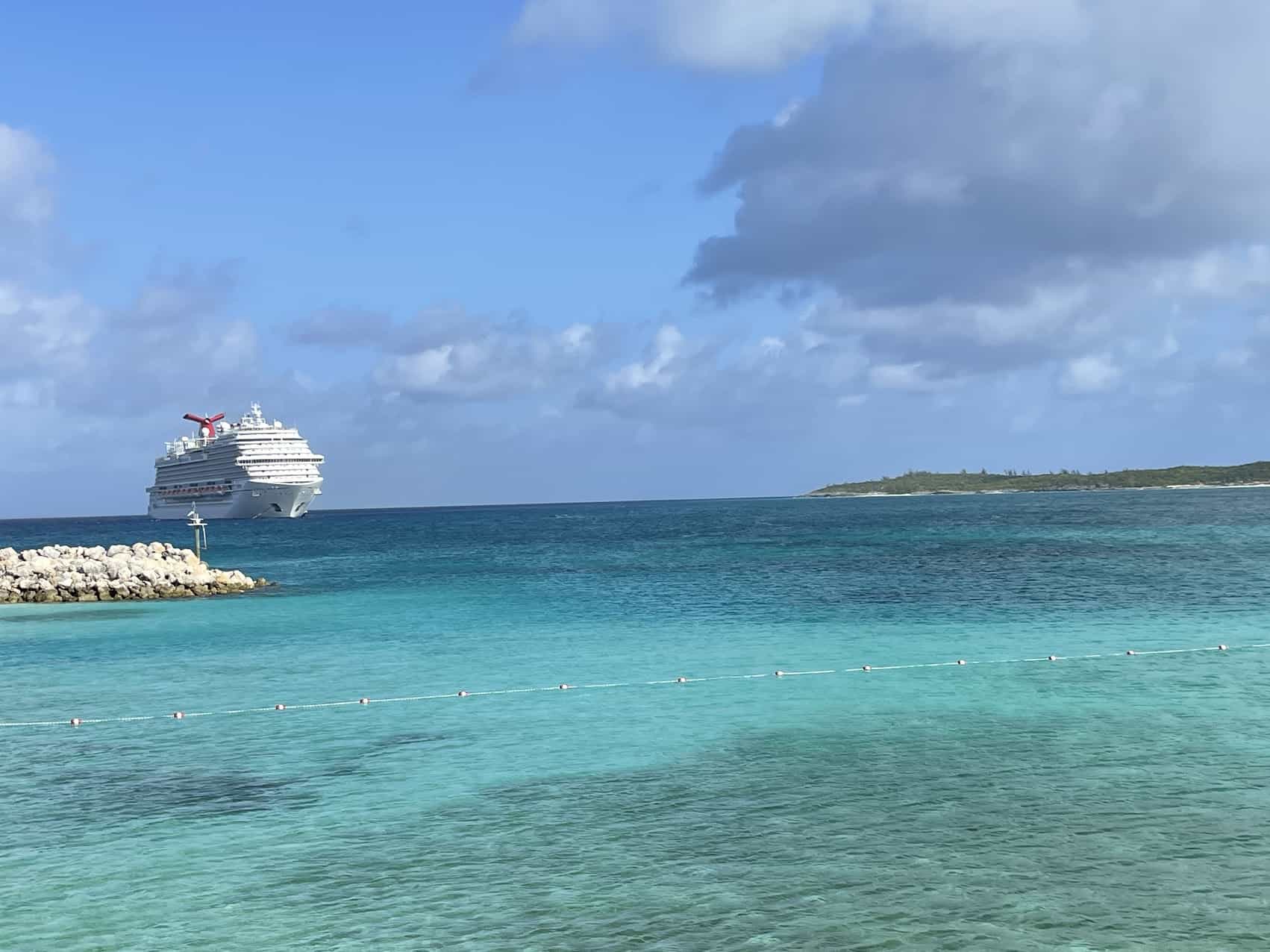 … and I was on the last one back. I'm not saying they had to drag me away from that amazing cabana, but I was definitely in no hurry to leave. It helped knowing that we'd be back on Half Moon Cay the next day (although we'd relocate from the cabana).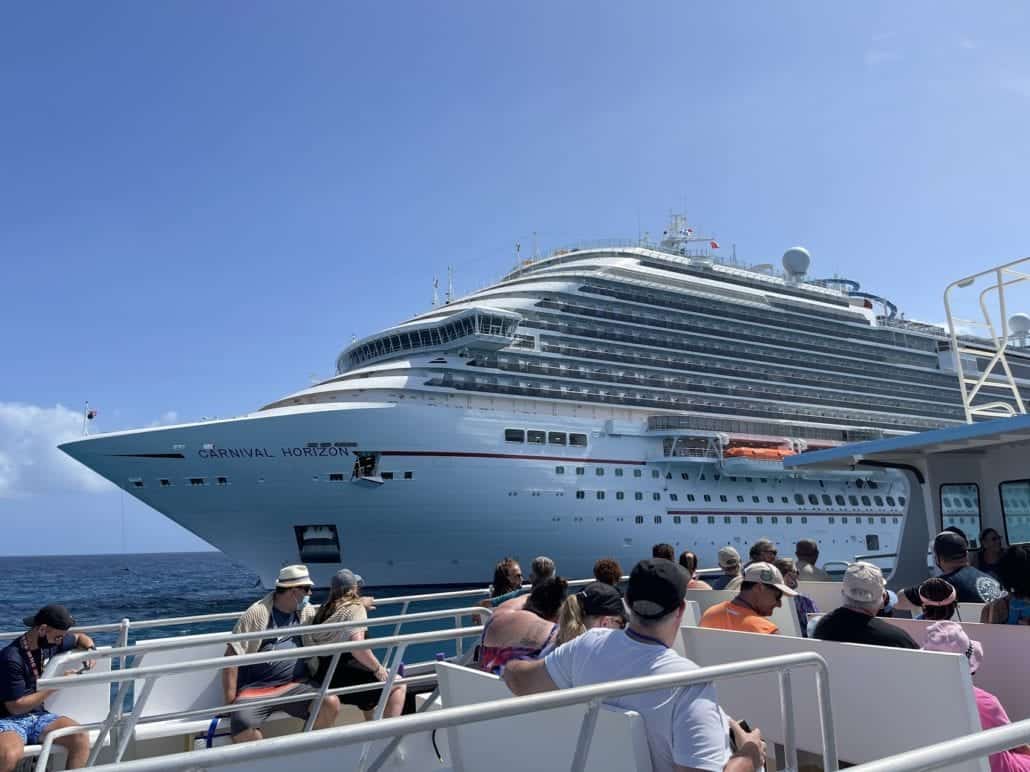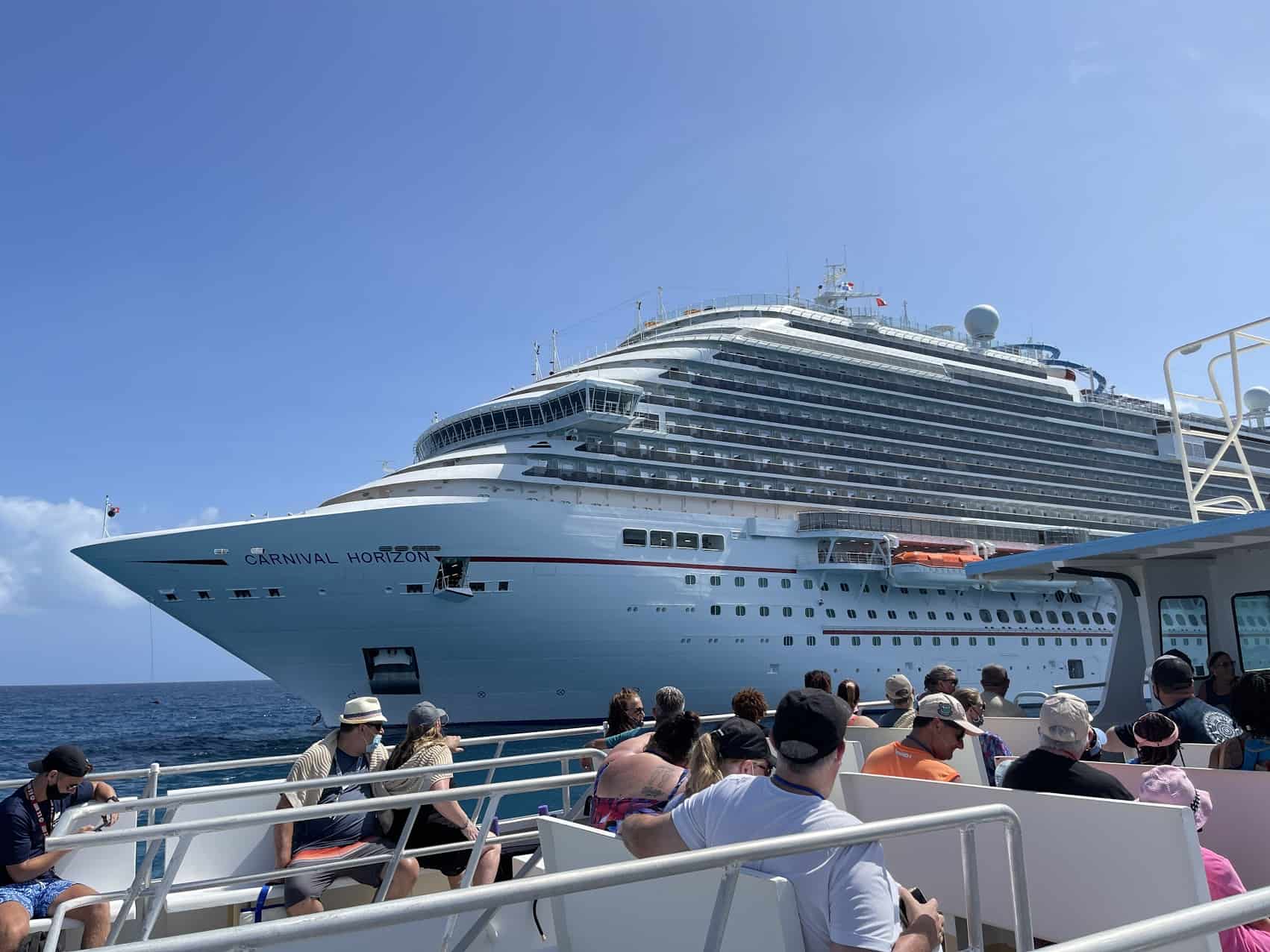 By the time we got back to the ship and had a cocktail or two, it was time to head to the main dining room for dinner. Tonight, I went with the French Onion soup, muscles and ribs.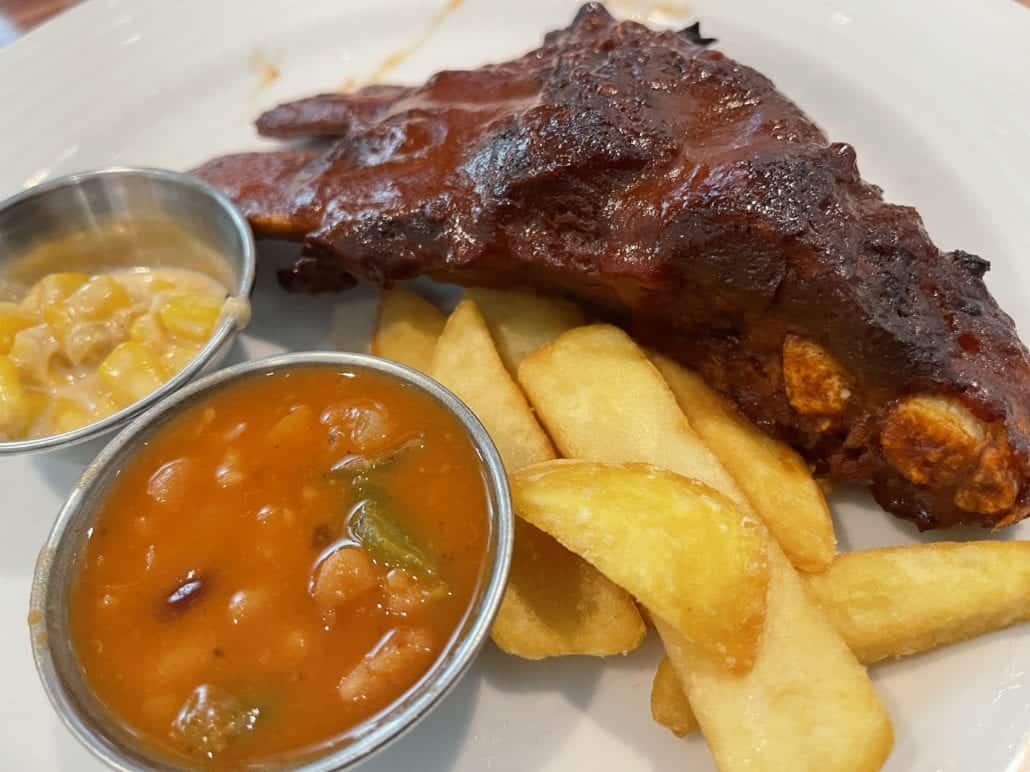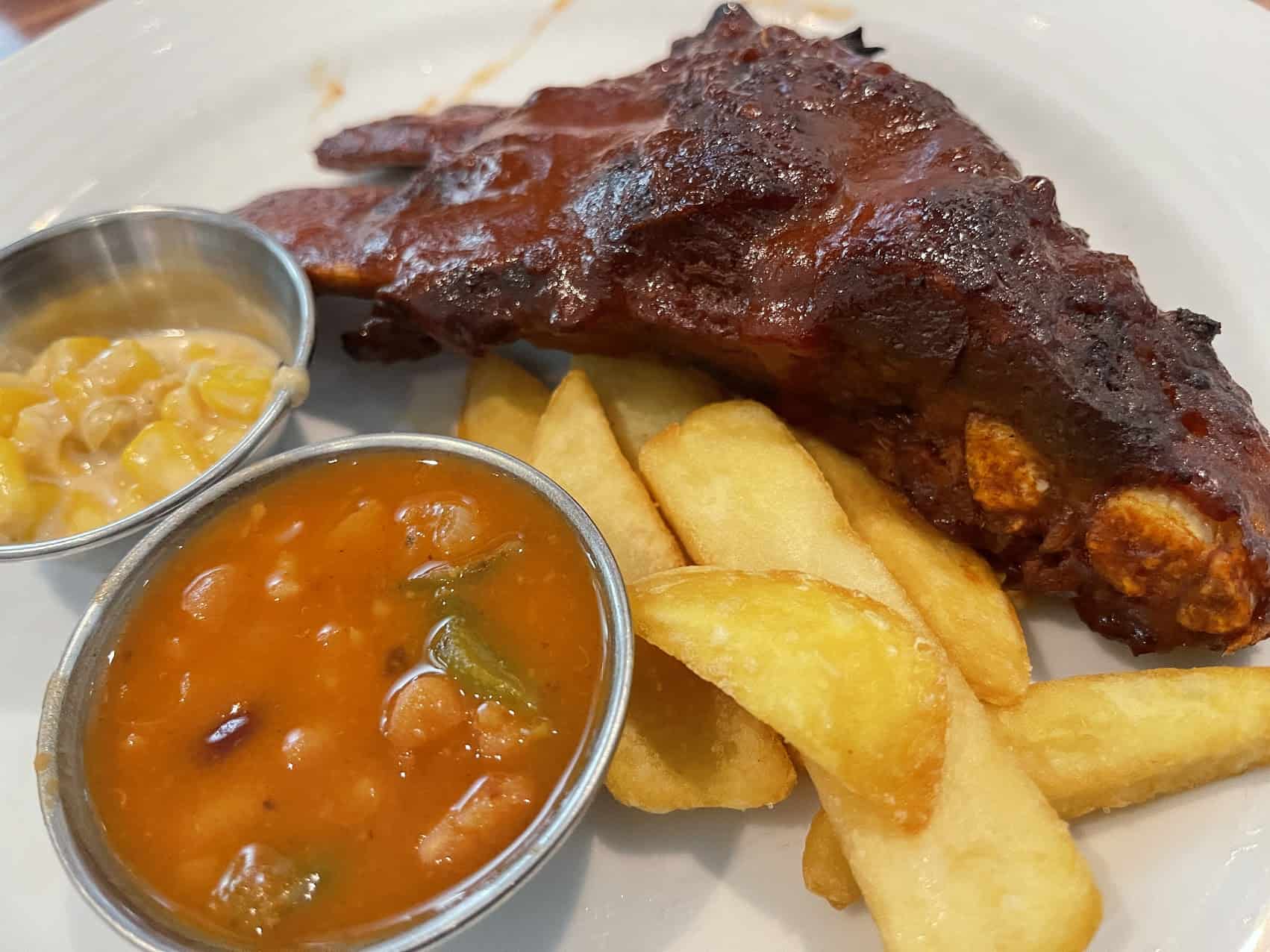 Afterwards, I was determined to take in some of the entertainment going on around the ship. I know, I know, I tend to crash right after dinner so I'm definitely not giving you guys much to go on when it comes to the after-dark entertainment. But I was determined to prove I could stay up past 9 pm! First, I went to the Liquid Lounge and caught the Viva Variety show featuring Marcus Anthony doing some amazing Motown numbers.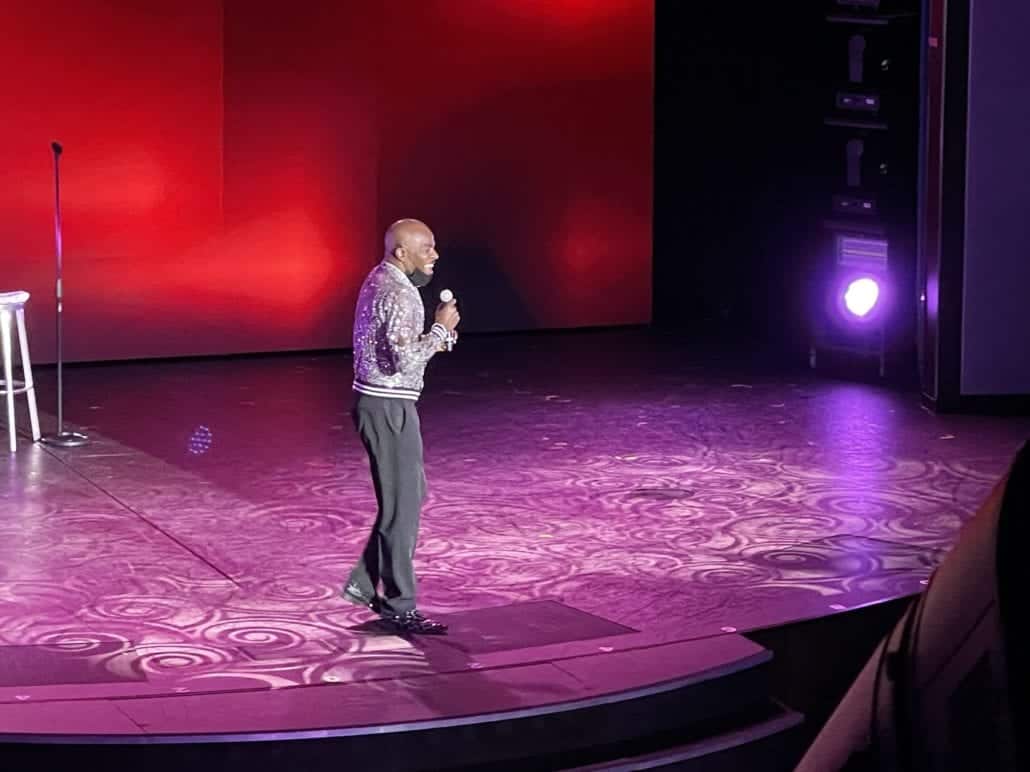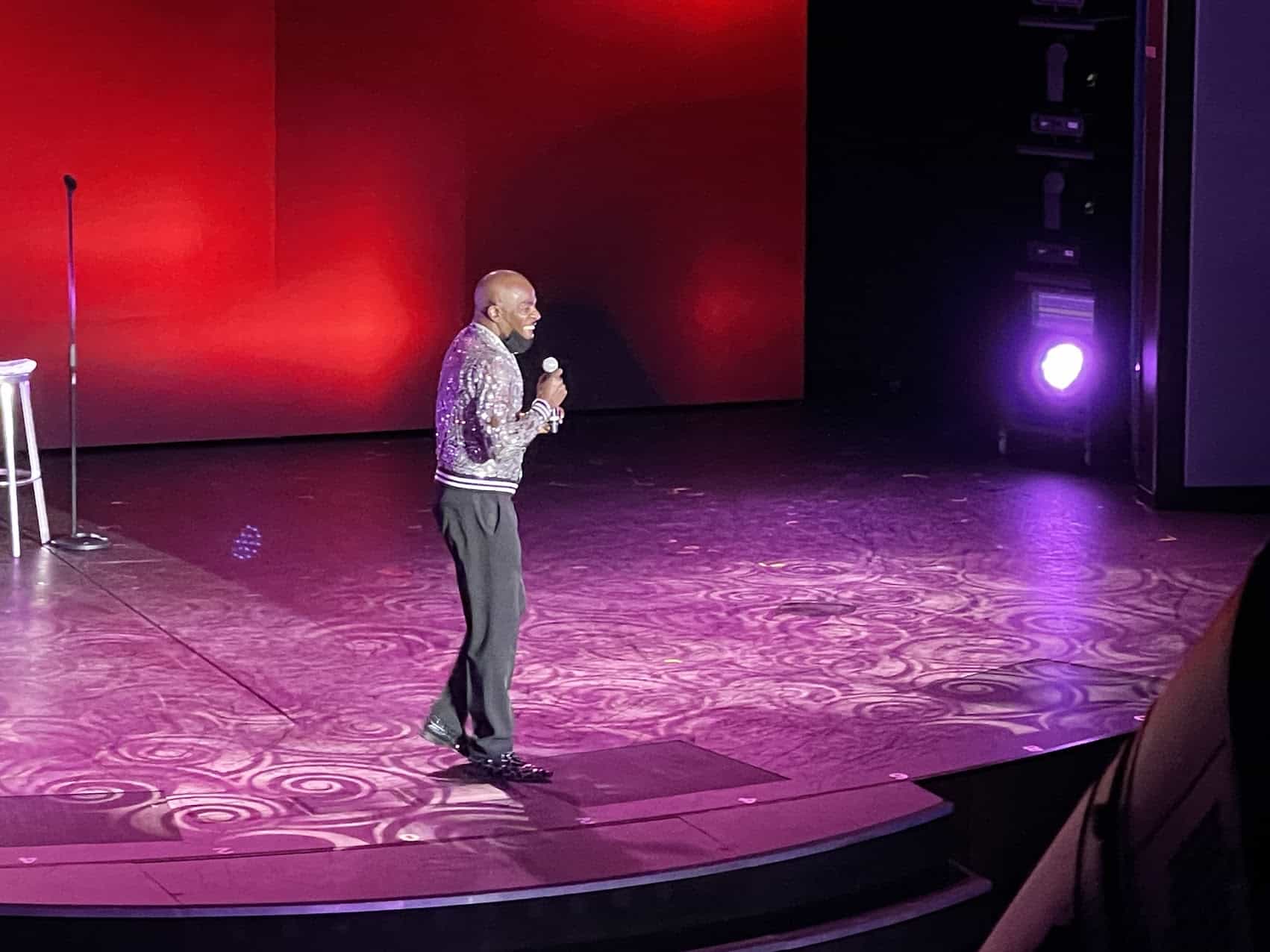 Unlike a lot of singers, who just sort of do their thing on stage, Marcus was very into audience participation and brought several folks up on stage to join in the fun.
After that, I wandered over to Ocean Plaza where the always-popular violinists were playing.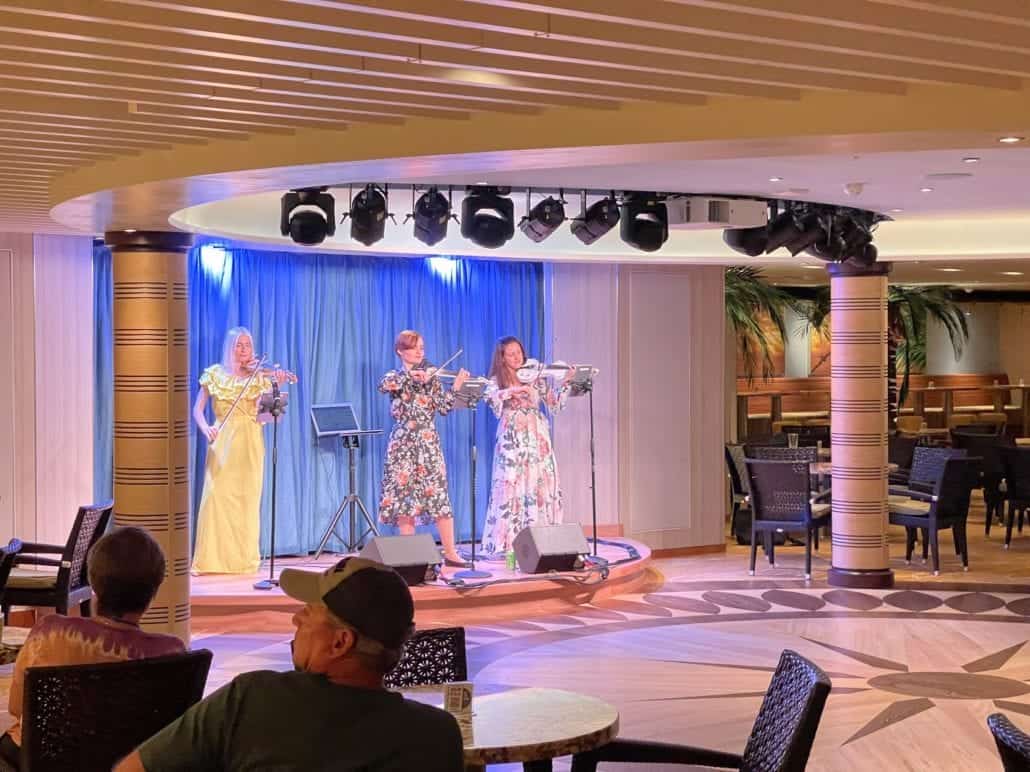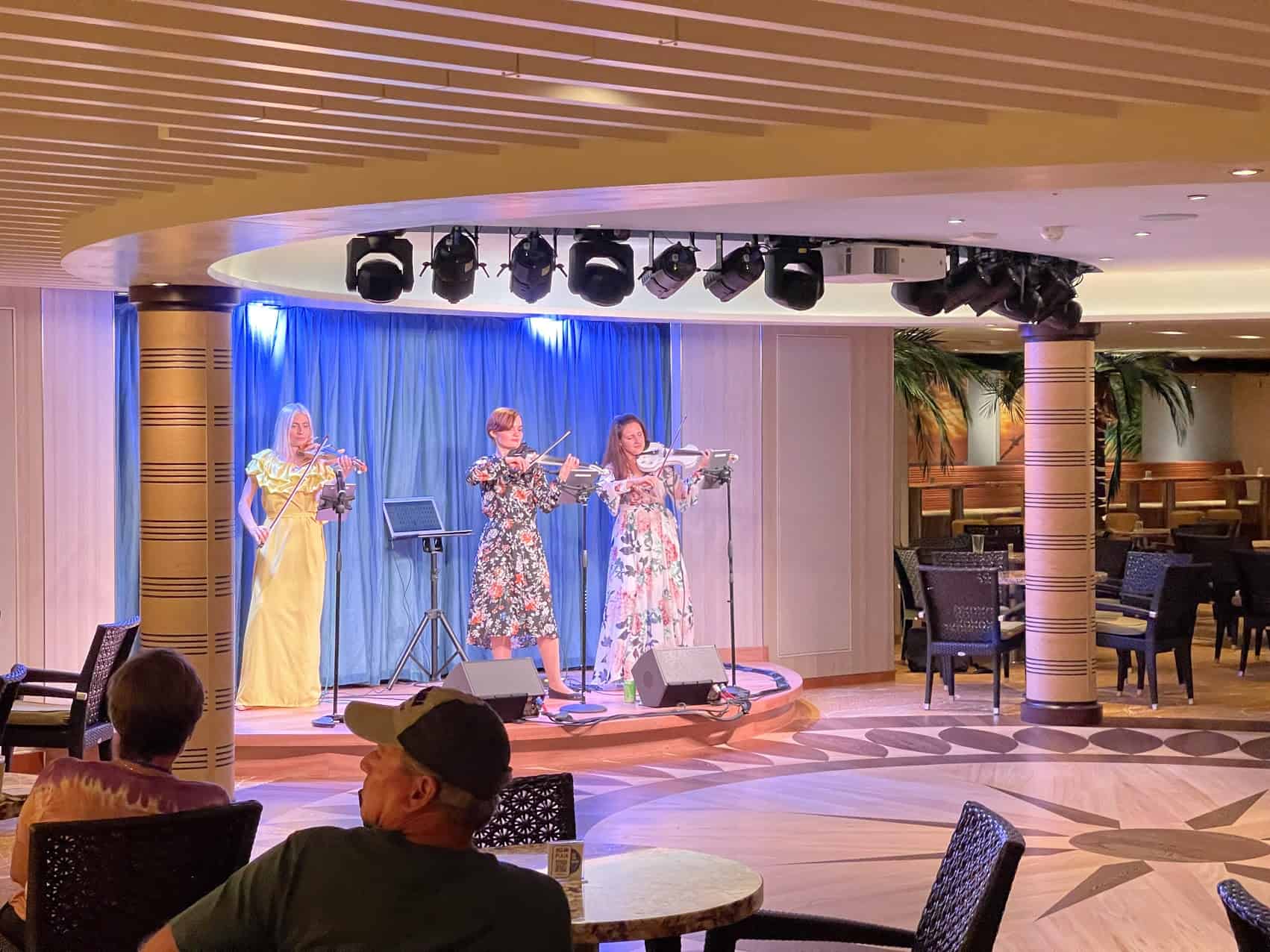 They were, as always, a treat (although weirdly, I much prefer when they perform in the atrium). One thing I'm not so sure about… those outfits. They were giving a serious Lawrence Welk vibe.
Overnight, the ship did sail as opposed to simply remaining anchored off the coast of Half Moon Cay. And the next morning, I was on the first tender, ready to hit the beach all over again!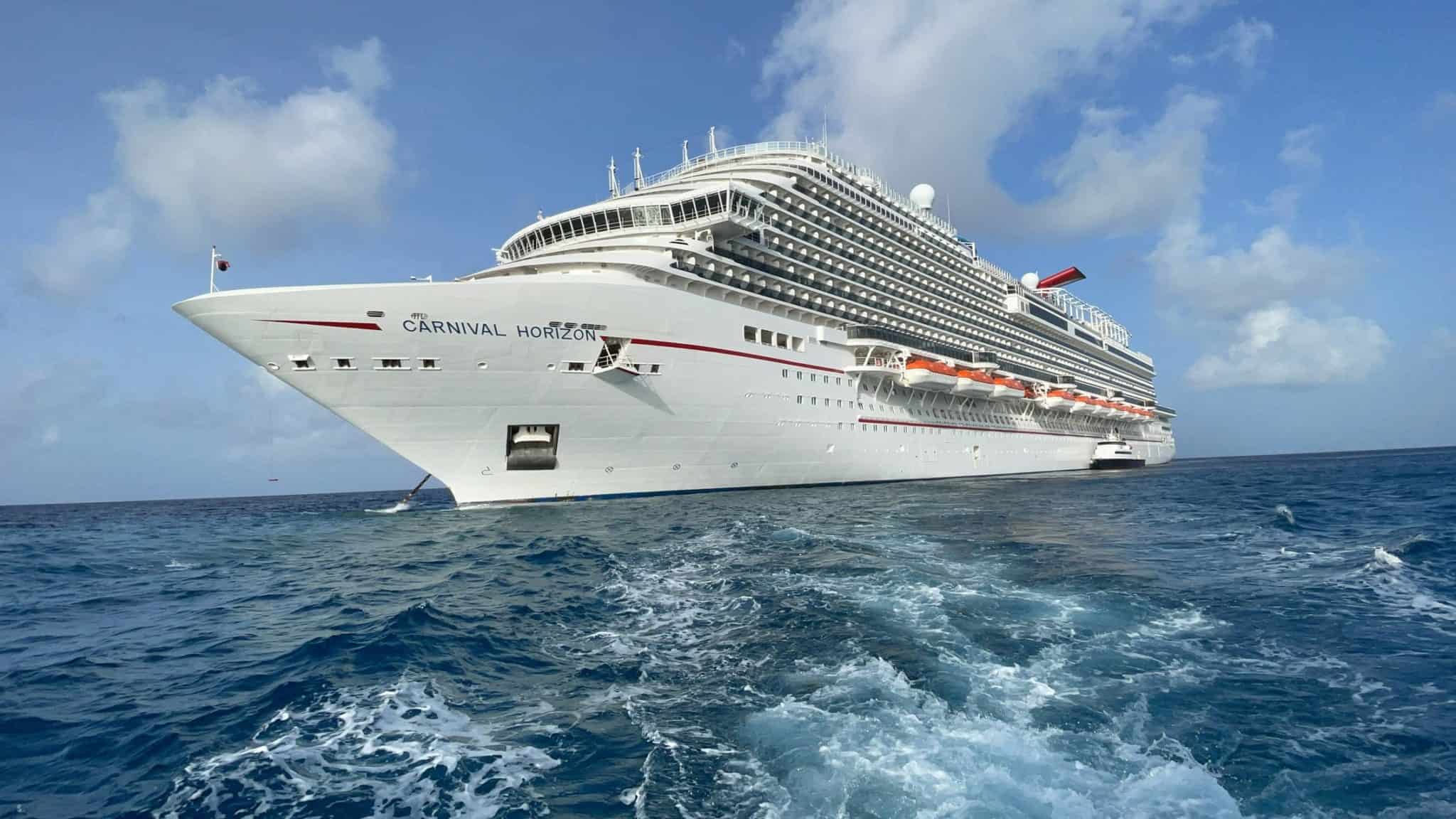 Now, because we were just here yesterday (or, in your case, a few paragraphs ago) I'm not going to bore you with too many details. But today was a little bit different because we were basically much closer to the main beach.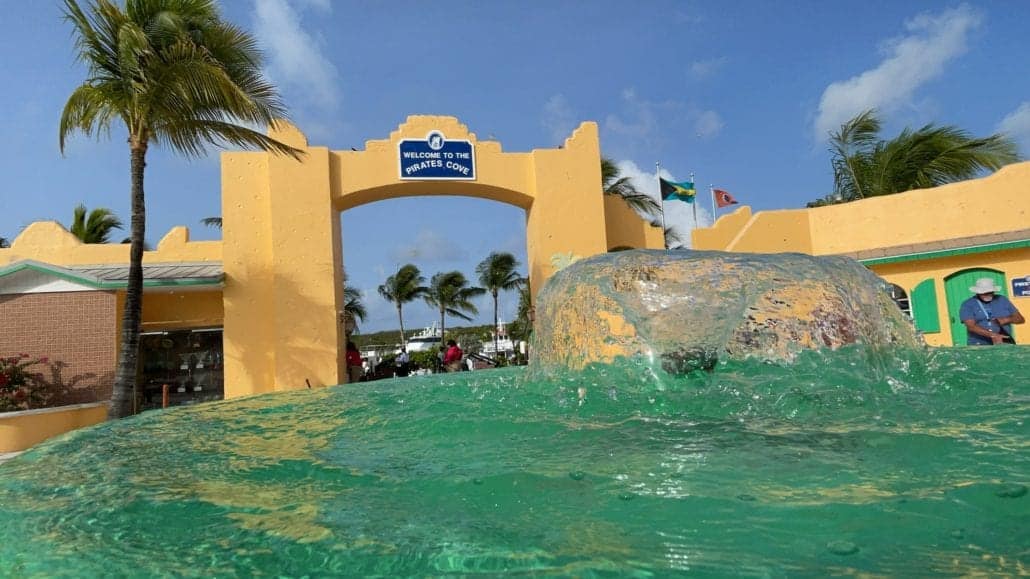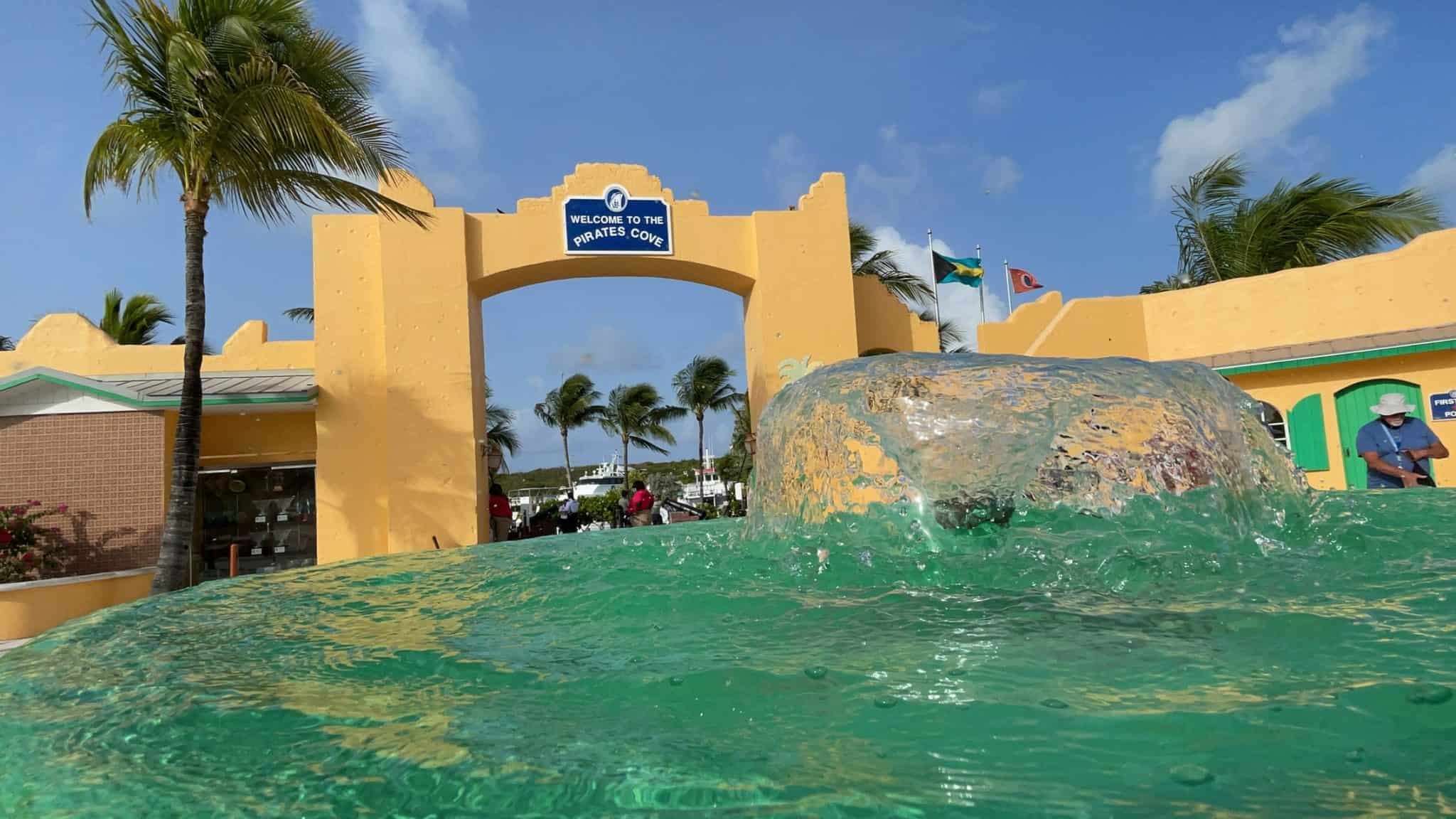 The island seemed a bit emptier today, perhaps because some people opted to stay on the ship as opposed to spending a second day here. I can't imagine making that decision, but hey, you know what they say… different strokes and all that.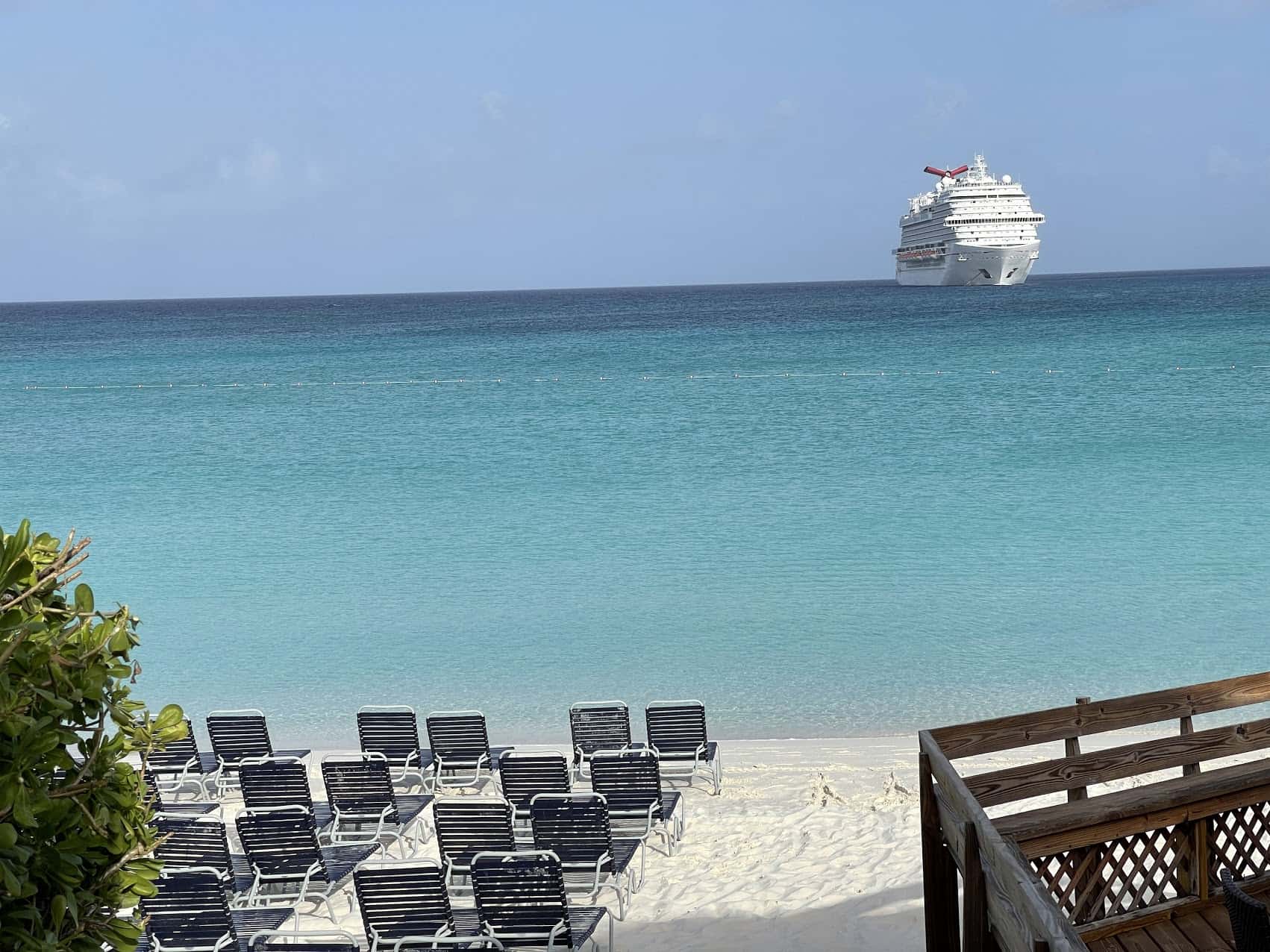 Before heading to the villa, my travel agent had arranged to be our home-away-from-ship, I walked over to the "beached" pirate ship to take a few pictures.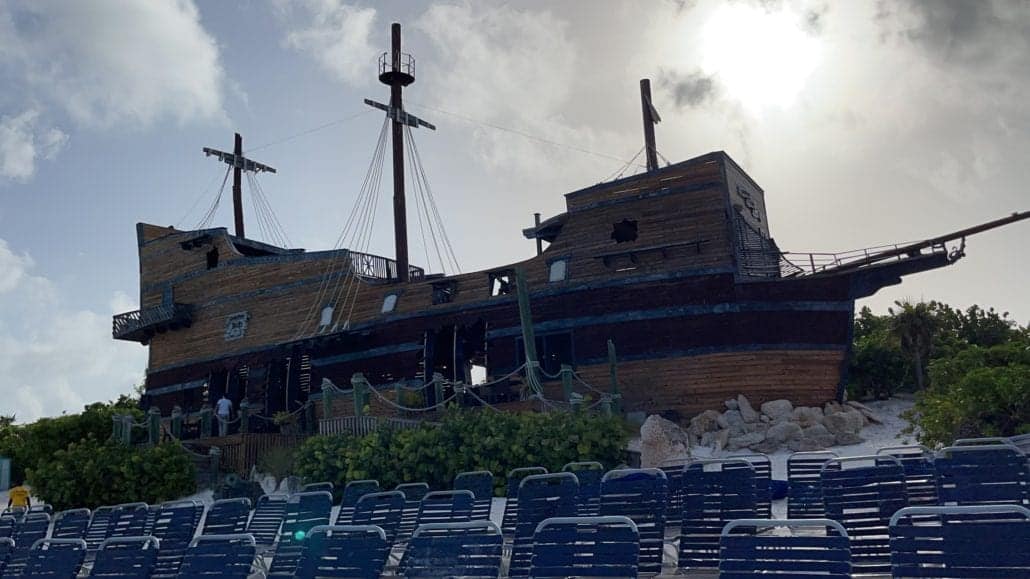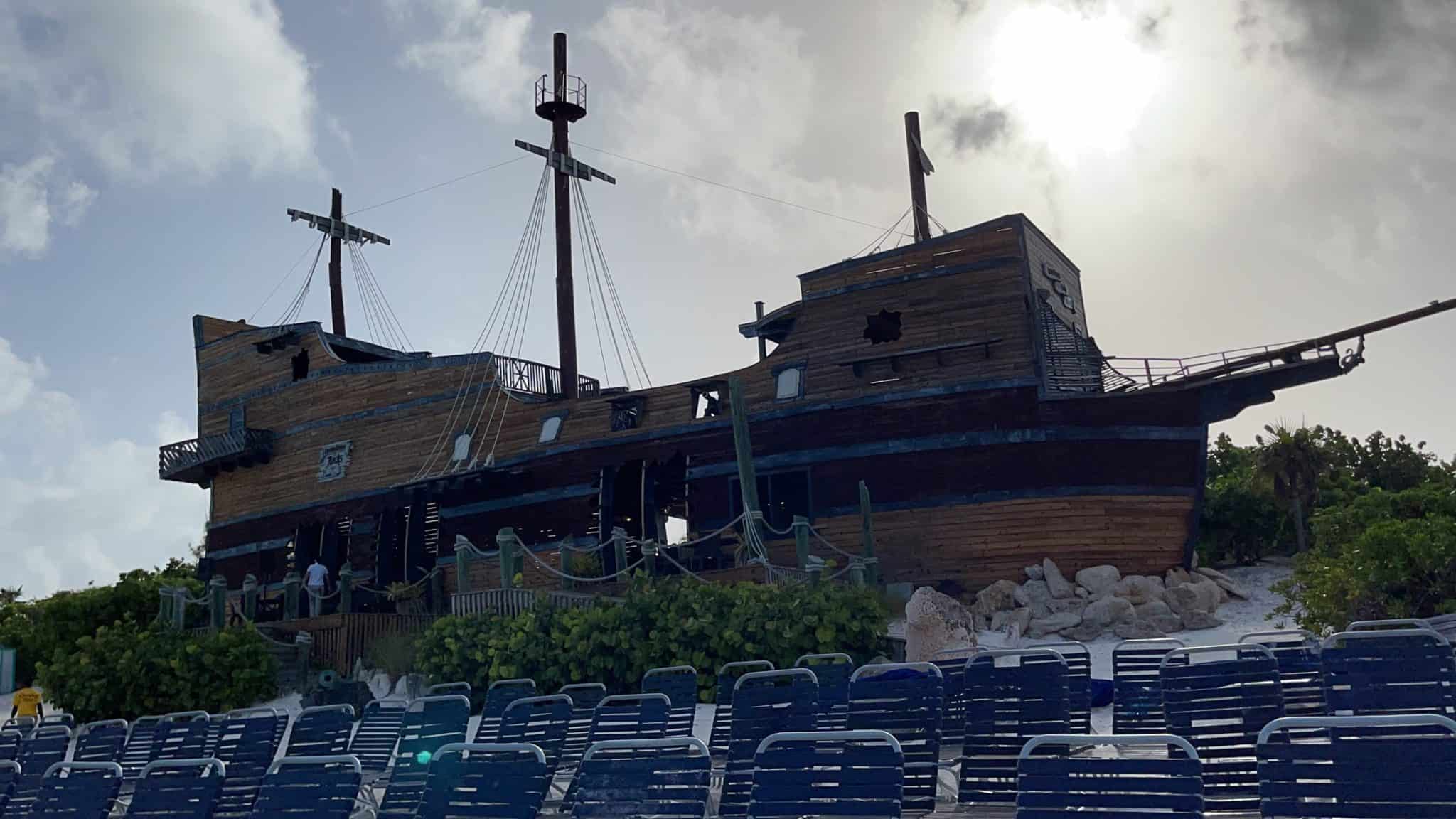 As most of you know, the second level of the pirate ship is a fantastic picture spot. That's true whether you're looking to get a picture of yourself aiming a cannon at the ship you arrived on…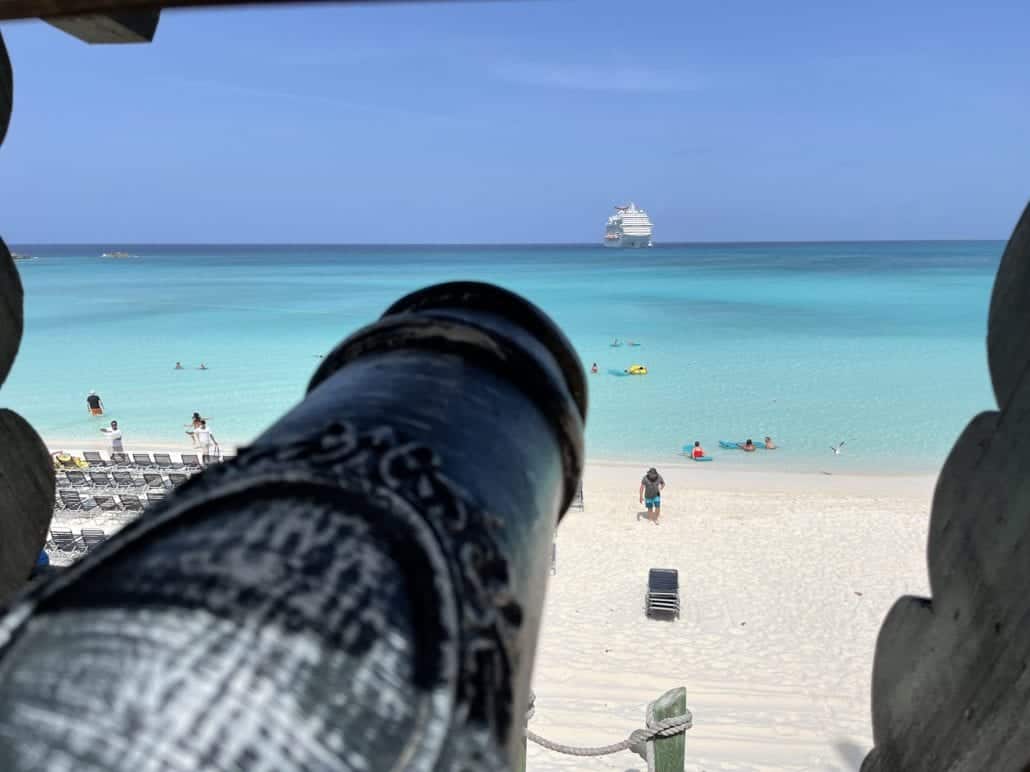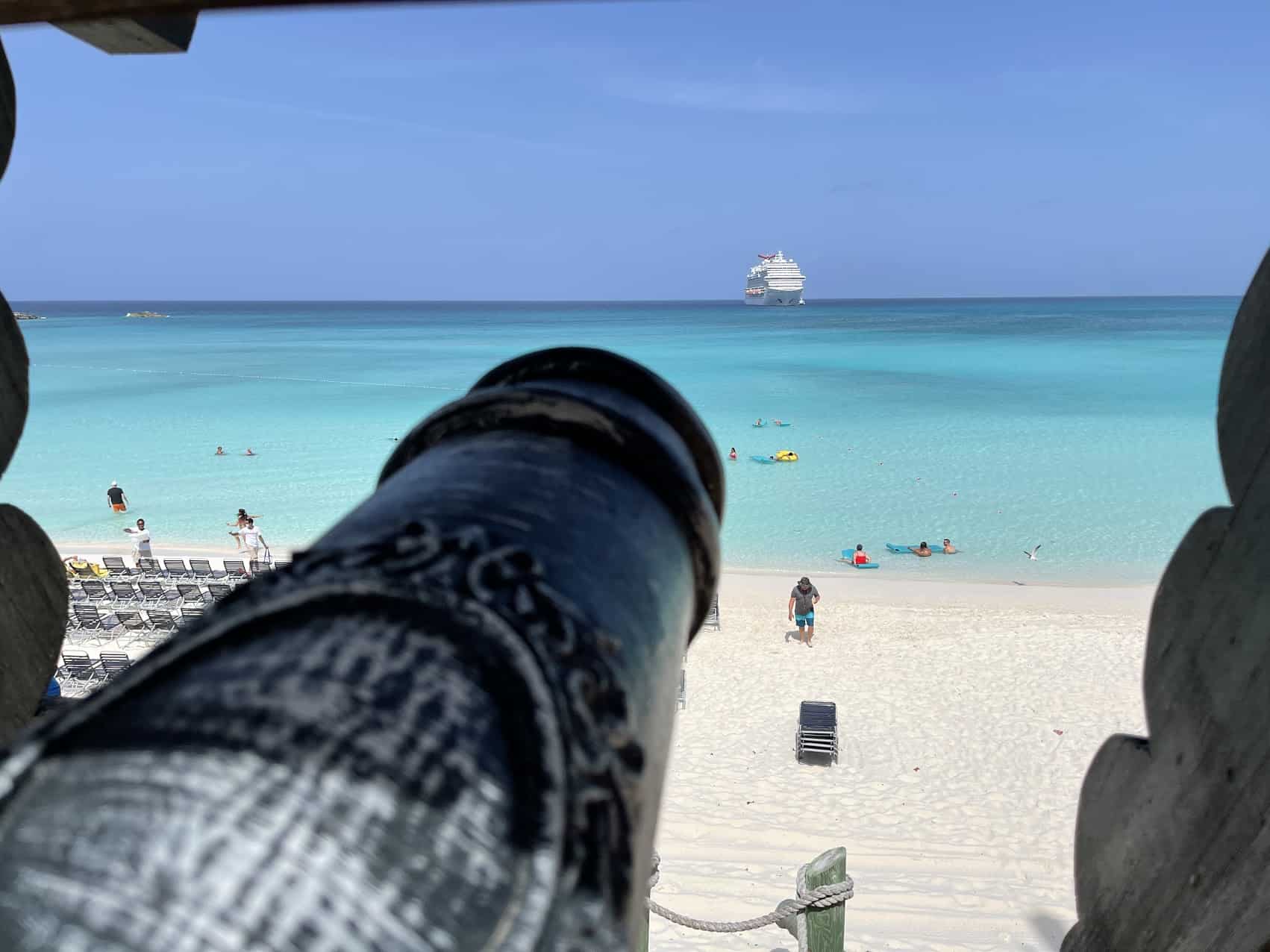 … or maybe a fun shot in which you prove just how powerful you are by balancing the cruise ship on the tip of your finger.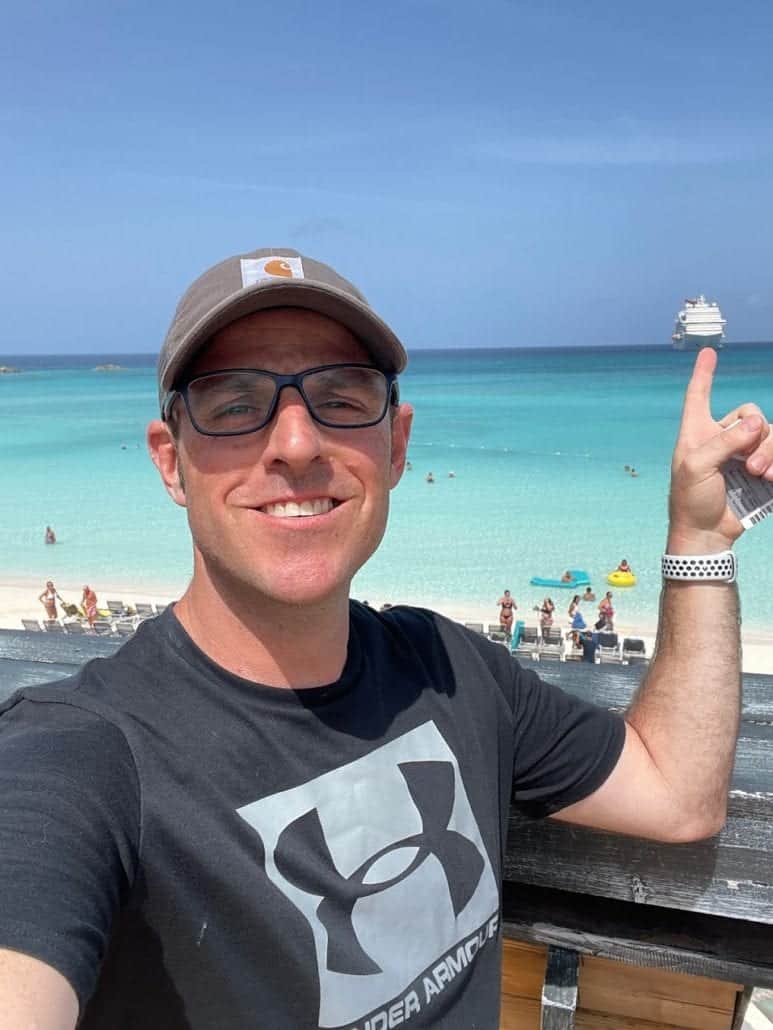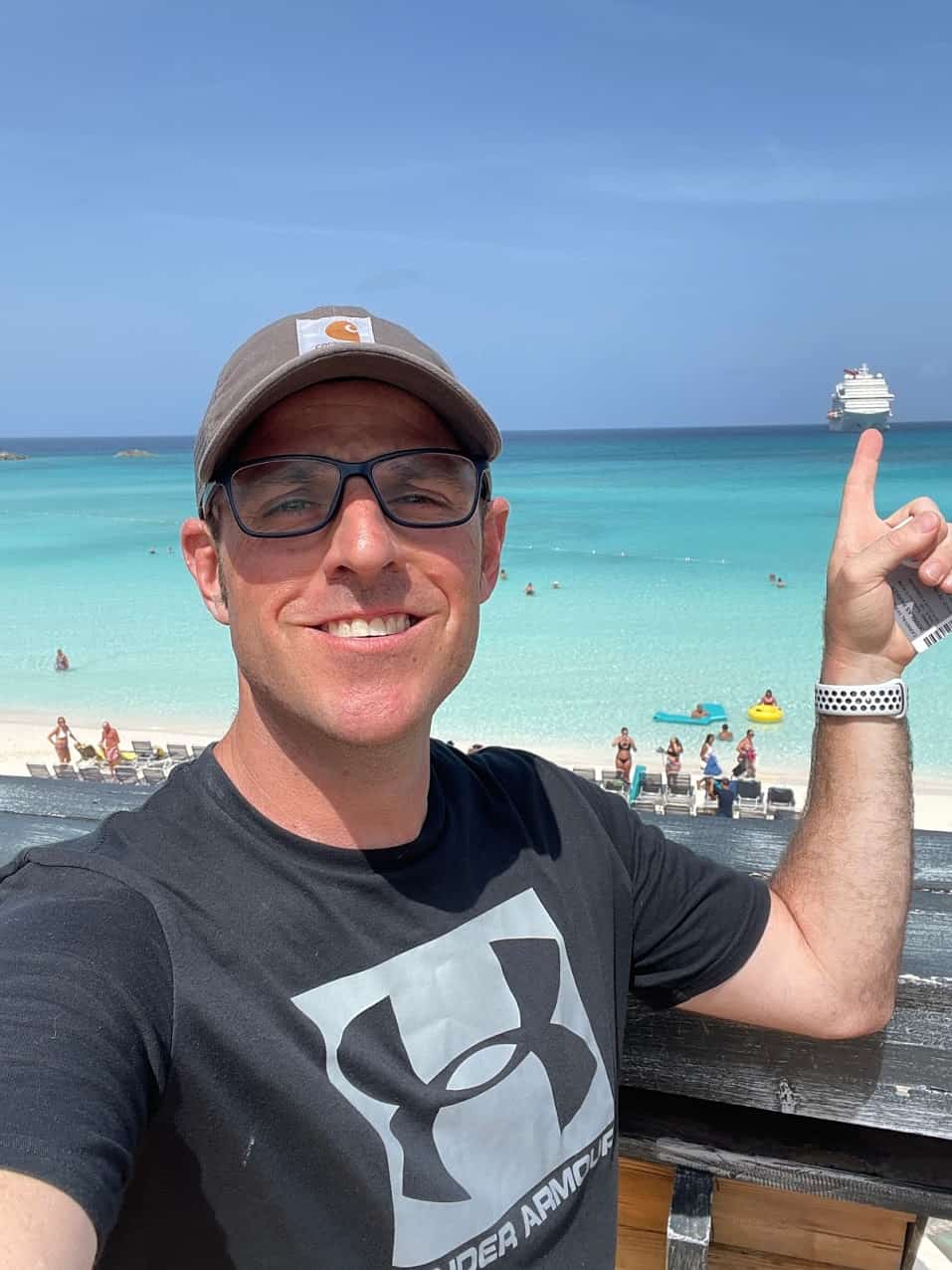 Oh, here's something to stow away in the back of your brain in case you're ever participating in Carnival-centric trivia and they ask, "What is the name of the pirate ship beached on Half Moon Cay?" Turns out, the ship's name is the Emma Louise, out of Cardiff, Wales.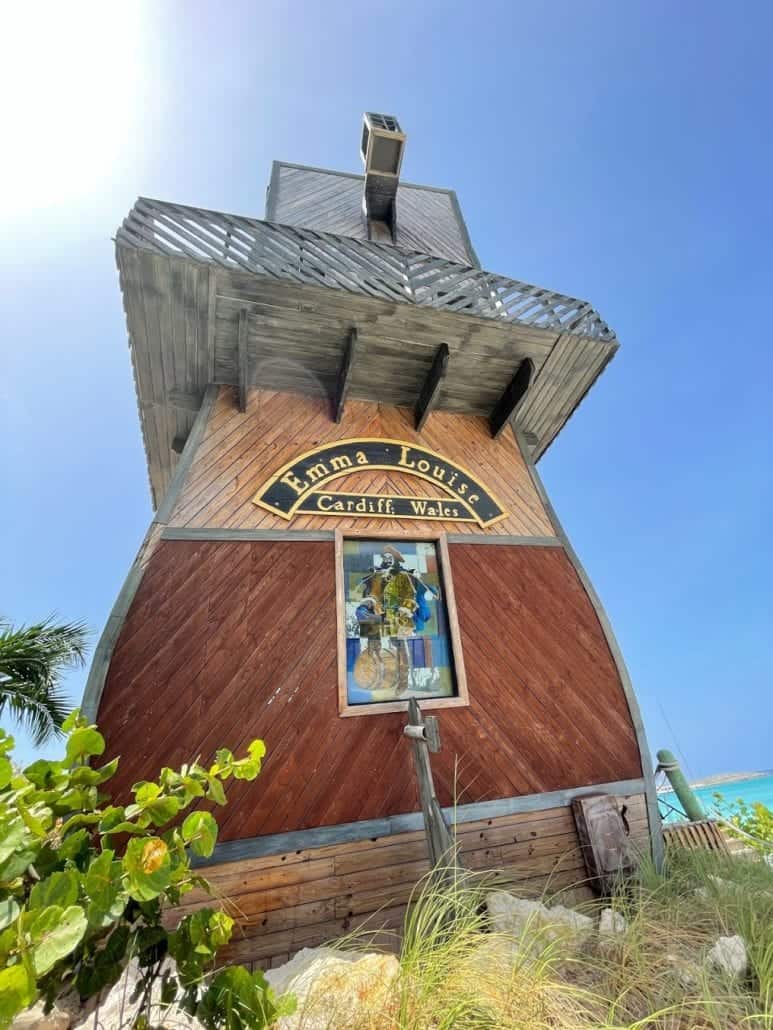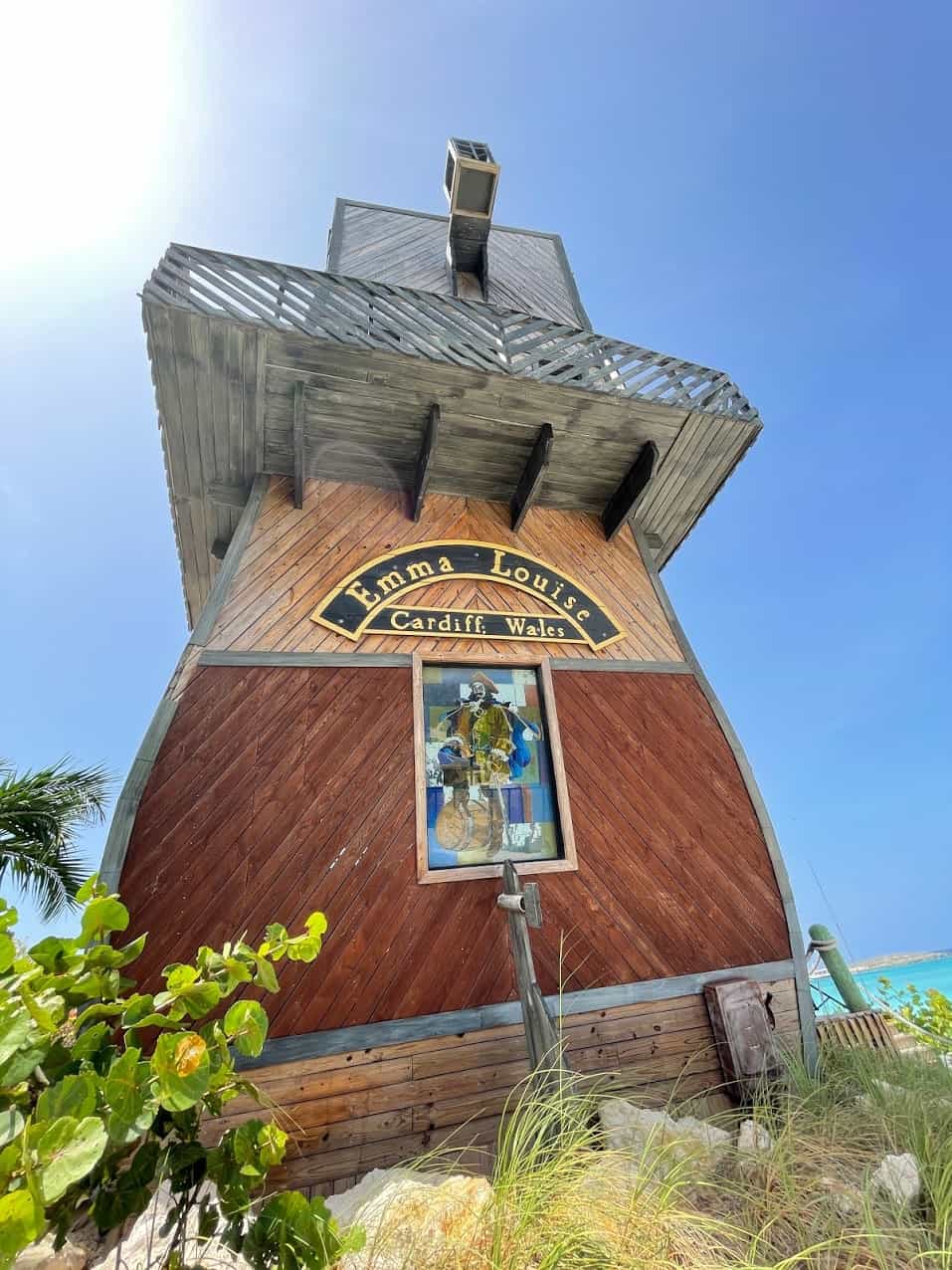 Eventually, I walked over to the very cool two-story villa that my travel agent had arranged for us to use. There are a wide variety of cabanas and villas available on the beach, but these are probably the most colorful. They also come with an amenity you might not expect…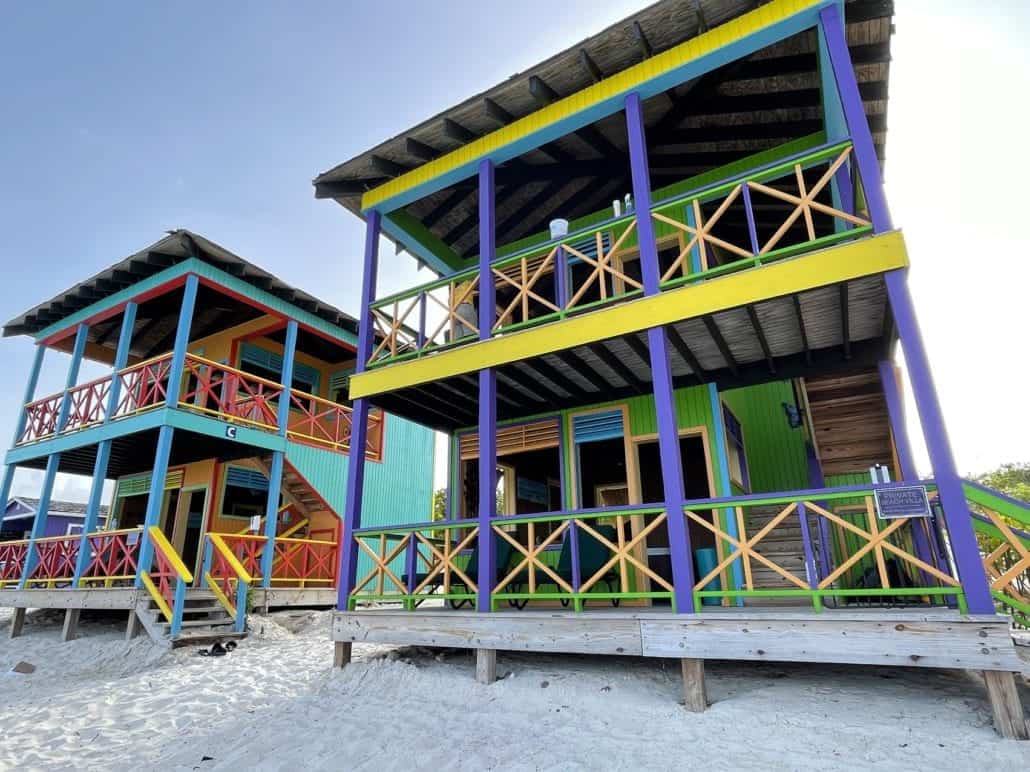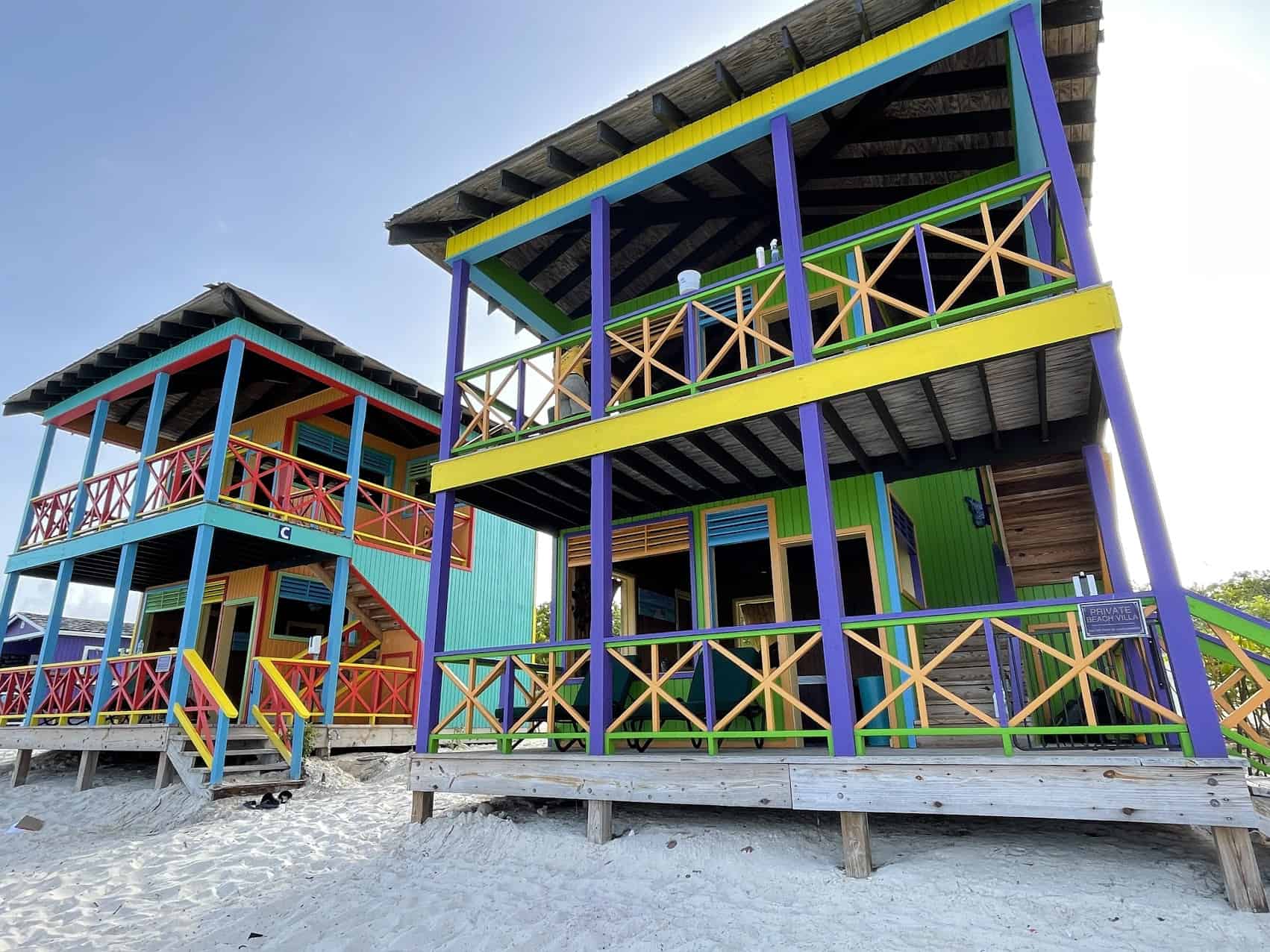 … a hot tub on the lower level! The two-story villas are meant to accommodate 8 people, although there's room for more and you can add guests for an additional fee.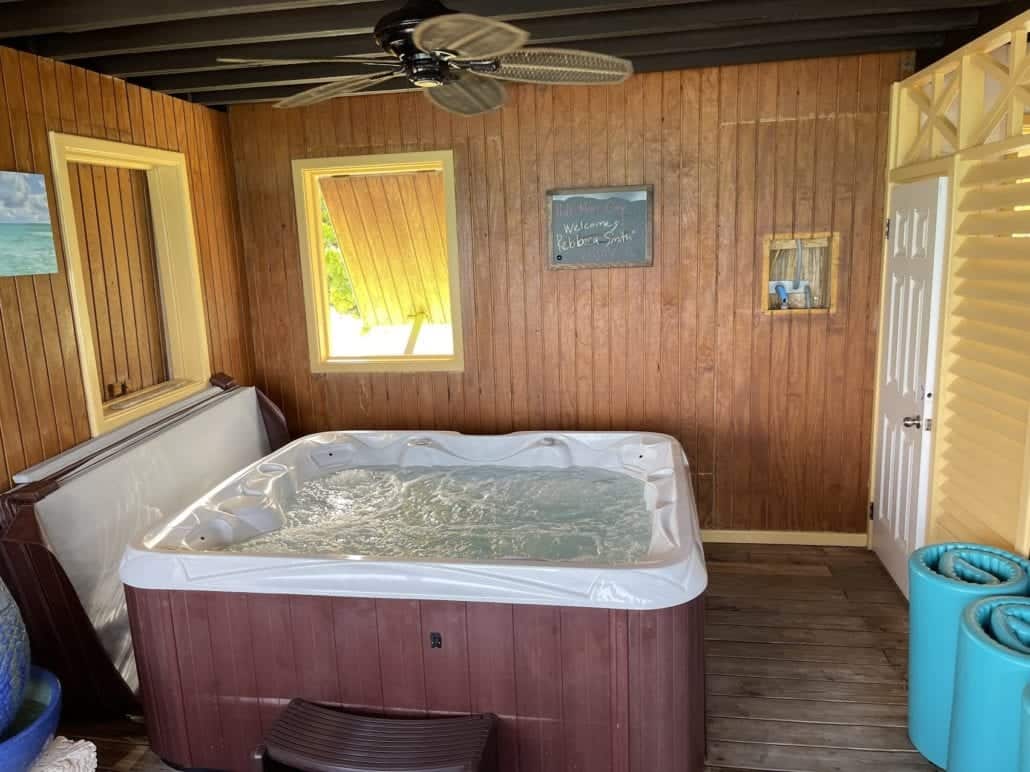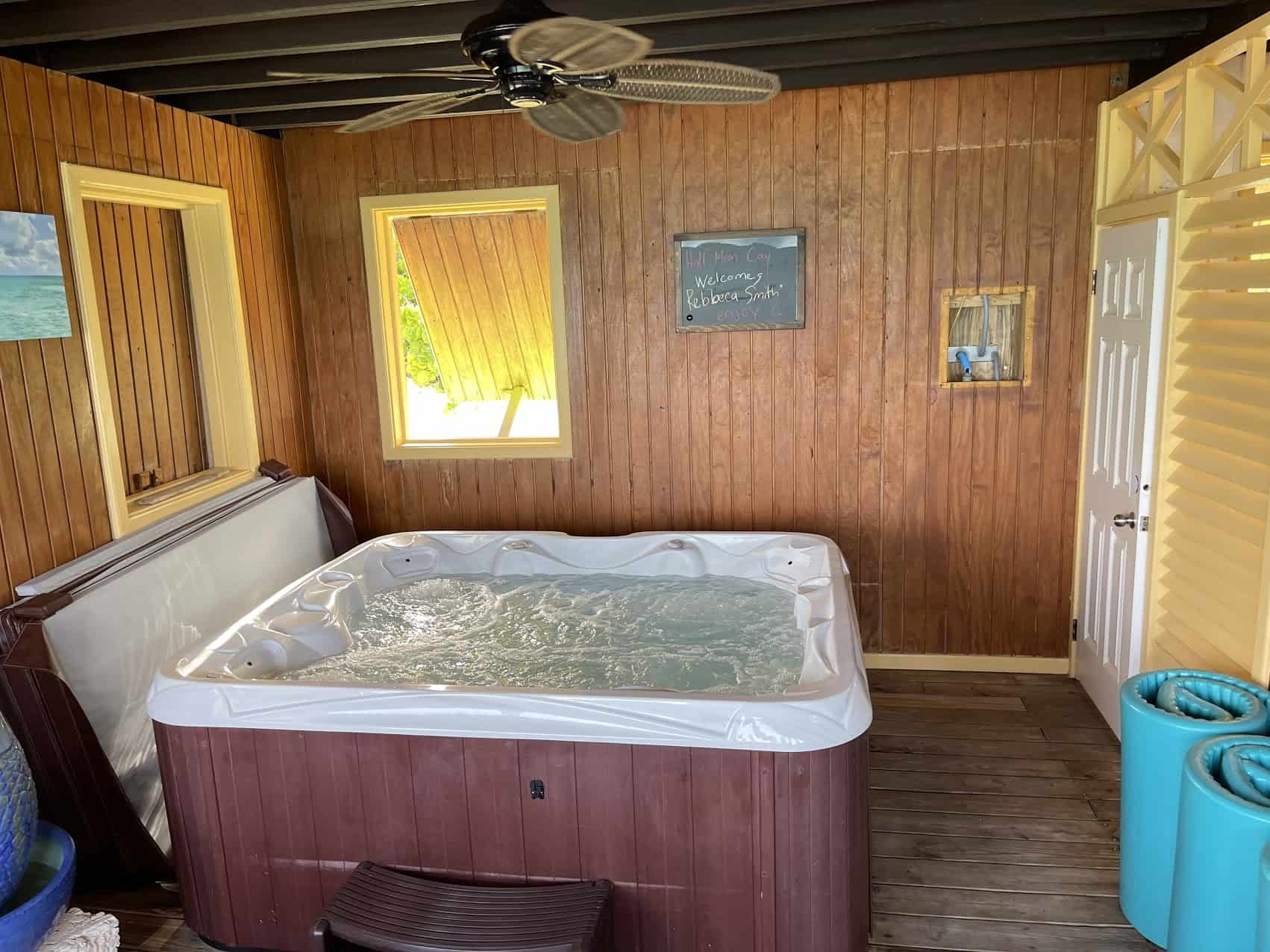 READ MORE: What's Included in the Half Moon Cay Cabanas and Villas?
While I did, as the sign says, wish I could stay on Half Moon Cay forever, it was eventually time to head back to the ship.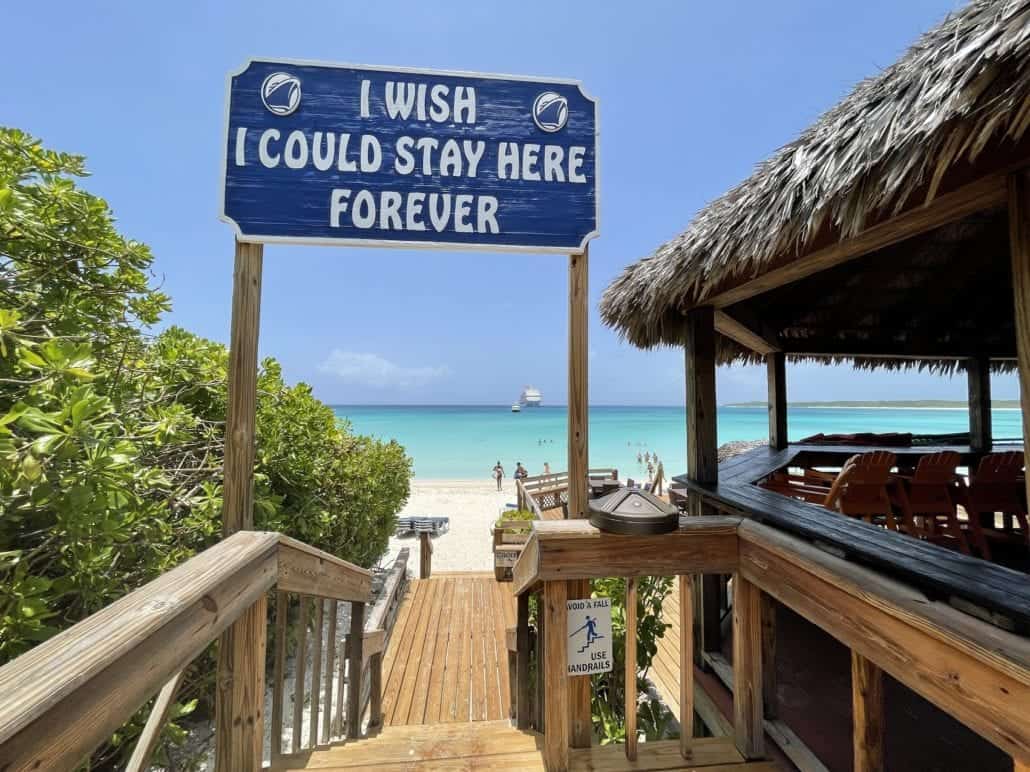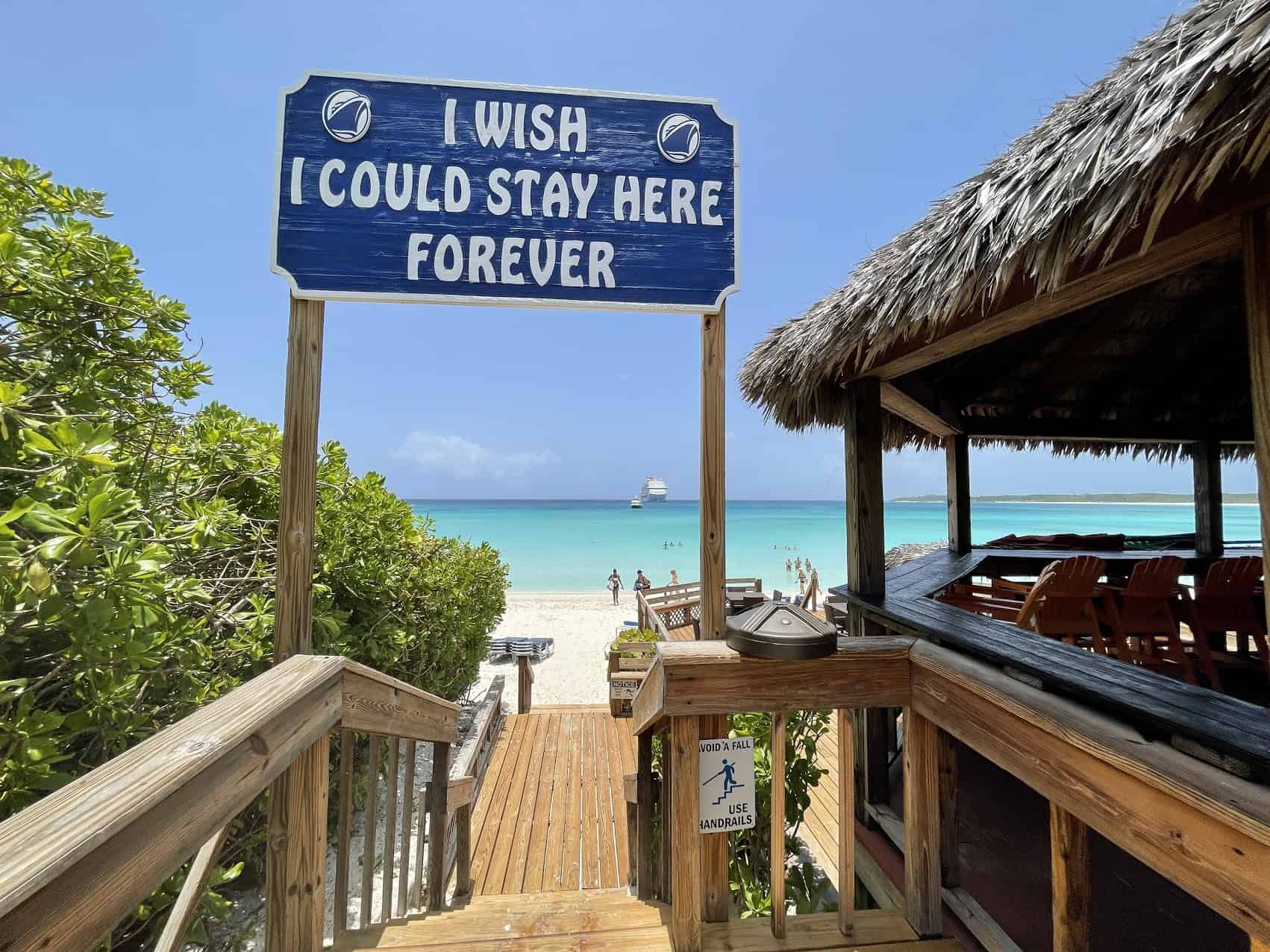 The final night on board is always a strange one. For some, there's a sense of urgency, as if they have to eat and drink and party as much as possible, because who knows when they'll next be on a ship. That's particularly understandable on this sailing, given how long it's been since people were last able to cruise.
We had a final dinner in the main dining room and, as is always the case on the last night of a Carnival cruise, the dining room staff came out to sing and dance and entertain the guests whom they'd worked so hard to serve all week.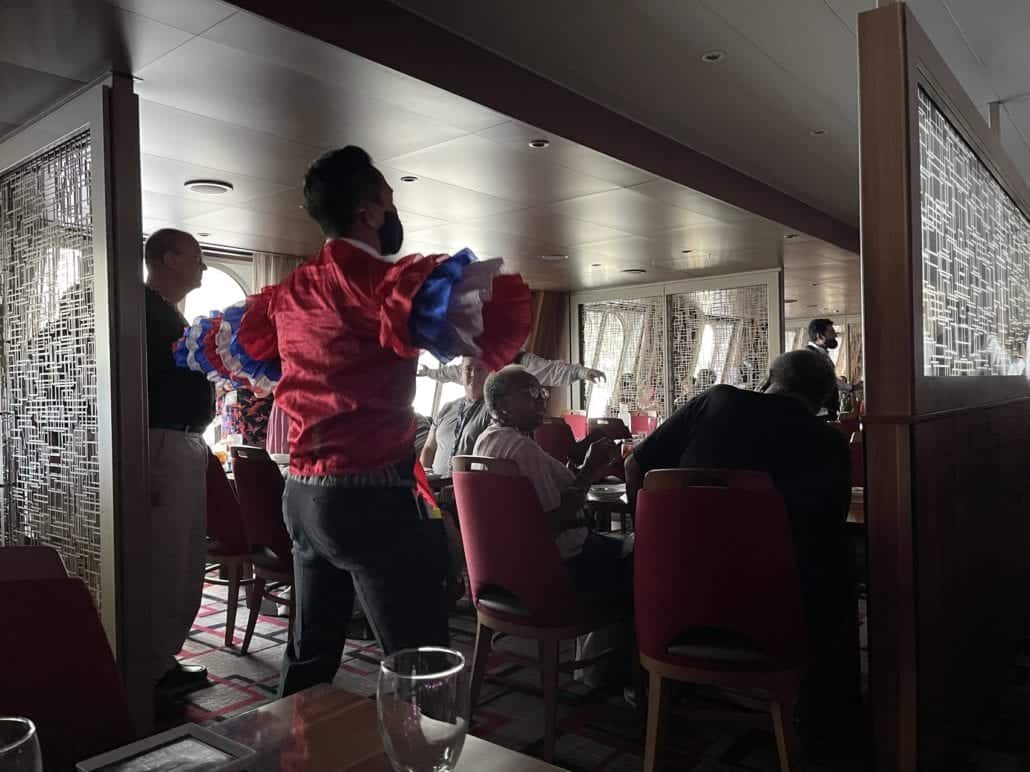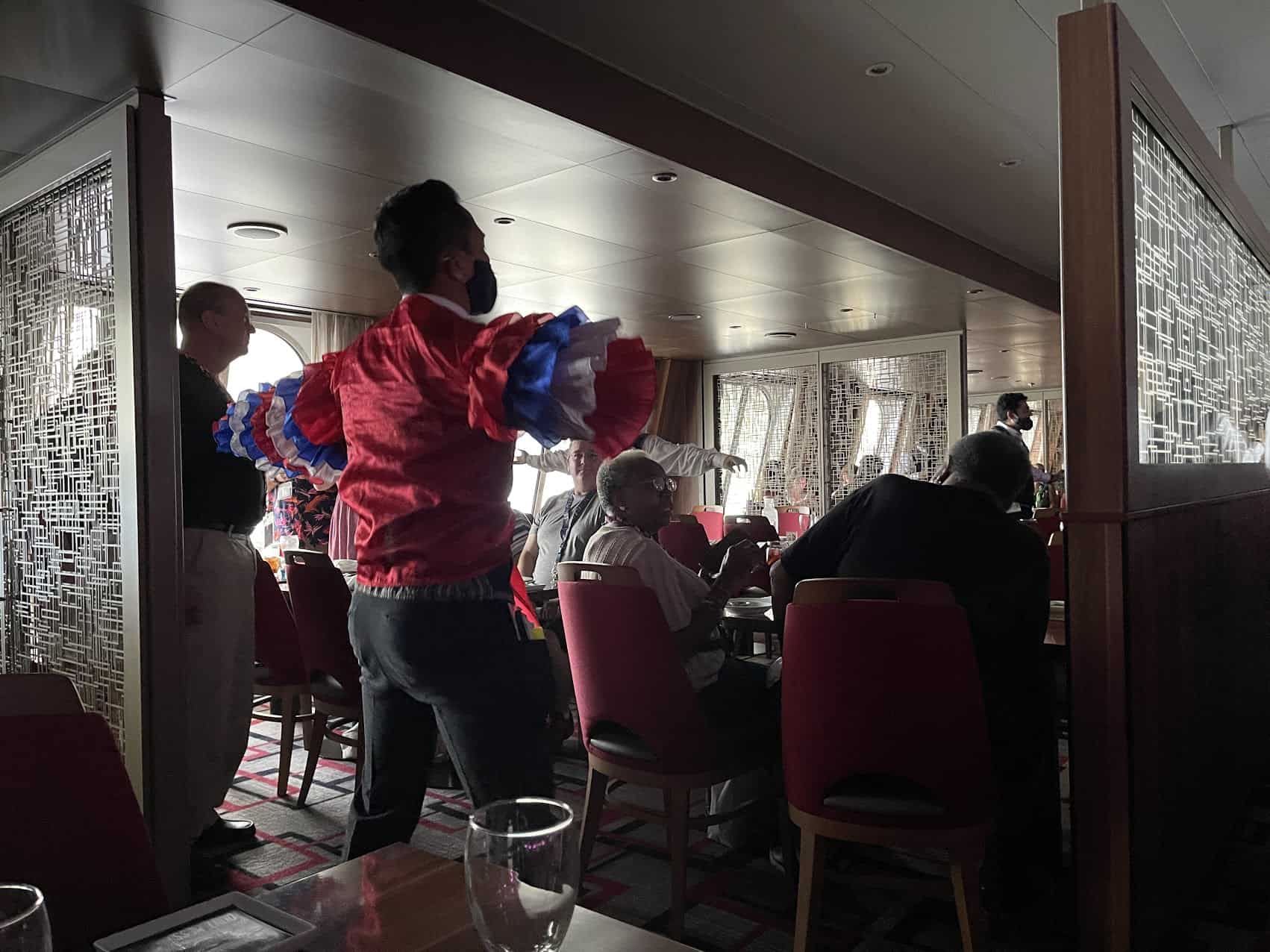 I've said several times during these trip reports that for the most part, life onboard has felt pretty much the same way it did on my last pre-pandemic sailing.
But I have to admit that having the dining room staff putting on a show while wearing masks definitely felt odd. It was still appreciated, and the diners had a great time. But I couldn't help thinking how uncomfortable those crew members must have been.
As I usually do, I wandered around the ship a little bit, taking mental (as opposed to actual) photographs, soaking in the sights of the ship cutting through the water, listening to the sounds.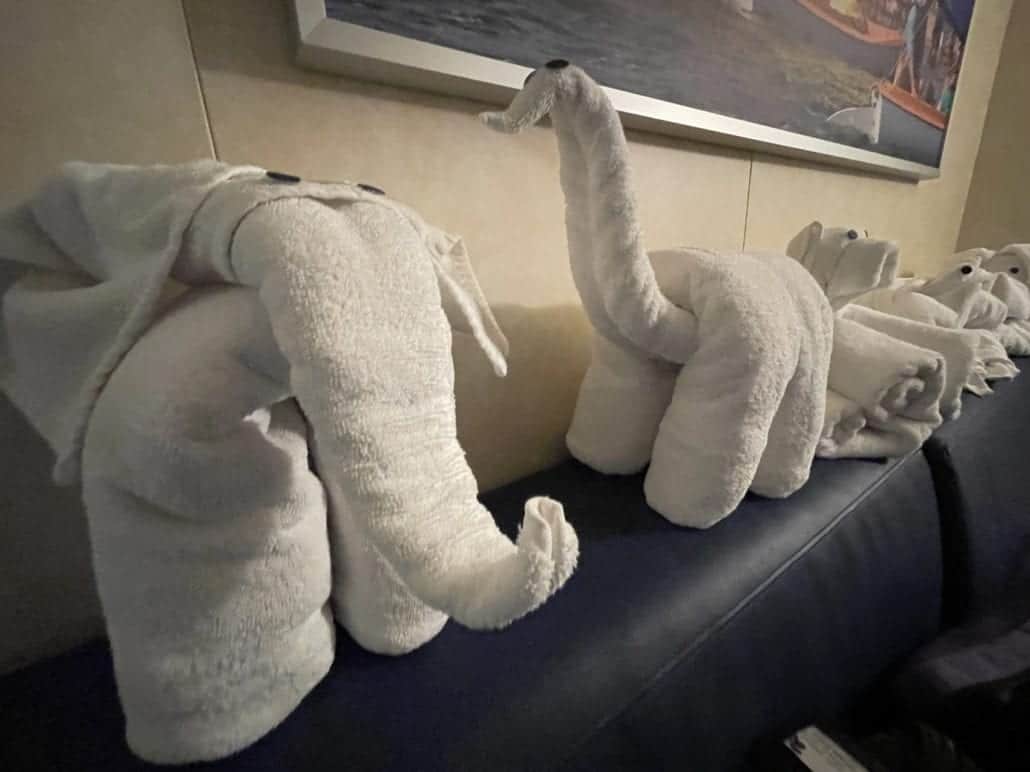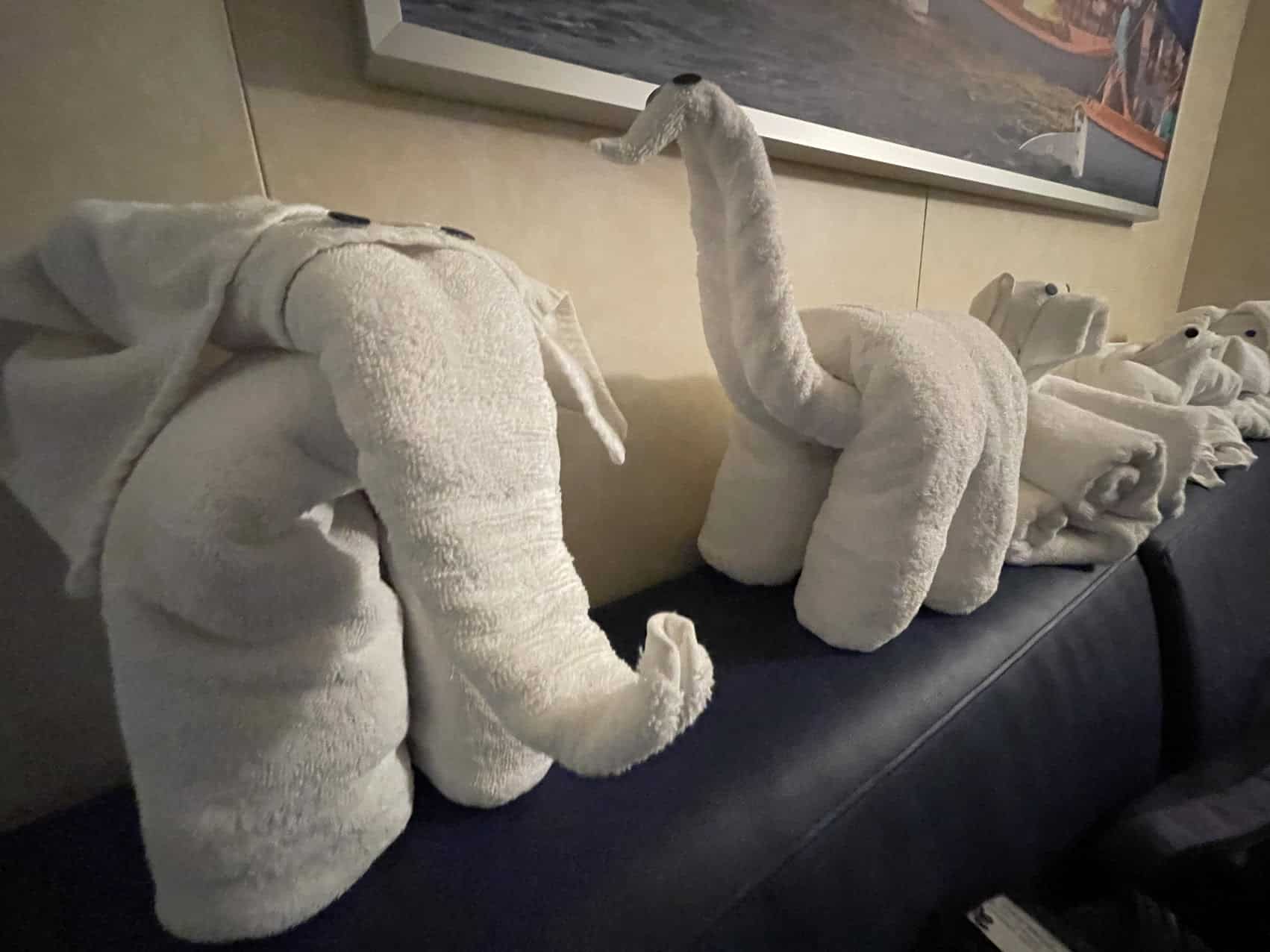 The hallways were lined with suitcases, one of those unavoidable reminders that the trip was coming to an end.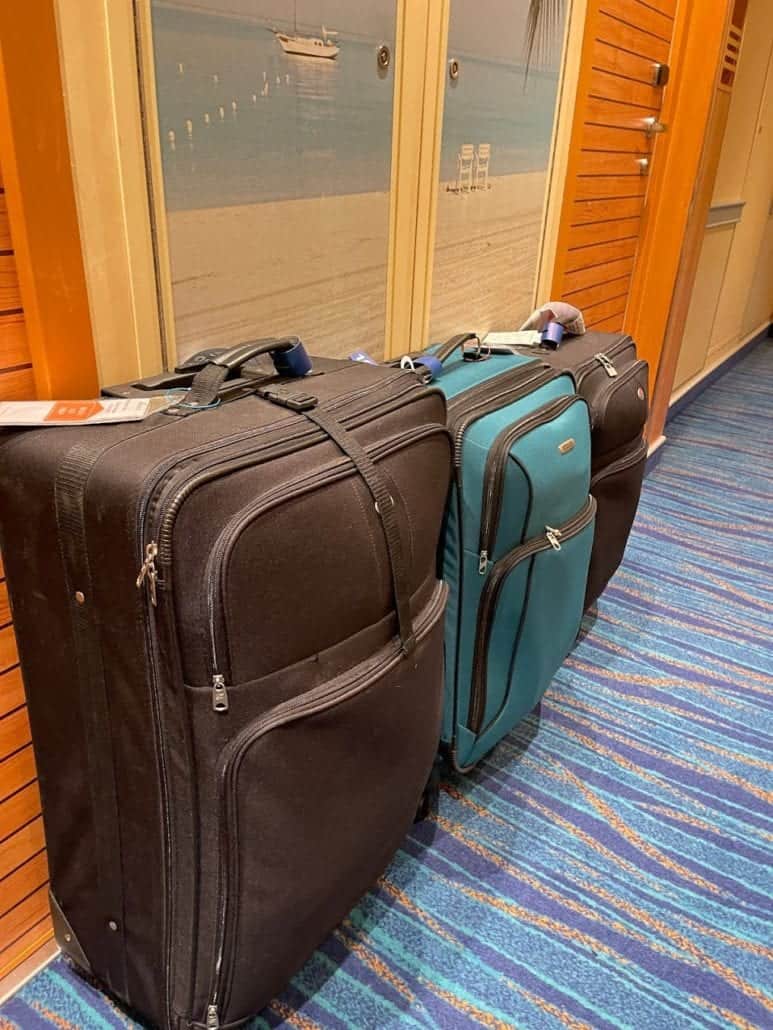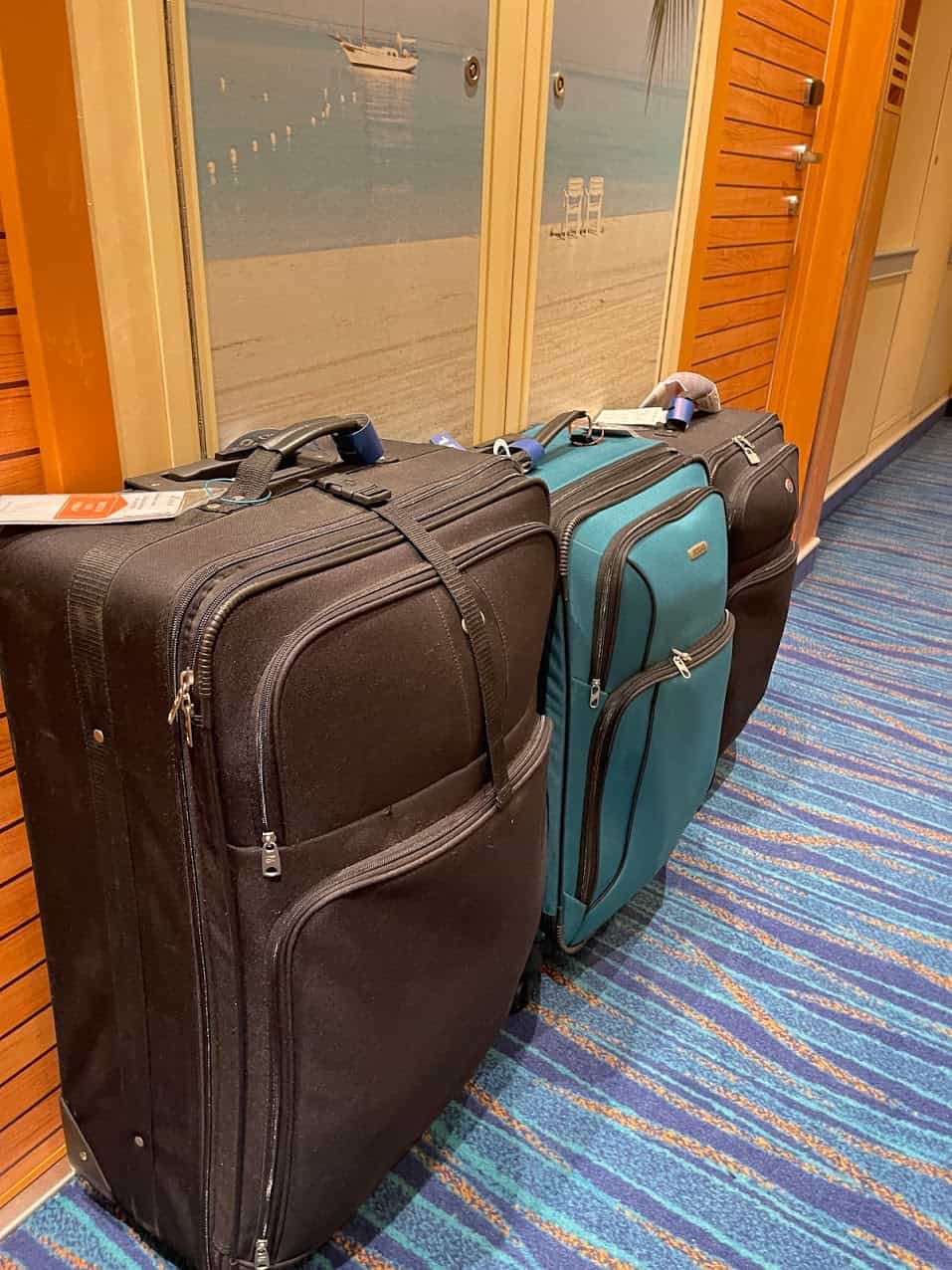 Embarkation the next morning went smoothly, although I'm not necessarily the best person to judge the process by, given that on just about every cruise I've ever done, I travel with carry-on luggage so I can easily walk off the ship.
Final Thoughts
The question I know most people will have for those of us who sailed on these first cruises will be a simple one: What was it like compared to how things were before the shutdown? And I can honestly say that with very few exceptions, it was pretty much the same.
Yes, the crew wore masks. Yes, there were times — especially when we were getting on or off the ship — when we also had to wear masks. But for the most part, things were… normal.
As I noted a few days ago, the use of technology has proven crucial in getting ships up and running again. And that means that the Carnival HUB app is going to play a crucial role in your vacation. No, it doesn't have to. If you want to leave technology behind (or at least in your stateroom), you will be able to do everything without it. But if you want to make your experience on board as smooth as possible, the app is the way to go. It'll help you do everything from look at menus to avoid standing in lines.
I'm fortunate enough that I've now done two cruises in as many weeks (having done the return sailing of the Celebrity Edge just before boarding Carnival Horizon). If you've been following my adventures, I want to thank you… and give you a little bit of a tease. Because in just a few weeks, I'll be boarding Carnival's newest ship, Mardi Gras, for her first sailing out of Port Canaveral. This is, of course, really exciting because not only is Mardi Gras a brand new ship, but it features a whole slew of firsts for the cruise line (and even a few for the industry).
And yes, I'll be taking BOLT, the ship-topping roller coaster, for a spin.
So I hope that you'll enjoy my reports from that ship, too.
Until then, again, thank you for reading, and I look forward to hearing from you after you've returned to the high seas.
Check out my other Carnival Horizon trip reports!