If you're here, chances are you're thinking of booking your first Carnival sailing and looking for a guide to Carnival Cruise Line. Well, you've come to the right place.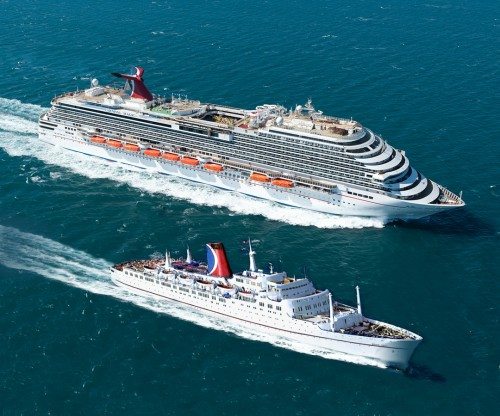 Whether you want a brief history of the company, information on what's included in your cruise fare, or help to decide whether Carnival is right for you, we've got you covered. And if you want to do an even deeper dive on any given topic, be sure to check out some of the links you'll find throughout.
The Beginning of Carnival Cruise Line
Carnival was founded in 1972 by cruise industry legend, Ted Arison. Beginning with one ship, the Mardi Gras, and adding a second in 1975, the Carnivale, the cruise line quickly found appeal among families and anybody who was looking to have a fun vacation.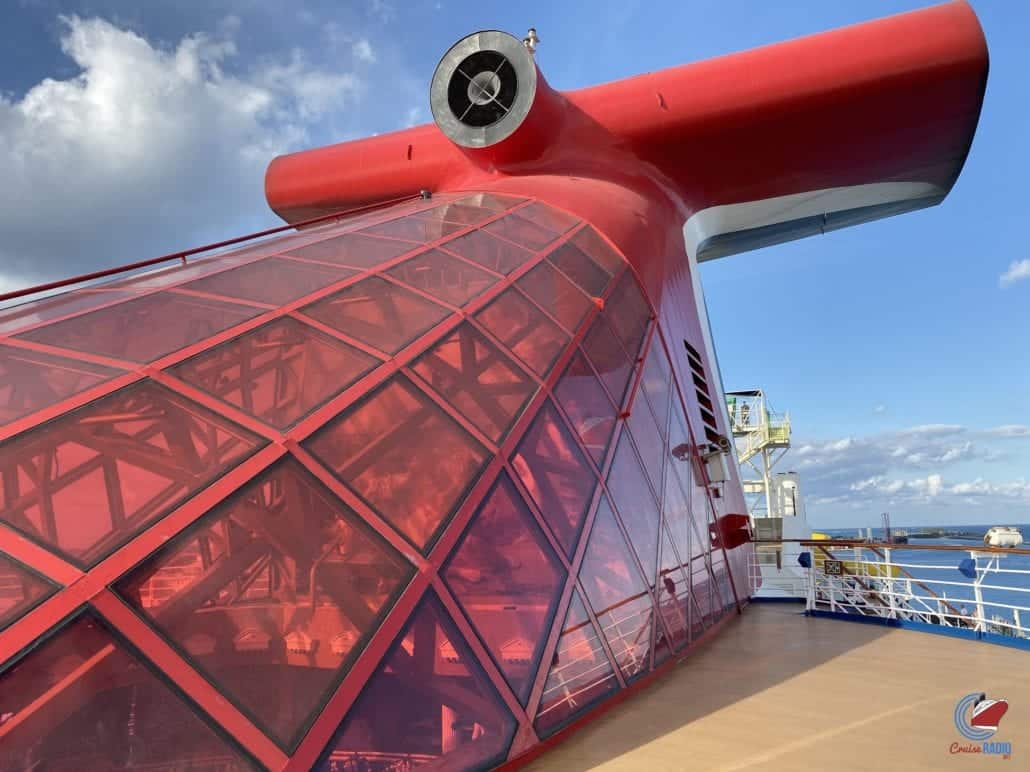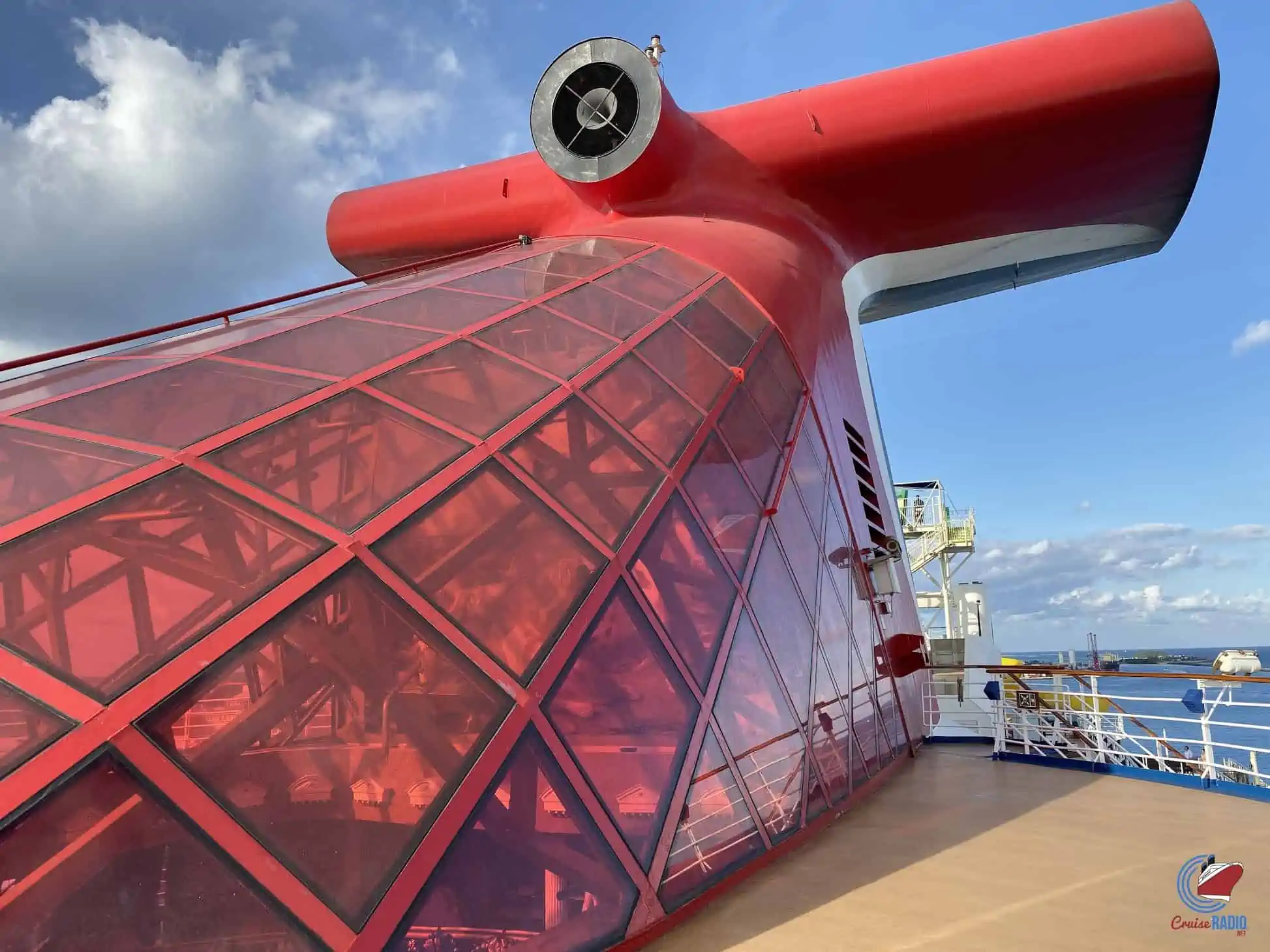 In 1980, Carnival ordered their first new build, the Tropical, which was quickly followed by the Holiday (1985), Jubilee (1986) and Celebration (1987).
READ MORE: 7 Former Carnival Ships
Then, in 1987 the company went public on the New York Stock Exchange, raising the capital that would allow them to see explosive growth.
The Fun Ships were full speed ahead at this point. 
The first ship of the incredibly popular Fantasy-class ships was launched in 1990; as they say, the rest is history.
READ MORE: Meet The Man Who Helped Design Carnival's Most Popular Cruise Ships
As of 2022, a fleet of 23 Carnival ships serves over 5.7 million guests each year, accounting for a full 22% of all cruise passengers worldwide.
Carnival's fleet is primarily home-ported in North America, with an emphasis on sailings out of Florida and to the Caribbean. The line also has a presence in Australia with Carnival Luminosa and Carnival Splendor.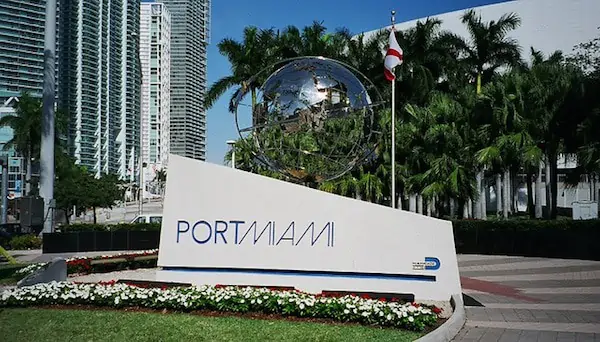 Carnival has ships sailing out of no less than five Florida cruise ports:
Miami

Ft. Lauderdale/Port Everglades


Port Canaveral

Tampa

Jacksonville
In addition to the Florida locations, Carnival sails from 7 other ports along the Gulf and eastern seaboard, providing exciting Caribbean, Bermuda, and Canada/New England sailings.
These include:
Galveston

New Orleans

Charleston

Baltimore

New York City

San Juan, Puerto Rico
But that's not all. Carnival also has ships on the West Coast, including the new Carnival Panorama, which is homeported in Long Beach, California. 
READ MORE: Review of Carnival Panorama
Homeports along the Pacific (offering Mexican Riviera, Alaska, and Coastal cruises) include:
San Diego

Los Angeles (Long Beach)

San Francisco

Seattle
One of the things Carnival is extremely proud of is the fact that over 50% of people in the United States can drive to a port from which they sail in five hours or less.
While many people think of Carnival Cruise Line as serving only the United States, that's a very big misconception. While North America is their primary market, Carnival has a presence in Europe as well, although they don't sail in those markets nearly as much as other brands that fall under the Carnival Corporate umbrella, such as Costa and P&O.  
Carnival ships do sail, however, seasonally from the following ports:
Barcelona

Rome

Venice

London (Dover)
What's included in a Carnival Cruise fare?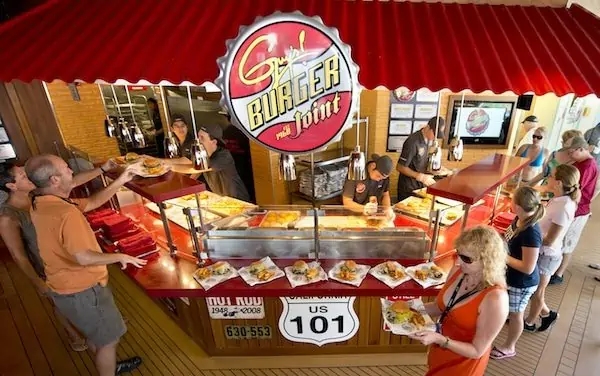 When people begin searching the web for cheap cruise deals, one of the first questions they ask is, "What's included in the cruise fare?" This is an excellent question and why this guide to Carnival Cruise Line was written. The short answer is, it varies from line to line. It can sometimes vary from person to person, based on what kind of deal they (or their travel agent) were able to secure. 
READ MORE: Guy's Burger Joint Review
On a Carnival cruise, these items are always included in the cruise fare: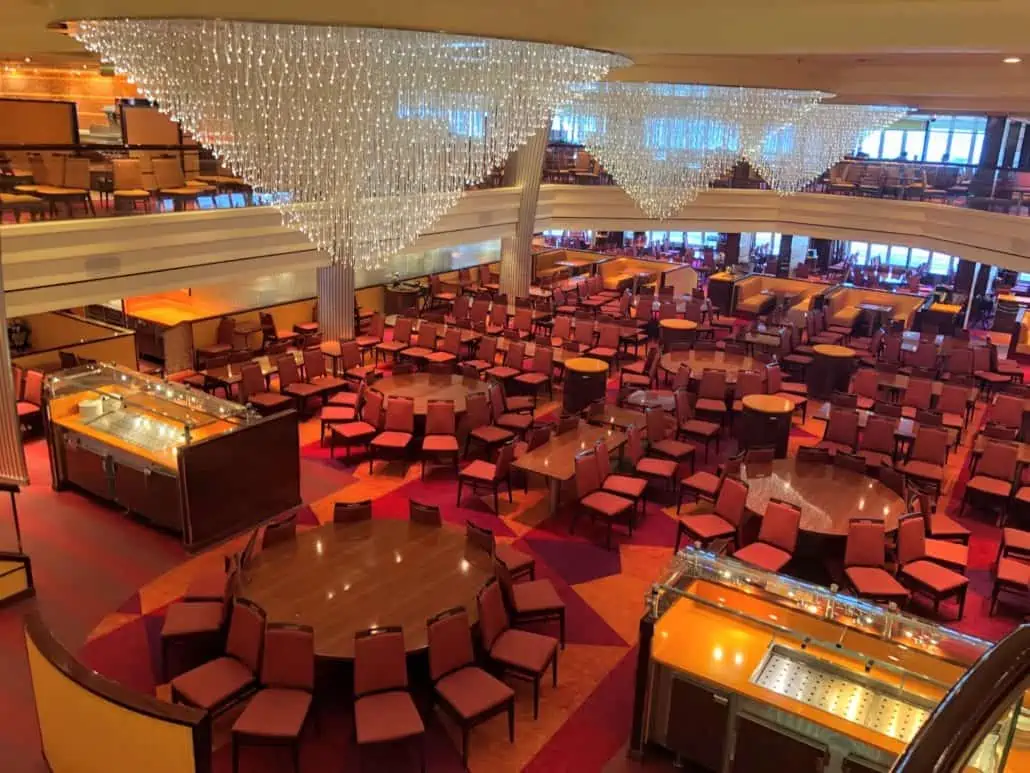 All meals, snacks, and late-night dining in the main dining room, buffet, and select additional venues, including Guy's Burger Joint, Guy's Smokehouse BBQ, Pizza, Deli, Big Chicken (limited ships), and the BlueIguana Cantina

The cabin of your choice (priced by category)

The services of a cabin steward

Select ports of call

Entertainment, including comedians, Broadway-style production shows, live music, trivia and a wide variety of activities coordinated (and often hosted) by the onboard Fun Squad

Age-appropriate kids' and teen clubs




Movies under the stars held poolside

Water slides and splash pads

A fitness center

A daily newsletter, known as the Fun Times, can be found in the Carnival Hub app, so make sure you download it before setting sail.
READ MORE: Ultimate Guide to Carnival's Kid's Program
What's Not Included on Carnival Cruises?
While all of the above, and much more, is part of the base cruise price, there are, of course, plenty of additional ways to part with your money while onboard. These vary significantly from ship to ship, with the newer ones offering more "bells and whistles."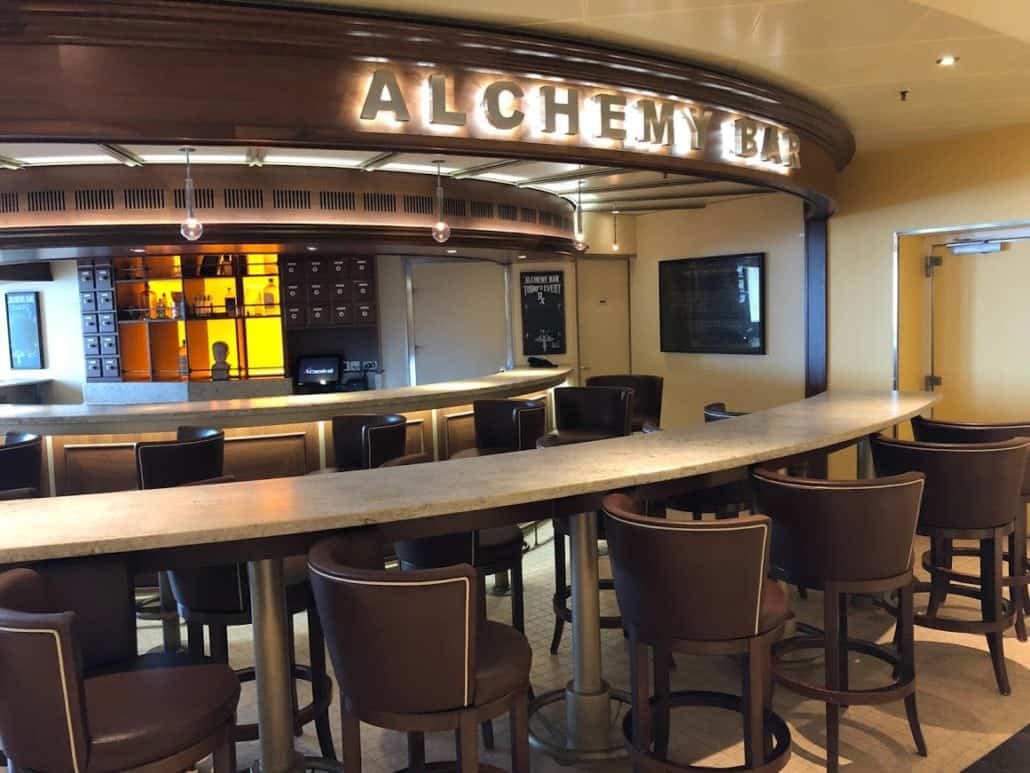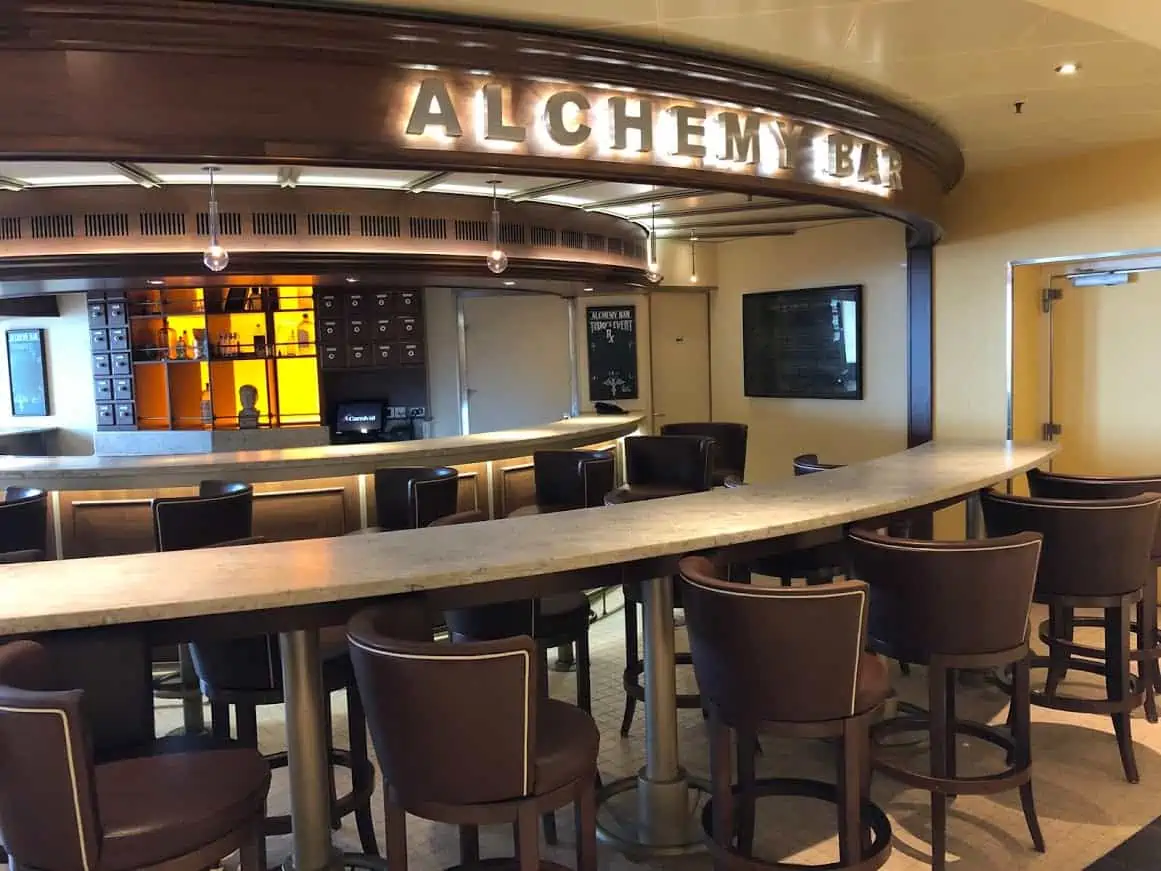 Among the things which are not included in the cost of your cruise are:
Specialty restaurants such as the Fahrenheit 555 steakhouse, dinner at Cucina del Capitano, Seafood Shack, and Bonsai Teppanyaki

Casino games and bingo

Alcohol and soda (drink packages can be purchased before or during your cruise)

Room Service (complimentary continental breakfast delivery is available)


Duty-free shopping onboard

Spa treatments and thermal suite passes
Shore excursions

Gratuities (a set fee is charged per day, per passenger, to your sail account)

Certain onboard activities such as Bingo, arcade games, liquor tastings, mixology classes, etc.

Travel Insurance
READ MORE: Pros and Cons to Carnival's Drink Package
All of the fee-based activities and food are clearly marked and explained in the Fun Times, assuring that you will not have any unexpected charges at the end of the cruise!
Pros and Cons of Carnival Cruise Line
Pros of a Carnival Cruise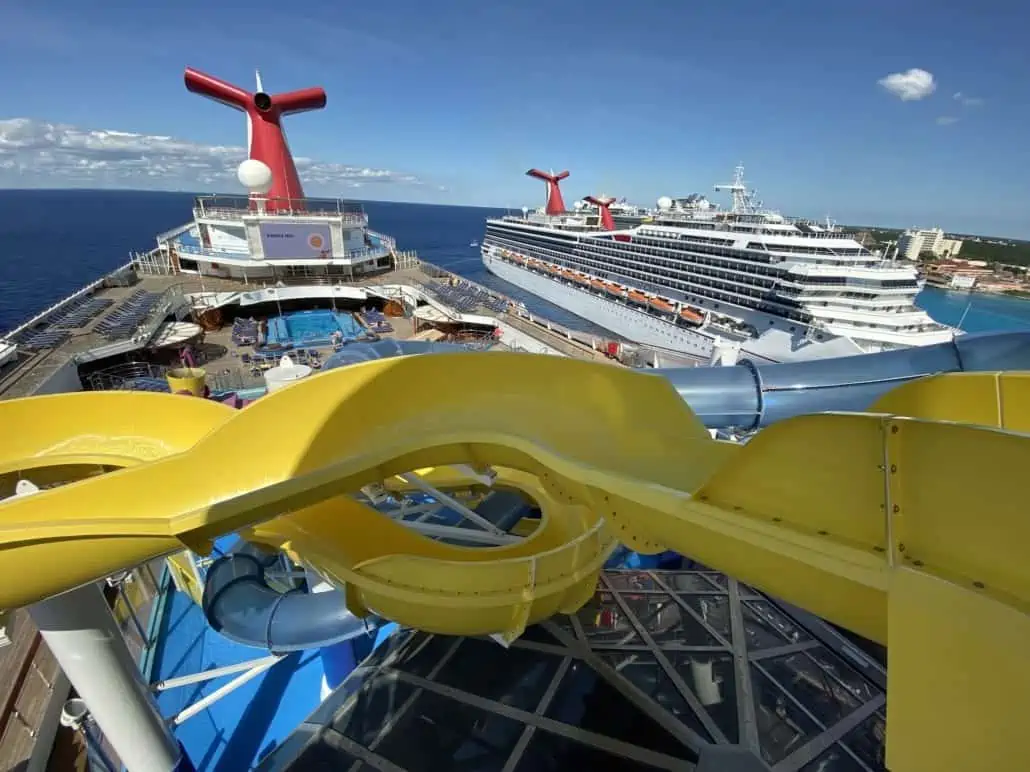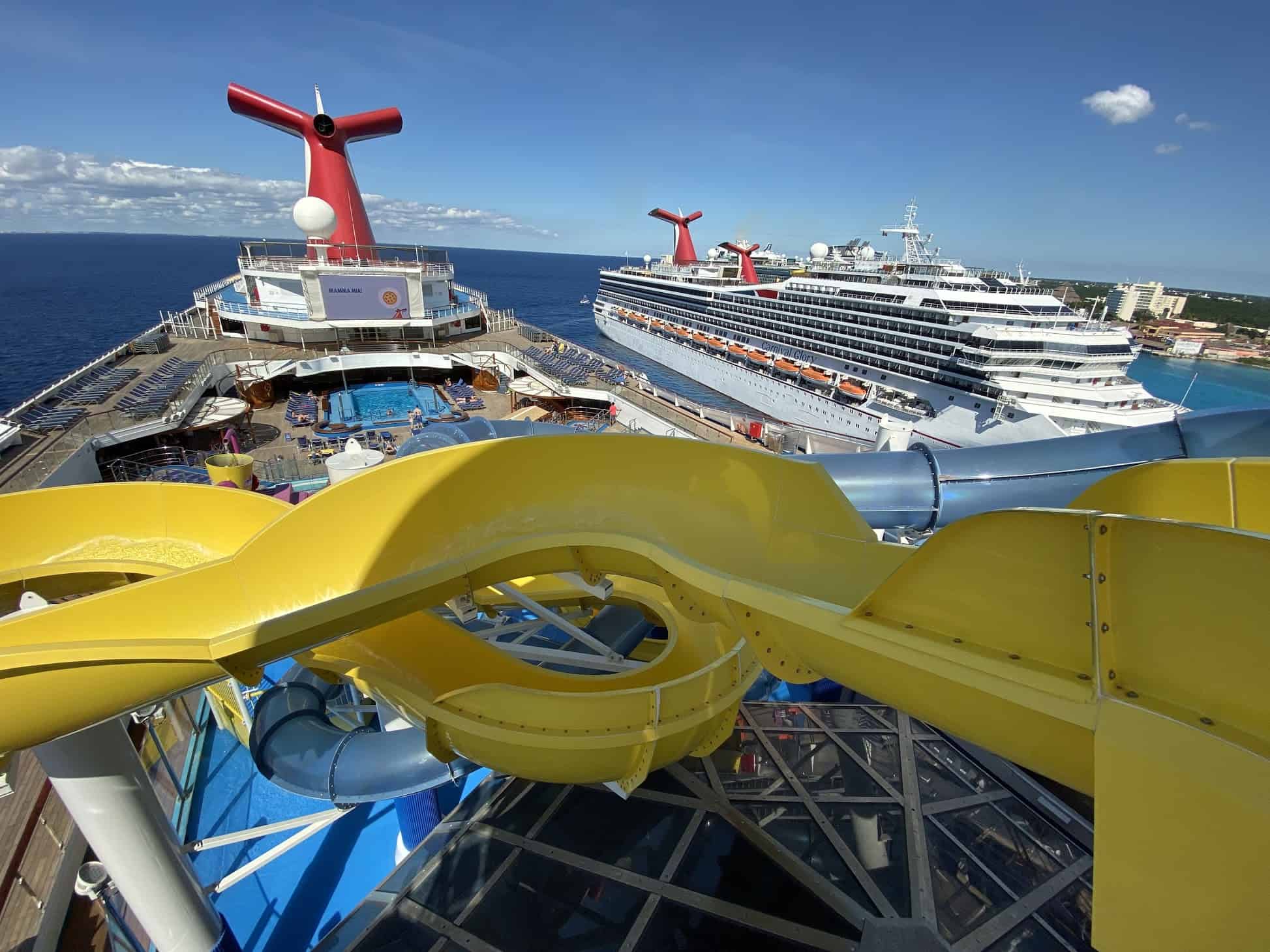 Family Friendly Carnival carries more families than any other cruise line, and is well aware of that. The vast majority of entertainment on the ship is appropriate for most ages. On the occasions when it isn't (such as the late-night comedy shows), signage and announcements make sure parents are aware. The kid's clubs, like Camp Ocean, are engaging and well run, and most ships include splash pads, water slides, and other fun zones for children and their adults. Some ships even have family cabin options (such as the Family Harbor on Vista-class ships) which offer snack bars and play areas, and serve as a great place for families traveling with children to meet others in the same boat (pun intended).
Budget-Friendly. Anybody who has done some comparison shopping on cruises will quickly realize that Carnival represents good value for the price. They offer a range of inside, oceanview, and balcony cabins that can accommodate up to five people, helping bring down the base fare considerably as 3

rd

, 4

th

, and 5

th

people in a cabin are usually significantly discounted or even free (aside from taxes and port fees, etc.). 

North America-Focused. Because of Carnival's commitment to the US market, home-ports for their ships are only a few hour drive for most people, saving money on flights and time spent traveling to the ship.
Choice of Cruise Lengths. Carnival offers a dizzying option of cruise lengths from short, 2-day escapes to multi-week Transatlantic adventures. Plus, since most of the ships are homeported in exciting US cities such as Miami, New Orleans, New York, and Los Angeles, many cruisers choose to extend their vacations with pre- or post-cruise days on land. 
READ MORE: The Ultimate Menu Guide to Carnival's Main Dining Room
Cons of a Carnival Cruise
Kids. Because of its family-friendly attitude and appeal, if you are not traveling with or a fan of children, then Carnival may not be the right line for you. That said, there are places aboard the ships where adults can find an escape from the young 'uns, including the casino, most bars and, most especially, the serenity adult-only retreat and its accompanying bar.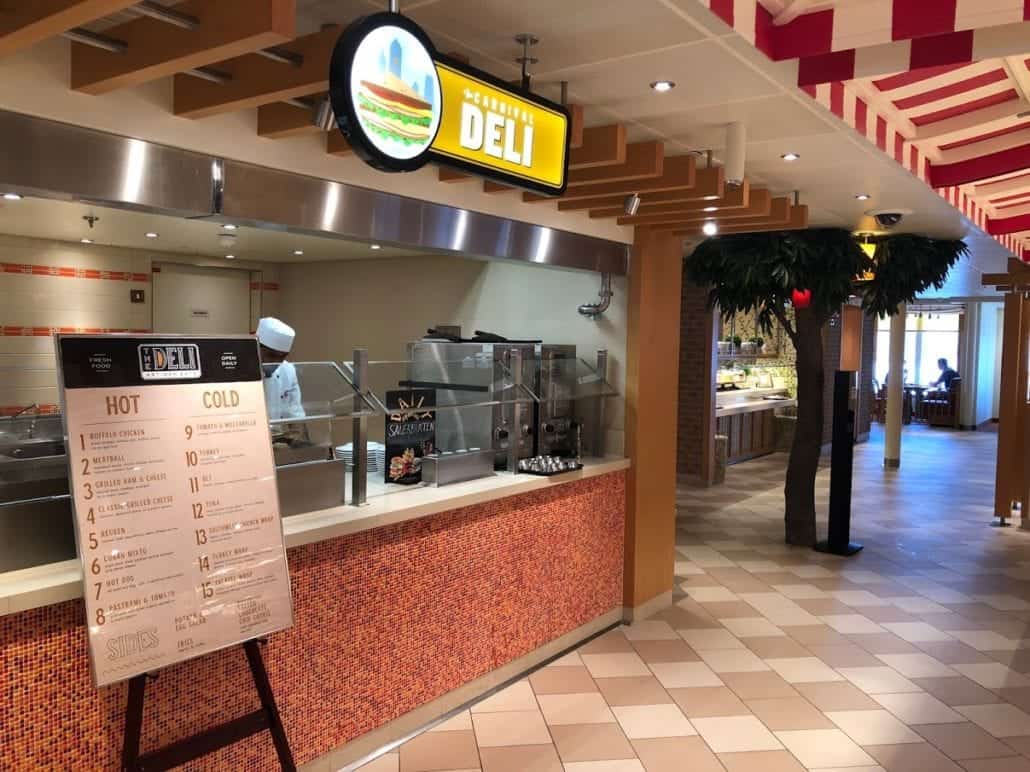 Not Necessarily For Gourmets. While Carnival does have a wide range of restaurants to enjoy, it is no secret that they are not on the same caliber as high-end lines such as Seabourn, Crystal or Viking. You won't find white-glove service in the dining rooms, but you also won't have to worry about dressing up for dinner. (Even the formal night is far less formal than you would find on a luxury line.)

And if you happen to be traveling with a foodie, most Carnival ships offer a for-fee Chef's Table dining experience that earns raves from attendees. 
READ MORE: Carnival Chef's Table Review
Cruise Destinations. Because of their focus on the North American market, if your dream is to cruise the Mediterranean or explore ancient cultures in South America, then Carnival should not be at the top of your list. However, if you are wanting to explore vibrant Caribbean ports, lounge on pristine beaches, or trek to an Alaskan glacier, then Carnival is definitely worth considering.
Things to Know Before you Board a Carnival Cruise Ship
Luggage Policy

There are the usual restrictions on firearms, illegal drugs (bring a copy of your legally prescribed medications prescription with you!), flammable substances, and alcohol (except 2 bottles of wine per cabin). However, additional items disallowed include wheeled shoes such as Heelies for kids, helium balloons, candles/incense, and large radios or boom boxes. Consult

www.carnival.com/help

for more specific info.

 Alcohol/Beverage Policies

Carnival Cruise Line keeps a strict policy that forbids any guest under the age of 21 from possessing or consuming alcohol.

On embarkation day, it is permitted to bring up to 12 cans of non-alcoholic beverages onboard, such as soda, water, or juice. They must be packaged in the guest's carry-on luggage and be sealed/unopened. Additionally, if you are over 21 each guest may bring one bottle (up to 750mL) of wine or champagne. This is per person and not per cabin. There is a $15 corkage fee if you wish to enjoy this wine in a dining room, but no fees apply if you decide to open the beverage in your stateroom.

Otherwise, there is no outside liquor or beer allowed onto the ship and anything purchased while in port will be kept aside for pickup by the guest on debarkation morning.

Coolers larger than 12″x12″x12″ are not allowed, though medical exceptions can be made.

Distilled water and bottled water are available for purchase and can be arranged before sailing by calling the Fun Shops department at 1-800-522-7648, ext. 70039, Monday – Sunday from 9:00 am-9:00 pm Eastern Time. If you would prefer to purchase water while onboard, guests can contact room service. If you require distilled water for your CPAP machine, that may be brought on board by guests but must be carried with the machine.

Smoking. Smoking is prohibited inside the ship unless actively playing in the casino. Outside the ship, there are dedicated smoking areas in on the starboard side, typically by the pool deck and if there is an outside promenade. This varies by the class of ship.

15 Carnival Cruise Line Changes (2019)