Introduced in 2017, the MSC Meraviglia isn't the newest ship out there, or even the most recent addition to the MSC Cruises fleet. But the first member of the Meraviglia class — which is currently sailing out of Port Miami, and will reposition to Europe in the spring of 2020 — can hold her own against any of the newer ships out there.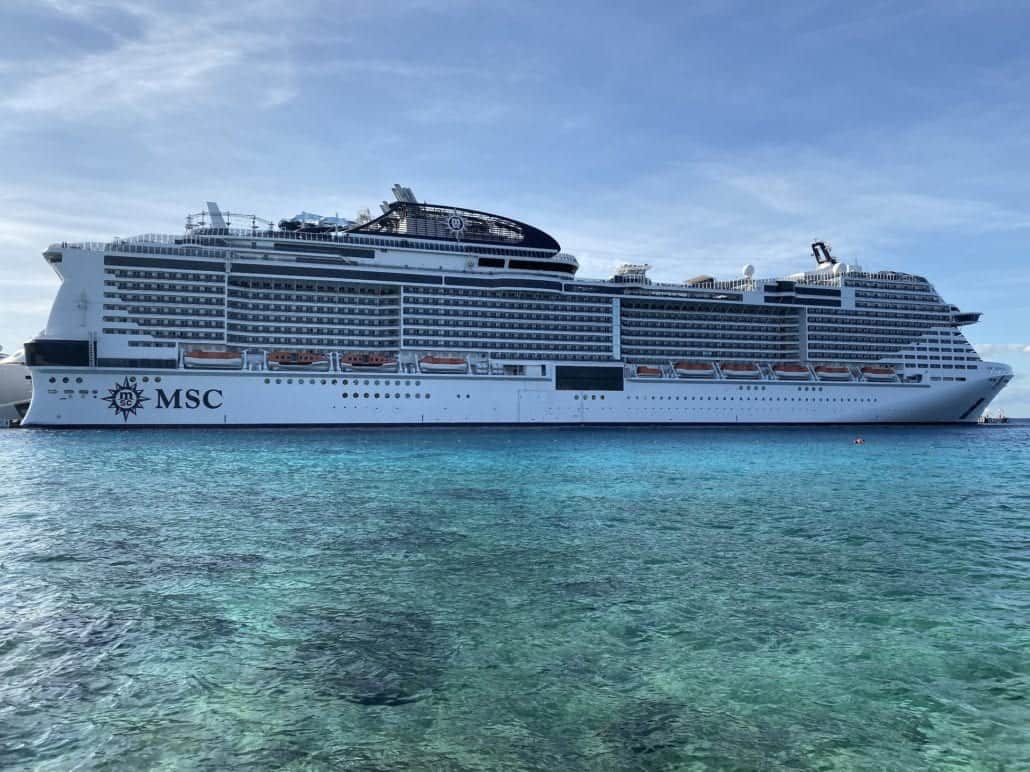 Considering booking this ship for a future trip? Read on, and we'll tell you everything you need to know about what the Meraviglia has to offer so you can decide if the ship is right for you.
Just The Facts:
Total guest capacity: 5,655
Length: 1,036 feet
Gross Tonnage: 167,600
Decks: 19
Best for: Families, multigenerational groups, couples, and international travelers
Not for: Those who prefer a small-ship experience or travelers who are nervous about a more European-style approach
Notable Highlights:
MSC Yacht Club
Cirque de Soleil at sea
Plaza Meraviglia with LED ceiling
Atrium with Swarovski crystal staircases
Jean-Philippe Chocolate Factory
Overview 
MSC Meraviglia is the flagship for the MSC Meraviglia-class of vessels. Her sister, MSC Bellissima debuted in early 2019. This ship is the first MSC vessel with an indoor promenade, known as Plaza Meraviglia, which runs the length of the ship.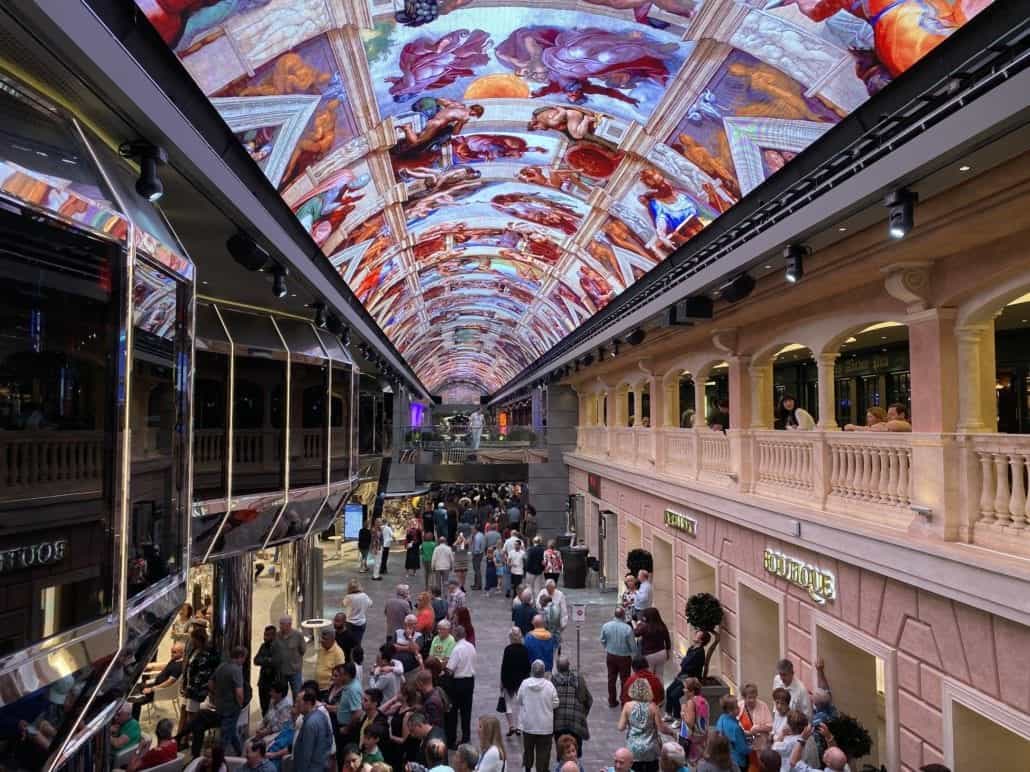 Being that MSC Cruises is an Italian line working hard to become a major player in the North American market, it attracts a more international audience than many might be accustomed to sailing with. That will mean there are some differences which you're likely to notice, including that announcements are generally made in multiple languages throughout the sailing.
MSC books their cruises by experience — Bella, Fantasica, and Aurora — which is a bit different than the mainstream lines. You're going to want to pay close attention during the booking process and make sure that you understand exactly what your package covers, as well as what it doesn't. If you start to get nervous, either call an MSC representative or work with a travel agent whom you know has experience with this particular line.
READ MORE: MSC Meraviglia Trip Report, Day 1
Essentially, each of the "experiences" offers a level of service. Bella, the entry-level experience, is sort of your very basic, bare-bones cruise without much in the way of perks. It's also going to be the cheapest way to cruise with MSC. For people who don't want added expenses like drink or dinner packages, this is a great place to start.
Design
You embark the ship on deck six, which puts you right into the heart of the promenade. Indoor promenades are nothing new to the cruise industry, however, one with a digital LED ceiling is. Between that and the Swarovski crystal staircases, you may go into sensory overload. One thing you won't say is "meh", because the ship makes a heck of a first impression.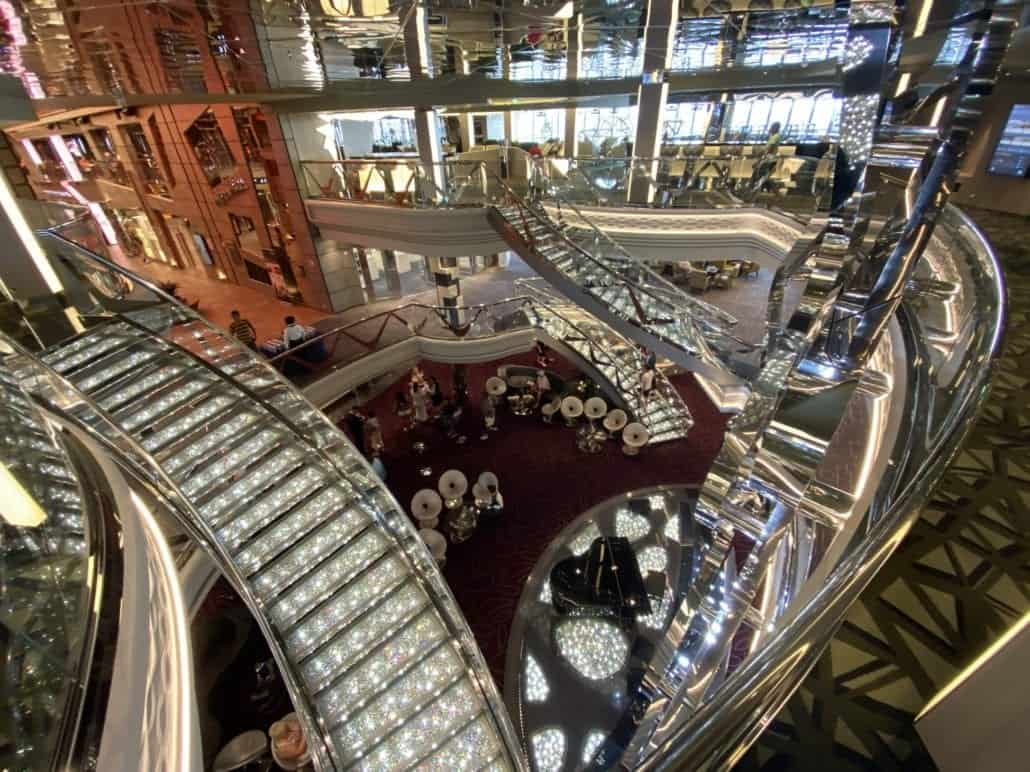 MSC Meraviglia was designed with passenger flow in mind, and that's important when you're on a ship with around 5,599 other people. Thanks to the way things are laid out, you very rarely find yourself dealing with issues of overcrowding or congestion.
There are three banks of elevators on this ship. The forward bank has 10 elevators, eight are located in the aft bank, and there are single elevators located on both the port and starboard side. These two panoramic elevators, found sort of mid-forward, offer great views during the daytime.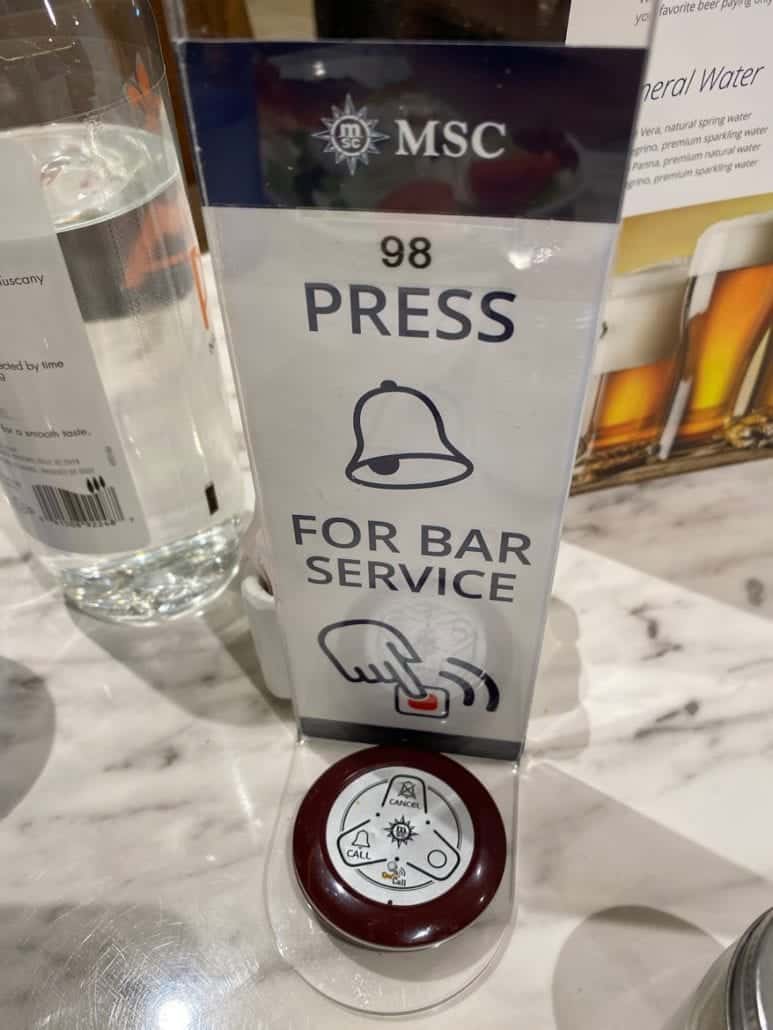 Like their competitors, MSC has gone all-in where technology is concerned. From the dazzling LED screens of Plaza Meraviglia to digital, interactive signage which allows you to make dining reservations with a tap of your keycard, technology is seamlessly interwoven into every aspect of the ship in the most user-friendly ways possible.
Activities 
There are plenty of activities both indoors and out on MSC Meraviglia. Sun worshippers and pool lovers will be happy to hear that there are four different pools on board. Two of the pools are located mid-ship and are connected. Just forward of the main pool is the two-deck solarium, which has not only a pool but several  hot tubs to choose from. The final pool can be found on the aft of the ship. It's here that you'll experience a true connection with the ocean.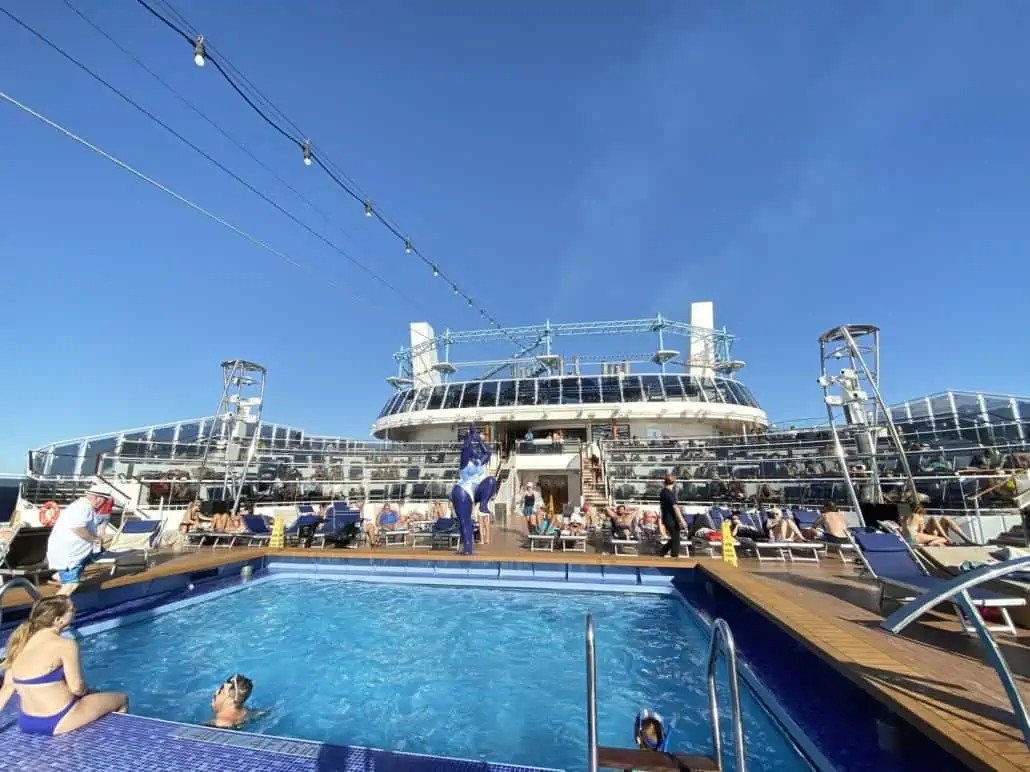 Lounger-wise, you should never have a problem finding a place to lay in the sun (or, if you prefer, the shade). You might have to wander around a bit, but there's definitely plenty of space. One of the great things is that the lounge chairs aren't only located around the pool. You'll find them in places both expected and unexpected, giving you the opportunity to be in the heart of the action or far from it, should you so choose.
The Polar Aquapark features three slides, as well as a kid's splash area. Thrill-seekers will love the Himalayan Bridge ropes course that's located almost 200 feet above sea level on deck 19.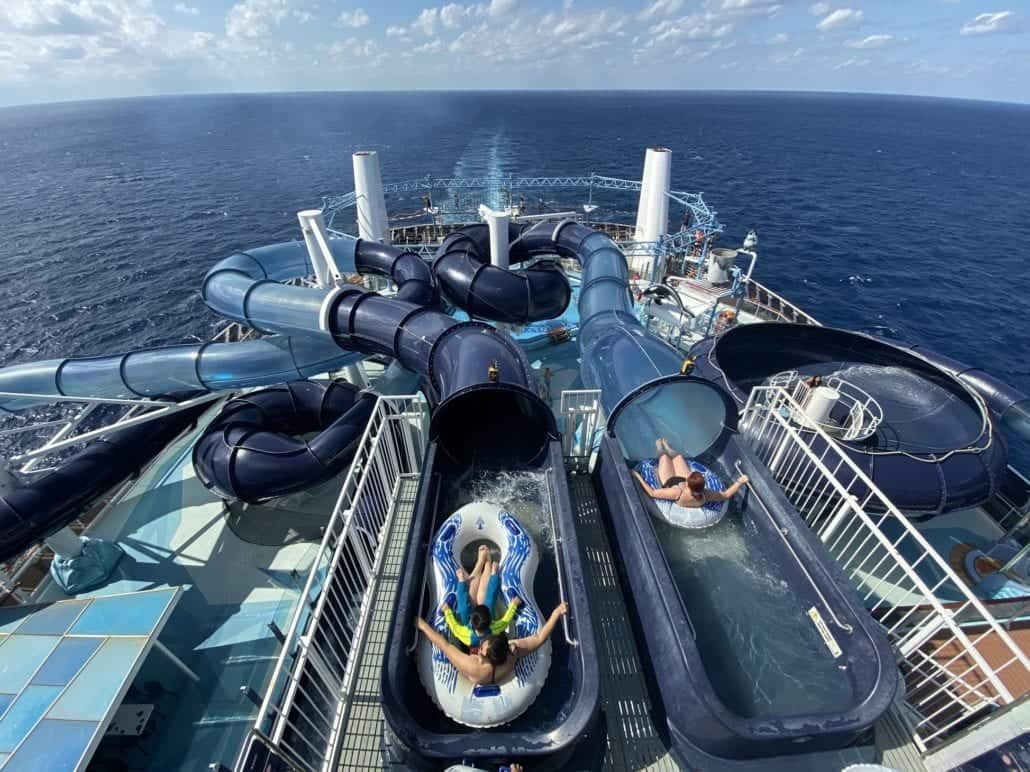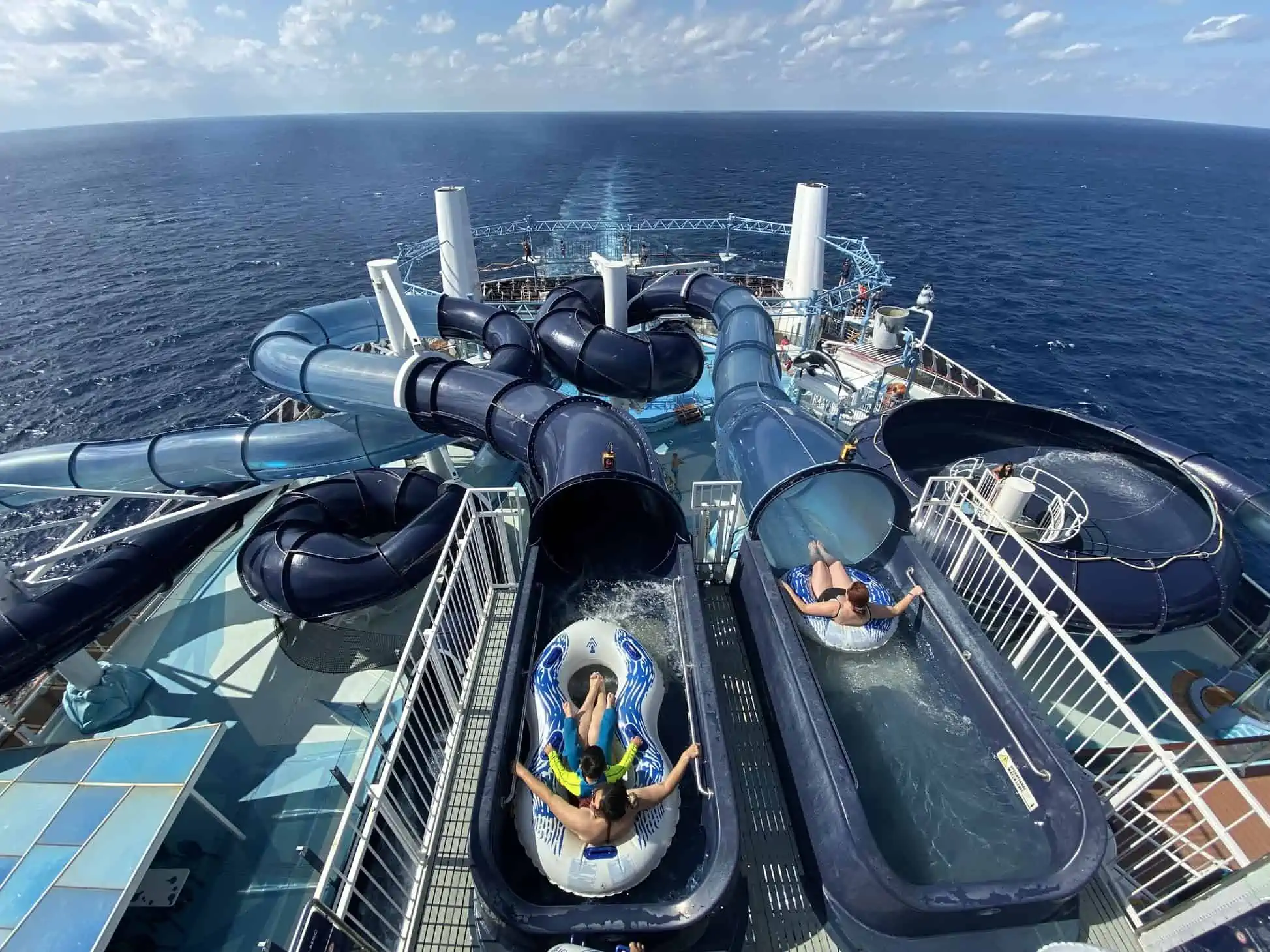 Inside the ship, there's, of course, a casino and plenty of shopping opportunities. You'll also find a bowling alley, an interactive theater and several virtual-reality type games (all of which have fees attached). We tested our racing skills in the Formula 1 simulator (and failed miserably) for $10.
Nearby, you'll also find Sportplex, which features a regulation size basketball court that can also be transformed for a variety of purposes. During our sailing, they used it for everything from a game of soccer to a kid's Masterchef cooking class.
If you have a sweet tooth, head down to deck six, where French chocolatier and pastry chef Jean-Philippe Maury has a permanent presence on MSC Meraviglia. To call what you'll find there a "chocolate shop" is to woefully understate the wonders it holds.
This is probably the closest you're ever going to come to visiting Willy Wonka's infamous chocolate factory. Trained chocolate makers can often be found designing and making unique creations. You can even place an order for a model ship made out of milk, dark or white chocolate.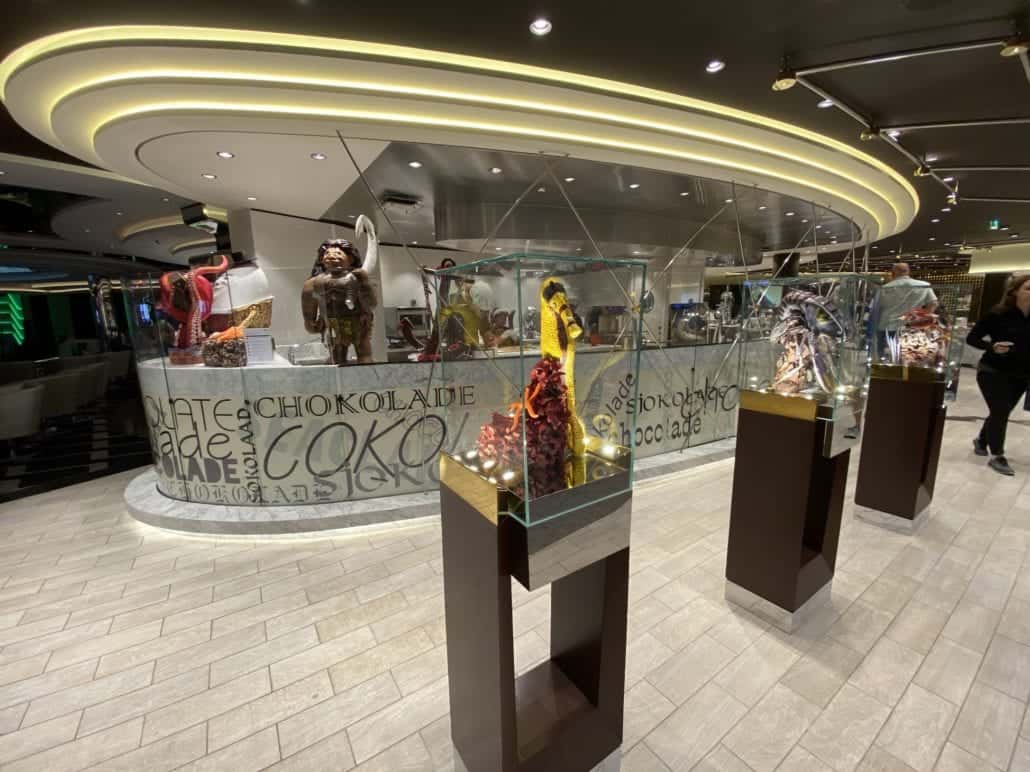 The MSC Aurea Spa is massive. There are 20 treatment rooms (most ships only have a handful) and one of the nicest thermal suites at sea. There are two thalassotherapy pools within the thermal suite, as well as steam rooms, a snow grotto, salt room, an aromatherapy room, and a relaxation room. Both day and voyage-long passes are available.
Dining 
With 12 dining venues onboard, there is no shortage of food options onboard. There are four main dining rooms spread across deck five and six, with the other venues spread throughout the ship. You have the option to purchase a dining package for the sailing if you want to save a few dollars. Otherwise, the specialty venues are a la carte with the exception of Teppanyaki.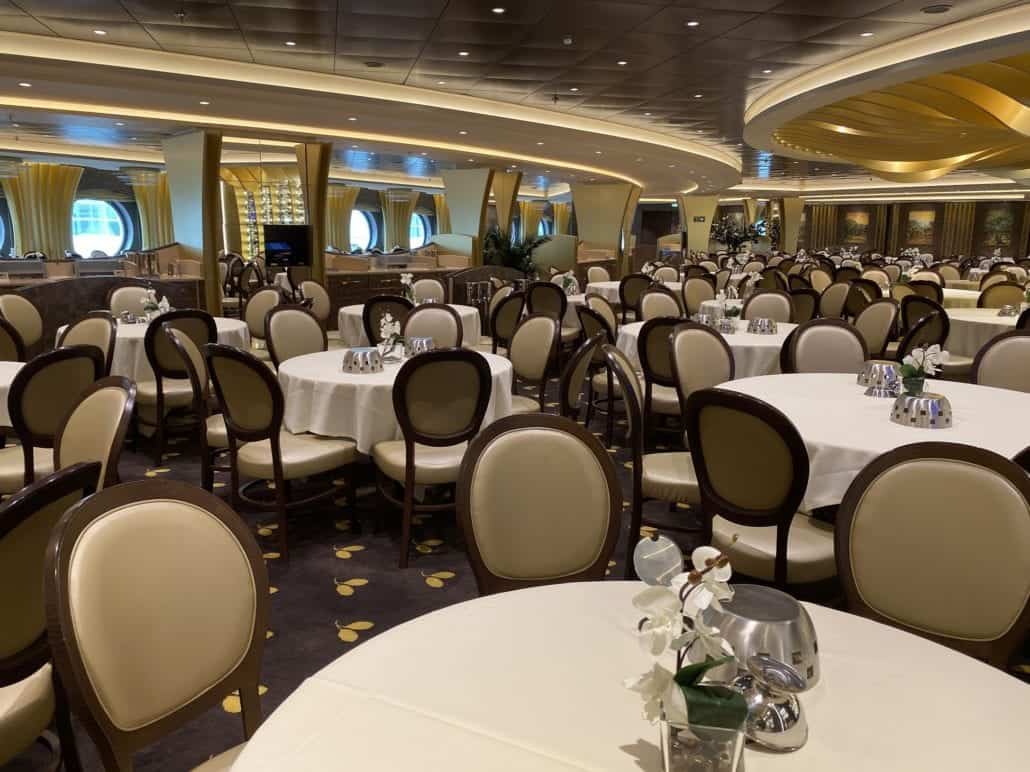 The four main dining rooms serve Mediterranean and international foods with a different menu each night. There's also a standard nightly menu that is consistent throughout the voyage, offering traditional dishes like steak, fish, and chicken.
In the past, many have complained about the food aboard MSC Cruises. On one of my previous voyages on an MSC ship, I found the complaints to be valid. In fact, the food issues were enough to make me think twice (and even three times) before sailing with them again. Happily, that did not prove to be the case on Meraviglia. Overall, the food was what I'd classify as "solid." It didn't necessarily blow me away, but it was far, far better than what I'd experienced on the line in the past.
Main Dining Rooms:
L Olive doree
L Olivo d'oro
Waves Restaurant
Panorama Restaurant
What dining time you have will depend on the experience you choose when booking your cruise. They do offer early, late, and anytime seating in the main dining room.
The Marketplace is the buffet area located on deck 15. We found the selections on the buffet to be sufficient and standard. There is a meat carving station, salad bar, ethnic dishes, breads, desserts, and a full-service bar. There are plenty of drink stations within the Marketplace and if you want to dine outside, there's space on the back patio that overlooks the wake.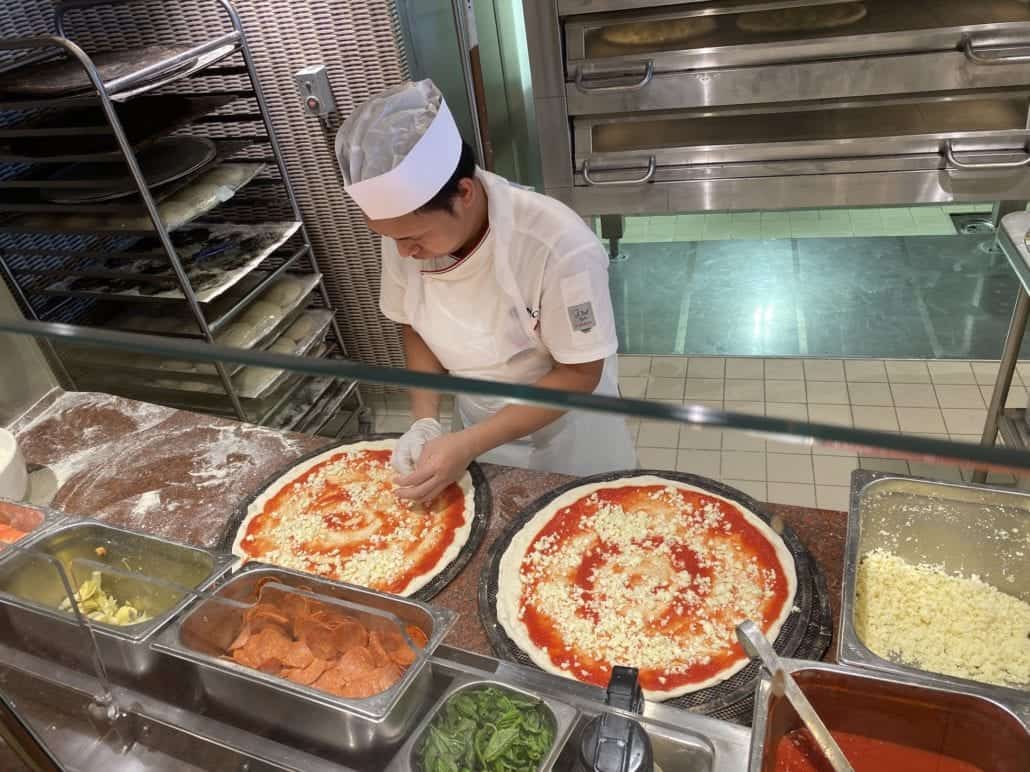 It wouldn't be an Italian cruise line if we didn't talk about the pizza served onboard. The pizzeria is located at the very front of the Marketplace buffet. The pizza makers toss 500 pies a day here, ranging from your basic cheese pie to supreme. There's also a mozzarella-making station next to the pizza area where you can watch the chef making cheese from scratch.
One thing we learned on our sailing is that not every beverage package is accepted at every restaurant. As a rule of thumb, the basic Easy package is only accepted at bars around the ship and not in dining venues. Again, it's worth doing some research into the various packages and what they do and don't cover.
Specialty Restaurants:
HOLA! Tapas
Ocean Cay Restaurant
Butcher's Cut Steakhouse
Kaito Teppanyaki Restaurant & Sushi Bar
For-fee venues like HOLA! Tapas feature bite-sized dishes that are made for sharing, created by Spanish chef Ramón Freixa. Ocean Cay is the line's fresh seafood restaurant featuring Boston lobster, oysters, crab and fish options.
The Butcher's Cut Steakhouse offers both brunch on sea days and nightly dinner selections. If you're having brunch here, you're free to order off the dinner menu. However, there is no actual lunch menu.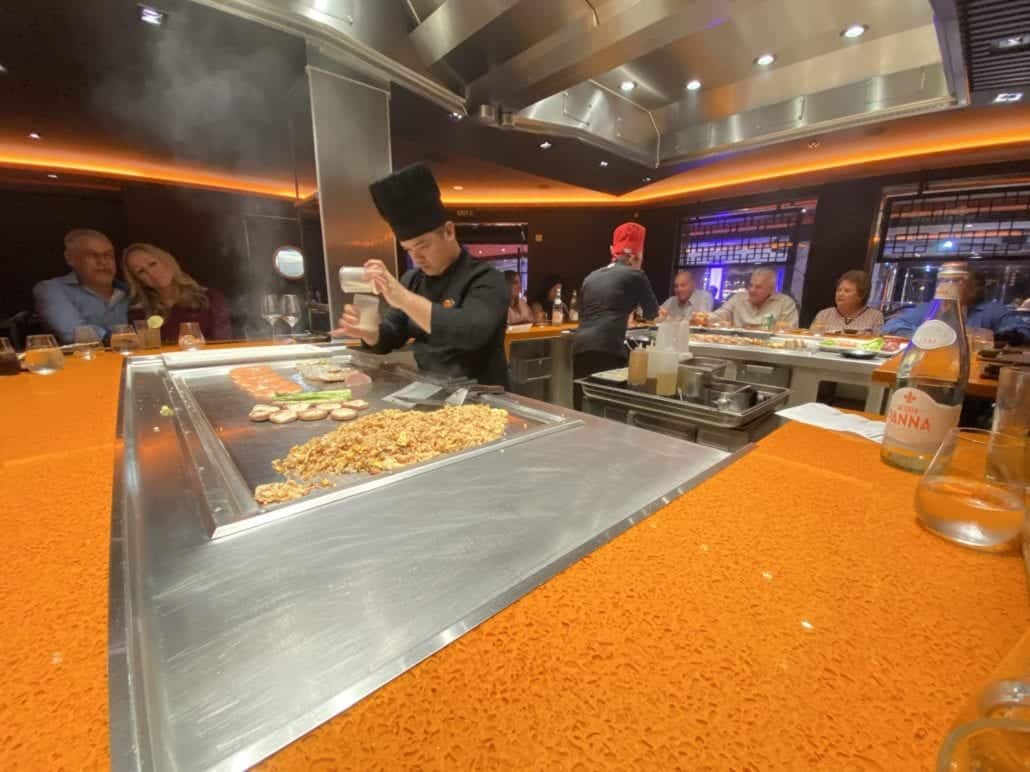 Kaito Teppanyaki Restaurant & Sushi Bar are both home runs thanks to freshly-rolled sushi they make right in front of you for a reasonable price. The teppanyaki experience was fun and an affordable seven-course experience. (It's also a place where "the more, the merrier" holds true, as this isn't just dinner, but a meal and a show, put on by your chef.)
Bars and Entertainment
There's a variety of entertainment options onboard, including nightly free shows staged in the Broadway Theater and Cirque du Soleil performances (for which there is an additional fee). While entertainment is subjective, the Cirque show was one of the best things I've ever seen on a cruise ship and is, in my opinion, well worth the price.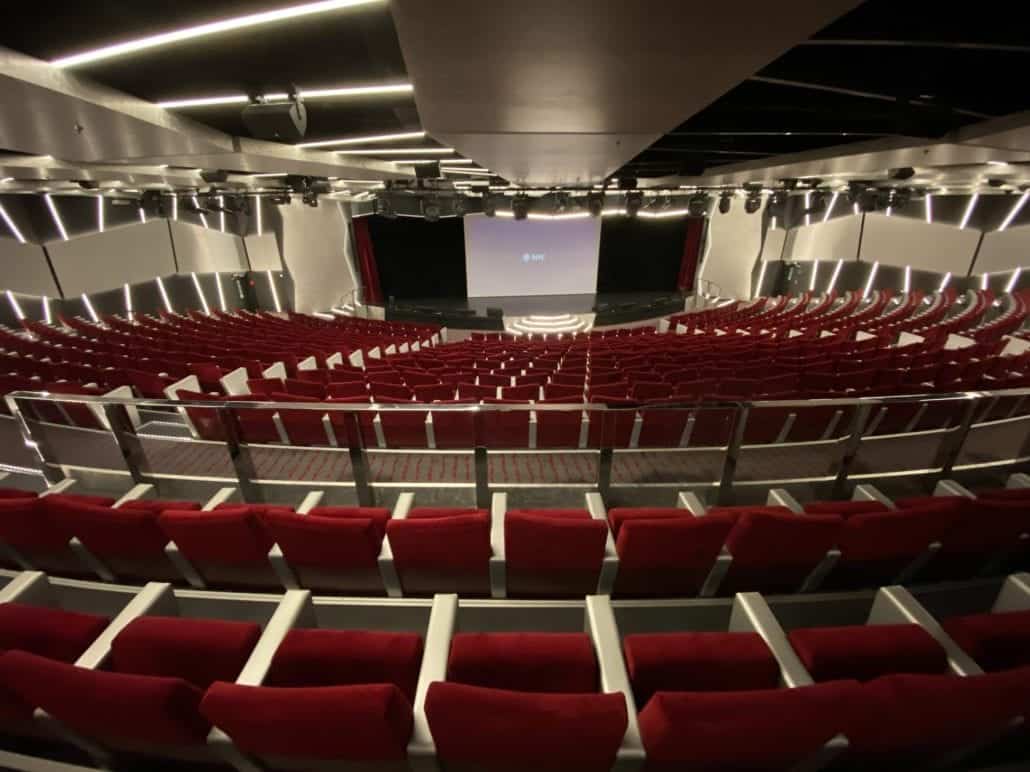 Elsewhere, there are no shortages of places to relax on MSC Meraviglia. The promenade is lined with bars on both levels. Among the standouts is the Brash Anchor Pub, which feels like an authentic British pub and features a limited bar menu including, of course, fish and chips.
Poolside you'll find two bars near the midship pool and one in the solarium. And if you get the munchies while lounging in the sun, there's an extension of the Marketplace Buffet poolside as well offering basics like burgers, hotdogs, and pizza.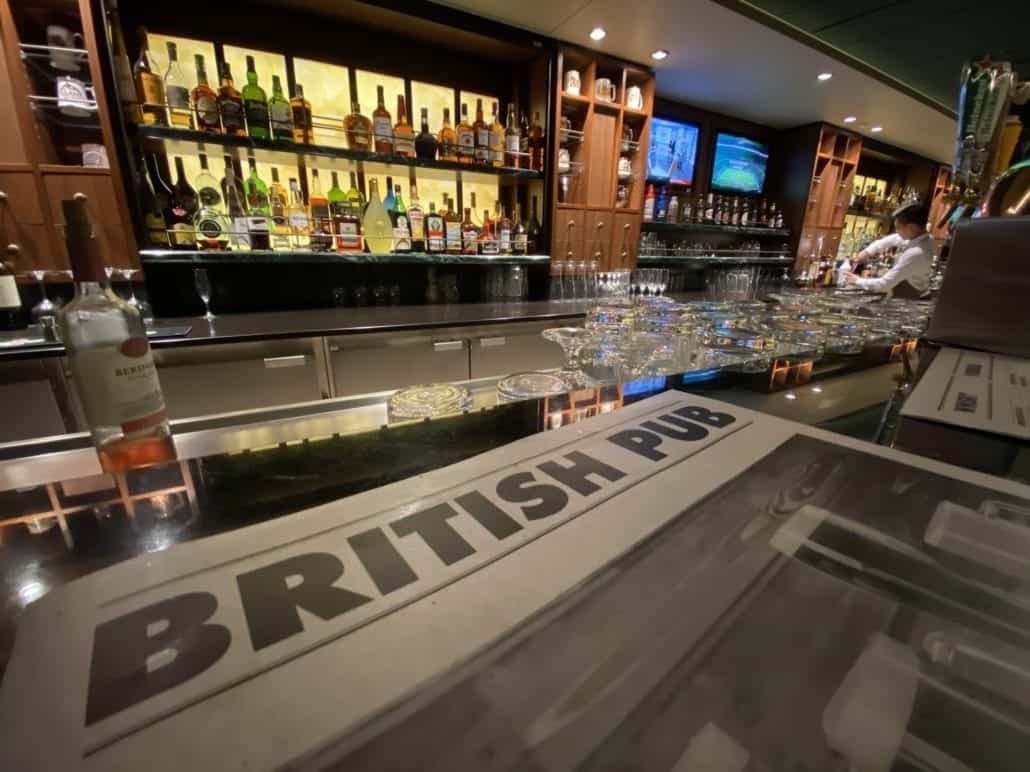 Back by the aft pool, there's the Horizon Bar which, given its location and killer views, is perfectly named.
One of my personal favorite watering holes was the Sky Lounge, thanks in part to its walls of windows overlooking the pool and jogging track.
Cabins 
The ship is comprised of a mix of interior, oceanview, and balcony staterooms. One thing solo travelers will be happy to hear is that the ship offers 136 square foot studio cabins. (This is not including the suites available in the Yacht Club, which will discuss separately in a moment.)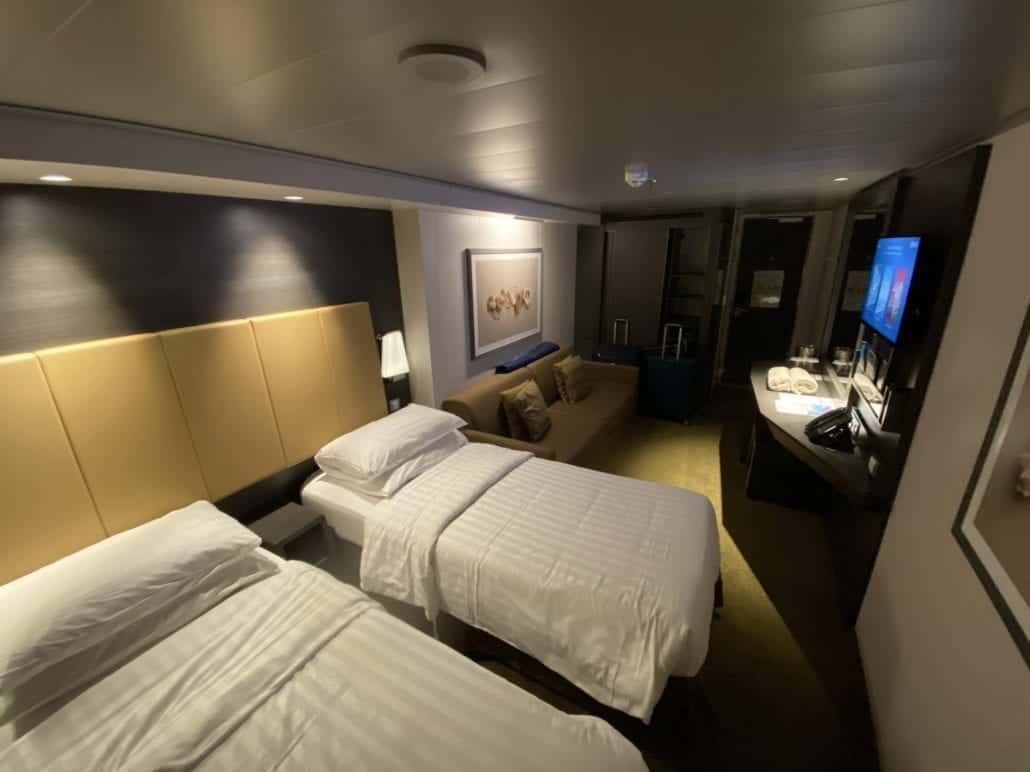 The cabins feature a stylish decor that is modern and simplistic at the same time. They're well-appointed with USB chargers, plugs and plenty of storage space. Bathrooms are decent size with actual shower enclosures as opposed to the dreaded shower curtains. The televisions in the staterooms are interactive, allowing you to check your folio, but it's worth noting that with interior staterooms, the TV is not well positioned for watching from the bed.
The Yacht Club 
Spend any time at all reading reviews of this or other MSC ships, and you're going to inevitably find people raving about The Yacht Club. This is MSC's version of the ship-within-a-ship concept, wherein passengers willing to pay the price have exclusive access to their own dining room, lounge, sun deck, pool and hot tubs, as well as a butler.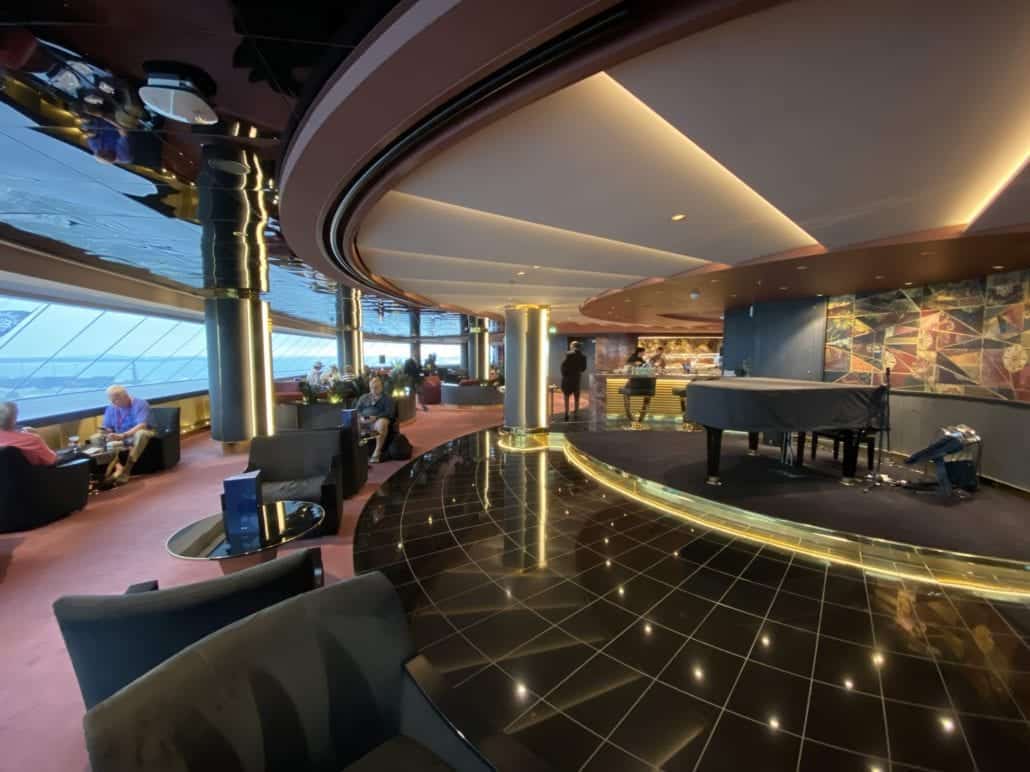 Among the other perks that come with a booking in the Yacht Club include priority seating for shows and a private elevator bank of priority embarkation and debarkation.
Given the limited amount of rooms in this space and the square footage dedicated to the Yacht Club sun deck, it's great option if you're a sun-seeker who doesn't like crowds and are willing to spend a little (or a lot, depending on the type of stateroom booked) extra. It wouldn't surprise me in the least if people book the Yacht Club and then never venture out to any other part of the ship, instead choosing to spend the cruise in the lap of luxury.
Kids and Teens 
MSC Cruises breaks down their kid's programs into several different age groups: one to three, three to eleven, 12 to 14, and 15 to 17 years old.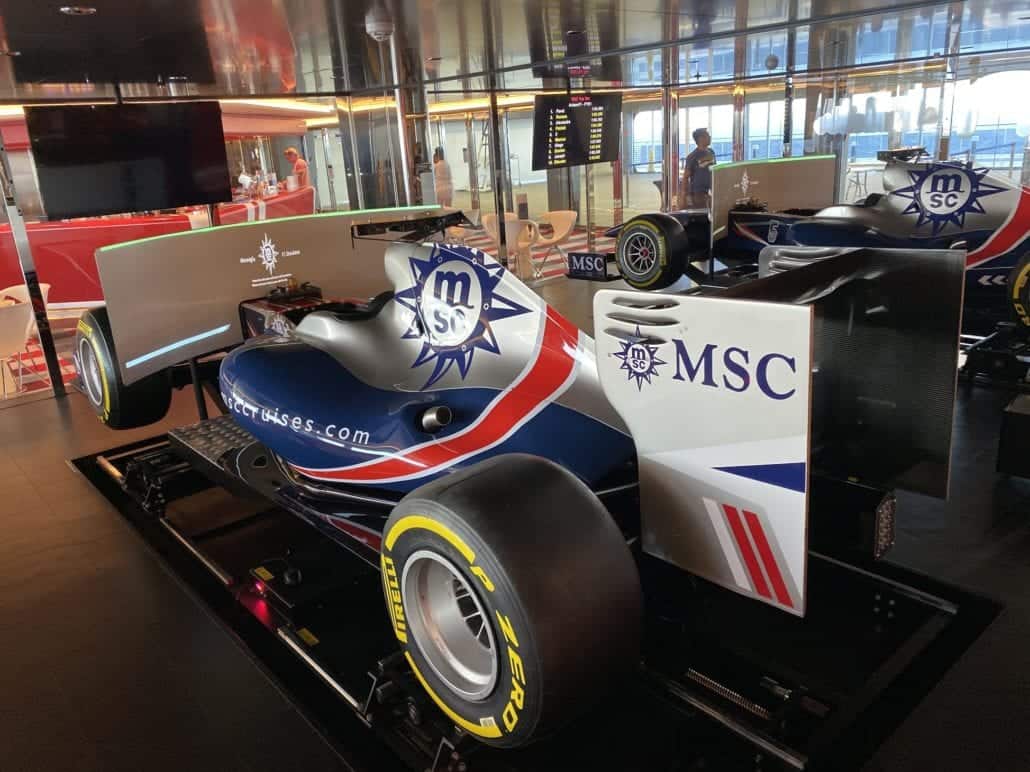 The Doremi kids club is full of activities to keep little ones entertained throughout the day. MSC has a partnership with LEGO and, as every parent knows, LEGOs are to kids what the drink package is to most adults. Elsewhere, the youth programs are both interactive and (like most kids today) very tech-savvy, making it one of the most unique kid's programs at sea.
Final Thoughts
Over the past few years, MSC Cruises has been making a play for a bigger share of the American cruise market. While they hit a few rough spots along the way, Meraviglia (along with ships like MSC Seaside) proves that they are a serious contender.
There are differences between MSC and other mainstream lines such as Norwegian or Carnival Cruise Lines, and it's important to do some research and make sure that you understand those differences. On the most basic of levels, a cruise is a cruise. But I've long been a believer that not every cruise (or cruise ship) is right for every person. That's why it's a bad idea, especially for a first-time cruiser, to simply book a sailing without doing some research or talking to a travel professional first.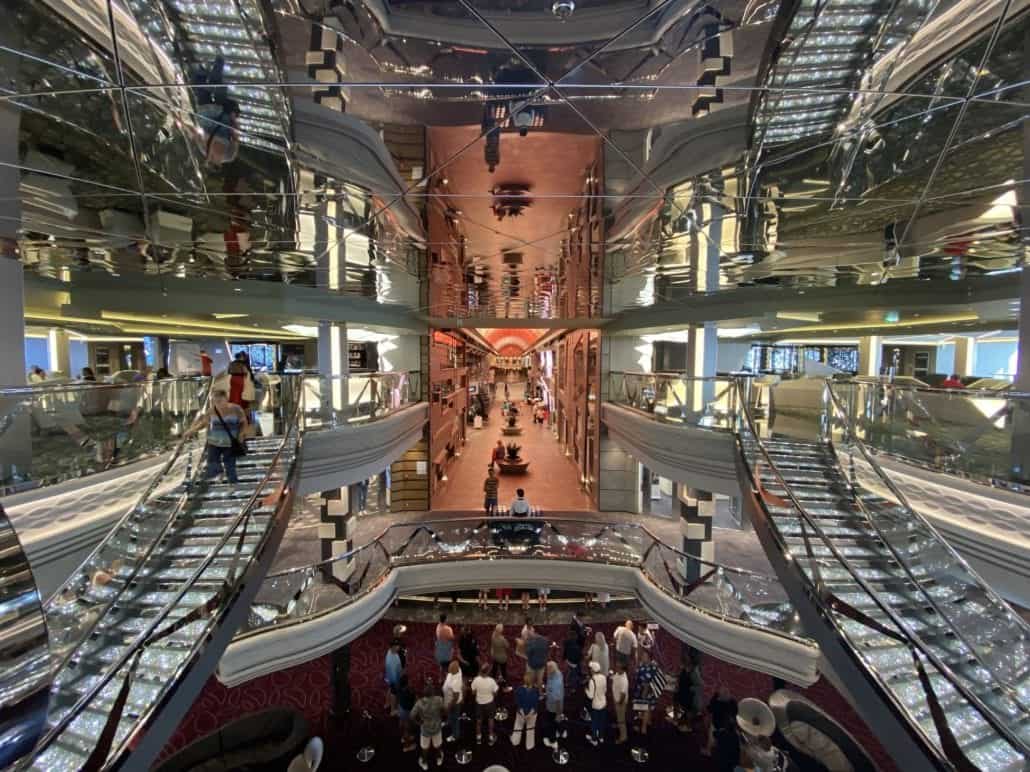 All that said, MSC Meraviglia is an absolutely gorgeous ship that should appeal to a wide variety of cruisers. Whereas some other lines are putting the emphasis on top-deck attractions, MSC has, especially with this ship, continued to recognize the importance of giving people pools and lots of space in which to soak up the sun. If you've never tried or even considered MSC, this might be the ship to look into.
MSC Meraviglia Tour (2019)