The U.S. Centers for Disease Control and Prevention has released the long-awaited final cruise guidance for cruise lines related to its October 2020 Conditional Sailing Order.
Phases 2B and 3 of the guidance relate to Technical Instructions for Simulated Voyages and the Operations Manual for Simulated and Restricted Voyages under the Framework for Conditional Sailing Order, respectively.
Let's look at key information from both of these guidance documents.
Simulated Voyages Might Not Be Necessary… But Will Kids Be Able to Cruise?
Phase 2B spells out the requirements for simulated (i.e., test) voyages cruise lines may be required to operate under the Conditional Sailing Order. The document spells out specifics regarding seeking approval from the CDC, requirements relating to passengers who have volunteered for the test cruises, onboard activities, testing requirements, and much more.
Nearly every major cruise line has indicated that 100 percent of their crew will be vaccinated before a return to service, and some lines, like Norwegian, Royal Caribbean, and Crystal, have indicated that all eligible passengers will also need to be vaccinated to sail at least on some cruises.
But where does that leave children? COVID-19 vaccines are only available to people 16 and older, though approval for inoculating kids 12 to 15 is expected soon. If cruise lines meet the 95 percent passenger vaccination requirement instead of simulated voyages, the number of children, especially younger kids, maybe extremely limited when cruising restarts.
The Operations Manual That Should Have Been Written Last Year
Phase 4 of the CDC's guidance is the "COVID-19 Operations Manual for Simulated and Restricted Voyages under the Framework for Conditional Sailing Order," the document that spells out the nuts and bolts of what the cruise lines are required to do in day-to-day operations to ensure health and safety protocols and CDC guidelines are consistently met.
Much of this guidance mirrors protocols previously suggested by Genting Cruise Lines, Princess Cruises, the Healthy Sail Panel, CLIA and other industry leaders as early as April of 2020. It begs the question of why the CDC took this long to develop (often common sense) guidelines that the industry recognized as necessary since the pandemic's earliest days.
Here are some of the most interesting requirements.
You Can't Take Off Your Mask at Dinner or On the Pool Deck
The CDC is essentially requiring that masks be worn at all times in public areas of the ship, even going so far as to state:
"While the Order permits temporarily removing a mask for brief periods of time while eating or drinking, removal of the mask for extended meal service or beverage consumption would constitute a violation of this Order," and "Ensure bathers wear masks while congregating outside of recreational water facilities and while seated on the pool deck area. Masks do not need to be worn in the water…"
That would indicate that you'll need to wear your mask between dinner courses and can't lounge poolside with a bare face.
Thankfully, the CDC concedes that "masks do not have to be worn inside one's own cabin."
Keep Your Distance. Everywhere.
The social distancing of at least six feet is required between individuals not part of the same traveling party, and cruise lines must provide floor markings and limit capacity in all venues as well as stairwells, elevators, and escalators to provide for proper distancing.
In public gathering locations such as casinos, gyms, arcades, and restrooms, the cruise lines must provide for six feet of spacing between individuals using the area or erect partitions between equipment/amenities if distancing is impossible.
The capacity must be reduced in pools and hot tubs to meet social distancing requirements. Smaller recreational water areas like hot tubs should be used by the same family or traveling companions only, with close monitoring required to ensure compliance.
Additionally, seating devices — such as tables, chairs, loungers, and sunbeds — should be placed six feet apart from each other on deck, meaning even more competition for prime poolside loungers; a silver lining to this requirement might be that the cruise lines will finally have to police chair hogs, since deck space will be at an absolute premium.
READ MORE: Overview: Cruise Lines That Are Sailing in Summer 2021
In Port, There's Only One Way Off the Ship
The Operations Manual guidance confirms what was long rumored: passengers will not be allowed to disembark the ship in ports of call independently; a cruise-line purchased shore excursion will be required. Passengers will not be allowed to leave the group on these excursions, and limited capacity and social distancing rules will be enforced. This conflicts with plans announced recently by Norwegian Cruise Line.

Losing the opportunity to explore independently is a big negative and likely a devastating blow to local businesses in ports of call that have been without cruise tourists for over a year. It remains to be seen, however, if pier-side shopping areas restricted to cruise passengers — like Carnival's Mexican village in Cozumel, which is home to popular bars, restaurants, and shops — will be permitted to operate, as they are in some ways an extension of the ship and more within the control of the cruise lines.
The CDC also recommends that cruise lines avoid ports not at the lowest rated level of COVD-19 infection. While not a requirement, if cruise lines choose to adopt this guidance, port calls in cruise strongholds like the Bahamas, U.S. Virgin Islands, Jamaica, and Mexico would not be possible, as they're not currently on the CDC's Level 1 list.
In the Technical Instructions for Simulated Voyages Guidance, the CDC says the following regarding calls on cruise line private islands:
Only one ship can port to the island at any one time.

Mask use and social distancing must be observed on the island.
These requirements are not included in the Operations Manual, but that seems like an oversight as private islands and their pools and beaches are essentially extensions of the cruise ship's pool deck. We'll see if these are added to the Operations Manual in the future.
The Buffet As We Knew It Is Dead, and Dining is Going to Look a Lot Different
There aren't many surprises in this area of operations, just confirmation of changes we knew were coming.
Self-service food and drink options, including buffets, salad bars, and beverage stations, must be eliminated.
Capacity in bars, dining rooms, and other food service areas must be limited to ensure social distancing and outdoor food and beverage services should be provided where practical. Additionally, in-stateroom food service options should be provided and encouraged. If the cruise lines embrace this requirement, those limited and/or extra-charge room service menus might be a thing of the past.
Shared menus and condiments are discouraged, with single-use or digital and single-serving condiments recommended. Pre-packaged condiments would likely go against the cruise lines' recent push to eliminate single-use plastics, so it's unclear to what extent this recommendation will be adopted.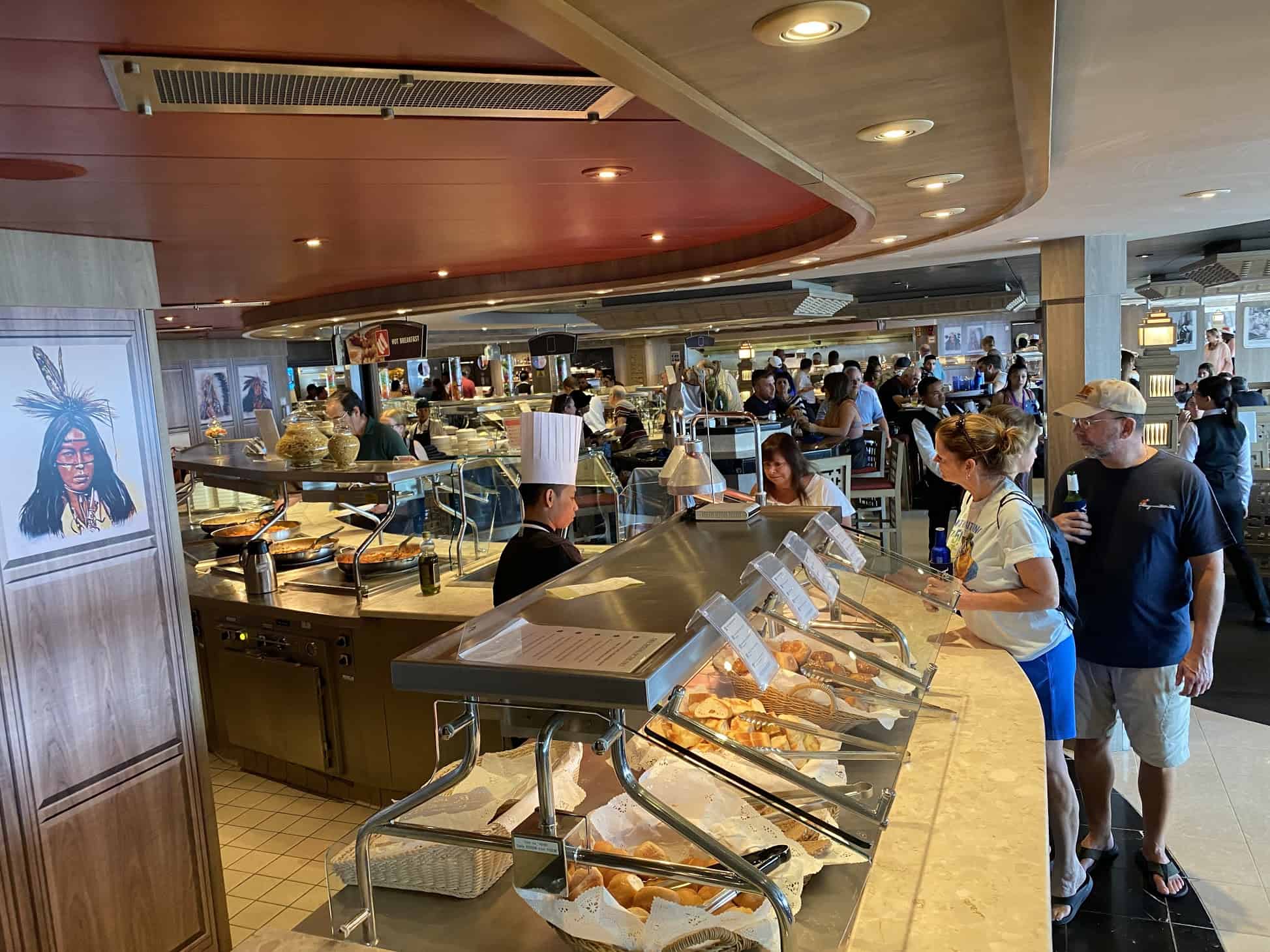 Two Realities
There's a lot more details of the requirements in the Technical Instructions and Operations Manual if you want to see more.
But one thing is clear from even a quick read of this latest round of guidance from the CDC… cruise ships, when service returns, will be held to much a higher standard related to COVID-19 protocols and precautions than the reality that's currently in place in most of the U.S. and on other modes of travel.
Florida's governor recently repealed all mask mandates and other locally-adopted COVID-19 restrictions, meaning that Floridians, or those traveling to and through the state, may not be required to wear a mask or socially distance until they arrive at the cruise terminal. These passengers will be eating mask-free in restaurants and standing much closer than six feet to others in hotel check-in lines and while waiting to purchase items in stores.
That's a stark contrast to the conditions they'll find on board, perhaps leading to low compliance — or at minimum, frustration and pushback to the crew trying to enforce the draconian-by-comparison guidelines onboard.
Elsewhere in the travel industry, Universal Orlando Resort announced the end of temperature screening for guests and a substantial reduction in social distancing in early May. Even Walt Disney World, among the most conservative travel destinations regarding COVID precautions, will end temperature checks later this month.
Most airlines have stopped blocking middle seats and are filling planes to capacity. Cities like Los Angeles, New York, and Las Vegas that have been a near lock-down for the better part of a year are fully reopening and easing most restrictions in the coming months.
It's creating two different realities: one onboard a ship, another everywhere else cruise passengers interact with the world. While caution is warranted and likely welcome by most passengers, the CDC's cruise requirements seem extreme given the continued increase in vaccination rates and the quick return to some sense of normalcy in most of the country.
It remains to be seen whether these rules and guidelines will be changed once cruising resumes or if the CDC will dig in and enforces the provisions long-term. There seems to be no defined end date or sunset criteria for the requirement that the cruise lines must operate under the Conditional Sailing Order. Hence, it's conceivable that these requirements could remain in perpetuity if the CDC so chooses.
When Will Cruising From The U.S. Resume?
A July return to service from the U.S., the target for most major cruise lines, may be within reach now that the CDC has issued these final pieces of guidance. Despite previously quoting a 60-day turnaround to approve simulated voyages, the CDC now says its goal is to issue approvals within five days of receipt of a complete application.
The biggest tasks the lines face right now are likely the local agreements outlined in Phase 2A of the CDC's guidelines. Assuming they can negotiate those terms with local ports and hospitals, submit the necessary paperwork to the CDC and have it pass muster, cruises from the U.S. just might be on the horizon for the first time in over a year.
READ NEXT: How Princess Cruises Will Change Dining When Sailings Restart