Fun fact: Getting off an in-progress cruise to fly home is kind of a pain in the butt. Not that I would know, because you couldn't get me to leave The Haven mid-trip unless I was being arrested for crimes against dietary restrictions. But unfortunately, Doug was set to leave our cruise early. He would be disembarking on day 5, so today we set things in motion.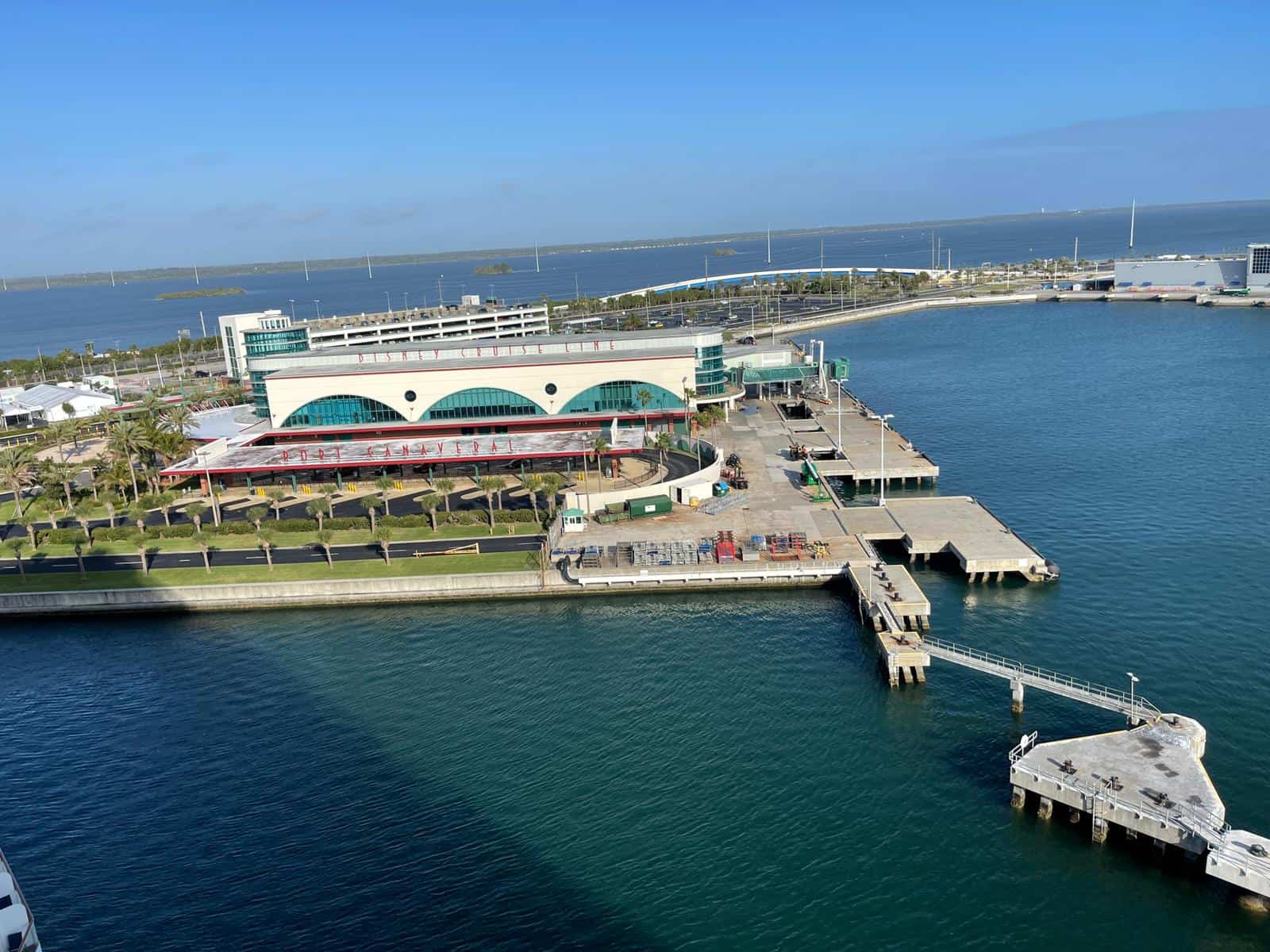 Omar the Magnificent
Guests of The Haven have their very own problem-solver in the concierge. On this particular sailing, our concierge has been Omar and his assistant is Lisabeth, and they are rockstars. Got a problem accessing your internet account? Need a restaurant reservation changed? Having trouble navigating the byzantine process in order to disembark in Nassau? They've got you covered. In this case, it helped that we knew in advance Doug would need to be flying out of Nassau from the moment we boarded the ship, so we had a few days to get things done.
But as Scarlett O'Hara said, we'd think about that tomorrow, because tomorrow is another day. Today there was breakfast to be had and some Florida exploring to be done. Because we're trying to hit as many venues as possible, we made the (painful) decision to skip breakfast in The Haven in favor of eating in the main dining room.
I'll Have My Huevos Ranchero-Style, Please
Getaway has three main dining rooms, but breakfast was being served in… hmm. Either Taste or Savor, which are across from one another and look essentially the same except when it comes to their color schemes. (The third dining room is called the Tropicana room, and it features live music most evenings during dinner hours.)
I've long been a fan of huevos rancheros, but truth be told, I'm more often than not disappointed by what cruise ship kitchens crank out under this name. I've got to give Getaway props, however, 'cause these were delicious and actually had some kick to them. I'd also ordered a second dish (kinda prepared to be disappointed), but it was not delivered. Frankly, I'm glad, because there's no way I'd have been able to eat it!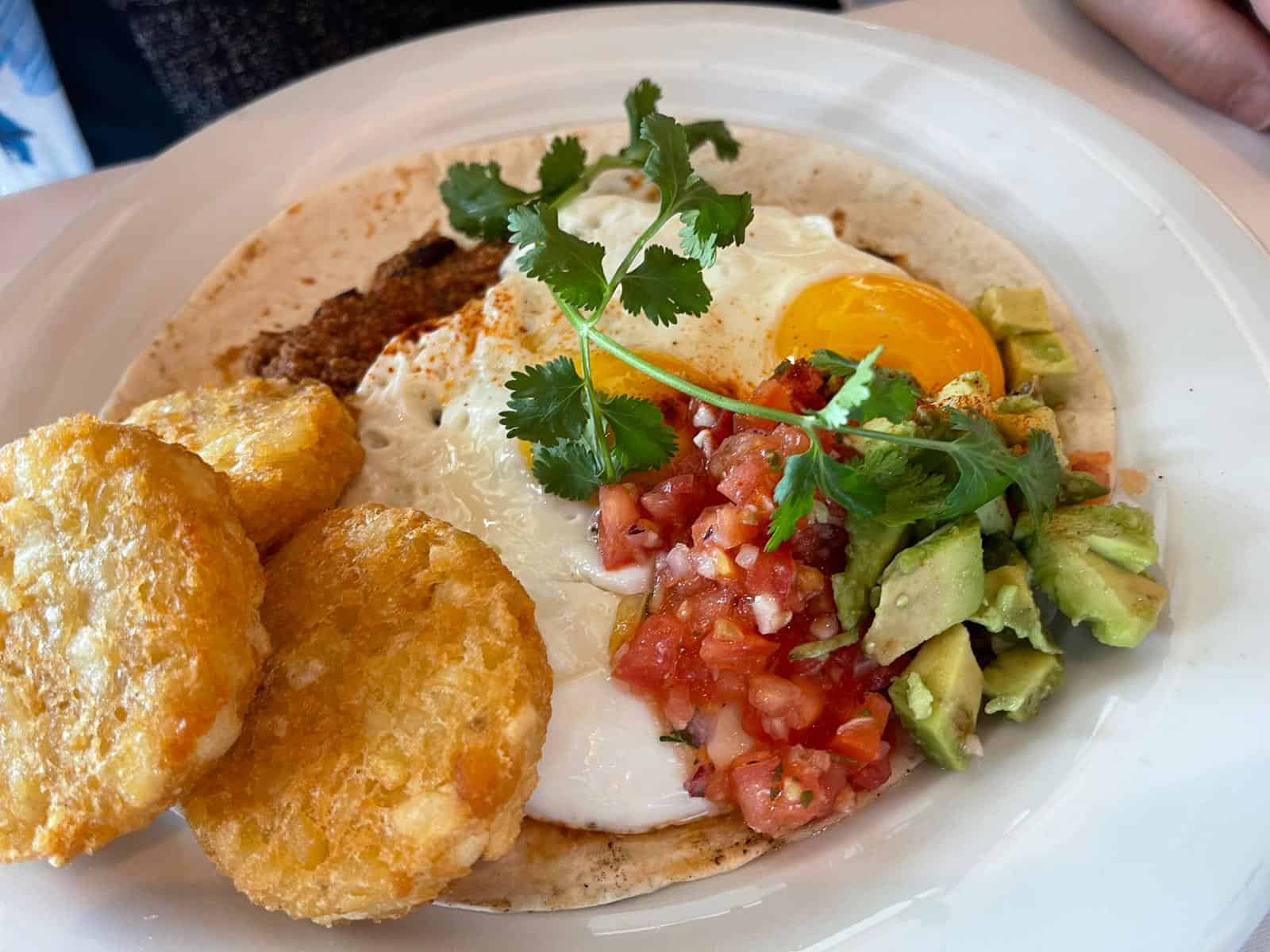 You'll recall that although we were supposed to be at Great Stirrup Cay today, the plans had changed and we'd instead overnighted in Port Canaveral. Because Doug needed to get a PCR test done in order to fly out of the Bahamas the next day, we got off the ship to get a few things done. I'm not really familiar with what's around the Port Canaveral terminal, but he suggested we head over to Grills Seafood Deck and Tiki Bar.
We had a few hours to kill before he could get his test done at a nearby hotel, so we chillaxed with a couple drinks and — what else? — some food. At the recommendation of our awesome server, Deb, I ordered BBQ shrimp skewers, Voo Doo Wings, and giant shrimp which had been butterflied, stuffed with cheese, battered, and fried. The place also has a killer strawberry mojito that I can't recommend highly enough.
Testing 1, 2… Oh, We're Done Already?
Grabbing another Uber, we headed over to the Raddison where a very helpful, friendly, and massively bored young woman named Lisa was actually thrilled to see us as she hadn't had many visitors that day. A few questions, some quick swabs, and $45 later, the test was done and we were on our way back to the ship.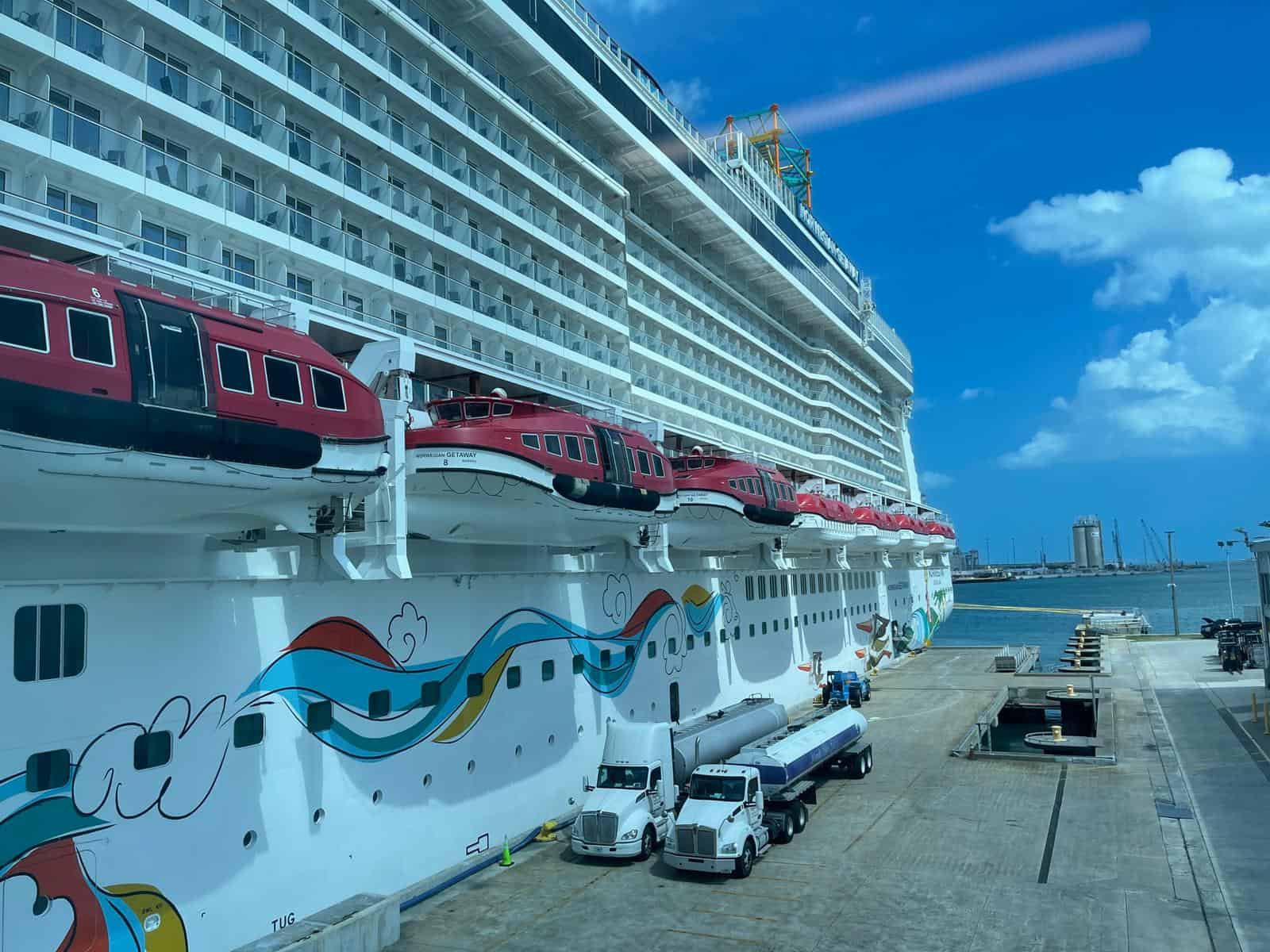 By late afternoon, Getaway was sailing away from Florida and making its way to Nassau. After getting some work done and just generally enjoying the suite, we headed down to 678 Ocean Place for dinner at Ocean Blue, the seafood restaurant. Given the fantastic experienced we'd had at the restaurant's raw bar earlier this week, it's fair to say we had high expectations.
Ice (Bar) Ice (Bar), Baby!
But before heading to the restaurant, we decided to stop at the Skyy Vodka Ice Bar. This is basically a glorified meat freezer where for 18 bucks per person, you can don silly poncho-like hooded parkas, have two drinks (which truth be told, weren't very good), and do what you're really there to do: Take some pics for the 'Gram.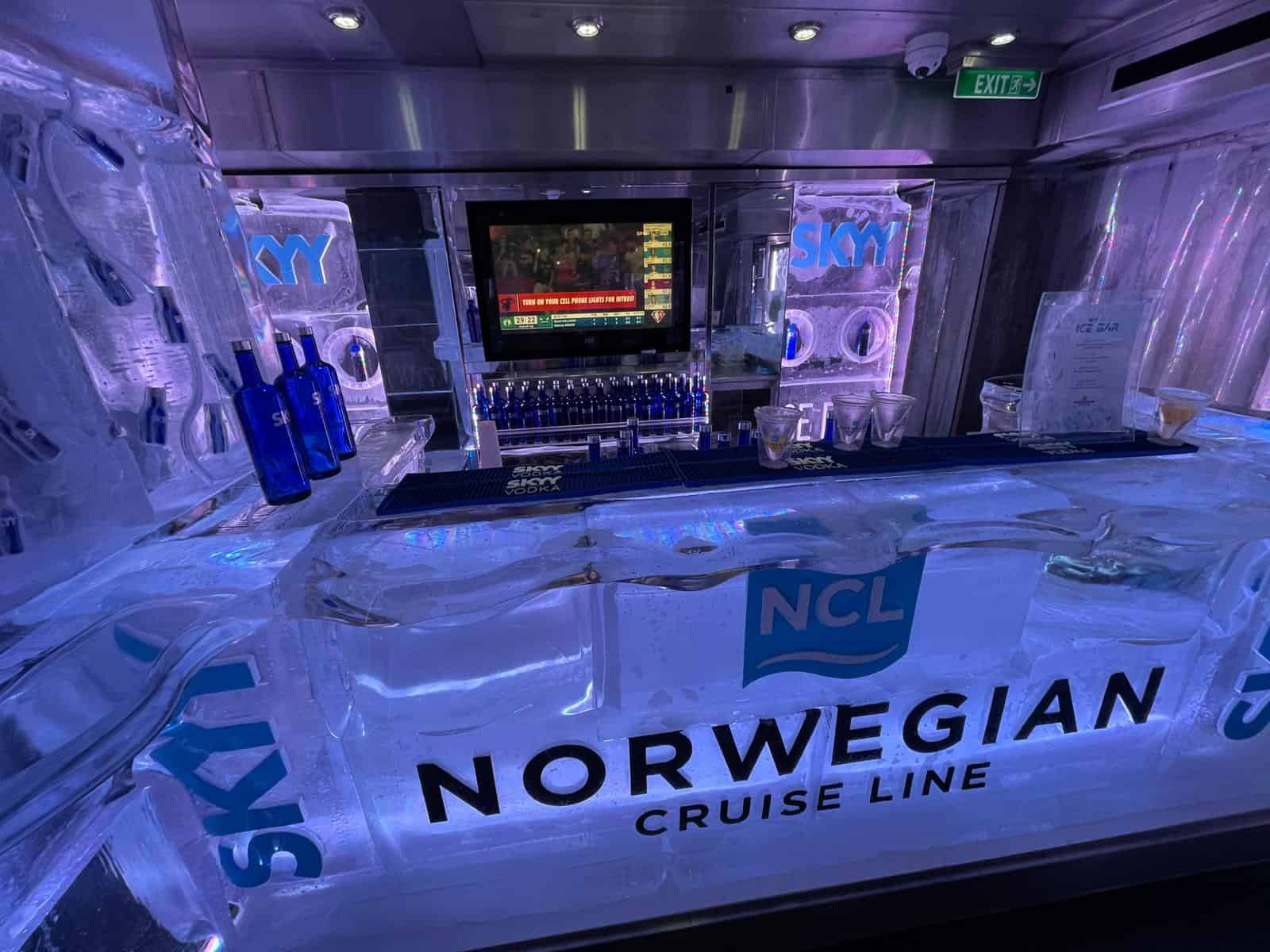 I've done an ice bar before, on Norwegian Breakaway. While both had the same basic set-up, that ship's ice sculptures were more fun, given that they featured New York City landmarks like the Empire State Building and a literal big apple, both in keeping with the ship's theming.
With Getaway originally built to sail out of Miami, I was curious to see what statues would be carved out of ice. Turns out, it was more generic, with an ice throne, a couple of benches, and a pair of wings carved into the ice which allowed you to pose as an angel.
Nothing particularly striking, but it was fun to freeze our butts off and get some fun shots. The crew members staffing the ice bar were a lot of fun, taking photos for us and making jokes the whole time. We didn't have a reservation, which is recommended, but they squeezed us in anyway. (We had the entire ice bar to ourselves.)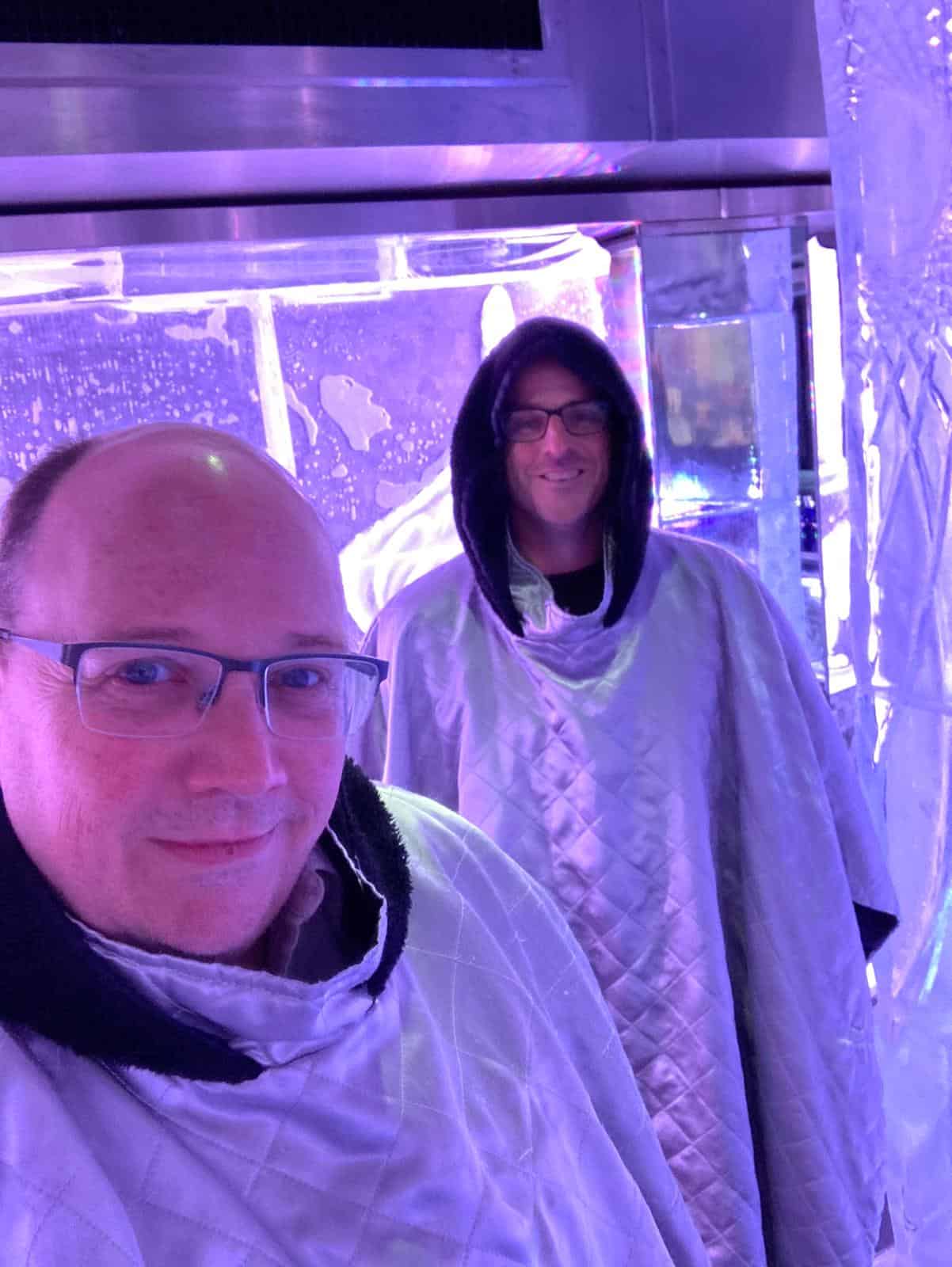 MORE: 9 Cruise Concepts That Didn't Quite Catch On
Something Fishy
I've sailed a few ships which feature Ocean Blue, but have never eaten there. It's odd… I always say that I'm not really a seafood person, and yet I always wind up enjoying seafood. It's all about the ordering, as it turns out. When I was on Mardi Gras back in December, I did a terrible job of making selections and walked away largely unhappy with the meal. I was determined not to make the same mistake at Ocean Blue.
That said, I'm wondering if it's even possible to pick something bad at Ocean Blue. I started with blazing shrimp, which was served over some type of coleslaw and made an amazing starter. For this course, Doug had the scallops sitting atop pork belly, and man, was it melt-in-your-mouthy.
Next up, I strayed from the seafood to have a delicious gumbo. It was far different than the amazing gumbo served at Mardi Gras' Emeril Lagasse venue, but layered and spicy and delicious nonetheless. Doug went with the more traditional (in a seafood venue anyway) clam chowder. Must have been good, because he all but licked the bowl clean.
When it came to the main course, I was torn. I considered going with something basic that I 100 percent knew I'd enjoy, the fried fisherman platter. But after a quick consult with our server, I instead went with something a little more risky, the Hong Kong-style snapper. Turned out to be a fantastic choice — perfectly cooked fish that was beautifully tender, and a soy-ginger lime broth.
If you know Doug at all, you can probably guess that he went with the surf-and-turf. It had an upgrade charge, but with onboard credits to burn, that hardly mattered. Dessert-wise, we split a cheesecake-in-a-jar type thing that was both delicious and overkill, given how much we'd eaten all day.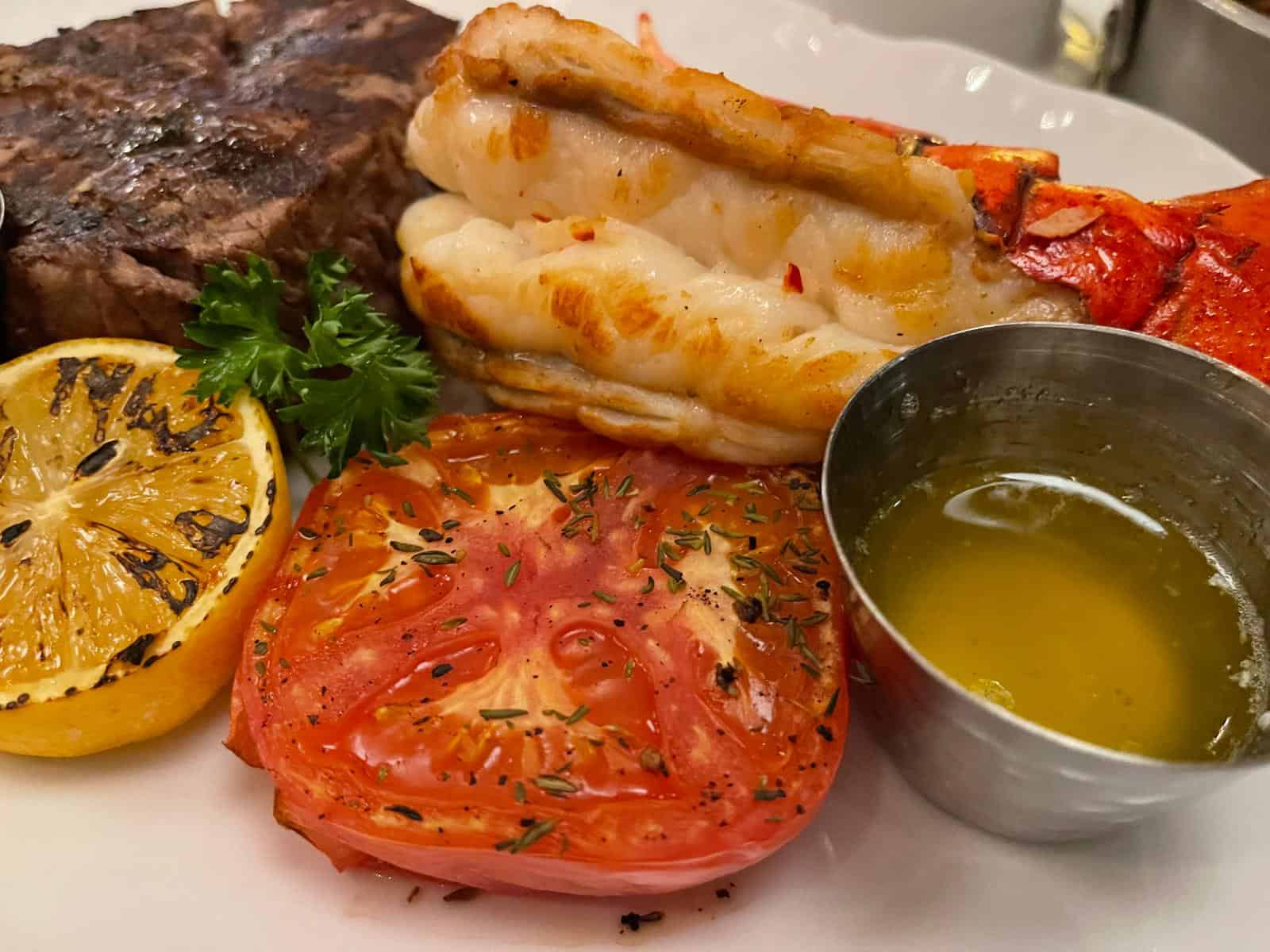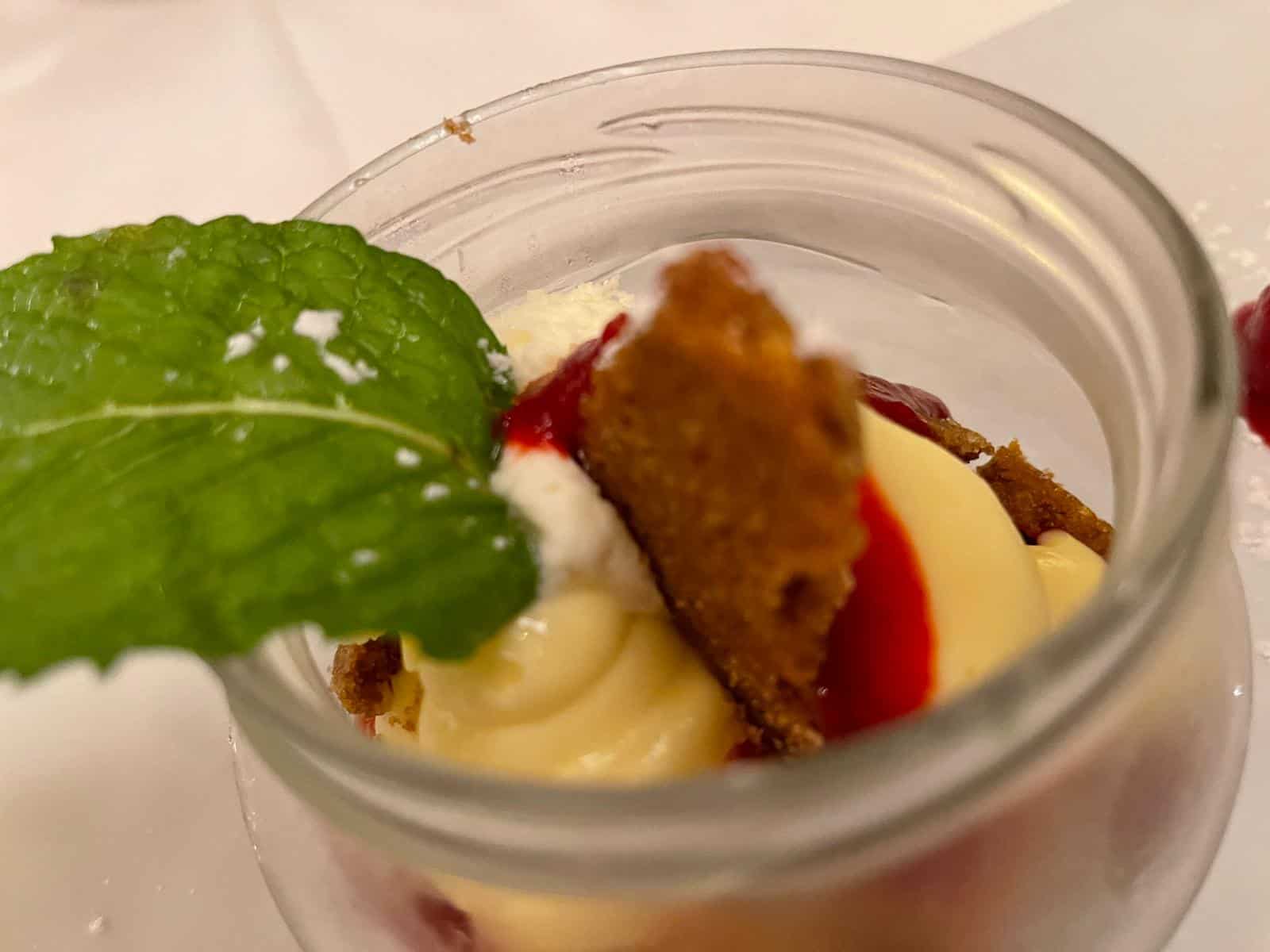 Spin… The Sky Wheel!
I haven't spent nearly as much time in the casino this trip as I have on other cruises. (Remind me to tell you about the time I spent 14 straight hours on a Lock-n-Link machine… ) After dinner, we headed down to play a little. We started on one machine where we lost about 25 bucks pretty quickly. We then shifted over to one of the Crazy Money Deluxe machines. A lot of people mistakenly think these are called Sky Wheel because if you trigger the bonus wheel, a deep voice commands you to "Spin the Sky Wheel!"
I'm not kidding when I say that Doug got something like 14 Sky Wheels in about 20 minutes. At first, we were playing 60 cents a spin, so it wasn't like we were rolling in the dough. But eventually, we started playing the max bet of $3 dollars and had gotten our initial investment up to $250. Doug, being the practical one, kept suggesting we cash out. But I'm not a "quit-while-you're-ahead" kind of person… which, come to think of it, explains a lot about my life.
Anyone who's ever gambled with someone who plays by my "rules" knows how this story ends. We rode high and then we crashed-and-burned. But we had fun while it lasted. And that's always my thing: I'm pretty sure I'm not going to win a jackpot or even walk away with a dime in my pocket. All I ask is that the machine lets me play for a while. And we played for a couple solid hours.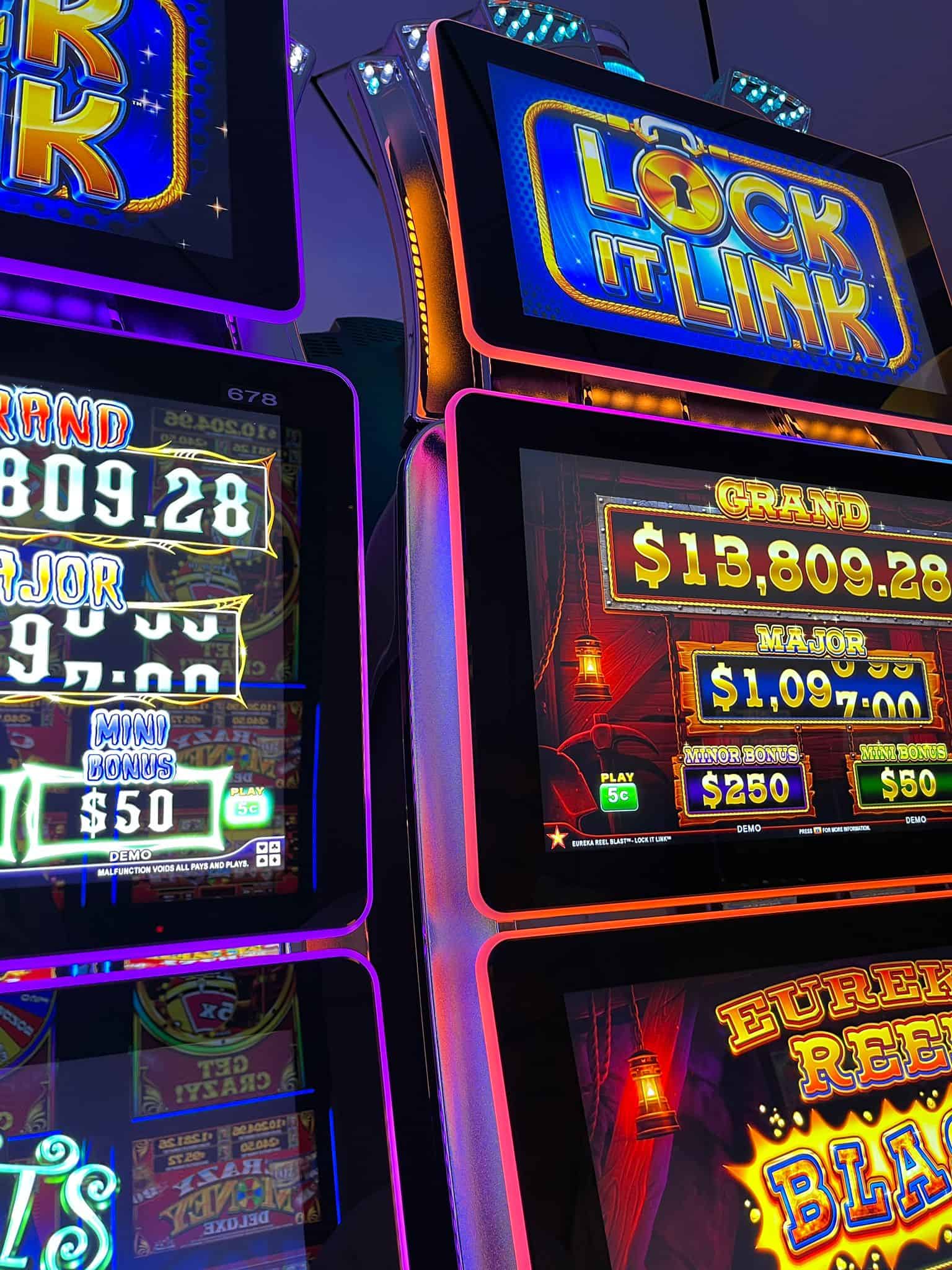 After that, we headed back to the suite so Doug could pack, because he was disembarking when we arrived in Nassau. But hey, you've still got a few more days with me, and I'm sure we can find some trouble to get into, right?
Read my other Norwegian Getaway trip reports: