We'd skipped Norfolk because of rough weather, and over the course of the night, things only got worse. By the time I woke up the next morning, we were sailing through very choppy seas and the ship — especially the front of the ship, which is where The Haven is located — was definitely doing some rocking.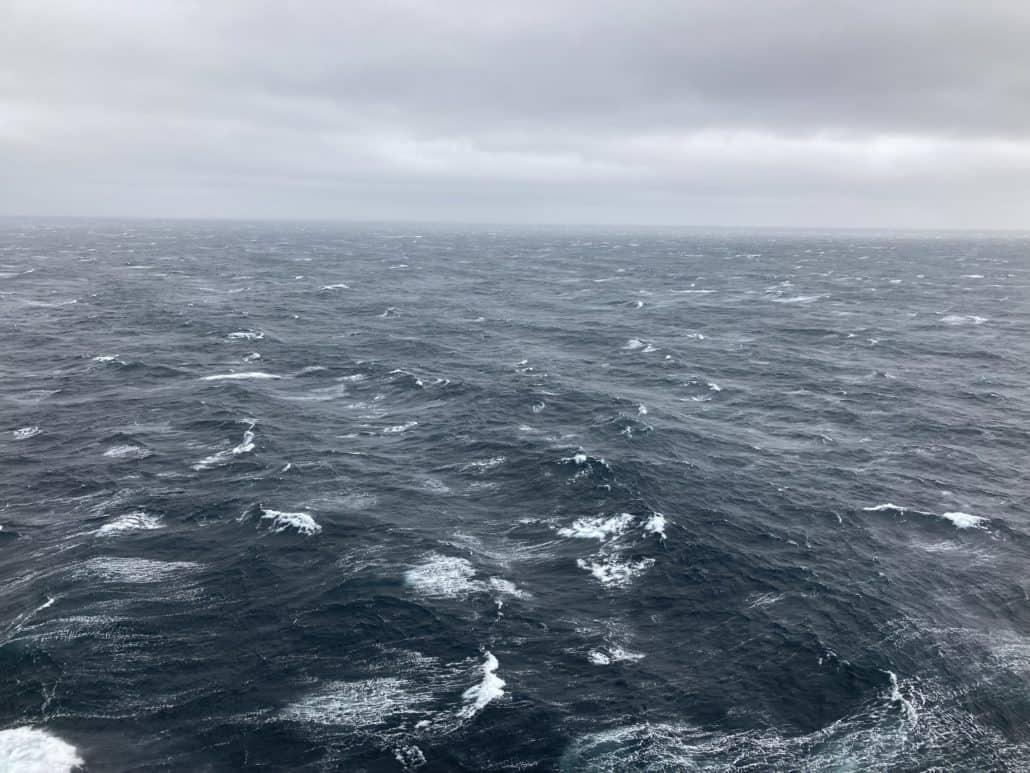 Don't Come Knockin'
You know how on the last day of a cruise, you run around like a madperson, trying to squeeze in as much as you can? You want to hit the restaurant you haven't eaten in, the bar you haven't drank in, the show you didn't get to see. You want to hunt down and thank/tip the crew who went out of their way to make your vacation awesome, and make sure you settle that bill so you can walk off the ship debt free in the morning. (Or, if you're one of those people, spend a couple hours in the line at Guest Services to have the gratuities removed.)
Yeah, I wasn't doing any of that on the final day aboard Getaway. Mainly because I was feeling pretty queasy.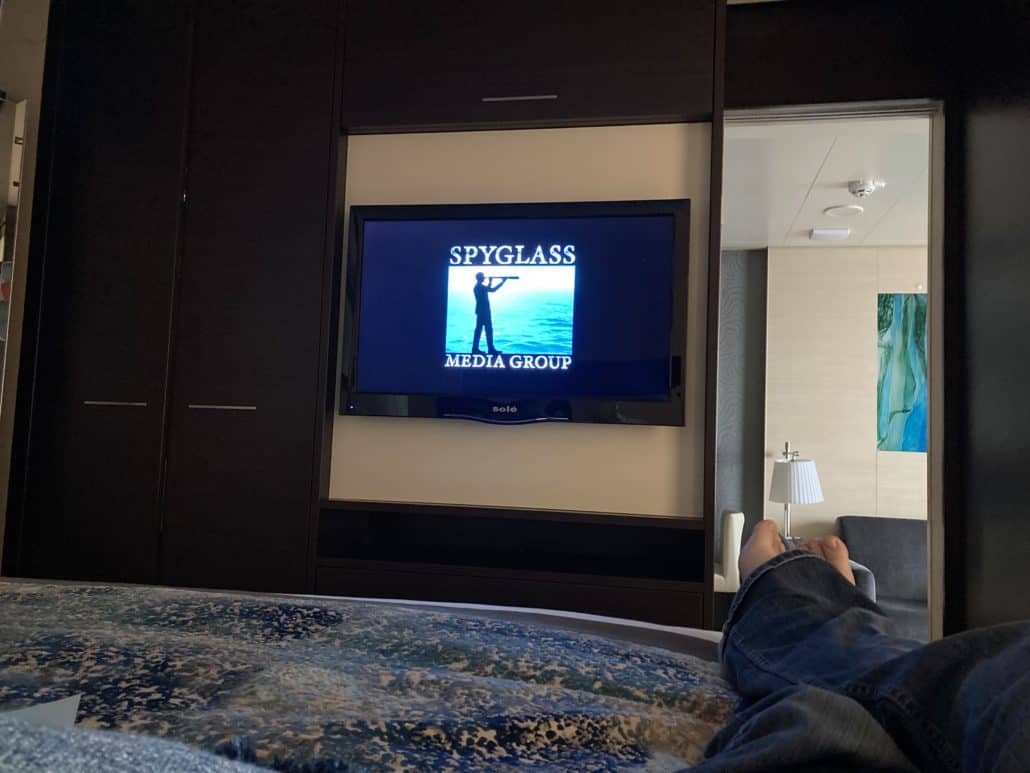 I almost never get seasick. I think it happened once before. But for whatever reason, today I was definitely feeling it. So I opted to lay in bed and sleep through a couple movies until midday. At that point, I started thinking about the best way to combat my seasickness. A ship is like a gigantic see-saw, meaning that the front and the back experience more motion while the center remains the calmest place available.
As it happens, the casino is right in the center of the Getaway, so I figured I'd head there. And guess what? As I sat playing one of my favorite machines, I felt less movement and, before long, much better. (I'm suddenly realizing that a whole lot of ships have casinos in the middle, and maybe we've just figured out why!)
Hangin' With the Gals
You'll recall that earlier in the week, I met three lovely ladies hanging out in The Haven lounge. Coming back from the casino, I was happy to see them sitting in their usual spot — a large, comfy couch in the lounge — and joined them for a while. After a drink or two, it was time to head to my room to start the packing process.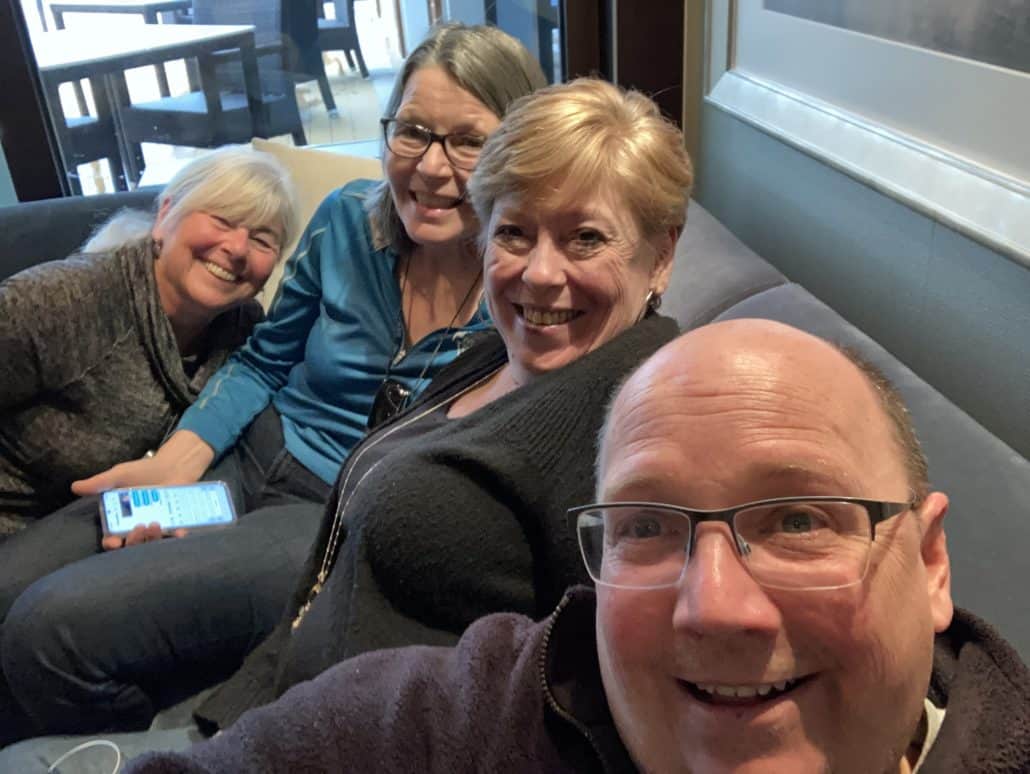 If there's one good thing about packing at the end of a trip — as opposed to the beginning — it's that I don't feel the need to fold things neatly. Shove it all in the suitcase and pray that it'll zip closed.
The Last Supper
I have a tradition that I think I've maintained on every sailing I've done: On the final night, I have dinner at the steakhouse. It doesn't really matter what cruise line or ship I'm on. If there's a steakhouse — and there's always a steakhouse — that's where I'm eating the last night. This was no exception.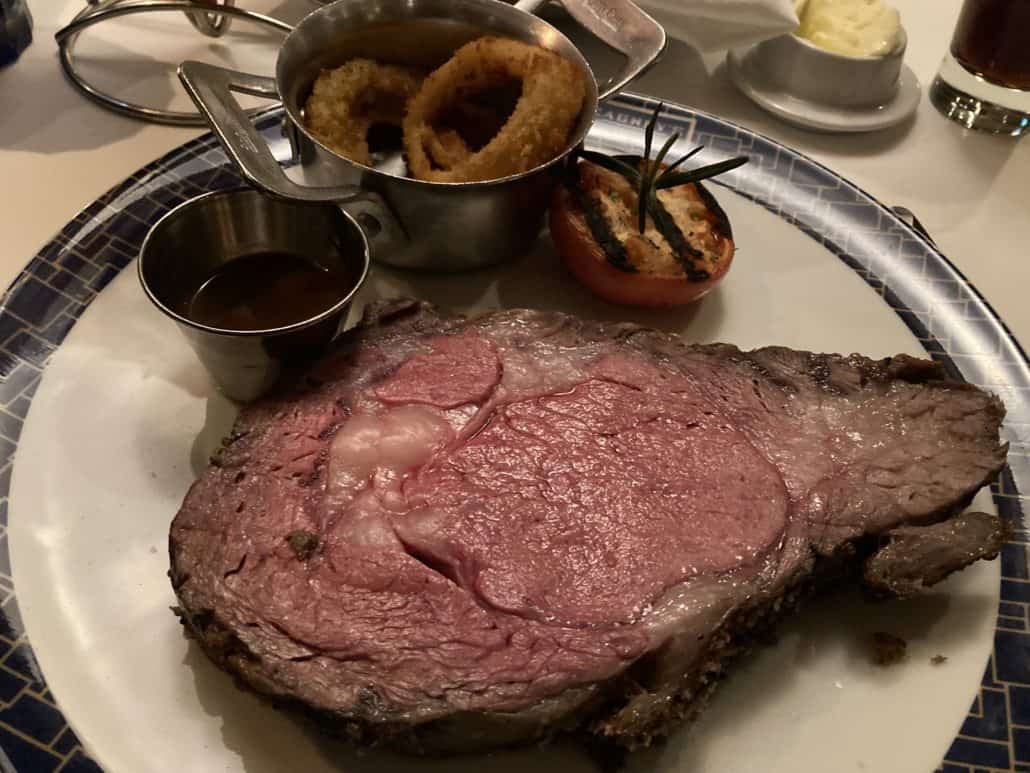 What was a little bit different is what I ordered. Normally, I do what one does in Cagney's: I order a steak. But when Doug and I ate here earlier in the week, we saw a waiter walking by with the prime rib and it looked so amazing that tonight I went that route. And man, I did not regret it a bit.
The ladies I'd been hanging out with earlier were also in Cagney's that night. They invited me to join them, but as I was just sitting down and they were already at dessert, I opted to eat by myself. As I've said before, I don't have a problem with this at all… I'm a big people watcher. And I kinda loved that as I left the restaurant, I noticed that the women had joined a group of men at another table. There was much smiling and laughing and it was clear they were having a fantastic final night, too.
MORE: Overview: Cruise Line Stock Benefits for Shareholders
The Real World
After dinner, I returned to The Haven, sitting in the lounge to have one last drink and soak it all in. This was, as you know if you've been following along, my first experience in The Haven. I've been sailing Norwegian Cruise Line for years, but had never ponied up the cash (or, in this case, future cruise credits) to stay in the exclusive area. Was I glad I did? Without a doubt. Will I do it again… well, we'll discuss that in tomorrow's final post, in which I sum up my thoughts on that very topic.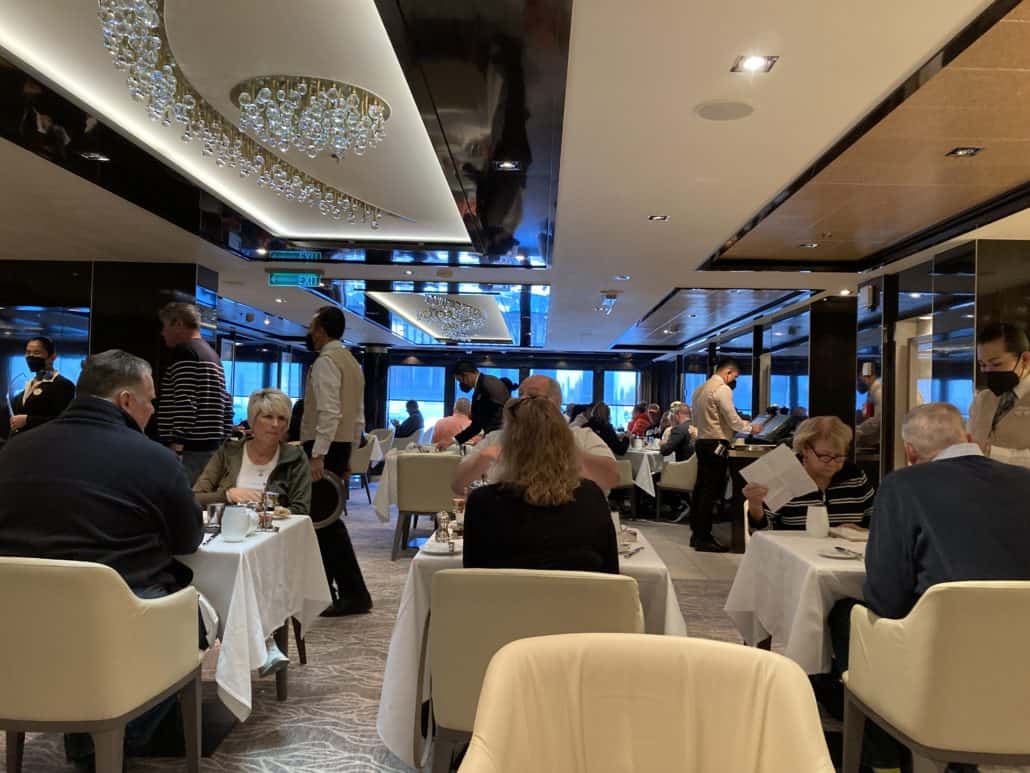 But for now, I'll end with the final moments of this particular sailing. I woke in the morning to find we'd docked, but the ship had not yet been cleared for disembarkation. With time to spare, I went to The Haven Restaurant for one last breakfast, this time trying the Eggs Benedict.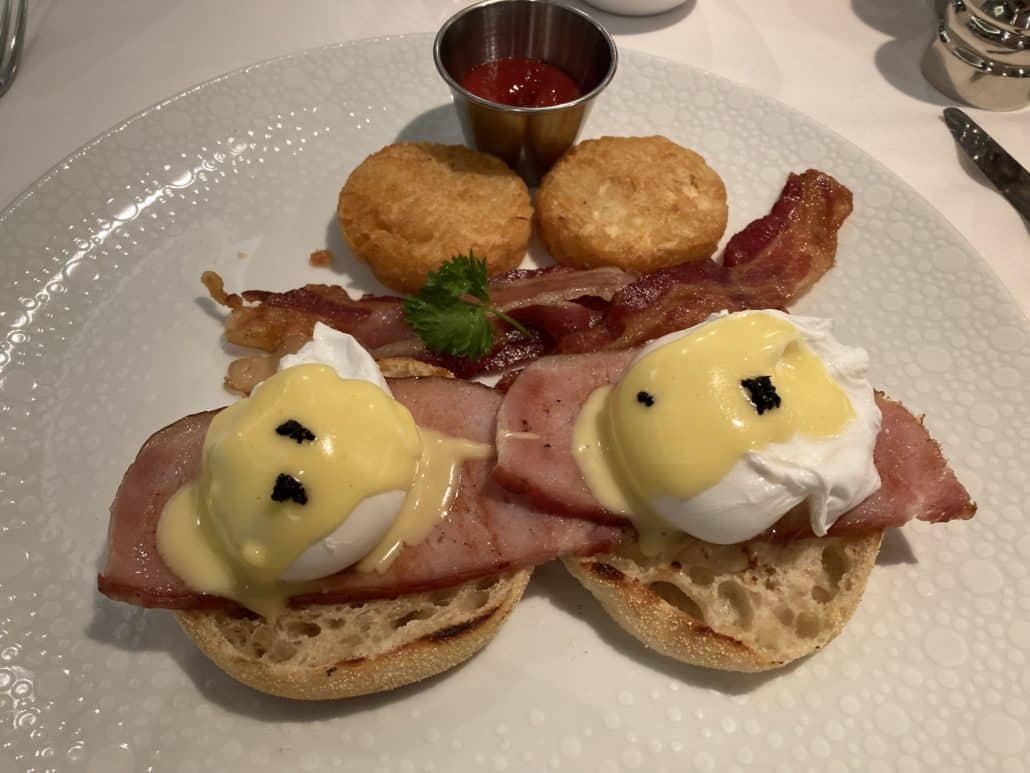 Not surprisingly, the restaurant was jumping, as it seemed everyone booked into The Haven was enjoying one final meal there. I wound up having to wait for a table, but this was no hardship, as there was plenty of room in the lounge. Then, while those who weren't staying in The Haven were being hustled out of their rooms (while at the same time being told not to get in line for disembarkation lest it create chaos), my butler suggested I simply hang out in the suite until I was ready to leave. And when that time came, Omar escorted us down to the disembarkation point, allowing us to avoid the general madness.
A few minutes later, I was through customs (thank you, facial recognition software) and in the back seat of the car which I'd arranged to take me back to the real world. Once there, I intended to quarantine for a few days, just to be on the safe side. (I'm happy to report that when I did one final test before joining my household three days later, it was completely negative.)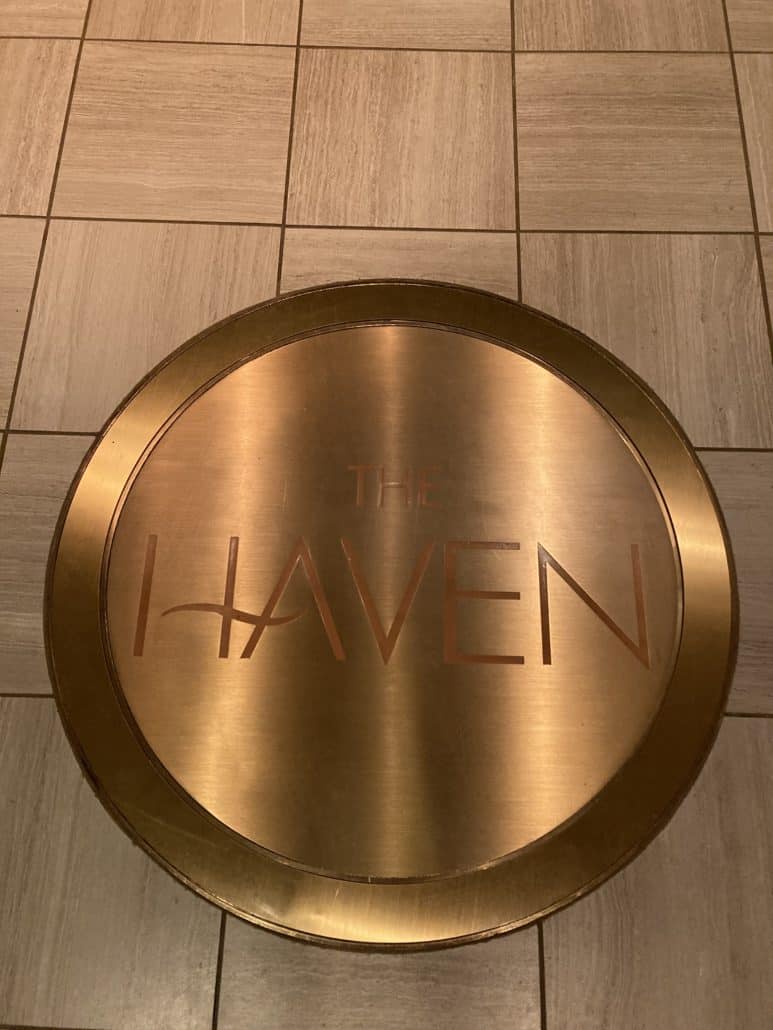 The biggest disappointment would come the next morning, when there was no one to bring me coffee, make my bed, or leave a bowl of gummy bears on the counter. I'd been exiled back to normal life, as we all are eventually. And while that was the end of my trip, it's not the end of the journey you and I have been on. Because tomorrow, we'll take one final look back to discuss the pros and cons of The Haven in general and whether, ultimately, I found it to be worth the money.
Read my other Norwegian Getaway trip reports: