You might recall that we ended yesterday's trip report with a bit of a cliffhanger. And indeed, in today's report, things get turned upside down. But that's a bit later in our story, so this is the part where television shows flash the words "6 Hours Earlier" on screen…
If you've read trip reports in the past — whether my own or those written by others — you probably know that a few days in, things get a little bit… lazier. The first day or two on board you're running around exploring, excited about everything, eating and drinking too much because you're like the kid in the candy store. (If you have a butler like ours who brings bowls of gummy bears and M&M's, that last part is sort of literal.)
Wasted Days and Wasted Nights
But by the third day, you're settling into a pattern. A wonderful, awesome pattern, to be sure, but one that makes it almost difficult to write a trip report. Why? Because things are starting to blur together. "Wait, where did we eat today? What new drink did I try?"
As problems go, it's a good one to have. As a writer attempting to cobble together a trip report, maybe not so much. But just when I thought I'd have nothing interesting to say, along came a development that changed everything. More on that in a moment…
But first, another shout-out to our butler, who once again started the day with a delivery of fresh coffee and almond croissants. You know how people rave about Carnival's Warm Chocolate Melting Cake, or the pretzel rolls you find in various restaurants on Norwegian ships? They're the (food) stuff of legends, with experienced cruisers telling newbies "You absolutely must try this." Well, add the almond croissants to the list. I'm not sure if they're available outside of The Haven, but if they're not… have someone smuggle you one out. Seriously.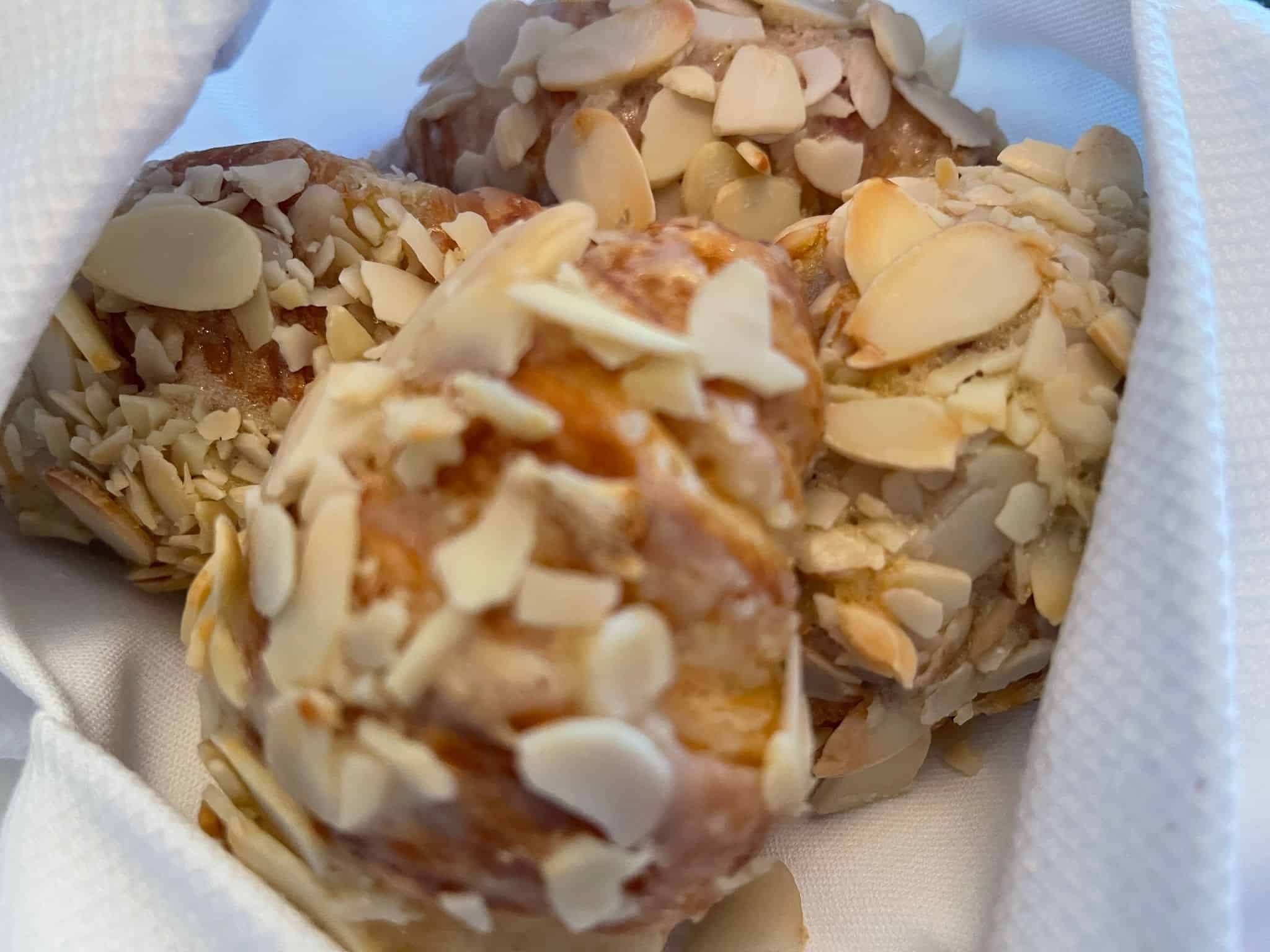 If you've been following along on this particular voyage, you learned in yesterday's entry that I've basically been eating my way from one end of the ship to the other the way Hansel and Gretel did the witches house when they found out it was made of candy. I'd love to say that today was the day I woke up and smelled the inevitable weight gain, but all I could smell was breakfast.
Change is In The Wind
Ever since we left New York City, we've been sailing directly into really, really heavy winds. You can hear it howling at all hours of the day and night. What's kinda cool is that our balcony seems somehow protected, and we've been able to sit out there any time we wanted… as long as you stay within the invisible boundary created by the railing. Stick your head over it, and if you have a hat on… well, you won't in a few seconds.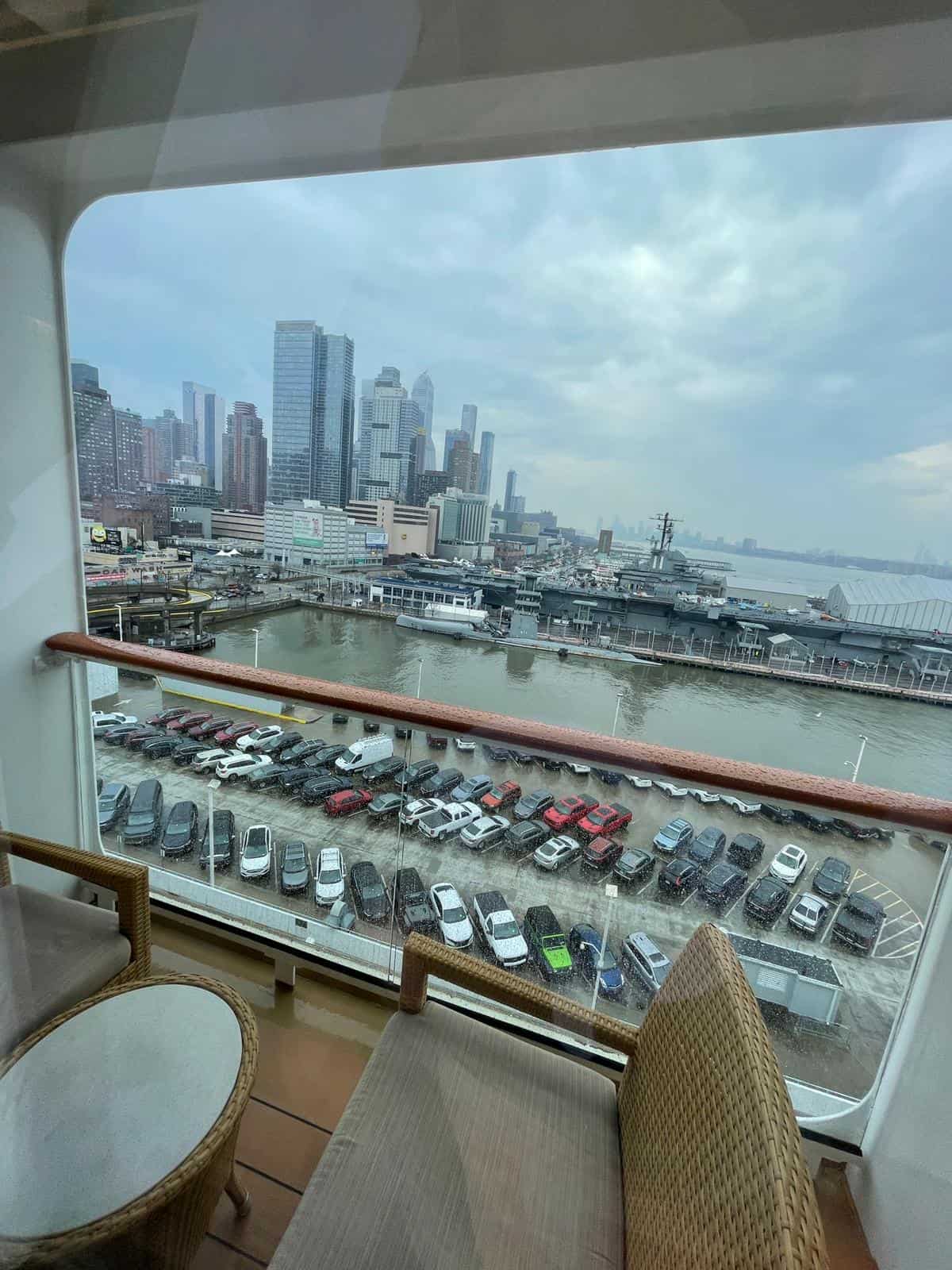 We were scheduled to arrive in Florida in the early afternoon. But as we sat in The Haven restaurant waiting for breakfast, the captain came over the PA system. Doug and I looked at each other, pretty sure this wasn't going to be good news. I think we both thought, "Ugh, there's a COVID outbreak." These days, how can you not? But instead, the captain explained that the headwinds had majorly slowed our progress toward Port Canaveral. As a result, we wouldn't be arriving in Florida until around 4 p.m.
"Okay," I thought, "no biggie. I wasn't really planning to do anything there anyway."
But then came the bigger news: We would be overnighting in Port Canaveral, leaving around 4 p.m. the next day. That meant we would not be going to Great Stirrup Cay.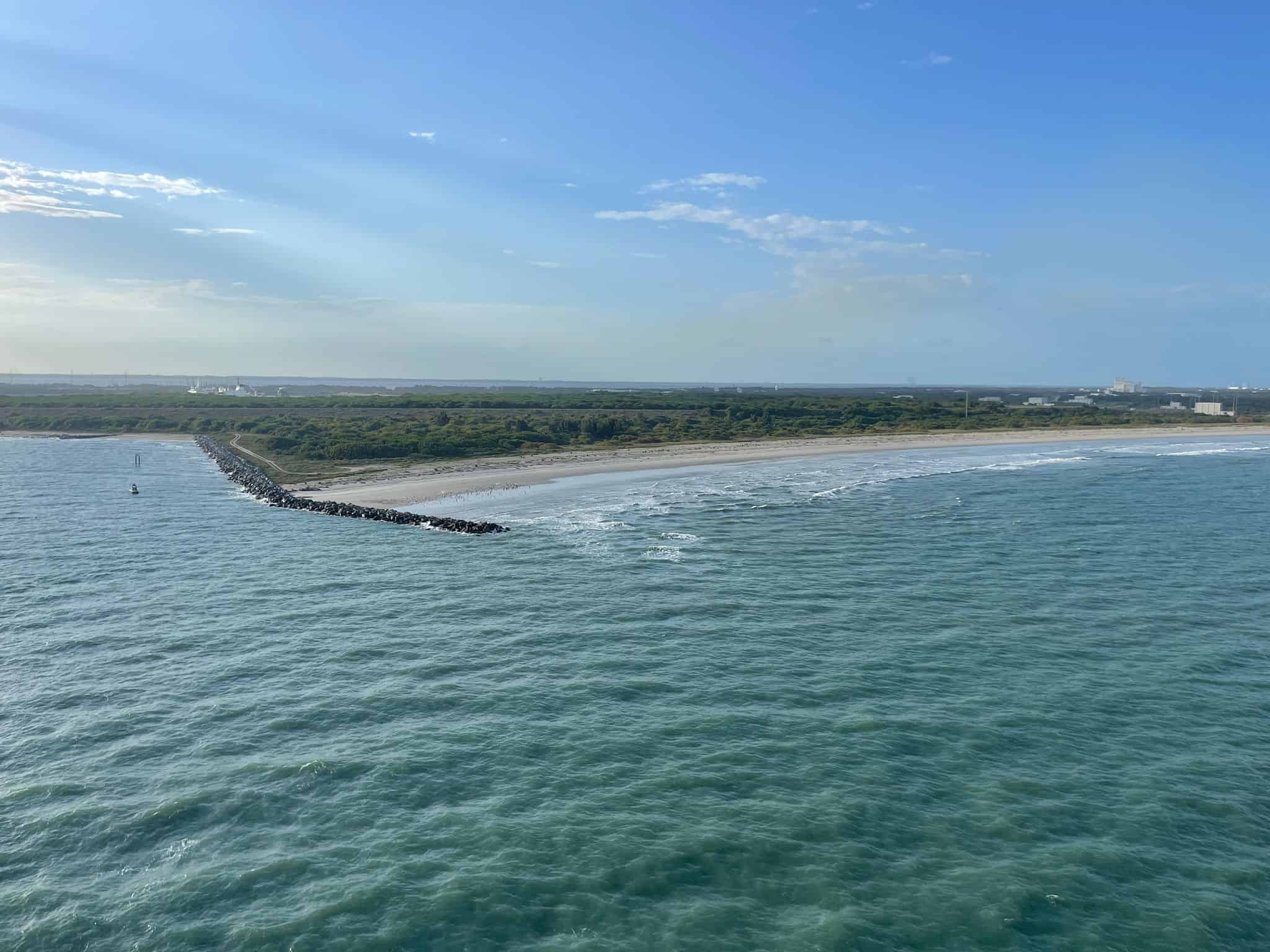 Bummer, Dude
I always say that I don't much care where a ship goes as long as I'm on it. That was definitely true of this sailing… although I do love Great Stirrup Cay. It's just a beautiful spot and a highlight of nearly every cruise I've done out of New York City. But a few moments later the waitress put a plate of steak-and-eggs in front of me and I kinda forgot about the whole "not going to the island" thing.
Others on board were… how to put this? Not having the same laid-back reaction as Doug and I. One woman I've been hanging around with was so sad that a friend bought her a bottle of champagne to ease the pain. (I ran into her later in the casino and darned if she didn't assure me she'd put aside her sorrow and chugged that bottle like the true heroine I immediately sensed her to be!)
More of Me
Eventually, it hit me that if we were going to be staying in Port Canaveral over night, that meant the casino would be closed for about 24 hours. Insert the words "beep beep" and me making like the road runner to get in some slot machine action before we exited international waters. At one point, while playing video poker at the casino bar, I wound up talking with the woman on the barstool next to her… and her husband… and the lady down the bar… and a guy who'd been drinking with them the night before.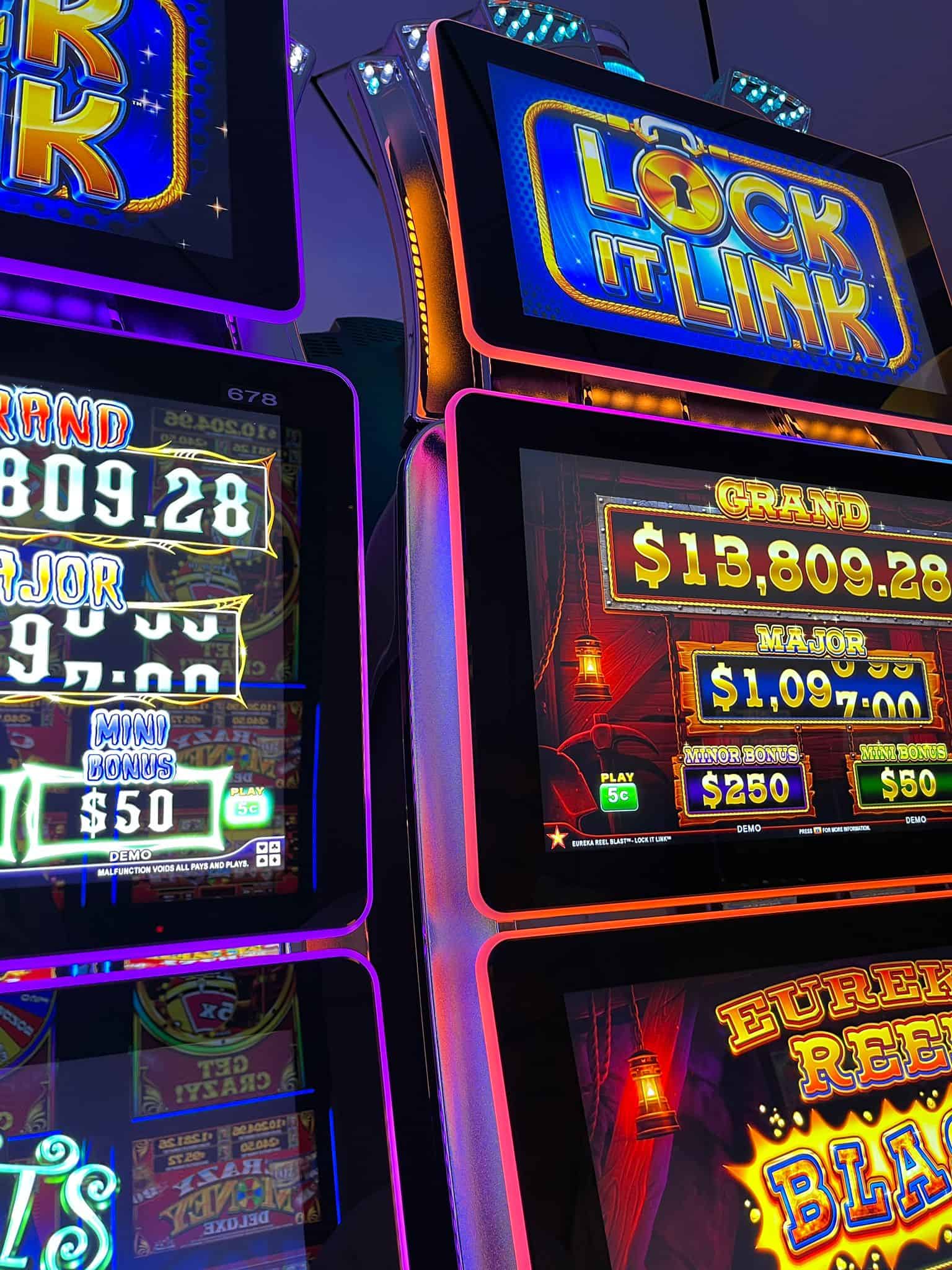 I love, love, love "cruise me." At home, I don't interact with people much. But put me on a ship, give me a drink and I'm everybody's friend. (Occasionally, even with people who don't necessarily want to be pals.) Earlier in the week, I met a lovely trio of ladies hanging out in The Haven lounge. When I joined them for a while this afternoon, they shared some truly hysterical stories involving ex-husbands, new loves, friendships, and, of course, past cruises. Meeting new people — most of whom you'll likely never see again once the cruise comes to an end — is for me a true highlight of cruising.
MORE: 12 Things to Know Before Sailing Norwegian Cruise Line
Meat Sweats, Party of Two
The afternoon is a bit of a blur, filled as it was with drinks, snacks, and the inevitable nap or two. But eventually, it was time to — come on, you know what's coming — eat. But the big question was where? We didn't have a reservation, but knew that wouldn't really be a problem given how empty the ship is. After grabbing a couple drinks at the outdoor branch of Syd Norman's Pour House, we eventually settled on Moderno.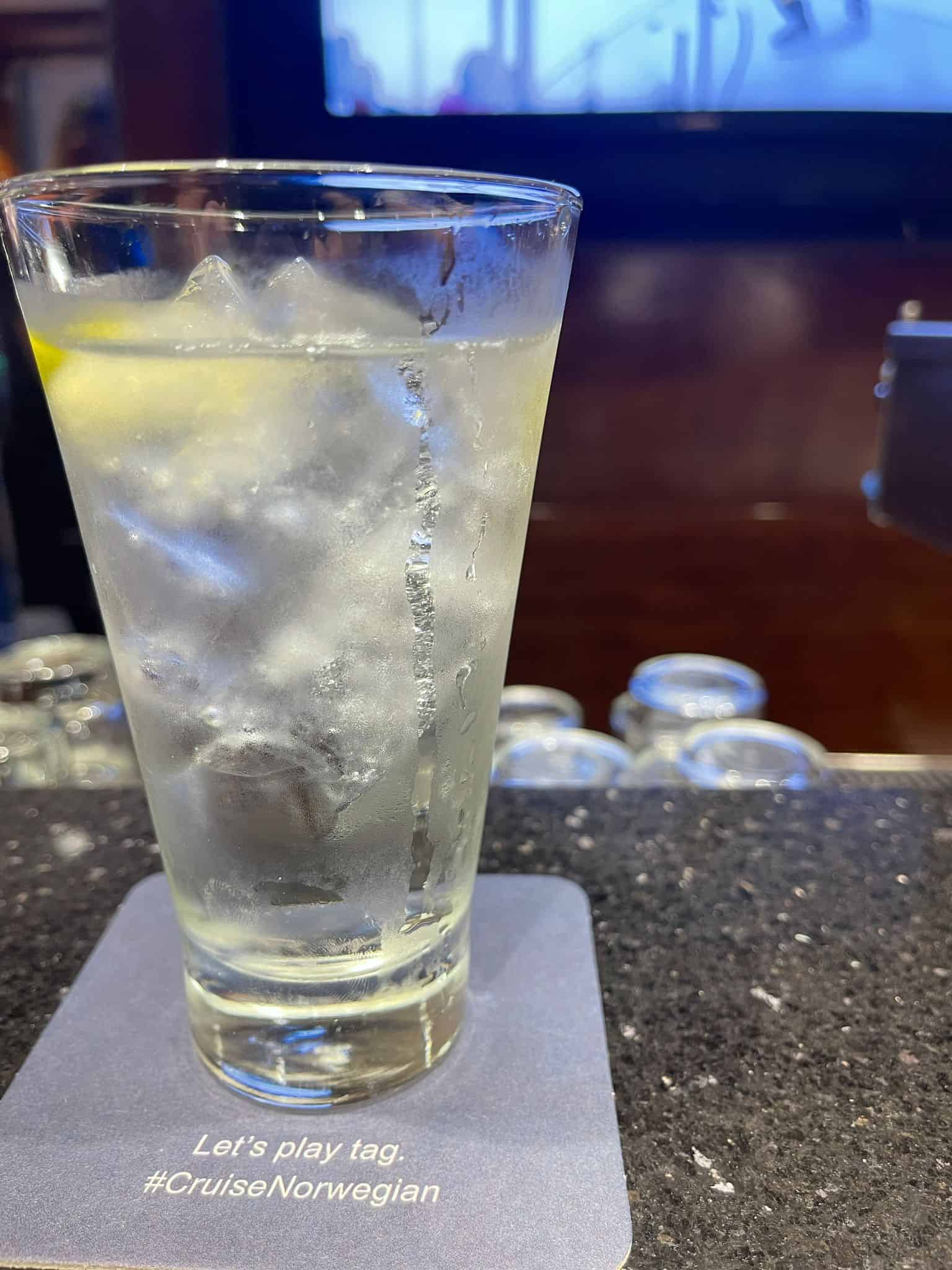 Now, for those who don't know, Moderno is a Brazilian steakhouse, also known as a churrascaria. While I'm not sure what the literal translation of the word is, I'm pretty sure the loose translation is "Meatsfest." You start with a ginormous salad bar, after which the real fun starts as waiters come around with giant swords and slice off slabs of pork, beef, chicken, and even grilled pineapple. They give you a little coaster which is red on one side and green on the other. Want the meats to keep coming? Leave your coaster green-side-up. Need a break (or just plain giving up)? Flip it to red.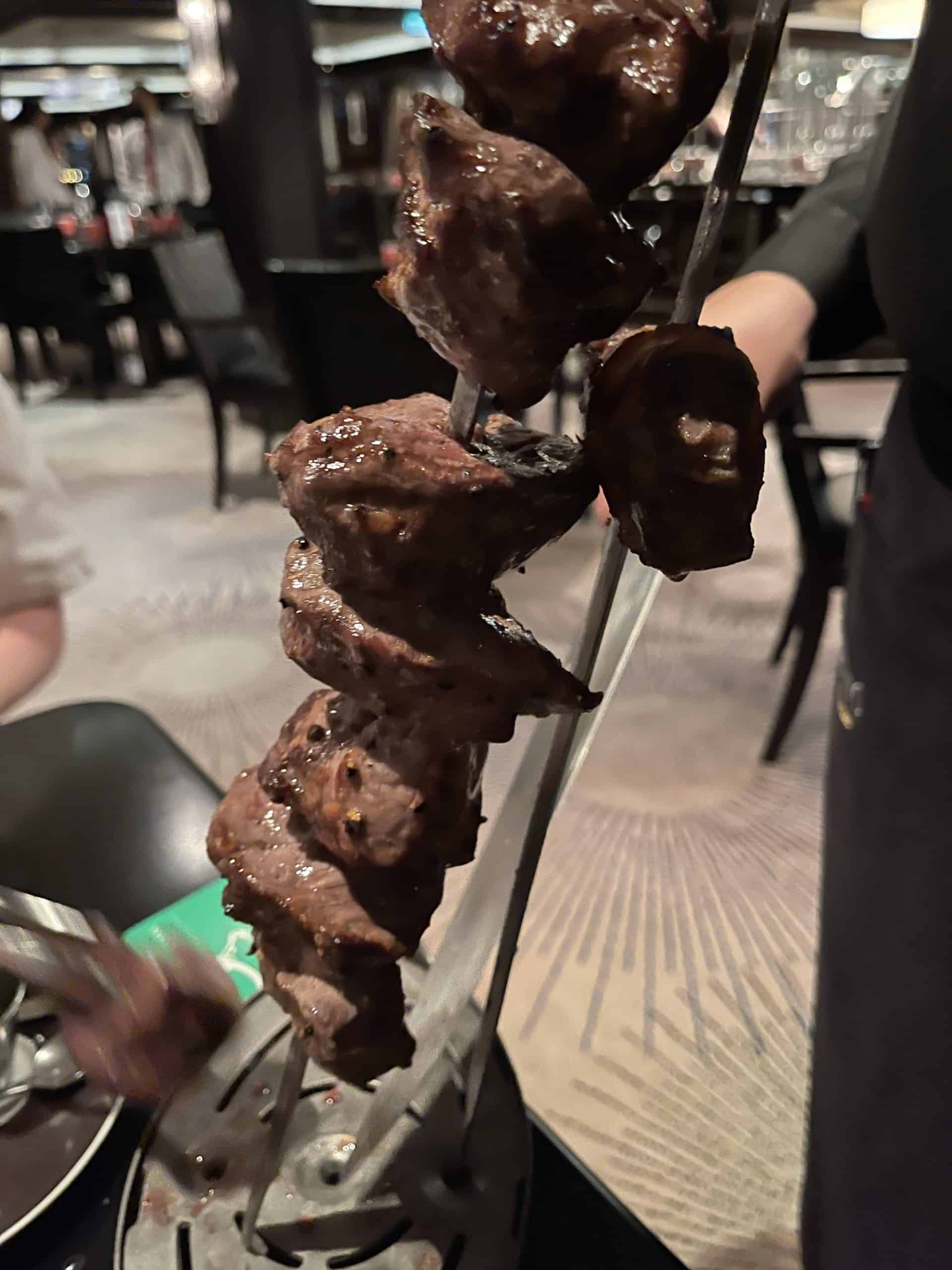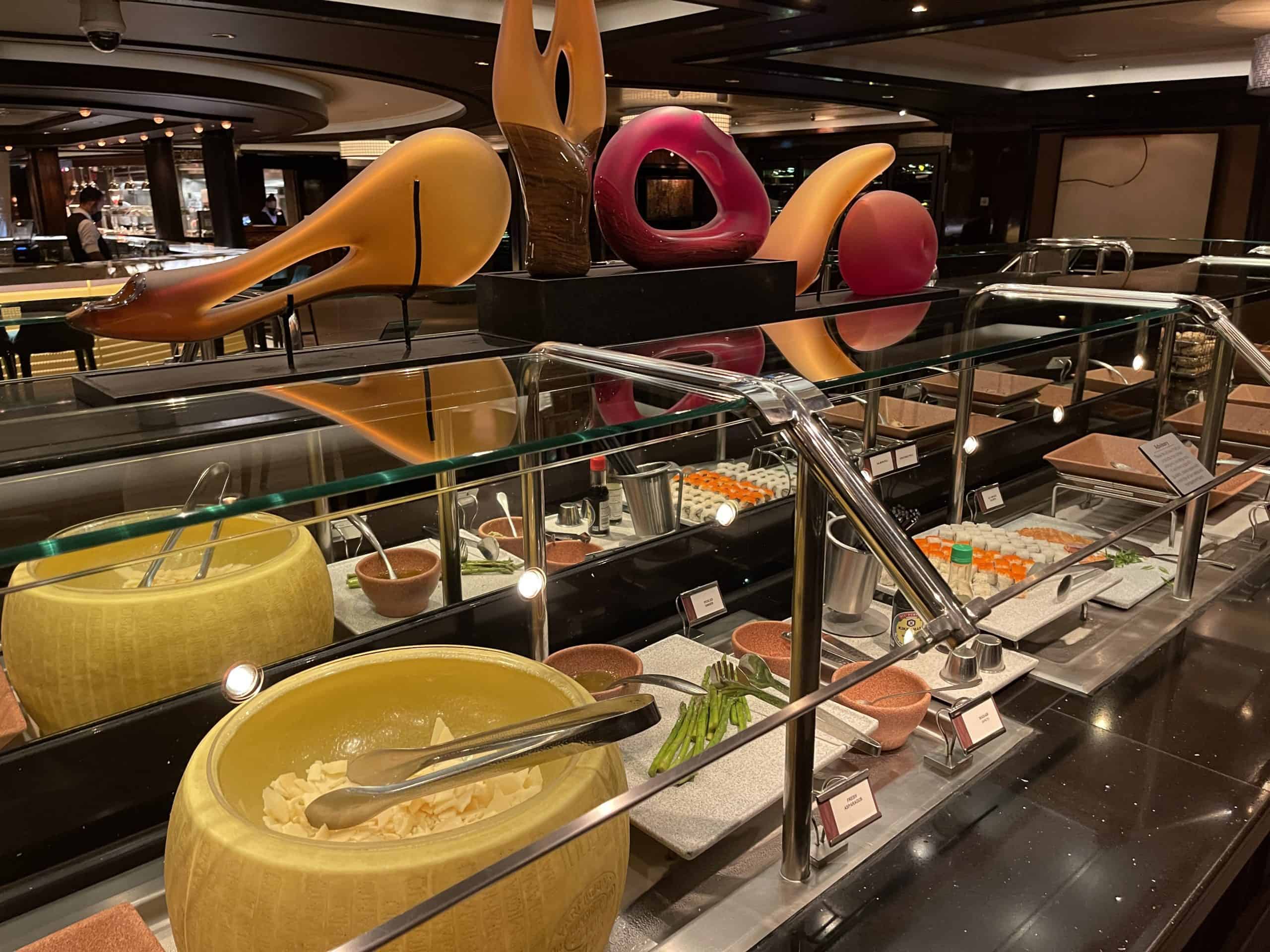 As if that's not enough, when you've finally thrown up the white flag — er, red coaster — they then suggest you have dessert. Despite both being full-to-bursting, we took this as something of a challenge. Next thing we knew, there was a bowl of rice pudding and an amazing banana tart-type thing sitting in front of us… for about 12 seconds.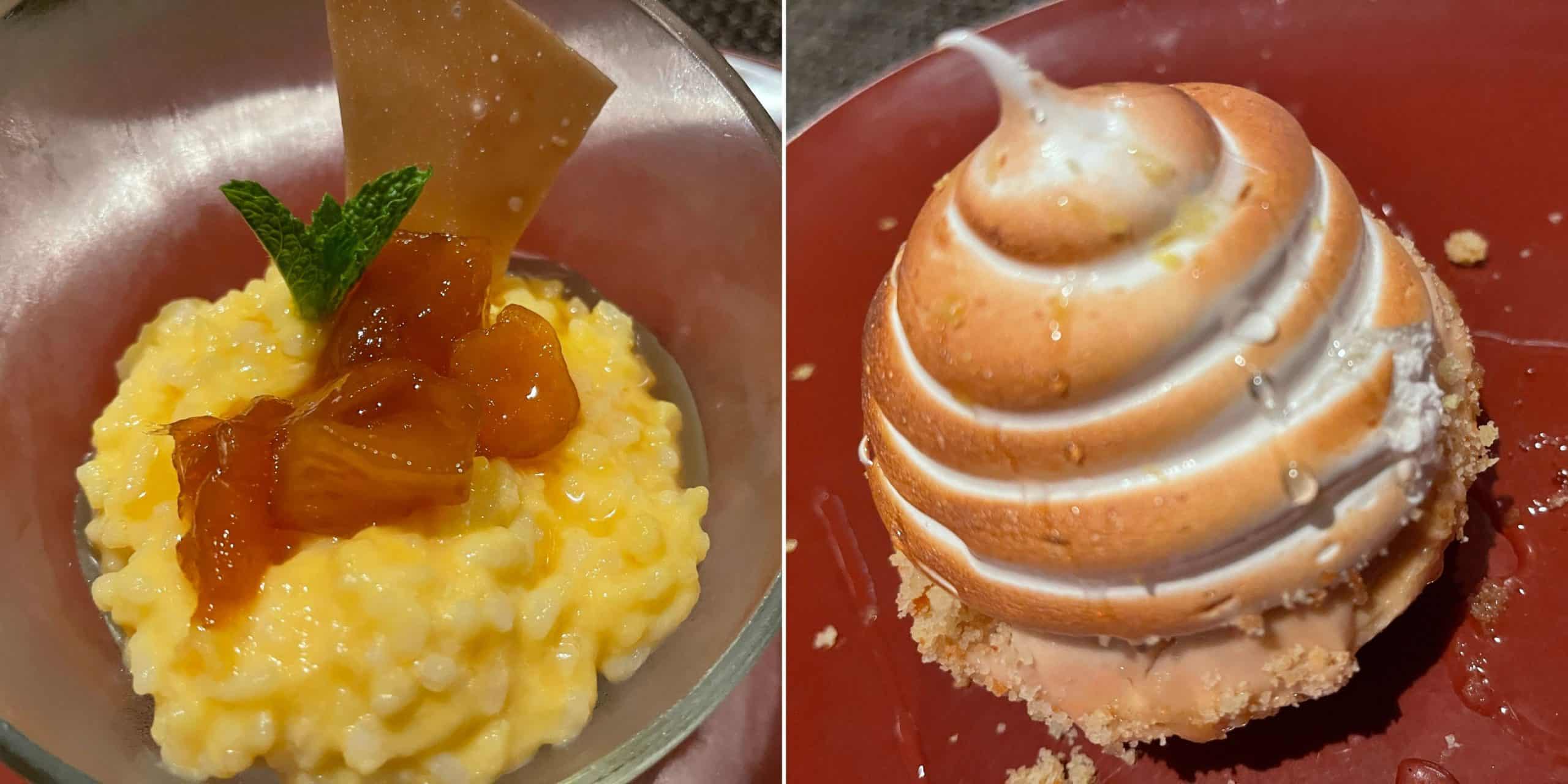 I had high hopes that I might wander the ship and take in some of the music going on at various venues, but it's sort of impossible to do anything but seek a place to lie down after consuming 12.6 pounds of meats. So we headed back to the suite and pretended to work for a few minutes before giving in and wandering to our rooms to crash.
Tomorrow is… well, more Florida, since we're overnighting there. But I'm sure I'll find some way of keeping y'all entertained. Maybe I'll eat something…
Read my other Norwegian Getaway trip reports: