I've done more sailings on Norwegian Cruise Line than I have any other, mainly because they have ships sailing year round out of my homeport, New York City. But one thing I've never done — until this week — is enjoy a sailing in The Haven.
A First Time for Everything
For those not in the know, The Haven is Norwegian's ship-within-a-ship concept. Or, as my friend Charlie (who loves nothing more than mocking everything about cruising) likes to say, "It's the fancy-pants area where you will never, ever go."
Well, joke's on him, 'cause this trip I ponied up the cash to book myself into a two-bedroom villa in that exclusive area. Given that I had that extra room, I invited your friend and mine, Cruise Radio's own Doug Parker, to join me. He, too, had never sailed The Haven, so I figured this would be an interesting experience for us both.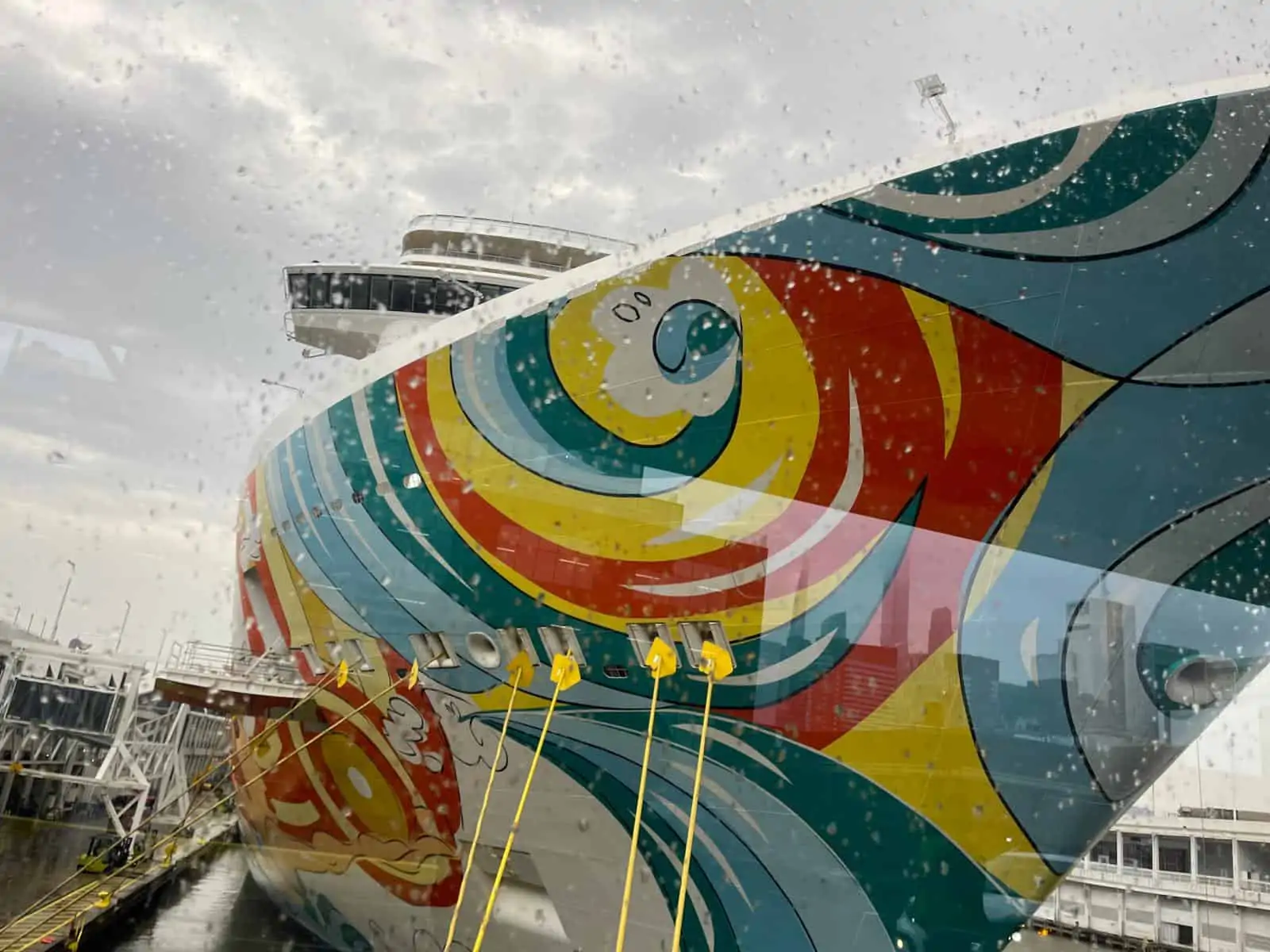 I'd actually booked this particular ship ages ago, but in a balcony. When I saw that Haven suites were priced lower than I'd ever seen them before, I called my travel agent and, before I could think twice, said, "Let's make it happen!" I'm not sure which I feared more: That I'd regret spending the money, or that — as everyone warned — I'd love The Haven so much I'd never be able to go back to "regular" cruising.
About 10 minutes after arriving at the New York City terminal, it started to become obvious that the latter was true.
Right This Way
As soon as we walked into the terminal, we were directed to a special line which allowed us to breeze through security. We were then escorted to a room filled with comfy chairs and various snacky bits. As we happily munched, a Norwegian representative came over to check us in (we literally didn't get out of our chairs), take our photo, and say someone would be right with us.
A few moments later, one of The Haven staff had us gather our things and follow them. We were taken straight onto the ship and to our muster station. Once they scanned our cards, the escort then took us into a special elevator which whisked us straight up to the 16th floor, where we entered the heart of The Haven. We were introduced to the concierge, told our room was ready, and offered more drinks and snacky bits.
At this point, I should mention that snacky bits play a major role in The Haven experience. Within our first few hours on board, we were brought a bowl of fruit, gummy bears, M&Ms, and a huge cake to mark the day on which my mother brought me into this world. (I didn't really want people knowing it was my birthday, but… well, my awesome travel agent whispered into the ears of the Norwegian gods, then arranged for the stateroom to be festooned with banners, balloons, and the aforementioned cake.)
So far, so good.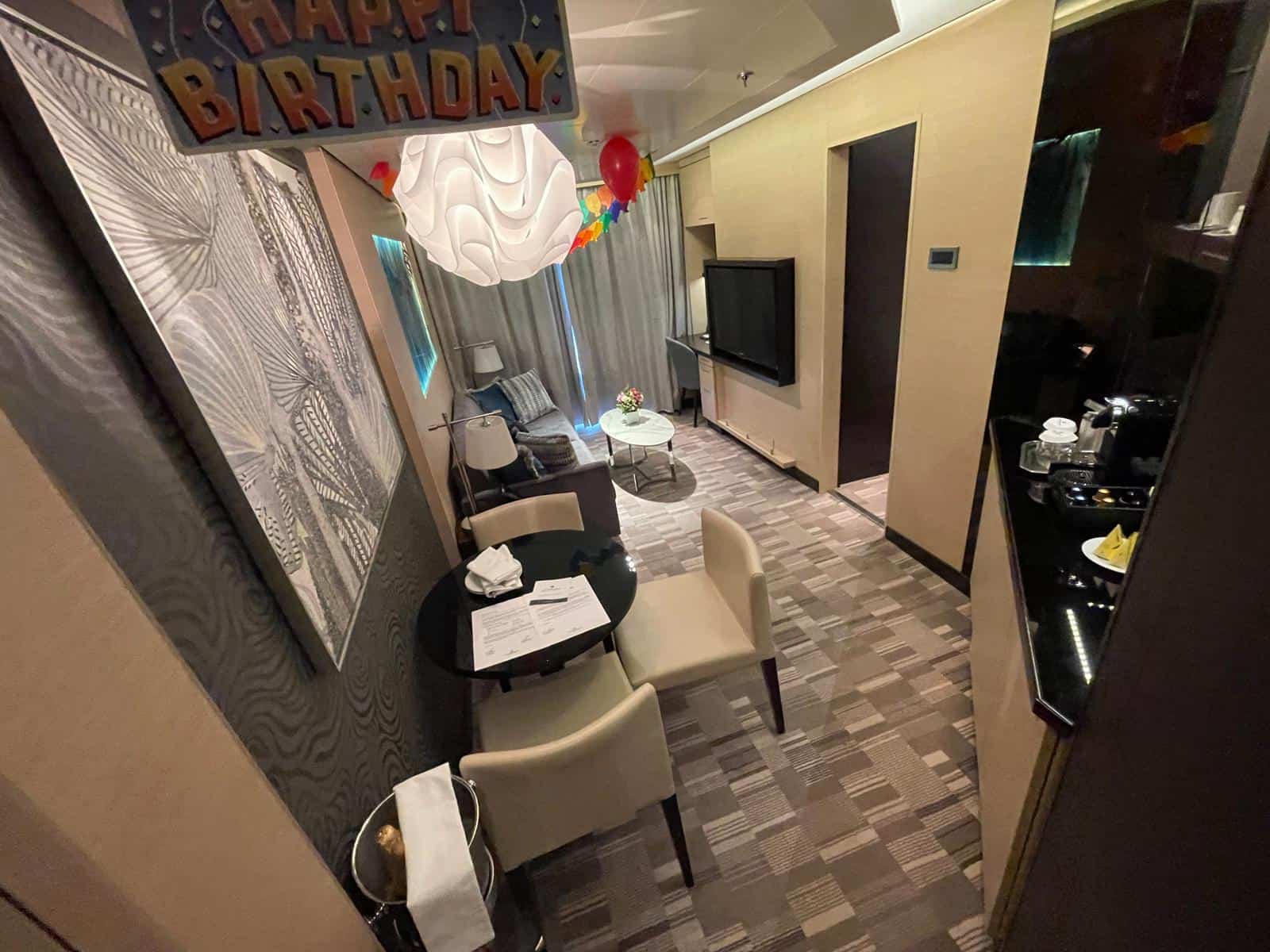 Home Away From Home
What you'll find in The Haven area varies from ship to ship, but on the Getaway there's a private bar with a nice lounge; a courtyard with a pool, two hot tubs, and a variety of very comfy seating; a sundeck overlooking the pool; and a restaurant. All of these are available only to guests of The Haven, and a special keycard is required to gain access to the area.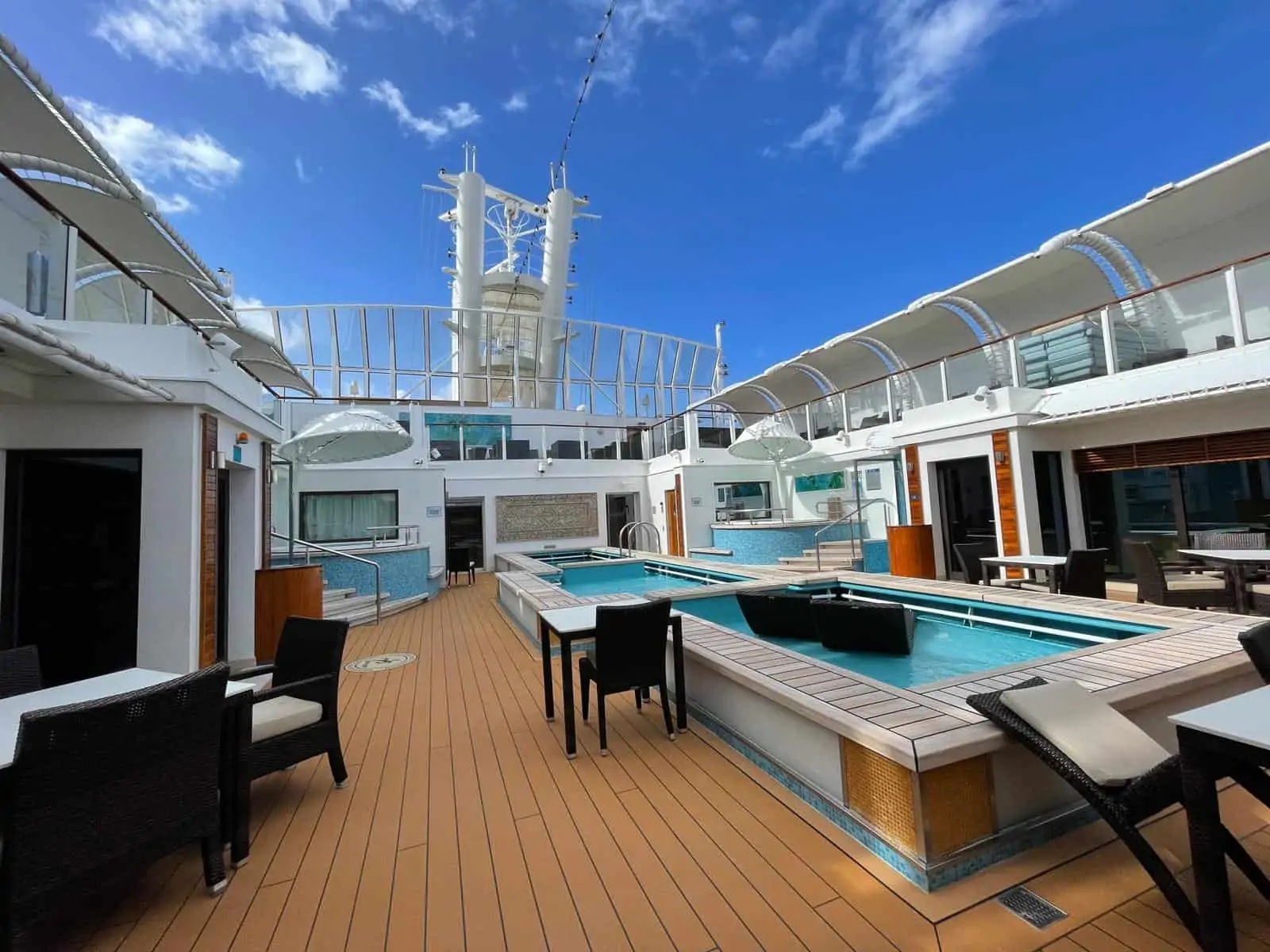 As for the two bedroom suite, it's a very nice space. The front bedroom is definitely on the small side, but it's perfect for a single guest or for kids. The couch unfolds into a bed, and the room has plenty of storage as well as its own full bathroom with a shower (no tub).
The main living area features a small dining table with three chairs, a counter area with an espresso/coffee maker, and a cabinet with wine glasses, coffee cups, etc. The living room has a comfy couch (which folds out into a bed, meaning you could sleep six people in the suite, but it'd be tight), a TV (there's also one in each of the bedrooms), a very nice desk (with too few outlets, especially for the modern traveler), and a coffee table.
The master bedroom has a big, comfy bed — and it's actually a big, comfy bed, not two smaller beds pushed together. No annoying middle crack!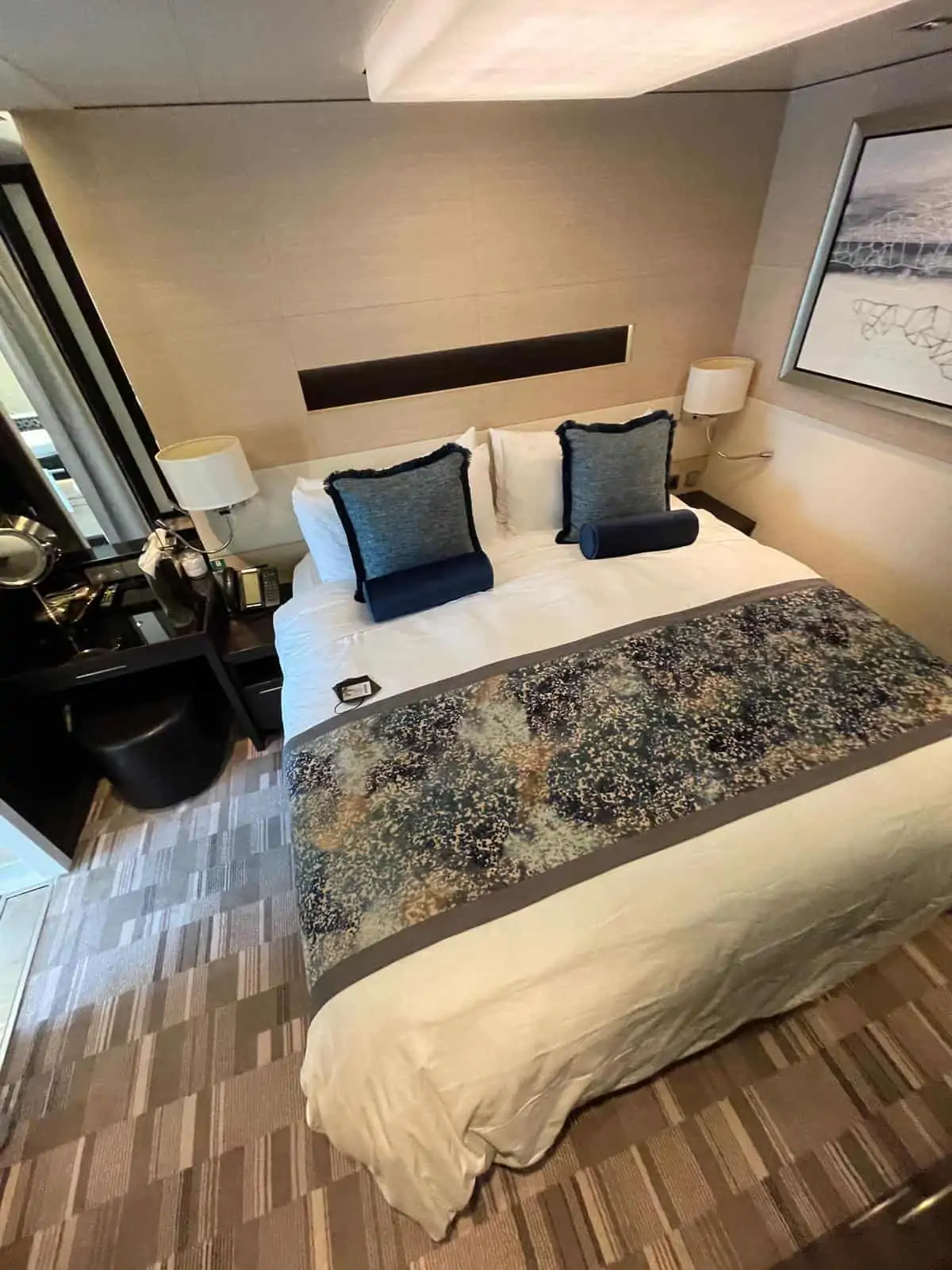 There's a ton of storage space, but what really makes this area is the bathroom. Sure, the double sink is nice, as is the separate stall-like shower and toilet areas. But then there's the showstopper: a nice-sized bathtub with a huge glass window looking out on the ocean. (Note to self: Make sure to close the shade on that window when we're in port unless you want to be compared to the Naked Fat Guy of Friends fame by those on ships docked next to us.)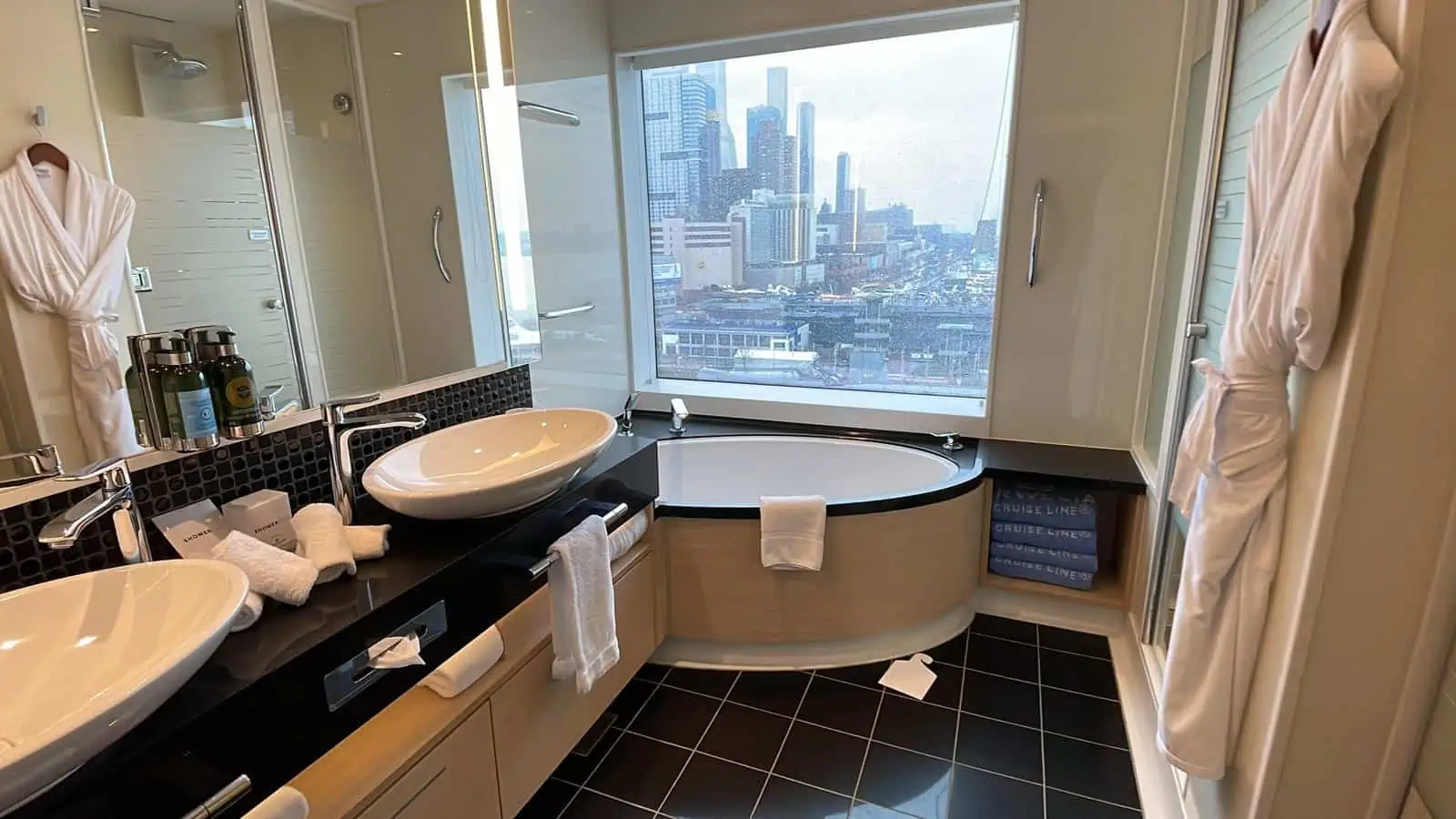 The balcony is nothing to write home about, size-wise, but has two very comfy chairs and a coffee table.
MORE: Cruise Podcast: 2022 Norwegian Getaway Review + Cruise News
We're Gonna Have to Ding You For That
After settling in and meeting with our butler to give him any special requests we had (which were pretty few), we headed to The Haven restaurant for lunch. This is a great space… not overly large, but beautifully appointed with what might be the most comfy chairs I've ever found in a cruise ship restaurant. Service was good and the food amazing — I went with a fritto misto (a variety of fried seafood and veggies), caesar salad (with real anchovies!), and sesame-crusted fish sandwich. Doug went with a cobb salad (with the oddest "Italian" dressing I've ever tasted) and scallops.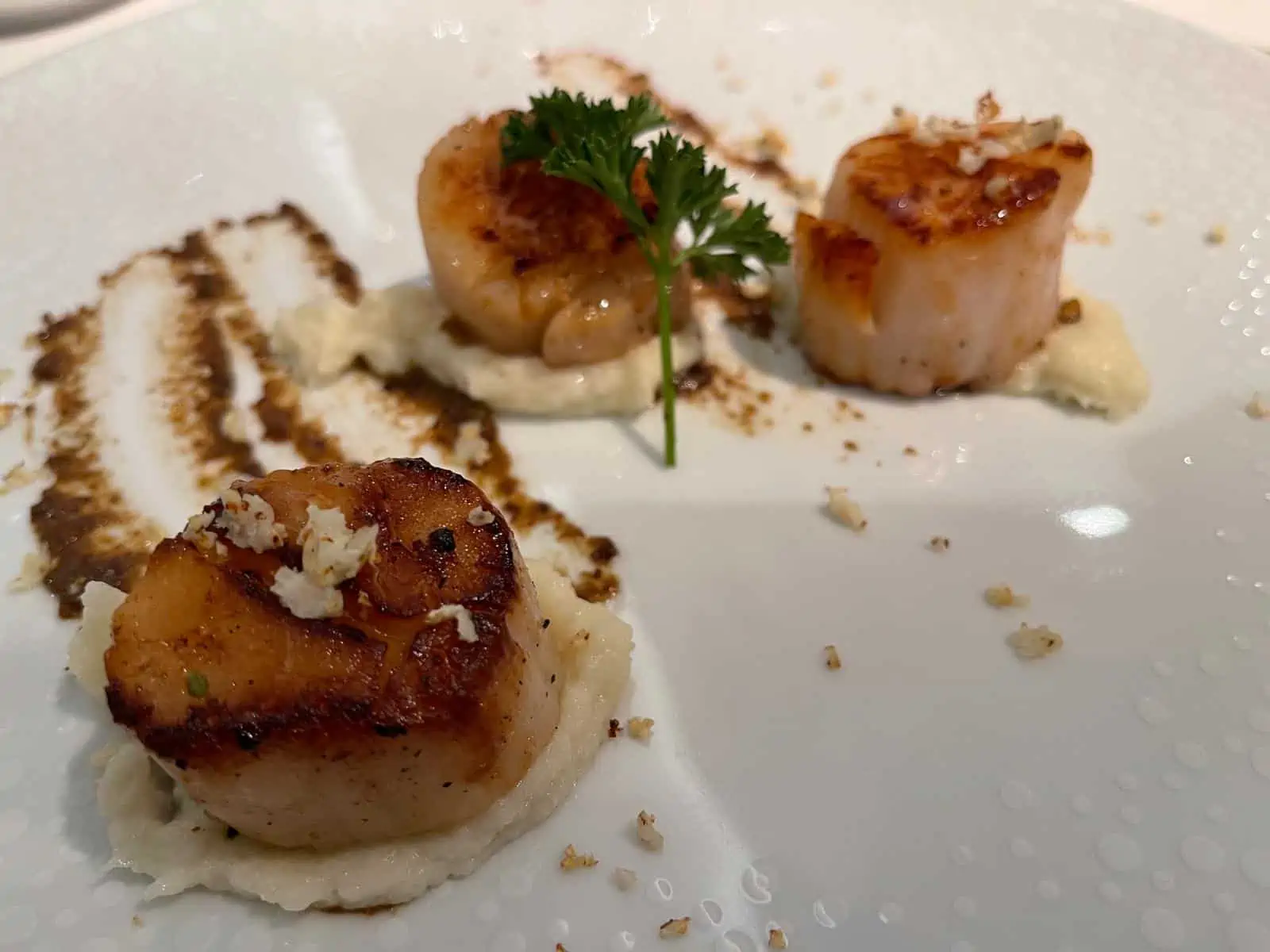 Our server was friendly, the food was great… but there was one rather odd moment. When we sat down, it was clear that the white tablecloth on the table had several stains. Doug's water glass had a brown substance on the side. We asked the server if she could get another water glass, and she apologized, saying there'd been some kind of accidental spill at the table earlier.
Obviously, accidents happen. But given that this is The Haven, we were sort of surprised that the table cloth had clearly been wiped off instead of replaced, and the glassware had been left, weird brown stains and all.
Getting to Know You
I've been on this ship once before during a quick jaunt to Bermuda, but we wanted to get a feel for it this time around. We wandered through all the main areas, especially 678 Ocean Place, which is the heart of the ship. We didn't explore outside much because despite it being around 60 degrees in New York City — crazy for March! — it was also ridiculously windy. I recently laughed my way through an episode of the series Cruise Ship Killers in which a man tried to convince authorities that his wife had been "blown overboard" by a strong gust of wind. I mean, yes, basically impossible, but today I was like, "Maybe if she was really thin and wearing parachute pants… "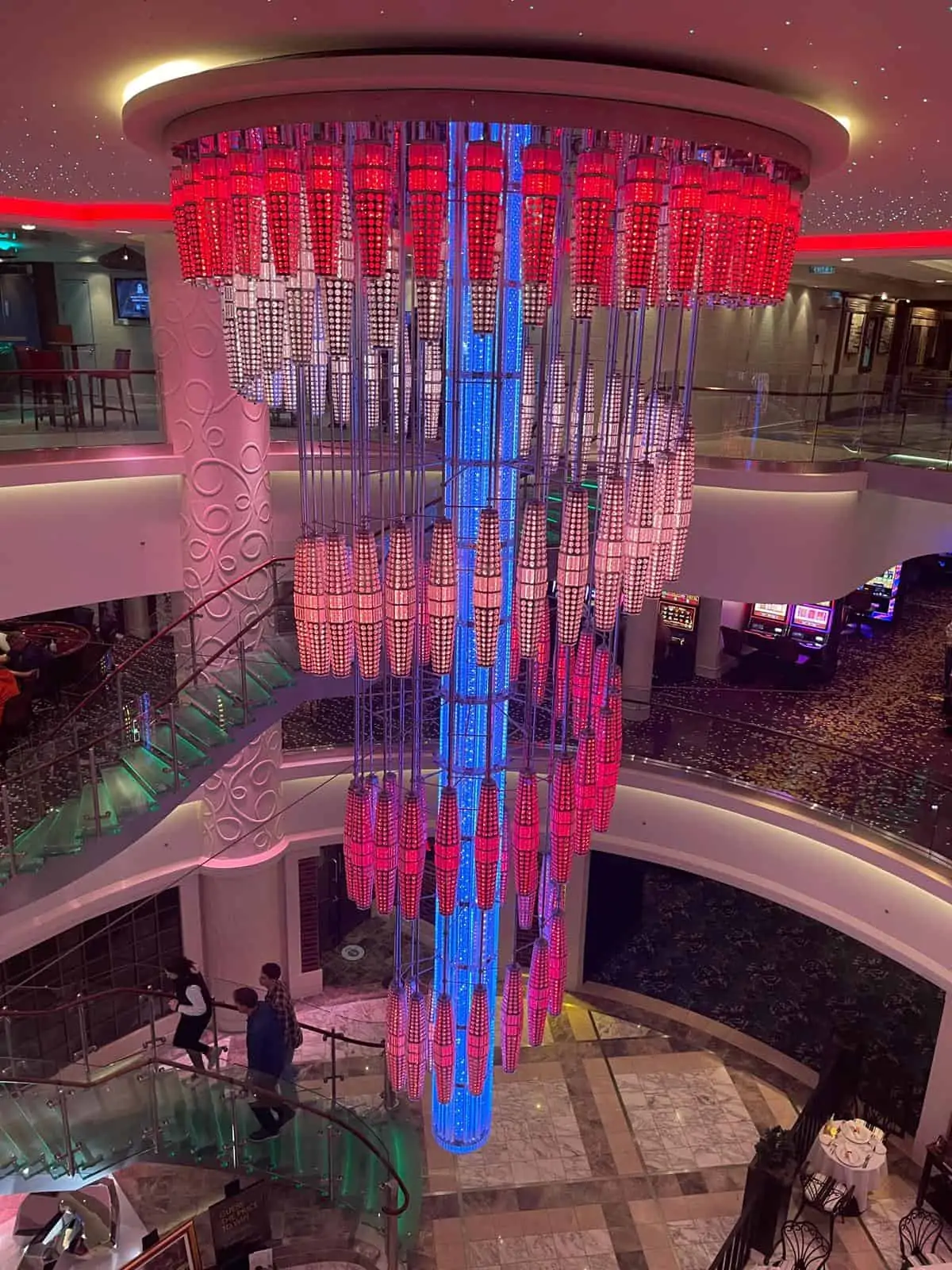 After stopping for a drink at Prime Meridian — located between Cagney's Steakhouse and Moderno, and what I think is one of the most underrated spaces on the ship — we returned to The Haven for dinner. It's a common complaint that the menu here remains the same during the course of the cruise, but I have to say I could pretty easily seem myself eating there every night despite that fact. Tonight I went with the pork belly, a Caesar salad with salmon, and the prime rib. Doug had the surf and turf. All delish.
MORE: 5 Big Changes Coming to Norwegian Cruise Line — Including Fixed Menus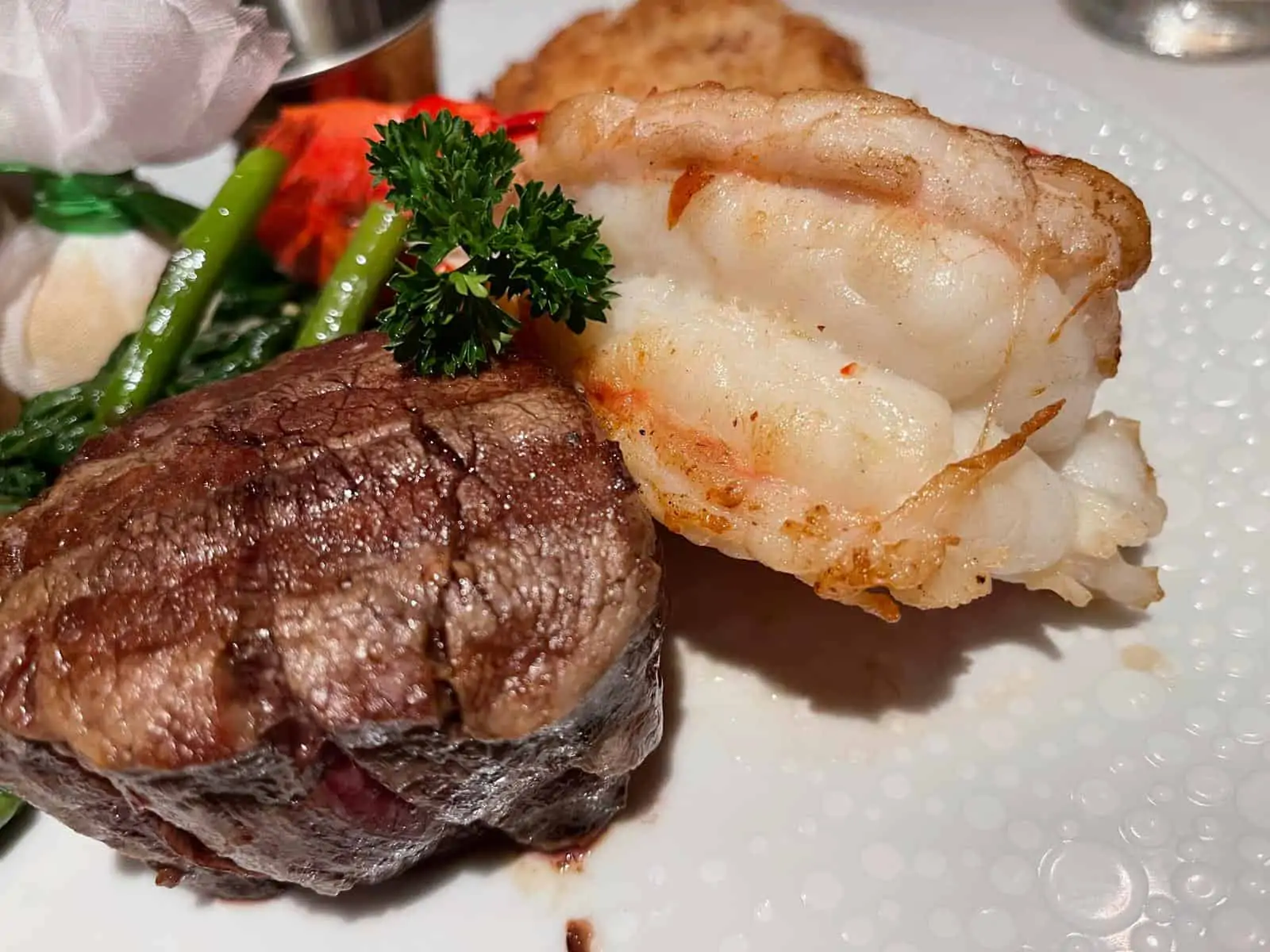 I had every intention of listening to a band play or maybe seeing a show, but after spending an hour in the casino, I realized just how tired I was and decided to crash. No need to burn out on day one, right?
Party of How Many?
One of the most common questions people ask lately is at what capacity cruise ships are sailing. We found out that this Getaway sailing has 1,451 guests. Given that the ship typically sails with around 4,000, that means we're at less than 50 percent capacity… and you can tell. Wandering around the ship, there are no lines for anything. Want to get into a specialty restaurant at 6:30? No problem. The one area that feels "normal" in regards to there being a fairly boisterous crowd is the Haven bar.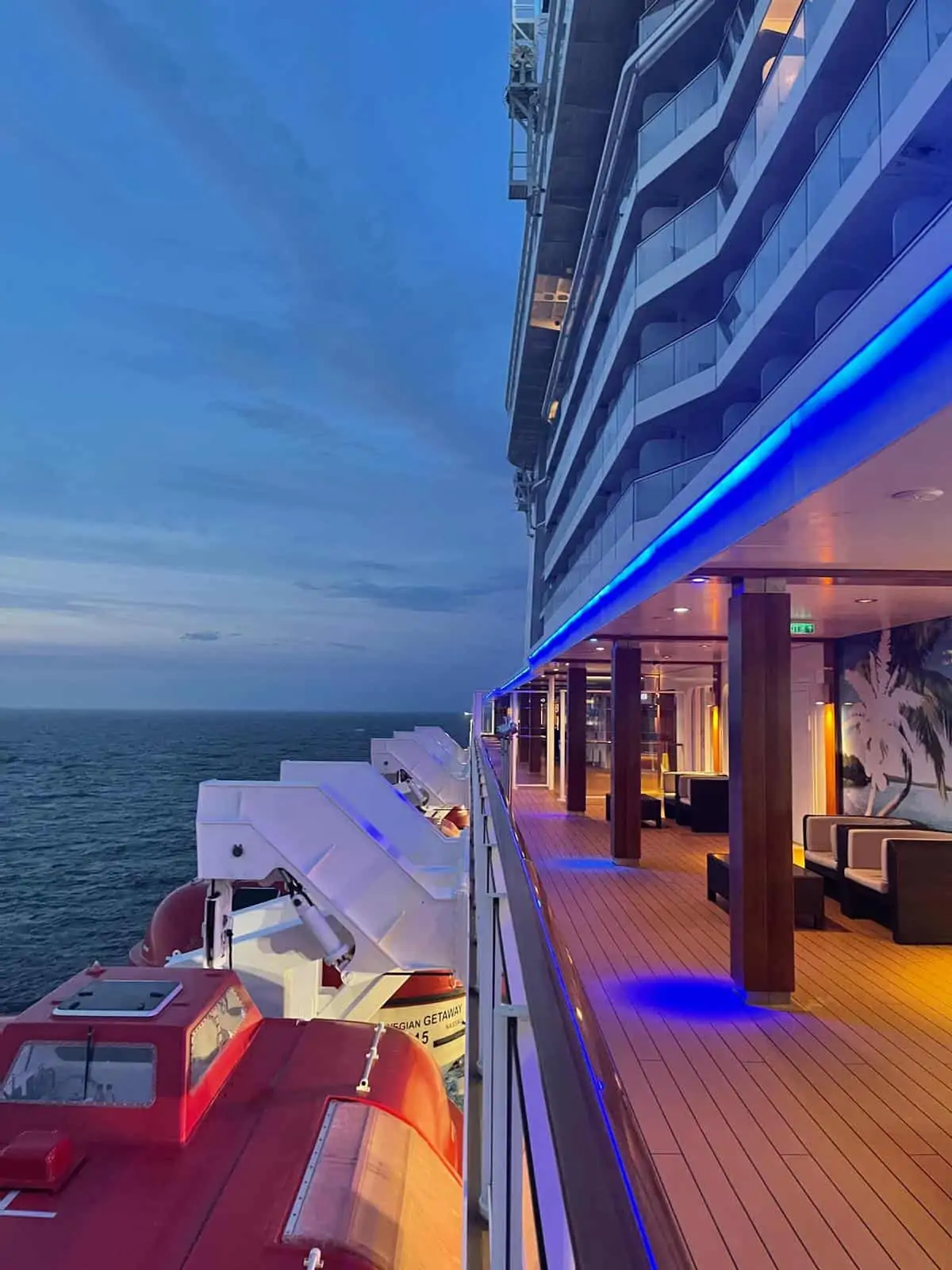 Obviously, if you're going to sail your ship at reduced capacity, you're going to try and fill the most expensive rooms first and leave the cheaper interior and ocean views empty. That's clearly what Norwegian Cruise Line is doing here. That's not to say The Haven feels crowded… it doesn't, at all. But it is noticeably busier than other areas of the ship.
Tomorrow is a sea day, and we're planning to hit a couple food spots outside The Haven. Until then, if you've got any questions, leave them in the comments or send an email to doug [at] cruiseradio [dot] net and we'll search for the answer!
Read my other Norwegian Getaway trip reports: