Remember at the end of yesterday's trip report from the Norwegian Getaway I suggested you grab some sunscreen for today, since we'd be enjoying a sea day? Well, never mind… the sun never really came out to play. But that didn't stand in the way of a mostly awesome day as we continued sailing toward Bermuda, where we were set to arrive the next morning.
Hate The Game, Not The Player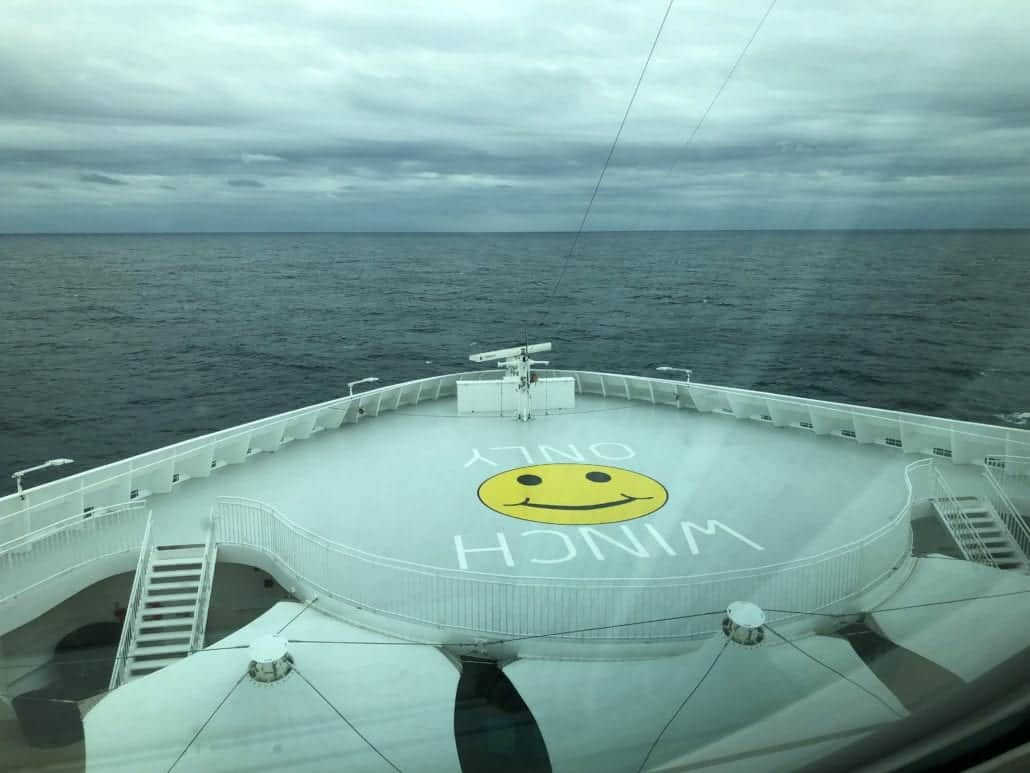 As I mentioned yesterday, the forward-facing room I was in required that you close the curtains over the huge porthole window at night so lights inside wouldn't cause a glare on the windows of the bridge. As a result I wound up sleeping in more than I would have with the curtains open. But when I finally drew them back, what a really cool view. Like I said, this room was a real winner. I'd book it again in a heartbeat.
READ MORE: Norwegian Getaway Trip Report, Day 1
I'd made arrangements to meet up with my friends Dianne and Monica for lunch in Savor, one of the three main restaurants on board. But I couldn't resist the pull of the casino and figured I'd swing by just to put a few quick bucks into a slot machine. Sort of an advance on future deposits, if you will. Well, it will surprise absolutely no one who's ever sailed/gambled with me that I wound up running late for lunch.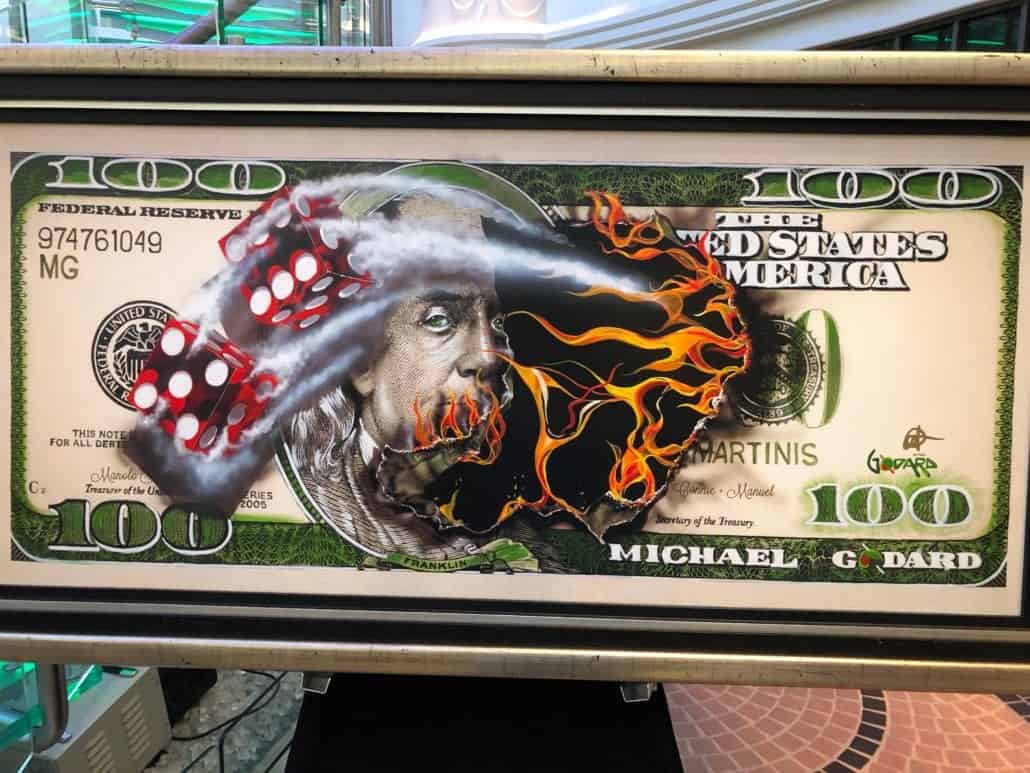 Fun fact: If I put $20 in a machine when I'm on a timetable — say, before lunch, dinner or a show — I almost inevitably wind up winning. Nothing major, but I'll walk away (reluctantly, and late for whatever I'm supposed to be doing) up a few bucks. But when I have all the time in the world (say at midnight), the money is gone instantaneously. Were I a conspiracy theory-type person, I'm sure I could craft one around this phenomenon.
Anyway, by the time I'd arrived, the ladies had not only been seated but had been rescued from starvation by our fantastic waiter, who brought them some popcorn shrimp to munch on while they waited. (While Dianne didn't actually say anything when I snagged a piece, I'm pretty sure that if you translated the subtle side-eye, it would have said, "Snitches get stitches, especially when they make us wait!")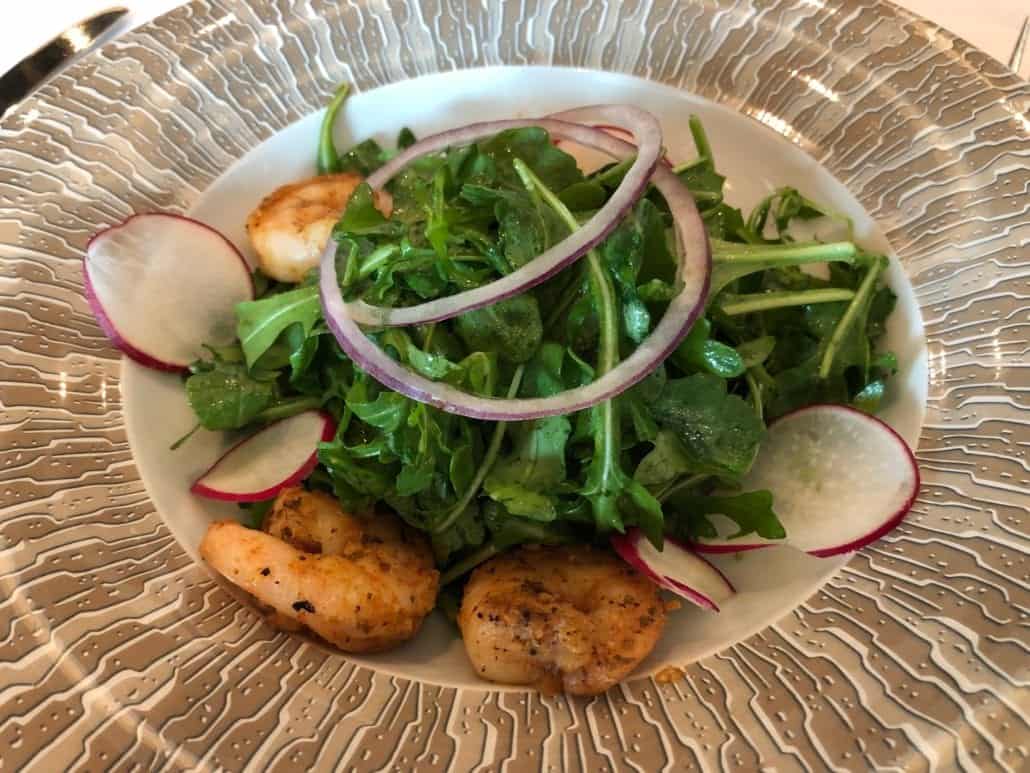 Lunch was a delicious crabmeat-stuffed potato skin, an arugula salad with cajun shrimp (which has, over the past couple years, become one of my all-time favorite Norwegian salads) and a Spanish frittata. The frittata could have used a spicier pepper (maybe some jalapeno as opposed to bell) and for the arugula to be on the side as opposed to on top (where it wilted), but otherwise, it was a great lunch. Did I mention there was wine (for my gal pals) and cocktails (for me) and dessert (for all) — aka the holy trinity? Because there was.
Cloudy With A Chance Of Bliss
I don't know about you, but I've always found that when I reflect on a cruise, the best sea days are the ones that are a little bit difficult to remember. Everything — drinks, activities, laughs, conversations — just sort of flowed together effortless to create that euphoric state of bliss that is a great sea day. This was one of those.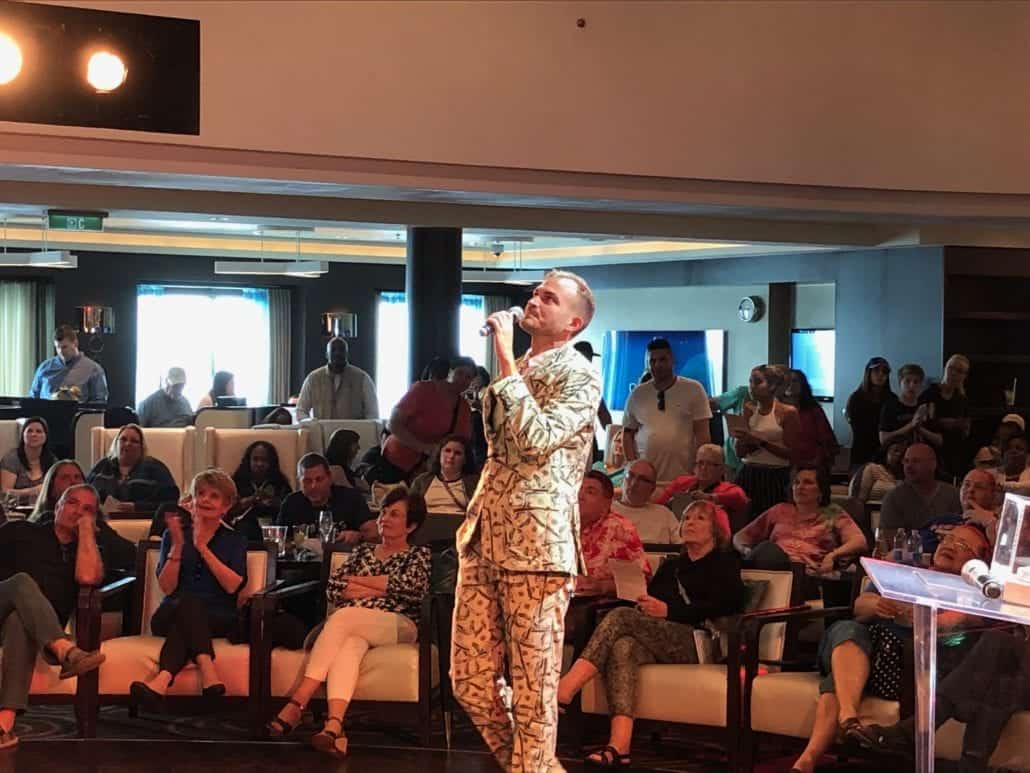 Cruise director Vincent (who has a fantastic personality and, without doubt, the best collection of suits this side of controversial Canadian commentator Don Cherry) hosted a spirited round of Deal Or No Deal in the lobby. Despite there being a chill in the air, the pools and hot tubs were hopping. Those looking for a different way to lose their money signed up for various tournaments in the casino. (My tip to you: If you're going to do a slot tournament, wait until the final sea day to do so. Why? Because by then, you'll know the number to beat. What good does it do to get a great score on Tuesday morning only to be out of the running — and have to pay if you want to try getting back into it — by the end of the trip?)
Seminars were held, books were read, massages were received and naps were enjoyed. By mid-afternoon, the Norwegian Getaway was feeling more like the Norwegian Bliss.
Burn The Floor, Not The Dinner
Having gone our separate ways for the most part since lunch, I reunited with my friends for the 7:15 p.m. showing of Burn The Floor (which meant, as a result, we were having a very late dinner). I'd considered skipping the show, which I'd seen several times on various trips aboard Getaway's sister ship, the Breakaway. Thankfully, I wound up keeping the reservation because this was a significantly different show than the one I'd previously seen.
READ MORE: Norwegian Joy Finds A New Home 
The show — which features live singers and crazy-sexy dancers — does get a little repetitive at a certain point. I don't know my Cha Cha from my Mambo, but I know that there's only so much hip swiveling that one human being can take in a 45-minute session before their eyes start to glaze over a bit.
Afterwards, the three of us made our way to Savor for dinner… which turned out to be a very long, very mediocre affair. Look, I'm all for a nice, relaxed meal, but when 25 minutes go by and you still don't have food or drinks, that's a problem. Especially when those two things are being handled by two different staffers! I'd love to say that eventually, things got back on track, but that was not going to be the case where our dinner was concerned.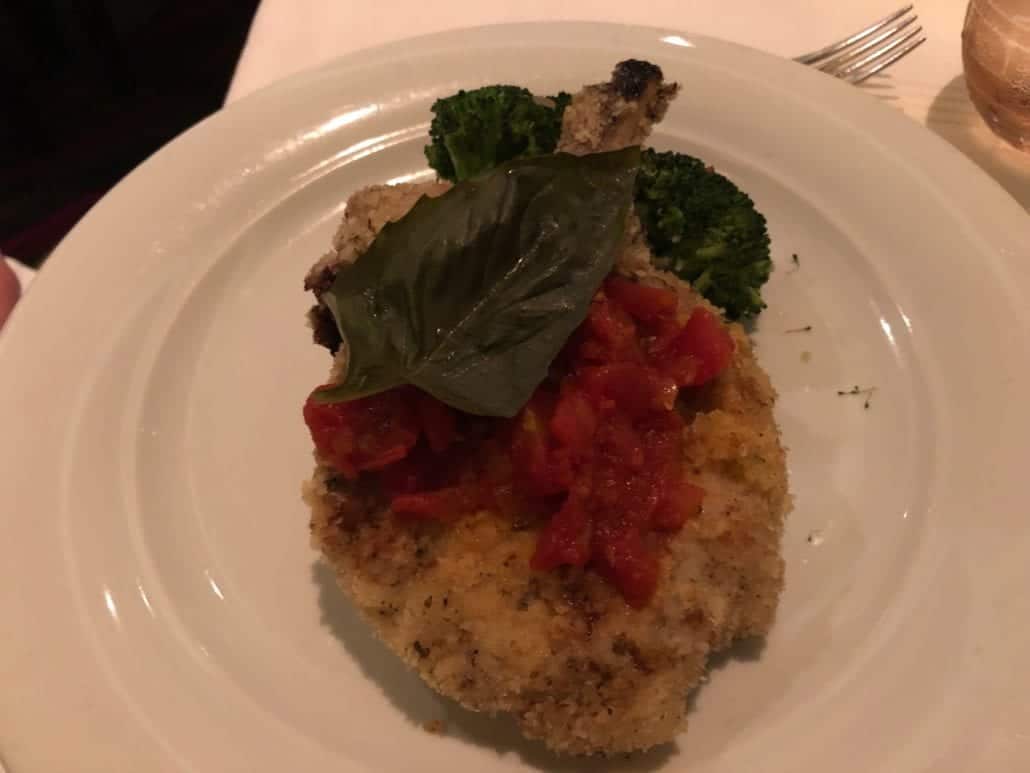 When finally our food came, it wasn't particularly bad, but it also wasn't particularly good. I'm sure other people might have sent it back, but we're pretty mellow and always figure there's more food to be had elsewhere. God knows you're never going to go hungry on a ship, right? So after the ladies ate their pork chops (which were definitely on the dry side) and I had my chicken (which was slightly underdone and swimming in BBQ sauce), we stuck a fork in the meal and called it done. (Our best guess as to what went wrong, especially since the restaurant wasn't at all crowded: Our waiter — not exactly a young dude — was dealing with a large party who'd been seated just before us.)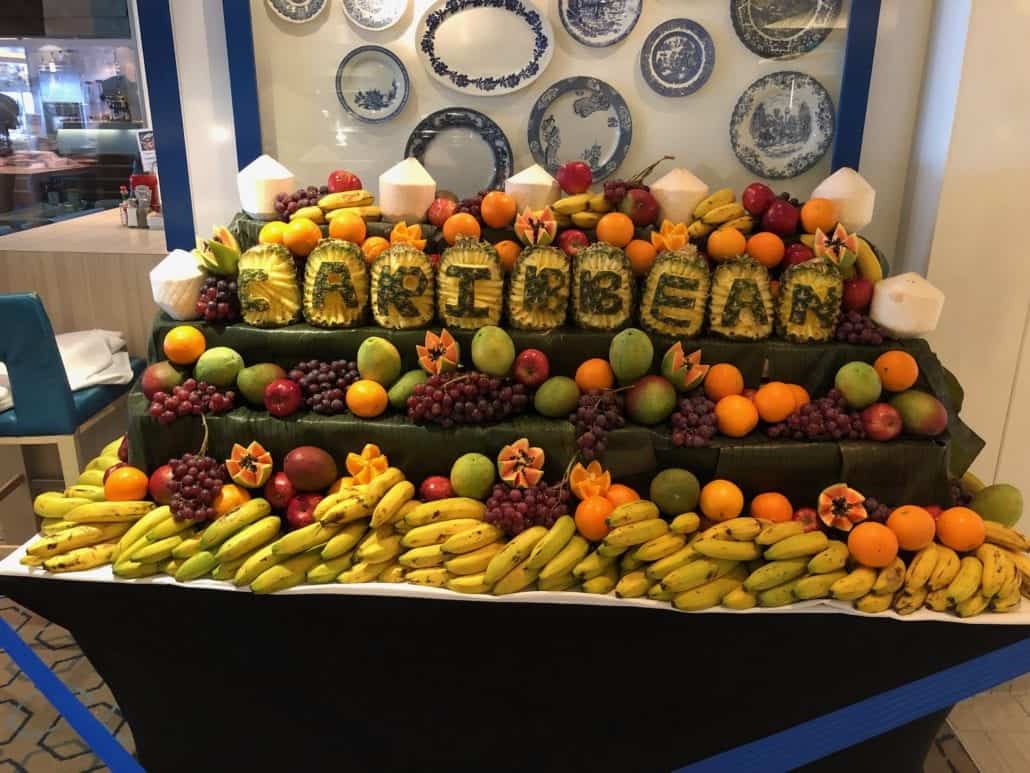 Who Rained On My Parade?
Our merry trio parted ways after dinner, with Monica off to listen to the band she'd become quite fond of, Dianne heading to the casino and me killing a little time until the thing I'd been looking forward to all day began: the Awesome 80's party at Spice H20. Ever since my first sailing on the Breakaway, one of the things — if not the thing — I've loved most about the megaships is the top-deck parties at which the music is pumping, the drinks are flowing, the feet are dancing… and it's all happening under the open sky somewhere in the middle of the ocean.
So you can imagine how it felt when I arrived on Deck 16, ready for my big night at Spice H20, only to see… this.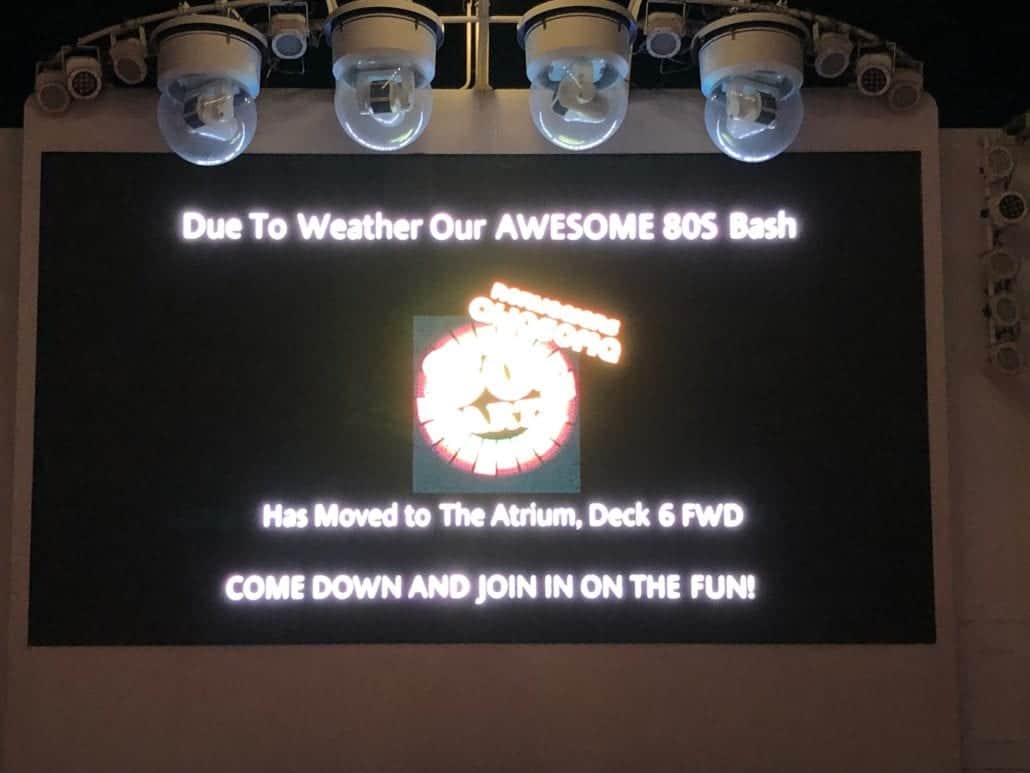 Apparently, during dinner it had rained hard enough that the furnishings at Spice H20 were soaked and the floor slick (not the best thing when you've got people who may or may not have been drinking all day looking to bust a move, but not a hip). The party was still being held, but in the atrium… which I'm sure was a great time for those who went, but I wasn't really into the idea of the atrium being packed and sweaty. So instead, I went to the casino.
"Besides," I told myself, "you need to get a decent night's sleep, given that tomorrow we're in Bermuda and you're going to spend the day touring paradise." The Spice H20 parties don't start until around 10:30 p.m., so by now it was around that time. I figured I'd spent a half-hour or so in the casino and then crash for the night.
That was the plan anyway…
TOMORROW: Here, There & Everywhere