If you think the final day comes too quickly on a week-long sailing, try hopping aboard a four-day trip like the one I just did on the Norwegian Getaway. As I woke up on that final sea day, part of me thought, "Wait, didn't we just get on board?" I also had a whole list of things I hadn't yet done but wanted to before we arrived back in New York City early the next morning.
The Longest Shore Excursion of All Time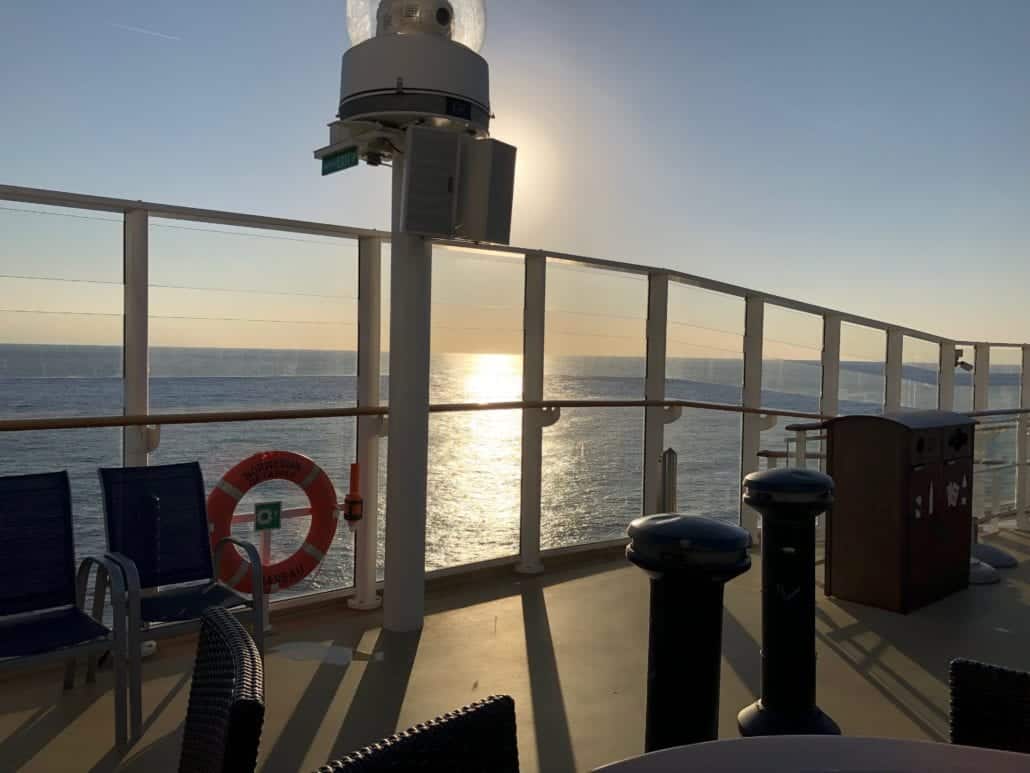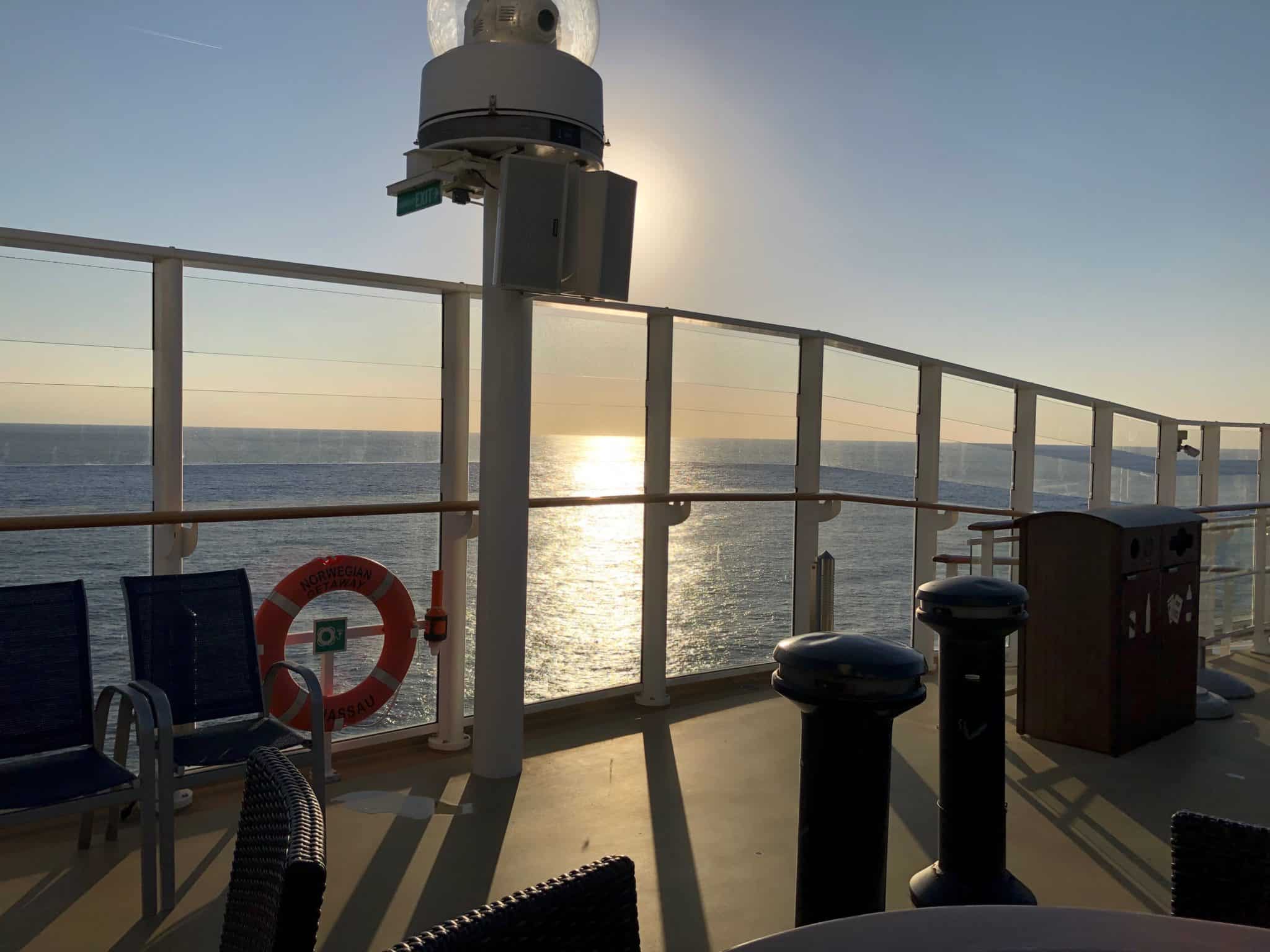 Truth be told, this trip didn't feel quite as rushed as I expected it to, being that we left Tuesday evening and would be arriving home early Saturday morning. I think the reason it felt more relaxed for me than many others is that I'd done a 10-day sailing on the Norwegian Gem only three weeks before. In my mind, the 21 or so days between the two sailings were just a really, really, really long shore excursion. A really immersive one where I went to work every day and made dinner every night and lived with the locals (aka my housemates).
READ MORE: Norwegian Joy Heads For Her New Home
With no real plans, I got a very slow start on this final sea day. Eventually, I met up with a friend with whom I'd planned to see Wine Lovers: The Musical (at which they put on a show, serve lunch and — surprise! — pour lots of glasses of vino), but for reasons too complicated to get into but involving a quick trip to Guest Services, we skipped the show. This is too bad for three reasons. 1) I later heard the show is phenomenal… from several people; 2) My friend really, really likes wine; and 3) It would have meant I ate lunch before I began day-drinking.
Which I did not. Have lunch, that is. The day-drinking most definitely took place. Because I wound up heading to the lobby to watch the final session of Deal Or No Deal.
"Martin, I Told You To Take The Money And Run!"
For a long time, I didn't understand the appeal of things like Deal Or No Deal, whether on television or on a ship. I mean, if you aren't the person up on stage playing, what's the fun? But a few cruises back, I bought a Deal Or No Deal ticket (which run, I believe, $25), had a few drinks… and found myself shouting at the top of my lungs, "No deal!" It turns out, a sort of mob mentality kicks in when you a bunch of strangers drink Bahama Mamas in the atrium and become the audience for a game show.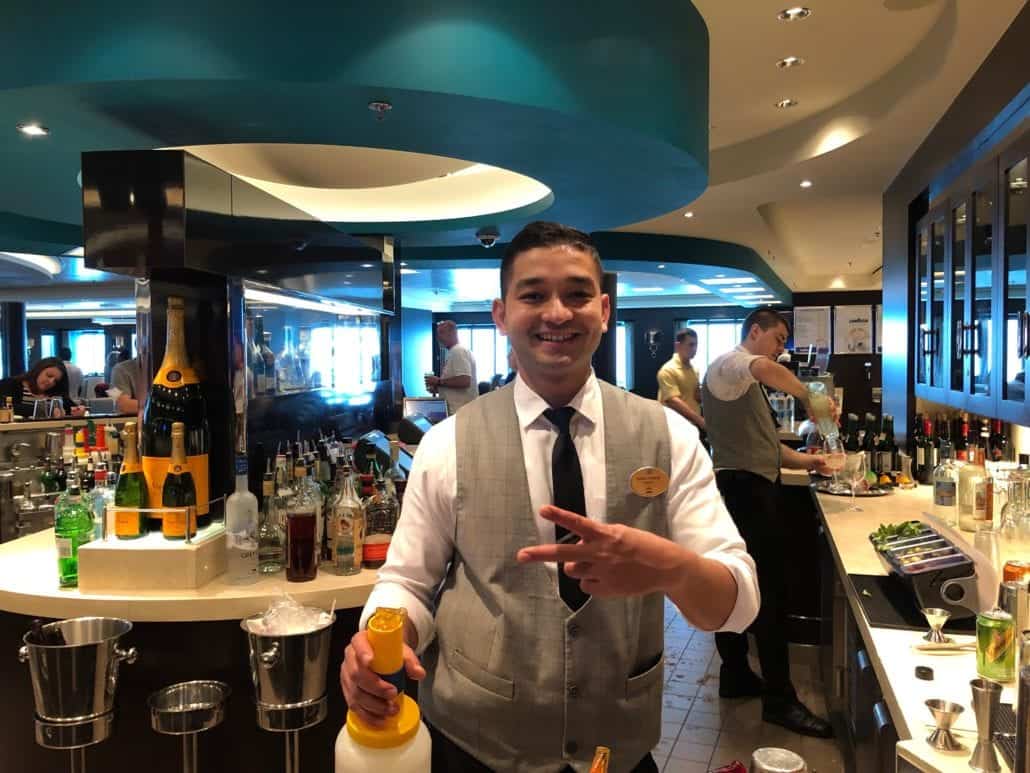 There was a very fun couple to the right of me, and a hysterical young woman to the right of me who loudly shouted advice to the contestants (and then chastised them when they failed to listen). And as an added bonus, our bartender (whose name I sadly forget) was just as into it, joining us we cajoled the players to ignore offers from the banker.
In other words, a good time was had by all.
Free The Towel Animals!
Truth be told, the rest of the late afternoon is a bit of a blur. There was gambling in the casino followed by drinks on The Waterfront and a bit of napping. You know what didn't get done? The checking-off of items on my To-Do List. I didn't make it to Ocean Blue on the Waterfront, which is only open for a few hours each sea day and offers (for a fee) several tasty small plates. I definitely didn't make it to the ropes course although, let's face it, that wasn't really all that likely to happen. (I've been swearing for years that I'm going to brave a ropes course, and somehow, it never quite manages to happen.) Dianne and I never played the shuffleboard game we've been meaning to play for years now.
I did, however, come up with a few questions that I'll just leave here for your perusal. For example…
… why do the shipboard photographers insist on setting up shop in the most heavily-trafficked areas, such as at the bottom of the staircase?

Hope you don't need to go up — or down — the staircase during picture time!

… if cruise lines are cutting out plastic straws because it's bad for the environment, why do they still serve drinks in plastic cups? And why do they only serve drinks in plastic cups at outdoor venues, where they're most likely to blow overboard and into the imperiled ocean?
… do bartenders hear the grind of those ice machines, used to make various frozen concoctions, in their sleep?
… isn't it kind of obnoxious that, even as NCL is cutting back on towel animals (not a one of which showed up in my stateroom), they're used all over the ship to sell everything from photographs to, ironically, towel animals you can take home?

The only towel animals I spotted during my four days aboard the Getaway were behind glass and for sale!
The Last (Shipboard) Supper
Typically, I eat most of my meals in specialty restaurants when I cruise on Norwegian. That's because when I book, I usually get three specialty meals on them (via the Free At Sea perks), plus I get two because of my Latitudes Loyalty level. That was not, however, the case on this shortened trip, so the only night my friends and I were hitting a for-fee venue was the last night, and we opted for Moderno.
In the past, this hasn't been my favorite venue, which is weird… cause I'm a total carnivore, so you'd think a restaurant in which they bring you a never-ending supply of meats would be right up my alley. But in the past, I'd had a few not-so-great meals here, and had instead taken to Cagney's, the line's steakhouse. But having had a really great meal at Moderno on the Gem a few weeks earlier, I was game when my dinner companions suggested this as our final-night option.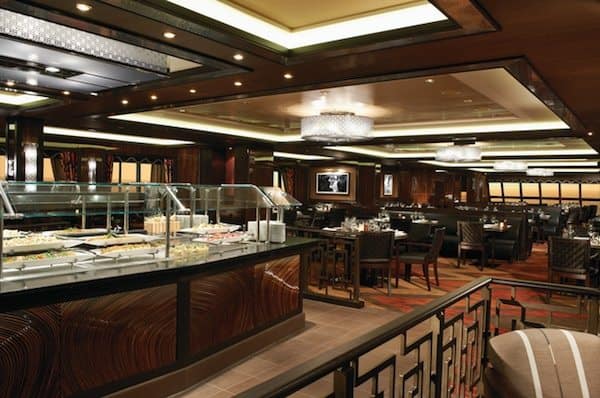 Man, was it a good call. For starters, there's the salad bar. Obviously, you don't want to fill up on salad because the Parade Of Meats is the main attraction, but it's hard not to. The salad bar has so many good options! I was fairly restrained there, only to completely gorge myself as the sword-carrying, meat-carving dudes came around with pork and lamb and chicken and beef and pineapple… okay, sure, I skipped the pineapple. But that night, we ate like royalty…
… and I later found myself asking, "OMG, what did royalty do when, after eating everything in sight, they kinda wanted to curl up and die or, if not actually expire, at least slip into a meat coma?" I headed to the casino and tried my darndest to do a little gambling, but I just couldn't. I was that full!
Heading to the room, I popped a few antacids and napped for about an hour, then rallied for one final run at the always-just-out-of-reach-jackpot that we gamblers all know is waiting, if we just put one more $20-bill in that machine!
Apparently, I was one $20 bill short, because I never did get that jackpot (or even a handpay), but I had a good time before heading up to the room and crashing.
You Don't Have To Go Home, But You Can't Stay Here
By around 6 a.m., we were back in New York City, with the disembarkation process beginning around 8 a.m. Normally, I take advantage of easy walk-off and priority disembarkation, meaning I'm one of the first folks off the ship. But I've found out the hard way that on the megaships like Getaway and Breakaway, that doesn't always work out the way you think it will. No matter how many times crew members take to the intercoms and beg people not to clog the stairwells, that's what happens. And then they all grumble and get nasty and it's just an ugly, ugly process.
READ MORE: Norwegian Cuts Back On Nightly Towel Animals 
We opted to avoid all that by hanging out in a stateroom until the very last possible moment. And let me tell you, that made all the difference in the world. When finally we went downstairs — all of us carrying off our own baggage — the process was easy, peasy. We breezed down the gangway, through the customs hall and just like that, the whole trip was over.
And now, here I sit… home. I hope you've enjoyed this trip report, and that you'll tag along on my next trip. Not sure exactly where it will be, although my countdown clock says I'll be sailing on the Carnival Sunrise in 157 days. With that seeming so very, very far away — and this most recent trip introducing me to the joys of trips which are basically long weekends — there might be something sooner.
Fingers crossed!
PREVIOUS ENTRIES:
Norwegian Getaway Trip Report, Day 1: How We Got Here
Norwegian Getaway Trip Report, Day 2: Seas The Day
Norwegian Getaway Trip Report, Day 3: Bermuda Or Bust