I'm a big believer that the true test of a new ship — or an older one, for that matter — is to wander around on a sea day, especially during a sold-out voyage. So that's exactly what I did on the third day of the Norwegian Viva inaugural, which happened to meet both of those criteria.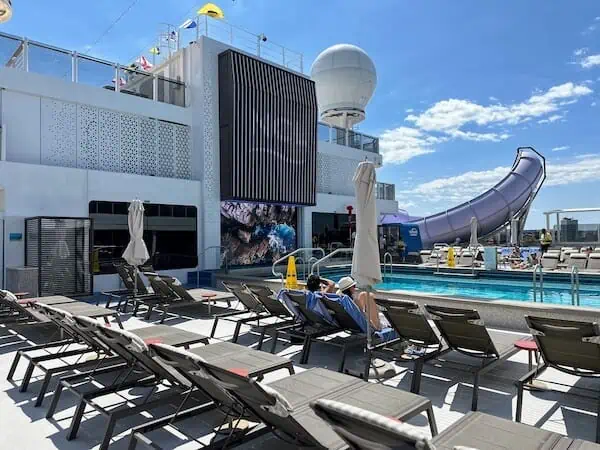 And you know what? It wasn't bad. So, let's look at the Norwegian Viva food, fun, and activities in my final trip report for the voyage.
A Sea Day on Norwegian Viva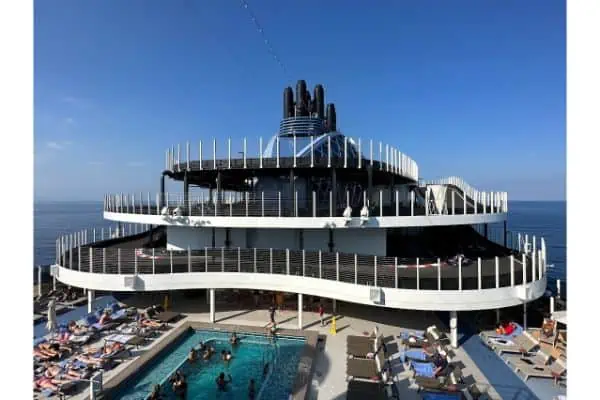 We started with breakfast at the Surfside Cafe and Grill (aka the buffet) to test it out. Unlike many ships on which the buffet spreads across the entire ship's width, the Surfside Cafe occupies only the port side. Despite this, it didn't feel particularly crowded, and plenty of seating was at regular tables and high tops.
I suspect one of the reasons the buffet wasn't crowded is that you can also get breakfast at the Indulge Food Hall. It operates differently during breakfast, with several stations offering grab-and-go options like pastries, cereal, egg-and-sausage sandwiches, etc.
The selection isn't huge, but it's a nice option for those looking to skip the buffet and helps spread people out, which is always a good thing, sea day or not.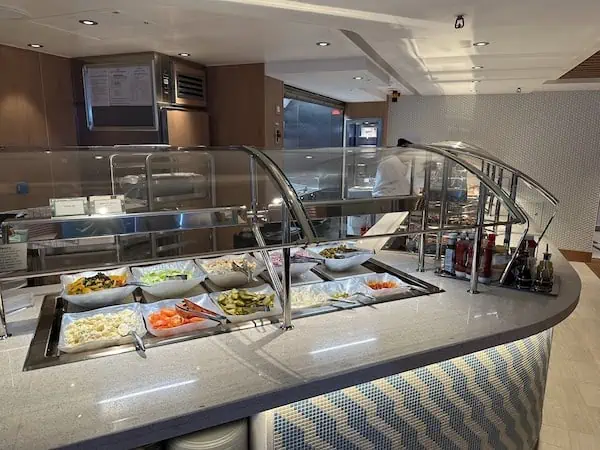 Wandering around the various areas of the ship, I didn't run into any areas where there was a lot of congestion in the hallways or crowded venues. It's worth noting that there's a big difference between sea days on a Mediterranean sailing like this one and sea days on a Caribbean cruise.
Trips to the Med tend to be pretty port-intensive, meaning lots of walking, hiking, and exploring. As a result, I've found that sea days find people sleeping in and relaxing more than they might on a Caribbean trip, whereas they are all about parties by the pool and a higher energy level.
Norwegian Viva's Top-Notch Spa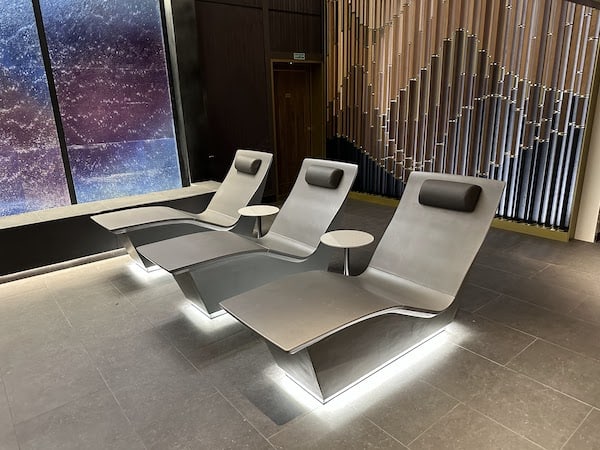 After breakfast, I spent some time in the spa, which may feature one of the best thermal suites I have ever experienced. Because there was a lot to explore during the relatively short time on board, I opted for a day pass instead of the cruise-long option, and at $99, it was worth every penny.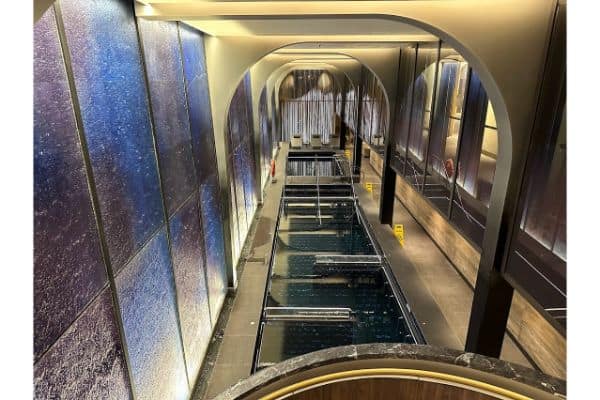 As was the case on Norwegian Prima, the spa area is stunning. Spacious, beautifully decorated, tranquil… it's everything a spa area should be.
I spent quite a while indulging in the thermal suite's offerings, including the seaweed pool, salt room, and sauna. I even braved a brief visit to the snow room — not something a Florida guy takes lightly! — while there. Then I hit one of the heated loungers and read a good book.
Norwegian Viva Food: Time To Indulge
For lunch, we went back to the Indulge Food Hall. Because we'd been there earlier in the trip, the excuse I used for a return was to see if the quality of the food and service was consistent. The reality was I wanted more BBQ. Not going to lie… this time, we overate.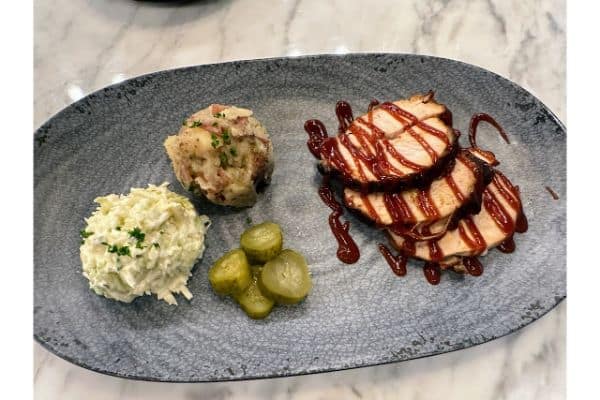 Because you can order as much as you'd like, we ordered from the Asian venue, BBQ, Latin, and tapas. And yes, we also ordered from the dessert menu. Oh, and did I mention the six pieces of jalapeno cornbread?
It's comical because if you order from several different venues, as soon you hit "place order," you hear an orchestra of printers going off all across the room at the different food stations.
So far the Norwegian Viva food has been super impressive.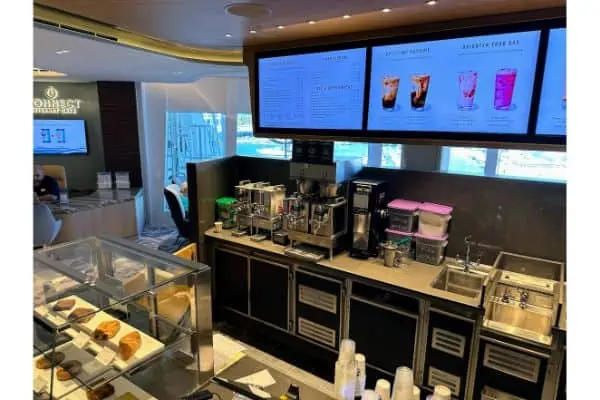 After lunch, I went to work at the Penrose Atrium, which is where Starbucks is located. This has been my go-to work spot during the cruise because it gets me out of the stateroom, and normally, I can pop my earbuds in and work away.
It was going pretty well… until a group of teenagers sat right next to me and started playing some game that involved lots of slapping of hands and general rowdiness.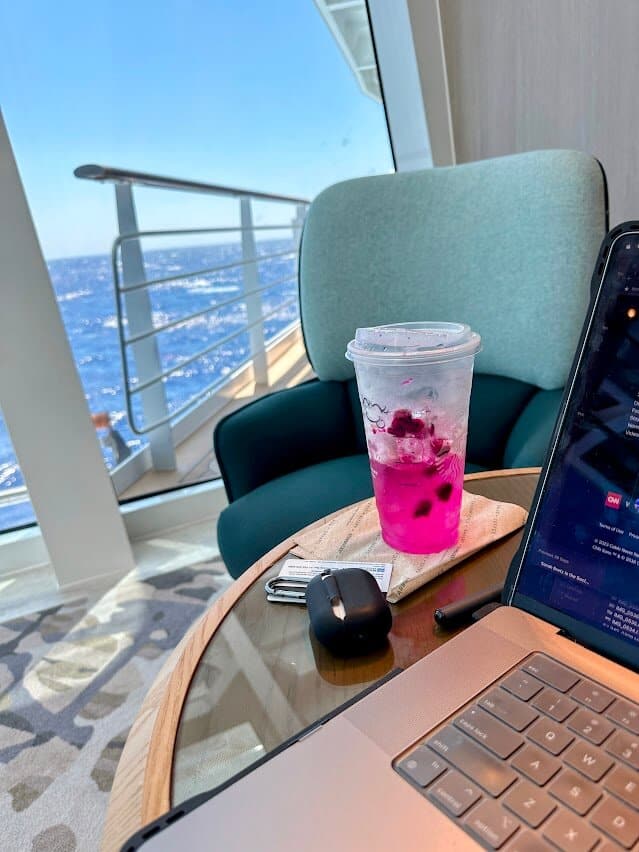 I didn't want to be "that guy" — and obviously, the atrium is a public area — but talk about zero self-awareness. I mean, they were sitting at my feet. Surely, I wasn't the only one they were bothering.
That aside, the starboard view of the ocean was very relaxing. I'm pretty sure every cruise lover will agree that ocean views are very calming and therapeutic, even if you have kids slapping one another silly three feet away.
Hitting The "Beach"
Deck eight is called Infinity Beach, stretching along both the port and starboard sides and featuring many relaxing areas. There are infinity pools, cool seating areas, bars and restaurants, and an outdoor seating area for Indulge Food Hall.
The whole area was crazy popular during our entire sailing, and lots of people were out enjoying the fresh air, and the sea breezes this afternoon. As we explored, we walked past Indulge Food Hall again.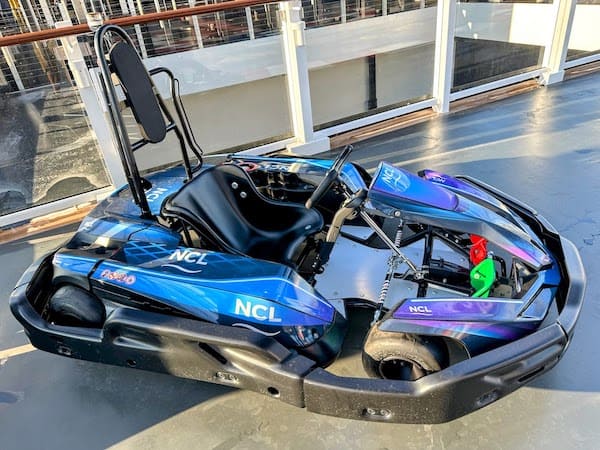 Tempting as it was, I was pretty sure I couldn't have eaten another bite. Well, maybe one more piece of jalapeno cornbread, but I managed to resist.
We made reservations to ride the go-kart track after lunch, but we wanted to do it just before sunset, so we made an 8:00 p.m. appointment to get some good shots. Plus, it gave me time to figure out how to bring my GoPro on the go-kart because I forgot my chest strap at home. It was $15 each, and they billed our folio account.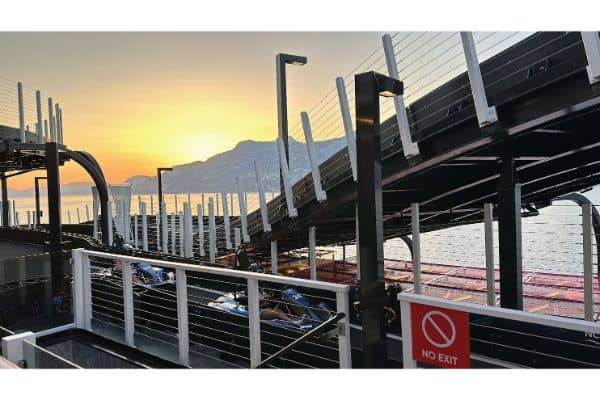 My friend hasn't been on a Norwegian Cruise Line ship since 2013, which gave him a unique perspective on how the line, in general, has changed, as well as when it came to this ship in particular, compared to his past experiences.
He pointed out that while the new location of The Local is large and colorful, he missed it being right above the main atrium (as it is in most previous classes).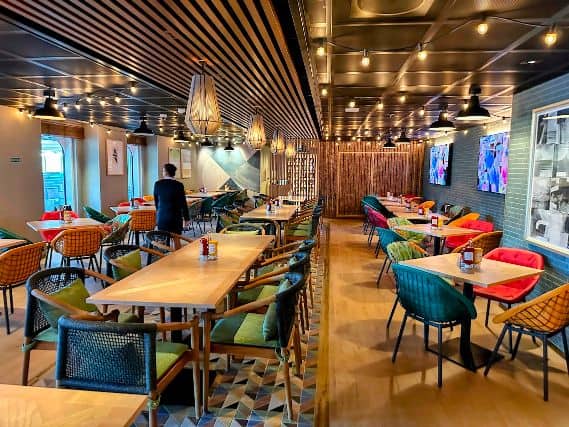 He found that location to be more easily accessible and liked the way it allowed you to have food and drinks while watching whatever entertainment happened to be going on down below.
It was getting close to our appointment at the Viva Speedway up on deck 18. I noticed they were selling GoPro accessories, but they either didn't sell chest straps or were out of stock. In either case, I bought a head strap… and then wore it around my chest like some weird crop top that felt too tight. But it worked and passed their inspection, so I was good to go!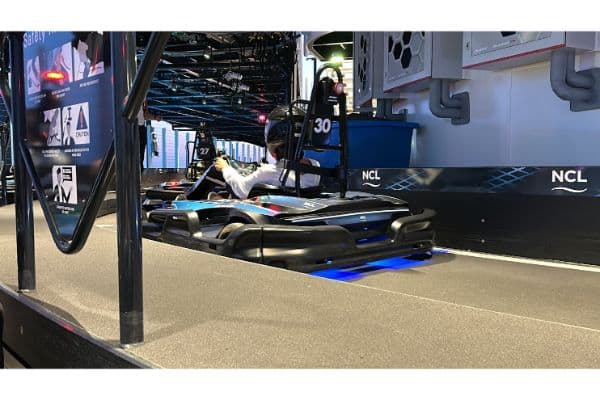 The go-kart process was very simple. After checking in at the main desk, we were walked up to the track to watch a narrated safety video with all the basics: No passing, drifting, spinning people out, or reckless driving.
I felt like the woman narrating the video was talking directly to me. In all fairness, I did get — hmm, what's the polite way to say kicked off? — the Norwegian Escape track for racing a little too… let's say "enthusiastically.".
We were mostly well-behaved on the track. At one point, a kid zoomed past me. When I tried to pass him back, I got busted by the pit crew. They have a device they can use to pinpoint your specific car and slow you way down.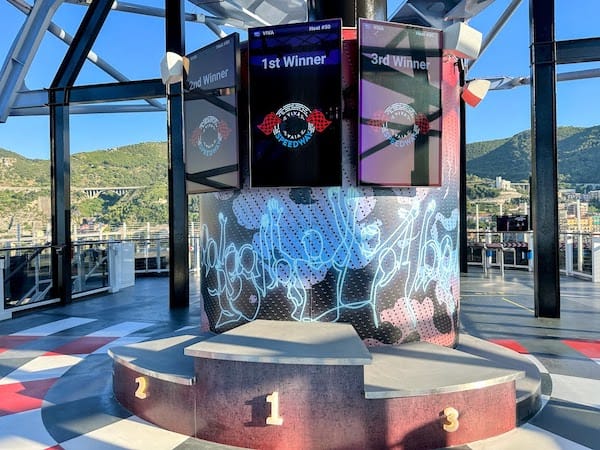 Even though the go-karts cost $15 a run, it was well worth it, and if I could do it again, I would. It's such an adrenaline rush! It reminded me of being a kid, building go-karts, then getting run out of The Players Club in Ponte Vedra by the Pinkerton security officers. Kids will be kids… even when they grow up.
After all that racing, it was time for dinner at Food Republic. This specialty venue has been on Norwegian Cruise Line for a while, but I'd never had a chance to eat there. Food Republic works much the same way as Indulge Food Hall regarding how you order, although with a more specific, fusion-style menu.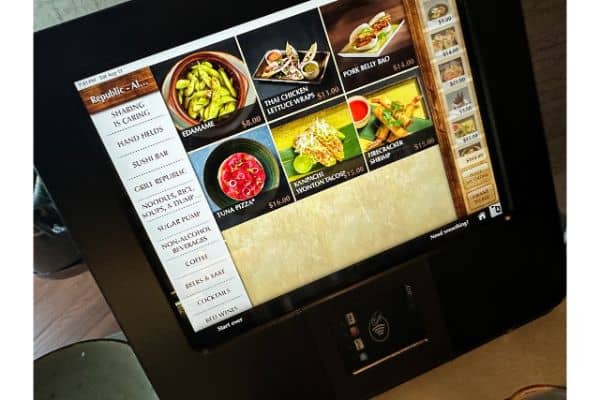 I have to say, Food Republic was one of the best meals we had onboard in the 16 meals we had, and having been to Indulge Food Hall twice, we were iPad ordering pros. I remember when Celebrity debuted Qsine on Celebrity Equinox in 2010, and the idea of ordering on an iPad was considered very cutting-edge.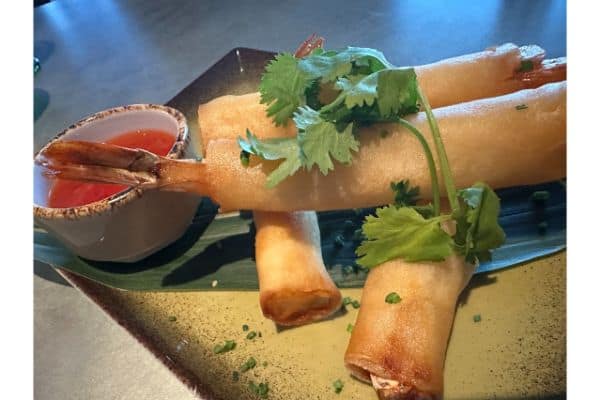 We had the dining plan, so we got four items each. That's the perfect way to eat here because the food is like tapas in that you wind up sharing everything. We tried sushi, spring rolls, mini tacos, edamame beans with a killer seasoning, and two desserts (waffle and chocolate cherry).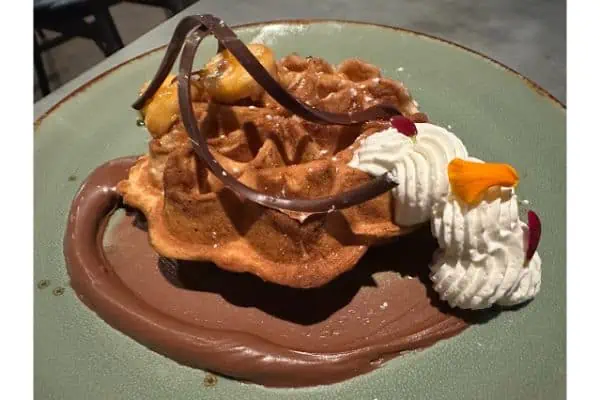 Like at Indulge, they bring the food out to you as it is ready instead of in any set order. I liked it that way because we had eight dishes to plow through.
We tried to get into Syd Norman's Pour House, but it was pretty packed, so we went to the Metropolitan Lounge and listened to a duo perform for about 30 minutes.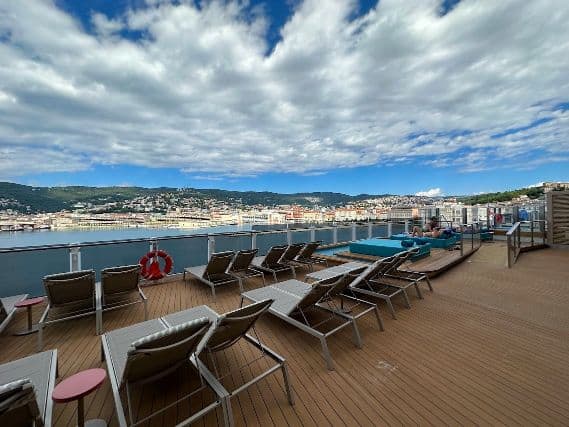 This bar offers "sustainable" drinks, meaning some ingredients include banana peels left over from the desserts made in the galley or watermelon rinds. Very cool interactive art is here, running along the wall.
After drinks, we wandered back to the stateroom to pack… which built up our appetites! So we ate one last meal around midnight at The Local. We ordered chicken wings and a salad because it's practically law that you can't go to this NCL fave and not have wings.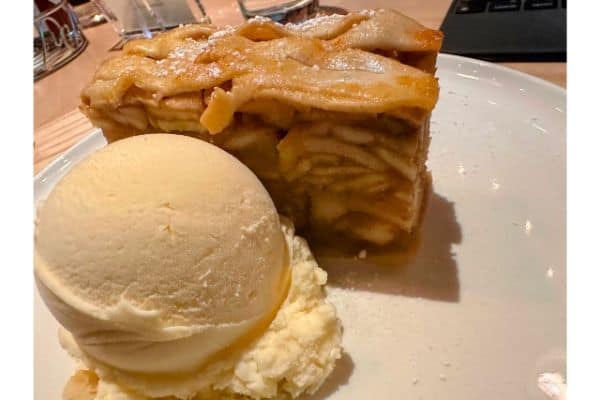 Despite that well-balanced meal, we were still peckish, so that combo was washed down with apple pie topped with a scoop of ice cream. The Local is included in the cruise cost and is good. Sticky fingers and all. They could charge for this venue and get away with it. I found it better than Play Makers on Royal Caribbean, which charges $7.99. But let's not give NCL any wild ideas.
Looking back over all our dining experiences on this sailing, the service has been top-notch, and someone was always stepping in to help if a venue got overwhelmed.
If I had to rank the top three, it would be: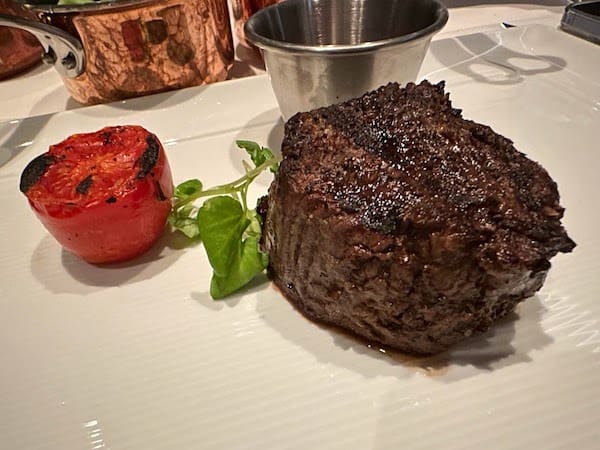 Food Republic
Los Lobos
Cagney's Steakhouse
To be clear, Cagney's wasn't in third place because I didn't enjoy it. It was simply because you can get a good steak and veggies at a steakhouse on land. It's hard to find great Mexican food with a twist or the many international options that Food Republic offers without spending an arm and a leg back home.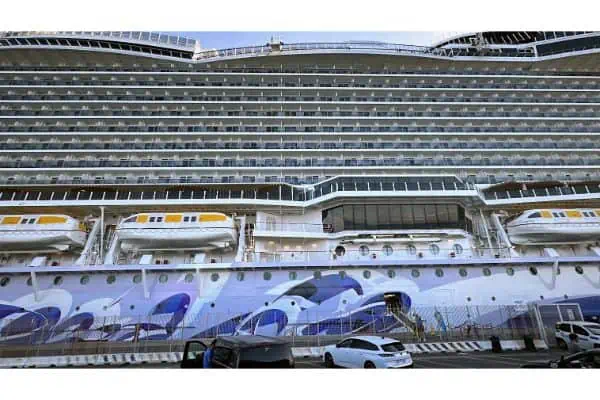 I will wrap this trip report up here because I've been off the ship for a few days, and right now, I'm writing strictly based on photos and muscle memory.
Thanks for following along!