There's nothing quite like being among the first to sail on a brand new ship, which is what I'm doing this week. Whether you're thinking about sailing on Norwegian Viva or just want to know more (and see pictures!), this trip report will give you the skinny on Norwegian's newest ship.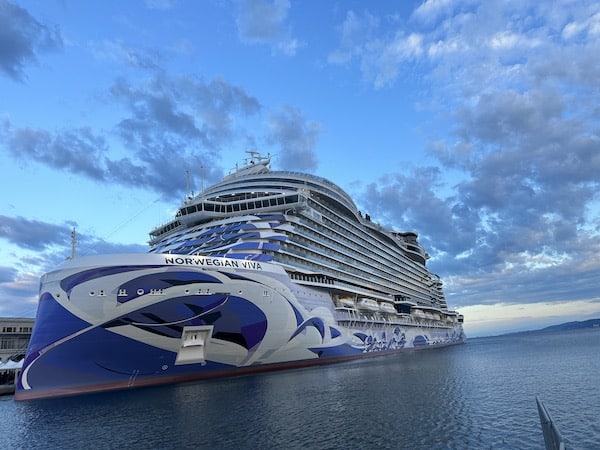 Today, we'll cover embarkation and our first day onboard. For reference, the last time I sailed Norwegian Cruise Line was March of 2022, but it was on a ship that was eight years old, Norwegian Getaway. This week I am on the first sailing of Norwegian Viva, the second in the Prima-class. These two ships — Norwegian Viva and Norwegian Prima — debuted a year apart. The inaugural cruise is a 9-night sailing from Trieste, Italy, to Ibiza, Spain.
As I haven't had a chance to sail on Prima (staff writer Richard Simms did, and you can check out his report here), everything about this class is new to me, and I'm excited to experience what it has to offer.
Ciao, Italy
After an eight-hour uneventful flight on AA from Philadelphia, we touched down in Venice, Italy. Flying in over the city is always an intriguing and beautiful sight. We would not, however, be sailing from Venice. Norwegian Viva is embarking from Trieste, Italy. Trieste is about a 1.5-hour transfer from Venice Airport, or 70 miles.
We did a pre-night hotel stay at the Savoia Excelsior Palace. I don't know if this was an actual palace, but it sure seemed like it based on the way it was laid out. I highly recommend this place for a pre-night cruise leaving out of Trieste.
The hotel could not have been in a better location, as it's right across the street from the cruise terminal. In fact, all I had to do was glance out our window to see the bow of Norwegian Viva and SIlversea's new ship Silver Nova. Being in Italy, we had to explore and grab — what else? — a pizza before crashing.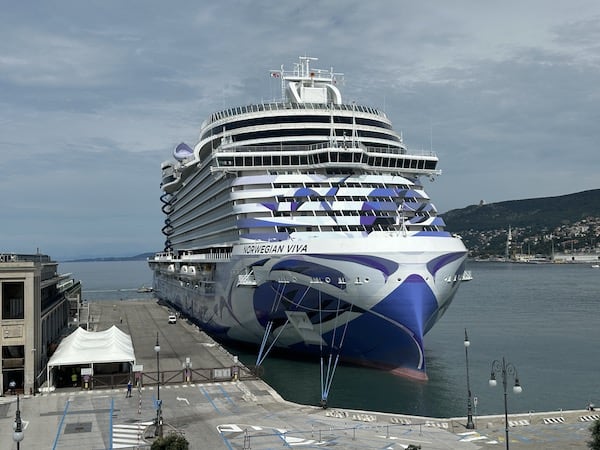 Norwegian Viva trip report: Embarkation day
Embarkation started at noon the next morning and was super easy. We boarded just after noon, 15 minutes from the curb to the ship. It was a piece of cake because Norwegian requires all the paperwork to be completed before your cruise.
There were three embarkation steps: dropping off your luggage, having your passport checked and going through the security checkpoint. Once past security, we were able to immediately board the ship. We boarded at ground level on this sailing.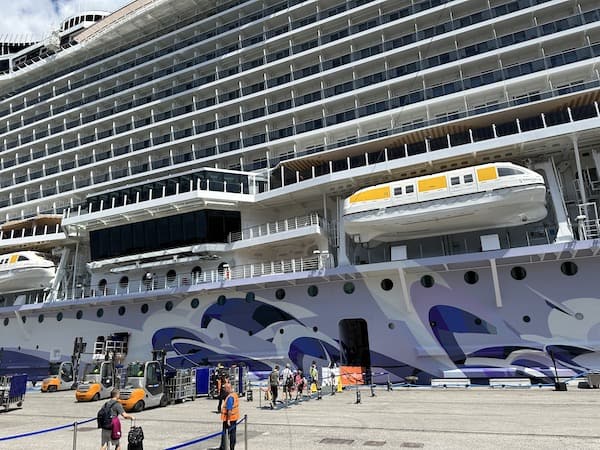 The first thing that immediately hit me: new ship smell! I always react to that the same way others react to the smell of a baby's head: It puts a big smile on my face.
It took me a little bit to figure out where I was when boarding because I was not used to this class of ship. I actually made a point of not looking at the Norwegian Viva deck plans so that I could do something I rarely do: Experience what it's like to walk onto a ship and not know what to expect or where to go.
Our room was ready when we boarded since we were on the inaugural cruise. We took the elevator up to deck 13 and dropped our bags off. We are in a standard balcony cabin, and I have to say, it's not what I expected.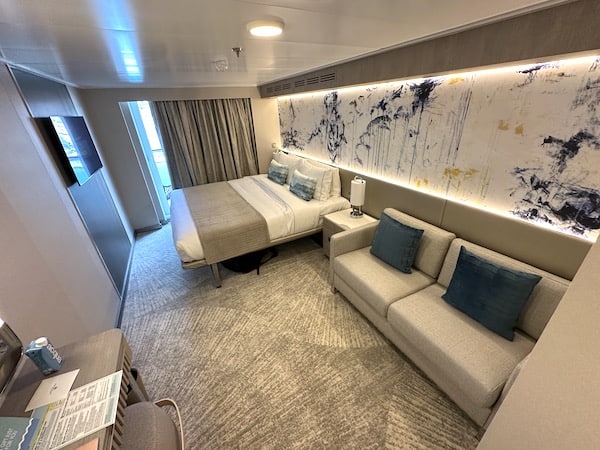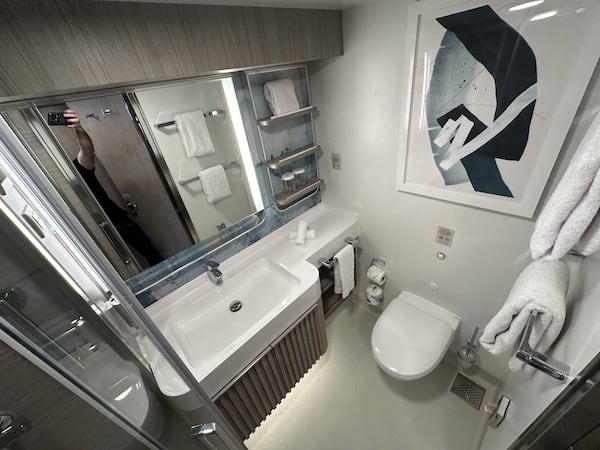 The room is large (186 square feet), the bathroom is spacious, and the gadget geek in me loved the lamps and wall outlets with USB and USB-C plugs. This is only the second ship I've sailed that has USB-C. Nice touch. The stateroom is running a little warm, and I assume that is a start-up issue with it being the first sailing because many rooms on deck 13 forward are having the same issue.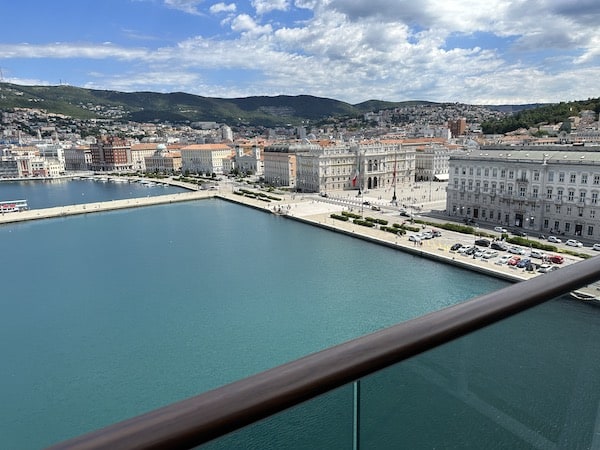 The beds are comfortable, the shower's water pressure is spot on, the interactive TVs are very intuitive, and the space in the room is amazing. I've done a couple of interviews with guests who've sailed sister-ship Prima, and they were talking about the space in the staterooms and public areas, and 24 hours into the sailing, I agree with them. Everything just seem wider and less closed-in than on many other ships.
First Meals on Norwegian Viva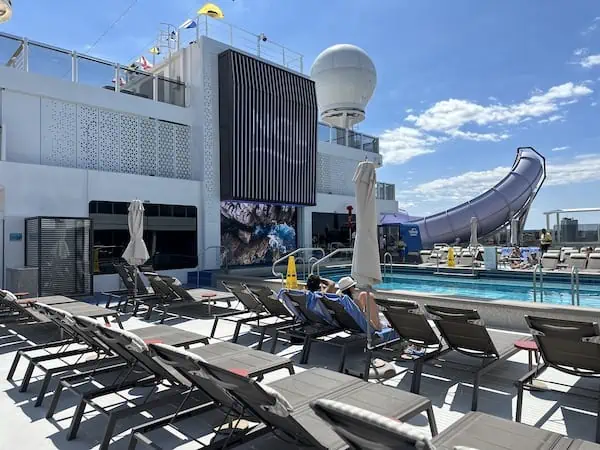 Look, I know we were the first people on, and we should have tried something unique to NCL, like the Indulge Food Hall, or be one of the first in The Local, but man, was I jet-lagged. And to be frank, if the hotel hadn't called to tell me I had slept right through check-out time, I might have been charged for an extra night. Luckily the ship didn't leave until 8 p.m.
So rather than try one of the more exciting venues, we hit the Surfside Cafe for lunch. Yes, I usually advise people to avoid the buffet on embarkation day because it can be a madhouse, but let's face it: buffet's are also quick and easy when all you want to do is grab something to eat and then take a nap!
Surfside Cafe is your typical buffet with decent hot and cold options. It starts at midship and works aft. Aside from the normal buffet area, if you keep walking aft, you will come to the grill with hotdogs and burgers.
However, unlike most cruise ships with the buffet taking up the entire section of the ship, Norwegian Viva only has the buffet on the port side, offset by the Indulge Food Hall down on deck eight aft. More on that later.
We made our way to the salad bar, and both salads were fresh, crunchy, and delicious.
We have the dining package on this sailing and opted to use the first night to hit Los Lobos for dinner. Los Lobos is a Mexican specialty restaurant onboard featuring a wide variety of foods… steak, shrimp, tacos, and table-side guacamole — items you'd find at your typical high-end Mexican joint on land.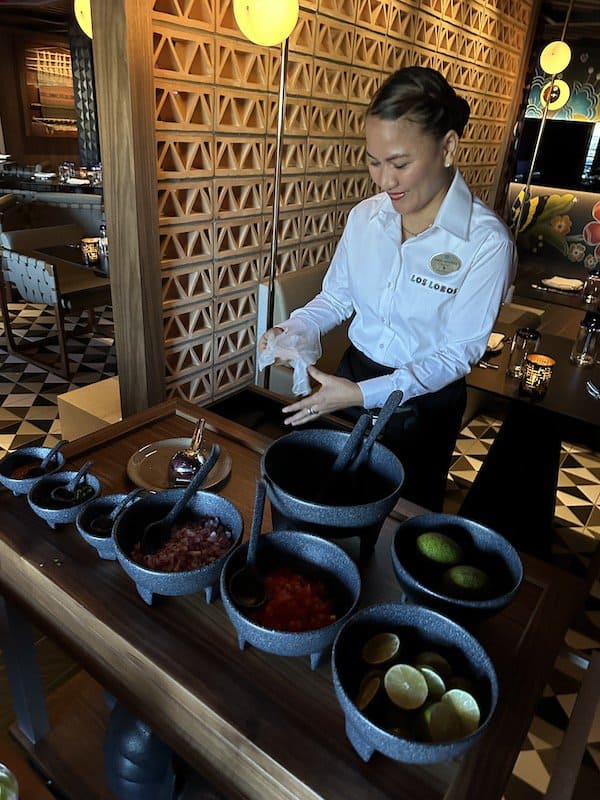 The meal was solid, and the service was fast and efficient. We had a 6:15 p.m. reservation, so maybe that early hour might have something to do with it. I remember dining there on Norwegian Encore in 2019 before the shutdown, and it was just okay. I compared it to the tacos they served upstairs in the buffet. Los Lobos redeemed itself this time.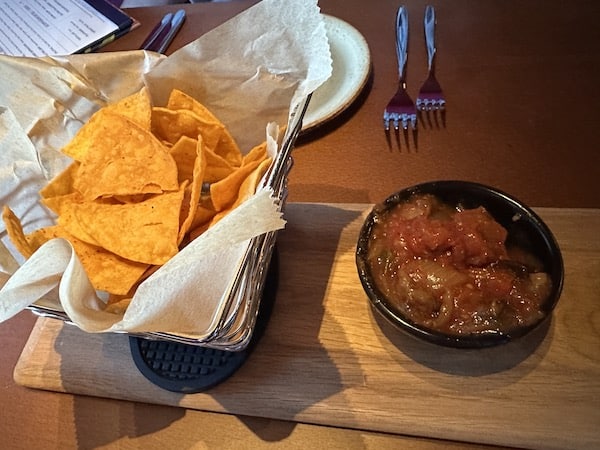 Table-side guac is always a nice touch. The preparation and presentation were done well, and it tasted very fresh. The spicy margarita had a nice kick, and I'm glad we got dessert because the Tres Leches was spot on.
One thing that has been nice about dining, at least so far, is that NCL gives menus for the specialty venues instead of telling you to scan the QR code on the table. I know this could be a silly point to some, but if you are paying for an elevated dining experience, it's nice to have a menu and not swipe on your phone. We are on our phones way too much as it is these days.
Evening Entertainment
Entertainment last night was a cover band in Syd Norman's Pour House doing tunes from the 70s and 80s. There was a packed house, and people were rocking out in there.
Originally we were supposed to see "Beetlejuice, The Musical" premiere on this sailing but it won't be ready until later this month because of production delays. That was disappointing, but it's an inaugural sailing, and things happen. What can you do? I guess you play Bingo for now.
Having seen Beetlejuice on Broadway, my impression is that the Viva theater will be a nice fit for a production. I am still crossing my fingers and hoping they'll surprise us by saying they're going to do a dress rehearsal of at least a few numbers from the show to give us a taste.
Walking around the Norwegian Viva, I can't believe how much space there is in different venues. Starbucks, for instance, isn't just an afterthought as it feels on other ships. It's a full venue on deck seven with a whole variety of seating arrangements in the area. As someone that has to work remotely when traveling, it's a much-appreciated area.
Sailing Norwegian's Prima-class? Learn more:
Note: I am a guest of Norwegian Cruise Line on this four-night cruise. All thoughts are my own.