After a refreshing and much-needed sleep, we woke up to the stunning coast of Croatia. Viva pulled into the port of Split at 10:00 a.m., which gave us extra time to explore more of the new Norwegian ship before disembarking for the day.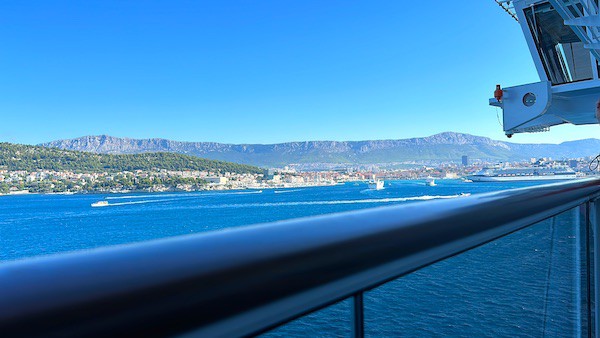 Exploring the New Norwegian Ship
First up? A tour of The Haven. If you are unfamiliar with the space, The Haven is Norwegian's premium suite area and is often coined a ship-within-a-ship. The space has its own restaurant, outside deck, bar, lounge, butler service and some truly beautiful (and massively large) staterooms.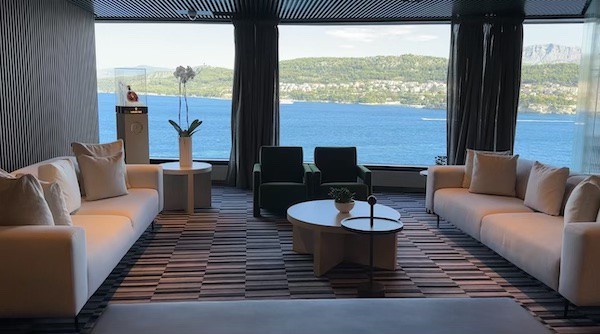 Indeed, experience doesn't come cheap, but — having been fortunate enough to sail in The Haven once in the past — it's everything it's cracked up to be and more. The Haven area on Viva is similar to what you'll find on other Norwegian ships, but even more elevated. And one very big difference is that the entire Haven complex is perched on the back of the ship on Prima-class ships.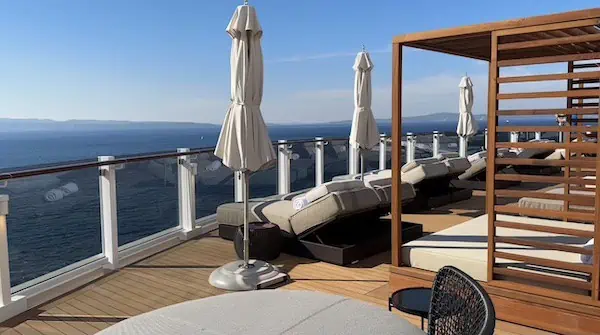 This means the various private spaces have gorgeous views of the wake. But it also means that all the staterooms are located in the same area, spanning three levels, requiring special key card access. On many other NCL ships, only some of The Haven suites are part of this centralized hub, with others located outside the key-card protected area.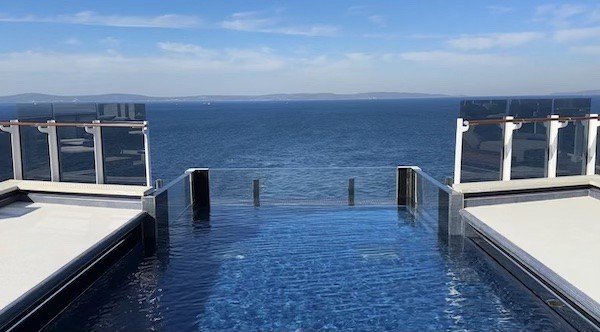 Like on Prima, The Haven area on Viva is larger than on previous ships. Cruisers will have to decide whether the experience is worth the price, but for those willing to shell out the big bucks, it seems like a pretty amazing experience.
Top Deck Entertainment
Another great area of the ship is the upper deck space which encompasses everything from water slides to a pickleball court. This whole area feels like you've wandered into a high-class version of the Jersey Boardwalk or Disney Springs, with the various distractions here fighting for your attention and your dollars. Because if there's a downside, many things here come with a fee.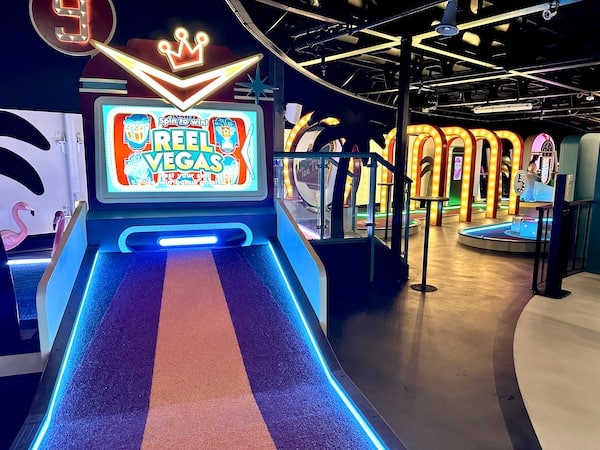 For example, a very cool and interactive miniature golf course exists. And while it's got lots of bells and whistles, is it worth $10 per person? I'll admit, I paid for it (despite rarely taking advantage of the free miniature golf available on other ships).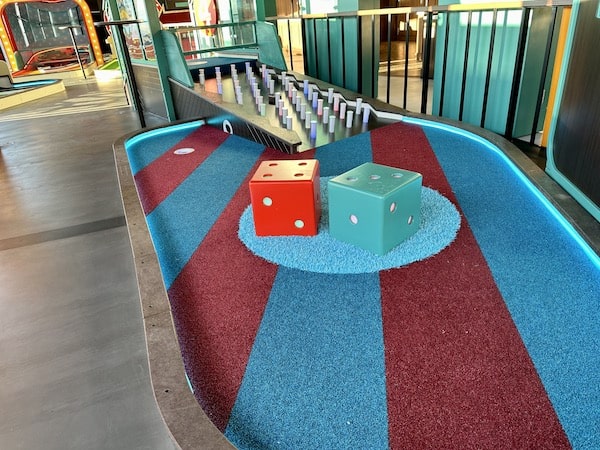 But that fun will cost a family of four $40. And the cool darts area, which lets you play in what looks like your coolest uncle's basement, also costs $20 per hour for up to six people. As does the three-level go-karts. I couldn't help thinking that much as I like this area, it's a nightmare for parents, who either have to open their wallets (wide) or disappoint their kids by saying "no."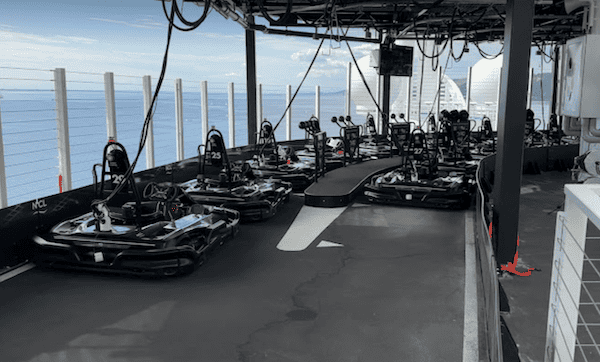 I haven't yet done the go-karts, but I intend to before the trip ends. I've done every other track available on NCL ships, and I'm not about to break the streak. Plus, this one is three levels. Go ahead, NCL, just take my money now! And we haven't even gotten to the slides yet.
Trying out Indulge Food Hall
Before we got off the ship, we had a quick bite to eat at Indulge Food Hall. This is another solid win by Norwegian Cruise Line. This runs along the same line as Virgin Voyages' Galley concept, where you sit down, order your meal off an iPad, and get table service.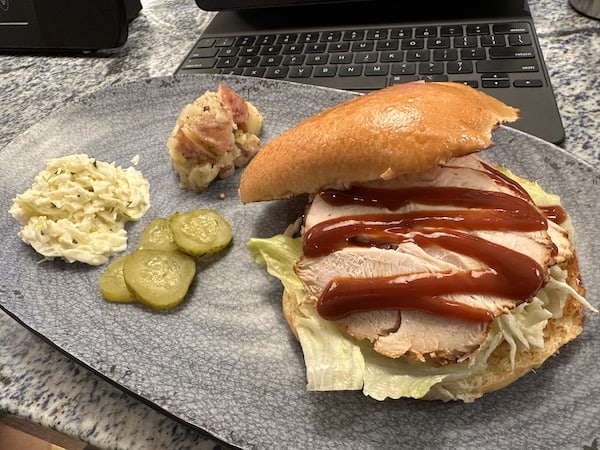 Since my favorite food is BBQ, we sat at the Q Texas Smokehouse counter, ordered smoked turkey, and pulled pork sandwiches with fried okra. Other cool areas in the space were a real food truck, a real airstream camper, and various salad, Latin, Asian, and dessert stations.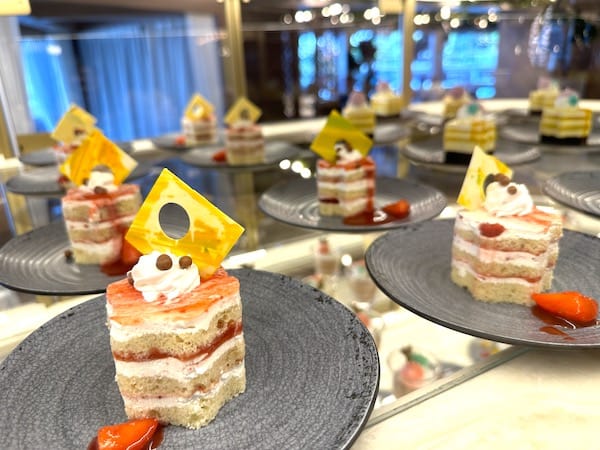 What's very cool about this upscale food court is that if you sit at one of the tables in the main area, you can order from any (or all) of the venues. That means you don't have to wander from one place to the next, getting a sandwich and a dessert.
All you need to do is order on the iPad-like device, and servers will bring it to you. Better still, unless you order drinks or something with a fee (like a Starbucks coffee), the food here is complimentary.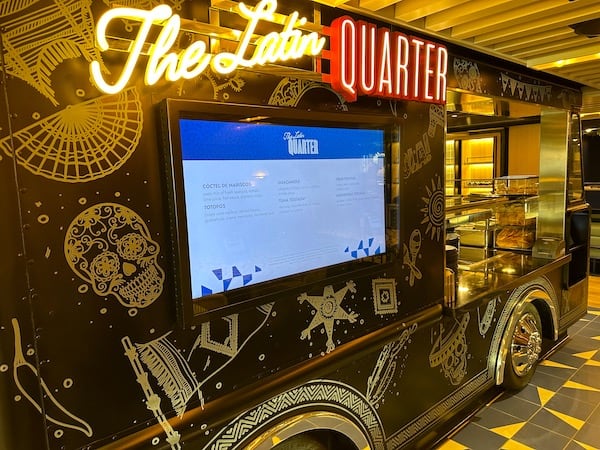 If I see one problem with the Indulge Food Hall, the idea is so fantastic that it could be ridiculously popular and crowded in the Caribbean. I say that because Europe and Caribbean itineraries are completely different cruise experiences.
One thing this ship does well is disperse passengers. Despite sailing at capacity, the ship has never felt crowded. I mentioned yesterday that even the hallways feel wider, and it all comes together to give the ship an open feeling, even when you're indoors.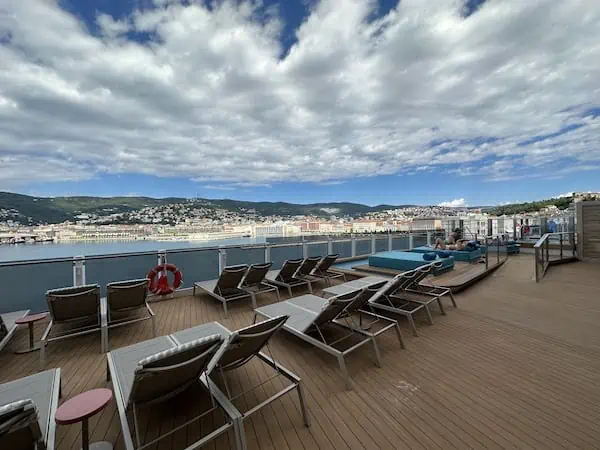 The amount of space on this ship had me very curious, so I crunched some numbers. Norwegian Viva is 143,535 gross registered tons and carries 3,250 passengers. That's 44.16 gross registered tons of space per guest or 882 square feet per passenger.
For comparison, Carnival Celebration has a ratio of 34, and Wonder of the Seas comes in at 41. Many mistake gross registered tonnage for weight when it refers to the interior volume of the cruise ship.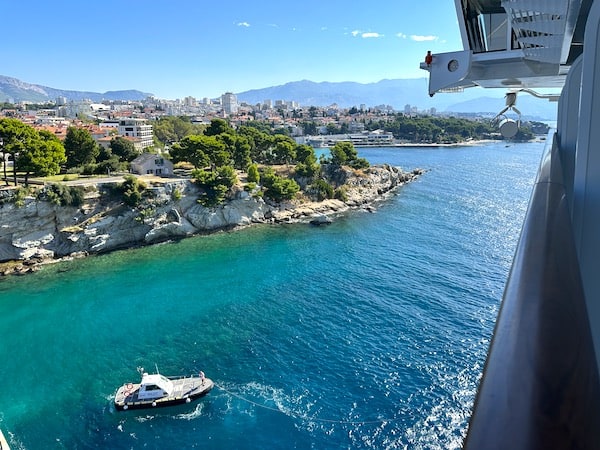 Split, Croatia, was beautiful. The town is very walkable, and we were joined by a Celebrity and Oceania cruise ship. We had blue skies and did a small hike to get photos of the ship.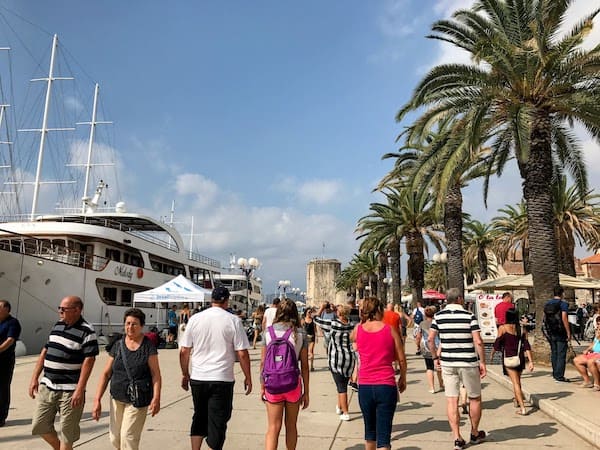 Afterward, we went over to Diocletian's Palace. This ancient structure was built for the Roman emperor Diocletian and is still the best preserved of the Roman palaces. It involves a lot of walking, but given how much we've been eating (and still intend to eat), getting in some exercise was very good.
Cagney's Steakhouse on Norwegian Viva
Once back on the ship, we set sail again at 7:00 p.m., bound for the Messina Straits between mainland Italy and the island of Sicily.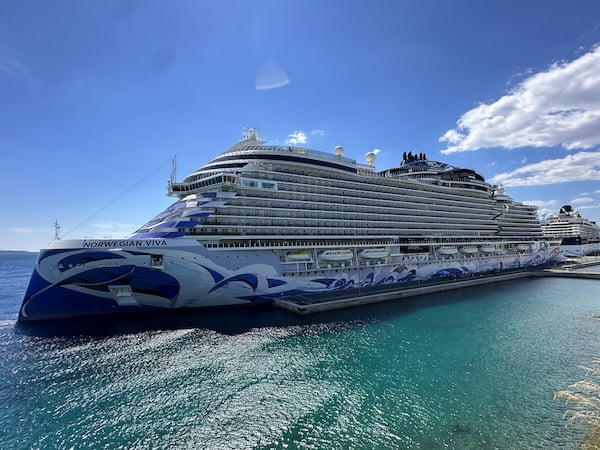 Our dinner reservation was at Cagney's Steakhouse. Anyone who knows me knows I'm a meat-and-potatoes guy, so I'm never happier than in a steakhouse. I hit a steakhouse at least once during nearly every trip, and I have to say that Cagney's is probably my favorite at-sea steakhouse. I've thought that since my first cruise on a Norwegian ship, the Sky, back in 2009.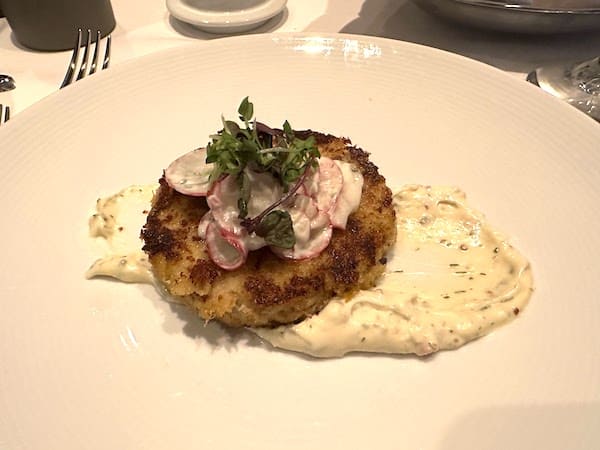 I went with the bread service, a crab cake, French onion soup, an eight-ounce filet, and a hot mini apple pie for dessert. The apple pie was cute… and came with the perfect accompaniment, a scoop of ice cream.
The steak was cooked to perfection (medium rare). I was very impressed with the service, and as the place started filling up, more staff started running food and clearing tables. That's teamwork in action!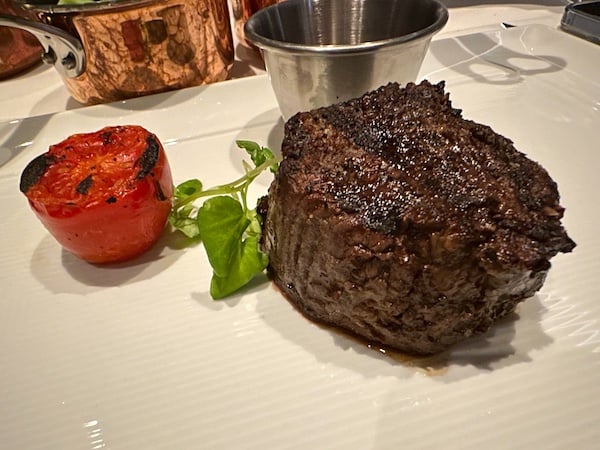 After dinner, we bounced around the ship, listened to music, and talked with friends before calling it a night. Of course, "calling it a night" meant heading back to the room, firing up my MacBook, and working about four hours. But hey, I'd rather be working remotely from a cruise ship and dealing with the six-hour time difference than being back in the studio!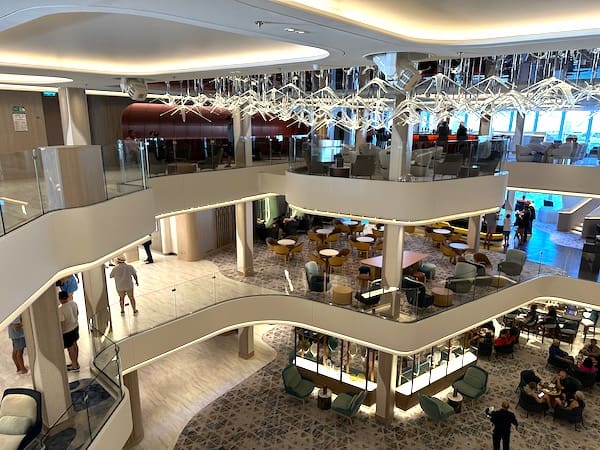 Because we had dinner so early, we ordered room service around 2 a.m. (at least, that is how I'm justifying it). It was a $9.99 service charge and an added 20 percent gratuity on top of that. Yes, we could have trekked down to The Local — open around the clock — but it was worth $12 to stay put and have the food come to me. I miss the days of free room service, but I was still happy to pay the price if it let me be a little lazy.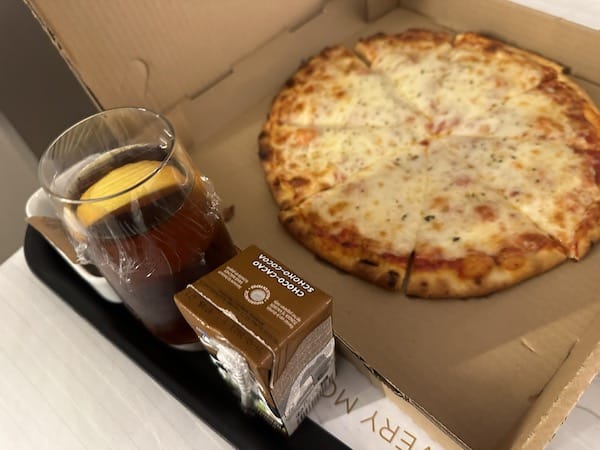 Room service took 30 minutes, and the crew member who arrived on our doorstep kept apologizing. I'm not sure why he was so apologetic because, on the phone, they told us it would take 30 to 45 minutes.
We went with a large pizza, a BLT, three cartons of chocolate milk (because we are five years old), and a glass of unsweetened tea. And yes, we ate every last bit.
Tomorrow is a sea day, and as is my norm, I'll be interested to walk around and see how the ship handles passenger flow when everybody's on board and looking to be kept occupied. But if it's anything like these first 48 hours have been, it should be heavenly.
Sailing Norwegian's Prima-class? Learn more:
Note: I am a guest of Norwegian Cruise Line on this four-night cruise. All thoughts are my own.