The day has finally come… Mardi Gras is here and we are onboard!
On Friday we were able to board Carnival Cruise Line's newest ship for a special preview day, and right now we are onboard for its very first passenger sailing.
If you know us, you know that one of the things we're the most excited about is the food! Mardi Gras pretty much has a bit of everything: brand new venues, longtime Carnival favorites, and restaurants that have been reimagined for this new ship.
Up to this point, nearly all of the images we've seen of the interior of Mardi Gras have been renderings, as official photos from Carnival have not yet been made available. So while cruise line renderings are usually pretty accurate to the final result, they still aren't true photographs, and they don't necessarily give us a good feel for the space the way a real photo does.
So now, without further ramblings, we give you exactly what you came here for: photos of some of the restaurants and food aboard Carnival's Mardi Gras. 
1. Emeril's Bistro 1396
Let's start with a new one created with a new partner for Carnival — Emeril's Bistro 1396 by celebrity chef Emeril Lagasse. Wondering what the 1396 signifies? It was Mardi Gras' yard number at the shipyard.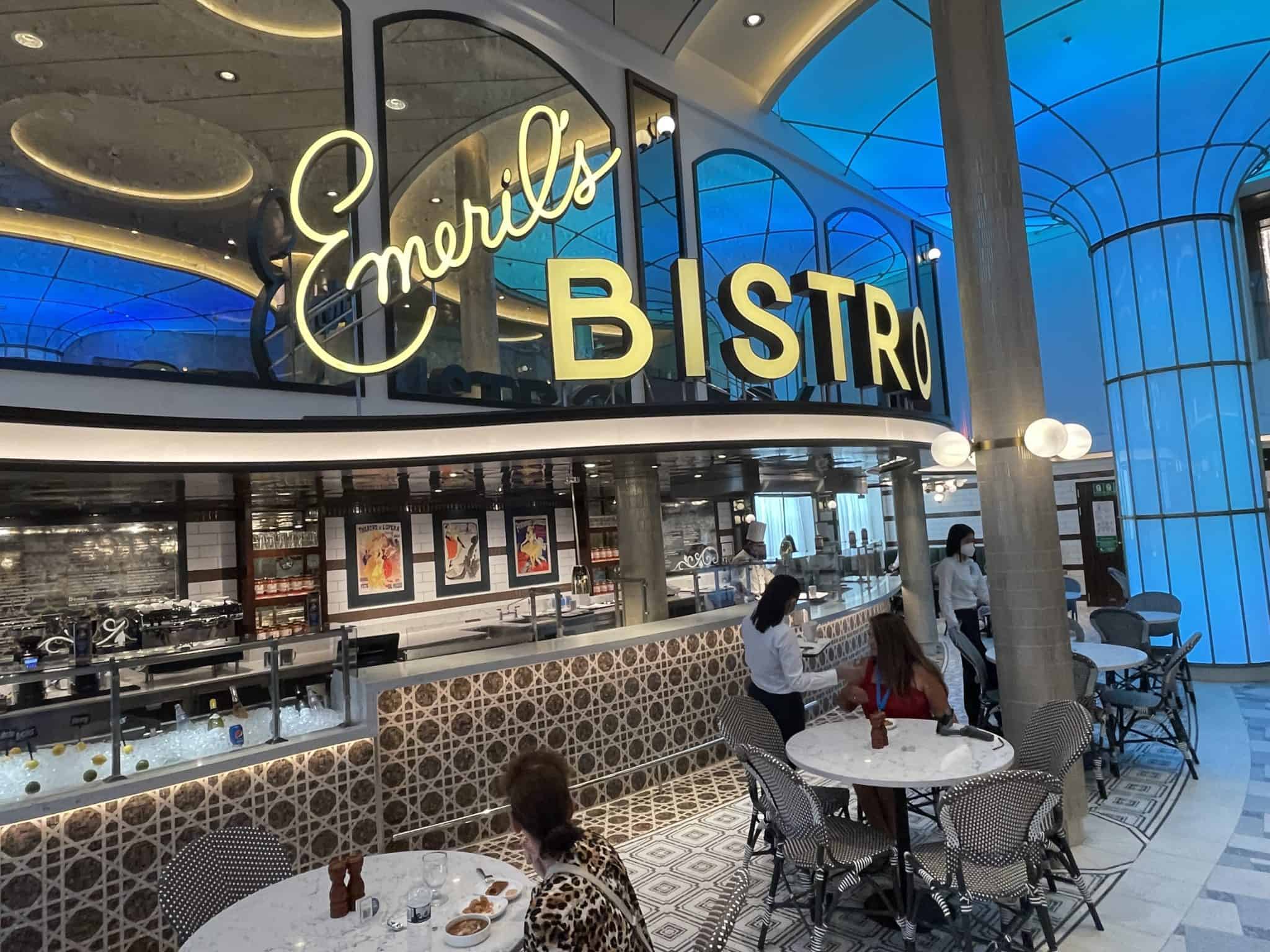 2. JavaBlue Café
Up next is a Carnival staple — the JavaBlue Café. Here you'll find specialty coffees, tea, milkshakes, and pastries. Next to it towards the left of the photo, you can see a doorway leading to lots of color. That's Cherry on Top, the ship's candy store and ice cream shop.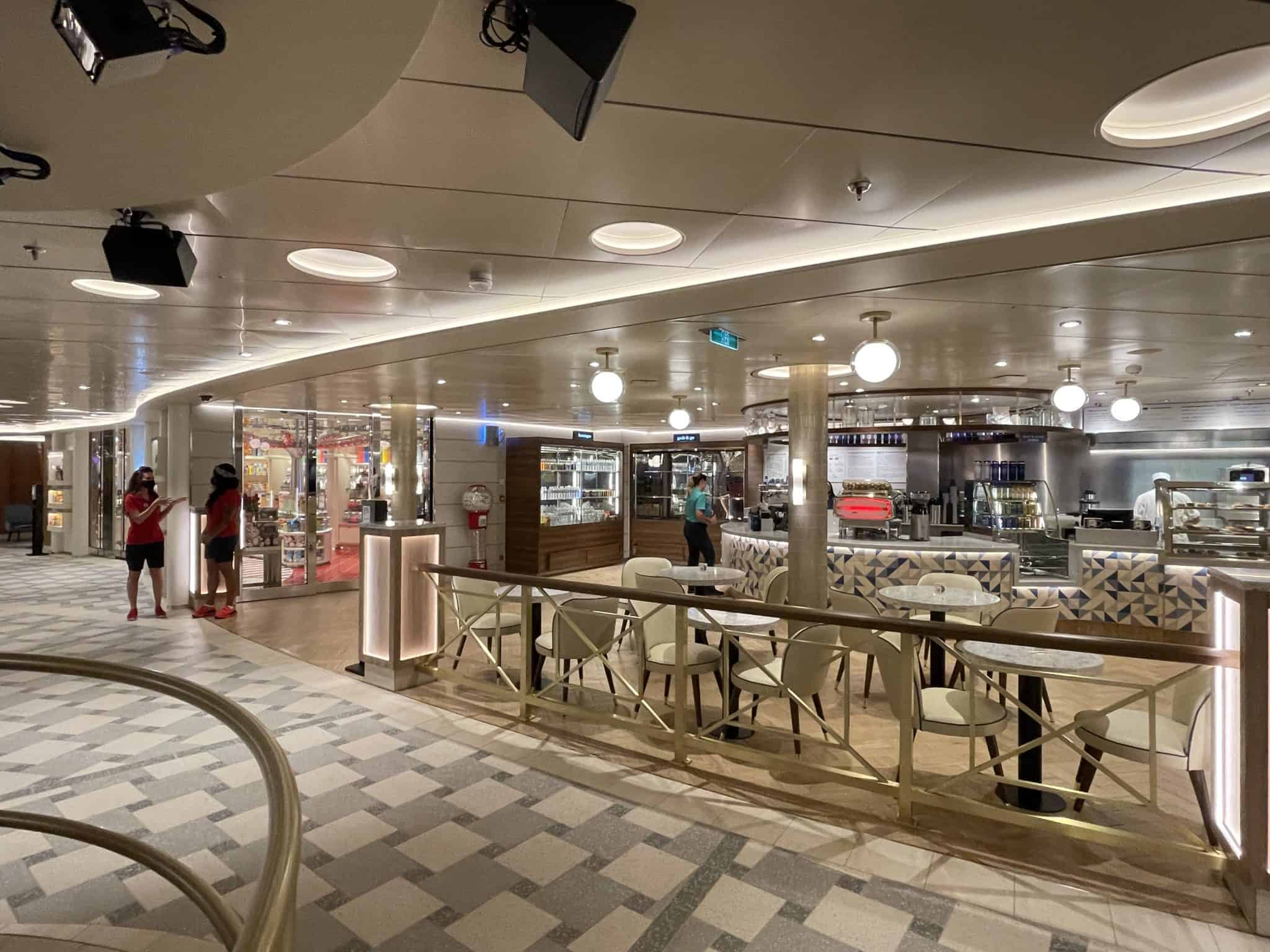 3. Guy's Burger Joint
It wouldn't be a Carnival ship without Guy's Burger Joint created with celebrity chef Guy Fieri. Instead of being on the lido deck next to the pool on Mardi Gras, the venue is up one deck between the second story of the RedFrog Tiki Bar and the teen space, Club O2. And for the first time, Guy's Burger Joint is open in the mornings with a dedicated breakfast menu.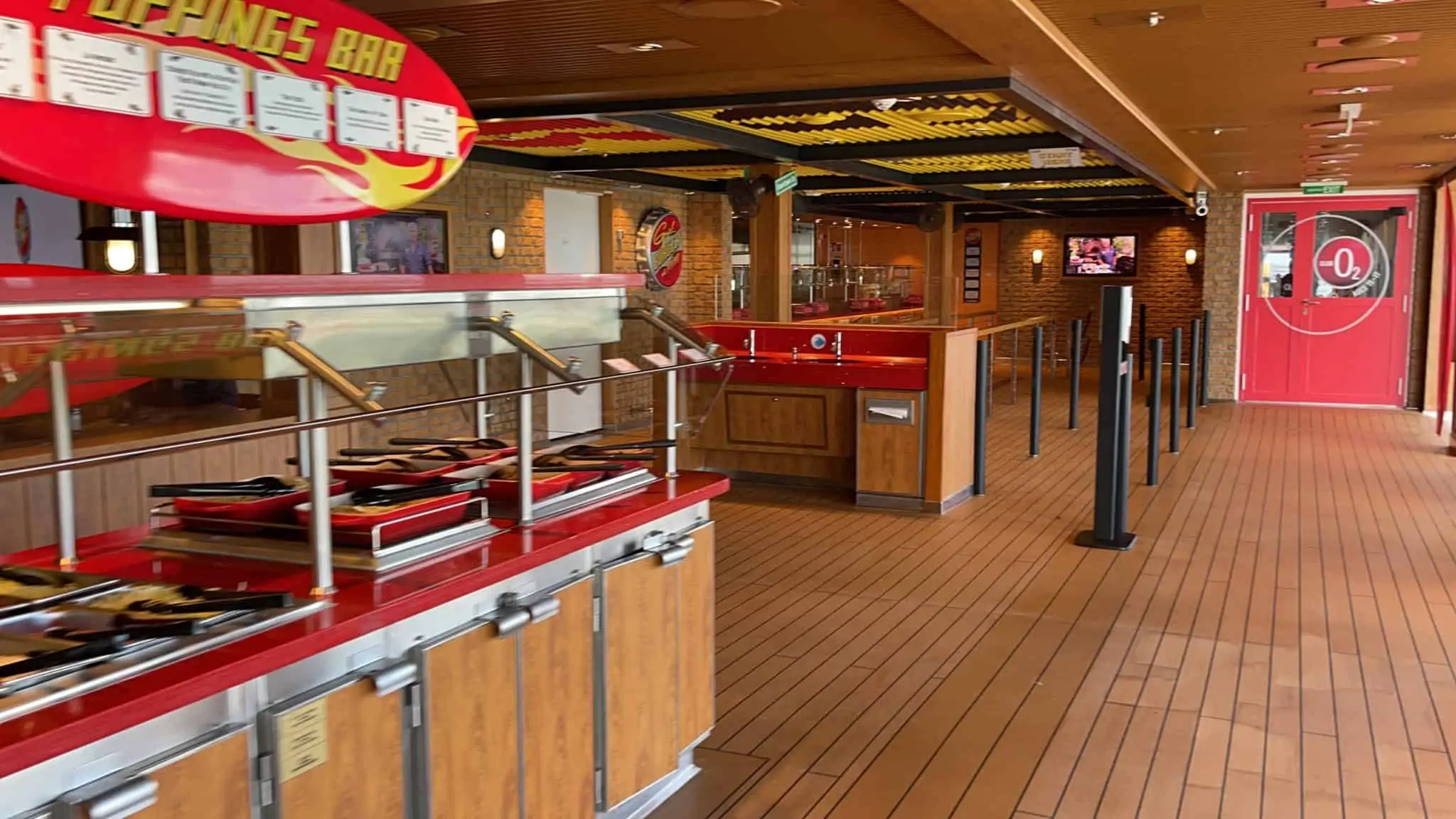 4. Bonsai Sushi
If you have a hankering for sushi during your cruise, Mardi Gras has the solution for that: Bonsai Sushi.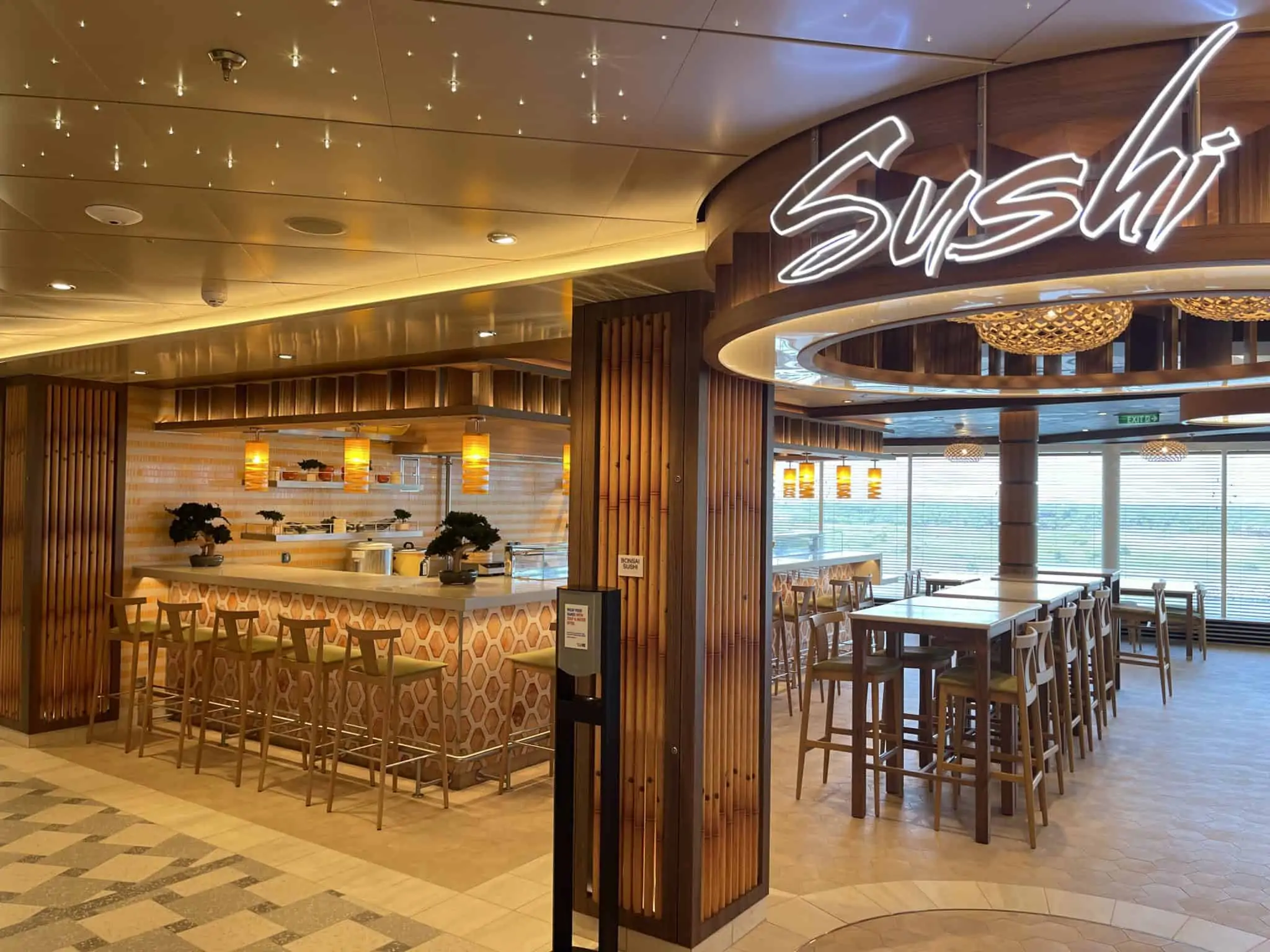 5. Bonsai Teppanyaki
Along with Bonsai Sushi, the ship also features Bonsai Teppanyaki serving up dinner and entertainment. Here's a photo of one of the hibachi tables.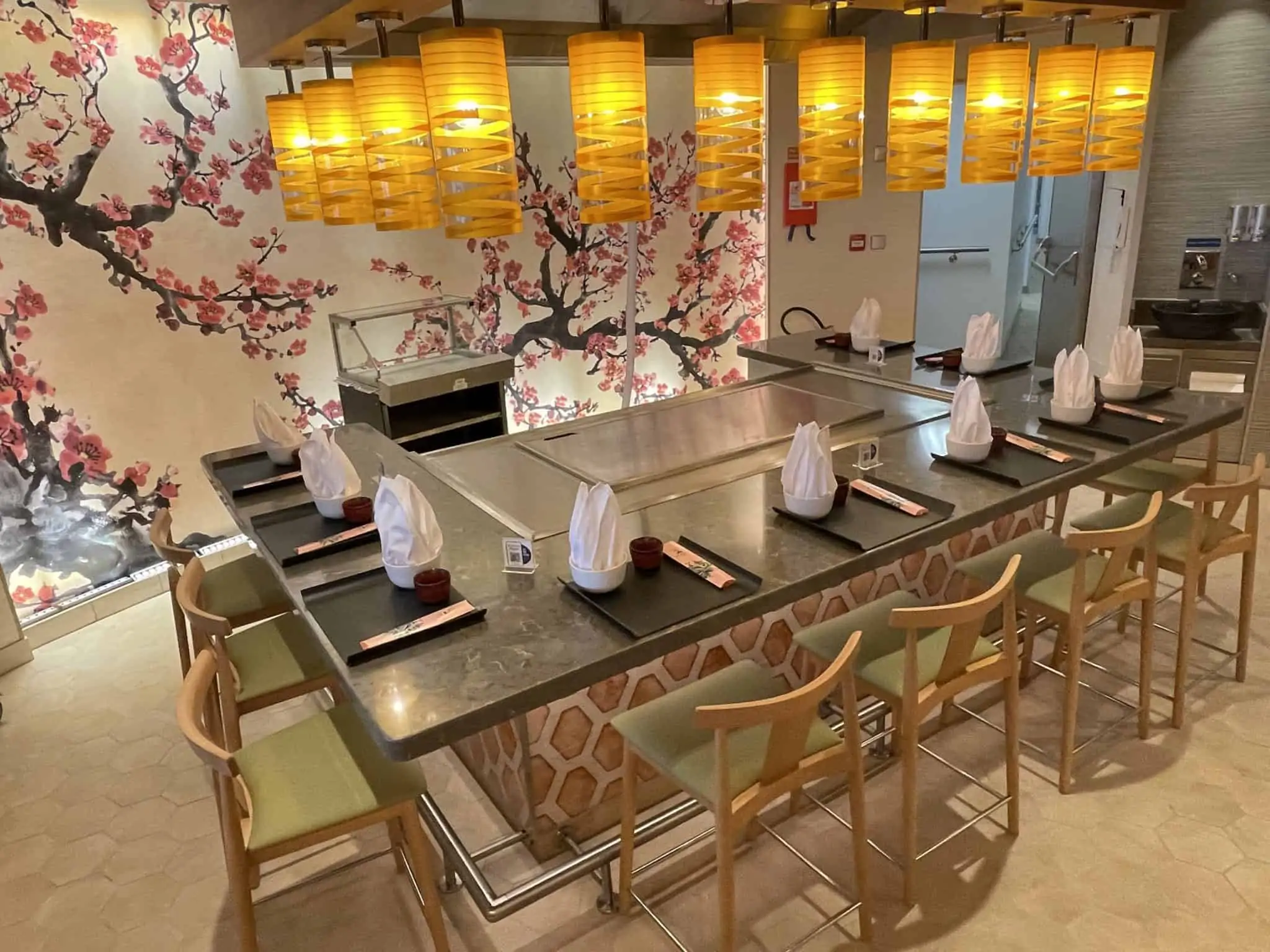 6. Rudi's Seagrill
New to Carnival is a seafood specialty restaurant by Chef Rudi Sodamin — Rudi's Seagrill. The venue features oceanic hues of blues and teals along with Chef Sodamin's "Food Faces" plates.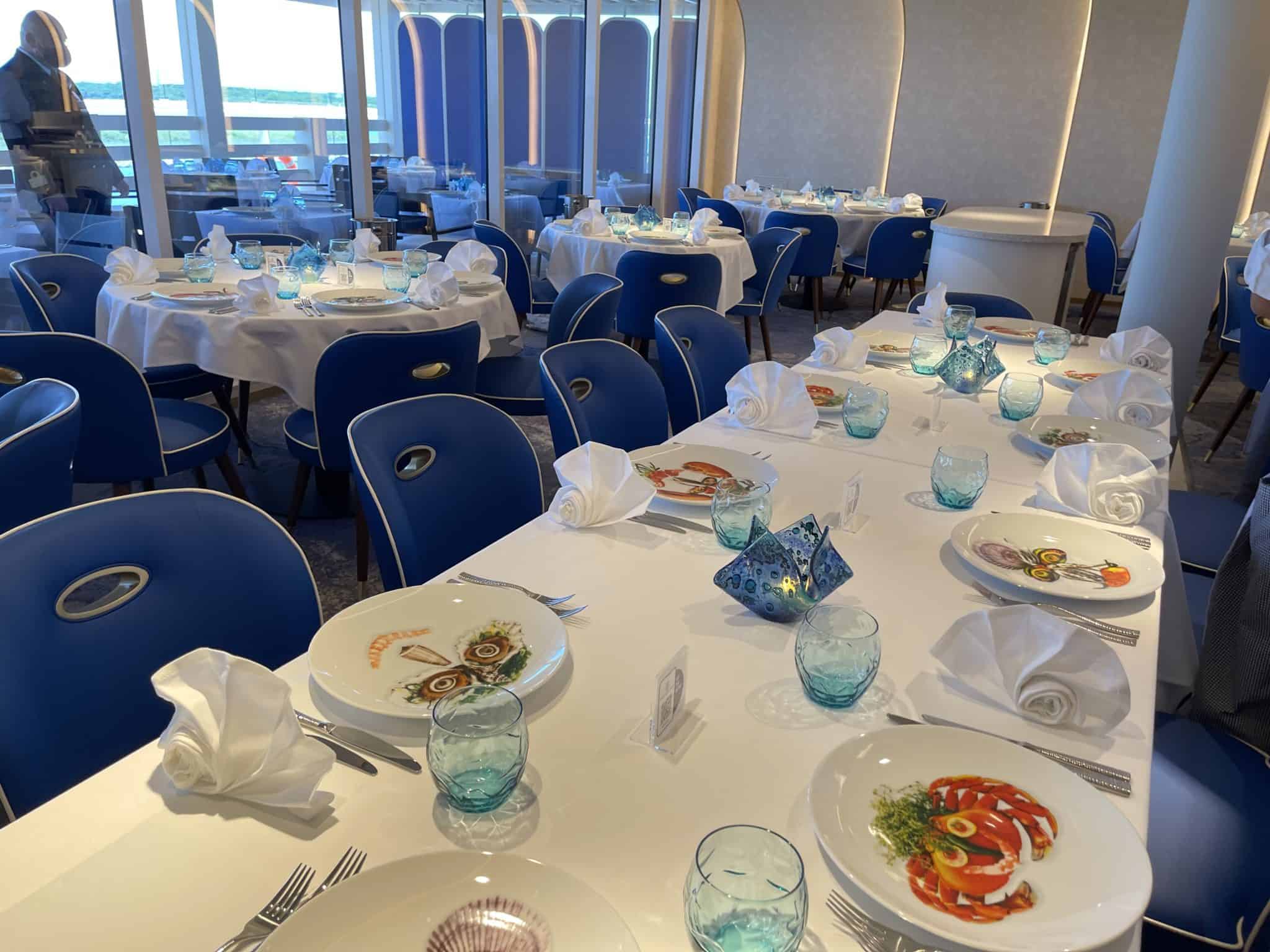 7. Carnival Kitchen
If you want to upgrade your culinary skills during your time away from home, consider booking a class at the Carnival Kitchen. There, you can learn how to bake, barbecue, and cook various dishes from Carnival chefs.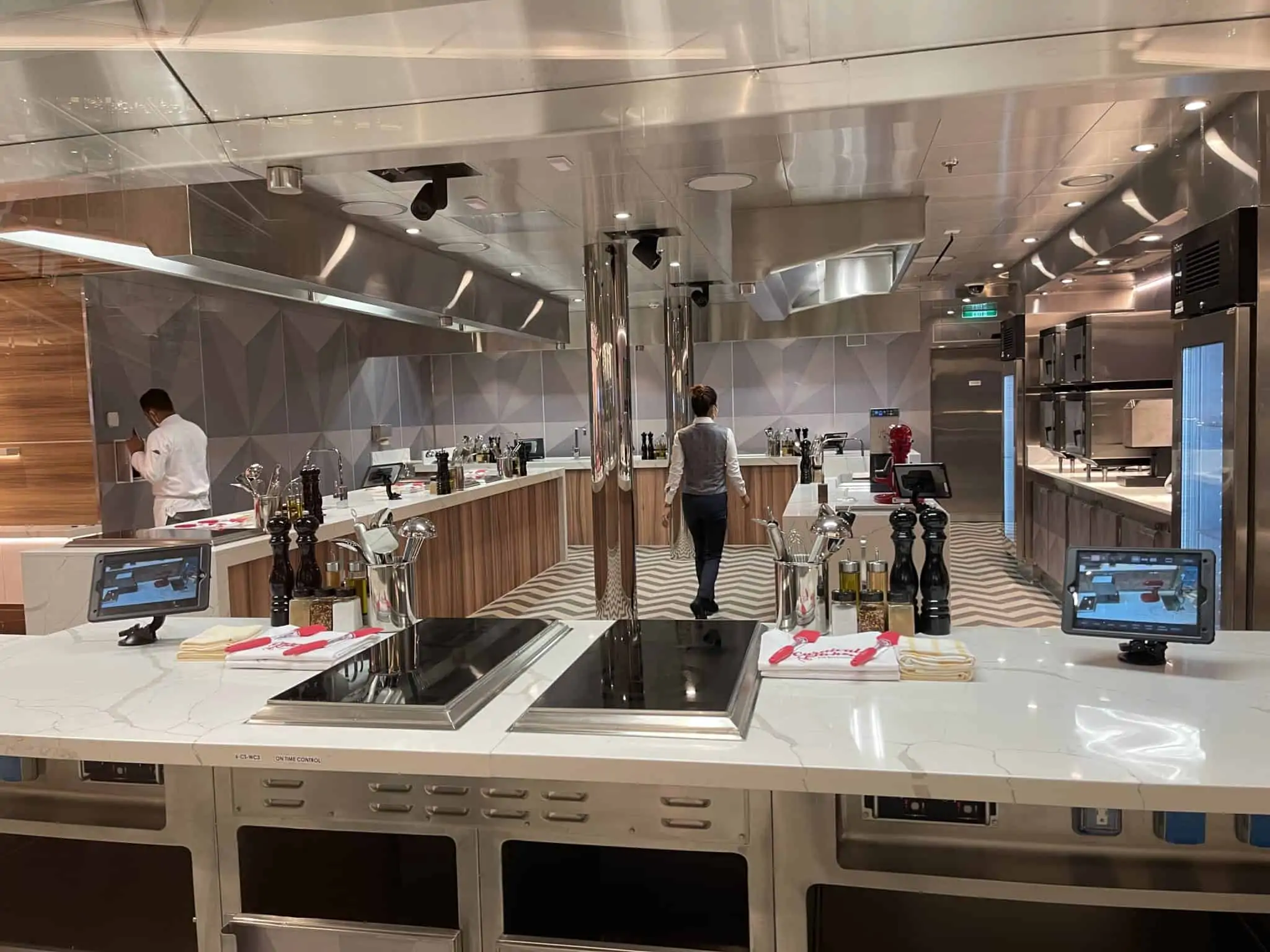 8. Pizzeria Del Capitano
These days, a large cruise ship just wouldn't be a cruise ship without a pizza counter. Here's Mardi Gras' — Pizzeria Del Capitano.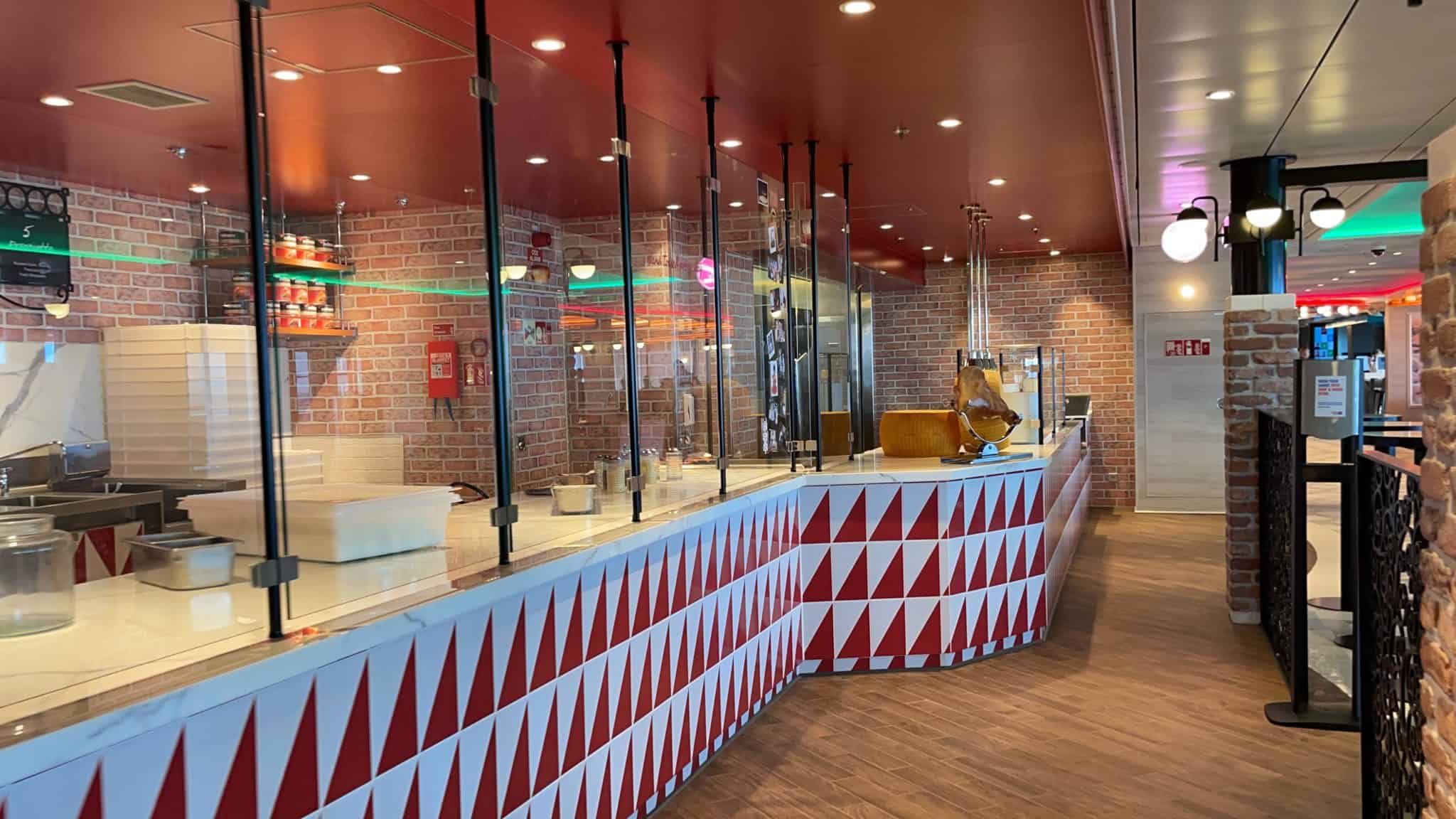 9. Chibang!
Below is another new venue for Carnival, and the most recently announced — Chibang! The unique restaurant serves both Mexican food and Chinese food, so you can pick which cuisine you're in the mood for or mix and match from both sides of the menu. Here is the lunch menu and dinner menu.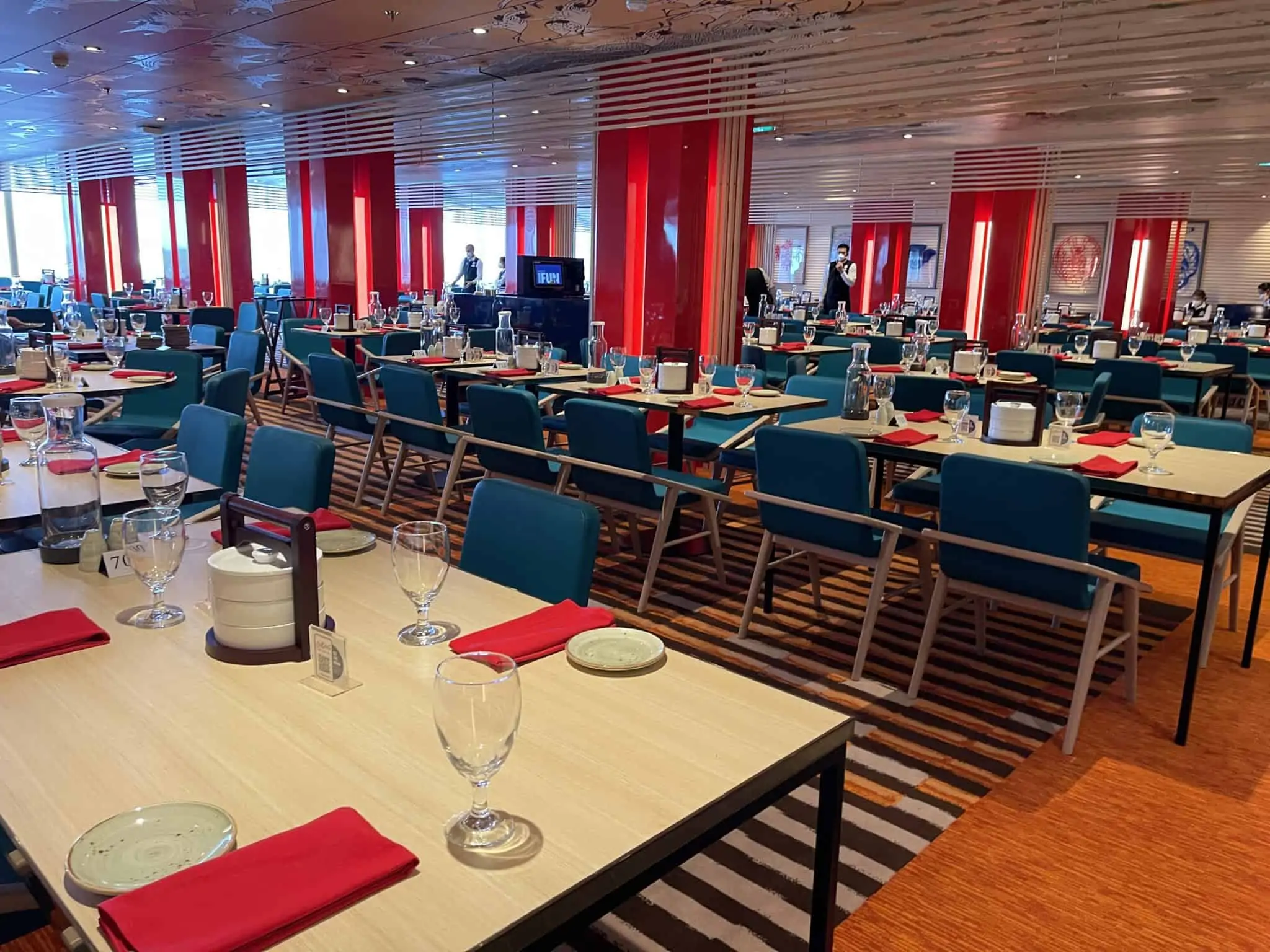 10. Guy's Pig & Anchor Smokehouse | Brewhouse
If you know us here at Cruise Radio, you know that we love barbecue. So it's always fun to cruise aboard a ship that has a dedicated barbecue restaurant, and on Mardi Gras (and some other Carnival ships) it's Guy's Pig & Anchor Smokehouse | Brewhouse. This is another venue that Guy Fieri developed in partnership with Carnival.
In the photo below, you can see a stage to the left with live music to entertain diners. The venue also features one of just a few breweries at sea. Check out the menu here.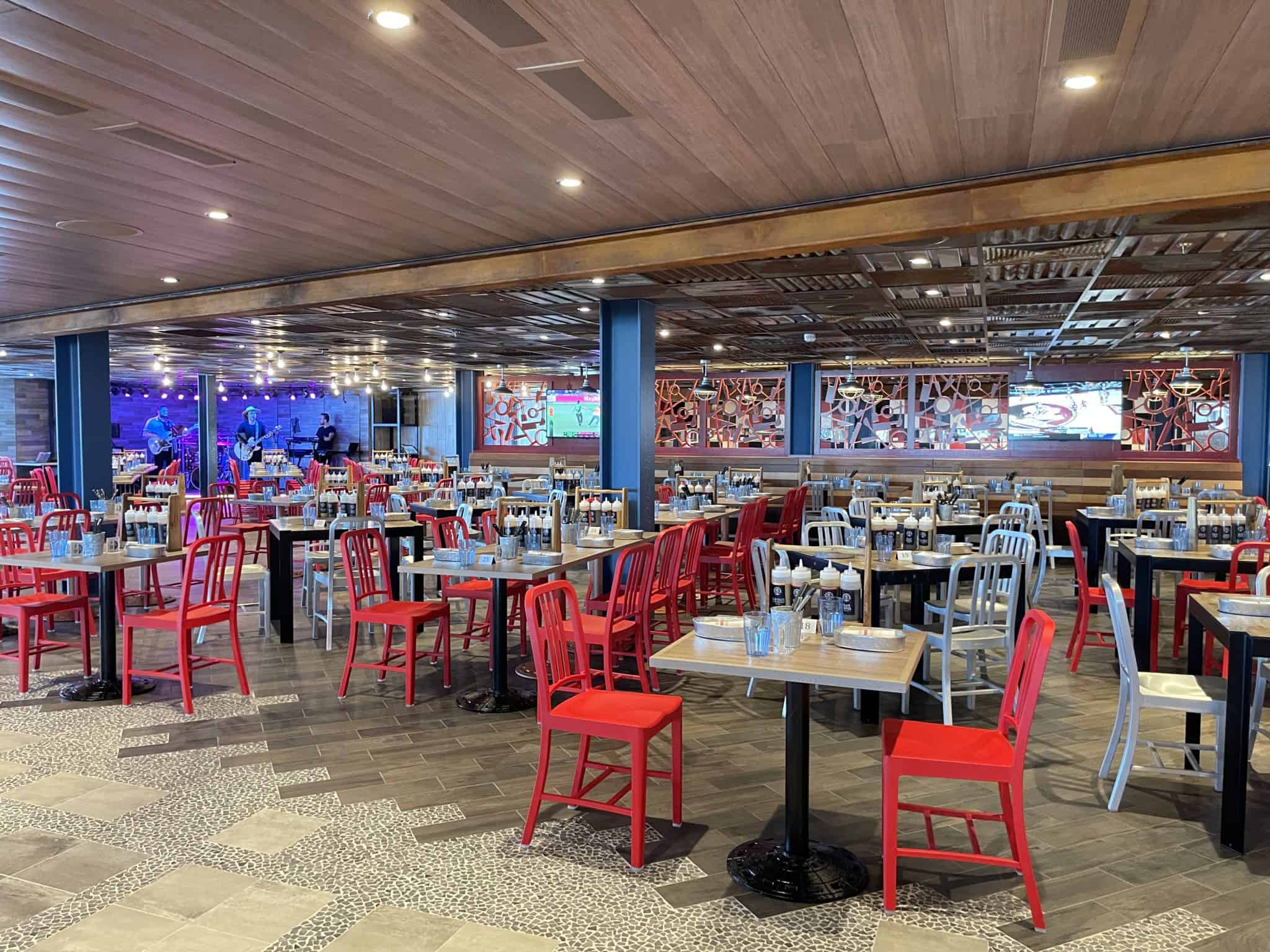 11. BlueIguana Cantina
While Guy's Burger Joint might have moved up one deck from the main pool, BlueIguana Cantina is still situated right next to it. This grab-and-go counter service venue, open for breakfast and lunch, serves up things like tacos and burritos.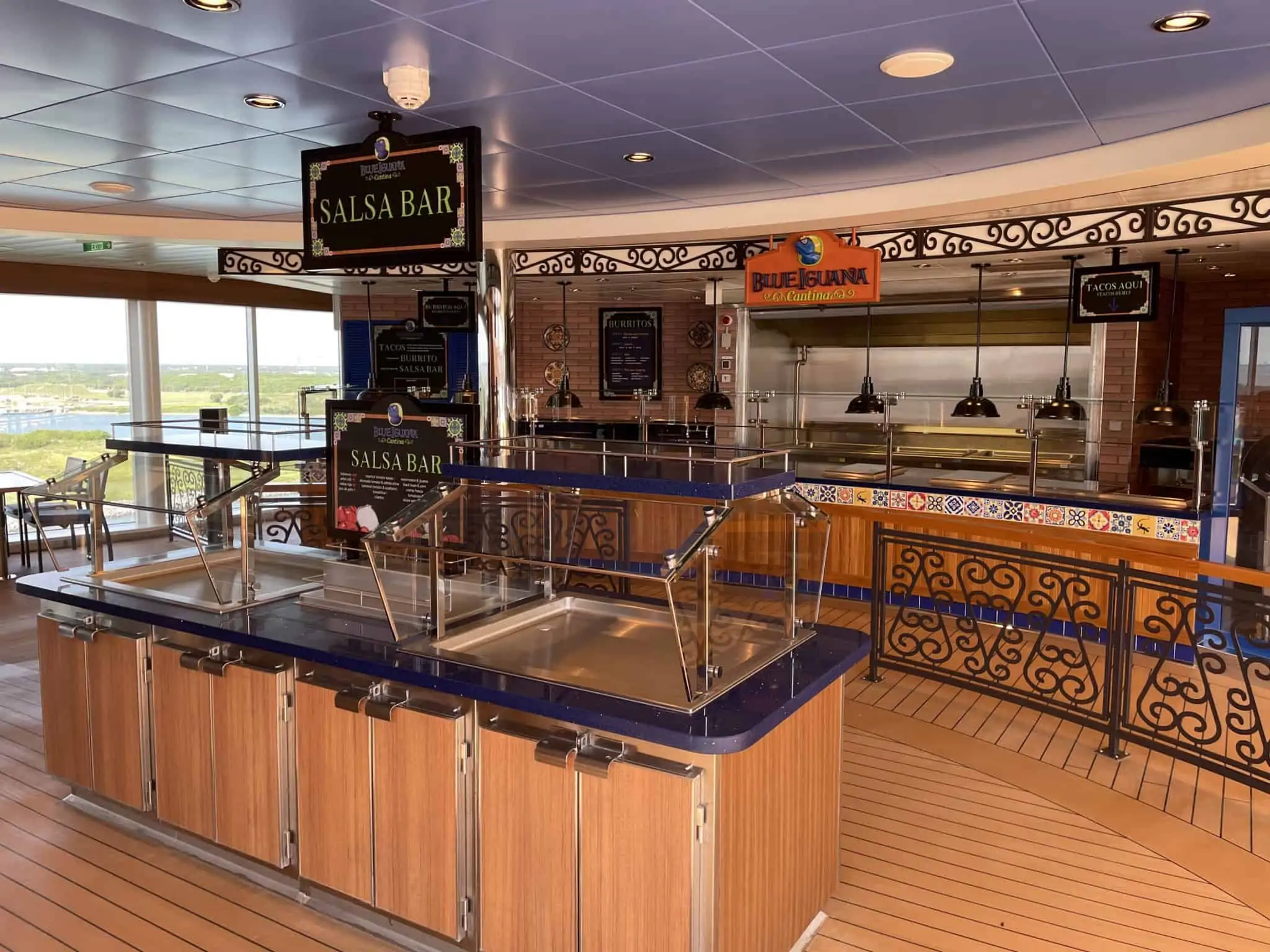 12. Palm Restaurant
Pictured below is one of the ship's main dining rooms, the Palm Restaurant.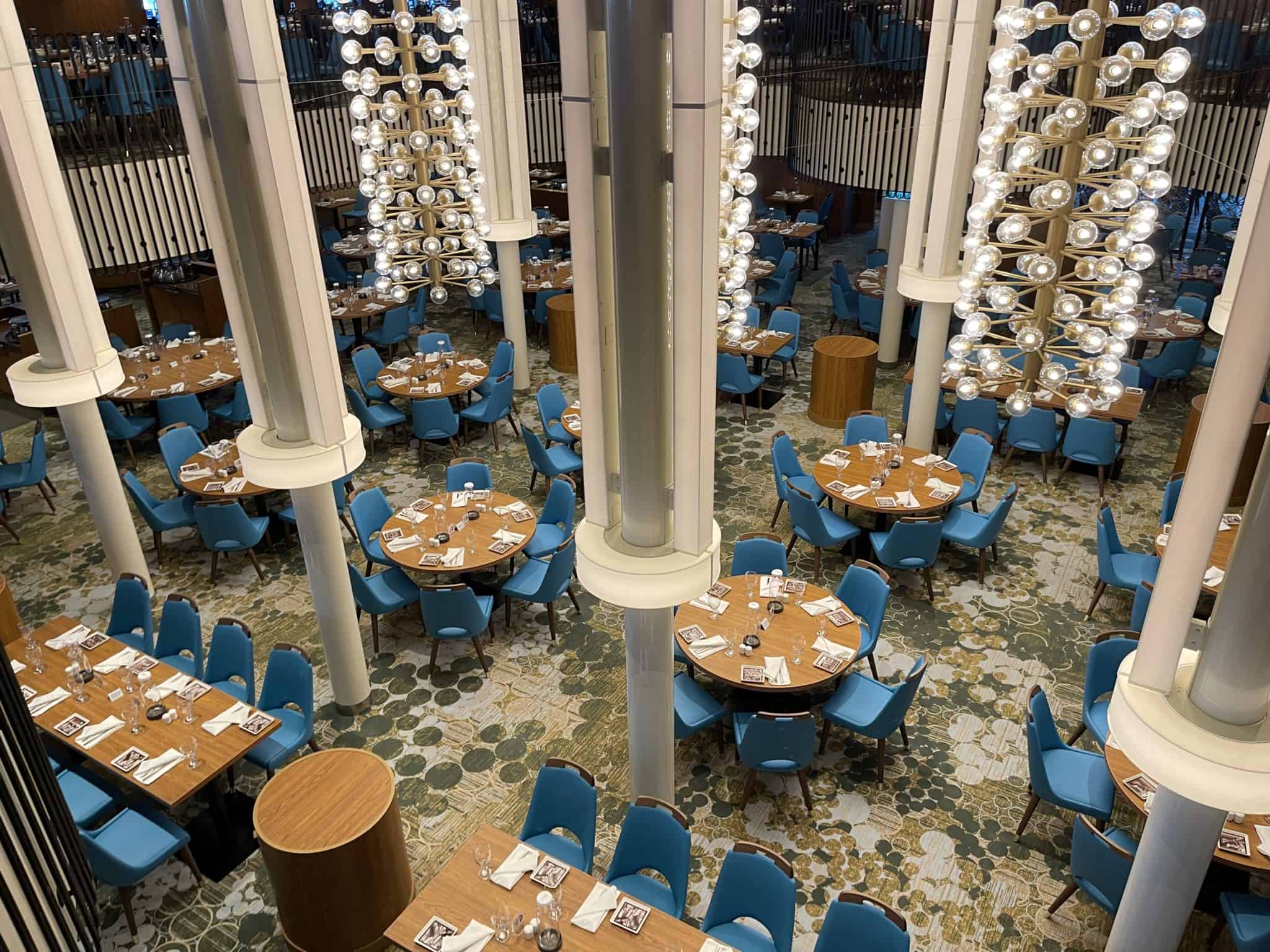 13. Big Chicken
Former NBA basketball star Shaquille O'Neal owns a restaurant chain called Big Chicken, with locations in Glendale, California and Las Vegas, Nevada. He's also Carnival's "Chief Fun Officer," appearing in various ad campaigns for the cruise line.
With the launch of Mardi Gras, Big Chicken has made its debut on the high seas. Another Carnival ship that has been extensively renovated, Carnival Radiance, will also include the venue. It serves chicken sandwiches and chicken strips along with sides, and is also open for breakfast. You can find the menu here.
We hope you enjoyed this restaurant photo tour of Mardi Gras. Keep in mind that there are even more venues we didn't cover here, so we guarantee there is something for everyone aboard this ship!
READ NEXT: Everything You Need to Know About Mardi Gras' Loft 19 and Its Cabanas
Pin it!