So a few days back you probably saw my initial trip report, and maybe you excitedly looked forward to reading the daily entries. And then… nothing. As it turns out, this particular sailing was action-packed. Between exploring the Carnival Horizon, spending time with old friends and new, and exploring a whole slew of ports, I wound up so exhausted at the end of each day that I could barely cobble together notes, let alone a readable travel report.
But now that I'm home, I figured we could all just sort of pretend that I'm still on the ship and rejoin this trip report, already in progress. If you missed the first entry, you can read it — and get yourself caught up — here.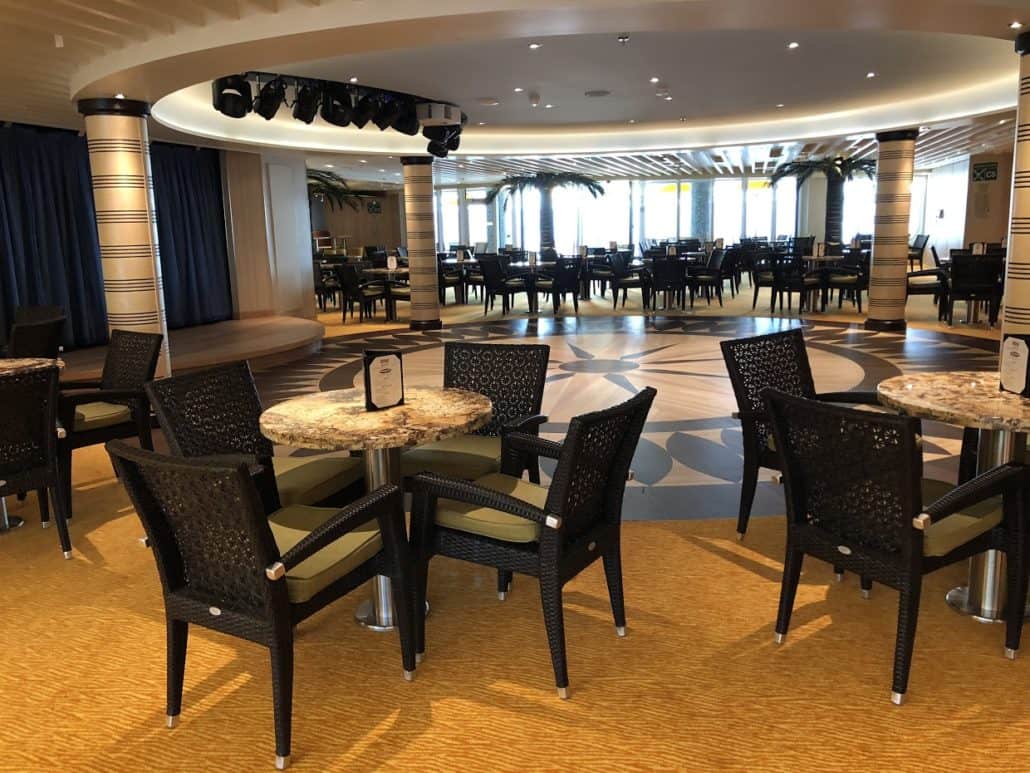 After sleeping 10 hours, I woke up and headed straight down to Ocean Plaza to grab breakfast. If you've followed my past trip reports, you know that when sailing on Dream and Vista class ships, I'm a big fan of skipping the chaotic lido deck buffet in favor of swinging by Ocean Plaza, which offers a nice selection of simple choices. Plus, it remains one of the best kept secrets on the ship, especially during the first few days when people haven't taken the time to really acclimate themselves. There were a few people grabbing breakfast this morning, but it was still pretty easy to just grab-and-go.
This morning there was a question and answer session with Christine Duffy — aka the President of Carnival Cruise Line — as well as some other executives who were on board for this sailing. 
Once that session was over, I went up to the Pig and Anchor Smokehouse and Brewhouse to sample the beer flight. When I sailed the Carnival Vista, the Java Stout was definitely my favorite. But Carnival's brewmeister Colin Presby — aka the guy with the coolest job in the world — isn't currently making a stout. So a friend and I grabbed a flight to see which beer we preferred. And the winner is… the smoked porter. The popular spot also serves an amber, an ale and an IPA. The drinks menu is also pretty creative, including one that features bacon.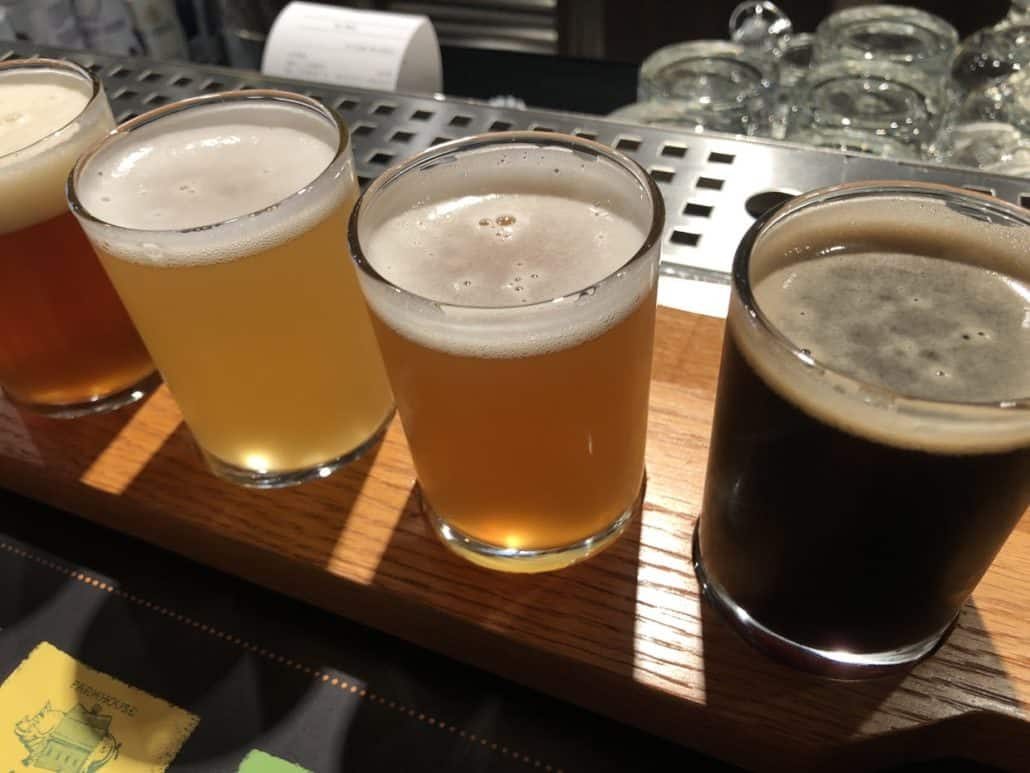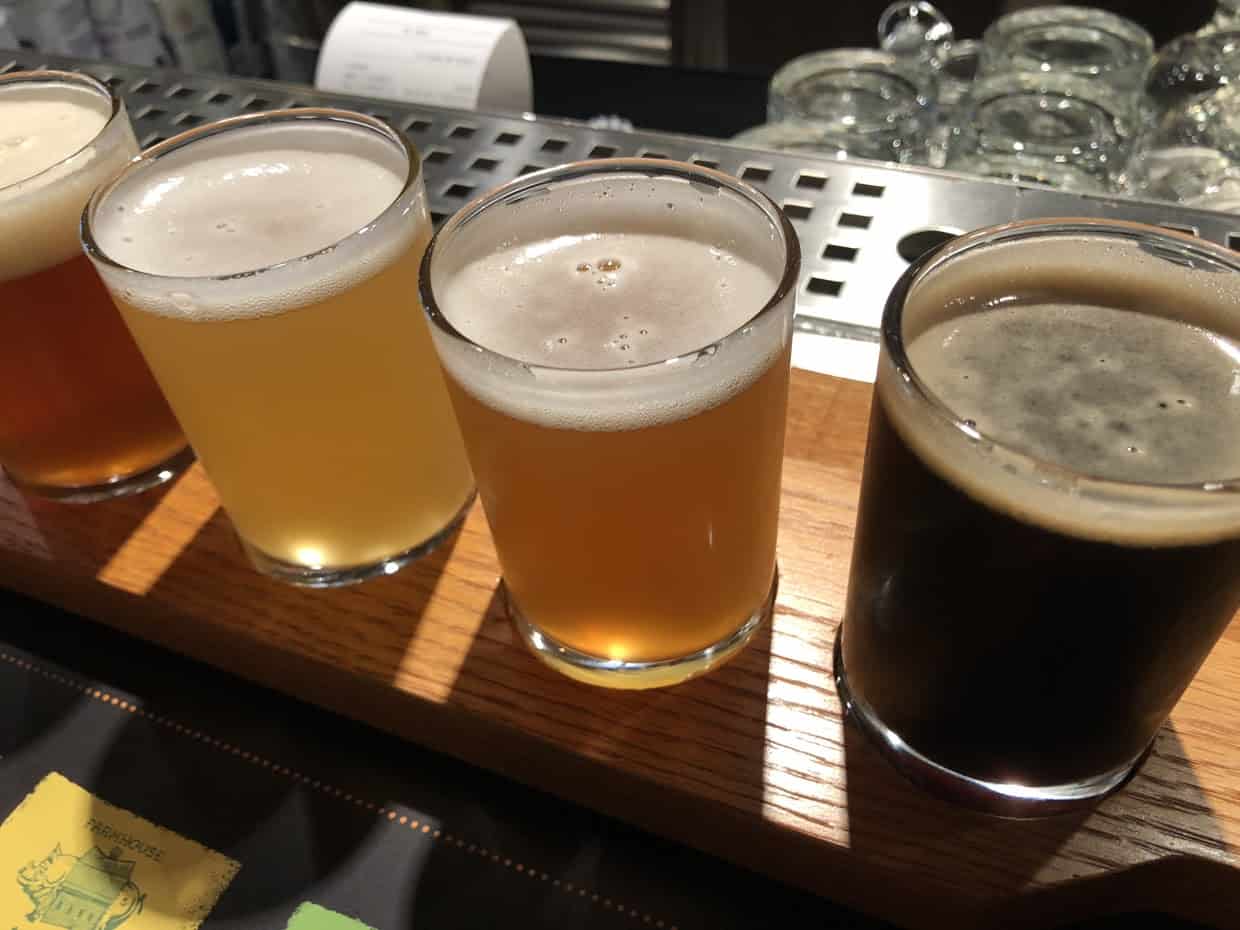 Major Differences Between Vista and Horizon
Exploring the ship a little, you quickly discover that there aren't a whole lot of differences between Horizon and Vista. This makes sense, of course, given that they share the same class. There are, however, a few tweaks… one of which is the color scheme. From the moment you board this ship, you are surrounded by various shades of the color red. This actually makes more sense than does the blue which dominates Vista, given that this particular class of ship is designed specifically to put passengers in touch with the sea.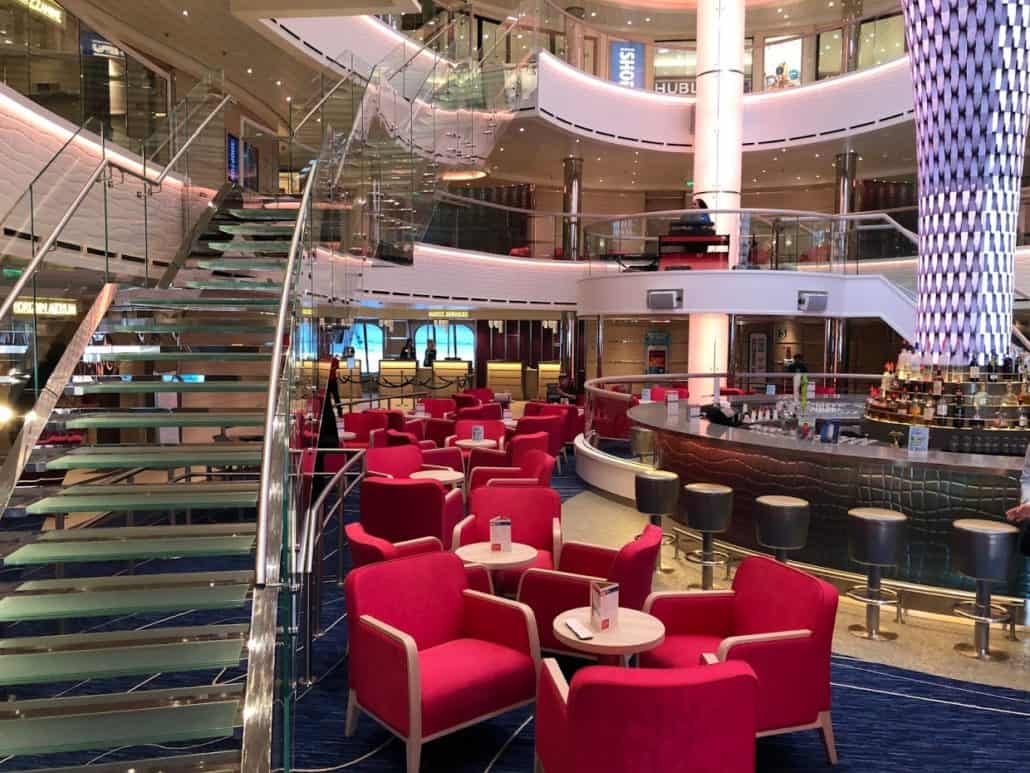 The other big difference — and it'll be interesting to see over time how people react to this one — is that there isn't a RedFrog Pub. Now, some cruisers — especially those new to Carnival — won't really notice. After all, if you squint, Guy's Pig and Anchor is clearly a direct descendant of the RedFrog Pub which it has replaced. But you know as well as I do that for some people, there's no such thing as a "good" change.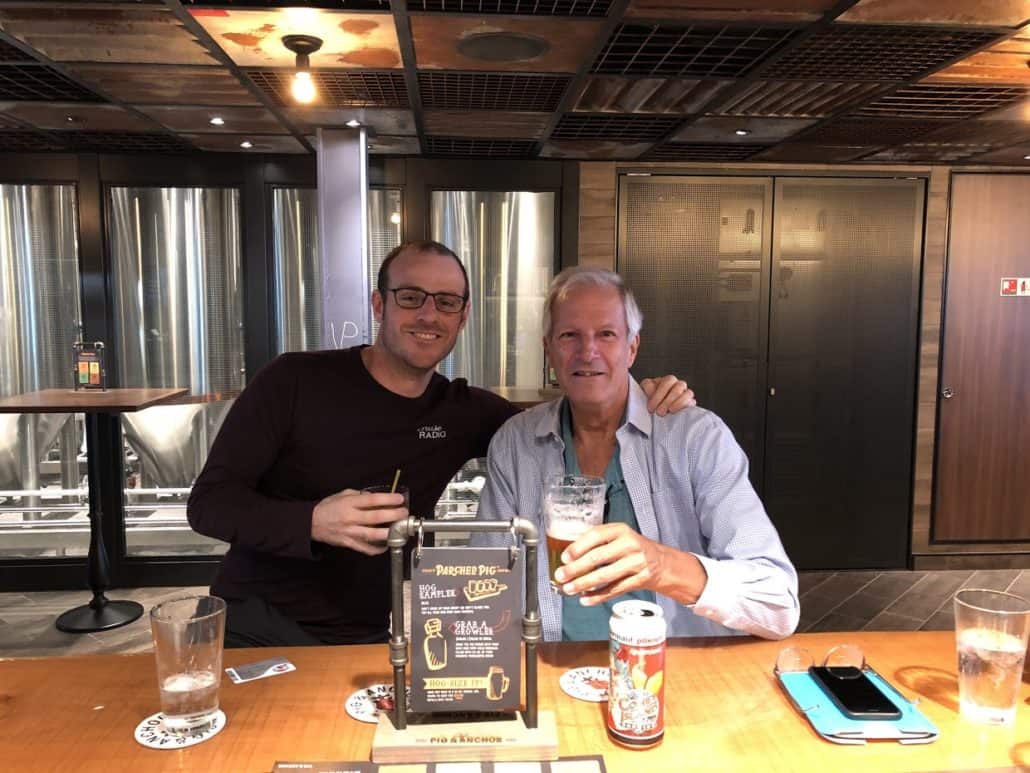 I'll say this: Based on this sailing, Guy Fieri's latest collaboration with Carnival seems to be a big hit. I'm planning to have dinner there one night this week, and if the food that I've seen being served as I made my way to the bar is any indication, I'm in for a real treat.
Fun Day at Sea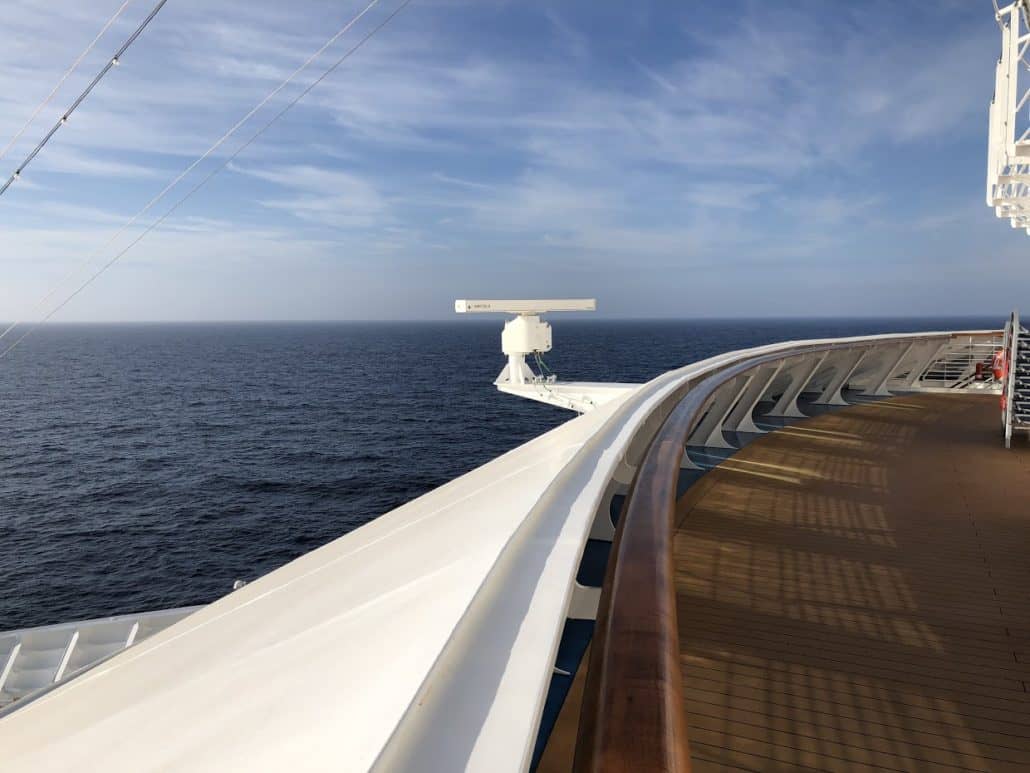 Regular readers know that one of the things I always talk about is how well a ship handles sea days. When I say that, I'm referring not to her seaworthiness, but rather whether or not the ship feels crowded when everyone is on board and looking for something to do.
There are over 4,200 guests on this particular sailing, but there are enough venues and entertainment options available that it hasn't felt crowded at all today. With ships constantly getting bigger — and, not coincidentally, accommodating more passengers — it's going to be crucial that cruise lines make sure they figure out ways to avoid people from feeling as if their floating cities are overpopulated. They've certainly done a good job with Horizon, in that regard.  I walked from the front of the ship to the back, and explored several decks. Yes, there were lines at some of the venues around the pools, and there were a whole lotta people out enjoying the picture-perfect day. But at no point did the ship feel crowded.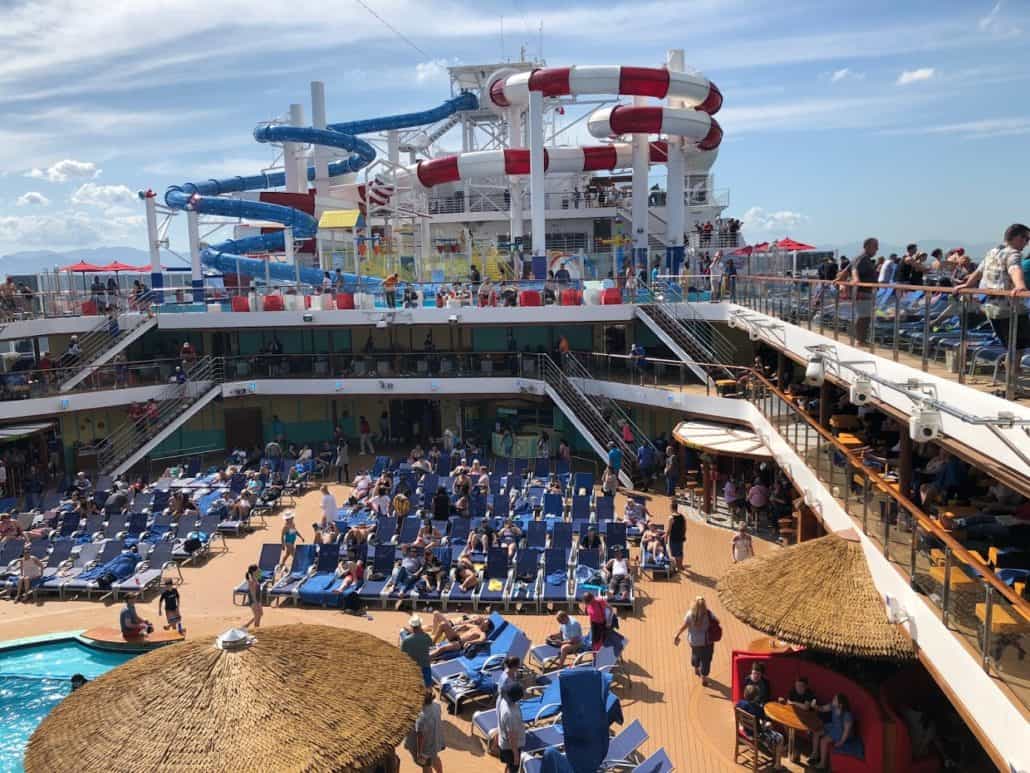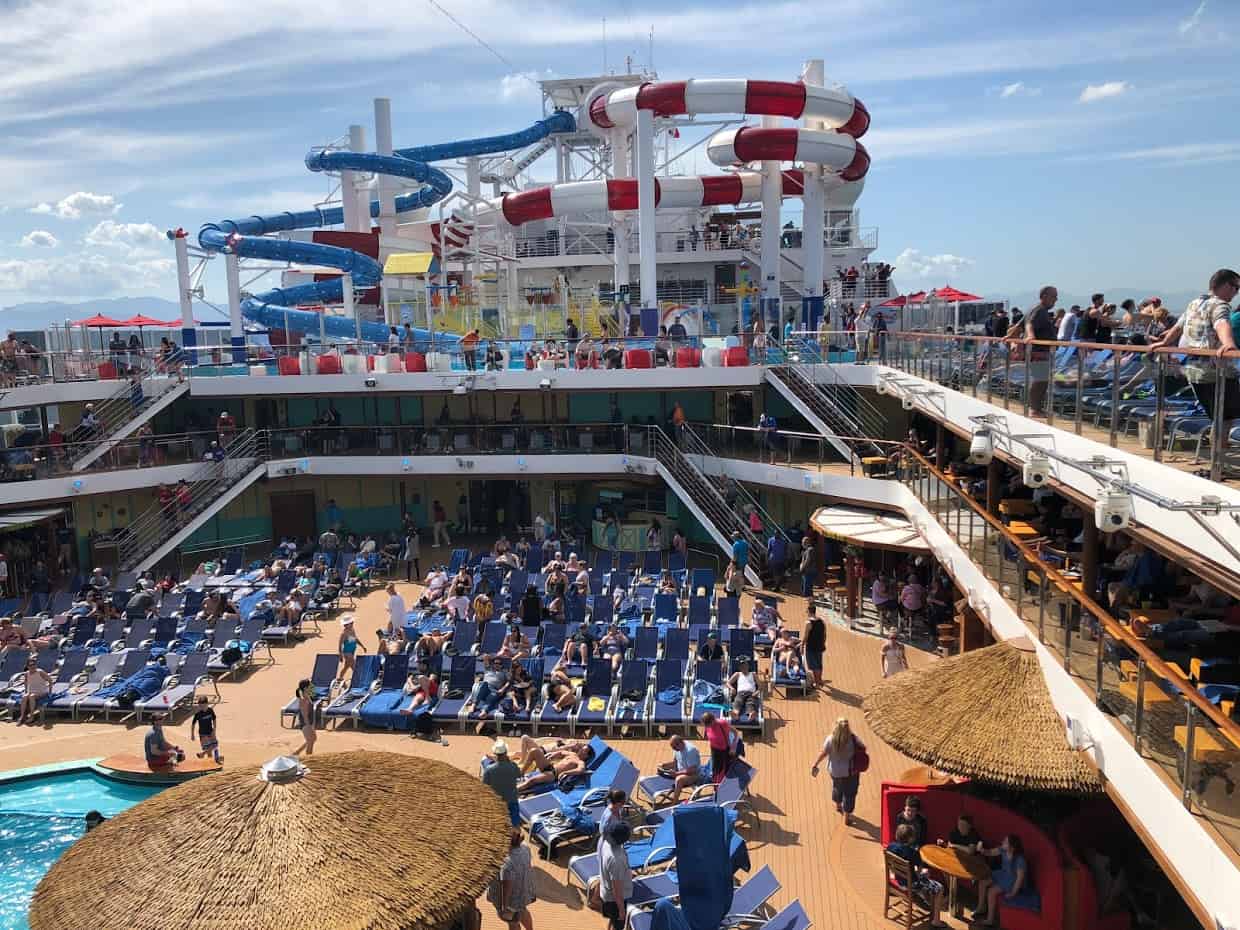 I have to admit, I really lost track of time today. This is our only sea day (it's a port-intensive itinerary), so I wanted to soak it in and relax as much as possible. Around  3:45 I went to sit outside on deck five and… well, you know how it goes. You stare at the sea, get lost in your thoughts and the next thing you know, it's time to get ready for dinner. Give that I was eating in the Steakhouse, I'm glad I didn't get so lost in my own thoughts that I wound up missing dinner.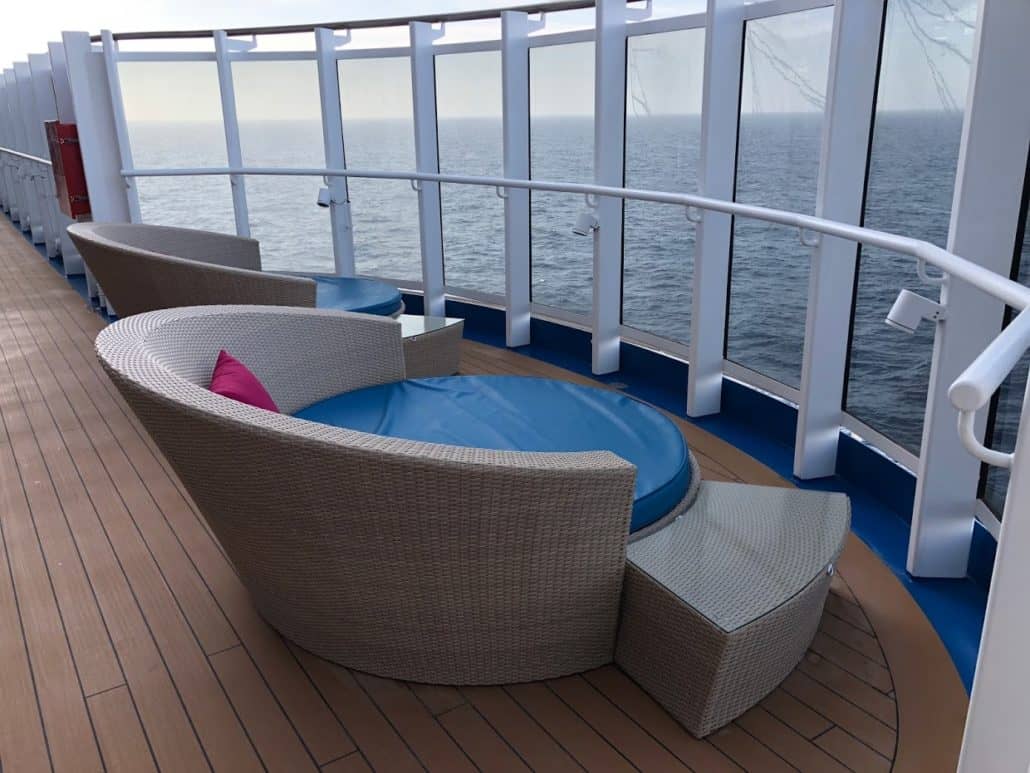 Drinks & Dinner
Whenever I'm on a cruise, I do my best not to go too crazy, food-wise. I know as well as anyone just how easy it is to pack on a few extra pounds while on vacation… not to mention how hard it can be to take them off. Anyway, I freely admit that when we hit the steakhouse for dinner, my diet hit the skids. But man, was it worth it.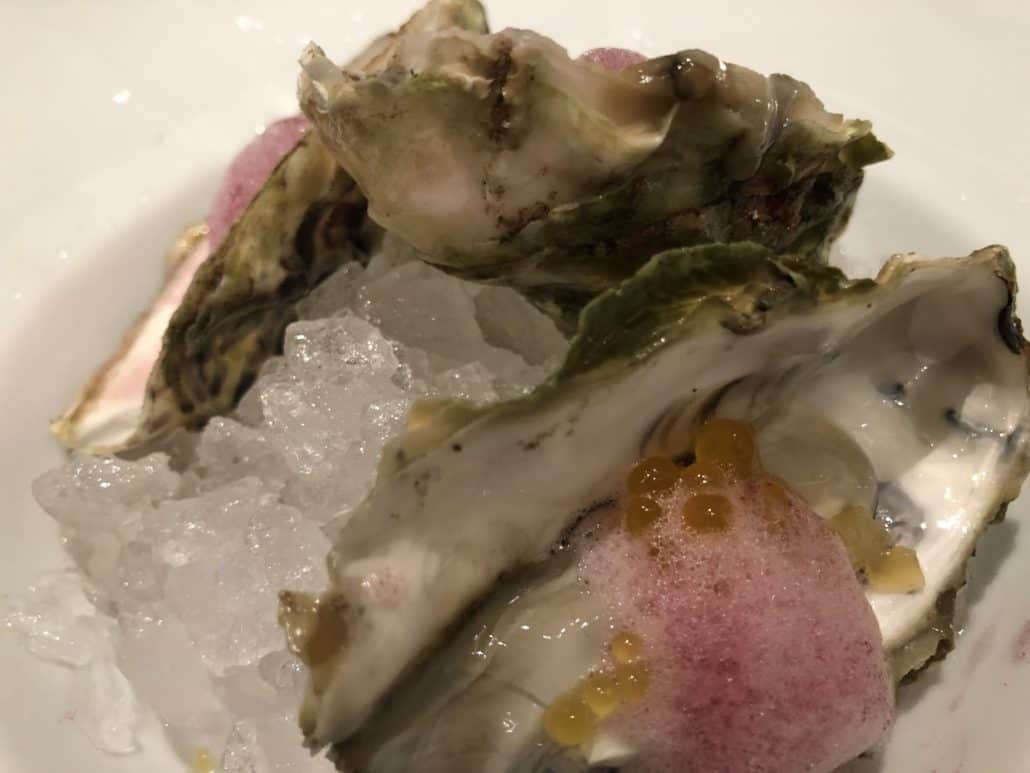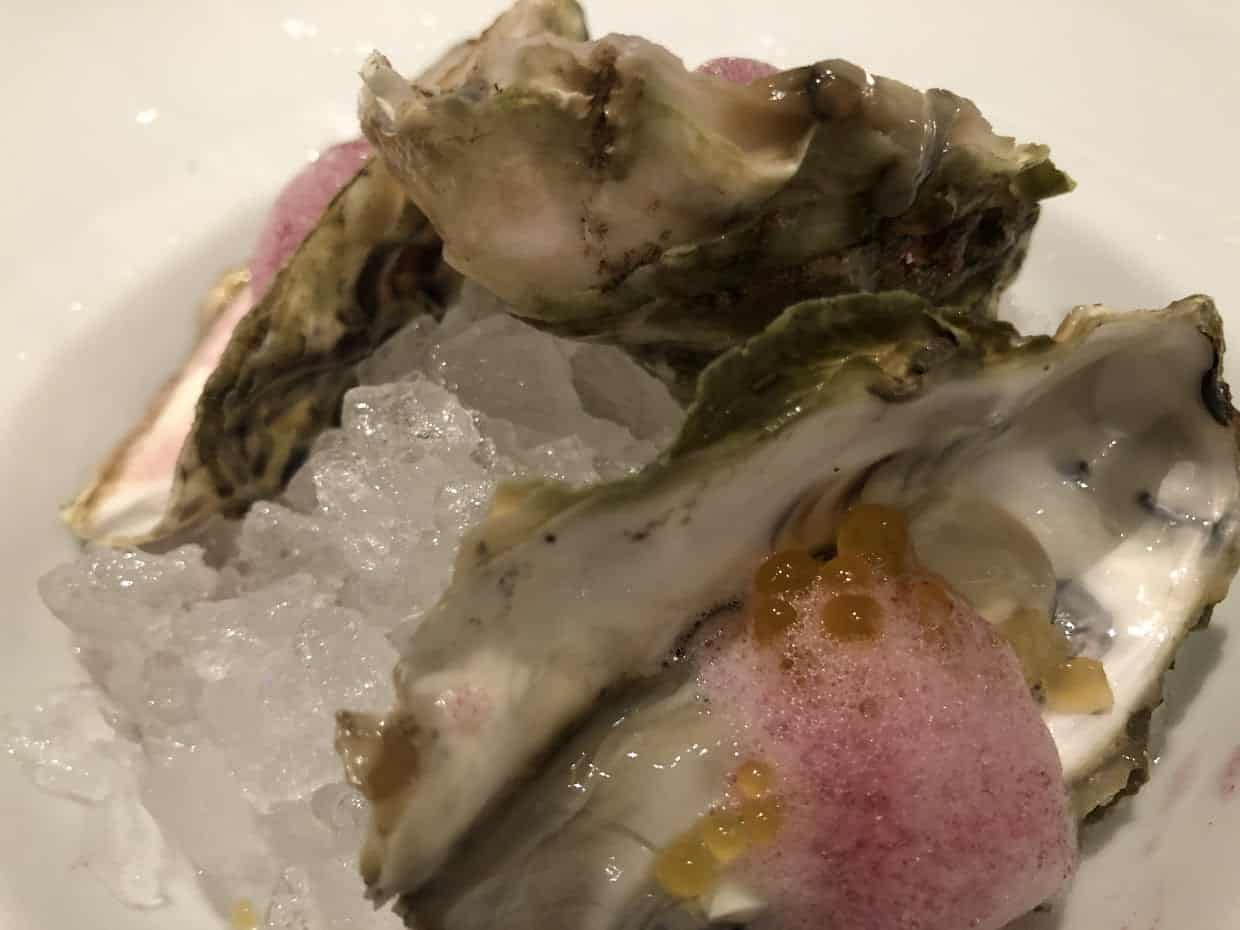 I started with the fire-and-ice oysters, followed by the 18-ounce cowboy-cut steak. Remember how before, I mentioned that some people really hate change? Well, this is where I confess that I kinda whined upon finding out that the menu in the steakhouse — always one of my favorite places — had undergone a few changes. I still think it was a mistake to remove escargot (one of my favorite appetizers of all time) and creamed spinach (a staple of any land-based steakhouse) from the menu, but some of the new options are pretty interesting.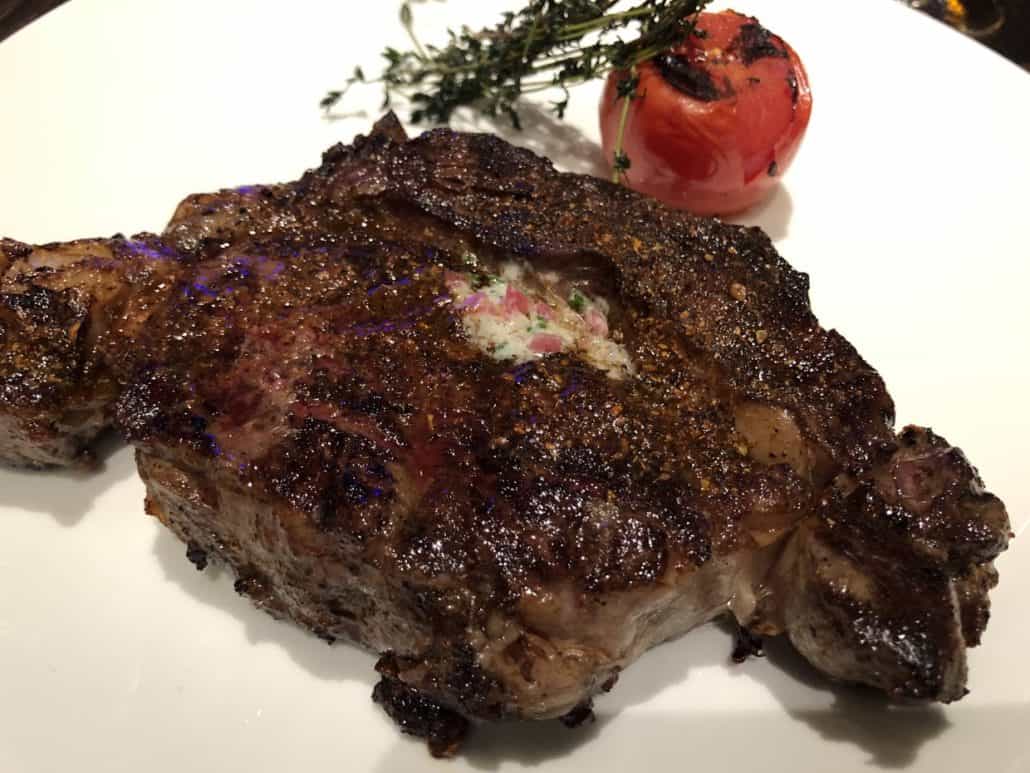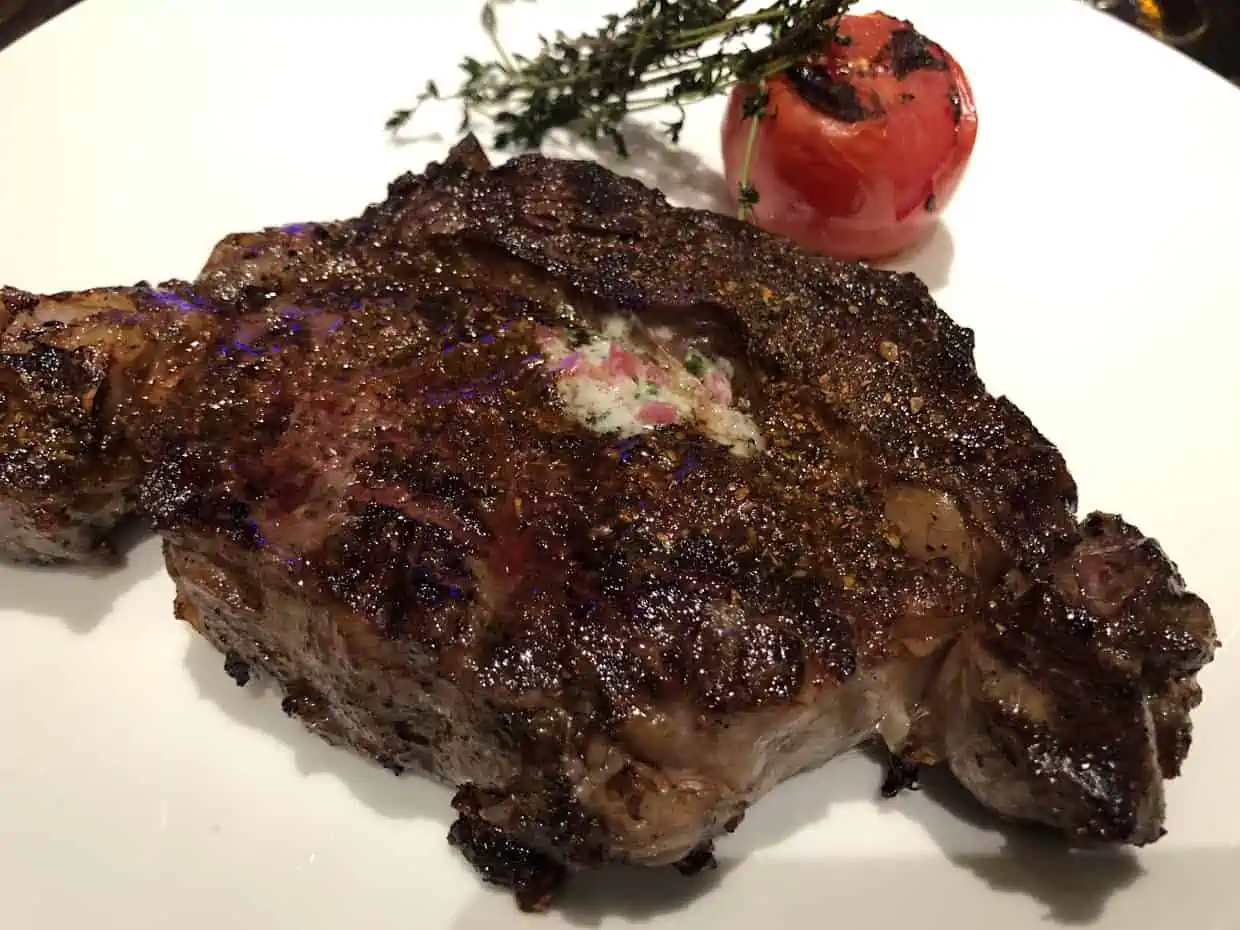 As amazing as the meal itself was, the Table Art dessert is a true highlight which really spotlights the creativity of the chef creating it. For those who don't know, the way it works is that a large white cutting board is brought to your table to serve as a canvas on which they create, right in front of you, an artwork made of syrups, candies and other edible treats, all centered around a large white chocolate ball. Don't let anyone — including me! — spoil the big finale. Instead, order it for yourself (and plan to share… this is definitely a treat made for two).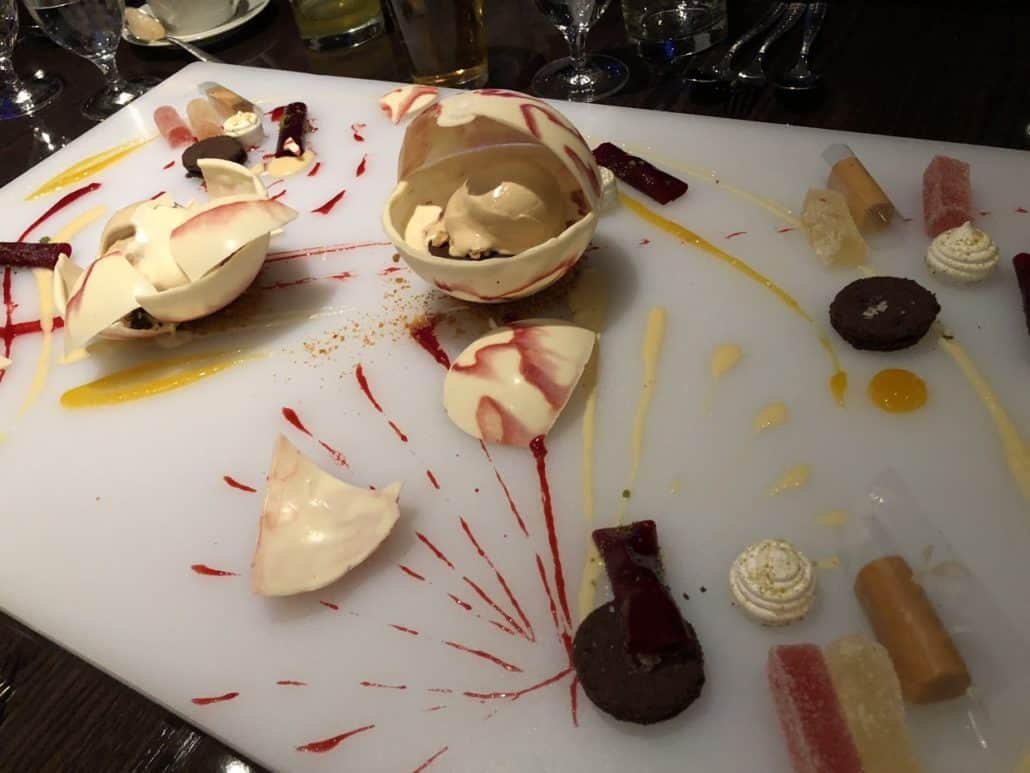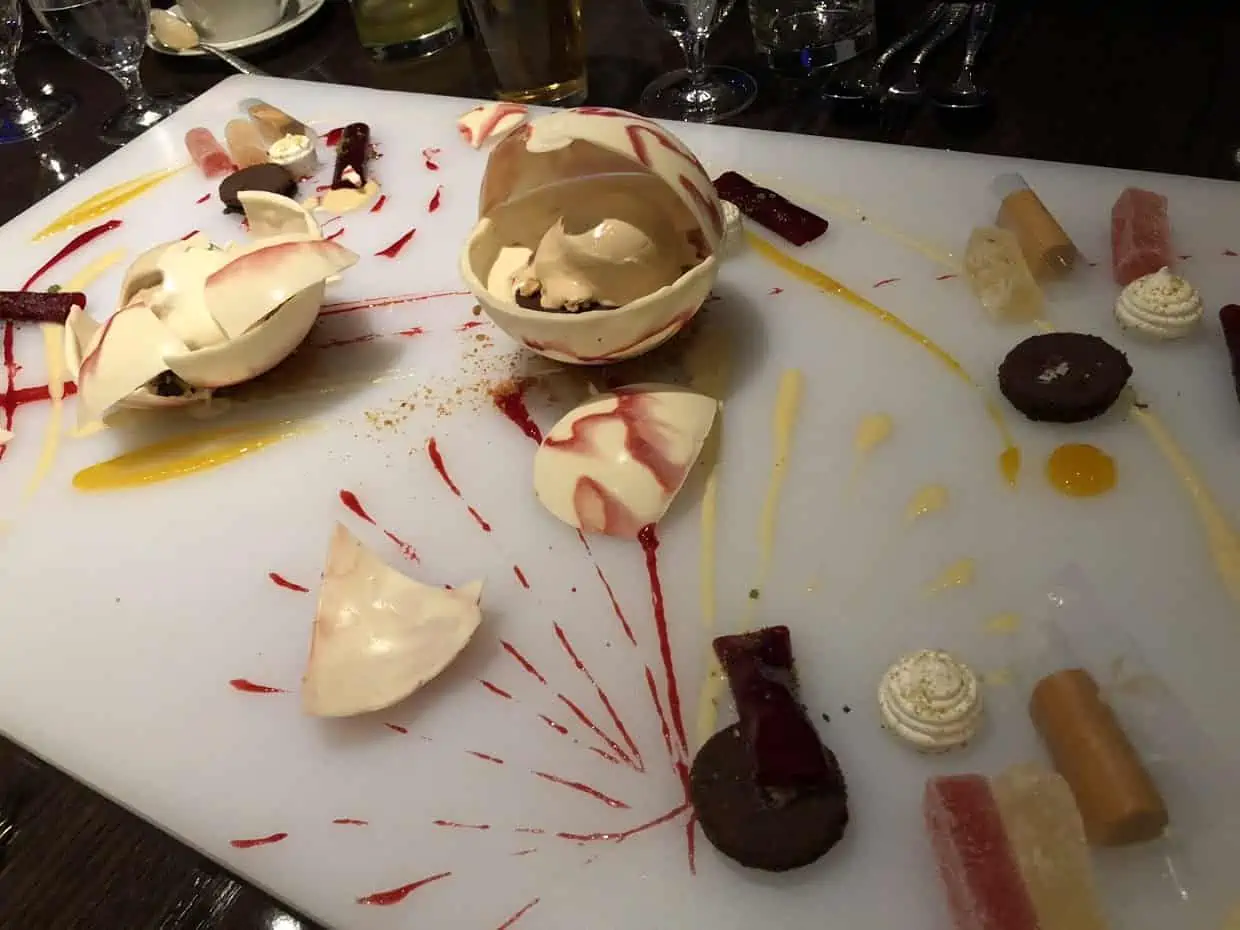 Listener Question
Ron Asks… What did you think of the layout change which flips the locations of the Piano Bar and the Library Bar?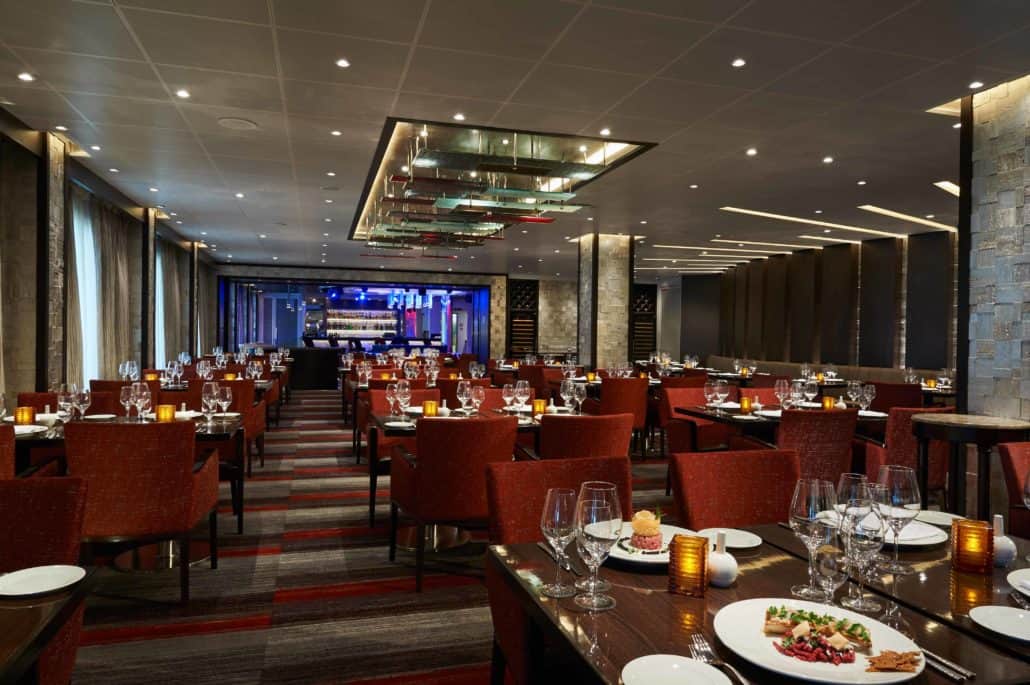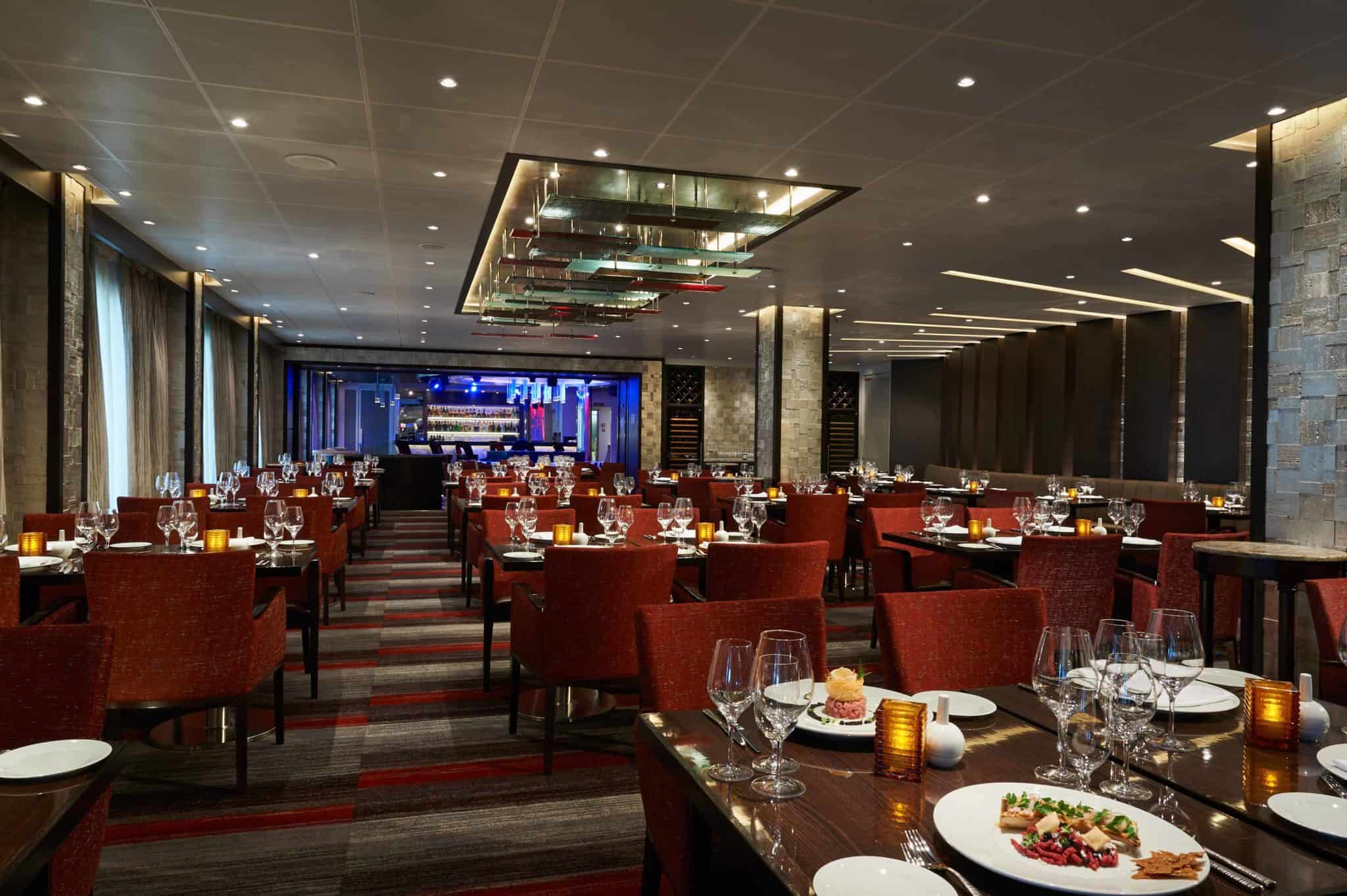 Great question, especially since I was on record as being skeptical about having the piano bar right next to the steakhouse, especially after learning that during some hours, the wall separating the two would remain open. "What if," I thought, "someone is celebrating their anniversary and wants to have a romantic evening? The last thing they want is the rowdiness of the piano bar ruining their evening!" tt turns out, I was wrong in my thinking, as proved by dinner tonight.
The music played during the dinner hour isn't the kind of stuff you'd hear during normal operating hours of the piano bar. It's much softer, more peacful and sans singing. (They did play a really cool, soft version of Queen's Bohemian Rhapsody… which at first I didn't even recognize. Once I did, I was pretty impressed.) The dividing wall was still open when I finished dinner. Later that night, I swung by after the door separating the two venues had been closed to see how effective it was when the piano bar got rockin'. While it wasn't entirely soundproof, you couldn't hear much from the steakhouse side of the wall… and with the eatery closing at 10 p.m., which is well before the piano bar usually kicks into high gear, I don't think this is going to be a problem at all. 
Tomorrow is our first port day on the itinerary. Instead of booking an excursion I've opted to walk around the city of Cagliari and check out the cathedral.
We have a lot to cover this week, until tomorrow… goodnight.
SaveSave