Okay, I know that in the past I've been the first one to say that Freeport doesn't have much to offer. And I know these days, people don't necessarily have the highest opinion Freeport or Nassau, opting instead to stay on the ship during stops there.
But I have to say, we actually wound up having a pretty great time in Freeport today. Yes, the options are sort of limited, but if you look around, you just might find something that works for you.
Checking Out The Other Ships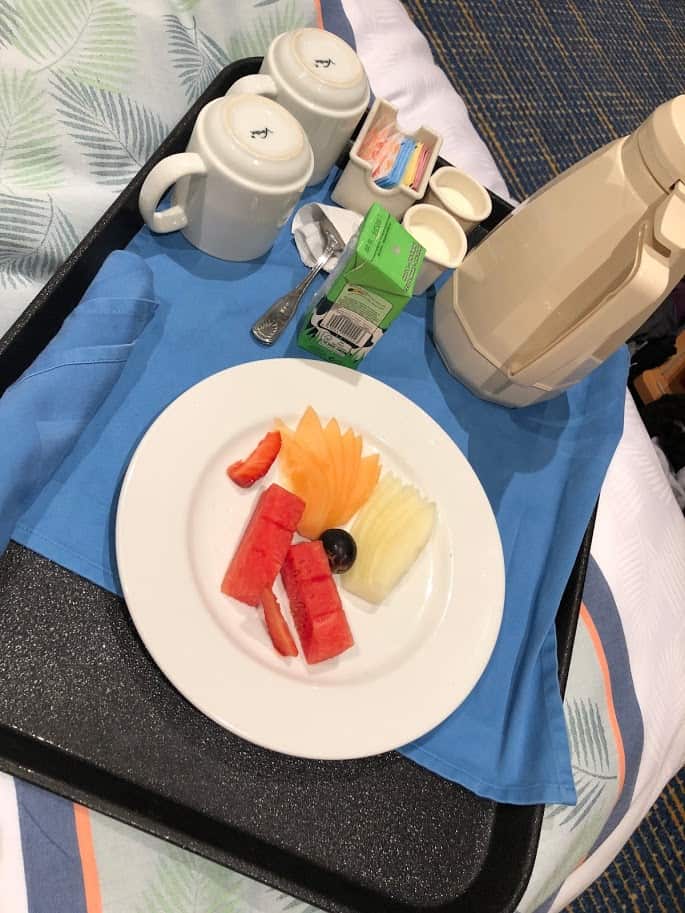 Knowing I wanted to get off the ship early to try and find a place to parasail, I ordered breakfast from room service. It came right on time and, despite having just ordered coffee and fruit, it was enough to hold me over until lunch.
I like to do a little research to find out what other ships are going to be in port and the same time, so I knew that Carnival Pride would be in Freeport with us, as would Grand Celebration.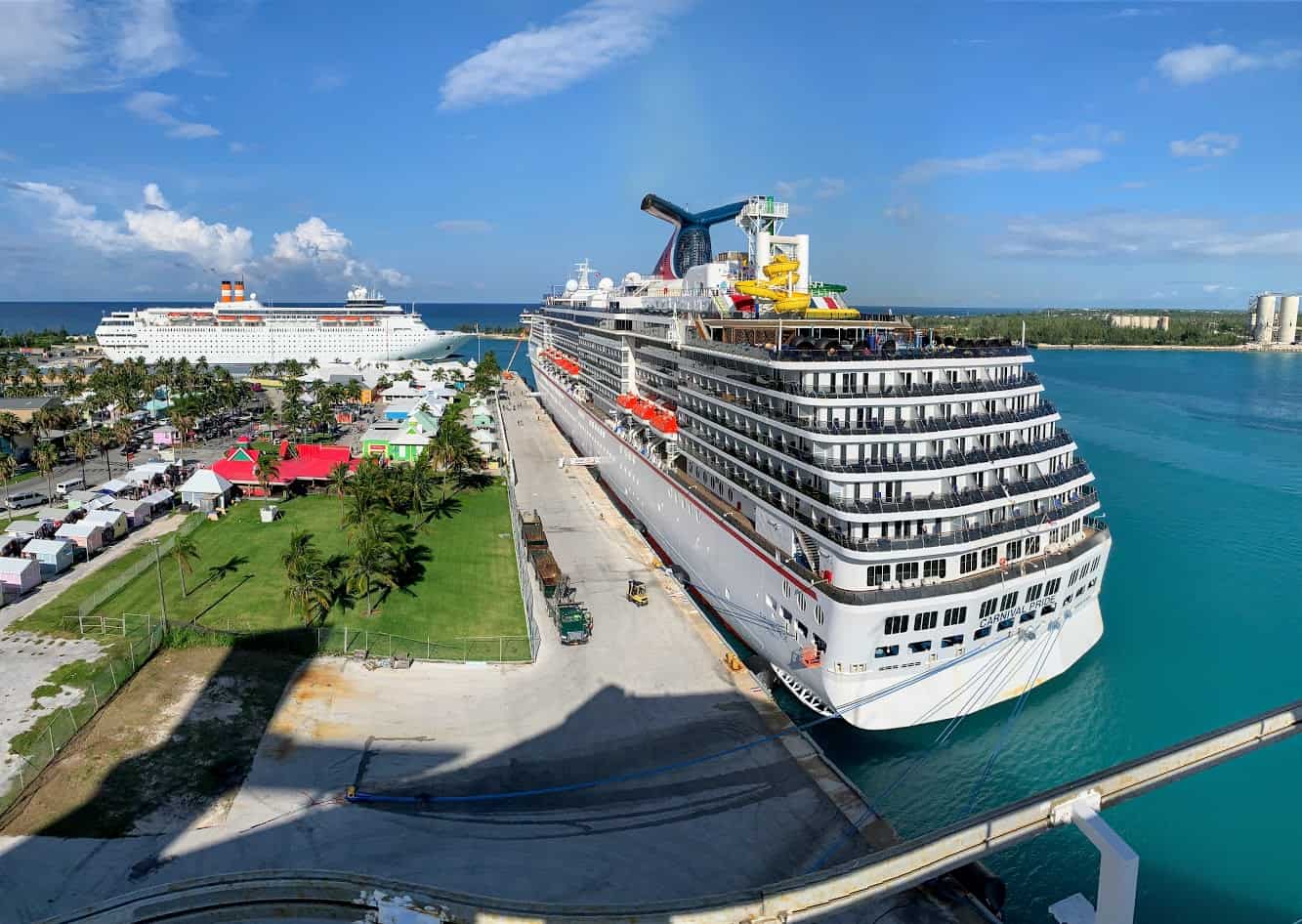 That second ship is currently owned by Bahamas Paradise Cruise Line, but years ago sailed as the Carnival Celebration. One look at the Grand Celebration and you'd probably figure out its history, if only because of the whale tail. It may no longer be painted the signature Carnival colors, but it's still unmistakable!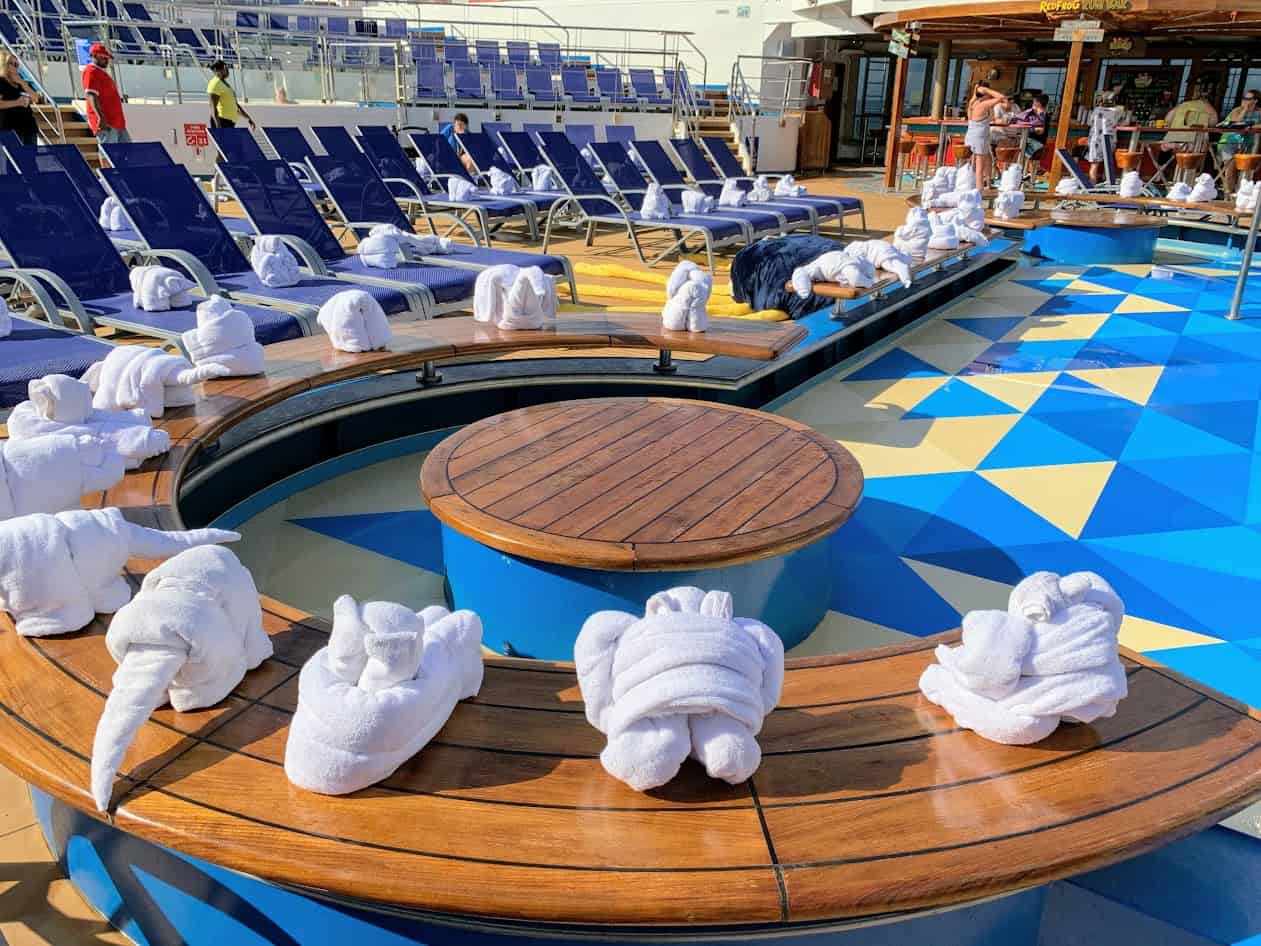 I went up to the top deck to try to get some pictures. It was cool being in port with Carnival Pride because I spent a little bit of time on her in January before she went into dry dock.
Another benefit to being up and out early? I was able to catch the towel animal takeover out by the pool. (I know people who've done numerous Carnival cruises and, because they're late sleepers, always miss the takeover!) It's definitely worth getting up for, 'cause they get pretty creative. There were alligators, an octopus and a ton of smaller critters.
Hanging Out in Freeport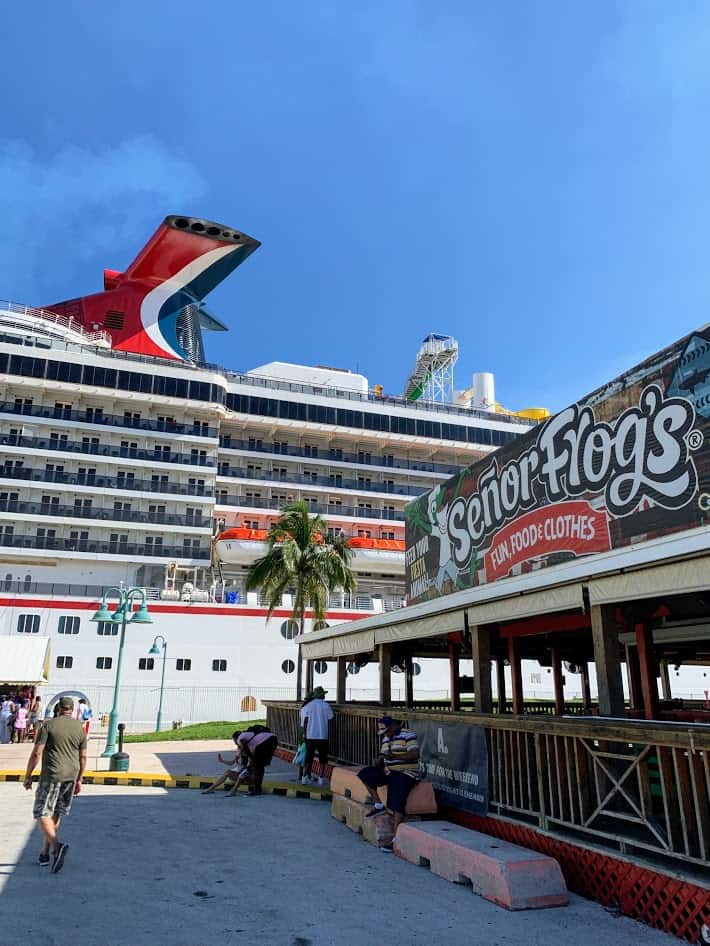 Sometimes, you go into the day with a plan… others, you just wing it. We really didn't know where to find parasailing when we got off the ship, so we wandered around for a while until we finally gave in and asked someone.
My normal go-to spot, Grand Lucayan Resort, is no longer open (in fact, it's currently being sold), so we had to find a new place. On the advice of a port dispatcher, we took a taxi to Taino Beach. It was about a 15-minute ride in a shared taxi and the round trip ticket was $15 per guest.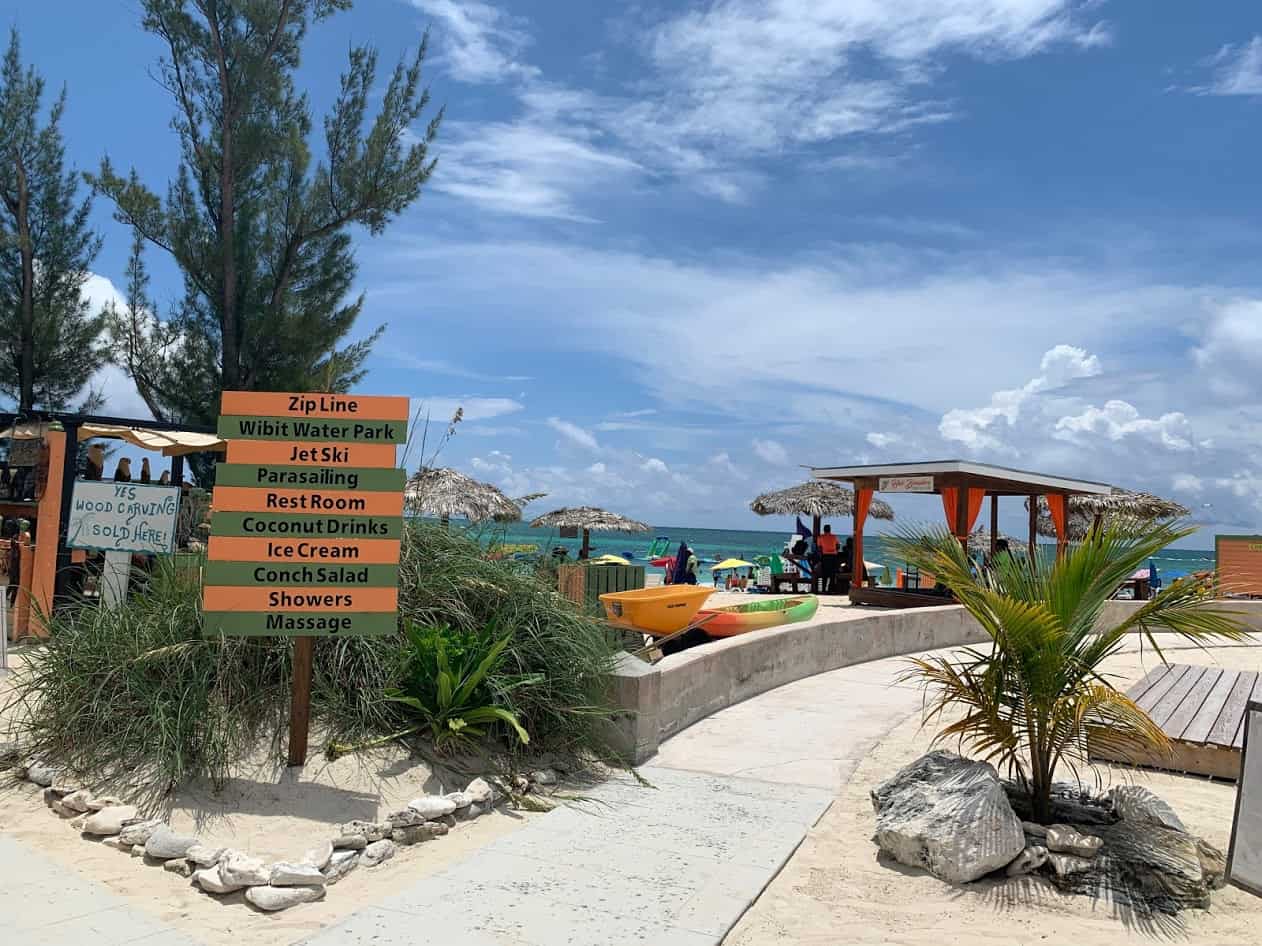 One thing the dispatcher didn't tell us was that there was a $5.75 fee to access Taino Beach. We were already there (and they accepted credit cards), so we went with the flow and paid for admission… especially since they really sold it to us, saying we'd have access to beach chairs and loungers.
Technically they weren't lying…  but if you wanted a chair on the beach, it would cost you another $20. The chairs "included" in the price of admission were in a squared off area on a deck, nowhere near the beach.
Not far from the deck with the "included" chairs was the Black Beard Tiki Bar. They served some pretty good (but pricey) drinks. I went with the not-quite-homemade pina colada for $14. It was a mix out of a carton so nothing to write home about.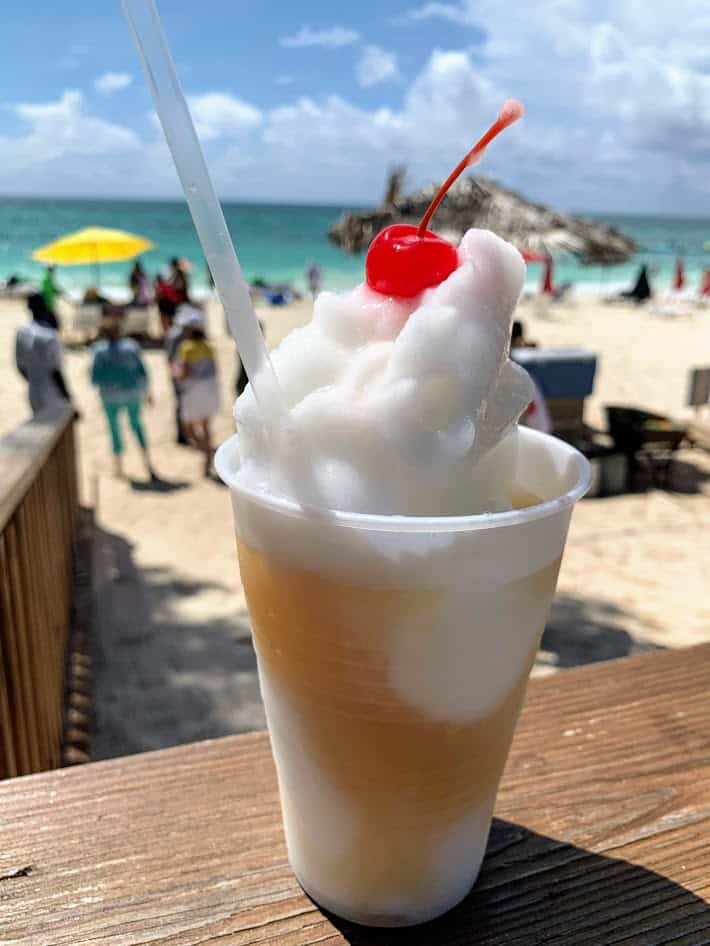 Parasailing was $90 a person. After paying at the booth, we waited our turn. This type of parasailing was a lot different from the last experience I'd had. Back then, we'd launched from the back of the boat. This time, we took a boat out to a floating dock and then we took off from there.
Taking off was easy, but I had no idea how we were going to land! The closest I can come to describing the landing process was that it sort of reminded me of when a plane lands on an aircraft carrier in the middle of the ocean. Sure enough, as we were making our approach, a strong crosswind hit us. Because we were shifted away from the landing pad, we had to circle around again.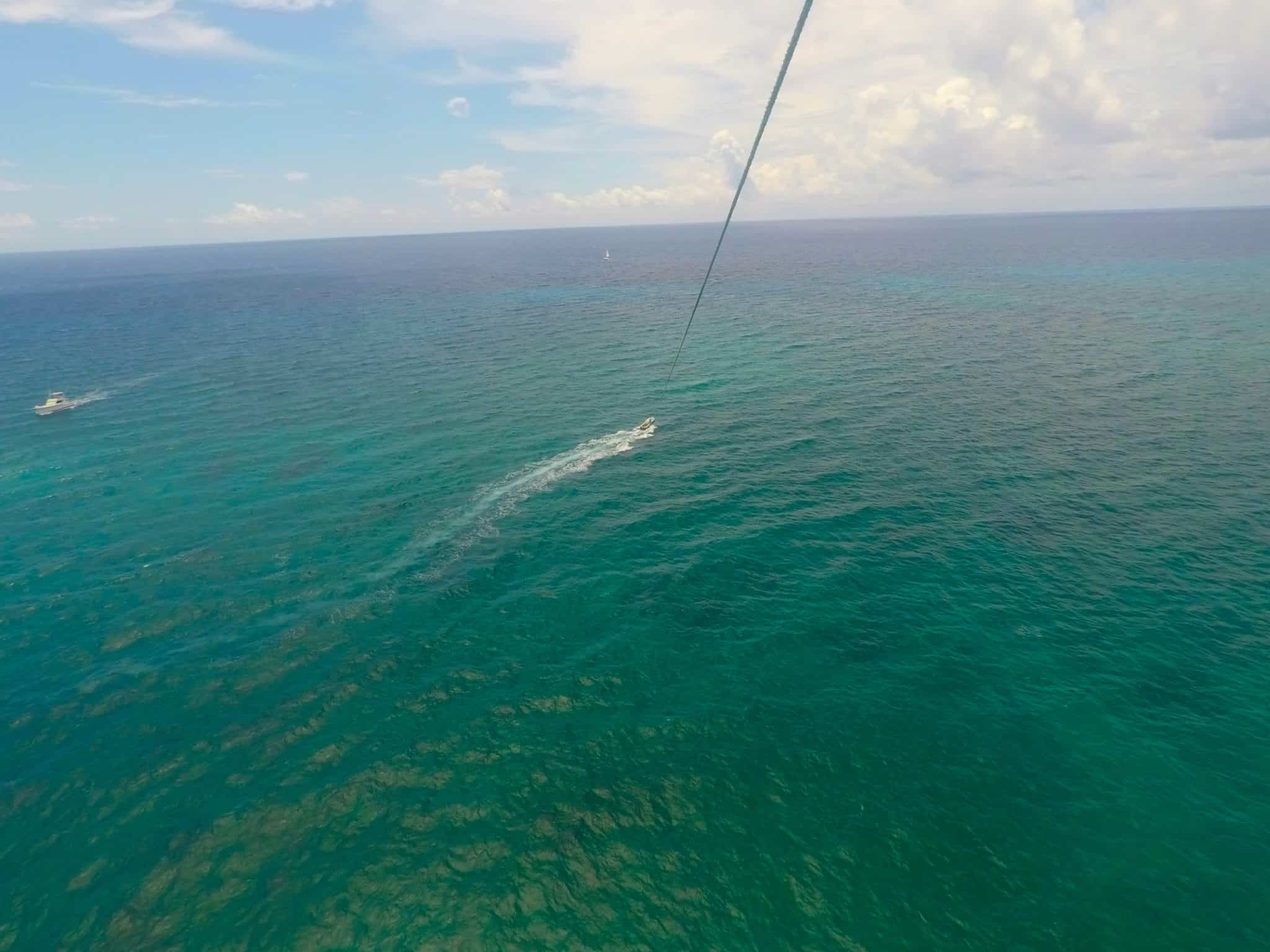 On the plus side, we got extra time in the air, and that meant I could take more photos. I had the GoPro atop my head running the whole time, so it was cool going back and watching the footage later.
I'd recommend this place if you want to parasail. Just know up front that when you add it all up —  $15 for the roundtrip taxi, $14 for a drink and $90 to parasail — it's not what you'd call a cheap day. Then again, $80-100 seemed to be the going rate at reputable places in the Bahamas, so I guess it wasn't really bad!
Pre Dinner Snack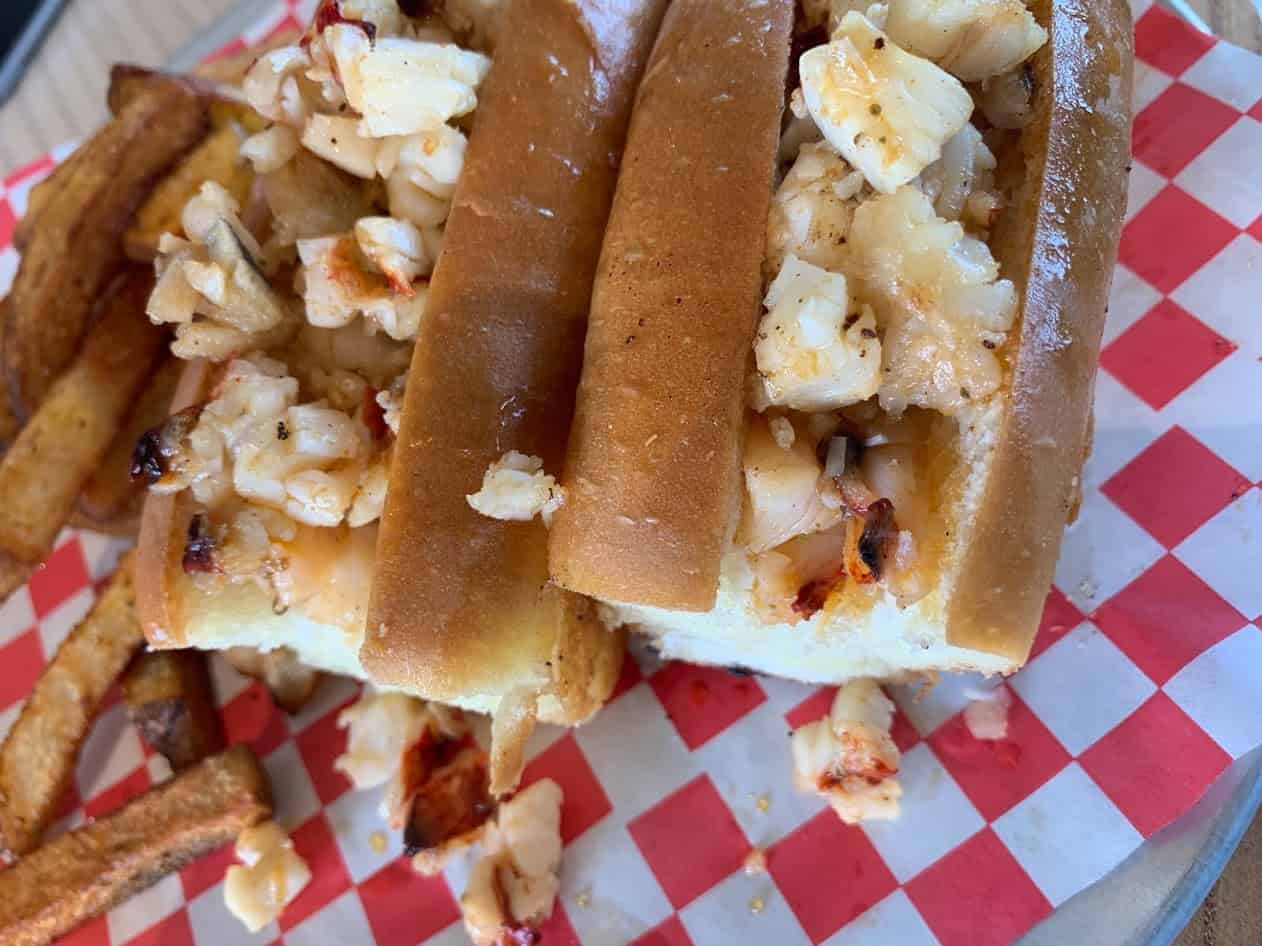 Before dinner, we had a pre-dinner at the Seafood Shack. This place is a weakness of mine. In 2016, I had 12 lobster rolls. $144 later and 10 pounds heavier, I vowed to never partake like that again. This time I took it a lot easier.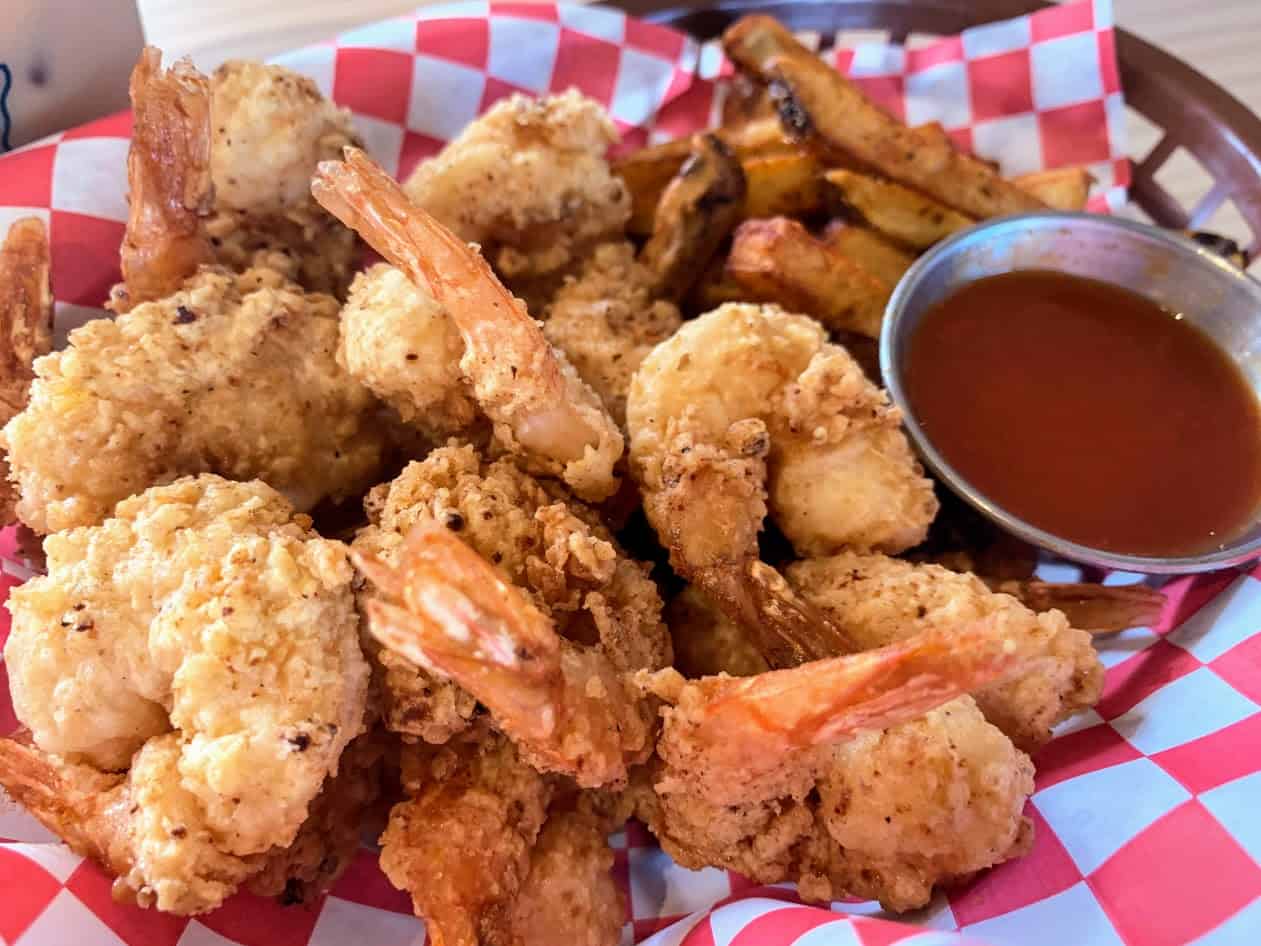 We went with the Lobster Roll (tossed in butter) and the buffalo fried shrimp basket with fries. Both items set me back around $20 as this is a for-fee venue, but worth every penny.
Dancing Waiters and Flowing Water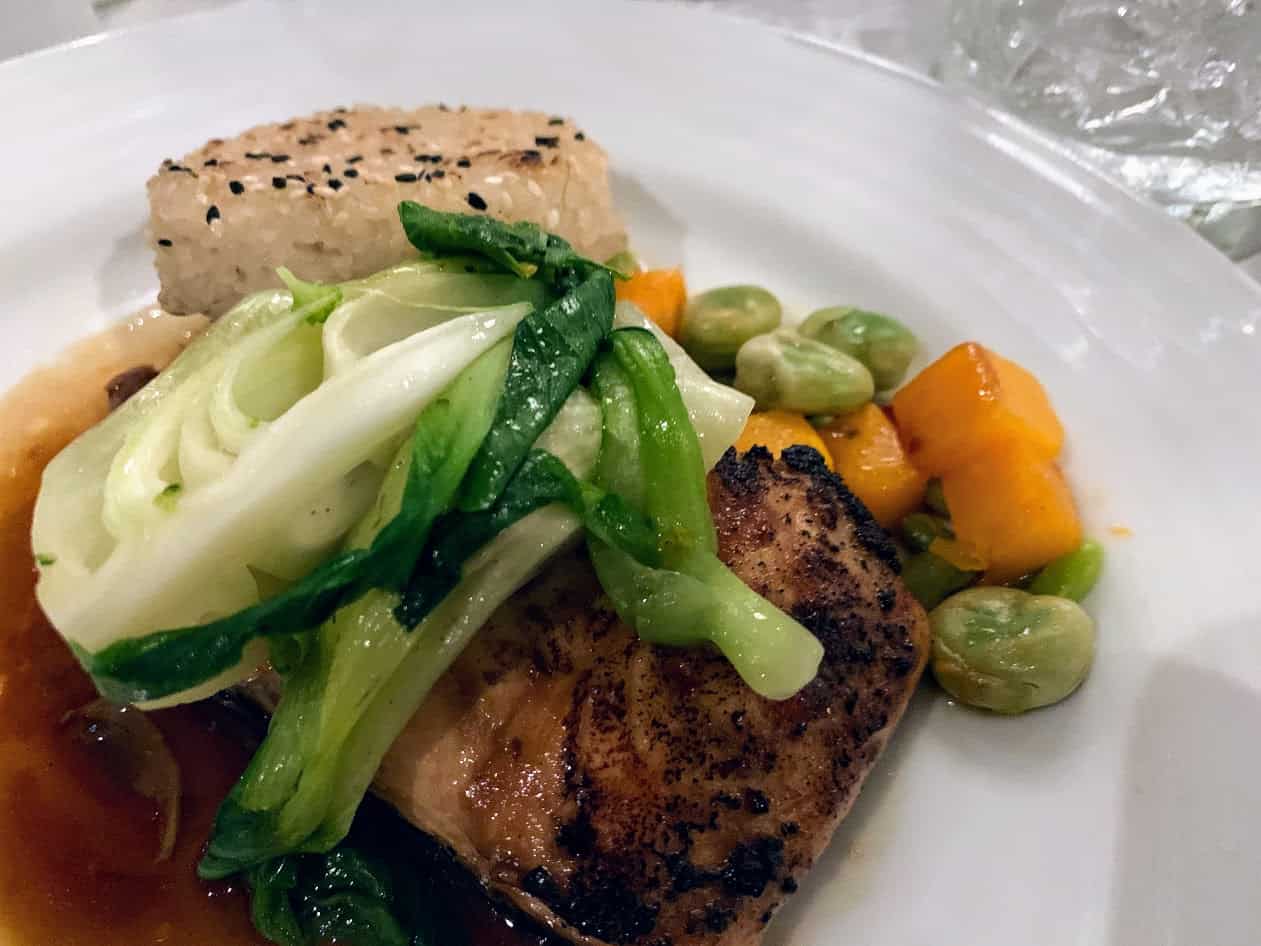 We decided to hit the main dining room again and, upon checking in at the Your Time Dining desk, were immediately assigned a table. No waiting is always a win! Timing-wise, it actually worked out that the show put on by the servers was taking place just as we were being served dessert, so that was just about ideal.
Having been out in the sun all day, I was thirsty as heck… and one of the great perks of having the CHEERS! package is that you can get the big bottles of water at dinner. No waiting for someone to come around and refill the glass you keep emptying because you're dehydrated.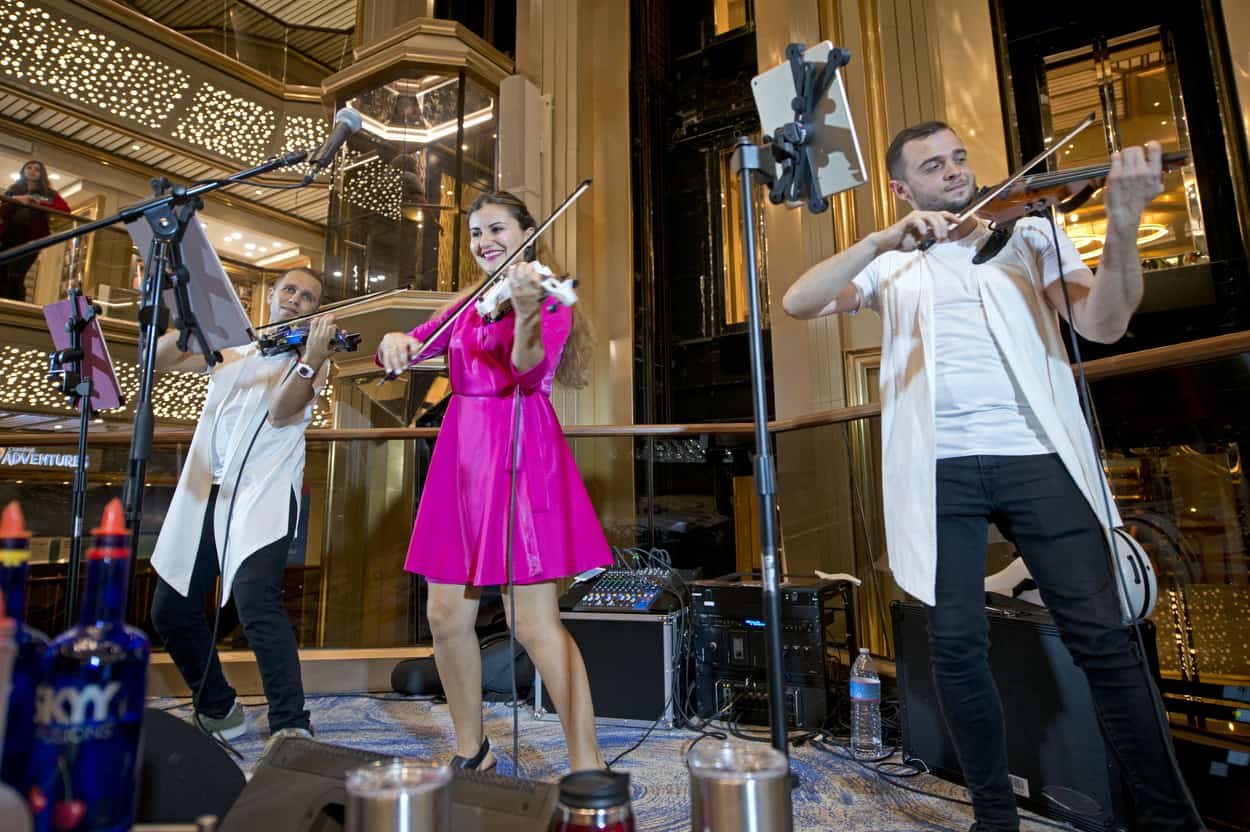 We had a little time to kill before heading to the theater for tonight's show, so we went to the atrium. When we got there, they had three classical violinists playing, which is always so peaceful and relaxing. We really enjoyed sitting and listening to them for a while. So much so we almost regretted having to leave when it was time for the show.
Bring On The Nightlife!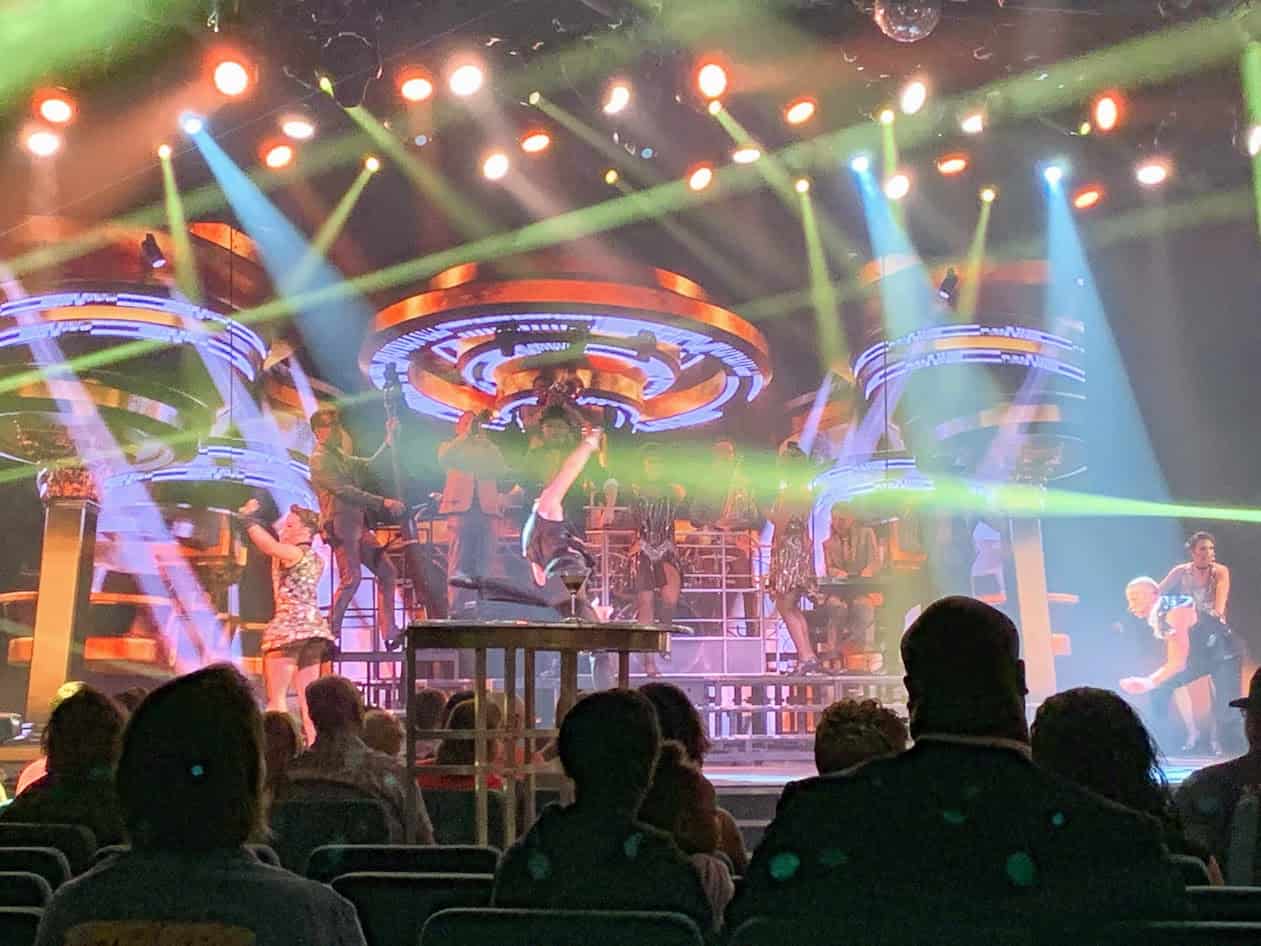 Tonight's Playlist Production show was Vintage Pop, which takes you on a musical tour spanning several decades. Sound familiar? That's because those same words could be used to describe 85 percent of all shows mounted on cruise ships.
I made a point of bouncing around the theater, checking out different vantage points to see how the sightlines were. The Liquid Lounge has booths build into the wall on the lower level, so for part of the show I sat on the right side, and then during the second part, I moved over to the left side. Far as I could tell, there were zero sightline issues. As for the show itself… well, you guys know I'm not much for this kind of thing.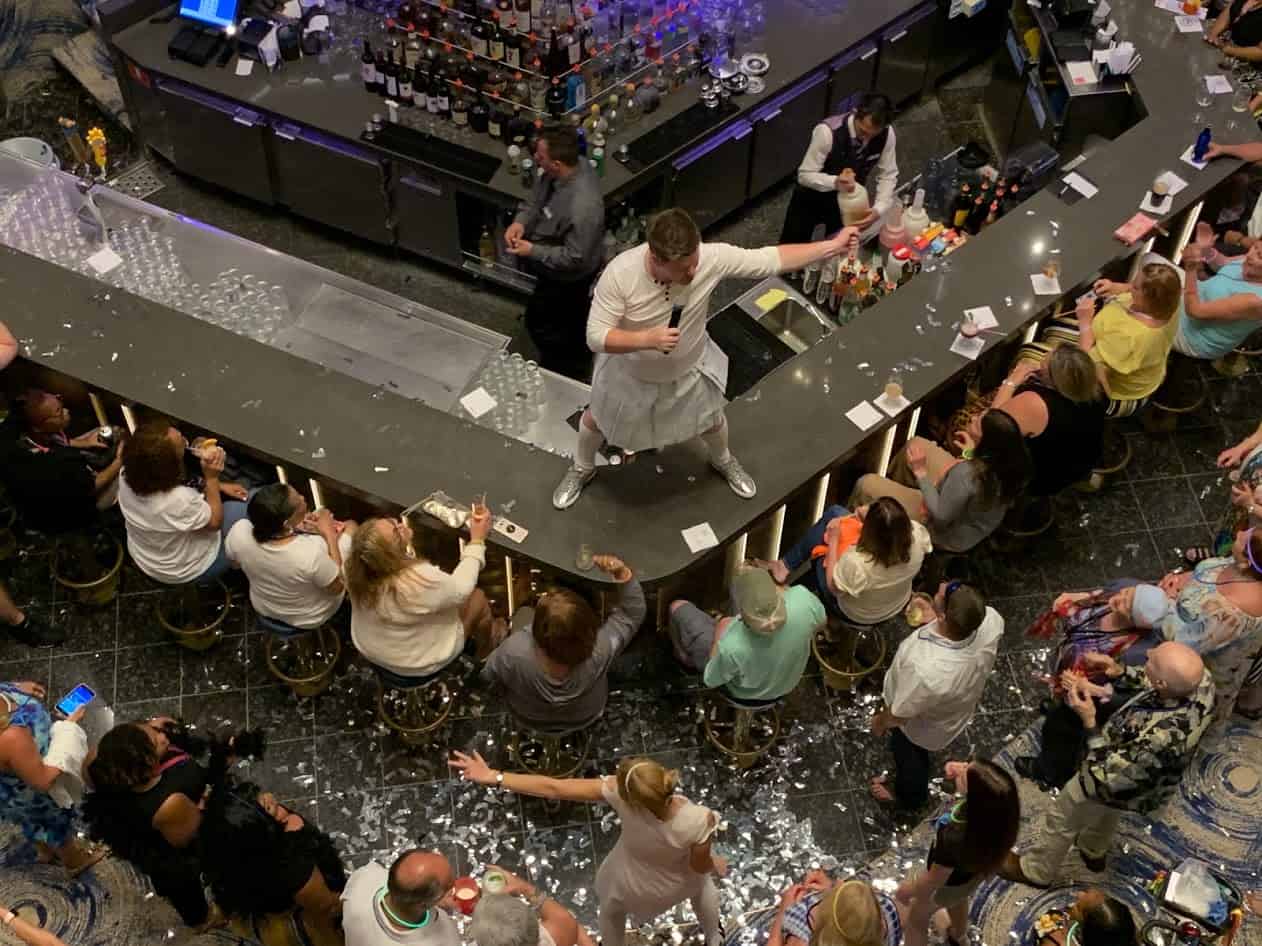 After the show, they were holding the White Hot party in the atrium, hosted by the cruise director and the DJ, who brought a ton of energy to the event. I seriously don't know how cruise directors keep that high-energy attitude going for 12 hours a day. Heck, I spent 13 years in radio and sometimes found it exhausting to maintain that kind of enthusiasm for four hours at a time. So in my book, The Flying Scotsman is a total rock star.
Late Night Snacks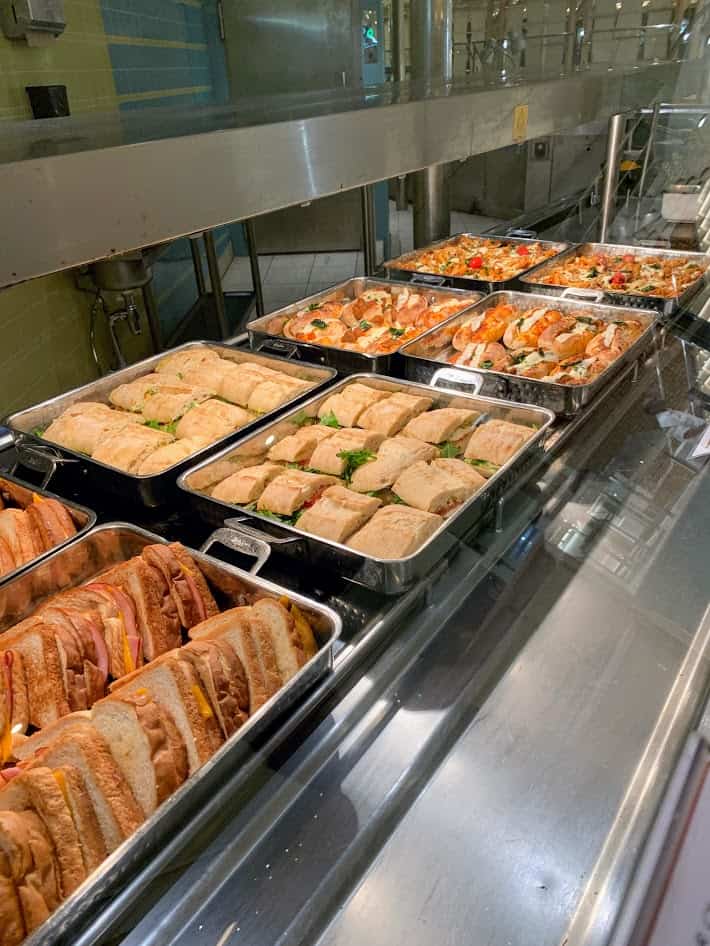 I've been on cruise lines that don't really have much to offer in the way of food after about 9 p.m., but that's definitely not the case with Carnival. They do late night food right, so you can find things like grilled ham and cheese, deli sandwiches, pasta… and of course, there's pizza available 24/7.
Guess I was hungrier than I thought, because I wound up grabbing a ham and cheese sandwich… followed by a whole pizza. I was ready to head back to the stateroom when I got an alert on the Carnival Hub app that a late-night comedy show was about to start. So off we went.
Late Night Comedy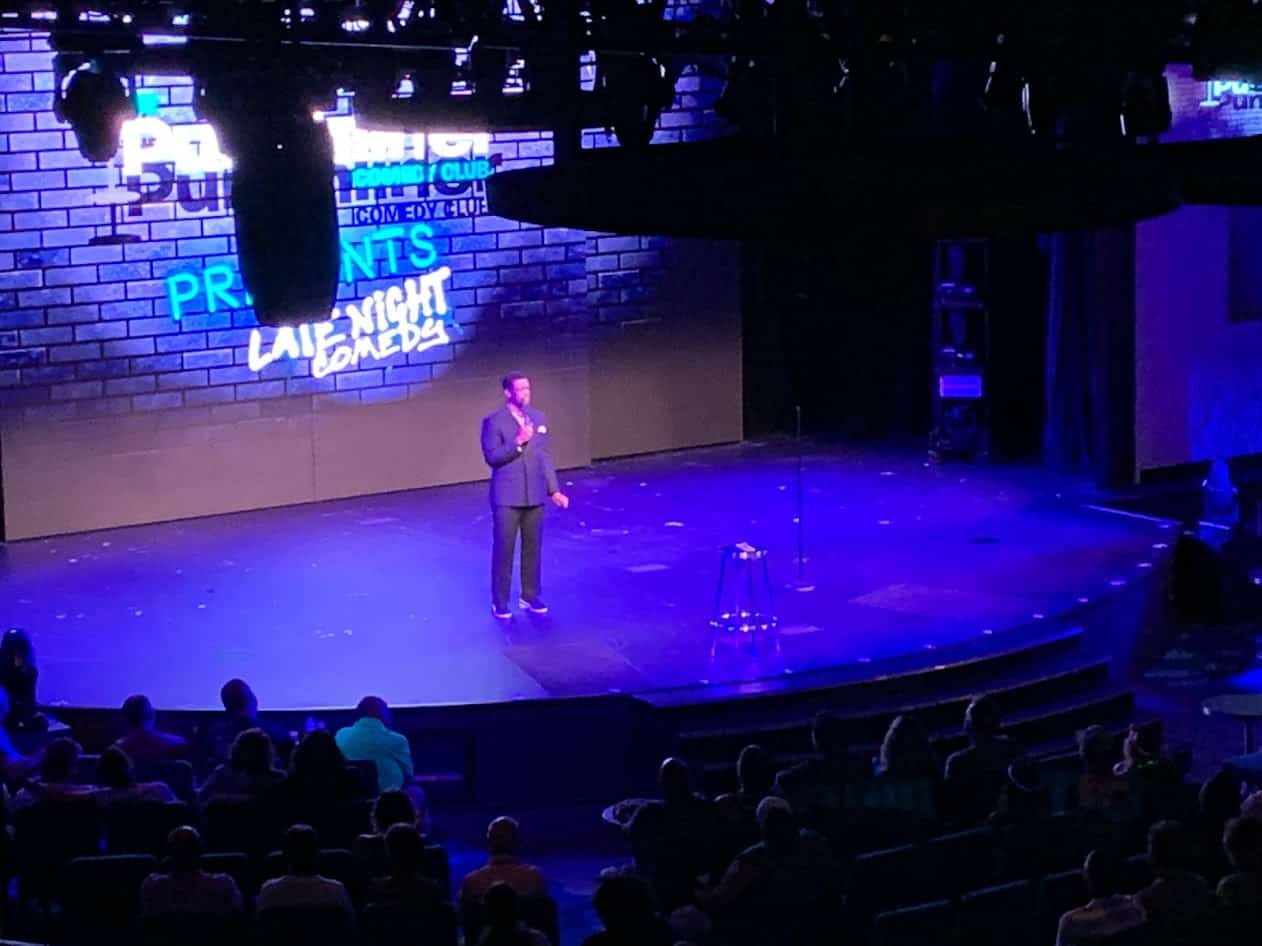 Okay, in a previous trip report I mentioned that Tim Young, the comedian, wasn't my style of humor. Well, tonight's definitely made up for it. Roman Murray must have a good reputation with Carnival guests, because they actually held the late-night show in the Liquid Lounge instead of the Punchliner Comedy Club.  I was glad to have delayed going to bed, because this guy had me rolling.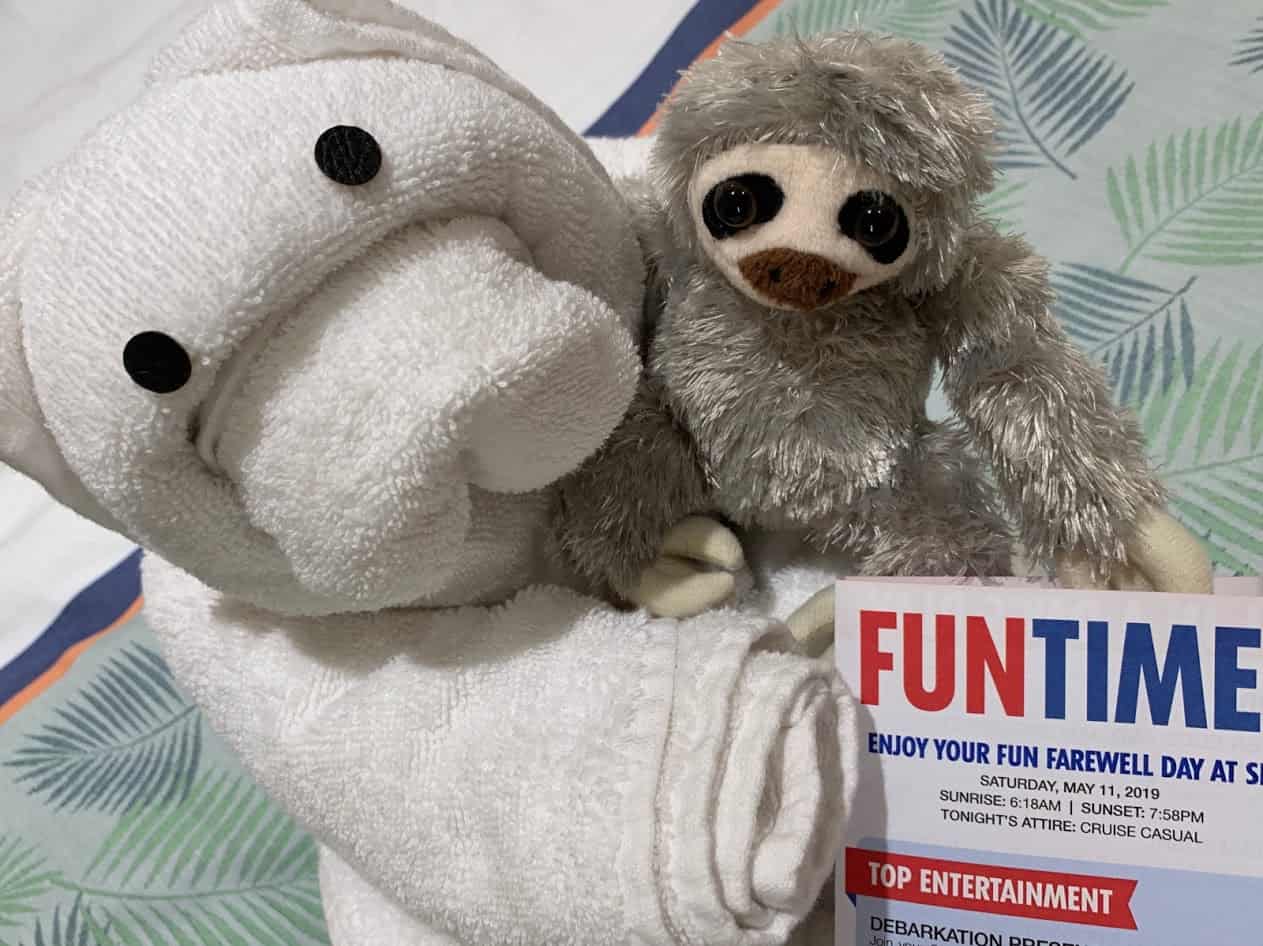 But all good things must come to an end, including a good day like this one. So after his set, I finally went back to the stateroom.
Tomorrow: There's Always Room For Another Sea Day Brunch
Catch up on our daily trip reports below:
Day 5: Freeport, Bahamas
Day 6: Sea day
Day 7: Norfolk