As I mentioned yesterday, this trip has been a real whirlwind… so don't be surprised if every now and then, I stop and say, "Hold up! I forgot to mention something." In fact, I'm about to do that right now, because in looking back at yesterday's trip report, I realize that I forgot to mention that I grabbed lunch at the new Guy's Pig And Anchor Smokehouse. Remember, while this place is a for-fee restaurant at dinnertime, it offers a selection of free treats for lunch.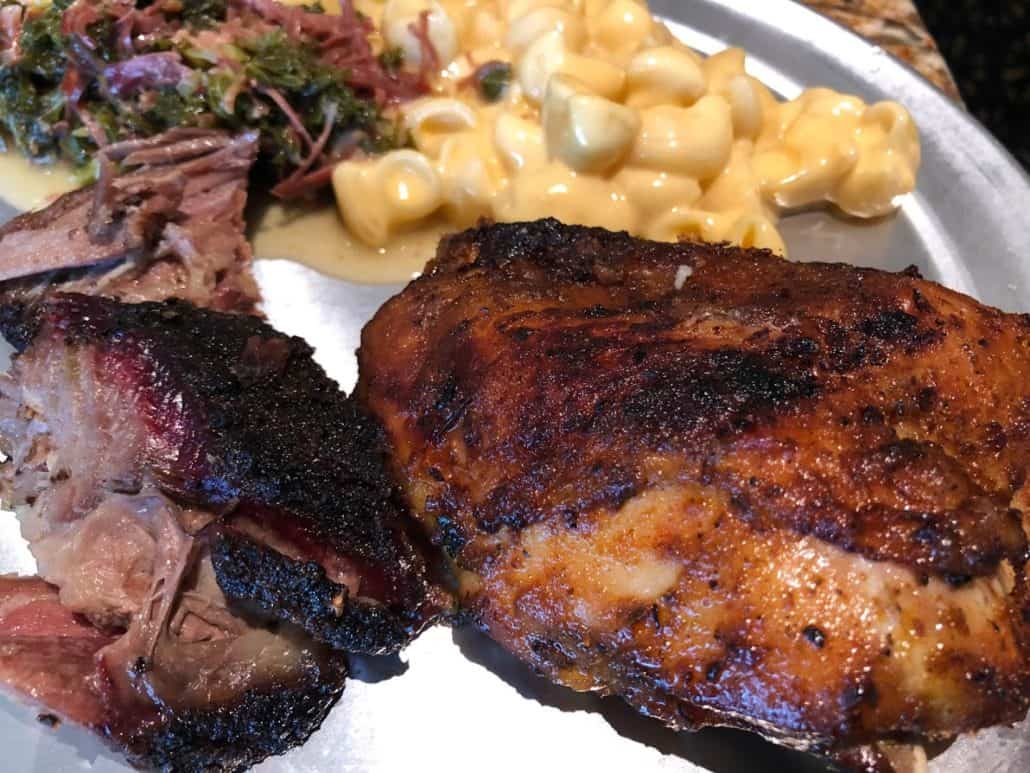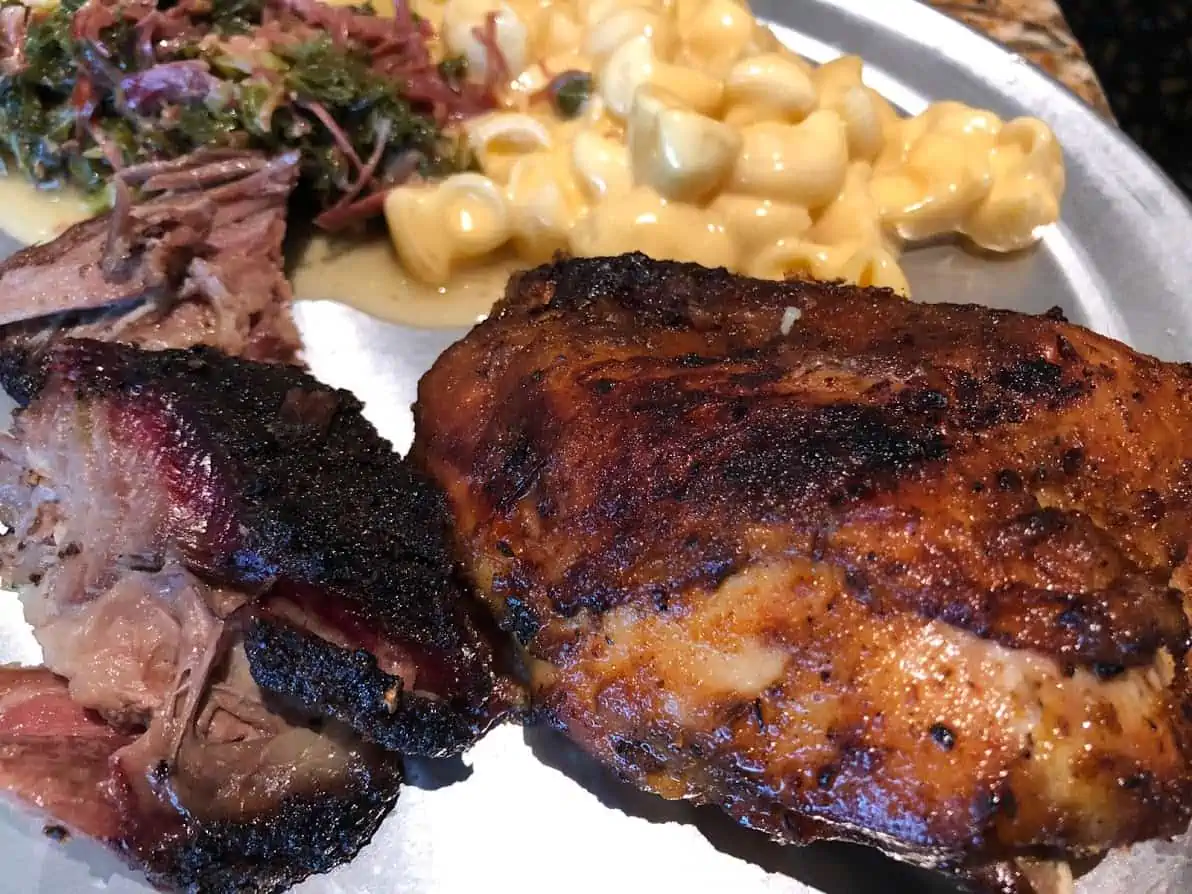 The food was solid, the beer was cold and the country music was playing… which means I didn't have a dang thing to complain about. I was talking to Carnival's vice president of Beverage Operations while eating, and he said the smokehouse is expected to keep the same vibe and feel when it starts cruising from Miami.
Speaking of the brewhouse, I had a little too much fun in there last night… or should I say this morning, since we were still going at 3 a.m.? I've said it before and I'll say it again, the brewhouse really comes alive at night. The music, the atmosphere, the drinks… this is my kind of joint. I spent some time living in Nashville, Tennessee when I worked in country radio, and this place is very reminiscent of one of the places I hung out in. So yeah, I expect I'll be spending a lot of time here over the next few days…
Meanwhile, despite how late I was out, there was to be no rest for the wicked. This sailing is basically a portapalooza. With so much to see, there's no time for slacking!
Stopping in Cagliari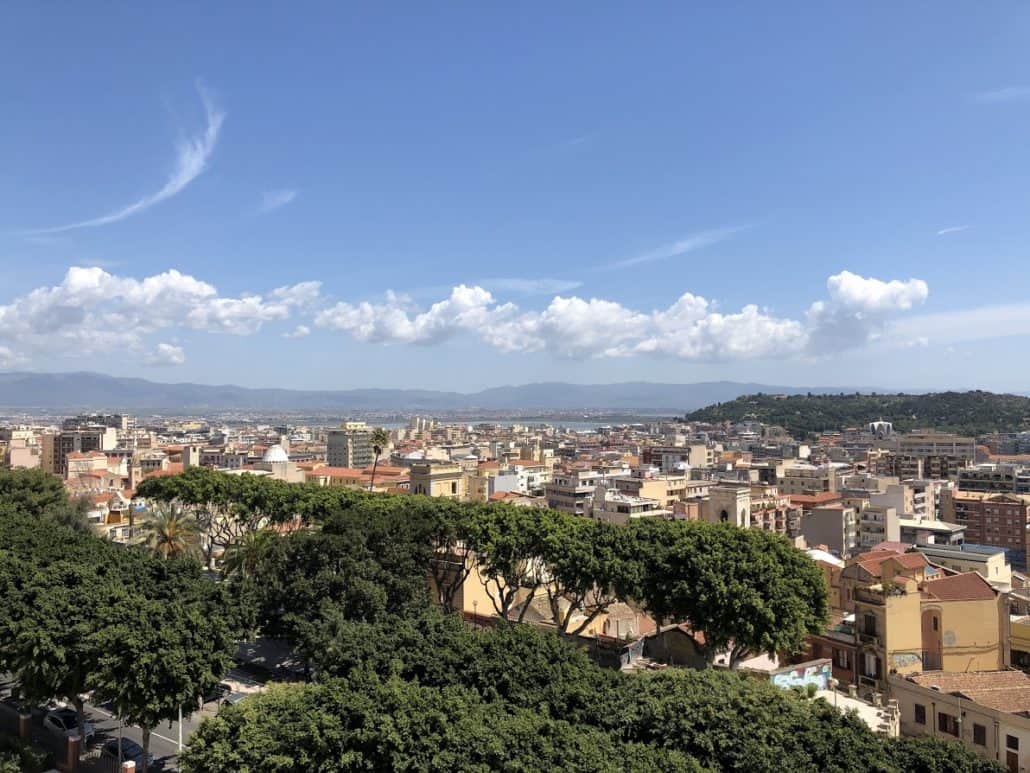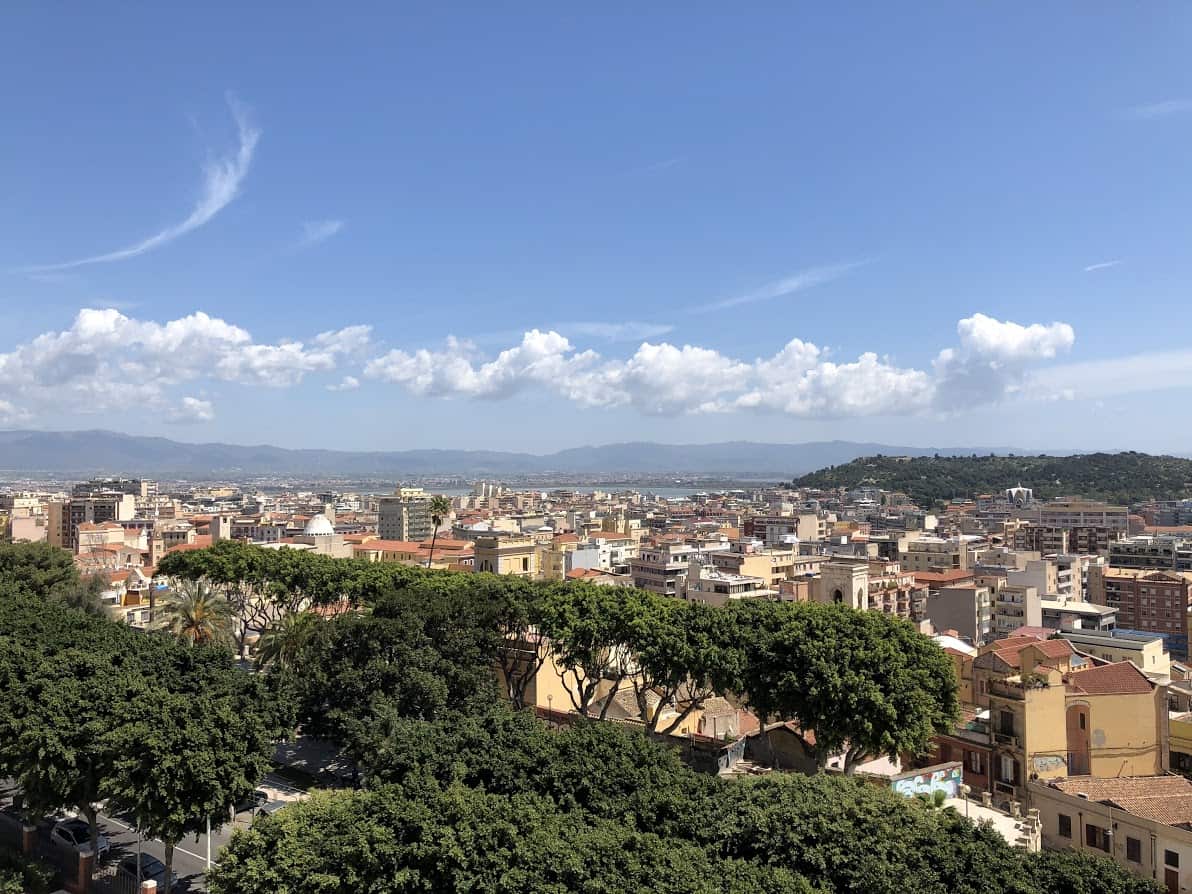 I mentioned earlier that I wasn't going to focus much on the ports for this itinerary because Horizon's European season is so short. I feel like most people reading this are going to be way more interested in the ship and what it has to offer than the ports I visited. (Heck, if I'm wrong, feel free to let me know either in the comments or by dropping me an E-mail at [email protected].) In a nutshell, we walked the town today, checked out the views from a medieval wall that rises above the town, visited a really cool 13th-century Cathedral… and waited forever to get back on a bus headed back to the ship.
Outside Areas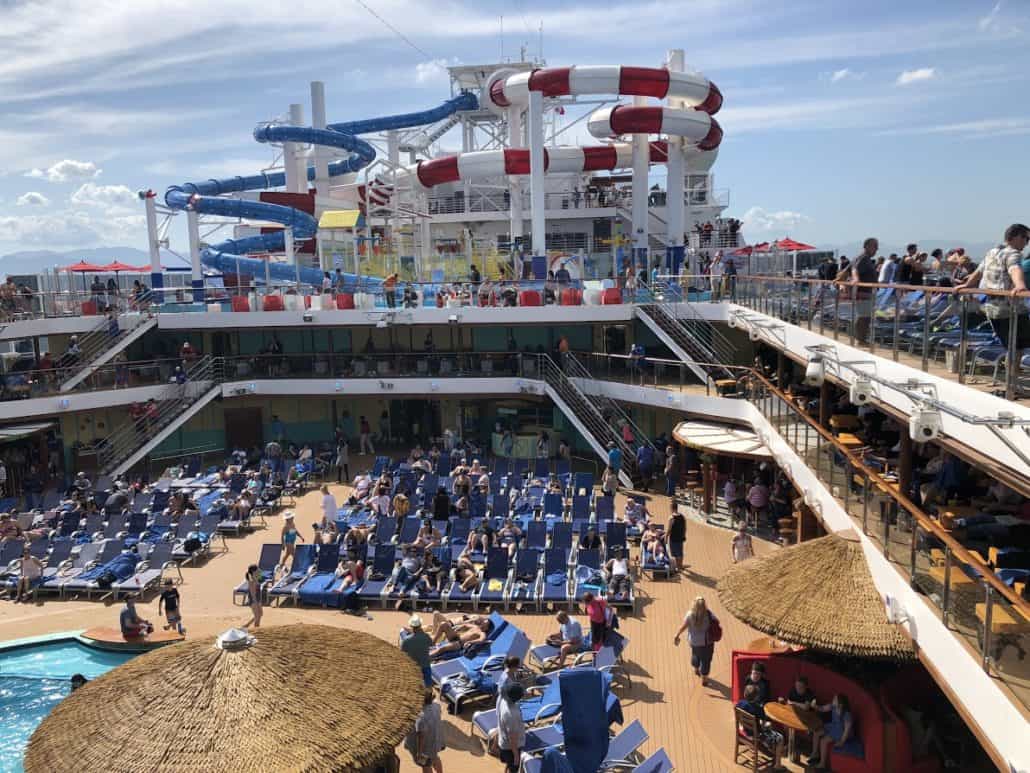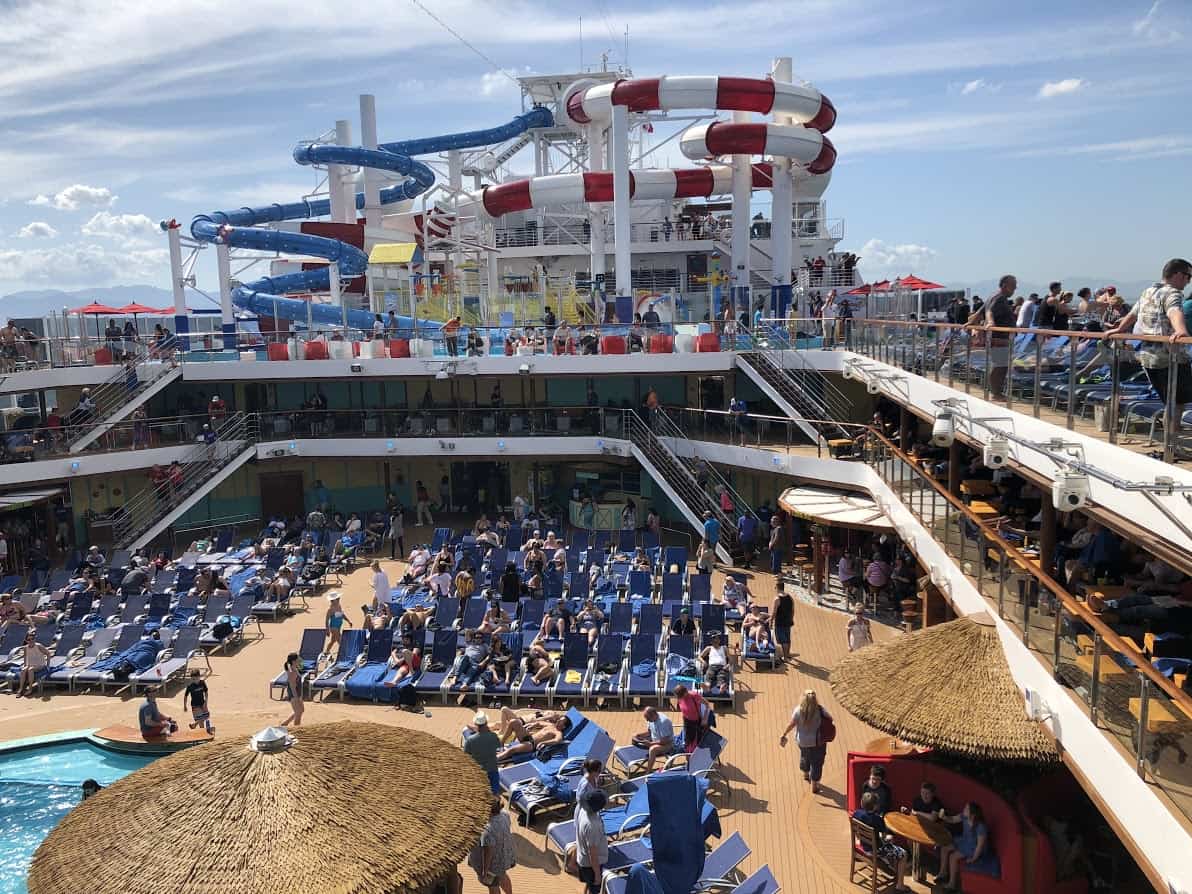 One thing Carnival Horizon has a whole lot of is outdoor areas. I love the peace and quiet of sitting on a deck and relaxing (or sometimes working), and they really hit the mark on this one. This isn't a ship where the only place to soak up the sun is by the pool. There are big and small seating areas all over the ship, which means that despite there being over 4,000 passengers on this sailing, I never had a problem finding a place to relax and soak up the sun. Even when I went to hang out by the pool for a while yesterday, it was relatively easy to navigate the area. Now, that might change a little once the ship starts sailing to the Caribbean and the sun worshippers are out in full force, but so far, it's been awesome on this sailing.
Dinner in Cucina del Capitano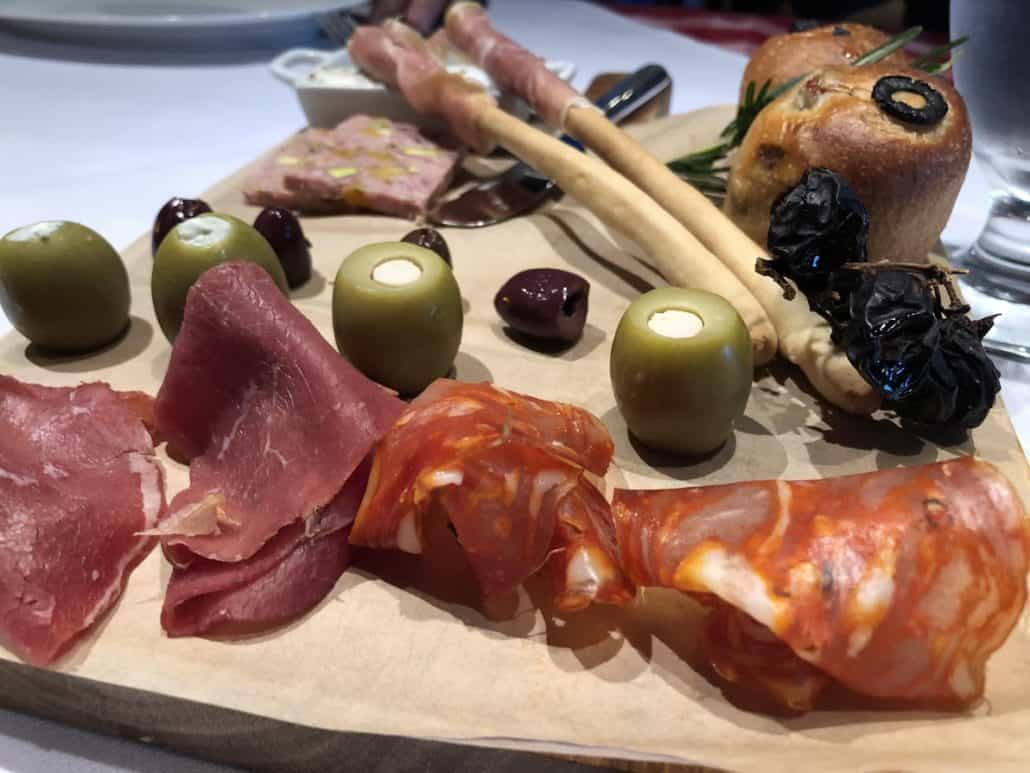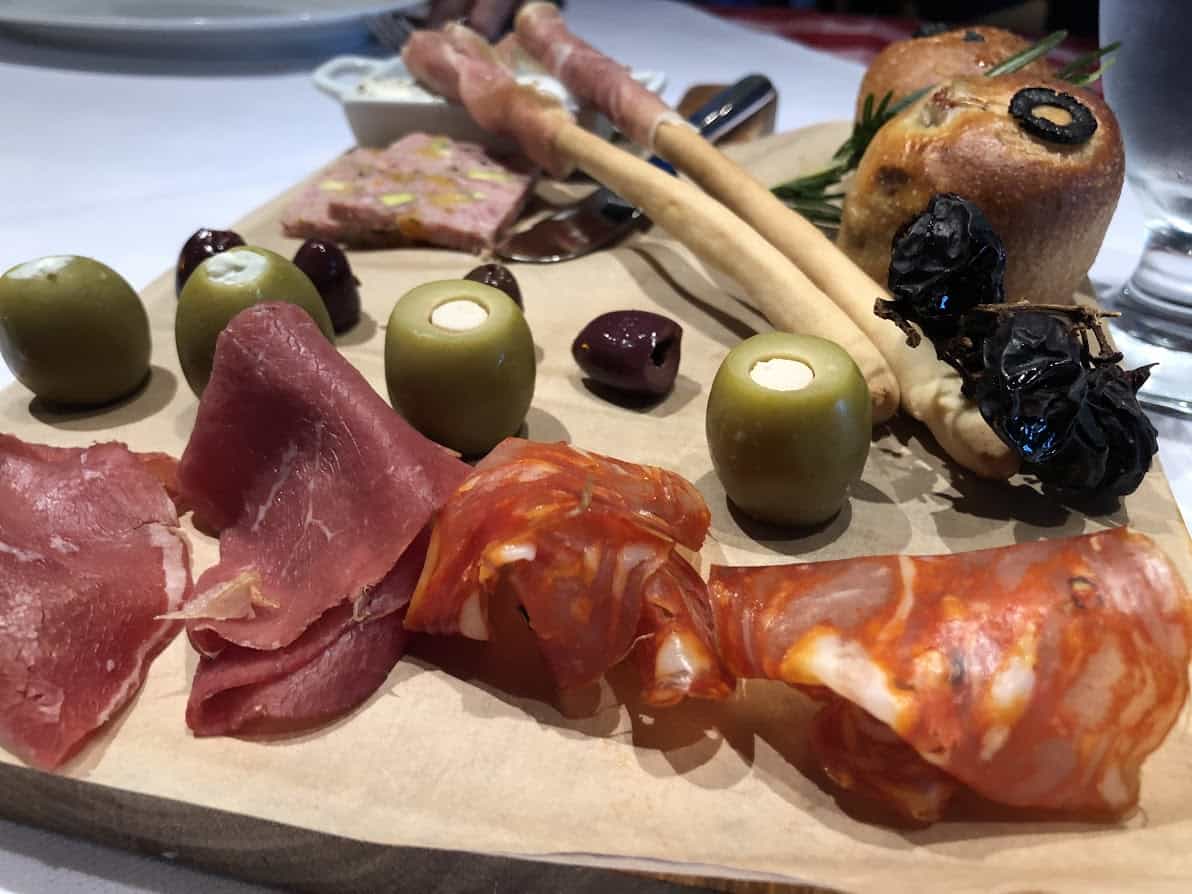 Tonight we ate at the Italian restaurant, which is located upstairs on deck 11. This is what your grandma would definitely call a bargain, because for a flat-fee of $15, you get more food than you can probably eat. If you leave this place hungry, you might want to see a doctor. In an effort to try and keep myself from completely blowing my diet, I did what I could to pace myself. I also steered clear of pasta… and that right there should tell you something: If you can have a great meal in an Italian eatery without touching pasta, they must be doing something right.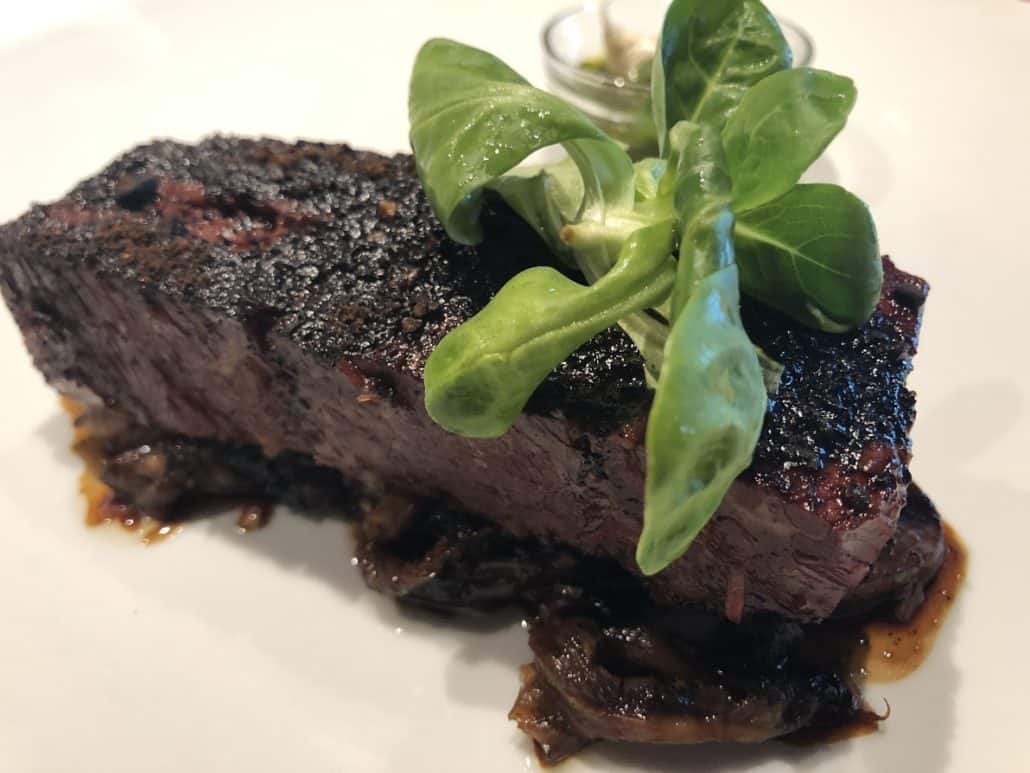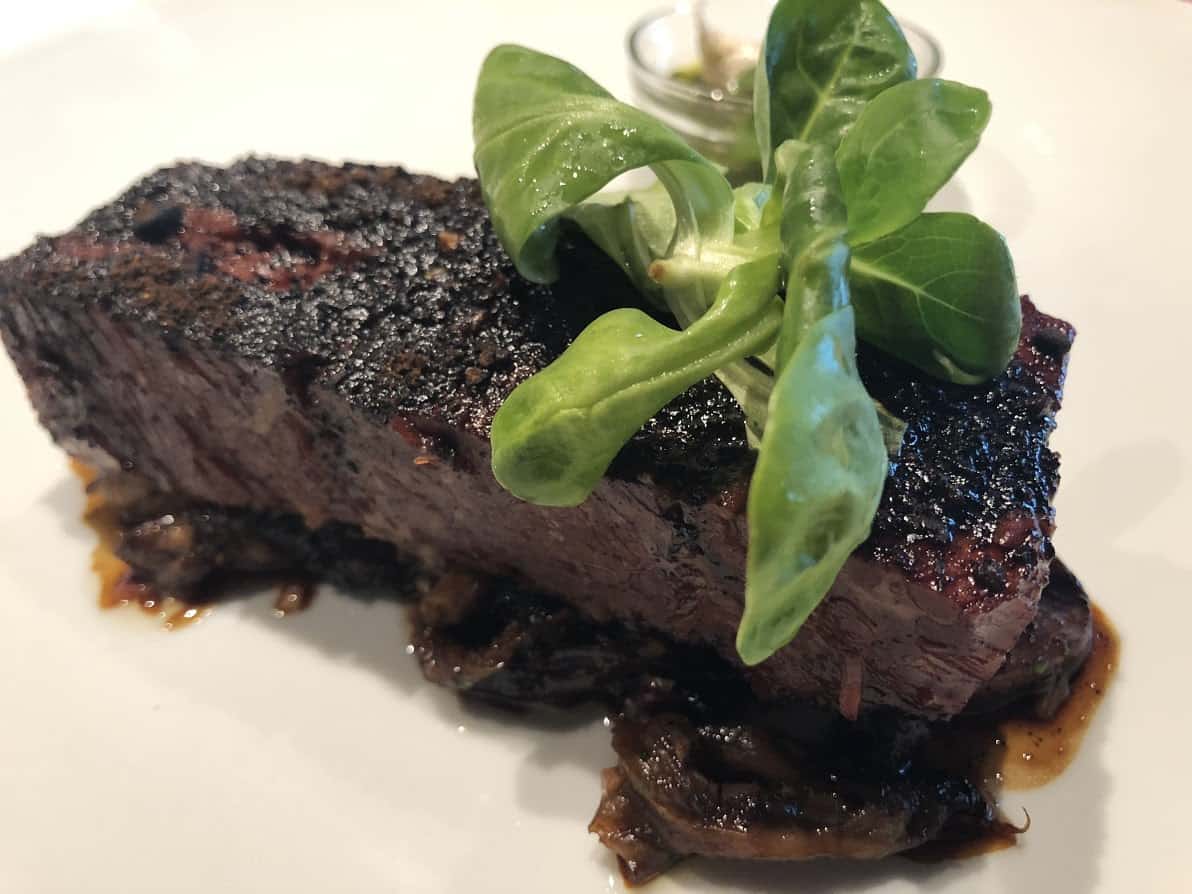 That said, it's not like I avoided carbs altogether. How could I, given how amazing the garlic bread was? I seriously could have eaten an entire basket of it myself. Whether that happened or not is between me and the server. Appetizer-wise, we went with the calamari and antipasti. For the main course, I picked the short ribs. I won't lie… my diet wasn't the only reason I skipped the pasta. I also really wanted to make it to the show tonight, and knew that pasta would leave me satisfied but heading straight for bed. I wanted to get dessert, but had an interview I needed to get done before showtime, so I took a pass. (I know I'm going to be back on the ship in a few weeks for the transatlantic, which makes it a little easier to skip things.)
Showtime: Vintage Pop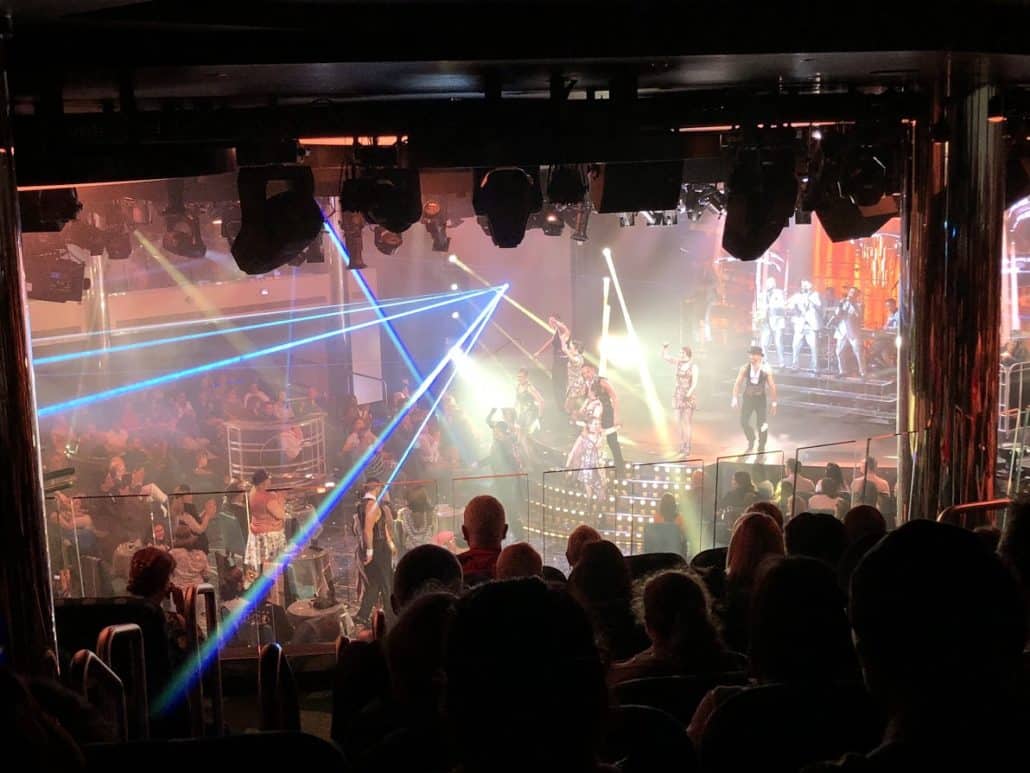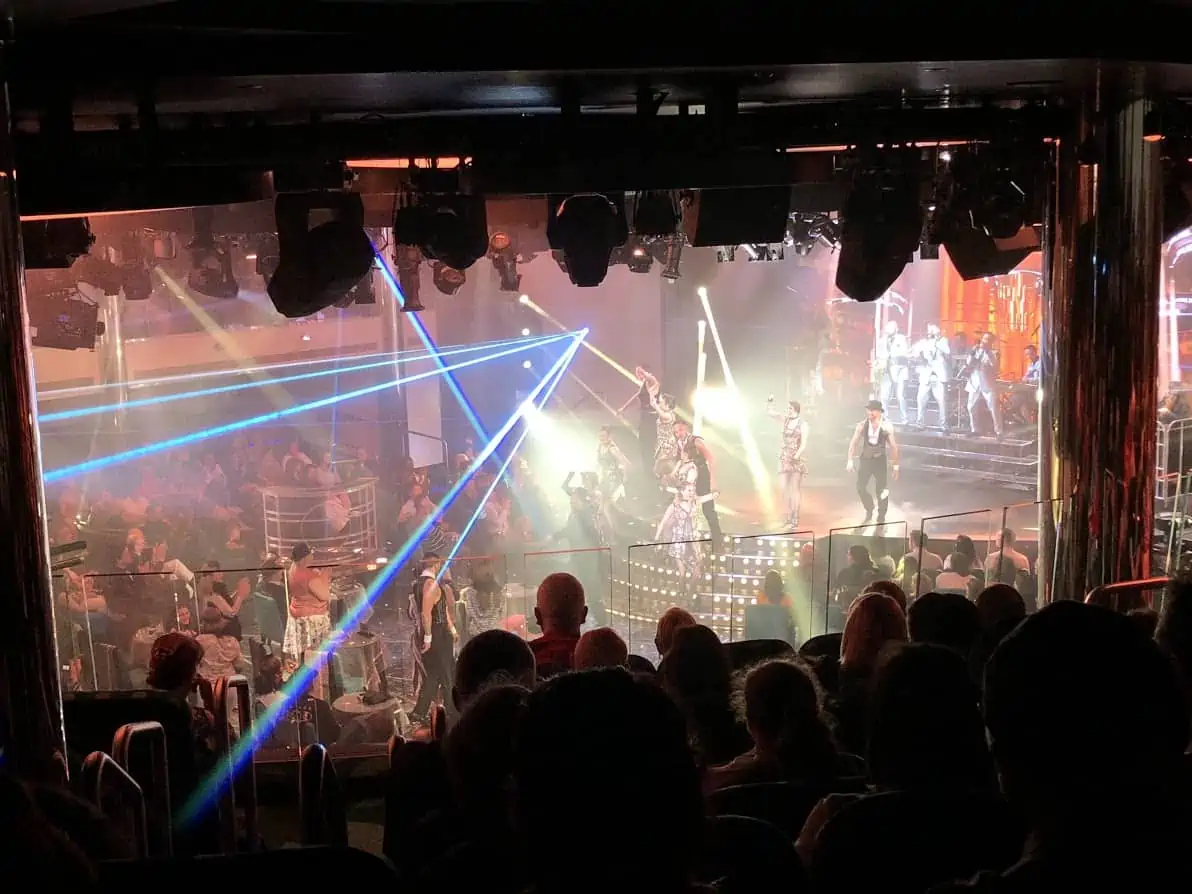 Regular readers will know that I'm not really the target audience for shows. 10 minutes in, I'm fidgeting, and things go rapidly downhill from there. But I try and take in as many shows as possible… after all, people come here looking for my thoughts and reviews, not my excuses! What usually makes the difference between shows I somehow manage to sit through and shows I actually enjoy is whether the music is live or not. I want real instruments, not a performance synced up to some crappy backing track. So I'm happy to report that tonight's show, Vintage Pop, had not only a band, but one with a killer horns section. It's easy to see why this one's proving so popular with my fellow passengers.
How do I know it's a popular show? I tend to sit at the very back of the theater… not only so that I can beat a hasty retreat should my fidgets get out of control, but so I can gauge the audience's reaction. A great barometer for how well-received any given show is? How many people walk out. After all, this isn't a Broadway play where you're paying $125 or more a seat and feel compelled to stay. If you're not having a good time, there's a whole big ship out there waiting to be explored.
So how did Vintage Pop do, based on my extremely unscientific standards? Really well. During the entire 45-minute show, only a few people headed for the exit. That's a success in my book. Meanwhile, I love that the actors and singers keep the party going by bringing the fun to the main atrium after the show. Guess that's how you put the "fun" in the Fun Ships.
Alchemy Bar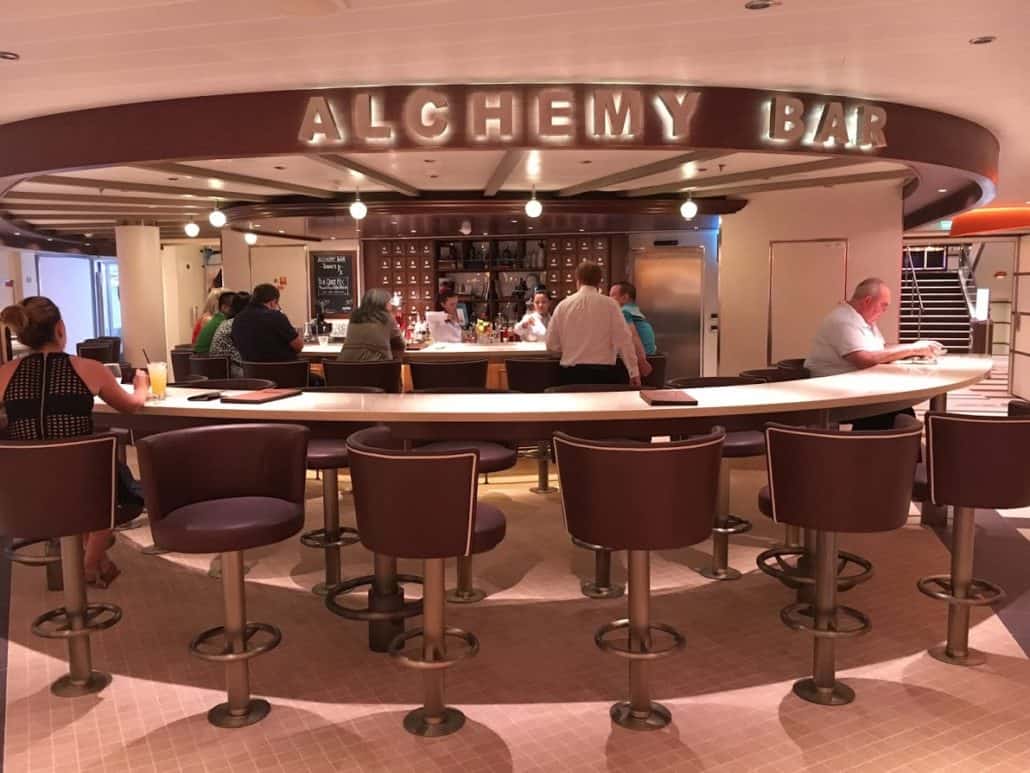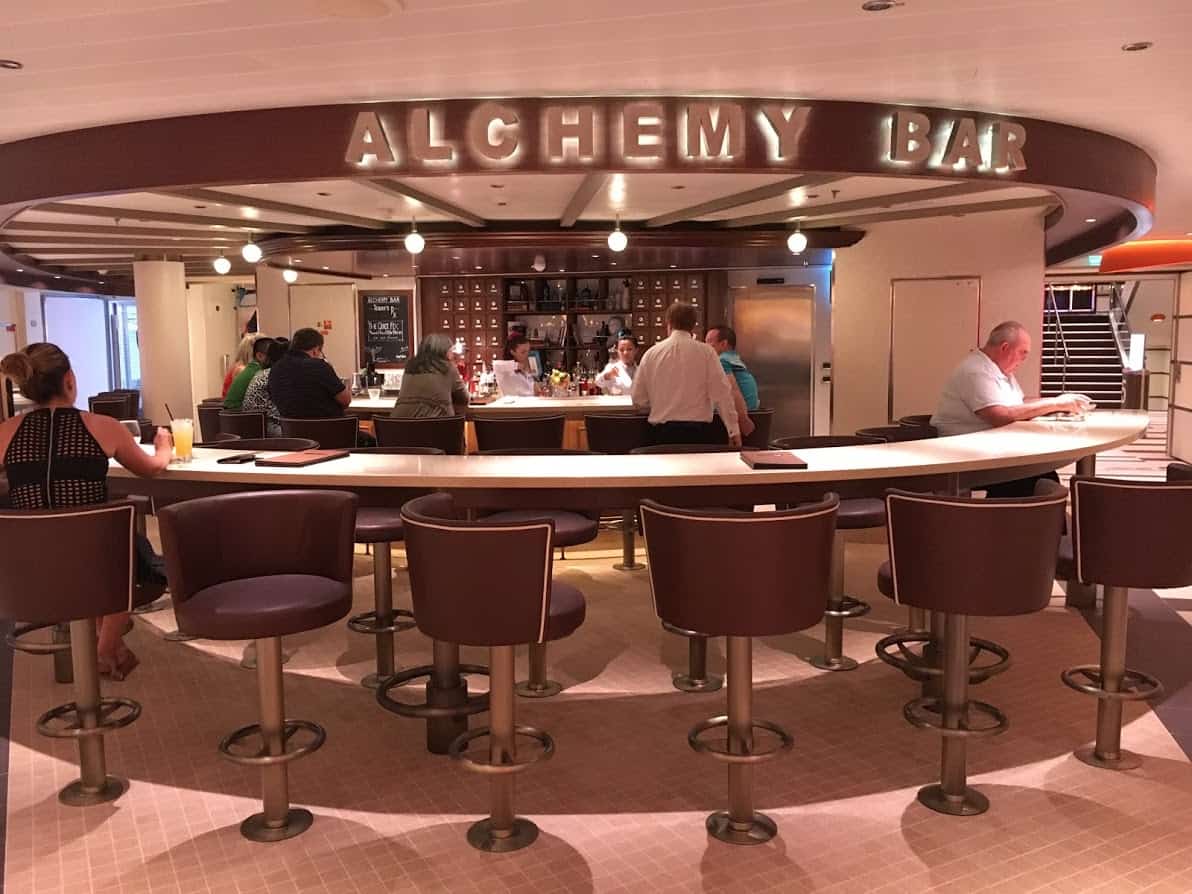 I stopped by the Alchemy Bar tonight before heading to bed. Since the Alchemy Bar is located at the very heart of deck five, it's really popular. If you're nervous about trying something new (especially if you don't have a drink package and want to make sure not to get something too experimental that you wind up hating), the Cucumber Sunrise is a real winner. And of course, there's always the Moscow Mule, although I feel like those are so popular now that they can be had in every bar on land. And Alchemy is all about doing something a little bit different.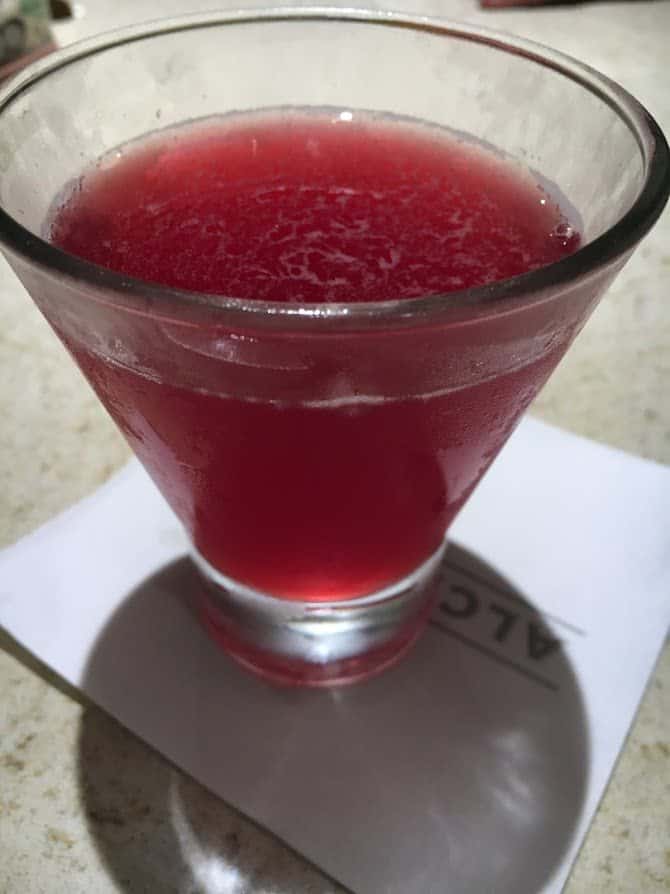 Heck, want something completely different? Be daring and go off-menu. Tell the mixologists — sorry, these guys are more than just "bartenders," — what you look for in a drink, and they'll handcraft something with your taste buds in mind. Someone in our group said that the enjoyed whiskey but wanted something sweet. Without hesitation, the lab coat-wearing guy behind the bar whipped something up and, sure enough, she loved it!
Julia from New Jersey asked via Facebook: How are the lines at the coffee bar? I'm reading comments from passengers waiting extremely long times to be served. – Julia, NJ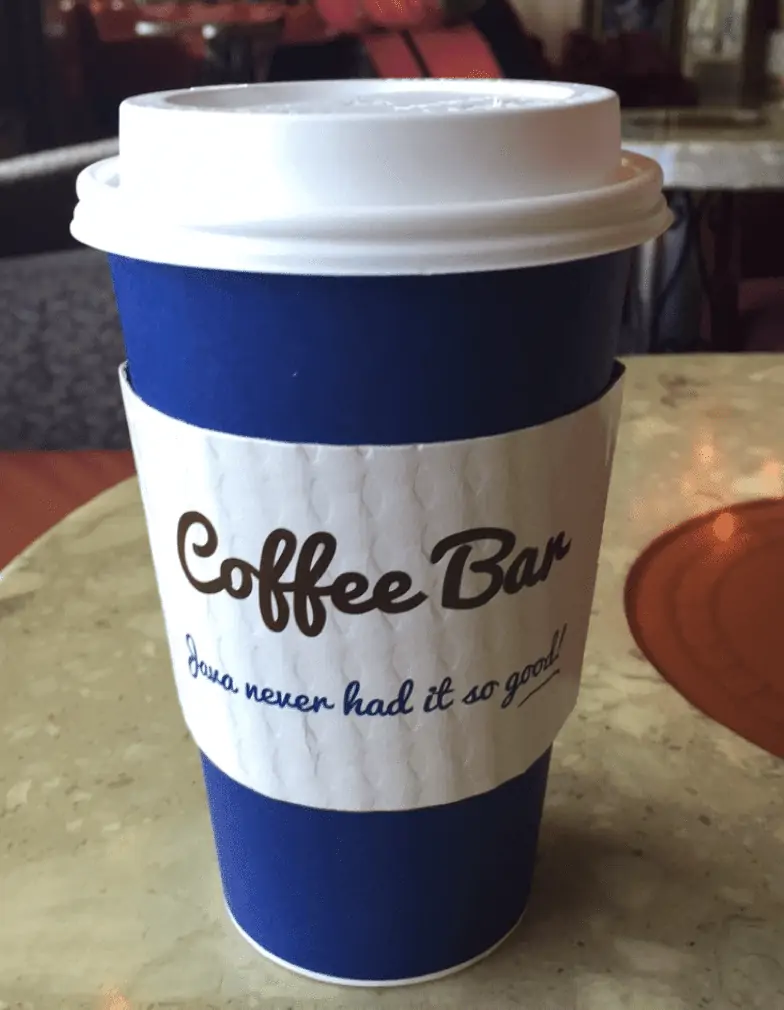 I usually head down to the coffee bar around 6 am every day and I have to say, when there's only one barista working, it can slow things down. When you're trying to grab a coffee and hit the deck to see the sunrise, it might be better to avoid the lines and head to the Lido for coffee or tea.
Given that Carnival is constantly looking at ways to incorporate technology into things, maybe they could figure out a way to let you pre-order your coffee on the Hub app so you could just walk down and pick it up the way you can now do at Starbucks and even some Dunkin' Donuts outlets. Of course, they'd then have to add another barista because I'm pretty sure this would prove crazy popular. Then again, maybe just adding another barista — with or without being able to pre-order — is a good idea. I'll tell you this much: I know I'm not the only one whose ADD-personality isn't big on lines!
In any case, tomorrow is Naples, Italy, – the place where pizza was born! So until then, goodnight.