When I woke up today, the Carnival Horizon was docking in Livorno on the Tuscan Coast. It's hard to believe how quickly this cruise is flying by. I'm not used to only having one sea day on a seven-night cruise, since you typically start and end each cruise with a day at sea. That gives you time to get used to the ship at the front end of the trip, and a day to decompress (and, sadly, prepare to re-enter the real world) as the trip comes to an end. But Mediterranean cruises tend to be very port intensive, and I've certainly made the most out of every place that we've stopped.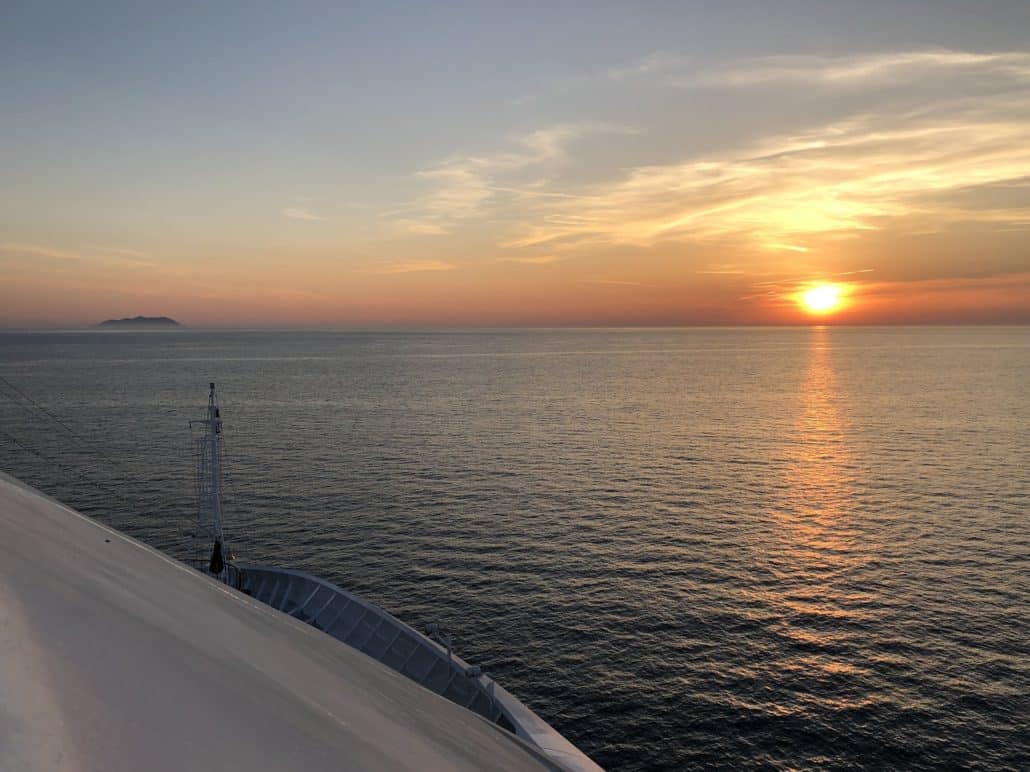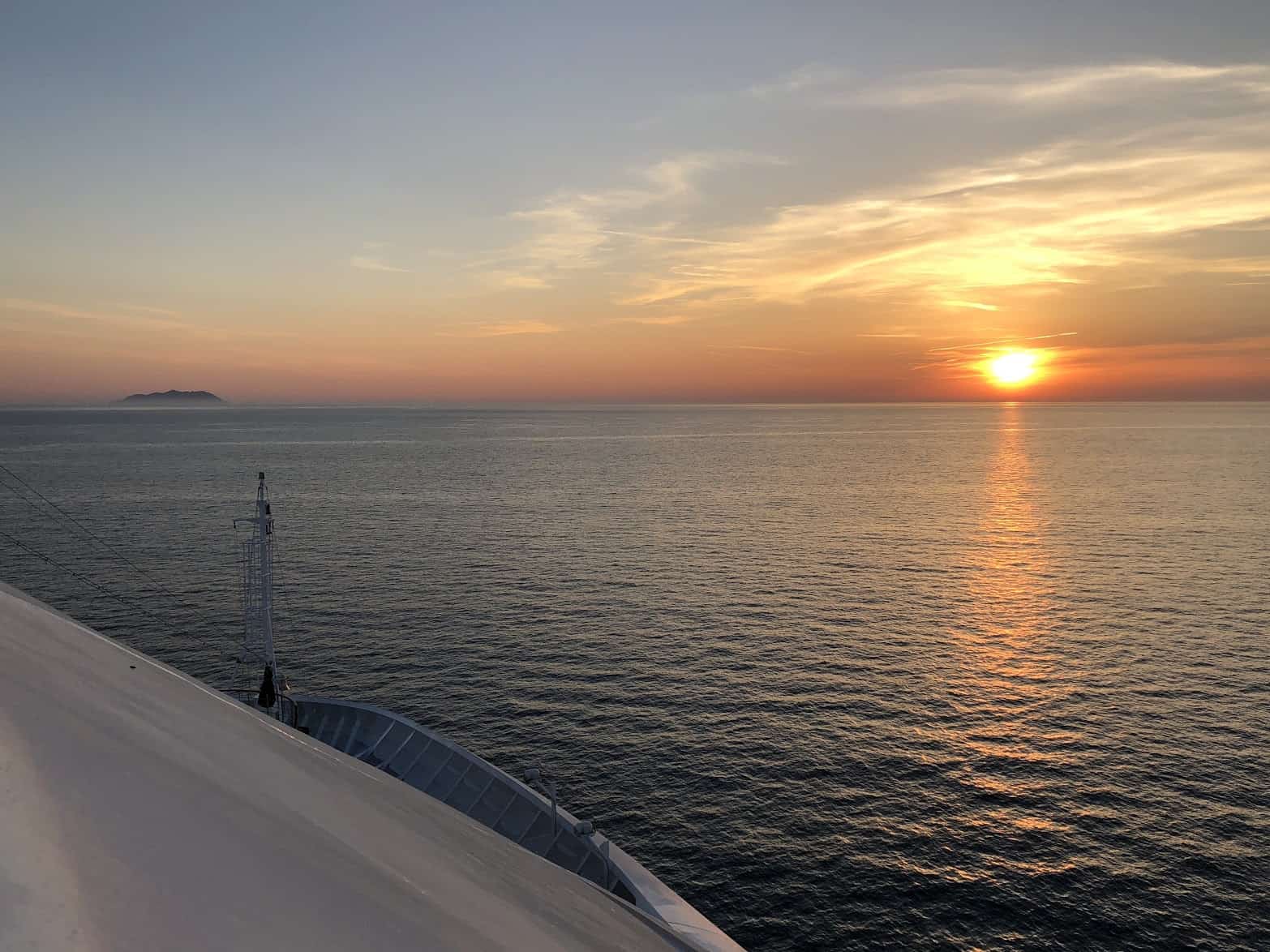 As has become my habit on this cruise, I started the day by hitting the main dining room for a quick port day express breakfast. I'd love to say I tried something completely different, but when you find what works, stick with it… which is why I got my old standby, the cracked-egg sandwich and a cup of coffee. I've meant to grab breakfast on the Lido deck at some point, at least so I could relay to all of you what the experience is like. But truth be told, I just haven't felt like giving up an opportunity to be served breakfast (let alone deal with any crowds you might find on the Lido.).
Despite that, breakfast was definitely a must. This morning, we were really exhausted after having hiked around Rome yesterday… but that wasn't going to stop us from getting the most out of this port visit.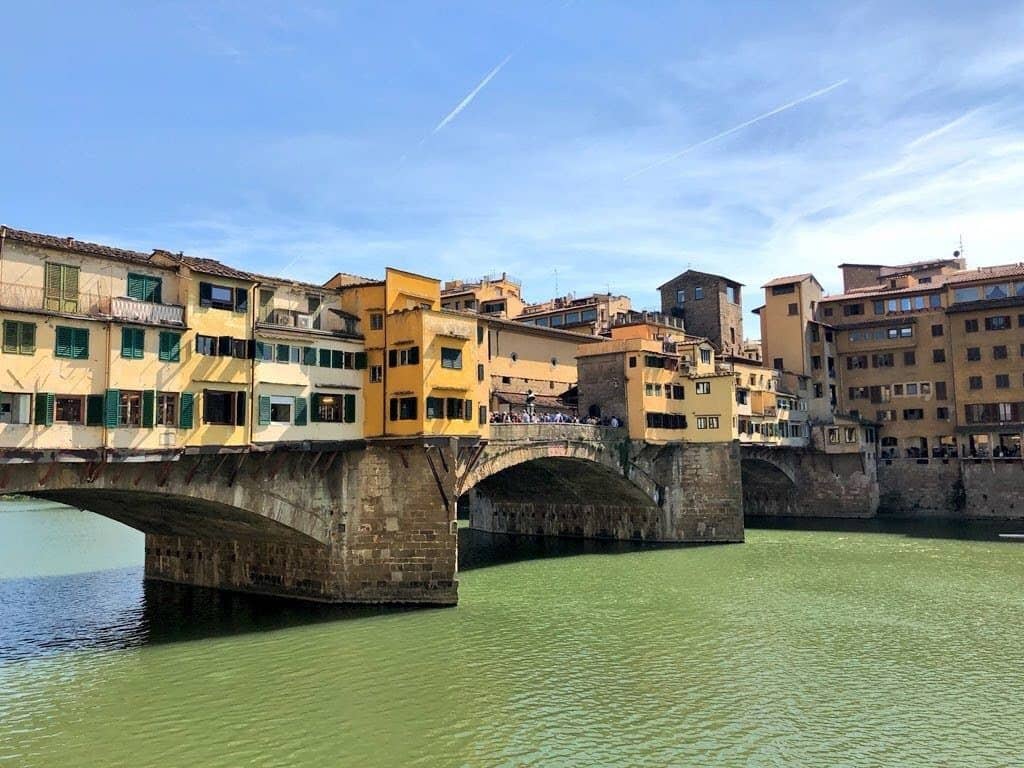 The tour of Florence was very nice, and we got to see a lot of landmarks like the tomb of Michaelangelo, the home of Dante Alighieri house (best known for the epic poem The Divine Comedy ), and a couple of really stunning historic Cathedrals. The tour was 10 hours and went by in a flash. It's  wild how you can go from thinking, "What the heck am I going to do in Florence or Rome for seven hours" (not counting the transportation back and forth) to "Woah, where did the time go?"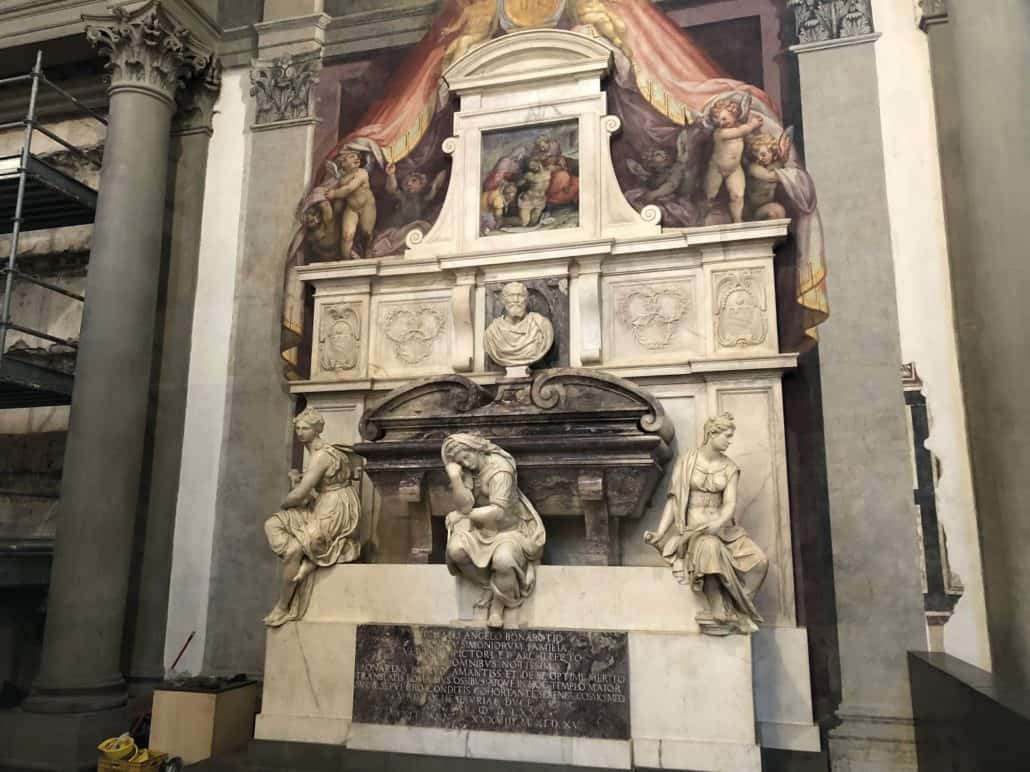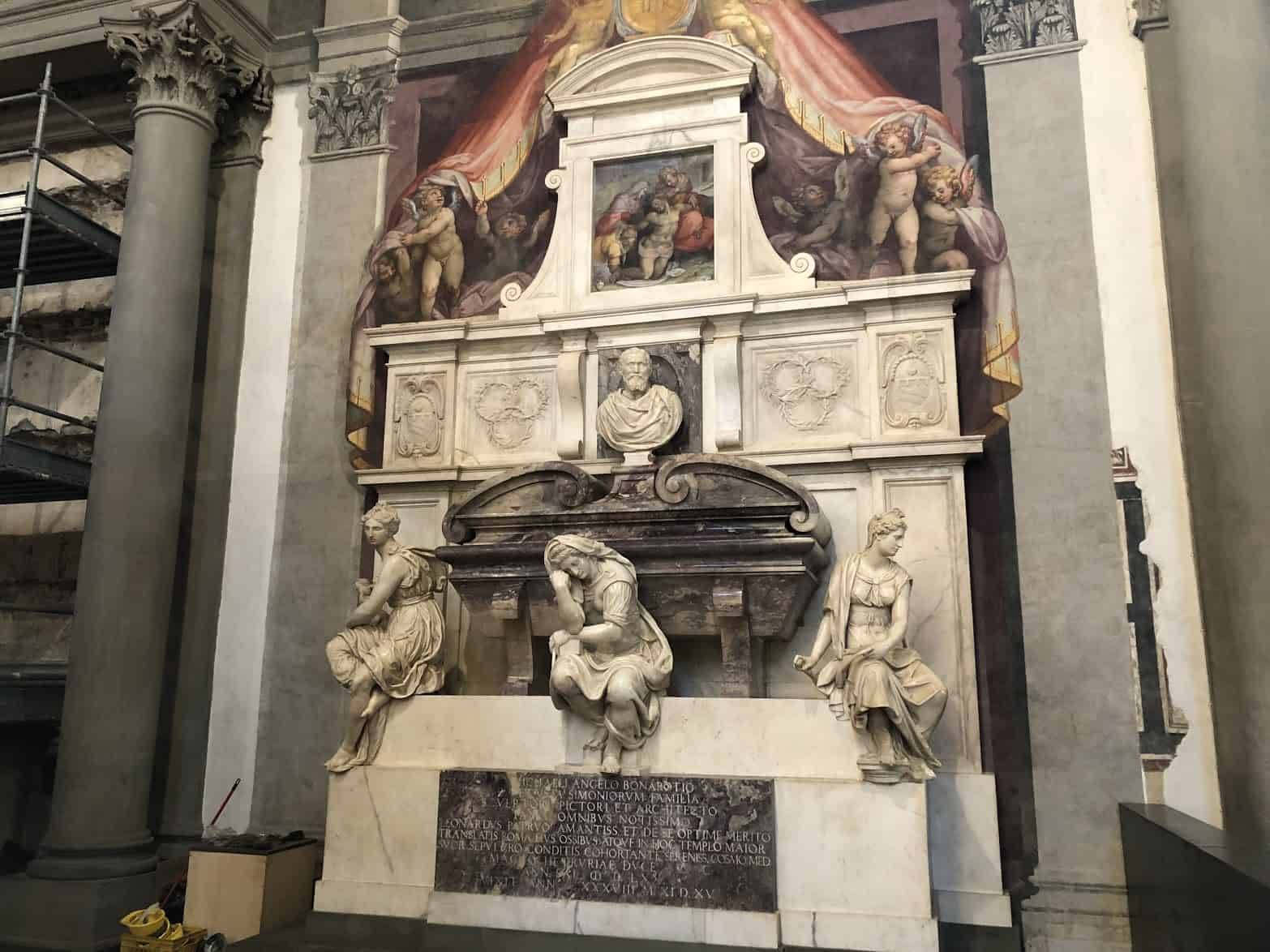 I got back on the ship just in time to take the pub tour in the Pig and Anchor brewery. Colin Presby is the brewmaster who spends almost the whole year onboard ships brewing beer and keeping the taps flowing. During the tour, everyone got a flight of beer and was explained the process behind the brewing all four beers. After sampling the beers, we got to go see where they actually brew… which is a pretty amazing process, considering it all takes place on a ship. Carnival first introduced the brewery on sister ship Carnival Vista back in 2016.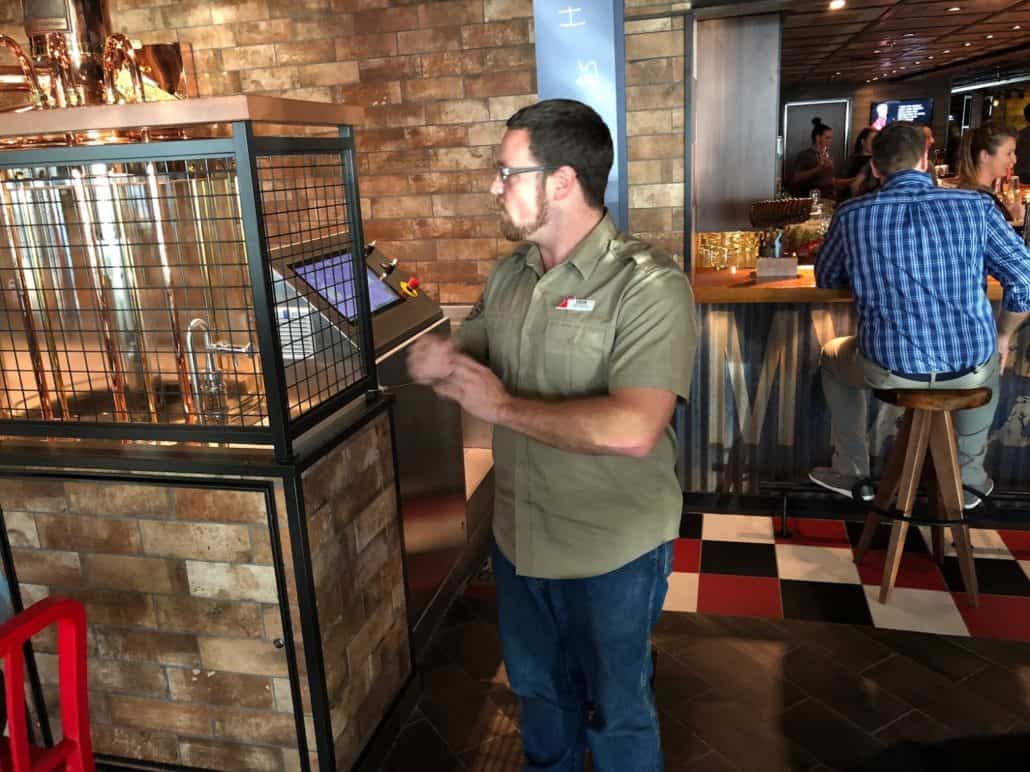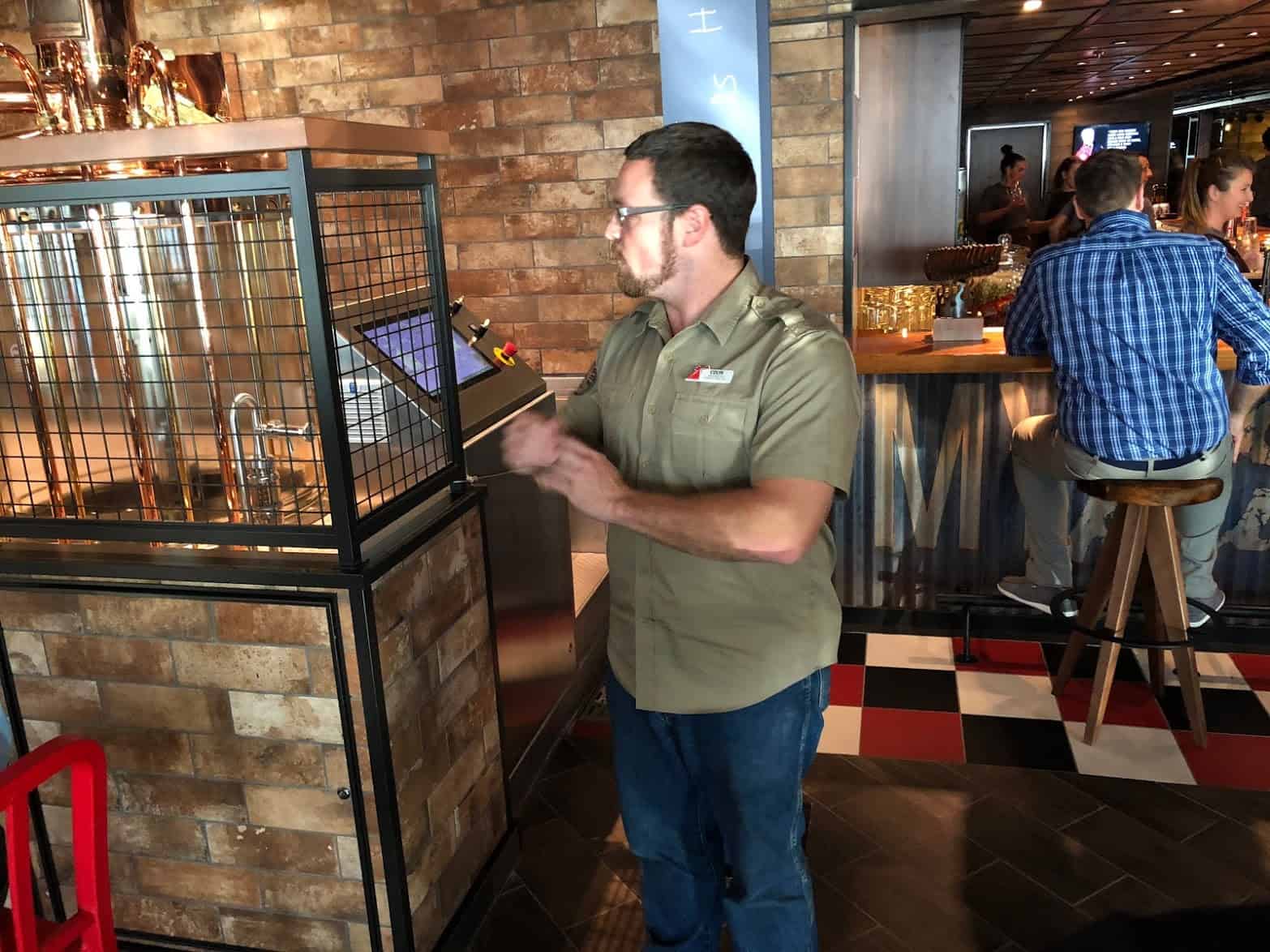 READ MORE: Meet The Man Who Makes Carnival Cruise Line's Beer!
Our group was dining in JiJi's Asian Kitchen tonight but there was still so much of the ship that I wanted to see and experience, and our time on board was quickly winding down. The initial plan was to go up to the Lido and grab something from the marketplace buffet or deli but I got sidetrack, and wound up at the Pig and Anchor again. I didn't really plan on eating there again tonight, I swear… it just happened! Tonight I went with The Smokehouse Melt and let me tell you, this was by far the messiest and best sandwich I've ever had in my life. It has pulled pork, sliced brisket, double smoked pork belly bacon, two slices of cheddar cheese, homemade pickles and donkey sauce. It was $6 and one of the best meals I've had on board yet… and that's including the 18-ounce cowboy cut in the steakhouse.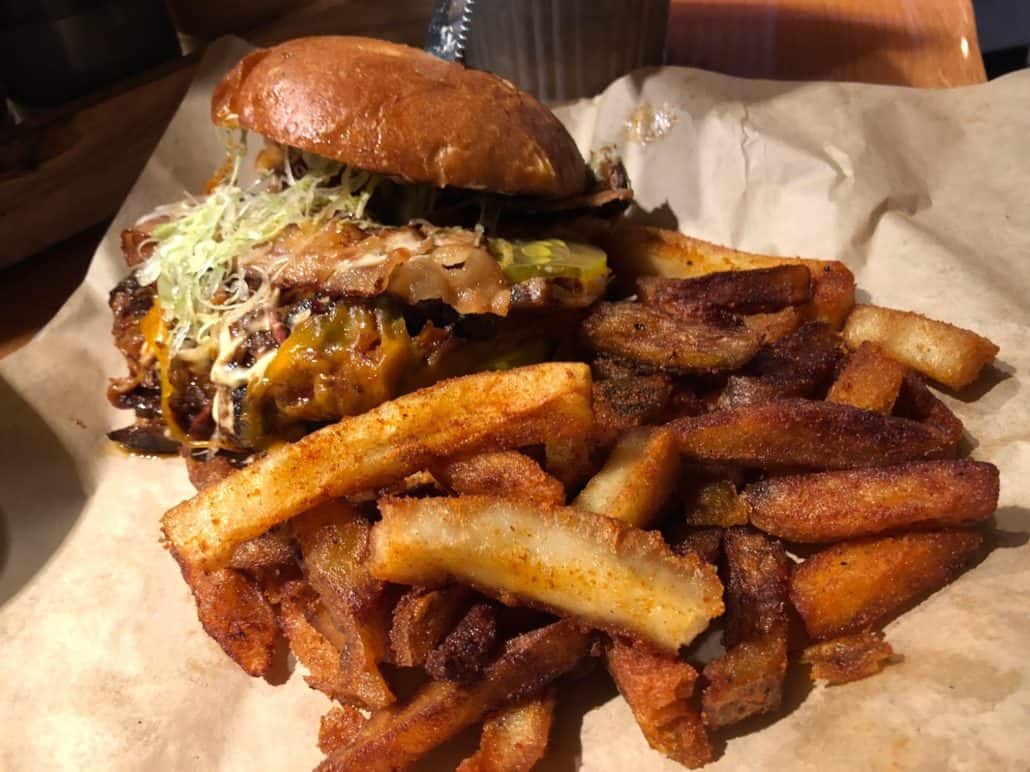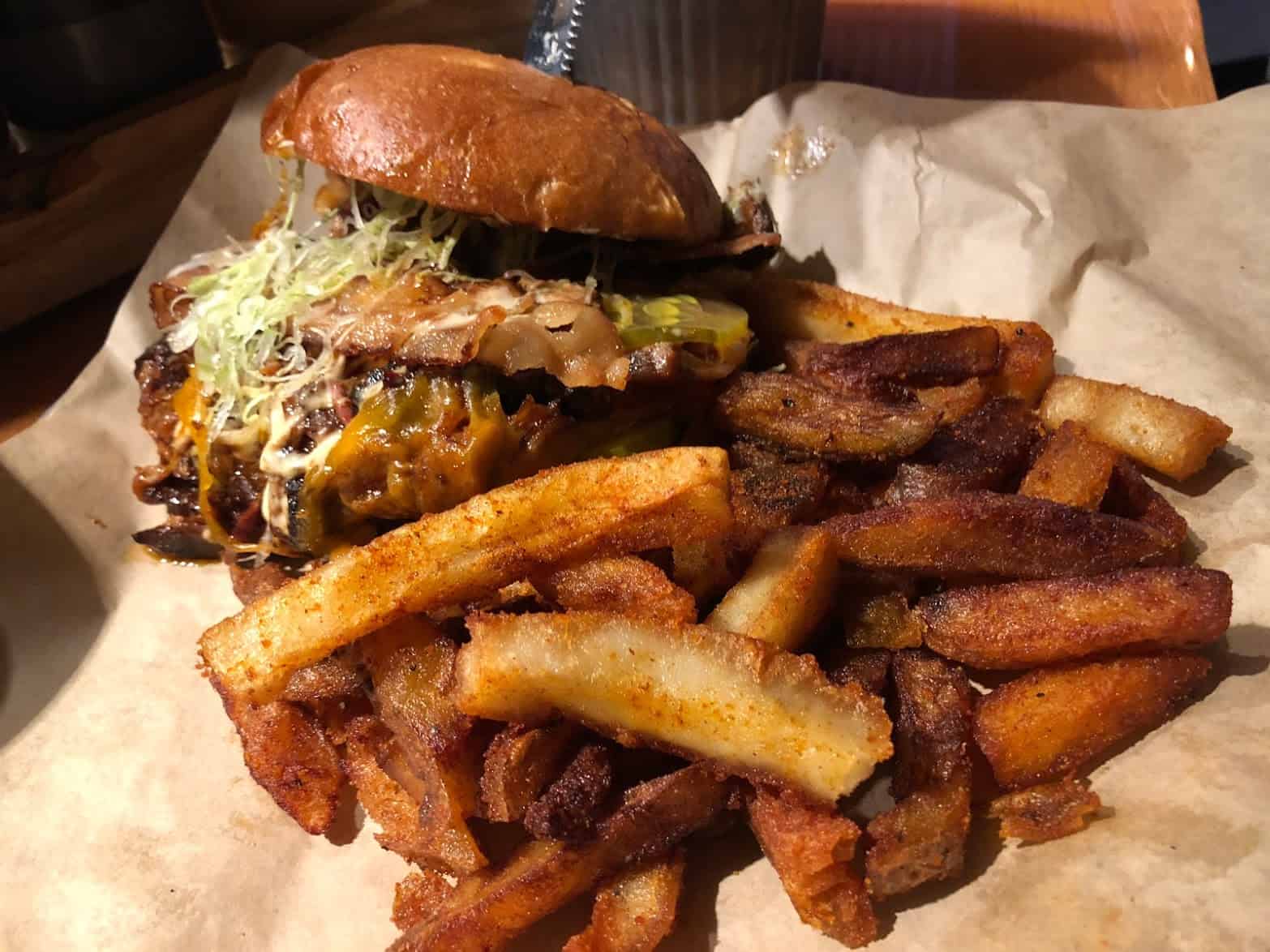 There's a comedian on board named Happy Cole, who I first interviewed in 2011 on Carnival Fascination. He is a hoot — that's right, I said a hoot! — and his shows are a mix of messing with the audience and talking about his experiences on the ship. The Punchliner Comedy Club is held in the Limelight Lounge toward the back of the ship on deck four.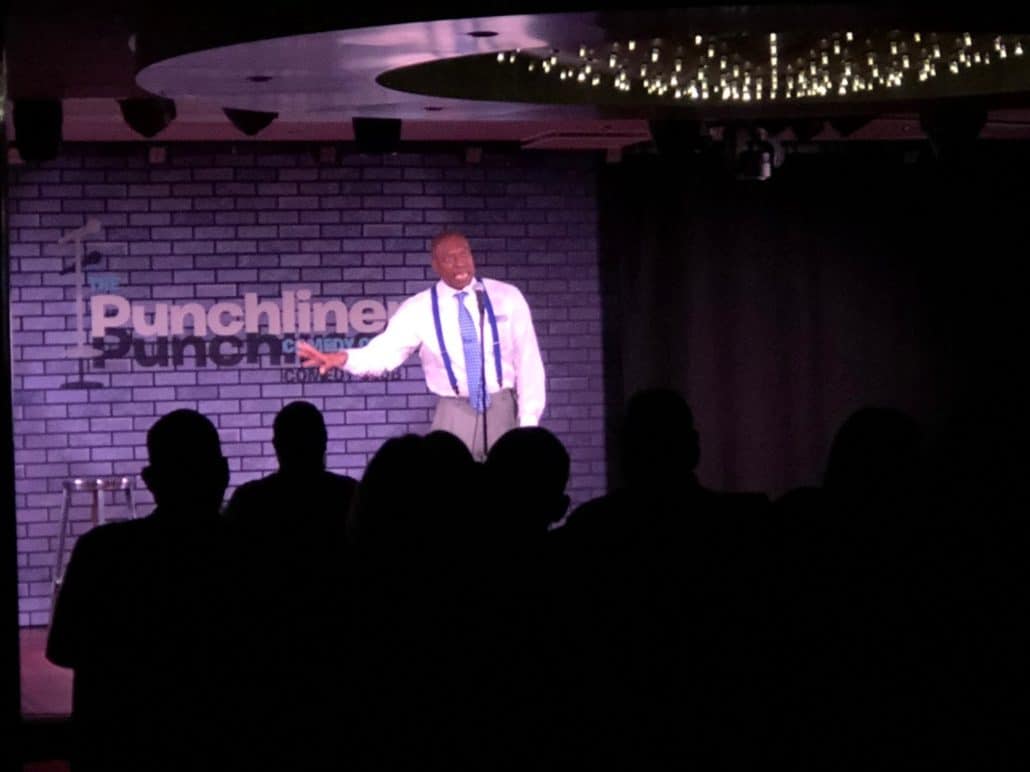 One question I've been getting repeatedly is about the design of the theater in general and specifically, the poles which caused so many complaints about sight-lines on Vista. Yes, they are still there. If you think about it from a technical standpoint, they kind of need to be there. See, above you is Ocean Plaza, which means the support columns in the theater are actually holding the floor of that venue up. So if you want to get a good seat in the comedy club, get there early… especially during the late-night show. The PG show rarely ever fills up because folks are either eating dinner or watching a show in Liquid Lounge.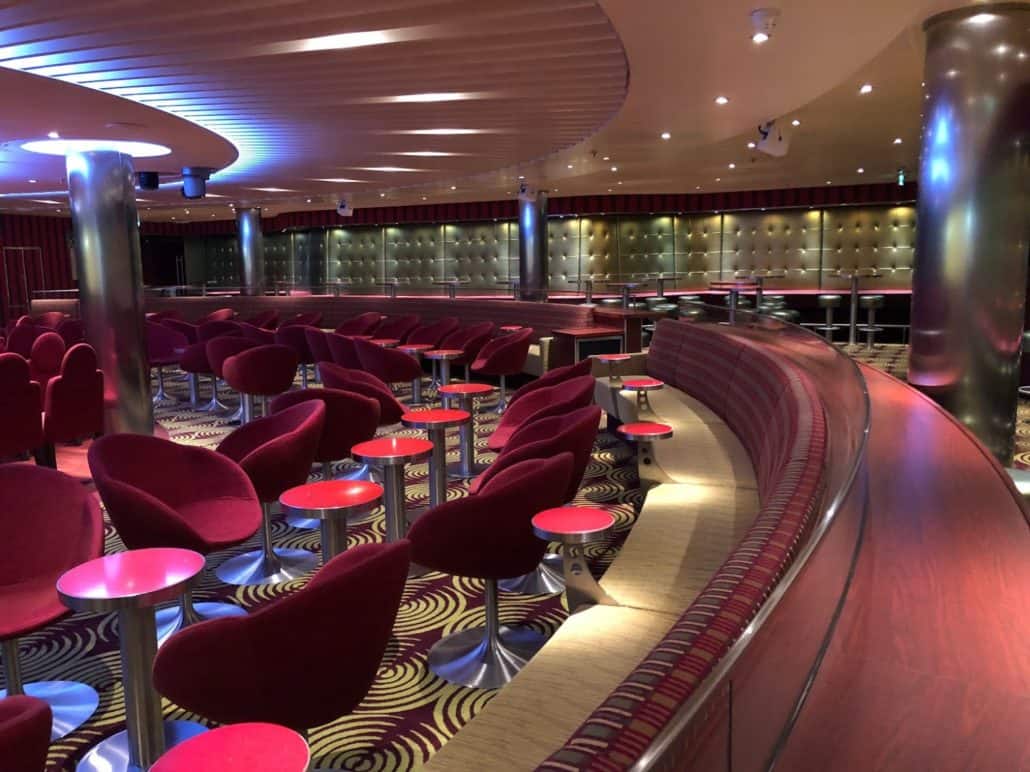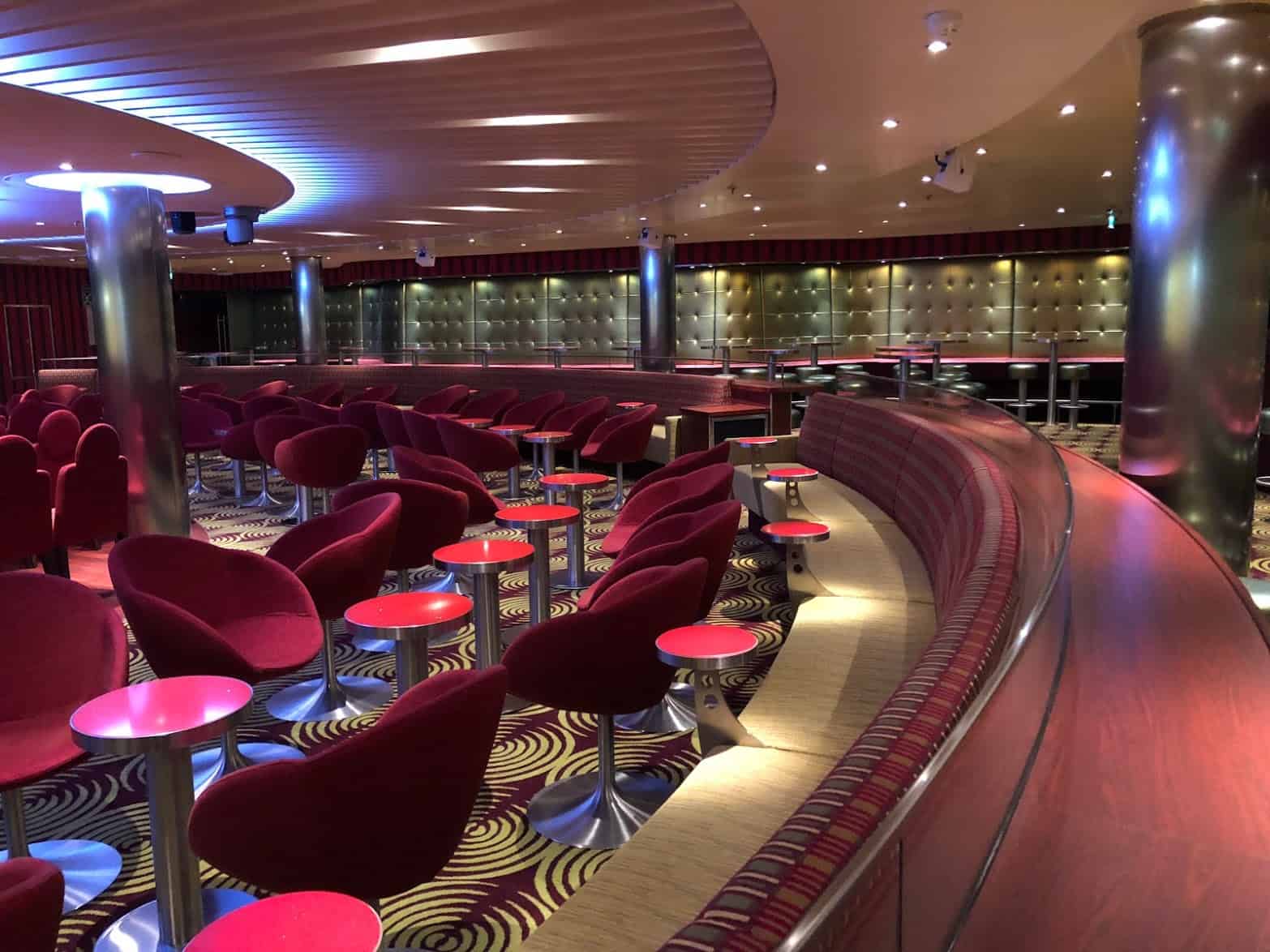 Happy Cole was so funny that I wanted to catch his last show in the Liquid Lounge. He was doing a double-bill with the other comedian who was on board with him. I had a little time to kill, so I went down to my stateroom to start packing and then sat in the main atrium for a little while to people watch, soak in the atmosphere to hold me over until I'm back on the ship in a few weeks, and get a feel for how the space handles the flow of traffic. The violinists who play on deck four overlooking the atrium were really good and they were killing it with the audience participation. Folks were on decks three, four and five, all leaning in to listen to them play everything from Coldplay to Michael Jackson.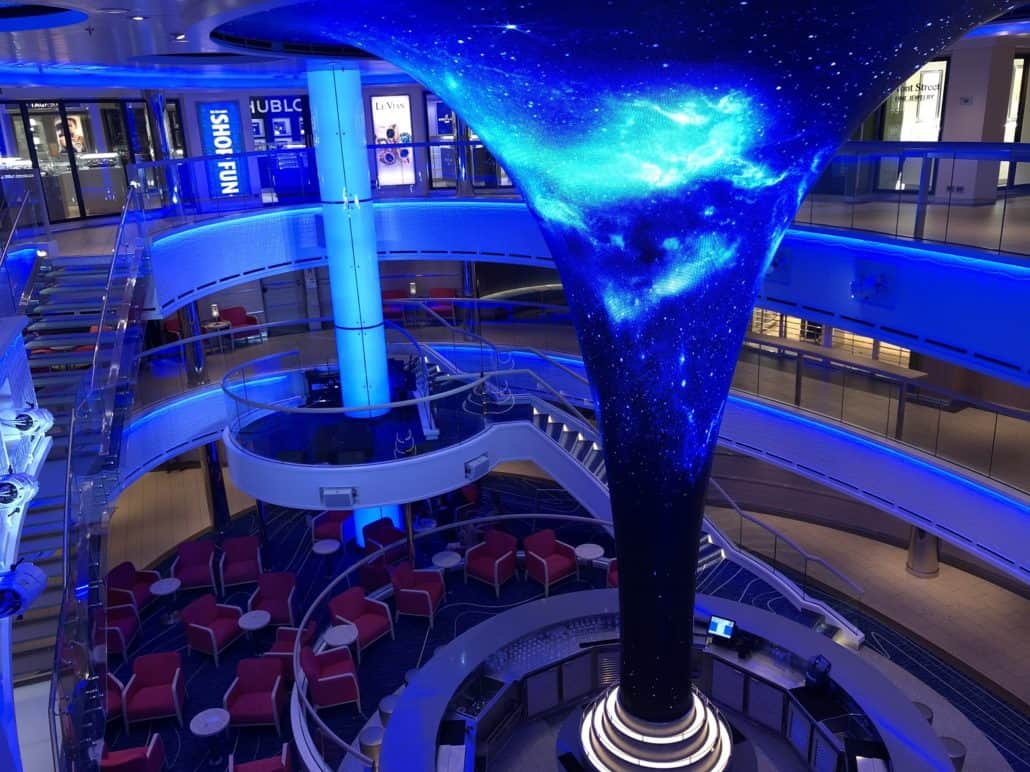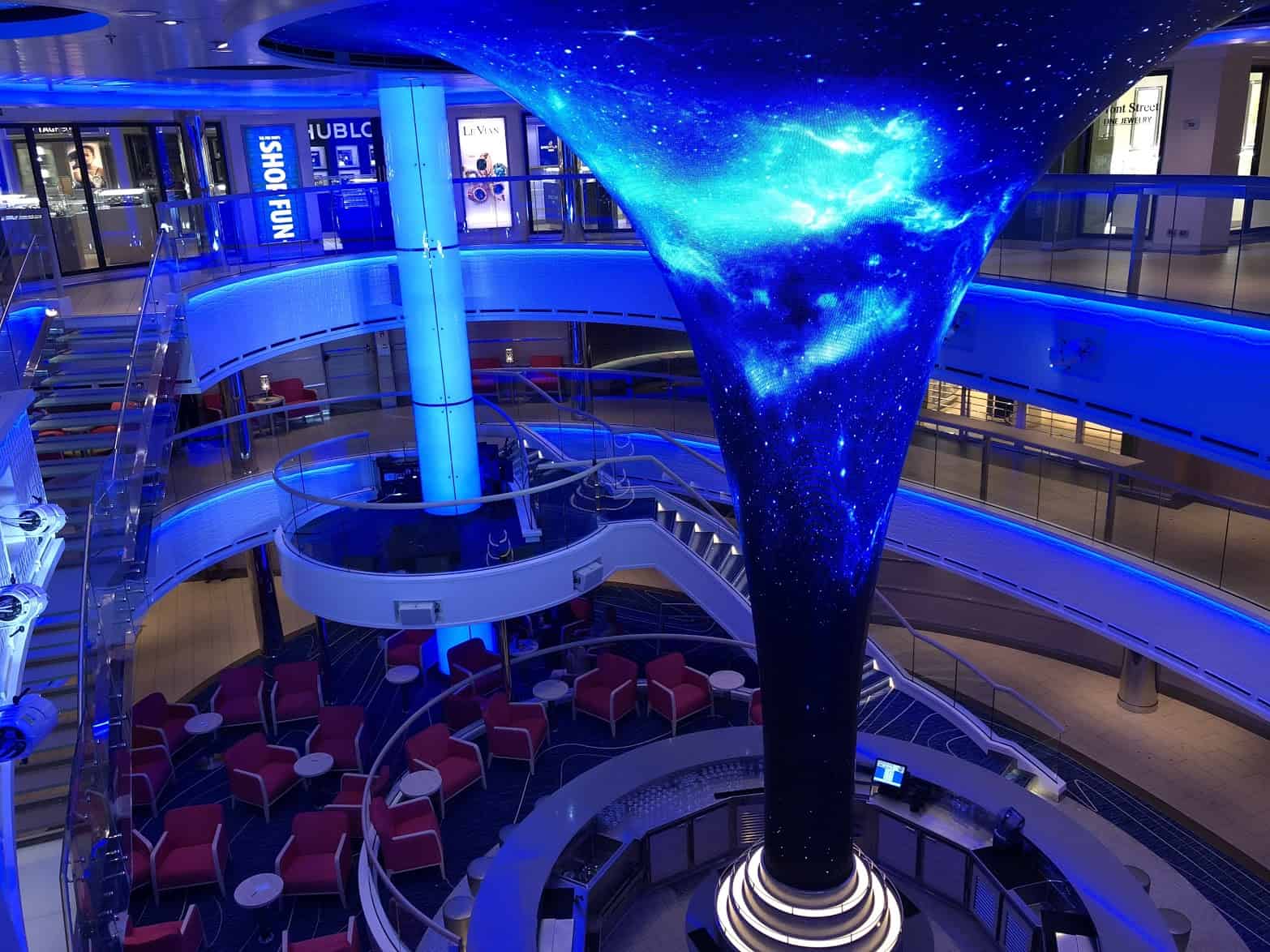 The midnight comedy show in the Liquid Lounge was about half filled and had a lot of laughs. Between the two humorists, there was situational comedy, observational comedy and more than a little bit of raunch. Both these guys have been performing on Carnival ships for over 20 years and they seem to know exactly what the typical cruise audience is looking for.
We are officially done with Italy and steaming our way toward Marseille, France, after which we return to Barcelona. Oh, how I wish there were a sea day in between.
Listener question 
My wife is recovering from breast cancer and can't be around smoke. Is this a big problem on the ship? – Dale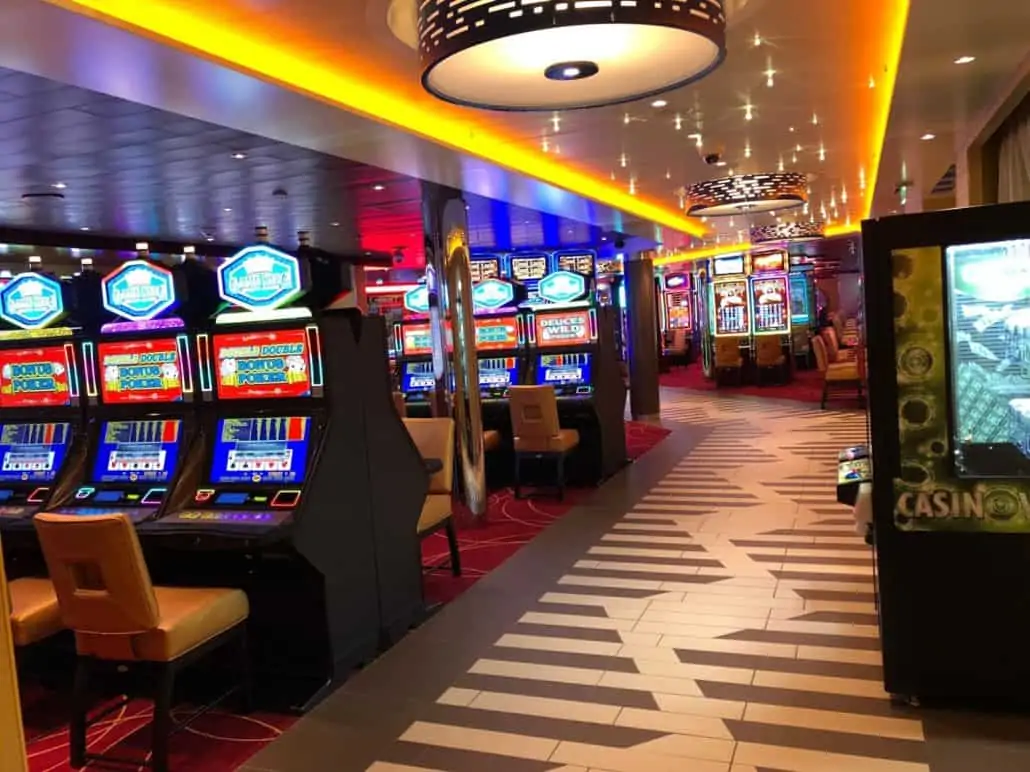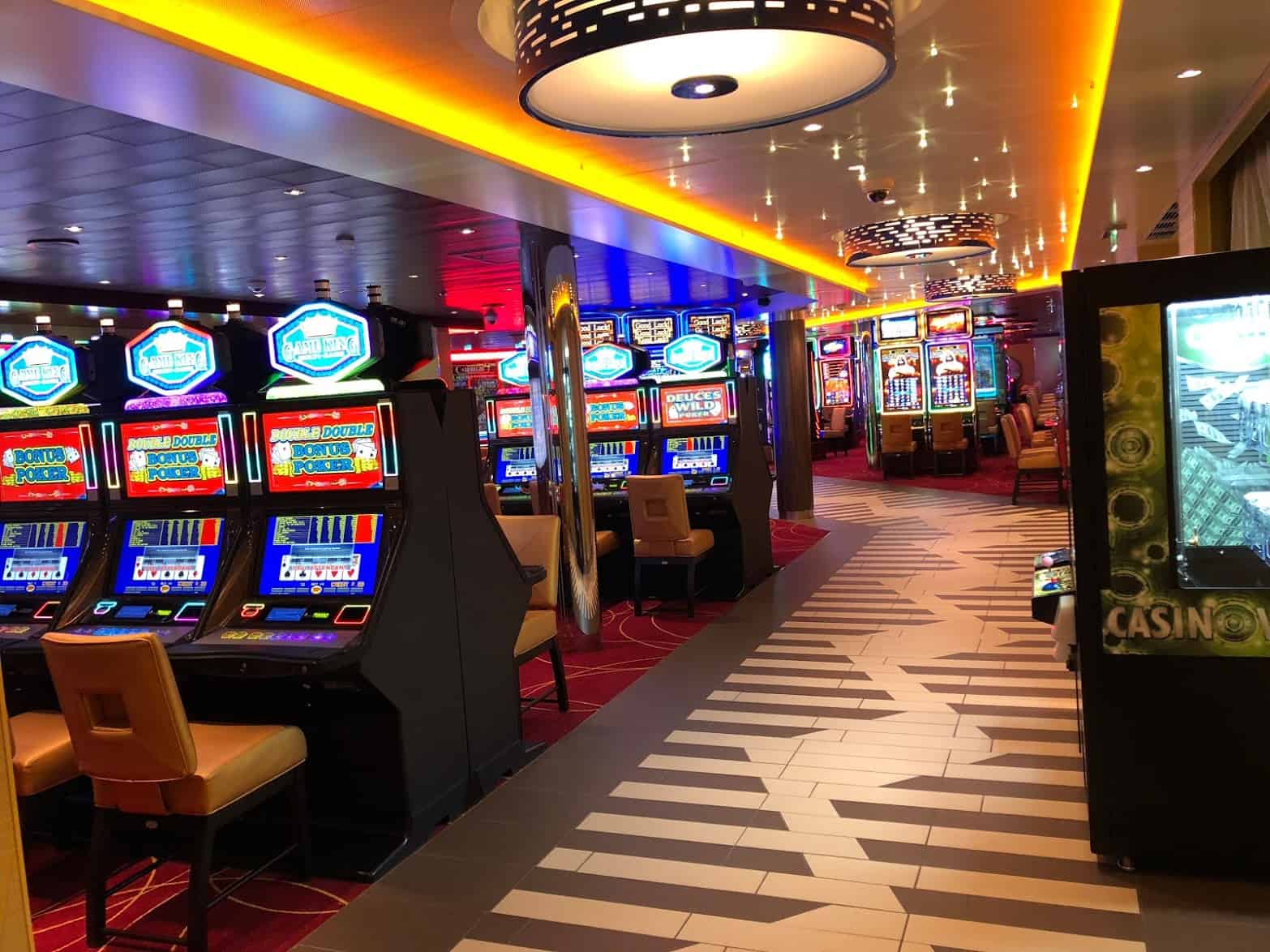 Good question, and one that comes up a lot with almost every ship… especially where the casino is concerned. Everyone's tolerance to smoke is different. Personally, I can't handle the smoke on one of my favorite ships, Carnival Sunshine, because it drifts out of the casino and into the main atrium. Then again, people say the smoke is really bad on Carnival Magic, yet on that ship, it didn't phase me at all. So it's definitely subjective. With that said, it didn't faze me at all on Carnival Horizon when I wasn't walking through the casino. Just aft of the casino, before the Limelight Theater, you could smell it, but it wasn't overpowering. By the time you went down to the aft dining room, you couldn't smell it at all. Same thing moving forward in the Atrium Bar. I could not smell it in there.
SaveSave
SaveSave