This morning we woke up and headed to the Sea Day Brunch. In the past, this has been one of my favorite things to do, but it was only okay today. The service was much slower than usual. Now, to be fair, we did go at 10:30 a.m., which is basically rush hour. Normally, I try to head to the restaurant earlier, when many passengers are still sleeping or getting their morning bearings to avoid exactly this situation.
Let The (Lip Sync) Battle Begin
Carnival is known for having a lot of fun activities on sea days, and this was no exception. But the biggie was taking place at 1 p.m. by the pool. As part of the line's partnership with Spike TV, the crazy popular – and sometimes weirdly ridiculous – show Lip Sync Battle is recreated on the Carnival Vista. And rather than just do a single show where a couple people audition and then perform, we instead get an extended process whereby 30 contestants battle it out in the audition rounds to become the last guy and girl standing, with everything culminating in a showdown on the final sea day. And trust me when I say that unlike some things, more is definitely better where this whole thing is concerned. Because who doesn't like watching other people perform and then judging them? If you happen to be able to convince someone you know to get up there and perform, all the better.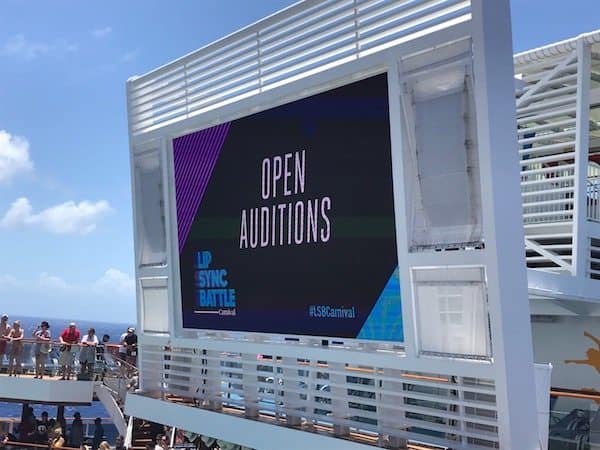 As I usually do on sea days, I spent a lot of time just chilling out and connecting with the ocean. Part of the day was spent on the aft end of deck 10, and part of it was spent on my balcony. I'm one of those people who doesn't have to have a balcony, and is perfectly fine with an inside room, but I also understand and appreciate the simple pleasure of sitting out there, staring at the sea, thinking about everything and nothing all at the same time.
Guy's Burger, My Way
The other thing I do on sea days is wander the ship to see how it handles crowds. Sea days are the best time to do that because, of course, it is when all of the passengers are onboard as opposed to out on shore excursions. One of the things we always talk about when reviewing ships on Cruise Radio is whether the public areas begin to feel congested on sea days. On Vista, the crowd flow seemed pretty smooth, with plenty of public areas to accommodate everyone and enough food options that lines never got too long. Yes, lunchtime in the Lido Marketplace was crowded, but that's to be expected. Lines weren't at all bad at the pizza joint or the lobster shack.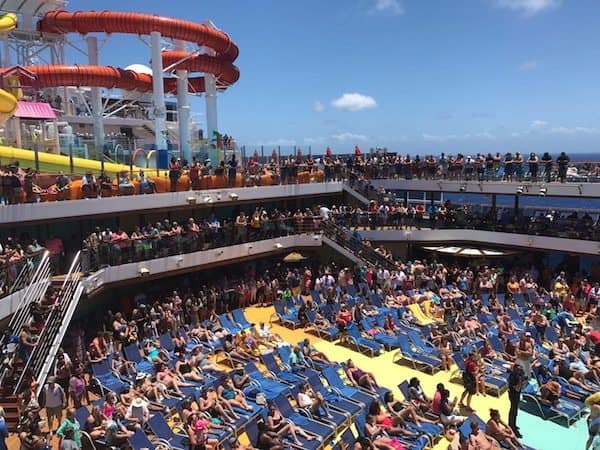 But for me, lunch was going to be Guy's Burger Joint. Surprisingly, I was able to walk right up, with maybe two people in front of me. In an effort to shave off some empty calories, I skipped a bun. I did, however, load up at the toppings bar… especially the caramelized onions, which I could eat by the spoonful.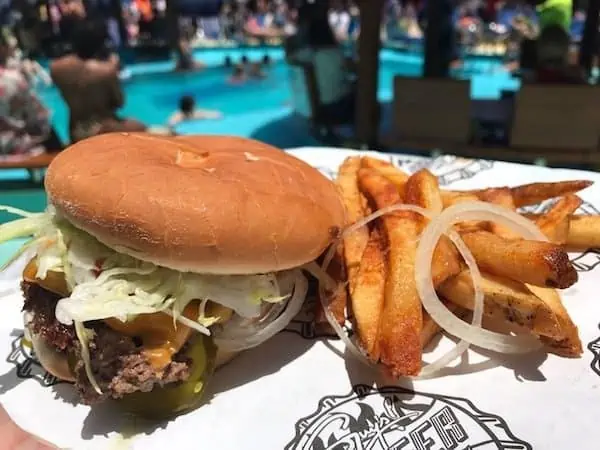 Dinner & A Show
Since it was formal night, I opted to skip the main dining room and instead just grabbed something on the Lido deck. The evening's entertainment was comedian Louis Johnson. I've been keeping track of Johnson since first I saw him back in 2010 on the Celebrity Solstice, yet somehow didn't realize he'd be on this sailing of the Vista. So it was awesome to see his show. Typically, comedians are on the ship for a couple days doing several shows a night, and then get off to either work another gig or head home. Johnson will be onboard until Saturday.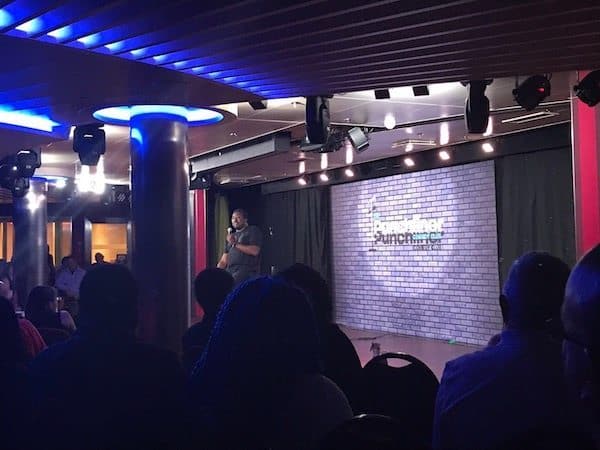 Tomorrow is a big day, and one I'm really looking forward to. Why? Because while in Ocho Rios, Jamaica, I'm signed up for both a shore excursion to Dunn's River Falls, and also to experience bobsledding through the rainforest. Assuming I survive the ride, come back tomorrow for the details!
Don't miss a day of my fun!