I mentioned back on the first day of this report that my stateroom is about as far forward as it could possibly be. If there's one disadvantage to that location, it's that on port days, the dropping of the anchor and sound of the maneuvering thrusters will definitely keep your from sleeping in.
I'm normally an early riser, but when we pulled into Half Moon Cay this morning, I was dead to the world… until the anchor dropped.
Ready… Set… Relax!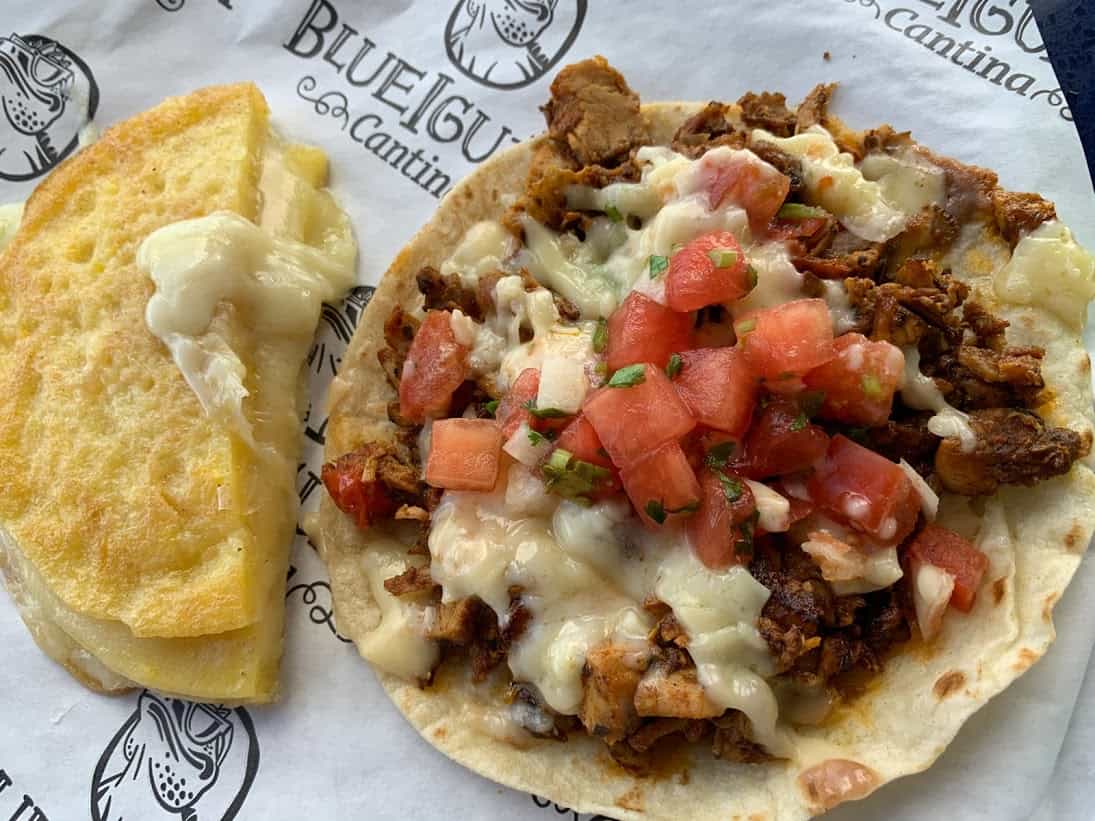 Because we wanted to hit the beach as early as possible, I skipped the main dining room today in favor of a quick stop at the BlueIguana Cantina. A lot of people don't know that they offer breakfast, let alone how really great what they serve in the mornings is.
A lot of times, I opt for the breakfast burrito, but I went with something different today and instead ordered the arepas (sort of a cheese-filled cornbread) and huevos rancheros. Turned out to be a good (and filling) call.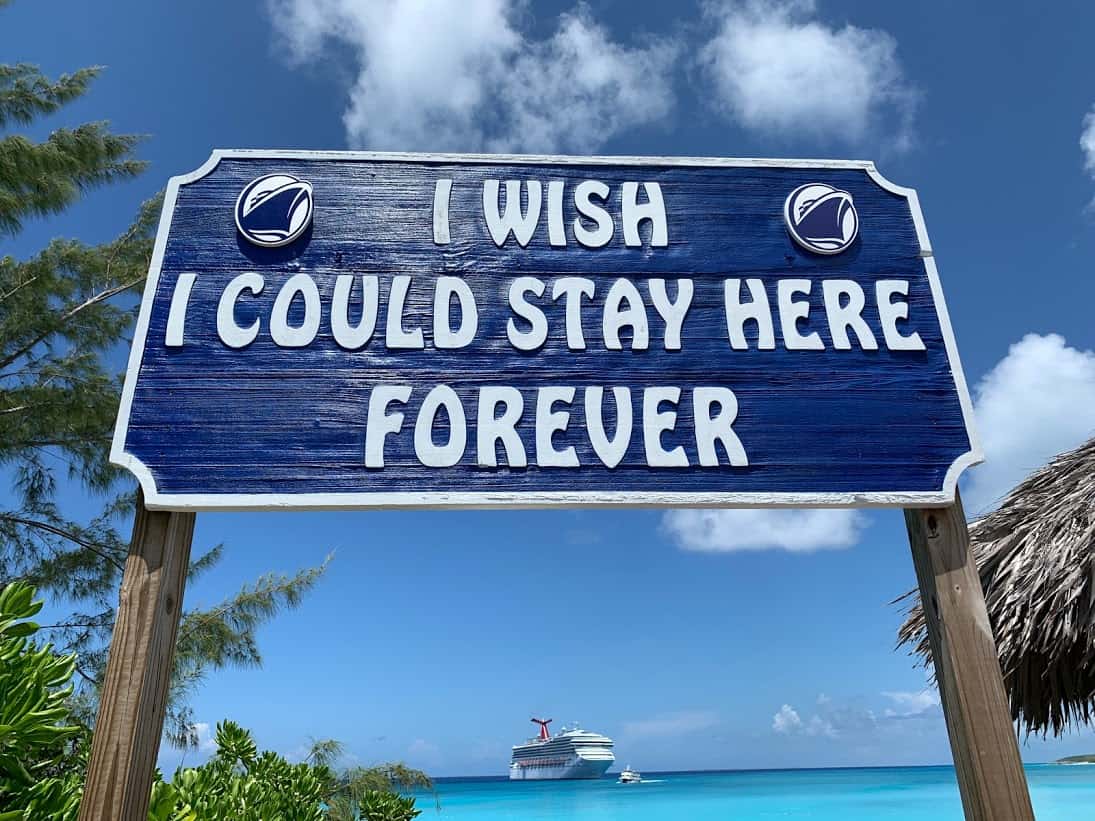 The reason I wanted to hit Half Moon Cay as early as possible was to grab a clamshell before they sold out. For those who've never rented one, a clamshell is basically a covered lounger, essential if you want to avoid baking in the sun while hanging out on the beach.
You can pre-book them through the shore excursion desk or head to the rental shack once you arrive on the island. It's the same price either way. And I hear you, wondering why I didn't book the clamshell in advance. After all, it plays a pretty crucial role in my plan for the day.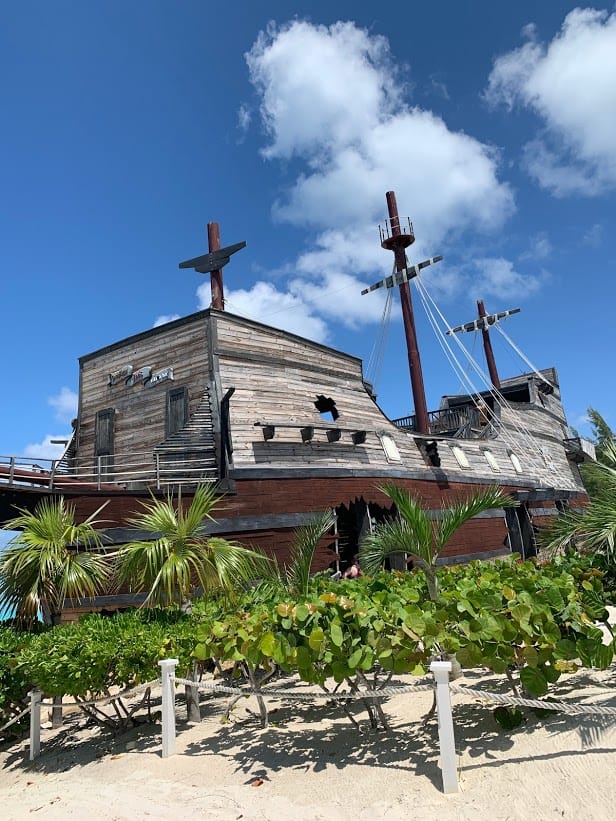 The reason I don't pre-book a clamshell is in case the weather turns out to be crappy. If it's cloudy or looks like rain, you don't necessarily need the clamshell… but if you pre-booked, you're stuck paying for it.
Yes, you run the risk of there not being one available when you get to the island, but that was why I wanted to head over early and, at least in this case, everything worked out great. I handed over my Sign & Sail card, let them charge me $30 and just like that, I had my spot in the shade.
A First For Me: Skipping A Meal!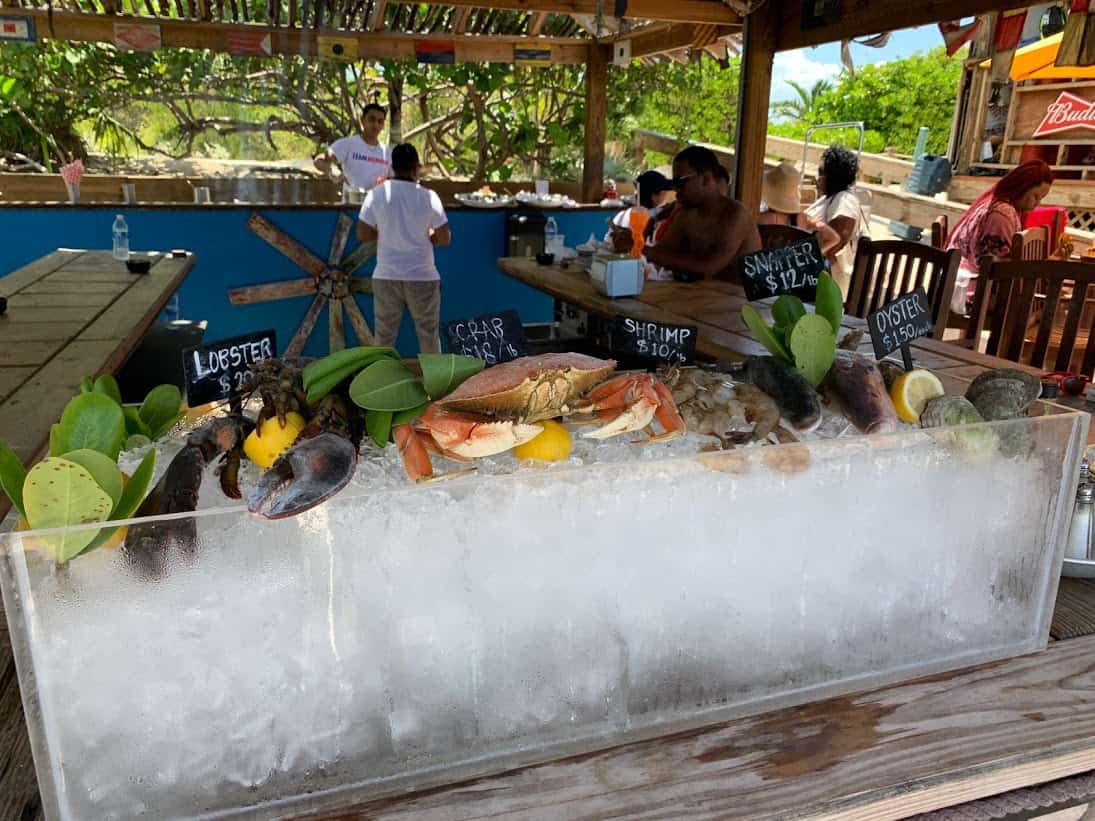 Back in 2016, Carnival's sister brand, Holland America, built a new for-fee venue called the Lobster Shack on Half Moon Cay. It's basically a lobster bake on the beach specializing in grilled lobster and lobster rolls. When I visited this spot during a sailing on a Holland America ship, there seemed to be a lot more lobster on the grill than there was today.
They were selling whole lobsters for $20 as well as peel-and-eat shrimp for $10 a pound. I passed, instead wandering over to the free island barbecue. This had everything you'd expect, from burgers and hot dogs to jerk chicken and a slew of sides, salads and desserts. It was still pretty early in the day, so I decided that instead of grabbing something to eat, I'd find a place to fly my drone instead.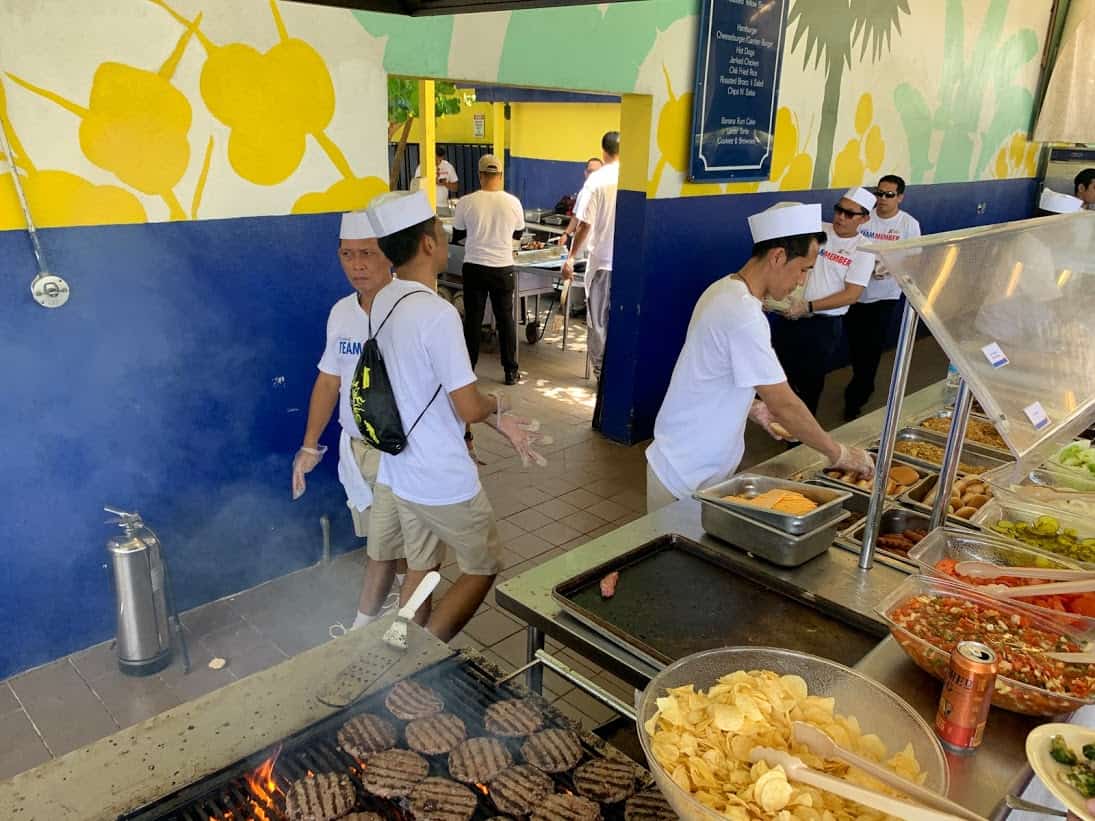 My only gripe about Half Moon Cay is that you can't use the beverage package on the island. There's one way you can sort of get around this: Bring a Yeti cup on your cruise and, before getting off at Half Moon Cay, swing by the bar for a drink.
You only have to wait five minutes between each drink, so within a period of 20 minutes you'll have a very big, very full Yeti to sip while you're wandering around on the beach.
One guy I was talking to even went back to the ship at some point in order to refill his cup. Good for him, but that's a little hardcore for me. After all, you only get a limited amount of time at Half Moon Cay, and I want to soak up as much of it as I can.
Plus, it's always fun to swing by the Captain Morgan pirate ship to have a drink and hang out with people for a while. After about four hours on the island, I headed back to the ship… the sun had finally won the battle!
A New Carnival Favorite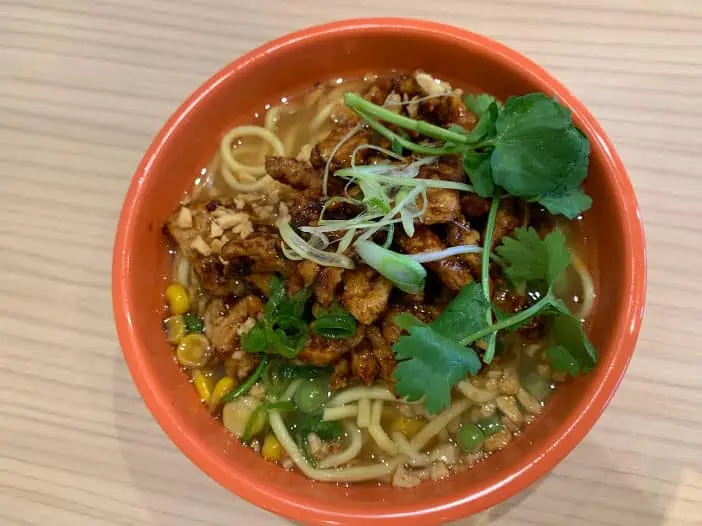 Earlier this week, I told you about the new-to-Carnival venue called Lucky Bowl. I'd have to say it's definitely a hit with me, as I found myself heading back there again today. The three bowls being offered were Cantonese Pork, Stir Fried Long Beans & Sauce, and Chengdu Style Braised Beef.
I went with the Cantonese Pork (lo mein noodles, soy scallions, charred corn and green peas). They have a little toppings bar where you can spice up your bowl with miso sauce, fried garlic, sriracha and fried onions.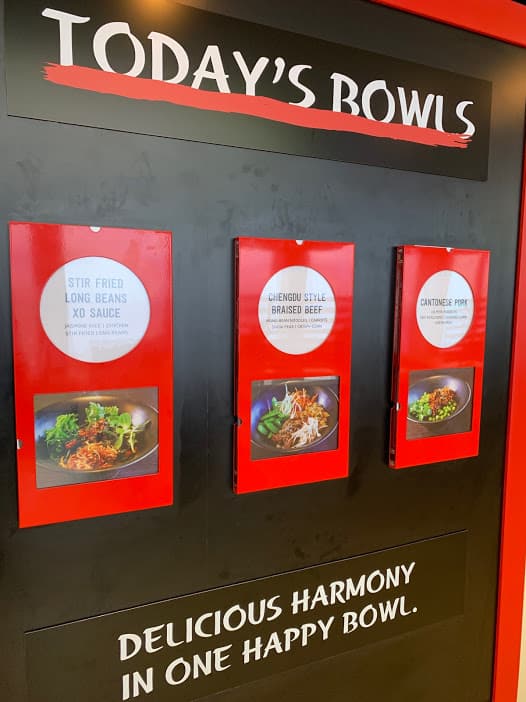 Personally, I think this concept is much better and quicker than the Mongolian Wok. That place was good, but it always seemed to have long lines. With Lucky Bowl and it's a limited-but-rotating menu, that doesn't seem to be a problem. It's easy to order, and the food comes out hot, quick and delicious.
Bring On The Serenity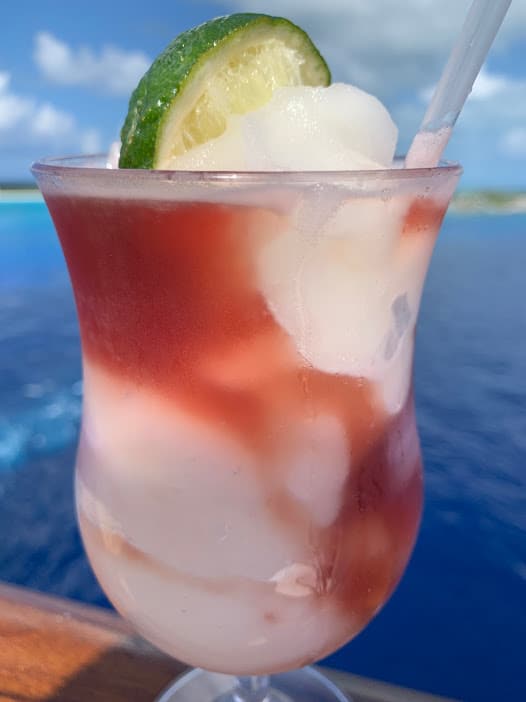 Because it was such a nice day out, the Serenity bar was my next stop after lunch. I tried out a sangria swirl, which is basically a margarita with a splash of sangria in it. Delicious and very refreshing on a hot day.
The Sunrise version of Serenity is perfect because it's set just back enough from the front of the ship that it's not a wind storm when you're up there. On both the newer ships and the older Conquest-class ships (like Carnival Liberty), the Serenity deck is at the very front of the ship and, as a result, can become sort of a wind tunnel.
Fahrenheit 555 Steakhouse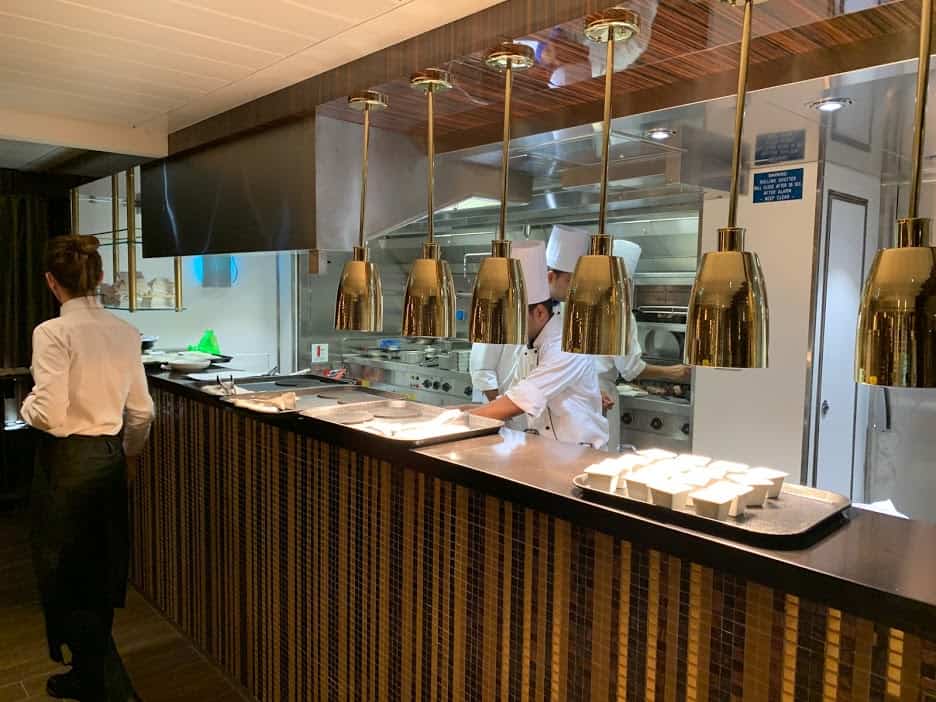 One thing that's always impressed me about Carnival is that the food is very consistent from ship to ship. I think that's important when it comes to brand loyalty. You want to make sure that people know what to expect. I've been on other lines where that's definitely not proven to be the case, at least in my experience. Because of that, I was psyched for our dinner at Fahrenheit 555 Steakhouse, as it's always a real treat.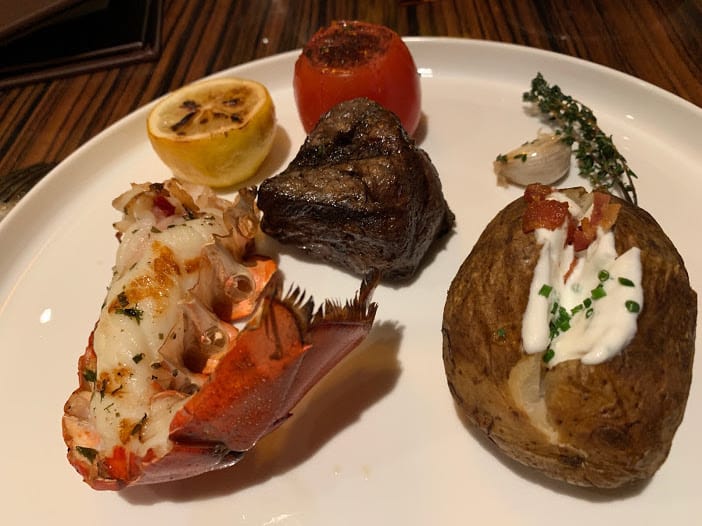 Our reservation was super early because of poor planning on my part. I waited too long to make the reservation and, as a result, the place was pretty solidly booked. It's always important to make the reservations you want as soon as possible, but I'd say that's even truer when it comes to this particular venue on this particular ship. Why? Because the steakhouse on Sunrise is smaller than you'll find on other ships in the Carnival fleet, making reservations a tougher ticket.
Pro Tip: Don't forget that if you dine at Fahrenheit 555 on the first night of your cruise, you get a free bottle of wine.
I'm happy to say that both the service and food were great tonight. That's something you always want at a meal, but it's especially true when it's a specialty restaurant… let alone the nicest one on board! I doubled-up on the appetizers, going with the jumbo shrimp cocktail and the french onion soup.
For the main course, I had the filet and lobster. Dessert-wise I ordered the cheese plate… I know, I know, boring! But sometimes, a guy just wants a couple of nice pieces of cheese.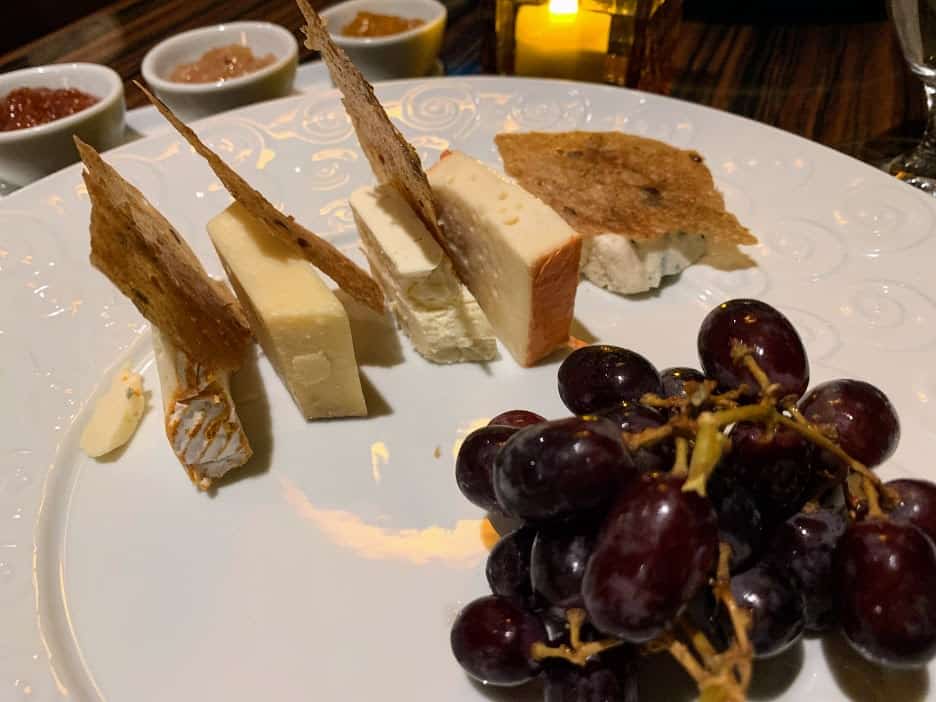 Since I had the CHEERS! package, I opted for the wine pairing with each course in the steakhouse. This is covered by the drink package, but even if it wasn't, it's still a good deal at $18. There were three glasses of wine… and don't bother asking me what they were, because it's all Greek to me.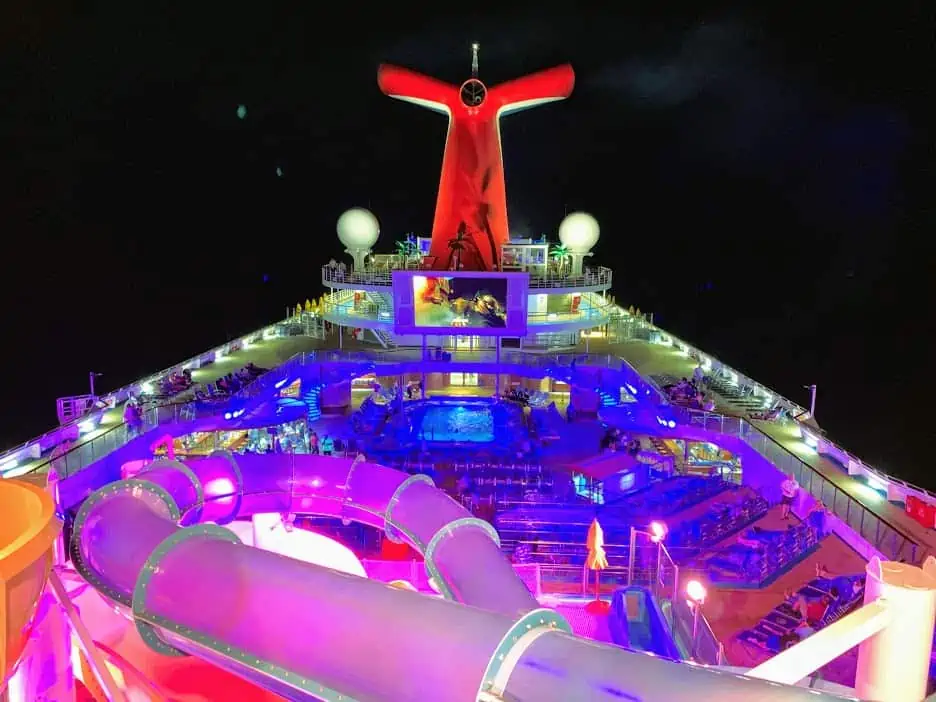 After dinner (which took about 90 minutes), I wanted to check out the Dive-In movie. I don't remember what the movie was. Although, it was a nice, clear night to be watching a flick under the stars. The sound system was very good, the screen is big and crisp and all in all, it's a really nice way to relax at the end of the day.
Tomorrow: We're parasailing over Freeport.
Catch up on our daily trip reports below:
Day 4: Half Moon Cay, Bahamas
Day 5: Freeport, Bahamas
Day 6: Sea day
Day 7: Norfolk