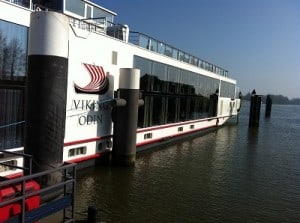 This year may mark the 15th anniversary for Viking River Cruises–and with the launch of six new ships in a single season, the most significant year in the company's history. Viking River Cruises today announced its complete 2013 cruise program, offering guests a broader selection of choices than any other river cruise line–from ships and staterooms to destinations and pace of exploration. Viking's 2013 program introduces four inspiring new itineraries and two new land tour extensions, as well as the launch of an additional six Viking Longships and the complete refurbishment of its Russian fleet.
With diverse and scenic cruise itineraries in Europe, Russia, Ukraine, Egypt, China and Southeast Asia, Viking guests experience the heart of a destination along its waterways and during culturally rich shore excursions. And with the world's largest fleet of river cruise ships, Viking offers guests the most stateroom choices–with the new Viking Longships featuring the largest suites sailing Europe's waterways.
New Cruise Itineraries for 2013
European Sojourn (23 days; Amsterdam to Bucharest) – See the canals of Amsterdam, the castles of the Rhine Valley, great Danube cities like Vienna and Budapest and many colorful capitals of Eastern Europe on an incredible cruise tour that traverses from the North Sea to the Black Sea, via the engineering marvel of the Main-Danube Canal.
Grand Rivers of Europe (22 days; Basel to Budapest) – From the stunning scenery of Switzerland to the historic castles and cathedrals of Germany, this spectacular itinerary combines the one-week Rhine Getaway cruise, from Basel to Amsterdam, with the two-week Grand European Tour, from Amsterdam to Budapest.
Portugal's River of Gold (10 days) – During this journey along the pristine and unhurried Douro River, guests will explore the unique cultural, historical and aesthetic sights of Portugal and Spain.
China Explorer (18 days) – Explore some of China's many faces, including six astonishing UNESCO World Heritage Sites. Highlights include a tour of Beijing's Forbidden City, a visit to the excavation site of the famous Terra Cotta Warriors and a tour of a giant panda sanctuary in Chengdu.
In addition to the six state-of-the-art Viking Longships launching in 2012, Viking will continue expansion in 2013 with the launch of six additional Viking Longships–Viking Bragi, Viking Forseti Viking Rinda, Viking Skadi, Viking Tor and Viking Var.
Source: Viking River Cruises
Subscribe to our Cruise News Updates.