Carnival Horizon arrived at private island Half Moon Cay this morning as the first ship to visit the hugely popular destination since the pandemic paralyzed the cruise industry last March.
The 2,400-acre Bahamian island is consistently rated by guests as one of the most popular Carnival destinations. In fact, Porthole Cruise Magazine's readers have voted Half Moon Cay the industry's best private island for a remarkable 20 straight years.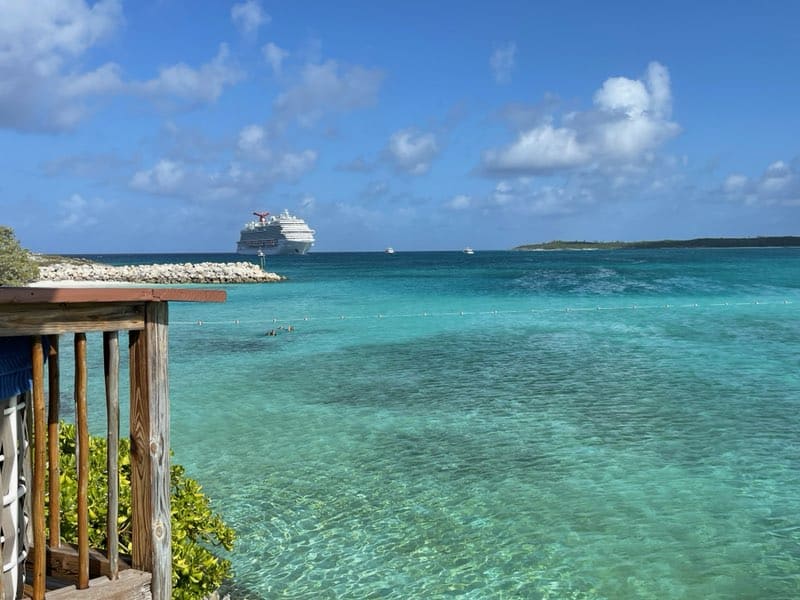 What makes this uninhabited island so special? 
Half Moon's powdery white sand, warm turquoise waters, and laid-back ambience create a perfect sunny playground for guests of all ages. There are two miles of glorious beachfront, hundreds of free lounge chairs, a natural 700-acre lagoon, private cabanas and two-story villas available for rent, a children's waterpark, and fun-filled shore excursions with activities including cycling, snorkeling, kayaking, and stingray encounters.
READ MORE: 15 Tips for Half Moon Cay
There's food and drinks of course, with a BBQ buffet offered in the Tropics Restaurant, seafood at the Lobster Shack (for an extra fee), and tropical thirst quenchers at the pirate-themed Captain Morgan's Ship Bar and the aptly named 'Wish I Could Stay Here Forever' bar.
Located about 100 miles southeast of Nassau, Half Moon Cay was purchased by Carnival Corporation's subsidiary Holland America Line for $6 million back in 1996. Today, cruisers visit the idyllic island on nearly all of Holland America Line's Caribbean itineraries and on many of Carnival Cruise Line's Caribbean voyages as well. Some 350 calls are scheduled over the next two years.
When Half Moon Cay was purchased — it was then known as Little San Salvador — Carnival Corporation committed to leave the vast majority of the island untouched, as a nature preserve and wild bird sanctuary.
The current development covers less than 3 percent of the 2,400-acre island and includes a tender marina. Ships anchor offshore and guests are ferried to the pier via boats that run every few minutes throughout the day.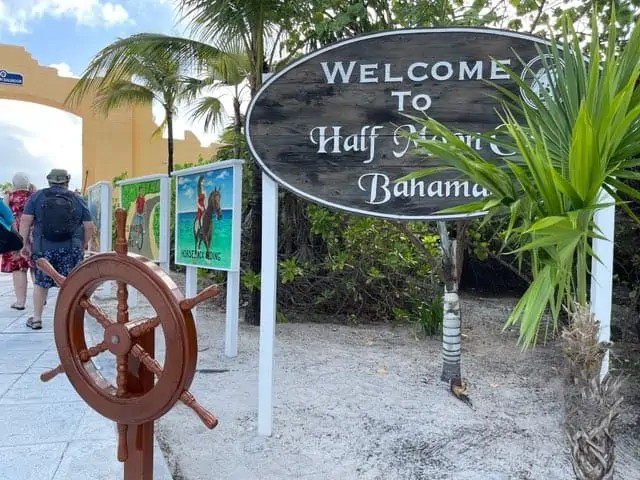 READ MORE: Why Carnival Cruise Line Wants You Excited About Half Moon Cay
There's more fun to come at Half Moon Cay in the future. In 2019, Carnival Corporation signed an agreement with the Bahamas government for a new $80 million development to serve Carnival Cruise Line ships. It will include a docking pier able to accommodate larger ships like the brand-new LNG-powered Mardi Gras.
Even with the planned expansion, new and existing facilities will account for only about 10 percent of the island's land, leaving the remainder to the birds and other wildlife.
Carnival Horizon, currently sailing the first Carnival cruise from a Florida port in 15 months, will spend two days at Half Moon Cay on its six-night itinerary, which also included a stop at Amber Cove in the Dominican Republic. A planned visit to Bimini was canceled due to COVID-19 cases there, so guests will spend two separate days at Half Moon Cay, soaking up the sun and tropical vibes — the perfect antidote to a long stretch of travel lockdown.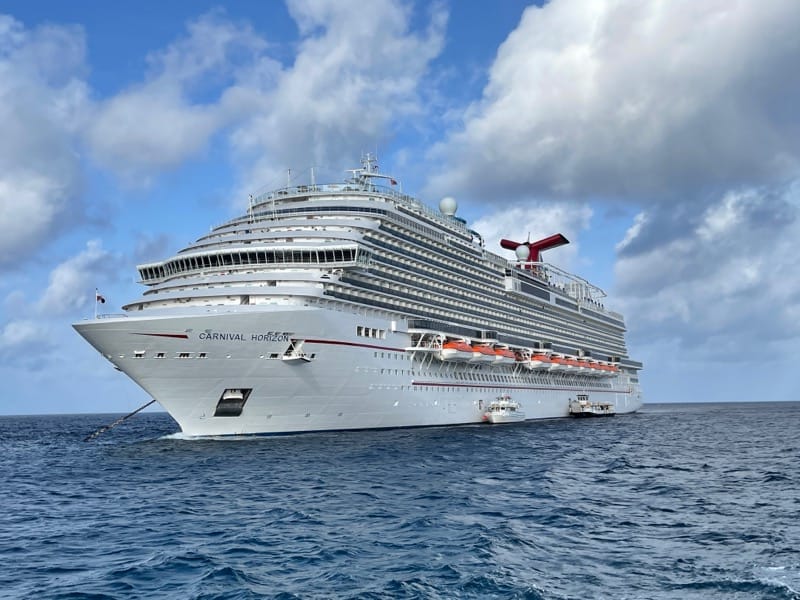 Cruise Radio is aboard the ship and is delivering regular reports.
Private islands such as Half Moon Cay, Royal Caribbean's Perfect Day at CocoCay and MSC's Ocean Cay MSC Marine Reserve will play a bigger role than ever in the coming months as more ships return to service. They offer a stop where the environment can be more easily controlled, and come without the complications of port calls in places where the current health crisis remains a major concern.