If I didn't know better, I'd have sworn that Carnival Horizon's sailing out of Miami was the cruise line's first ship to return.
All of Carnival's VIFPs (very important fun people) were on hand (John Heald, Christine Duffy, Arnold Donald), there was a special guest star (which we'll talk about in a moment) and a level of excitement that you could feel in the air.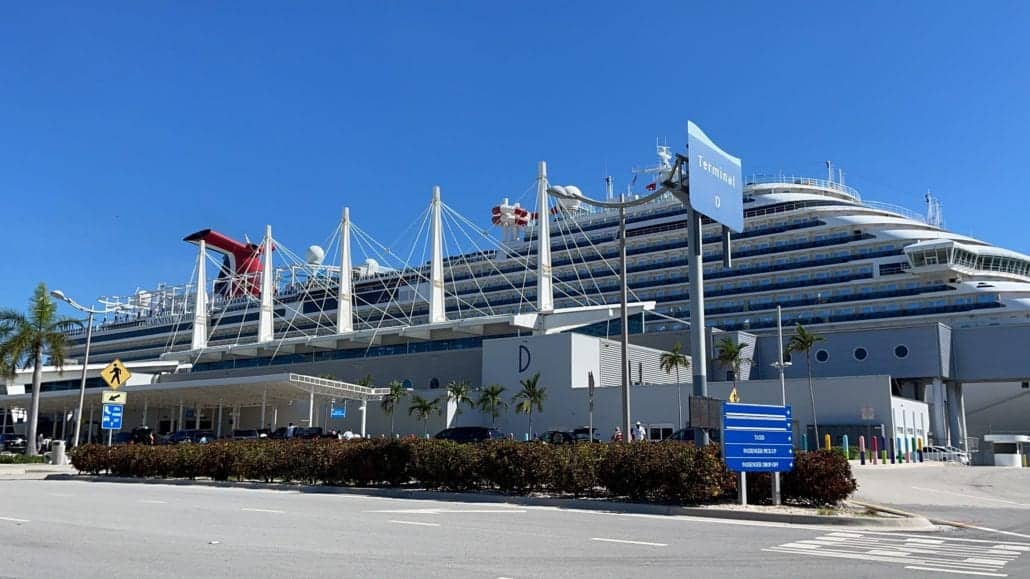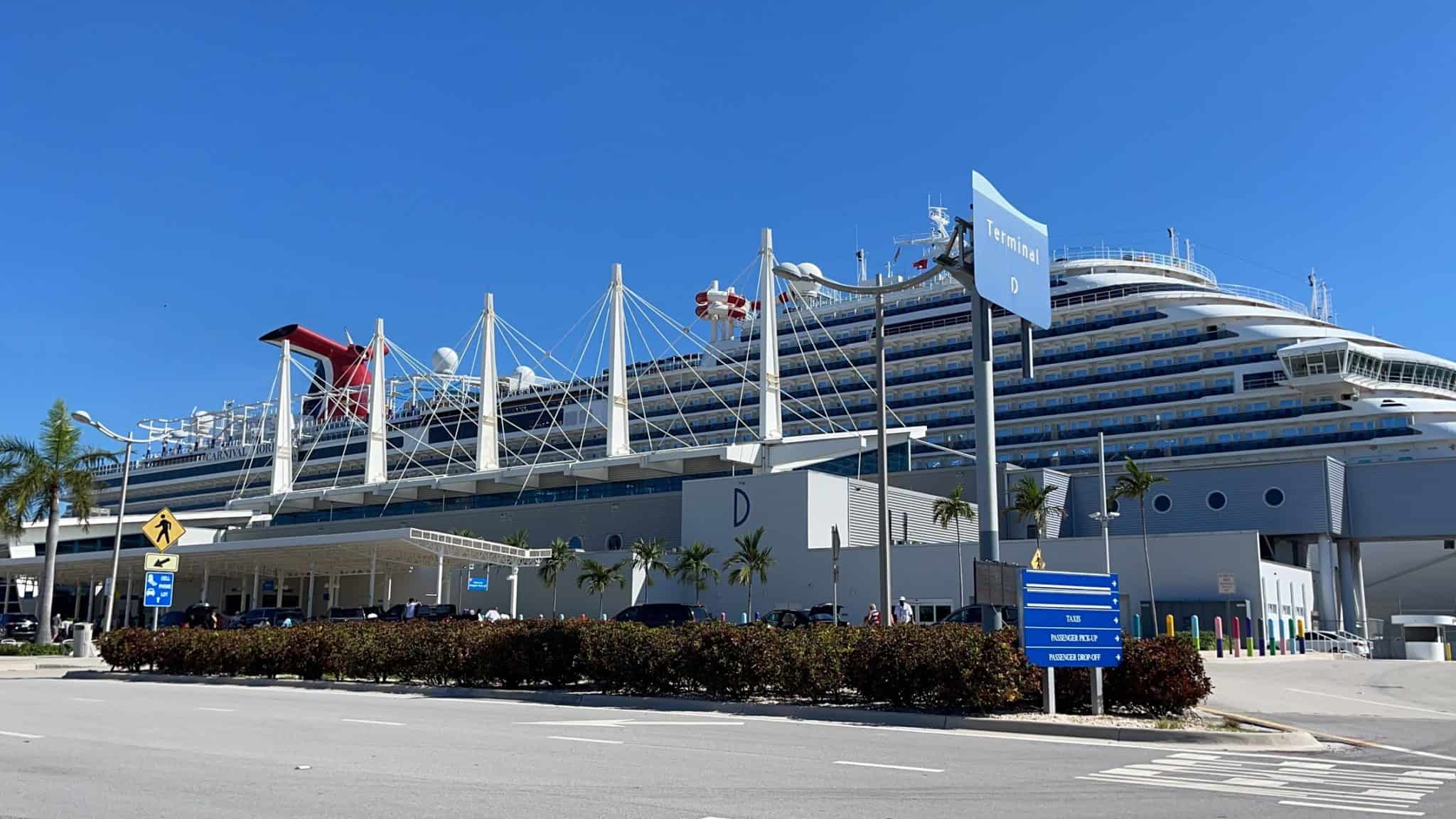 It was almost as if Carnival Vista hadn't beaten Horizon to the punch by sailing out of Galveston a day before.
But hey, if cruise lines want to make a big deal out of every single ship's first post-pandemic sailing, I'm all for it. Anyway, let's back up and talk about the sequence of the day's events.
By the time I arrived at the pier, I was as tired as I was excited. After all, I'd literally walked off the return sailing of Celebrity Edge less than 24 hours earlier. I flew home, had a quick visit with my family, and then jumped on another plane bound for Miami.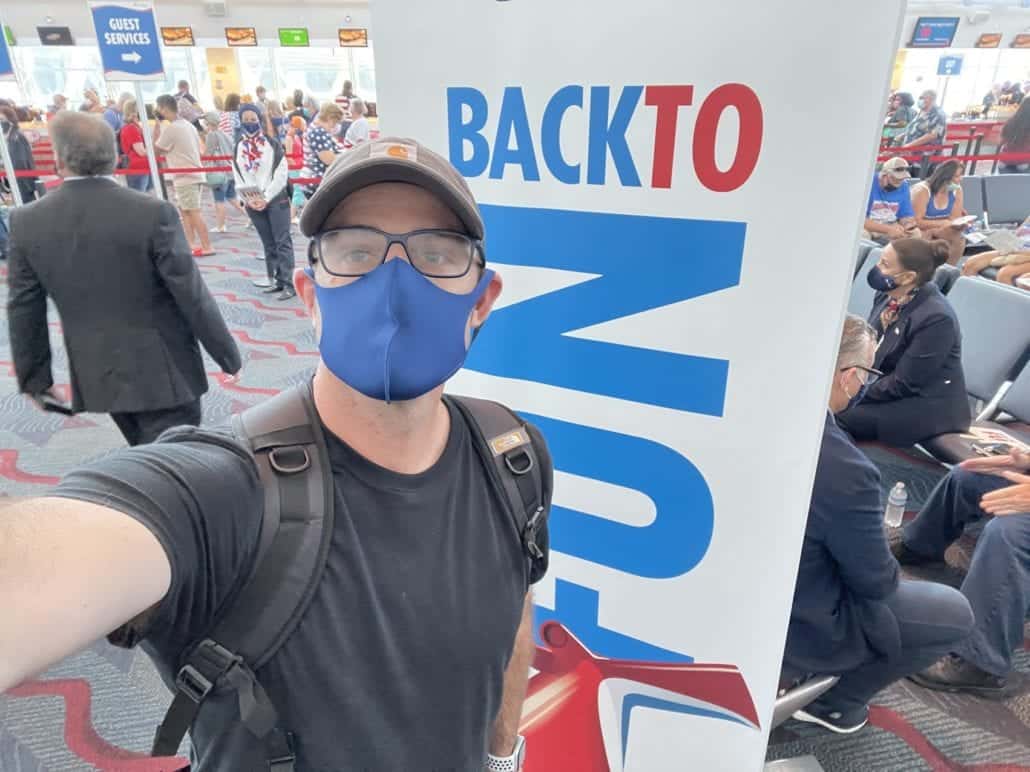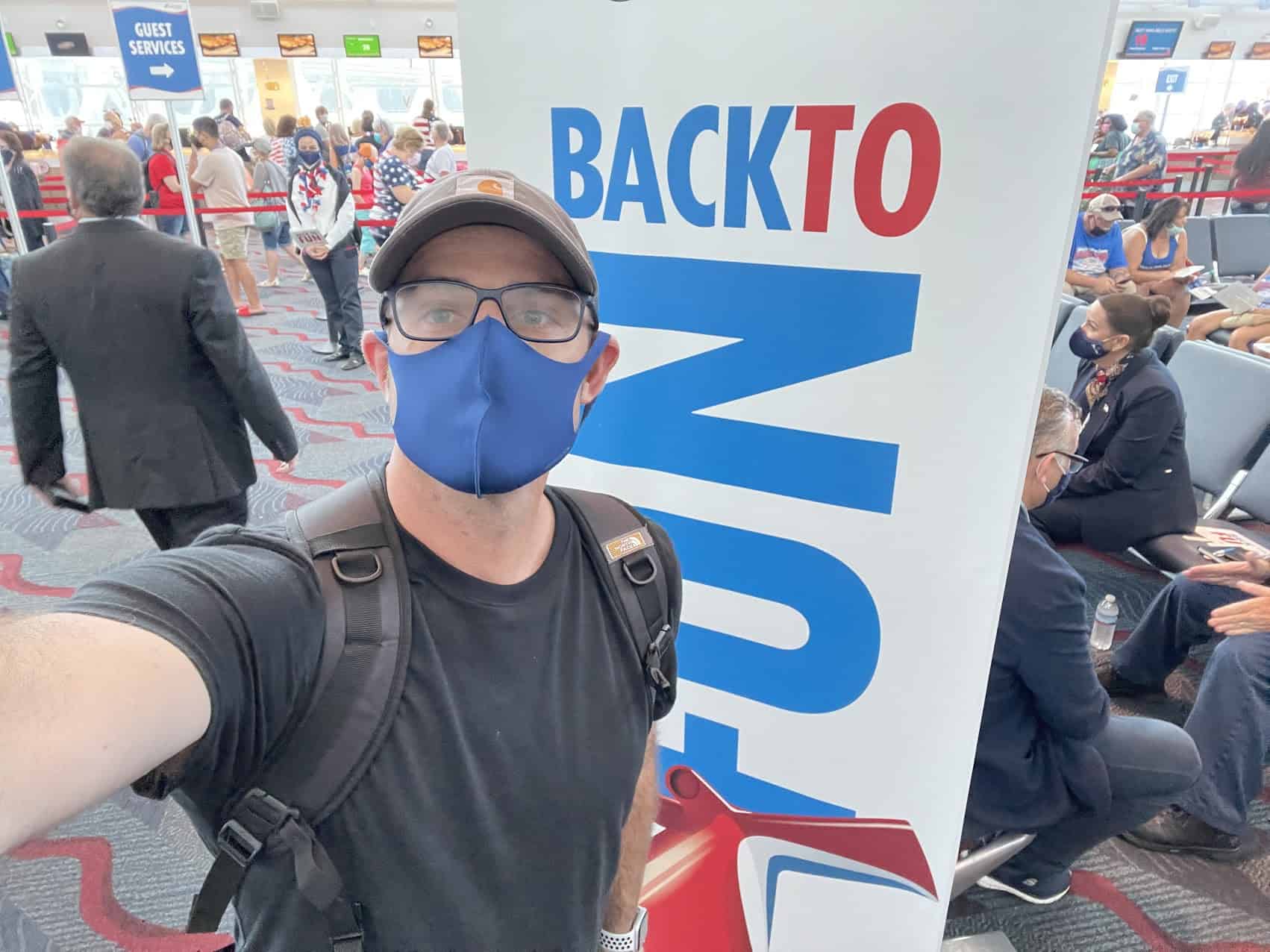 While we wouldn't be required to wear masks on board, the same was not true in the terminal. Even with only being able to see the top half of people's faces, you could tell there were really big smiles lurking beneath those masks, mine included.
Embarkation went smoothly except for a technical glitch that meant people couldn't submit their photos in advance via the HUB app. As a result, everyone had to have their pictures taken after arriving at the pier. But as glitches go, that was a pretty minor one.
At one point, our attention was drawn upward as Brand Ambassador John Heald — who'd very nearly been prevented from joining our sailing — introduced Carnival Corporation CEO Arnold Donald and Carnival Cruise Line President Christine Duffy, each of whom were clearly as excited as the about-to-embark passengers about Horzon's return.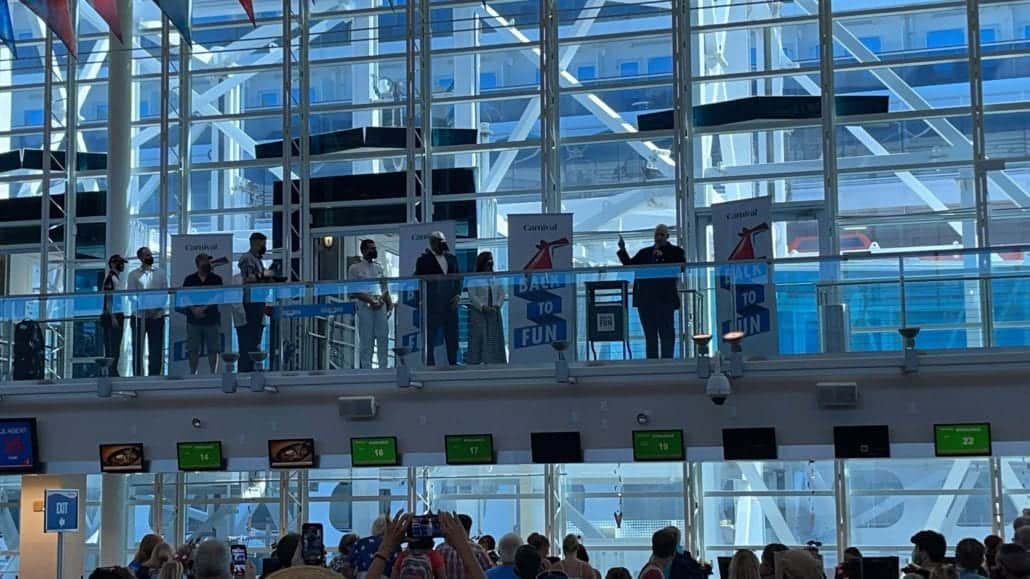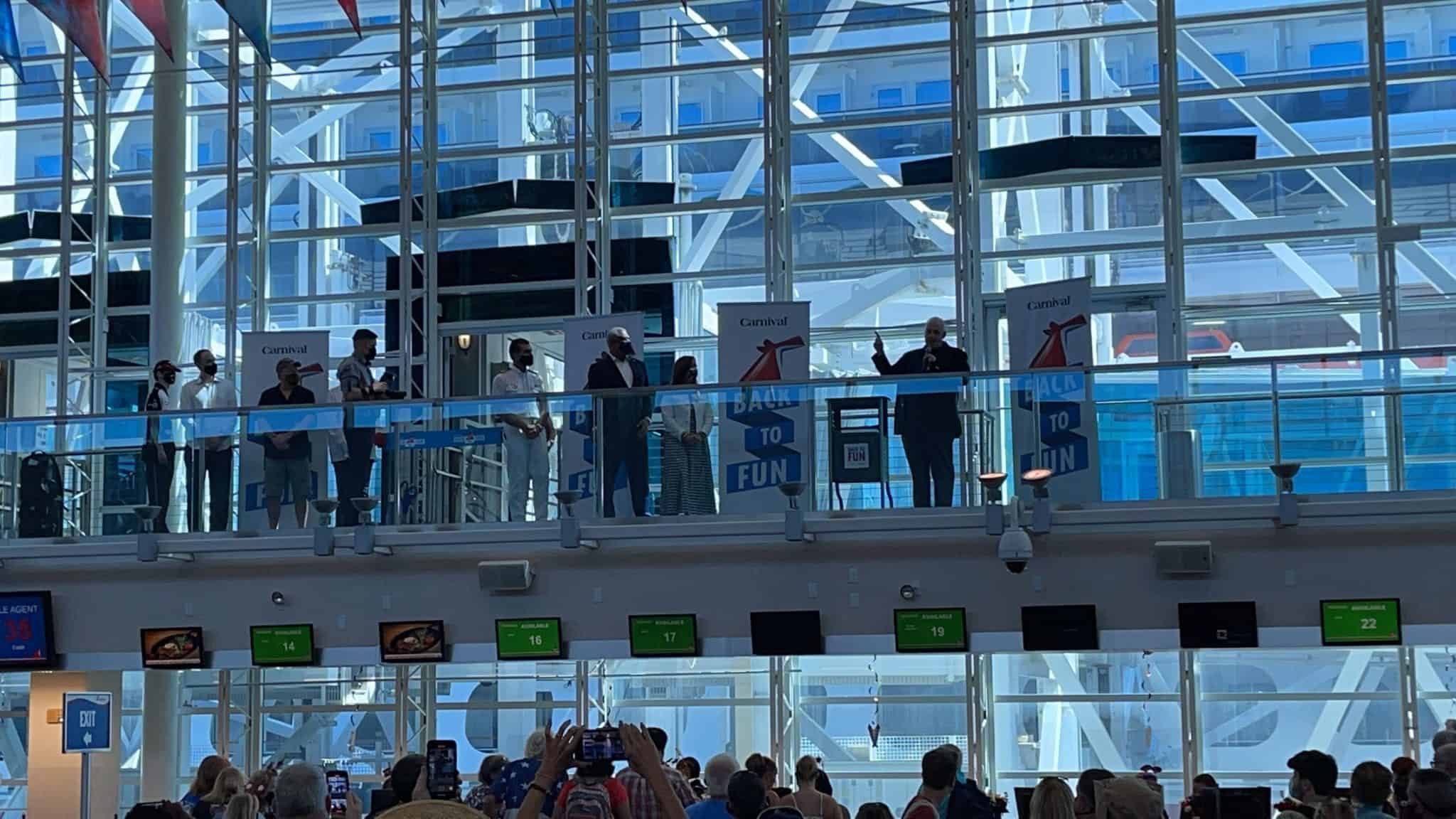 One of the things I love about ships like the Horizon is that when you walk on board, you're already in the middle of the fun thanks to the fact that the gangway dumps you into the atrium. Here, there was music playing and laughter and drinks being had and yup, Carnival cruising was back.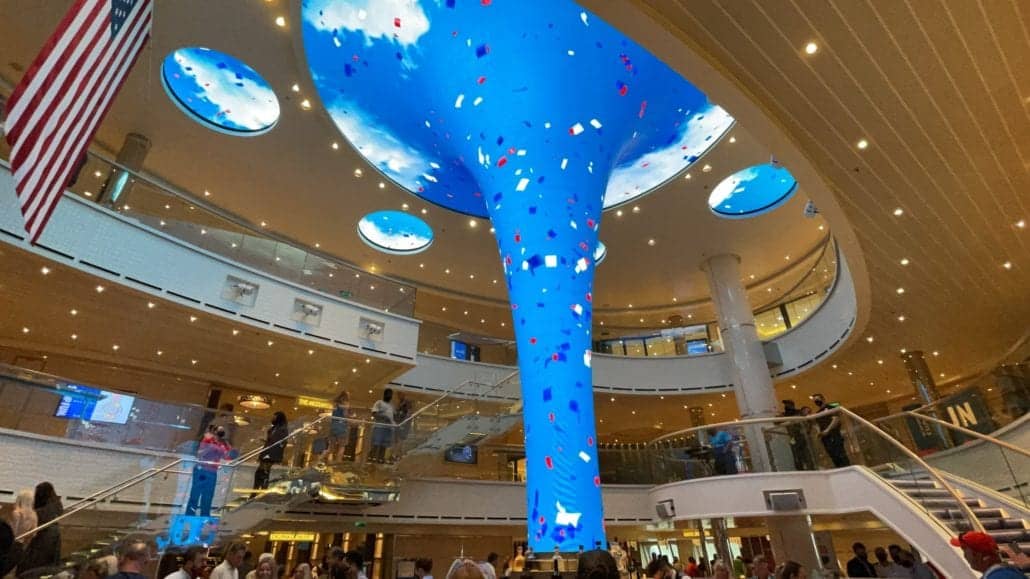 As soon as I was on the ship, I wanted to get the muster drill out of the way. So first, I watched the safety video (and listened to the distinctive horn blast signifying trouble) on my phone. Then, consulting the Carnival HUB app, I found out where my station was…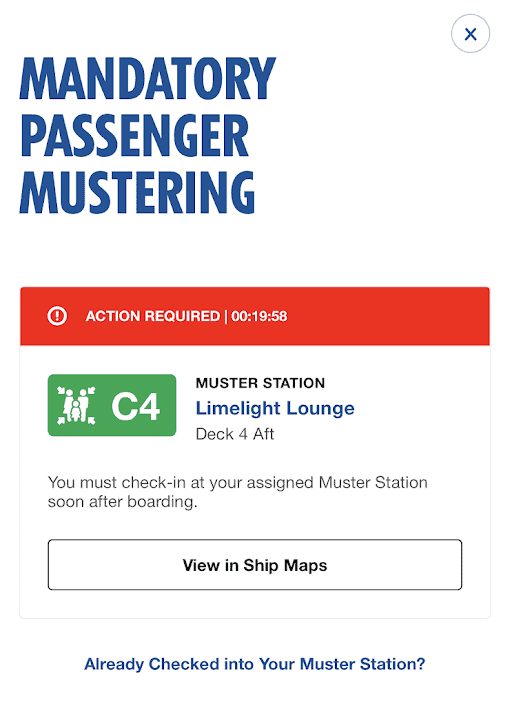 … and made my way there. As you've probably read, Carnival has come up with a pretty ingenious way of making sure people don't put off getting the muster drill out of the way ASAP. Once you're on board and have ordered two drinks, your Sail & Sign card becomes virtually useless until you complete the drill.
READ MORE: Carnival Uses Drinks, Shopping To Enforce Muster Drill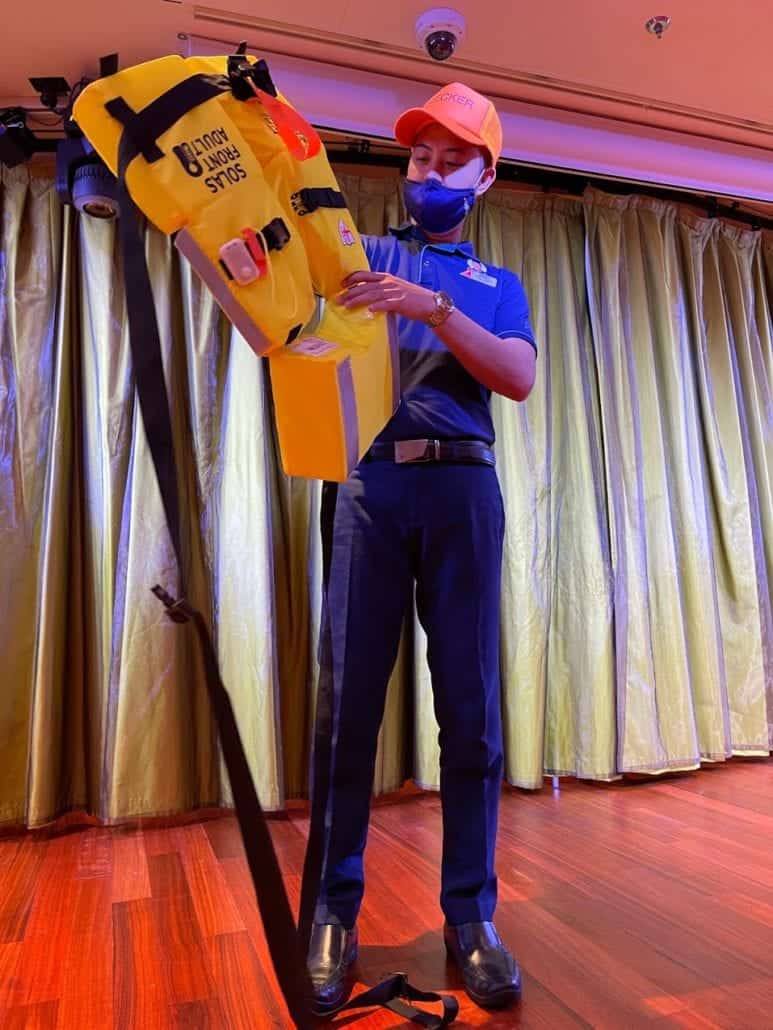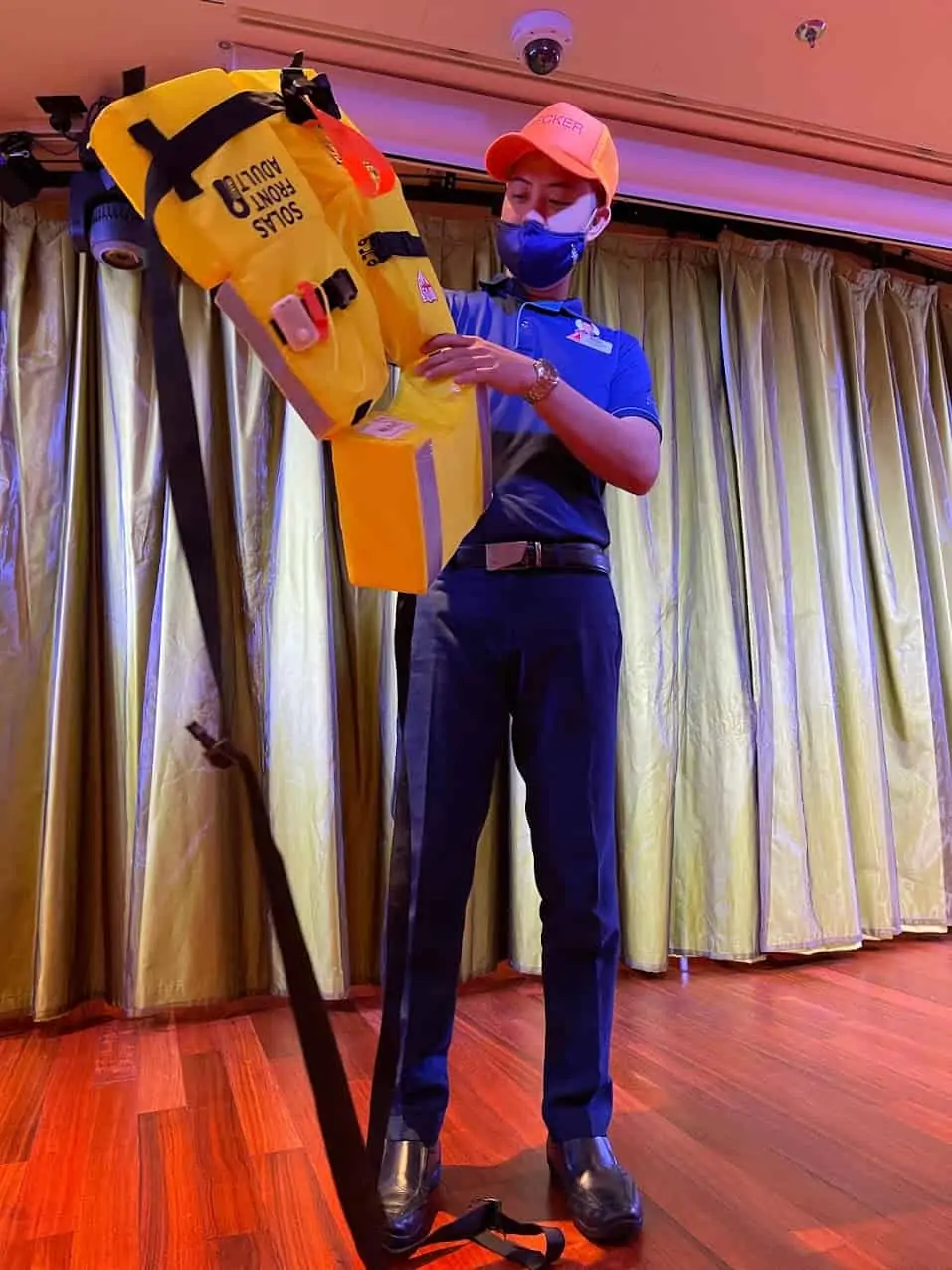 Once I'd checked in at the station, I was directed to a crew member who did a quick demonstration on how to put on a life jacket and, as advertised, that was it. Muster drill over.
I started wandering around the ship, looking to see what might have changed since the last time I was on board. And the only difference I immediately noticed was one which we'd been told about a week or so ago: in the casino, they took out the bar (which had served as a sort of hub for a second, smaller DreamScape funnel) and replaced it with a circular bank of slot machines.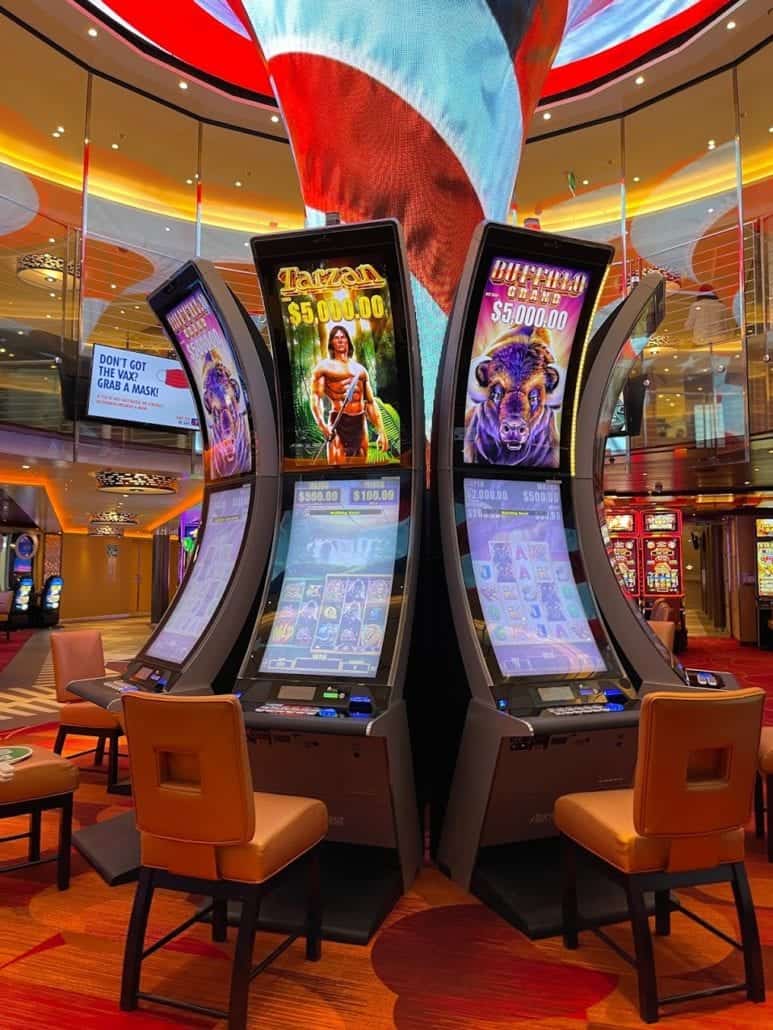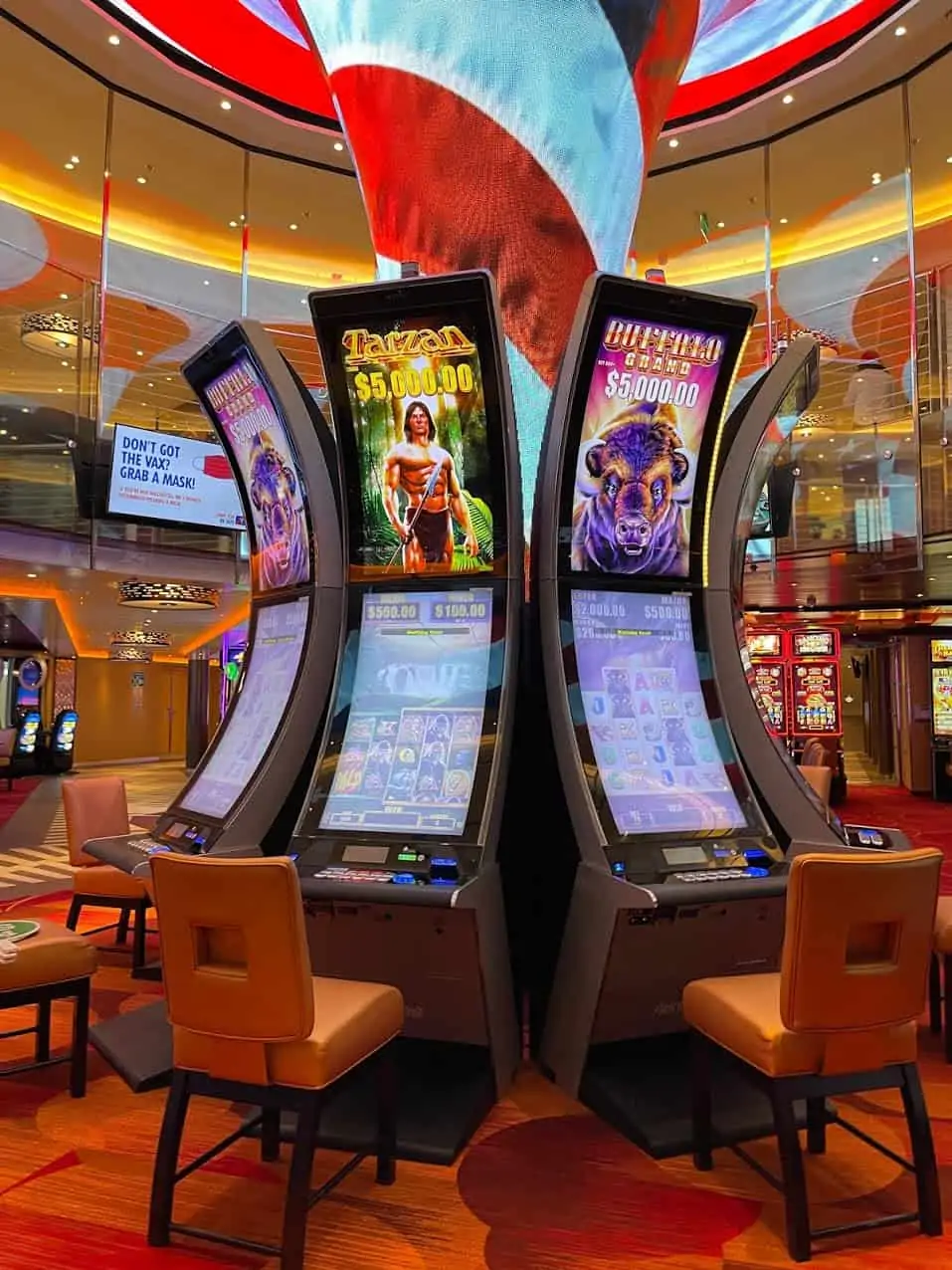 I don't know that people would notice the change if they hadn't been on board before. I kinda miss the bar though, and it'll be interesting to see if its absence impacts drink service, which will still be available but from venues surrounding the casino. It seems sort of a waste to have the DreamScape rising out of the slot machines.
By now, I was hungry and there's really only one place I want to go on embarkation day: Guy's Burger Joint. If you've had them, you'll probably understand my addiction.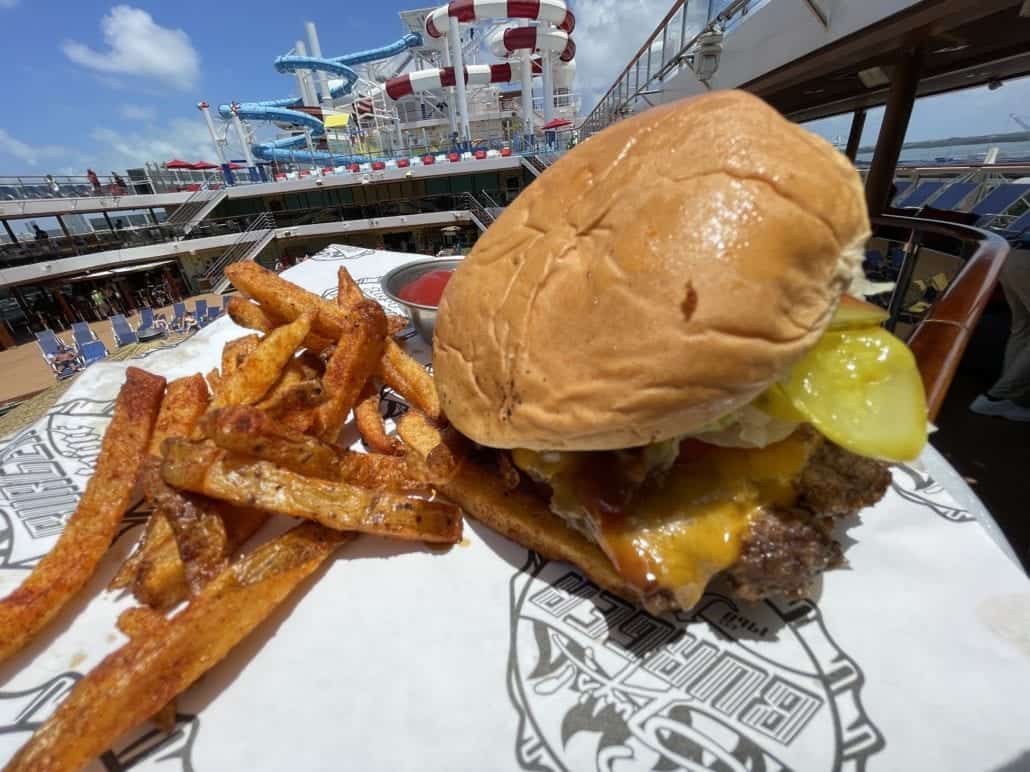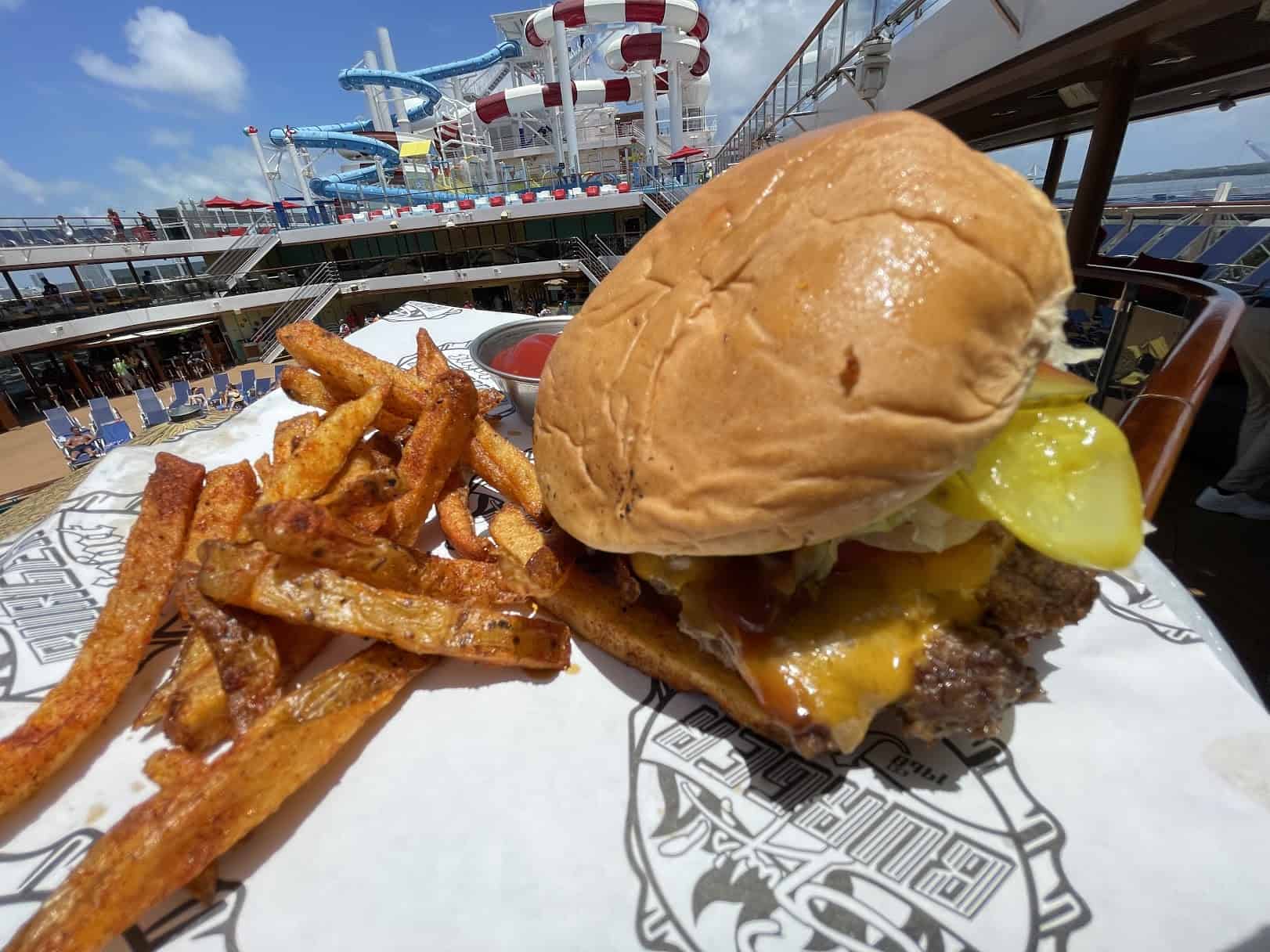 Continuing to wander around, I headed to the buffet where, as we'd been told it would be, everything was self-serve. There were staffers keeping a close eye on people, I assume ready to whisk away trays of food that wind up being contaminated by guests touching them. I'm happy to say I didn't see any cases of that happening during my quick walk-through.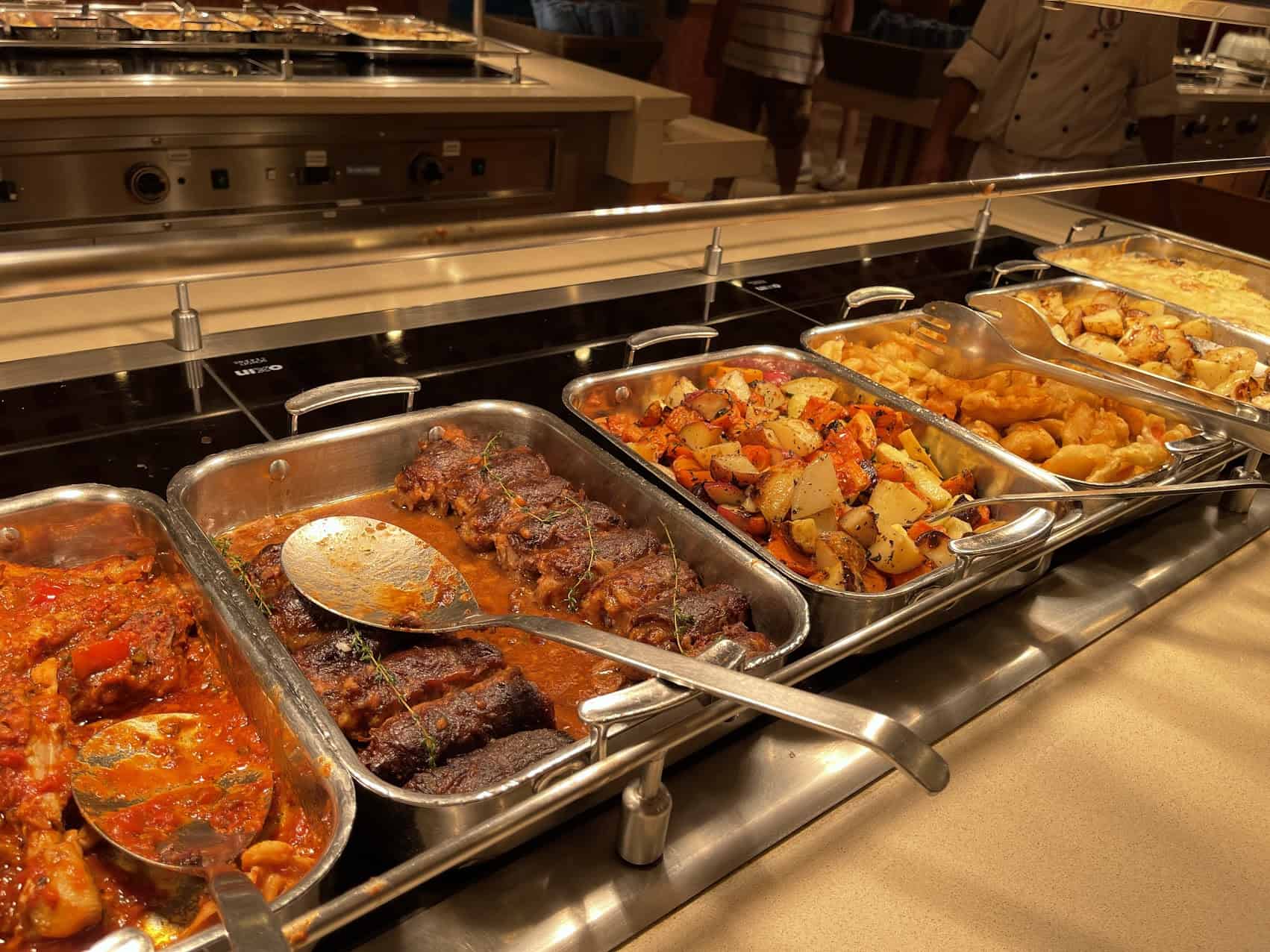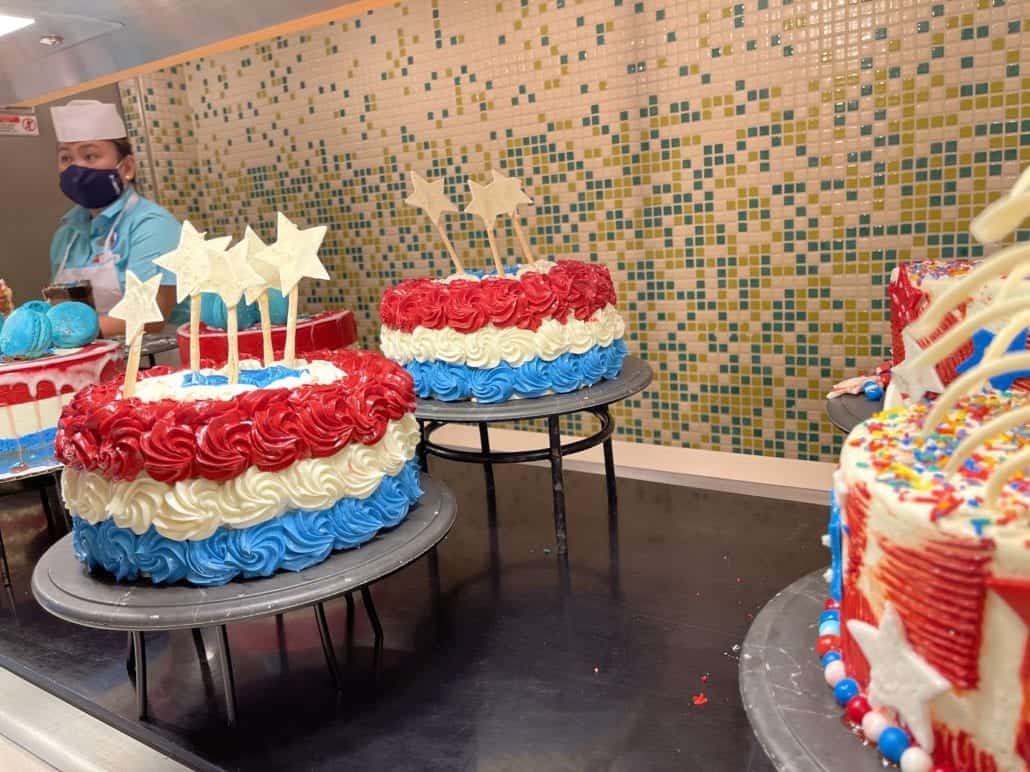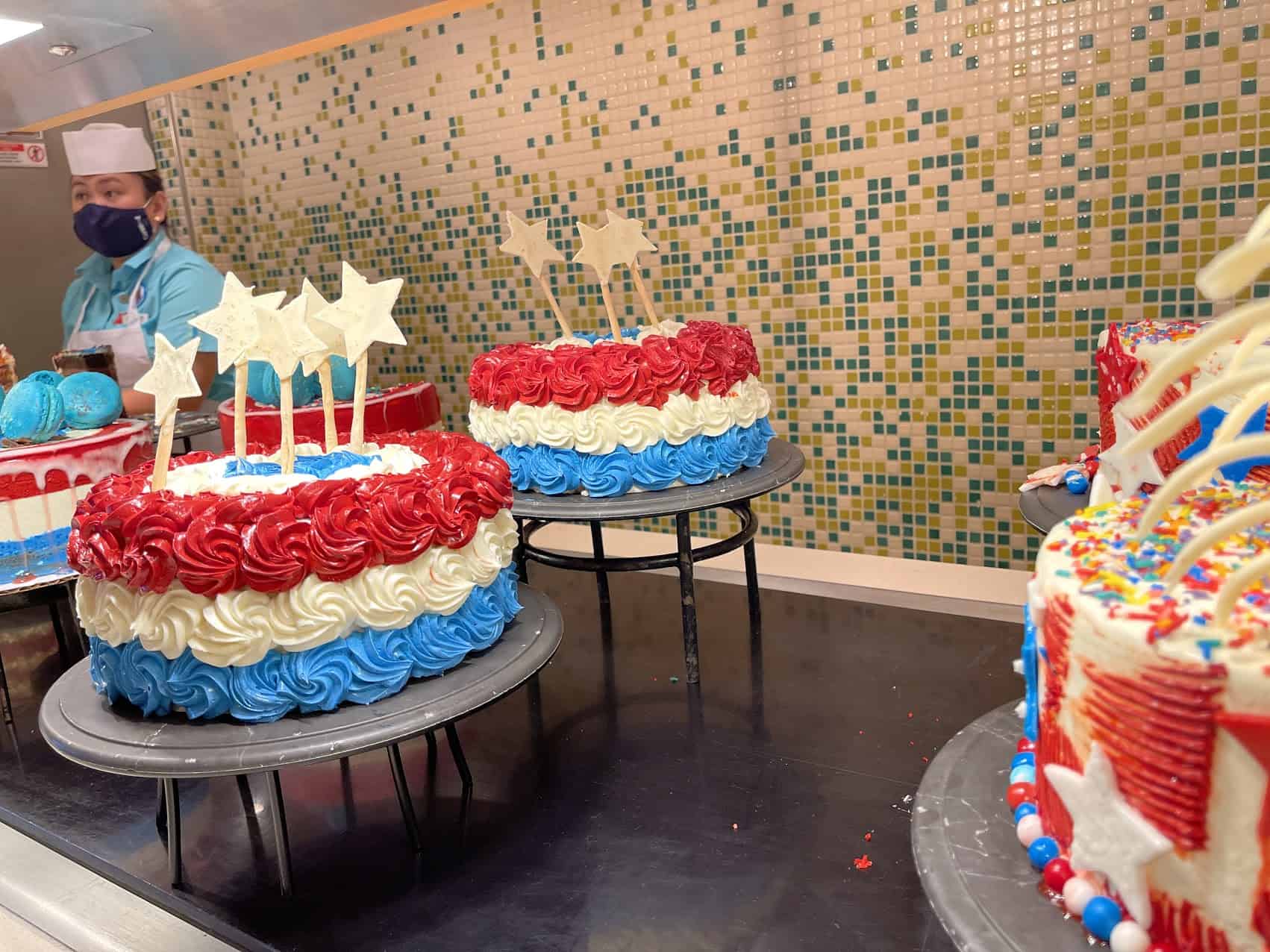 I probably should have just kept on walking and been happy with my Guy's Burger lunch, but I'm a sucker for pizza and there it was, ready for the taking.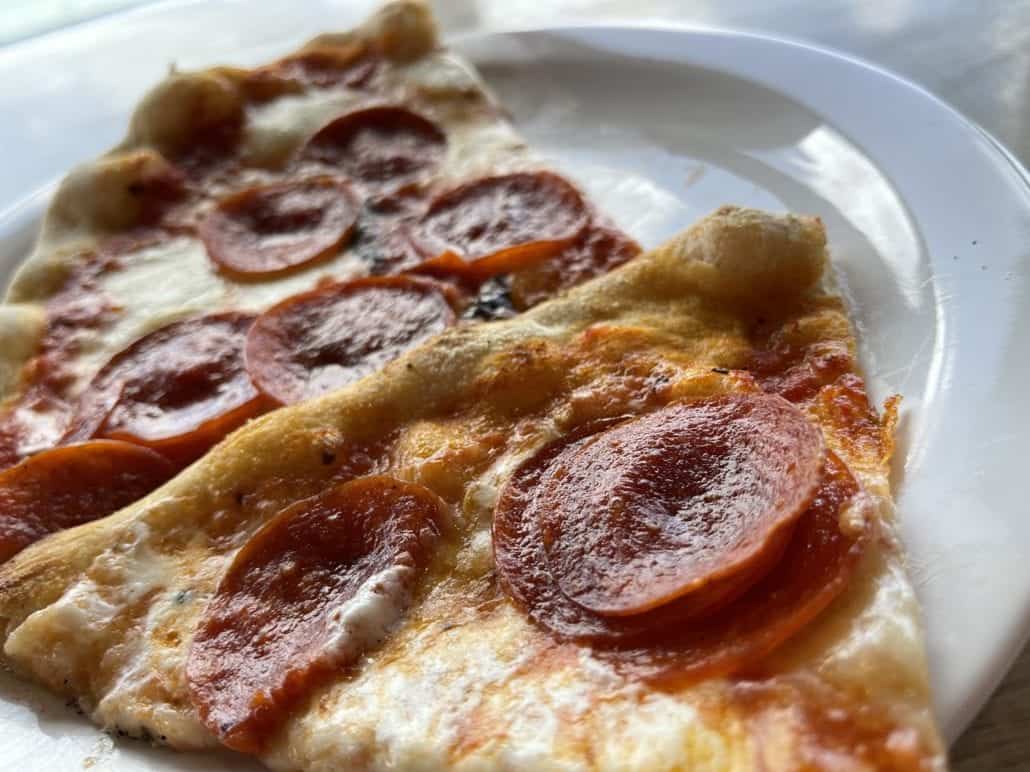 READ MORE: 10 Photos From Carnival Horizon's Miami Sail Away
Long before sail away, the sun worshippers were out on the lido deck. People were in the pools, on the loungers, and in the hot tubs. It was, or at least felt like, just another embarkation day.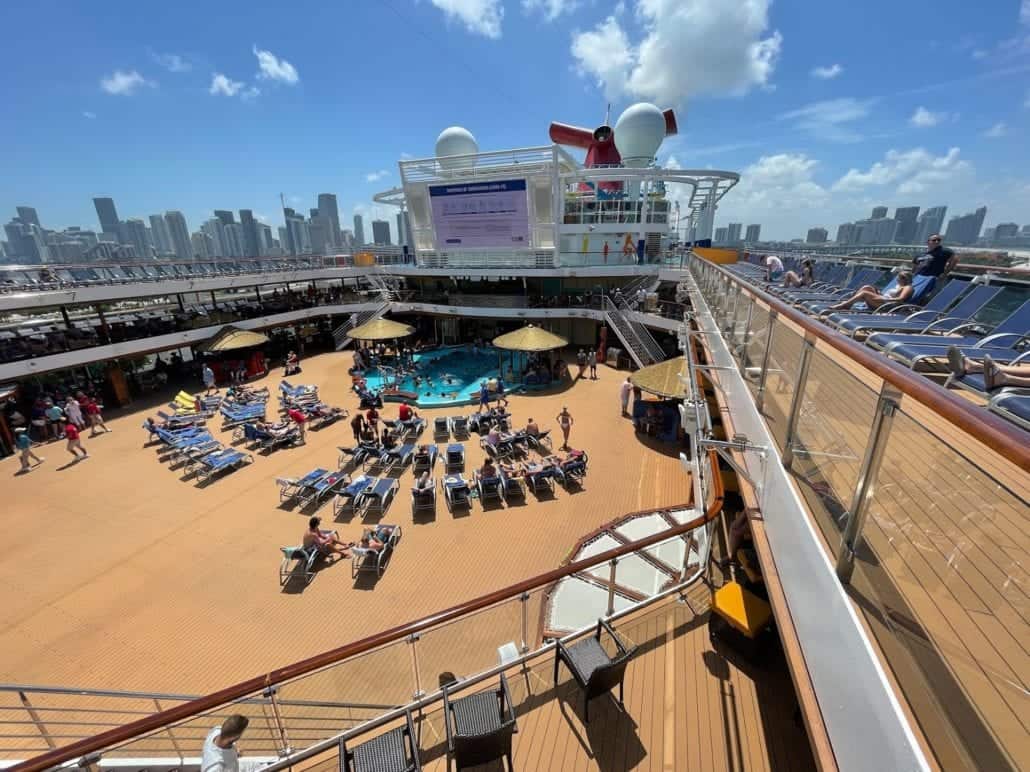 Before sail away, I headed to check out my cabin — a balcony stateroom.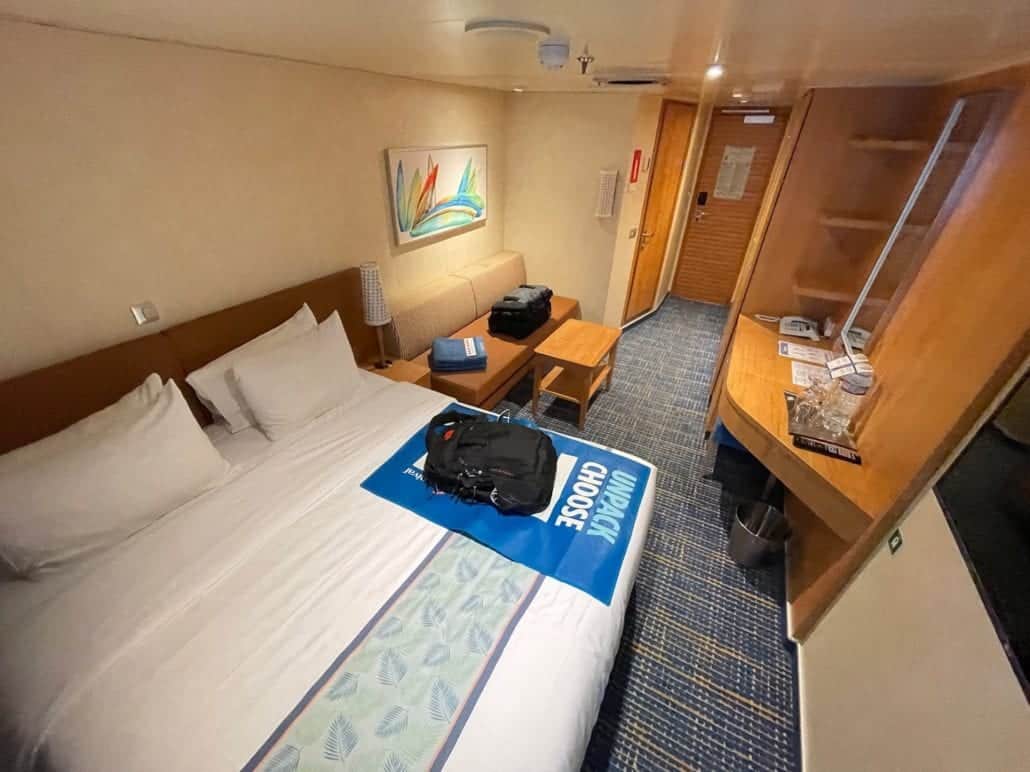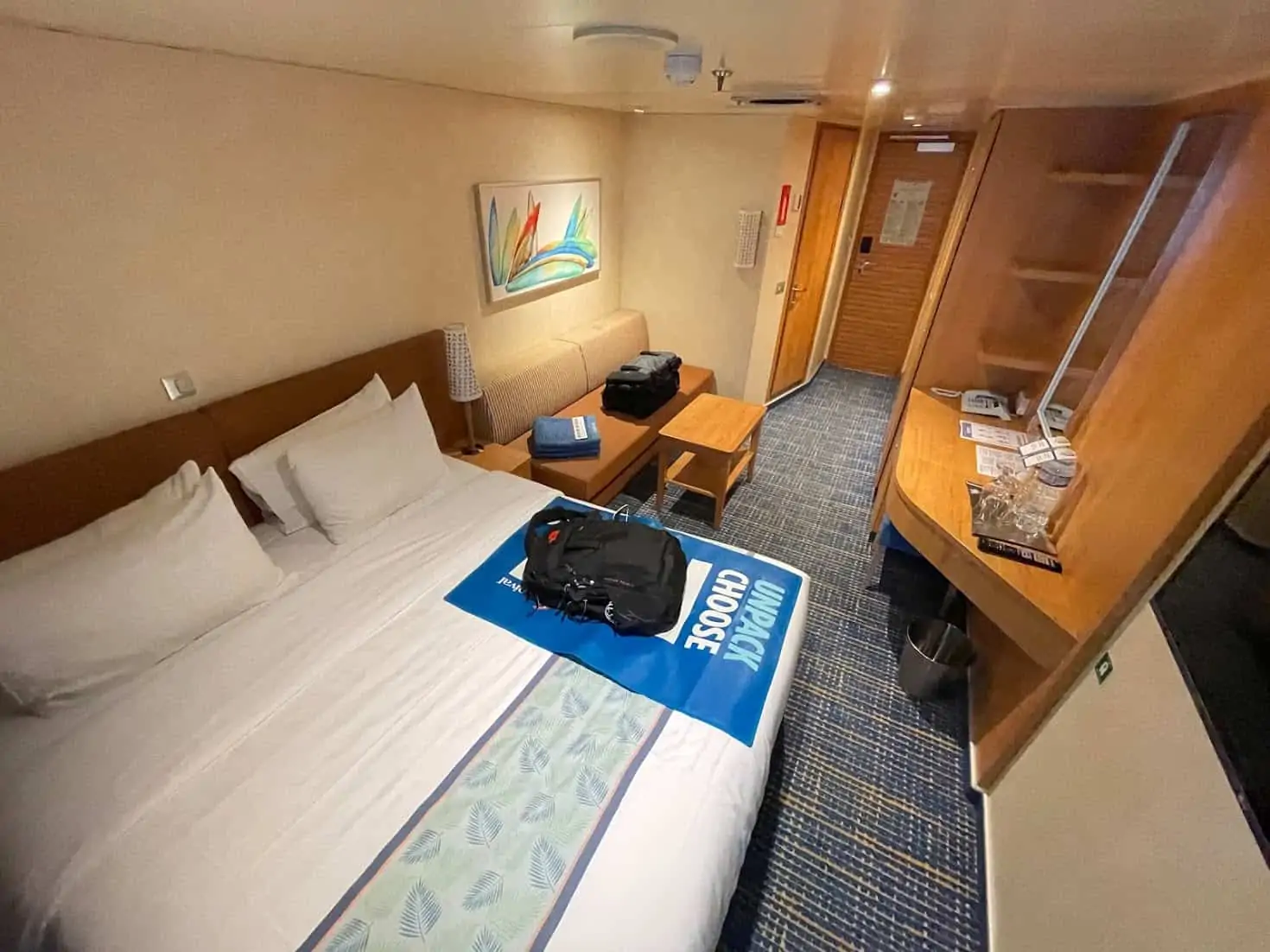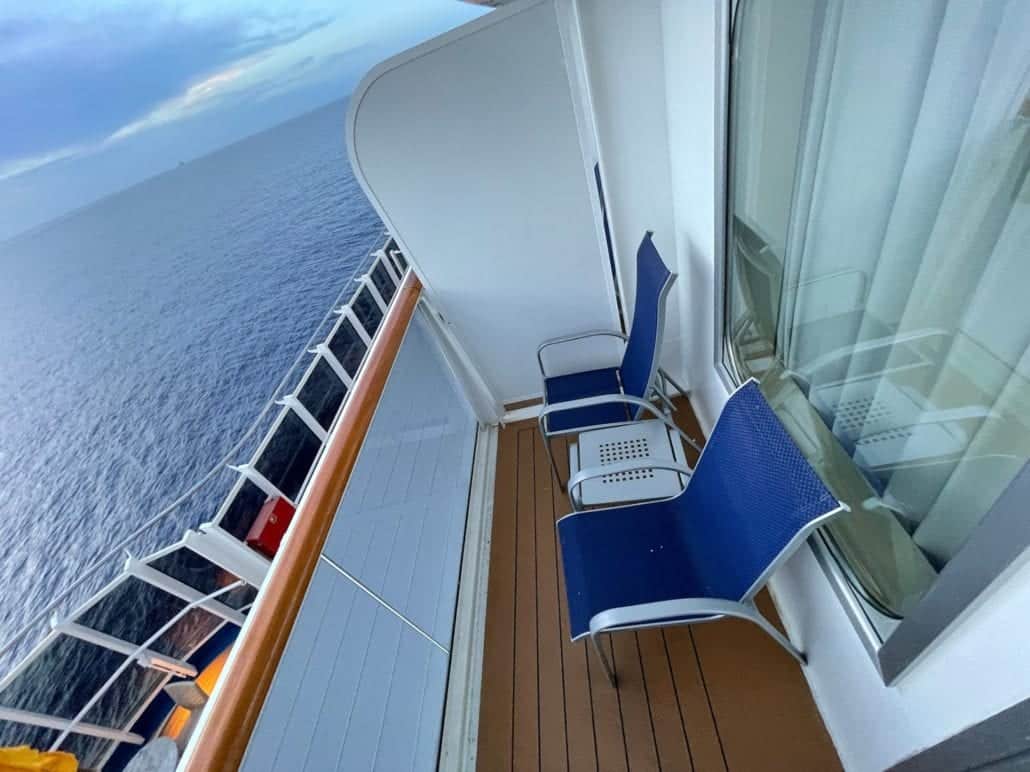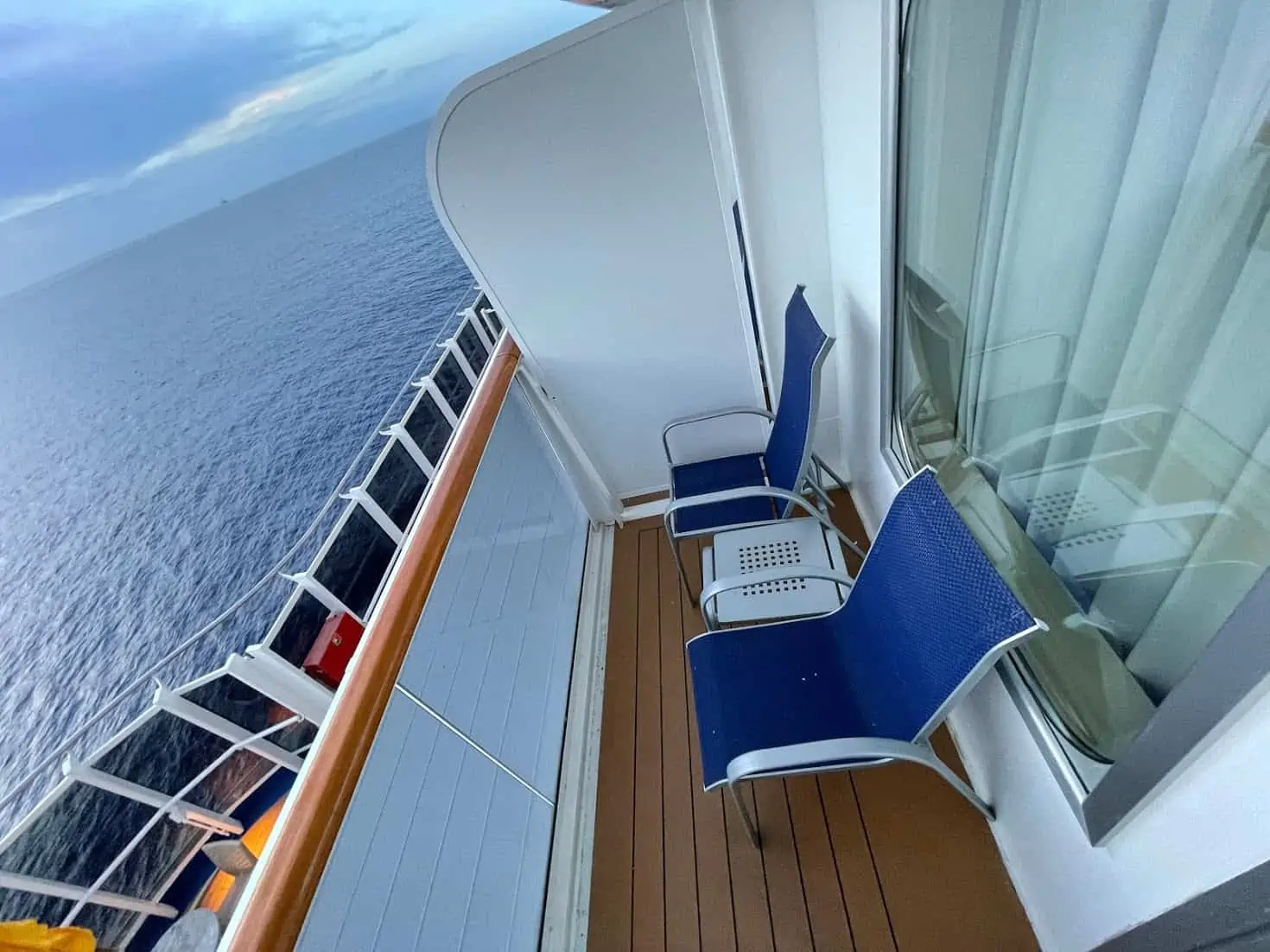 One of the things you'll now find in your stateroom is a sheet containing a variety of scannable QR codes. Want to know what VIFP benefits are at your current level? Scan the QR code with your smartphone and the information will be right there.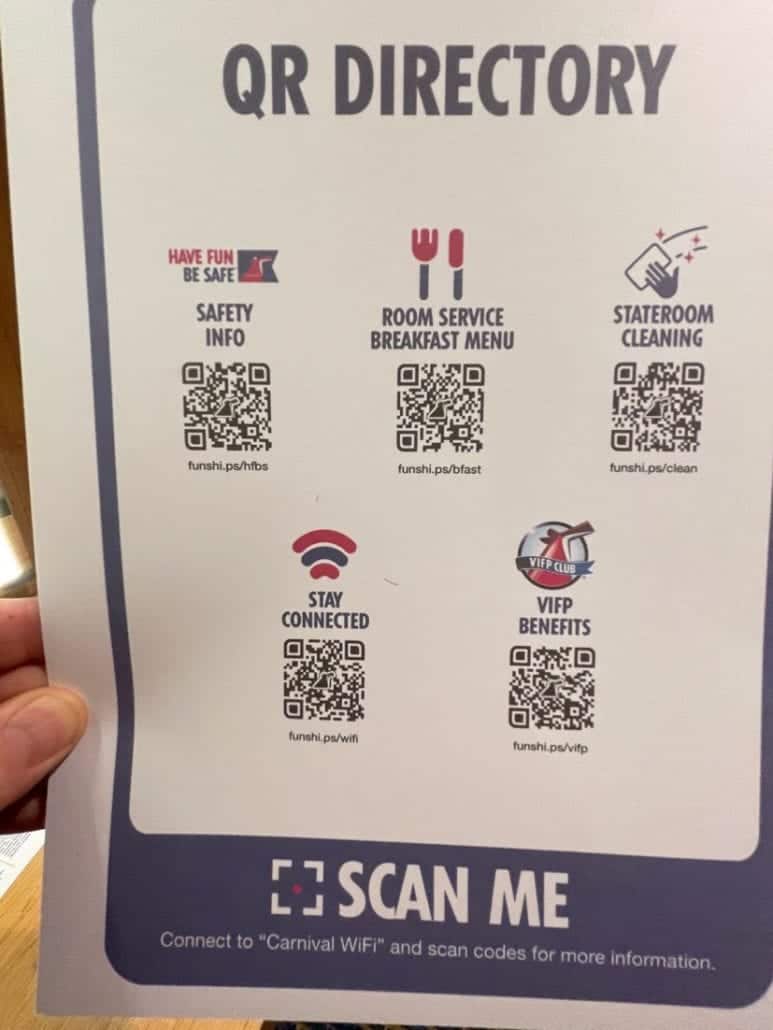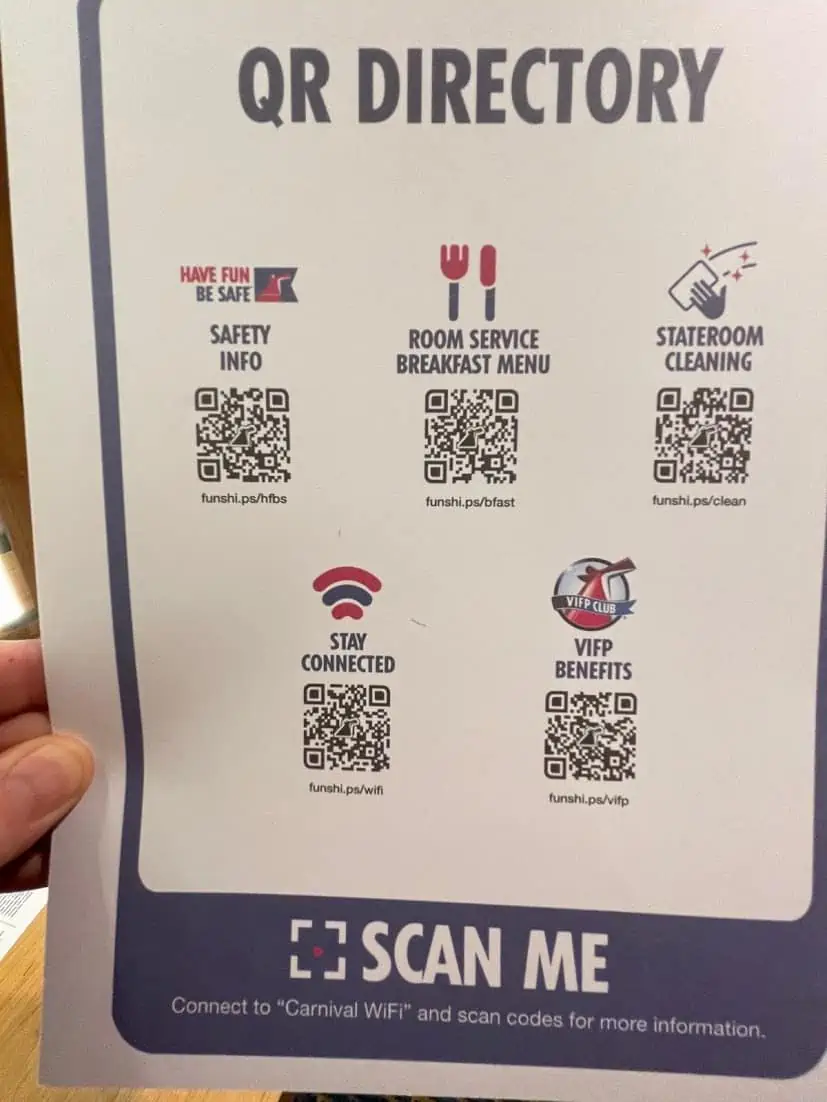 Just above the phone is another sheet with a QR code. Scan it and you can see the room service menu and, using the HUB app, place an order.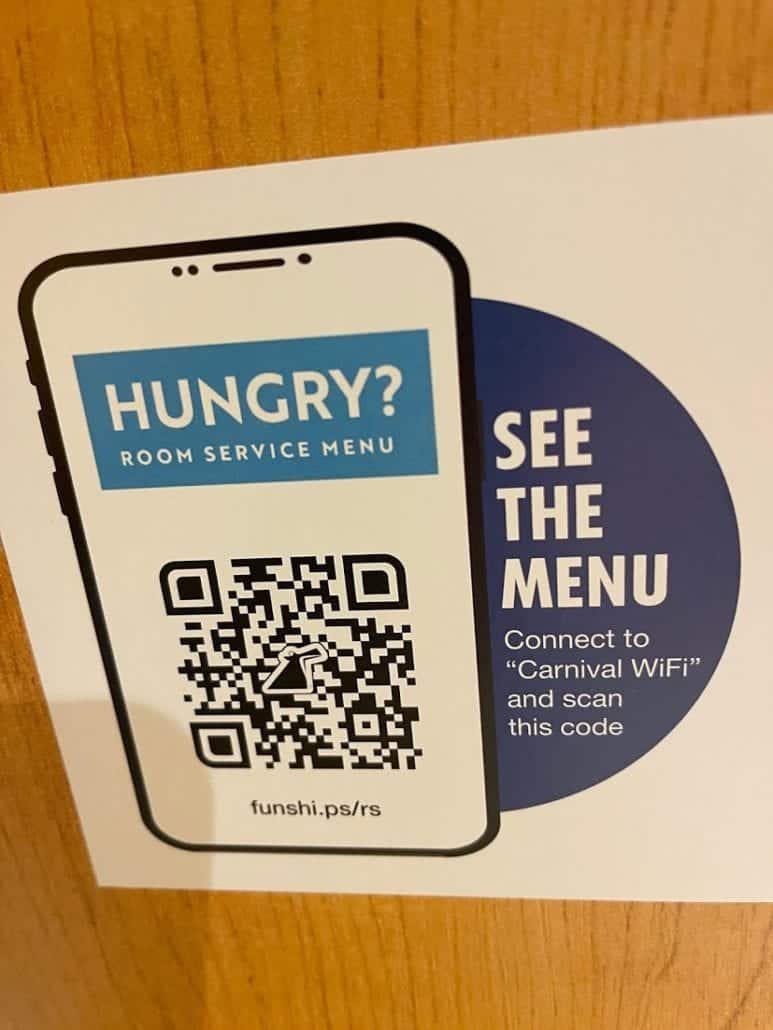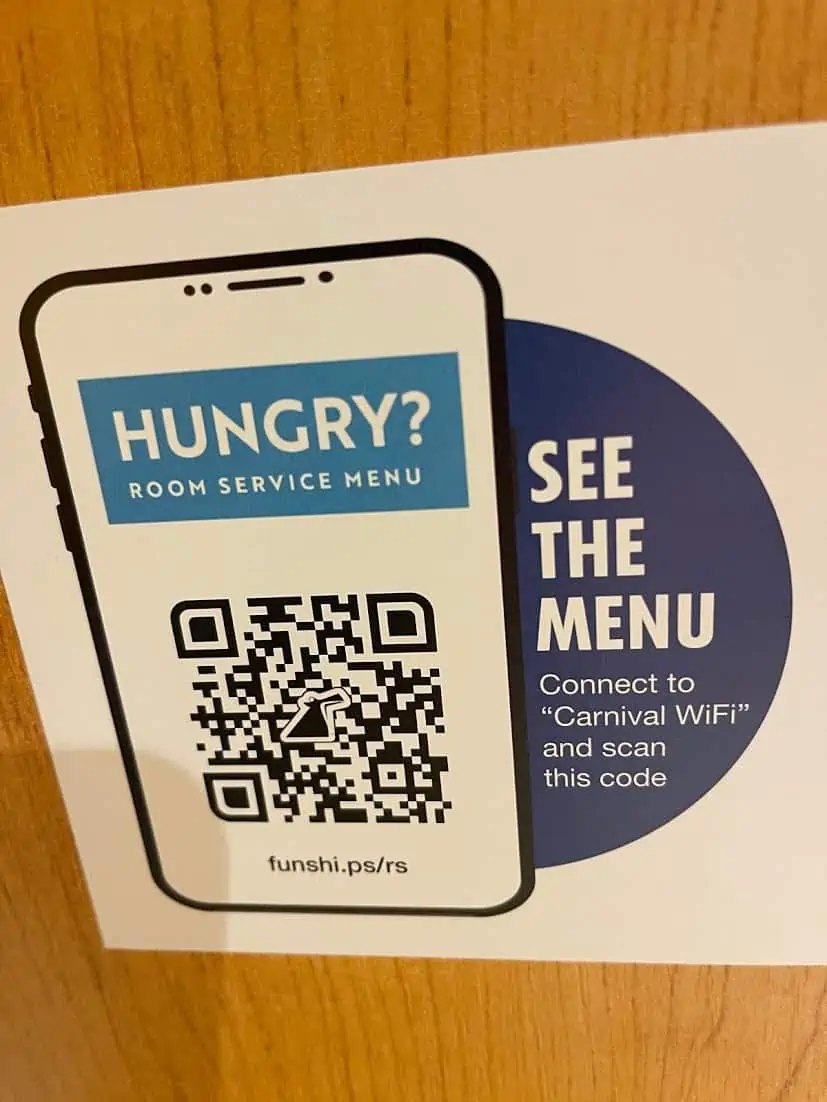 These QR codes can be found everywhere around the ship. Want to see the drink specials at the Havana Bar? Scan the code.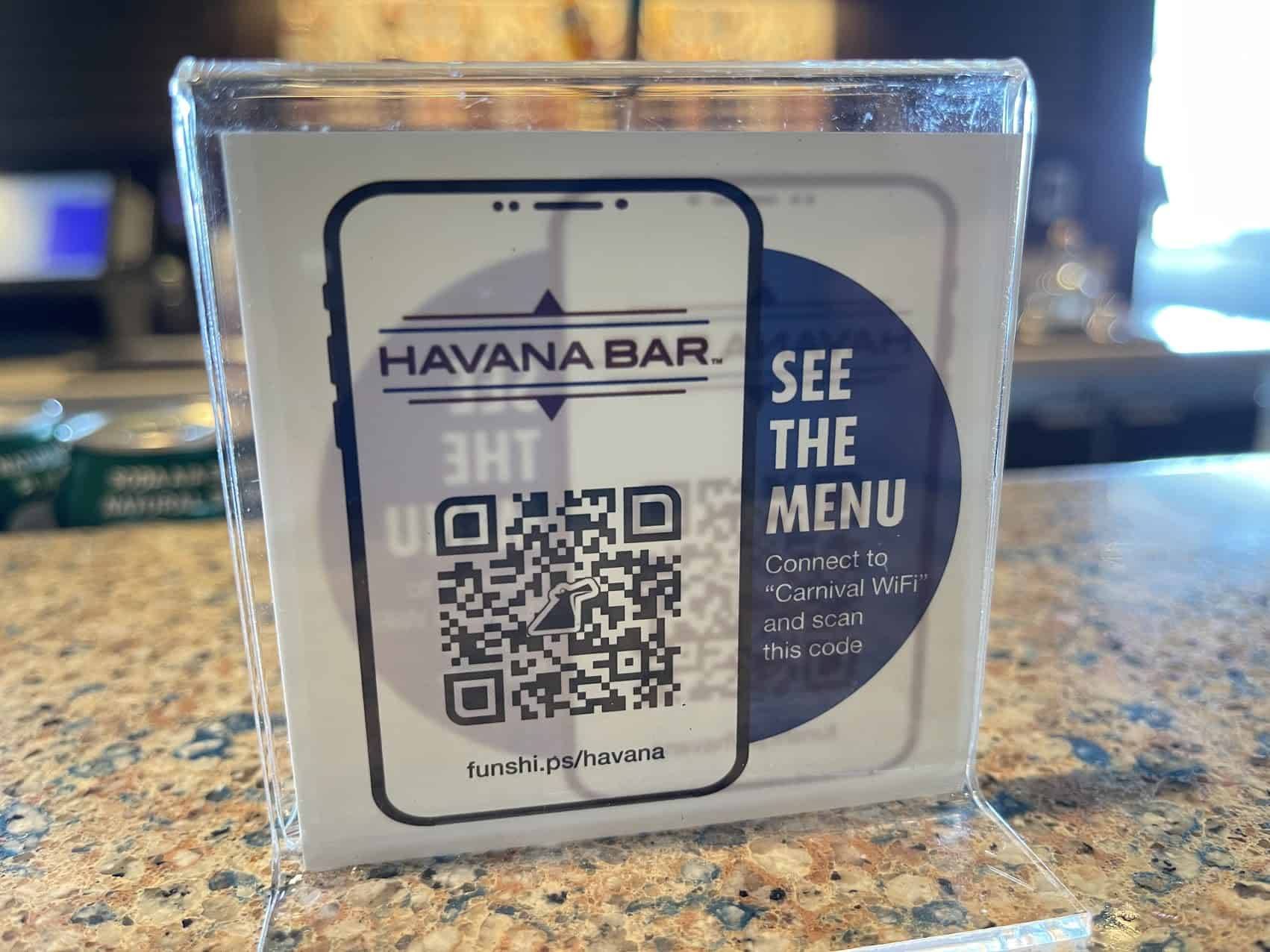 Remember earlier I said that our sail away came complete with a special guest? Well, it started when Carnival's newest ship, Mardi Gras, surprised us by sailing past.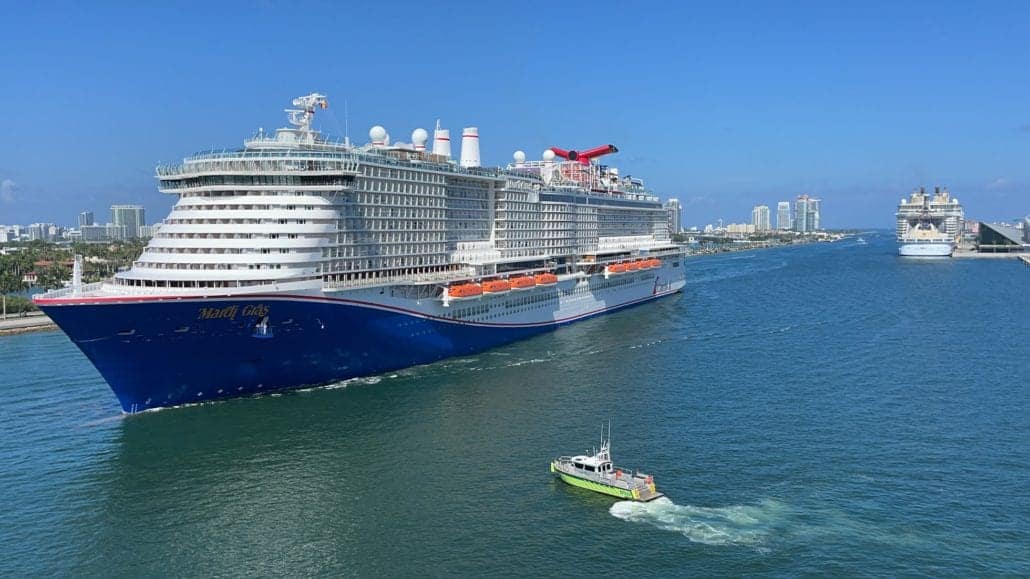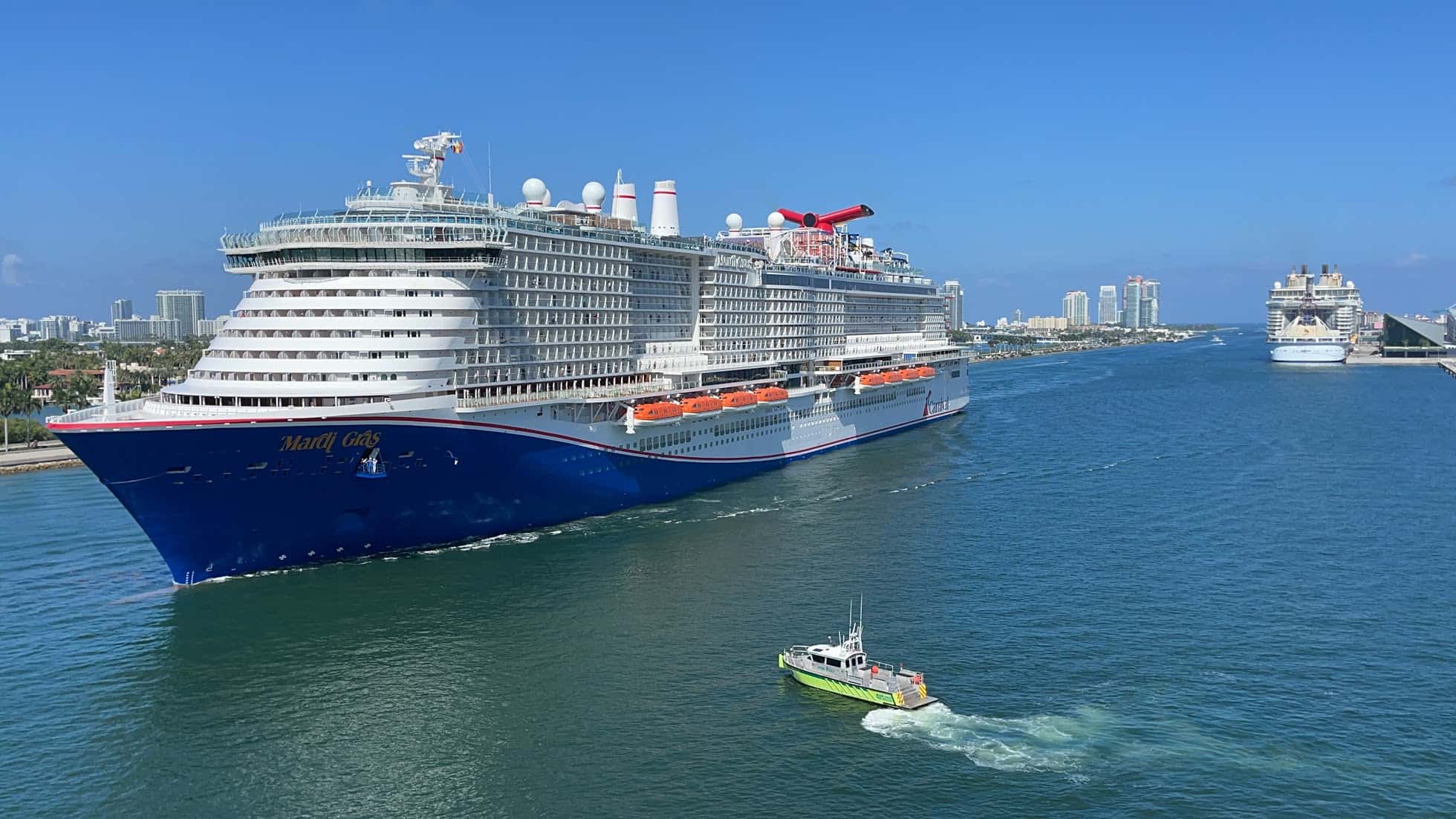 The ship really is a beauty, with the new livery that will eventually become the norm across the entire Carnival fleet. As she sailed past, you could see passengers — myself included — leaning forward, trying to discern any details they could.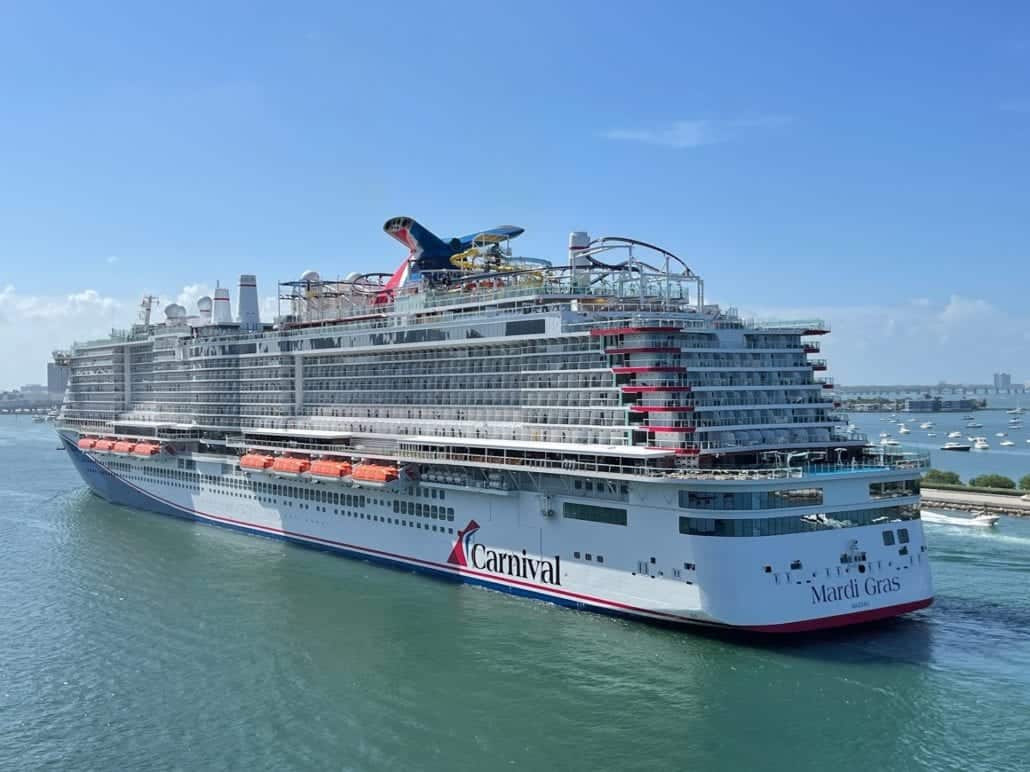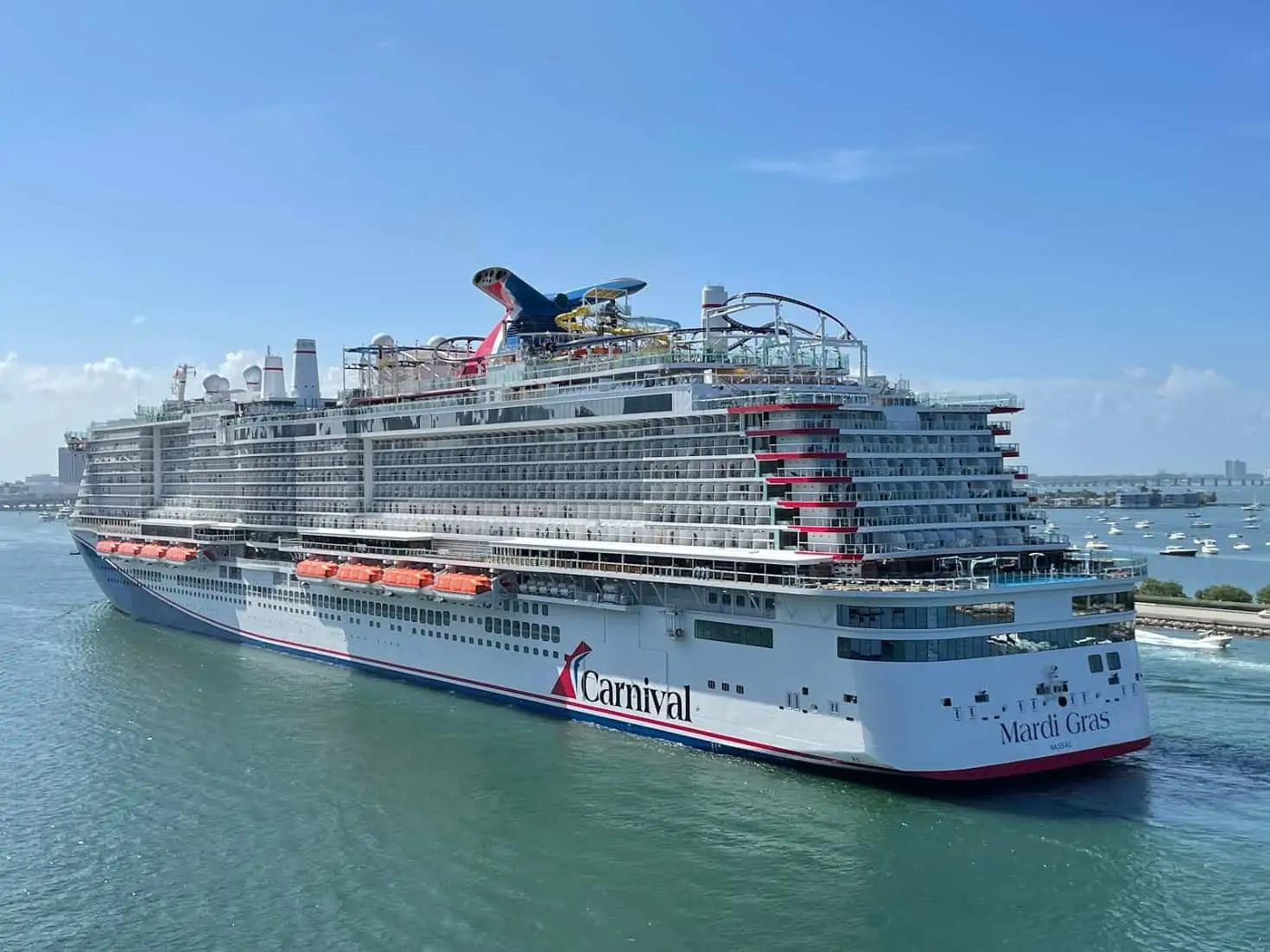 As she went past, we got a nice look at the BOLT roller coaster as well as the Summer Landing zone that sits on the aft of the ship. But the coolest moment came when we saw all of the Mardi Gras crew, currently on board as they await the ship's July 31st launch, lining the decks to wave, cheer, and dance.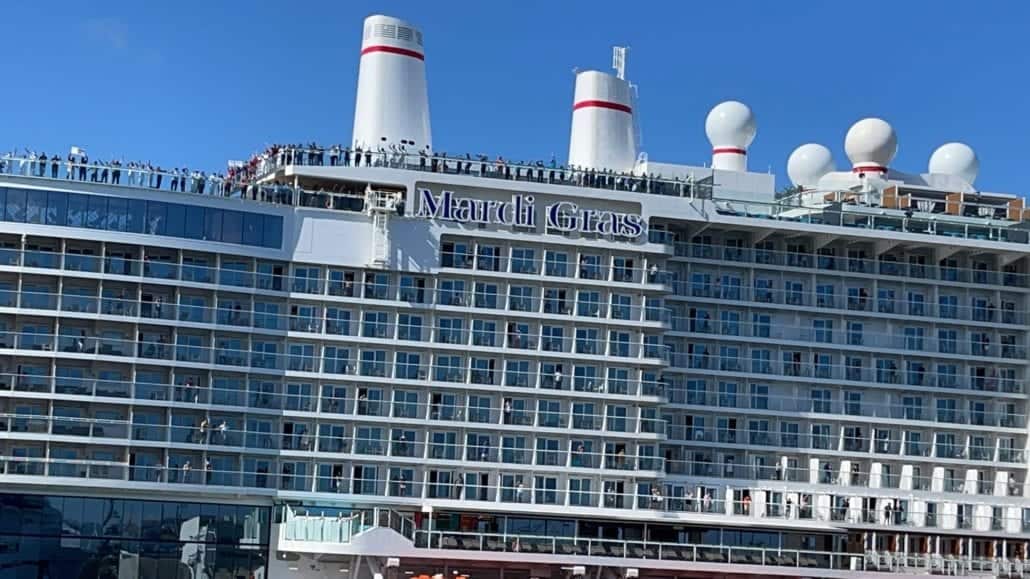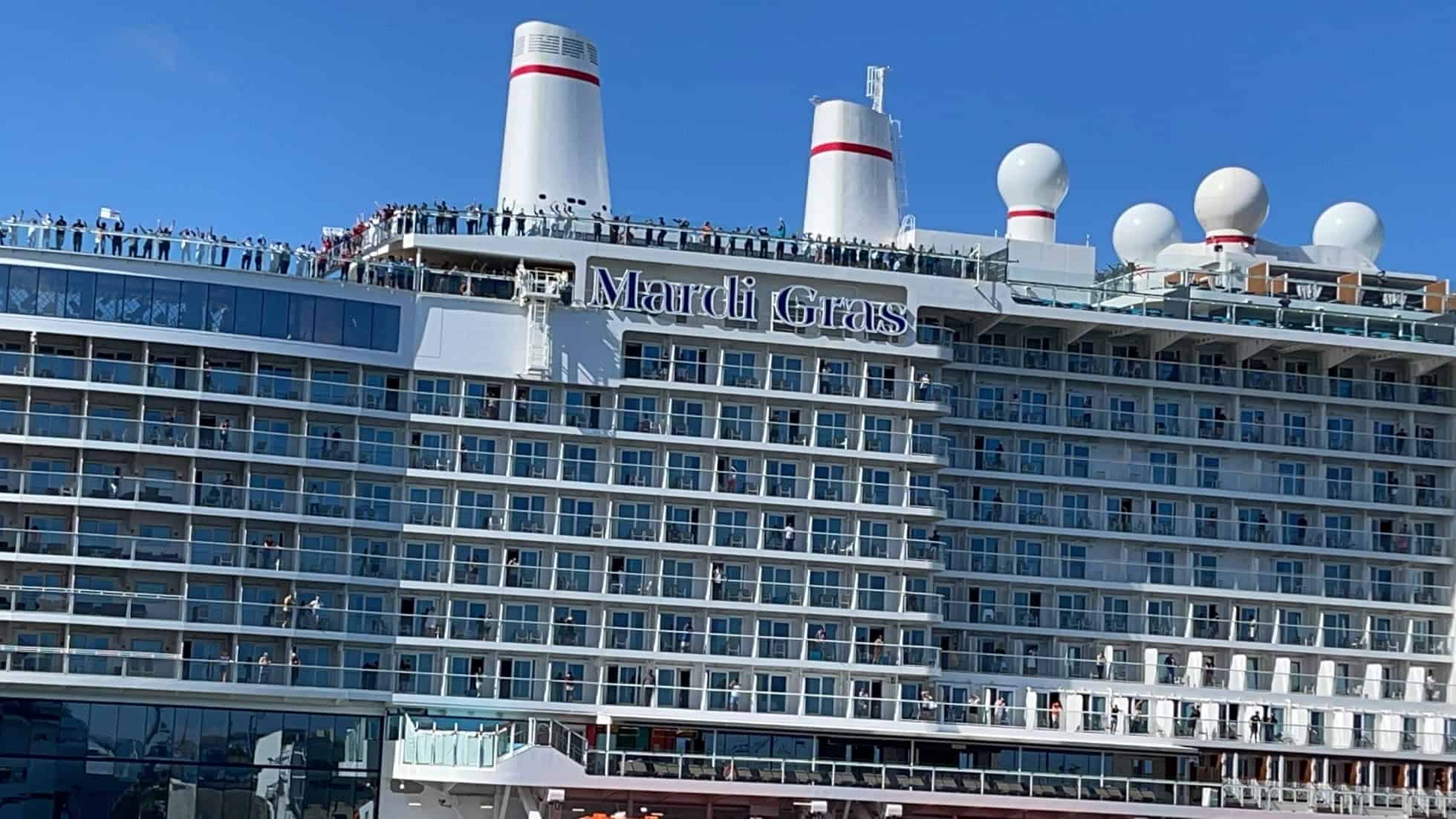 When Mardi Gras reached the turnaround basin, she did exactly that and then served as our escort out of PortMiami and into open waters.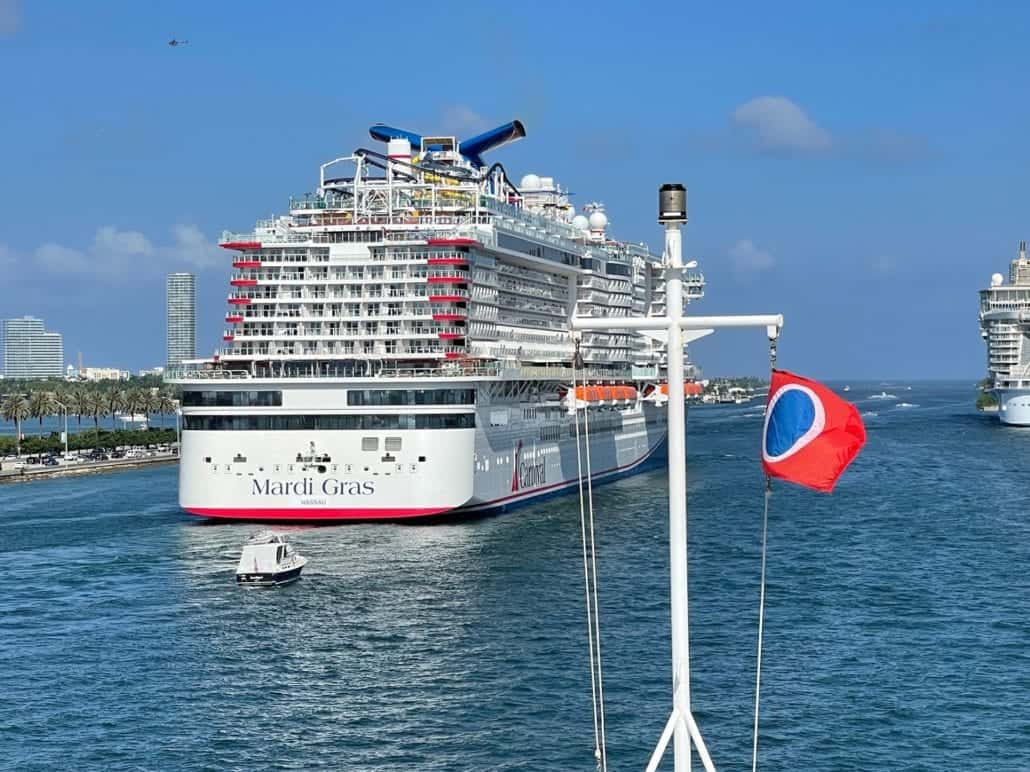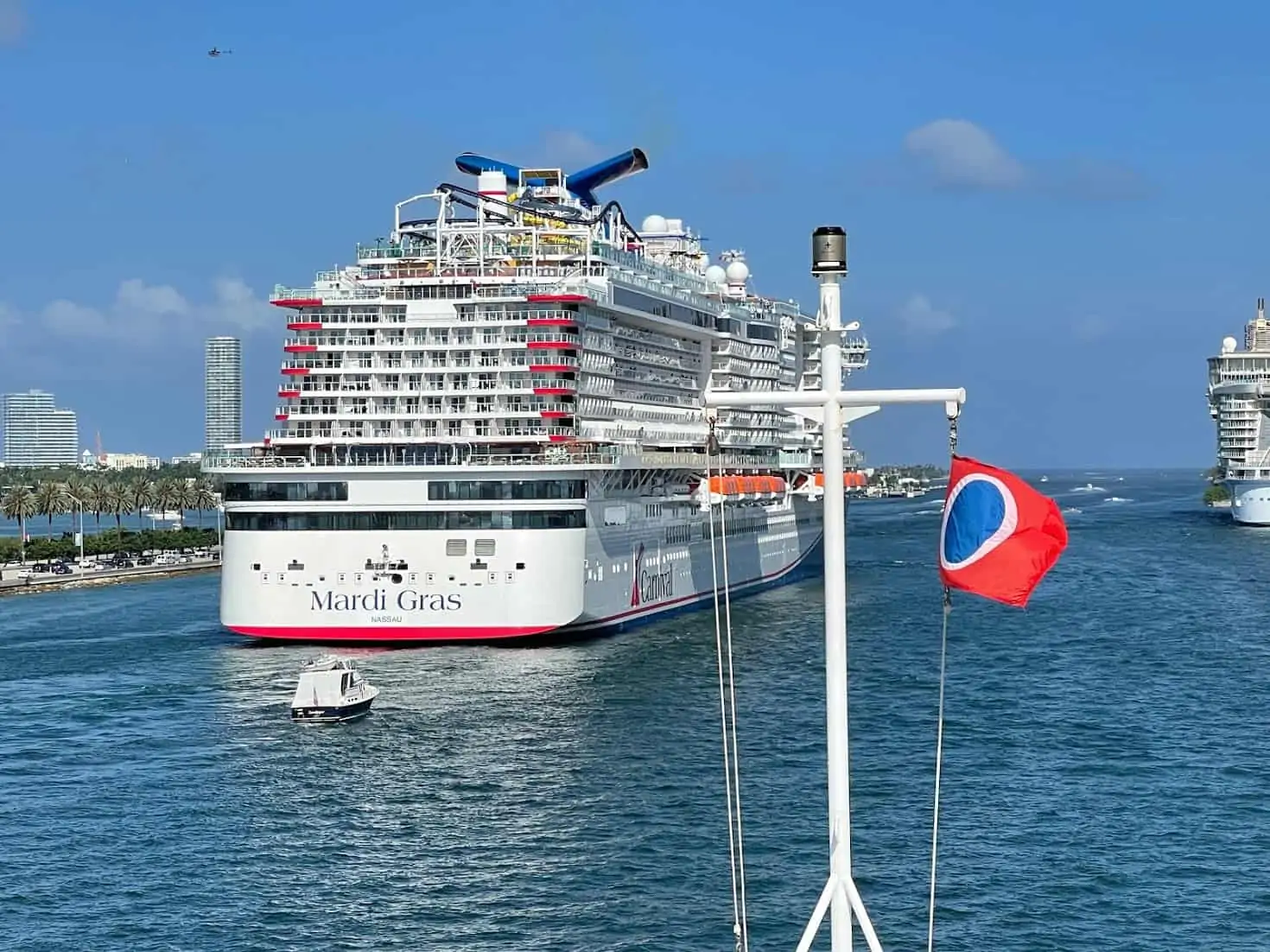 At this point, I was really starting to drag. It had been a long, long 36 hours. I wandered down to the atrium to listen to the violinist play before heading into the main dining room.
You'll notice a few subtle differences in the dining room. First, there's no longer a communal bread basket. Instead, you can either order what type of bread you'd like off the menu (on your mobile device) or, when the server comes around with a large basket, you can just point to what you want Either way, they'll serve the bread to you — as much as you like — on a bread plate. There's also no sugar bowl on the table. There are, however, salt and pepper shakers.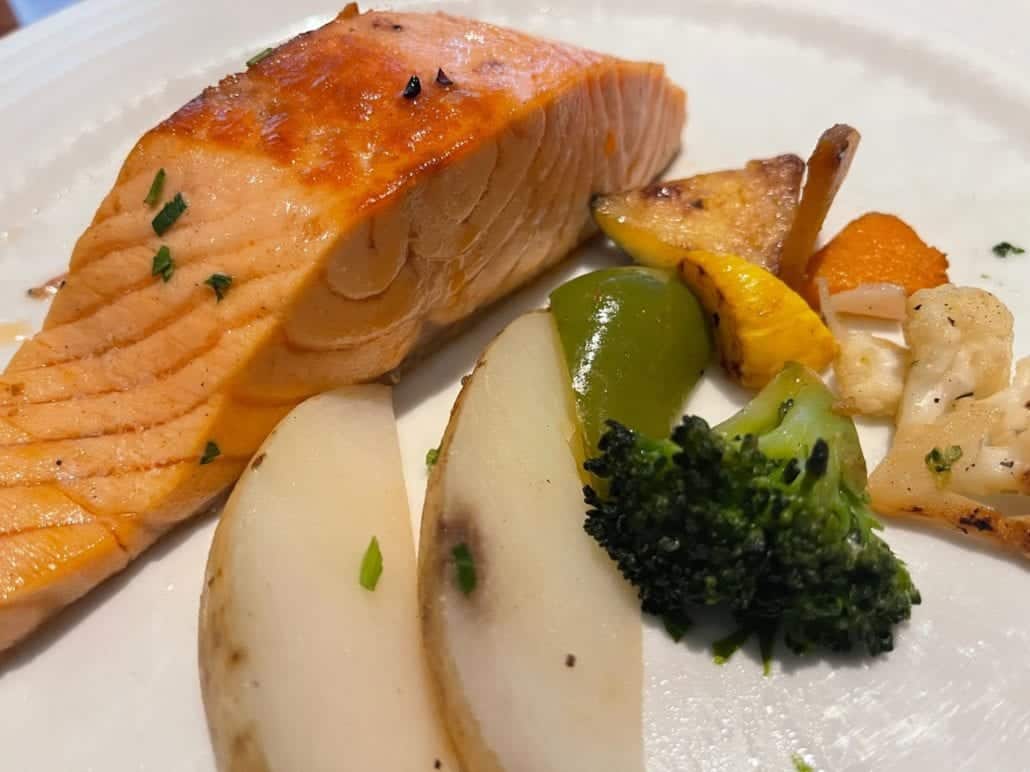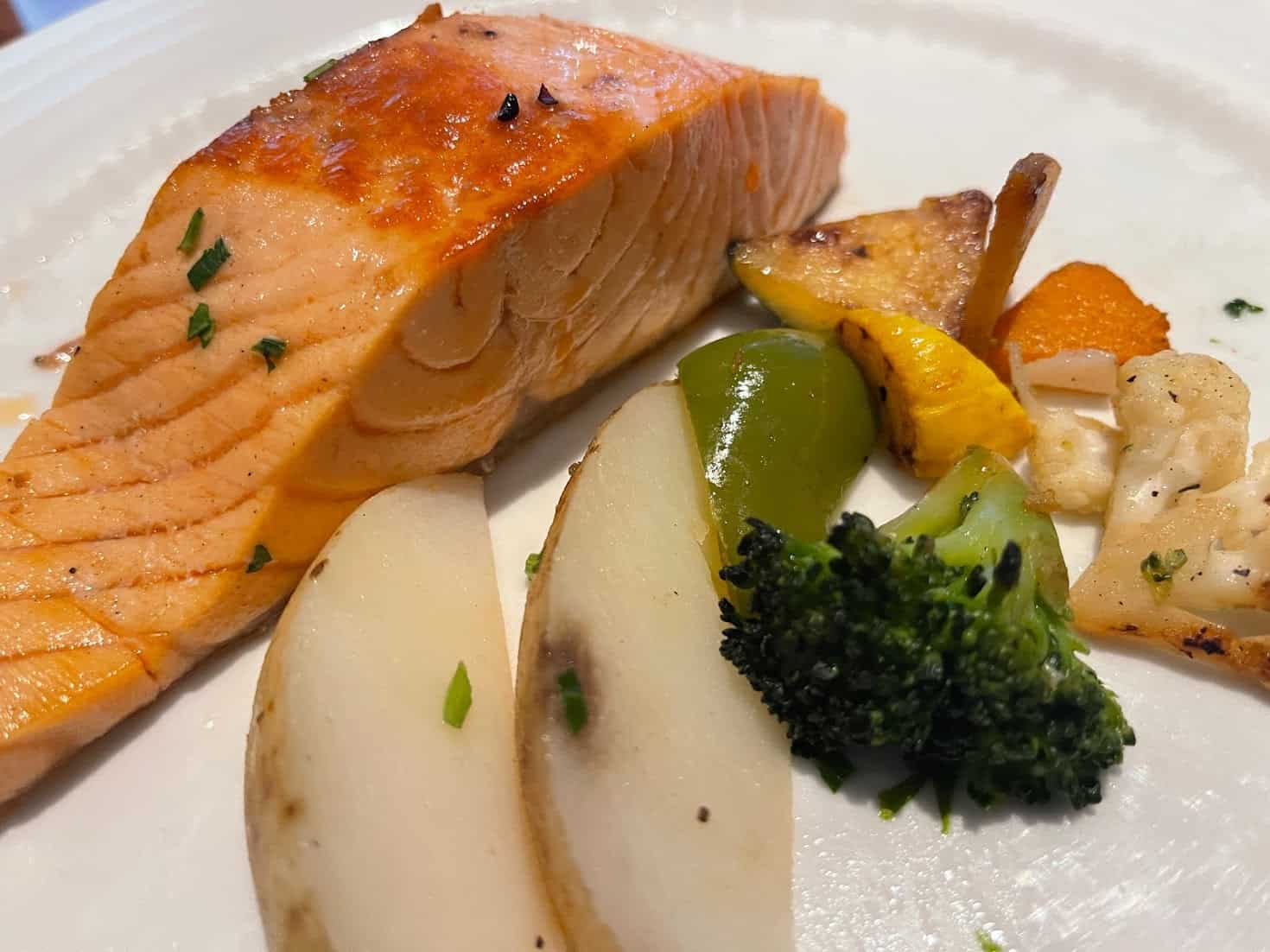 I started dinner with shrimp cocktail as well as a second appetizer, followed by a nice piece of salmon. And of course, there was only one way to end my first meal on a Carnival ship in over a year: warm chocolate melting cake. I mean, seriously, is there any other option?
I wish I could say that after dinner, I checked out a comedy show or some other form of nightlife, but by this point, I was barely able to keep my eyes open. Heading back to the stateroom, I spent a few minutes on the balcony, taking in the unmistakable sound of a ship cutting through smooth ocean waters. Soon after, I was sound asleep, ready for tomorrow, our first full sea day…
Check out my other Carnival Horizon trip reports!