I ended yesterday's trip report saying that I was tired, but even I didn't expect to sleep 14 hours. I guess between exhaustion and the rocking of the ship that lulls you to sleep, it's amazing I didn't just crash out through the entire first sea day.
But friends had invited me to join them in the Havana area to see the sunrise, and I didn't want to miss that. By the way, the Havana Suites are super nice. They let me take a look inside. Very nice.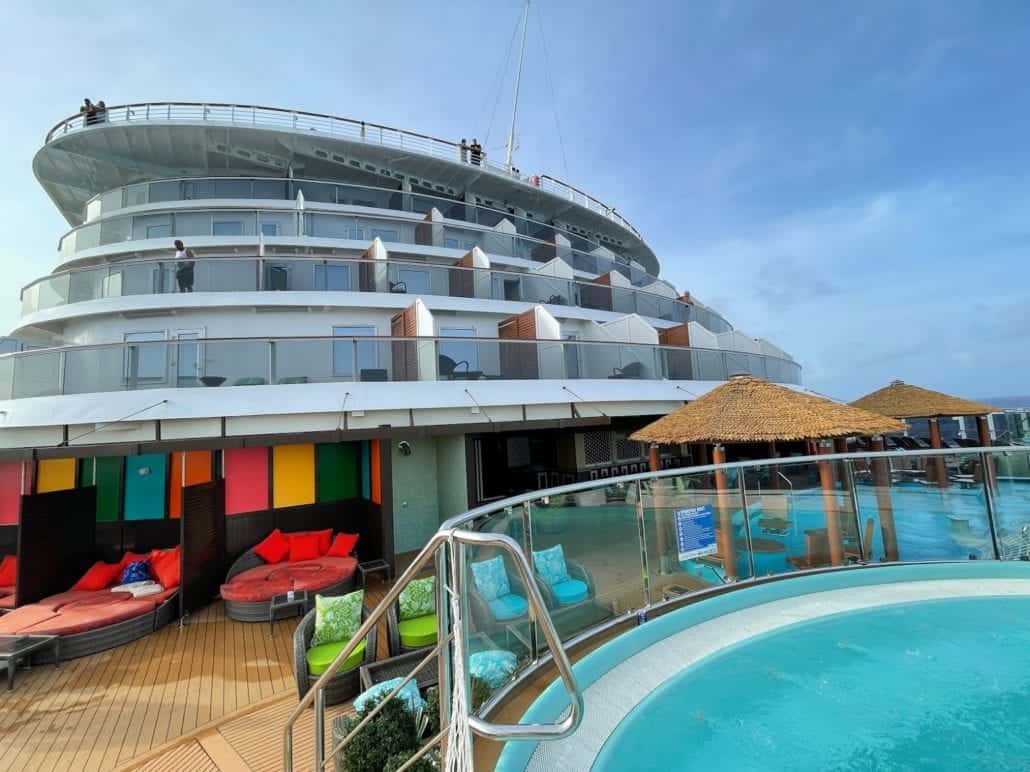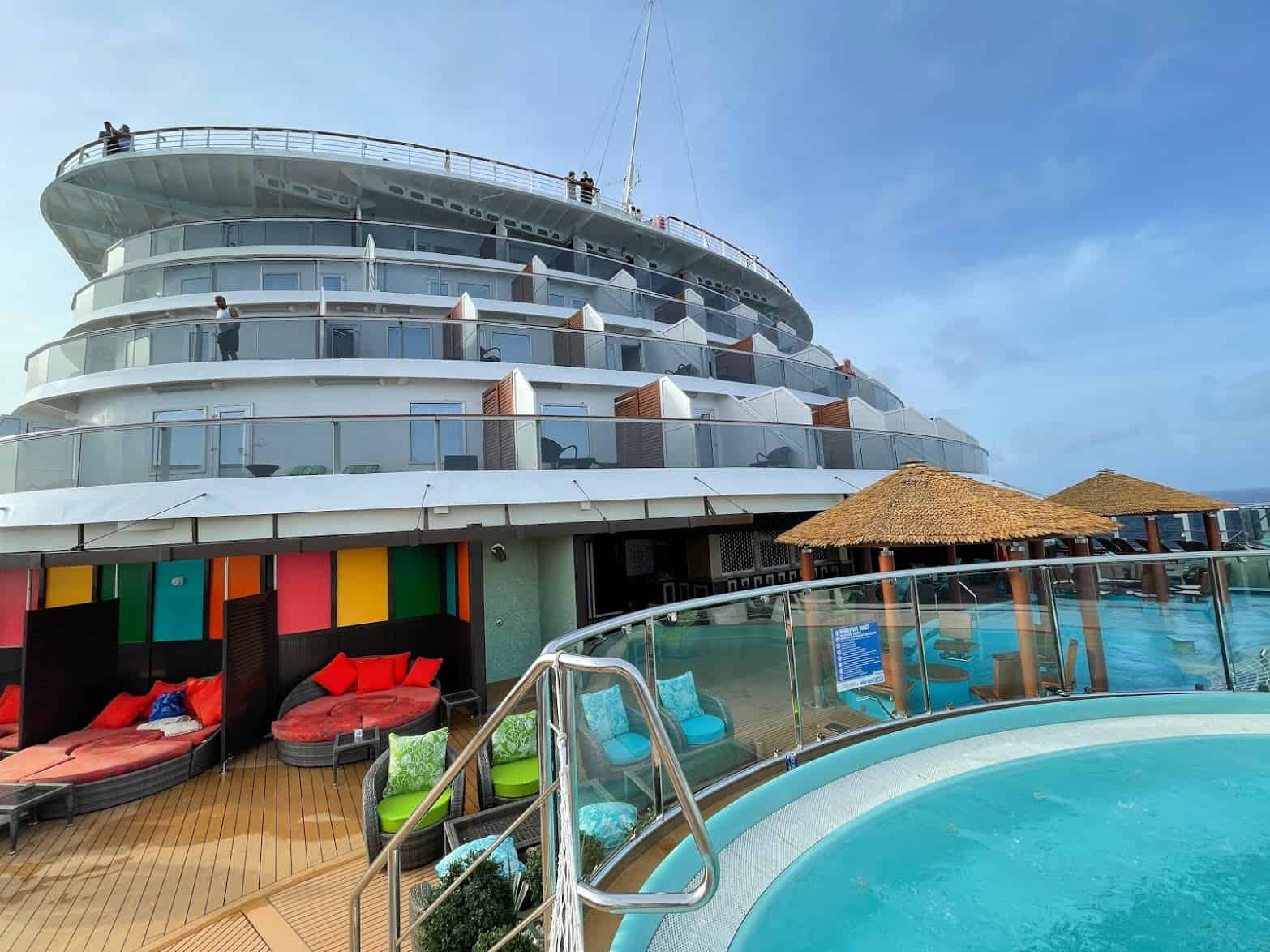 The Havana Retreat area is exclusively available to guests staying in Havana staterooms. This area was introduced on Carnival Vista and proved wildly popular.
Up until November of 2019, the area was exclusive to Havana guests during the day and then opened up to everyone else after 7 p.m. each evening. But it was eventually decided that the area should remain the exclusive domain of Havana guests (which makes sense, given that they are paying a premium price and a big appeal is this area).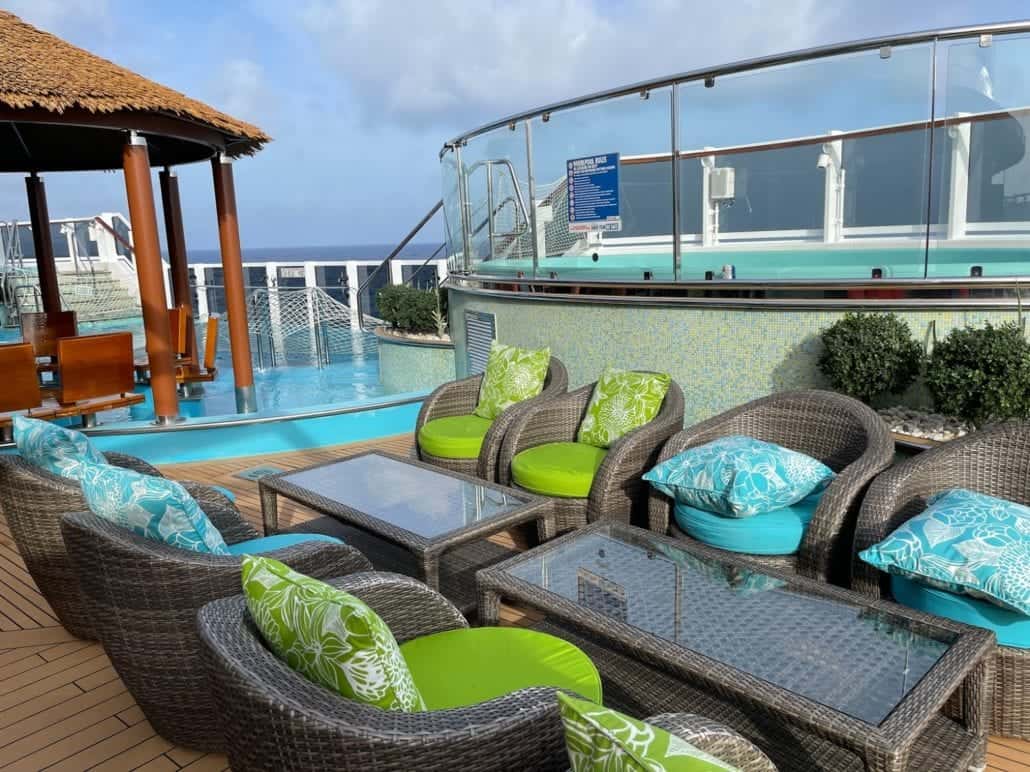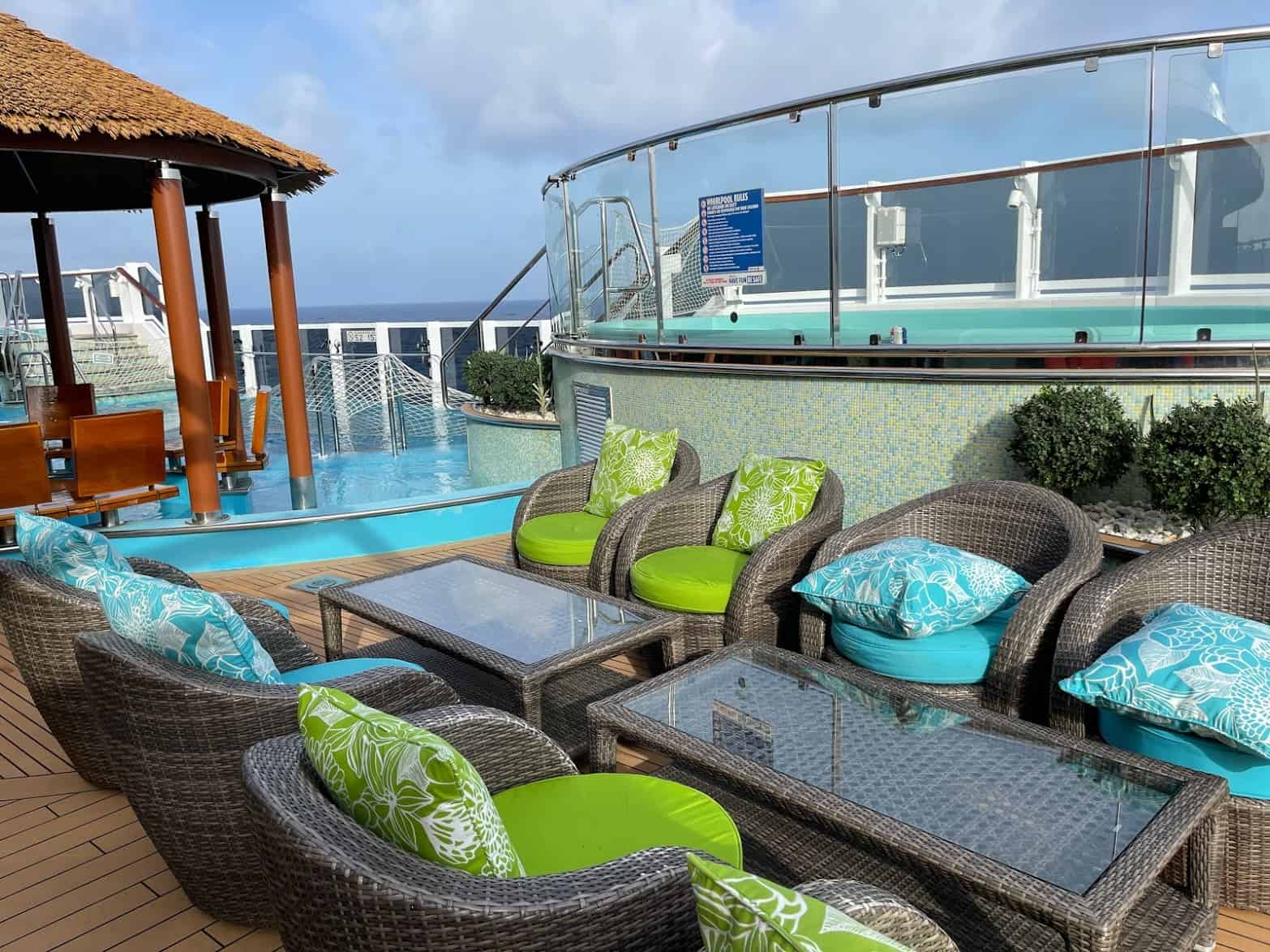 So yes, technically, I wasn't supposed to be there.
After spending a little time with my friends, I wandered down to Ocean Plaza for breakfast. A lot of people hit the buffet for breakfast, and I have to think that they're completely unaware of this little mini-buffet which is so much less crowded. Sure, it's a smaller selection, but you'll definitely find something to enjoy.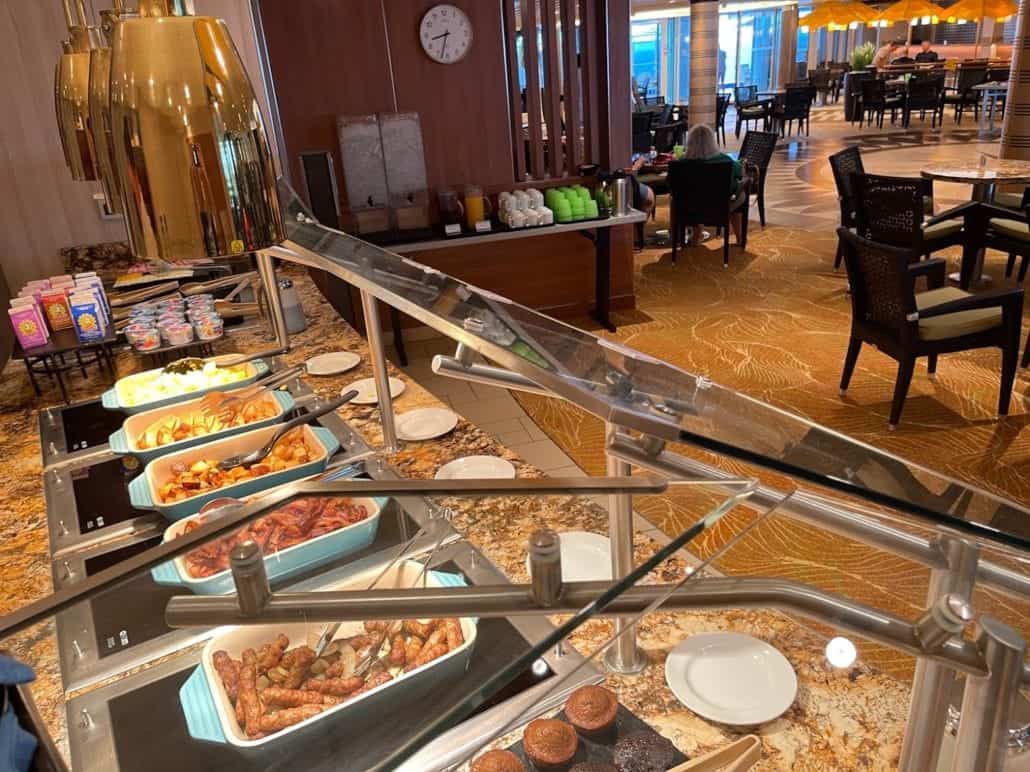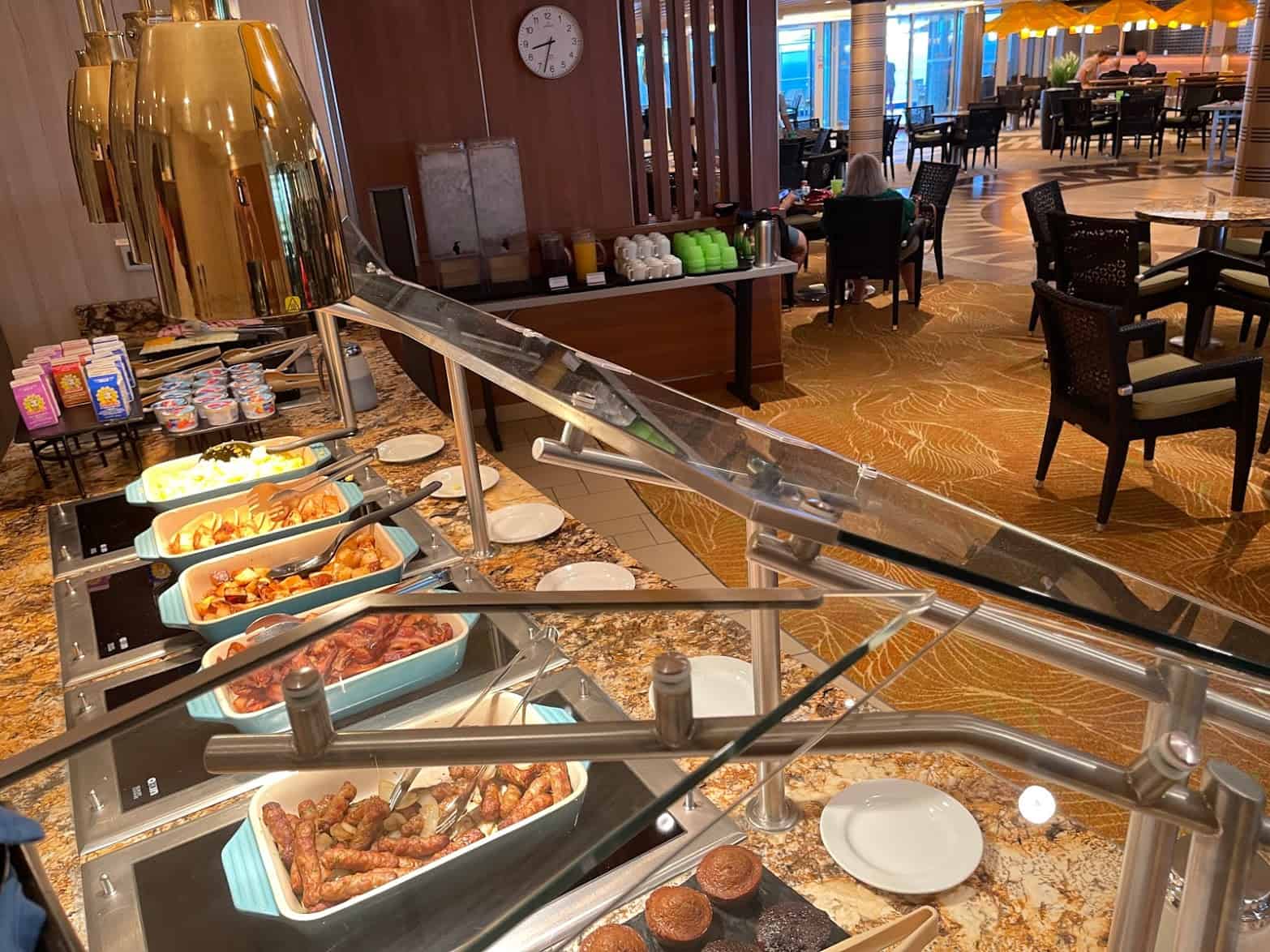 I wound up going with a pretty simple selection of meats and cheeses. As with so many of the venues on board, what's nice about this spot is you can sit inside or take your food and head out onto the deck, where there's plenty of seating.
Then it was time for something I'd really been looking forward to: a Fire and Ice Pedicure ($75) at the spa.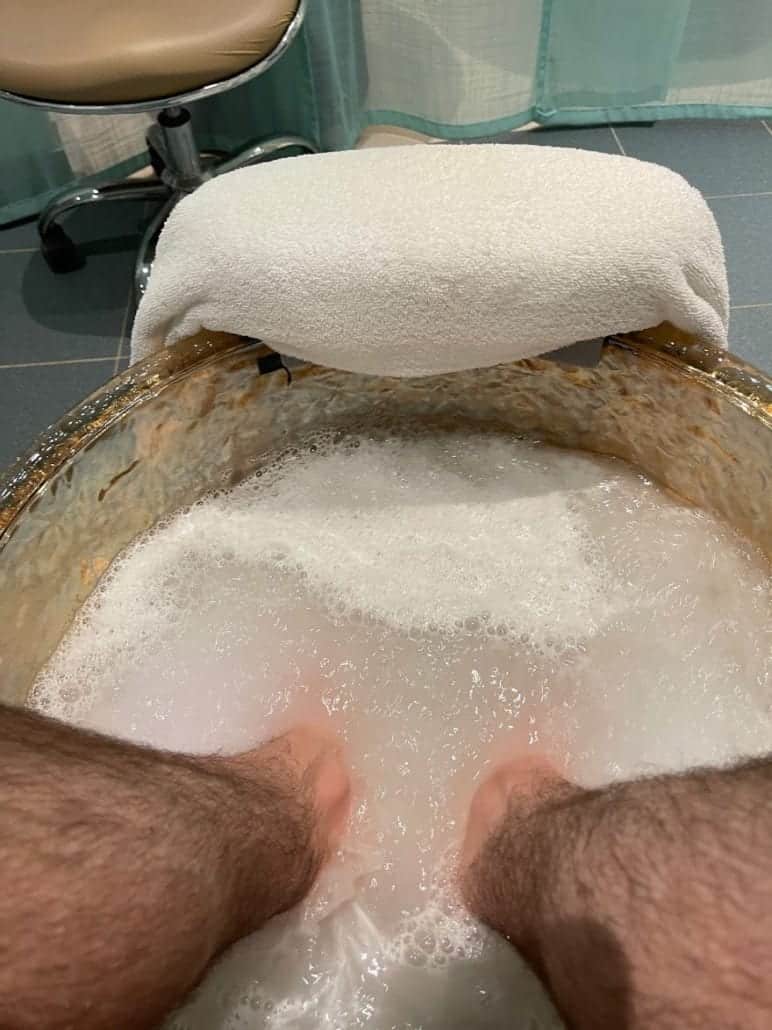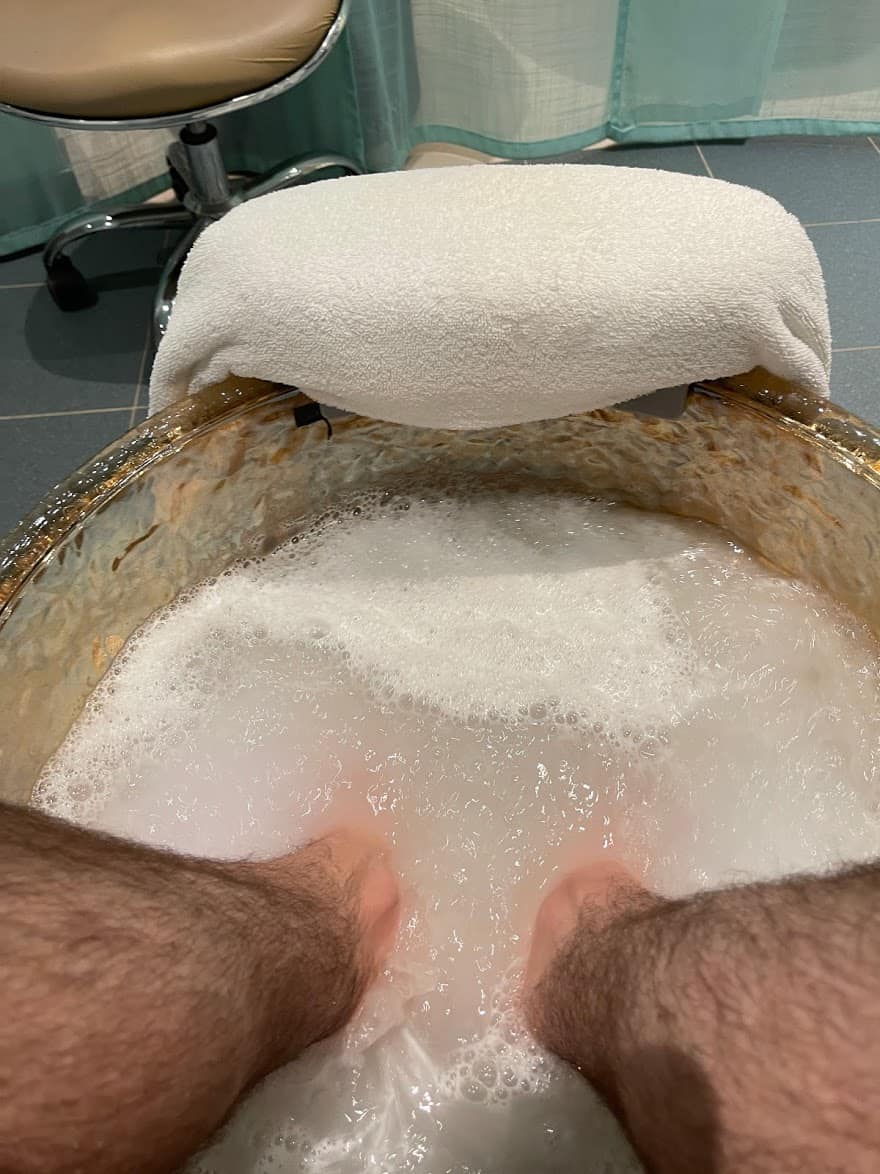 I fully admit that until a few years ago, I wouldn't have been caught dead getting a pedicure. But back in September 2019, during a sailing on the Carnival Sunrise, I gave it a try and came to the late-in-life realization that they aren't just for the ladies. I only get them after training for a major run, but I think of them as a nice little treat for myself.
I've mentioned before that crew members are all wearing masks. I noticed that in the spa; the crew members helping with my treatments were double-masked, probably because the interaction is so much more up-close than you have when, say, ordering a drink at the bar.
With my feet lookin' their very best, I headed to Guy's Pig & Anchor Bar-B-Que for lunch. I'd show you pics, but I completely forgot to take them. And if I'm being honest, it wasn't the best meal. It wasn't bad, it just wasn't as good as usual. Maybe I should have stuck with my always-dependable Guy's Burger Joint.
Next up, I headed to the Liquid Lounge where Brand Ambassador John Heald was doing a public Q&A session with Carnival Cruise Line President Christine Duffy.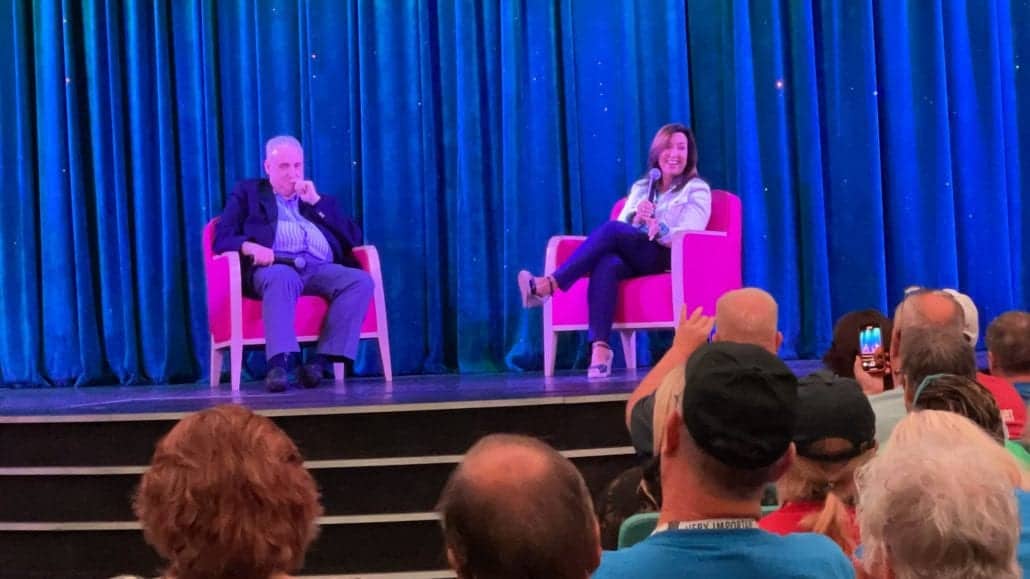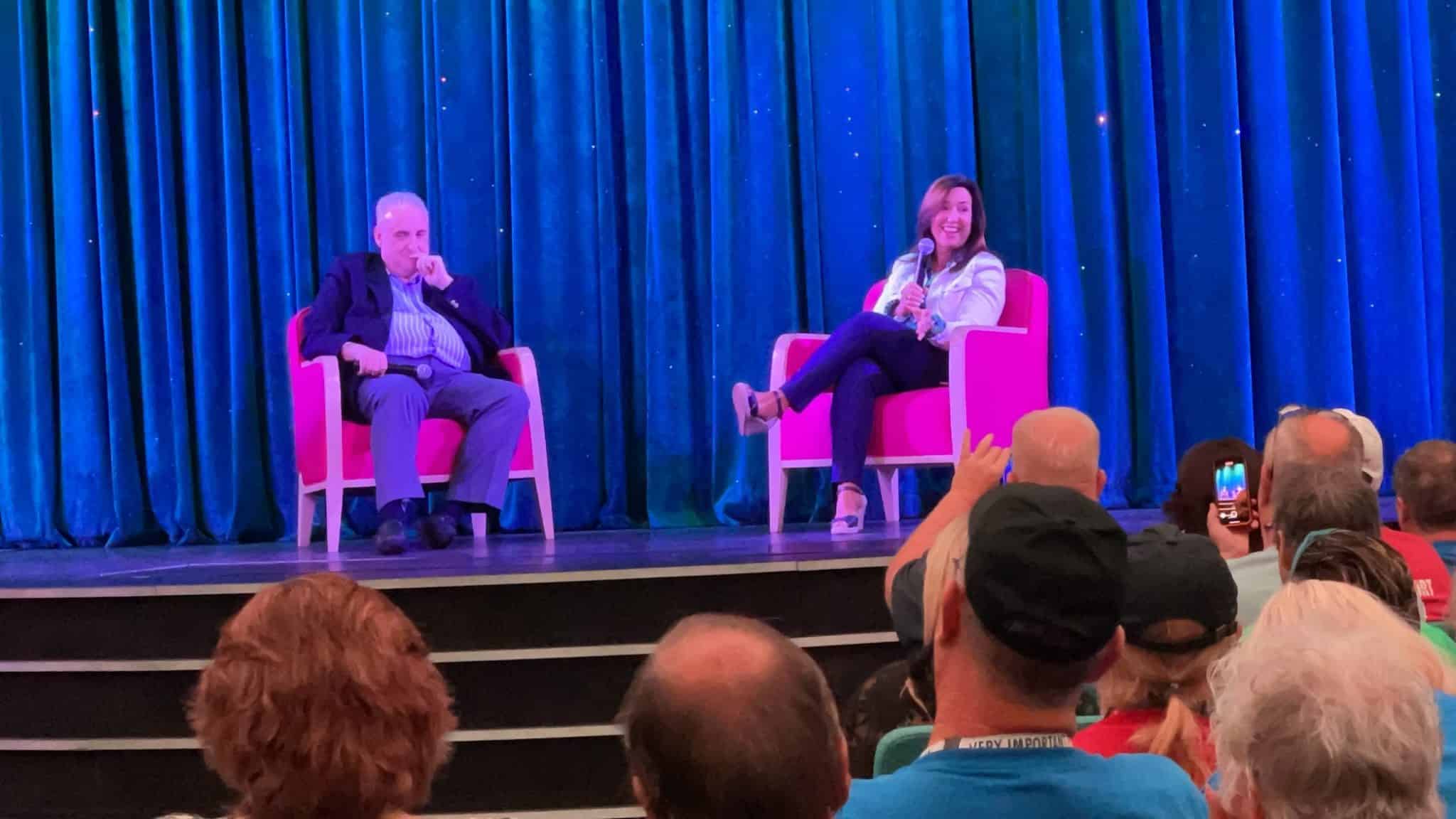 I sort of assumed a lot of their talk would be about protocols and how they were developed, but it turned out to be far more interesting and personal. Both shared stories of what was going on behind the scenes during the shutdown, both at Carnival and in their own lives. As always, Heald was the genial host whom everybody loves, while Duffy seemed to really thrive in the informal environment the session fostered.
READ MORE: DINNER MENU: Chibang Chinese & Mexican Restaurant on Mardi Gras
I wandered over to the SkyBox Sports Bar for a cocktail. It turned out the bartender on duty had previously been on the Carnival Panorama out of Long Beach.
On that ship, you'll recall, this space has been turned into the Heroes Tribute Bar. I'd had a drink in Heroes that I really loved, and the bartender was able to make the same one here, too.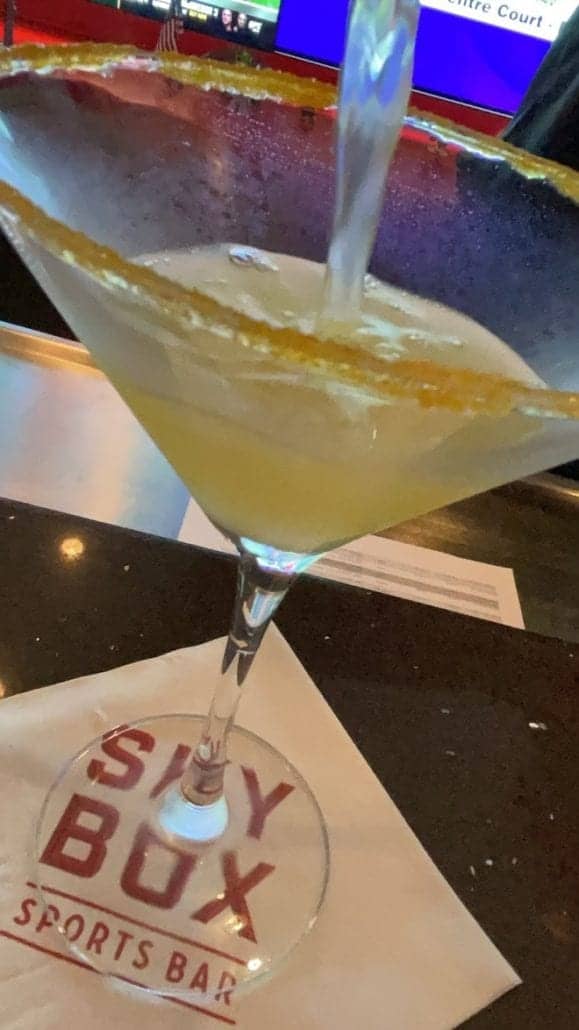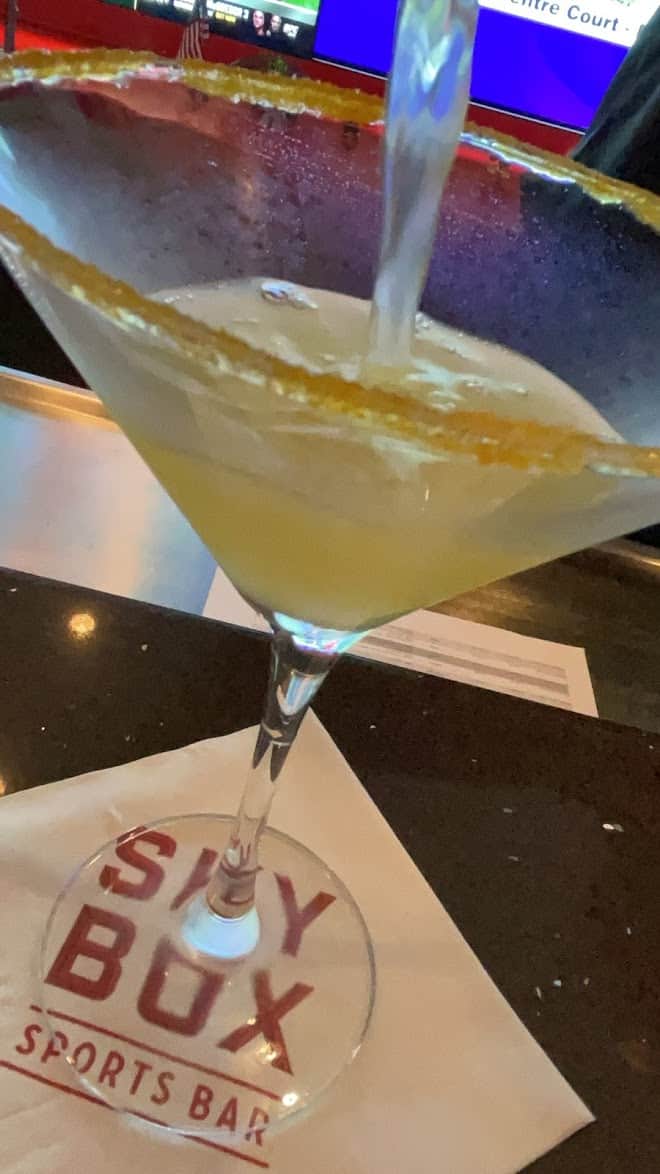 It's called the Space Age, and the "secret" ingredient is Tang, which you'll recall was always marketed as what the astronauts drink. The Space Age is Tito's (my favorite) vodka, Tang syrup, agave, orange juice, lemon juice, and a Tang-sugar rim.
After chilling out for a bit with my drink, I wandered down to Deck 5 where my friends said I could record my Cruise News Today episode on their balcony. There are few better ways to pass time on a ship than working while enjoying the company of friends, and of course gazing out at the ocean.
Afterward, it was time to head to the Main Dining Room for dinner. Along the way, I snapped a few pictures of doors that had been decorated. I feel like this is more common on Carnival than it is on most other cruise lines. I remember seeing a few on my last Norwegian Cruise Line trip, but not as bright and colorful and fun as some of the ones I'm seeing this week.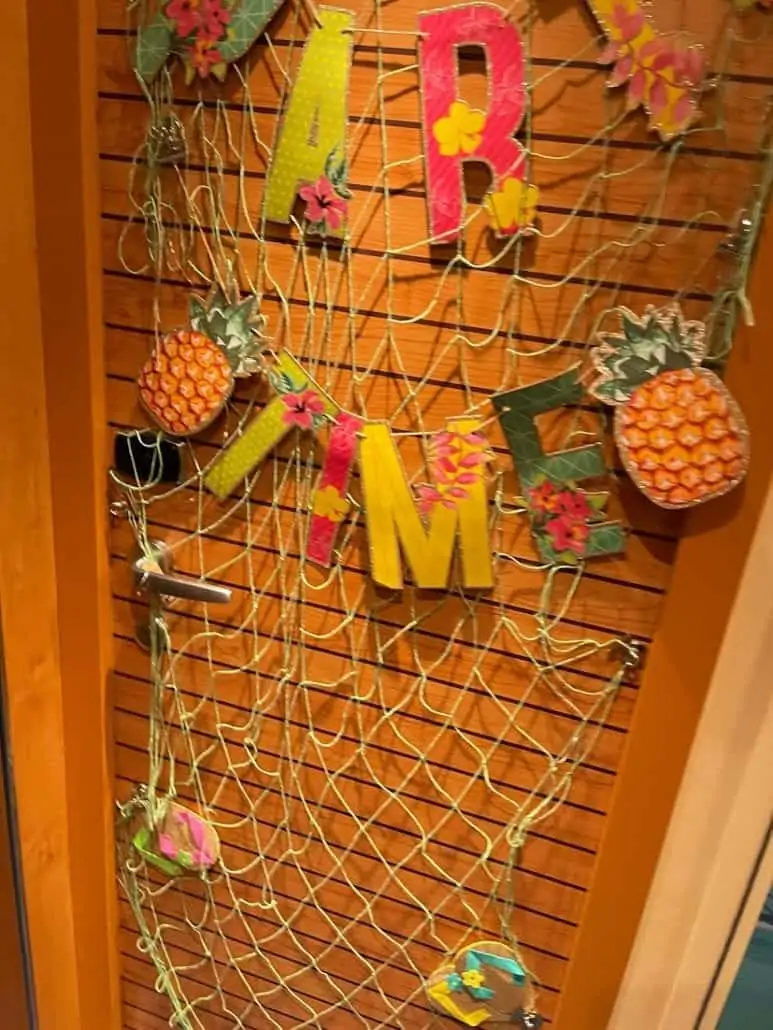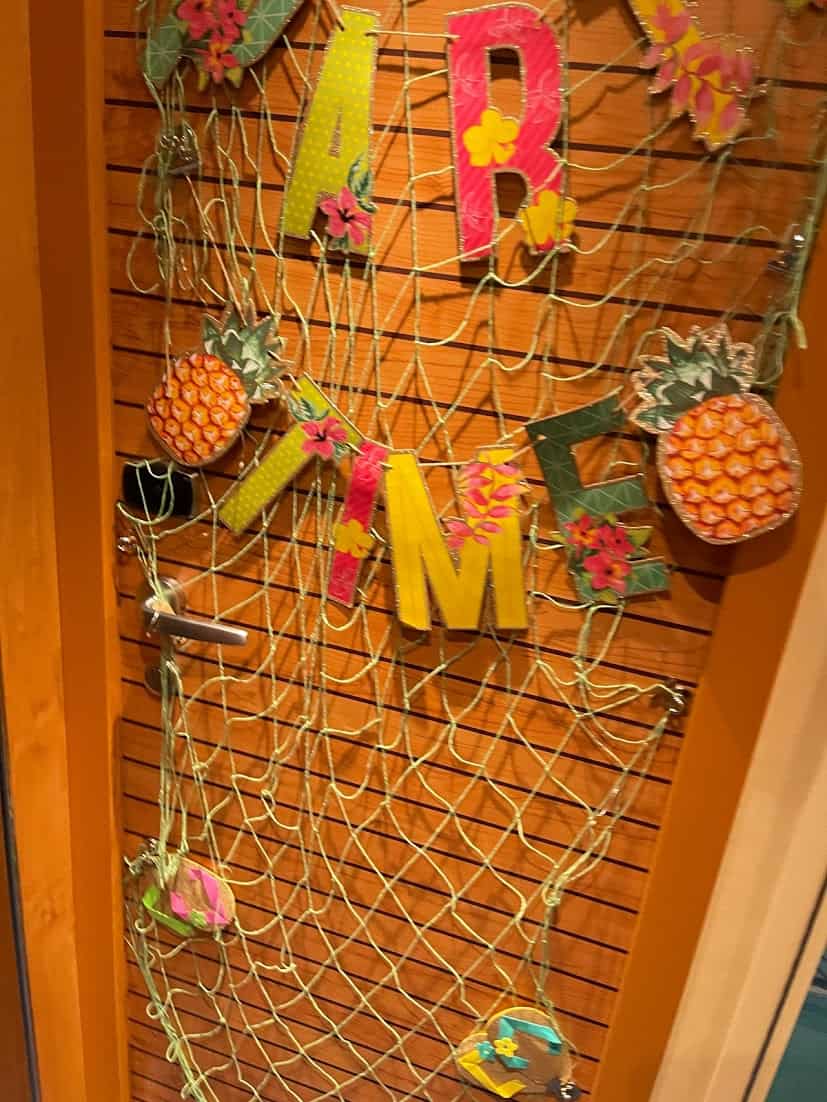 I don't think I showed you yesterday how the menu actually looks on your phone once you've scanned the QR code, so let's do that now.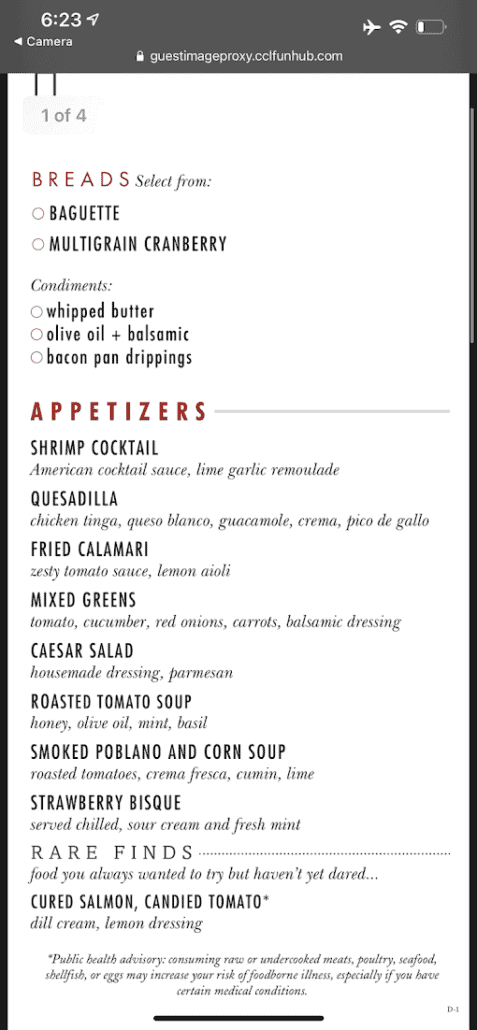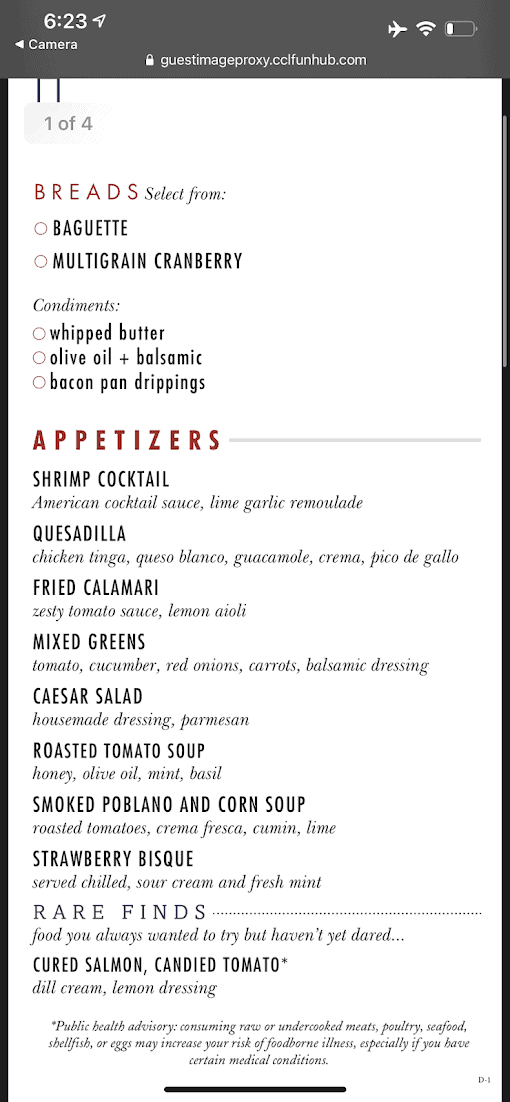 As you can see, the breads are at the top (as I mentioned, communal bread baskets are no longer a thing… which I'm kinda grateful for. Put a basket of bread in front of me, and I'm tempted to eat it all. Put a piece of bread in front of me, and I'm more likely to exercise some self-control!).
Meal-wise, it was a surf-and-turn night for me. That meant shrimp cocktail, then a plate of prime rib and a plate of lobster.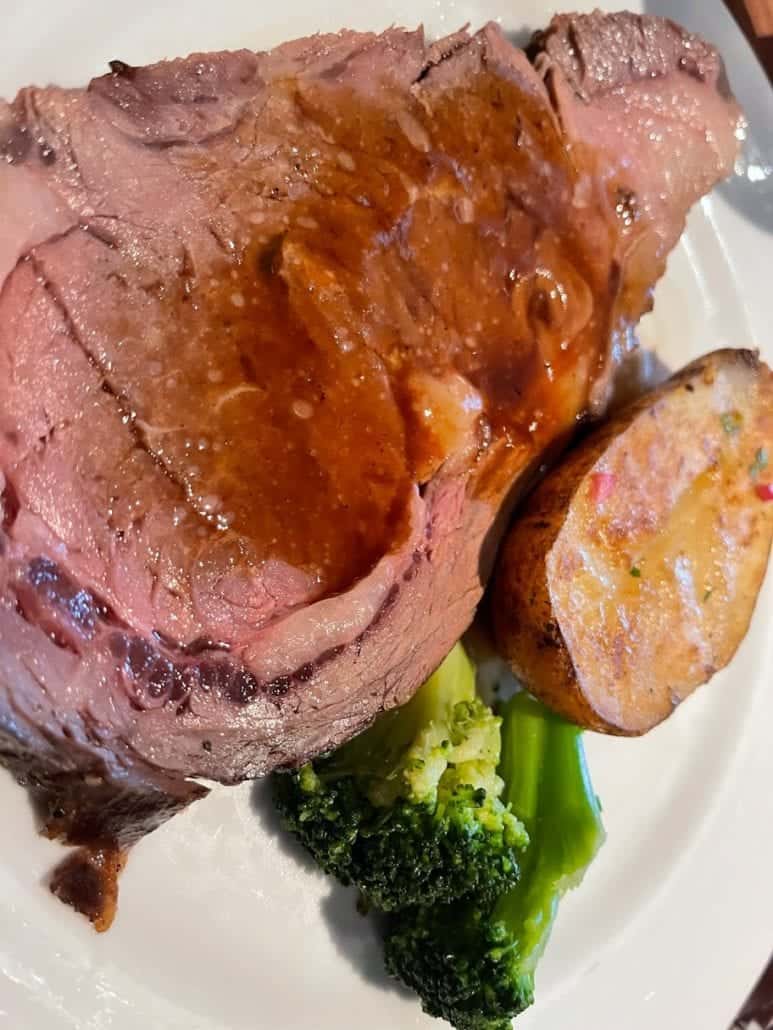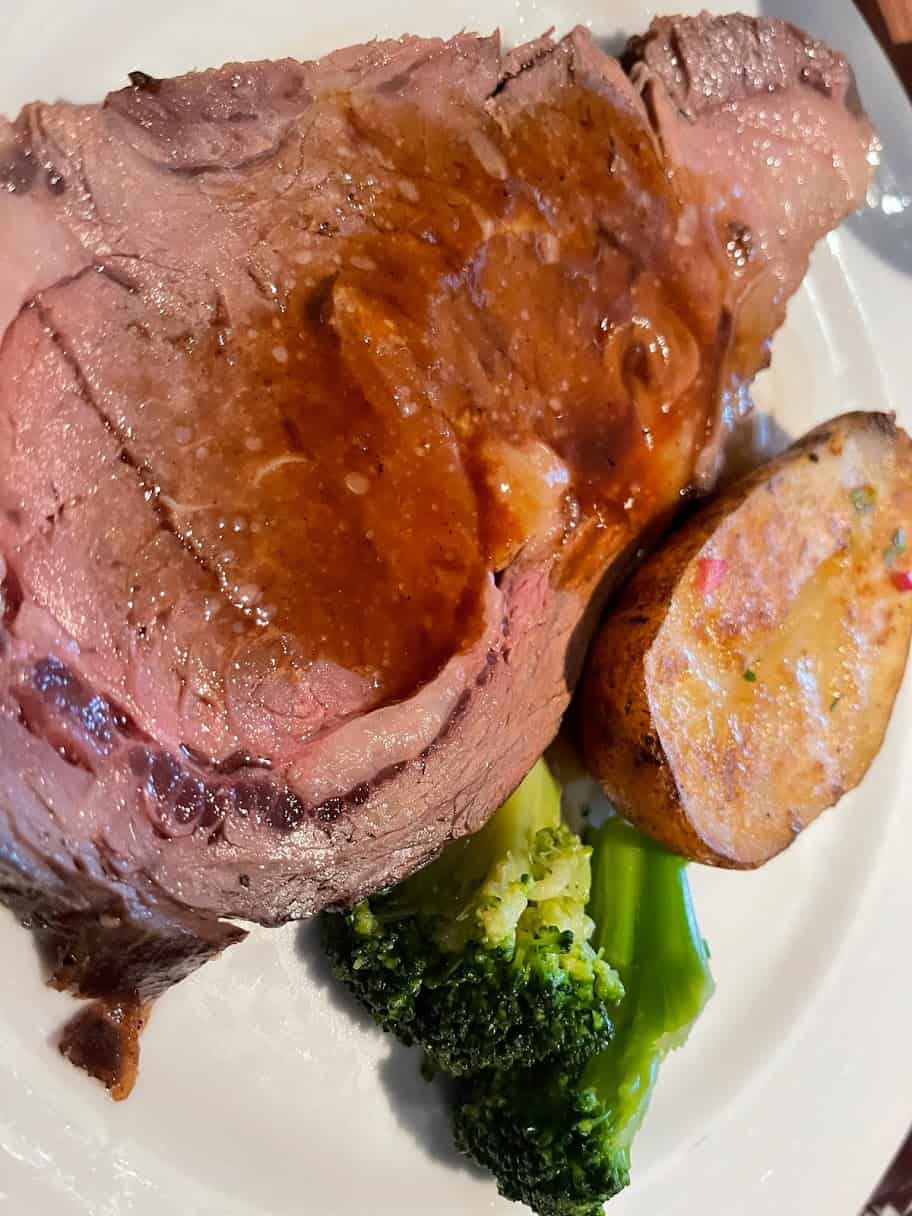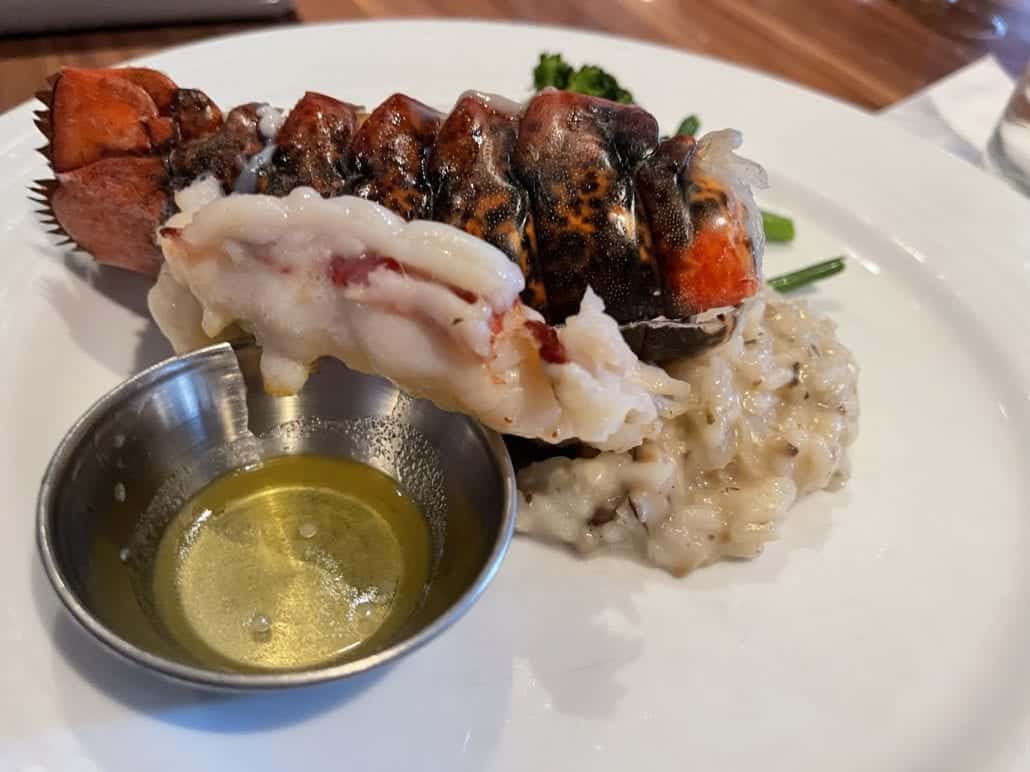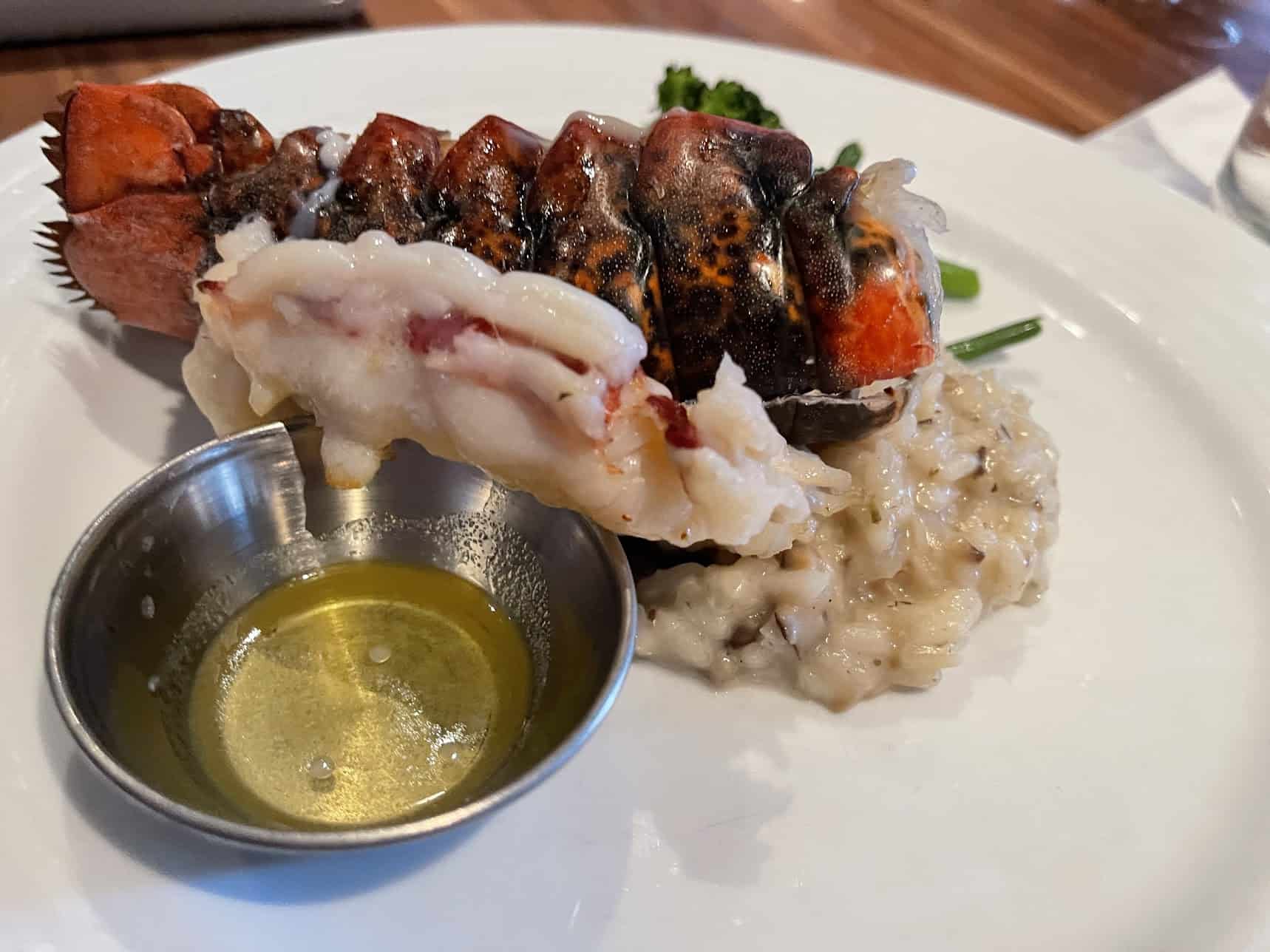 Apparently, word got out that yesterday was my birthday because as well as the crème brûlée I ordered, a second dessert — sort of a miniature birthday cake — showed up at the table.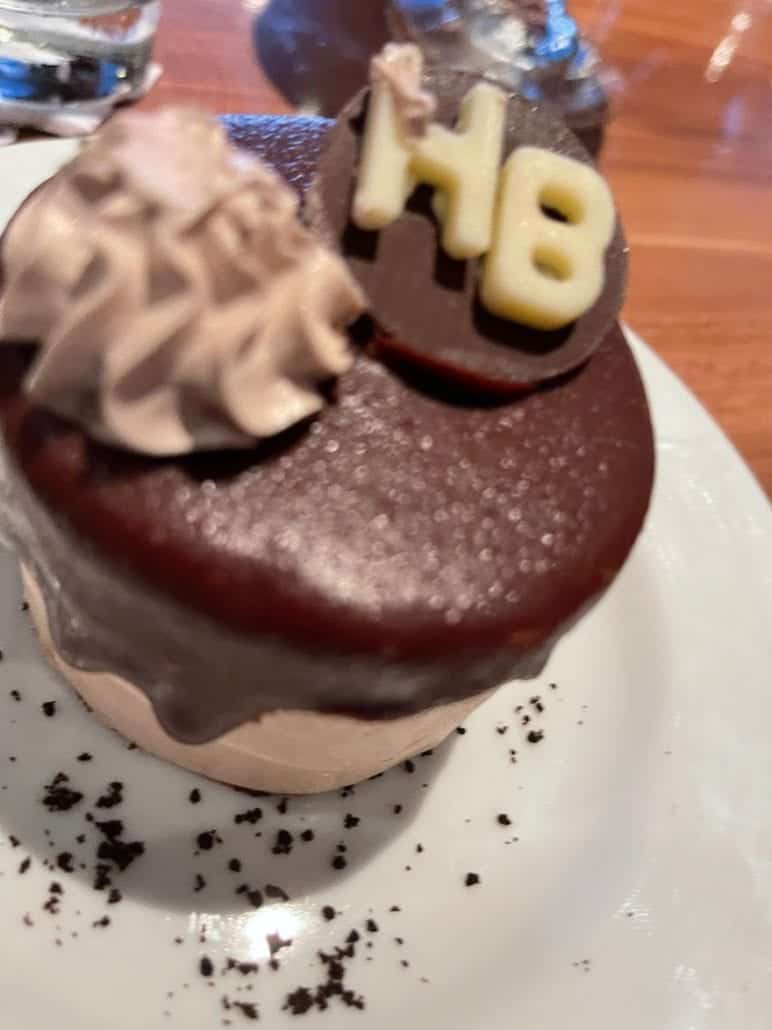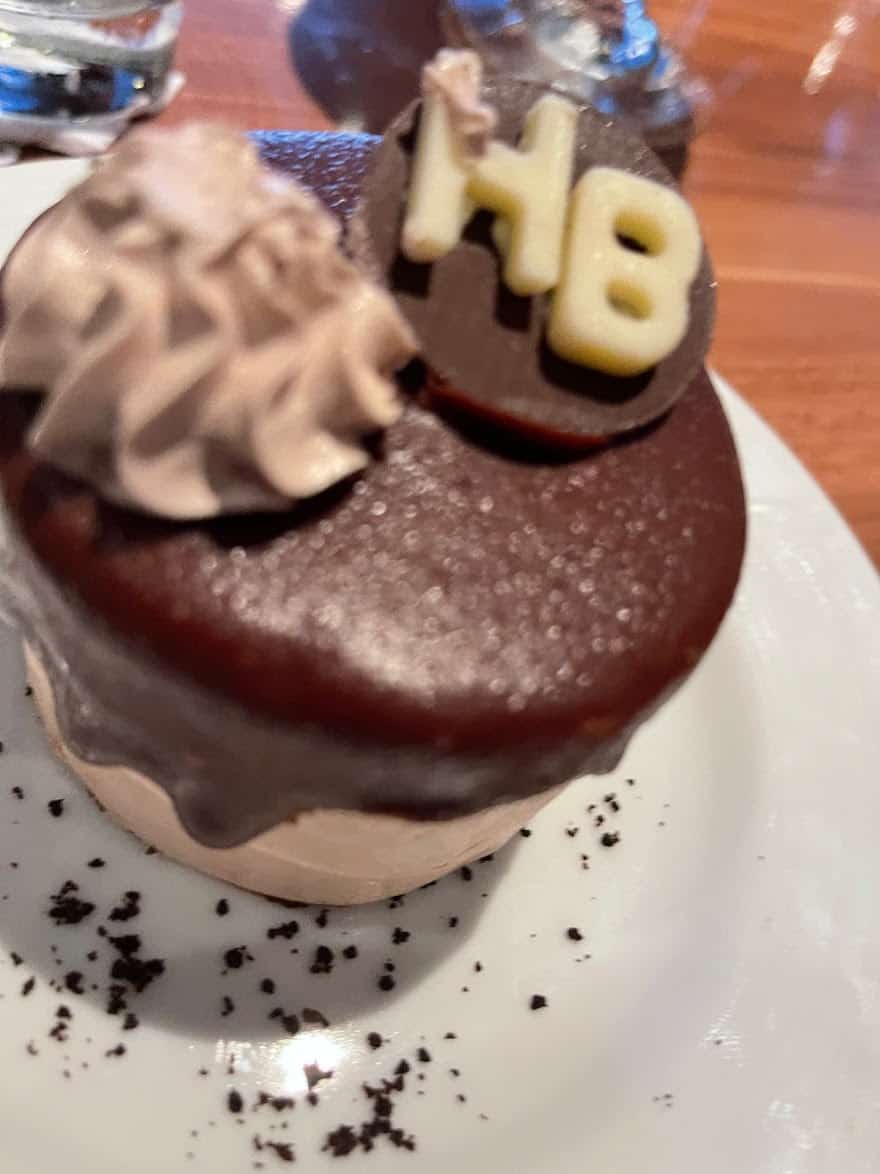 As if that weren't enough, there was another birthday cake — this one of a less edible variety — waiting on my bed when I got back to the stateroom.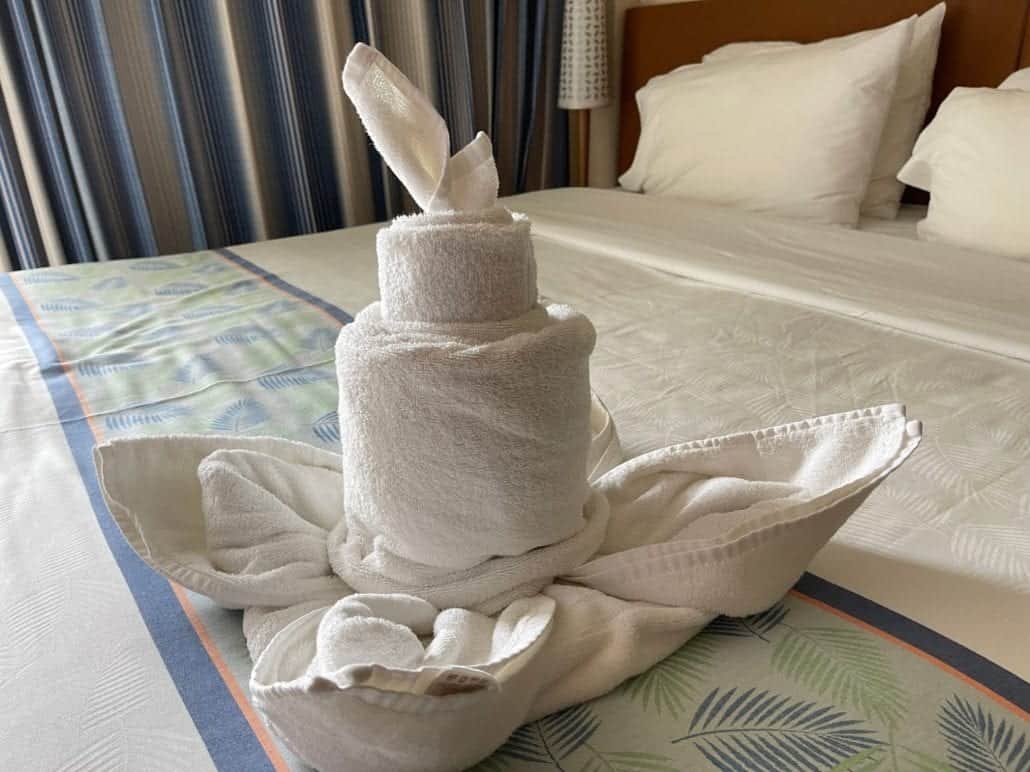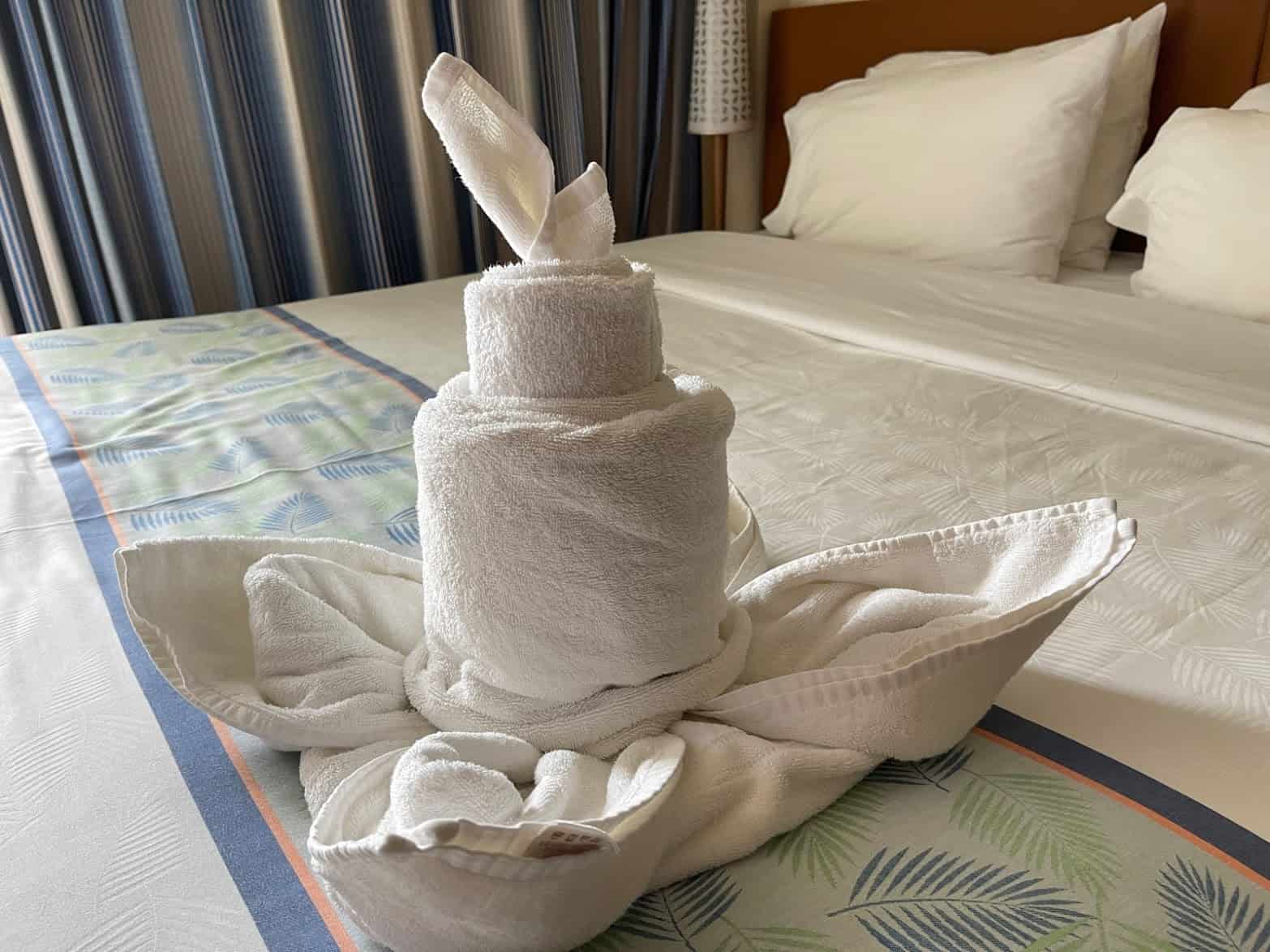 I did poke my head into the theater to enjoy a few minutes of the juggler, but that's about all the nightlife I had the energy for.
I promise, one night I'm going to actually drink some extra caffeine and find out what goes on around this ship after me and the other party-poopers crash out. But tomorrow we're visiting Amber Cove, which I'm very much looking forward to, so for tonight… it's lights-out.
Check out my other Carnival Horizon trip reports!