Editor's Note: Recently, our correspondent journeyed from the United States to St. Maarten in preparation for her first cruise in over a year. Here's her trip report on Day 5 aboard Celebrity Millennium, where she details more of the dining experience.
If travelers book a cruise on Celebrity Millennium, now sailing roundtrip from St. Maarten in the Caribbean, I'm happy to report that they'll find many tasty dining options including Metropolitan, the elegant, multi-level main dining room. Desire steaks or homemade Italian pasta? Then the specialty Tuscan Grille awaits. Or, for an almost indescribable dining experience that includes 3D animation fantasy on your table, Le Petit Chef delivers what's promised.
In a follow-up to my dining story (covering Sushi on Five, Blu, and Luminae) last week, here's a snapshot look from my perspective about these other dining options.
Stylish, Elegant Metropolitan
Ambling into the main dining room, the multi-level Metropolitan, one sees what's easily described as a gorgeous venue. It's both a throwback to the grand days of "liner" sailings, yet also has a "new luxury" feel. For me, nothing — absolutely nothing — beats the feeling of being at sea, and dining amid a grand, elegant space with large, multi-level windows that look out to sea and bring in natural light.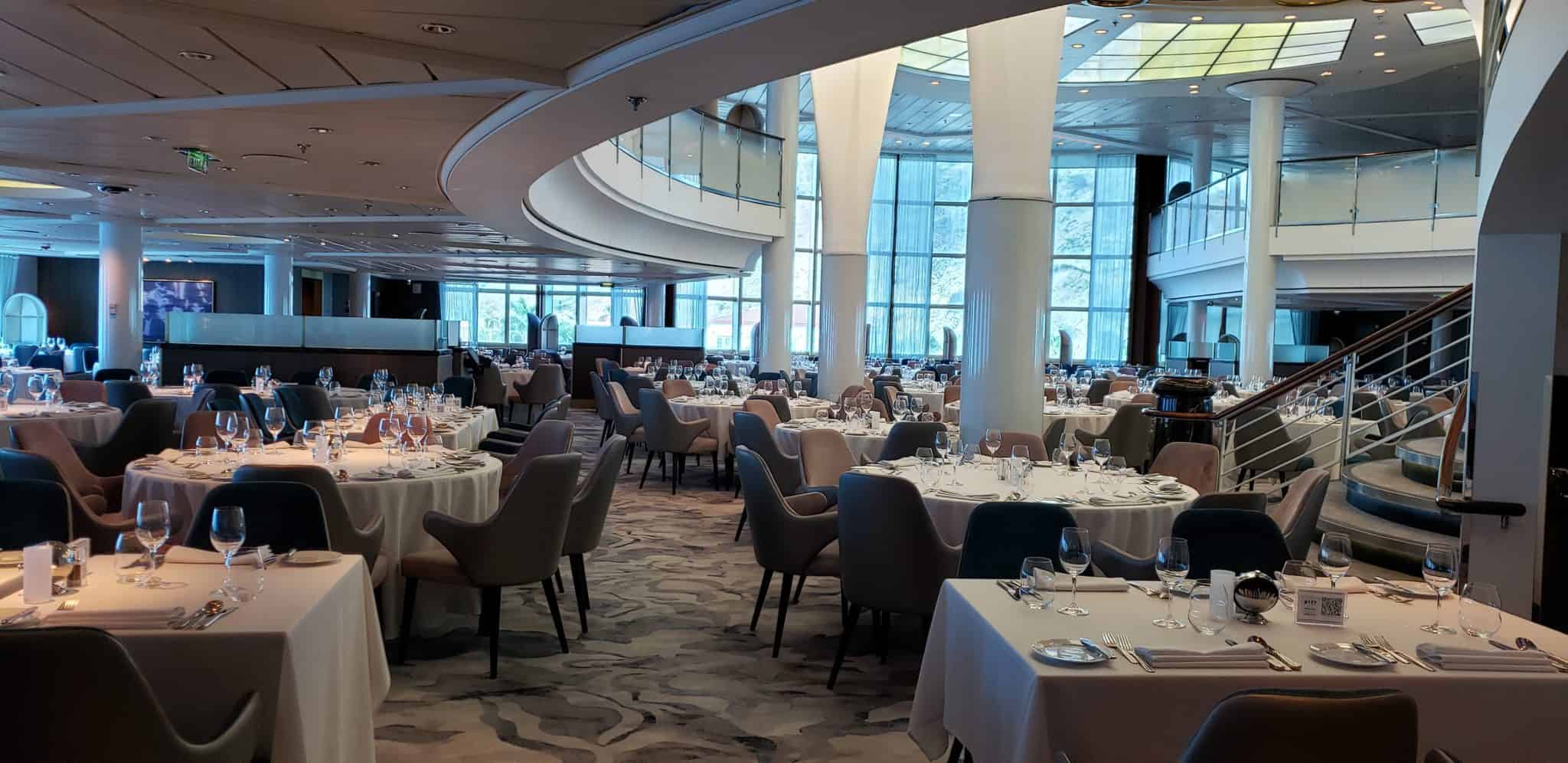 Our group was seated at a table appropriately distanced from other tables with diners. Since the line is holding capacity on this ship to under 50 percent, and it seemed far less on our cruise, plus there are multiple other restaurants onboard, I looked around to see plenty of empty tables at 6:30 p.m.
We dined here on Thursday night, and "Broiled Lobster Tail" was on the menu, but it's not there every night apparently. I only dined there once, but one night I dined in Luminae (the suite-class restaurant) and asked to see the main dining room menu too, and the lobster tail wasn't on it that night. So, if you definitely want lobster tail in Metropolitan, it's probably good to speak to the concierge or restaurant manager and ask early in the cruise what night it might be offered.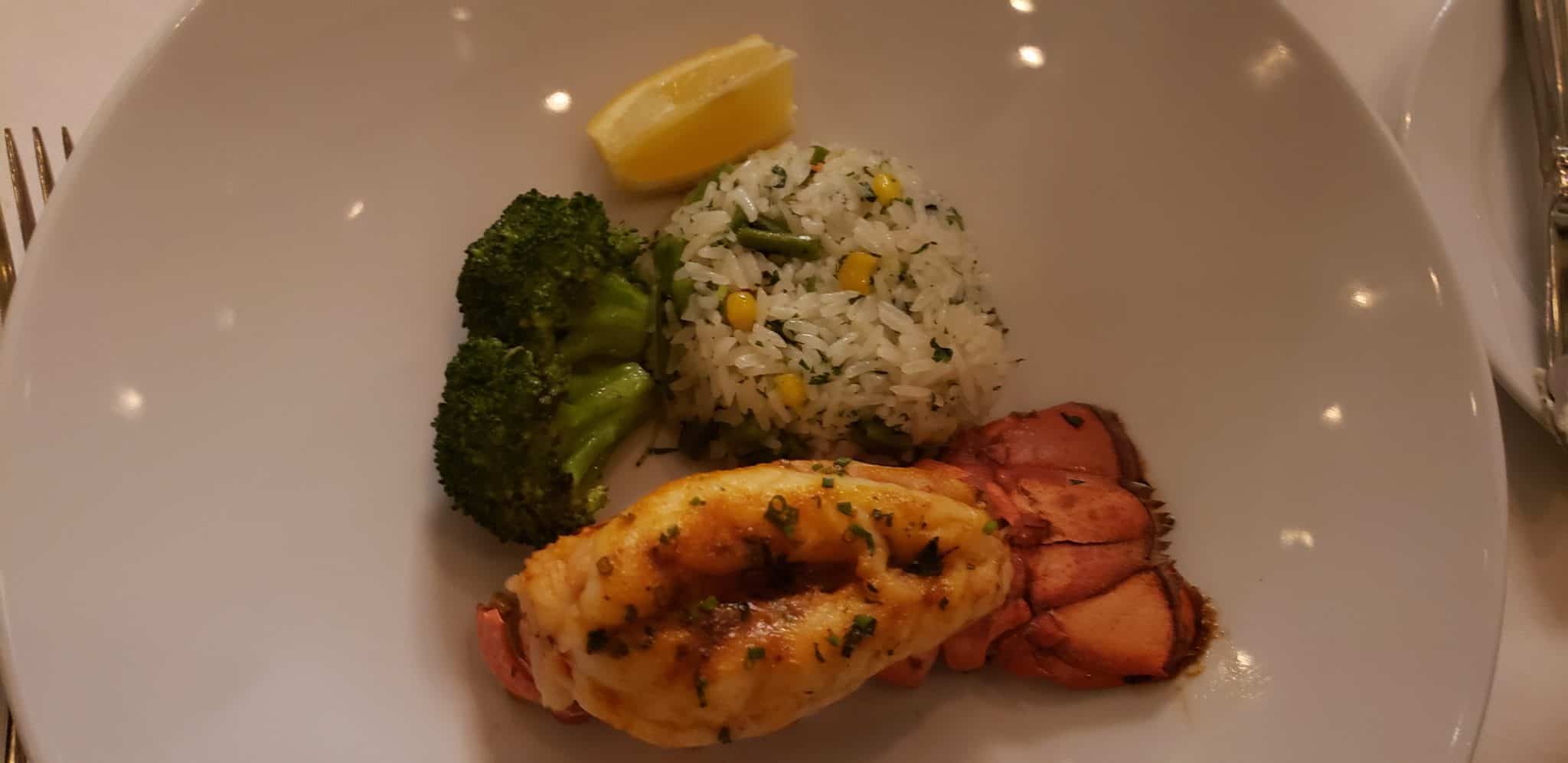 Here's a photo (above) of my "Broiled Lobster Tail."  I had a minute to admire the look of this entrée before the server adeptly separated the shell from the meat for me. But, no worries, if lobster isn't your thing, you'll find plenty of other entrée choices such as Herb Crusted Haddock Filet, Duck a L'Orange, which looked amazing, Leg of Lamb Provencal, Beef Wellington, Creamy Wild Mushroom Risotto and three so-called "Timeless Options" — Broiled Salmon, Grilled Chicken Breast, and Grilled New York Sirloin Steak.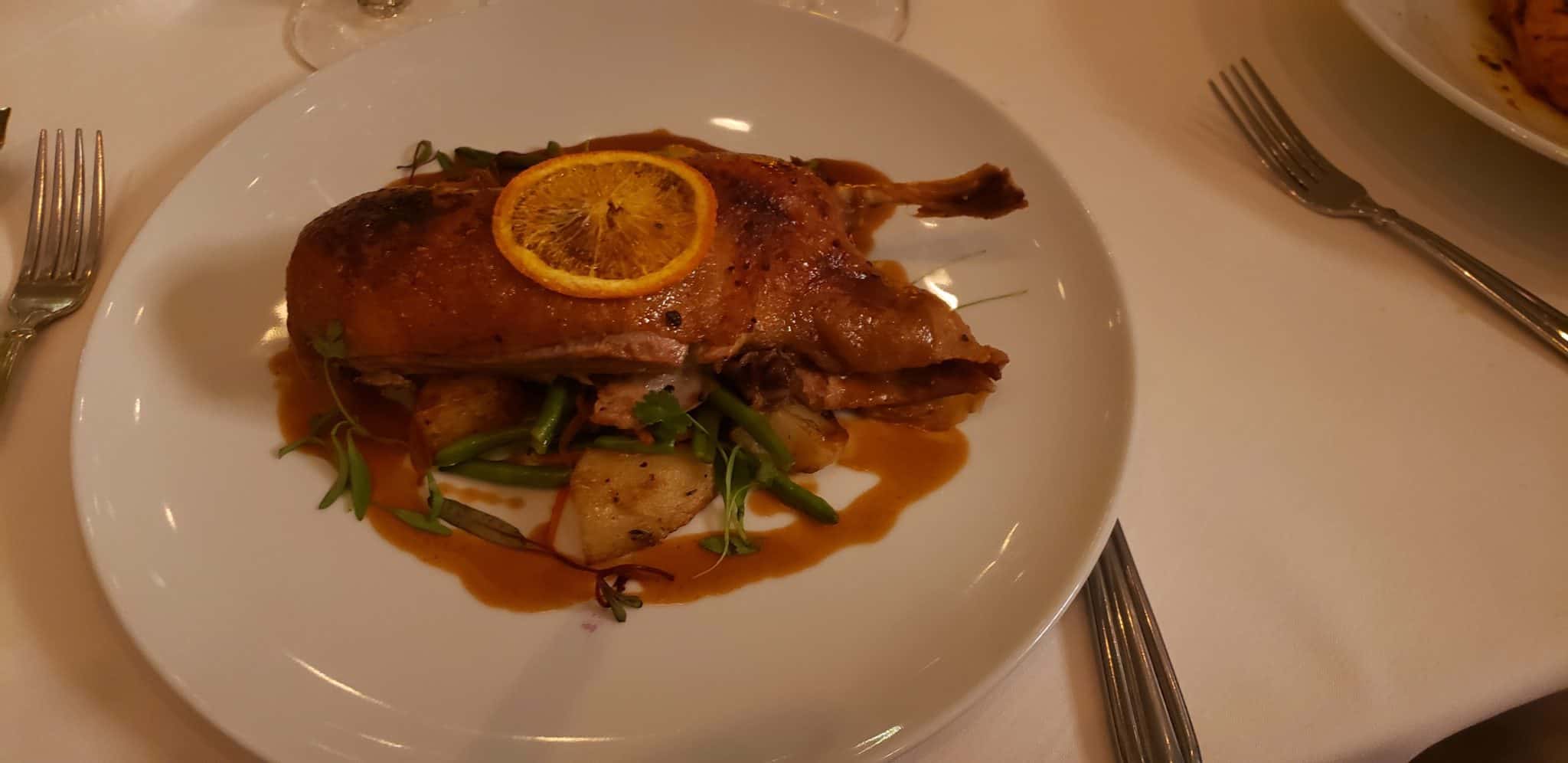 A starter on both nights' menus I looked at had my absolute favorite dish — escargot. One either loves it or hates it, I know. Well, for this cruiser, it's a treat, so I plowed ahead with spunk and requested two orders. As soon as I finished one, they immediately brought the second; both were hot and cooked perfectly so they were melt-in-your-mouth tender. No rubbery escargot here!
Alternatively, other starters during our evening in Metropolitan included "Kale Salad," "Shaved Prosciutto and Arugula Salad," "Creamy Smoked Tomato Bisque," "Scallops Rockefeller," "Chilled Pea Soup," "Creamy Salmon Rillette," "Classic Caesar Salad," "Chilled Shrimp Cocktail," and "Baked French Onion Soup."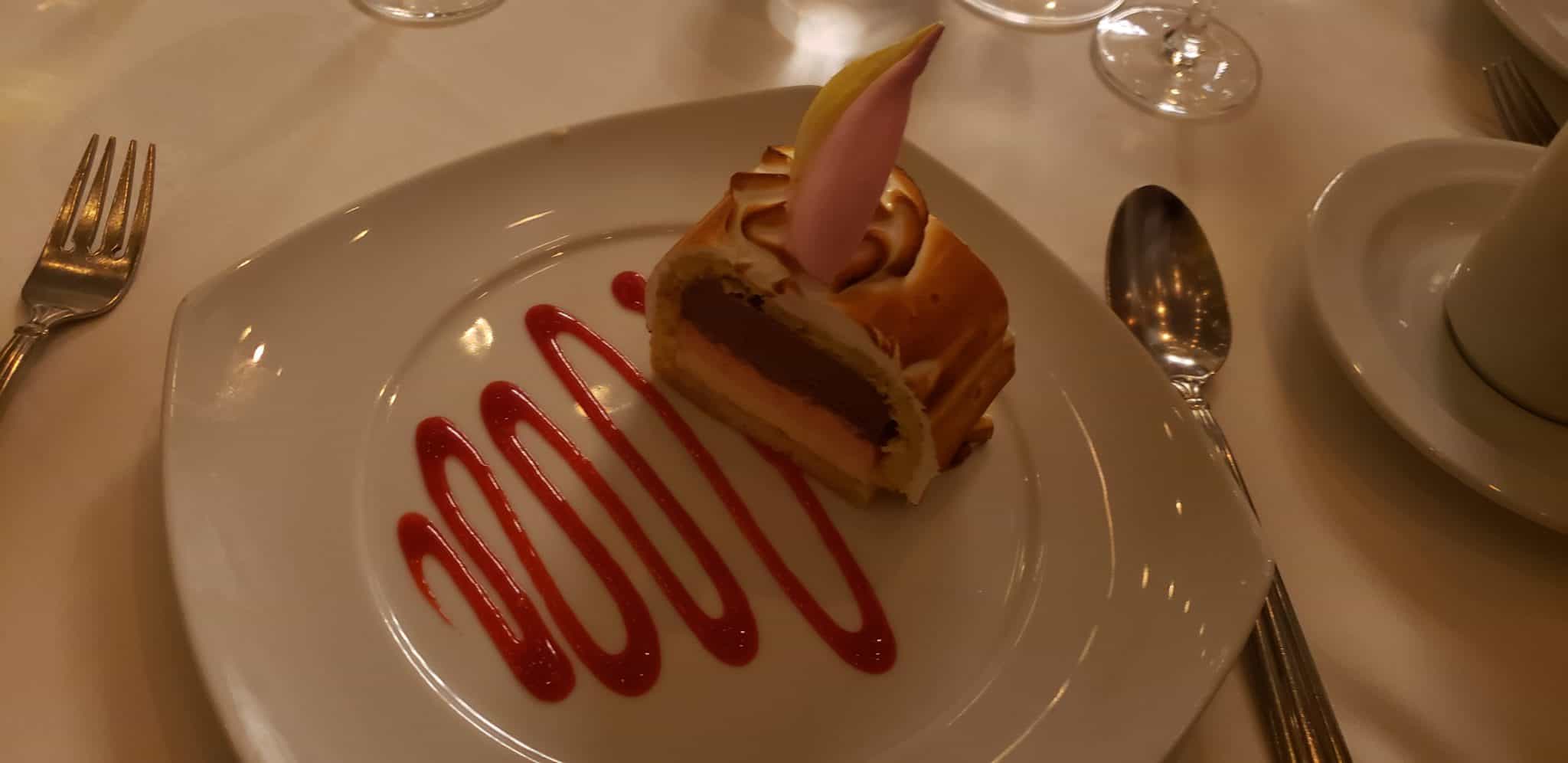 For dessert, I couldn't resist ordering the traditional "Baked Alaska," which had an impressive presentation on the plate and was quite smooth and yummy. That said, if you're expecting a parade of waiters with sparklers that one might see on some lines in a more traditional approach, that didn't happen here, at least during my dinner.
For the perfect food-drink pairing, the sommelier is ready to assist.
A Cornucopia of Tuscan Delights
I dined two nights in Tuscan Grille, a specialty dining venue priced at $45 per person for dinner, $25 per person at lunch. Think Italian ristorante with a contemporary twist. Most of Tuscan Grille's menu is included (covered by that entry price), and from the feedback around my table, nearly everything offered is very tasty.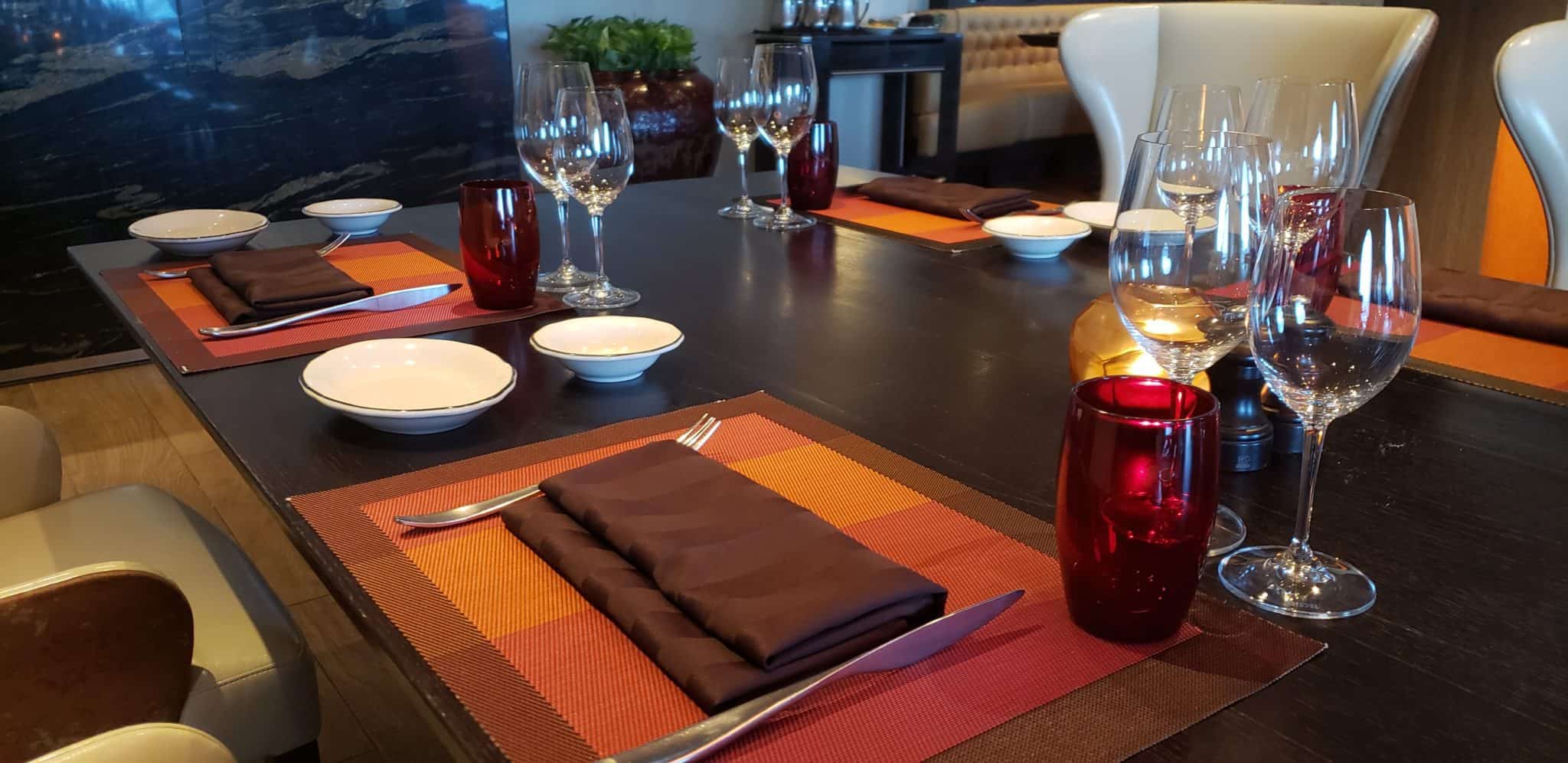 One big draw, for sure, are the luscious home-made pastas. One tablemate of mine ordered three different ones, requested them as an entrée and loved these. So, pick your personal favorite and "have at it." Pasta choices include Three Meat Lasagna, Strozzapreti Carbonara, Chicken Parmesan, Spaghetti and Meatballs, Ricotta Gnocchi, Shortrib Pappardelle Ragu, and Lobster Rigatoni Alfredo.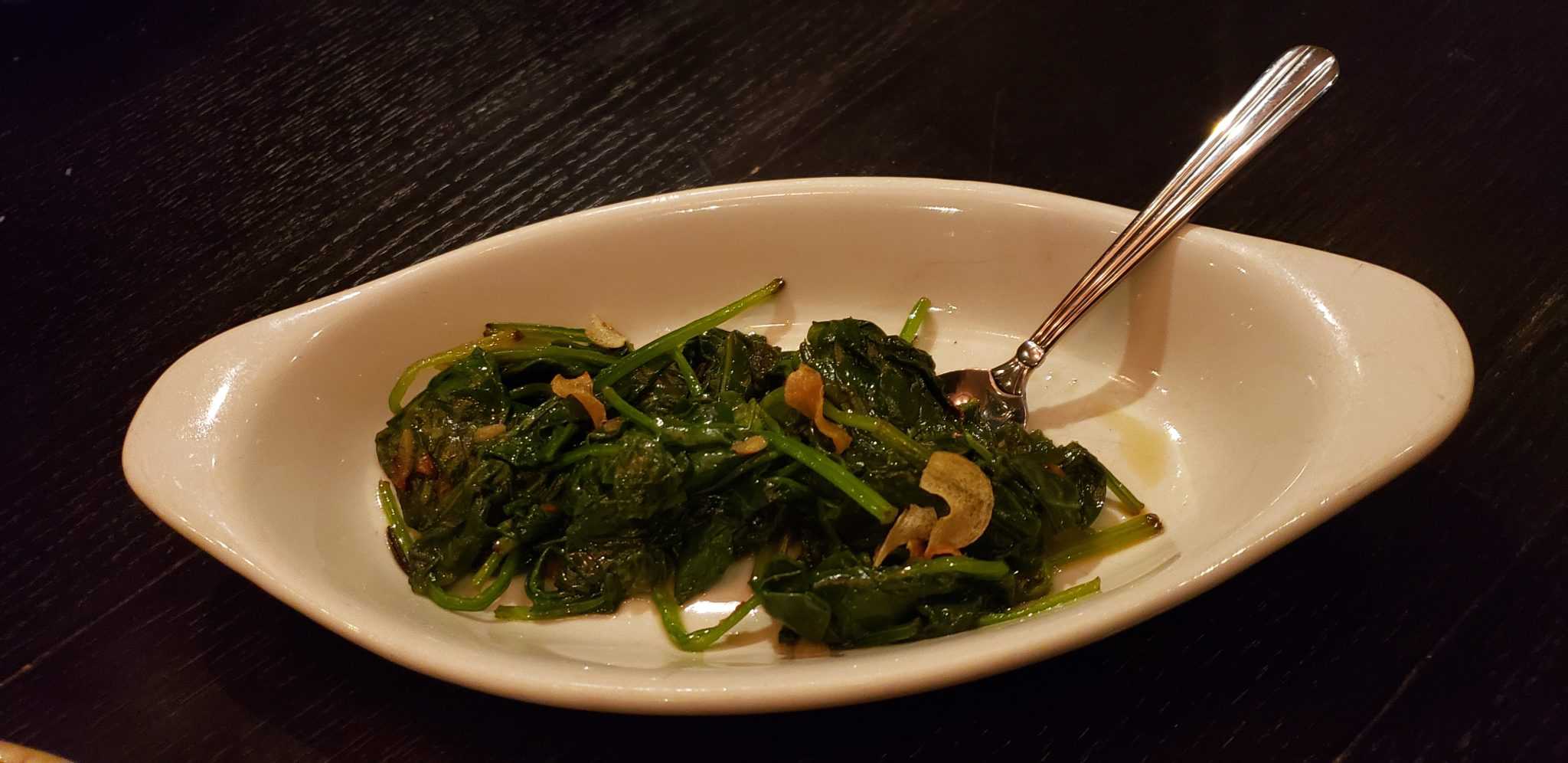 On the pasta listings, the menu says: "Please inquire about half-size portions." Great advice as portions were quite robust, so I'd say that a half portion is suggested for most people if you're ordering multiple courses for dinner.
Two members of my party enjoyed the "Roasted Beef Ribeye" (10 ounce) and "Broiled Filet Mignon" (9 ounces). Among other entrees were a "Grilled Skirt Steak" (12 ounce), "Veal Marsala," (10 ounce) "Lemon Garlic Brick Chicken," (16 ounce) and three "from the sea" choices – "Grilled Branzino," "Rosemary Snapper" and "Tuna Romanesco."
Sides? I loved the "Sauteed Spinach" (lightly cooked, fresh and tasty), plus the "Polenta Fries." Other sides include "Broccoli Aglio E Olio," "Garlic Mashed Potato," and "Cacio e Pepe" (pecorino spaghetti with cracked pepper). Servers will also bring such sauces as house steak sauce, beef jus, Gorgonzola, and rosemary peppercorn (definitely a thumbs up for me on this last one).
Looking for a big bruiser of a steak? Then check out the "Something Special" box on Tuscan Grill's menu. Several steaks there are available at an added charge. If you're seeking a big bruiser of a meat cut, order the 18-ounce "USDA Prime Aged Porterhouse Steak" (both flavorful and tender) at $22. Just know that it's definitely for those with a hearty appetite or die-hard steak lovers. In addition, "Dry Aged Sirloin Steak" (18 ounce for $15 and 9 ounce for $8) were other choices.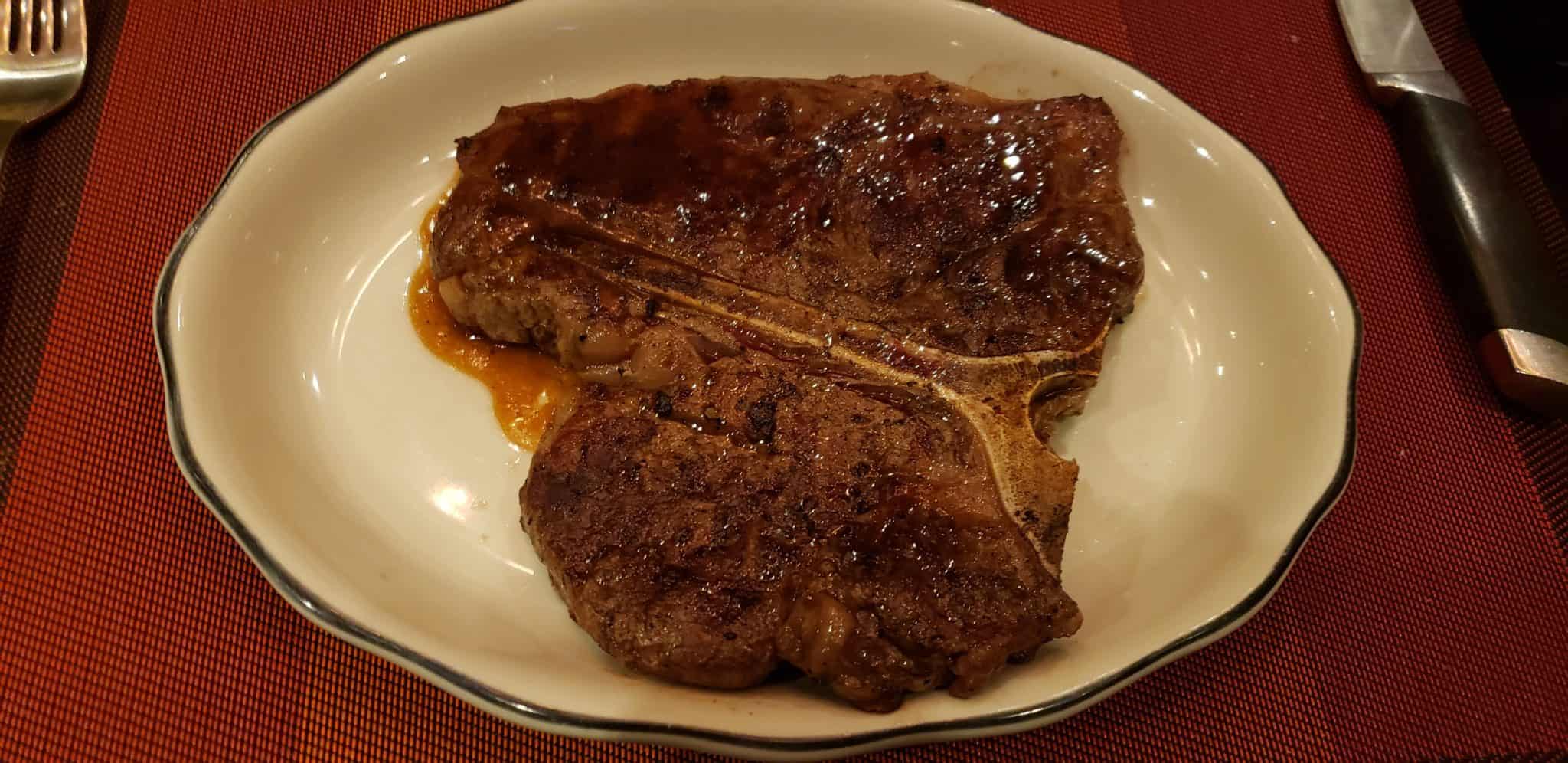 One nice facet of this eatery, though,  is that one doesn't have to order a traditional entrée or pasta. Two types of flatbread pizza are offered, and I took a photo of one my tablemate ordered. Looks yummy and, for her, it was.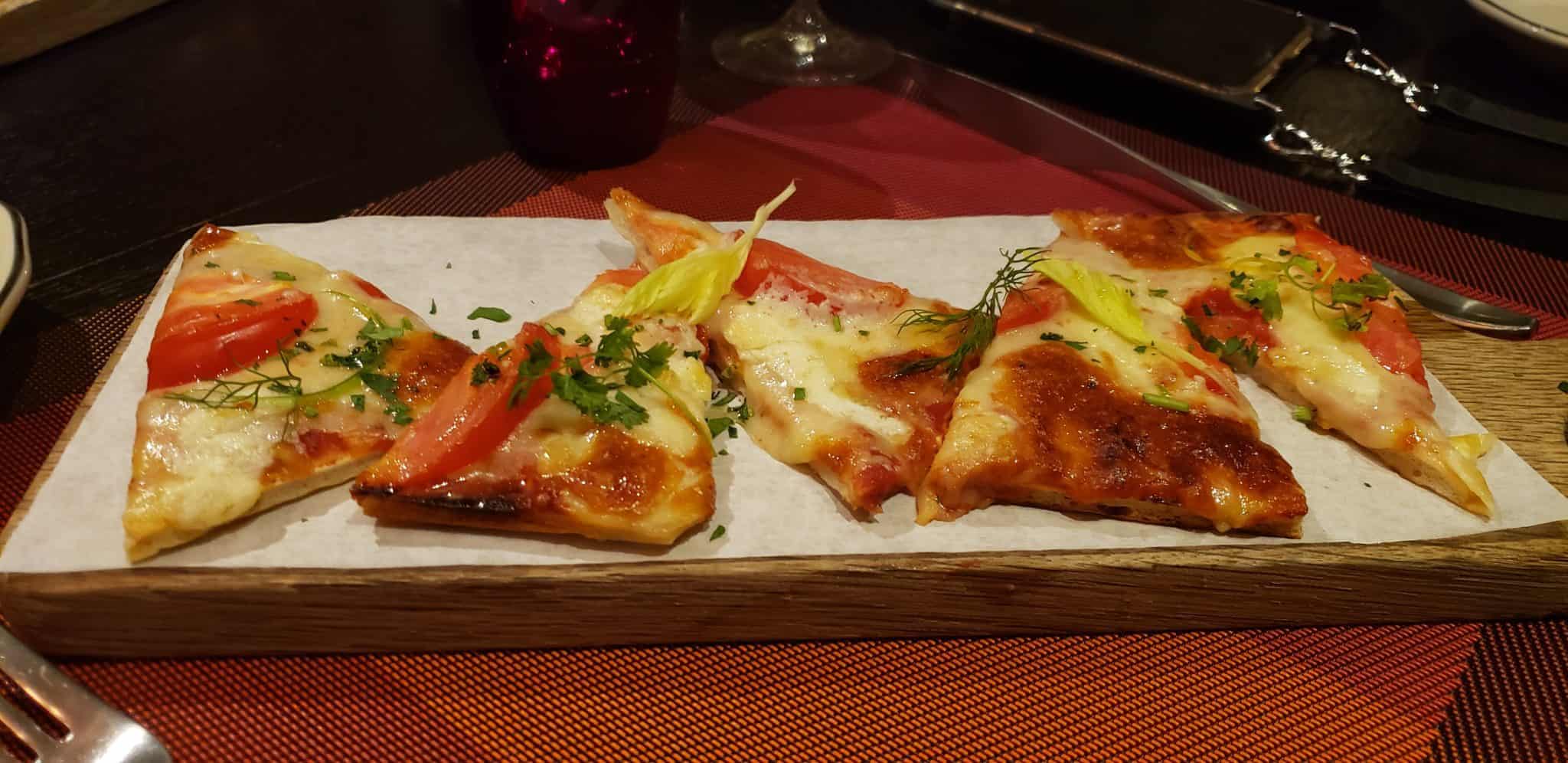 Yes, there are, of course, two soups, salads including "Caesar Salad," "Heirloom Beets," "Goat Cheese and Arugula," and "Creamy Burrata" (marinated tomato, pistachio pesto, shallot and toasted torn bread), and many starters too. Among those are "Berkshire Pork Belly," "Crispy Calamari," "Beef Carpaccio," "House Meatballs," and more. I ordered the "Crab Cake" minus peppercorn aioli, and it was quite tasty with good texture of crab and filling, although it was shredded crab and not big chunks.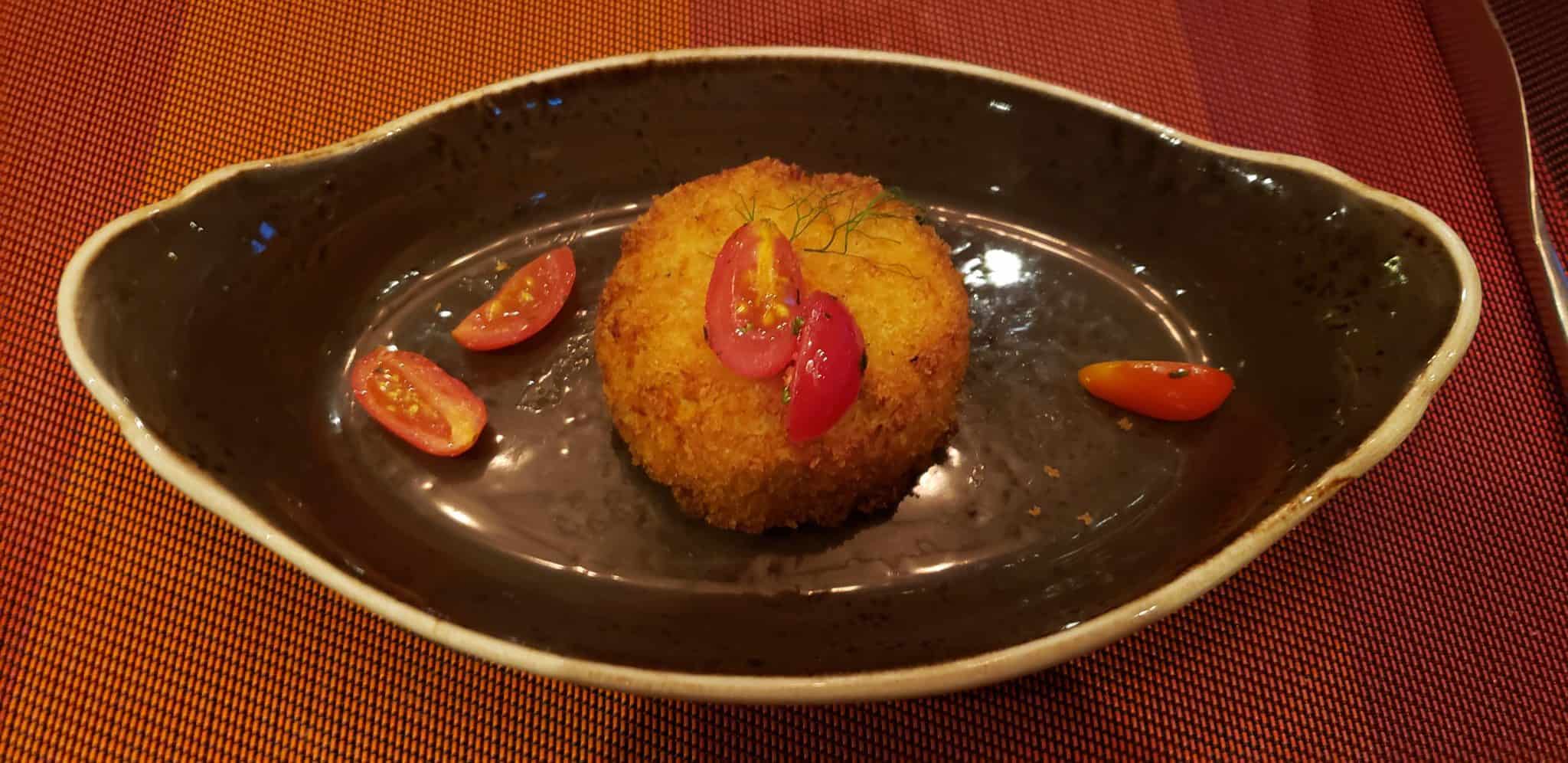 Animation Art Rules at Le Petit Chef
Occupying the space where QSine was in the past (that's gone on this ship, but the QSine sign was still up outside the restaurant), Le Petit Chef is an amazingly creative, virtual extravaganza. It's for dinner only and carries a $55 per-person charge.
Celebrity has partnered with Tablenation Studios and Skullmapping technology and the result, to be frank, is a genius experience. It's so creative, I have a hard time putting it into words! Custom 3D table animation art unfolds not only across the table but even onto your plate or glass. Colorful patterns as well as Le Petit Chef characters "inhabited" our large table for a group, but individual tables for two or four had similar displays too.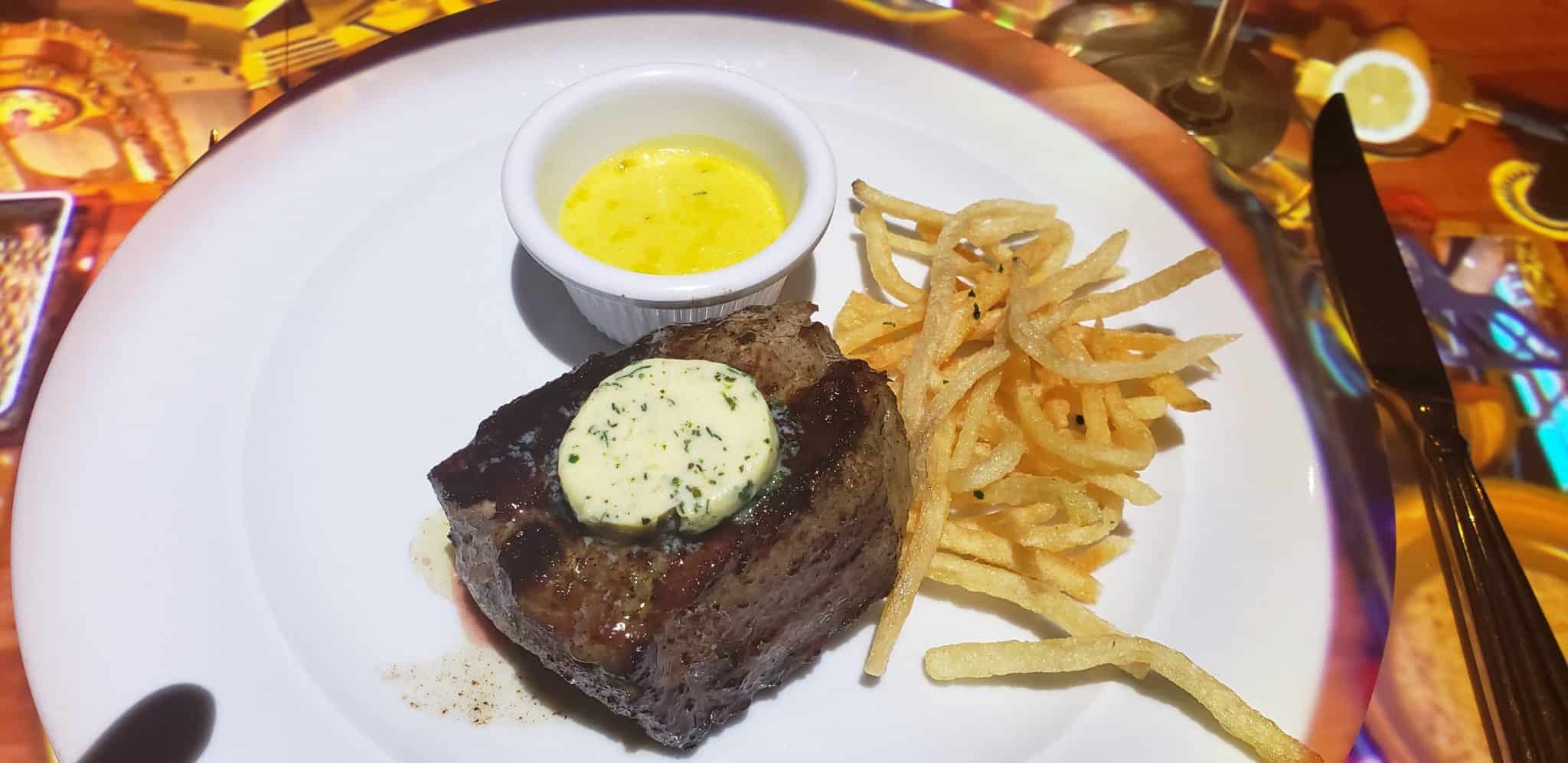 Some funny bits will have diners chuckling throughout the meal. I loved seeing a moving, snorting bull, characters, and patterns on my plate and even across the top of my cup of caramel macchiato. In one case, an animated "baker" threw out a big block of dough (partly on the table, partly extending under my fork, leaving me wondering how the heck did they do that?) and then proceeded to get into a virtual steamroller and roll out the dough that way. I couldn't help but laugh out loud.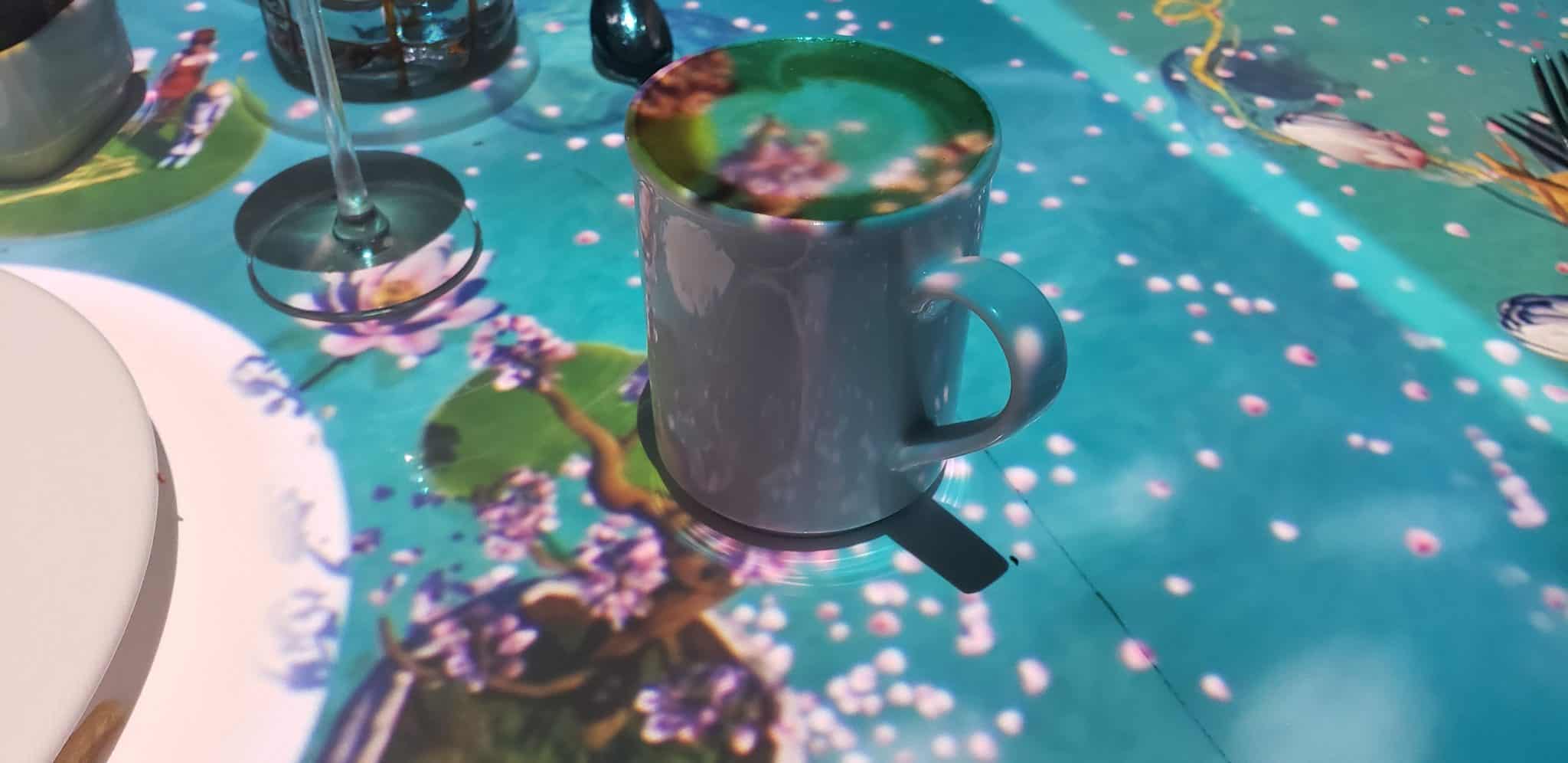 The cuisine itself was quite good. In the past, I've experienced Le Petit Chef on two other Celebrity sailings. I have to say this. During this cruise, I appreciated this presentation and the finetuning/enhancements made to Le Petit Chef over the years. I found this a terrific evening dining experience. Celebrity really has it "down pat," with various culinary courses arriving at just the right time amid the storytelling." Don't miss it.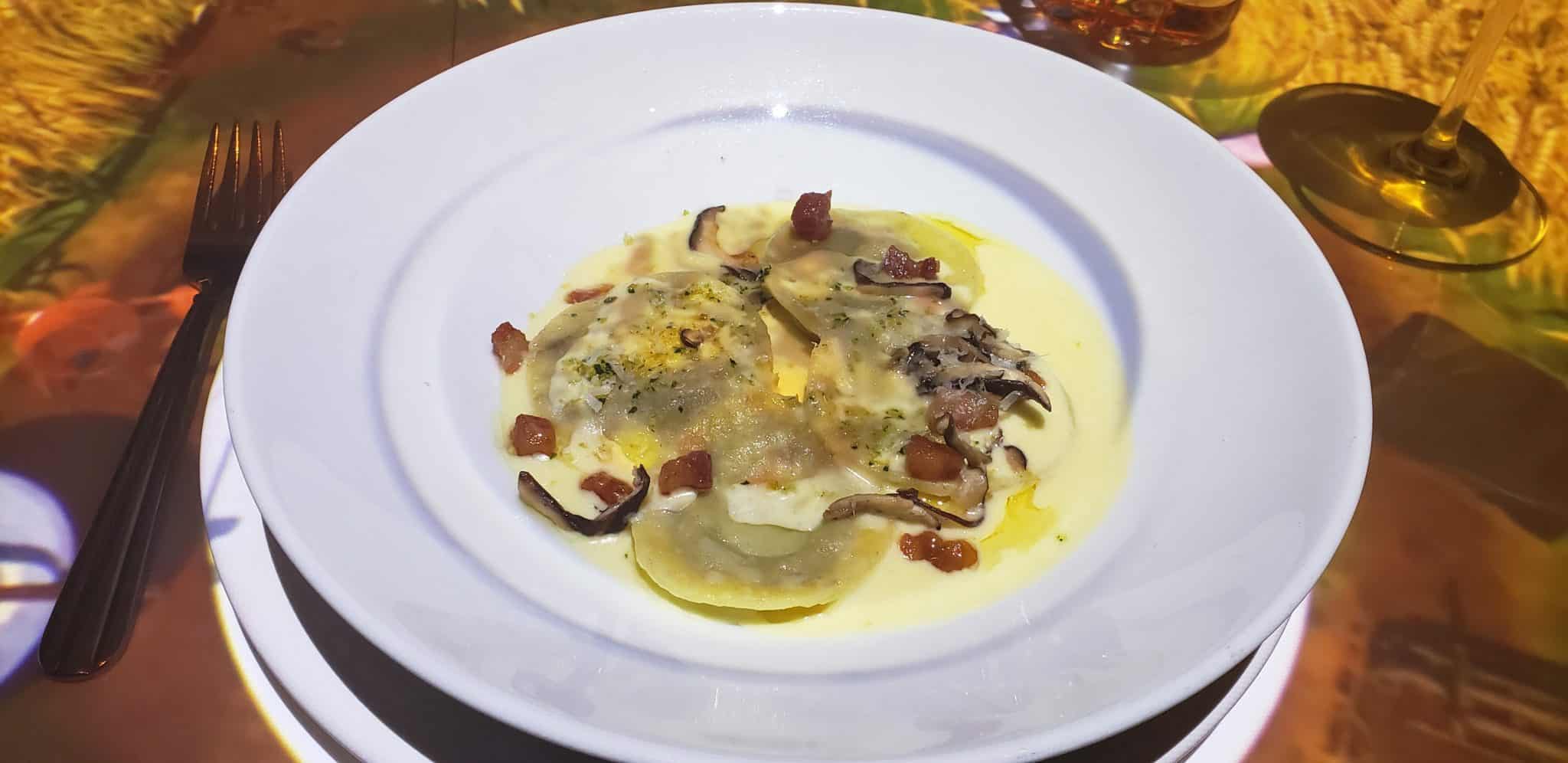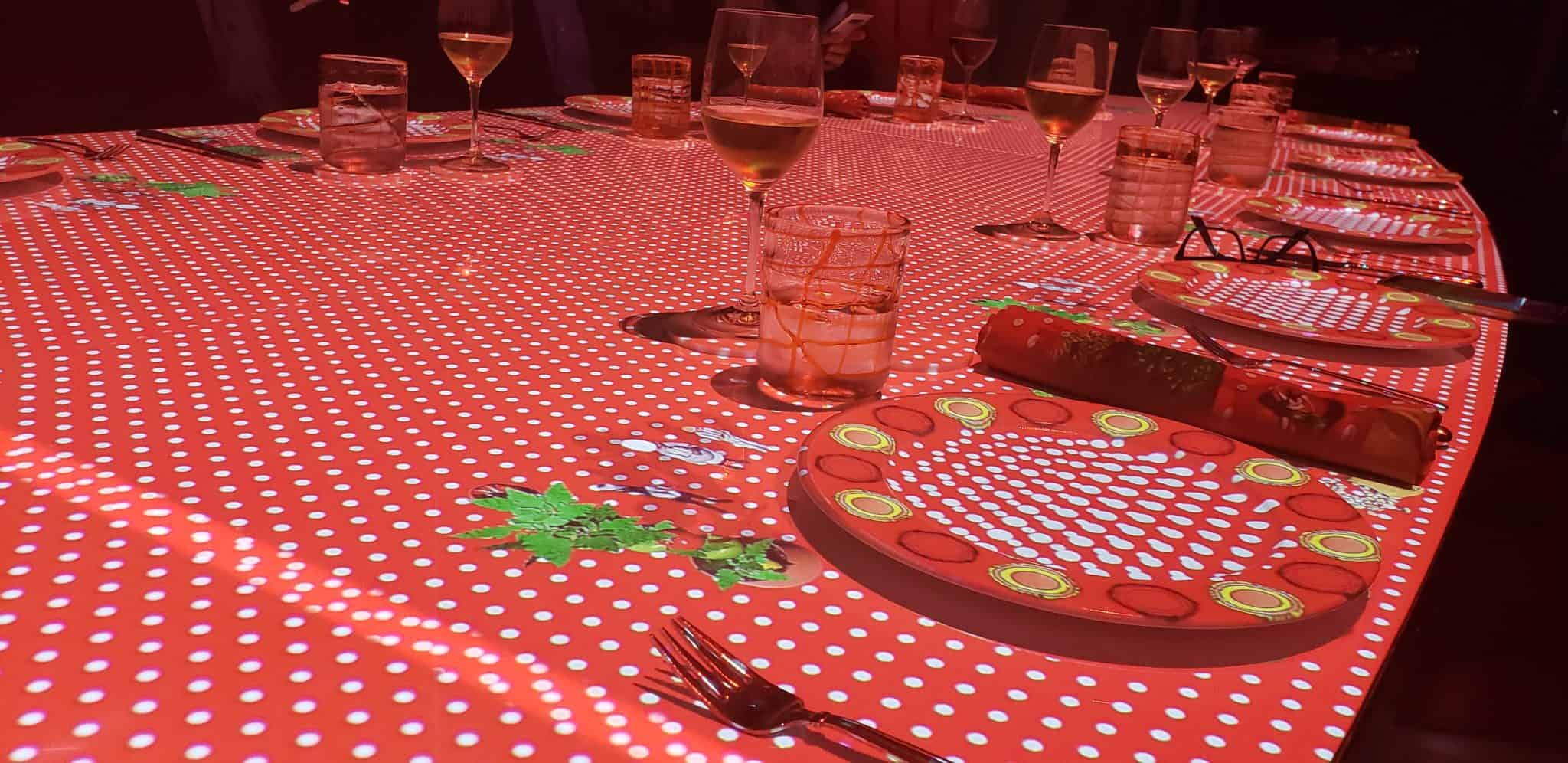 Briefly Checking Out Cellar Masters
If you're truly a wine enthusiast, I'd suggest heading to Cellar Masters, an attractive venue on Deck 5 that offers a "Destination Wine Tasting" option for $24. It's a fun way to explore the world with 3 ounce tastings of wines from five different regions — Spain, California, Australia/New Zealand, Argentina/Chile, and Italy/Sicily.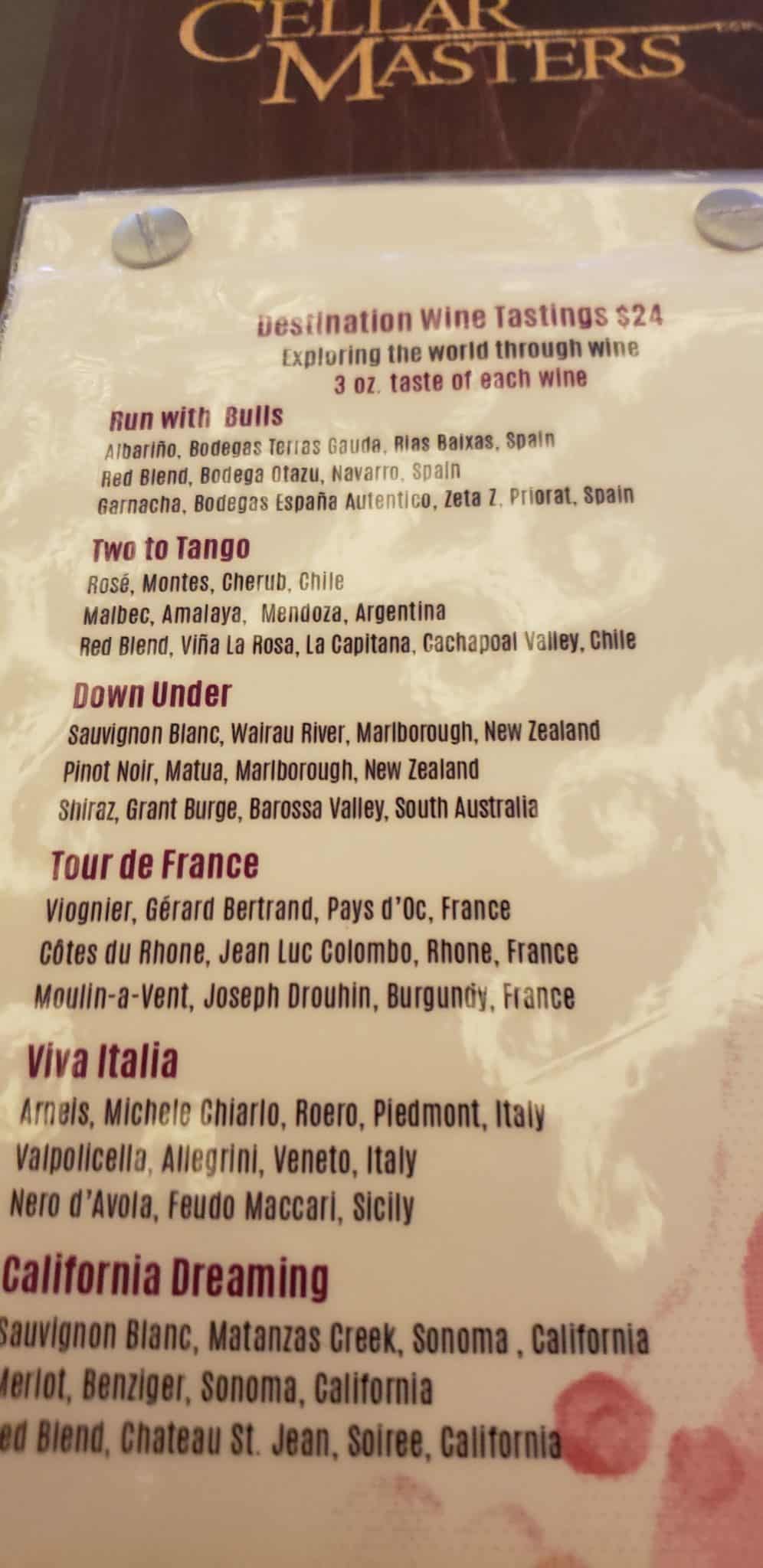 During one day, a "Food and Wine Pairing" presentation at Cellar Masters (at a fee) showed guests how to pair the perfect wine to the food you're serving. But Celebrity also uses this venue for some different activities too — such as a golf putting competition.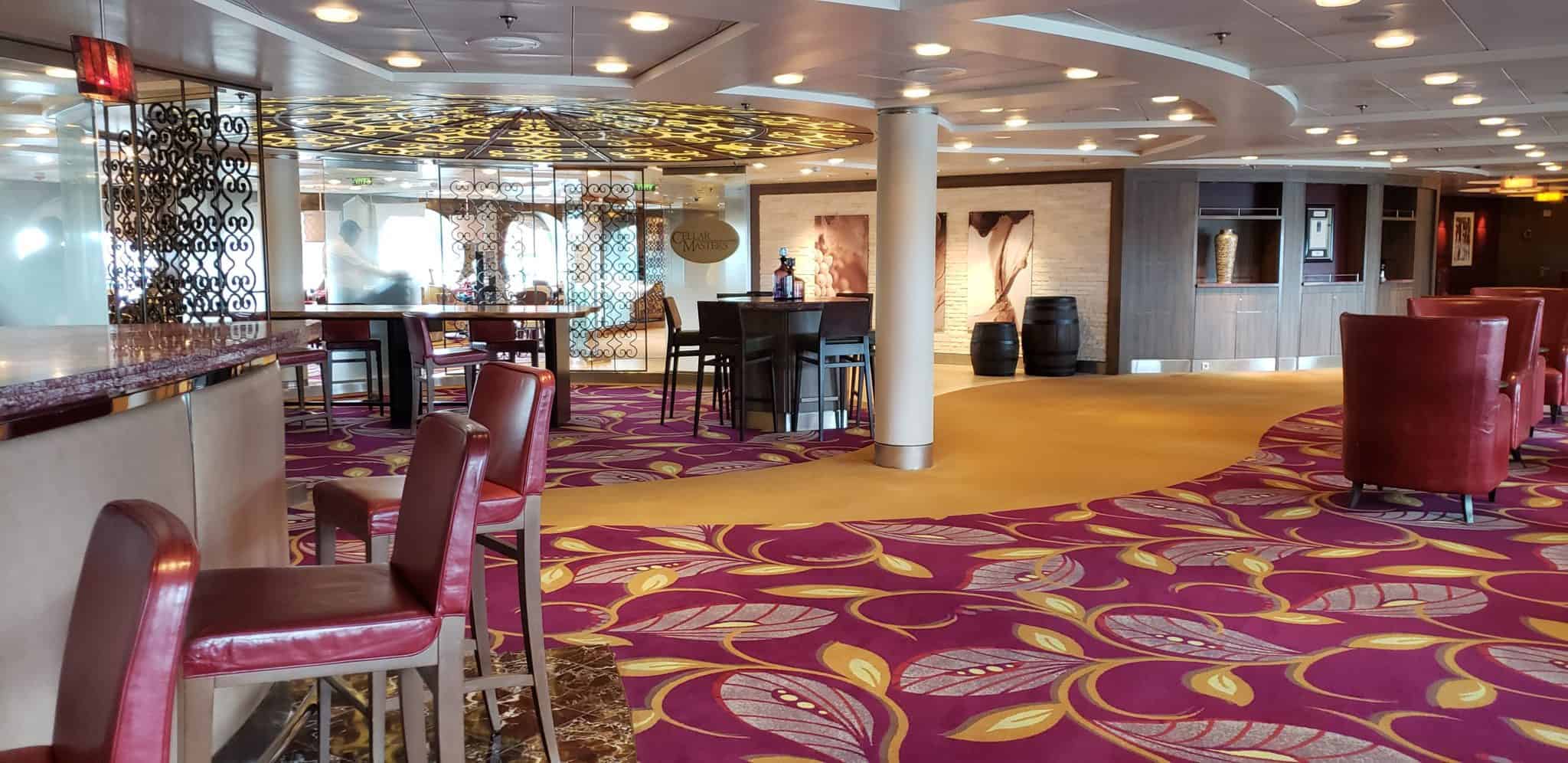 This venue's list of fine wines was extensive, but I was there only briefly and didn't have time to participate. So, that's on my list for next time! It's a highly attractive, spacious public space with a bar and comfortable seating areas for enjoying a glass of wine. In the evening and even late at night, Celebrity offers live entertainment here, such as modern songs, jazzed up strings, or "In the Rhythm of Tango" performances of Blackwood Duo or "Dance all Night with the Lucky Band."
Stand by for our next story on entertainment/activities before we conclude with disembarkation tips.
By Susan Young
Don't miss the other Celebrity Millennium trip reports: