Editor's Note: Last week, our correspondent journeyed from the United States to St. Maarten in preparation for her first cruise in over a year. Here's her trip report on Day 3 aboard Celebrity Millennium, where she details the specialty dining experience.
As Celebrity Millennium sails through the Caribbean this week, I'm working my way (translation: chowing down happily and methodically) through the ship's myriad of dining options.
Today, I'll talk about three yummy dining experiences — the specialty eatery Sushi on Five, open to all guests; Blu, the restaurant reserved for AquaClass guests, as I'm sailing in an AquaClass balcony stateroom; and Luminae, an exclusive venue for the ship's suite guests (but Celebrity Cruises brought our inaugural sailing group here for a "sneak peek" dinner one night).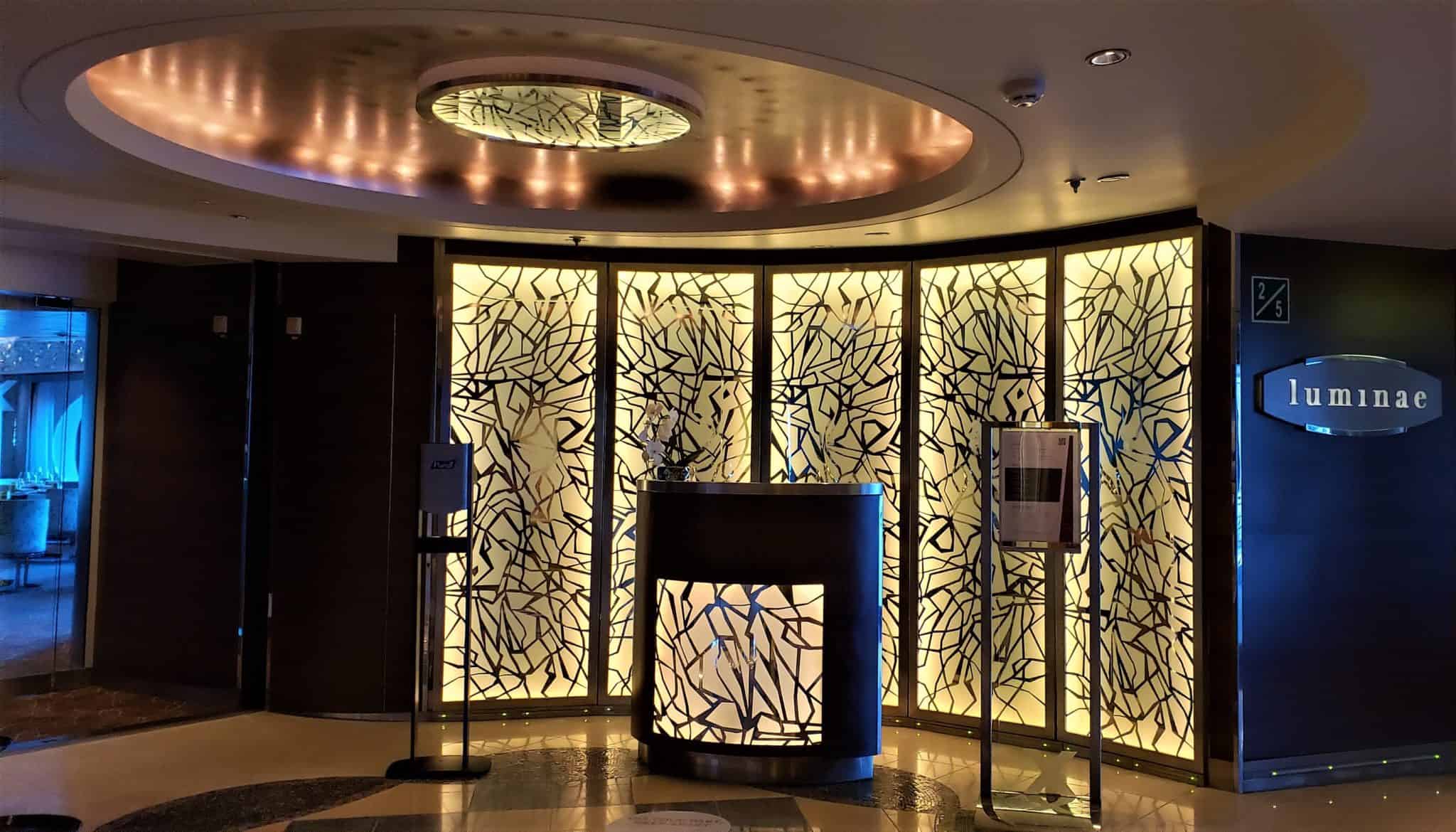 Okay, I suspect by now you're saying, "where's the commentary about the main dining room or cafe and its dining stations?" No worries. I hear you. It's definitely coming.
In another upcoming story, I'll be covering Metropolitan, the main dining room experience, plus the Tuscan Grille (where I'm dining tonight), and I'll also talk about Le Petit Chef, a razzle-dazzle technological dining experience that I enjoyed last night; it's so much fun and simply "beyond creative."
In yet another separate piece — one focused on feedback from the ship's hotel manager about how the onboard cruise experience has changed from what past guests may recall pre-pandemic — I'll dive into details about the Oceanview Café buffet with its "stations" and how that eatery is faring in terms of "the process."
So that's the game plan….Let's start chowing down.
Sushi on Five
If anyone is looking for me on this Celebrity Millennium cruise through the Caribbean, there's a good chance you'll find me at Sushi on Five, a specialty dining venue with a la carte pricing. Yes, it's on Deck 5! Yes, they serve sushi! But they offer a lot more too.
As I dropped in one port day for lunch, Sushi on Five was pretty empty other than a couple seated at one table, and two solo diners at two other tables. Keep in mind that Celebrity is limiting the ship's capacity on this cruise to under 50 percent. So it was easy for social distancing. Diners (vaccinated and PCR tested) were not masked, but all crew/waiters in the restaurant were.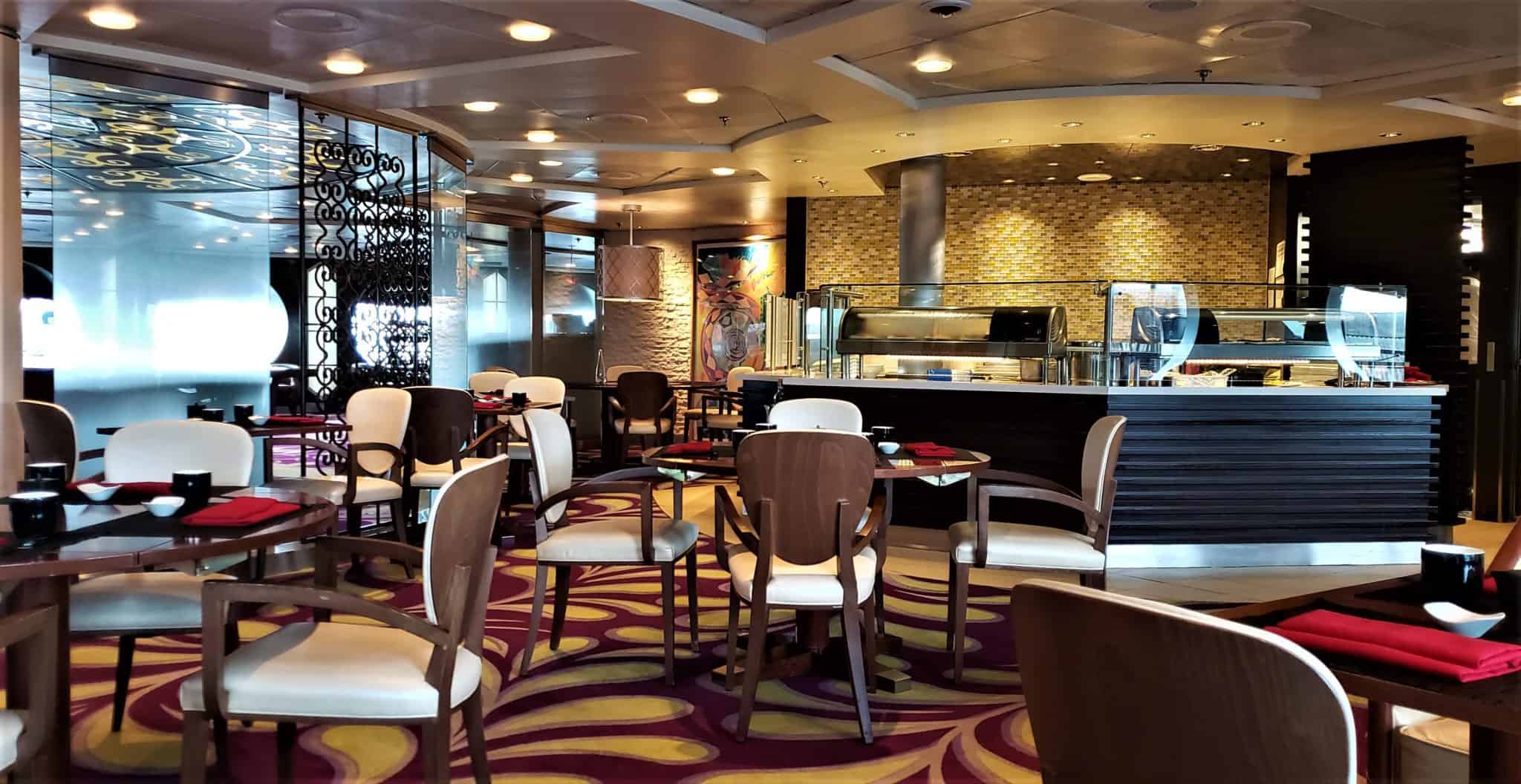 A personal note? I'm more a fan of other kinds of Asian food rather than sushi, so I first approached the entrance podium and asked what else they had. A waiter quickly appeared behind the manager and whisked out a menu to show me, proactively pointing out various dishes.
Checking the menu, I then sauntered inside and ordered four different dishes to sample. I also immediately grabbed the table's chopsticks to practice a bit (I wondered if I would have any chopstick skills after more than a year of not using them! But alas, it all came back to me quickly).
Here's a look at the items I ordered to sample. First up? "Edamame" is steamed and seasoned perfectly with just a light amount of Himalayan salt; it's priced at $4.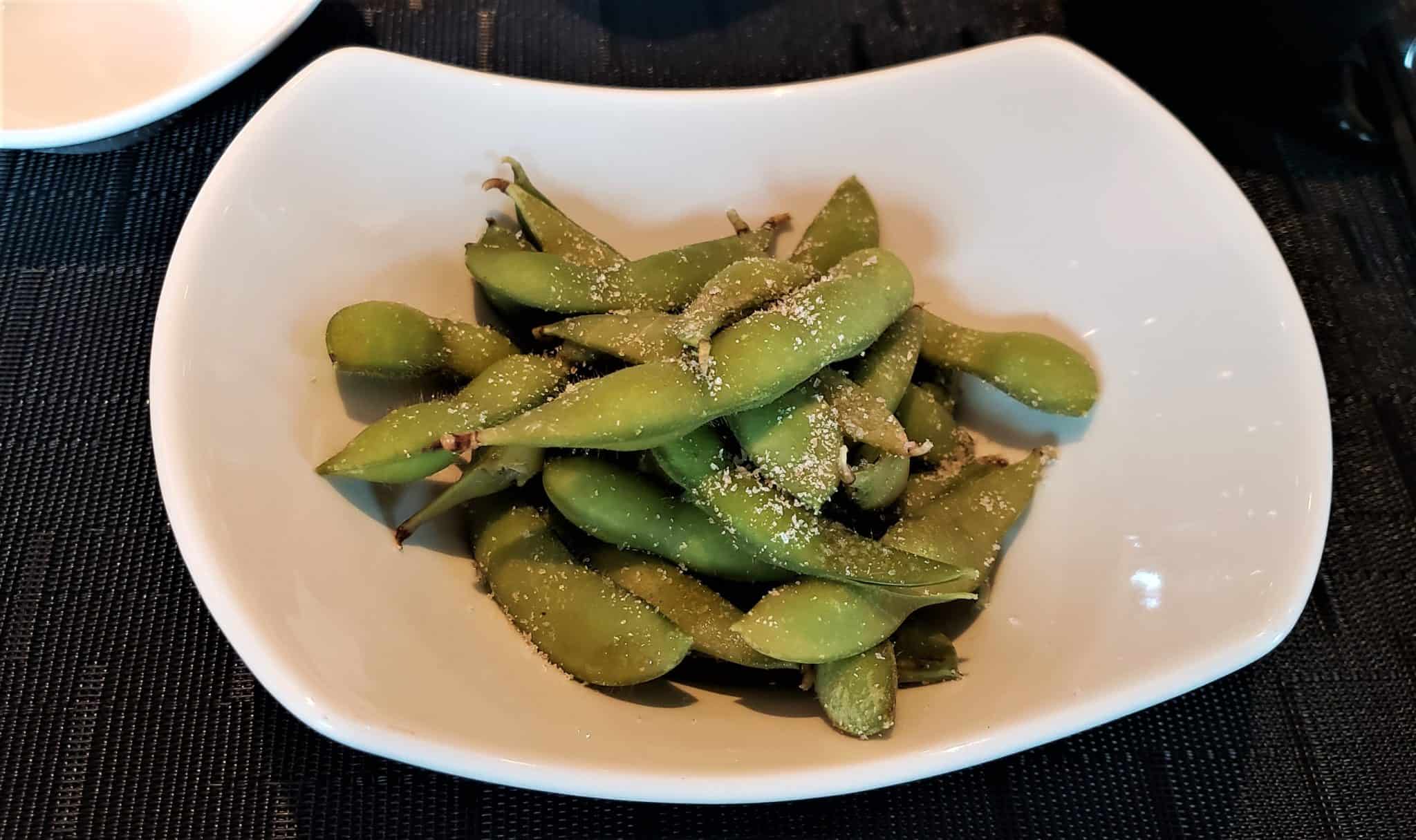 Other starters include "Spicy Ahi Tuna" (crisp rice, wasabi aioli and jalapeño) at $7; "Truffled Albacore Tuna" (sriracha, white truffle oil, ponzu, Cilantro, pink peppercorn) at $9; "Miso Soup" (scallions, tofu, wakame) at $3; and "Sashimi Mixed Green Salad" (tuna, yellowtail and salmon sashimi, octopus, shrimp, spring mix, crispy shallots and katsuo dashi dressing) at $8.
I also sampled the "Chicken Ginger Gyoza" (pan-seared dumplings, sesame, yuzu, scallion and Ponzu) at $8. If you enjoy pot stickers, that's essentially what this dish is — six dumplings with melt-in-your-mouth, soft-consistency chicken inside, accompanied by a dipping sauce.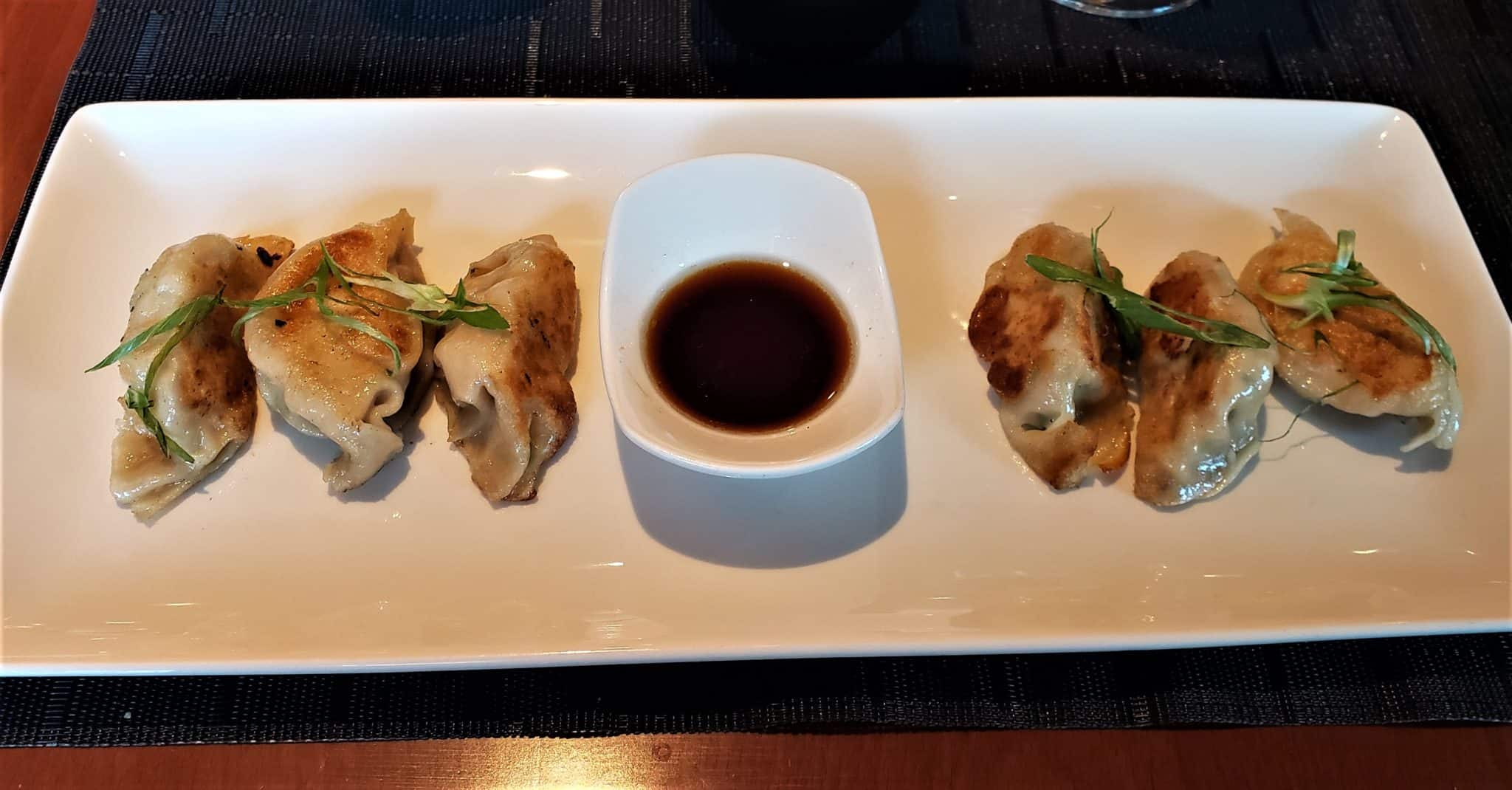 My absolute favorite of all the tasting dishes I ordered, though? The "Homemade Lobster and Shrimp Wontons" with a sweet Hoisin glaze and Wakame salad. I highly recommend this.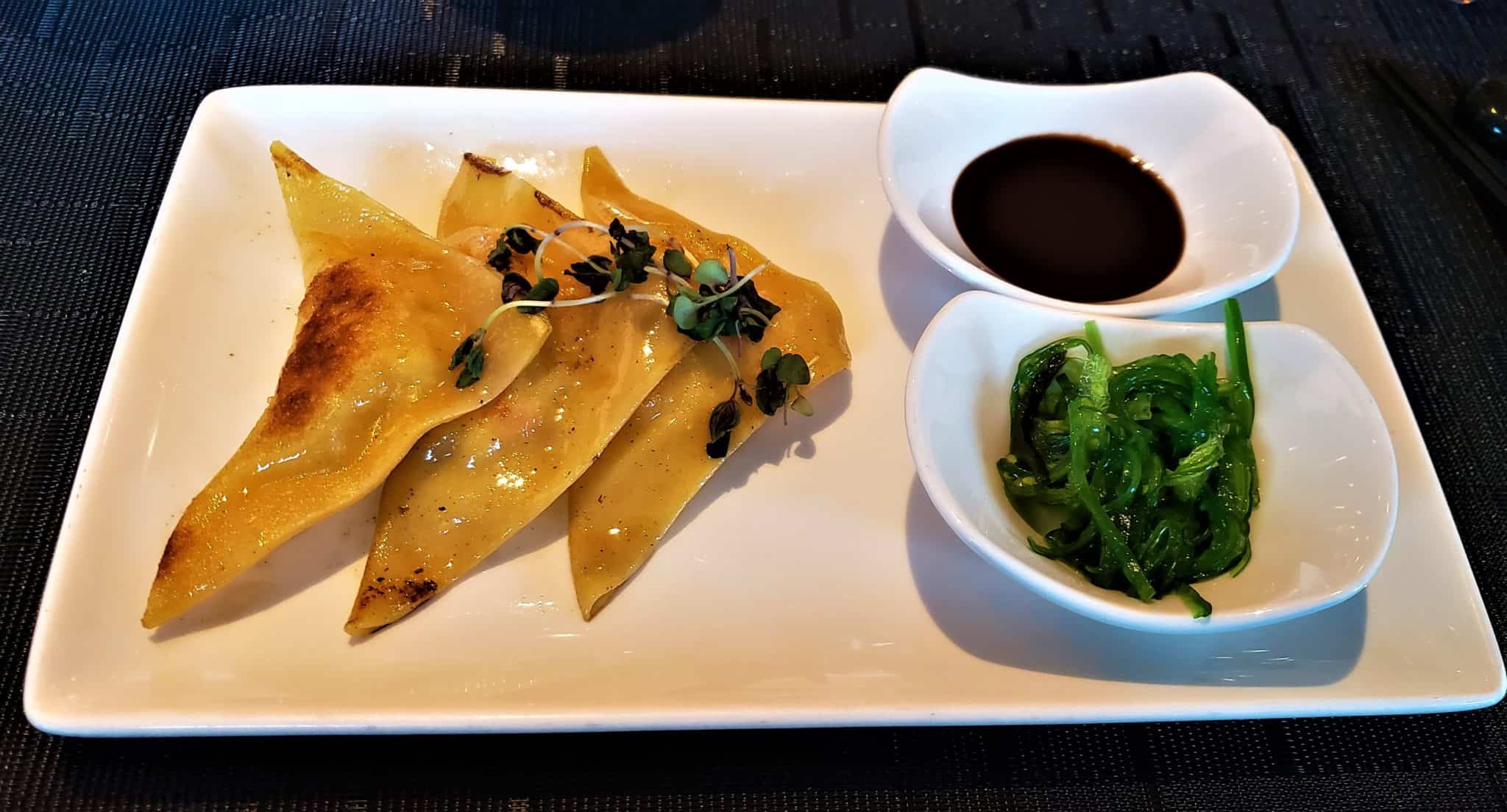 In the Hot Pots and Noodles menu category, diners will also find "Shrimp Tempura Udon" (Udon noodles, wakame, scallion fish cake) at $11, or "Tonkotsu Miso Ramen" (soy marinated pork, bamboo shoot, scallion, and soft-boiled egg). But I opted for the robust "Lobster Ramen" (Miso butter, lobster tail, green onions, and a dashi bisque) at $13.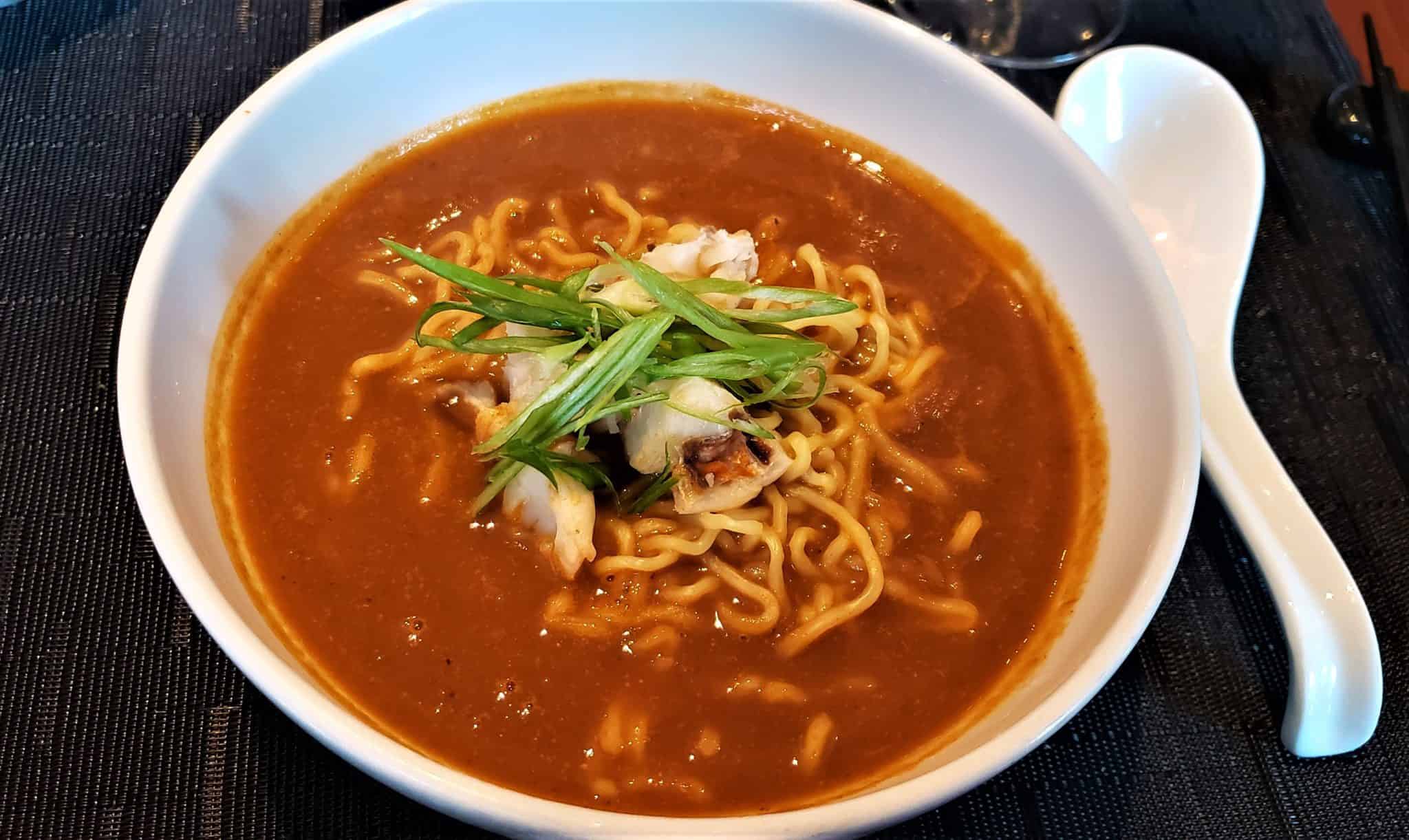 This hearty dish has lots of noodles and chunks of succulent lobster tail on top. It's tasty but the portion is so big that when I finished sampling it, I felt the dish still looked full. Not sure if couples might want to share, but there was certainly enough to do so.
As for "rolls," the options include "Shrimp Tempura" ($10), "Alaskan California" ($10), "Spicy Tuna and Shrimp Tempura" ($11), "Eel Dragon" ($11), "Green Roof Tuna" ($11), "Spicy Tuna ($10), and "Vegetable Yamagobo" ($8), among others. At $11, a "Rainbow Roll" consists of tuna, salmon, snow crab, cucumber, and avocado.
Like Sashimi?  The "Assorted Sashimi" comes with a choice of four from this list — tuna, yellowtail, salmon, albacore, shrimp, octopus, and tataki tuna. The "Omakase Sashimi" includes five from the chef's selection of assorted sashimi. Both are priced at $8.
Nigiri choices (two pieces of each) include tuna, yellowtail, salmon, Akashi octopus, eel, shrimp and Omakese sushi, priced between $4 and $9. A selection of seven Asian cocktails including a "Nagasaki Batida" and an "Asian Pear" are also on the menu, plus 10 wines by the glass, an impressive menu of more than a dozen different "sakes" plus green tea and brown rice tea.
Overall, I loved Sushi on Five and hope I can return before the cruise ends.
READ MORE: Cruise Ship Photo Tour: Celebrity Millennium
Blu for AquaClass Guests
I ate one evening in Blu, the exclusive restaurant for AquaClass guests; I'm in an AquaClass balcony stateroom, #9157. In my opinion, one of the best – if not "the best" — perk for AquaClass is the ability to dine at Blu. Click here to learn a bit more about AquaClass on Celebrity Millennium.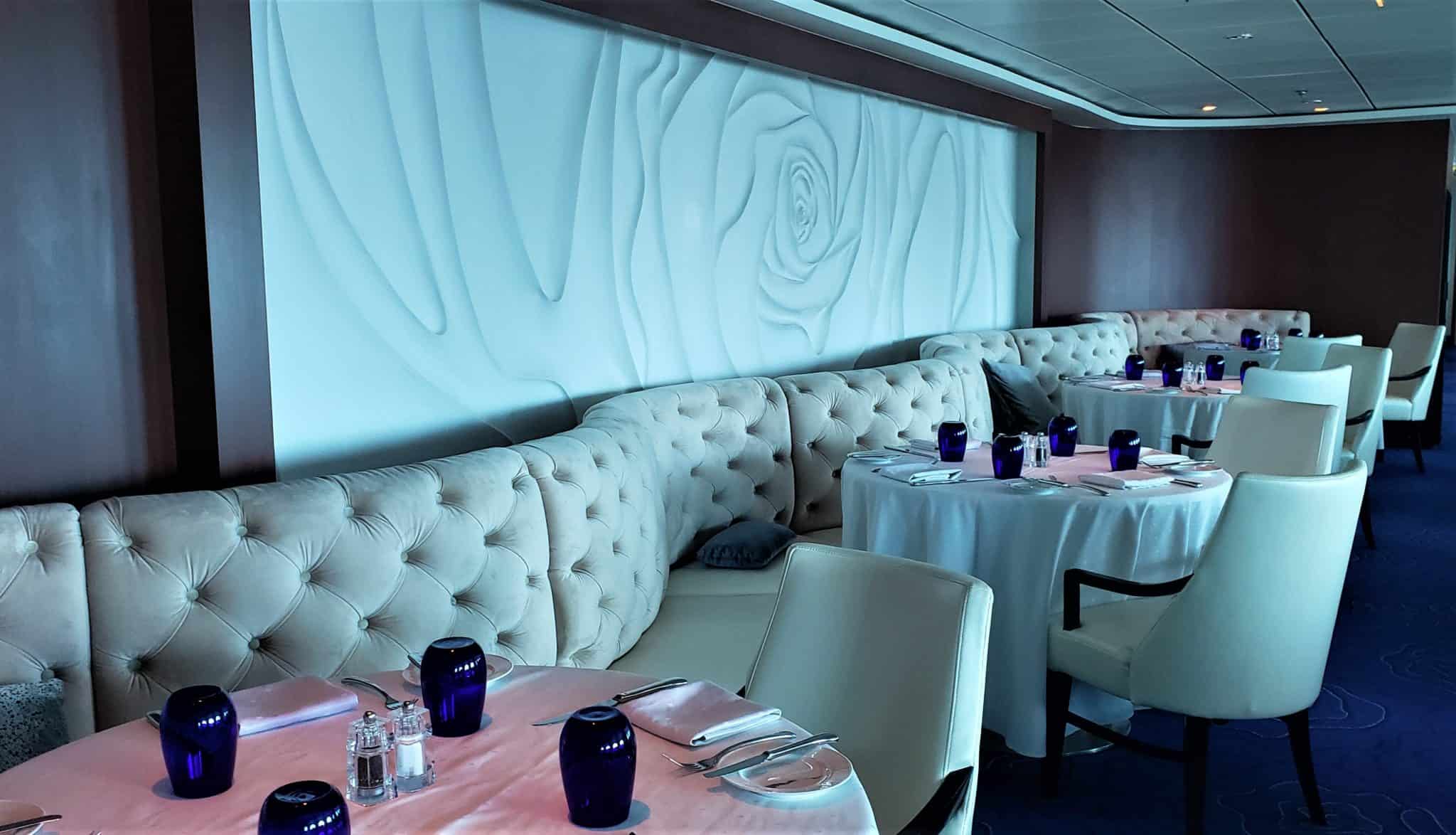 With porthole-like, super-large round windows, Blu exudes an elegant, yet contemporary feel with an attractive blue-and-white color scheme.
Menu starters include spinach salad, pickled beet salad, creamy crab bisque, roasted red beet bisque, and heirloom tomato salad. That said, all four diners at my table (yes, me too for sure!) opted for the "Macadamia Nut Crusted Sea Scallops." The seafood is crispy and cooked to perfection.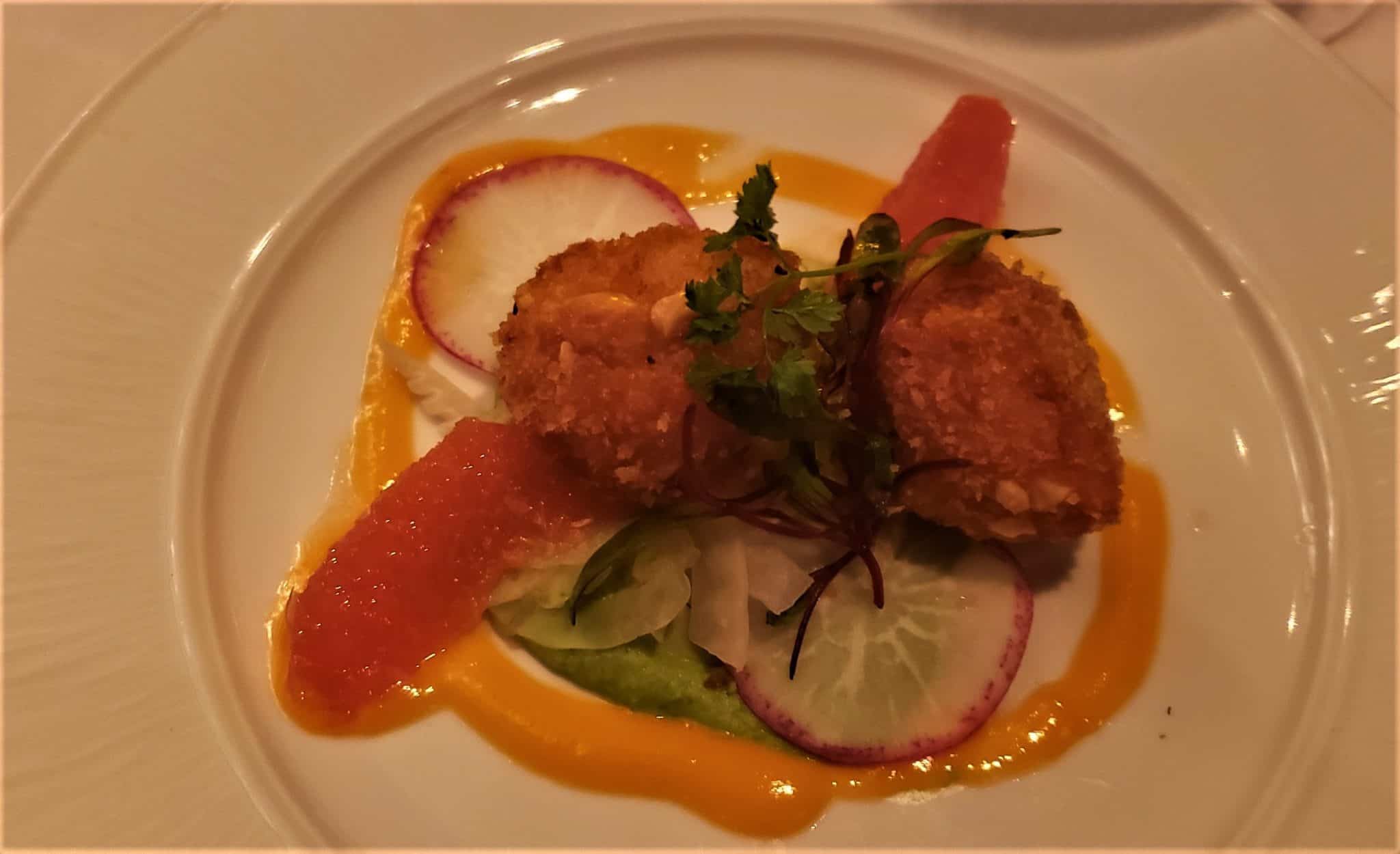 Blu's signature entrees include "Pan-Seared Pacific Salmon," a grilled octopus salad, truffle ricotta gnocchi, a daily vegetable, and more. I ordered the "Sherry-Glazed Pheasant Breast," tasty for sure, but my friend ordered the "Herb-Crusted Rack of Lamb," which, as you can see in the photo, looks absolutely fantastic.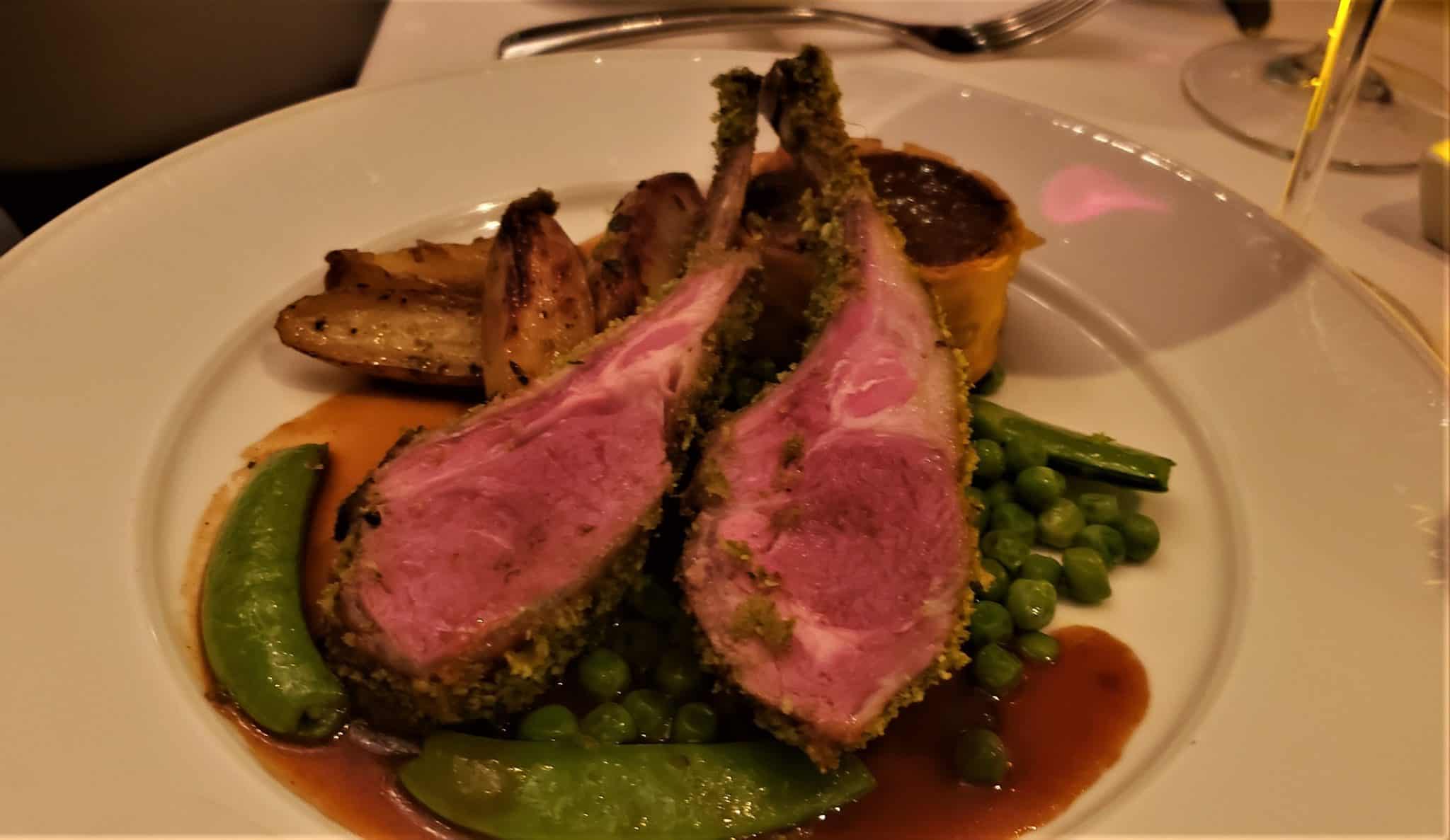 Next time, I'd go that route too. Timeless classics available as entrees include a New York strip steak, lightly broiled Atlantic salmon filet, or roasted chicken breast.
If you still have room for dessert here (questionable, depending on what you order first!) don't miss the apple pie a la mode, which lived up to our minds' hype about how it should taste. Blu's dessert selection also includes ice cream, coconut sorbet, chilled strawberry soup, a no-sugar-added phyllo dough tulip, and such classics as New York cheesecake.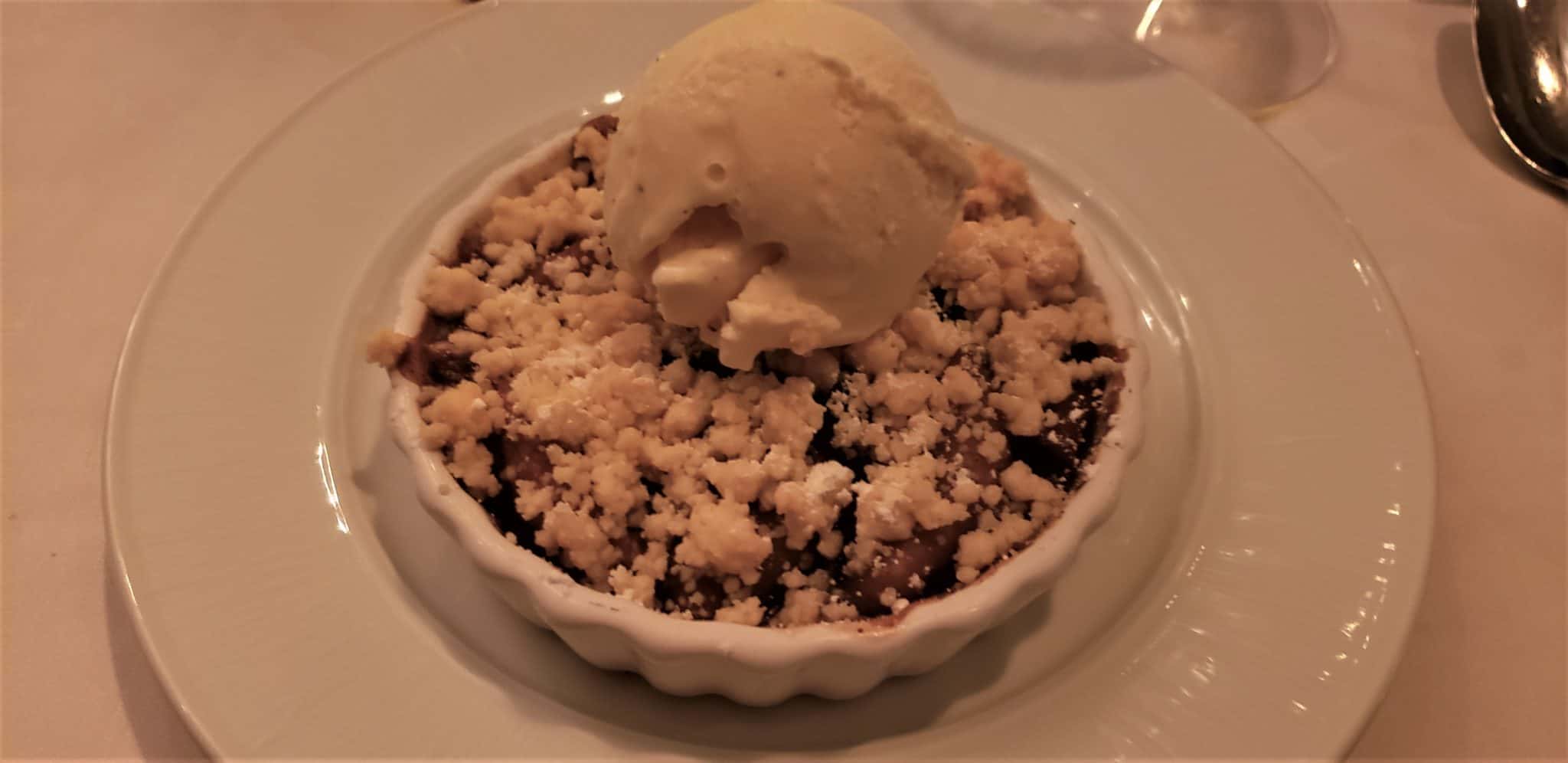 Red and white wines are freely poured with dinner if the guest desires, with the sommelier explaining each wine's characteristics. He also came to our table after dinner to pour an ice wine (slightly sweet, delicate, and smooth) ordered by our hosts. Guests can also order a signature Blu cocktail, if desired, perhaps a "Whiskey Blu" or "Botanical Bliss."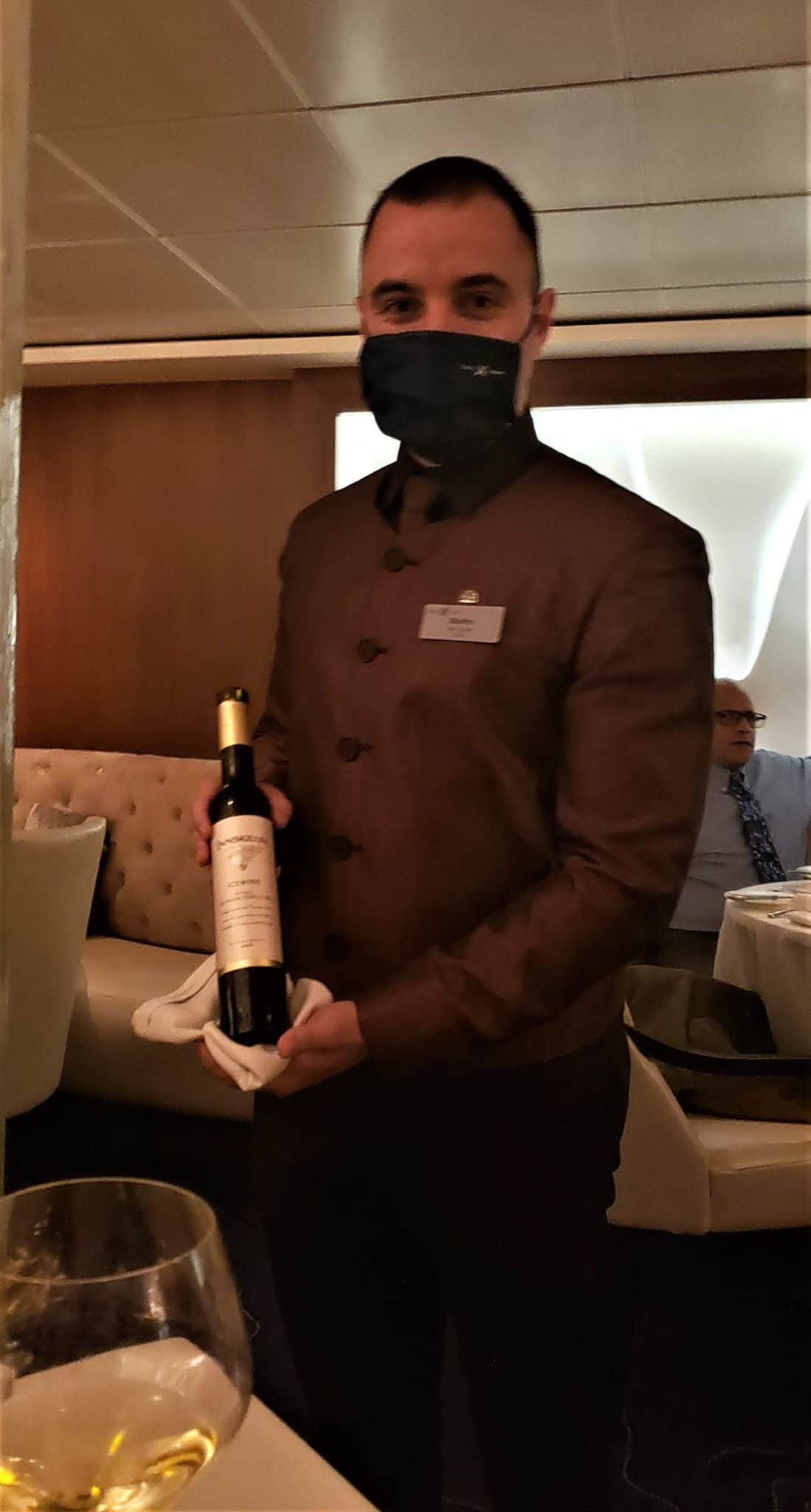 However, it's important to note that wines and other alcoholic beverages are not complimentary at dinner as part of the restaurant's offering. That said, guests can avoid being charged for certain wines and other drinks by buying a Celebrity "Classic Beverage Package" or "Premium Beverage Package." For more information, visit https://www.celebritycruises.com/faqs/beverage-packages.
READ MORE: How Much Does It Cost for Kids to Go on a Cruise?
The "Suite" Luminae
If you're booking a suite on Celebrity Millennium, you can dine at Luminae — an elegant, yet contemporary restaurant created exclusively for you. Normally, I wouldn't experience this restaurant at all on a cruise I take, but as this cruise is the first in a series planned by Celebrity for the Caribbean, the cruise line was eager to show off the venue to our group.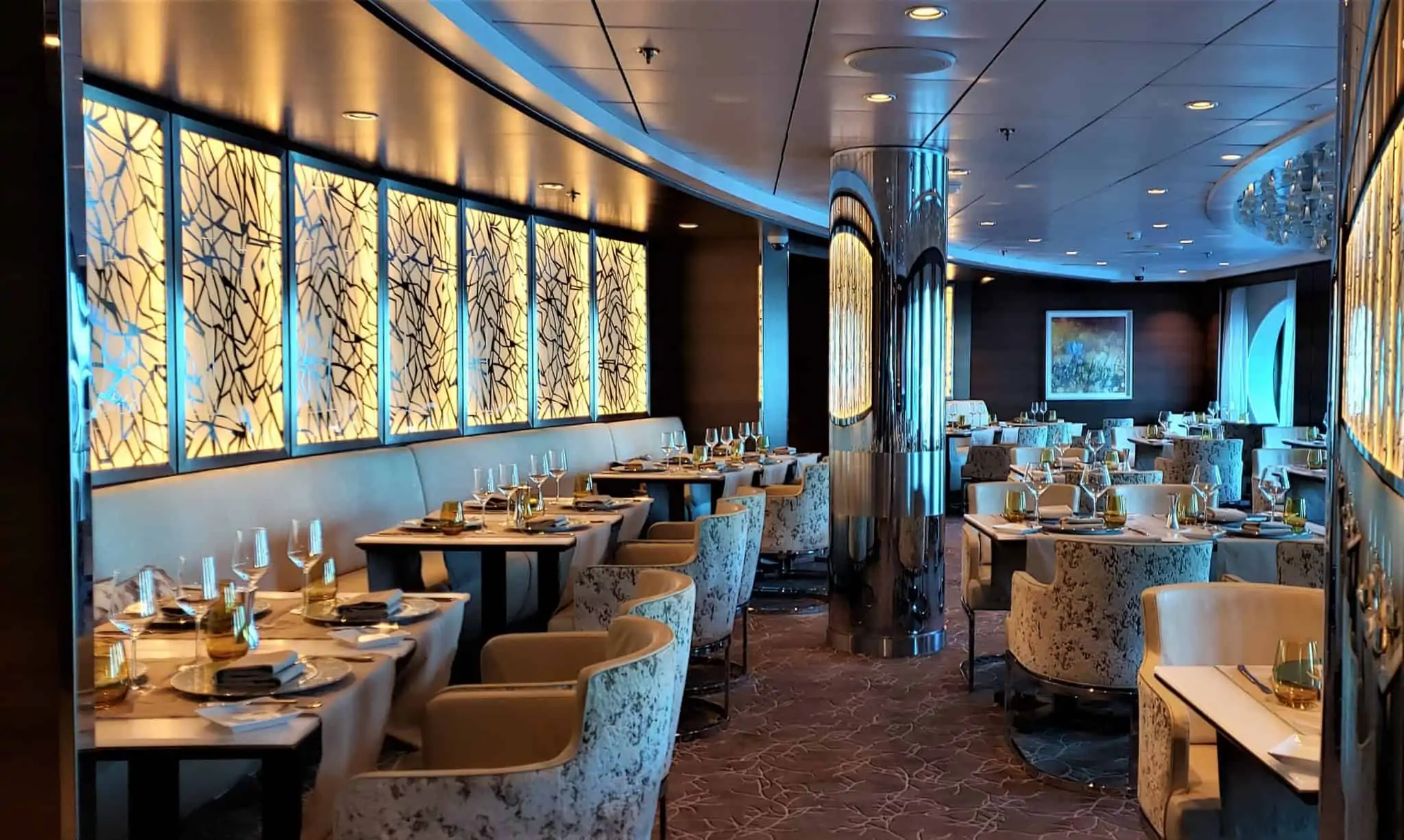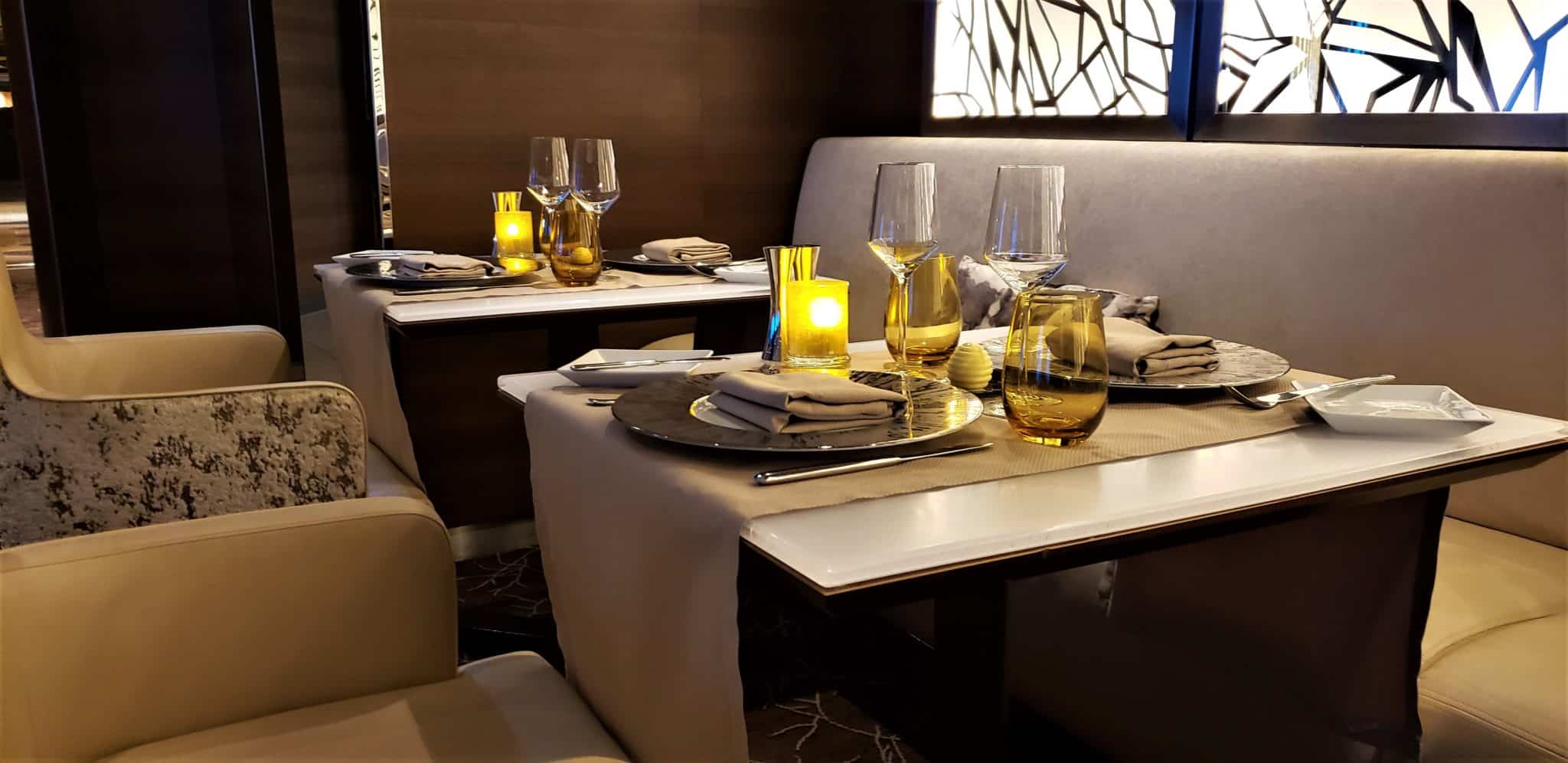 Reflecting a warm, upscale aura, this restaurant is staffed by highly professional and polished servers and managers – much as you'd find on land in a high-end, exclusive restaurant. But they're also so nice to customers, with one waiter — knowing I wanted a photo of a particular dish — asking if he could take my camera so he could go to another table and take it for me.
We started with appetizers, a choice of scallop carpaccio, turkey escarole soup or braised short ribs, which my tablemate ordered. My choice was the refreshing crispy Kale salad with flavorful roasted tomatoes, watermelon, pine nuts, feta cheese, and a lemon dressing.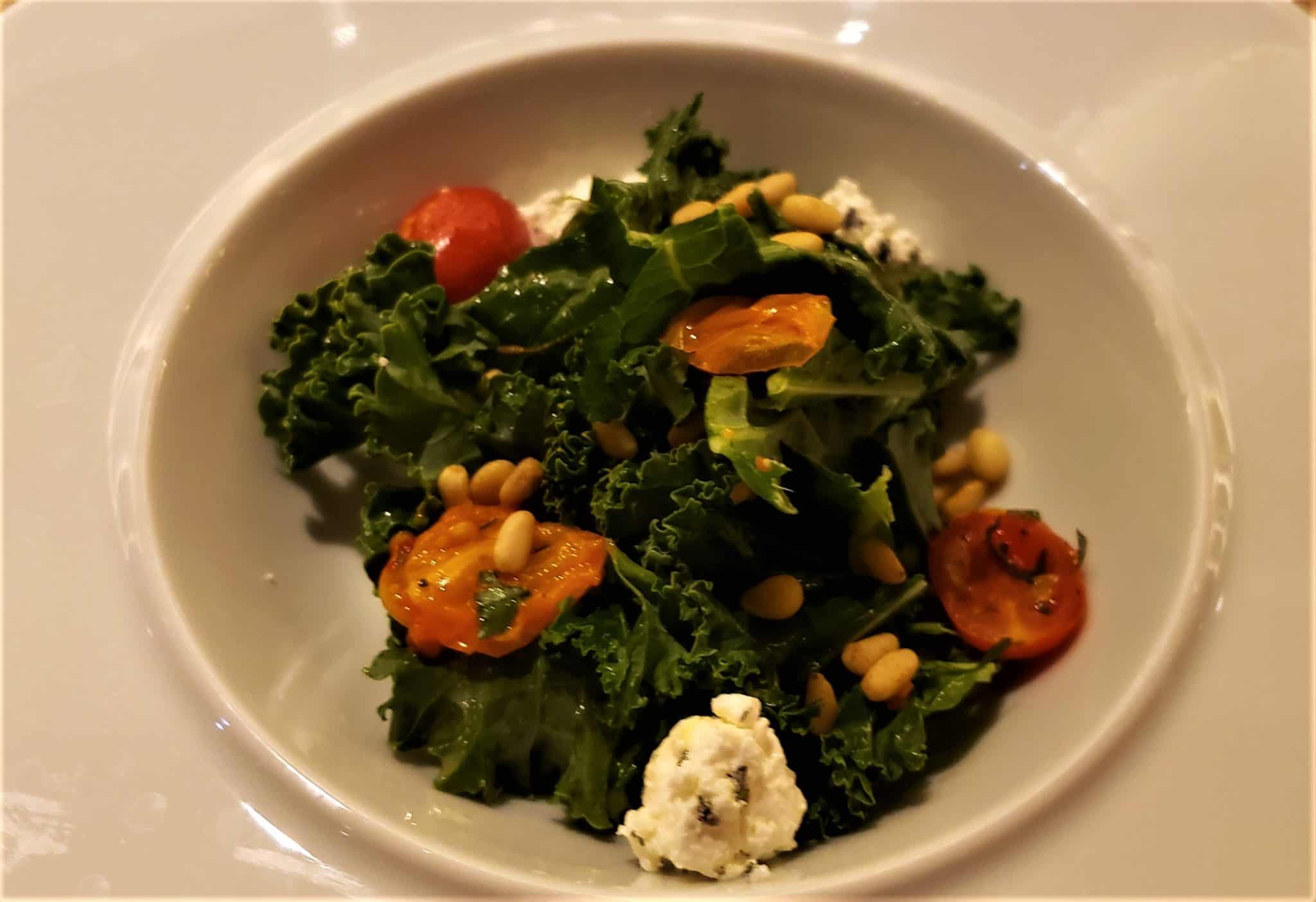 Entrées range from "Veal Cannelloni" with chestnuts, clams, and piperade" to "Herb-Marinated Chicken Breast" with butternut squash puree and butternut squash caponata. Or, guests can choose a grilled "New York Strip Steak" with truffle potato puree, Bordelaise sauce, carrots and a beet-port-reduction.  Another option is "Butternut and Swiss Chard Lasagna" with gruyere bechamel, sage, and pumpkin crumble.
Luminae also serves several dishes created by renowned Chef Daniel Boulud, Celebrity's global culinary brand ambassador. His appetizer is a chilled carrot and ginger velouté with prawns, lime, and cilantro, and his dessert is a raspberry pistachio vacherin with vanilla cream.
Personally, I couldn't wait to taste Boulud's entrée, "Moroccan Chicken Tagine with Saffron Couscous," with turnip, cauliflower, preserved lemon, and olives. The poultry practically fell off the bone yet was moist and tender. The favors delivered what I can only describe as a "feel-good, comfy taste."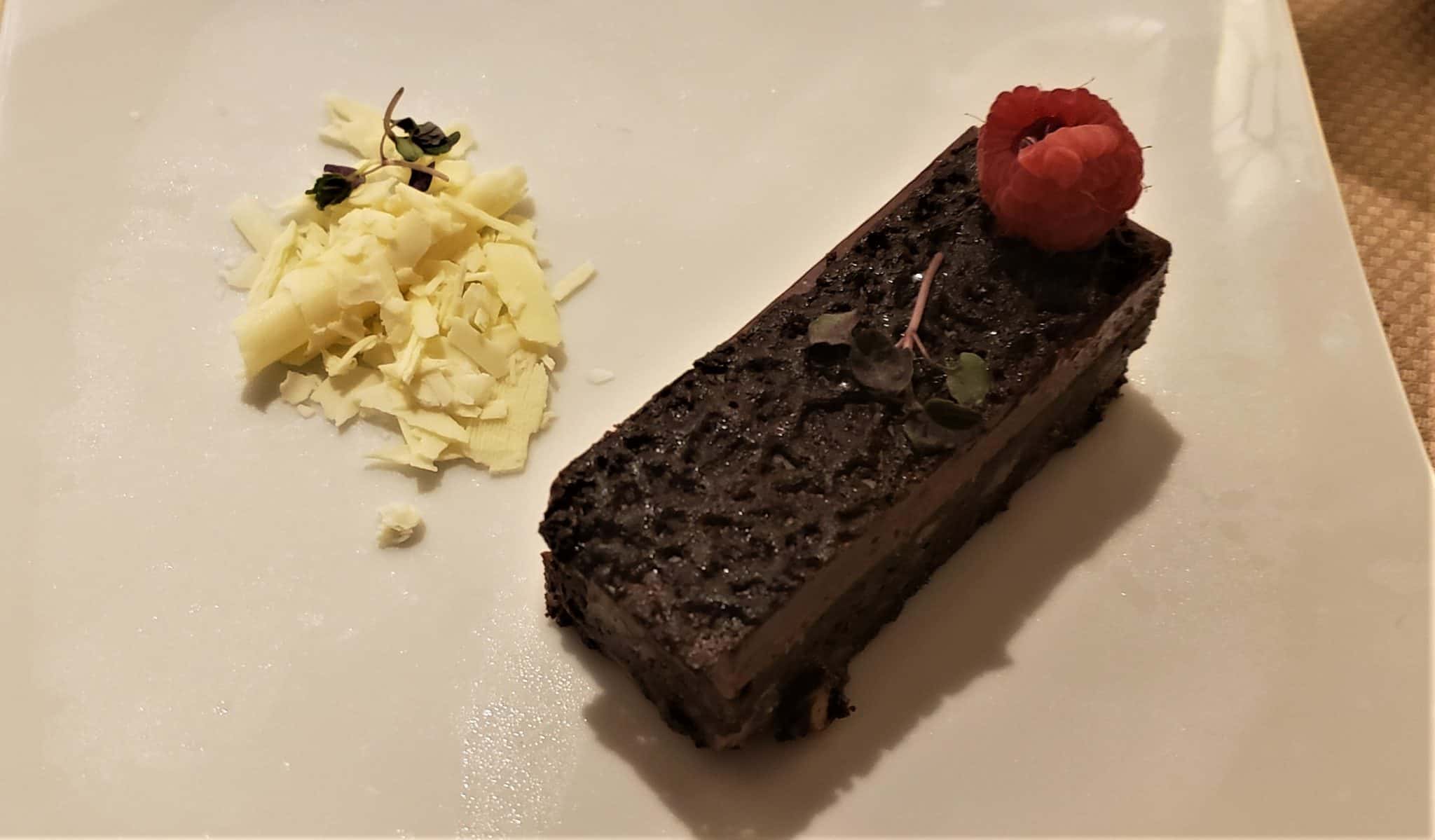 As mentioned earlier, stay tuned for future stories this week with more dining coverage of Metropolitan, the main dining room, along with Oceanview Café, Tuscan Grille, and Le Petit Chef. If you're sailing on Celebrity Millennium, "bon appetit!"
By Susan Young
Don't miss the other Celebrity Millennium trip reports: