Editor's Note: Last week, our correspondent journeyed from the United States to St. Maarten in preparation for her first cruise in over a year. We took you through every step of the process right up until the big moment. At long last, she was ready to step aboard… 
Crossing the gangway, my boarding pass was scanned in. Even more so than usual in boarding a ship, I felt as though I was a movie star being greeted by adoring fans, as a slew of smiling crew members welcomed me aboard. I was offered a glass of champagne and a refreshing towel. While I was clearly ecstatic, I could see that crew members too were overjoyed, many telling me that they were so happy to be back sailing again with guests. 
Rather than first explore the ship, I ventured to my Aqua Class stateroom, #9157, to drop my stuff. Let's just say the stateroom was bright, lovely in design, and had a welcoming feel — and I felt I must be on a totally new ship. 
Did you know that Millennium is the oldest ship in Celebrity's fleet, launched two decades ago? That's true, but just look at what one sees inside a cabin now. Here's one photo but definitely look for my complete look at what's inside the stateroom in another piece later this week.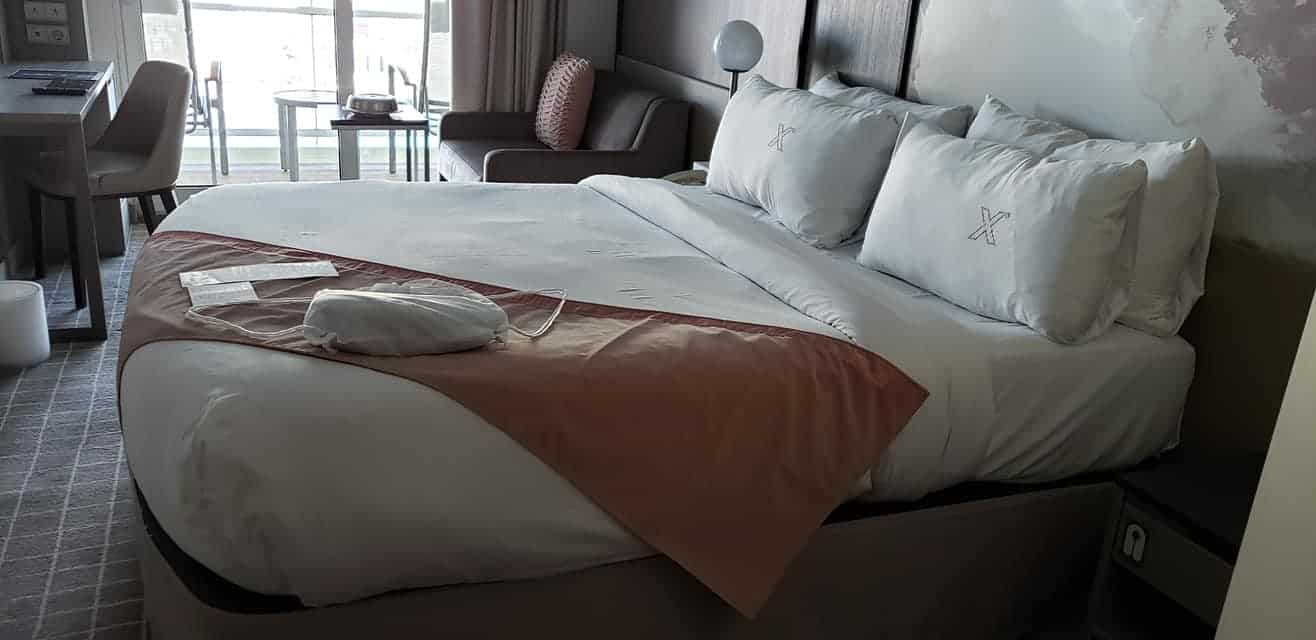 The New-and-Improved Muster Drill
Once in the cabin, next on my "to do" list was to find out about the mandatory safety drill. Thankfully, Celebrity's guests now have a lot more flexibility where that's concerned. Since the line was working on a new e-muster process prior to the pandemic, it now has a fabulous new safety drill procedure that guests on our cruise loved – myself included. 
It's super easy and offers more time to enjoy the ship in the way guests desire on embarkation day. I watched the safety video on my in-screen television (with the TV already on and ready to roll with that video upon my entry). But guests can also watch it on the Celebrity app, allowing folks to watch while they're elsewhere on the ship or even prior to boarding.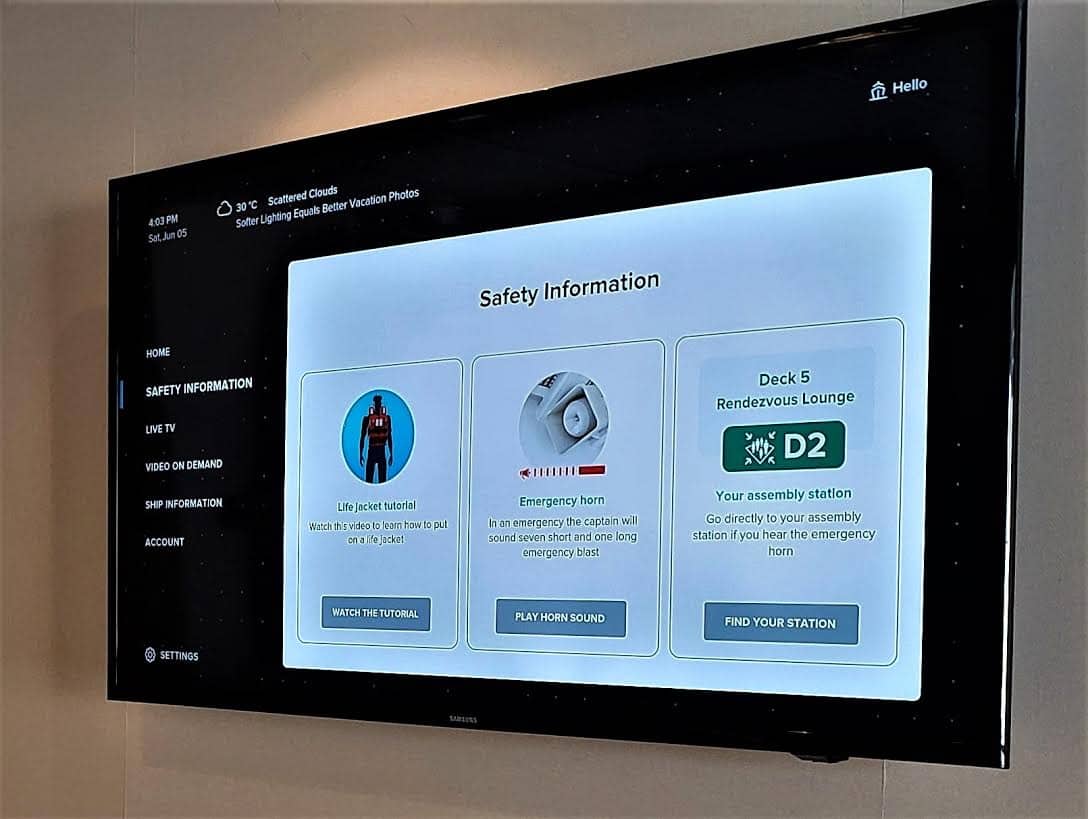 Then passengers can head to their muster station at their convenience any time prior to the ship's departure. It's so easy and optimum safety-wise, as it avoids hundreds and hundreds of people being in the same place all at once.
After I showed up at my assigned muster station, a crew member demonstrated how to put on a life jacket and asked if I had any questions. Then my room key card was scanned again, with a crew member adding a sticker showing I'd completed the drill. That was it. Boom, boom and done. And few others were at the muster station, so far better for social distancing. 
Just don't wait too long to show up at your muster station, as they began making PA system announcements about people needing to come. Otherwise, it would have delayed the ship's departure. 
As for wearing masks onboard, crew are wearing them, but for passengers it's optional, although complimentary masks and hand sanitizer are provided by Celebrity in each cabin. But since all guests 16 and over are required to be vaccinated, and all guests must be PCR tested prior to boarding, not surprisingly, many guests are not wearing them in moving around the ship.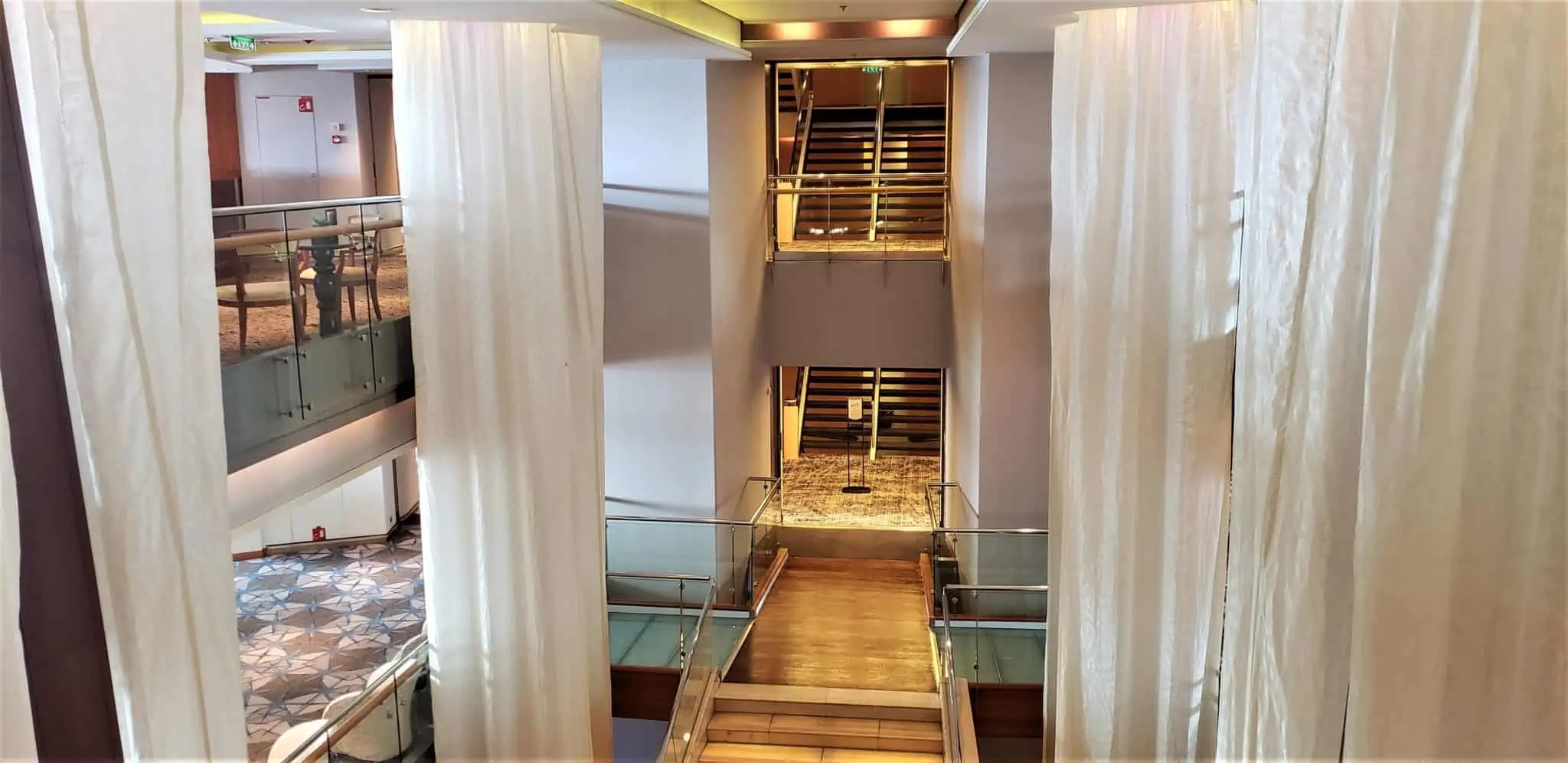 What's On The Agenda? Everything!
During embarkation day, passengers just seemed so happy to chill out, and enjoy the thrill of being on a ship once again, while crew members too have been quite emotional about having passengers back and getting back to their jobs. 
Celebrity offered such embarkation-day diversions as a "Meet and Greet with the Effy Team," a chance to meet with one of New York's top designers, available for the first time on Celebrity, and a "Taste of Spa – Millennium Spa Journey" where guests could tour the spa and learn about treatments. 
Cruisers also could participate in "Guess the Weight" (of a sculpture not a person!), join the activities team for a game show or pub quiz, participate in a bean bag toss poolside, or attend the Park West Welcome Aboard Reception, among many other fun options. There was also a Teen Camp@Sea get-together for the younger set.
Live music started at 11 a.m. and included love ballads with Nora, poolside jams with Drake and Tara, an acoustic afternoon with Blackwood Duo, pre-dinner cocktails with Lucky Band and more. At 7:45 p.m. there were Jazz Jams with the Celebrity Orchestra in the Grand Foyer, and shortly thereafter, a Honeymoon Happy Hour with Michael Redden in the Sunset Bar. 
Just know that once you embark the ship, you won't be able to just stroll off on your own and go ashore for a "guava colada" in downtown Philipsburg or hit a local beach for some rays and water play. Current local regulations prevent guests from leaving the ship once they've boarded in Sint Maarten, although the line has two shore options for guests heading to the airport on disembarkation day.
READ MORE: What You Need To Know About Cruise Travel Insurance
Ready to Explore
Pre-dinner, I met up with colleagues for a private cocktail reception on the ship's bridge hosted by Brian Abel, Celebrity Cruises' senior vice president hotel operations, and Captain Theodoros Zakkas. Here's a photo of the toast made to welcome everyone back.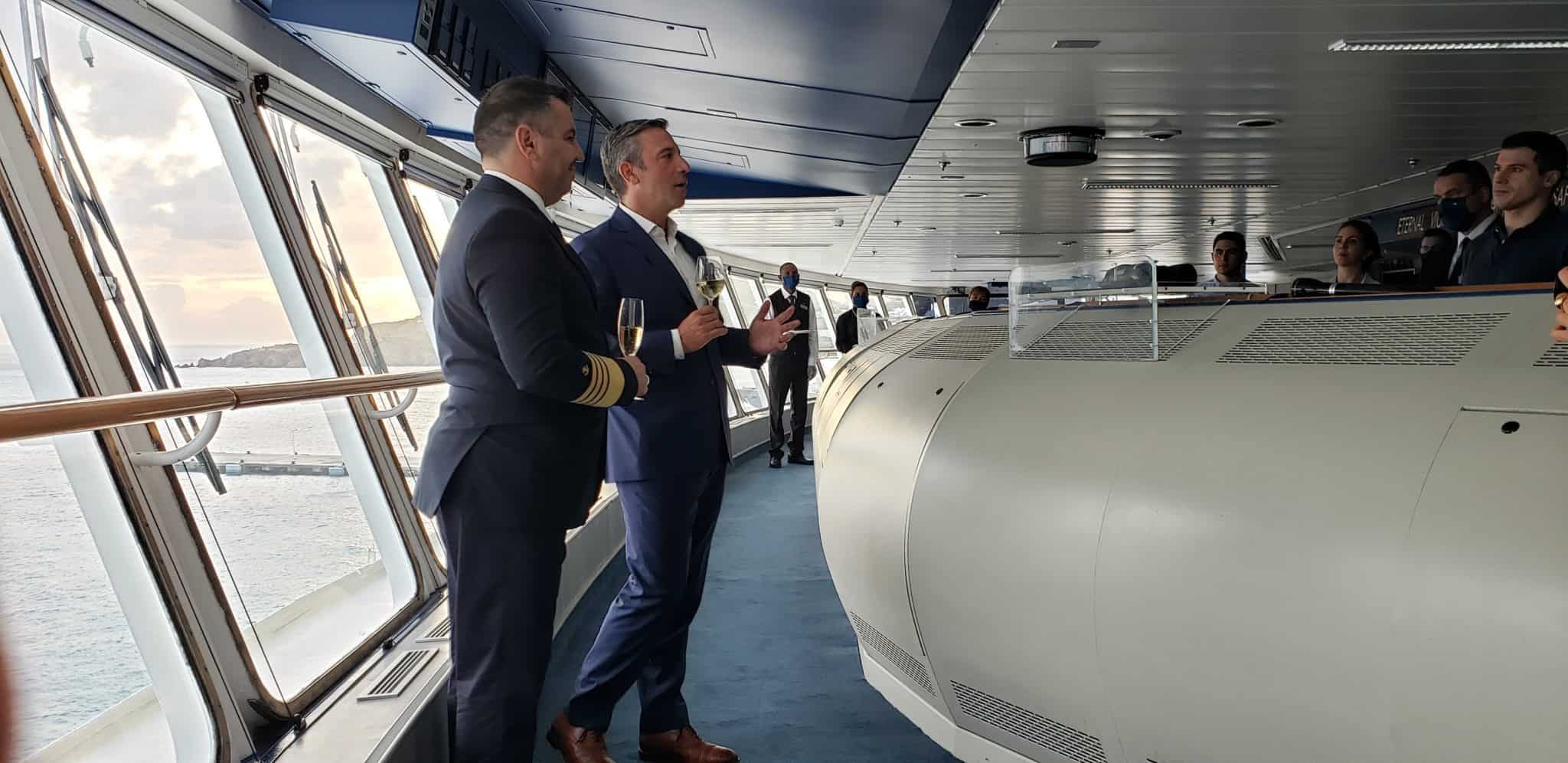 In a press statement, Abel said the following: "We couldn't be more excited to welcome our guests back to relax and start enjoying the travel experiences they've been craving all this time.
Once onboard, they will discover reimagined accommodation, spa and entertainment offerings, along with considered and thoughtful health and safety measures. The end result of all that we have implemented will make cruises one of the safest ways to explore the world, while enjoying a wonderful and uncompromised vacation experience."
Captain Zakkas added: "Today, with a full crew who were all smiles as we welcomed our guests onboard once again, has been very emotional for me. It has been a beautiful and historic homecoming, one that everyone involved — guests and crew — will never forget."
Ditto captain. We believe that too. One couple I sat with on the flight to Sint Maarten were planning to celebrate their 40th wedding anniversary aboard and were thrilled to be heading to Celebrity Millennium. 
Yesterday's embarkation was a historic moment for Celebrity's guests, cruise fans and the cruise industry as a whole. I've sailed on numerous cruises over the years, but I'm not sure any will be more remembered — or celebrated by me personally — than this one. 
Look for our follow-up posts this week about the ship experience, dining, activities, entertainment, shore excursions and more.
Don't miss the other Celebrity Millennium trip reports:
By Susan Young