Editor's Note: Last week, our correspondent journeyed from the United States to St. Maarten in preparation for her first cruise in over a year. Here's her trip report on Day 2 aboard Celebrity Millennium, where she details her AquaClass stateroom.
Yippee, I'm Here!
Crossing the gangway onto Celebrity Millennium, I was so happy for my boarding pass to be scanned. Presto, I was on an oceangoing cruise ship for the first time in more than a year! It felt so good to see beaming crew members, happily offering a glass of sparkly and a refreshing towel, and hearing the words, "Welcome Aboard" as my pass was scanned.
While that seems simple, all of us who've missed cruising "to the depths of our soul" know exactly what I was feeling. For others, just wait. If you catch the cruising bug, you'll know too. I just couldn't wait to open the door to my cabin, #9157, an AquaClass balcony stateroom.
Off I went, zipping into the elevator, which sported a clearly new, large sign that encouraged social distancing. I stepped off onto Deck 9, and soon was at the door to my home-away-from-home for the next week.
Light and Airy
My first impression upon opening the door to #9157 was that my stateroom was new, fresh, and certainly inviting. Cruisers can expect décor with soft colors, which makes use of lots of white and cream hues and light-in-tone grayish surfaces for the desk and cabinetry throughout the cabin.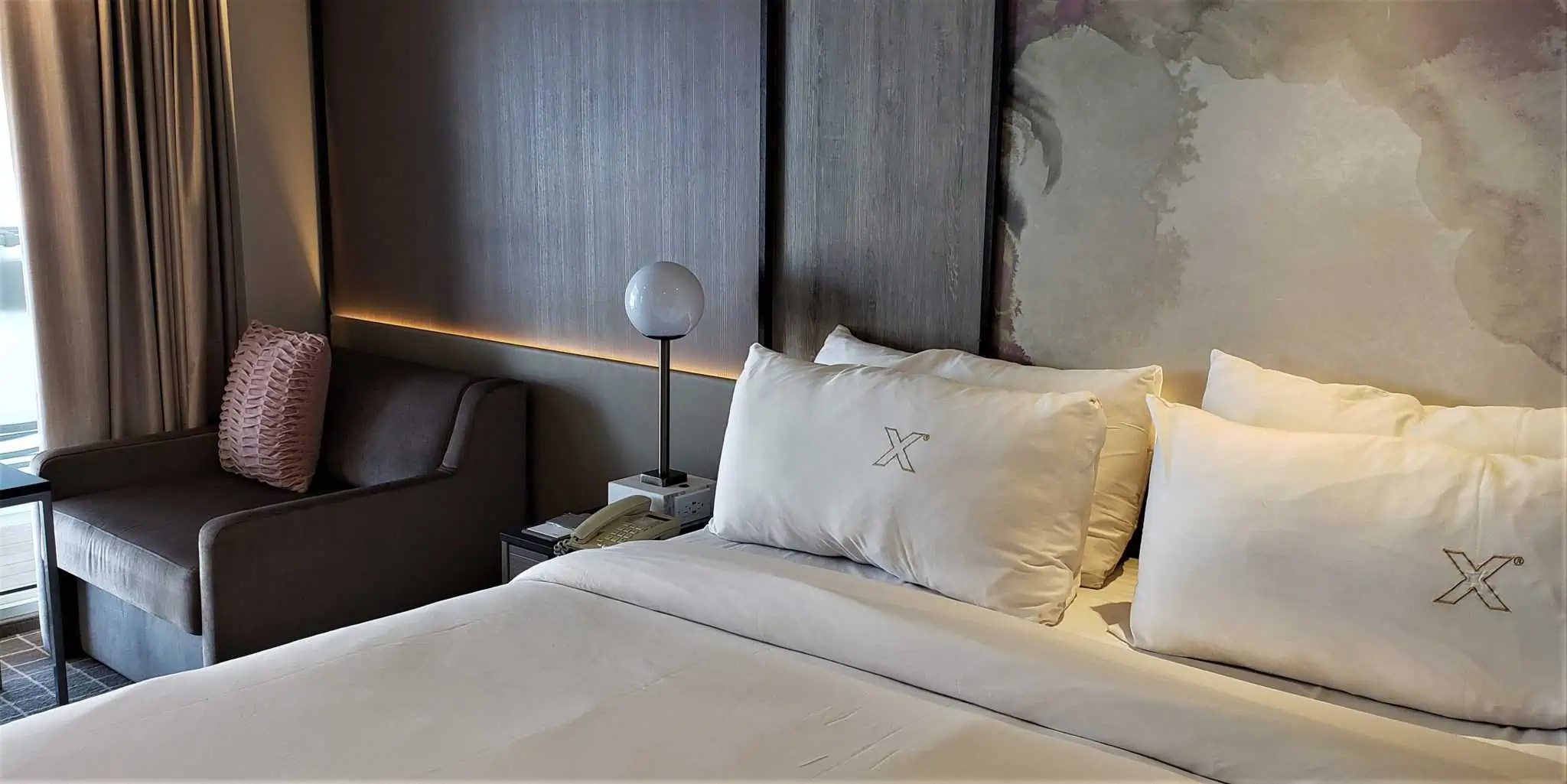 From my perspective, the look was a bit minimalist. That said, it was not stark, but lovely. Space-wise, I've had bigger and smaller cabins. AquaClass staterooms are between 191 and 209 square feet, with a private veranda that's 42 to 62 square feet.
The white bedding is sumptuous with four big white fluffy pillows, each sporting a gold Celebrity X symbol. One nicety is that AquaClass staterooms have an eXhale cashmere mattress, so I've been drifting off to dreamland each night with no problems at all.
Crisp white sheets sandwich a comforter, which I end up throwing off many nights, even though my air conditioning (which thankfully works well, by the way) is cranked way down. I just like it cooler to sleep. If you prefer, this king bed can be split into two twin beds.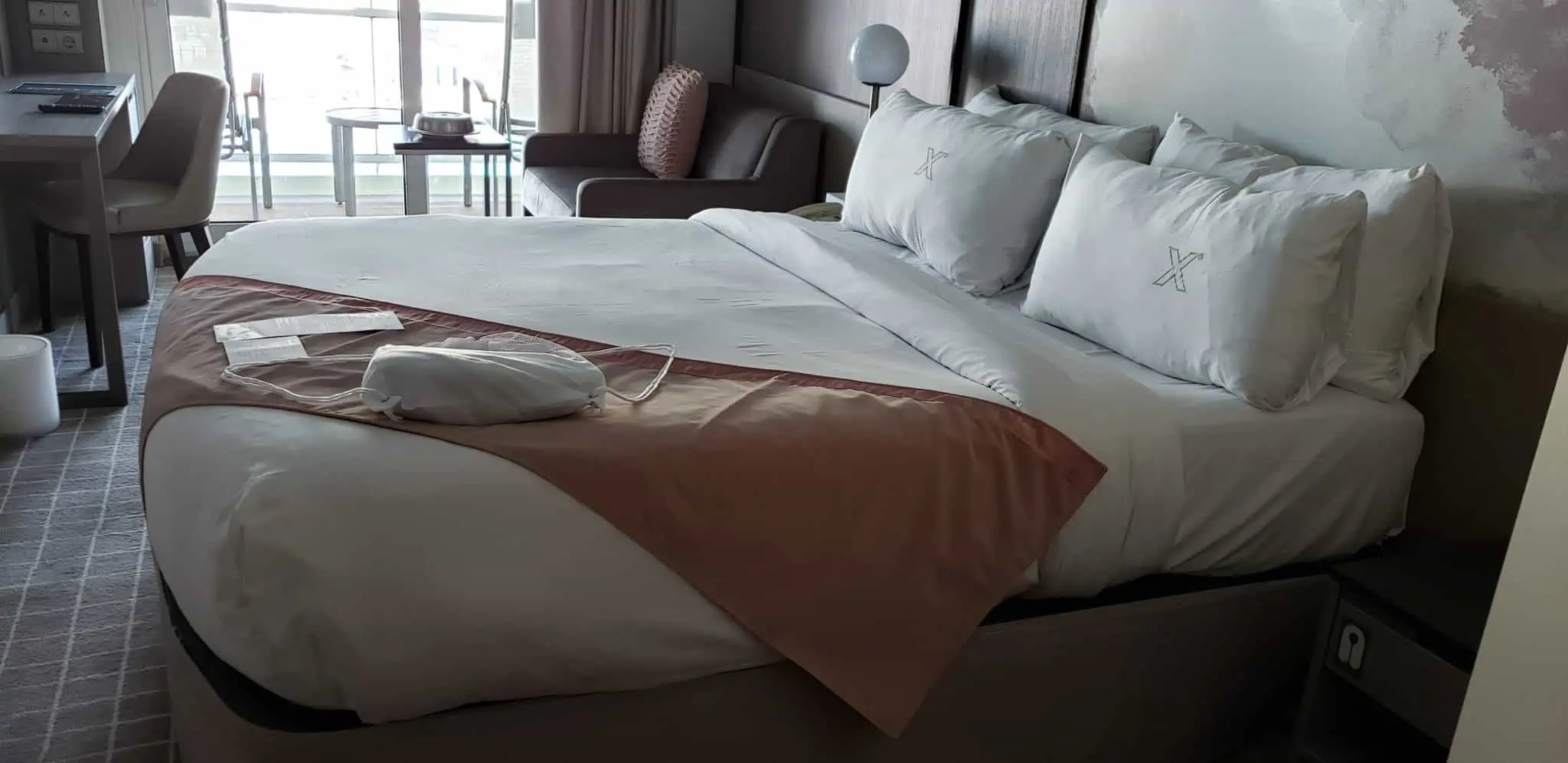 One nice touch? As I walked into the cabin, I noticed a white drawstring bag on the bed; it was half solid material on the bottom and half mesh up top. Inside were two pairs of slippers as well as two lip balms from C.O. Bigelow Apothecary.
Diving Into Video
If you love watching TV or videos in bed, the large, wall-mounted flat-screen TV is directly across from this cabin's bed. Turning it on, I loved the "landing site" imagery of a ship – from the perspective of an aerial view – sailing along. The accompanying message said "Go Have Fun. We'll be waiting for you right here."
That "landing" spot on the in-room TV system also gave the daily weather update, "80 degrees. Broken Clouds," as well as a dose of good advice: "Looks can be deceiving, Don't Ditch the Sunblock." That's advice well taken given the sunburns I saw onboard after our port day in Barbados.
Sometimes navigating an in-cabin entertainment system can be a challenge, but this system truly was "easy-peasy," so I clicked and moved quickly as needed from Safety Information to Live TV, Video on Demand, Ship Information, and Account.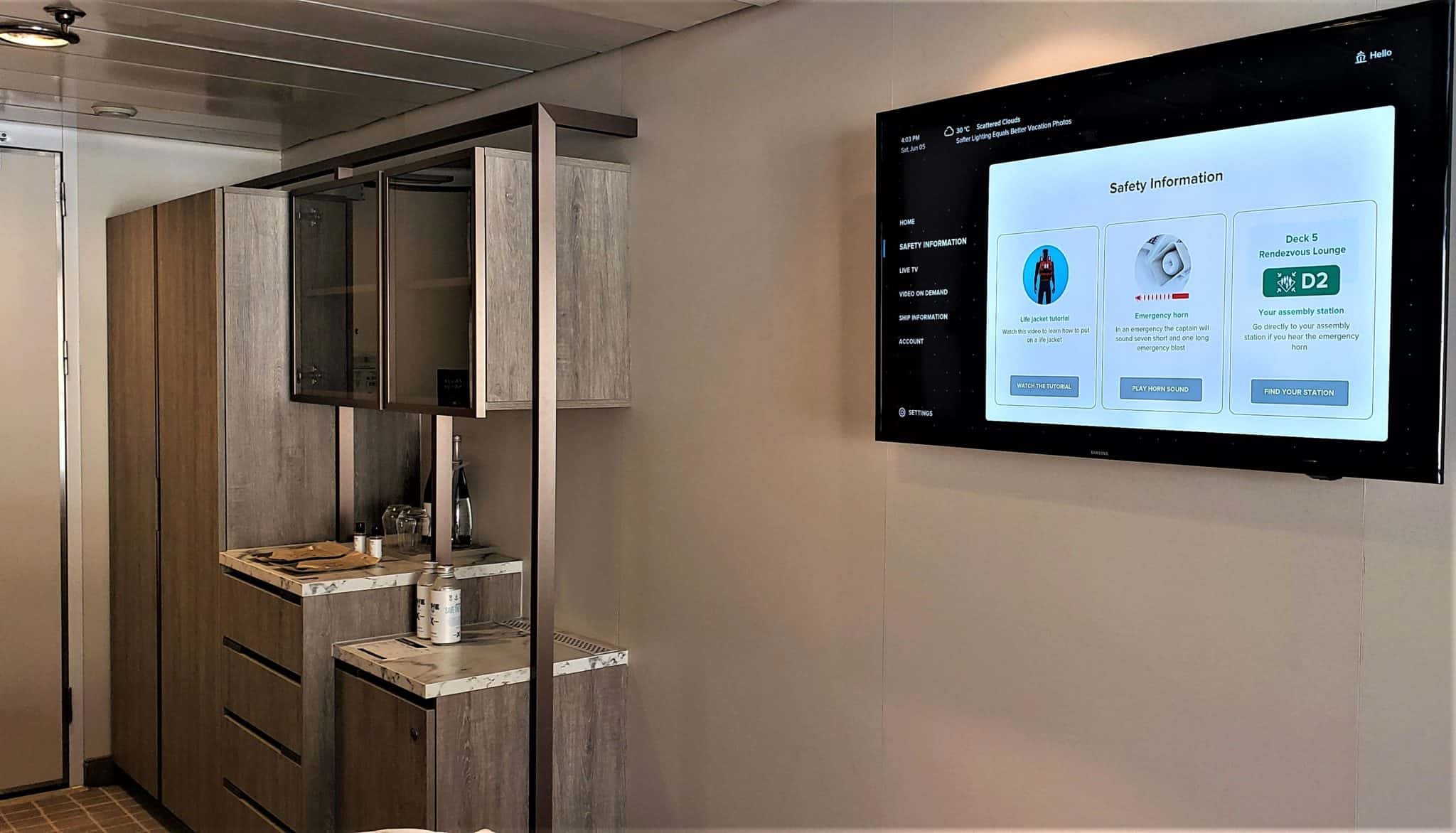 The Video on Demand movie selection was relatively good, and titles were corralled in such buckets as comedy, crime, documentary, romance, and more including the ship's safety video.
After a day of too much sun, too much partying or just too much fun, it's nice to know that one can get into one's jammies and enjoy a fun flick or scary movie from in bed.
Living the High Life
The TV also is nicely adjustable so it can be turned slightly to face the small living area of this stateroom. That's essentially one large, upholstered chair with both a decorative pillow and soft cashmere throw.
I personally loved the small, easily moveable – emphasis on "easily" – table in front of the chair. While tiny, it works great and held a room service tray fine, yet it didn't take up much space. No clunky furniture to move out of the way in a cabin is my idea of a good time.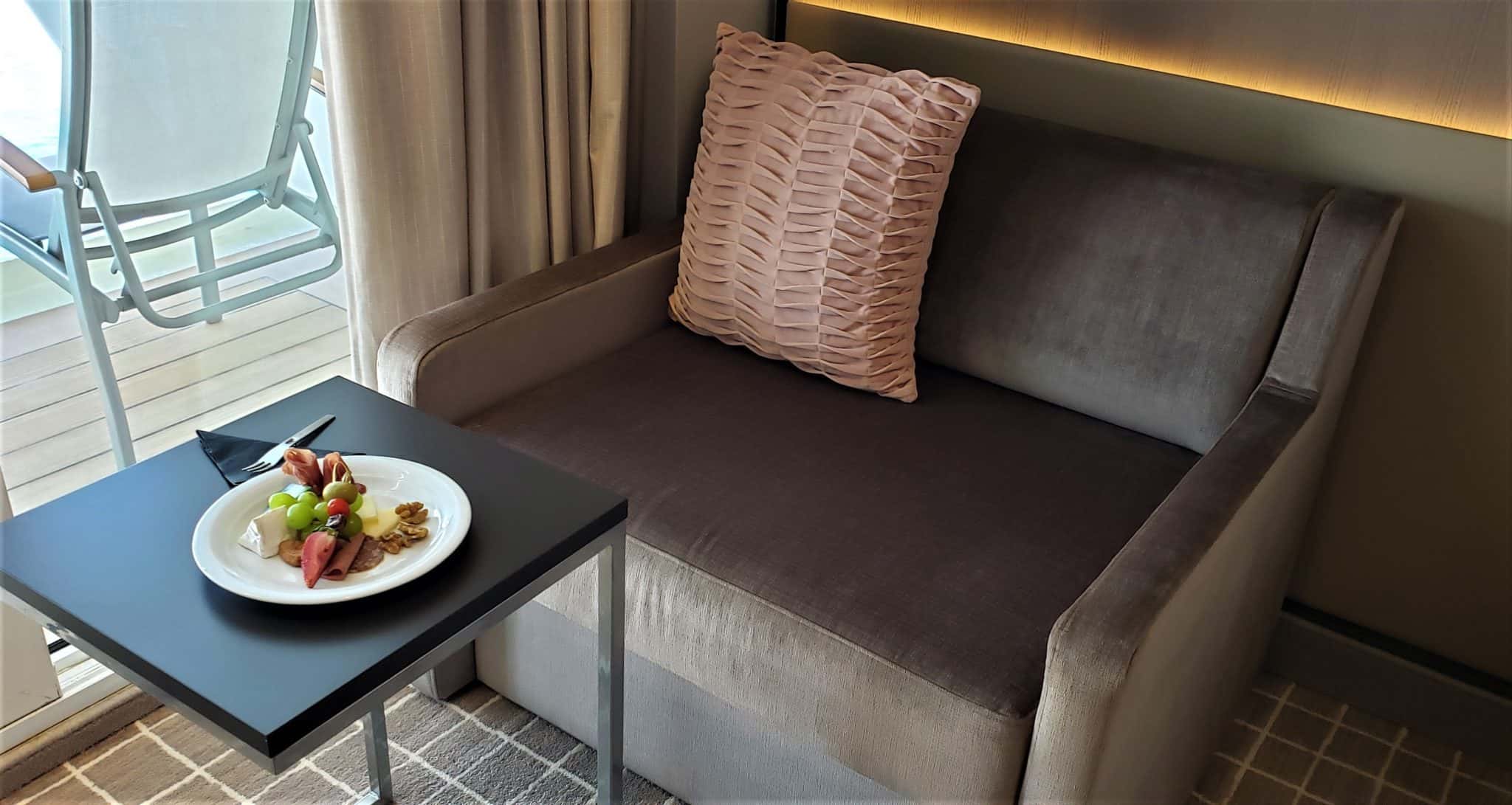 For those who want to sit at a desk area and either work there or put on makeup, Celebrity's set-up is nicely thought-out. The desk's surface itself is fairly narrow. Eyeballing it, I'd judge that it's about 15 inches in depth between the forward edge and the wall. Simply put, my business laptop just fit.
Outlets? On the wall adjacent to the desk are two light switches as well as two American-style three-prong outlets, two USB ports, and one European outlet. On a cubbyhole shelf just above all that is a pouch containing binoculars for use during the cruise.
Storage-wise, the desk has four decently-sized drawers. While the desk chair isn't the typical on-wheels, ergonomic office chair, it's comfortable enough with a cushioned seat and can double as a second chair for the living area.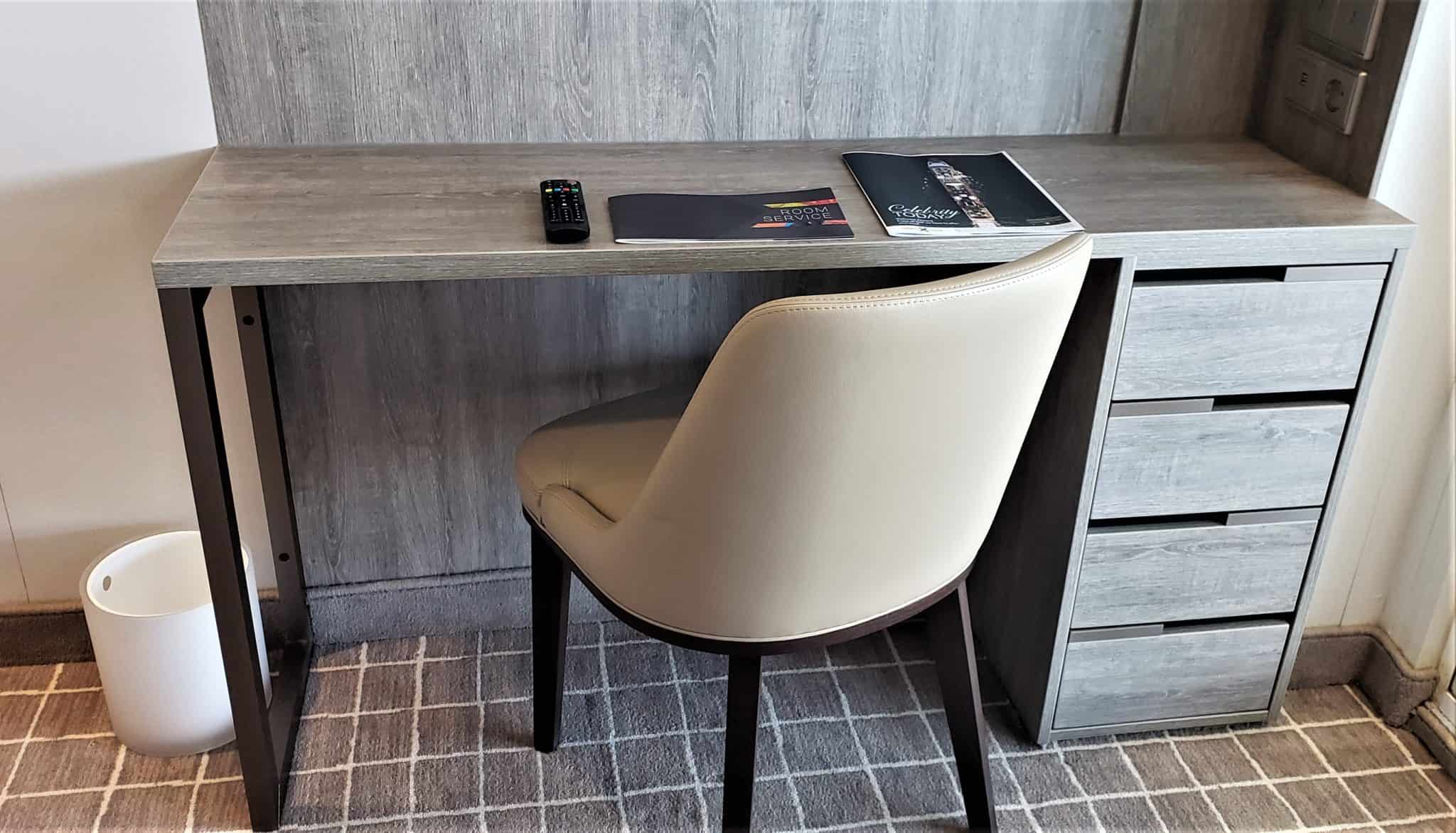 I really liked the large rounded wall mirror above the desk. I'd say it's about three feet across at its widest part. It's easy to sit at the desk chair, put on makeup, or even use it to check out your evening attire and how you look.
A nice perk is that the mirror's outside edge is ringed with light from behind. So, it's akin to a gargantuan makeup mirror!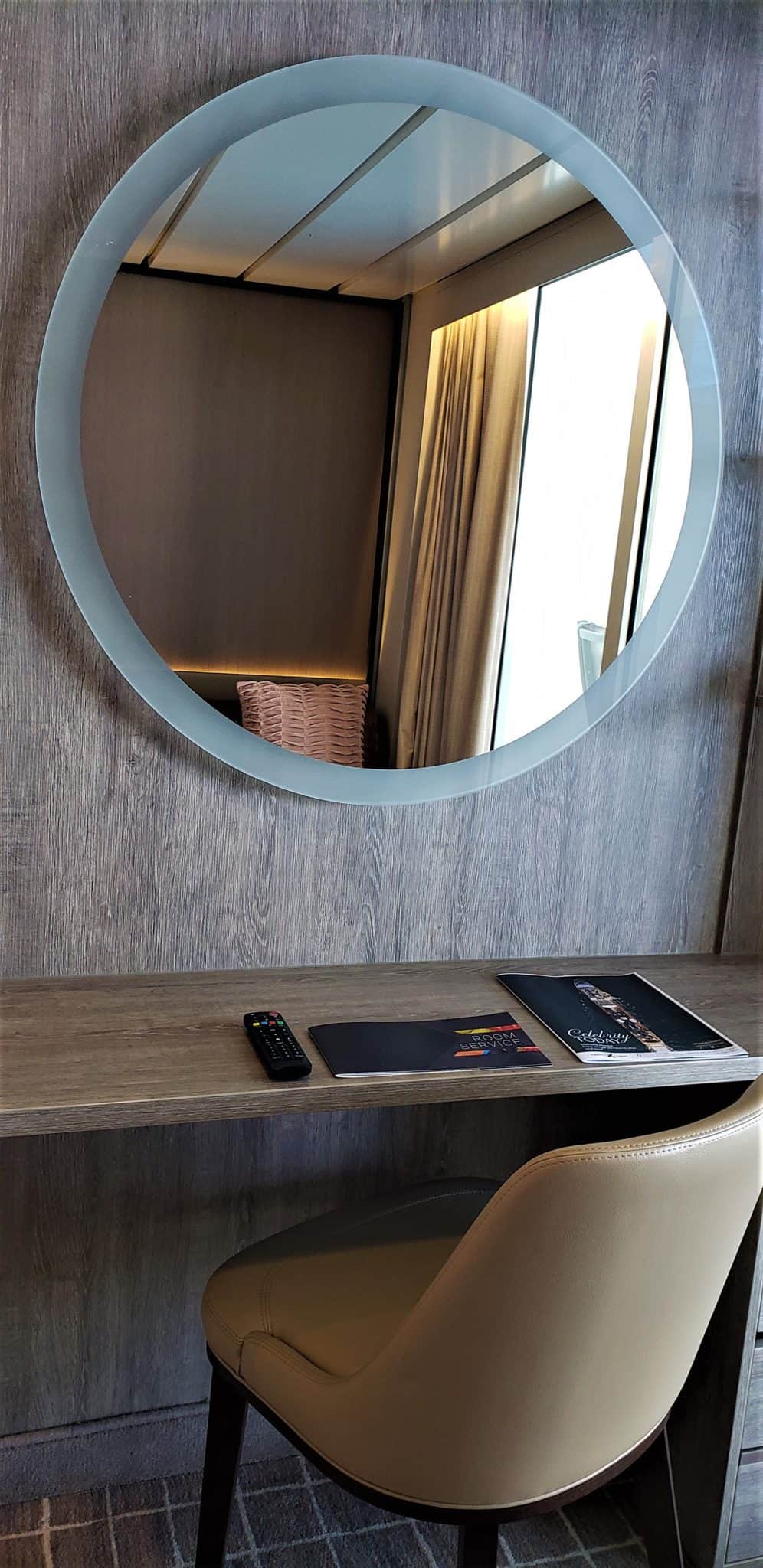 READ MORE: Cruise Ship Photo Tour: Celebrity Millennium
Storage Options
Most of the storage in this stateroom is just inside the entry door. Passengers open two, long vertical doors of a wardrobe to reveal a full-length vertical mirror, bars for hanging clothes, two plush white robes and, as part of the AquaClass amenities, two yoga mats for guest use.
Inside the wardrobe, Celebrity has also provided not just one, but two umbrellas. So, you'll definitely be prepared for any rainy day ashore. In addition, there's what I'd describe as "the gaggle of bags" — shoe-shine bag, tote bag, and laundry bag.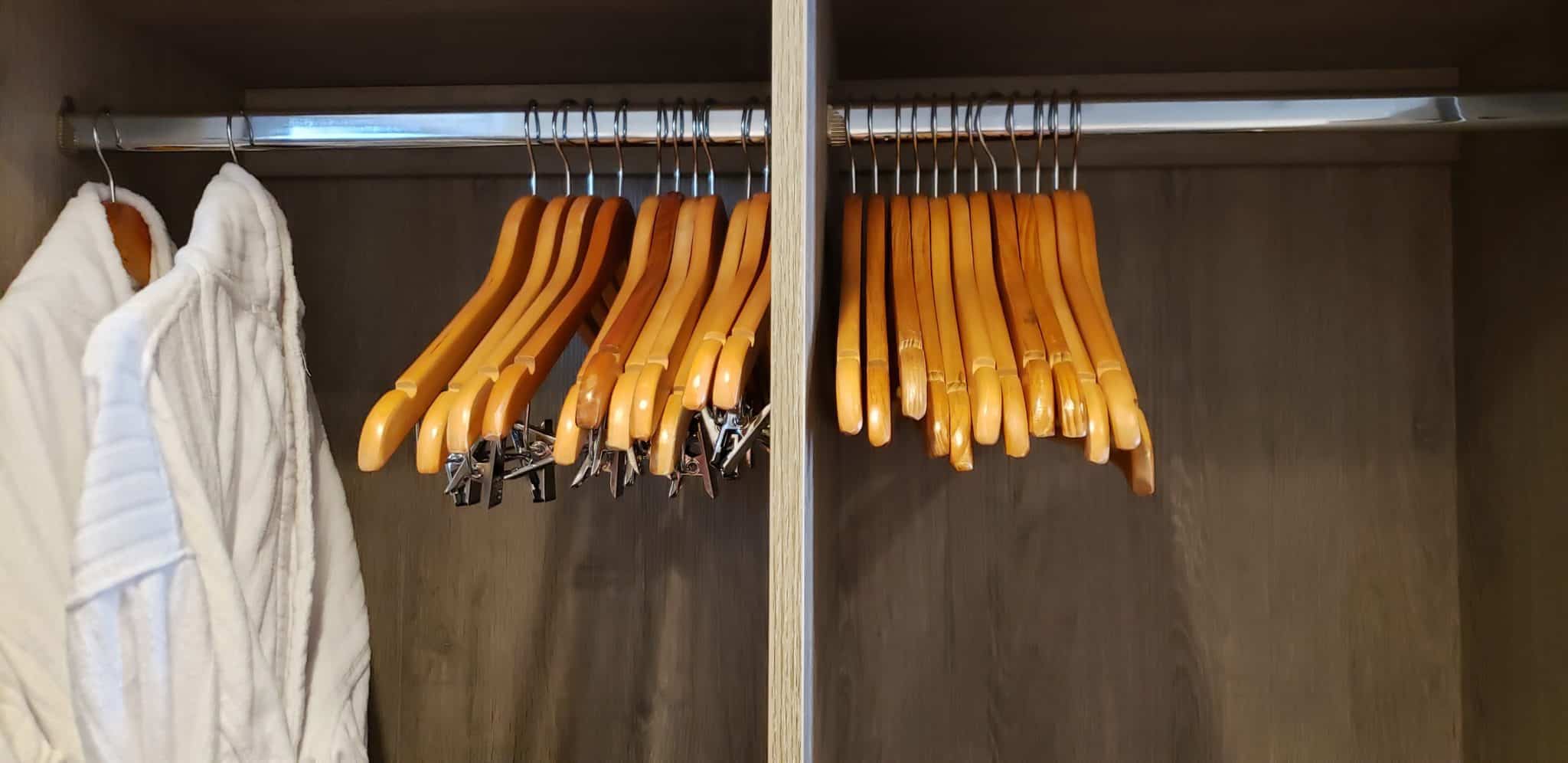 On the counter adjacent to the wardrobe, cruisers also will discover something new this year — two masks and two small containers of sanitizer for guest use, plus two refillable TRUE Grade spring water cans, as the company has an eye toward improving sustainability. My stateroom steward refilled them on turn-down as needed.
The counter also held a bottle of Evian and complimentary bottle of red wine, but upon request, my stateroom steward traded mine for a bottle of white. Under an adjacent, slightly lower counter is a mini-refrigerator that's well-stocked with water, soft drinks, wine, beer, and two Kind bars.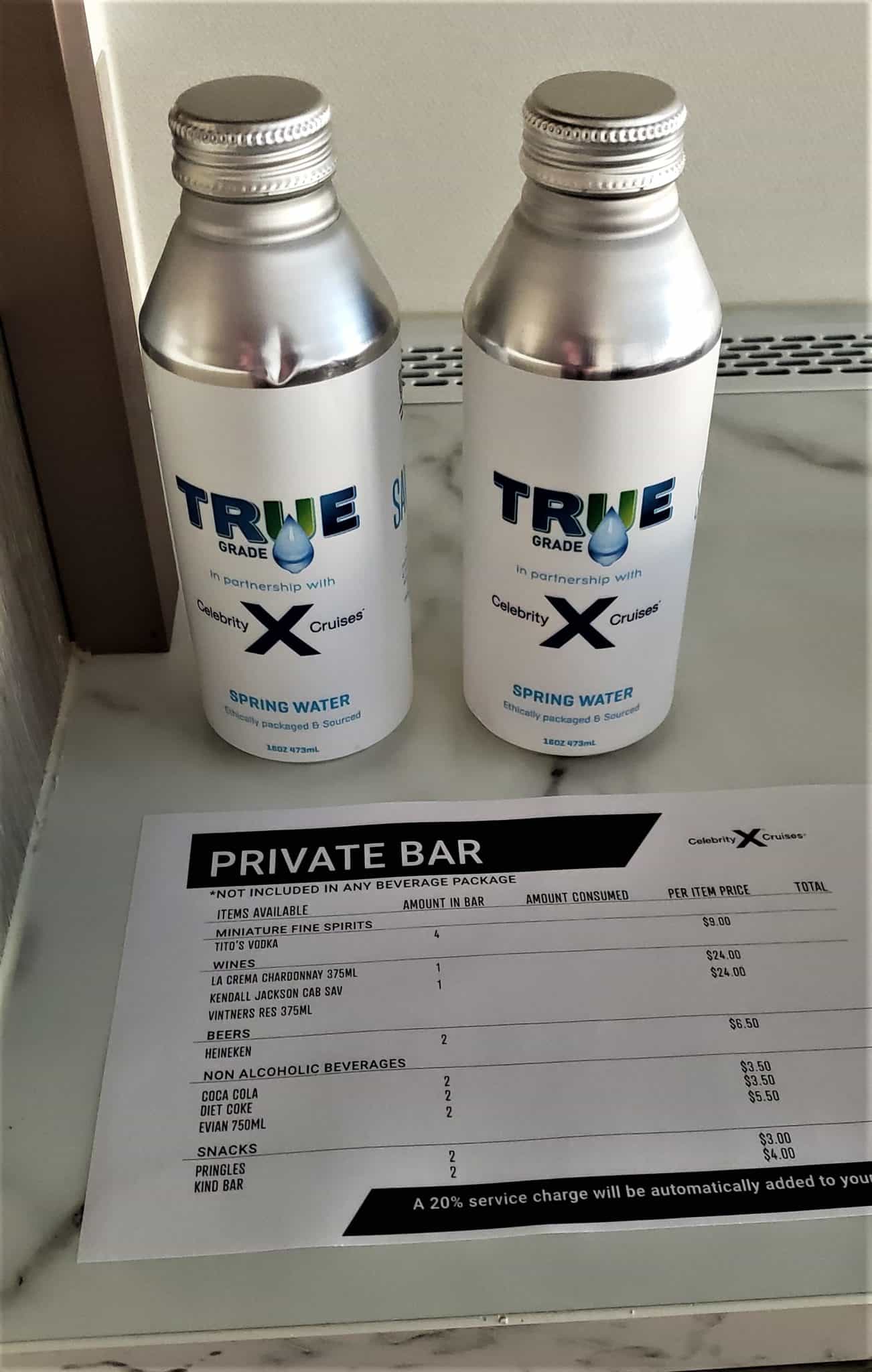 Wonder what you'll pay? A 375 ML small bottle of Kendell Jackson Cabernet Sauvignon or La Crema Chardonnay are both priced at $24 each, while a Heineken beer is $6.50, and a Tito's Vodka $9. It's $3.50 for a Coca-Cola and $4 for a Kind Bar.
Directly above the minibar and counter are hanging cabinets with glass doors, and that's where guests will find a personal safe. These cabinets also provide additional storage.
Bathroom Tidbits
As for the bathroom in our AquaClass stateroom, let's just say it's best described as compact. You'll find a large mirror, one rectangular sink, and a decent-sized (but not huge) walk-in shower with massaging showerhead.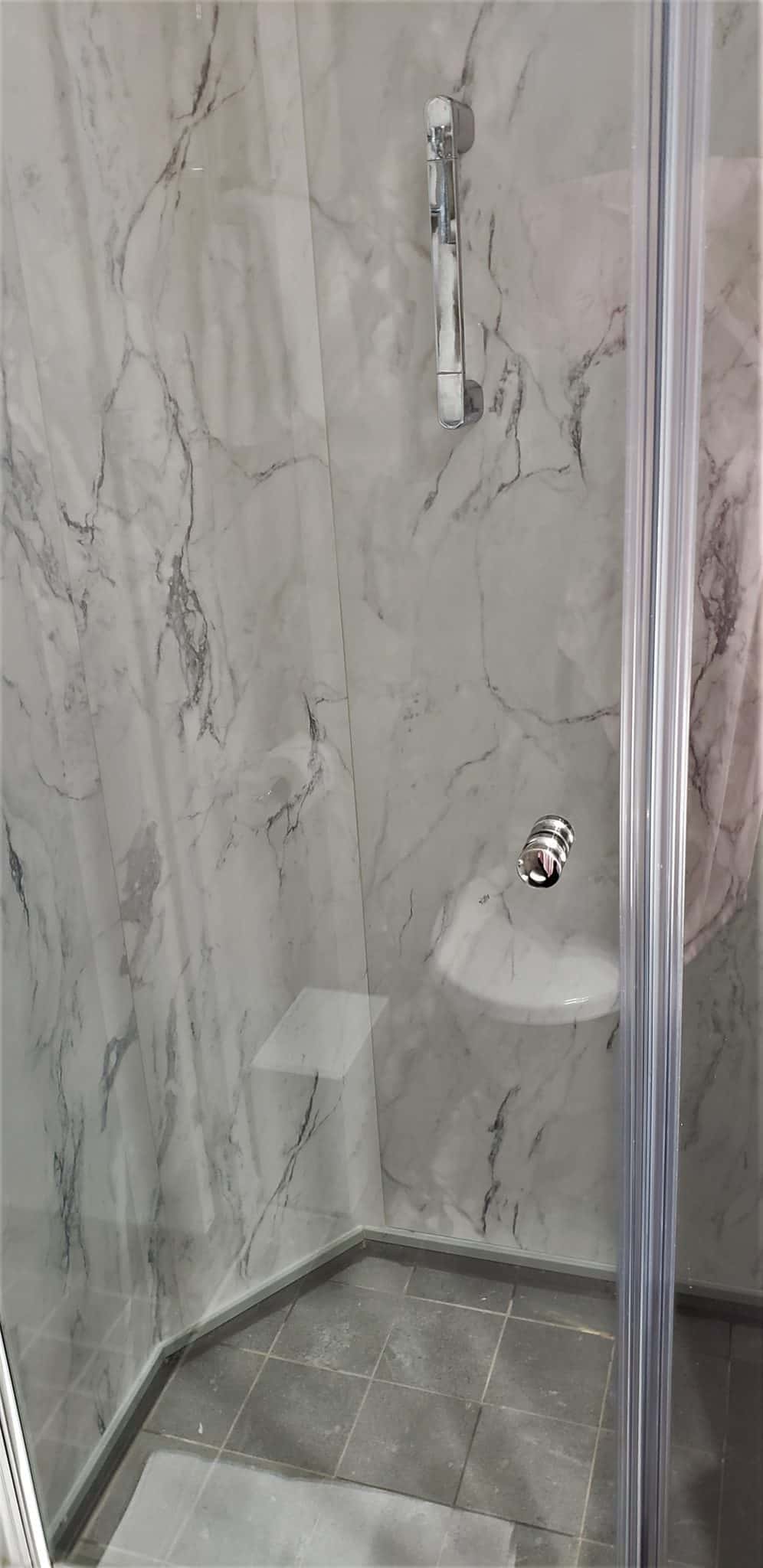 Storage is on a few small shelves rising to the ceiling (and holding two glasses). Below the sink is shelving and a hair dryer for guest use.
I very much appreciated the quality of the bathroom's C.O. Country products, such as soap and hand lotion (loved the fabulous lavender-peppermint formula). Within the shower, there were also large C.O. Country pump bottles with shampoo, conditioner, and body wash. There's no tub in this AquaClass stateroom.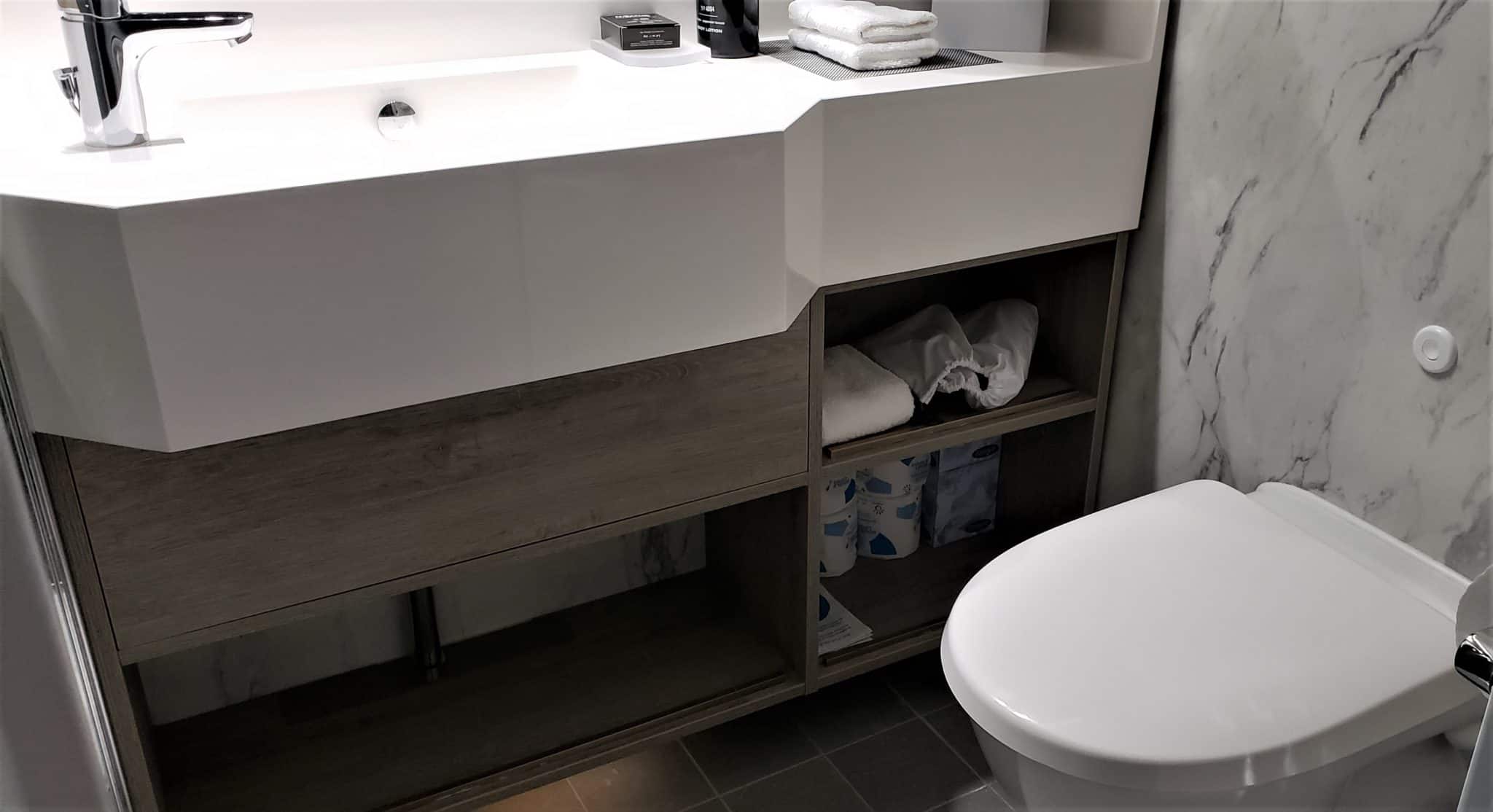 READ MORE: 11 Tips For Navigating Nassau, Bahamas
"Oohing" & "Aahing"
After thoroughly checking out all my cabin amenities, I made a corporate decision (me, myself and I as employees, as I always say "think big") to look for that "ooh" or "aah" cruising moment and simply relax on the private balcony with a glass of wine.
For me, nothing beats looking at the ocean as the ship sails along. I love looking at the waves. Fortunately, this stateroom's large floor-to-ceiling sliding glass doors give way to a good-sized balcony with two comfortable, adjustable-back chairs and a small round table.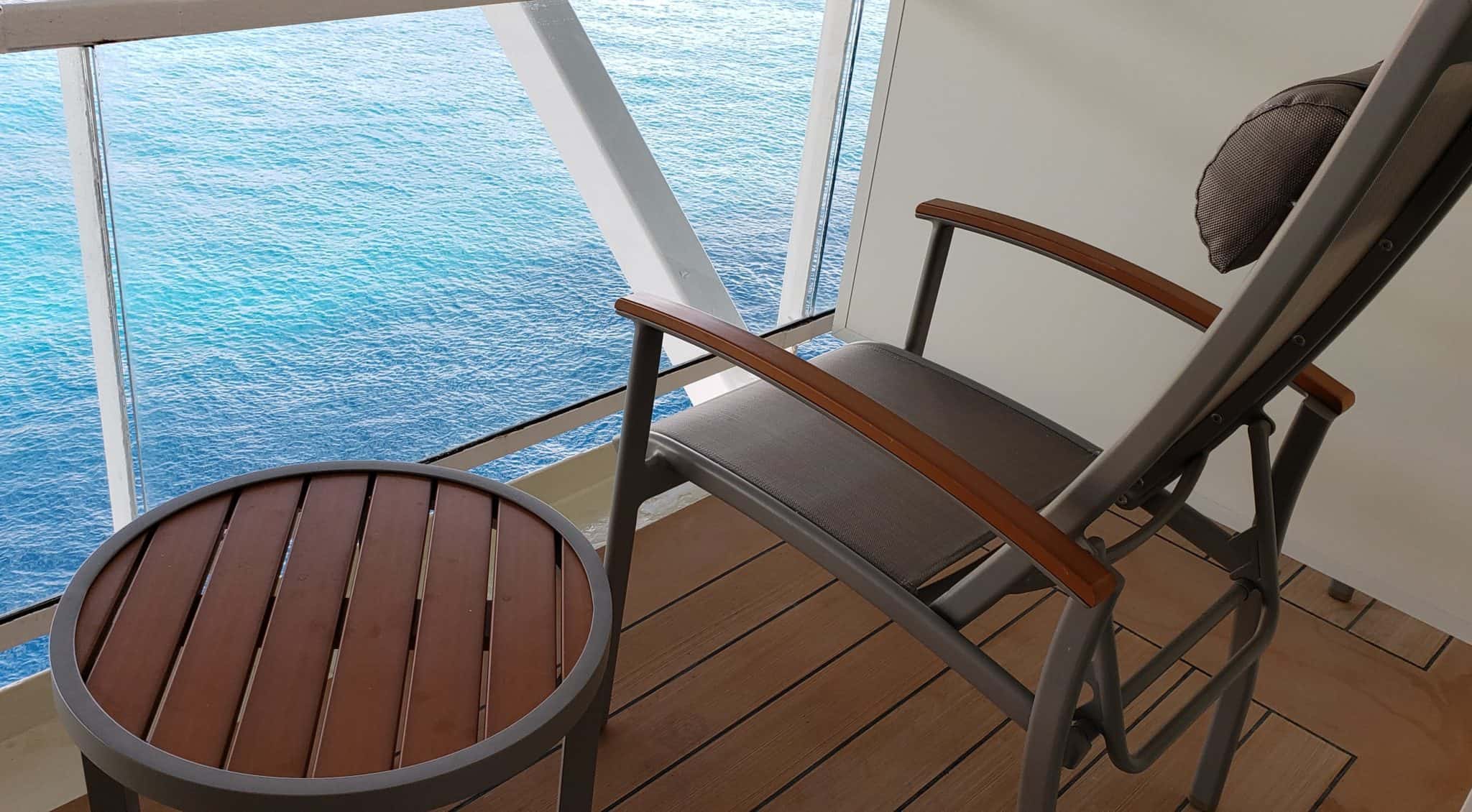 What I particularly like about these Deck 9 balconies is something that may get a mixed response from cruisers. Some will love it, others not so much. This particular deck has a high white ceiling that (given the structure of the deck above) extends out beyond the balconies quite a distance.
So, I'm thinking that rabid sun worshippers may prefer to choose another balcony option on this ship, as my balcony definitely didn't get the bright direct sunlight, even when the sun was on my side of the ship.
That said, this balcony was open, airy, and for me — absolutely perfect. I loved the shade on a sunny day, yet never felt closed in and could look out to the sunshine and see the water or land.
An added perk is that even if it's pouring outside, cruisers still can sit outside on this balcony and not worry about getting wet, which sometimes happens with other types of covered balconies.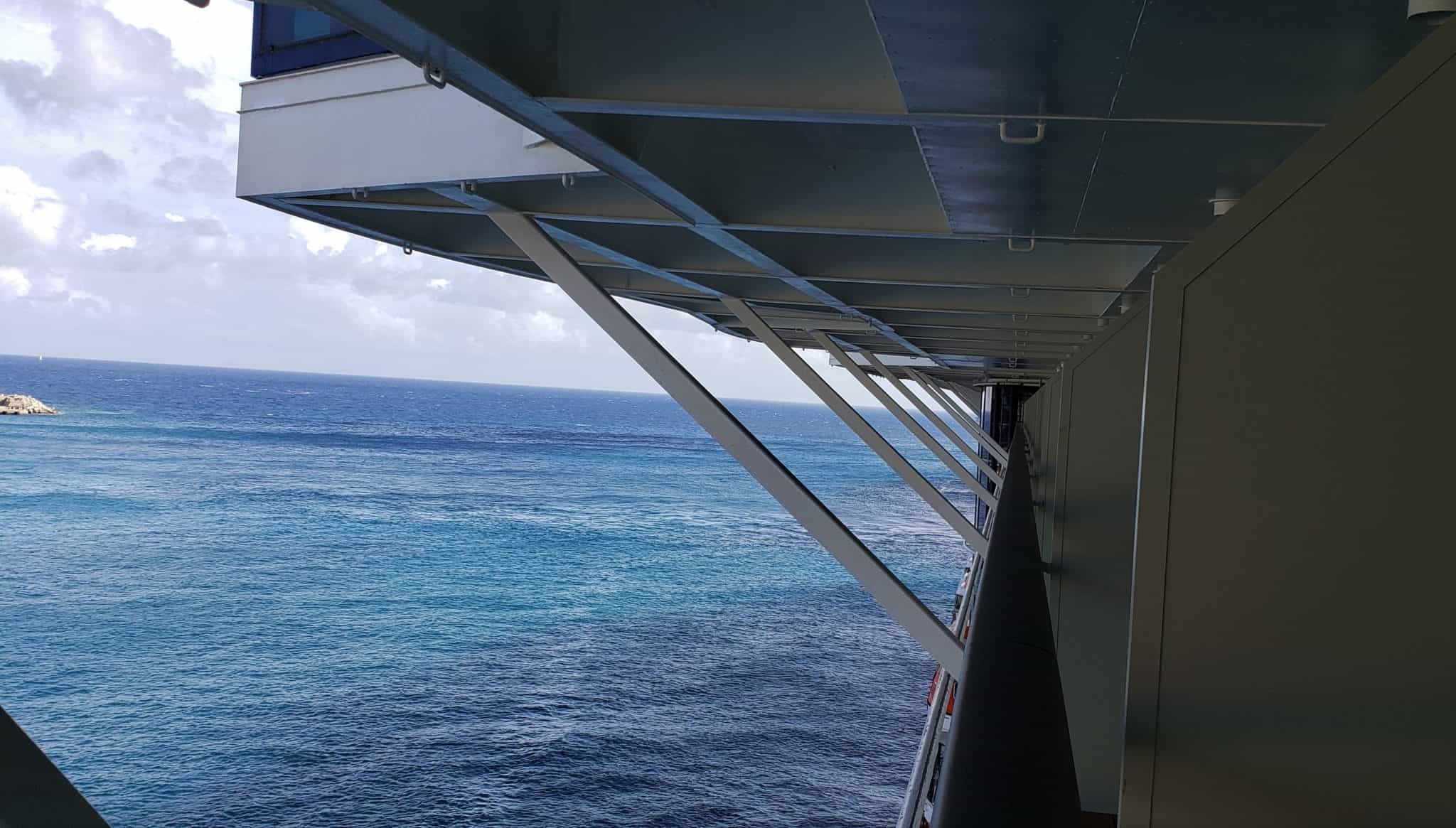 Stellar Service With a Smile
A bit about cabin service: my stateroom steward, Nyoman, introduced himself to me on day one. He's exceptionally friendly, yet highly professional at the same time. He knows his stuff, it's clear.
He also deserves a medal for being accommodating to my schedule here onboard (a bit screwy I admit in terms of my work hours and time away – not the norm for a cruise guest). He's been eager to please and very helpful.
Look for our next story to focus on dining at Sushi at 5, as well as the AquaClass exclusive restaurant, Blu, and more. Then as the week goes along, I'll tell you what I'm finding different on this ship during this pandemic era, how the line has adapted, what the buffet is like, and so on.
By Susan Young
Don't miss the other Celebrity Millennium trip reports: