Two destinations, three cruise lines, and 15 miles apart, so when it comes down to Princess Cays vs. Half Moon Cay, which one will it be? Well, it depends on what you're looking for.
Cruise companies continue to invest hundreds of millions of dollars in private destinations to offer passengers customized and unique services and an opportunity to have their little slice of paradise – if only for a few hours.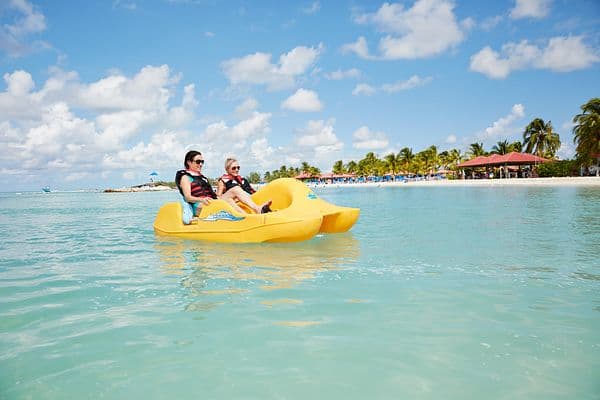 The allure of visiting a private island creates an exclusive experience, making these islands highly sought after. Private destinations regularly rate at the top of cruise line guest surveys.
Cruise lines love private destinations as they can control virtually every aspect of the experience – and a better return on investment.
Passengers love private destinations as they offer everything associated with warm water cruising – fun in the sun activities, food and drinks, private cabanas, and world-class beaches, frequently as the only visitors.
With seven cruise-operated destinations in The Bahamas, deciding which one to visit can take time. Today, we will compare Princess Cays vs. Half Moon Cay in The Bahamas.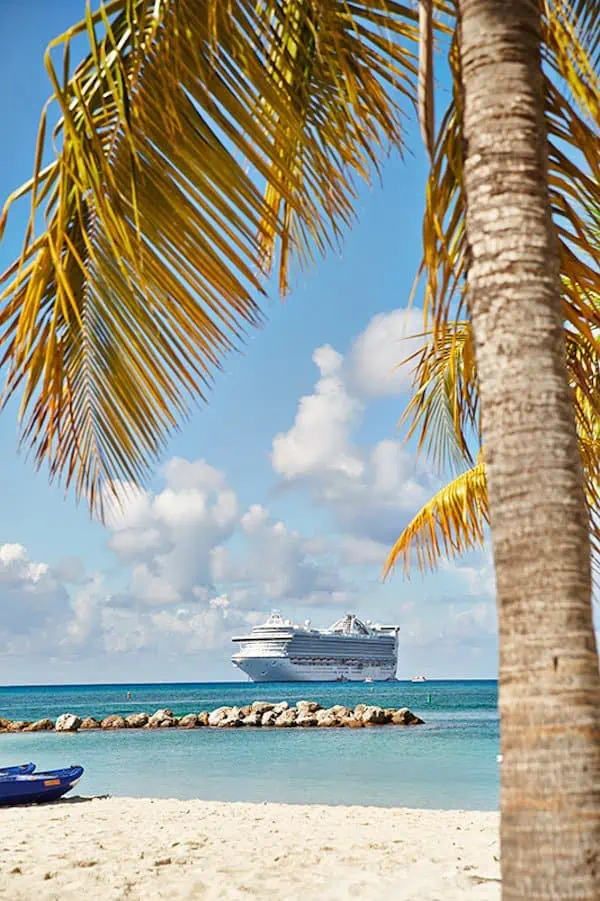 You'll see a lot of Princess Cays vs. Half Moon Cay debates as these two islands attract tens of thousands of visitors each year, making them some of the most popular destinations of their kind in the cruise industry.
If you need help with which island to choose, we will give you a detailed comparison between Princess Cays and Half Moon Cay. Both are amazing islands in The Bahamas visited by Carnival Corporation.
Princess Cays vs. Half Moon Cay broken down: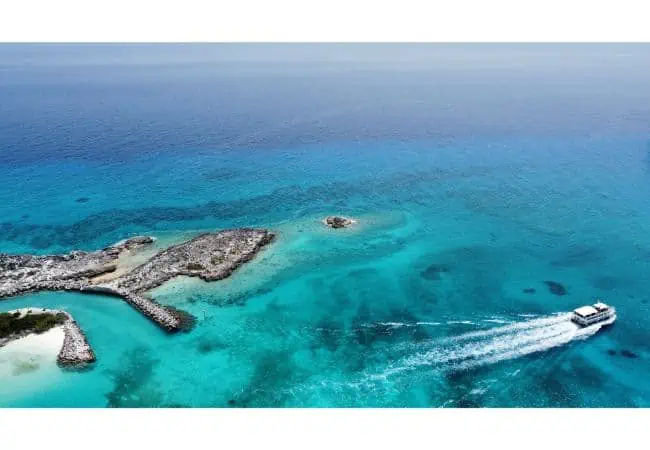 Princess Cays and Half Moon Cay have all the basic amenities you want or need on a private island. You'll find beautiful beaches with loungers, outdoor eateries, bars, shopping, walking trails, rentable cabanas, shore excursions for every fitness level, and more.
Accessibility and Location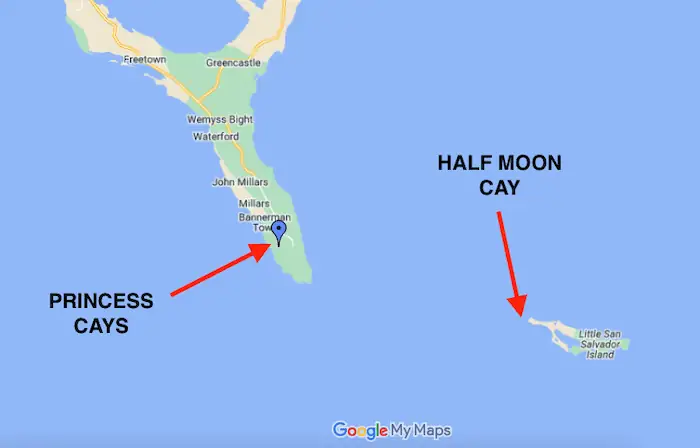 Both destinations are fairly close – the way the crow flies, Princess Cays, and Half Moon Cay are only 15 miles from each other.
Princess Cays
Princess Cays is a sprawling 40-acre beach area at the southwestern point of Eleuthera Island, one of the largest and most popular in The Bahamas. It's located around 70 miles from Nassau and over 200 miles from Miami.
Despite its name, Princess Cays is not a cay or a complete island, or even a private island for that matter.. It's a private resort on Eleuthera, an island in The Bahamas home to thousands of residents. Only cruise ships under the Carnival Corporation umbrella can anchor in this part of the island.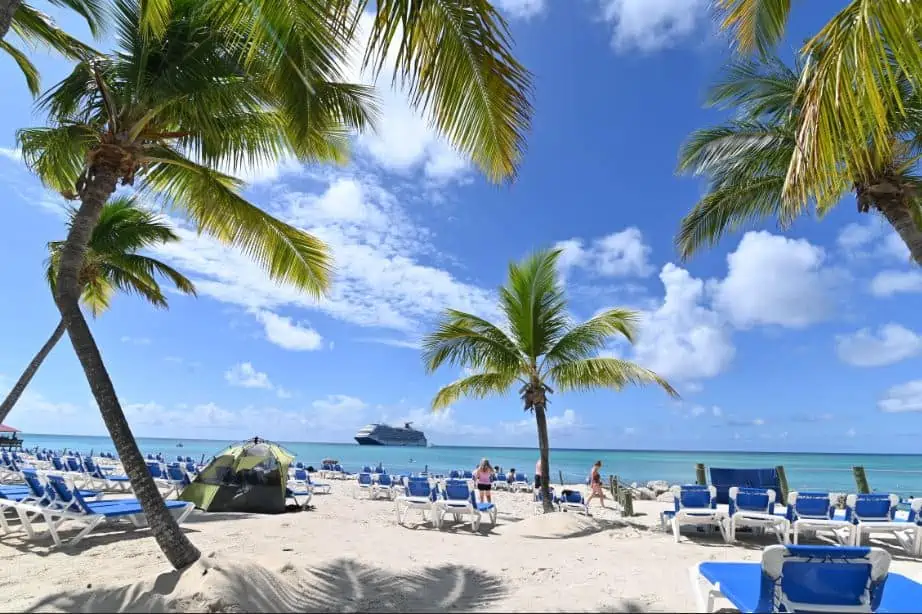 Like many tropical destinations, guests must take a water shuttle onshore to Princess Cays because the water is too shallow for the cruise ship. If you've never taken a water shuttle, you'll get on a smaller boat that will act as a taxi to take you to and from the island. Make sure to bring everything you'll need for the day.
When you get to the island, if you booked an excursion ahead of time, there will be staff members there to guide you to it. Signs will point you to the beach if you want a more relaxed approach. Be sure to bring your cruise card – or, if you're on Princess Cruises, your Medallion – for purchases along with some cash, as some shops on the island only accept cash as payment.
Half Moon Cay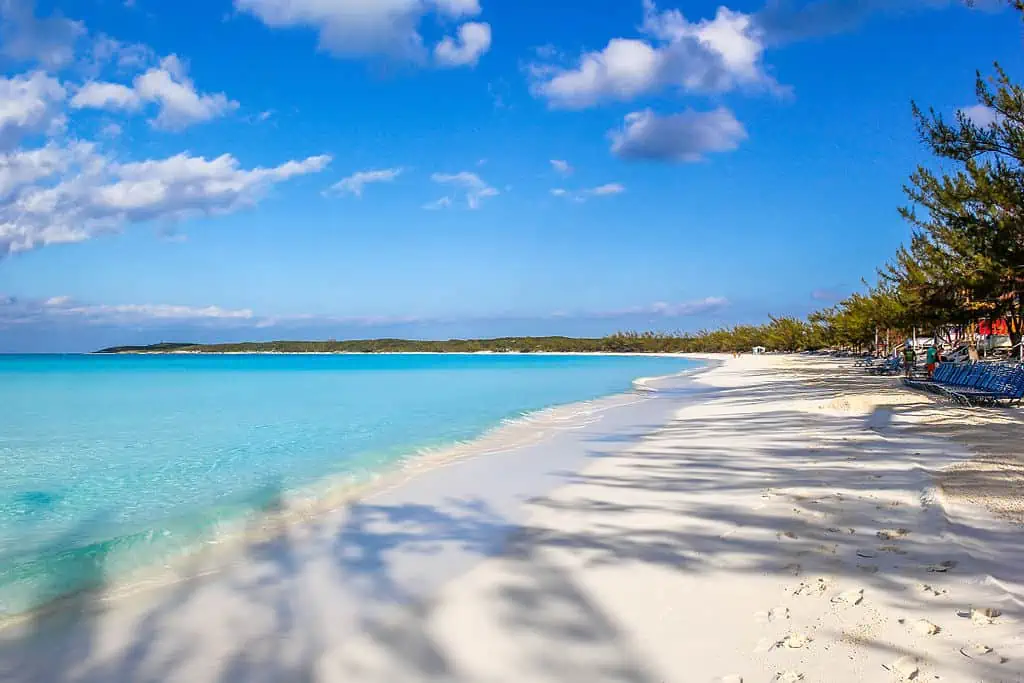 On the other hand, Half Moon Cay is a full private island experience exclusively for Carnival Corporation passengers, mostly those from the Holland America and Carnival Cruise Line brands.
Formerly known as Little San Salvador Island, this island between Cat Island and Eleuthera is roughly 15 miles from Princess Cays. It's approximately 100 miles southeast of Nassau and 277 miles southeast of Miami.
Norwegian Cruise Line originally owned it, but Holland America Line bought it in 1996 for $6 million. HAL developed 50 acres of land as a private luxury resort for cruise passengers and managed 2,400 acres as a natural wildlife refuge. As a private destination, several employees live on the island full-time.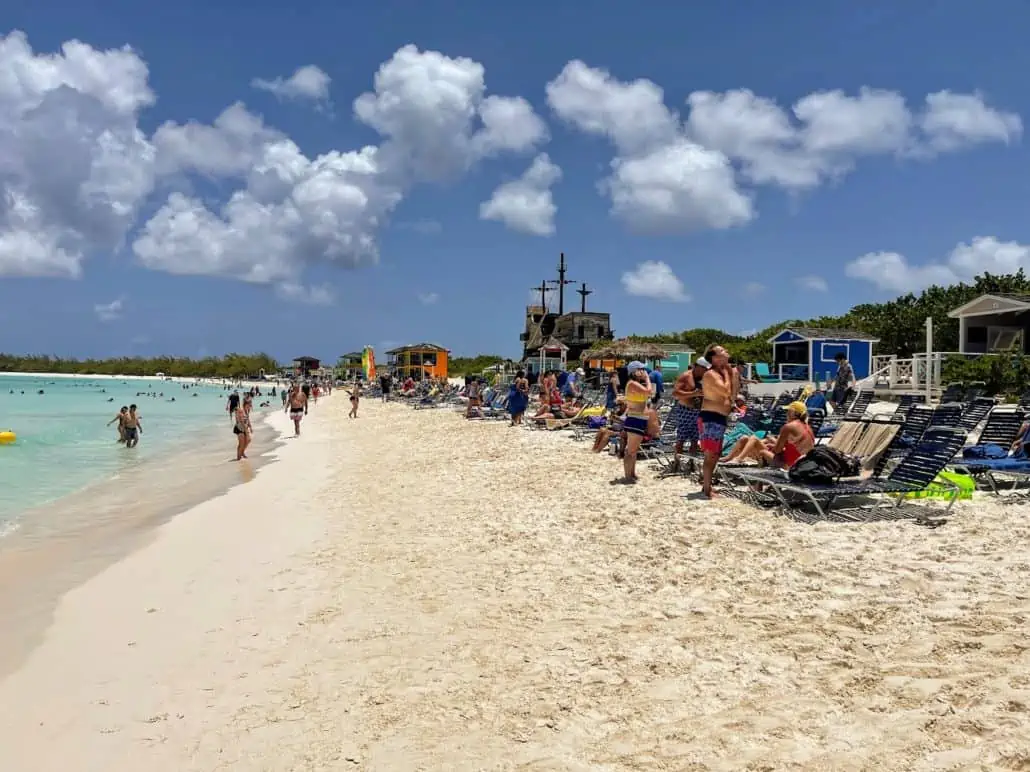 If you're docking in Half Moon Cay, you also will need a water shuttle to go onshore, so pack a bag for the day and get ready to enjoy the crystal-clear waters of Half Moon Cay!
Fun fact: If you're a big fan of HMC, future developments show that Carnival Cruise Line plans to build a deep-water dock to allow its cruise ships to dock directly on the island with its amenities for passengers. This plan is very much in the works, so stay tuned.
Beach Quality and Cabanas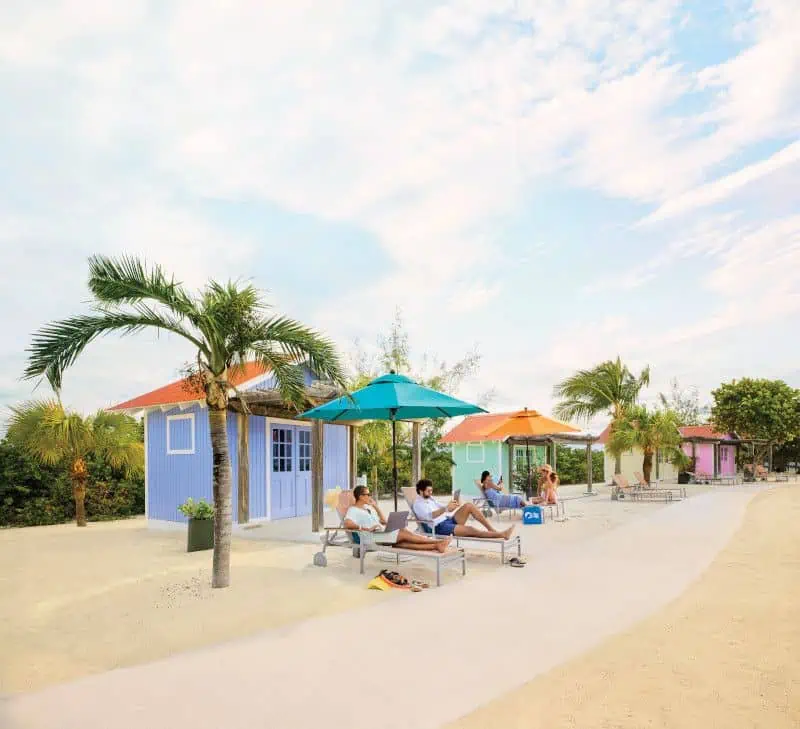 Regarding beach quality, Half Moon Cay has Princess Cays beat here. Princess Cays has a shoreline with quite a few rocks, so wear your water shoes when exploring the area. Half Moon Cay has truly powder-soft white sand beaches.
There are three different beach areas: the main shore area, where most activities happen; Little Bay, around 100 feet from the tender landing; and The Sanctuary, an adults-only beach, which is a perfect place to relax and avoid the crowds.
All beaches offer amenities such as chaise lounges and chairs, private cabanas, and air-conditioned bungalows, which tend to sell out quickly, given the temperatures in The Bahamas. Therefore, booking a bungalow ahead of time is recommended, especially for large families.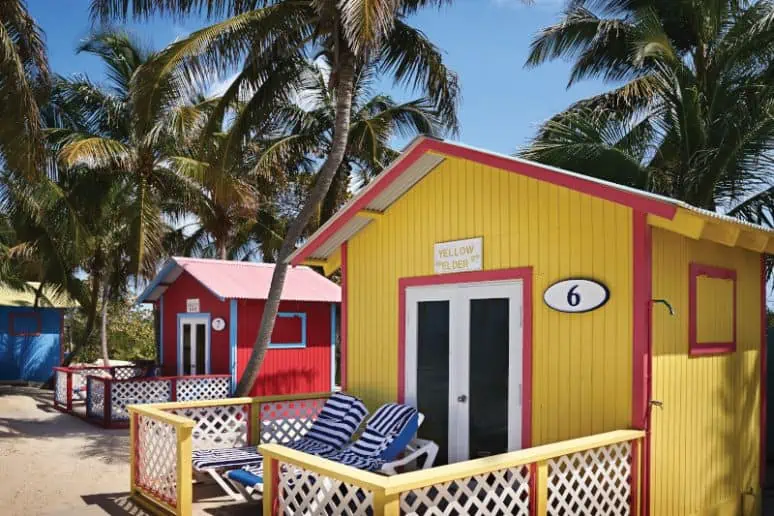 Two types of bungalows are available for rent: Princess Cays Bungalow and Sanctuary Bungalow.
Princess Cays bungalow is very close to the beach and fully air-conditioned, with tables and chairs inside, loungers on the deck, a private shower, and bar service.
If you book this in advance, there is a motorized transport from the dock.
As for the Sanctuary bungalow, it is located within the adults-only Sanctuary, so only passengers 18 years and above can have access to it. You'll have the same amenities and the option for a picnic.
Half Moon Cay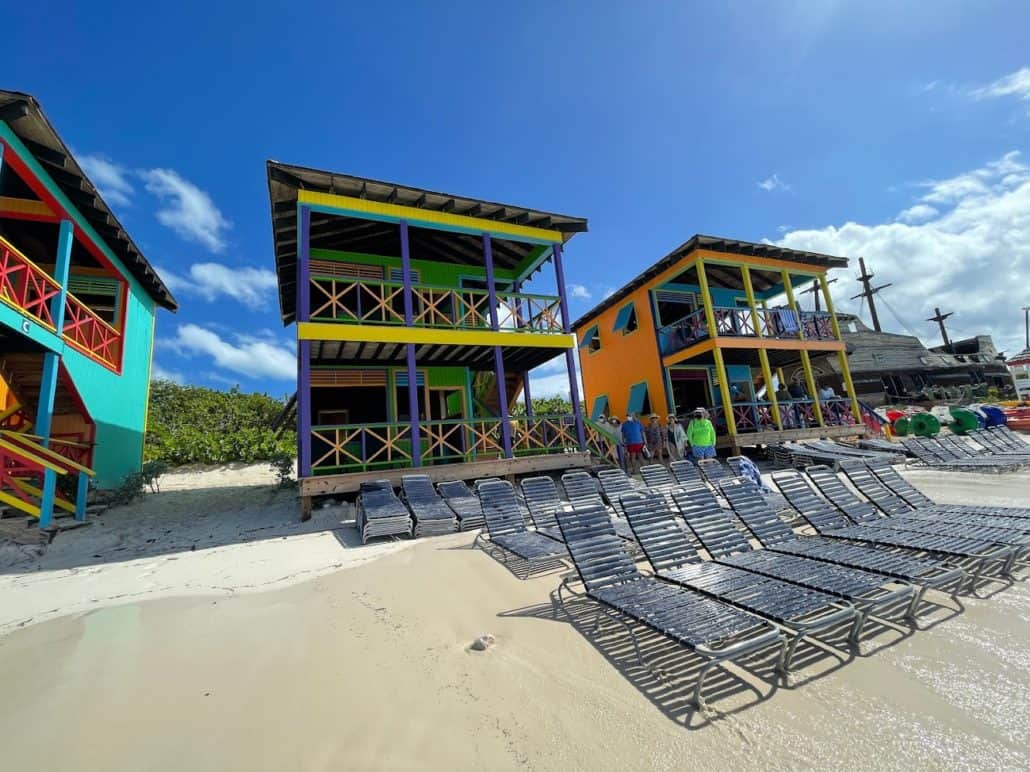 Half Moon Cay offers a 2.5-mile stretch of white sand beaches, and of course, it's the go-to spot for cruise passengers who can walk the shoreline without water shoes.
Hammocks and lounge chairs dot the beach area, providing the perfect refuge for relaxing, napping, or enjoying the gorgeous ocean views.
For those who want to splurge a little and want something private for your family, beachside cabanas cost around $350 and are fully air-conditioned.
The cabanas include a private terrace, fan, refrigerator, indoor and outdoor tables and chairs, deck loungers, misting showers, complimentary snorkel gear, water floating mats, and light snacks like fruits, chips, dip, and soda.
RELATED: What's Included in the Cabana's at Half Moon Cay?
For something a bit bigger, you can rent a two-story beach villa with a starting price of $600 that accommodates eight and includes a private deck, hot tub, fridge, misting shower, dining area, snorkel gear, floating mats, and light snacks.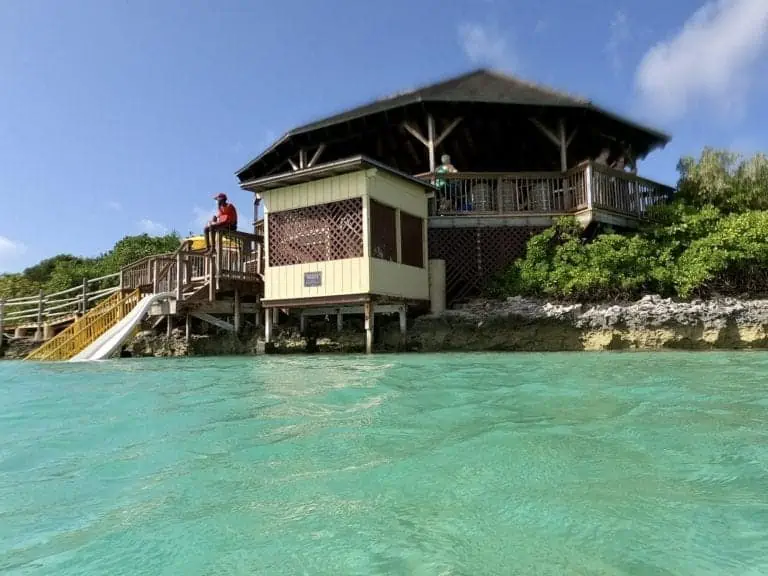 If you're looking for the ultimate luxurious experience, the Private Oasis is the perfect choice. Although it's the most expensive option, starting at $1,600, it's also the most inclusive.
The grand cabana boasts an 8-person hot tub, heated indoor and outdoor showers, privacy gates, and misting stations.
RELATED: A Day at the Private Oasis on Half Moon Cay
But that's not all – you also have access to your own personal chef (who comes from the ship), butler, cabana steward, lifeguard, and bartender.
You'll be treated to various food and beverages, including BBQ lunch, light snacks, local and imported beers, and tropical cocktails.
The cabanas sell quickly, so book these in advance, as slots are limited.
Water Activities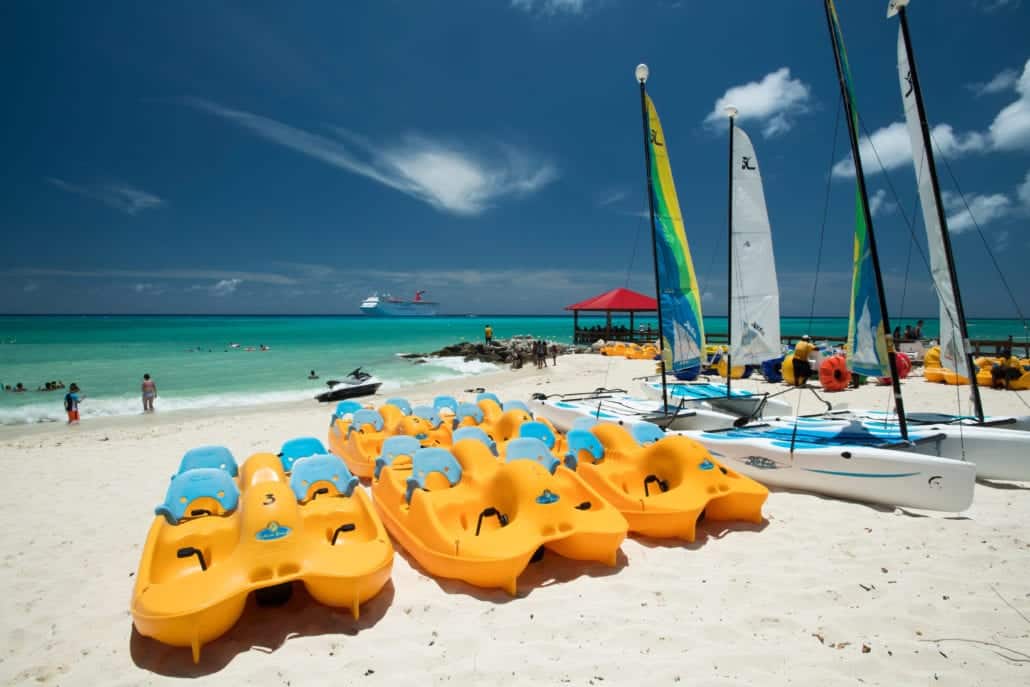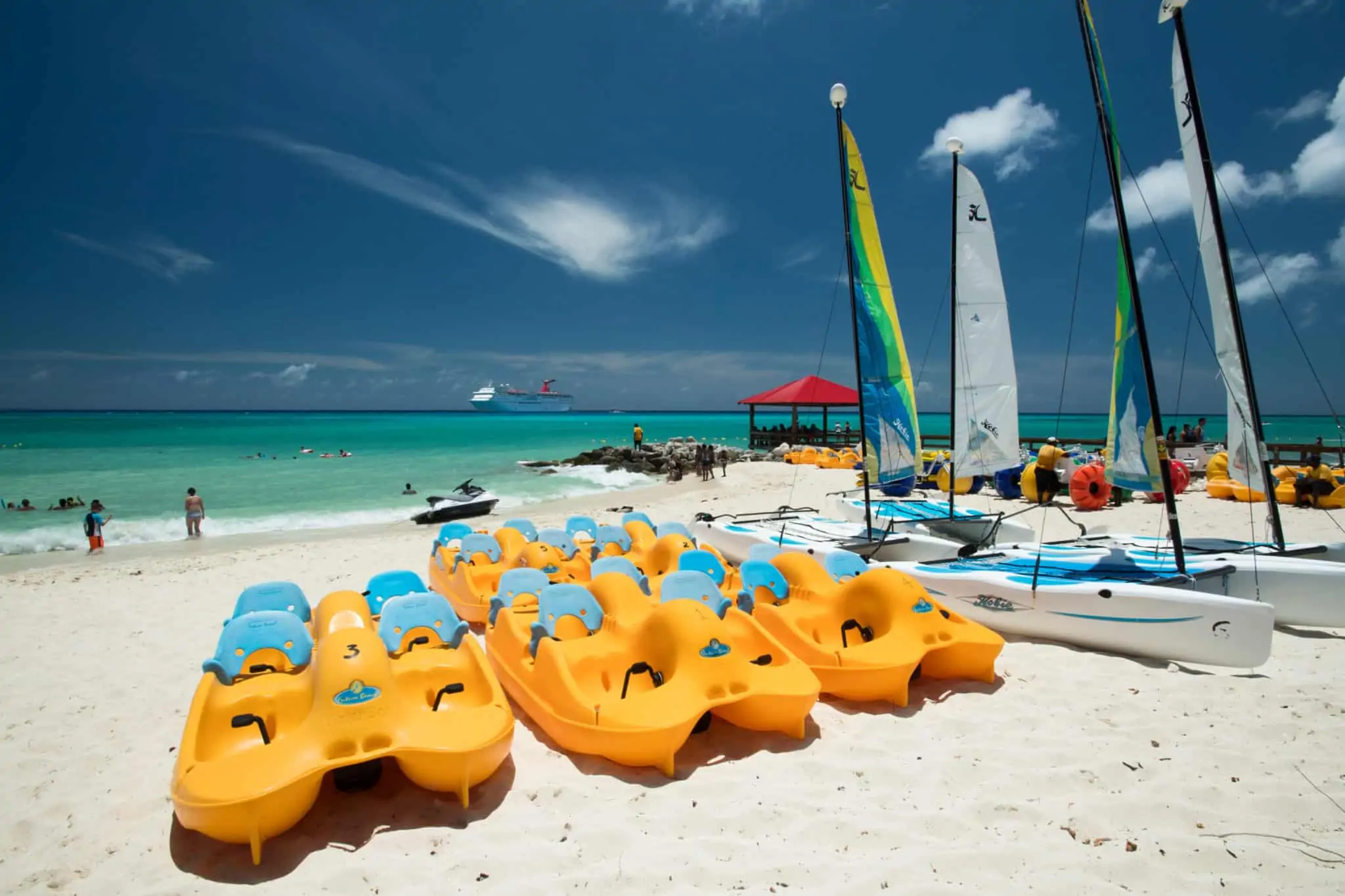 Regarding water activities at Half Moon Cay vs. Princess Cays, the offerings are pretty much even, with a slight nod to Half Moon Cay.
Princess Cays offer a wide range of water activities, surf fishing, stingray encounters, coastal cruises, sailboat rental, floating mats, glass bottom boat cruises, kayaking, banana boat rides, Oceanview seaboard, snorkeling, paddle wheelers, aqua bikes, and standup paddleboard.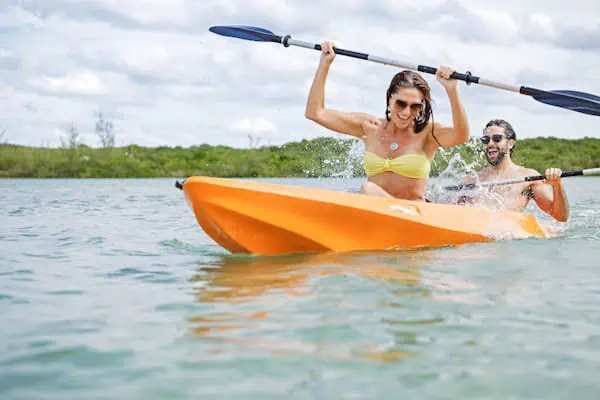 Half Moon Cay offers a similar lineup with swimming and snorkeling, scuba diving, water sports like kayaking, water bikes, paddle boarding, banana boat rides, jet skiing, glass bottom boat tours, stingray encounters, and parasailing.
Both private islands offer some unique excursions so it would depend on your preference.
In the end, however, Half Moon Cay offers a more diverse list of activities and is the better choice for adventurous people who prefer something more thrilling.
Land Activities
The difference between the excursions offered by Princess Cays and Half Moon Cay would be land activities. Most of their land activities are different from each other since each offers its distinct topography.
For Princess Cays, highlights include an Island bike adventure and a local market for locally made Bahamian souvenirs. Princess Cay completed a major renovation in 2018, adding new shore excursions to its portfolio.
Since Princess Cays is only a resort on the island of Eleuthera, there are opportunities to sample the unique culture of The Bahamas. You can also play other sports like volleyball and basketball.
There's also a shaded and covered kid's club area for parents who want some "we" time while they partake in shore excursions. There's a small wading pool here, but it can only be accessed if the parents are around.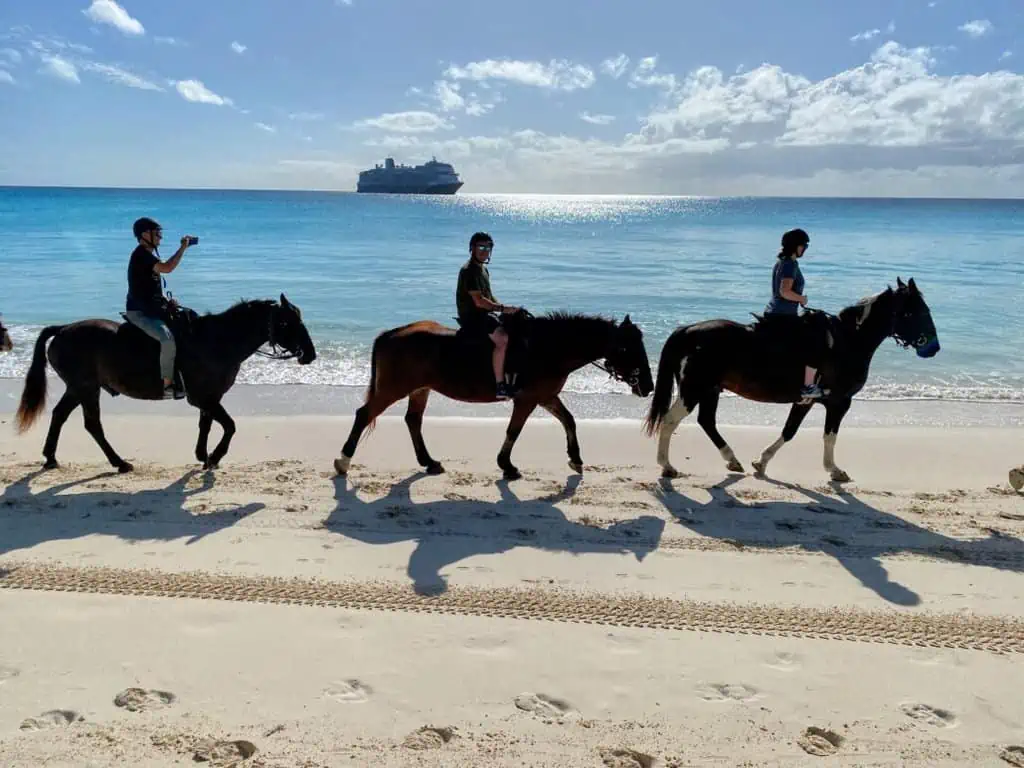 Half Moon Cay offers diverse activities you can try. A whole day of trying different land activities wouldn't be enough to cover everything the island offers.
The island is famous for its horseback riding through the ocean, but visitors can also explore abandoned ruins from the 1700s, rent a bike to Pegasus Ranch, bird watch, stroll the two-mile beach, shop for souvenirs in the Straw Market, and more.
Kids will love the Half Moon Lagoon Water Park, free of charge, with lots of splash options.
Food and Beverage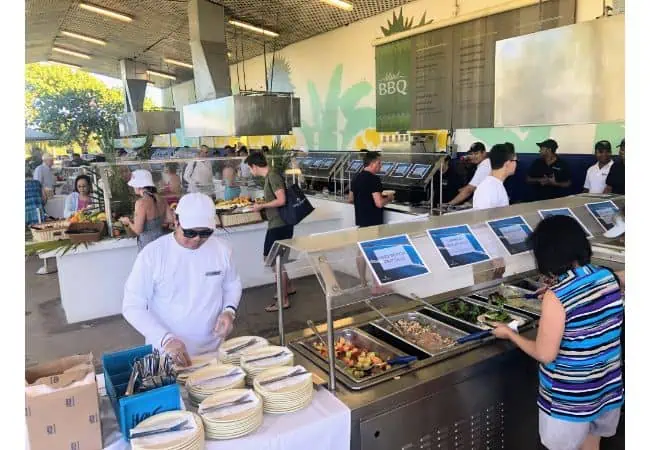 One of the best things about Princess Cays and Half Moon Cay is that a complimentary lunch is available to all passengers.
Princess Cays offers a full buffet and BBQ at Sea Breeze Grill and Grill Crazy. Open from 11:30 a.m. to 1:30 p.m., the venue features meats, burgers, salads, fruits, bread, desserts, and complimentary soda.
Half Moon Cay's complimentary BBQ lunch is available from 11:30 a.m. to 1:30 p.m. It includes various options, including hot dogs, ribs, hamburgers, potato salad, grilled chicken, cookies, lemonade, salad, and more, with sodas, alcohol, and ice cream for a charge.
Just remember, if you're having fun on the beach, the buffet time is limited, so you could miss it if you aren't paying attention to the time. Some cruisers bring snacks to the beach and skip the buffet altogether.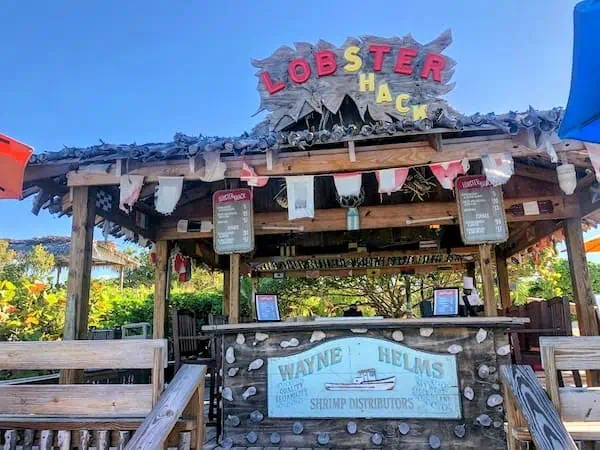 There is one difference in dining when Carnival Cruise Line calls at Half Moon Cay vs. when Holland America Line calls there. When Holland America is at Half Moon, a fresh seafood eatery is on the island called Lobster Shack. Guests can pre-order different seafood chowders, fish, and lobster here and pick it up when ready to eat.
When Carnival Cruise Line docks there, the Lobster Shack becomes an extension of the Seafood Shack eatery onboard its ships.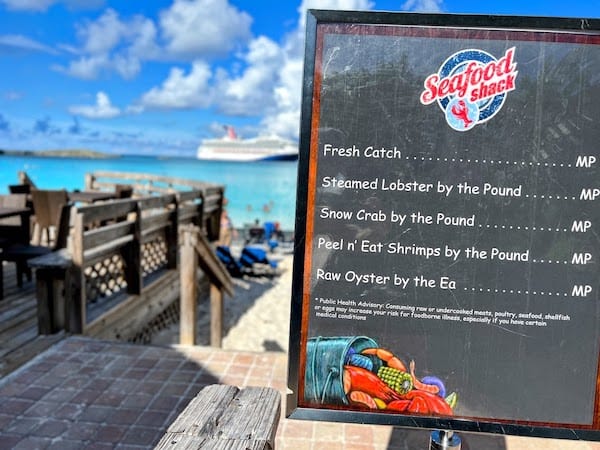 Drink prices at both destinations are similar to the bars on the cruise ship, so you will have to purchase them a la carte with your room card.
Those with an all-inclusive drink package can use the program at Half Moon Cay and Princess Cays.
Costs and Inclusions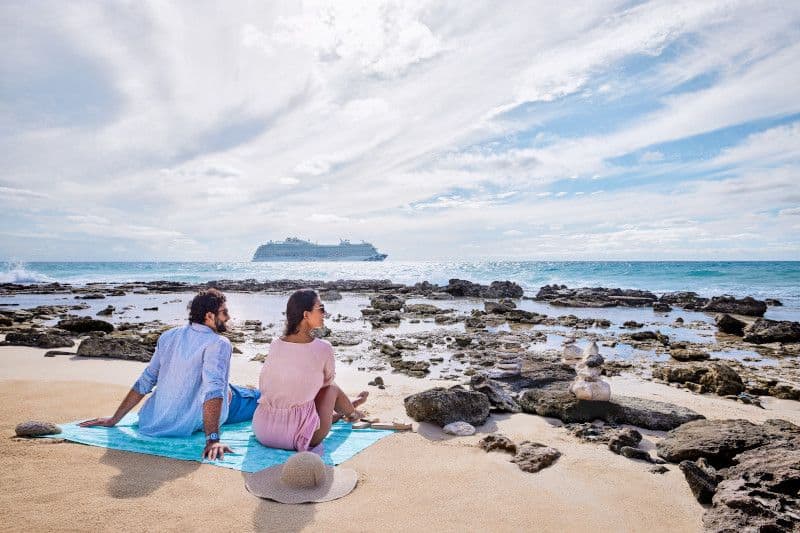 Princess Cays and Half Moon Cay offer similar free amenities to cruise passengers.
Beach access is free; you can swim and play in the sand as much as you want without any additional fee.
Beach chairs and hammocks are also free of charge, with hundreds available at the beach. The complimentary BBQ lunches are available on both islands and exclusive to cruise passengers.
Other sports, like beach volleyball and basketball, are free of charge, too and both islands have a kid's area at no additional cost.
Shore excursions need to be booked ahead of time. Upgraded loungers or clamshells with more shade are an additional cost. As mentioned earlier, air-conditioned cabanas must be reserved in advance.
Art Market and Shopping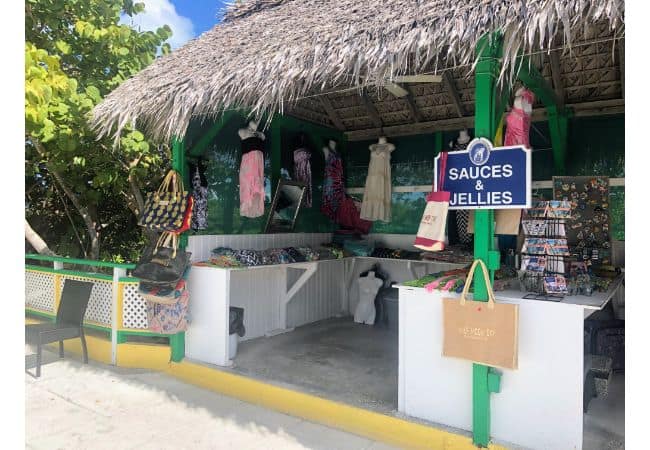 Half Moon Cay and Princess Cruises' Princess Cays offer passengers a shopping experience local to the area.
Cruisers can explore "The Straw Market," a charming shopping village at Half Moon Cay that offers local crafts and souvenirs, such as handmade straw hats, bags, jewelry and other handicrafts, all produced by local vendors. It's a good idea to take cash here.
Princess Cays has its "Straw Market," where passengers can shop for art, crafts, and gifts that showcase Bahamian culture, much like Half Moon Cay.
Sustainability Practices
The cruise industry is dedicated to protecting the ocean, marine life, and air quality, so Carnival Corporation has implemented several eco-friendly practices for Princess Cays and Half Moon Cay.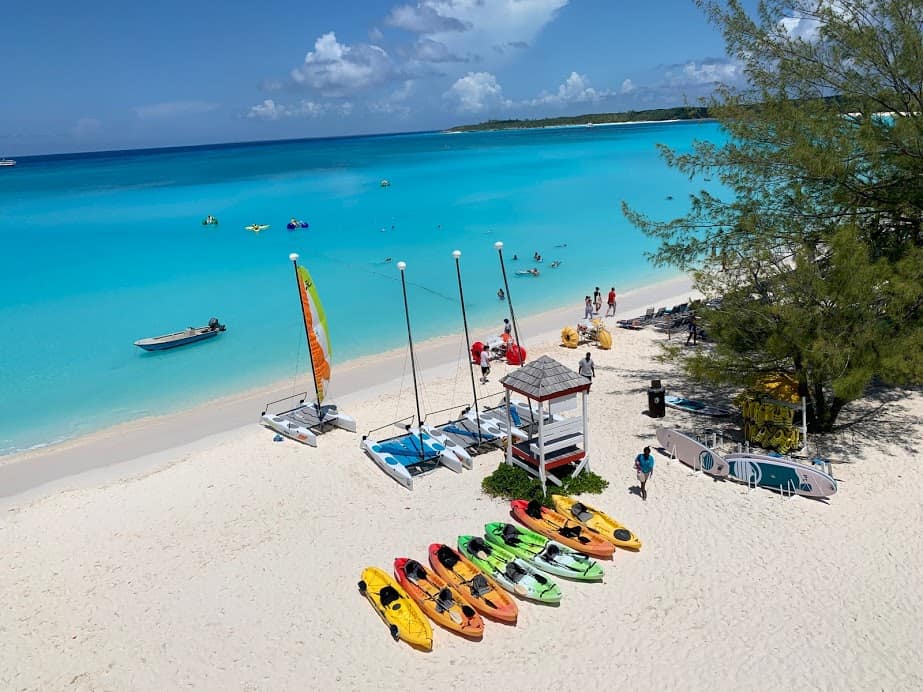 Whether it's a comprehensive waste management and recycling program, energy management programs, or other eco-friendly initiatives, the cruise lines do everything they can to maintain these destinations' pristine natural environment. In addition to being the right thing to do, it makes for a better landside experience for passengers and ultimately good for business.
Princess Cays vs. Half Moon Cay: Final Thoughts
Regarding private islands, like other vacation choices, it all boils down to personal preference. Both islands have unique features and amenities, so research what they can offer before you decide.
Destinations, while important, are just one component of a cruise vacation, so be sure you're choosing the cruise line that's right for you.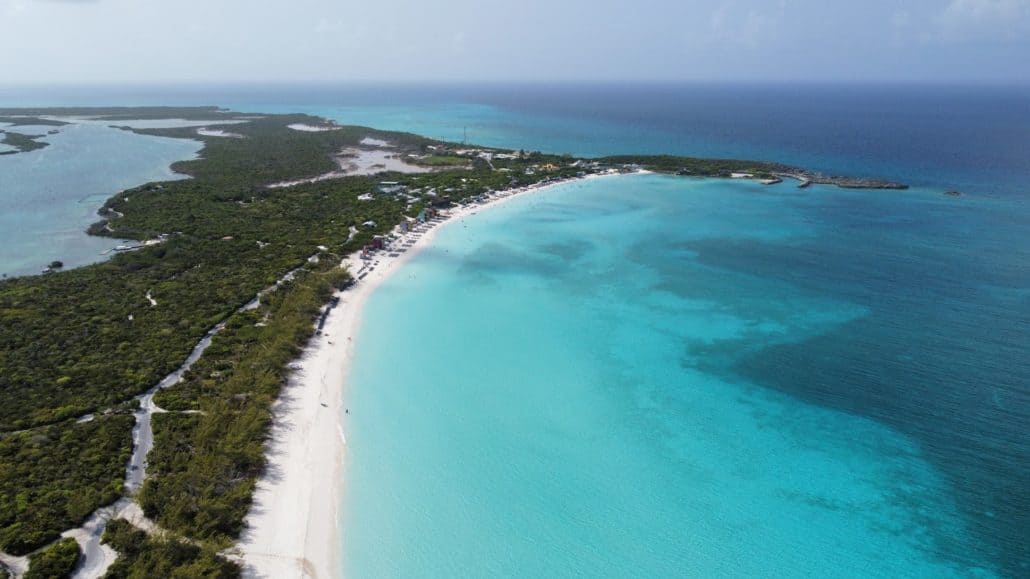 Since Carnival Corporation solely owns Half Moon Cay, the island is more secluded and offers more amenities and shore excursions to cruisers.
The power-soft sand gives Half Moon Cay a clear advantage regarding beach quality.
Princess Cays is a different adventure since it is like a large resort on a big island in The Bahamas. The allure of exploring the culture of the whole island and its inhabitants can be a game changer.
READ MORE: Unique Views of Carnival's Half Moon Cay