I have to be honest: While I've been on Carnival Cruise Line ships which offer Cucina Del Capitano many times — and I've done the salad bar they offer as part of the free lunch — the dinner menu never inspired me enough that I was willing to pay the $15 per-person charge.
But when Carnival made this a complimentary venue on Mardi Gras, I decided to give it a try. It also helps that the menu here is different than what you'll find onboard their other ships.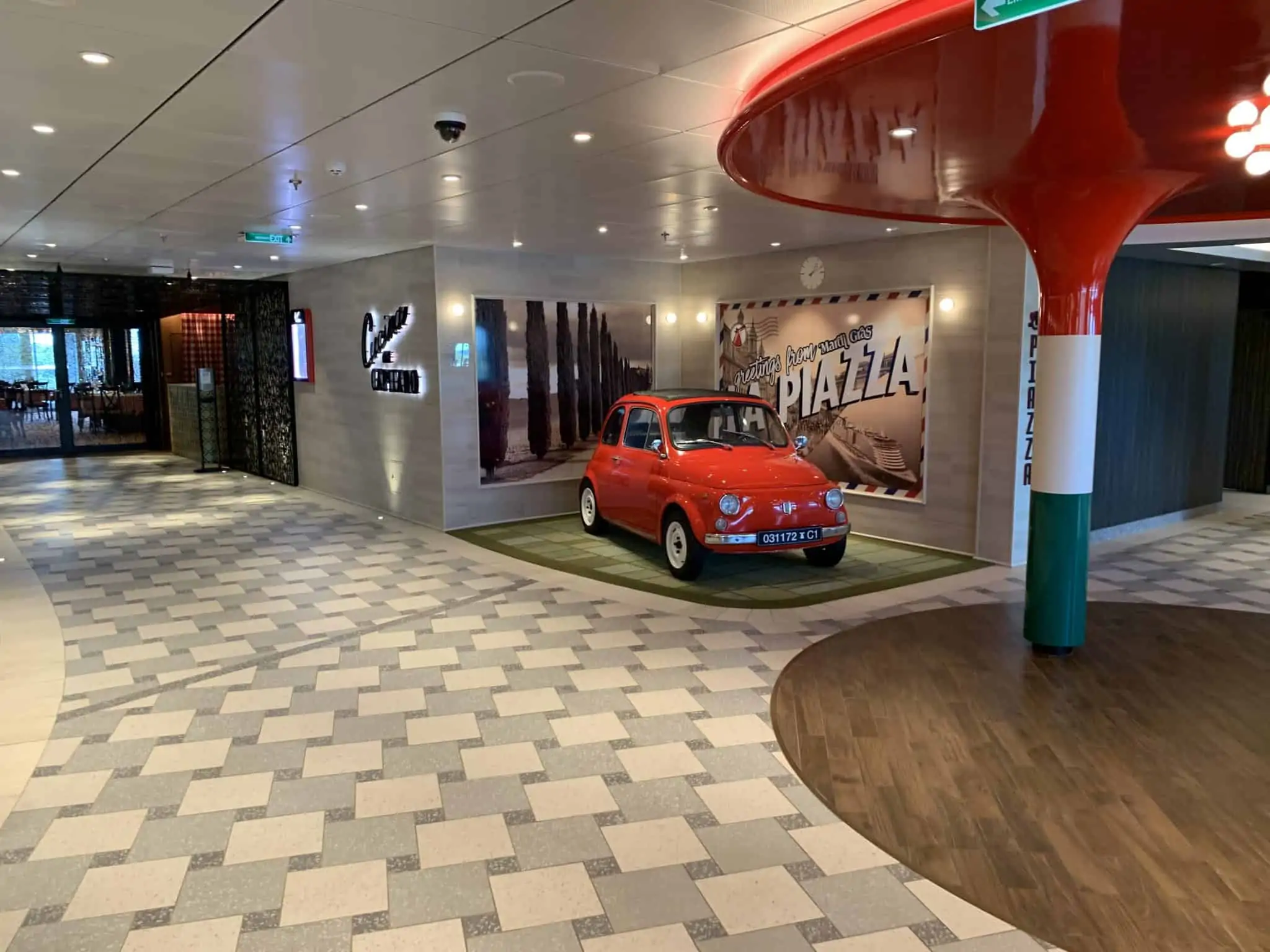 Cucina Del Capitano occupies a huge space on Mardi Gras with tons of seating. You cannot, however, make an advance reservation on this ship. Instead, for both lunch and dinner, you open the HUB app and hit "Request a Table."
After confirming your party size, the app then notifies you when the restaurant is ready to seat you. Carnival has been doing this for a while when it comes to Your Time Dining in the main dining room, but now it's being rolled out for meals in all of the complimentary restaurants.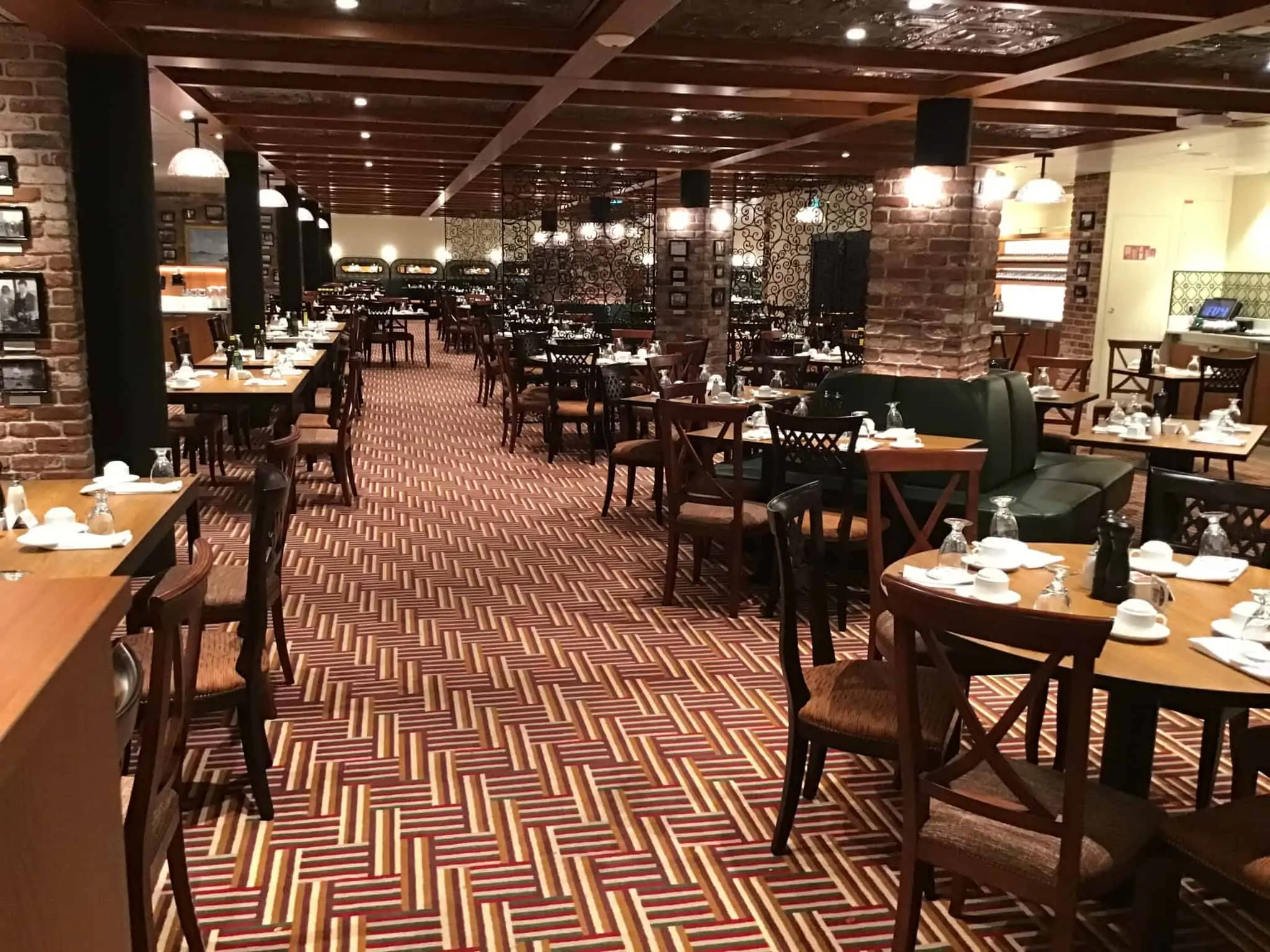 On Mardi Gras, Cucina Del Capitano — which I'm just going to refer to as Cucina from this point on —  is located on Deck 8 in the Italian-themed La Piazza Zone.
This area also hosts Pizzeria Del Capitano, Piazza Panini, and Bar della Rosa.
MORE: Review: Shaq's Big Chicken on Carnival's Mardi Gras
In keeping with the theming, you'll also find an old-school Fiat and Vespa, both perfect for photo ops. Sadly, they won't let you drive the vehicles down the hallway, no matter how nicely you ask or how hard you wish.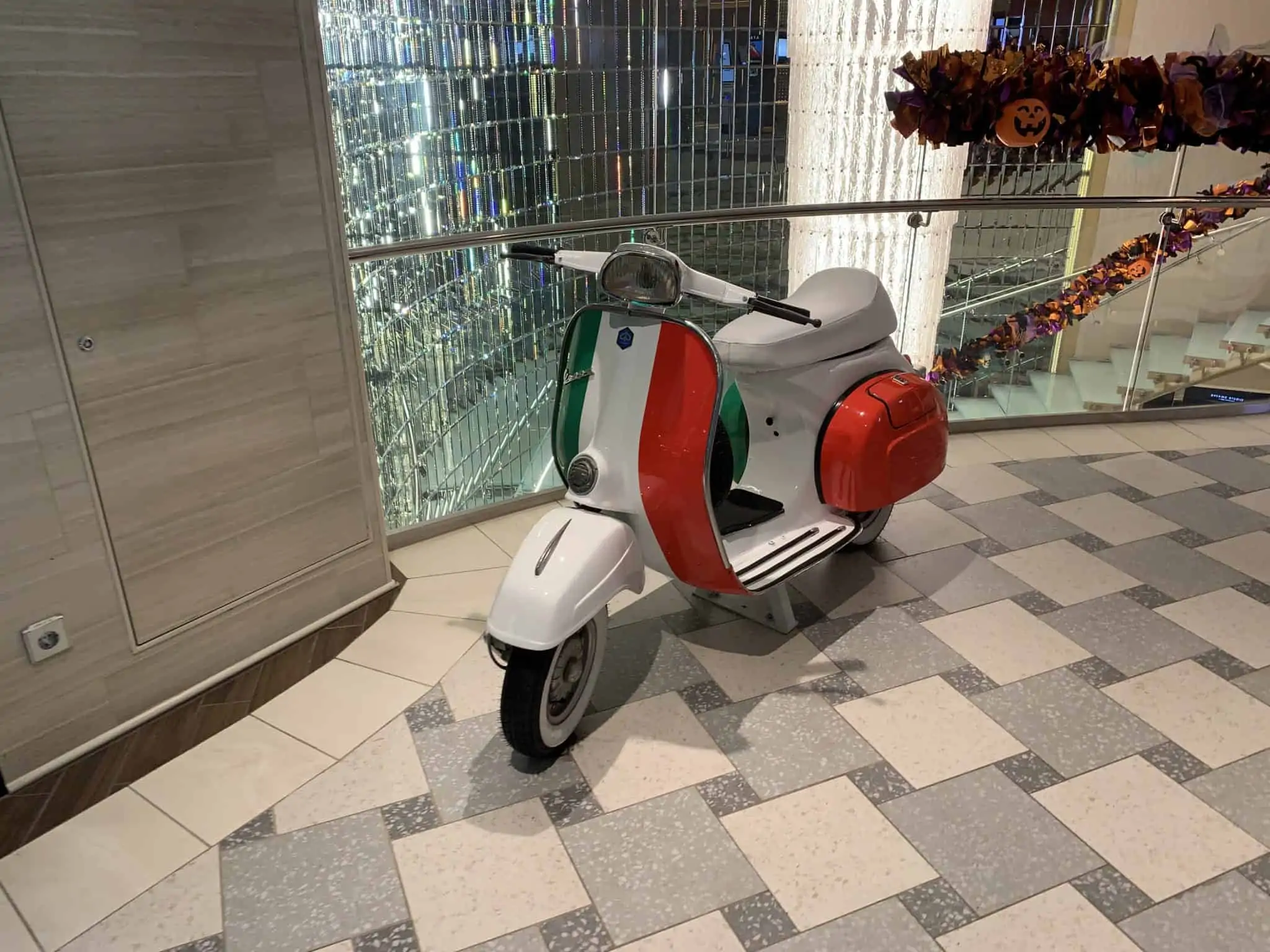 Before heading into Cucina, let's take a quick look at the other offerings here. Pizzeria Del Capitano is just like its counterparts on previous ships with the additions of wrought-iron railing, beer and soft-drink sales, and air conditioning.
If there's a downside to them adding beverage sales here, it's that the crew member doing his best to make and serve those fresh, hot pizzas has to drop everything to sell someone a soda.
That said, they do have more people working at the popular spot (especially during busy times), as well as more ovens than on other ships, so the lines does move fairly quickly. There's also plenty of nearby seating if you want to remain in the area.
Another downside is that the way the line and partitions are set up, it makes it difficult to request a custom pizza. While this was probably done in order to keep the line moving, it makes things tough for those with dietary restrictions.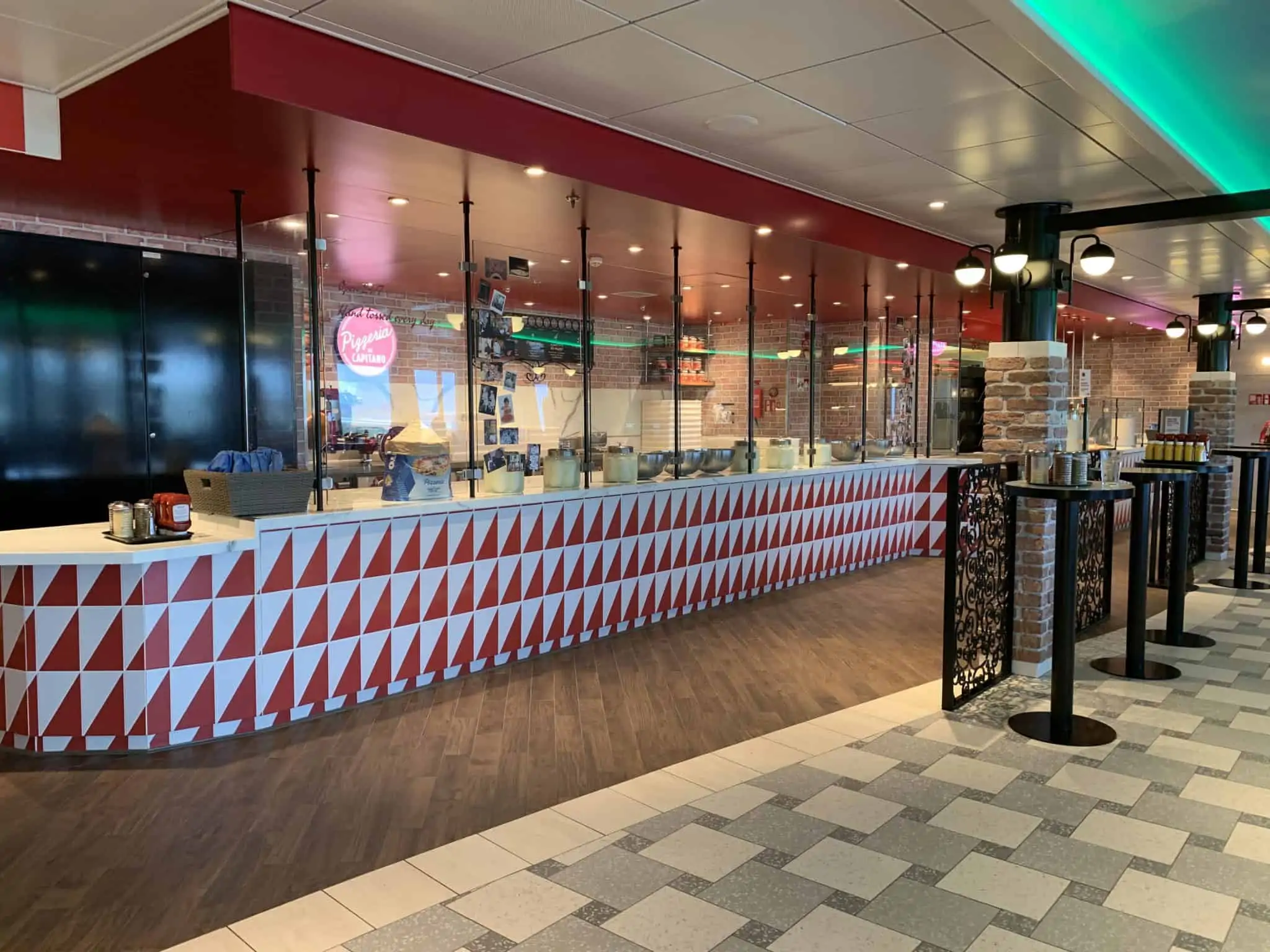 Oddly, Piazza Panini does not actually have a panini press. Yes, you read that correctly. Even though half the menu is described as being "Pressed Paninis." Turns out that while most of us probably grew up thinking that all paninis were prepared on a press, the word "panini" actually just means sandwich.
Despite this, I can say that the sandwiches here are very good. I particularly loved the Caprese panini, which they modified from the version found at the Carnival Deli… and in this case, it's a change for the better!
MORE: Mardi Gras Dining Guide: Which Restaurants Are Complimentary?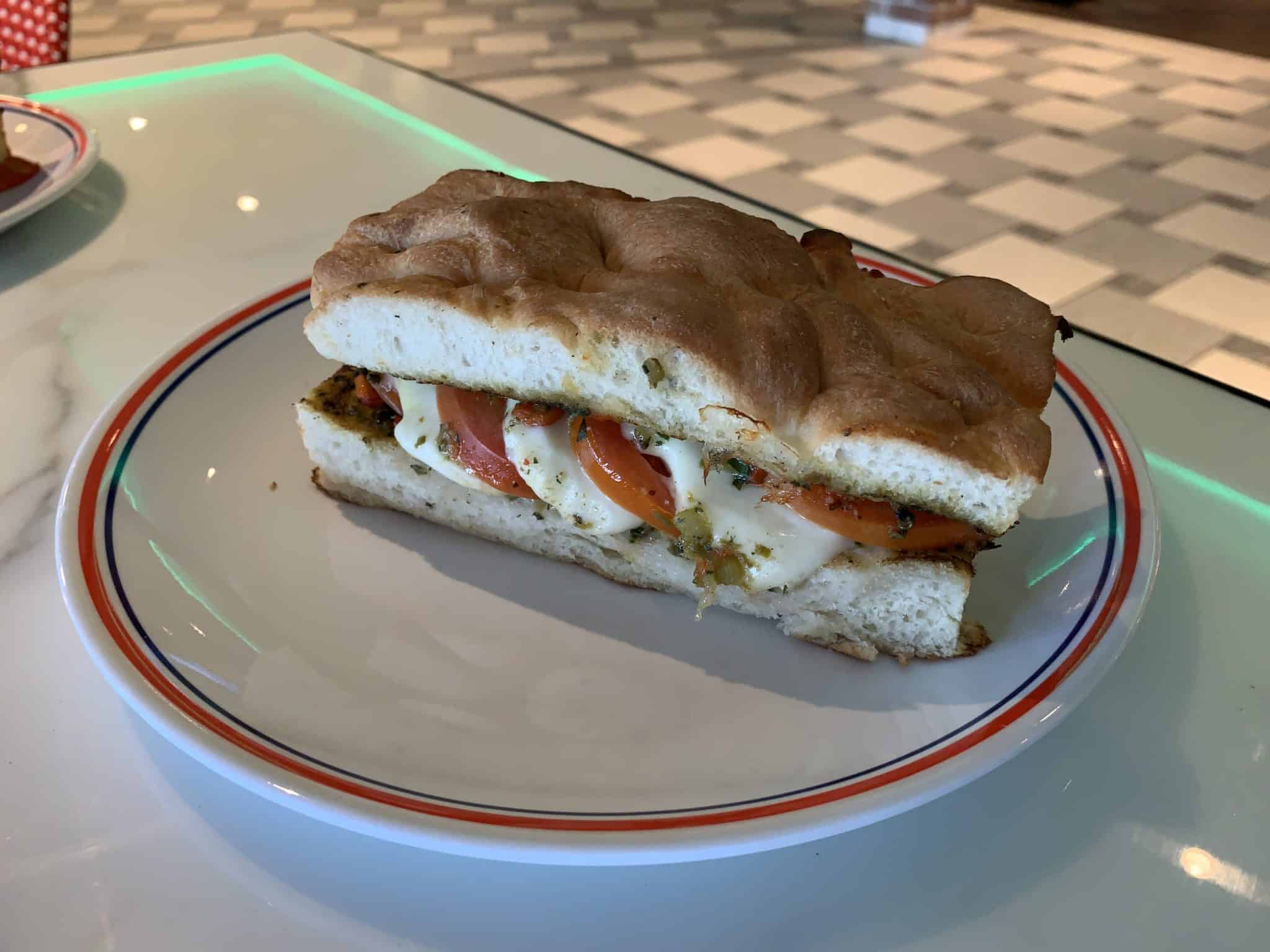 But this venue is actually not really "new" for Carnival. On past ships, you would find a counter or window in the Lido Marketplace area called "The Deli." For Mardi Gras, they essentially moved The Deli from Lido to La Piazza, and rebranded it to have an Italian name.
Piazza Panini does have a selection of new Italian sandwiches to go along with a lot of the old ones.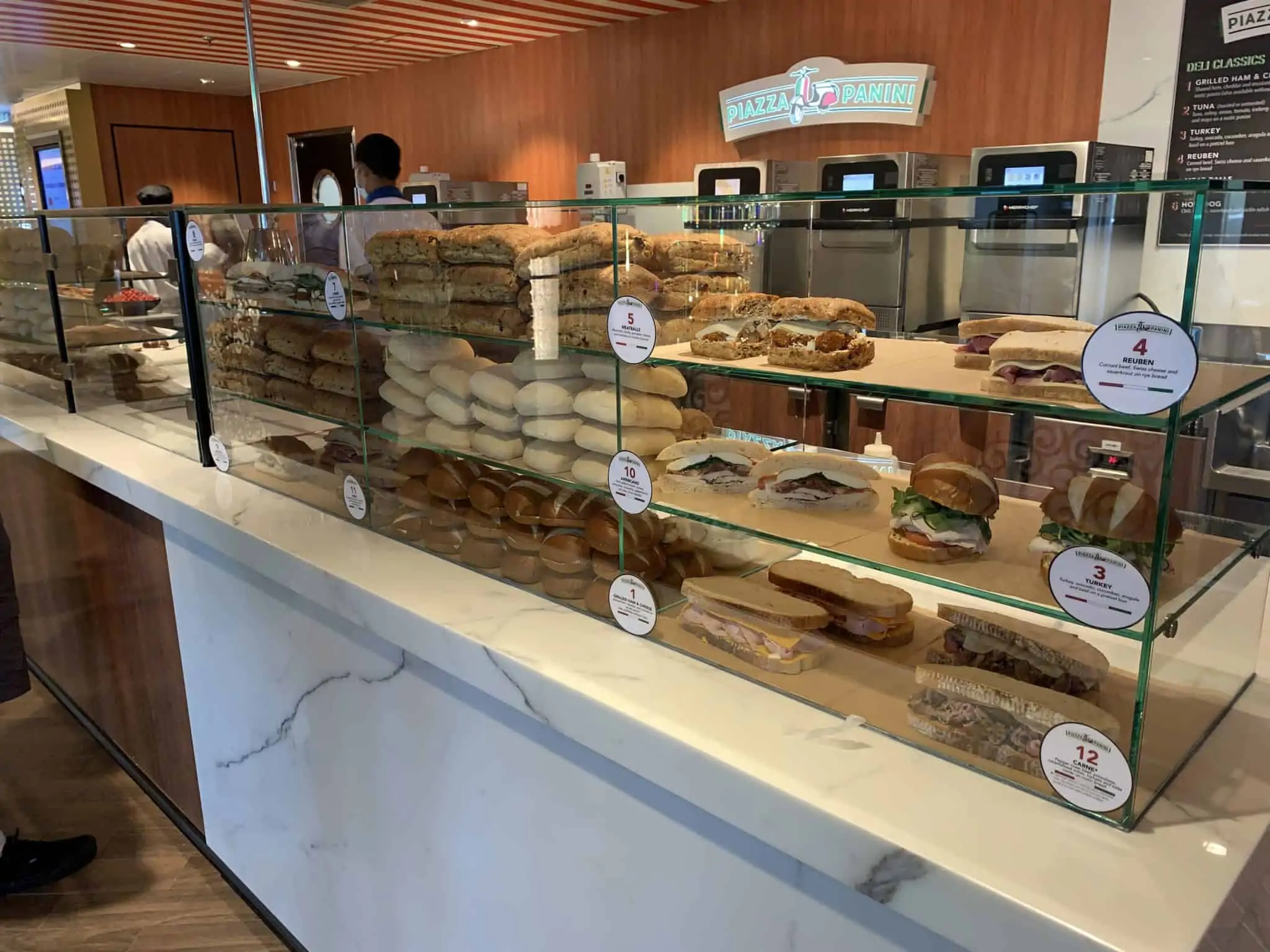 There are both cold and hot sandwiches and the crew working the toasters were making more of an effort to hand over thoroughly-heated sandwiches than I'd experienced on other ships at the Deli.
Piazza Panini is open every day from noon to 10 pm (subject to change).
RELATED: Piazza Panini Menu on Carnival's Mardi Gras
Although I didn't actually wind up getting any drinks at Bar della Rosa ("Rose," like the flower, not "Red"), the limited menu focuses largely on wine, classic Italian cocktails, and coffees, any of which would go well with a pizza or panini.
It's worth noting that the bar has both indoor and outdoor seating.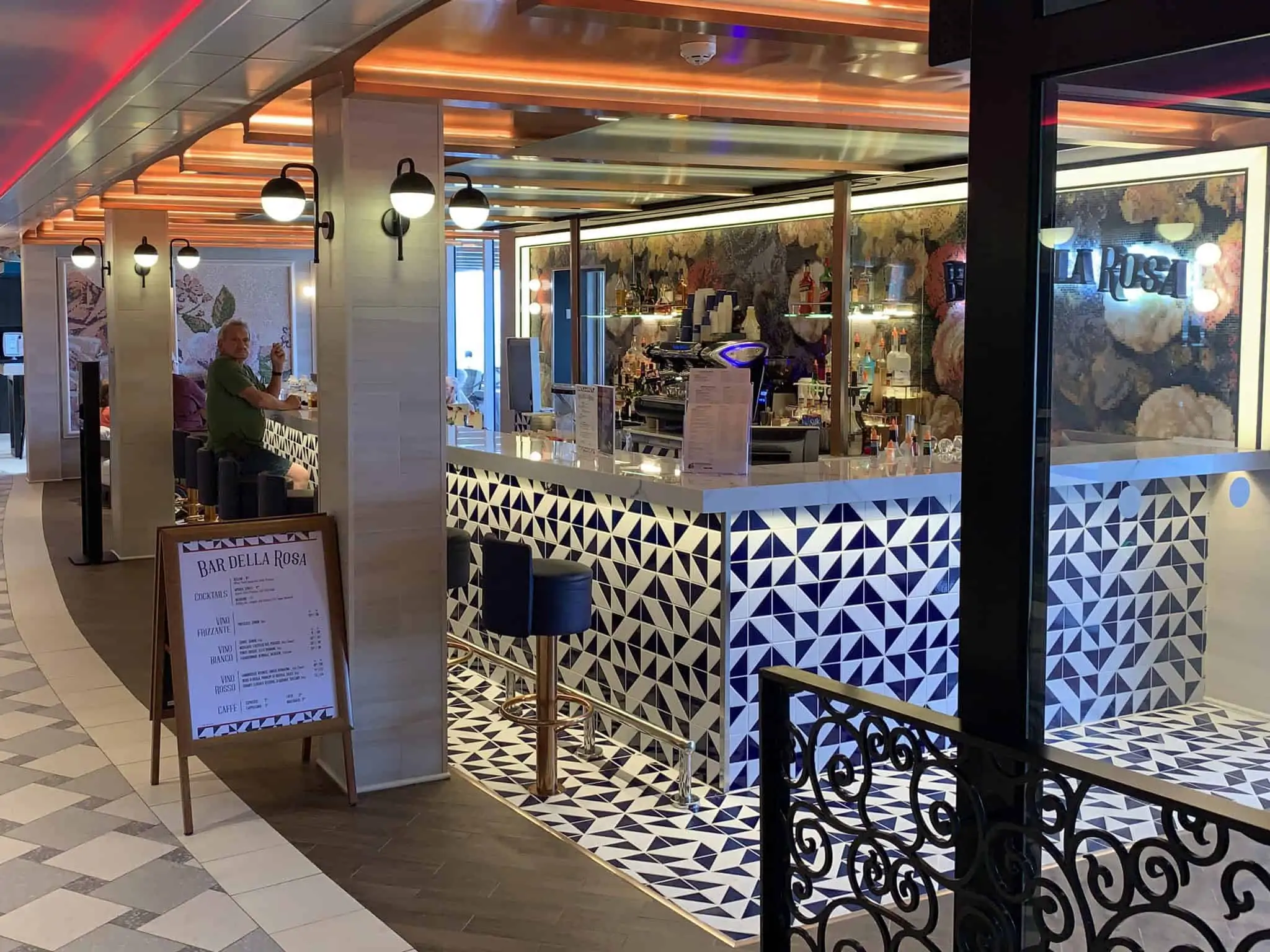 But back to the real reason we're here… to discuss Cucina.
I expected the same options for lunch as I'd had on other ships but was pleasantly surprised to find an expanded menu.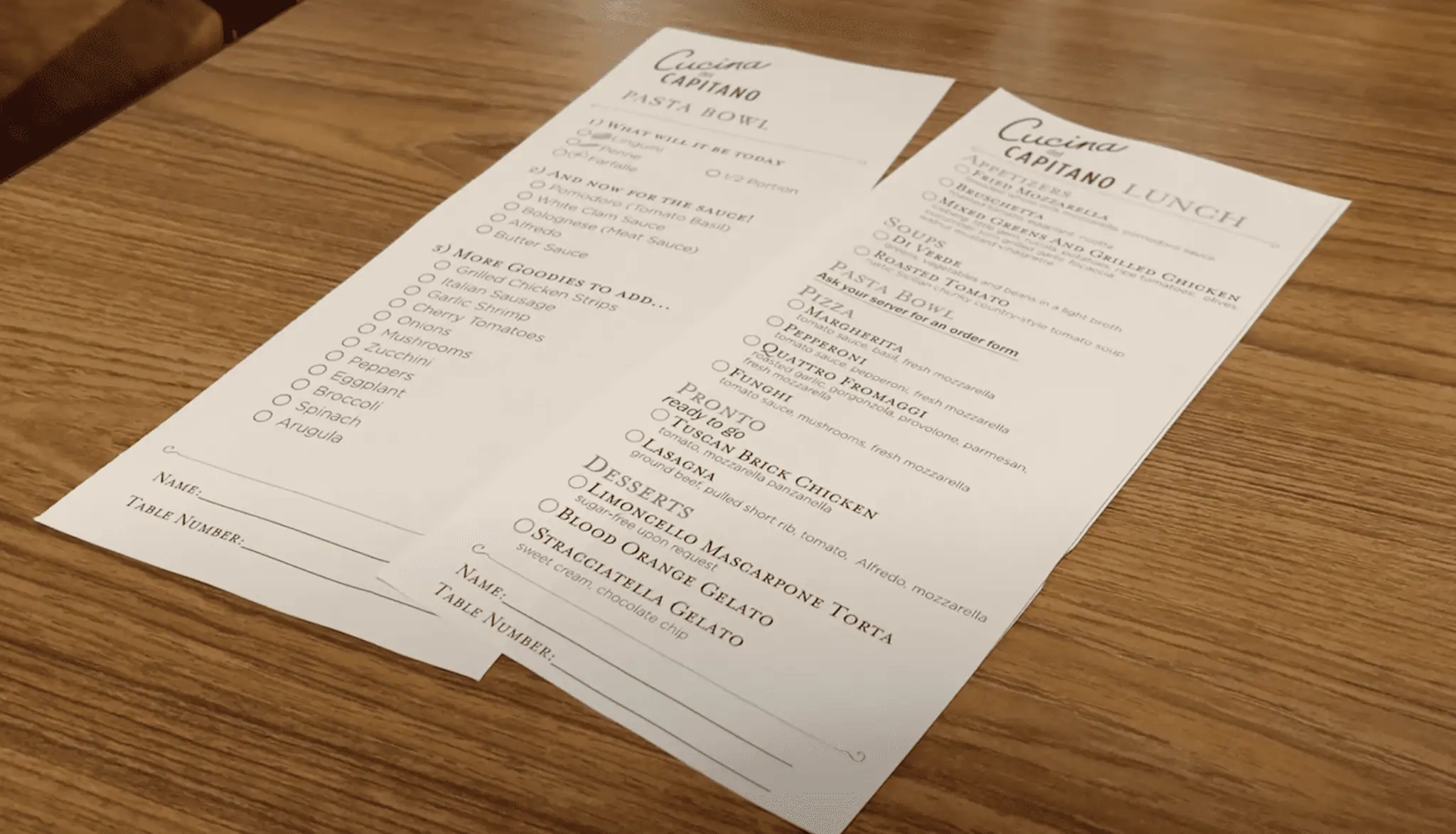 Like on other ships, you order lunch by marking your selections on a paper menu, sort of like those tests we took in school where you had to fill in the circles with a No. 2 pencil. 
The Pasta Bar menu, "Pasta Bella," is exactly what I expected, which was good because I already knew exactly what I wanted: a half-portion of linguine with Alfredo sauce, mushrooms, and shrimp.
The other menu was a treasure trove of goodies, most of which we tried. The bruschetta is not typical; they used ricotta and roasted tomatoes as opposed to mozzarella and fresh tomatoes. I didn't try it, as I'm picky about textures, but my husband loved it.
MORE: The Ultimate Menu Guide to Carnival's Main Dining Room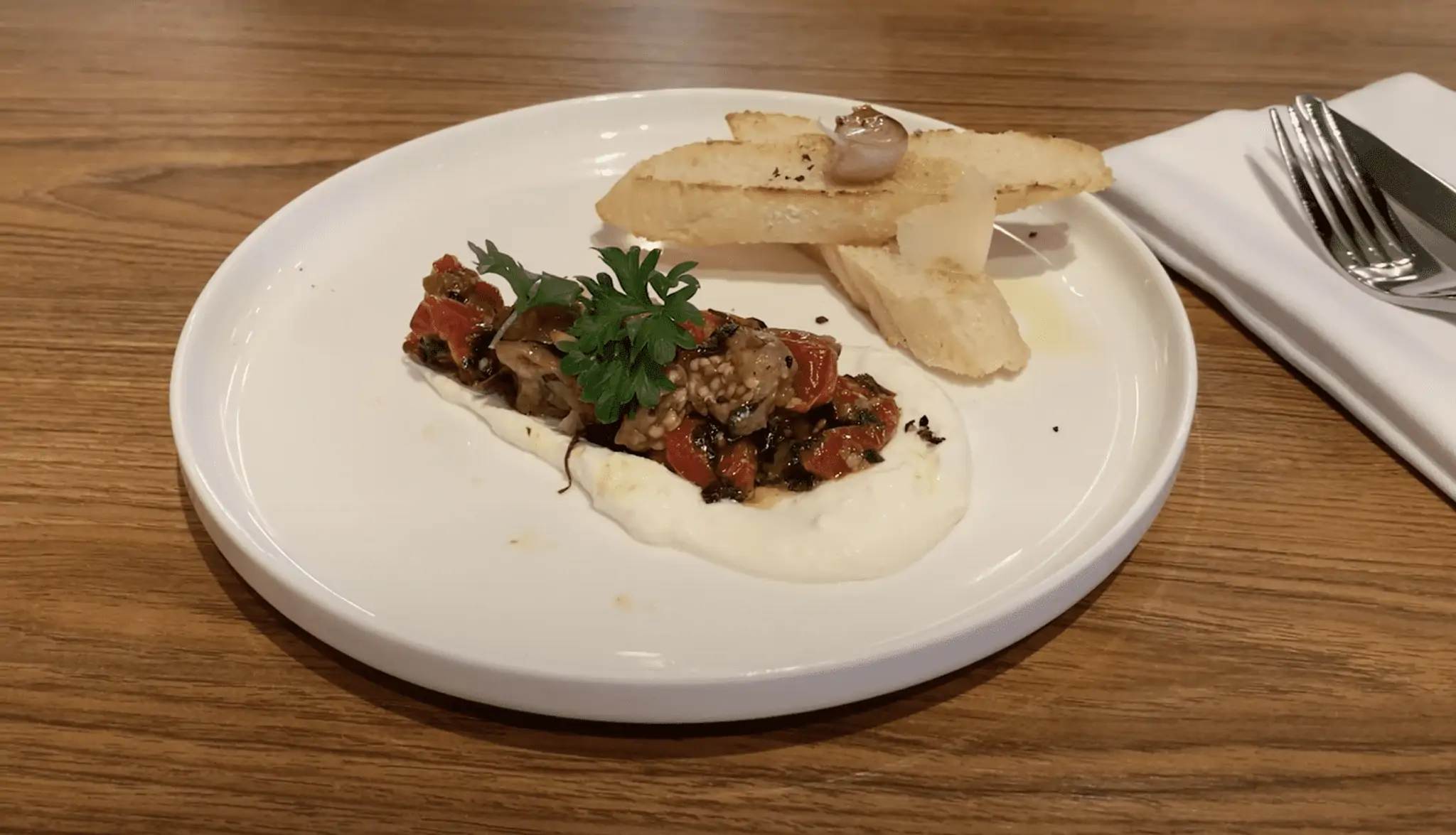 Conversely, my husband ordered the fried mozzarella expecting something a bit gourmet, and received mozzarella sticks. They were very good, but mozzarella sticks nonetheless. Ultimately, we traded and it was a win for everybody.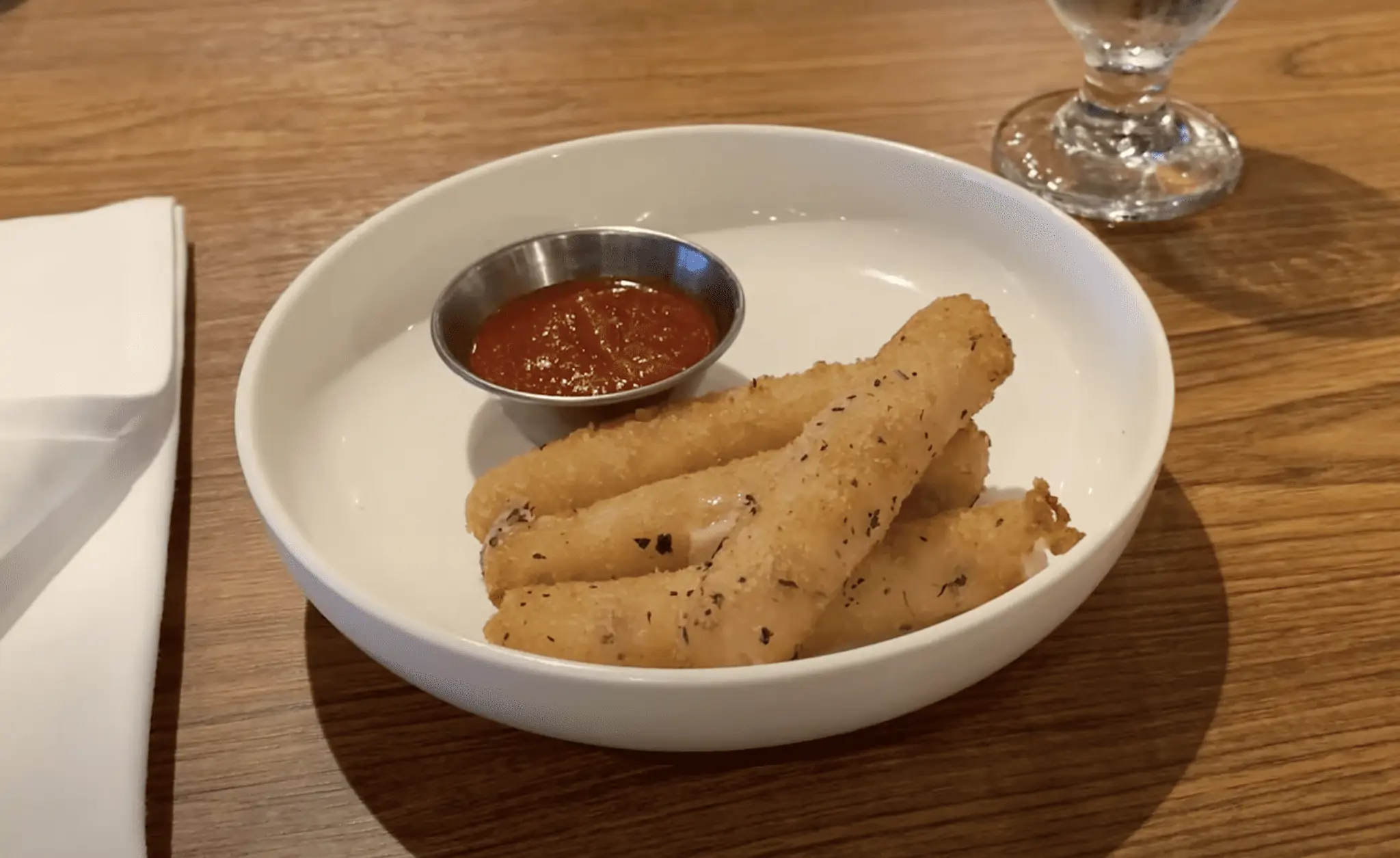 We also shared the Zuppa de Verde which looked a lot like Italian Wedding Soup. The veggies were tasty and the broth was nice and light.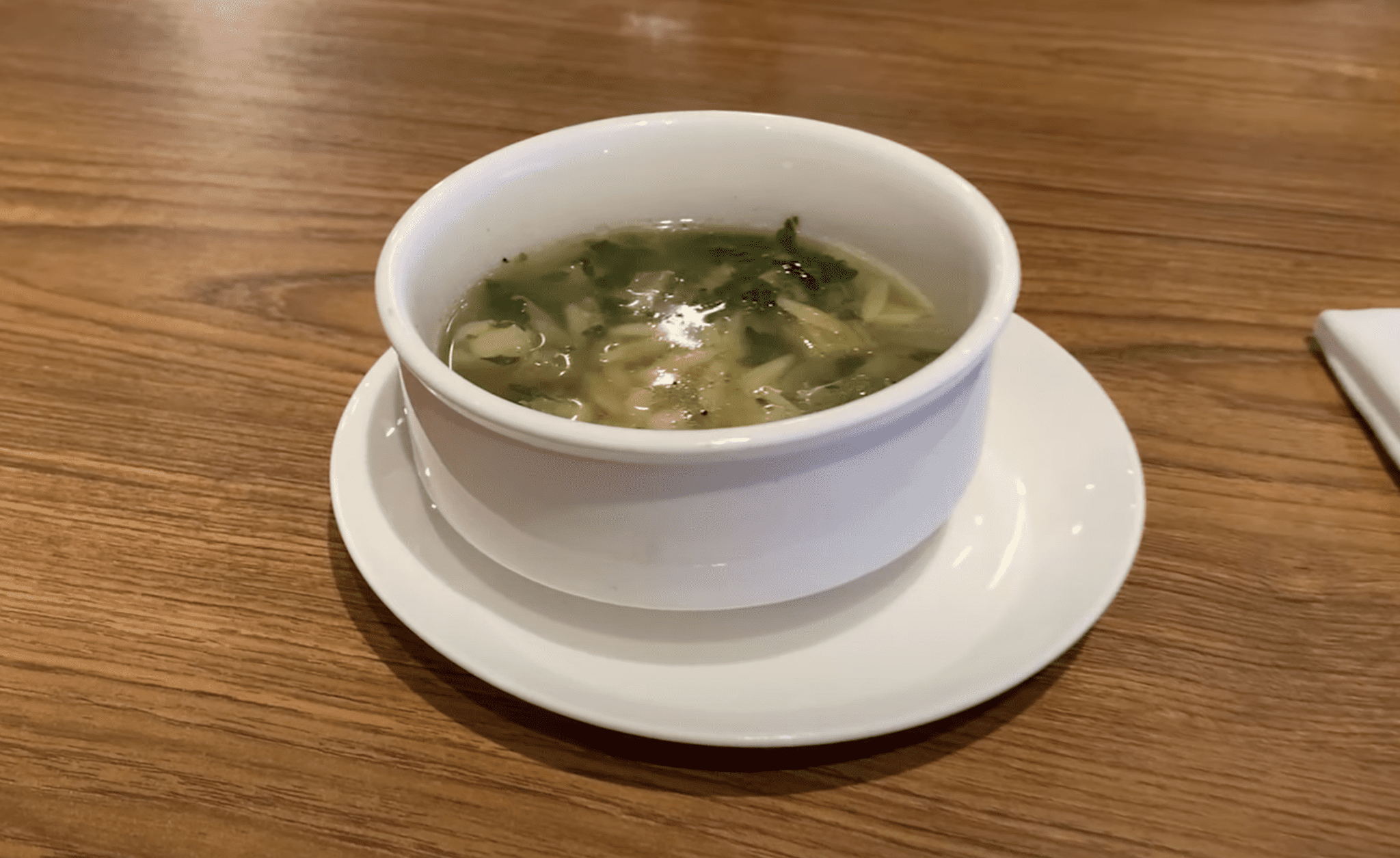 For his entree, my husband got his go-to favorite when it comes to lunch here: lasagna.
What makes his dish so delicious — and something you really have to read the ingredients on the menu to discover — is that they use beef tips as opposed to the more traditional ground beef.
That really elevates the taste, making it something he definitely recommends.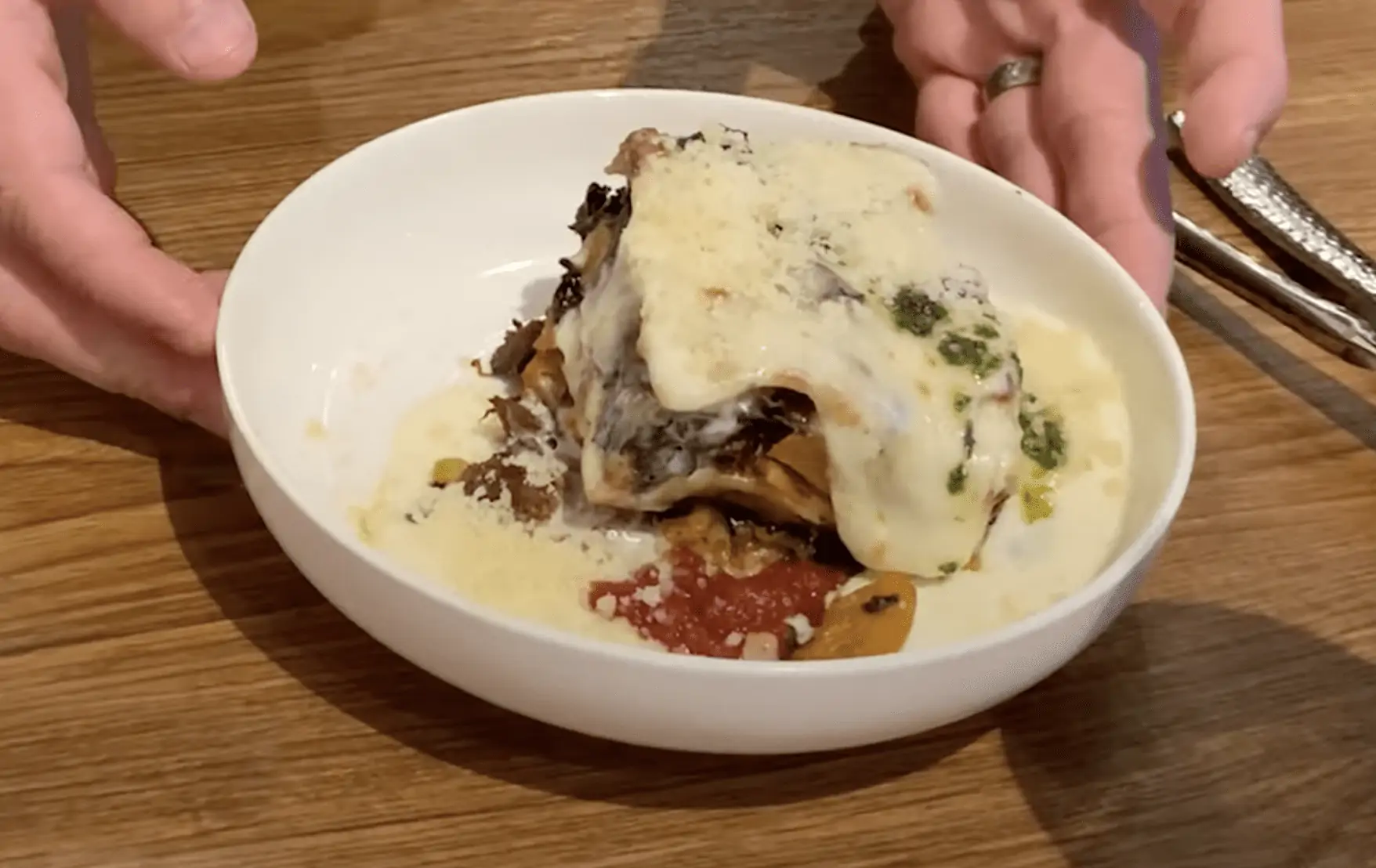 MORE: Kid-Free Options on Carnival's Mardi Gras
Despite knowing we'd be pretty stuffed given our selections, we couldn't resist ordering all three of the dessert options.
As it turned out, this wasn't quite the mistake we thought it might be.  The stracciatella and blood orange gelato were light and appropriately portioned.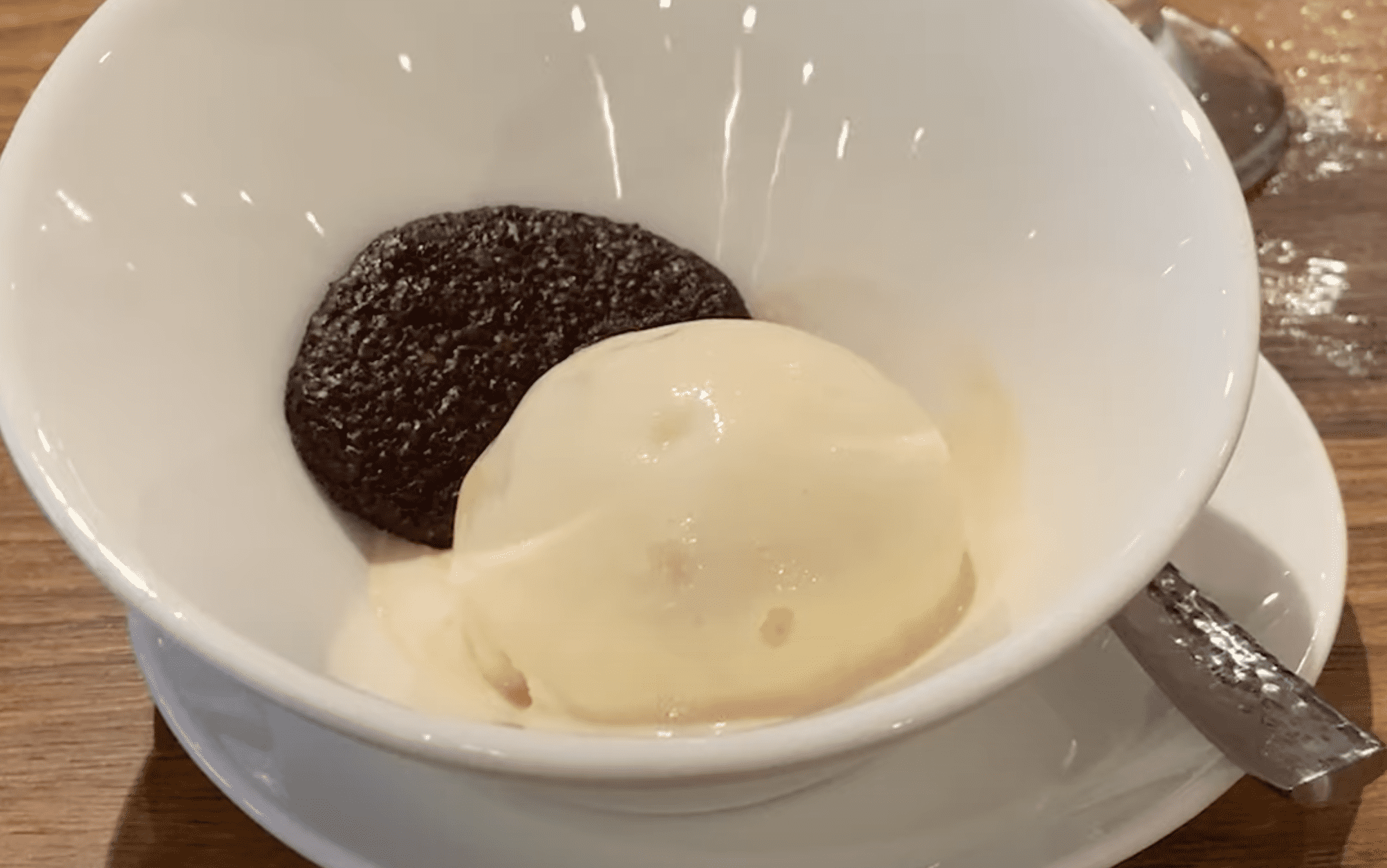 The Limoncello Mascarpone cake was delicious. I recommend getting all three unless you're dining solo, in which case this might be too much. Then again, maybe not if you're a dessert person!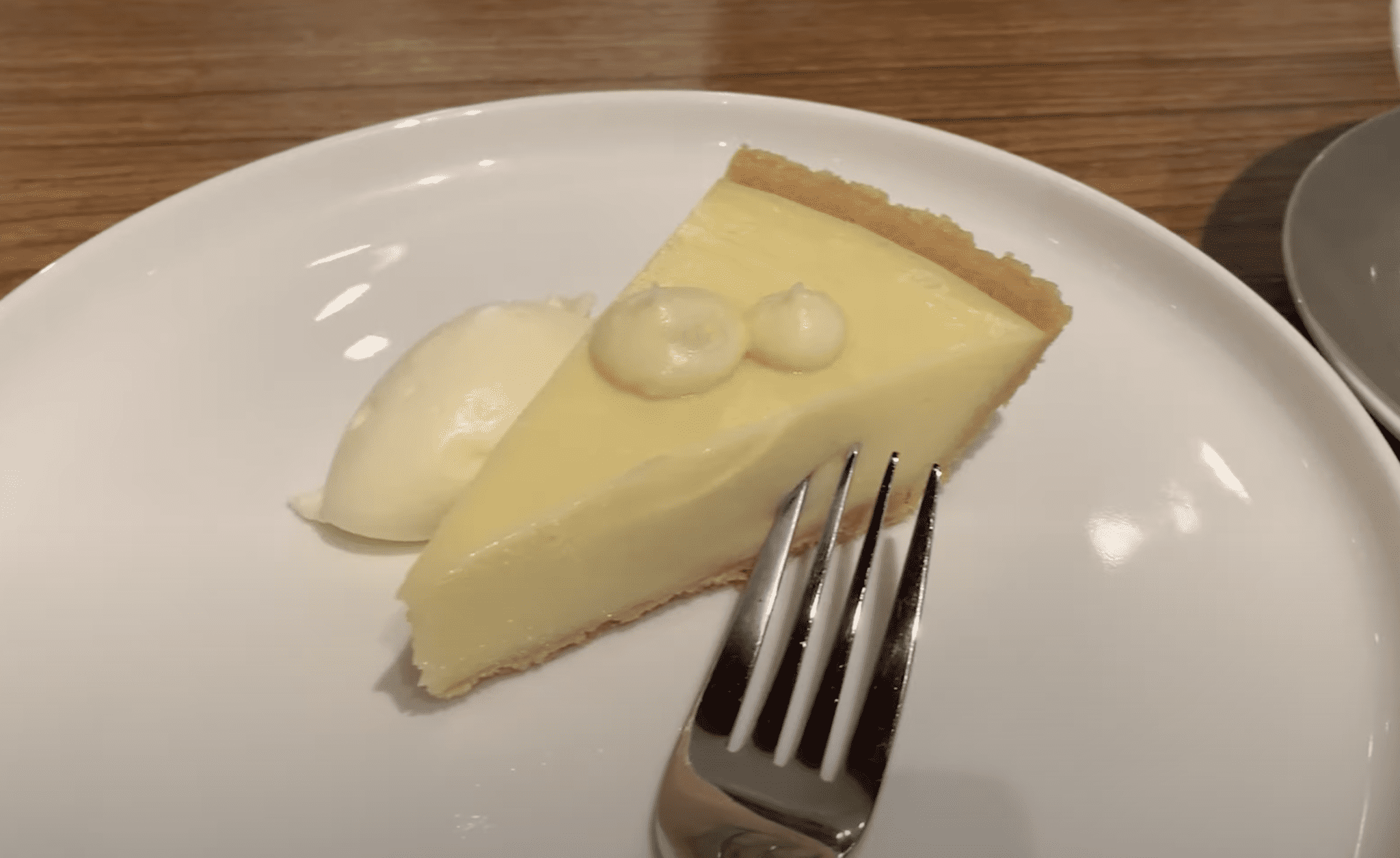 At dinnertime, Cucina has traditional waiter service. Like everywhere else on board, you'll call up the menu on the HUB app using a QR code.
(Don't worry, they do still have traditional menus if you forget your phone or simply don't want to go the high-tech route for whatever reason.)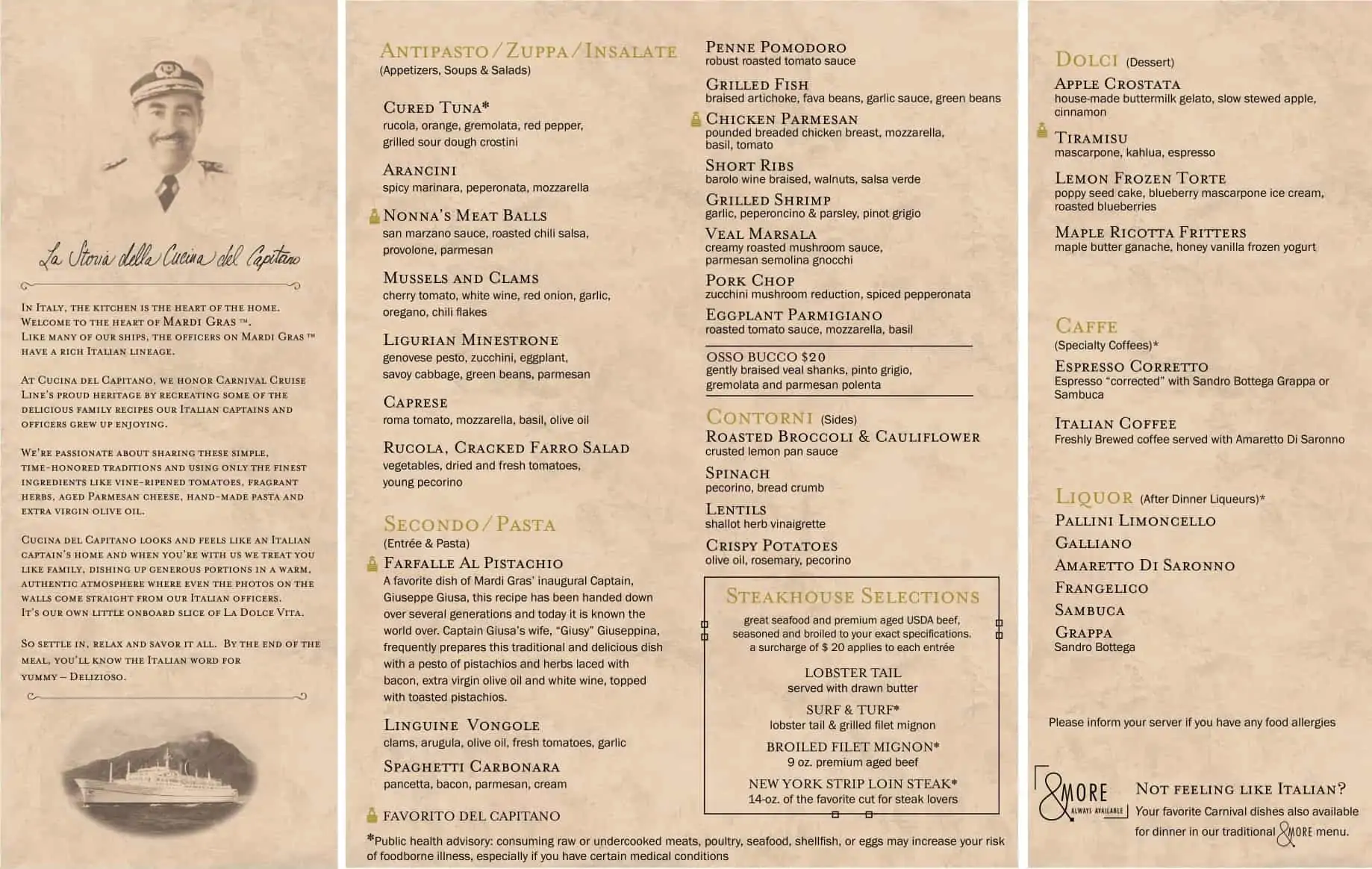 For appetizers we got the Caprese salad, Mussels & Clams, Nonna's Meat Balls, and Ligurian Minestrone soup.
The Caprese salad was good, but lacked the balsamic and basil flavor which typically make this a standout. It looked nice, but there wasn't enough pesto to make up for the lack of fresh basil. I wound up adding balsamic vinegar from the bottle that was already on the table.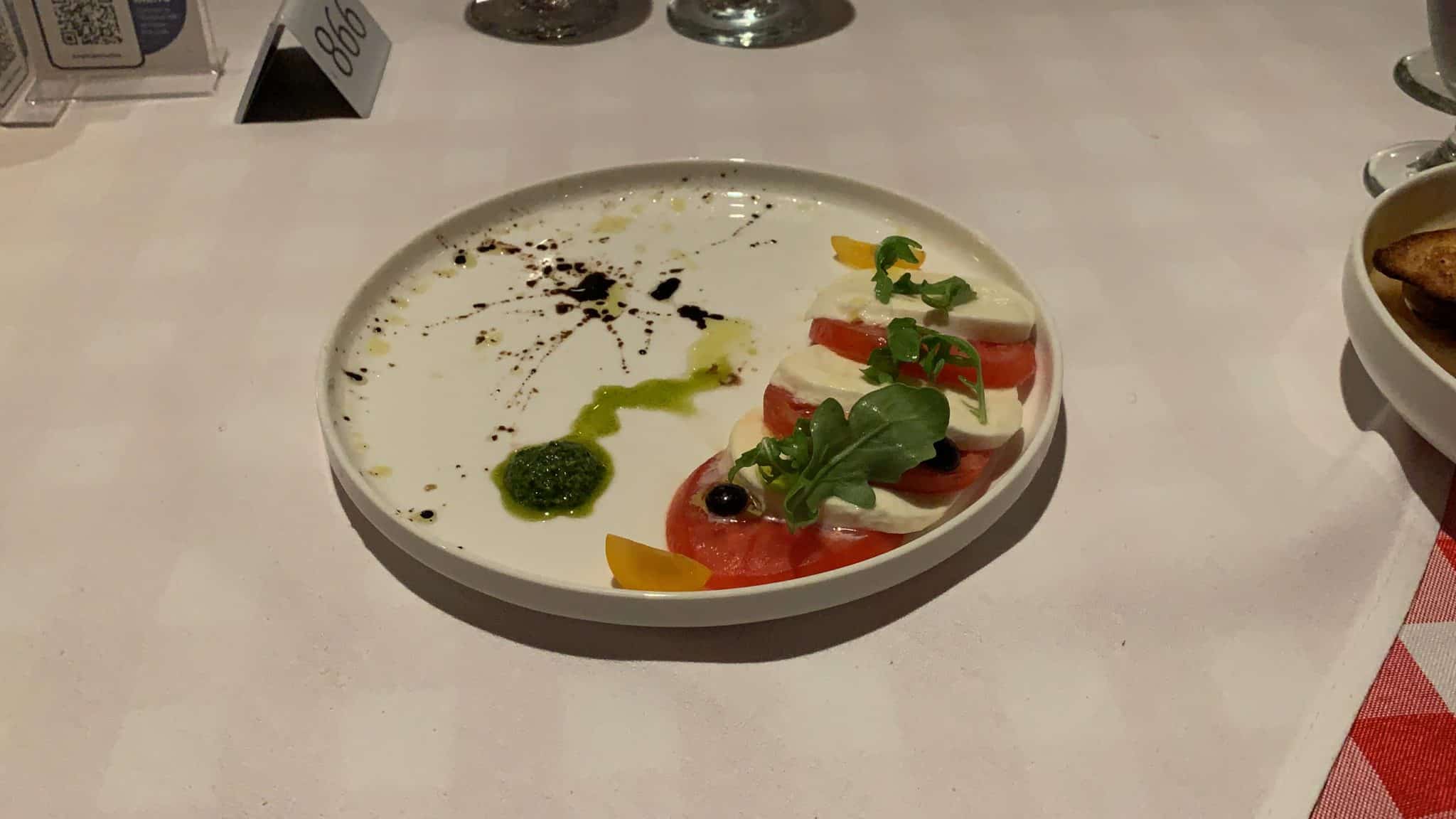 The Mussels & Clams were pretty good but not something I'd order every time I eat at Cucina. I recommend asking for extra bread when they bring it, because you're going to want to sop up the sauce that remains at the bottom of the bowl.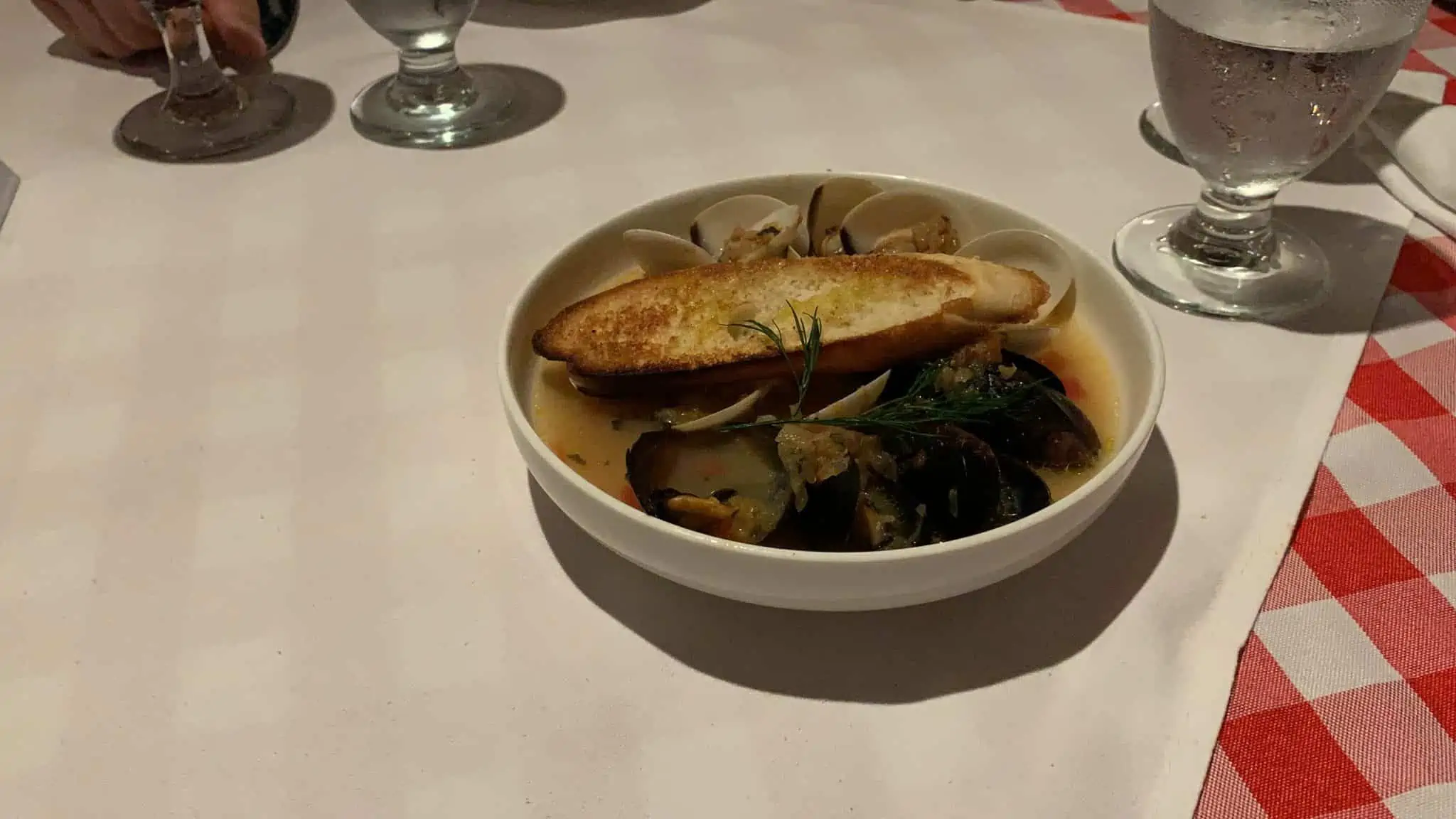 Nonna's Meat Balls were really just Nonna's Meat Ball, as there was only one. I'm sure you could ask for more, and if you love meatballs I advise you do because they're quite tasty.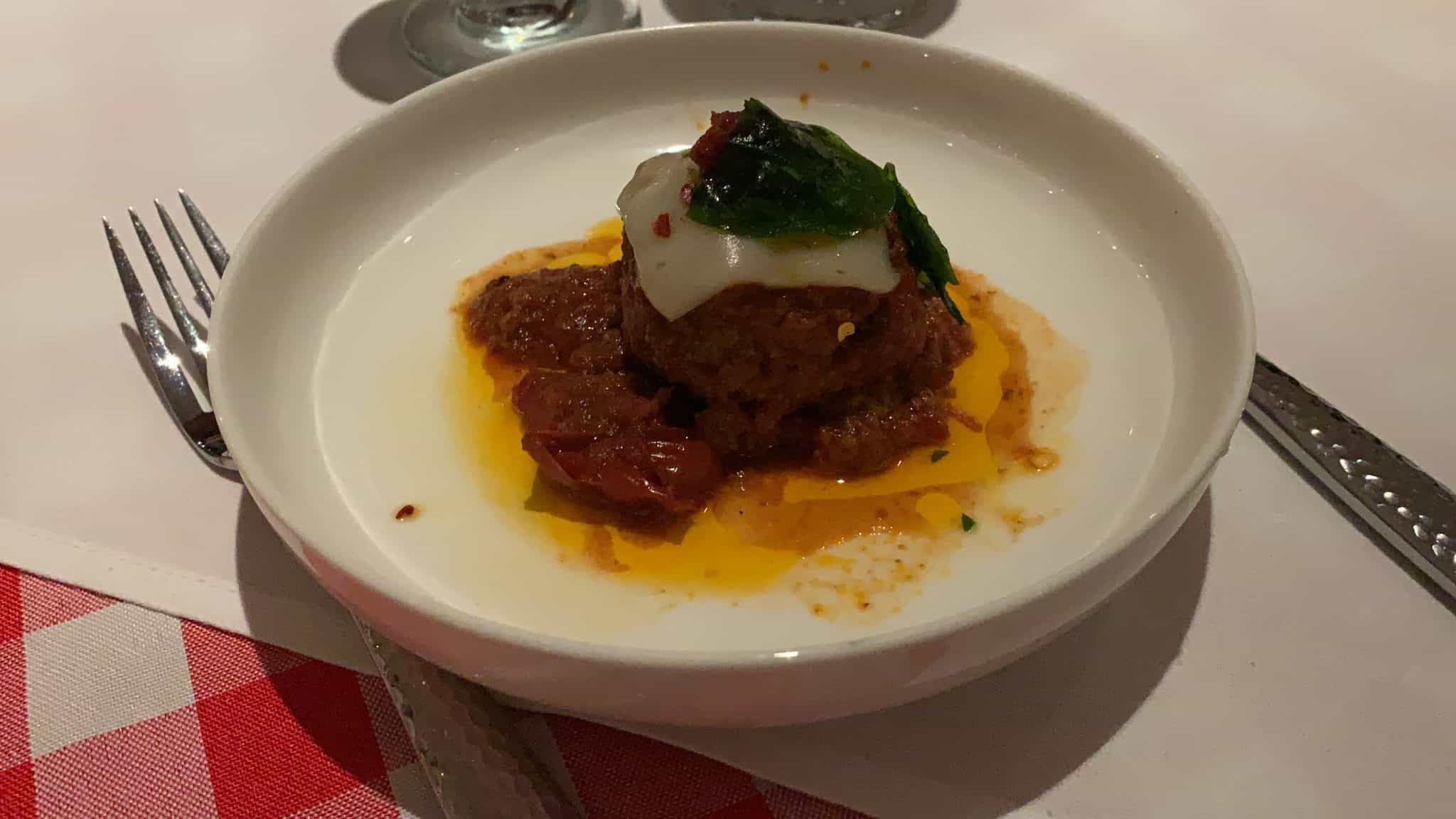 The minestrone soup wasn't remarkable and actually lacked flavor. We were surprised because the Di Verde soup at lunch had been so delicious.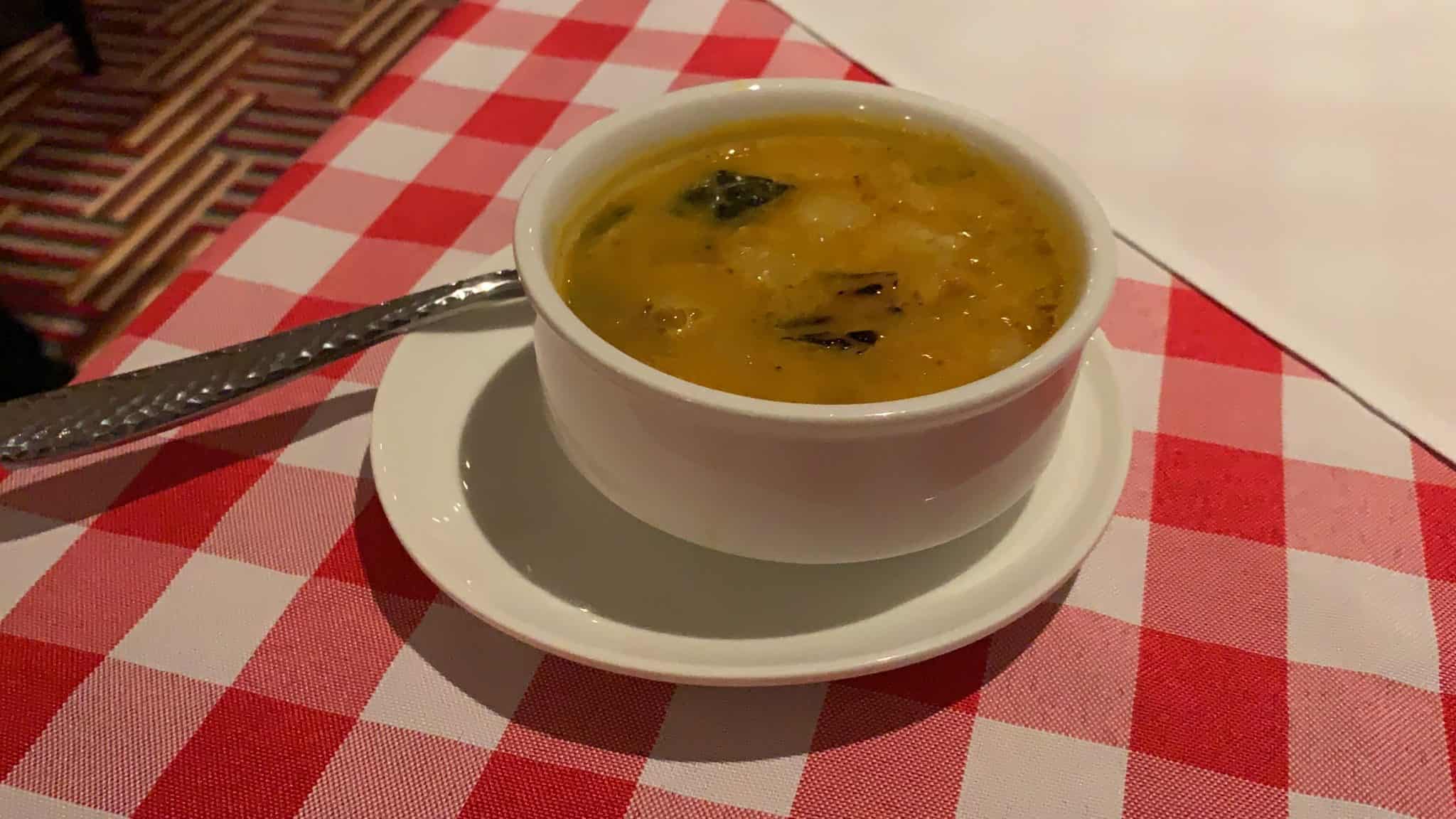 For our main courses we had the Veal Marsala, Grilled Shrimp, and Mardi Gras' Captain's Signature dish: Farfalle Al Pistachio. The veal marsala was very good, and I recommend it even if you don't like mushrooms. You can just pick them off and the veal will still be excellent. It was plated with a side of polenta cakes that were tasty.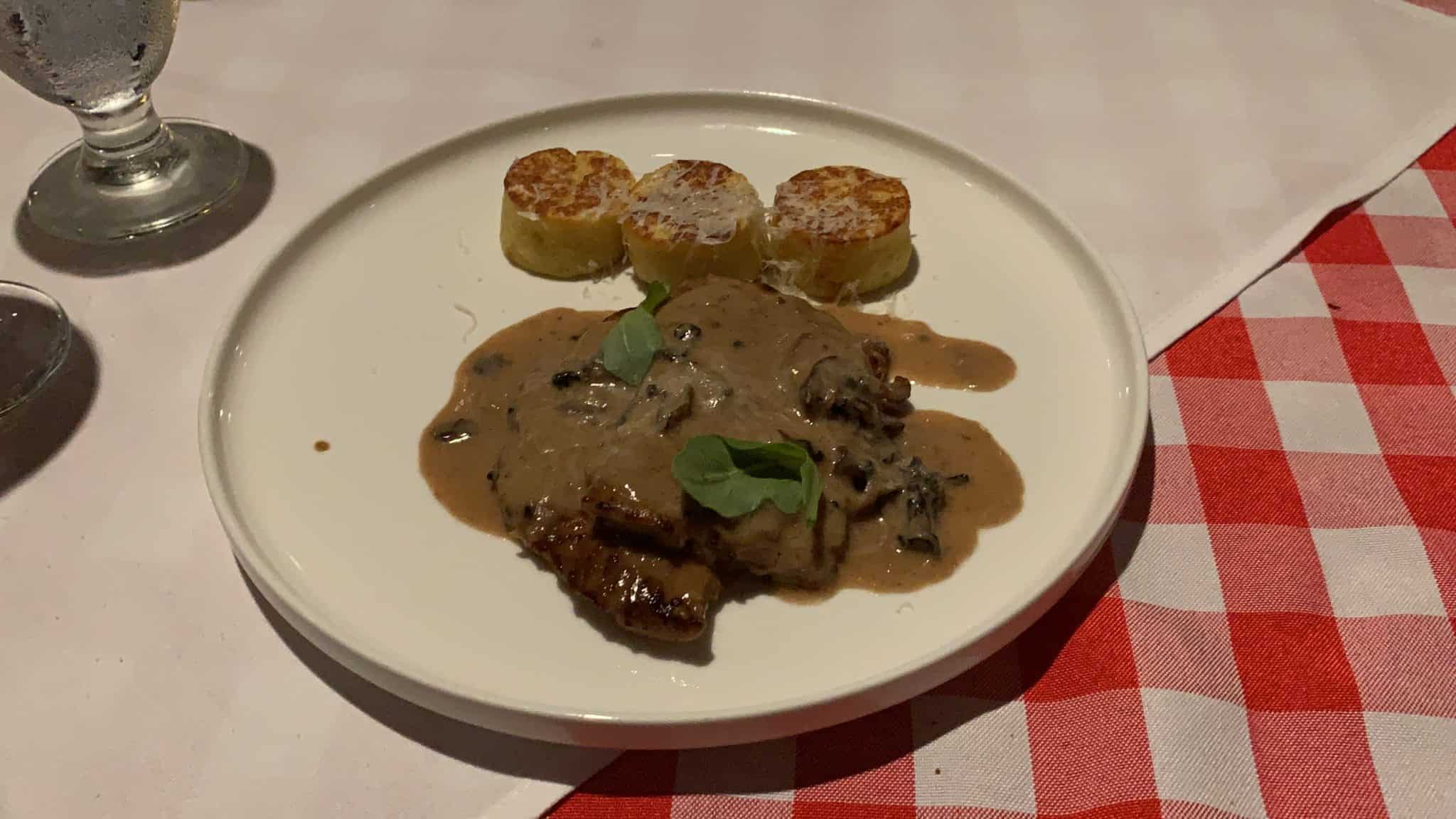 The grilled shrimp were delicious, but it's worth noting that it's on the small size for an entree.
I'd recommend ordering two entrees or perhaps ordering extra appetizers if you think you're going to wind up unsatisfied.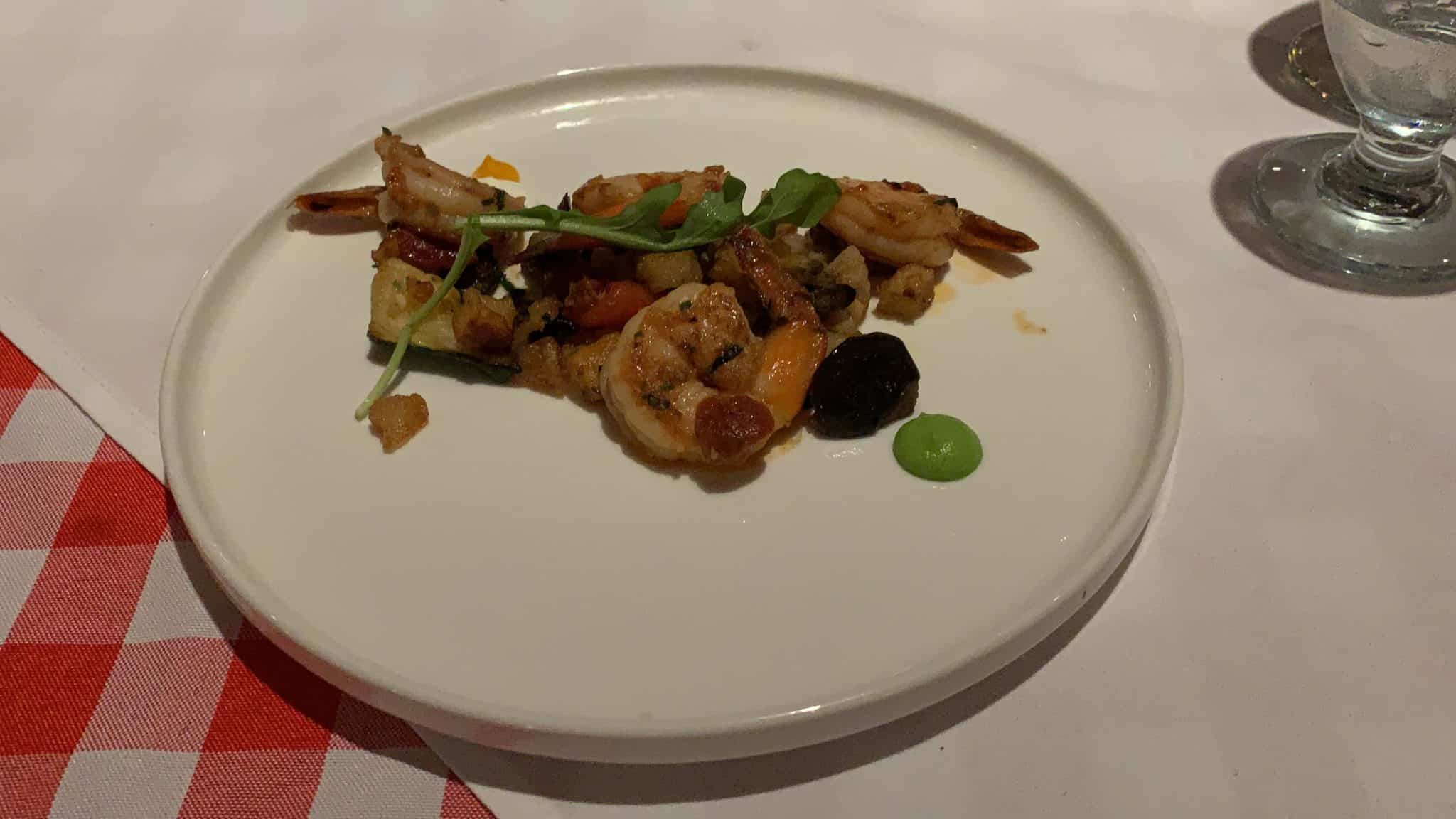 The Farfalle Al Pistachio had a simple flavor profile but was one of our favorite items of the night. The sauce was light, allowing the other components to stand out. And who can say no to bow tie pasta?
MORE: Trip Report: Final Impressions of Carnival's Mardi Gras
For dessert, we wanted to get everything but didn't think it was possible to do so without being wasteful.
Ultimately, we narrowed down our choices and settled on three: the Apple Crostata, Tiramisu, and Ricotta Fritters. Our surprise favorite was the ricotta fritters.
They were simply three small dough balls with toppings but each packed tremendous flavor. I guess we had to put it back together, but it was kind of like deconstructed cannoli.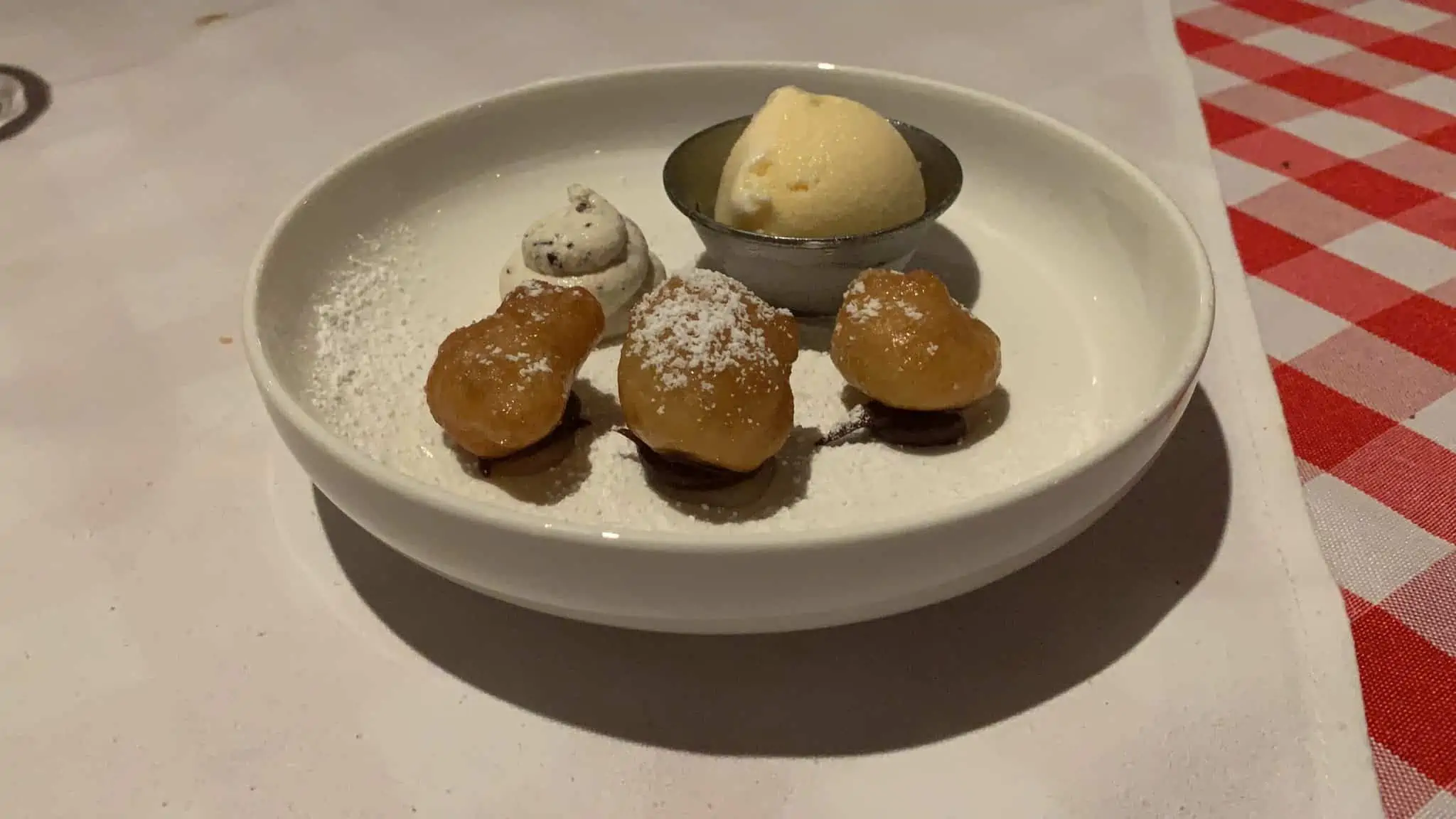 The tiramisu was good, but not anything particularly special. I did enjoy it and would order it again because it's a type of dessert I love.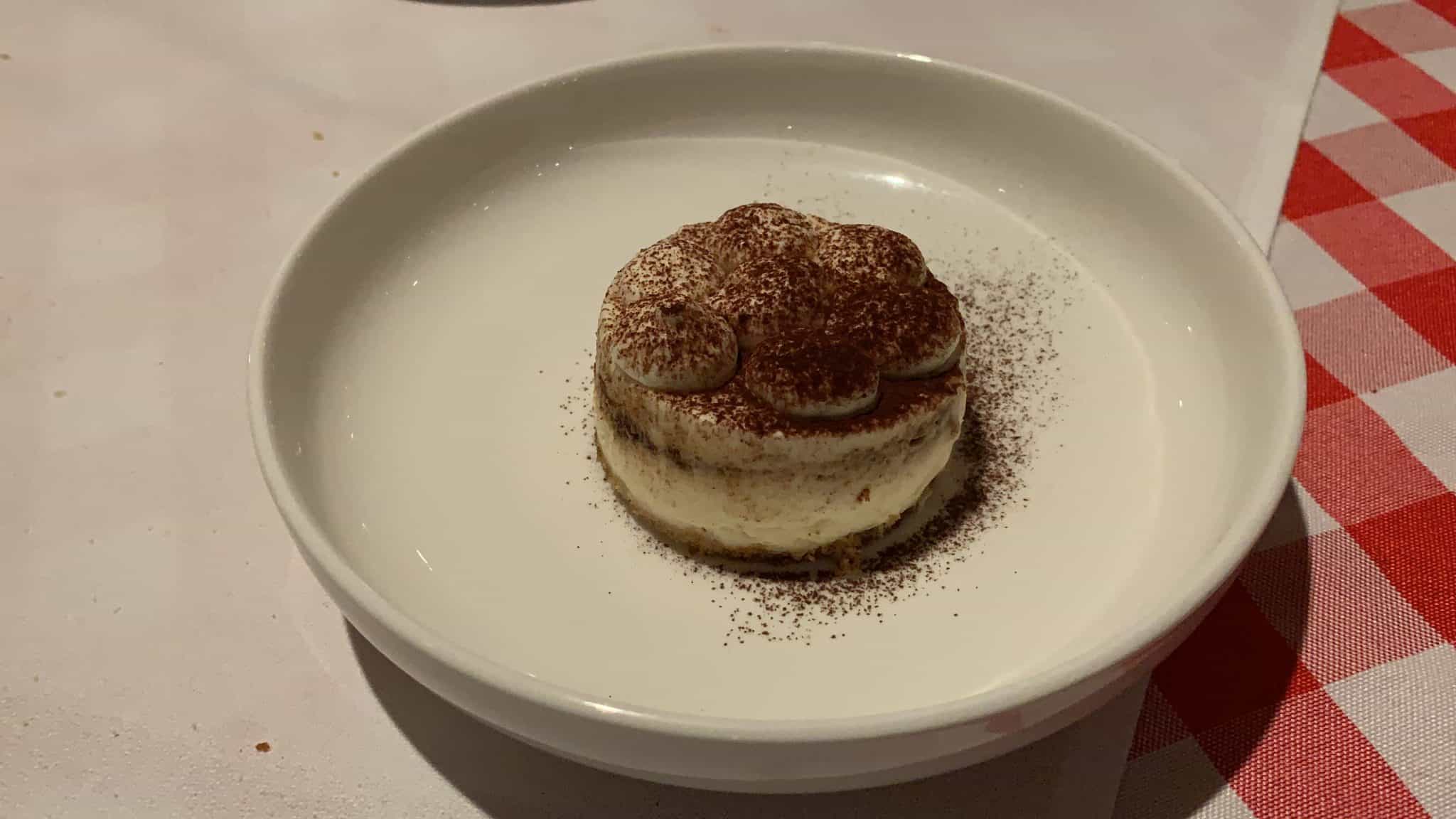 The apple crostata had good flavor but was a little heavy on the crust. I probably won't order it again because the other desserts are better and more interesting. Frankly, Royal Caribbean does this dessert better, and their version of it was what we really wanted.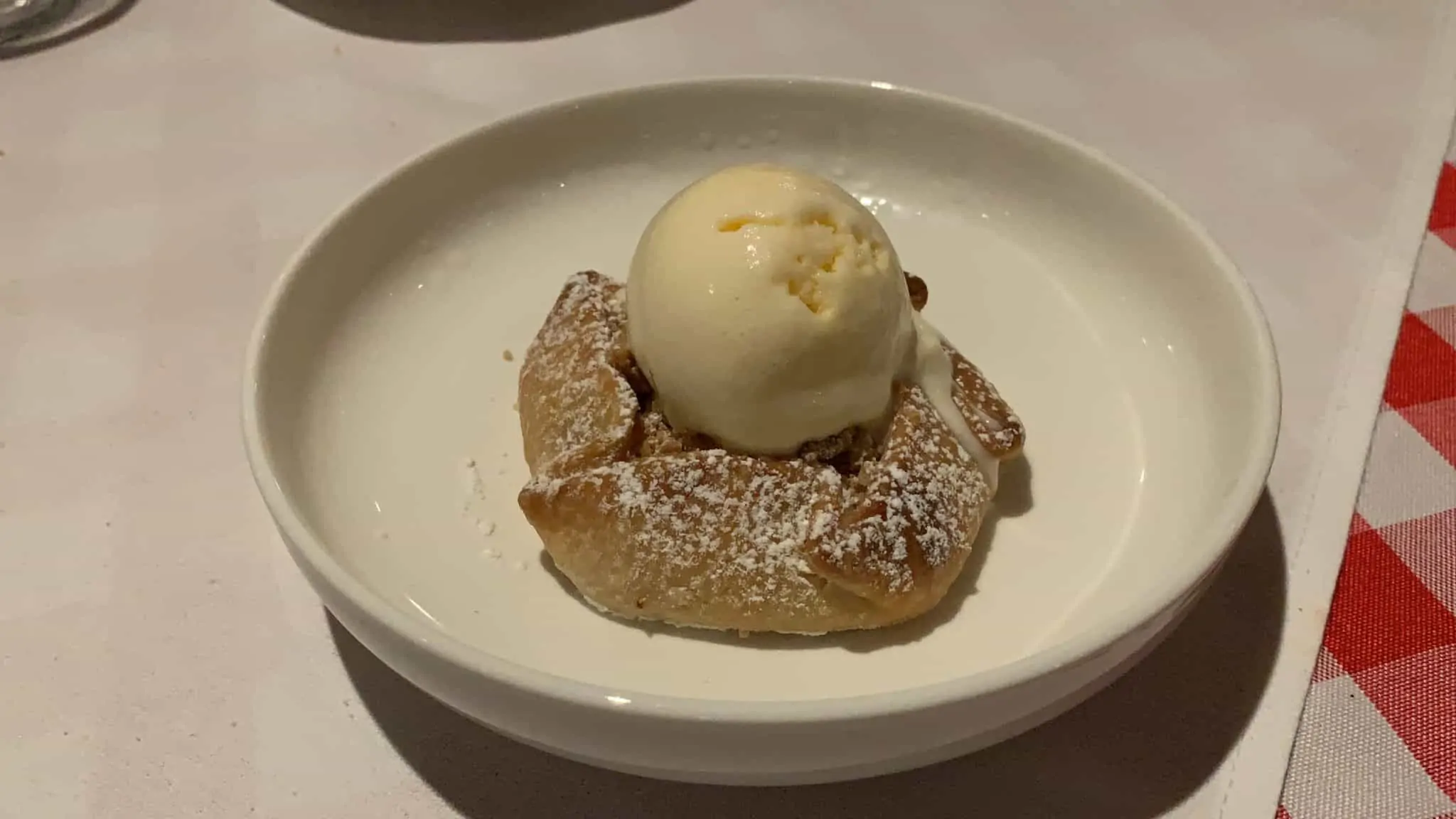 Given that it is now a complimentary option on Mardi Gras, I do recommend Cucina Del Capitano for both lunch and dinner.
They also serve breakfast at Cucina, but it's really just an abridged version of what can be found in the main dining room. 
I probably wouldn't go back if they were to start charging for Cucina on Mardi Gras, because there are a plethora of other for-fee options to choose from, most of which would rank higher on my list.
Lunch at Cucina is available on sea days only and dinner is available every night of the cruise. Although other Carnival ships offer lunch in Cucina on embarkation day, that is not the case on Mardi Gras.
READ NEXT: Everything You Need To Know About Carnival's Drink Package
Pin it!