The last time I wrote about doing two days in a row at Half Moon Cay, people asked if we left and came back. And that's exactly what happened.
Yesterday, we spent the day on the private island, then last night headed out into open waters to do a big circle before returning this morning. The biggest difference? While it was a little drizzly yesterday, I woke up to clouds, but they gave way to a beautiful day.
The first order of business was breakfast. I mentioned yesterday the great items they have on the "Hot Off the Griddle" menu in the main dining room, and that's what I was choosing from again this morning.
This time, I went with the buckwheat pancakes. I tended to grab something in the buffet for breakfast on the past few cruises I've done. But on this ship, I've enjoyed starting the day in the main dining room.
For one thing, having people serve your meal is a friendly reminder that you're on vacation. On top of that, the dining room itself is pretty pleasing to the eye.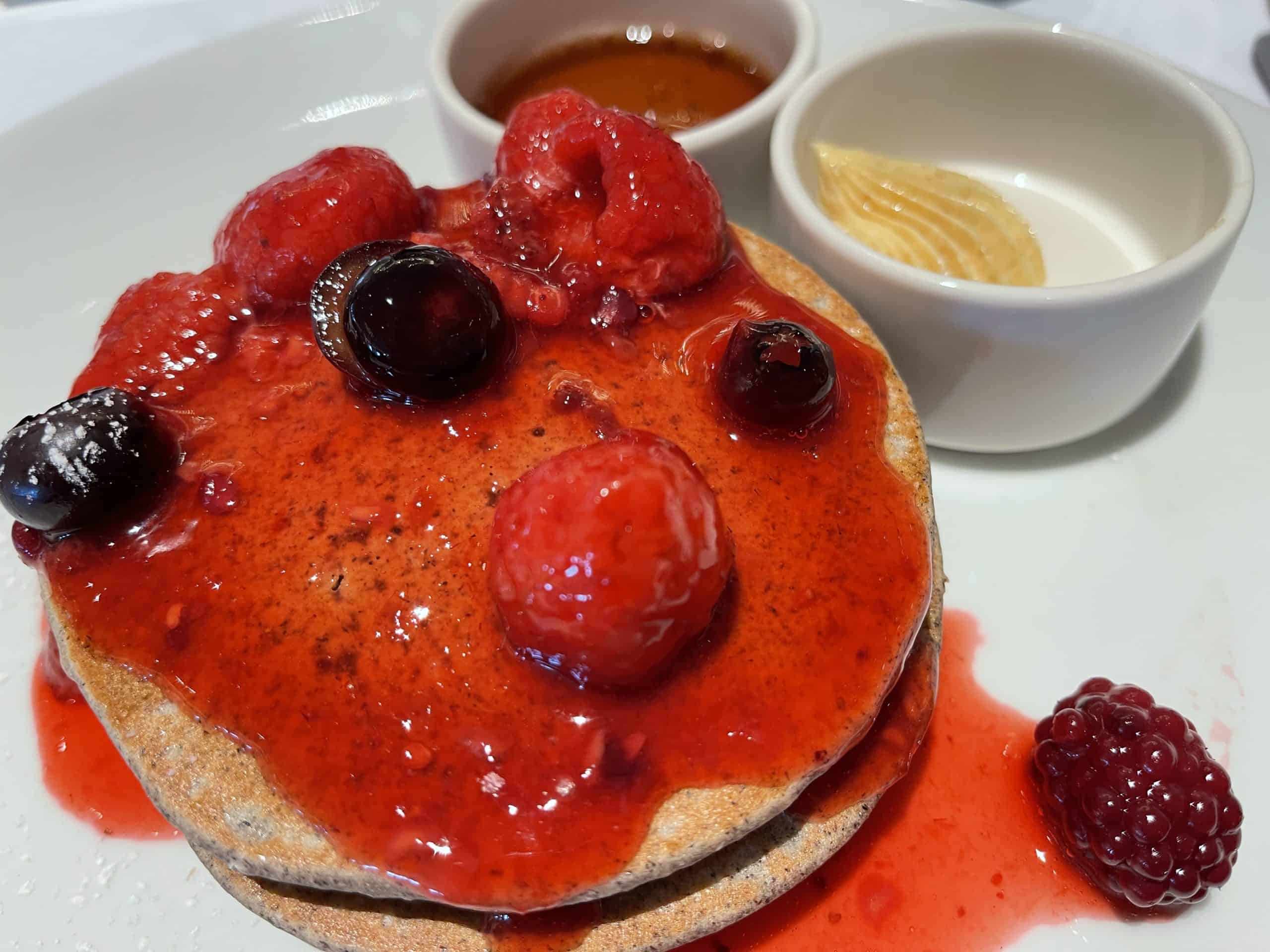 Either people had their fill of Half Moon Cay yesterday or decided to stay on board and explore the ship because the tenders weren't packed at all.
My room was right above where people were loading onto the tender, and it was easy to see that traffic was pretty light. We were excited to head over because a few of us had pooled our money together and rented a villa.
But we weren't really in any big hurry to get over to the island since our rental didn't start until 10 a.m., which meant before that we wouldn't have a place to go, put our stuff, and seek shelter from the sun.
After breakfast, I did some more wandering and came across the library, which is hands-down the nicest one I've ever seen on a ship.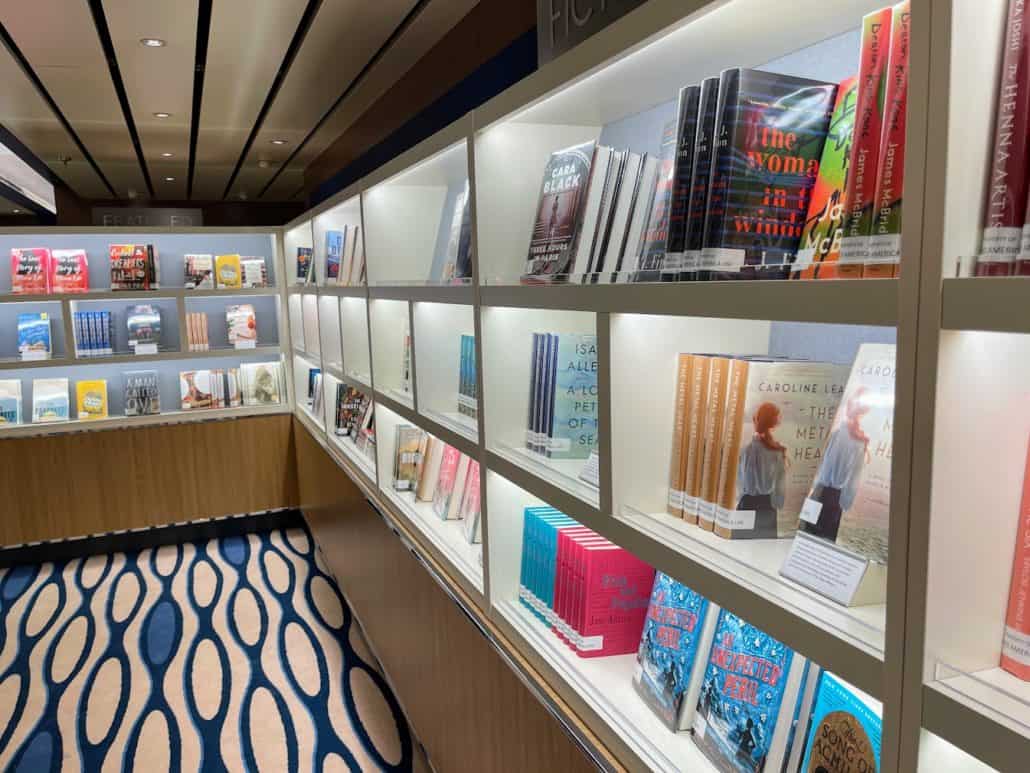 It was partially due to the ship being brand new, and partially because it was a dedicated space built out just for this purpose. About a decade ago, Holland America launched a partnership with Microsoft wherein they had certified instructors onboard teaching guests everything from photo editing to basic computer functionality.
That program no longer exists, and the space where it would have been is now a library.
As 1o am drew near, I grabbed my backpack, sunscreen, and phone charger and embarked on a tender for Half Moon Cay.
We went to the information booth to get our villa assignment and then headed over to it. Holland America built five villas here about ten years ago.
We had villa C, two stories tall and equipped with a full bathroom, refrigerator filled with drinks, a window air conditioning unit, snacks, and a massive hot tub on the first floor. There is also an outside staircase that takes you to the upper floor.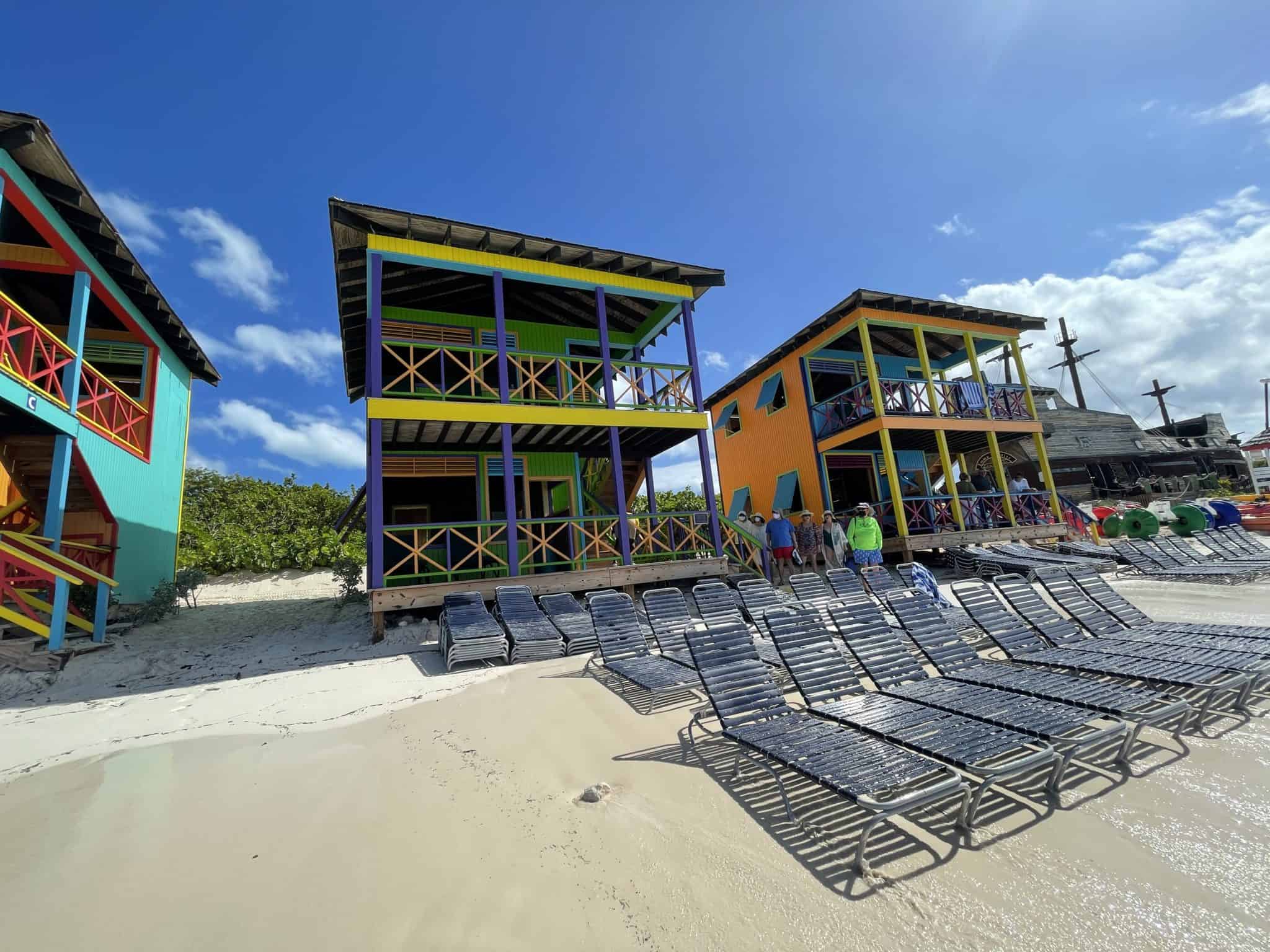 On the deck, there were lounge chairs with bags of snorkeling gear and floating mats. Having swum in the water yesterday and wary of getting too much sun, I didn't venture out today.
Instead, I stayed in one of the loungers, hung out on the porch, and talked to friends. Lunch came around 12:30, and they asked if we wanted fish, chicken, or steak. I went with the steak and rice as tradition would have it, and others enjoyed the fish and tacos.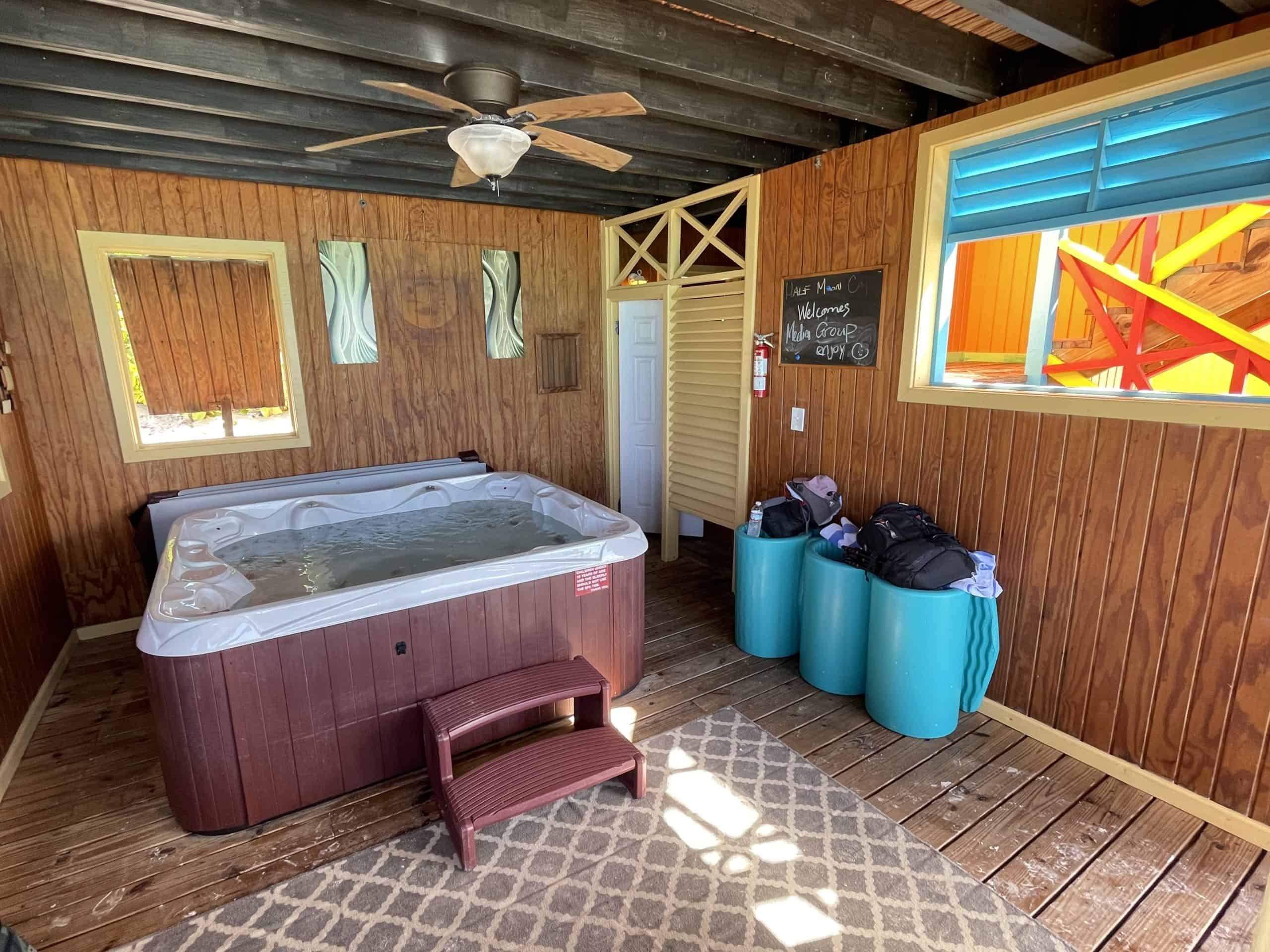 All in all, it was a lovely day, and we couldn't have asked for better weather. Around 2 p.m., they started closing up shop, and we had to make our way back to the ship. After tipping the butler — who'd been bringing us drinks all day —  we boarded a tram that took us to the front of the pier to go through security and back to the ship we went.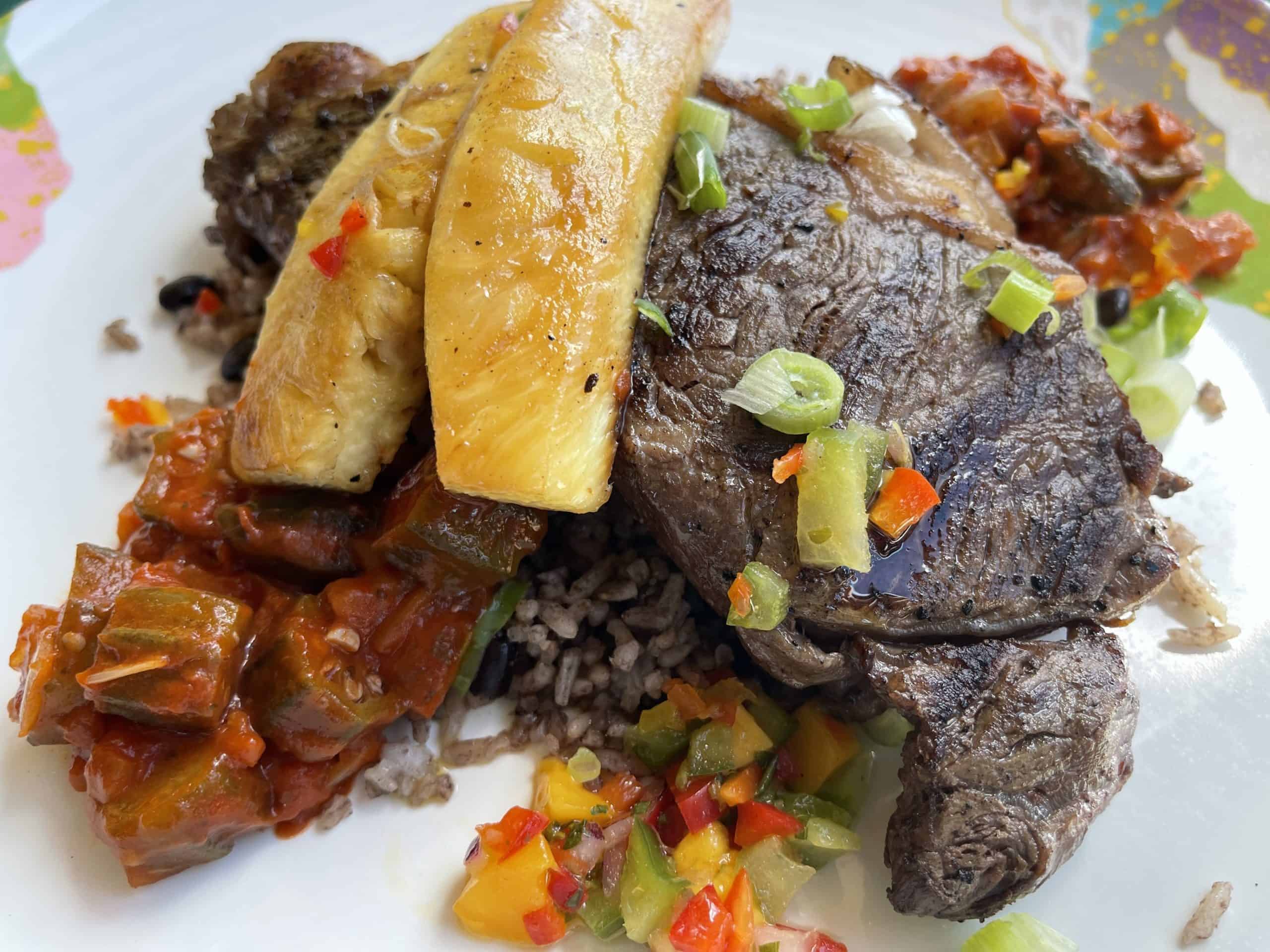 MORE: The Pros and Cons of Future Cruise Credits
Before dinner, I sat down with Holland America's brand ambassador Seth Wayne for an interview in the Crow's Nest. Seth came from a TV background and took the role with Holland America in late 2019.
Although the entire industry would soon shut down, Seth did a fantastic job keeping Holland America fans entertained even when they couldn't be on the ship. He hosted online virtual cruises, trivia contests, and more.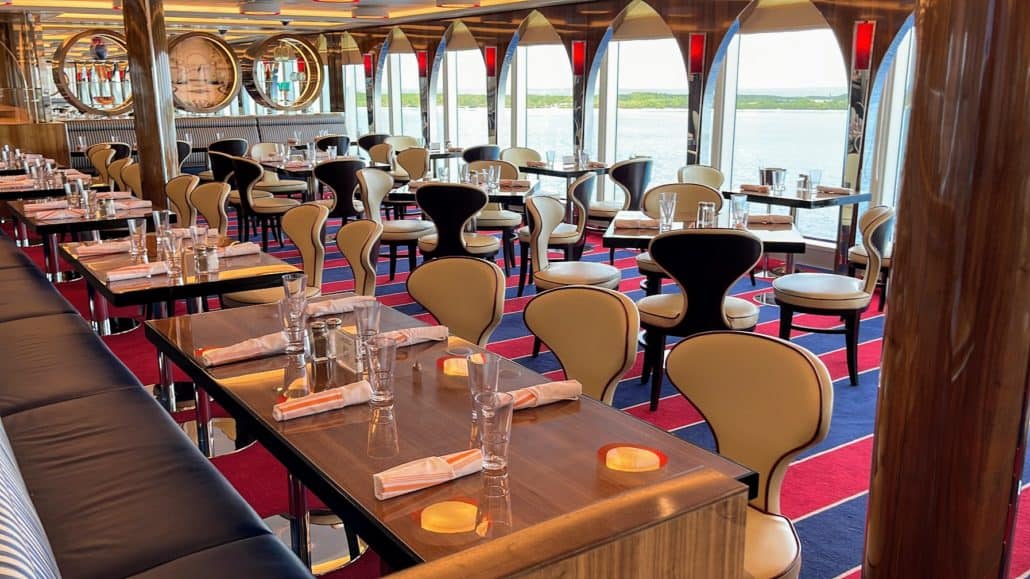 Our original plan was to eat dinner in the Italian venue Canaletto tonight, but instead, we opted for something quick and easy in the lido buffet so we could see the last show.
Dinner selections were just as solid as they were for lunch over the past few days. I can't speak enough about how great the selections are at each venue. I grabbed a salad, steak, French onion soup, and mac and cheese. For dessert, I had their signature bread pudding with vanilla sauce.
I swung by to check out the Club HAL kid's club before we headed for the show. I'll tell you what… these spaces have changed since I was a kid. I remember we had a few Tonka trucks and maybe some Lincoln Logs. Now they have game screens on the wall, on-demand programming, tons of games and a foosball table that would be at home in any sports bar.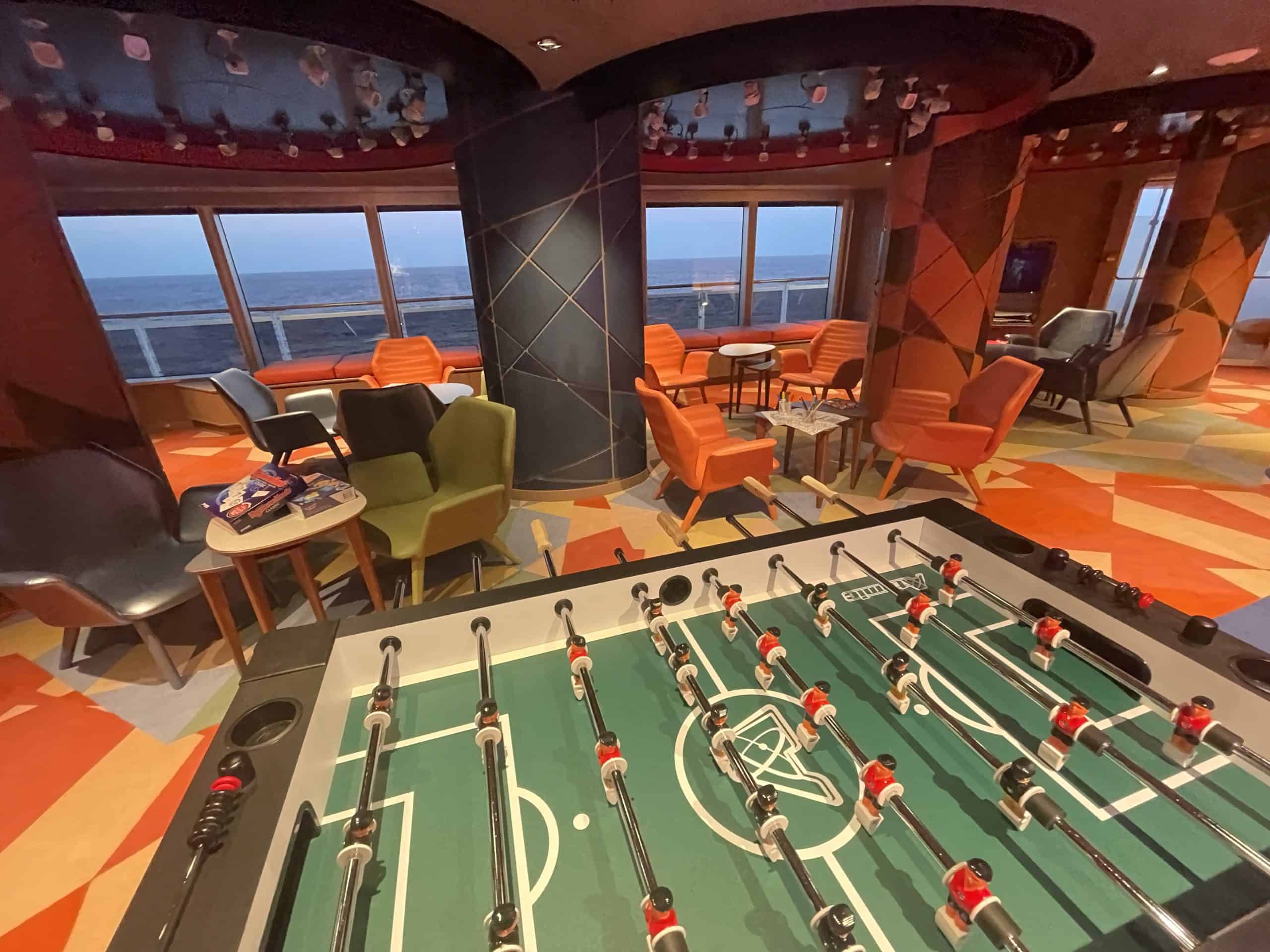 The final production show of the cruise was called Cantare, and it was held in the World Stage theater.
Four singers sang iconic pop songs a cappella — so there was no music, strictly harmonizing, and they were pretty great. Obviously, entertainment is subjective, and this won't be to everyone's taste. But I thought it was a very cool, refreshing twist on the standard cruise ship offerings.
It's worth noting that the World Stage is an excellent space from a layout perspective and the technology used for the various programs put on here is right up there with the best.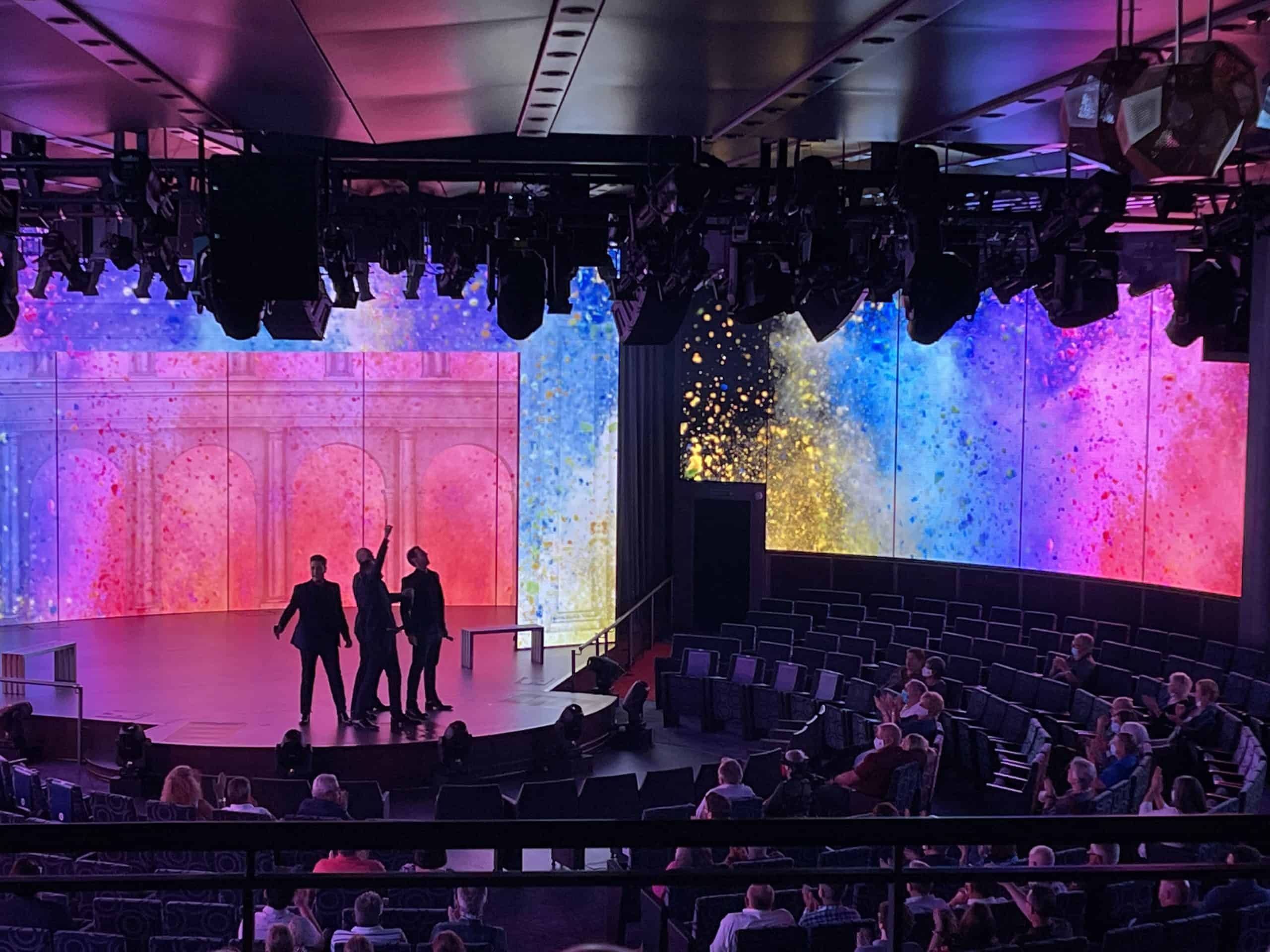 All around the ship, the music was just getting started. The rock band had it cranked up to 11 in the Rolling Stone Rock Room, and when they took a break, the piano player was taking requests at BillBoard Onboard which quickly turned into a massive sing-along.
A couple of keys on the piano were out of tune, and the piano player just acknowledged that and did his best to play around them. There is nothing better than figuring out a way to turn a problem into just another fun part of the evening.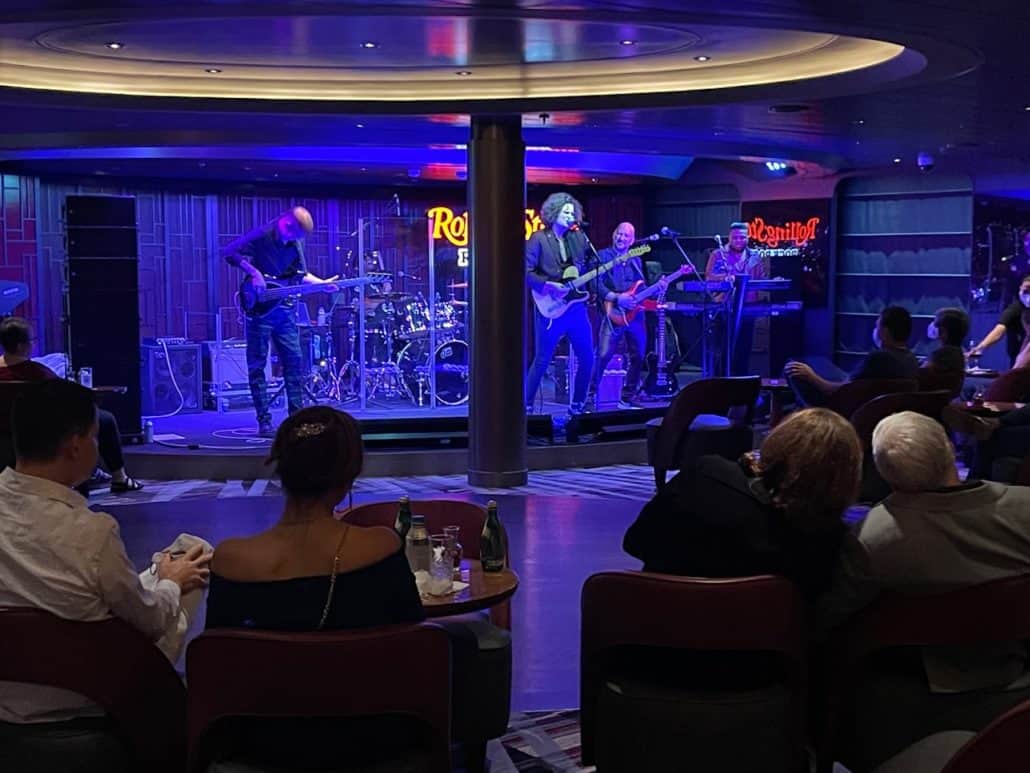 I'm not sure if this has always been a thing that I just never noticed before or it's new, but the comedian took to the stage at B.B. King's Blues Club before the musicians started their set. It worked, as it felt like he was the warm-up act before the main event.
Given that Holland America has put itself out there as a line on which music is a vital component of the cruise, I guess it shouldn't surprise anyone just how good these bands were. In this particular venue, the musicians performing are curated by the B.B. King franchise. Having visited a few of them in Nashville, New York City, and Las Vegas, I can tell you those places attract top-notch players.
Guitar playing mesmerizes me — it's a skill I've always wanted to develop but haven't quite gotten past the point where I can strum a few chords. I enjoyed just taking in a few songs and letting these talented people do their thing.
As I walked back to my stateroom, it started to sink in that the cruise was almost over.
On these shorter sailings, I've noticed that you don't tend to see the hallways lined with suitcases the way you might on longer trips. I think what happens is that many people check their bags at embarkation but choose to carry them off when it's time to disembark.
Like the other handful of cruises I've done since the restart, debark was very organized and super simple with no lines. Around 8:30, we walked to the debarkation point, scanned our cards and were heading out to the pier.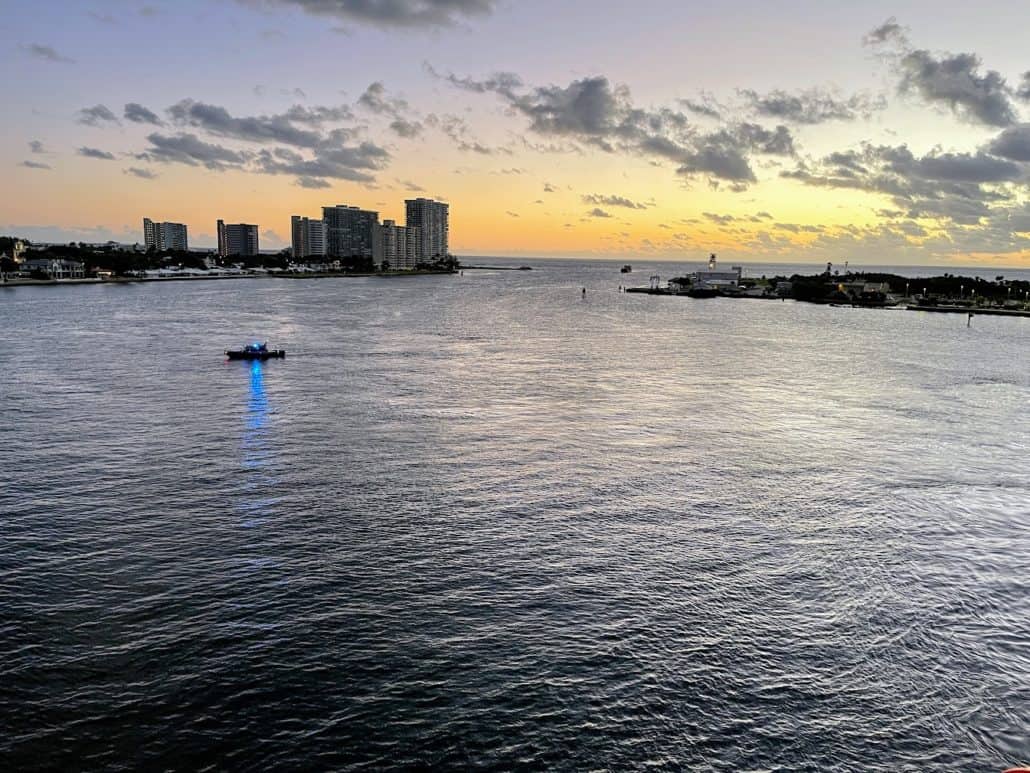 Because the flight schedules from Fort Lauderdale to Jacksonville are limited to only JetBlue and Silver Airways, I wound up taking an afternoon flight home out of the Miami International Airport.
Usually, it's 30 minutes from Port Everglades to the Miami airport, but there was a bad accident on 95 south, so it took an hour and a half. My flight wasn't until 12:30, so it wasn't an issue, but it could have been a real problem if I'd booked the earlier 11 a.m. flight. Let this be a good reminder to leave plenty of time on disembarkation morning because you never know what kind of situation you might run into. Better to leave yourself extra time than end your trip by going from relaxed to freaked out.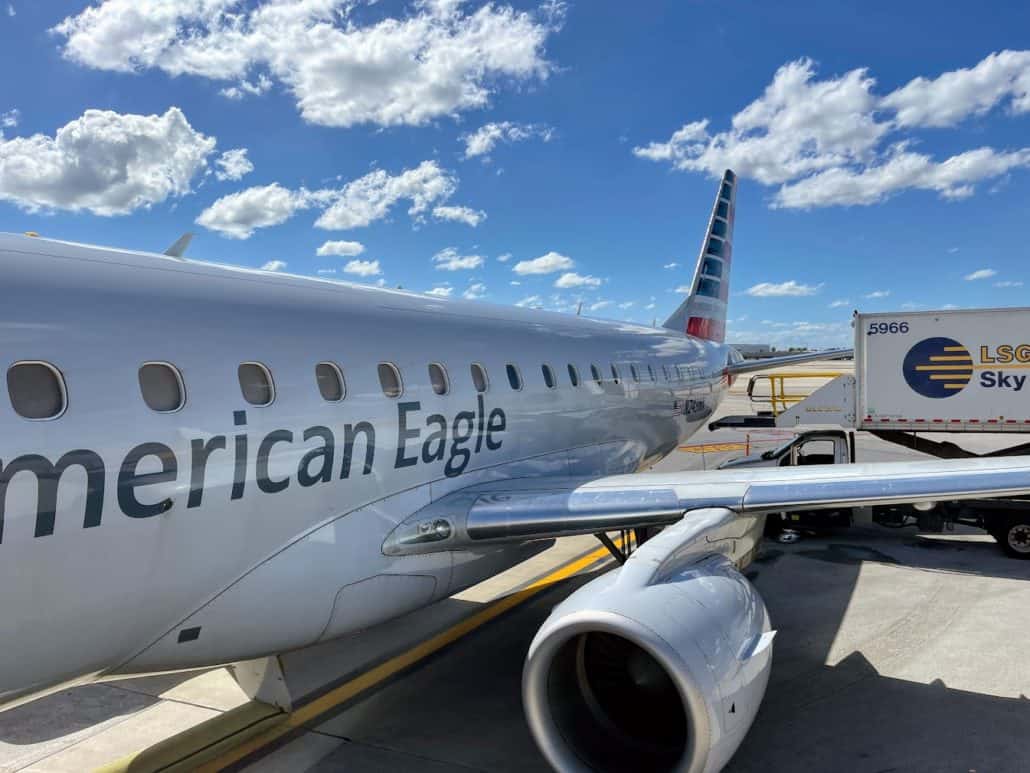 In 2019, I purchased CLEAR, which essentially lets you skip the lines at select airports and go right to the x-ray line. If you have TSA PreCheck, it's even quicker. With travel getting back to normal, it has made the airport experience much more manageable and, frankly, enjoyable.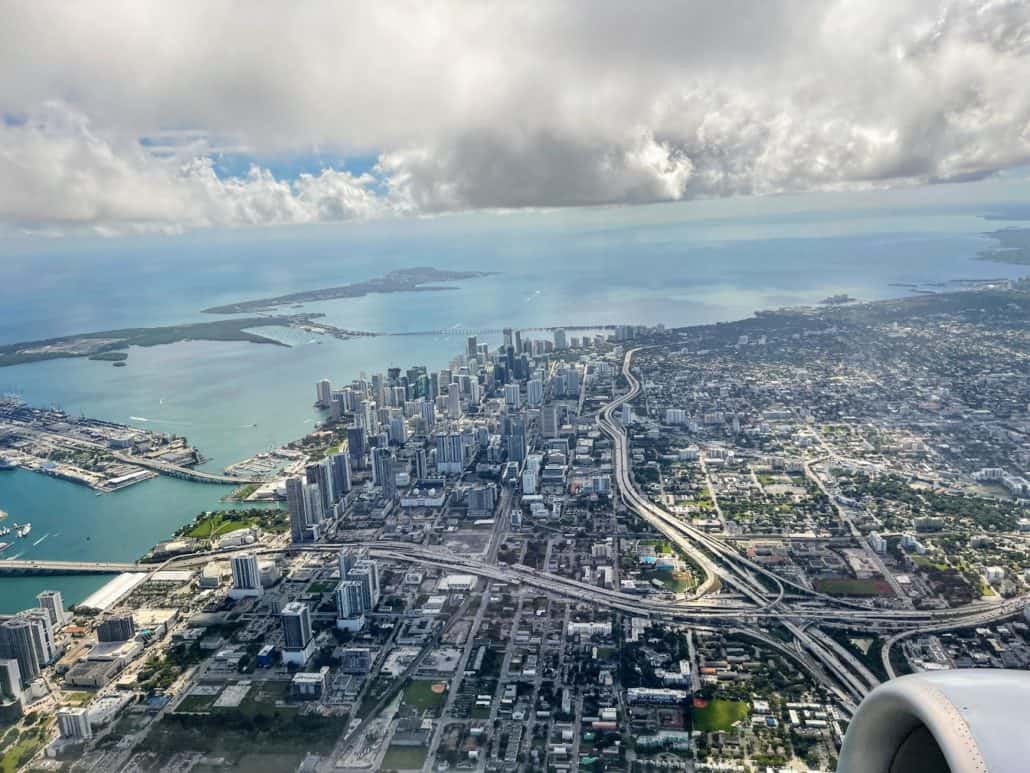 I'll have a detailed review of the Rotterdam in the not-too-distant future. Until then, you should know that this ship is Holland America at its finest, with plenty of music options and onboard programming. Of all the major cruise lines, Holland America has done the best job of evolving with technology while not straying far from its core product.
Catch up on my other Rotterdam trip reports!